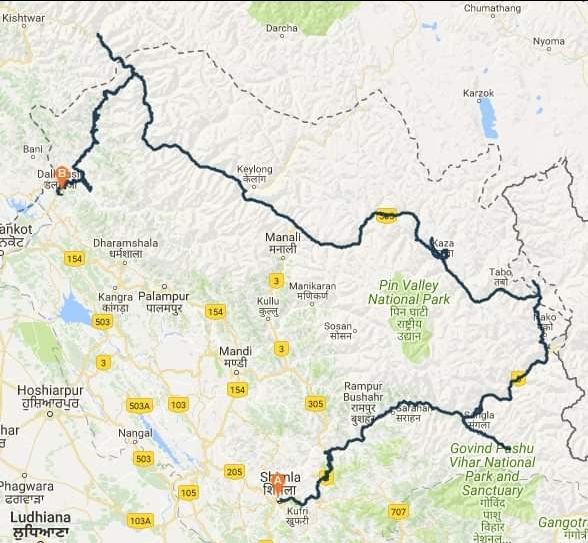 Shimla local sightseeing for half day, and then Shimla to Narkanda
86kms
As suggested by RiShi DhimAn, we decided to tweak our itinerary and do some sightseeing in Shimla. We visited The Mall road, Ridge road and also the Jakhu Temple thru the ropeway that guves splendid panoramic views of the state capital.
We came back to #RidersCafe for lunch where we met Ajinkya AJ Lad from Panvel, and we're riding together since then ;-)
Starting 3pm, we rode to Narkanda in about 3hrs, checked in at #UpavanCamps and rushed to Hatu peak (3400mtrs) thru one of the most amazing road trails, to view the serene sunset over lush green mountains...
Later, after a hot soup at #NegiDhaba we went back to the campsite for a bonfire followed by delicious dinner...
Sleep time, see you tomorrow...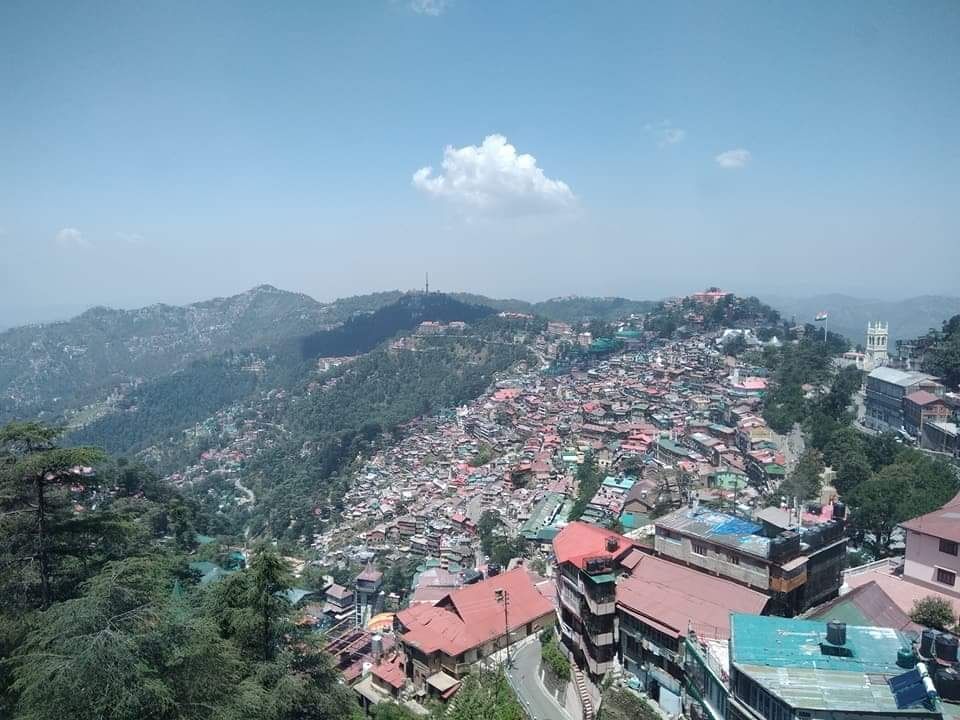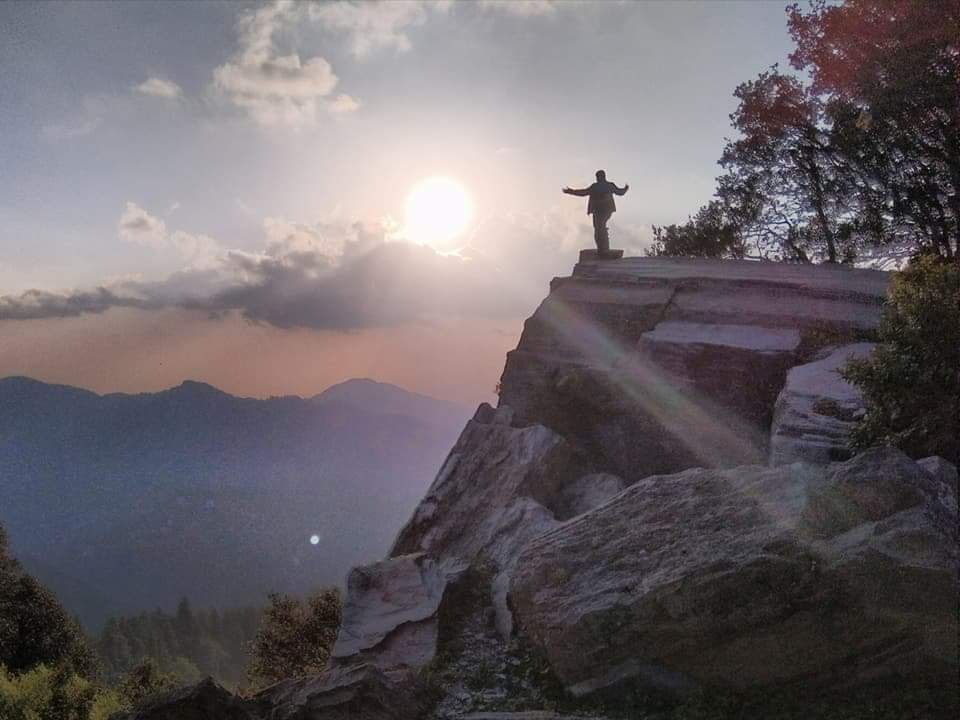 Narkanda to Chitkul
190kms
We started from Narkanda after a filling breakfast and rode thru Rampur (surprisingly the hottest place in this entire stretch thru himalayas) and Karccham towards Chitkul, the last village in Himachal Pradesh on Tibetian side...
Final 25-30kms was bone-breaking offroad, but the end result was all worth...
We got to camp right in the lap of Baspa river at Chitkul, and this music that the gushing stream creates, is a much needed lullaby after that crazy roads we've negotiated today...
Stay tuned, as we ride back the same road again tomorrow...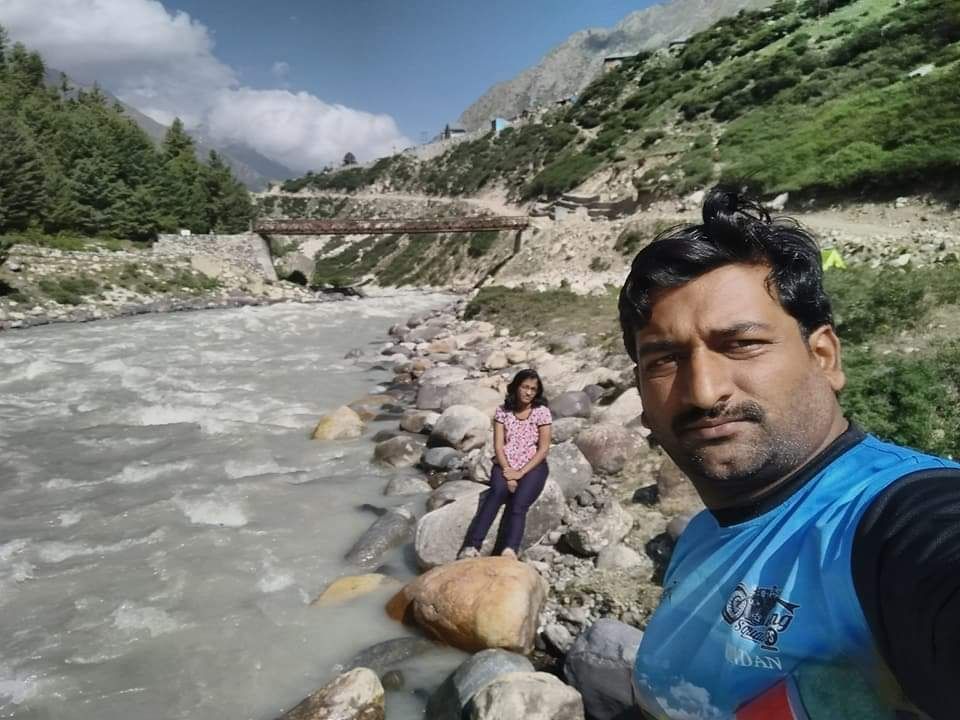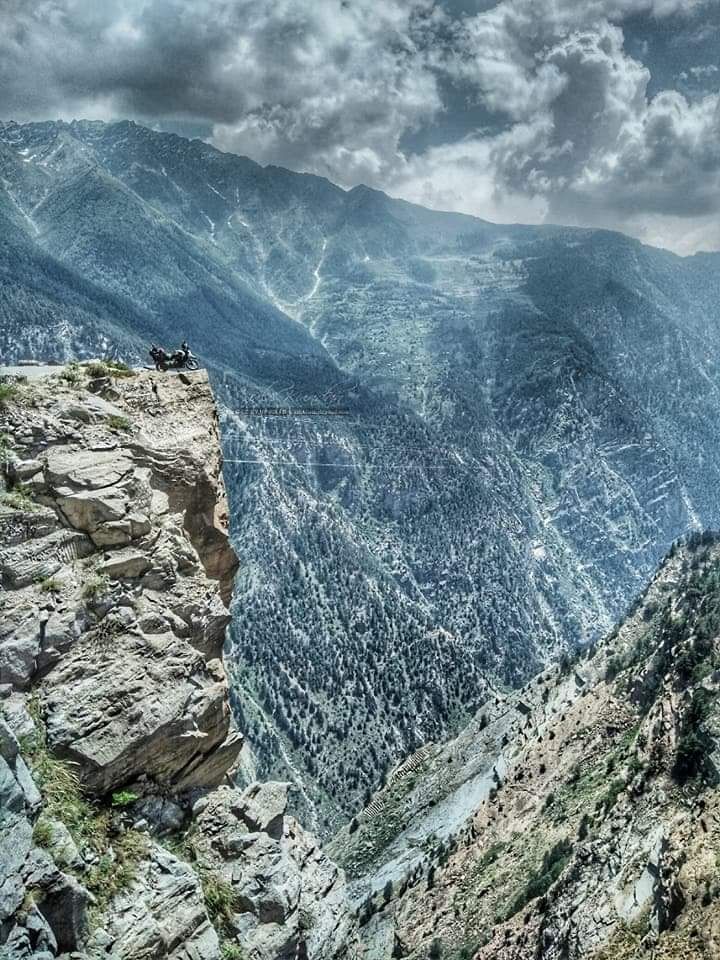 Chitkul - Kalpa - Nako
185kms
Today, we took a leisure time to soak in the morning beauty of Chitkul and started at around 9.30am.
After breakfast at a Tibetian Cafe in Sangla, we rode down to Karchham taking the same route as yesterday.
The initial plan was to ride only till Kalpa (61kms) and rest. We rode directly to The Rolla Cliff (Suicide Point) near Kalpa and it was only around 1.30pm. So, we then decided to continue riding till at least Pooh village (another 50kms).
The ride from Kalpa to Pooh was a roller-coaster as there's widening work in progress all thru the stretch, plus we countered the reputed Spillow patch where landslides occur frequently (Though we were safely through).
After Pooh, we decided to ride another 30kms and end our day at Nako. We rode thru Kazigs (A version of Gata Loops here in Hangrang valley :-) ) and at some points, we were as close as 5.5kms from Indo-Tibetian LOC.
It was a cold breezy evening at Nako, and the excitement of crossing Malling Nala tomorrow morning keeps alive in my brain as I pull-over a blanket and wish you all a good night....
See you tomorrow...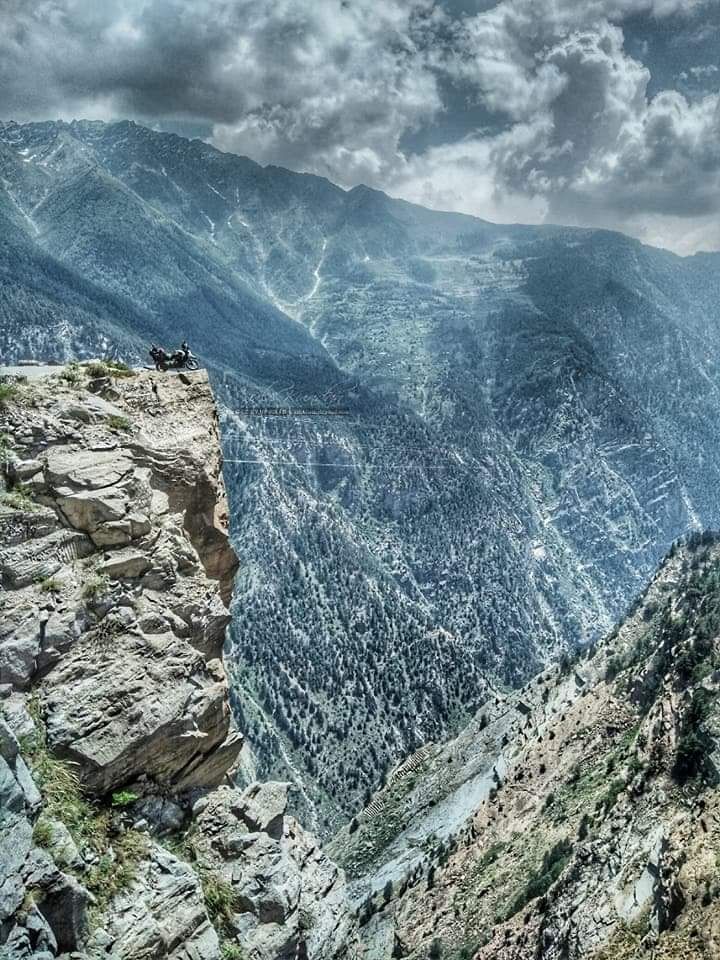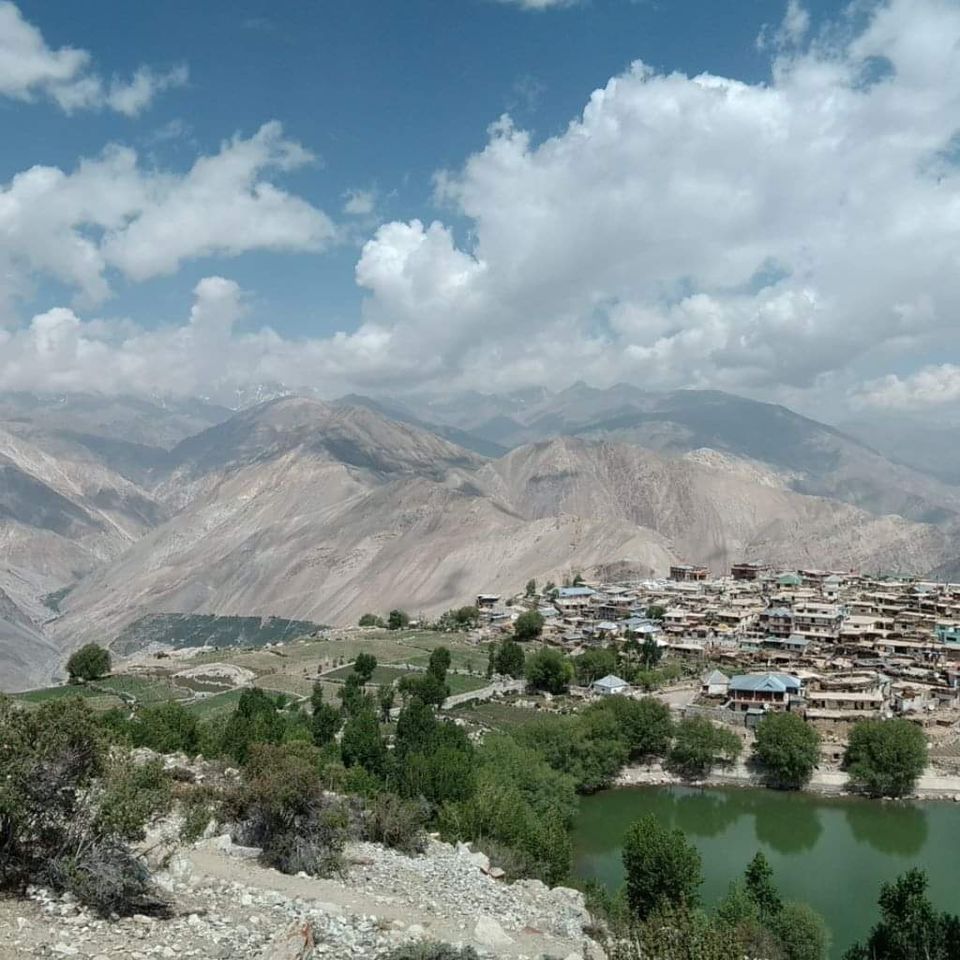 Nako - Tabo - Mud village (Pin valley)
148kms
The day started with a filling breakfast at hotel, and then we went for a short (but very very steep) trek to get a bird's eye view of the village and Nako lake. And I must day, the efforts paid off...! What an amazing panoramic view we got...
Around 11am, we started off towards Malling nala, and to my sheer disappointment it was almost dry... We had an almost 'no water' crossing...
We reached the Geu Mummy Gompa after a 7kms detour after Sumdo checkpost. The ITBP guard on duty there was so humble and eager to interact with us that we almost spent half an hour with him after visiting the 563yrs old mummy...
Back on track, we rode till Tabo monastery (estd. 9th century). It's a beautiful place and the atmosphere is so calm and soothing with religious chanting always going on... We had lunch in Tabo and decided to ride straight to Pin valley.
By the time we reached Gulling (17kms before our destination Mud village), we were riding against a freezing wind (literally sub-zero temperatures), so tough so that we had to stop at a local cafe for a while, only to know that they had negative temperatures laat night, and Mud village is further up higher than here. We prepared ourselves for the extreme and rode the next 17kms in about an hour. And yet again, the efforts paid off...
The plan is to sleep early and get up at around 2am for some astro-photography!!
Good night fellas...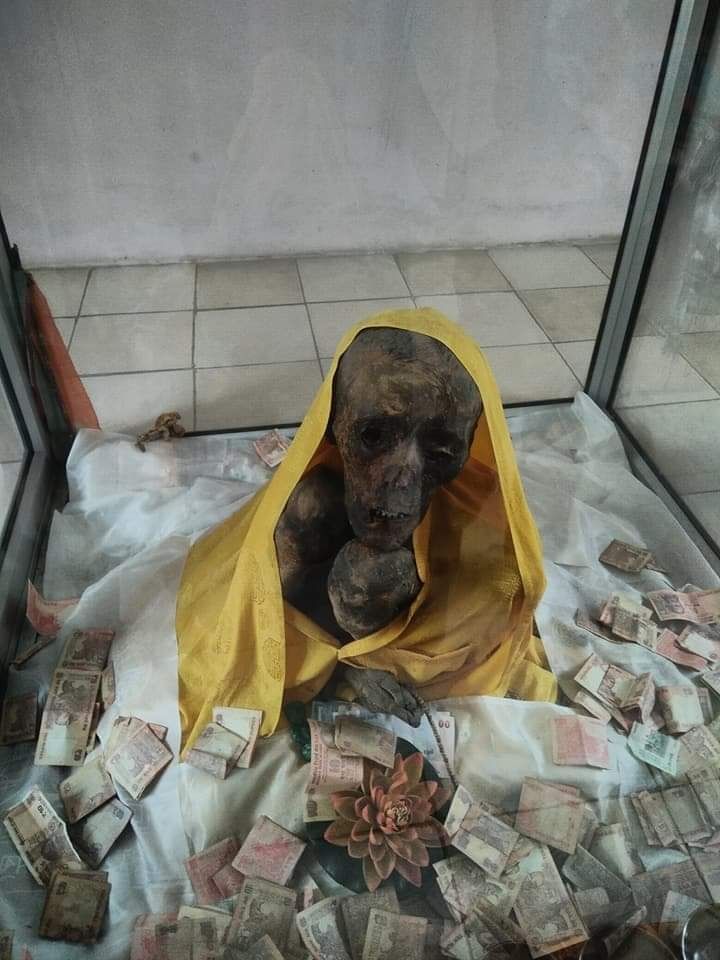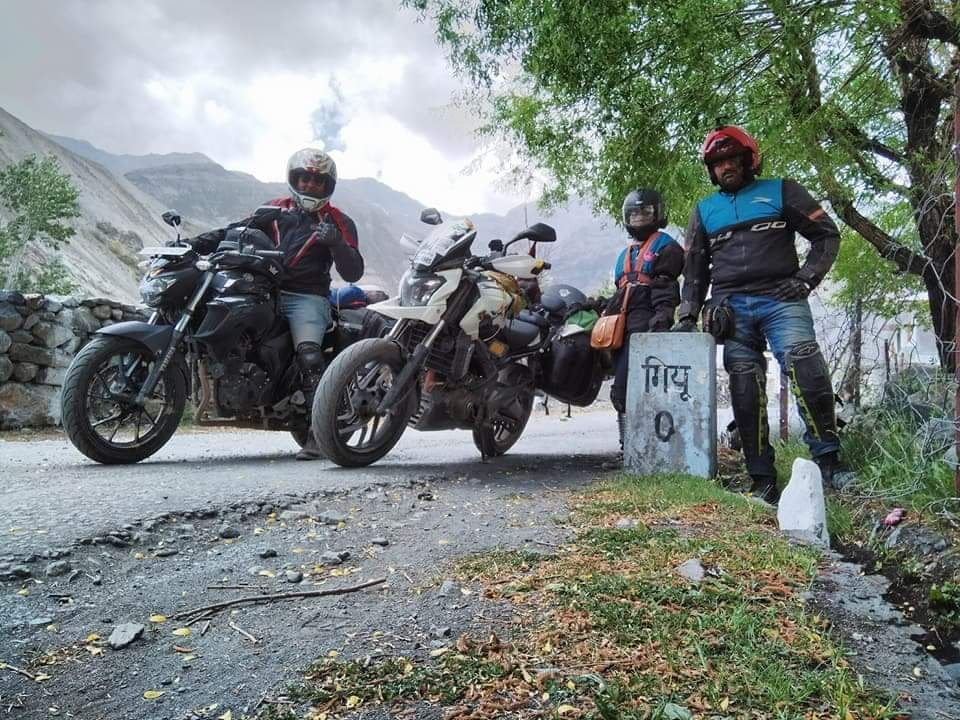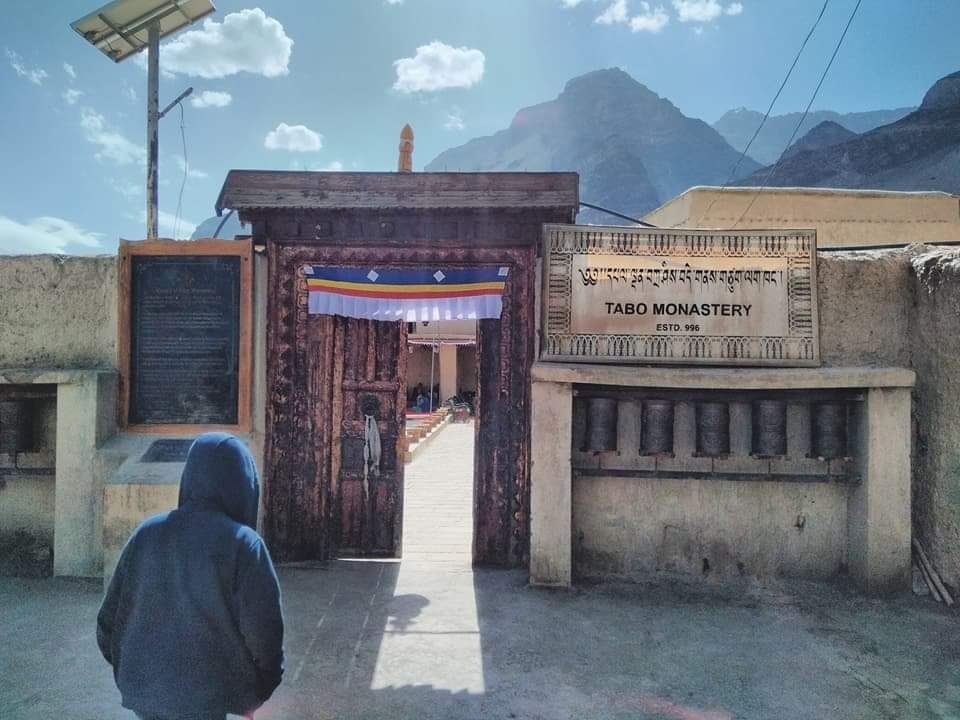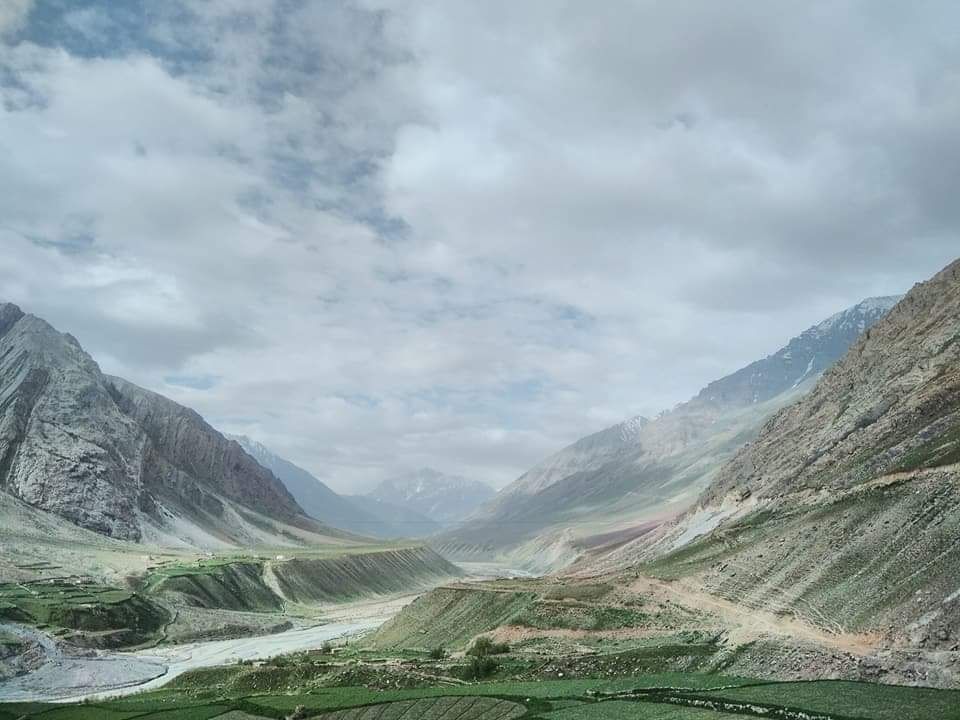 Mud village - Dhankar - Kaza
80kms
First of all, I'm extremely happy today.... Because I got some amazing shots of galactic core, plus a splendid startrail last night... Witnessed a shower of Shooting stars... Spent more than an hour on hotel's terrace post midnight and enjoyed every bit of it...
And off course, no one wakes up on time in the morning after this... 😝
It was almost 12 noon when we started our ride today... 34kms of rough off-road and some hairpin bends on the steep climb of 8kms, and we reached Dhankar palace, literally located on the cliff-face... A splendid marvel built in the 9th century... A multi-storeyed mud structure with rock-cut caves for meditation... Cantilever overlooking a few thousand feet deep valley right where the Pin river meets Spiti river... Its a sight worth millions...
We had lunch just outside the gompa and headed to Kaza thru an off-road stretch of 4kms. But thereafter, we got silky smooth road for 6-7kms with numerous bends and a constant decline... Enjoyed riding to the core...
At Kaza, we've checked in here at Hotel Khangsar (its a stone's throw away from BSNL office and tower, still there's no network 😏).
We took a long walk in the Kaza market and met a few ride-buddies from Delhi at 'The Himalayan Cafe'. We had dinner and some gupshup time with them, and were then greeted by a supremely talented guitarist playing and singing bollywood hit numbers live for all of us...
All in all, a day full of happiness...
Good night ☺️
#GetWellSoon BSNL...
Kaza - Ki - Kibber - Chicham - Kaza
46kms
Kaza - Hikkim - Komic - Langza - Kaza
46kms
It was after almost 4-5 days that we were offered something other than Parantha and Omlettes on breakfast... Its was a Poori-Bhaaji feast...
We started for local sightseeing around 11am and visited Ki monastery first. They serve organic tea made from secret recipe as a welcome drink and it does wonders to take away all your fatigue after that trek to the gompa... The monks are generous and are always eager to share all the knowledge about their lifestyle at the gompa.
We went to Kibber gram and continued to Chicham bridge (one of the highest cable bridges in Asia). On the way back, we took a detour to an amazing valley view point.
We came back to our hotel (Hotel Khangsar) for lunch, and started the second circuit around 4pm.
We reached Hikkim, the world's highest situated post office where the winds were freezing us to the bones. We were on the verge of skipping Komic which is higher up and ride straight to Langza, but we pushed ourselves and it was all worth. Komic village is the World's highest village connected by a motorable road. Next, we went to Langza to admire the 50ft tall statue of Maitreya Buddha overlooking the snowclad mountains and spiti valley.
We were back to Kaza by 7.30pm and went to the market for a quick bite.
The plan is to sleep early as we have to ride to Chandrataal tomorrow, which includes a trek too...
Good night...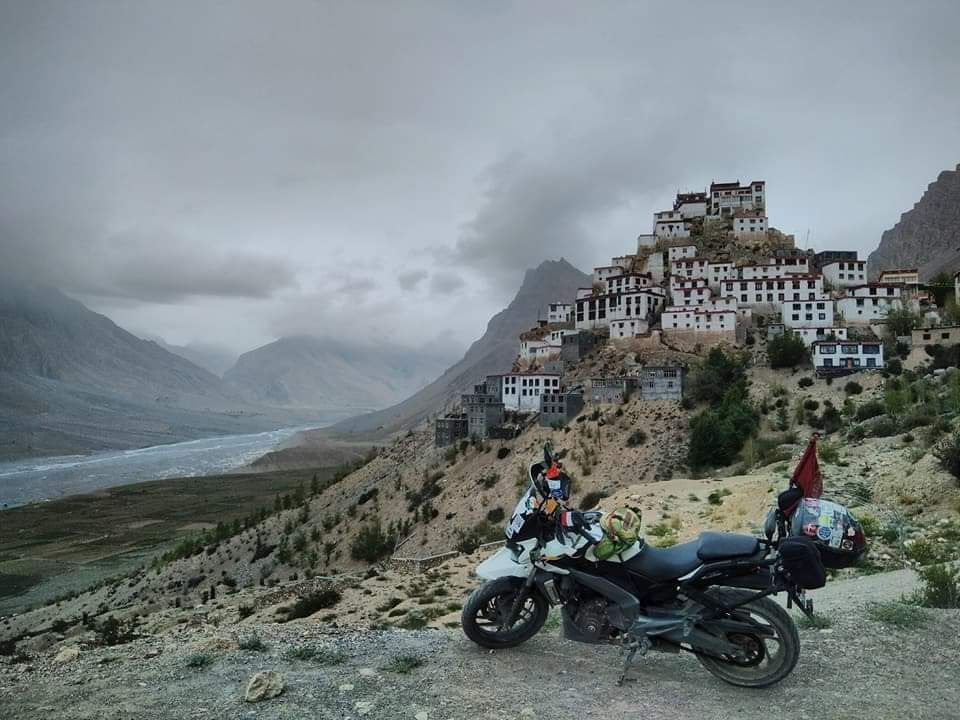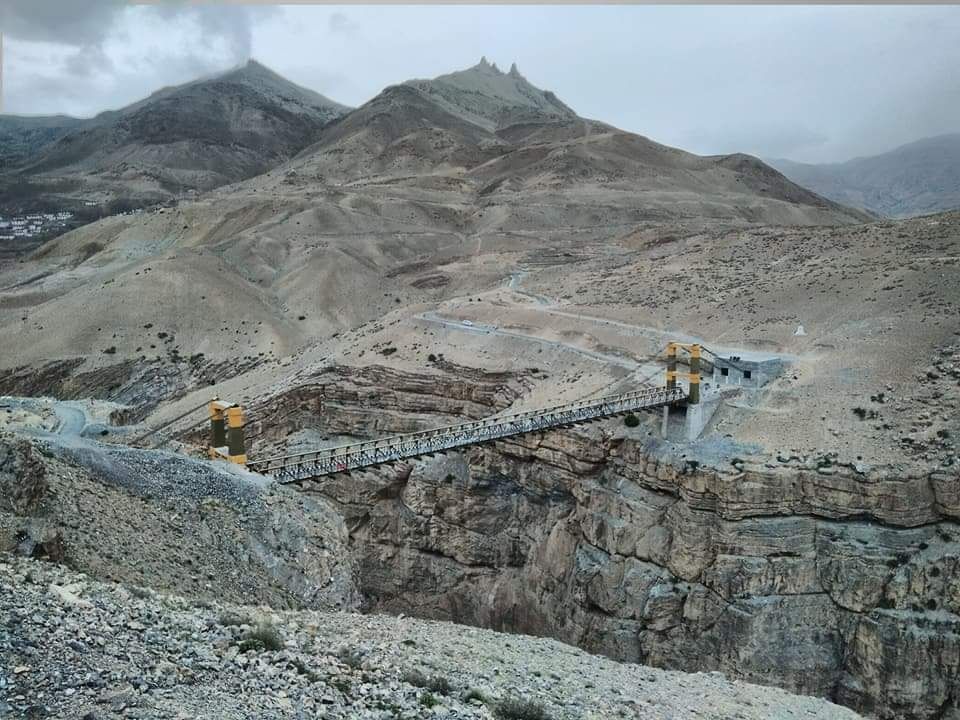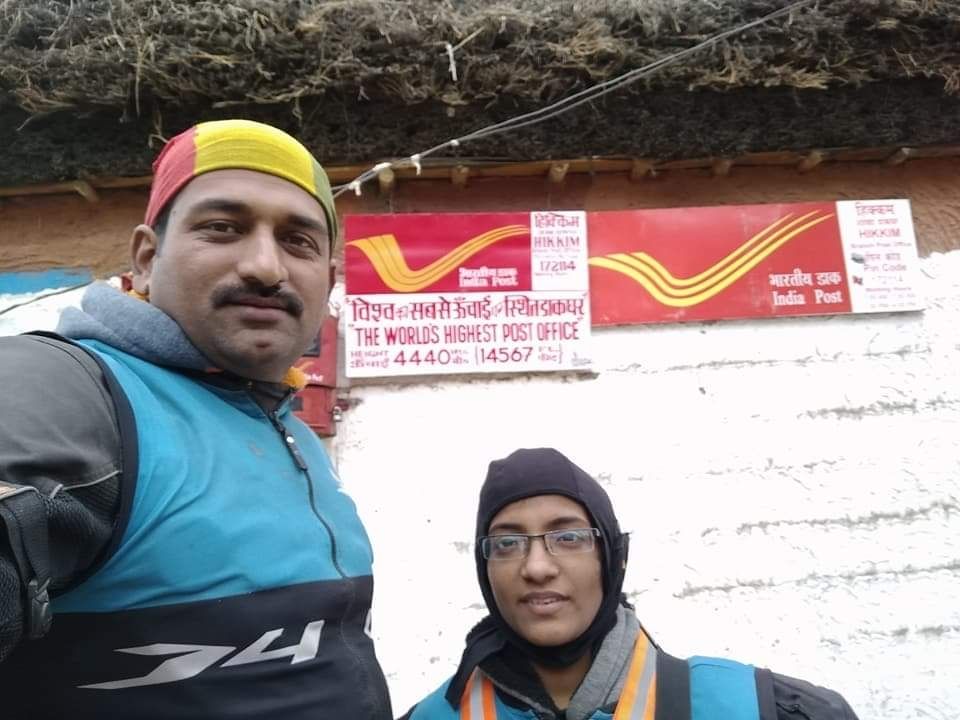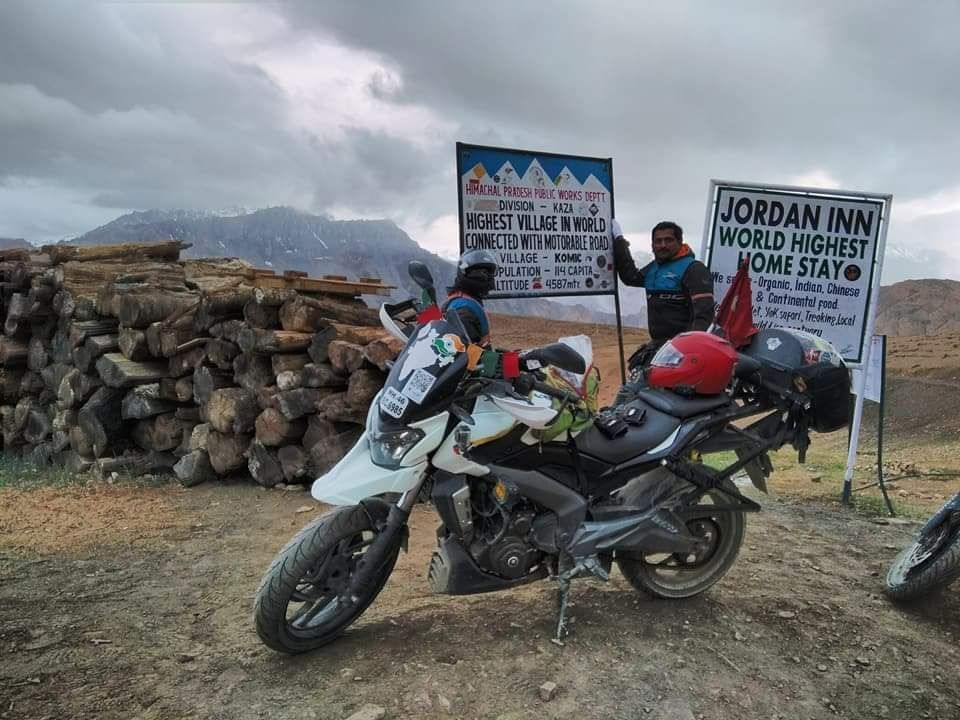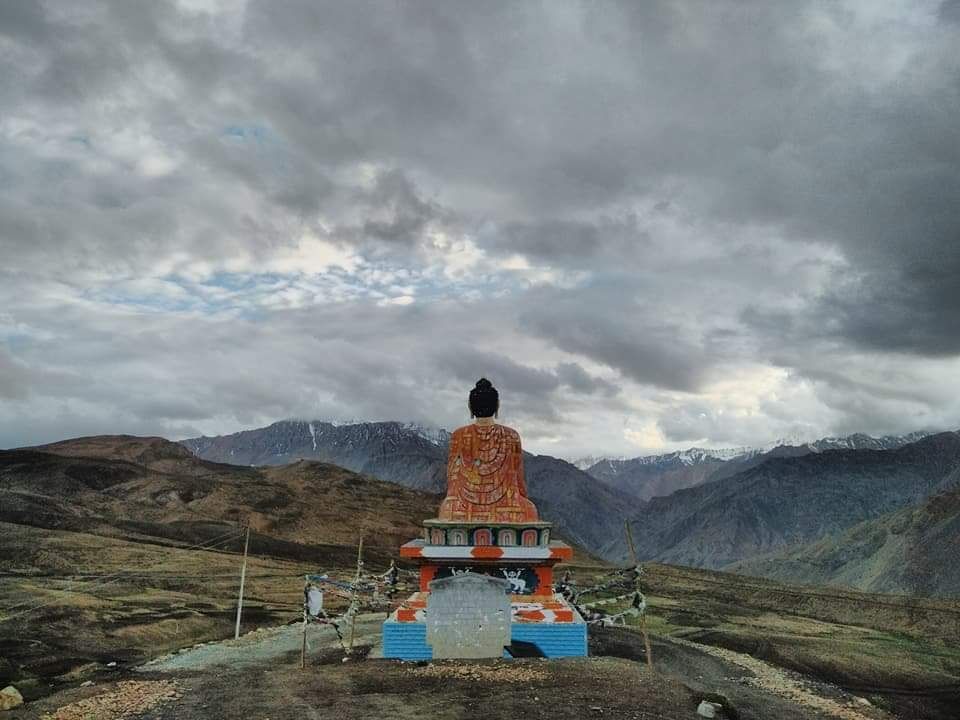 Kaza to Chandrataal
90kms
We started riding around 10am after breakfast, and took a less explored route to Lossar (via Chicham). Our ride till Lossar was almost a cakewalk as most of the road was recently surfaced.
We had our lunch (read maggi 😋) at Lossar, and then Spiti valley started to stand to its reputation. Little did we know that we'll miss this tarmac for next 175kms (read almost 12hrs of riding thru 2 days)...
We bid goodbye to Spiti river and started ascending the Kunzum pass, and after spending 10-15mins at the Kunzum top in freezing winds, descended thru innumerable hairpin bends (of what we dare calling a road) to 3kms before Batal where we took a turn to Chandrataal.
The next 13kms to Chandrataal were simply a (no)road-to-hell kind of a ride, and we finally reached the point from where we had to trek around 1km for the lake.
The lake itself is a nature's marvel and someone who hasn't been to Pangong Tso or Tso Moriri would be flattered at its view (sorry for the spoiler here).... But yes, the atmosphere was worth all the efforts...
By the time we had our dinner at Jamaica Inspiti camps, it was already around 3-4°c and we expected the winds to take the mercury even deeper...
Did it really go beyond freezing temperature? Stay tuned for tomorrow's log...
Time for a chilling night... See you early morning tomorrow, it will be the most happening day tomorrow 😉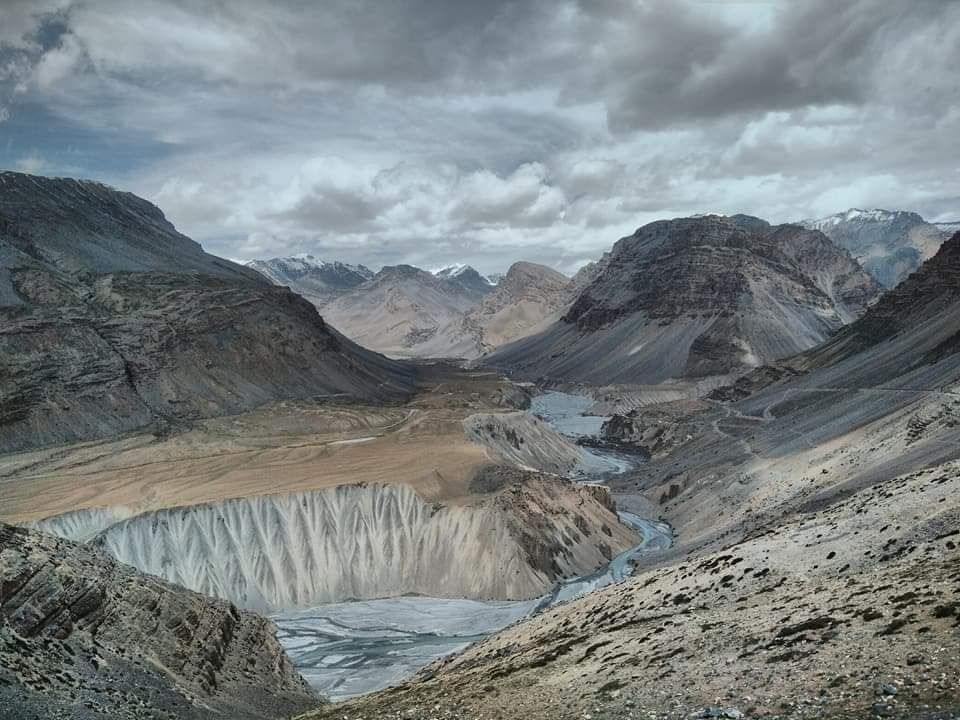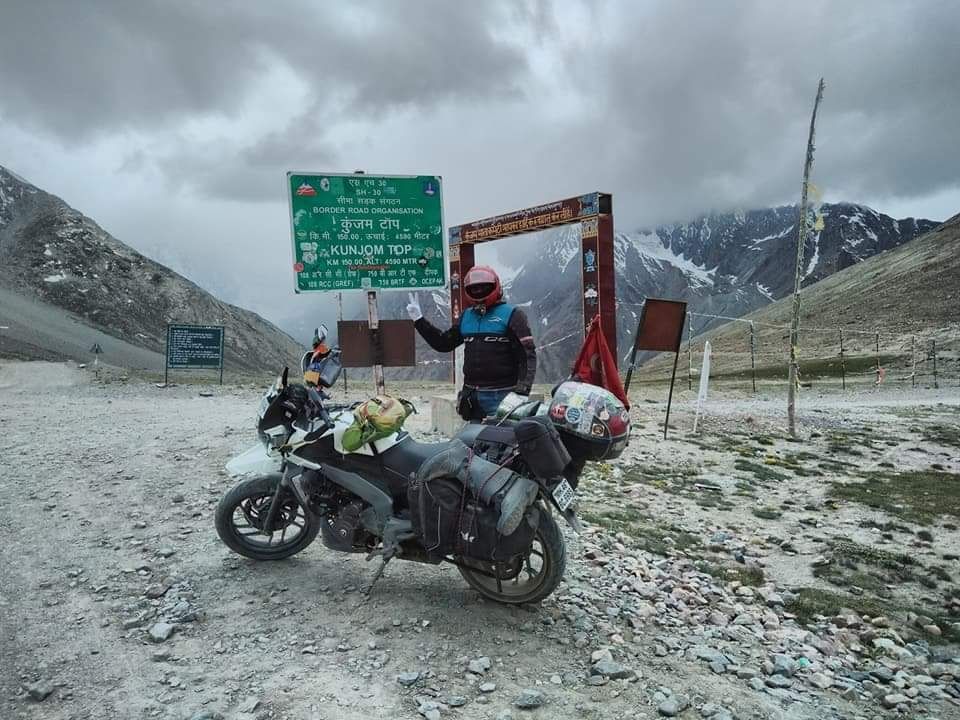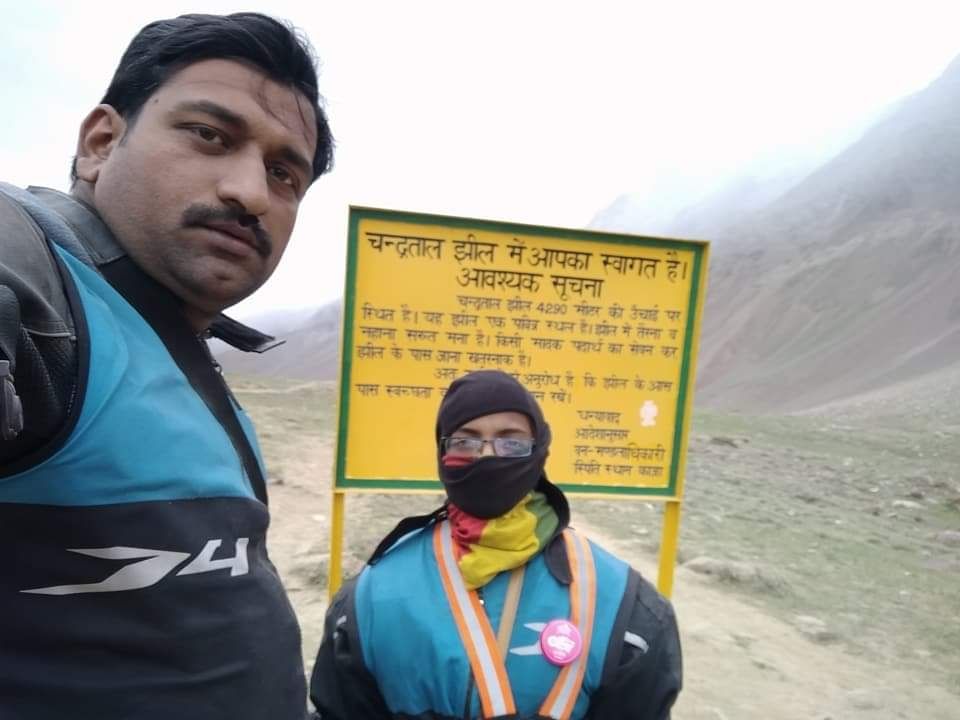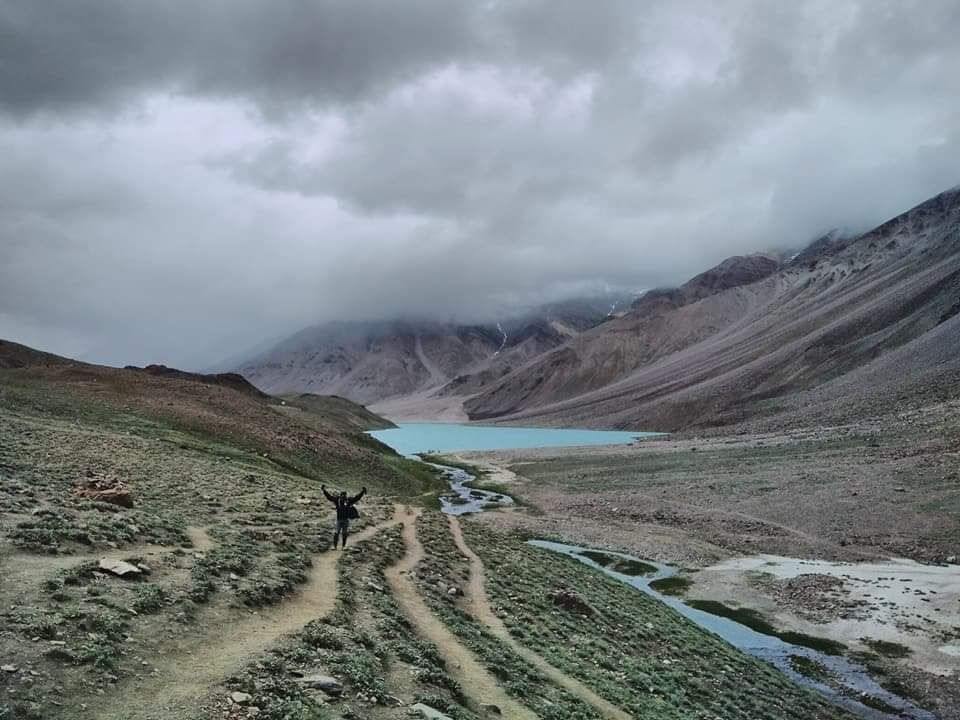 Chandrataal to Keylong
111kms
As we had heard from many people that the water crossings become fierce and dangerous to cross as the sun heats up, we had decided to start early i.e. by 6.30am today. But the extreme cold did very well to delay us till 8am. We had our breakfast at Jamaica Inspiti camps and set off towards what is called the most treacherous road stretch in entire spiti circuit...
It was 10kms of ride back to main road from the campsite and 3kms of hairpin bends that took us to Batal, the last point where you get some respite before next 40kms to Chhatru.
The road literally runs thru the riverbed and its all gravels, pebbles and boulders that you ride across!! Come Chota Dara, and we started experiencing the water crossings...
Go on counting, you'll fall short of fingers, but the crossings will keep coming across...
We had a short break to rest our bikes at Chhatru and continued ahead to Gramphoo (17kms). These final 17kms of spiti valley are a complete challange with numerous water crossings, steep inclines (add slush to that) and sharp curves as usual... It was as if #SpitiValley was giving us final moments to remember before bidding goodbye...
The moment we reached Gramphoo was a moment I can't express in words... It was a mixture of feelings, but what stands above all is the pride that I feel for Priyanka, her support throughout this ride has been exemplary... And there's more to go 😉
We decided not to halt at Sissu and rode to Keylong (7kms off the way) just for the sake of a wi-fi enabled hotel 🙊
In the evening, we took a small ride to Shashur Monastery thru a 6.5kms winding, uphill, narrow road. Back at the hotel, we had dinner and its time to hit the bed as we head to Killar tomorrow morning...
#Killar... बस्स नाम ही काफ़ी है... 😉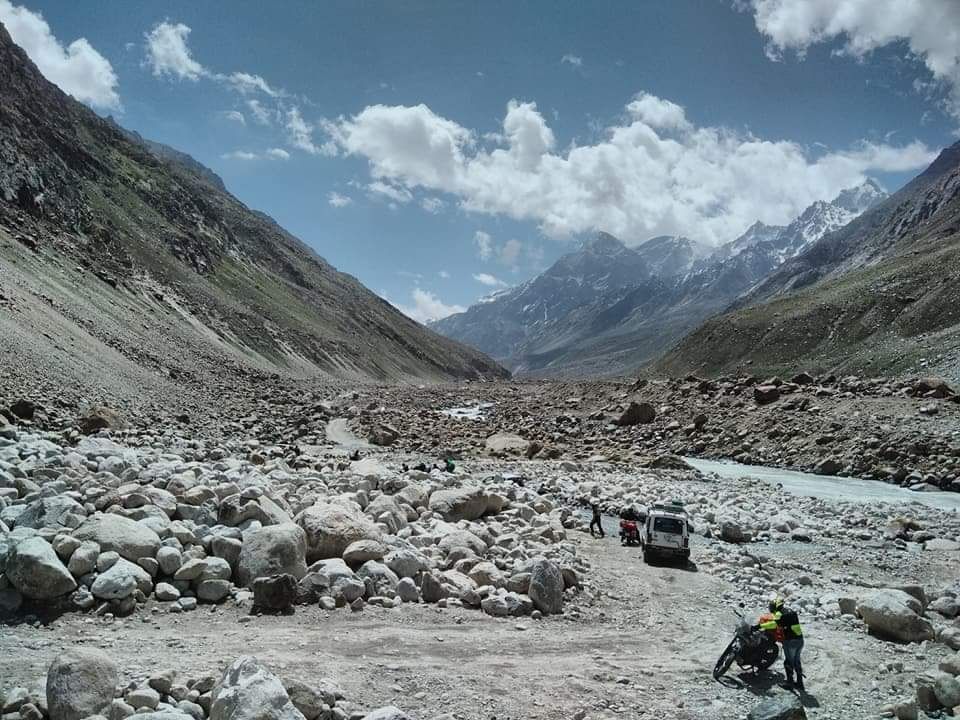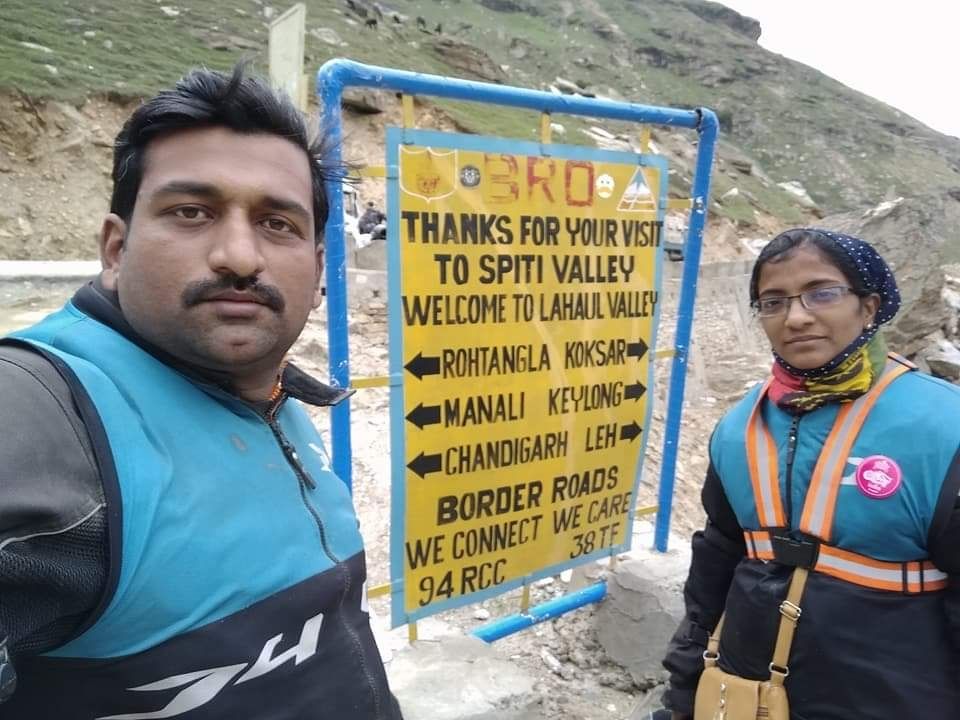 Keylong to Killar
140kms
Today, we took our own leisure time to soak in the proud feeling of completing the spiti valley circuit. We had our breakfast, and searched the entire market of Keylong to hunt for apparently 'The one and only Medicine shop' in the town... As it all happened, we started our journey around 11am.
First thing, we went back to Tandi fuel pump to stock up for all rest of our ride, and then took our way to Killar via Udaipur.
At Udaipur, we were looking for a descent lunch-joint and stopped a rider coming from Killar side to enquire about the same.
AND HE STARTED LIKE THIS....
"भाई अब तो दो बज गए, अब आप किल्लाड कब जाओगे! सात - आठ घंटे लगते हैं यहाँ से!! ये देखो मै दो बार गिरा हूं, इतना ज्यादा पानी है रास्ते मे, आपके साथ तो pillion है, आप यही कही रूम ढूंढ लो... पूरा रास्ता जंगल से जाता है, शाम को शेर, भालू और चीते निकलते हैं रास्ते पर..."
Me and Ajinkya were looking at each others while Priyanka was starting to take it all seriously and you can guess what happens ahead... 🙊
We had a quick and simple Daal-rice lunch near Udaipur (the only useful thing that rider told us was about this small food outlet)...
We started the ride around 2.45pm after lunch, and I must say this is one hell of a route!! We found literally no tarmac in these 80kms, absolutely bad to pathetic off-roads, and numerous water crossings on the way... The road has 3 villages, one of them on the opposite bank of River Chenab that runs all along the way from Keylong till Killar and beyond...
But guess what, we ended up doing this 80kms run in fairly under 4 hours, including a tea-break at THE ONLY shop we found on the way...
At Killar, we checked in at Chandrabhaga homestay, a 'still-under-development' property with prime views and location...
Coincidently, we have riders from IBR Jaipur staying at the same hotel, they've completed #sachpass today and are heading to #spiti lead by Sunil John sir from Bhilwara...
We had our dinner at a small dhaba across the road and are about to call it a night in complete darkness, as its around 10.30pm and entire Killar is still shy of power supply...
Hope for a good night sleep, its THE #CLIFFHANGER time tomorrow... ☺️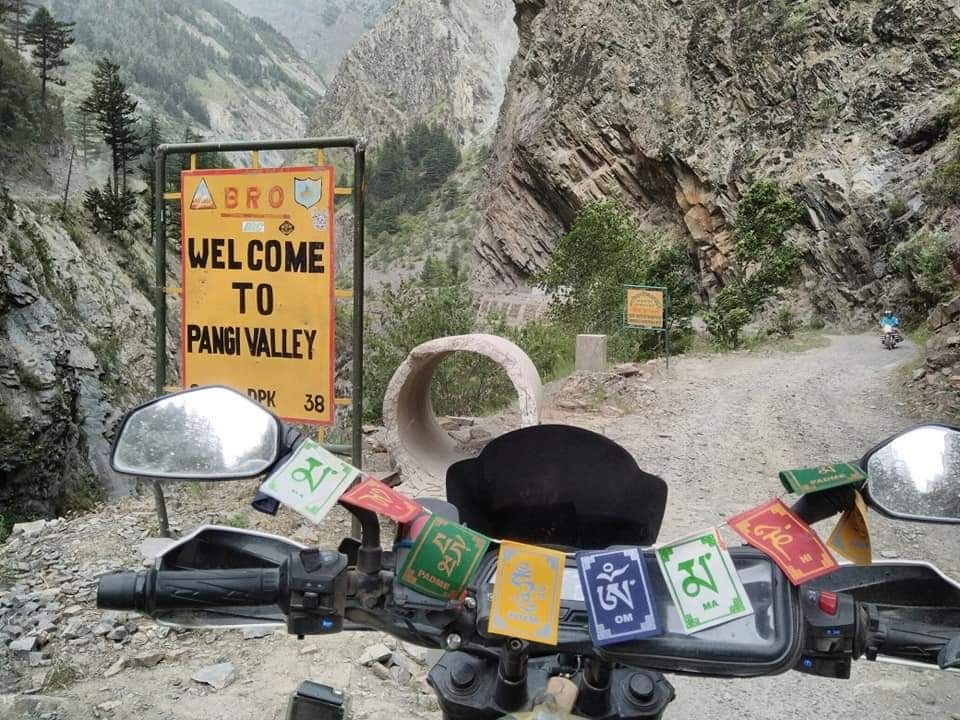 THE #CLIFFHANGER ROUTE
60kms
Good morning fellas, and wish you all a HAPPY #WORLD_MOTORCYCLE_DAY
It was around 9am when we had a 'Paratha with Omlette' 😋 breakfast and headed to our second ride destination, THE CLIFFHANGER...
This road is an approx 5kms stretch of road carved in a cliff, and it is the only connection for Ishtyari village in J&K with the rest of that state. It is broadly regarded as 'The most dangerous road in the world'...!
The road (or no-road rather) to Ishtyari is 30kms and the only habitation that we found along the way was at Sansari Check post at HP - J&K border... Its another ardous track made of loose soil, rocks and steep inclines, declines and hairpin bends... We reached Ishtyari and were welcomed by a fresh landslide. The machines were just about finishing their job (quick, as always in the mountains) and we got to pass the spot very soon.
And there it was, the first look itself was enough to give goosebumps and pump my adrenaline at the same time... We rode down the entire stretch non-stop and decided to take ample photo-stops on our way back.
To be fair, it didn't feel as tough to ride as it seemed from a distance, or in the pics and videos that I had seen... But it is a lifetime experience indeed...
We started our ride back and reached Killar by 3pm. (I unfortunately had a small fall on the way, my first in three successive years of himalayan rides, and it was more of a funny scene than a tragedy)...
We were supposed to visit another place in Pangi, The Hudan Valley in the evening. But the strong chilling winds and overcast atmosphere made us sit back in the hotel and rather prepare our minds for the next adventure, the #sachpass...
The World Motorcycle Day was indeed a happy day ☺️
Good night...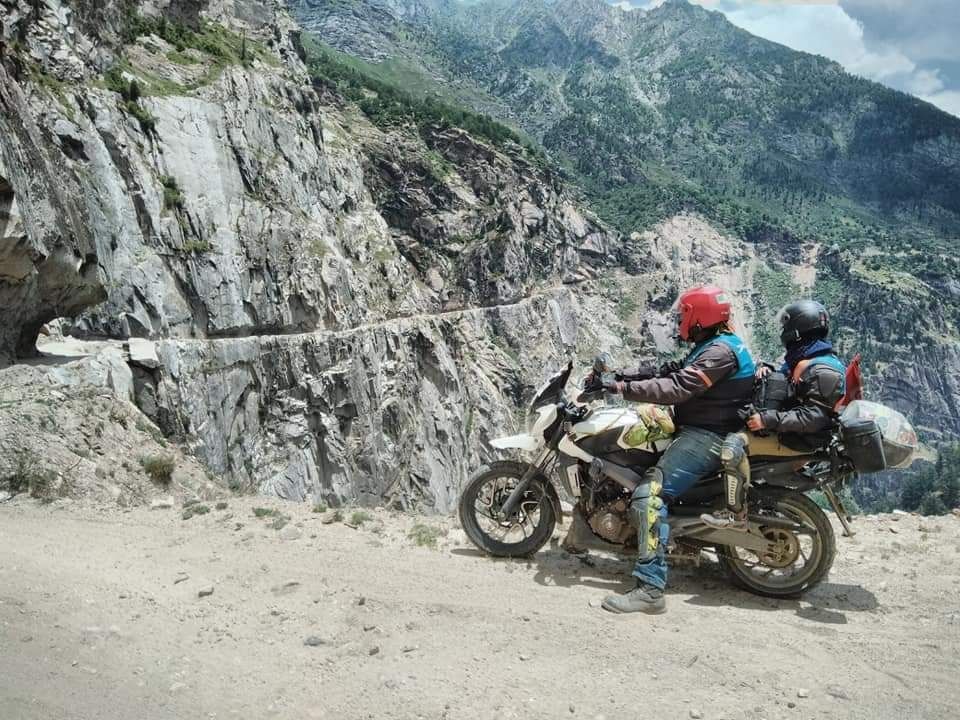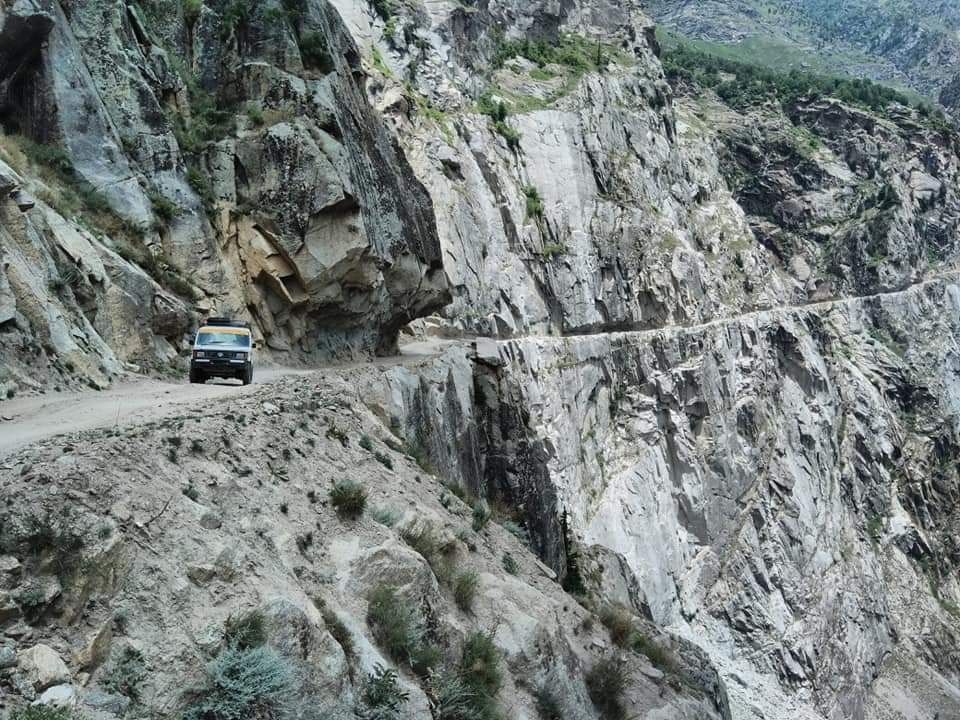 Killar - #sachpass - Dalhousie
196kms
We started this ride with an aim to ride across the most difficult ride trails in the Himalayas... And if #spitivalley and #cliffhanger were 'The knight and the King', then 'The Ace' was still there to be seen...
How can we use the word #extreme and not think about #sachpass?
It was The final destination of our ride before we start off back towards home sweet home (more surprises on the way 😉)
We left Killar after breakfast around 8am, and managed to ride an extremely treacherous and tricky 50kms thru continuous inclines in about 2 hours and 30mins. The last 5-6kms to sach pass top were a treat to the eyes and soul with heavy snow all across the vicinity.
We spent around half an bour at the top admiring the beautiful snow-clad mountains around us, and soaking in the joy and pride of reaching the #sachpass top...
As we continued riding towards Bairagarh, we almost entered a new world after a gap of 8-10 days... Everything from terrain to flora to habits, everything!!!
We reached #Bairagarh at around 1.30pm and had lunch at #ChamundaHotel in Bairagarh. After lunch, we completed the remaining 120kms in around 4 hours, only to get stuck in Dalhousie traffic for one full hour. I somehow sneaked the bike out of the town and we rode the last 5kms to Kalatop (Lakkad Mandi), where my entire family is waiting for us.
They have driven all the way from home via Ahmedabad - Jaipur - Amritsar to Dalhousie and now, we'll be spending a weekend here (and in Dharamshala) before we head back to Mumbai together via Delhi - Agra - Indore.
We've finally met #Eeva after 2weeks, and Its family time now...!
Have a good time, I'll be back soon ☺️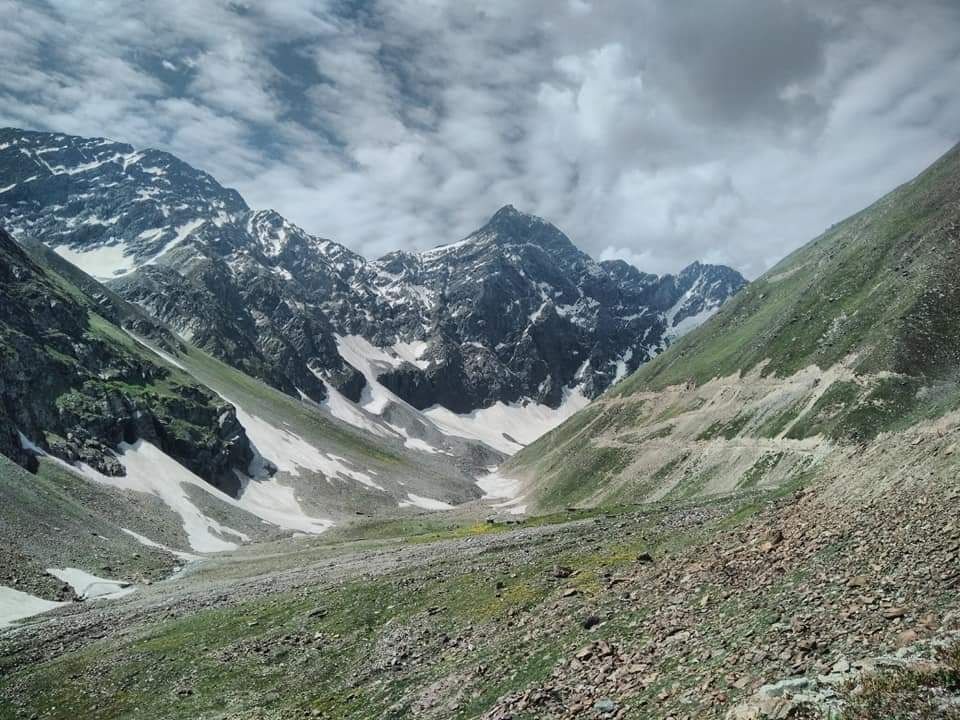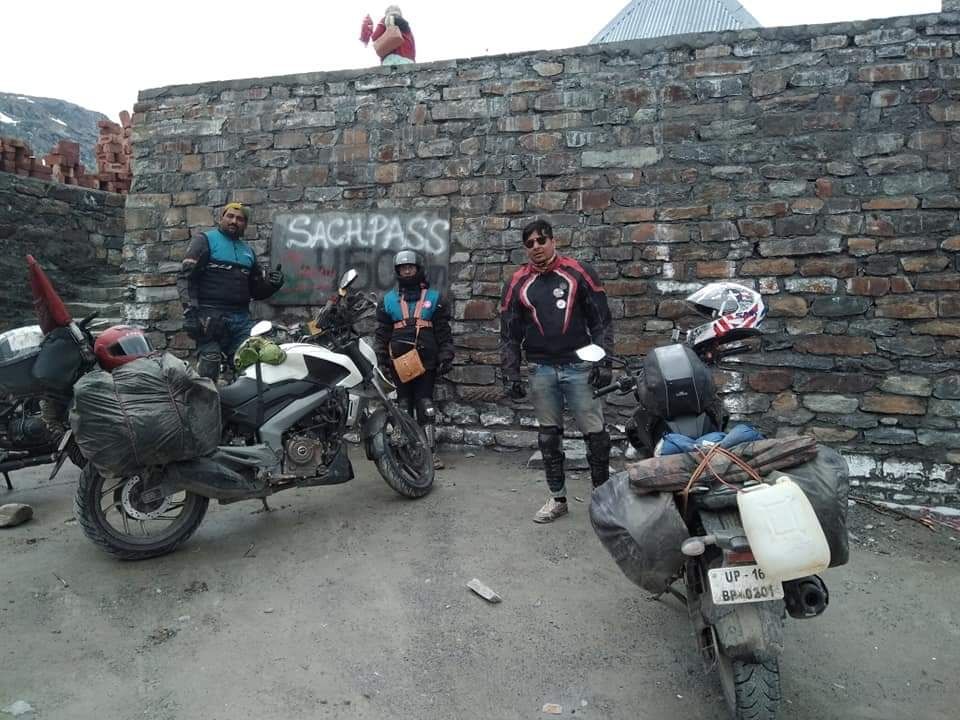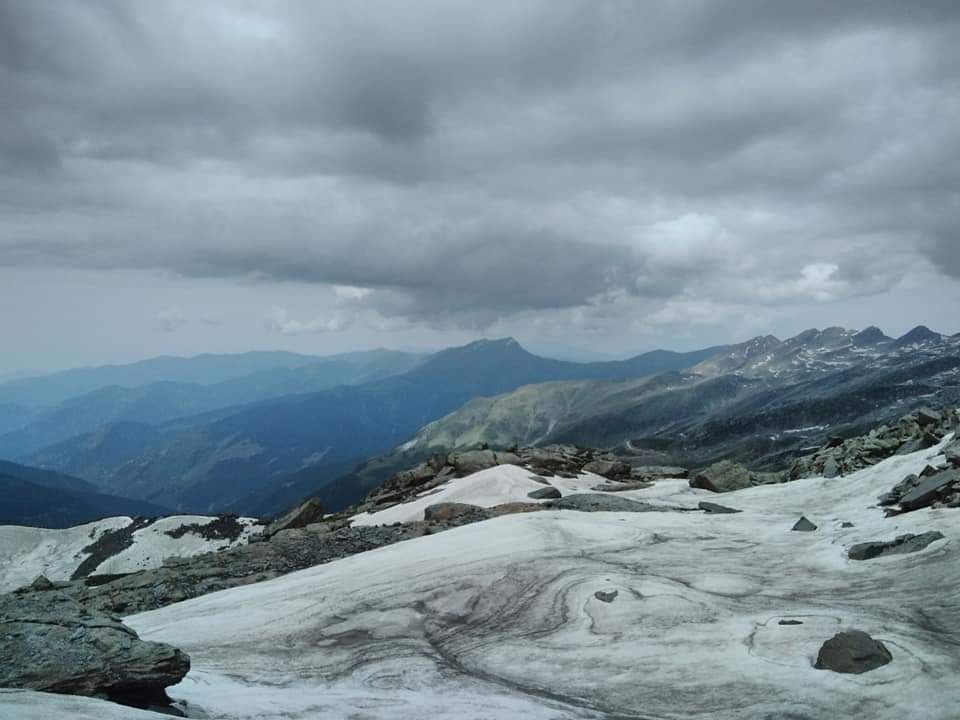 Dalhousie - Khajjiar sightseeing
This is now more like a complete family weekend outing setup and we decided to give a day's break to my Bajaj Dominar... We set out for sightseeing in our Datsun India #GoPlus after breakfast and visited Khajjiar meadows, Kalatop forest, DainKund peak and Panchpula in the day.
This may seem a very short itinerary, but add endless traffic to it and your timeline is hell packed 😏