continued from here.
Next day, we crossed UK border... and entered Himachal Pradesh. The boundary was pretty interesting - it was a bridge made of two wooden logs over the Rupin river!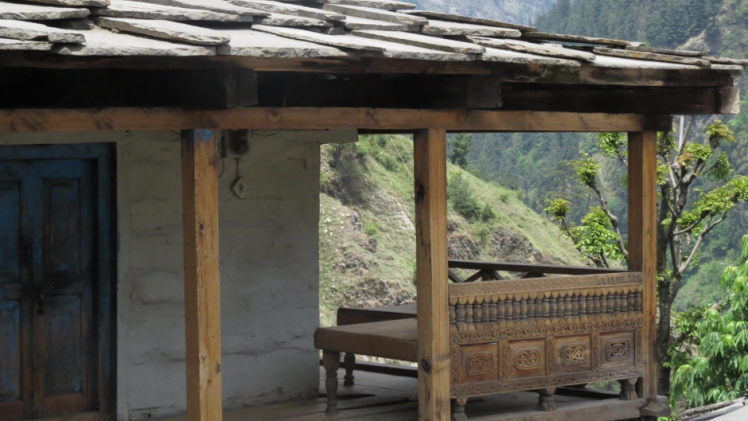 The next camp was in village Jiskun. Another night in a homestay. Jiskun was a small village, though a little bigger that Sewa. The houses here were beautiful, with intricate wooden carving. For the first time, I saw rooftops made out of large, heavy tiles of stones. More beautiful were the people and their costumes!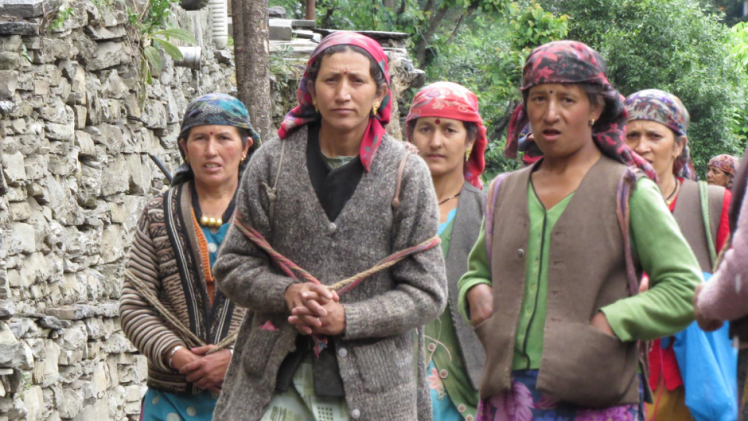 The cameras had no rest that day. Moreover, we spotted countless new birds. I had promised myself (as I always do when I click flowers, plants, birds) that this time, I'd definitely find out all their names. As always, I haven't done it yet.
Since the first day of trek, Vishal had asked us to be careful of a certain nettle bush, bichhu ghaas . I had my first encounter with it on the third day, while filling river water and god! It stings. Bichhu ghaas (Scorpio-grass) is a perfect name for it.
After that river-crossing, the trail was extremely narrow and uphill. And it started raining lightly. We were walking in a single file. My friend and I have our cameras out as usual. But this time, the second we stop to shoot something, Vishal would hurry us up. In a couple of minutes, it started raining harder. We had to wear our ponchos to cover ourselves. It became indeed cold. Little bit of water had run down my shirt and some down my shoes as well. I was literally shivering. And I was worried that I'd have to wear the wet shoes for the rest of my trek. It seemed like a never ending walk, until we reached another village on the way. We stopped there and had some biscuits, chocolates we had packed, massaged each other's hands and made ourselves warmer. The rain had stopped. The ponchos were off. But the cold winds had started.
After a while, we found ourselves again crossing the river. It felt as if we just climbed down all that we had climbed up since morning. We stopped here to have a hot by a small shack by the river. By now, it was quite sunny and warm. The shack also seemed to have maggi and none of us could resist. Vishal still made us finish our packed lunch first before we could have any maggi.
As I would realise later, this was the last sunny time we had had until next few days and I forgot to dry my shoes!
The trail from Udaknal to Dhanderas is mesmerising. We walk along streams for almost entire trail. We walk through meadows and through birch forest, only not to mention the countless little wild flowers.
Everyone is eager to get their share of the famous Bhoorjapatra - the thin bark of birch trees! We cross Suruvas thatch and come to another patch called Buras kandi, the land of rhododendrons. The discovery of this land was delightful indeed. First we saw small bushes of some rhododendron species, with no flowers. On the next turn, the bushes got bigger and finally we came across the gorgeous pink coloured rhododendron flowers.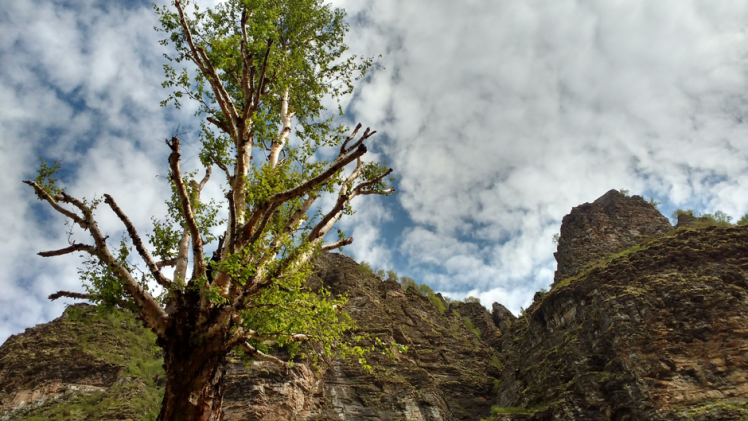 Two days ago, we had had a rhododendron at Jiskun! We had wondered how they looked. And now they were everywhere around us....in every direction we looked!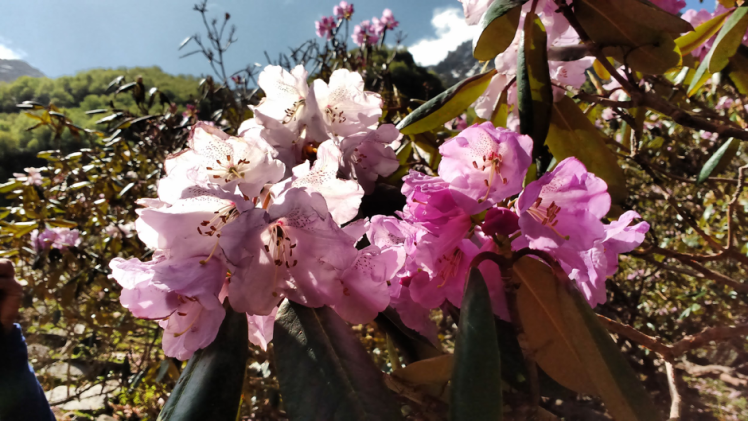 As we approach Dhanderas thatch, we start seeing a few small waterfalls emerging from the glaciers above. They grew from a few to a countless as we moved closer to our campsite!
Finally we see the renowned waterfall. Earlier we had had only a glimpse of it. It looks as if it falls in three stages, divided by small glacial bridges. This is where the place derives its second name from - 'lower waterfall'! It's just splendid!
( Picture abhi bhi baki hai.. to be continued here)
P.S. Let me know your thoughts in comments!
Thanks for reading ????