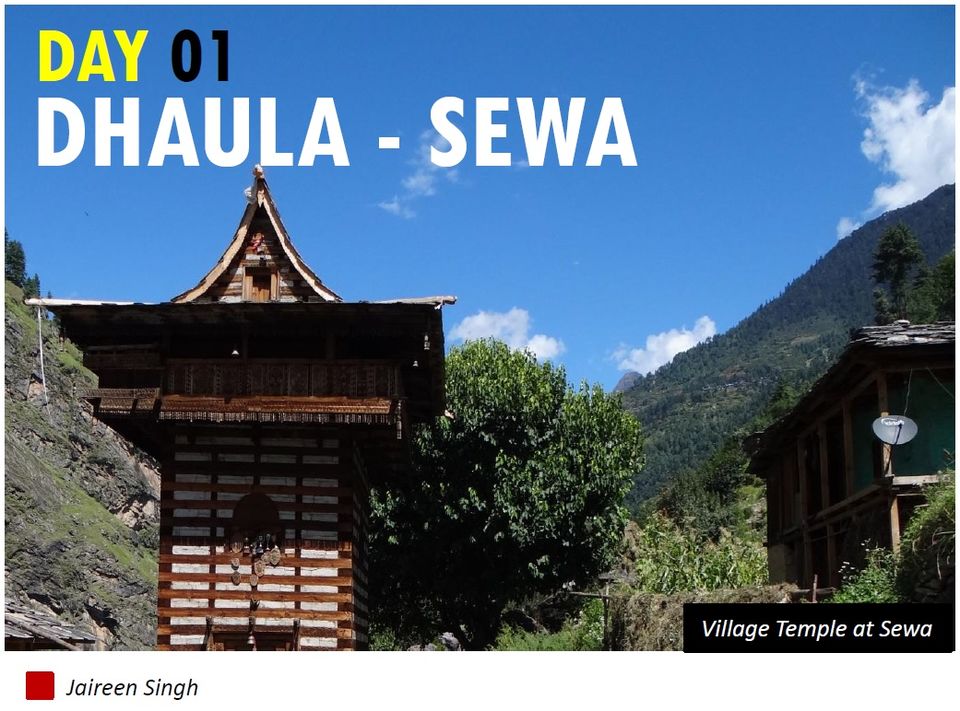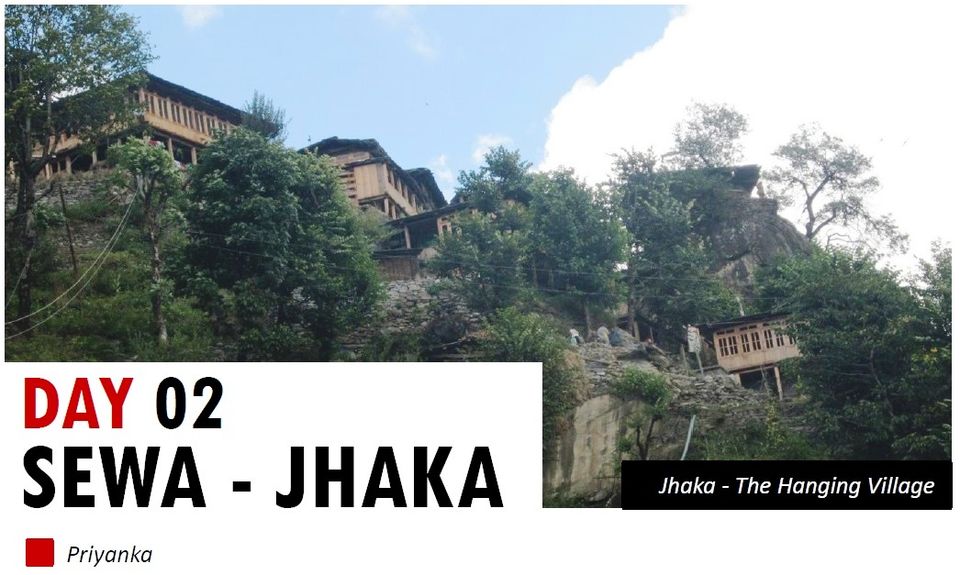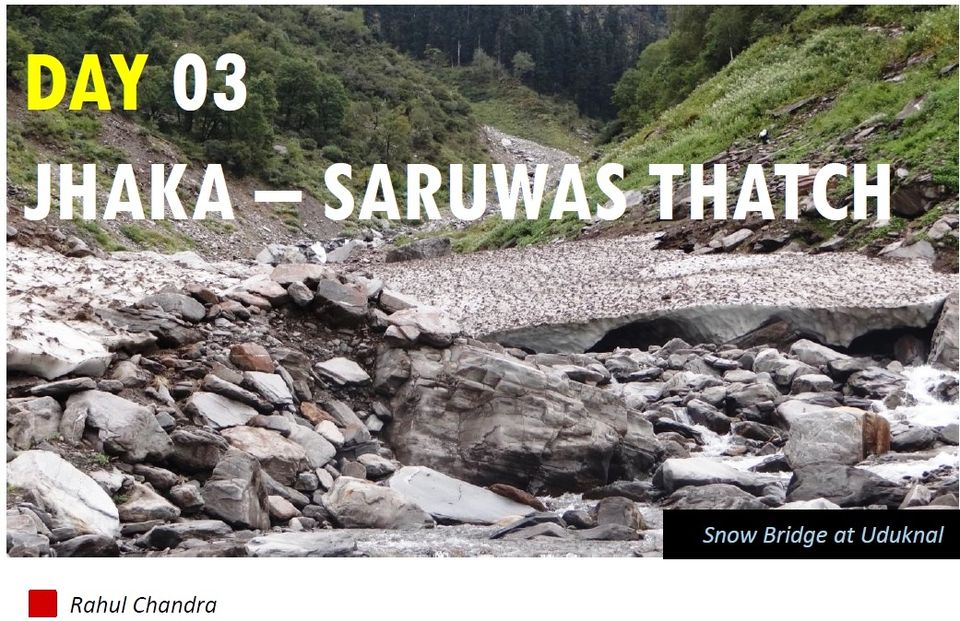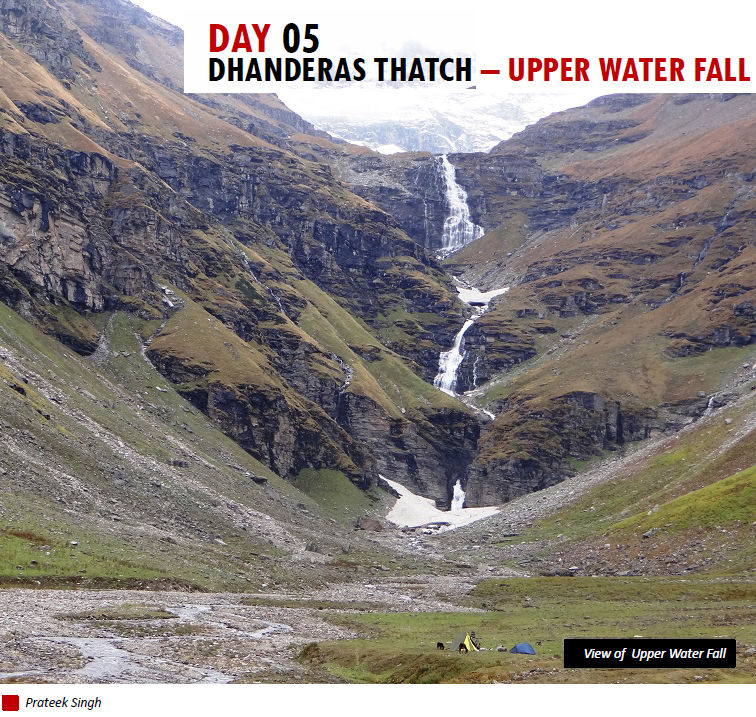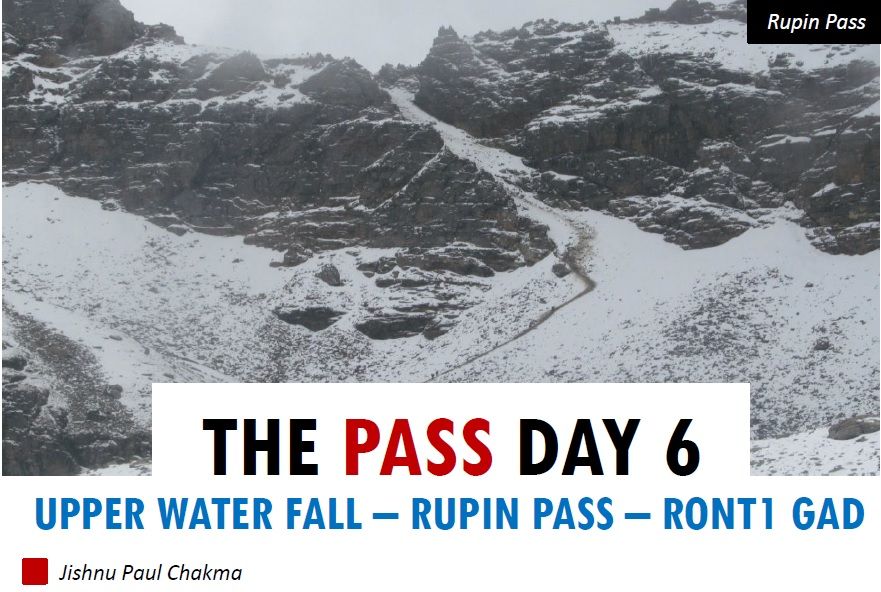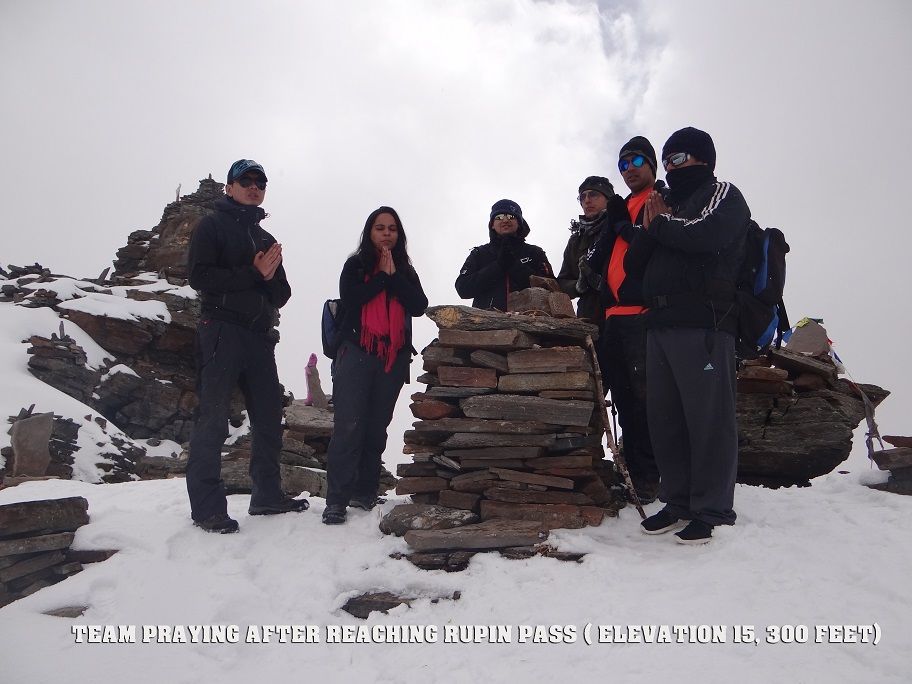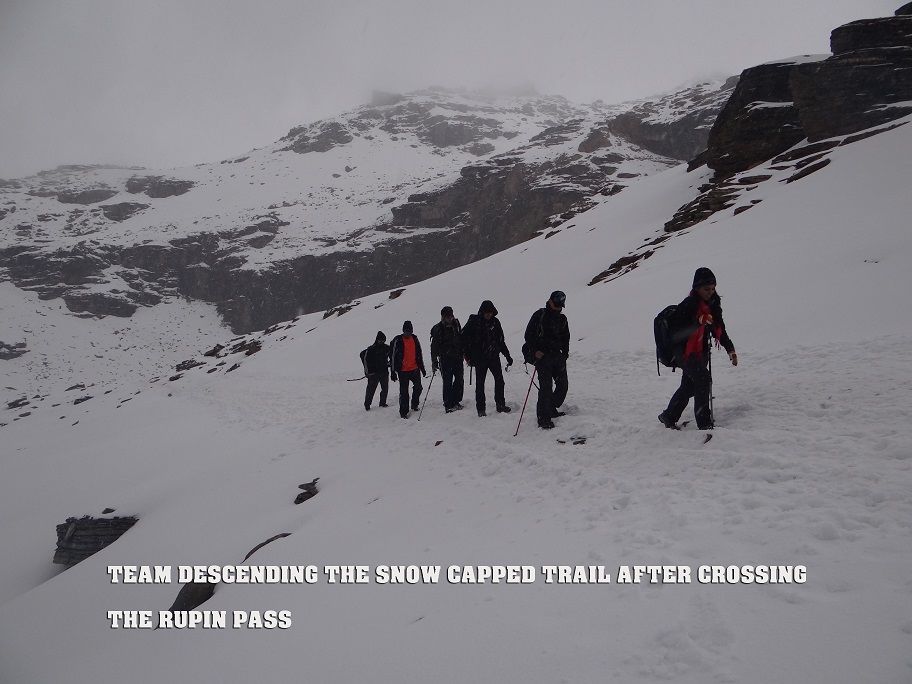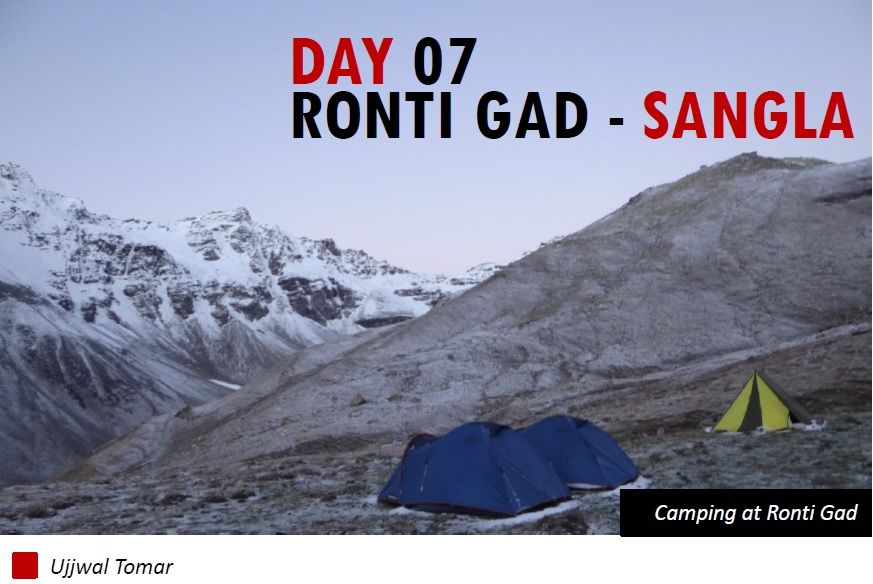 We arrived at Dehradun early in the morning. Deciding to eat light for the hilly journey ahead, we had a cup of chai and biscuits and hired cabs to take our group from the town of Dehradun to the starting point of our trek- Dhaula. During the eight hour journey on the hills, we enjoyed the picturesque views Uttarakhand had to offer, stopping to grab some lunch on the way. We entered the Govind Pashu Vihar National Park and Sanctuary and proceeded to Dhaula late in the evening, where we camped for the night next to the lovely Rupin river. The noise of the gushing river water had a surprisingly calming influence and the moon light gave us a glimpse of all that nature was going to offer us on this trek. We retired early for the night taking a long night's sleep to prepare us for the first day of the trek ahead of us.
The first day of the trek always starts with high enthusiasm. We started off at around 8 in the morning after a light breakfast, crossing the hanging bridge and taking photos by the dozen. It was a well-marked trail most of the time, ascending through a few villages and crossing several rivulets on the way. The first few kilometers were an easy walk alongside the river, following it upstream. Step-farming & large fields of the wine colored "cholai" formed a large part of the terrain. The trail then ascends to gain altitude by almost 1400 feet to reach the village of Sewa. The view of the Sewa temple and a few shops nearby greeted us as we sat down for lunch. The temple remains closed most of the time as there is only one idol which is shared among 15 – 17 temples. Although the temple was closed, the sight of the several offerings by the locals to the temple deity gave us a sense of the deep devotion among the people of the village. We camped a little ahead of the Sewa village, next to the river. A bonfire and some interesting conversations with the porters turned the evening into the moonlit night. The pitch dark of the night, the sound of the flowing river, the moon light, the starry night sky… the magic of nature had just begun to mesmerize us.
After having a decent sleep at Sewa camp we all woke up early to avoid walking under the scorching sun. It was told by our local guide that 2nd day of trek from Sewa to Jhaka village will be of approx. 10-12 Kms consisting of around 7 Kms walk on motorable road. After having our breakfast & tea we all started off from Sewa camp. After walking for 30 minutes, Five of us from the group took some other trail and reached a dead end. They tried to reach other members through whistle and shouting out but unfortunately they weren't able to contact the other team members. After roaming for around a hour in jungle, they decided to walk along the river bed to reach the motor able road which was quite visible from the dead end point. But after walking for few stretch, water in the river roused to a higher level and it was not feasible to walk along the riverside. Then few villagers who were bypassing the road saw them and through their help they escaped and reached to a motorable path & met other team members who were searching for them. Then, we all started off a 7 Km walk on dusty, rugged road which was under construction & will be ready soon. Other than 2-3 small waterfalls, this stretch of the trek was pretty uneventful. After completing the 7 Km stretch we all reached at Bawta Village which is basically a lower Jiskun. In Bawta, we all had maggi & tea at a small shop, which was not less than a surprise welcome break for us. Soon after trail winds endlessly up, until we reach upper Jiskun. Jiskun was a good place to replenish our supplies as it had a good local stores having the availability of most of the items. Jiskun was one of the bigger villages on our way with around 100 houses. We came across many school kids on the way, they looked cheerful & greeted us. In return, we distributed chocolates & candies to these kids during the trek. After Jiskun the ascent wasn't there but the trail was uneven and full of bigger rocks. The trail out of Jiskun descends rapidly through a forest of deodars and walnut until it reaches an enchanting dark fold in the mountain. However the toughest part of the day came after we crossed the bridge.
Then, started the steep climb to Jhaka village with a trail mostly made of broken rocks for over 3 Kms, where we gained about 400 mtrs in altitude. Finally we saw a village that seemed to hang on a cliff. This was Jhaka, our night halt at an altitude of 2800 meters. Thankfully, we didn't have to stay in tent tonight as the locals here rent out rooms in their houses to trekkers. It had rained and the place seemed pristine and beautiful. Luckily the owner of the house where we got home stay had an apple tree in the backyard and we all had a treat of fresh apples.
Later in the evening, we had our dinner and had a small round of antakshri for reviving the energy we all require in further days of trek. It was quite a bit of fun.
We were all relaxed after having slept adequately in a comfortable environment in home stay at Jhaka. We started our day after a good breakfast. Our destination for the day was Saruwas Thatch. It is a trek of 6-7 KMs from Jhaka.
Jhaka is the last place to replenish the stock if required as no village or human soul would be encountered for next four days except some co trekkers of different group or few shepherds with their heard of sheeps. We had stuff required for next four days. We all stuffed our bags with chocolates, dry fruits and other necessary items for next few days.
The altitude shift from Jhaka (8700 ft.) to Saruwas Thatch (11150 ft) is around 2500 ft. We all were excited to cross our first snow bridge today. Our bags were packed and with our local guide we left around 8. We crossed village play ground and entered into the forests which had Pine Trees, Deodar Trees and few Maple trees.
However, the weather had different plans in store for us. After trekking for some 3 hours it started drizzling and our local guide could sense the temperament of weather. We took a halt at Udaikanal for an hour. We were just short of 2 KMs from our destination.
We had a beautiful snow bridge in front of us. We had our queries about crossing snow bridge and it was adventurous enough to see the sudden weather change. After the rain had settled down we started trekking again and crossed our first snow bridge with certain level of difficulty created by bad weather. Guidance of our local guide was enough to keep us motivated and safe. Soon we reached Saruwas Thatch and after the tents were setup we were all packed in our tents and sleeping bags. One of the trekkers among us had bought playing cards from Jhaka which came as a pleasant surprise. We spent some time playing cards and had dinner and slept after a long adventurous day.
The trail from Saruwas thatch to Dhanteras is one of the best day on the entire trek. It is very diverse in landscapes taking you along a gorge, waterfalls, meadows, forests. We walked on an almost level ground and amidst the meadows while we can see numerous cascading waterfalls feeding Rupin. The trail goes through the lush green pastures to our campsite at Dhanteras Thatch/Lower waterfall camp (~3560m, 11650ft). Distance is 6 Km and takes up to 3-4 hours.
The climb through forest and shrubs makes way to a grand amphitheater of green. As you peep from the lip of the U-Shaped valley you notice hundreds of waterfalls cascading down its brown walls to meet the Rupin. In contrast, laid out in front of you are miles of green meadows. And in between the undulating meadows the Rupin gracefully snakes its way up to its waterfall source. To top the scenery you have white snow patches lying scattered all along on the edges of the meadows. The climb is like inching along near the top of a roller coaster ride, waiting, anticipating for the view next. It doesn't disappoint you. You have arrived at the prettiest meadow of the trek, a site so beautiful, that you want to setup camp right there. You are in the middle of the valley's bowl. Ahead, the Rupin thunders down its three stages of waterfall. Beyond the waterfall is the alpine Dhauladhar Range looming large. This is Dhanteras Thatch.
While we were still awe-struck in the astonishment of the view, we felt a sudden urge to get acclimatize. It was a biting cold there with wind flowing at a speed of Shatabdi express. While few group members got engaged in Yoga and breathing exercises, few opted to collect thin small wood logs for a warm bonfire evening. The meadow is home to hundreds of non-milk feeding cows, left strayed by their owners for 5-6 months, accompanied by thousands of sheeps, who regularly come for an evening stroll, along with their shepherds.
Being lucky, Full Moon welcomed us soon. Her glow was serving us as an Icing on the cake at this picturesque camp. The Moon, at a hand's distance & looming large, was accompanied by Milky way in the background and devoid of any clouds. You simply can't ask more for a better view from the Himalayas.
We got a clear view of our next Upper waterfall camp. Along-With excitement for tomorrow was a thinking about how I am going to climb this with a 12 kg backpack but then said to myself - "He who walks with the company of God never had to fear the darkness". With satisfaction in hearts, soon we settled inside our tents.
An evening before Dhanteras Thatch was a beautiful high altitude meadow bigger in size and more even than Saruwas Thatch. After reaching here last afternoon, everyone was trying to get acclimatised to the conditions. Jishnu, Prateek and Rahul went with the Porters to bring in some broken n dead wood for the bonfire, which could be our last opportunity on the trek, as on further altitude, the chances of any form of vegetation were pretty bleak. Ujjwal went right upto the foothills of waterfall to get acclimatised and also to find some wooden stick, which can be used on ice as support. He had hard luck with finding the stick, but he did have a pretty good walk upto the waterfall. Ankit, as usual was doing his yoga, while Jitender was helping porters to collect dry leaves and small sticks from nearby and start some initial fire, he was also clicking some pictures around. Jaireen was feeling a bit tired and uneasy, so Priyanka was helping her out in tent with some medicines and also talking to her. Later on Priyanka joined us outside at the bonfire.
Morning of climb to the Upper Waterfall: (The fateful day we separate) The morning of climb had a clear sky and bright sun, which was a big motivating factor for the day, as previous days, had rains or cloudy skies, giving a gloomy atmosphere. However, the freshness of morning sun and enthusiasm for climbing to the top of waterfall, took a hit when we came to know that AMS had got it's first victim from the team
Jaireen, was facing severe head ache the last night, so she was given a Diamox and combiflame but today morning her hands and feet got numb, and she was feeling dizziness and had lost appetite. These were clear symptoms for AMS. Everyone got pretty low, on how to continue the trek ahead, and all options started coming in, like possibility of staying over a day, like everyone returning from trek, like collecting nominations from everyone to be appointed as a person assisting Jaireen safely back home. Finally, we settled for the latter option and Jitender was nominated by the group to return with Jaireen.
With a heavy heart, everyone started the day after bidding goodbyes and rearranging luggage and ration. We had a delayed start to the day, but the shining sun, gave us hope to be able to complete the day comfortably. Today was a pretty steep climb. The waterfall stood tall in front of us, and we could only see the snow capped peaks beyond in horizon. We started the trek for the day and everyone stayed close to each other, as the ascent was both rocky and steep. We took the route towards the right of waterfall and it was a good 2-3 kilometres climb through the rocky route to reach our first resting point, i.e the lower waterfall. After a good rest here on top of Lower Waterfall, we crossed the glacial patch between Upper & Lower Waterfall.
A slip here would have ensured that we go down along the waterfall but the good snow conditions provided us grip and made our task less threatening. This glacial patch appeared pretty small from down the valley, but it was a good plain snow bridge for crossing the waterfall from one end to the other side. We were slowly feeling the rise in altitude, as everyone was taking a break quite often in their climbs.
The view from here of the entire valley is really a treat to the eyes, as you can see clear waters of Rupin river, with its several twists and turns flowing down, right up till the horizon. But, we still hadn't reached the Upper Waterfall Camp, and only the halfway mark. The climb from here was much steeper and even though we had only 1-2 kms more to cover, the ascent was almost at 80 degrees, with low oxygen adding to our fatigue.
The climb further took us only 1-2 hours more and finally we reached the Upper Waterfall Camp. Porters were arranging the campsite for us, and the sound of waterfall up-close was amazing. It was a good plateau area and we were right in the base, of snow covered mountains. Learning from Jaireen's experience everyone decided to stay outside only and get involved in some activity to get further acclimatised with the rise in altitude. Some of the guys, even went to check Ratapheri Campsite. Others, were spending time by the river and climbing upto the snow points, in the nearby hills.
Today was no bonfire, but we were sitting outside and discussing the day, and everyone was missing our wonderful team members Jaireen and Jitender, who had to sacrifice his journey ahead to help Jaireen, so that the rest could cover the pass and trek ahead.
It was a chilly morning today with a temperature dip of 20 degrees below freezing point at night as recorded by our Guide Gajendra. The small stream by the campsite was frozen. However the Hot cup of coffee and noodles for breakfast made our spirit come alive. We could see the beautiful valley of Dhanteras Thatch below from the height of 13000 feet. The Sky was blue without a single spec of cloud. The sun felt warm and relieving.
" Beautiful day to cross the pass"
Announced our Guide. We started for our trek immediately after breakfast. The climb was steep and steady. We had to take frequent breaks in between and gasped for the small amount of oxygen in the air. We crossed Raat-feri camp within an hour. The half a kilometer steep slope of the pass was clearly visible from that point. Within half an hour after that, we were at the bottom of pass ready to begin our ascent. 5 minutes into the ascent felt like ages on the slippery ice.
We were crawling and reaching out for any small pieces of precariously placed rock between the slippery ice. A small slip in the ice was potentially fatal. Half way along the ascent and we were drained of all available energy. Looking down the treacherous trail felt mind bogglingly frightening while staring up was tremendously demotivating. However, gathering all the courage we could summon coupled with the distressed ATP generated through anaerobic respiration in the muscles, we were able to reach the beautiful summit.
For a couple of minutes, we couldn't sink in the feeling of having made the death defying climb. It was a moment of great achievement for the team. We congratulated each other on reaching the top and savored the amazing moment.
It felt like heaven at the height of 15,300 feet with the beautiful fresh snow. As we posed for our Group Picture, small snow pallets started falling. Playing with the whitest crispy fresh snow, sliding down the sloppy trail and gasping for more oxygen was fun. We trekked for another 6 kms down the trail, which was equally dangerous and reached Ronti Gad completely exhausted.
It was our campsite for tonight. We sat near the stove inside the porter's tent, removed our wet socks to make our feet dry. Hot tea and tomato soup was served that helped to get our body temperature back to normal.
With the absence of Camp fire due non availability of wood at that height, we quickly retired to our tents after dinner for a long night sleep.
Consequent to the exhilarating day-crossing the pass, we woke up relatively relaxed at Ronti Gad as compared to previous days.
With the adrenalin-charged feeling of having accomplished a major life event, we prepared ourselves well for the trek journey towards our final destination –Sangla a small city also referred to as the Sangla Valley in Kinnaur District of Himachal Pradesh.
Our local guide Gajendra Ji quickly briefed us about how the day's trek was going to be. As he informed, a long 12 km descent was ahead of us that would take around 4-5 hours' time to complete. After having our breakfasts and a small group photo session at Ronti Gad, our motivated group of six started moving ahead gradually.
Unsurprisingly, we were greeted by shepherds with hundreds of mountain goats and sheep crossing our way.
As usual, Shepherd dogs were accompanying and guarding the herd, suspiciously looking at our faces for any possible clues. As we crossed them, the Sun over us was shining and so were we – the quick learned trekking beginners.
We descended steadily along the river in group of two to three. As we witnessed similar type of ecology comprising the fauna and flora along our way, it was evident that theRupin Pass was truly acting as a flawless mirror in this so far unadulterated and untainted space on planet earth. Overwhelmed with the splendid beauty of surroundings, we walked past few houses clustered in asymmetrical manner along the trail. Most of us wanted to take rest after an hour long descent so we decided to get ourselves relaxed a bit. As we sat on the ground partially covered with grass, the native women sitting on the boundary wall, busy with their daily chores greeted us warmly with 'Namaste'.
We keenly observed these houses; the best thing about these houses was the fact that mostly locally available and indigenous raw materials like timber, stones and other items were used to build them, thereby less polluting the environment at local as well as global level. Secondly, solar panels in various sizes were installed at the roof top of most of the houses, utilizing the free and easily accessible source of energy. We started moving again towards our final destination along the river. And somebody from the group hailed 'Got the Network!' with mobile phone in his hand raised high in the sky. Every one cheered the moment as finally the mobile network was accessible after couple of day's gap. We all were able to contact our family members and inform them about our wellbeing. We also contacted Jaireen & Jitendra and enquired about their part journey. Luckily, everything was fine at their end and we also shared our Rupin Pass experience with them.
Now we reached a location from where, we could easily see the roads, light traffic moving over it, pedestrians walking in both directions, the Sangla Valley at large. It was just past noon, and a sensation that represents the physiological need to eat food stuck us. We were feeling hungry and with nothing substantial left in our backpack to munch, we pulled few apples from the nearby trees situated on our way using climbing sticks that some of us had brought for the trek – "the optimum use of sticks !", someone of us whispered. We kept on moving steadily leaving behind the apple orchards, a primary school, a small temple and a truss bridge over the river. Crossing the bridge implied that we were positioned in the Sangla Valley at Kinnaur District, Himachal Pradesh. Welcome to Sangla! Mission Accomplished!! hailed all of us reaching our final destination of trekking expedition. A bit to our surprise, our local guide whistled to move further. We were not allowed to wait here for long and our little moment of joy perished in seconds.
Ahead of us was precisely quarter of a kilometre ascent that too paved one located in a village- outskirts of Sangla Market. Leaving behind the river course, we started climbing the ascent way after nearly a four hour long descent trek. With the knees & the toes exhausted by the continuous descent, this petty ascent appeared another Rupin Passwinking at us. On the way, school children returning back home greeted us, the villagers smiled at us as if they were seeing a neighbour after a long time.
Six, Five, Foour, Threeee, Twooooo and the laaast step. A glimpse of contentment spread on our faces and we congratulated each other for the remarkable success of trekking expedition. We walked relaxed on the streets of Sangla Valley until we reached a guest house where we stayed up till next morning. We started early next morning and on our return journey, we met Jaireen & Jitendra at Shimla and proceeded further to Delhi after having a break for dinner at Shimla.
This trip was originally published in the blog Bikat Adventures.