We were 20 and most of us traveled from Delhi to Dehradun by Nanda Devi Express on 29th September 18 which reached reached next day early morning. All assembled and awaited for the vehicle for base villae Dhaula. Around 8-8:30 in morning, we started our ride to Dhaula. Dhaula is a remote place in Uttarakhand having only 4 houses and takes about 10-11 hours to reach from Dehradun. The road to Dhaula is parallel to the River Tons which is Conglomeration of river Rupin and Supin . Before entering Dhaula the permission of Forest ministry is to be taken and then you enter into the dense forest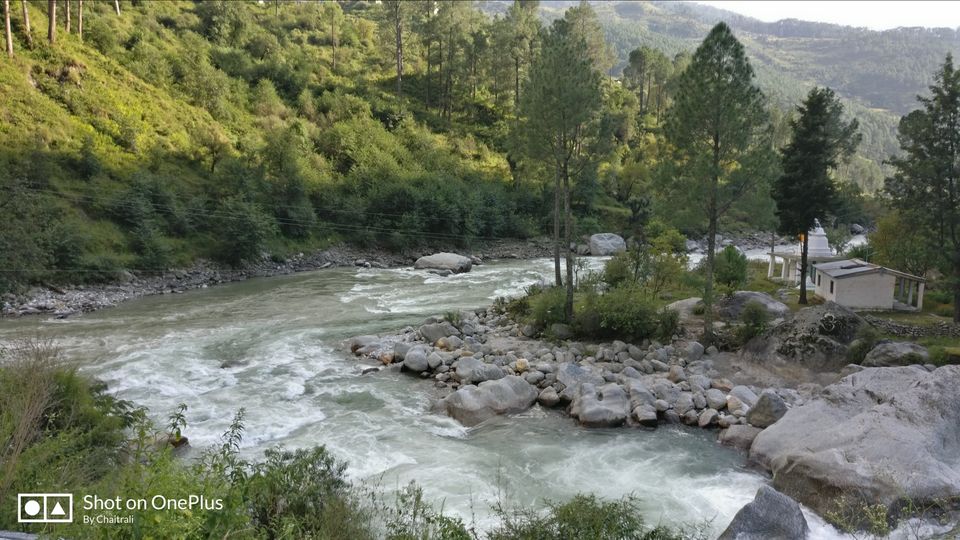 We reached Dhaula which is at the altitude of approx. 5100 ft, where the camp site was waiting for us. The tents were equipped to house us for a single night in Dhaula. Camp site was beautiful with the soothing noise of one of the tributaries of Rupin river flowing besides the camp site.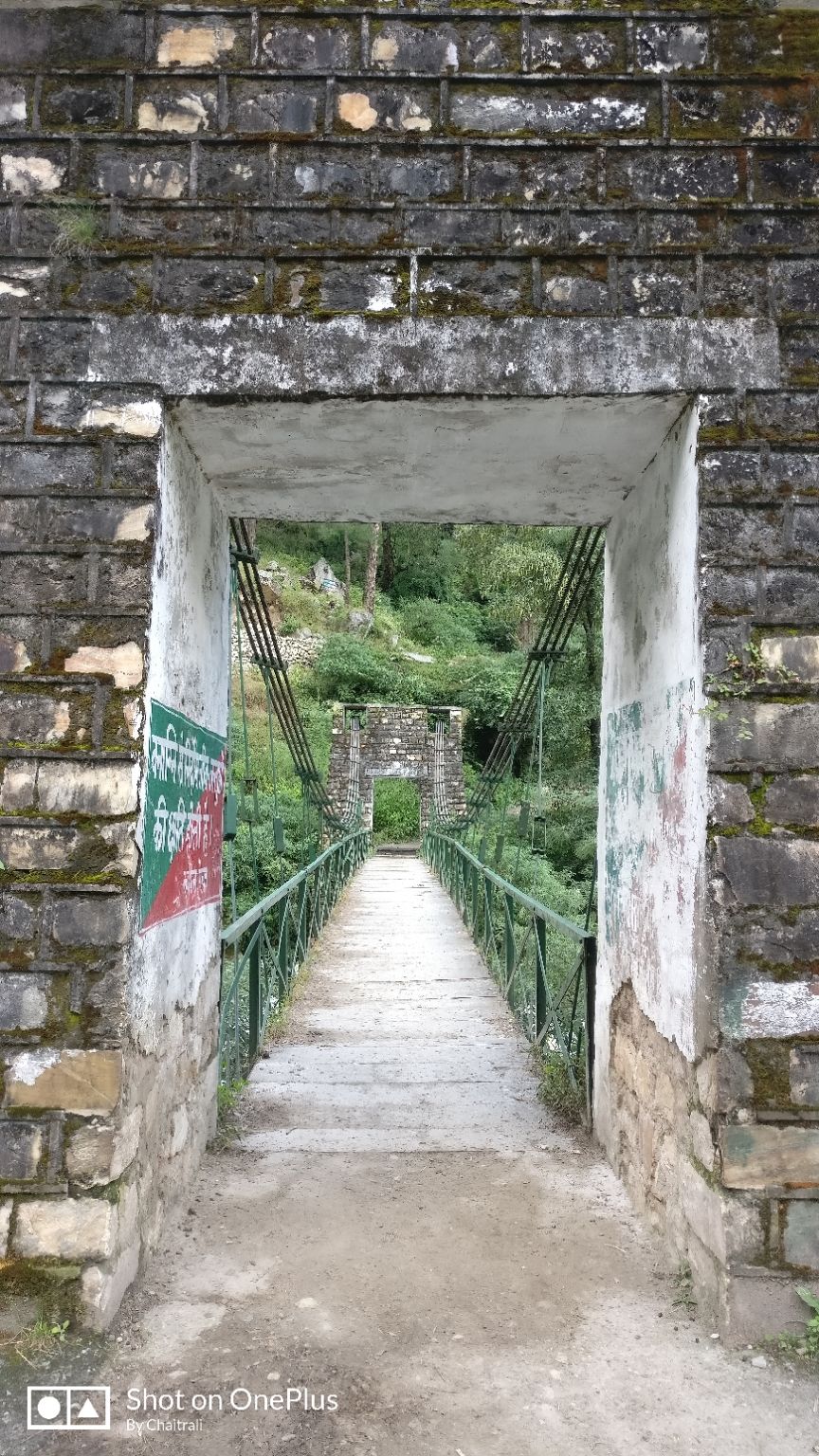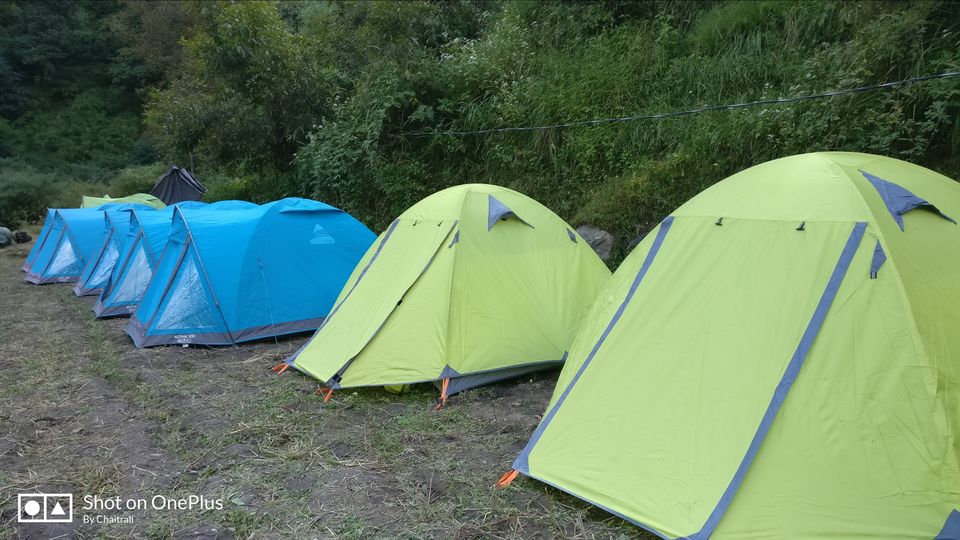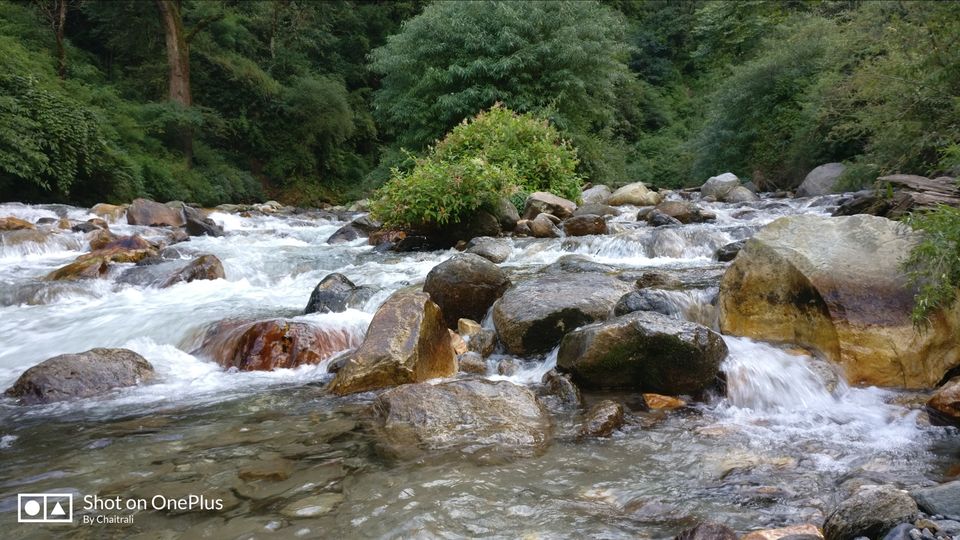 We all tried to acclimatize with the weather and getting acquainted with each other as we have to be together for next 7-8 days. Though 15 out of 20 trekkers were a group who had done EBC together and were well acquainted with each other, the remaining 5 of us never felt like we are interacting with someone whom we never knew because of their generous and warm welcome in their group. We started believing as part of the same group. Though I had not done EBC with them, with their conversations going on around EBC sometimes I felt even I was part of it.
We all tried to acclimatize with the weather and getting acquainted with each other as we have to be together for next 7-8 days. Though 15 out of 20 trekkers were a group who had done EBC together and were well acquainted with each other, the remaining 5 of us never felt like we are interacting with someone whom we never knew because of their generous and warm welcome in their group. We started believing as part of the same group. Though I had not done EBC with them, with their conversations going on around EBC sometimes I felt even I was part of it.
The actual trek began. we started from Dhaula to Seva where our next camp was designated. we had to trek for about 9-10 kms which took about 6-7 hours for us to reach camp site in Seva. It was moderate ascent and few waterfalls or streams on the way.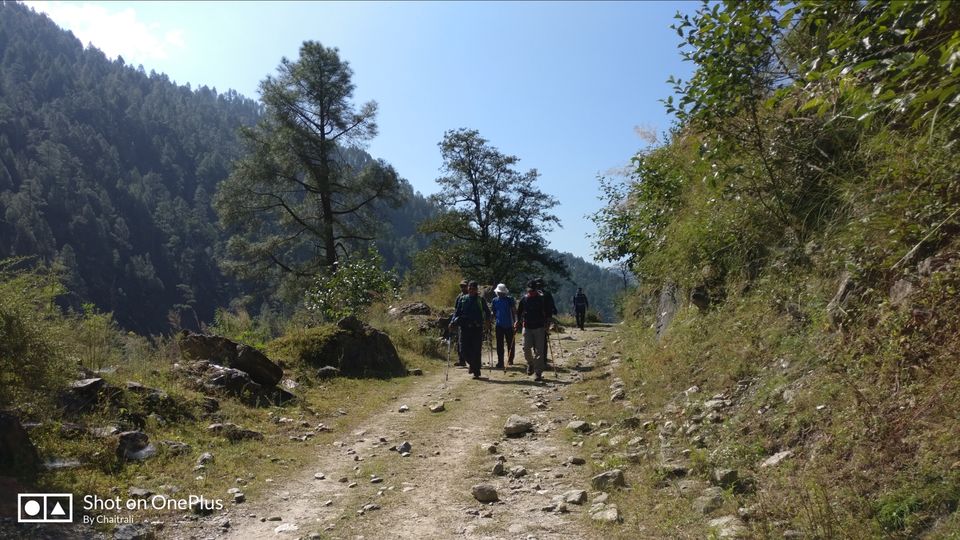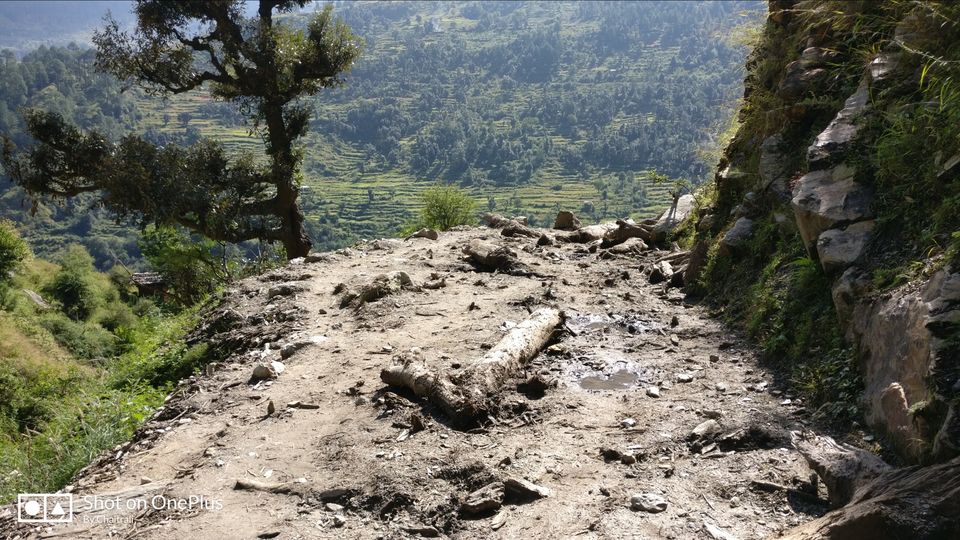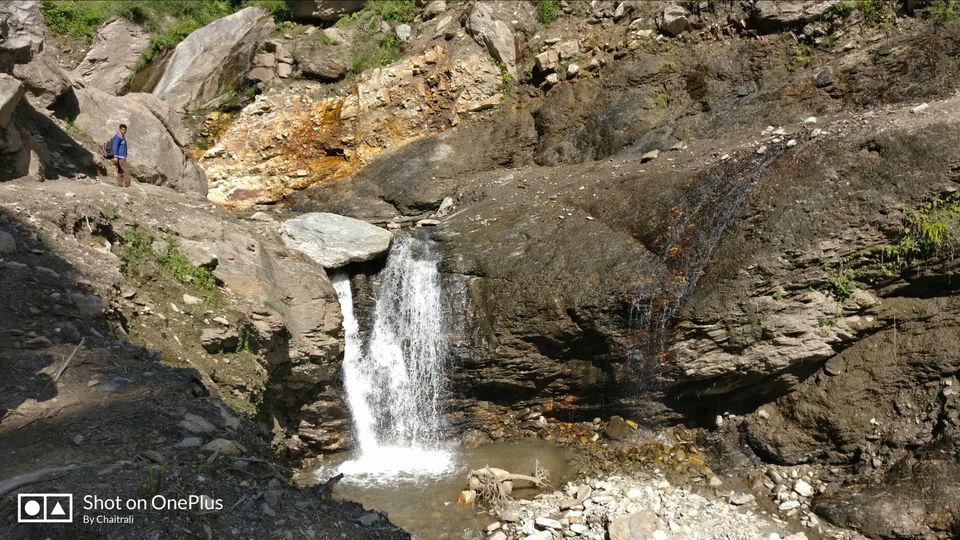 Seva is at the altitude of 6300feet and had pretty good number of houses. On the way we crossed few chavlai and mandu farms. Both chavlai and mandu are used for Indian bread preparation.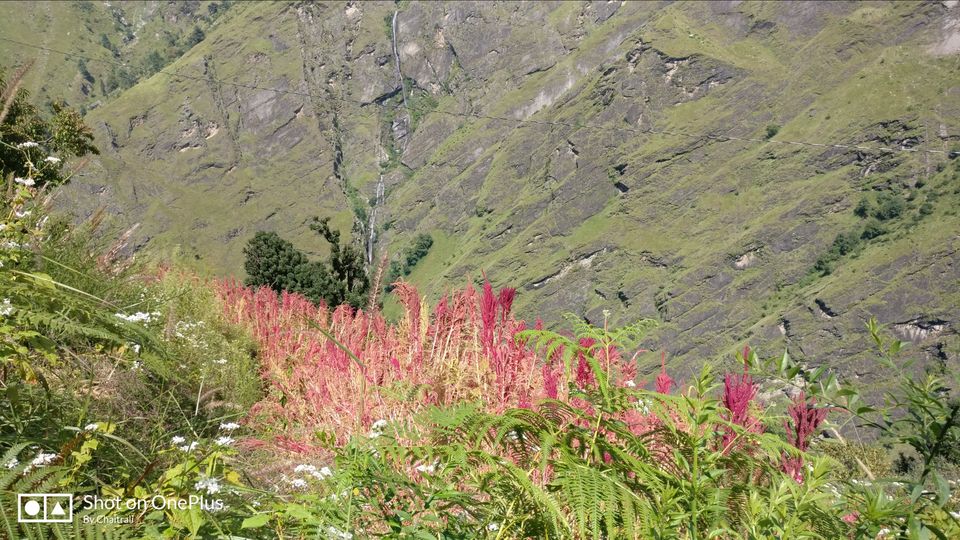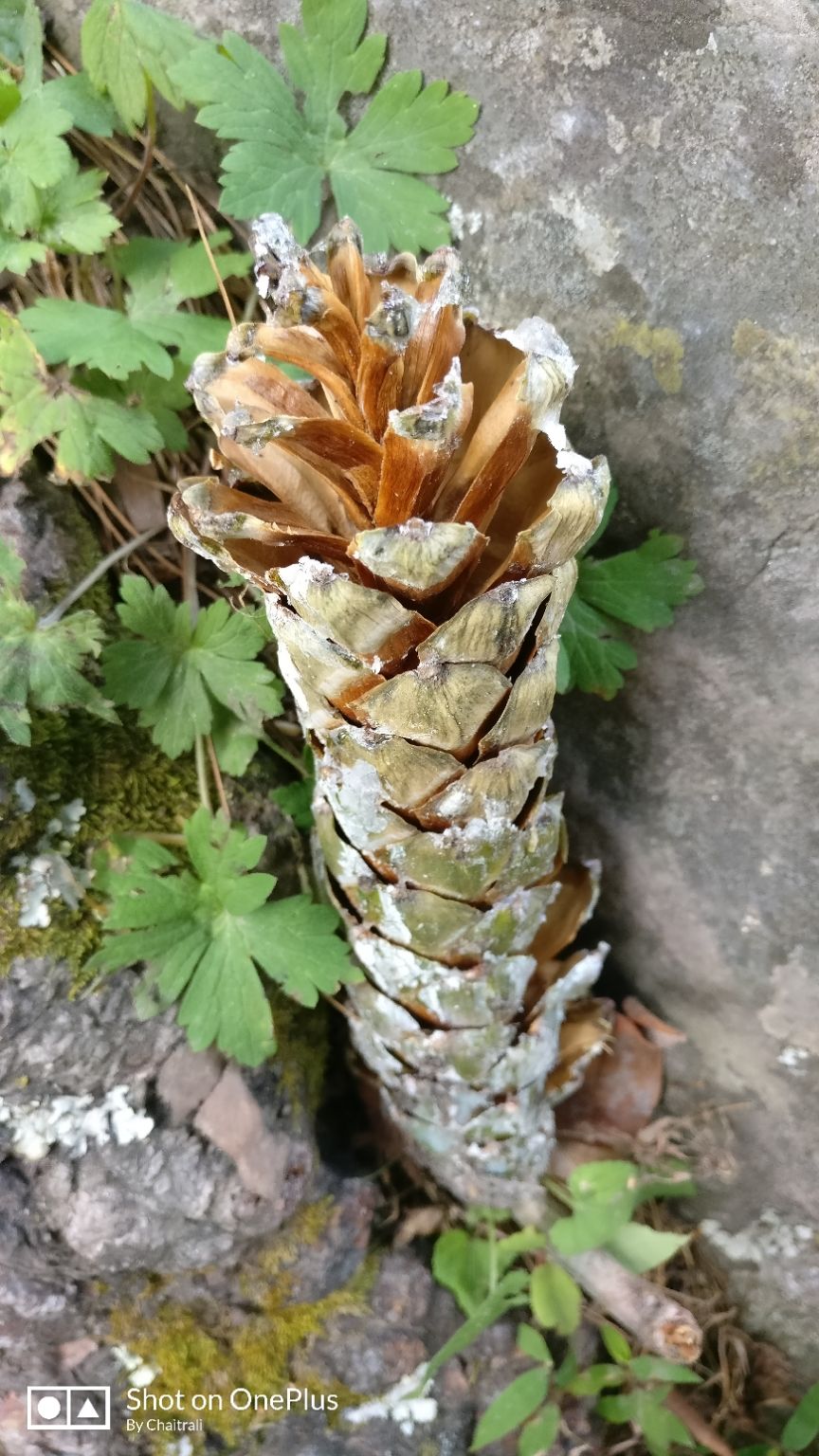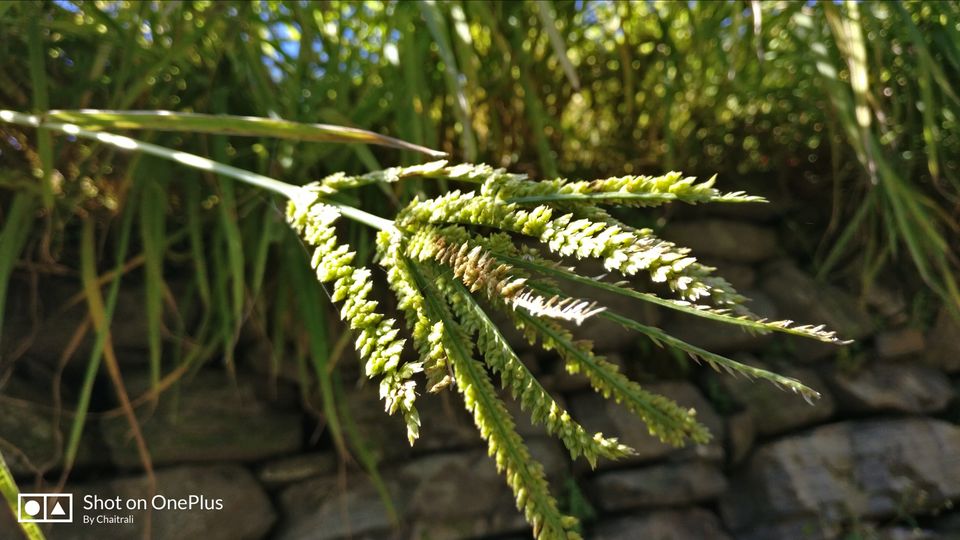 Post reaching Seva we pitched out tents and then went for a walk around the village. There is a beautiful temple in Seva built with pine wood, beautified with the medals the villagers had won. The temple was closed and is opened only once in five years or is opened only when the owner or any villager has to conduct prayers.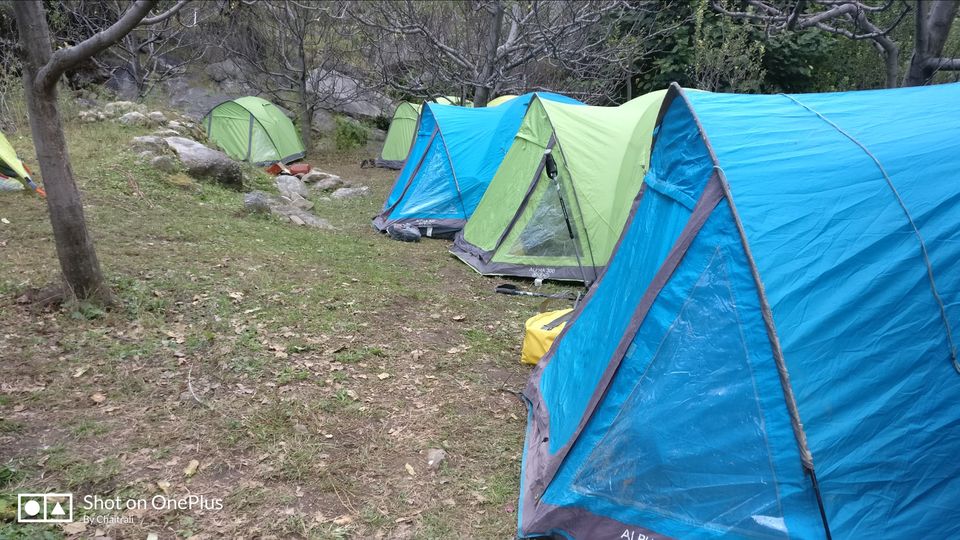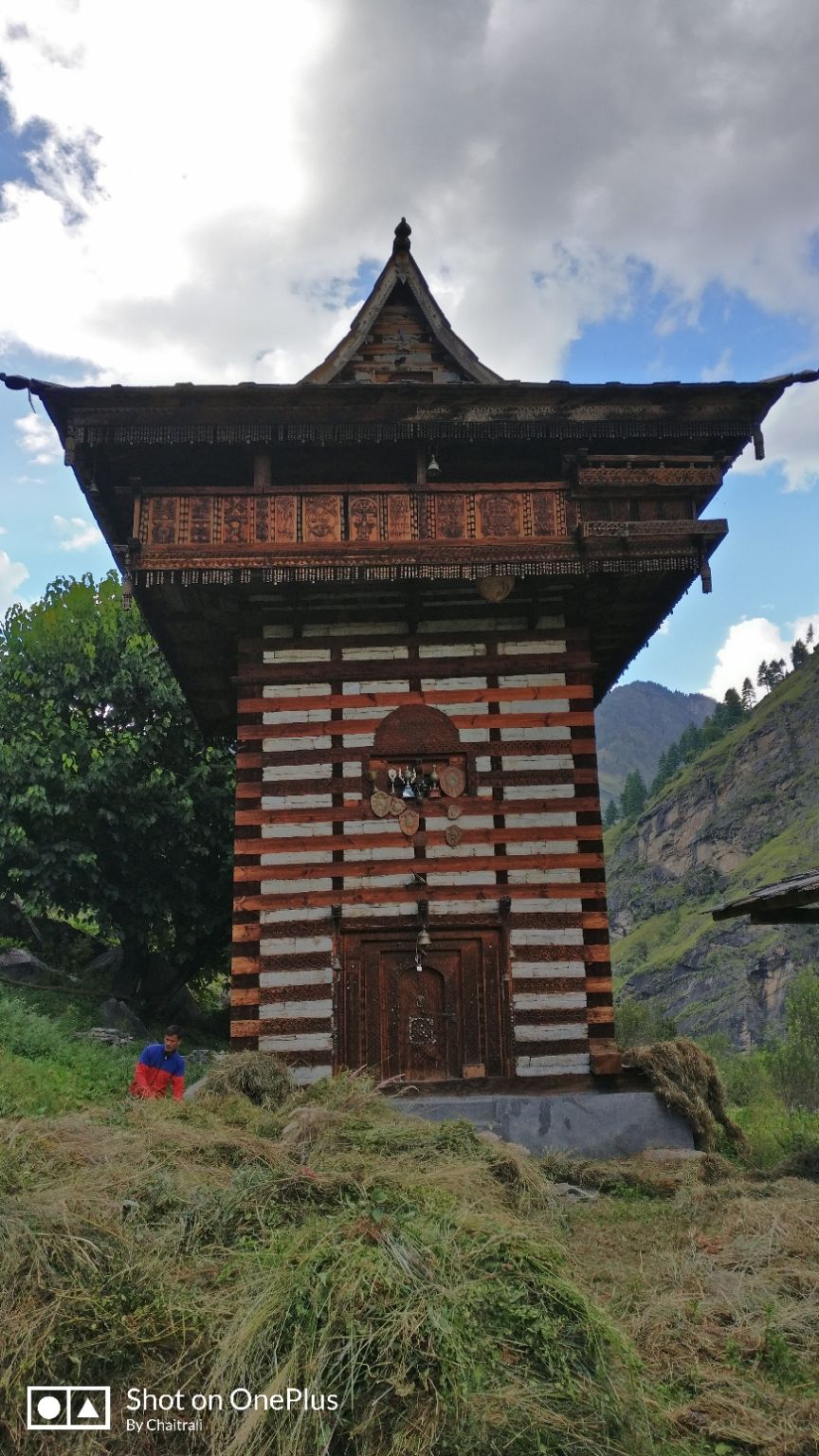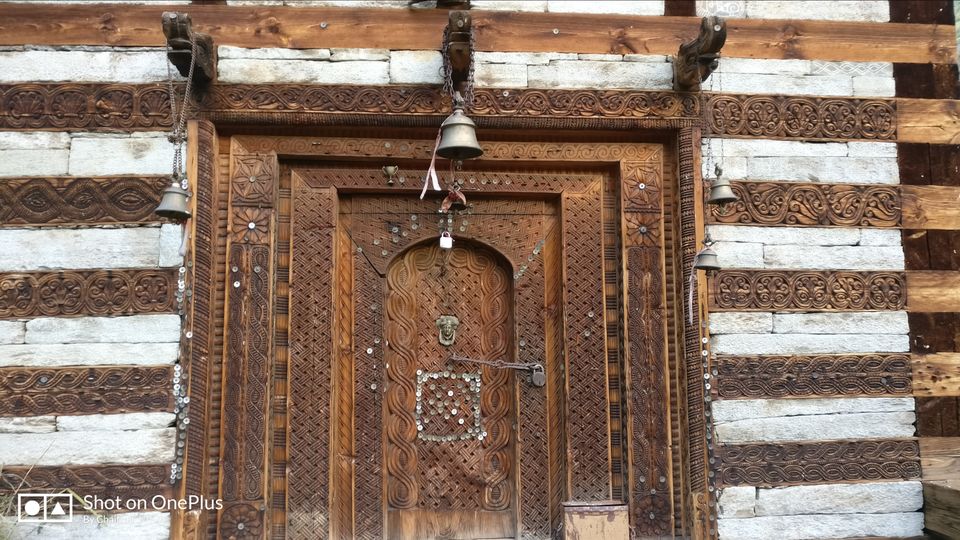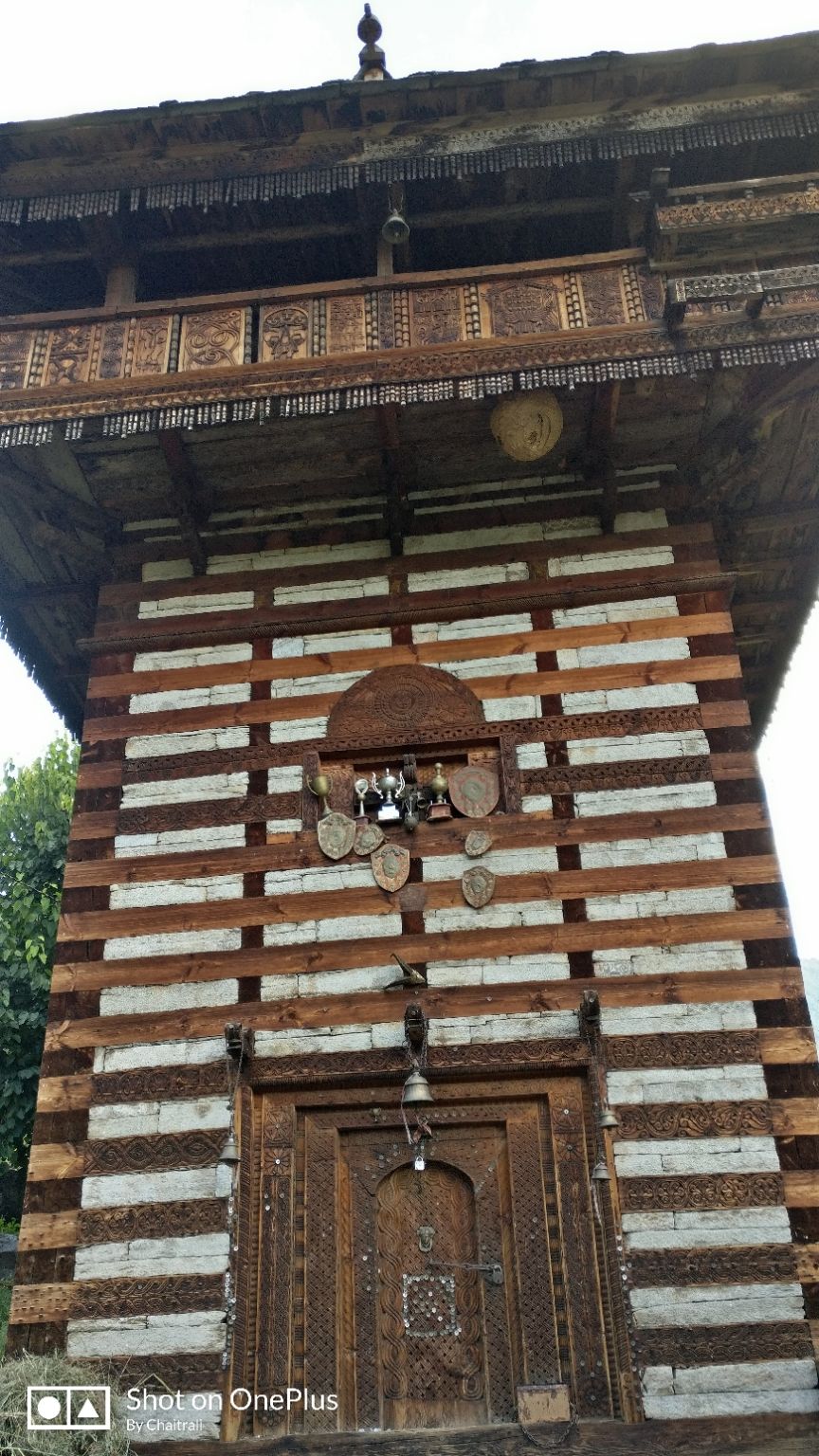 Day 3 was gradual trekking from Seva to Batwa. For first few hours we had to ascent then follow the kaccha road for some time and again ascent to the village Bawta. Bawta is the last village in Uttarakhand and after crossing a wooden bridge over the river we enter Himachal Pradesh the Dev bhumi.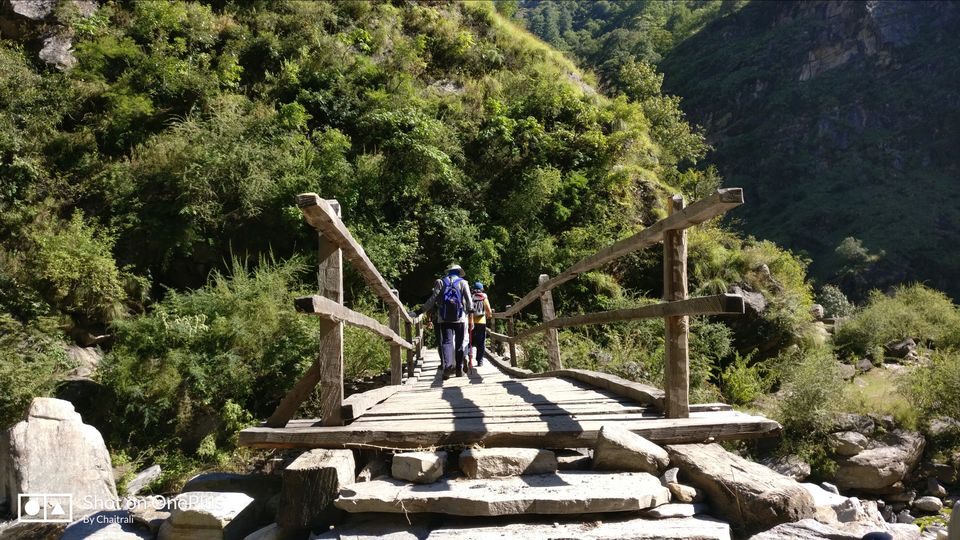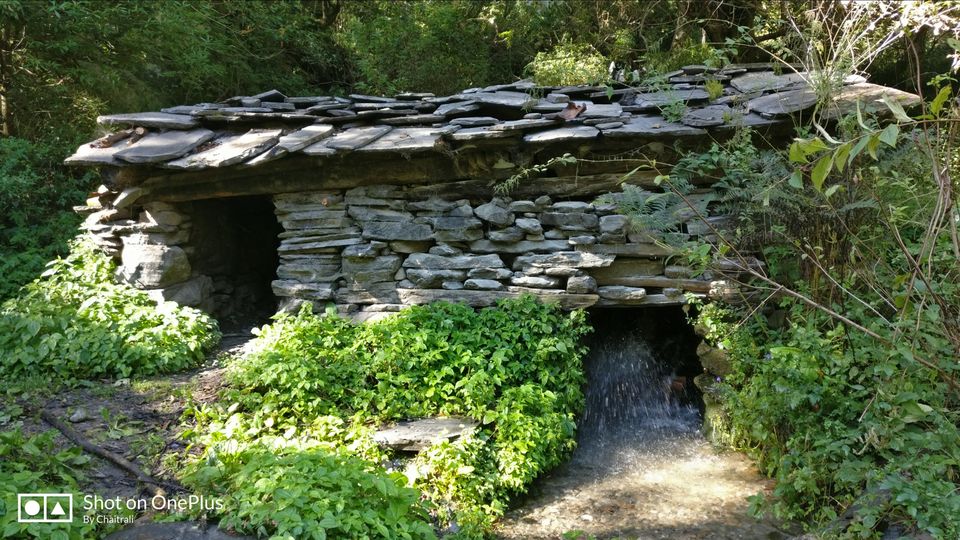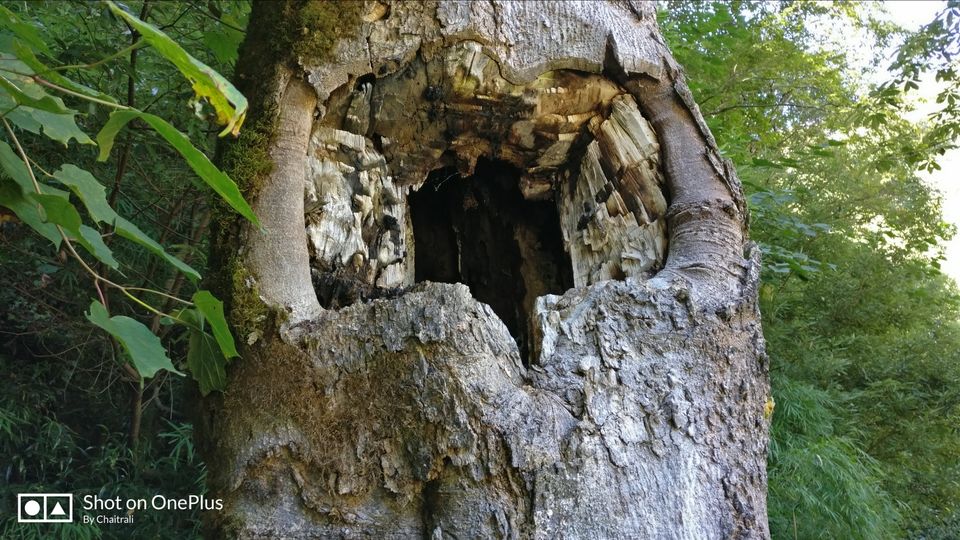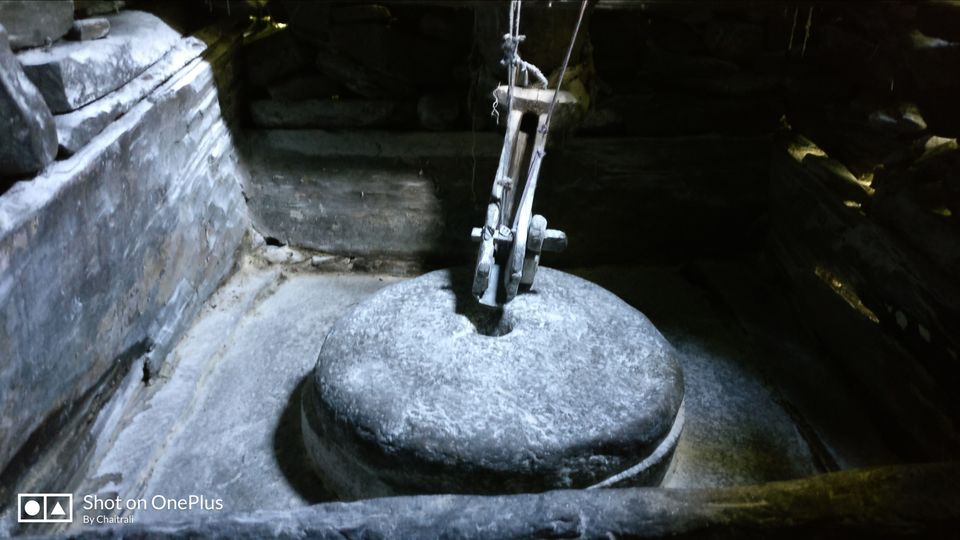 Prior to this bridge crossing there is an flour making grinder which operates on the force of water flowing in the river. Post this there is a small ascent followed by under-construction road. After walking for about half kilometre after ascent we reach Maggi cum Tea point on the way. Maggi at this place is amazing and worth giving a try. Post this stop, follow the under-construction road and then you will see the diversion. Take the road going to left which is ascent. This is a gradual ascent followed by the steep ascent till the Bawta village which is at the altitude of approximately 7000 feets. In Bawta we had home stay where nice cozy beds were arranged for us making feel at home.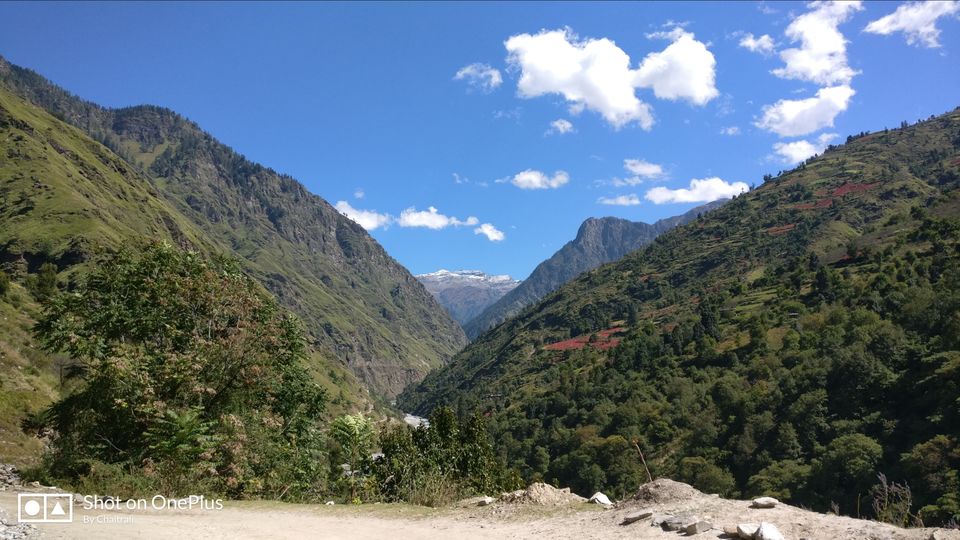 From Batwa we saw 2 beautiful snowclad mountains named Sherangcha and Debran. Enroute Seva to Batwa is a waterfall where we had our packed lunch. Post lunch at this point most of us went in the waterfall and some of us climbed the waterfall and clicked pictures.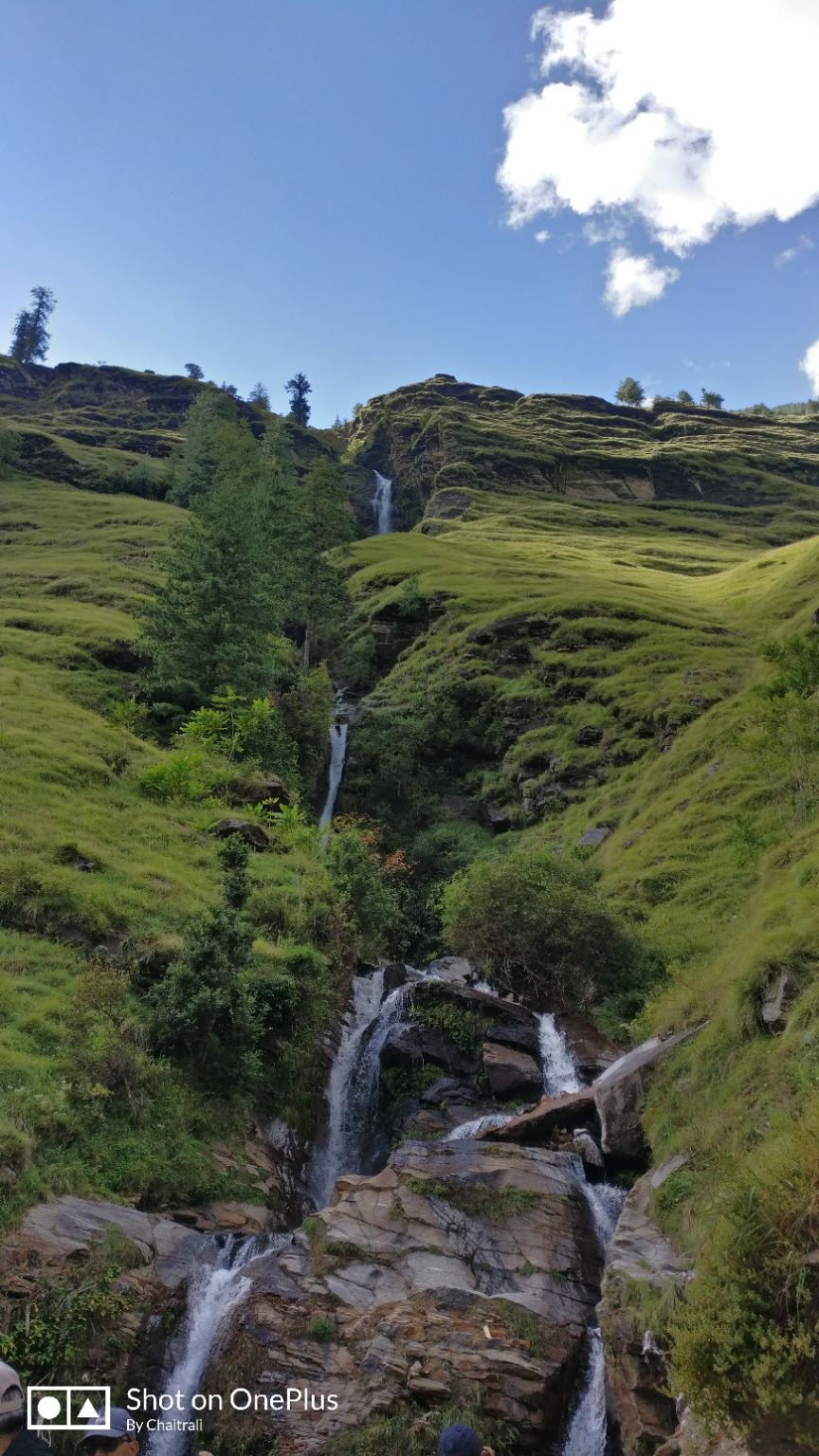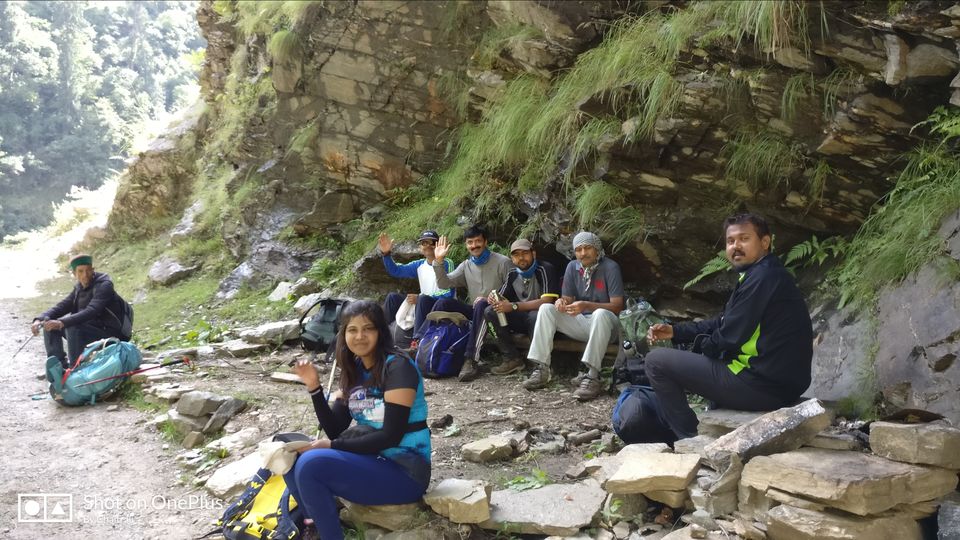 Day 4 we started early morning from Bawta to Jhaka. Jhaka is the last village we come across in the entire trek. On the way to Jhaka lies the other small village yet pretty much developed than Bawta, Seva and Jhaka, named Jiskun where some of us shopped the necessary items for trek which we had forget to carry.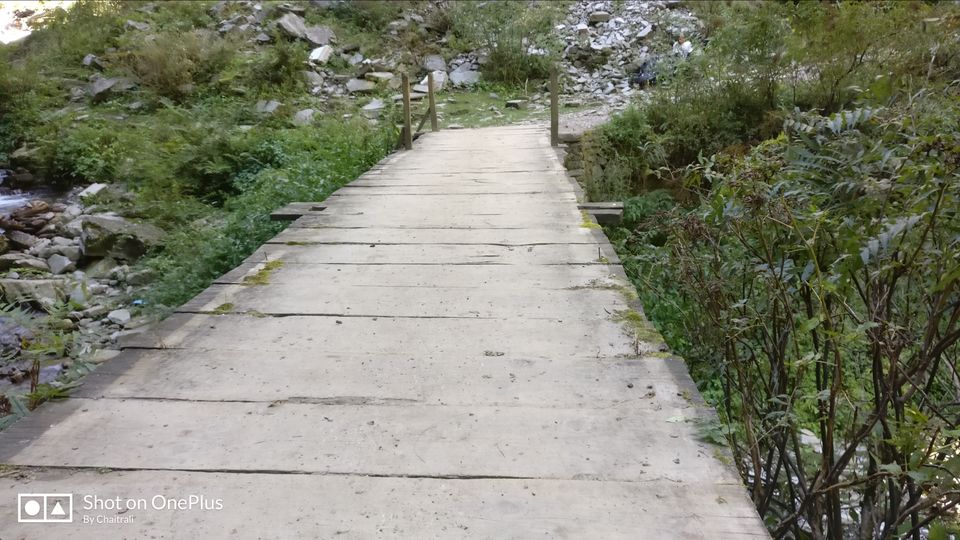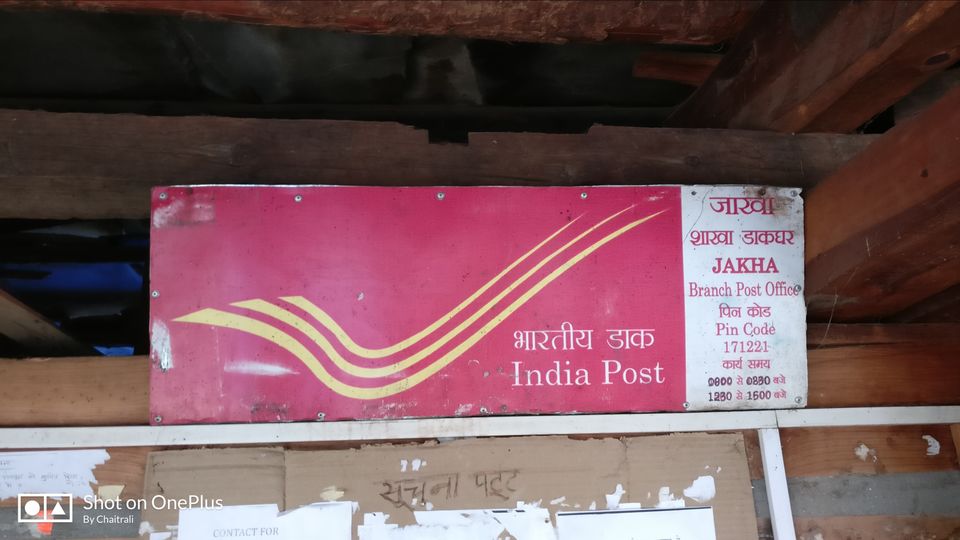 Trek to Jhaka is about 8 km a moderate trek and takes approximately 5-6 hours to reach from Bawta. Jhaka is at the altitude of 8700 feet. TTH has organised homestay at both Bawta and Jhaka. We being in city always dream of havng wooden flooring and unfortunately that being costly we cannot fulfil our dreams. But, the villages like Dhaula, Seva, Bawta, Jiskun and Jhaka the houses here are made up of Wood. We were delighted to stay in these homestays. Jhaka is also called as hanging village due to the fact that the houses are not built on levelled round.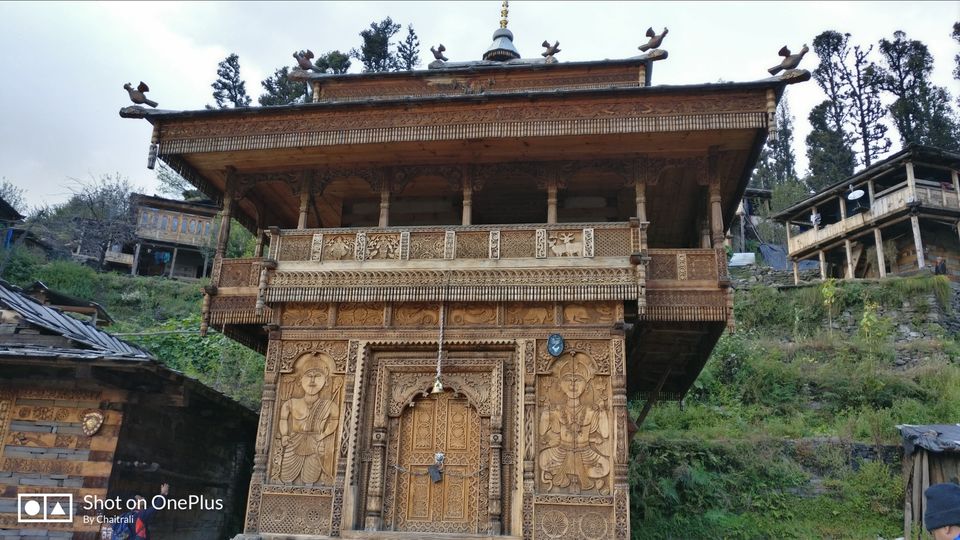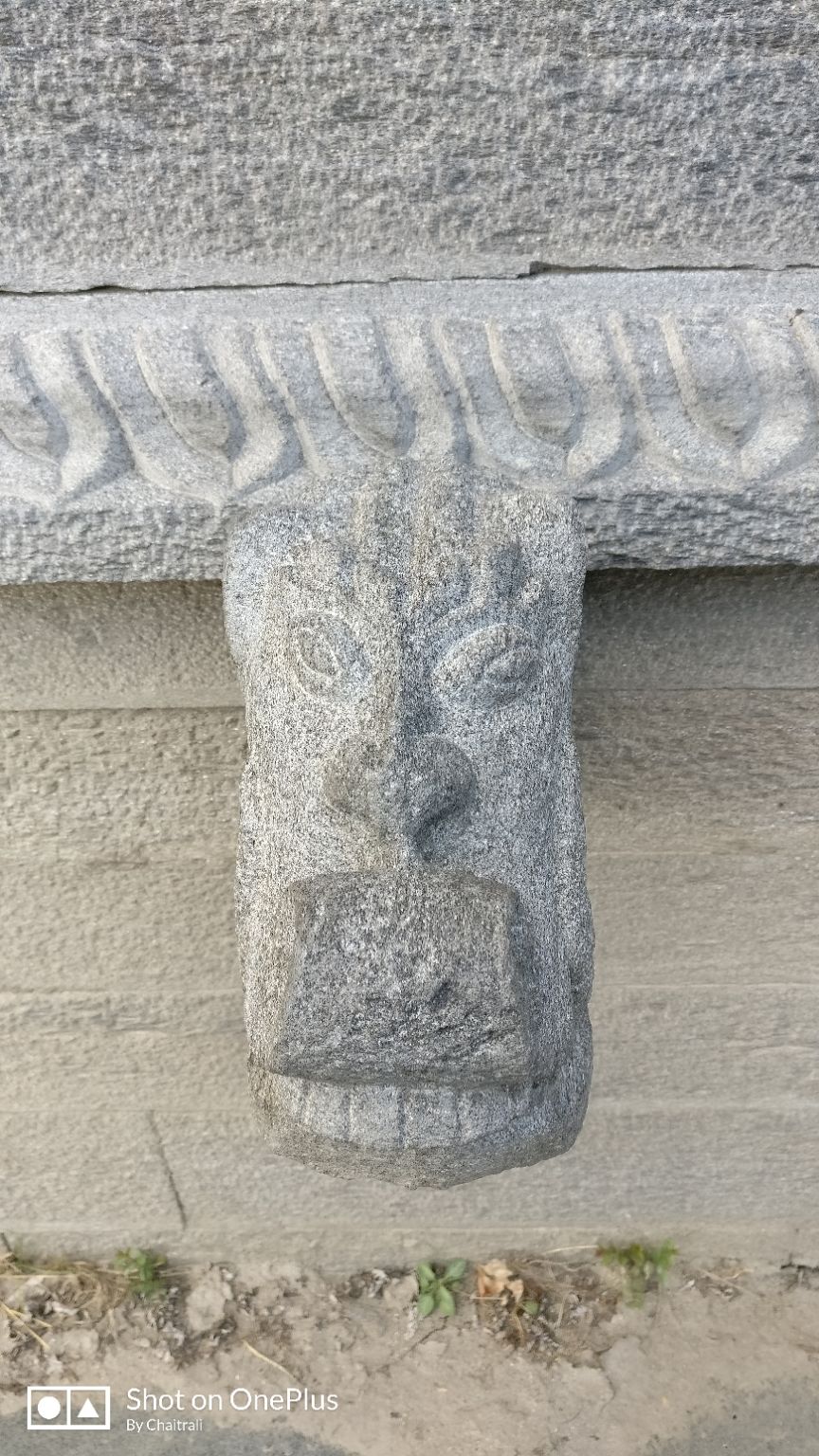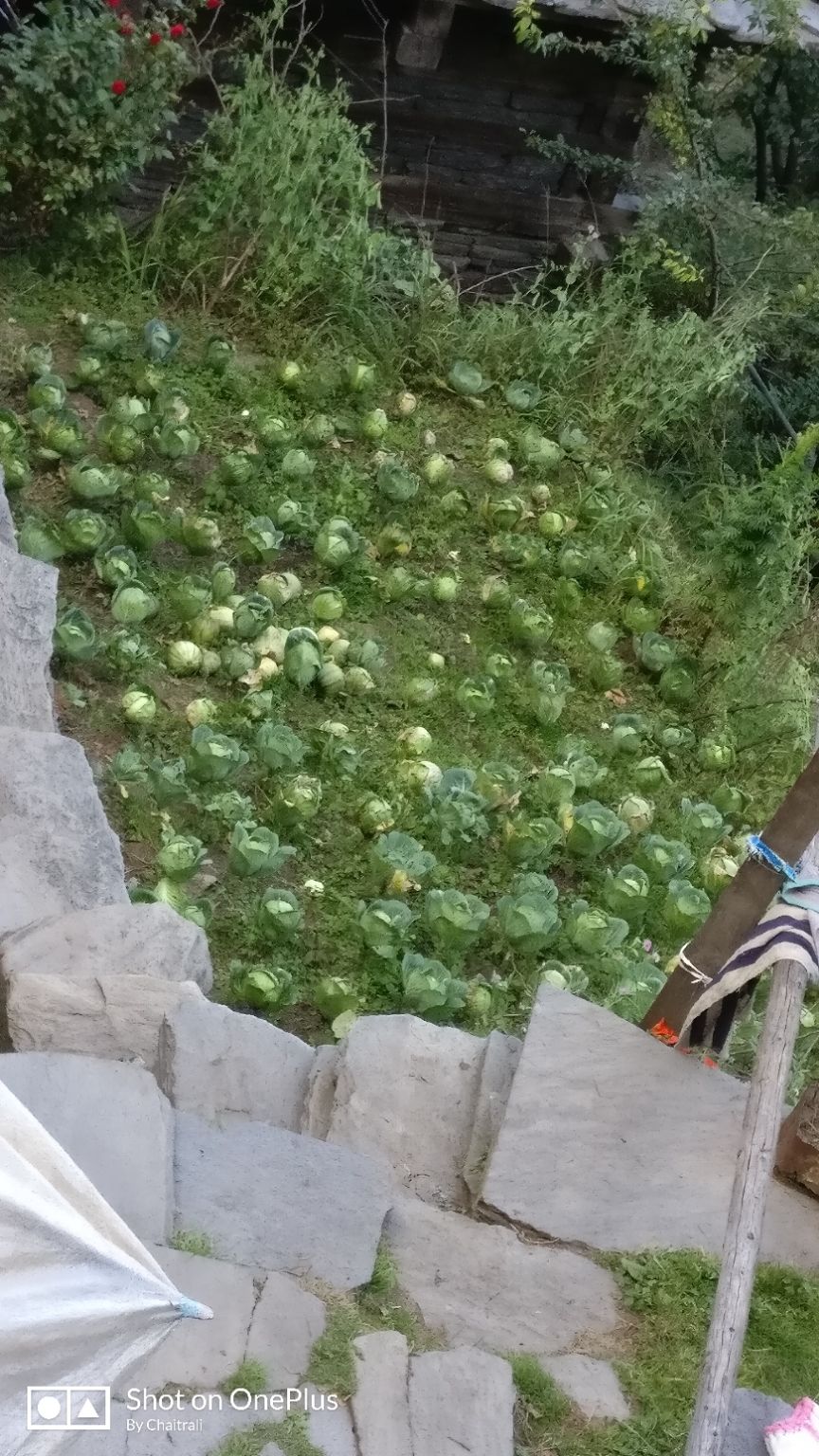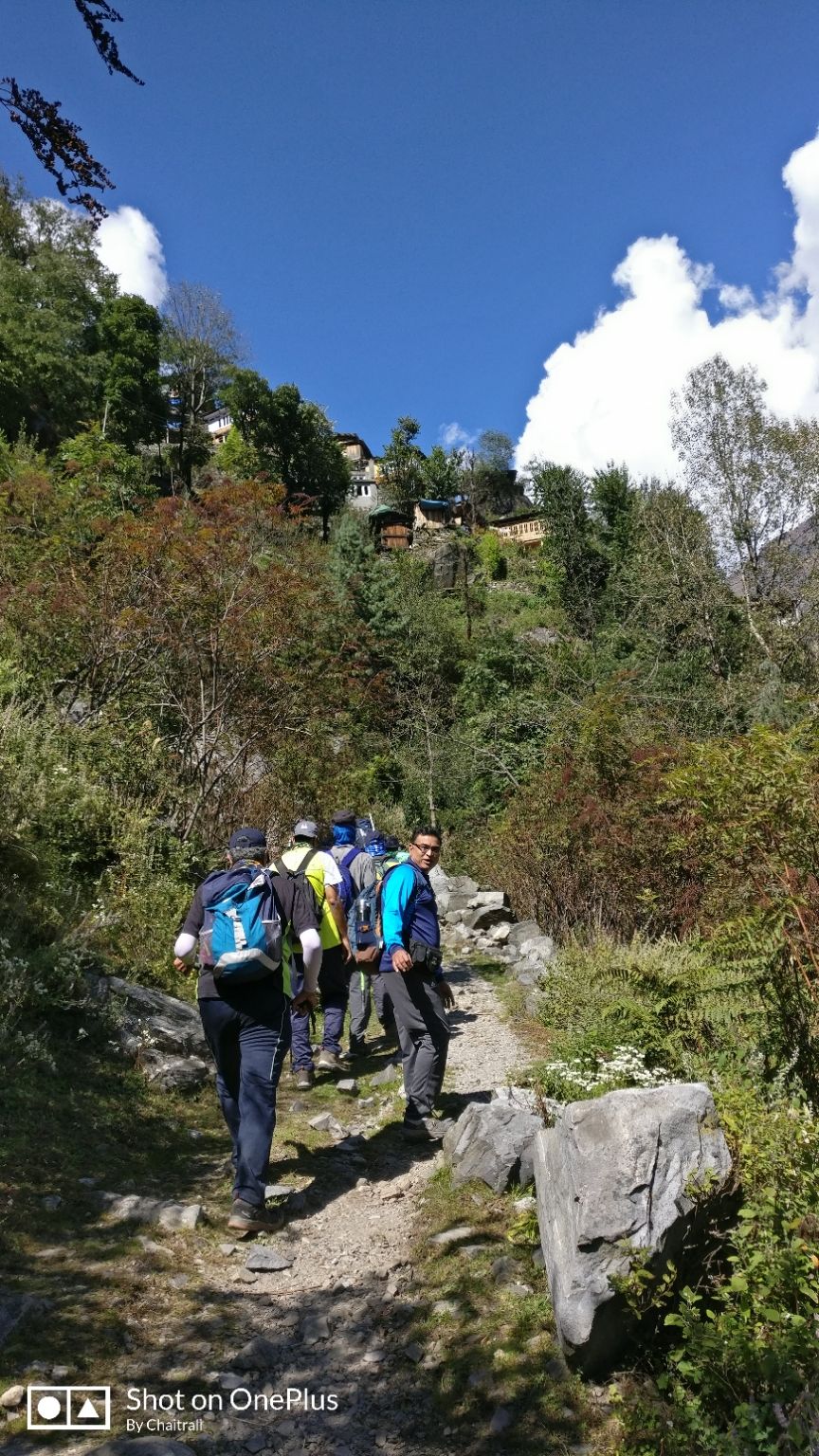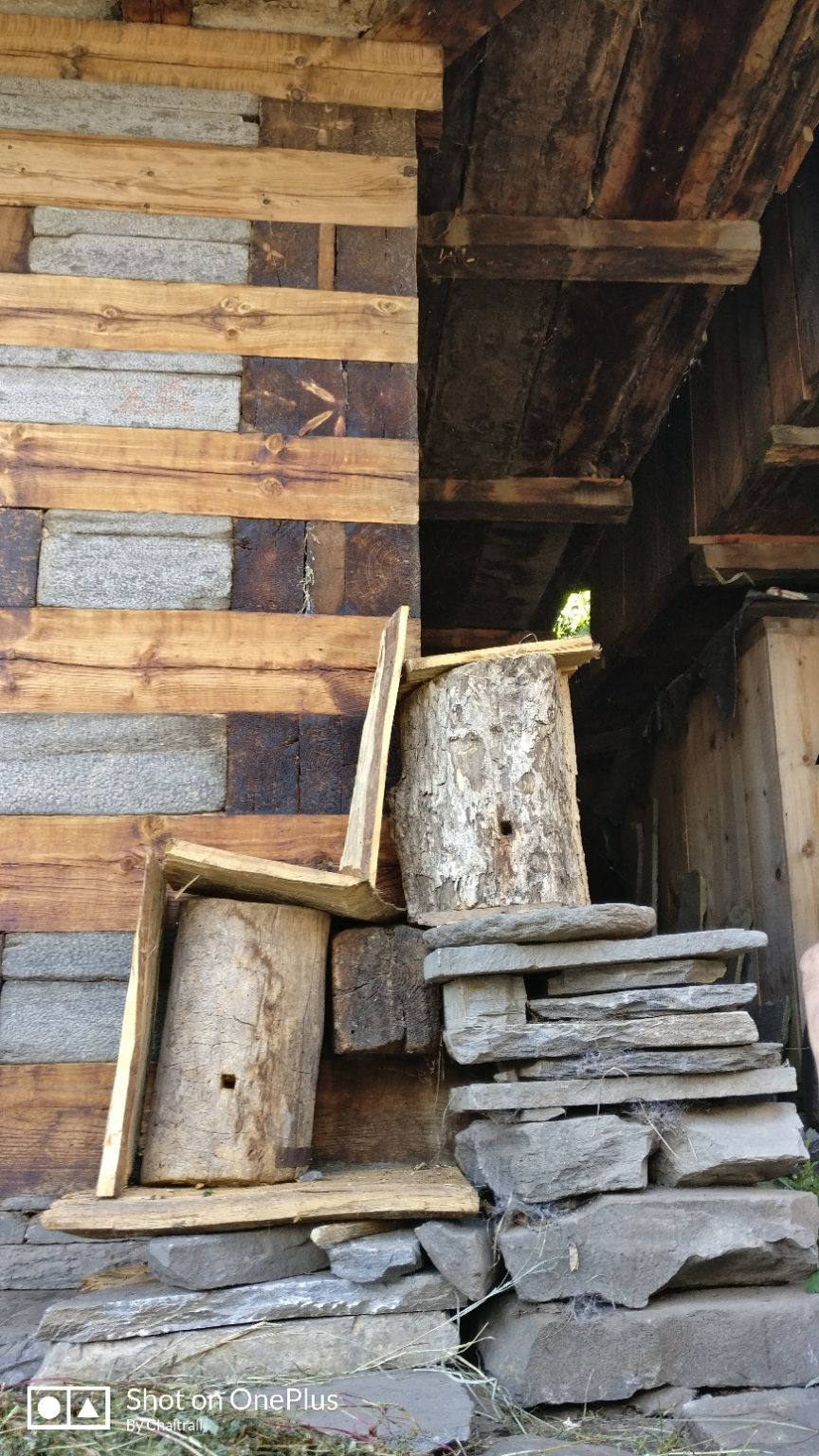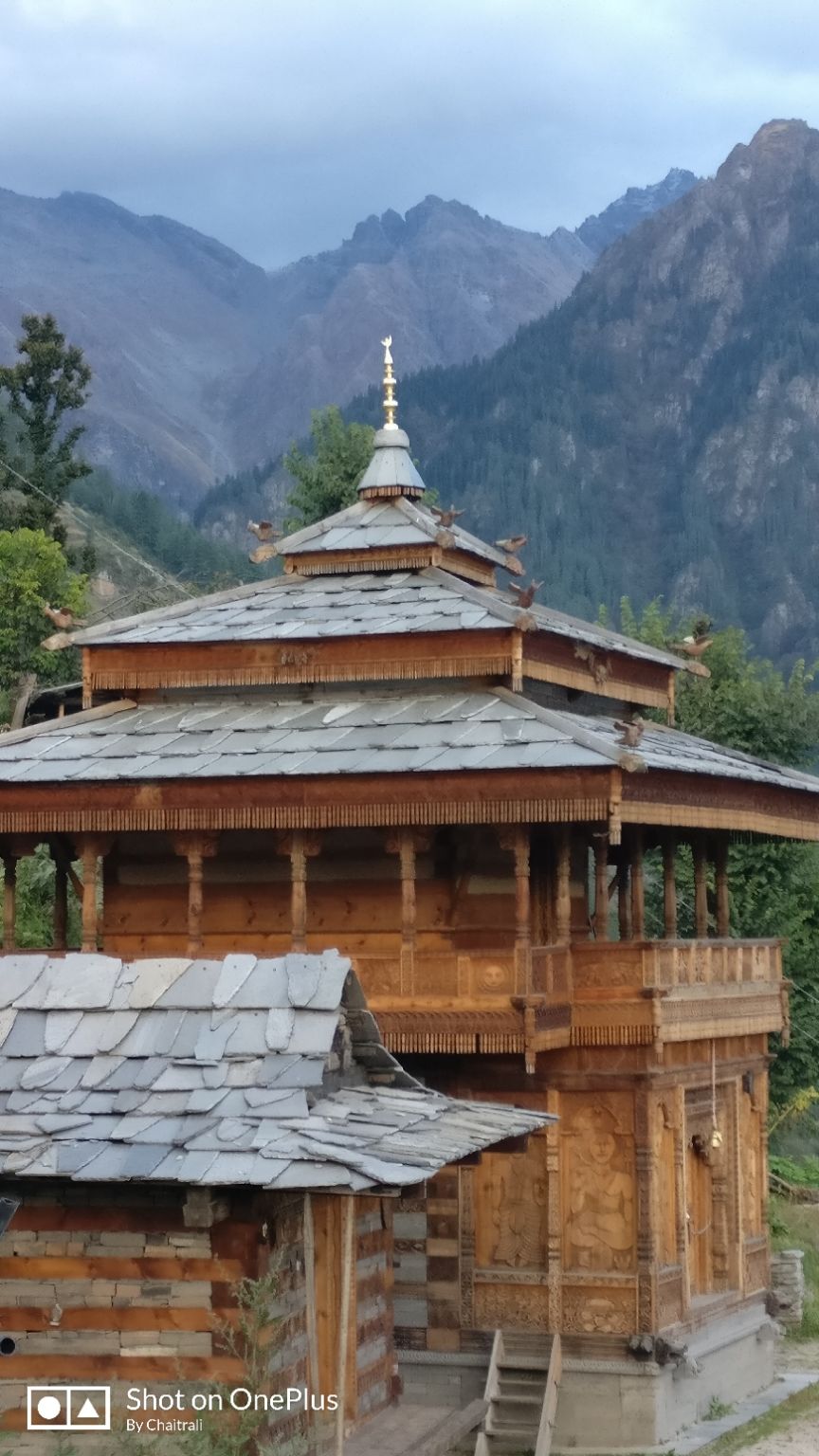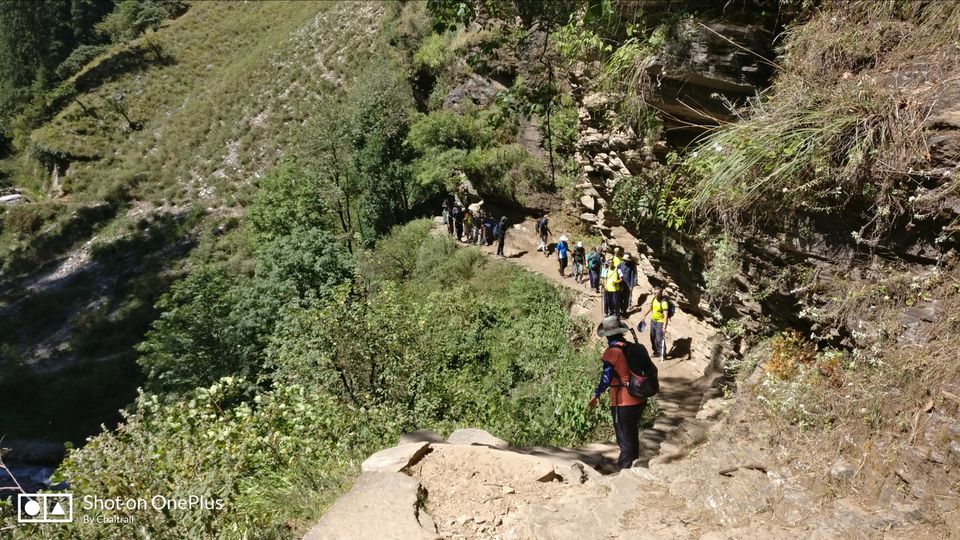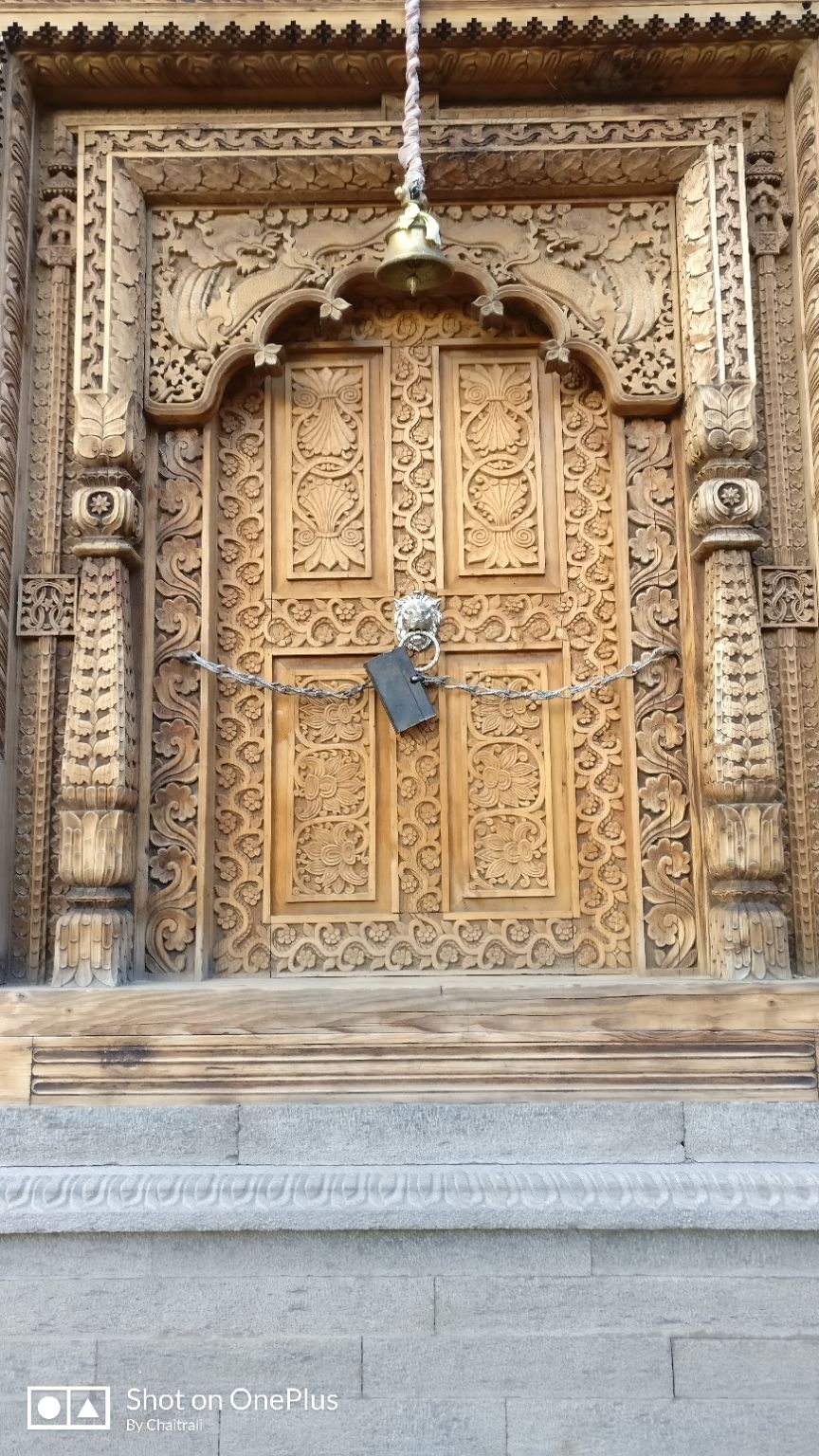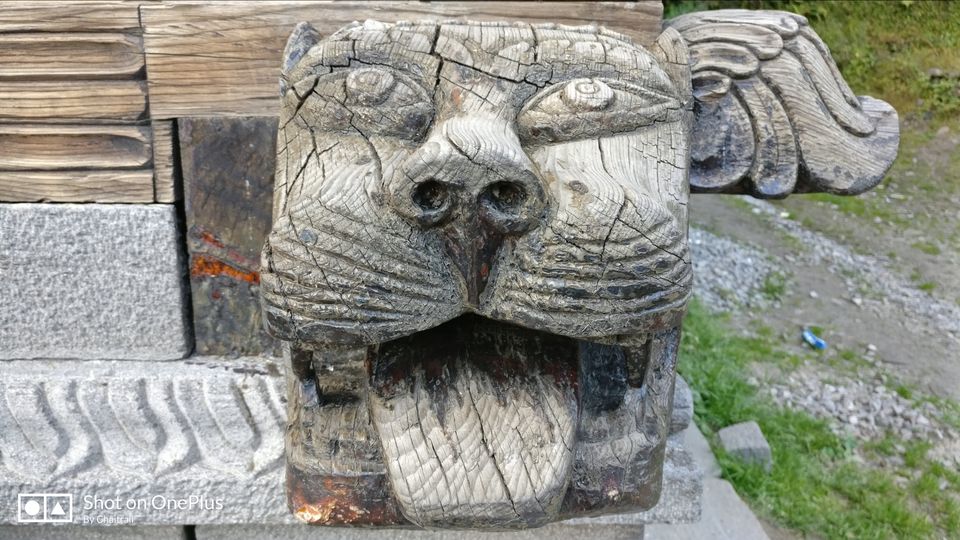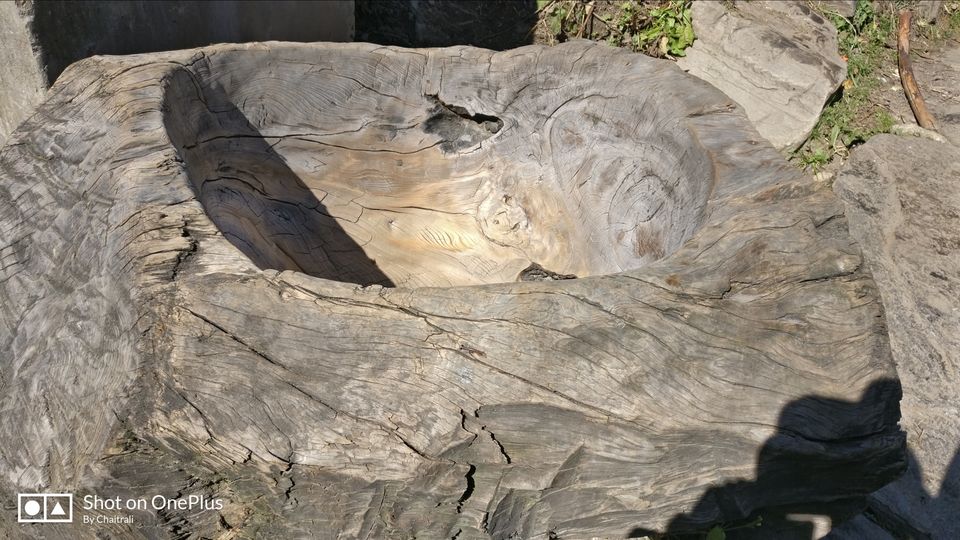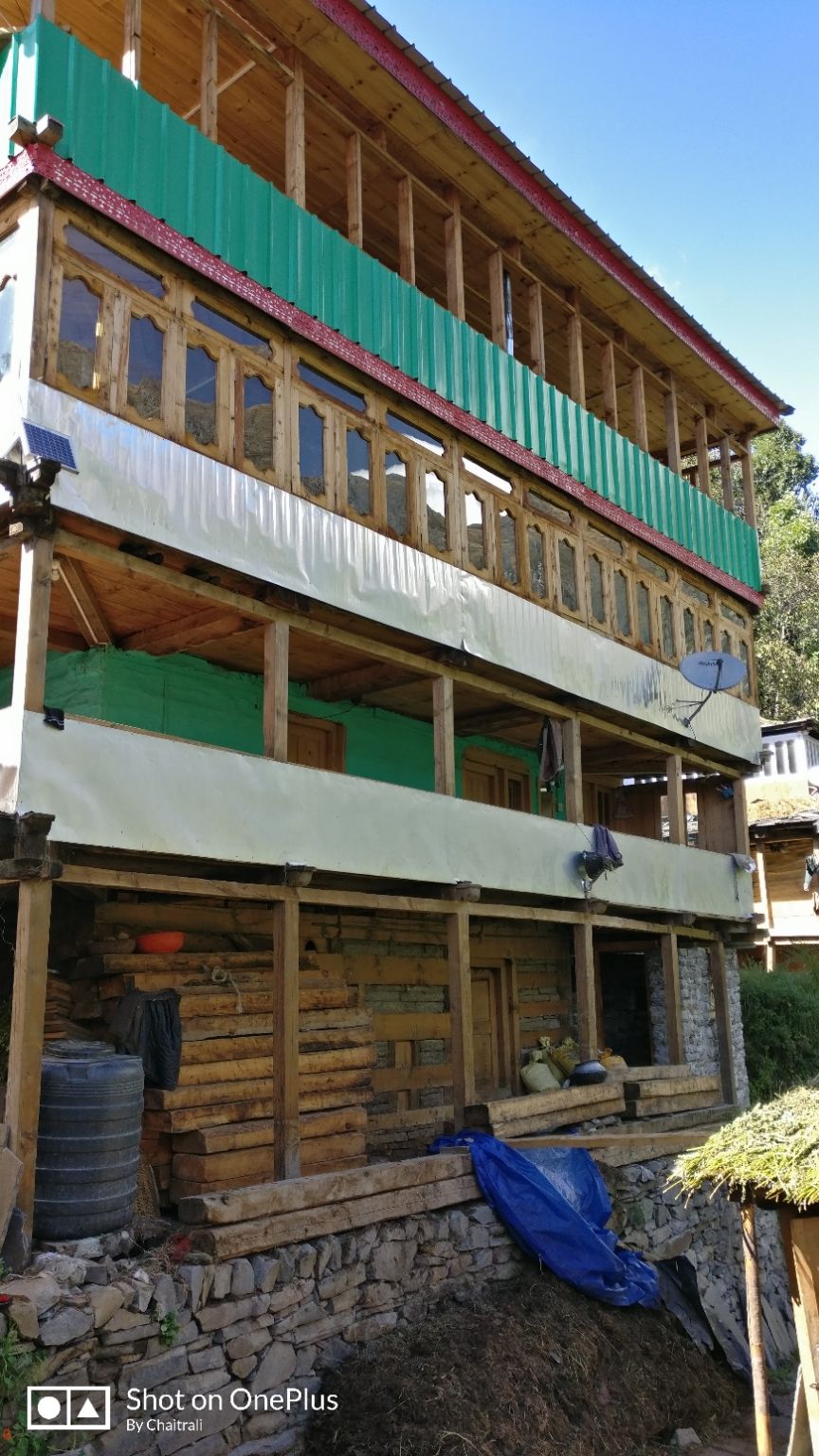 We went for a small acclimatization walk post tea. A small hill from where we could see Quar the village which had the taluka offices. We were amazed to hear that people from all the nearby villages go to Quar for any government work and that too after crossing hills, mountains, streams and rivers.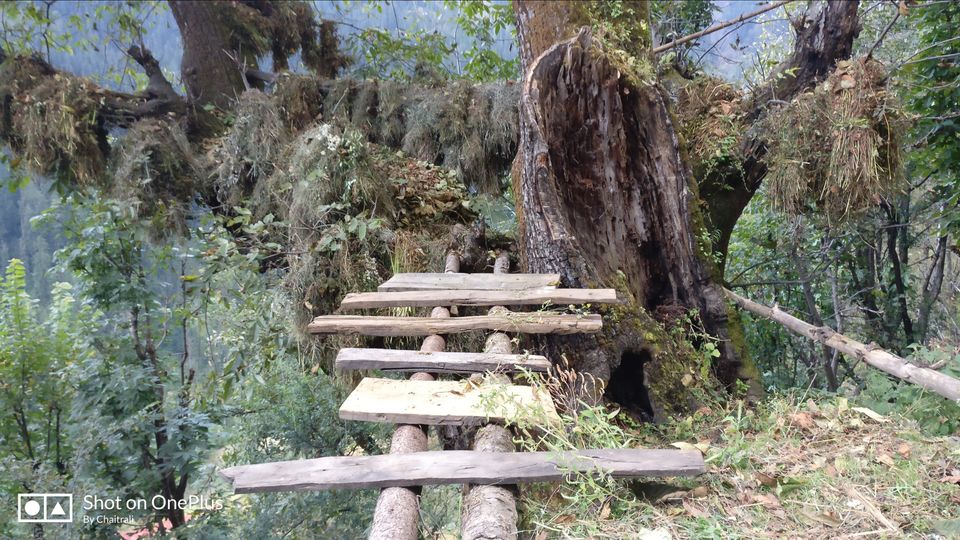 On this day onwards the trek was going to become more exciting and thrilling as we are now nearing the summit. Every day we will be gaining height. On day 5 we start trekking from Jhaka to Dhandreyash Thatch (Thatch here means Plateau) which is 11 km trek and took about 10 hours for us to reach. The weather was getting bad as we were approaching Dhandreyash Thatch after the lunch break. We covered ourselves with Ponchos and bags with waterproof covers and started trekking. The trail is amidst the silver birches, Rododendrons, walnut trees and many other trees which are used as medicines by the villagers. Post Jhaka when we entered the Saruwas Thatch there was hell lot of difference in the terrain at every 1 km. All the time from Dhaula to Dhanderas Thatch we were walking parallel to Rupin River. From Saruwas Thatch we could see the Upper Waterfall and though being tired we enjoyed walking with the excitement of getting near to the camp site.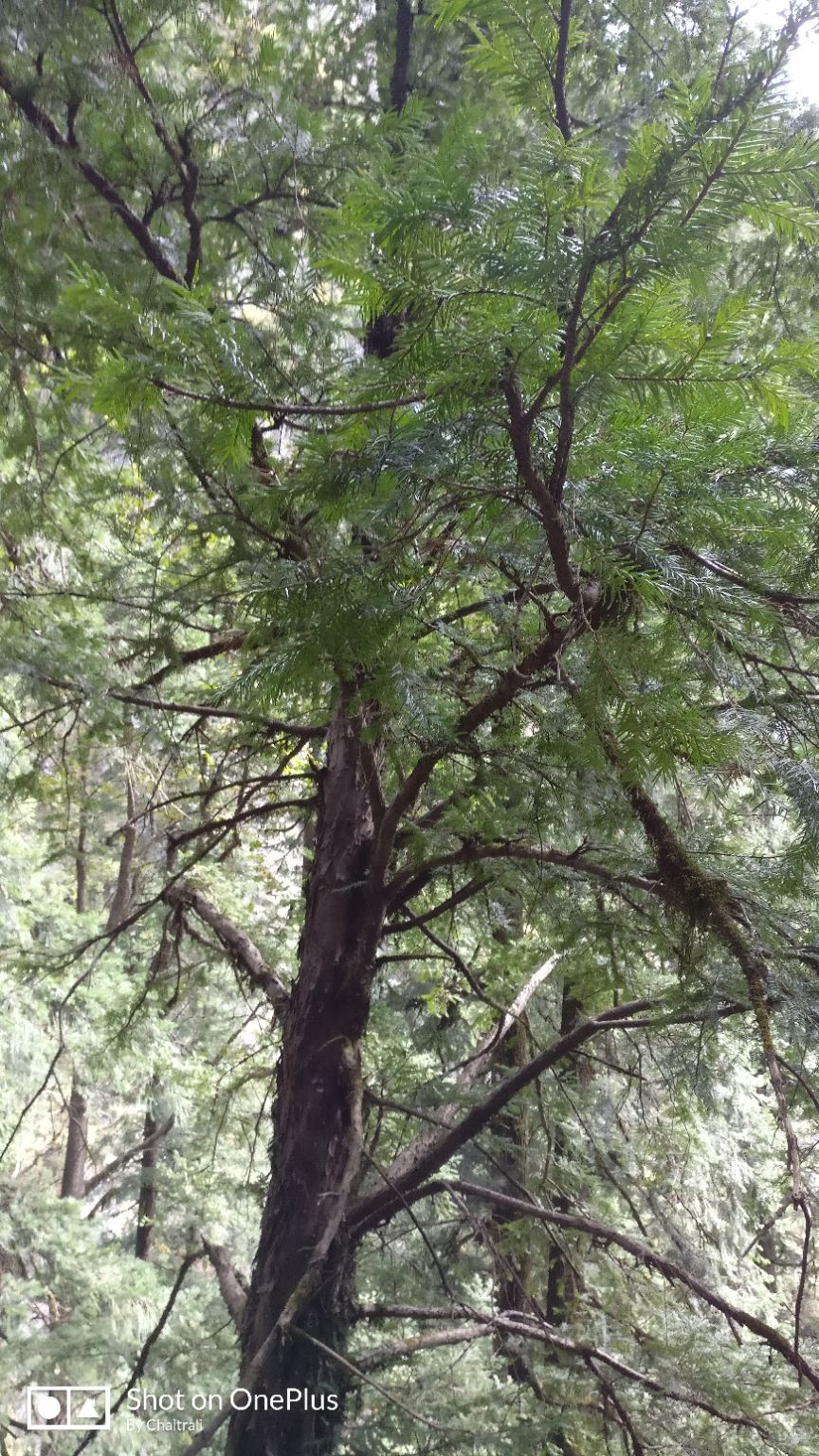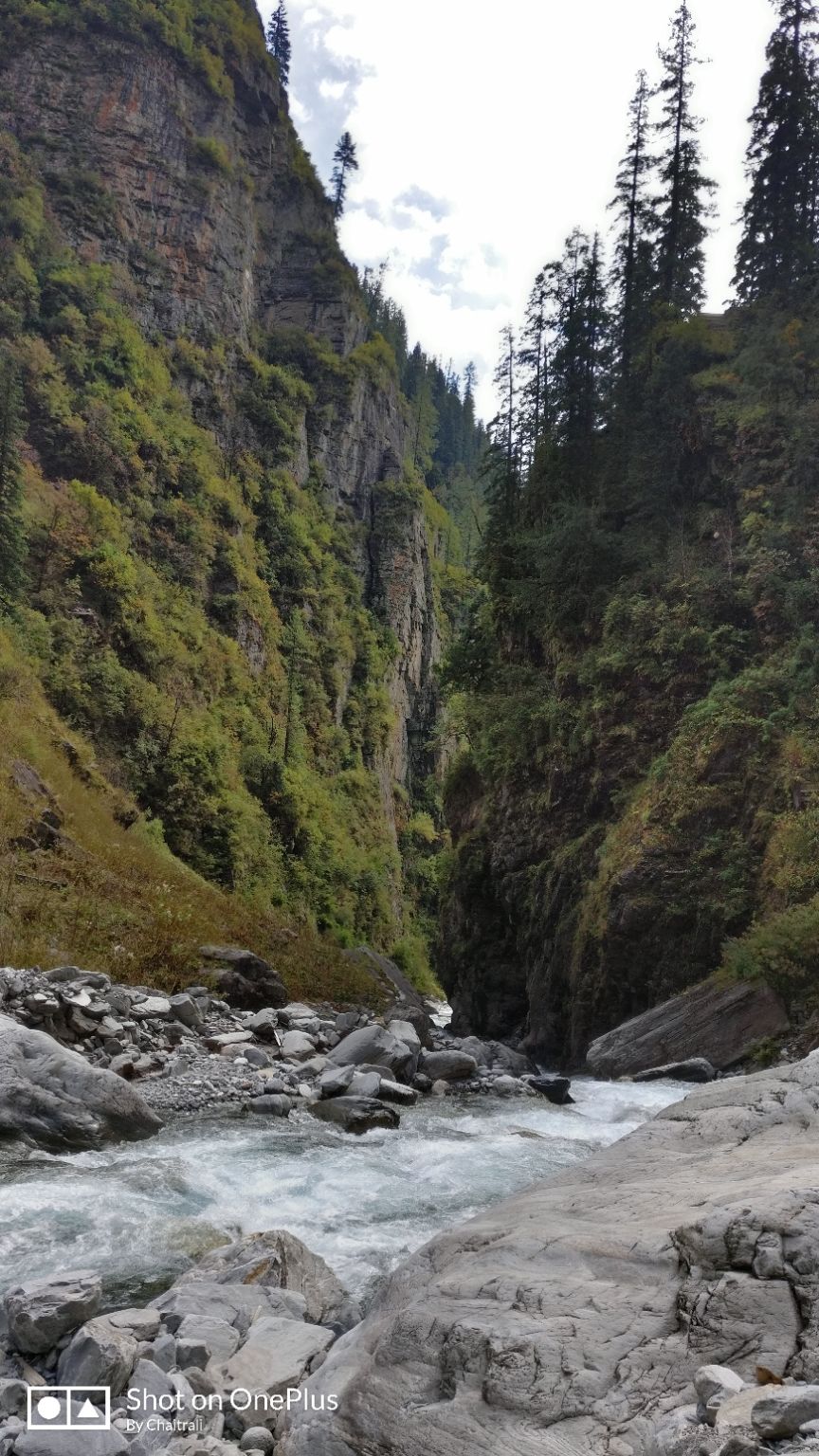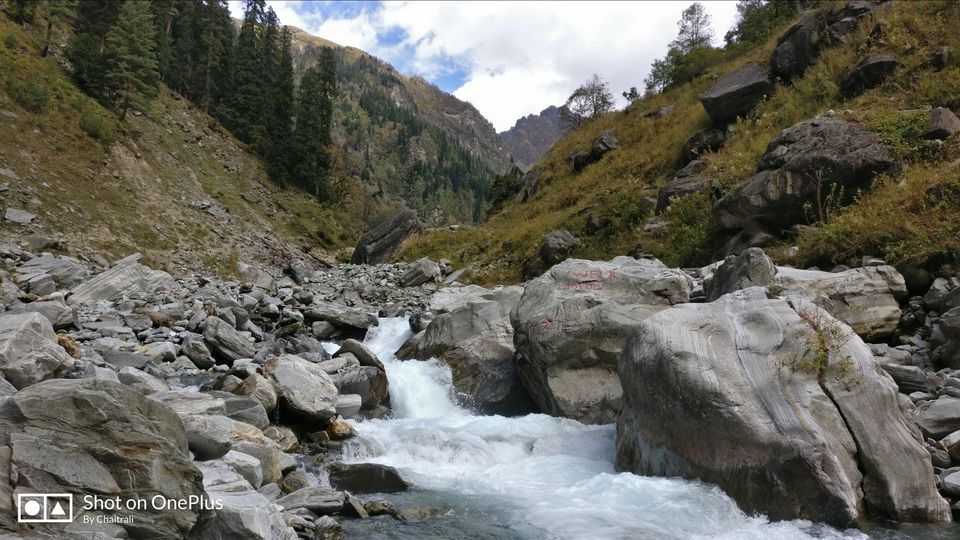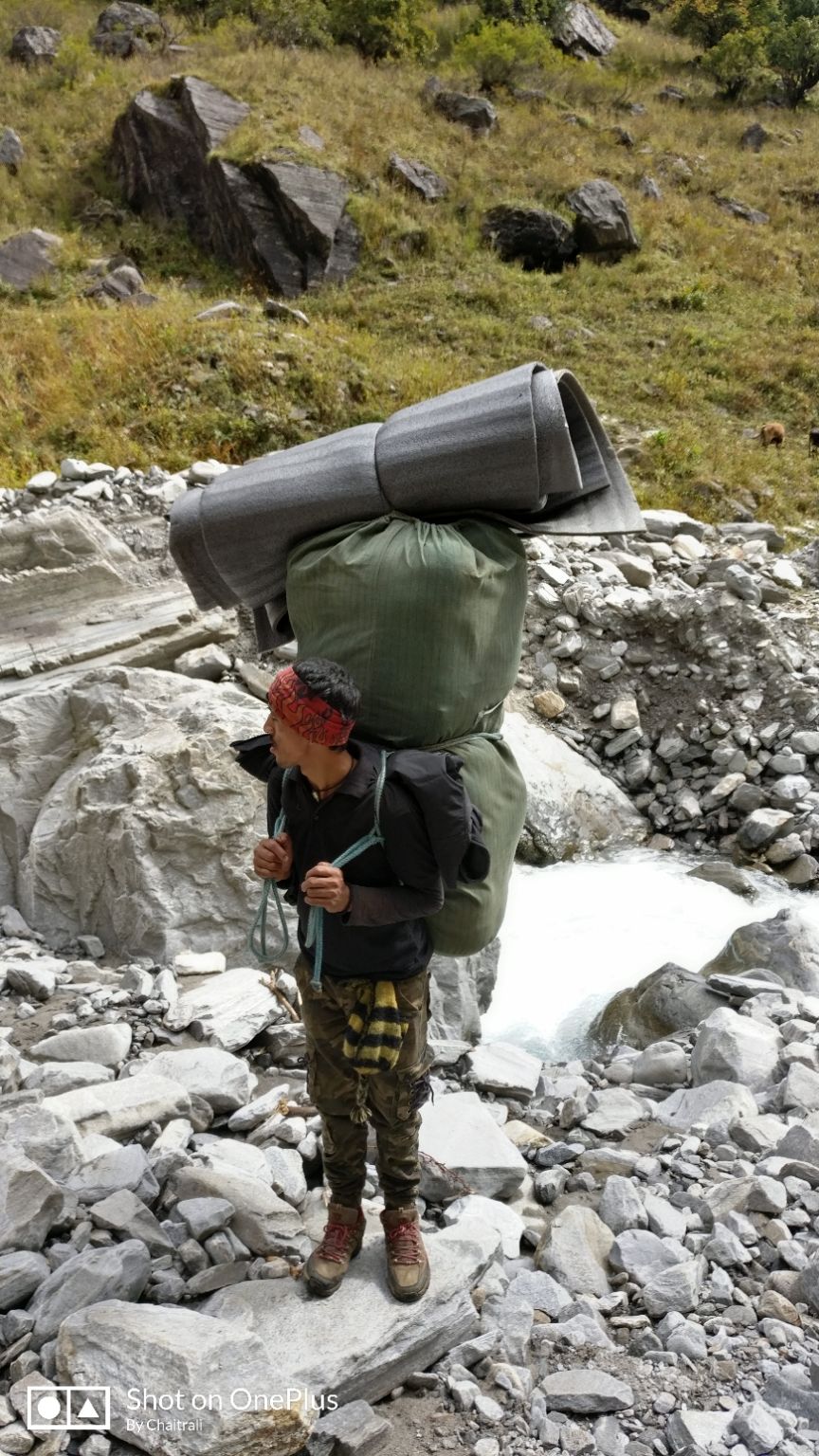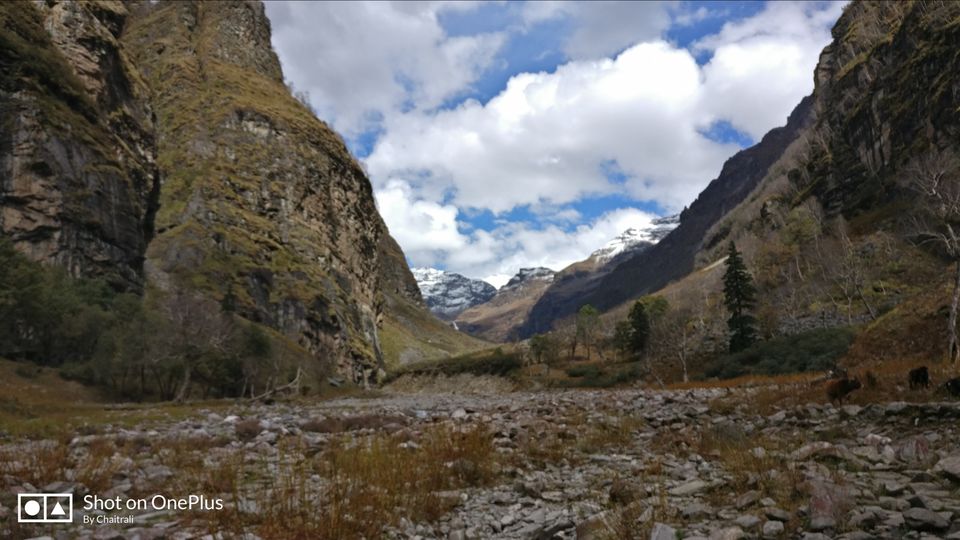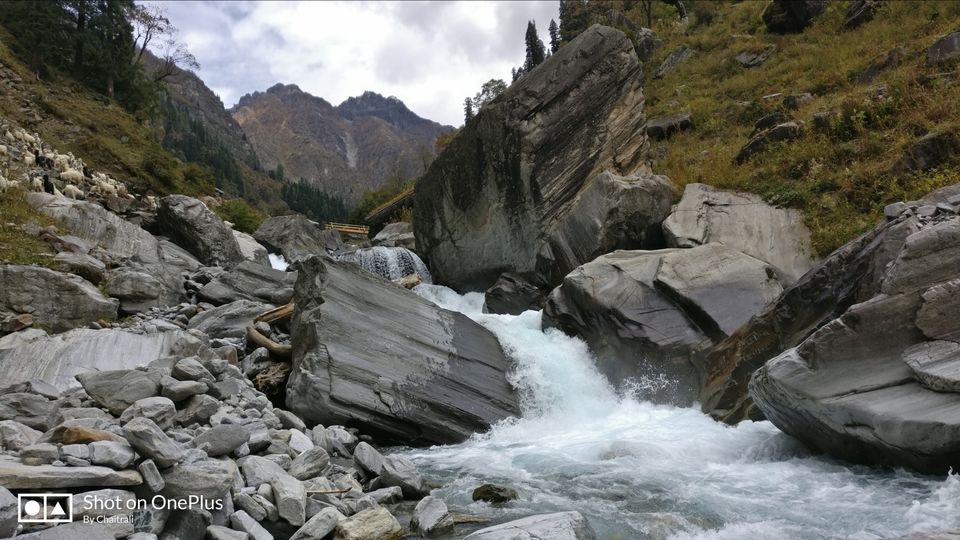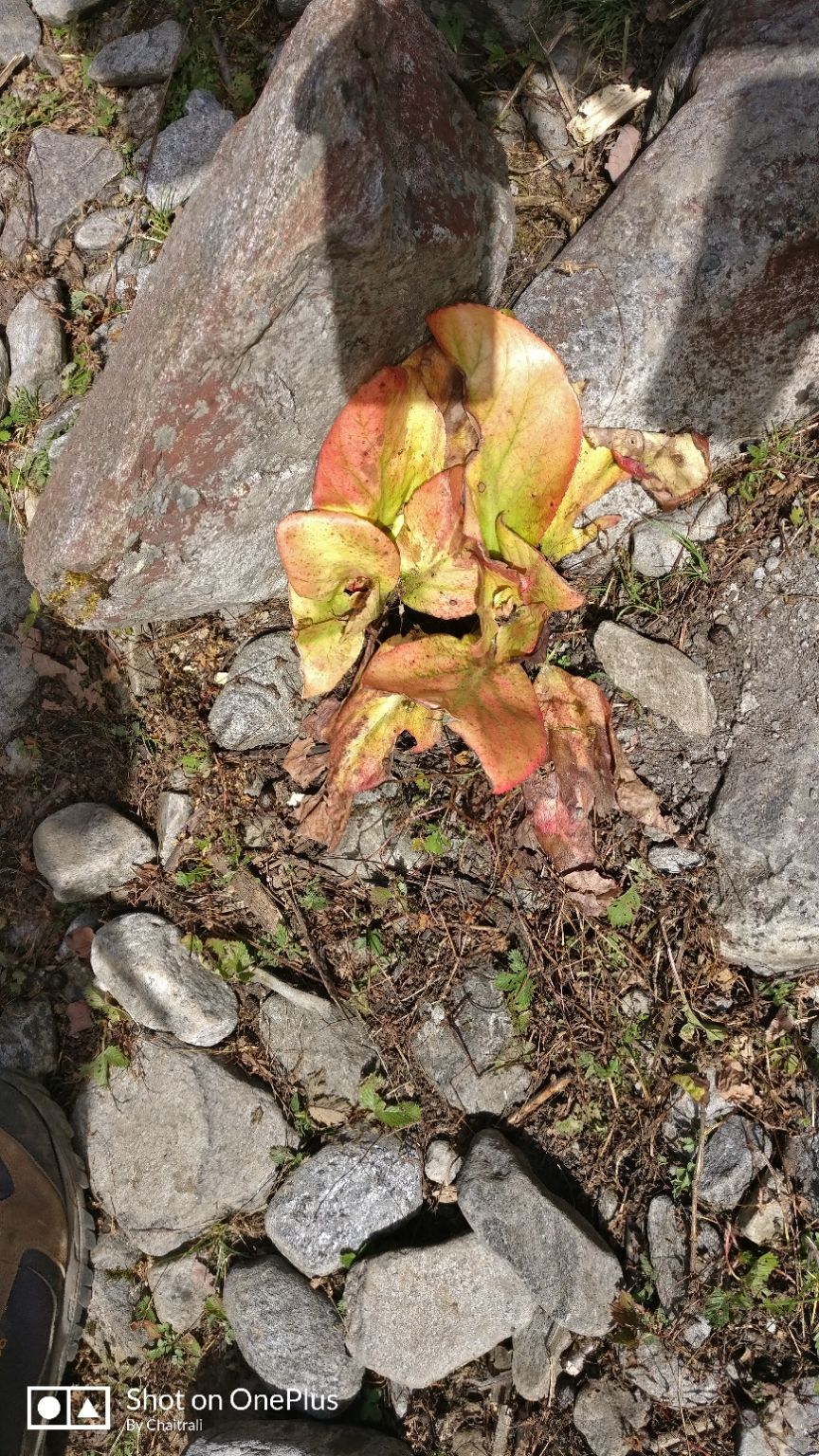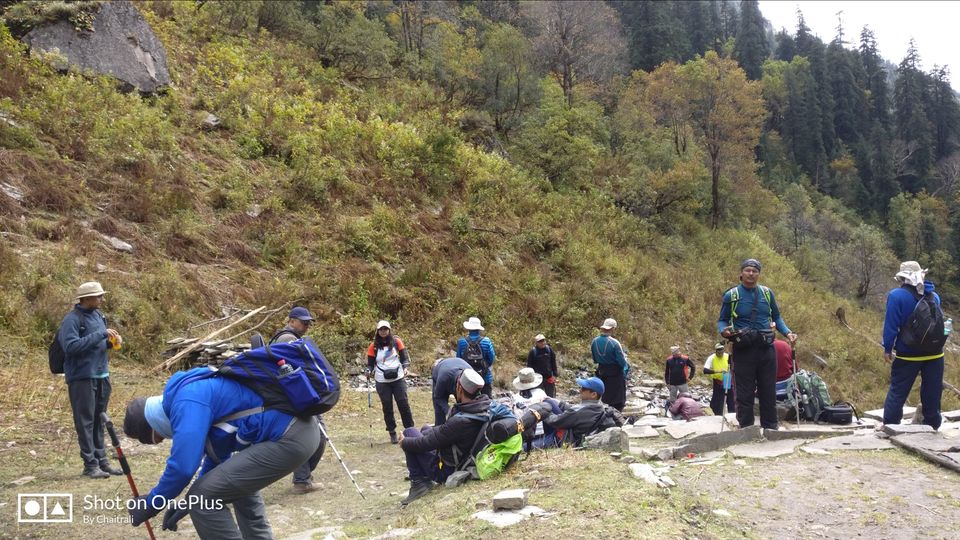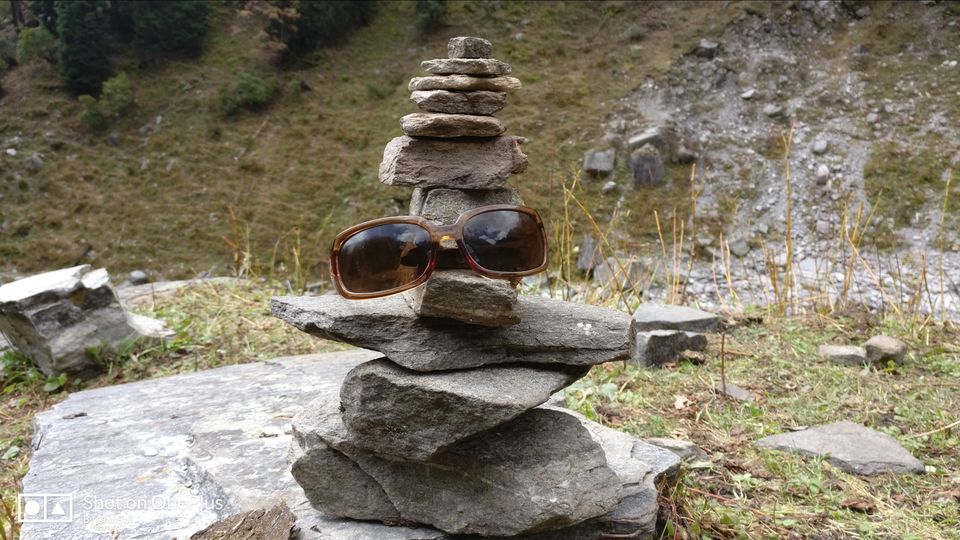 We were at 11700 feet approximately and now was the time when oxygen was getting thinner. All were keeping themselves hydrated to remain fit for next few days left for summit. The moment we reached Dhandreyash Thatch we were able to see all the 3 layers of waterfall (Upper, middle and Lower). The tents were already pitched by the TTH team and we just had to dump our bags and get ready for tea and snacks.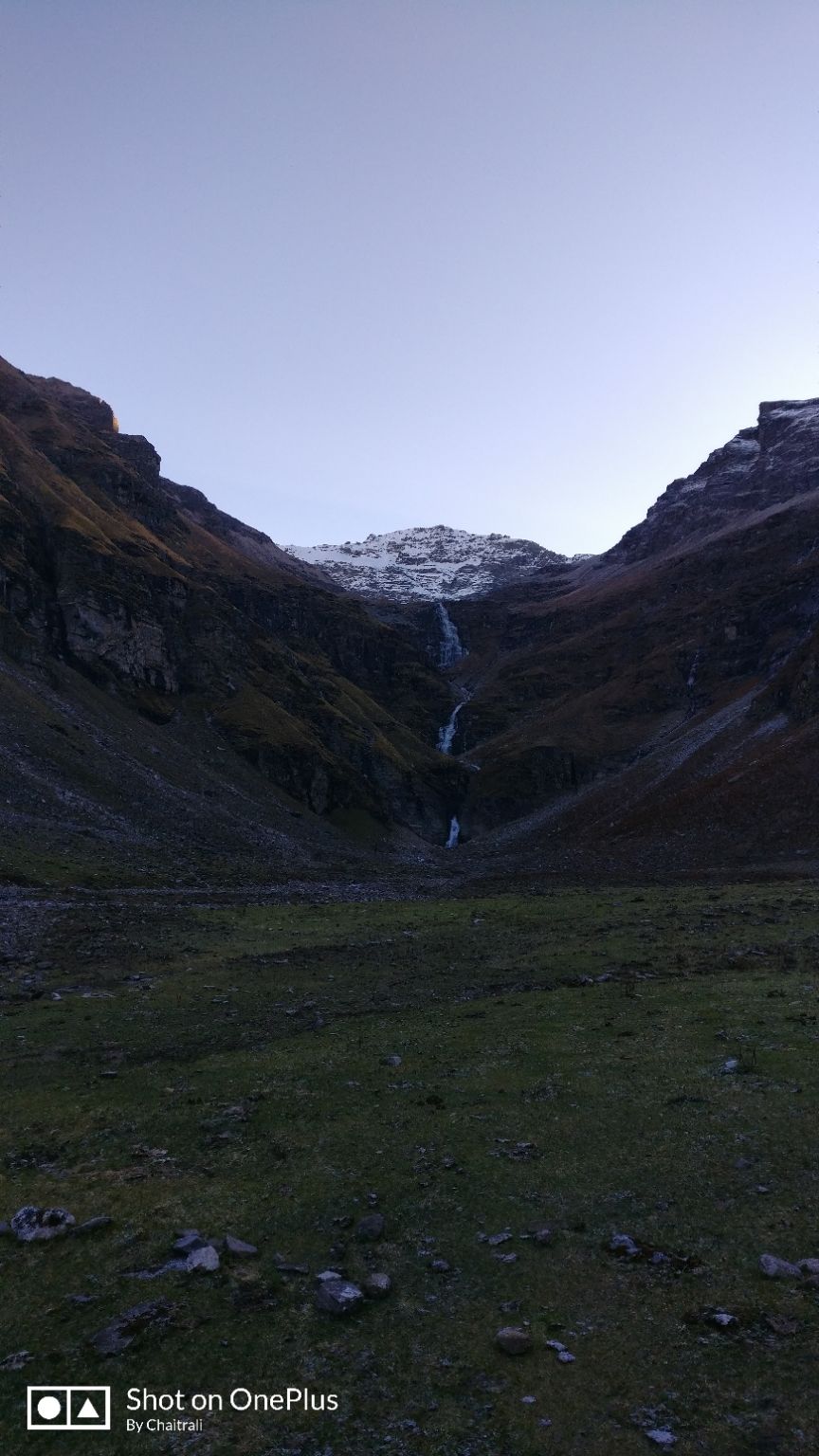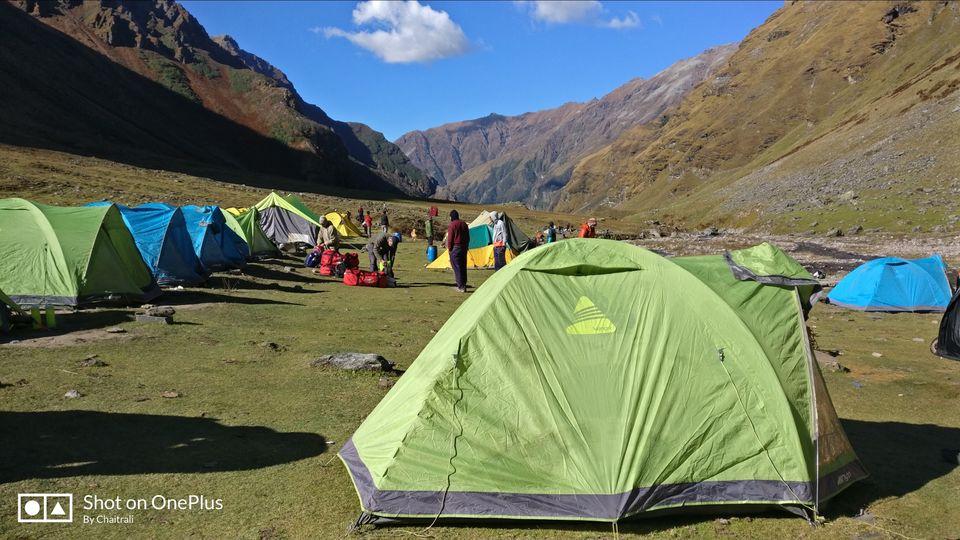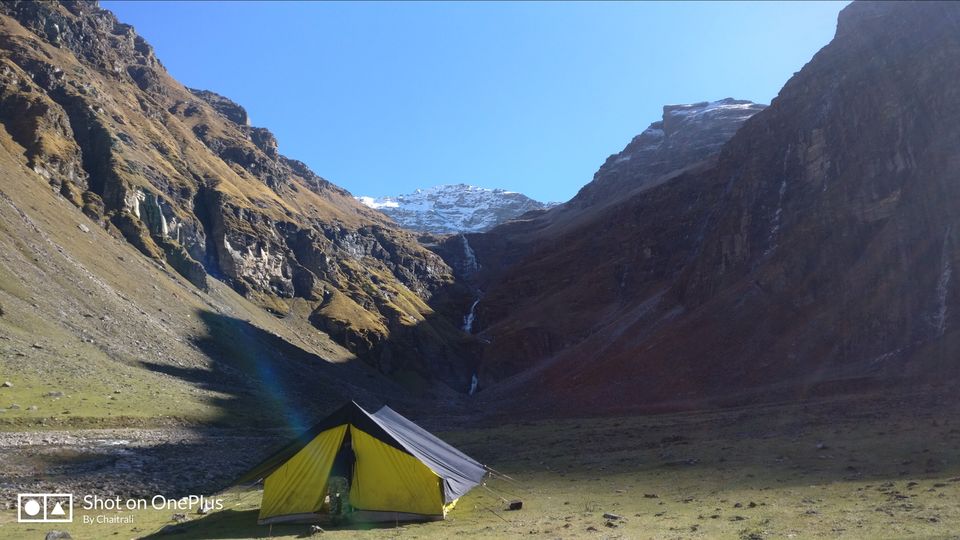 Today it was a small but the steep trek from Dhandreyash Thatch where we reach the altitude of 13200 feet approximately. Total distance we trekked on this day was 4 km and took about 4 hours to reach Upper waterfall. There is no gradual walk on this day but continuous climb. Post reaching the upper waterfall camp site we pitched our tents, had hot lunch and then went near the waterfall in evening. The view from this place was amazing and somewhat looked like Spiti Valley.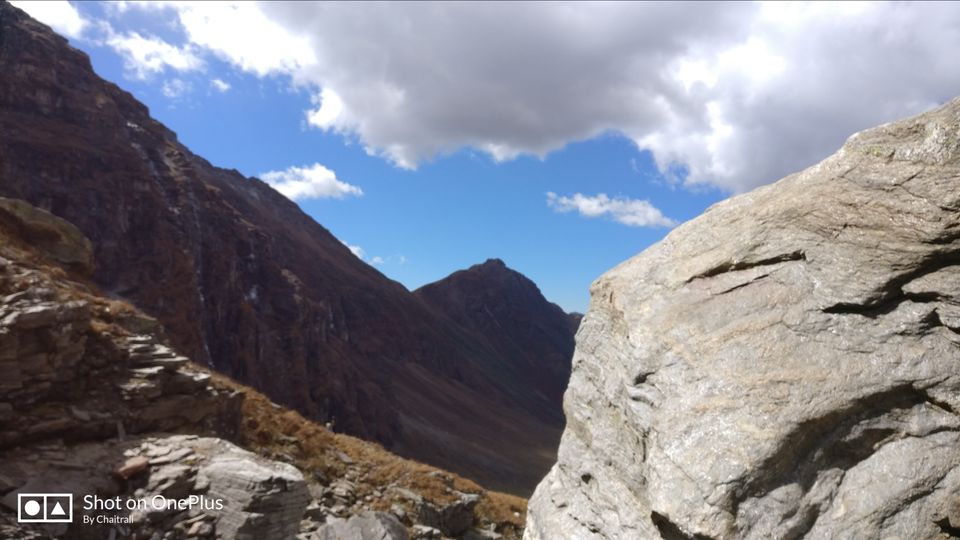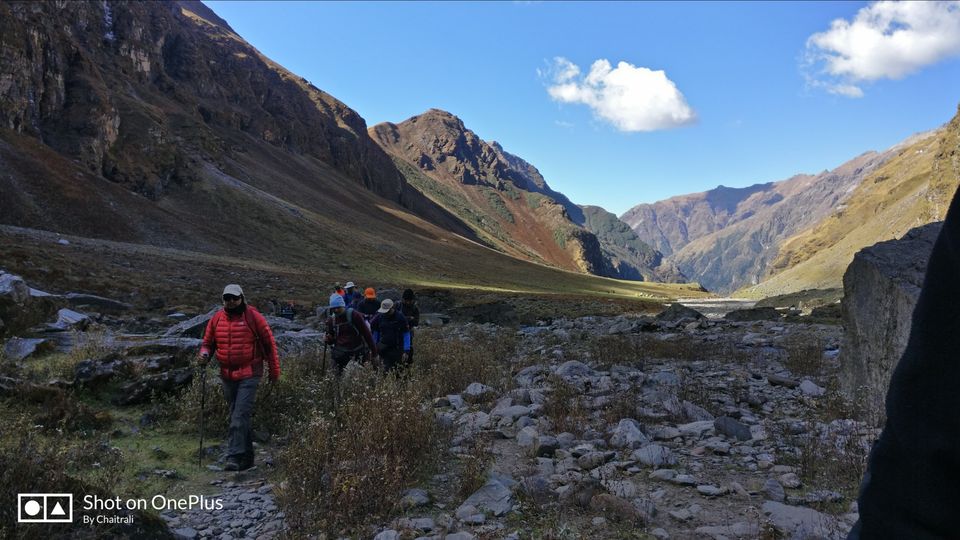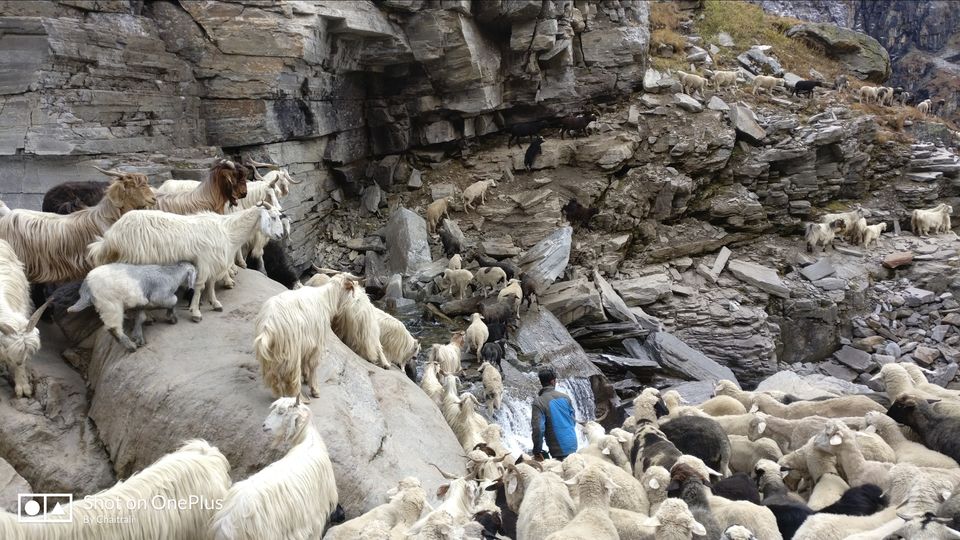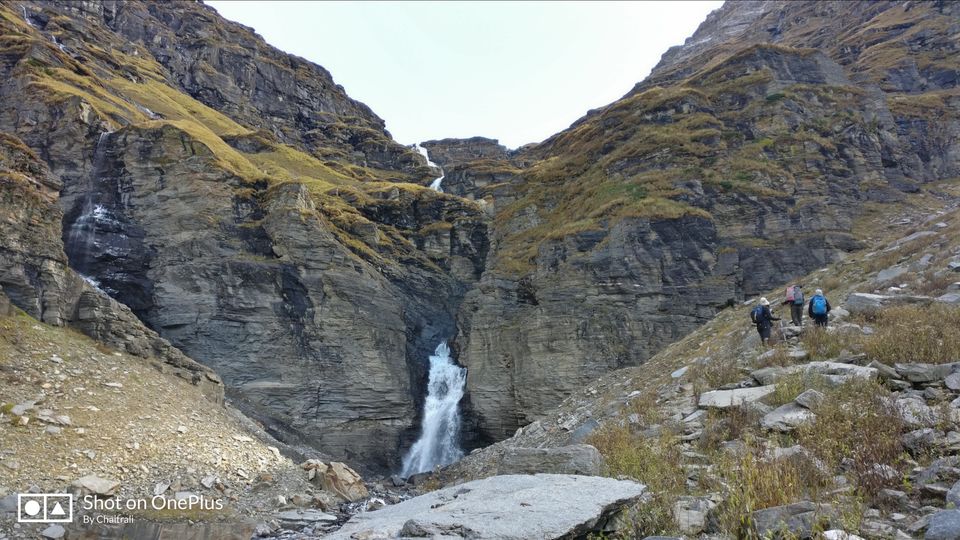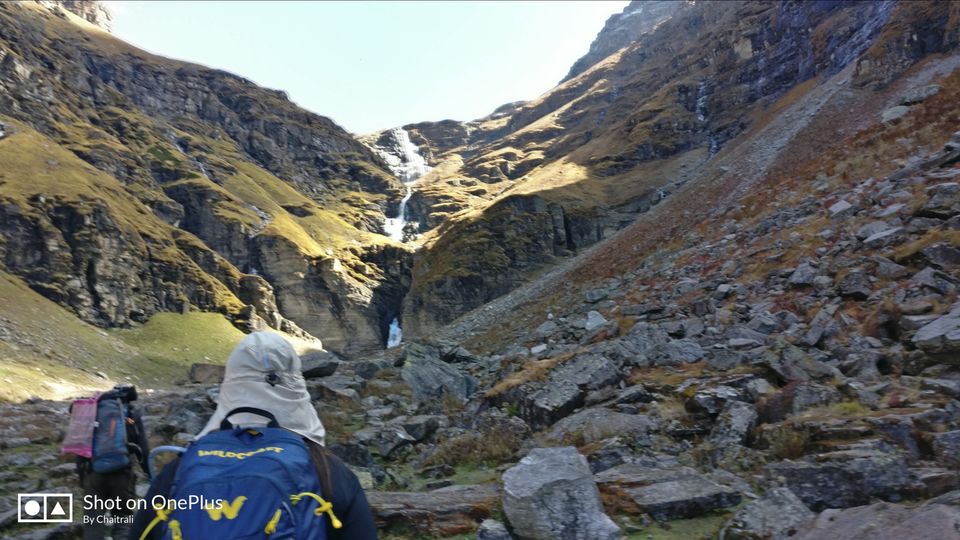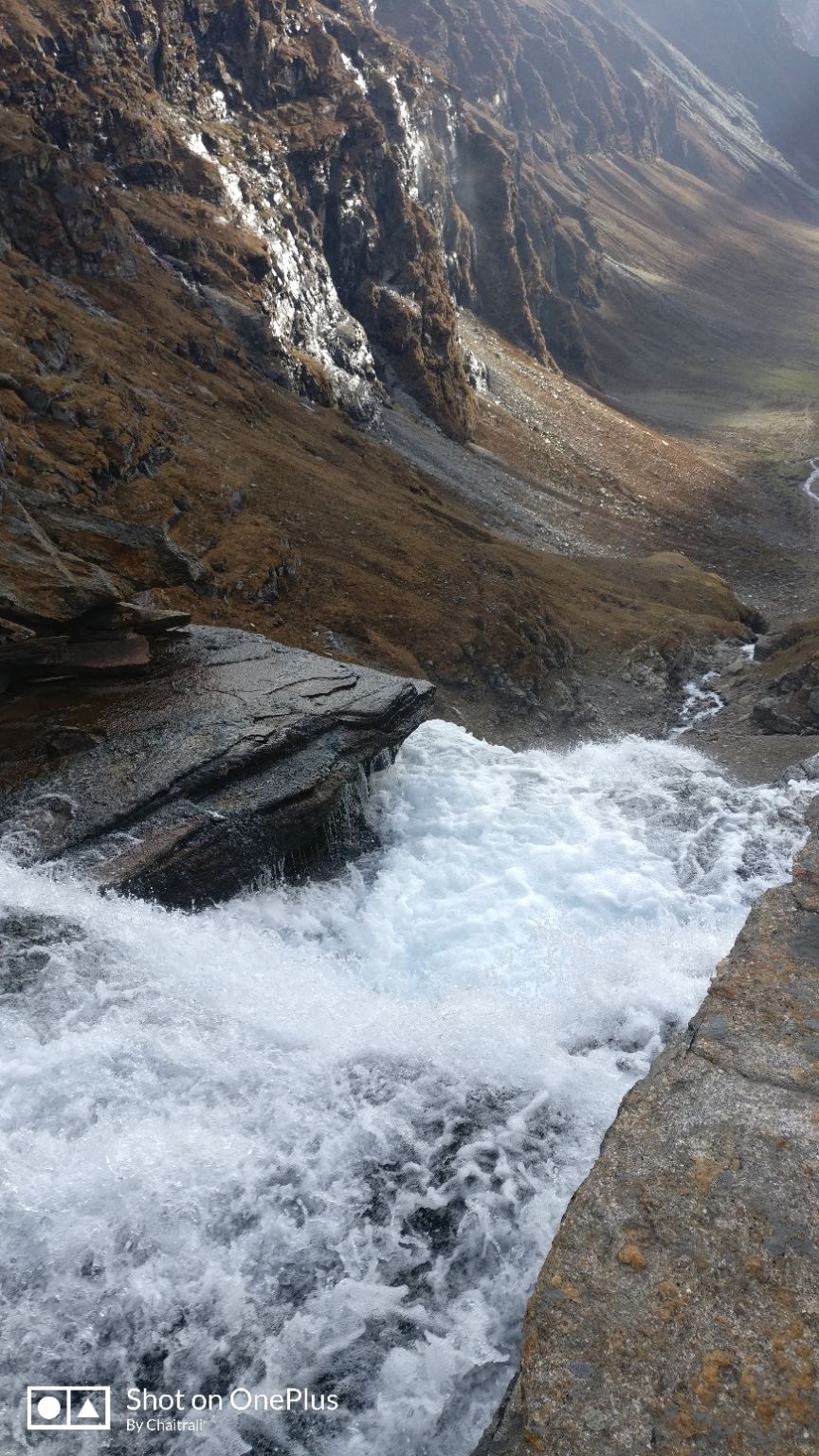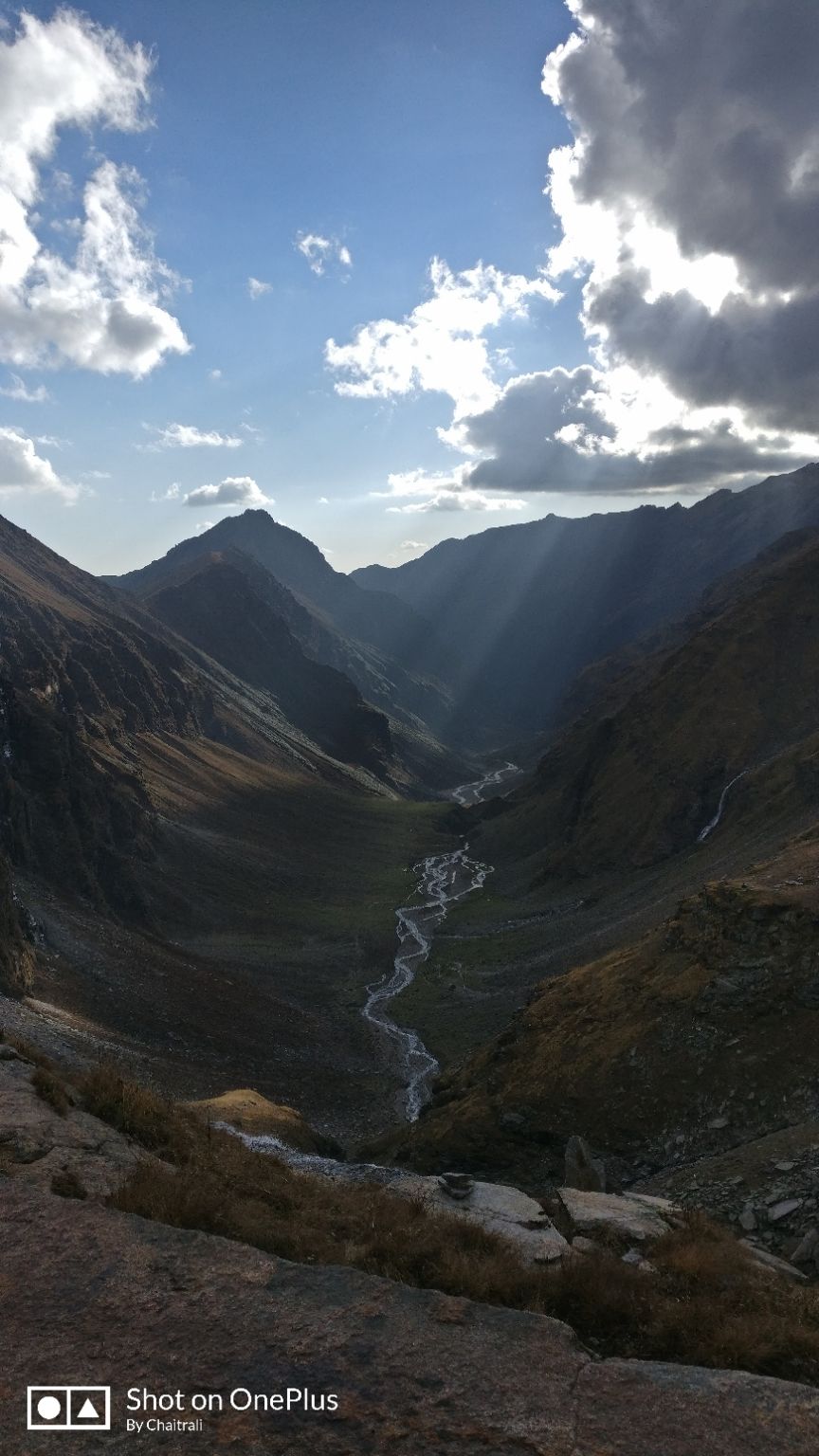 It was too cold here, time to remove all the warm clothes from bag. All dressed up in layers. Post our small walk we were served early dinner and went off to tent early as we had to wake up at 3:00AM next day which was the Summit day.
The big day had finally arrived. All were excited and scared at the same time. We are attaining the height of 15200 feet today and finally summit Rupin Pass. All woke up at 3:00Am and were ready to leave the camp site at 5:00Am as decided. We all were like school going kids standing in the queue one after another with an arm distance between 2 people. Approximately in 2 hours we reached Rati Pheri from where the snow covered ground began. The whole terrain was white and everybody wore their glasses to avoid White out. Normlly during October there is no Snow in this area but as the weather was bad few days prior to our trek we got to see snow everywhere from Rati pheri till Ronti Gad.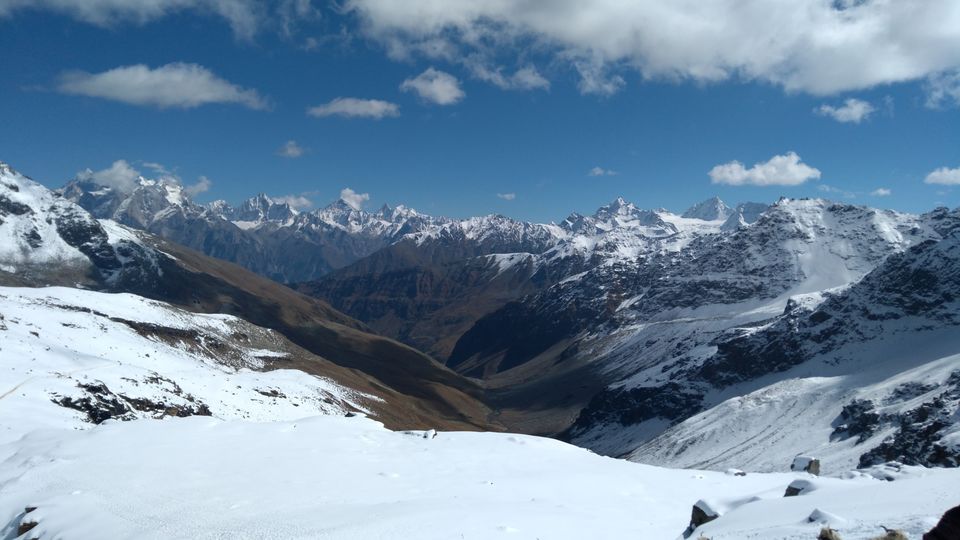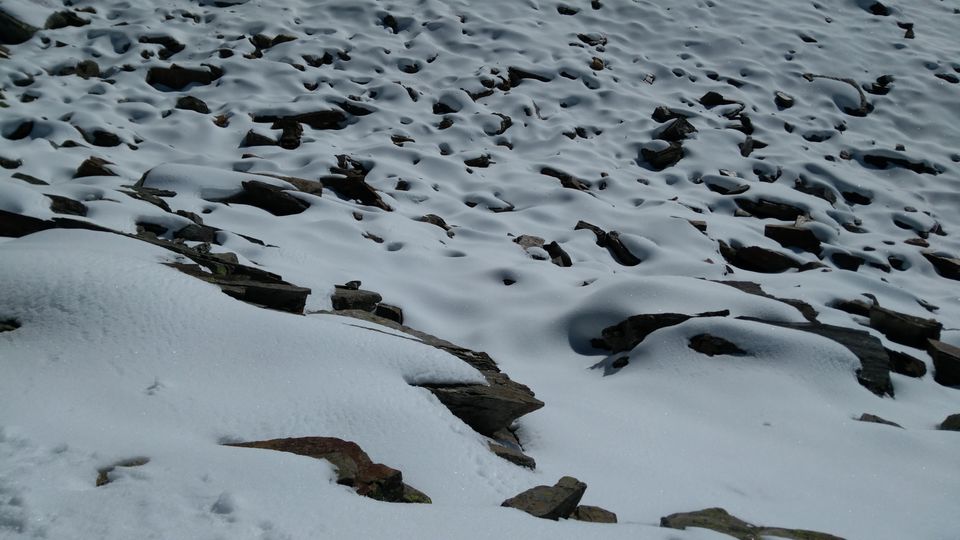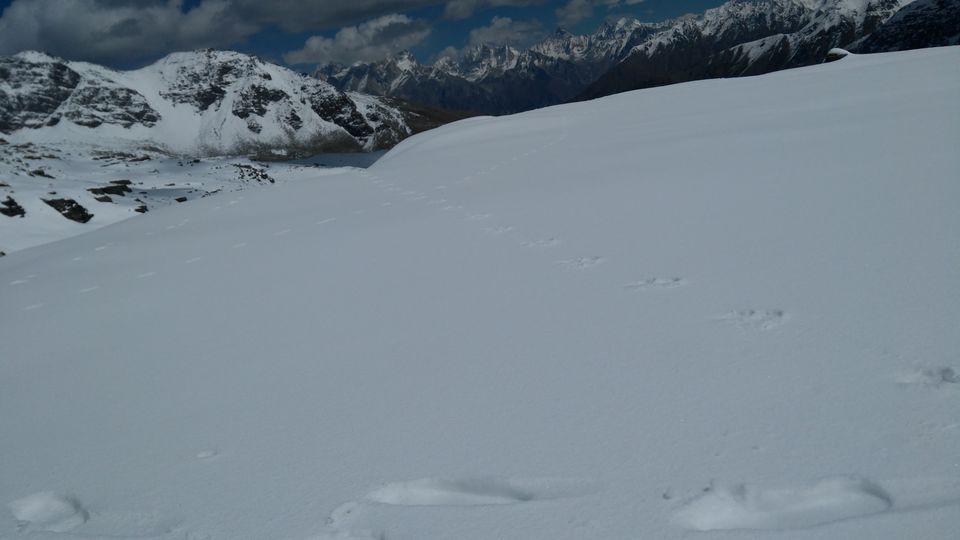 As per the itinerary we reached at the base of Rupin gully around 9:30AM which was an ideal time to climb the gully. Ideally one should climb the gully before Sunrays reach this place to avoid the difficulty. With sunrays reaching the Gully the snow starts melting and it becomes challenging to get good grip while climbing. Unfortunately though we reached on time we had to stop at the base of gully. The herds of Sheep's and Goats had already started their descent from the Rupin pass and crossed half the gully. With no regrets we were enjoying the herd descending when all of sudden we saw a donkey tumbling down the hill. Though the place was fully covered with snow the Donkey hit one of the boulders. The local Guide went to see the donkey but it lost its life. Seeing this everyone from the group got scared and became more cautious. Herds had passed the gully and now the gully was open for us to climb. As the snow got mixed with the mud and sunrays had already hit the ground it became more challenging for us to climb the gully. Local guide and the Porters did their best to take everyone on the summit. Hats off to the porters, who carried weights on their back, and still managed to help each one of us to climb the Gully . By 11:00Am on 6th Oct 2018 we team of 20 summited the Rupin Pass. The view of Kinnaur Kailash from Rupin pass is miraculous and worth capturing in the lenses. Once you reach the top you forget what pain you took to reach here and if at all you remember of the pain you feel it's worth it. When the entire group was on pass we offered prayers alongwith the coconut on summit. Post this we took snaps holding TTH banner and India flag.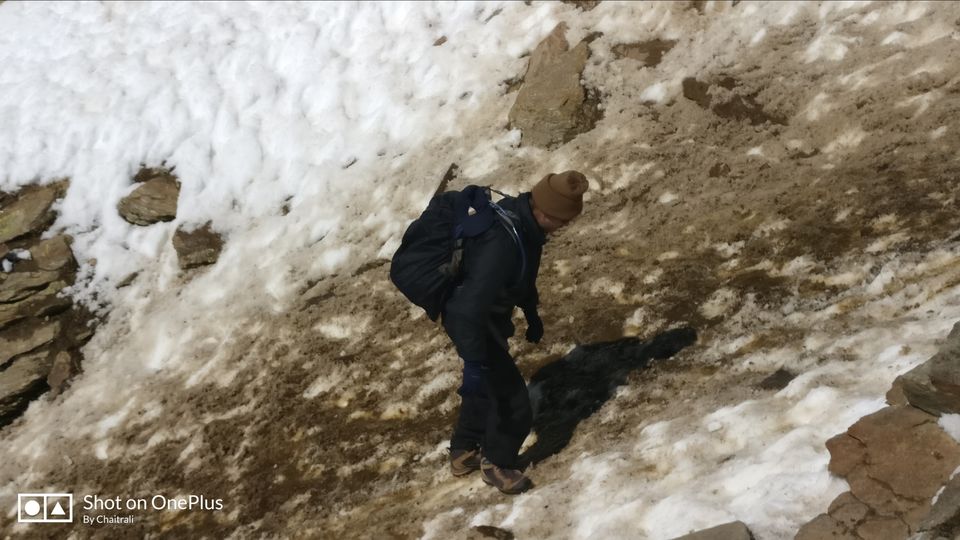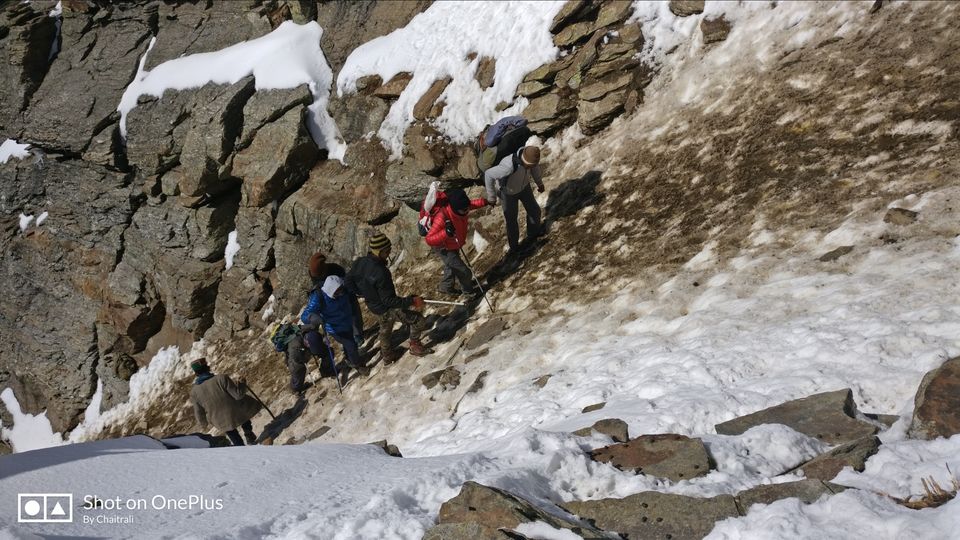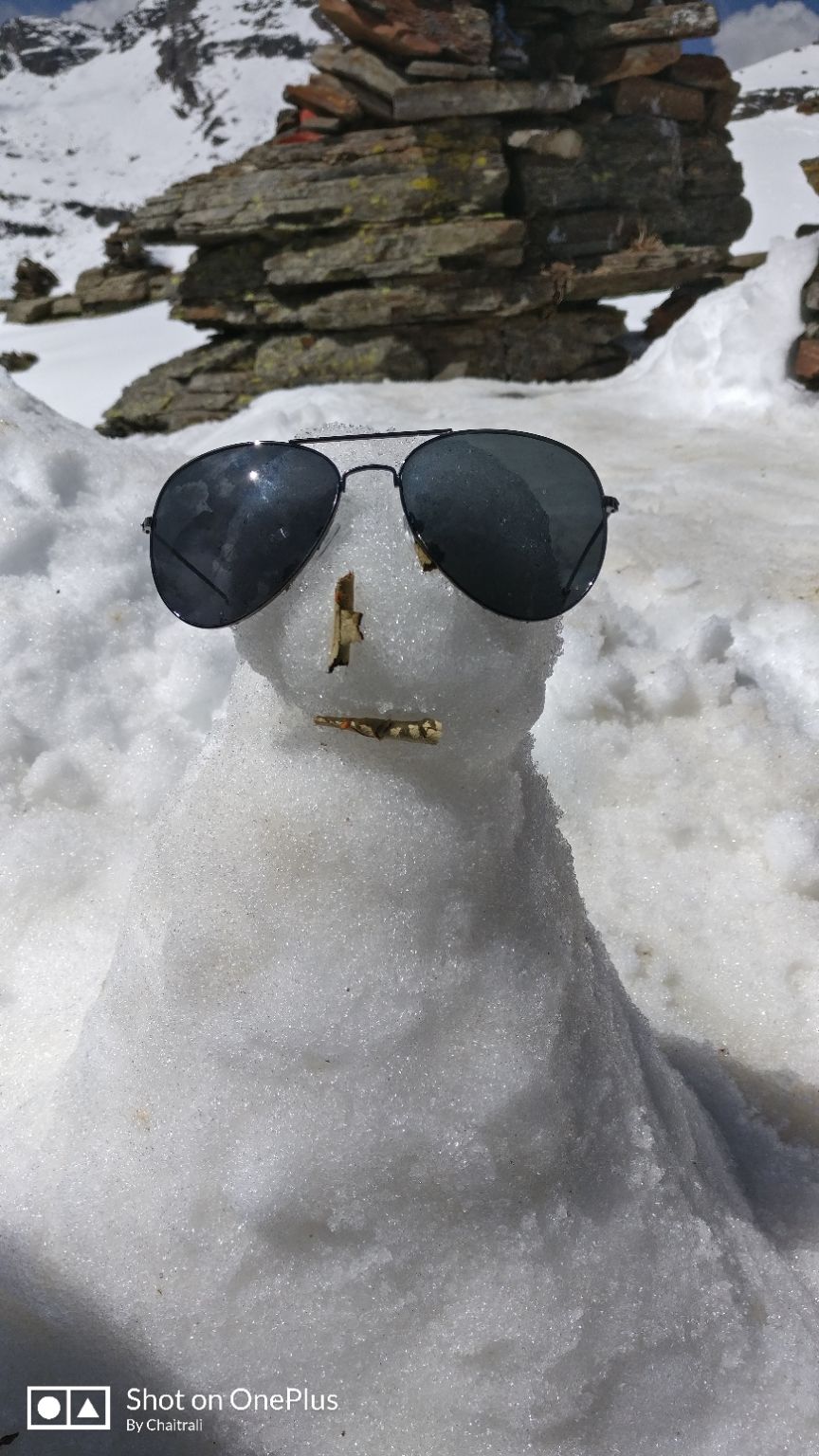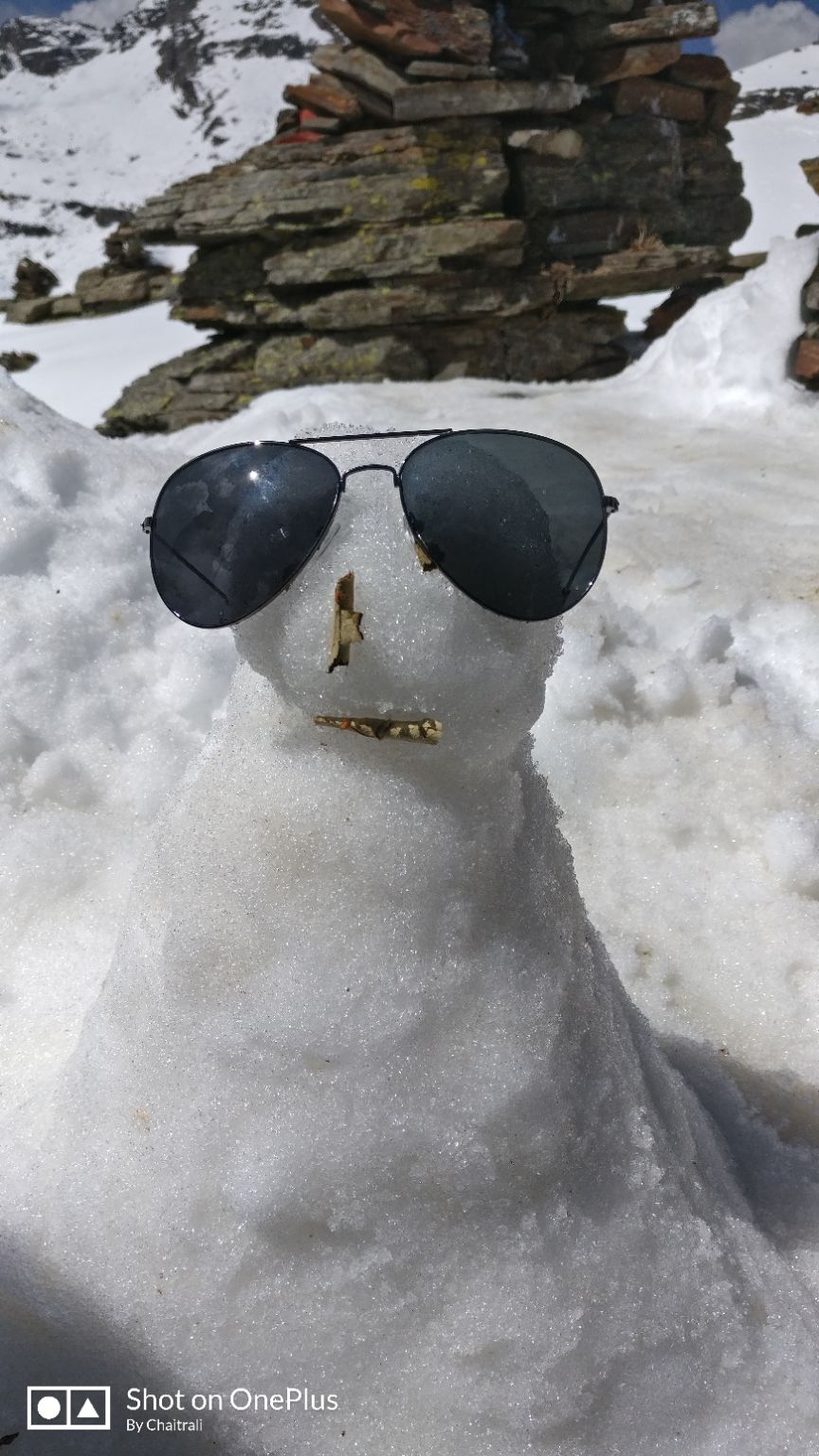 Lived our childhood by making snowman and descending by gliding on the snow. From Rupin pass there is a steep descend for about 1 hour post which there is gradual descend till Ronti Gad. However this is the longest day in the entire trek which consists of first 4 hours of steep ascend followed by 4-5 hours of tiring descend.
While descending the weather started getting bad and it was snowing. Though for all the weather was bad ,but for me I got what i prayed. I had wished for the snowfall and there was snowfall.By evening 5 pm we reached the camp site at Ronti Gad and the snowfall was following us. The hot tea and Samosas were waiting for us. Getting samosas at the altitude 12k-13k feet is not less than a treat. The celebration began by having snacks followed by the yummy dinner at 8pm. This was our last night at camp and together as a group so we sat in the dinning tent and spent time chatting in a group.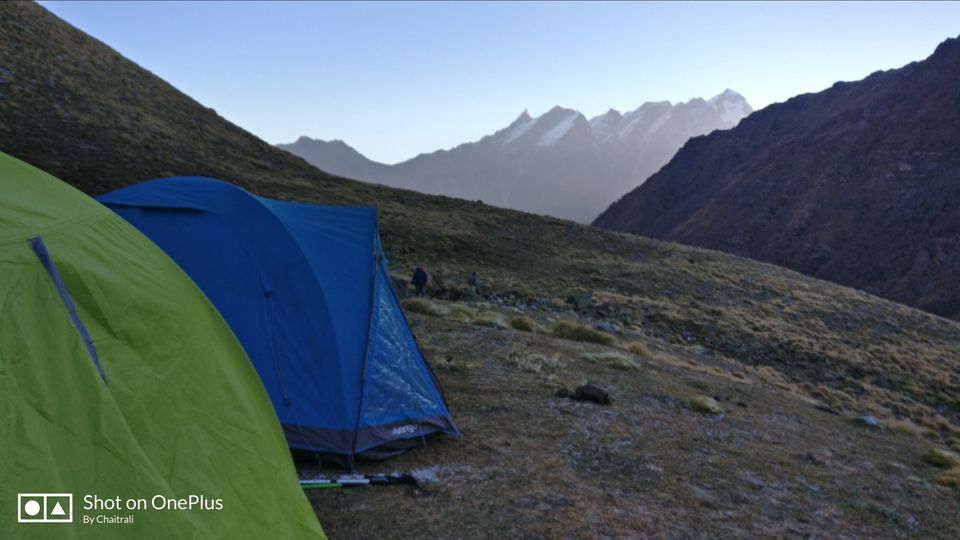 This being the last day of trek itinerary I was happy and sad at same time. Happy because I was going back home after successful summit and Sad because I will be living part of me in the Himalayas and miss the new people who then become more like family during these 8 days.
Before checking out from the last campsite we had the most awaited moment of certificate distribution. All were quite excited like a kid to hear their name announced. This followed by the last get together of TTH team and the participants.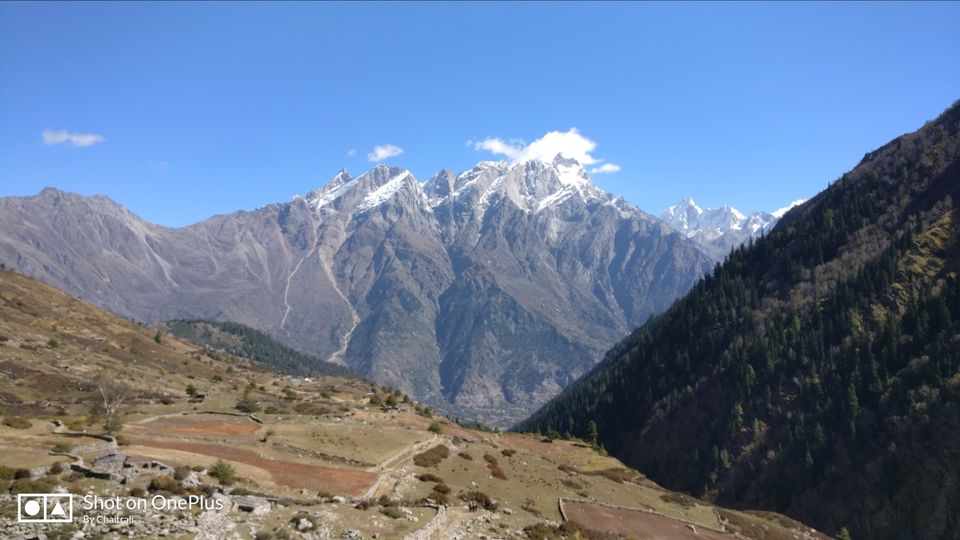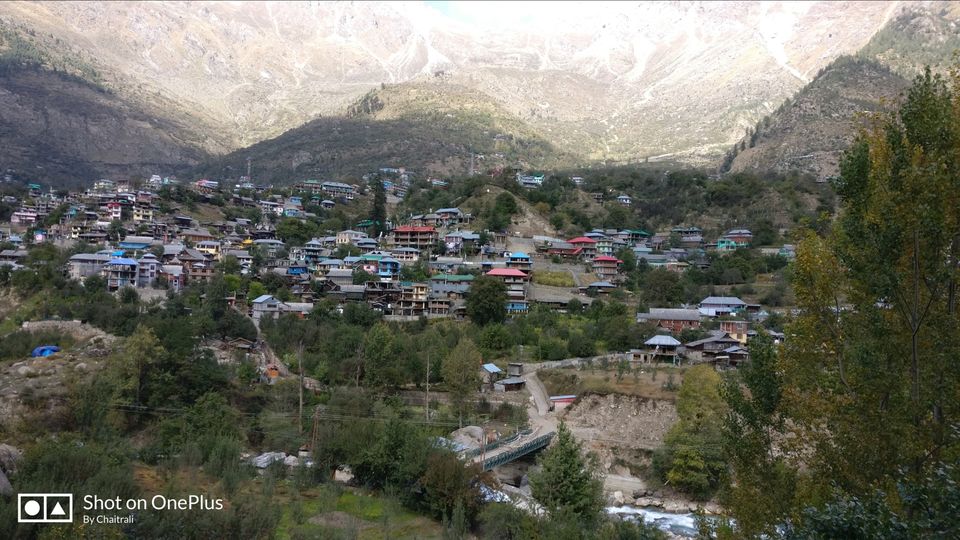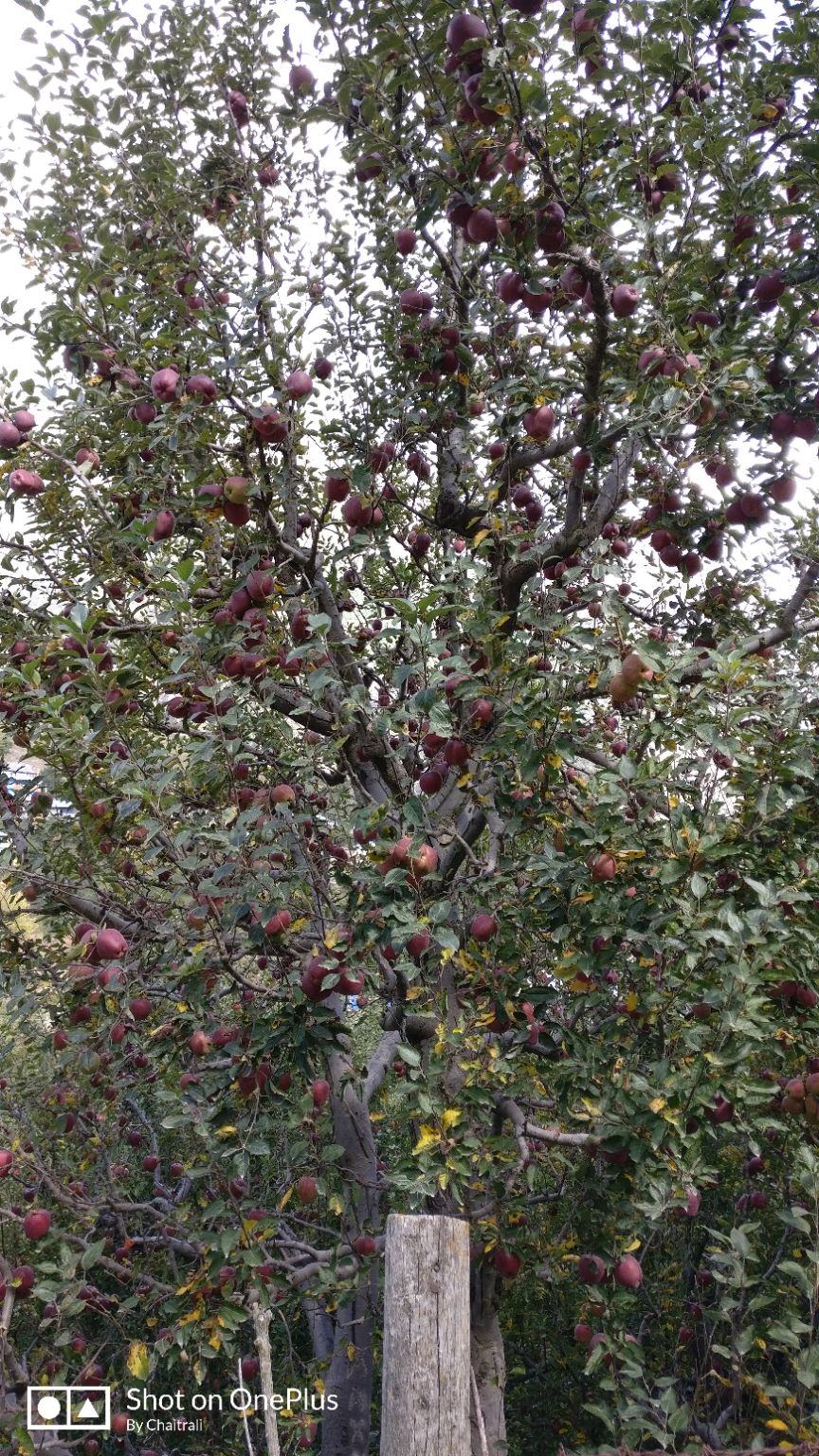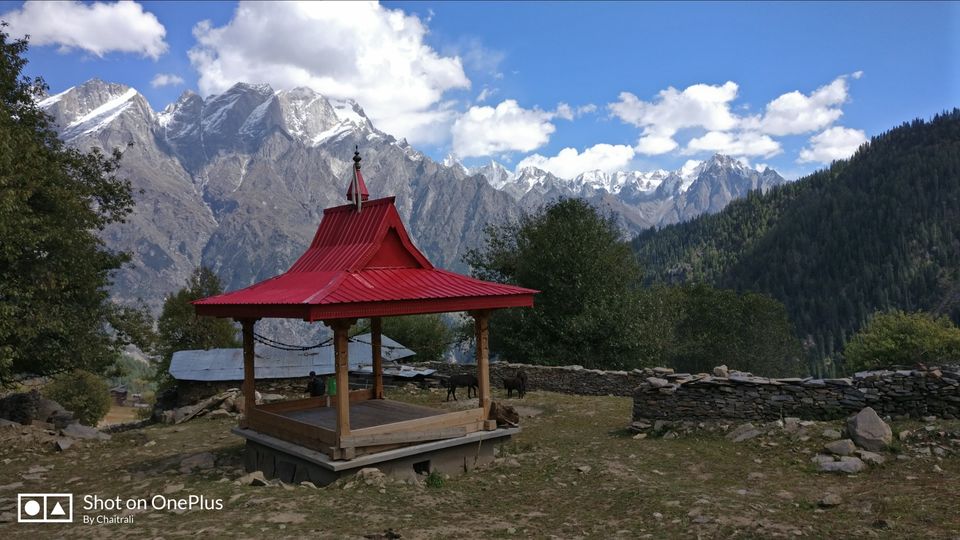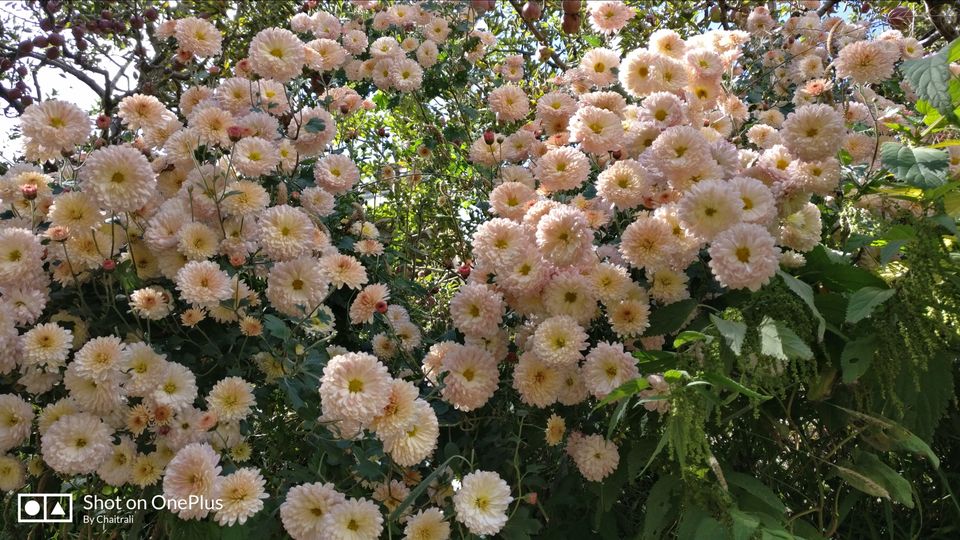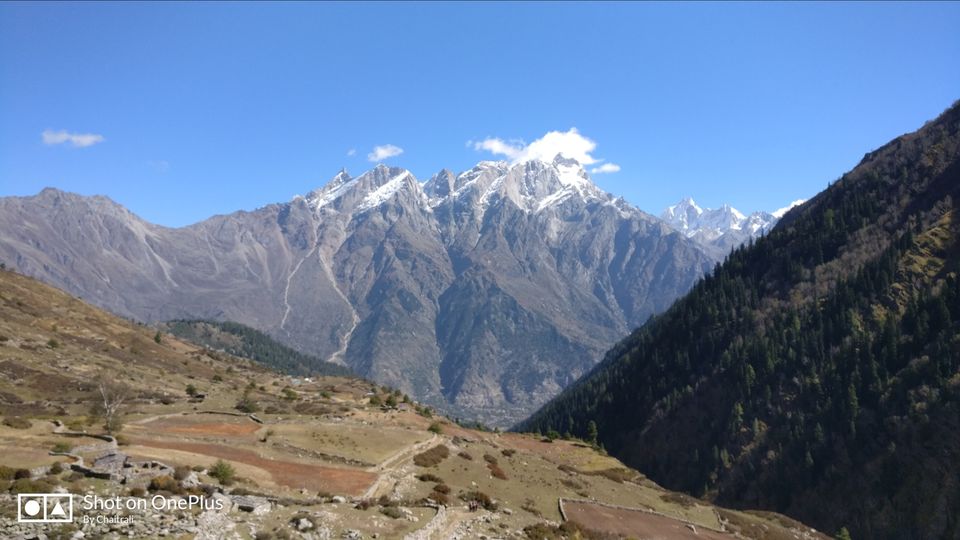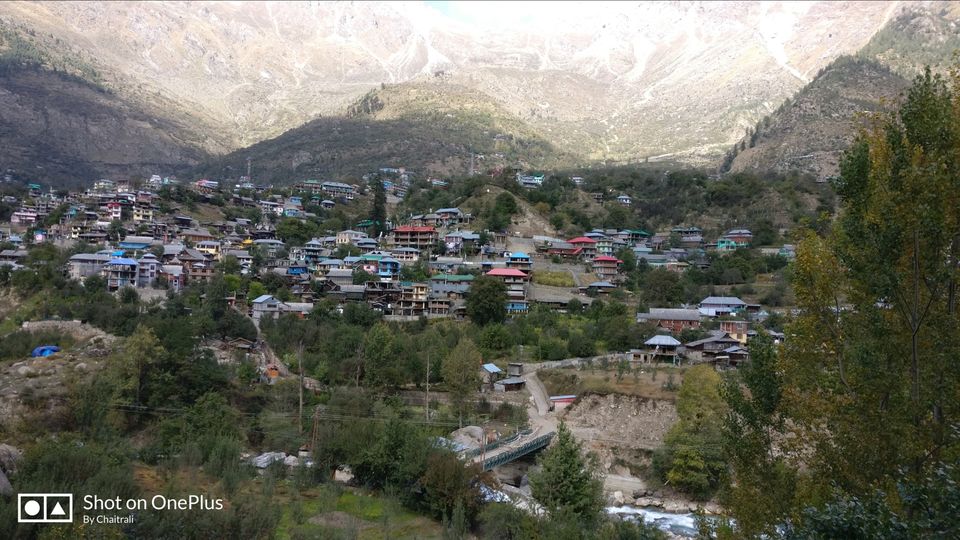 We reached Sangla around 2:00pm post which the vehicles were arranged by TTH for us to drop at Shimla. Sangla to Shimla is approximately 214 km drive which takes 7-8 hrs. Road is in good condition and you can see huge mountains, valleys, River, waterfall and small villages on this way.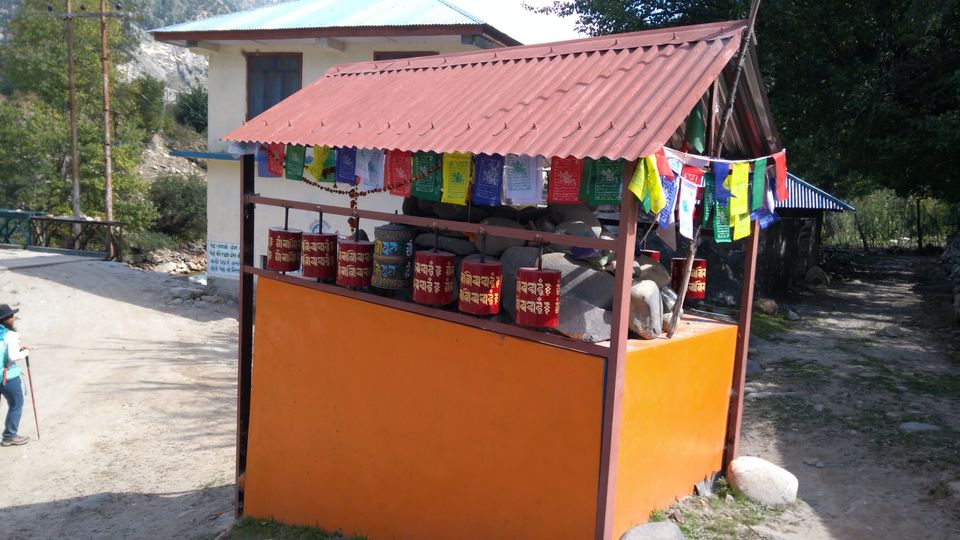 On the way there is a hydro electric plant named karcham wangtoo on the river Sutlej in Kinnaur district. There is not the real ending it's just the place where you stop the story. In our case story did not stop at end of the trek but it will continue in future treks.
My takeaways on this trek;
1. Some awesome people I met who taught me about new perspective towards life
2. Living life at the fullest and live in the present (Dr Rajesh and Dr Swati is inspiration)
3. Age and Altitude is just the number. Mind has to be powerful (Entire Group)
4. Last but not the least patience Keep the mountains clean (Sagar)
A big Thank you to all who were part of this trek. You all directly or indirectly taught me number of things for which I'll always be grateful. Hats off to the people staying in the remote places which are not even connected by roads. Though these villages are not connected by road or network people here are connected by hearts. Kudos to these wonderful people.