Rupin Pass Trek is a trek taken from Dehradun to Himachal Pradesh along the Rupin river and this trek is better to take in the month of June if you want to enjoy trekking on snow. Last month in June 2017 I ticked it off my list and this was one of the best adventures of my life till date.
Day 1 and 2:-
Dehradun to Dhaula drive for 200 kms on Day 1.
Dhaula to Sewa 7kms trek on Day 2.
It was Dehradun railway station and the coordinator from TTH was there by 6:30 a.m. waiting for the trekkers to assemble and start our journey towards Dhaula. After an hour journey we reached to Mussoorie and had our breakfast there. The journey was superb with pine and oak trees welcoming us all the way. The view from Purola to Mori is epic and from this point we get to see many peaks and we gradually come far from civilization. By 2:30 p.m. we had arrived to Dhaula base camp and were the first team to reach. The camp is hidden behind the peaks and the sleeping tents are on the banks of a flowing stream.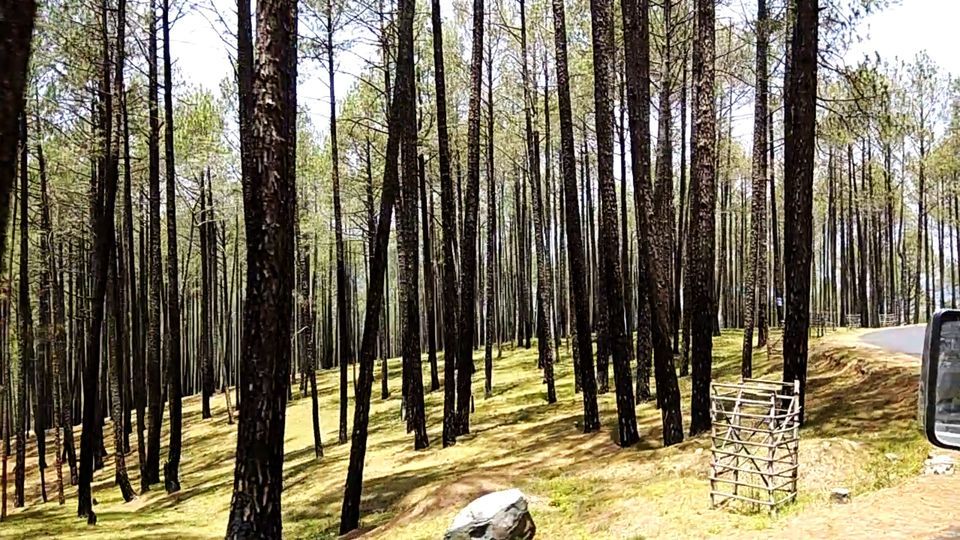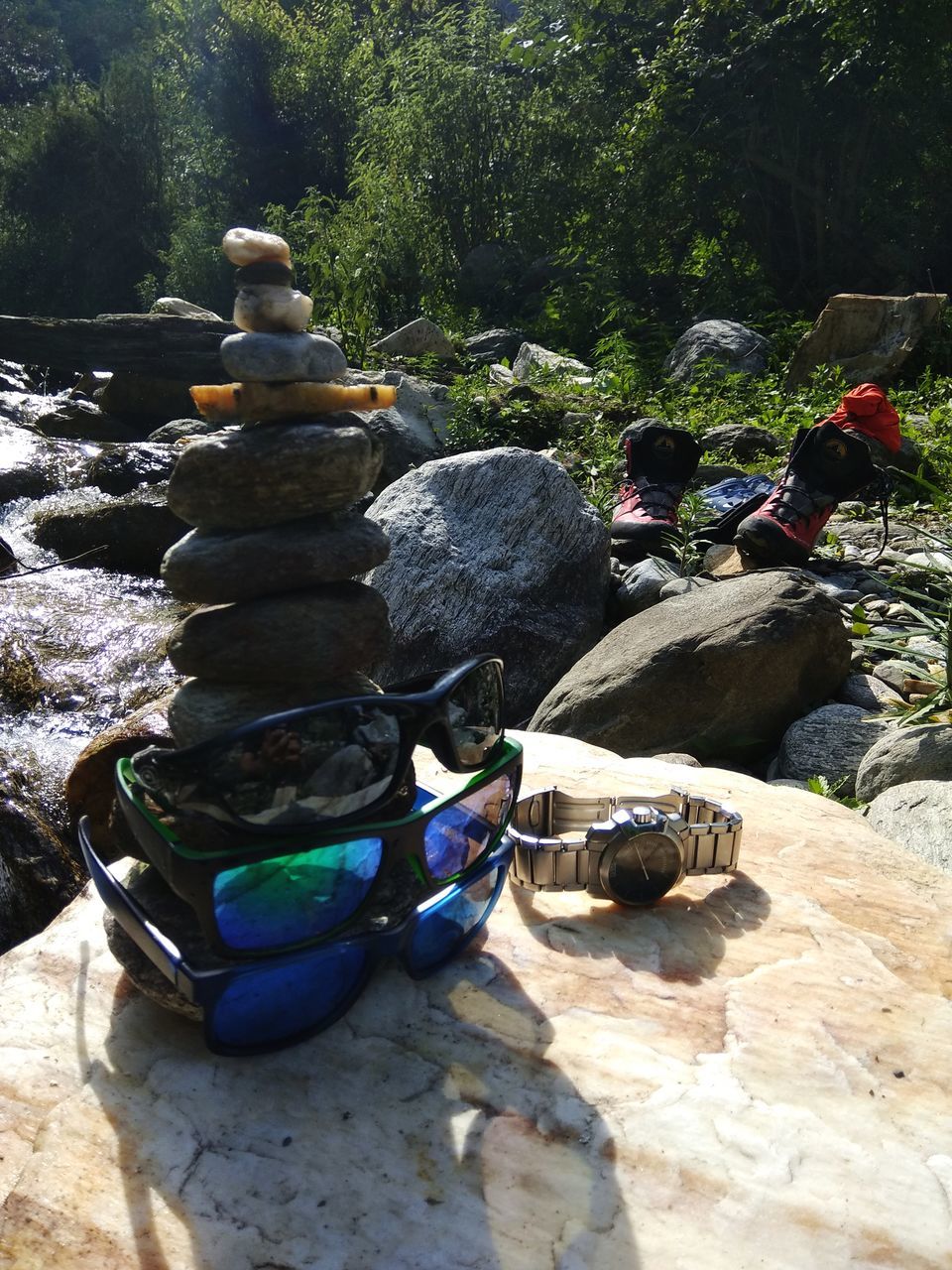 Day 2 was the day we actually started our trek from the base camp at Dhaula after a night stay in tents. The day started by 9:00 a.m. and we started towards Sewa. I think every trail starts with a muddy patch, even this trail was the same. The sun was too hot by 11:00 a.m. and we felt a bit tired to continue our walk and started taking many breaks in between, before reaching a local tea stall. Here we had Maggie and tea and stayed at this point staring at the high mountains for an hour. Sewa was only 90 minutes of trek from this stall and entire team didn't stop until we reached Sewa camp site. Sewa was a camp for our team to get lighten up and Dodhra and Kahwar villages can be seen from this camp. The temple here opens only once in a year after August when the mela happens. After reaching there we had lunch and the rains started pouring by 3:00 p.m. with too much of wind. It rained for an hour and we sat in our dining tent and discussed about the previous treks we had done. Then in the evening it was time to play Frisbee and the entire team enjoyed playing it. The night was bit cold and we went to sleep early by 9:00 p.m.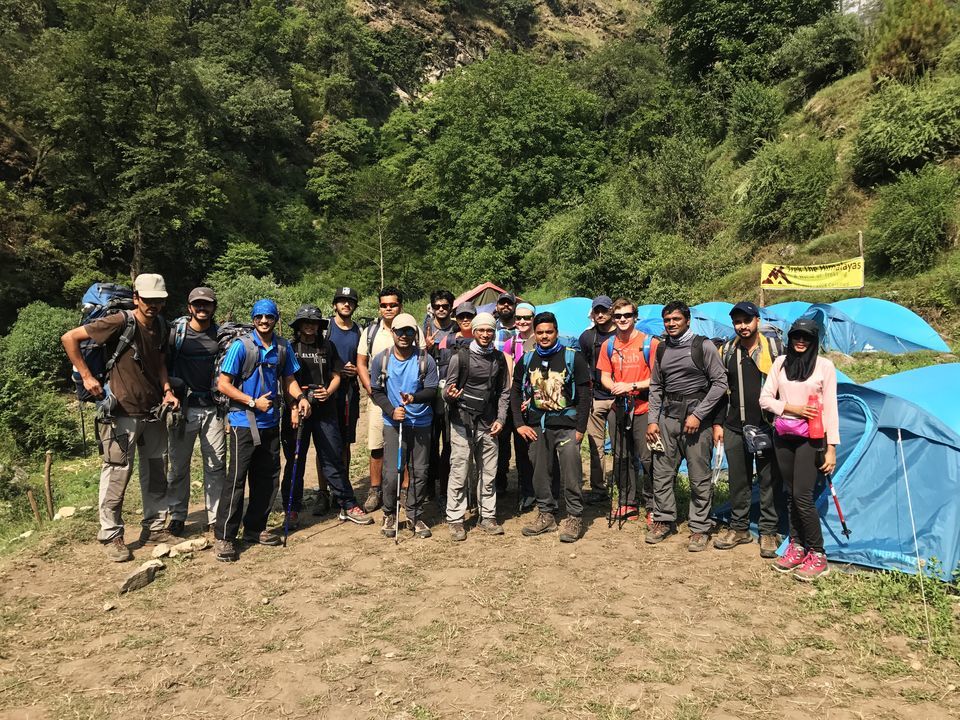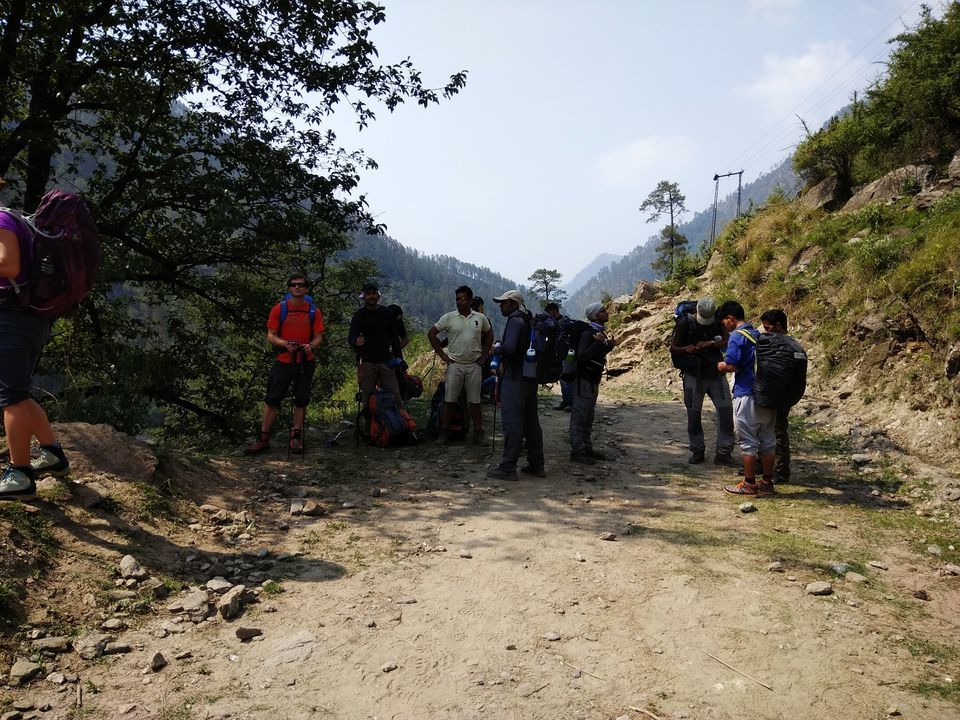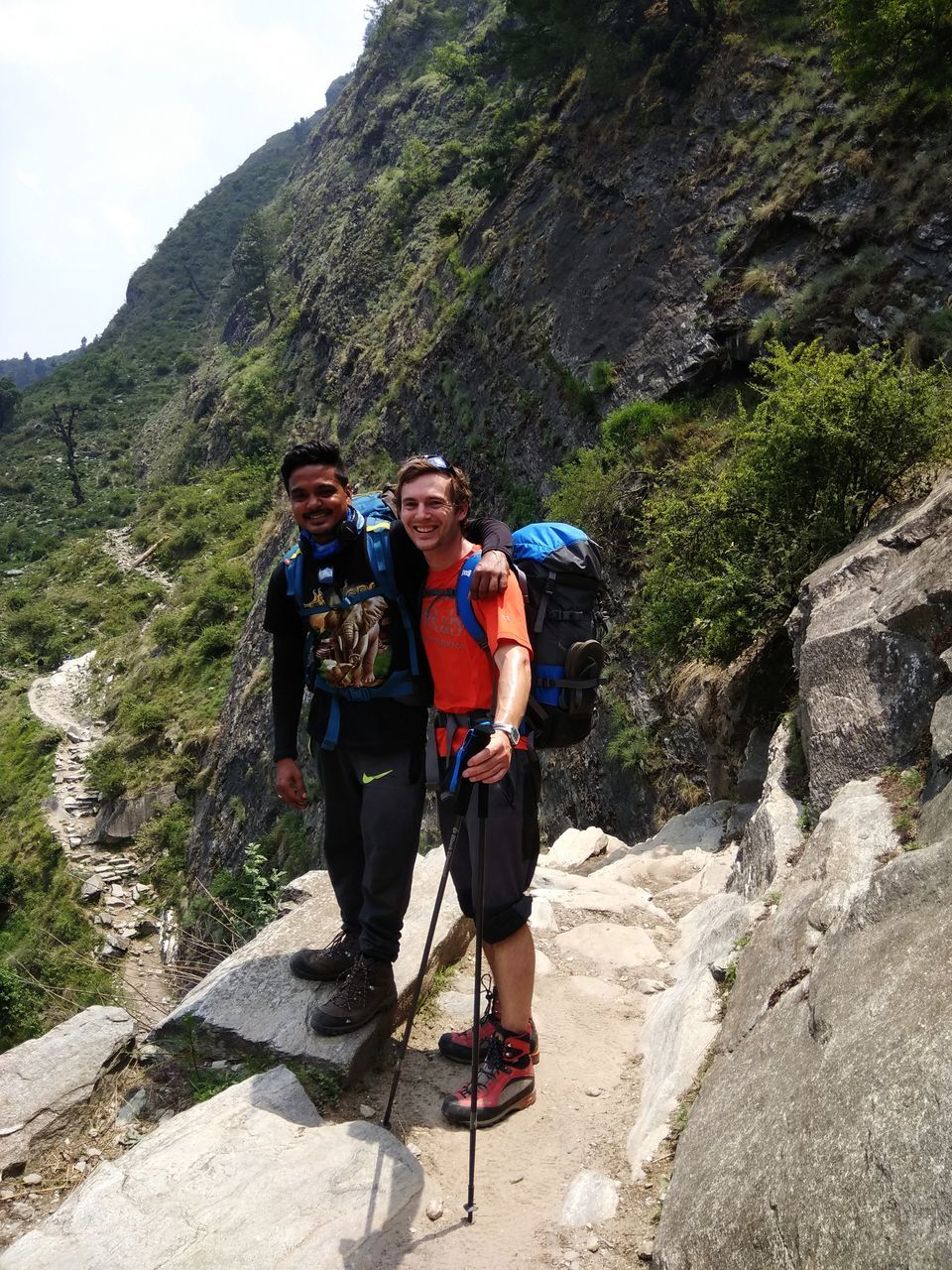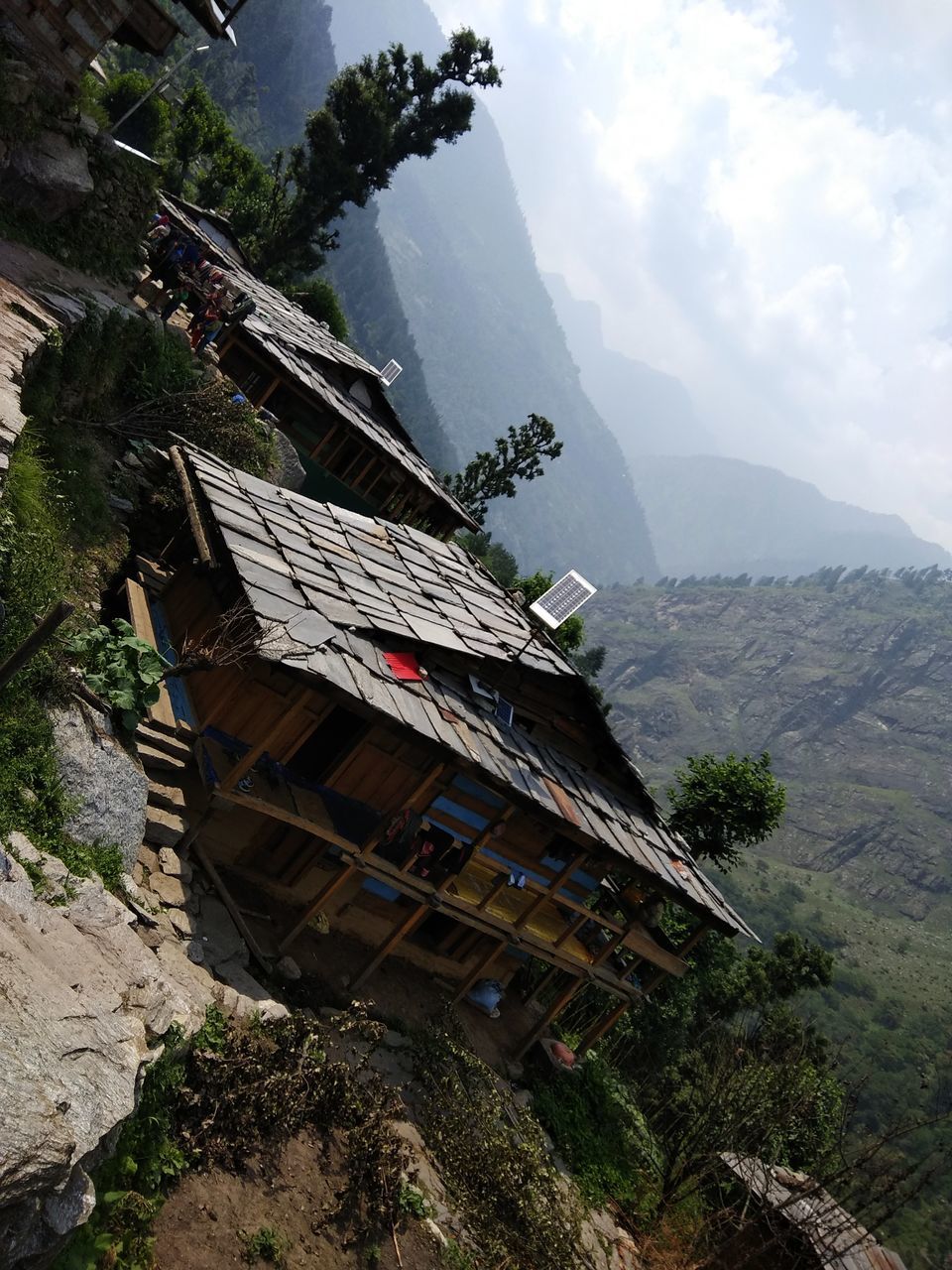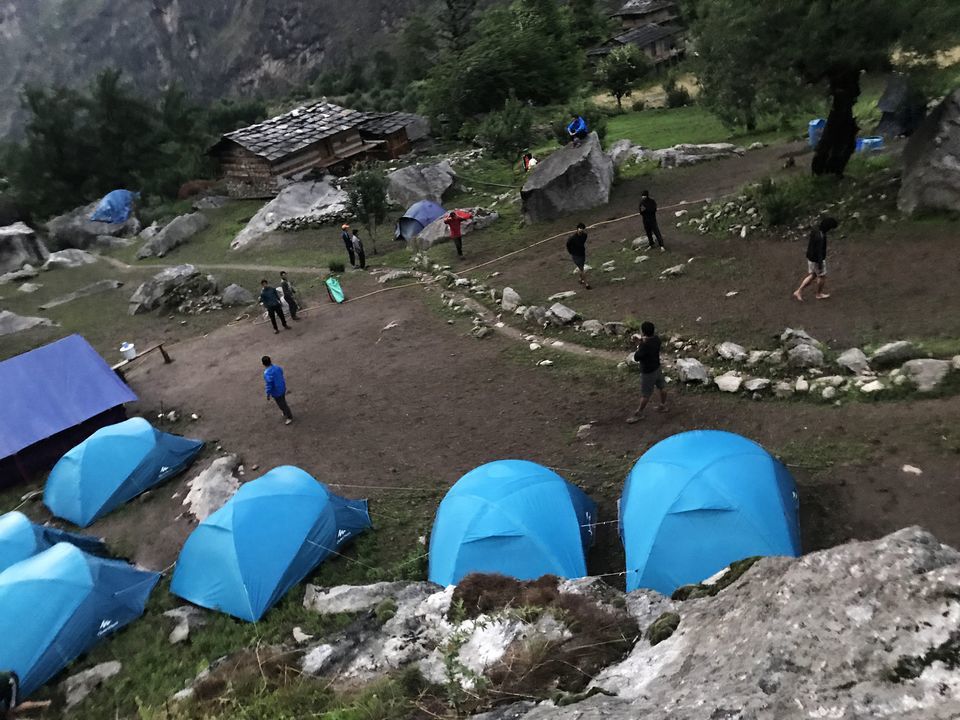 Day 3 and 4:-
Sewa to Jhaka 9kms trek on Day 3.
Jhaka to Bauta 6kms trek on Day 4.
This day was also same in the way it started, but soon after an hour of descending from the Sewa camp site we were on the banks of gushing Rupin River. The river was flowing too fast and one could hear the sound of waves too far. Then we came across a bridge which connects Uttarakhand and Himachal Pradesh as they say and the view here is scenic. From this point we had to trek a steep forest area to reach a manmade road and we found a tea stall there. After 30 minutes of break here we resumed hiking. This entire stretch from here till Jhaka is a road and you could find many vehicles plying here, and one has to be careful while walking here. The River flows adjacent to the trail here also and every second corner gives you a different view of Himalayas. Soon after reaching Jhaka we then trekked one more steep section for 30 minutes to reach our home stay for the night. This stretch was too pain staking to cross with our heavy backpacks. The Jhaka village is a hanging village as almost every home here sits on the edge of a mountain in its own unique way, and there is one more hanging village seen from here and it is Dhara. The camp had an amazing view of lush green forests and we had our lunch by 2:30 p.m. and started to socialize with each other. The day ended by our guide playing a Dijireedo and a delicious dinner served by the kitchen staff.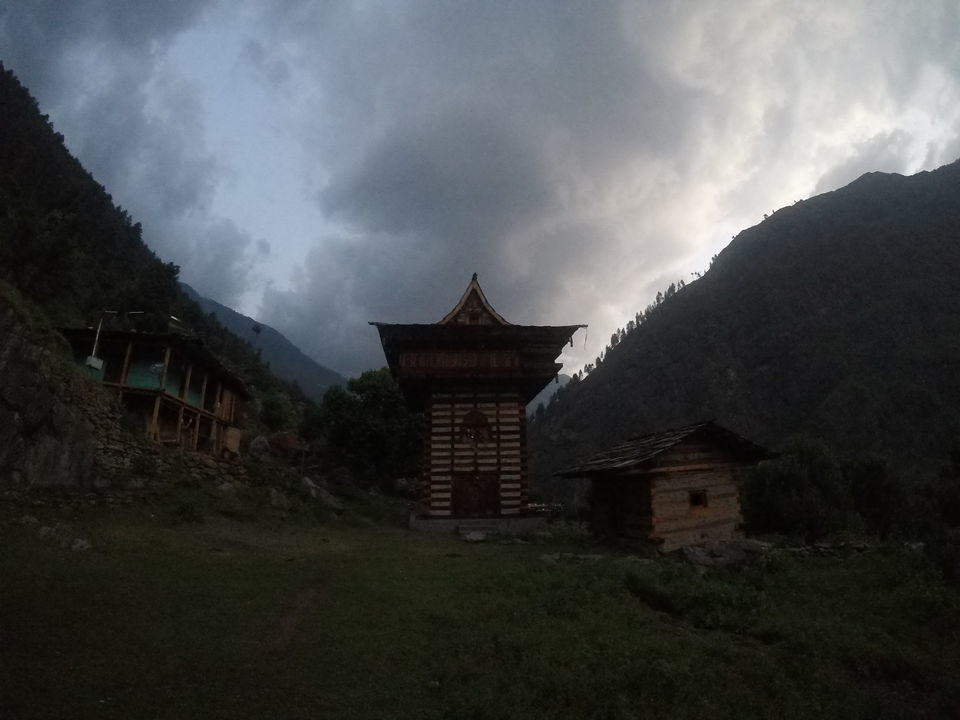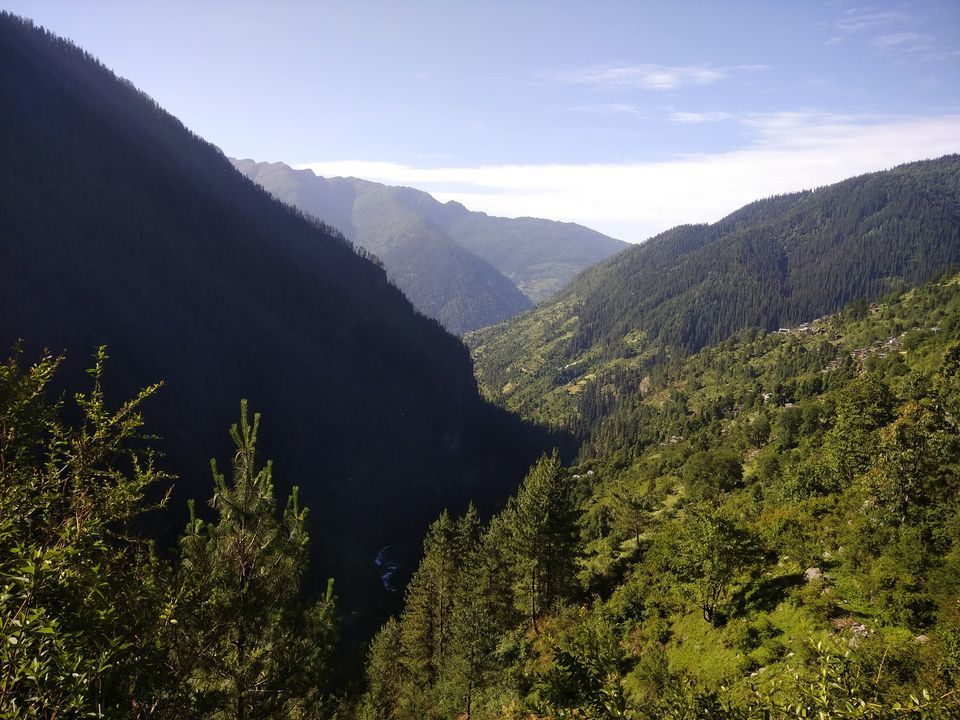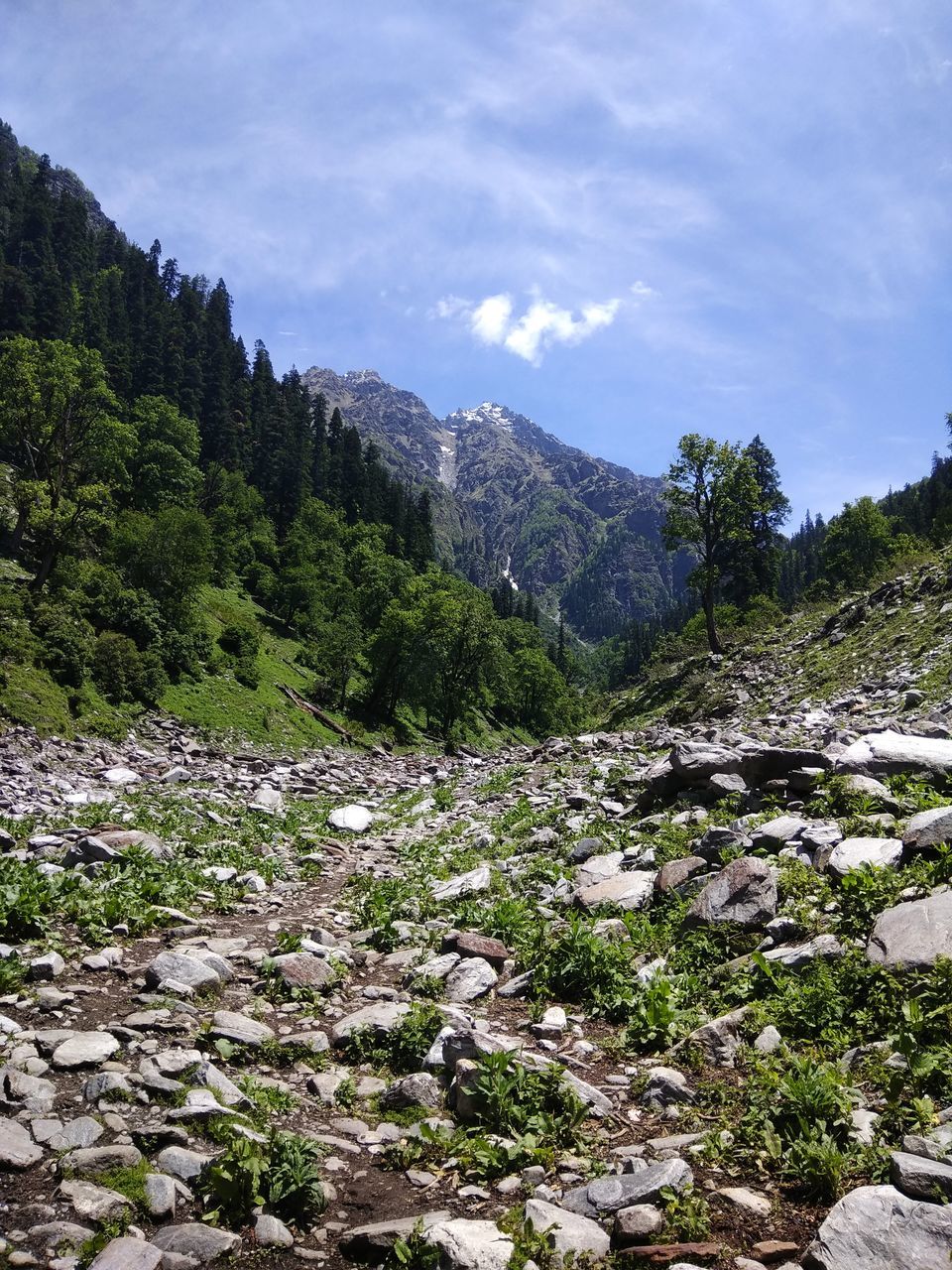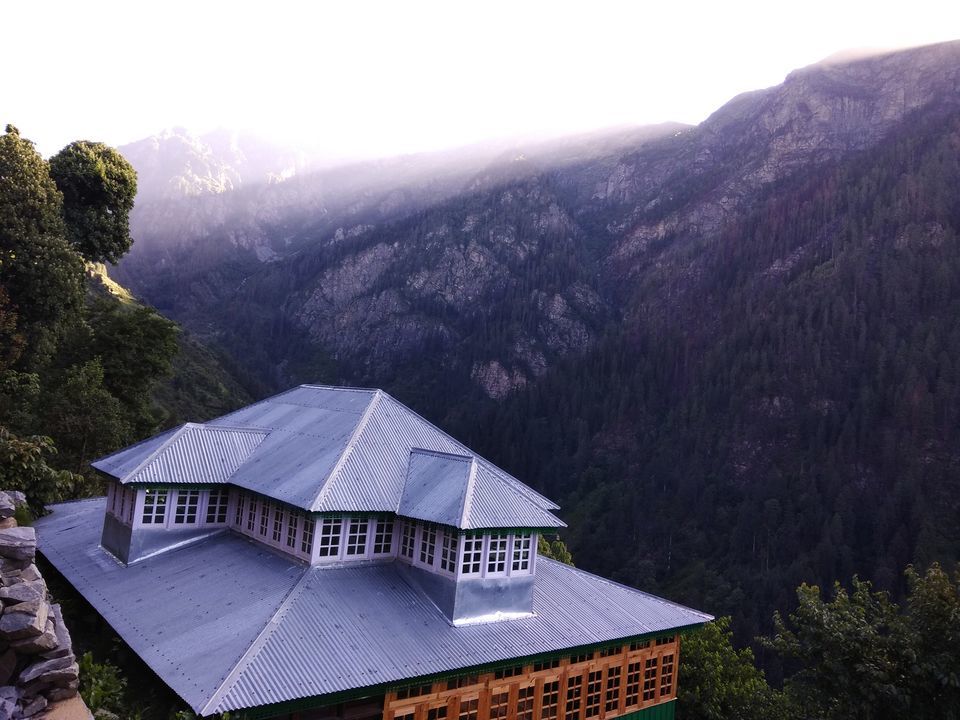 Day 4 welcomed us with rains and wind and we started late on this day for that reason. The trail was slippery for an hour and later sun started glooming slowly. This was a 6kms trek from Jhaka to Bauta and was a bit easier one to trek. Bauta had many boulders to cross before we reached our home stay for that night. The landlord of the home stay was very friendly and also shared his stories of Rupin pass and its difficulty faced by many trekkers. By evening we came across two people back from Lower waterfall camp who cut short the trek in the middle due to health issues they faced on the way up to Upper waterfall. Few of us were worried seeing them in a bad condition with nausea and vomiting. Slept worrying about the challenges we would be facing for next three days of our trek.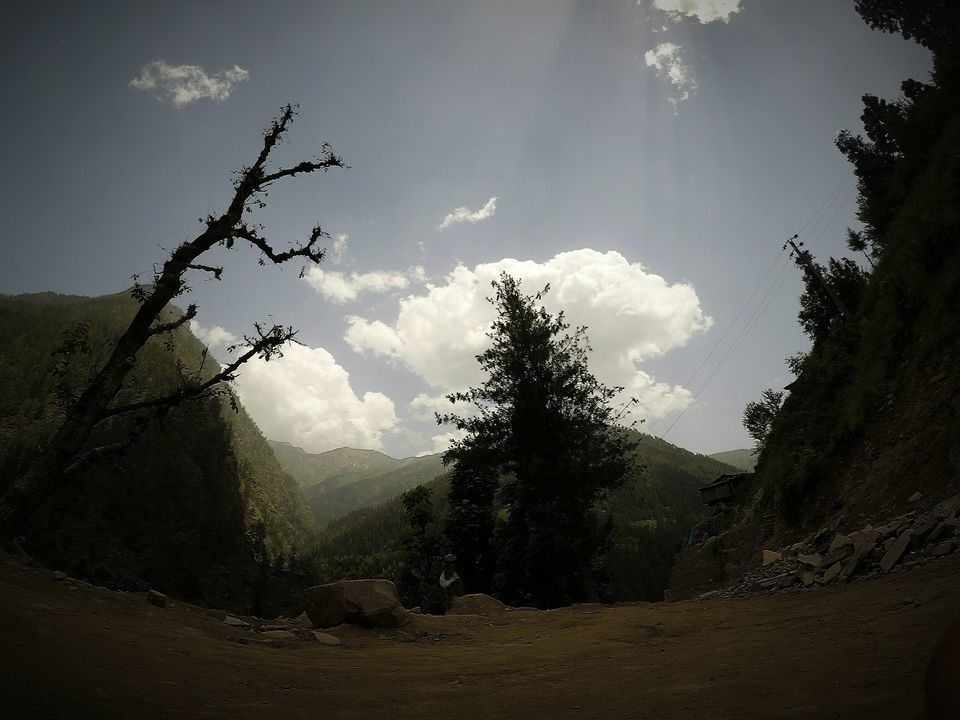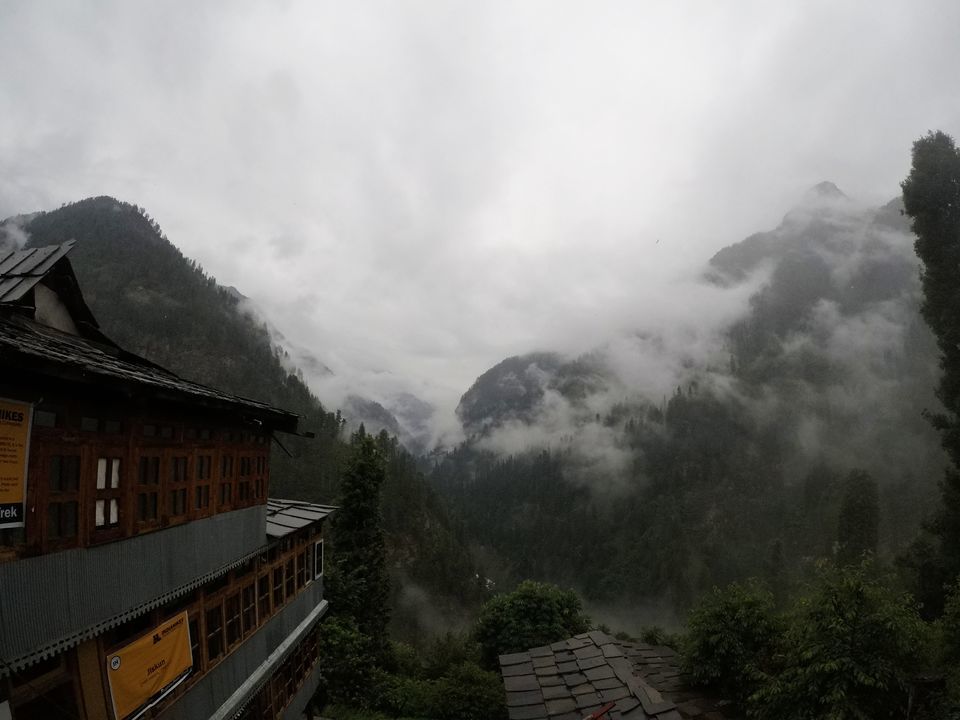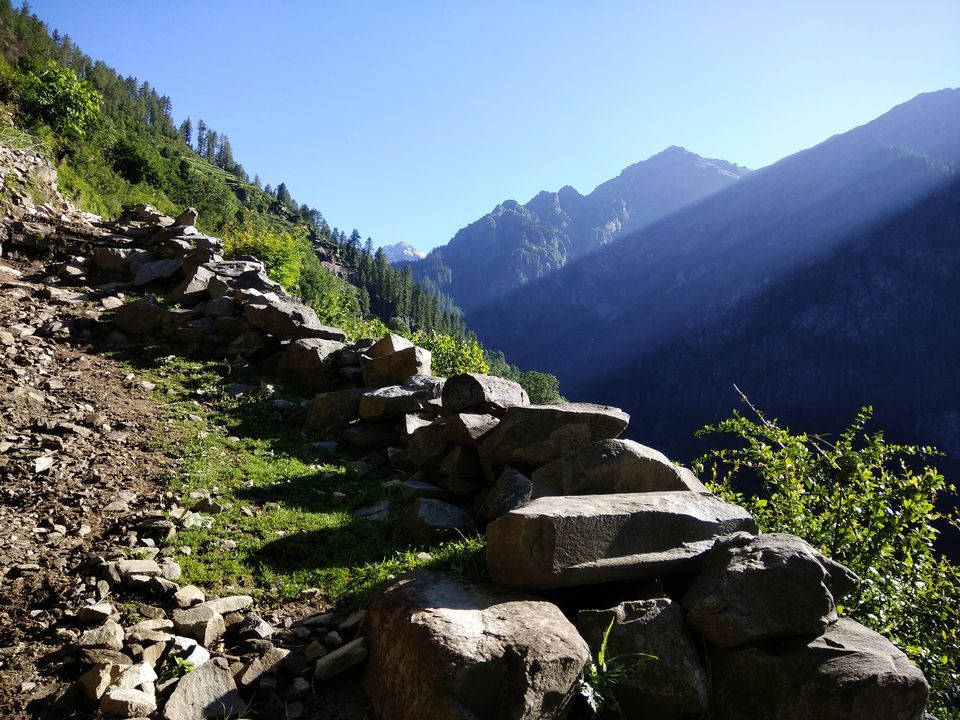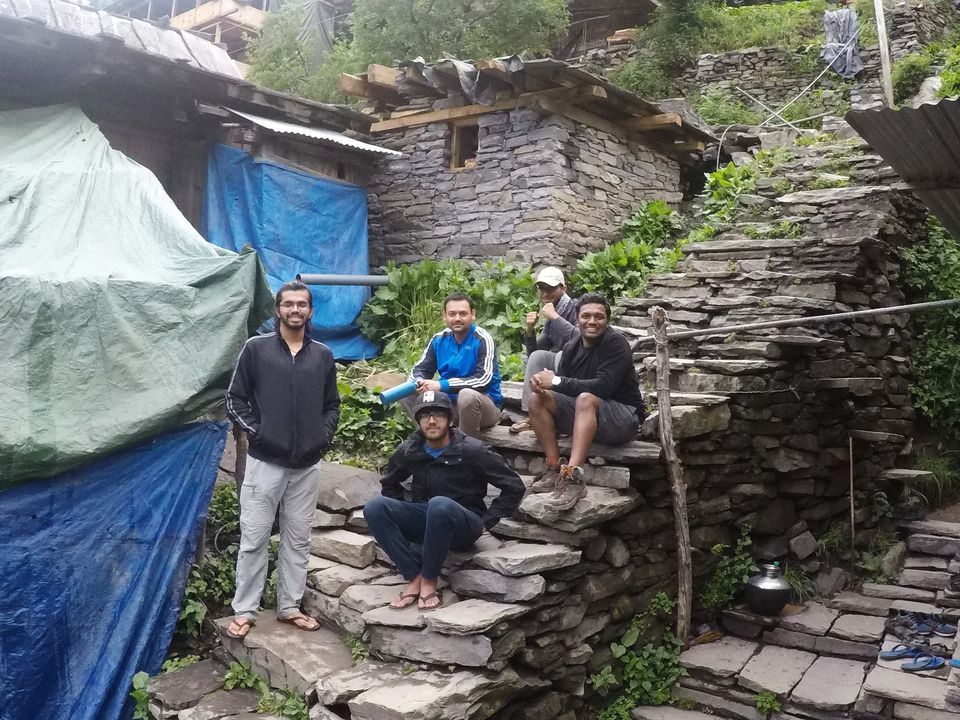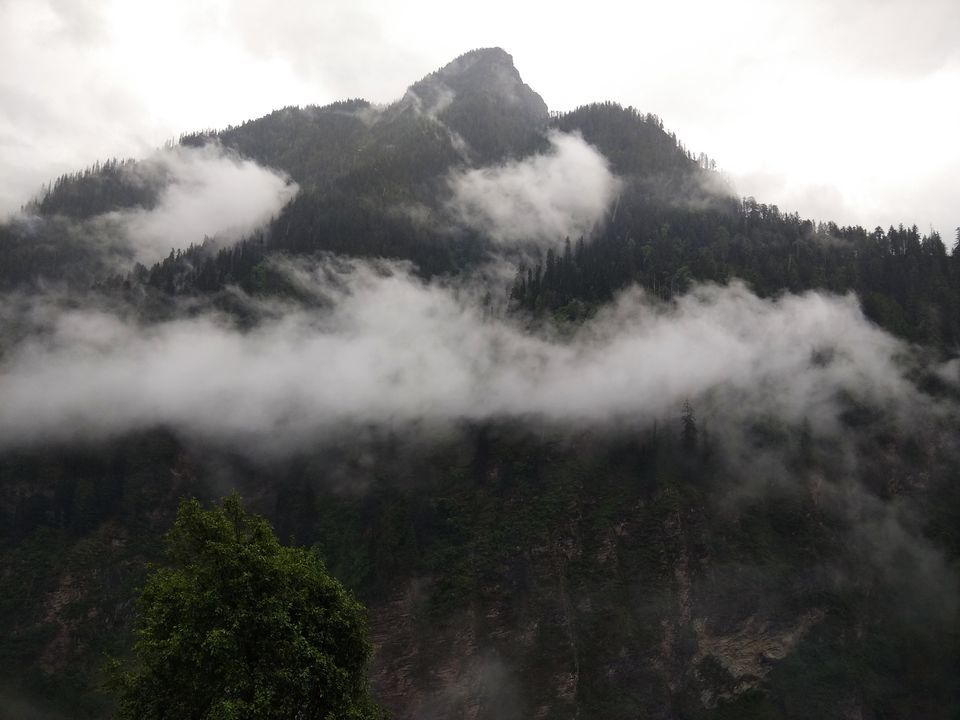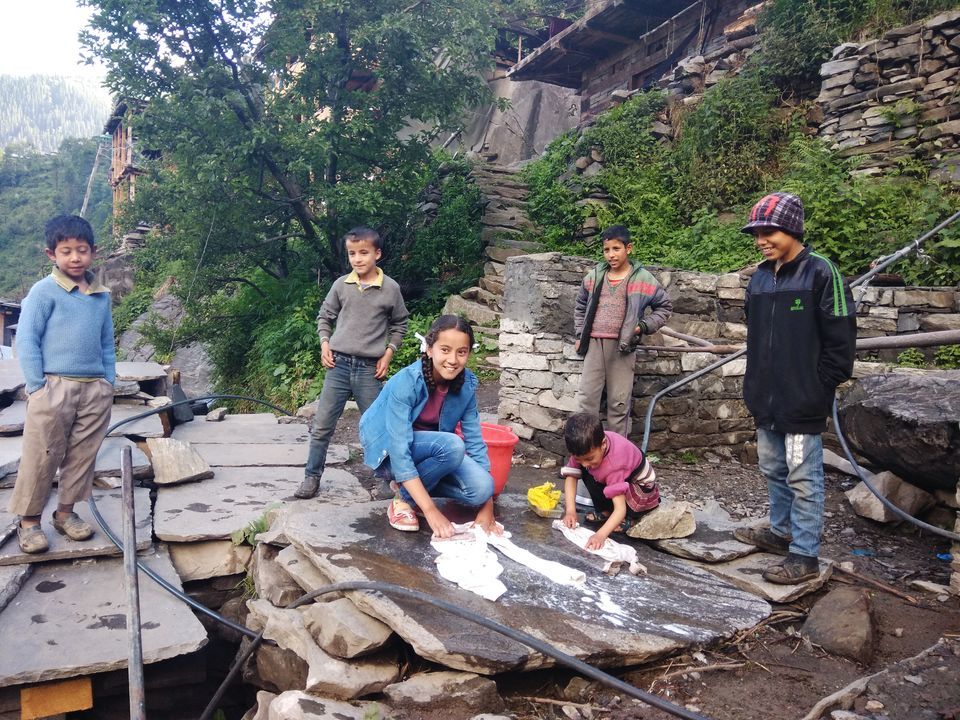 Day 5:-
Bauta to Dhanderas thatch 12kms trek.
This was the day we had to trek 12 hours through lush green forests and then through open meadows and many snow patches before we reach Dhanderas thatch or Lower water fall camp. This day actually visualized a variety of changes in the climate all up to the lower water fall camp. Himalayas shown us diversity, the true colour of Mountains and the change in the views we get after every turn on this day of trek. After an hour trek we came across a small wooden bridge with numerous small waterfalls and a gushing river to cross. This was the best time of the trek of this day and later by 12:00 p.m. we reached a Rupin pass dhaba with a beautiful view of mountains, river and a valley. After having Maggie and coffee we again started our trek towards Dhanderas. We had to again more altitude today and later by noon the sun was also on full spring in his action. We stopped for lunch at a cozy place with shade and finished our pack lunch and I couldn't resist myself form having a quick nap there. By 2:00 p.m. we resumed our journey again as it started drizzling (In this part of World you can't assume weather changes). After filling our bottles form the river and walking for 30 minutes we had the first view of waterfall and it was mind blowing. I had been waiting for this for last 4 days and also the rhododendron flowers added flavour to the view. Even it looked nearer we had 3 more hours of walk left for the day. Soon after an hour we were on our first snow patch of the trek to cross. One can see water flowing beneath this solid snow pack and we were extra cautious crossing this part of the trek. Later after 30 minutes we had one more snow patch to cross, a bigger one than the one crossed before. By this time all were dead tired and felt like giving up, but we had waterfall in our sight and just pushed ourselves further more. Adding to our weight few of us carried wooden logs and pieces and we had planned to have a fire at that night in the camp to celebrate our trek so far. Once we crossed one more snow patch and a meadow we were welcomed by this narrow gorge with hundreds of water falls on all the sides and rhododendron flowers and chilly wind and a humongous mountain in front of us with a waterfall, the Rupin water fall (The place of unparalleled beauty). The view gave us another worldly feeling. Frisbee playing was continued here also after an evening tea and snacks and the day ended up with dinner and a campfire. The night was too windy to sleep and somewhere around 12:30 a.m. I heard a thunder storm near to waterfall that night and many others also had a same feeling which was true when kitchen staff confirmed us the same.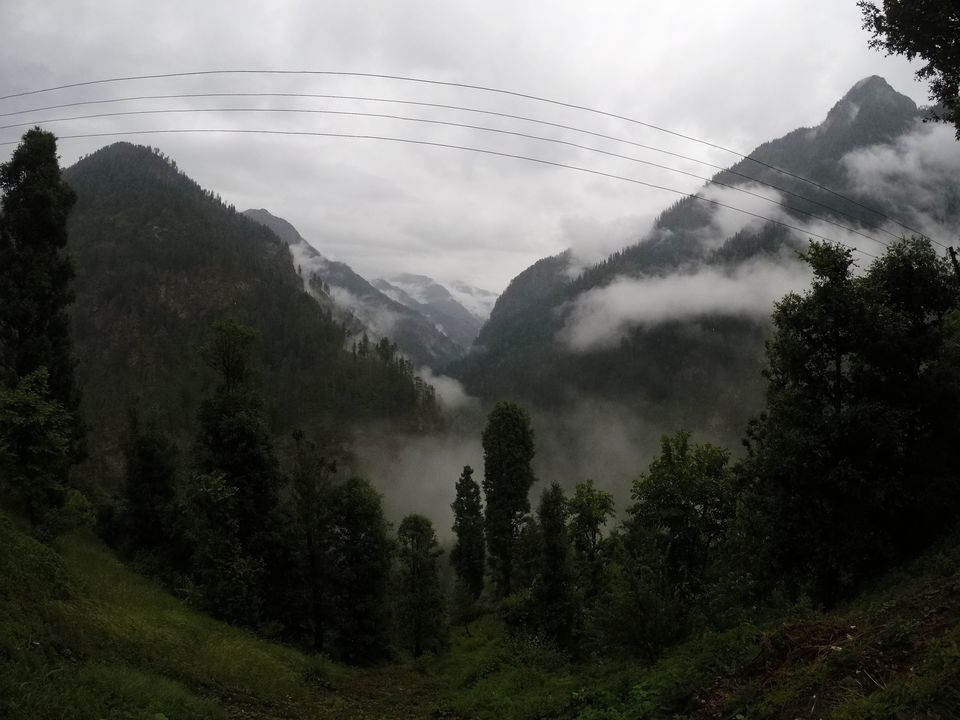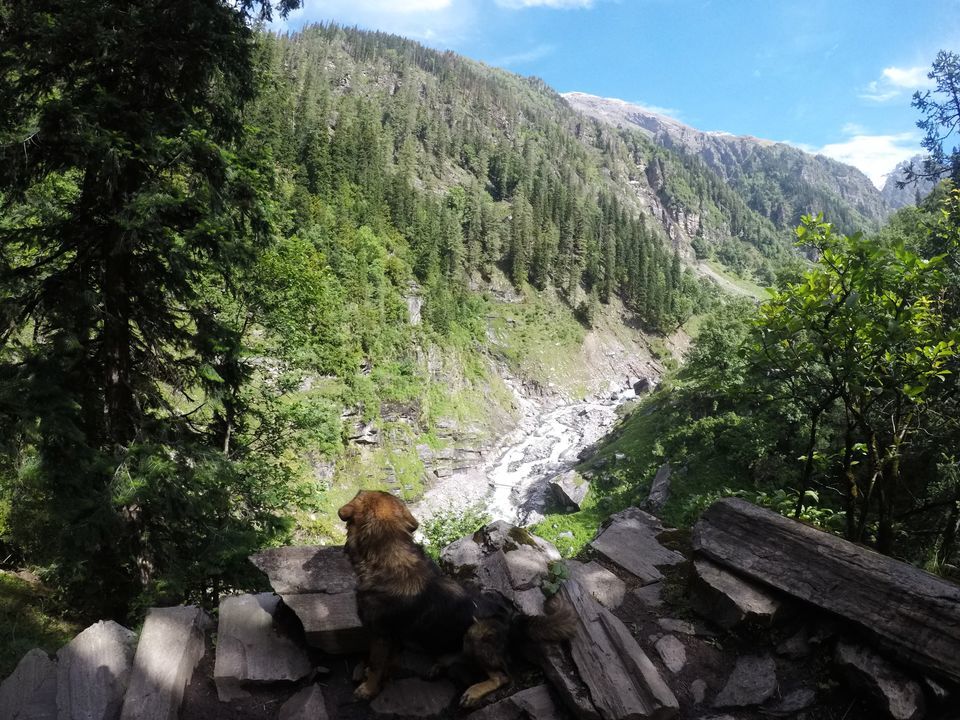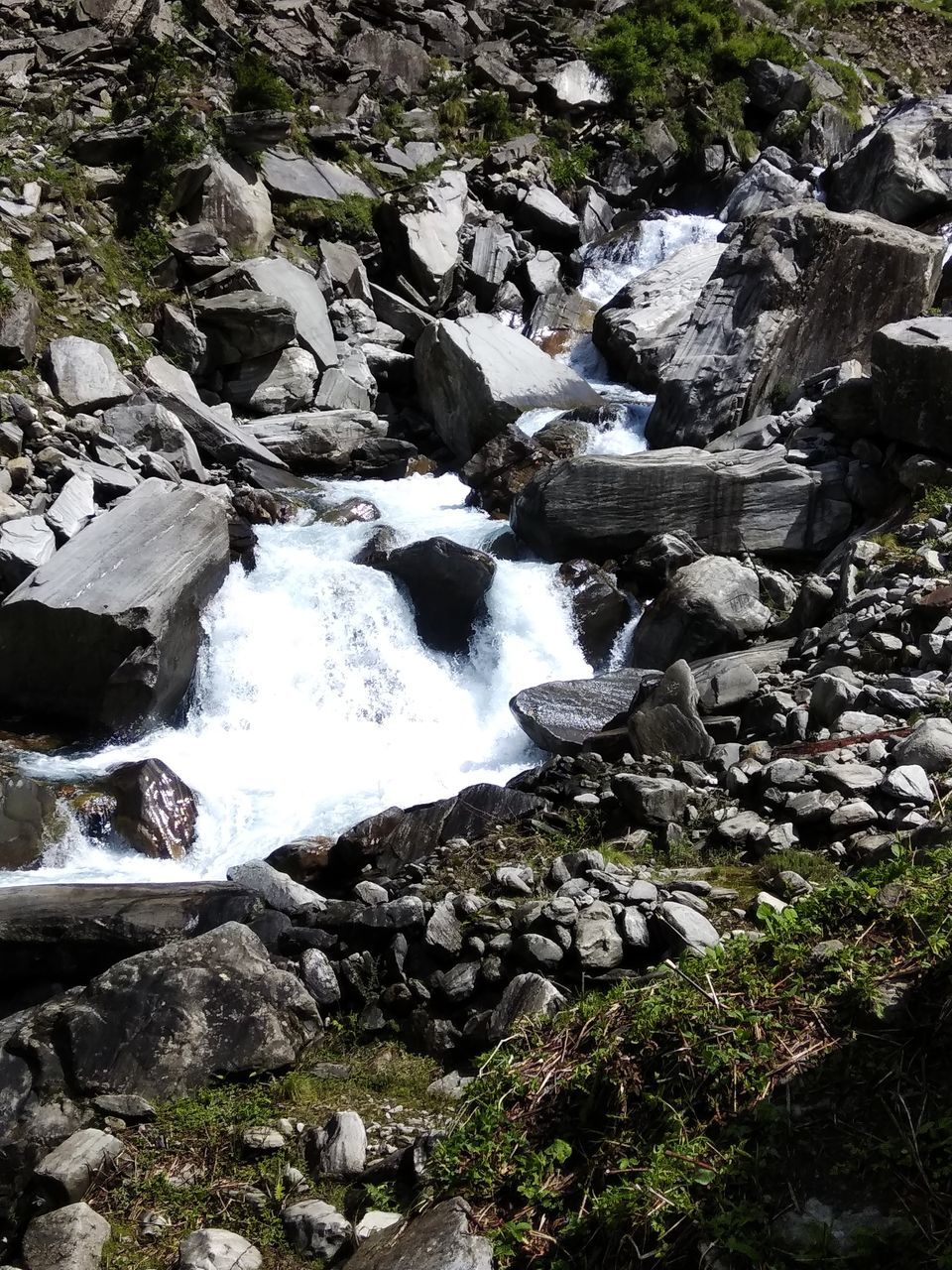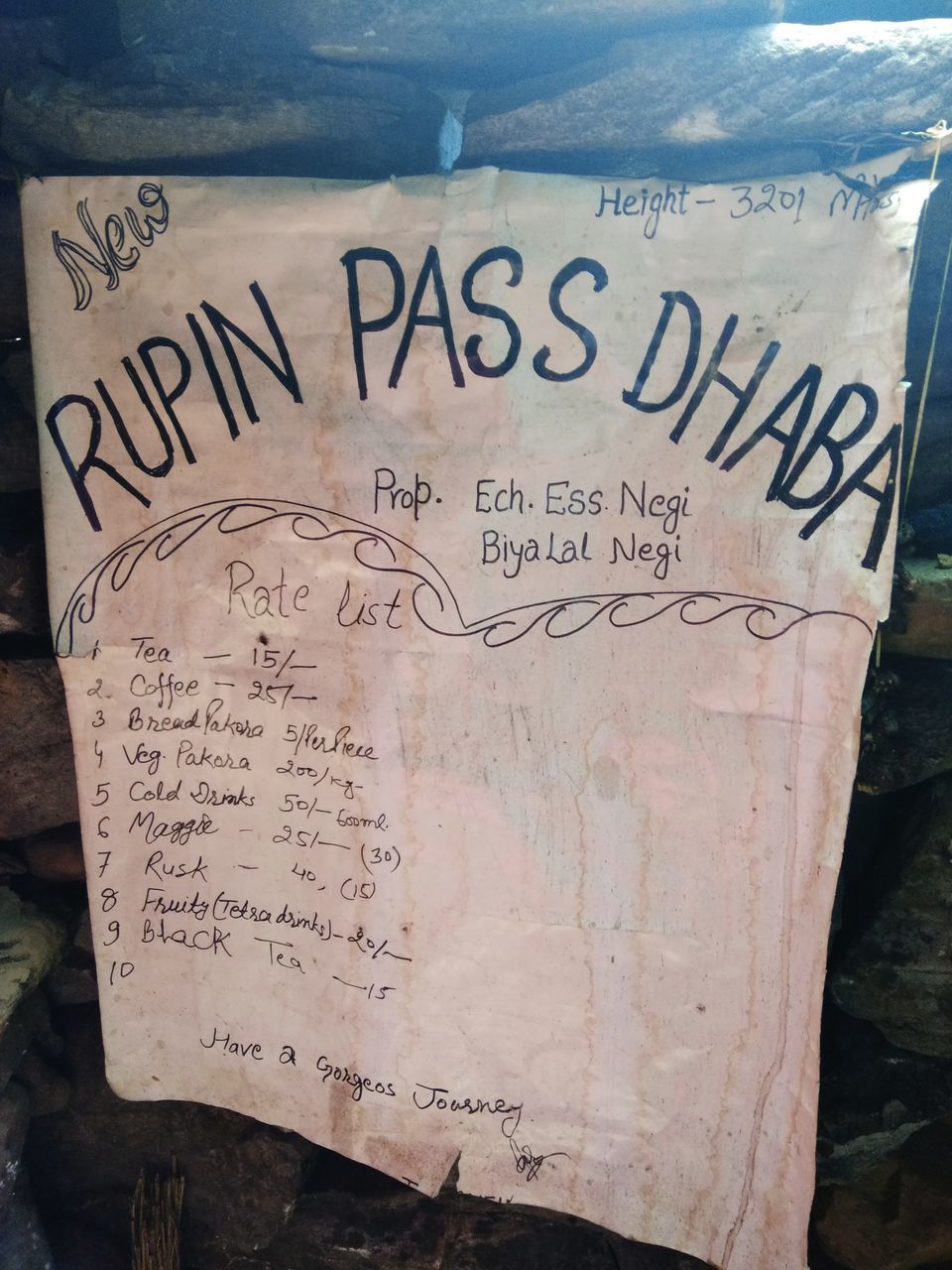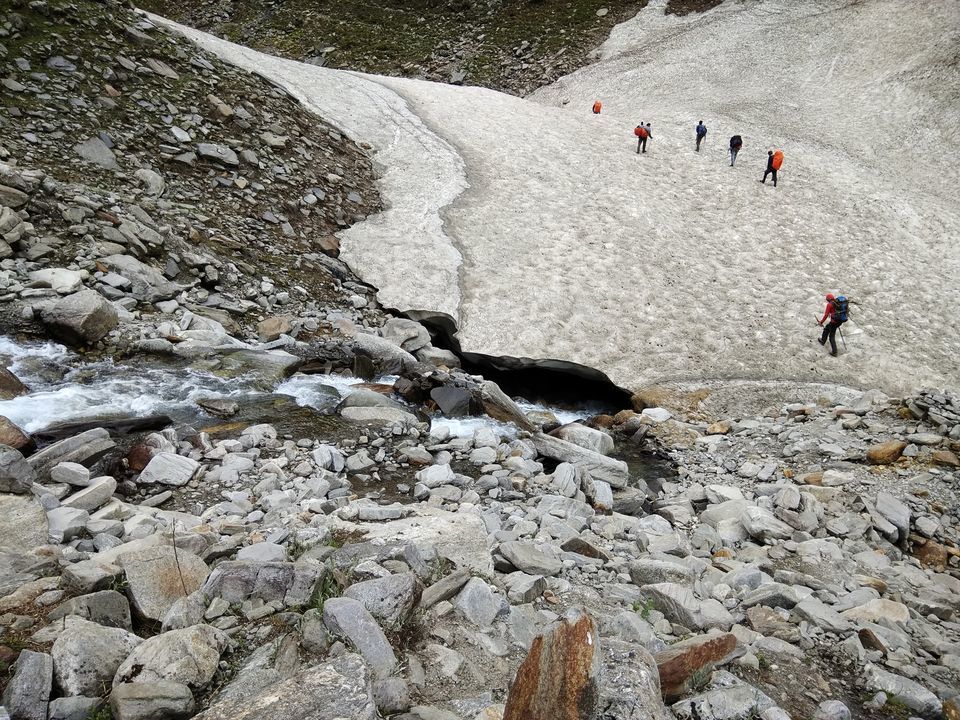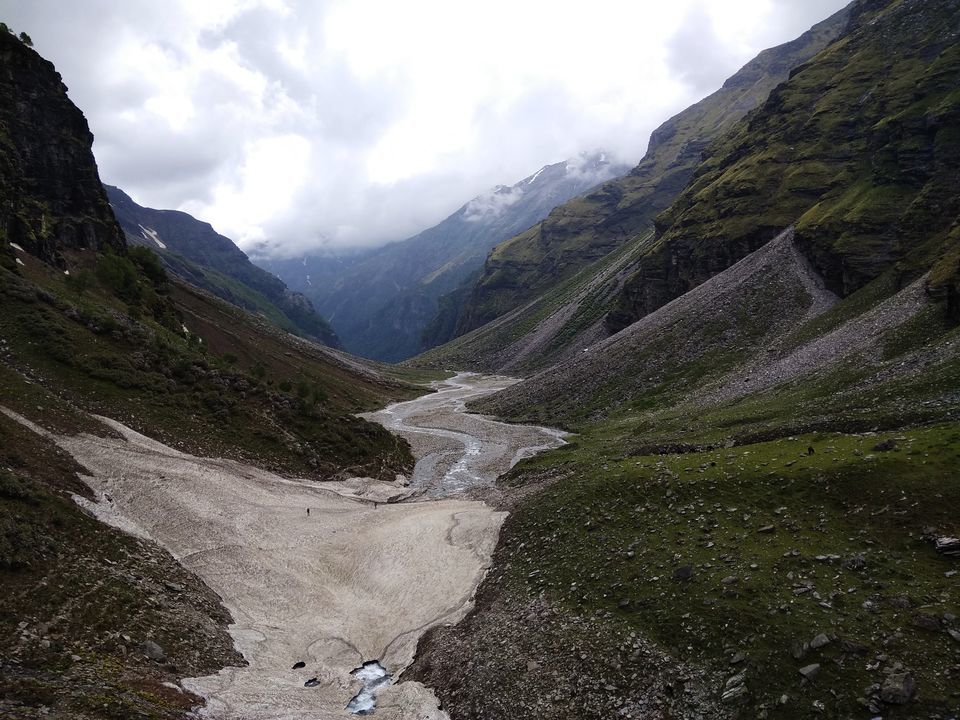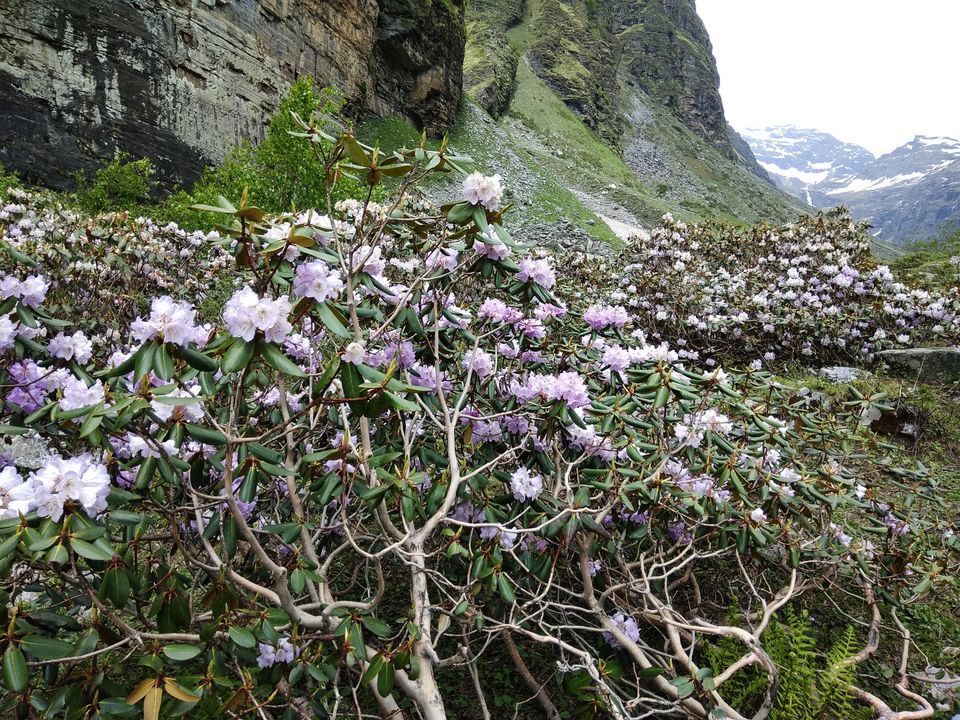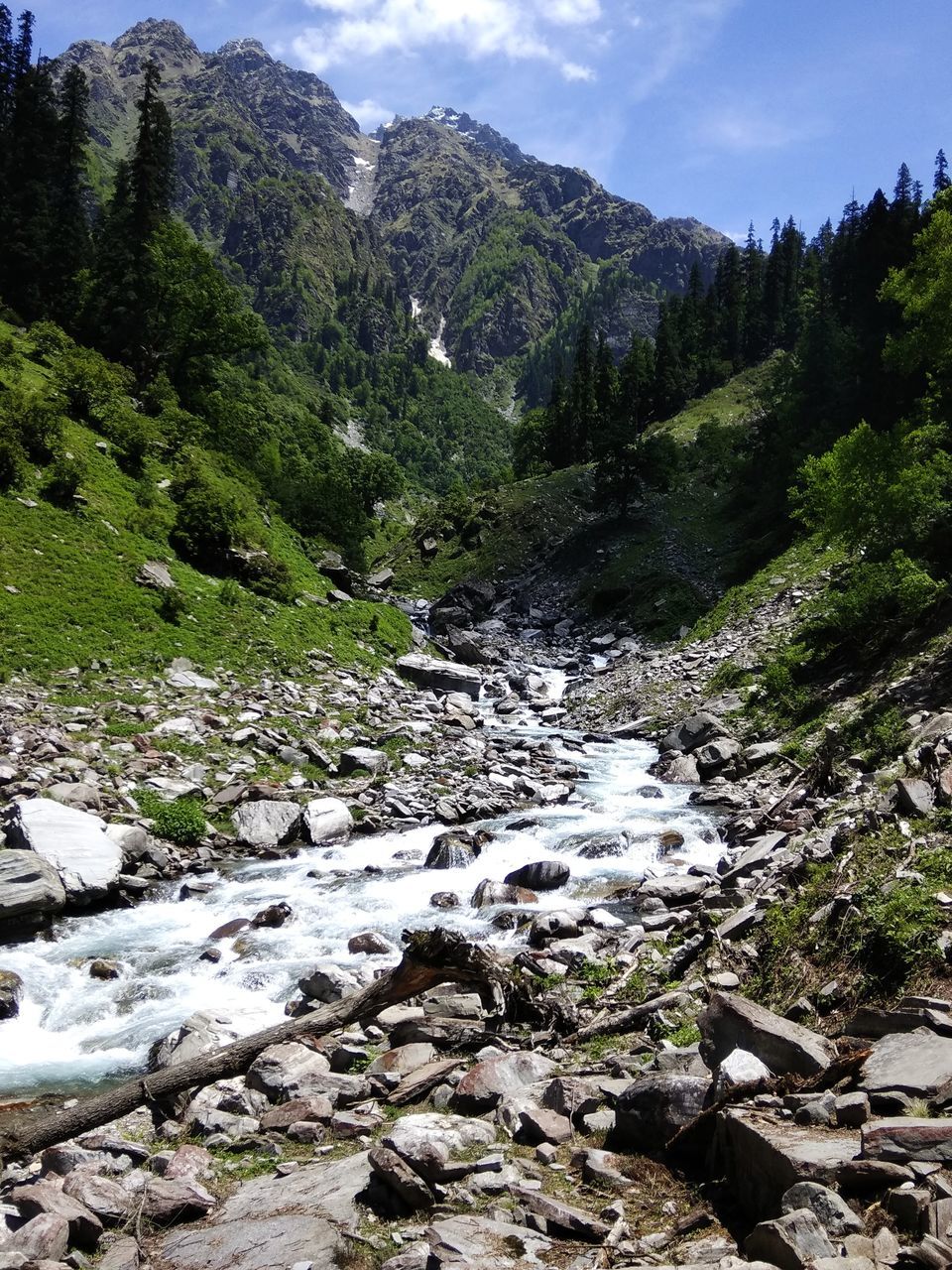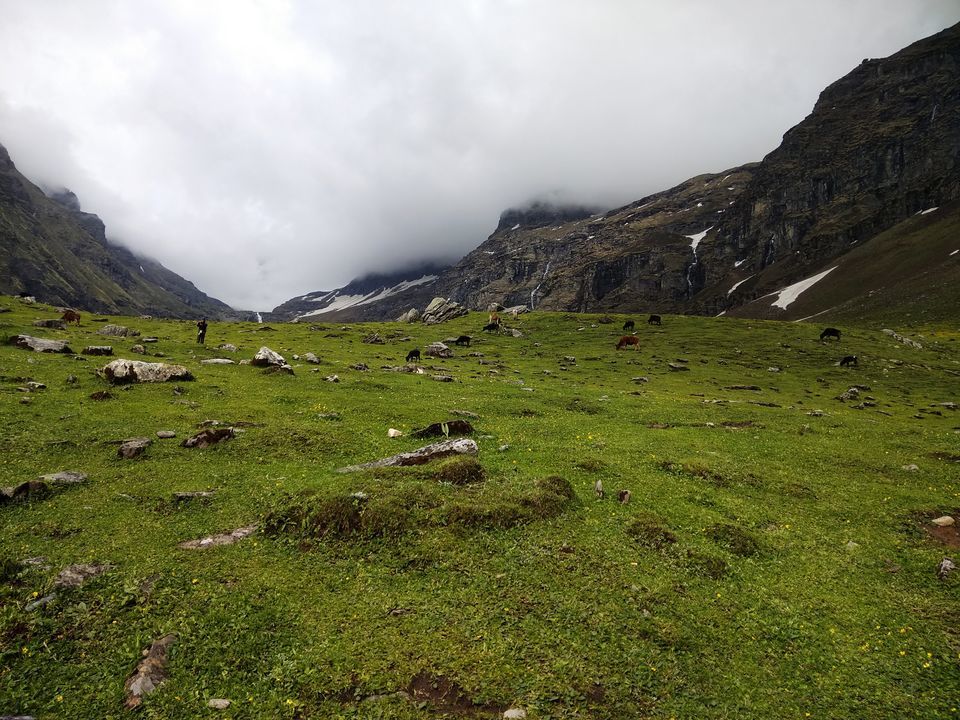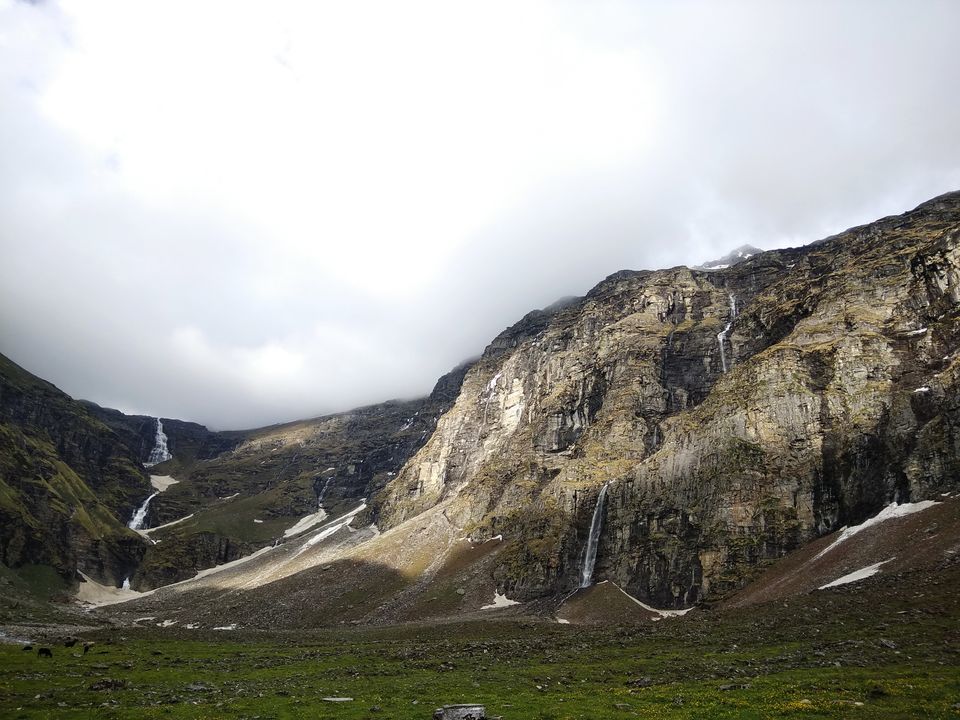 Day 6:-

Lower water fall to Upper water fall 3hrs trek
The day started at 8:30 a.m. as we didn't want to take chance with the climate changing every minute and we had a plan of reaching the Upper waterfall camp by 12:00 p.m. By 45 minutes of our initial trek we were at the base of the water fall and our camp for last night was out of our sight due to changes in the weather. From this point of time it was one after the other way of walking in a line till we reached our next camp. This day also had three snow patches on our way with a rushing water below them and also we needed to cross every boulder with a due diligence as one miss step and we would be metres below. After a strenuous climb of one hour we came to a halt next to a big boulder and climate was changing every minute at this point of time. With a break to take few pics of the valley below we started again and this time I didn't want to stop till I reach the camp as the weight of my backpack was taking a serious toll on my body. Every gram of cloth and gear in my bag was pulling me back from taking a step. Somehow by 12:30 p.m. I reached my tent for the night at the upper waterfall and this is a place where time stands still give you a lively feeling. The atmosphere here was all worth of my climb of 3.5 hrs and then it started to rain. Gradually after 10 minutes hail stones fell on every inch of the place and snow followed them. This was the first time I witnessed a snow fall in my life and remembered a quote "Some say life is not measured by the breaths that we take but rather by the moments that take our breath away". The snow fall went on for next 5 hrs till 6:00 p.m. and meanwhile we rested, had lunch, and played all possible funny indoor games at 13000 feet. Once it stopped snowing we took a walk all along the camp site and had an amazing view of the valley below and I thanked myself for taking choosing this trek in my life.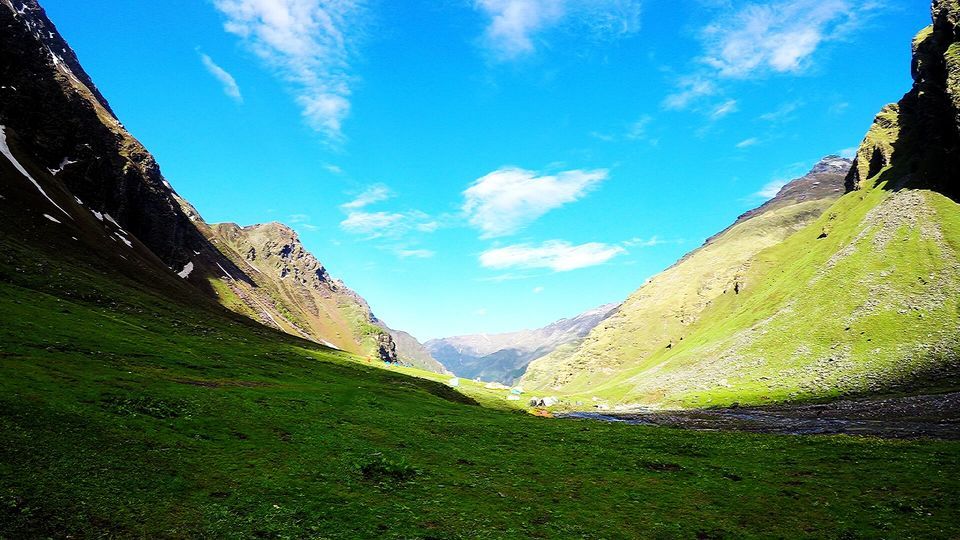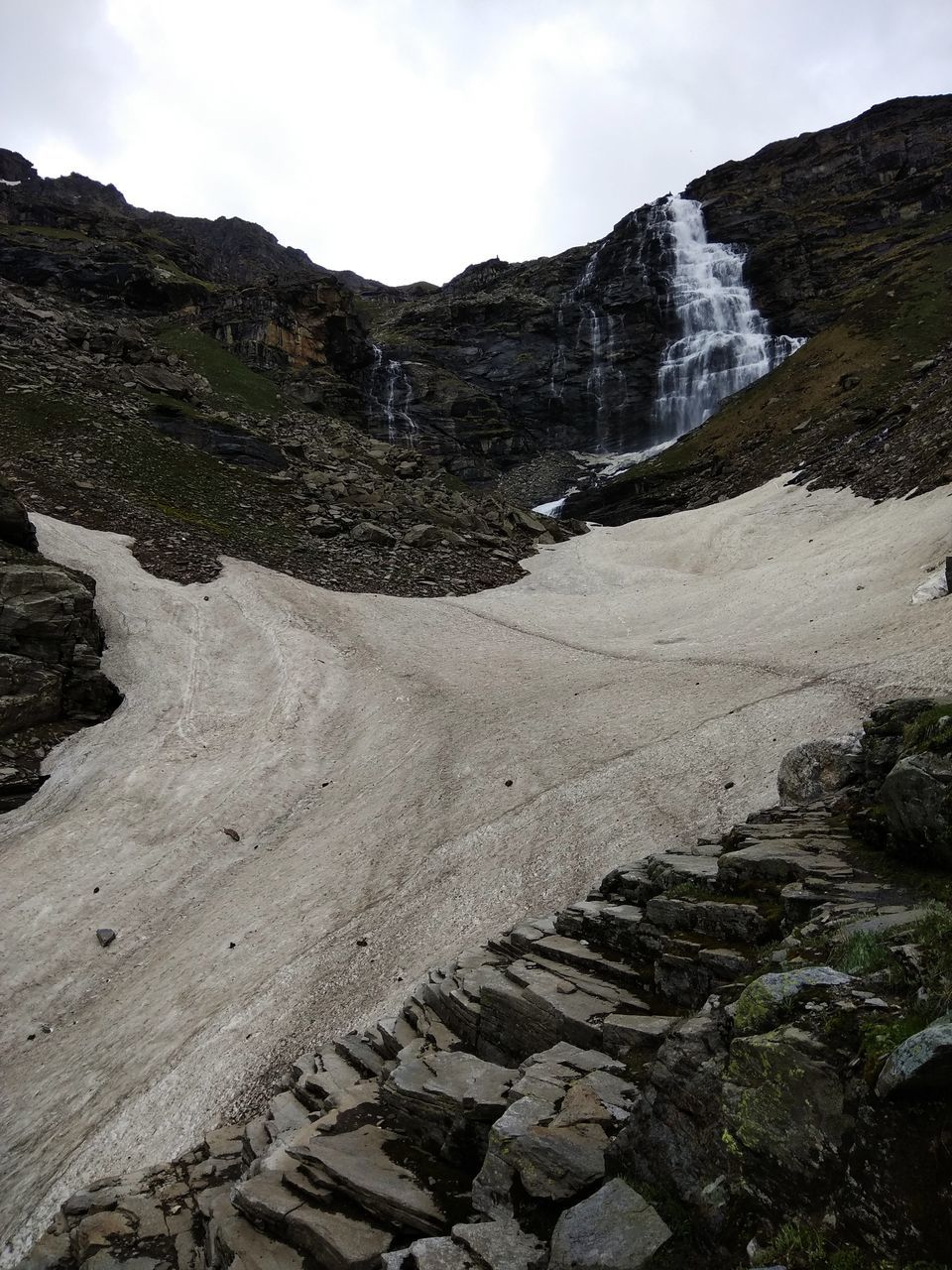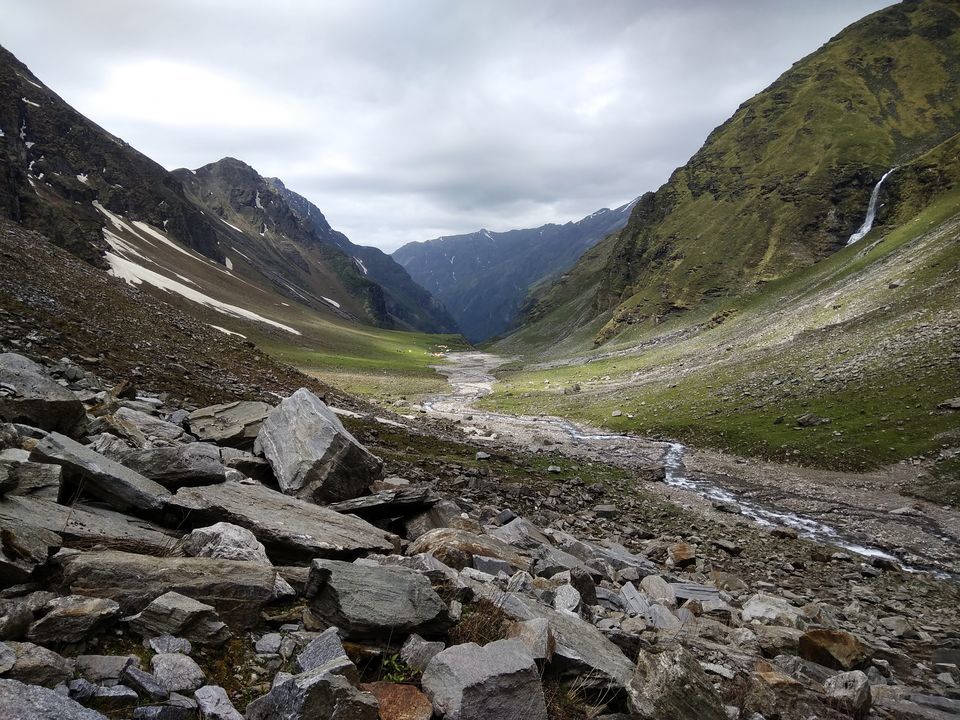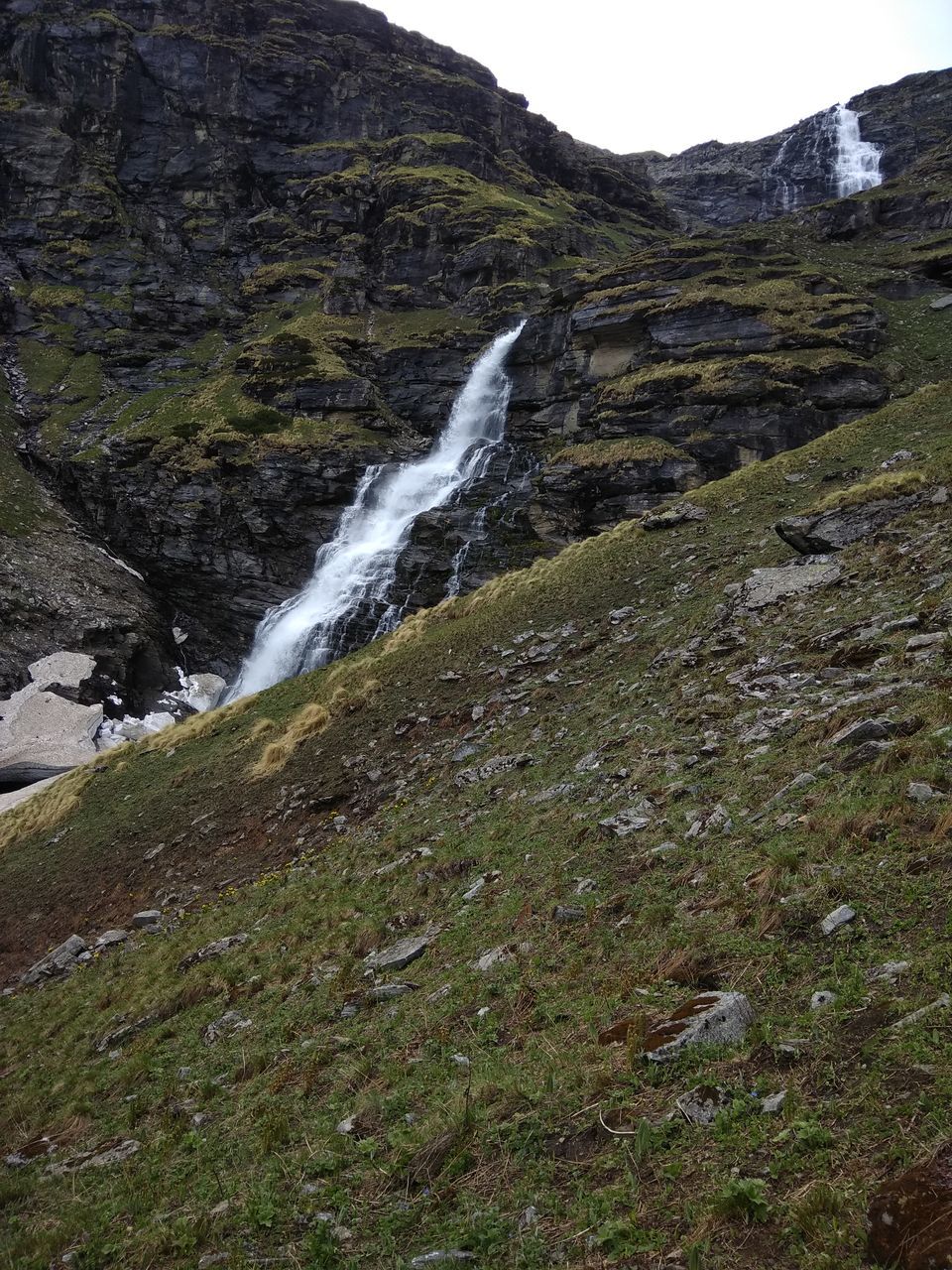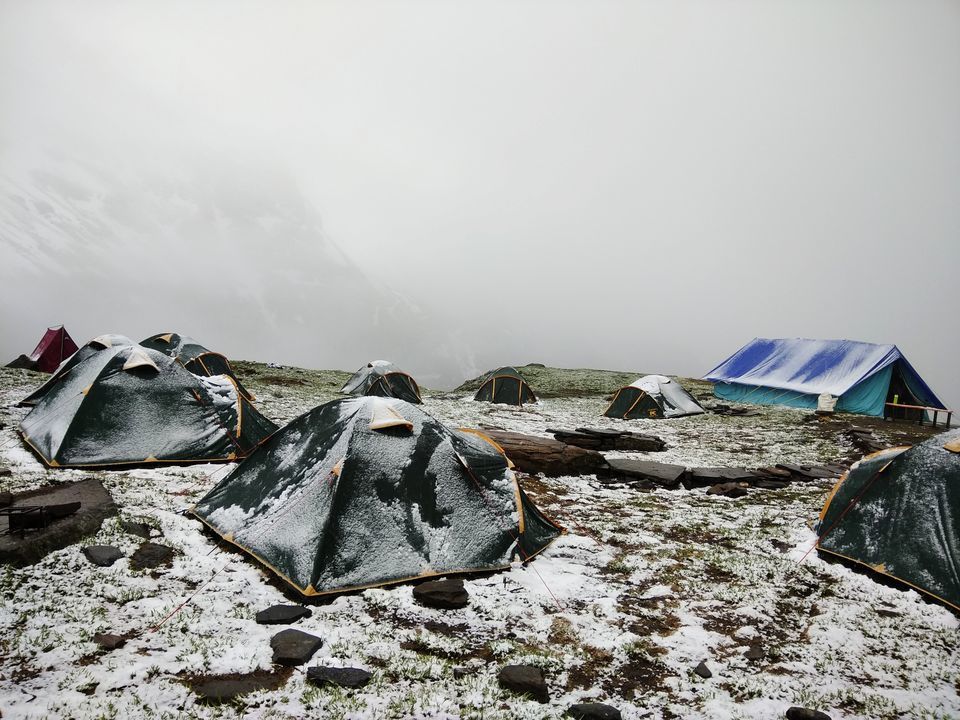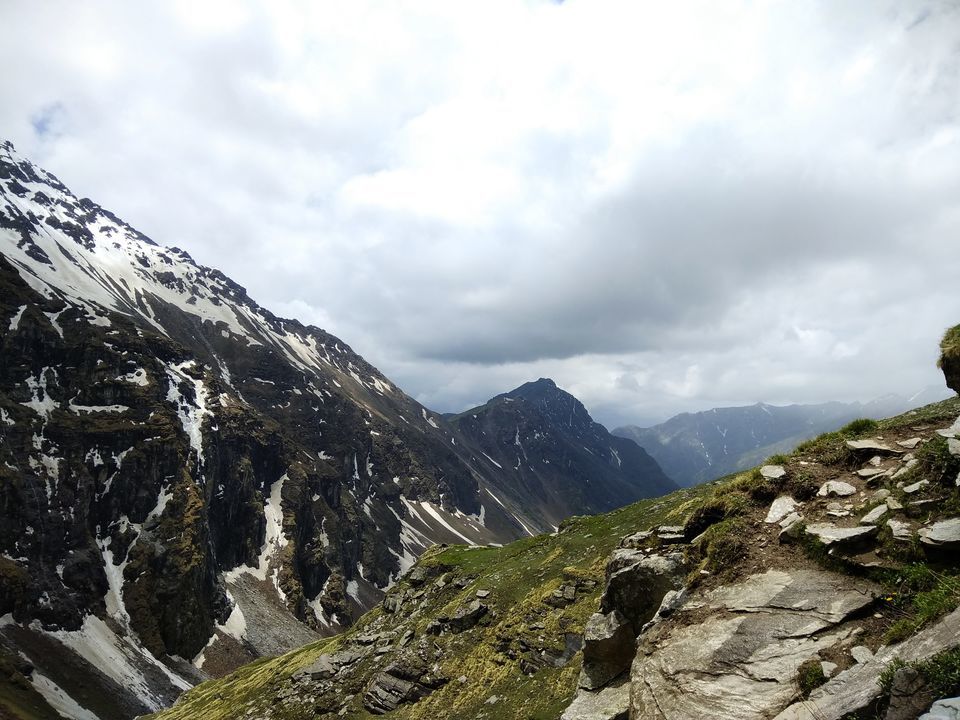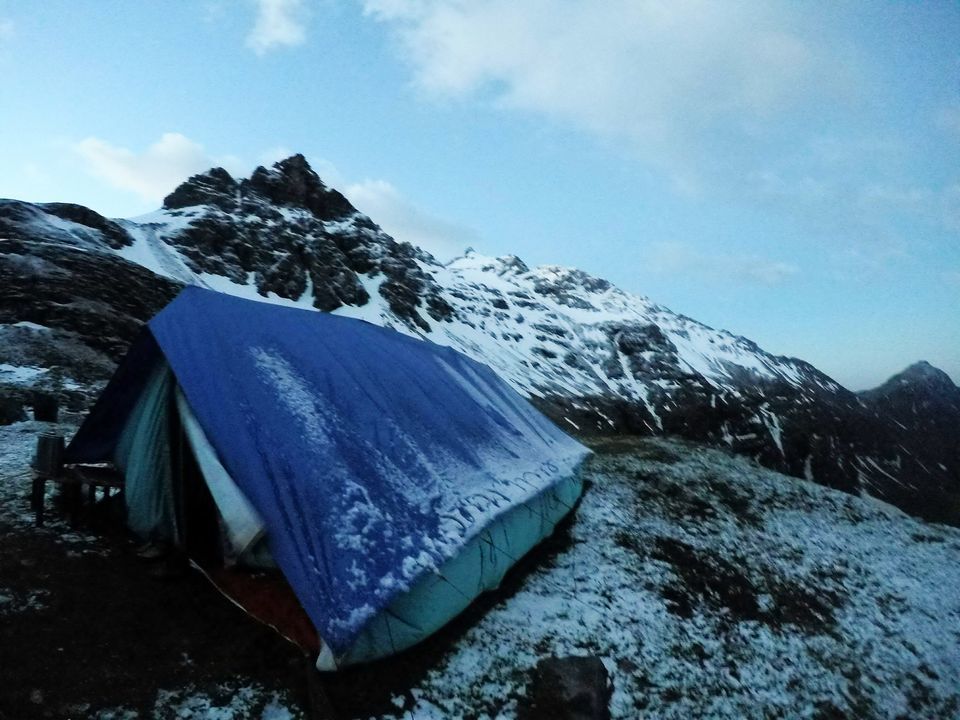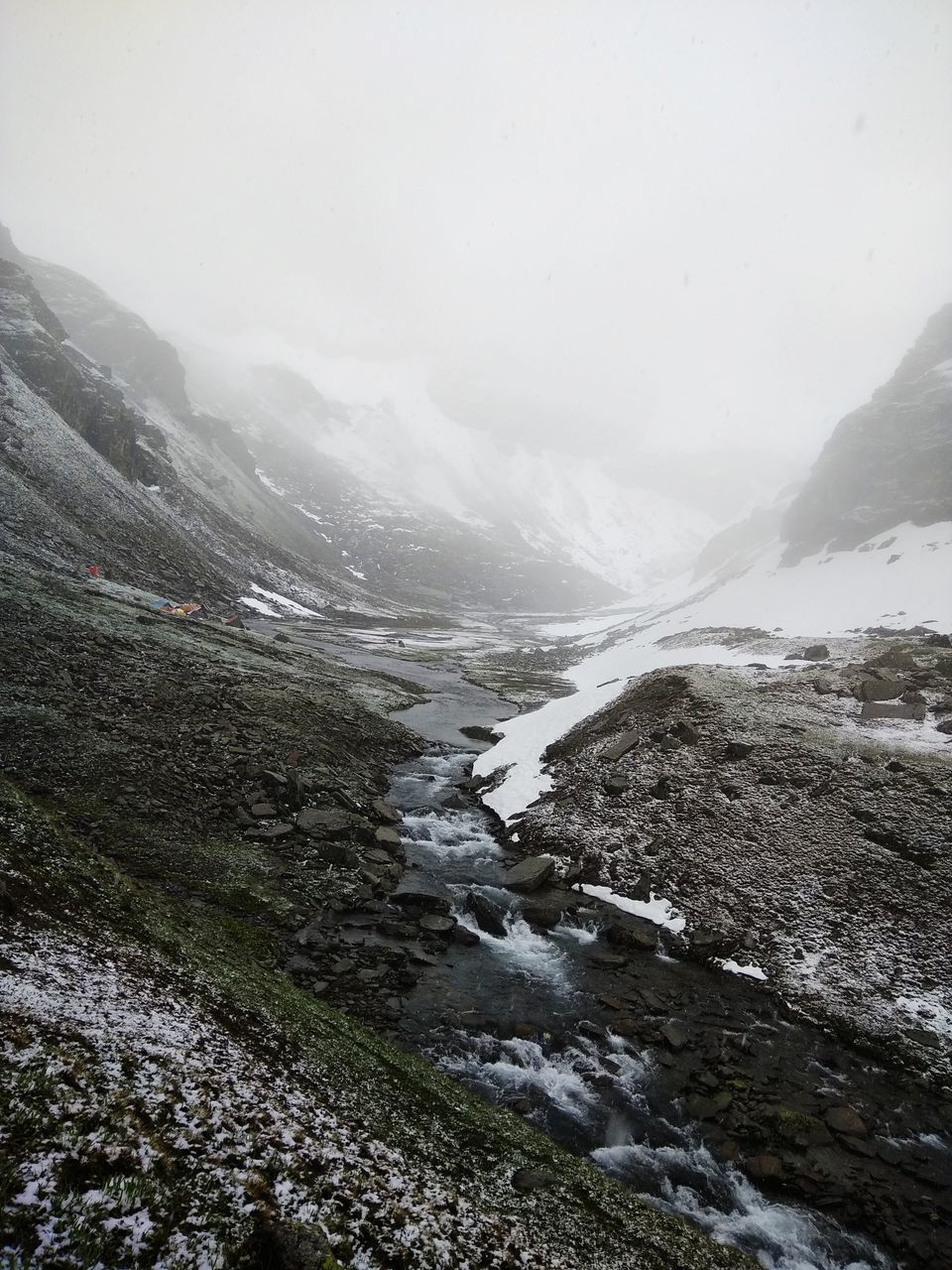 Day 7:-

Upper waterfall to Rupin Pass and then to RontiGad around 12 kms and 11 hrs trek.
The day started very early at 4:00 a.m. We came out of our tents to see a full moon and that moon light was splashing on our campsite with no clouds in the sky, but the weather bone chilling around -2*c. We had to leave four trekkers behind due to the low oxygen levels they had in the morning. It was 5:30 a.m. by the time entire team was on its first step towards the summit. Initially it's a steep climb to the mountain one could see from the camp. It takes an hour to lose the sight of camp and the snow was fresh due to the last day's snowfall. I had to be extra careful while walking on the edges and few patches with hard ice to walk on. It was pain staking climb for initial 2 hrs before we got our crampons tied to the shoes. By now sun was straight on our head with his full power and I started burning from inside of my clothing. The team was on its normal pace till the next rest point from where we had first view of the Rupin pass. It was 9:00 a.m. by now and we had the goal of 11:00 a.m. to reach the pass as it's better to cross the pass before all the snow melts on the way which would pose difficulty later due to hard ice formation. The team became too slow as we neared the narrow lane which was the last stretch to cross before pass and it looked too steep to attempt a climb. But with each other's help all of us made it to the top by 11:30 a.m. and there I saw mountains and mountain and only mountains. At this point of time I recollected one more quote on climbing "The events of the past day have proven to me that I am wholly alive, and that no matter what transpires from here on in, I have truly lived."— Anonymous climber. Yes, I had truly lived all the moments of this trek and we had few photos clicked on the summit and immediately after 15 minutes we started descending from the pass giving back our crampons to our technical team who also accompanied us to the pass from upper waterfall camp. After two big slides from the pass we started walking on snow of 2 feet deep towards RontiGad. After a while I started getting a mild headache and all possible irritation to take even a single step further. It was a beckoning silence around me and when I turned to see fellow trekkers coming behind, I could spot them too far from me, I had walked a long way down without even taking notice of walking alone. I also had very less water left for me to drink at this point of time and water point was still far away to reach. Somehow I managed to walk slowly taking one step after another and reached the water point after 2 hrs descend from the pass. My head started thumping more at this point and badly wanted to rest anywhere possible. I just dozed off on a nearby boulder waiting for my fellow trekkers to join me. After half an hour I resumed myself and saw people sleeping besides me, all of them were low on energy and also suffered severe headaches on their way down. We had our packed lunch there and headed for the RontiGad camp with thumping heads. By 4:30 p.m. I made it to the camp and slept for next one hour. The dinner that night was awesome and delicious, thanks to the kitchen staff.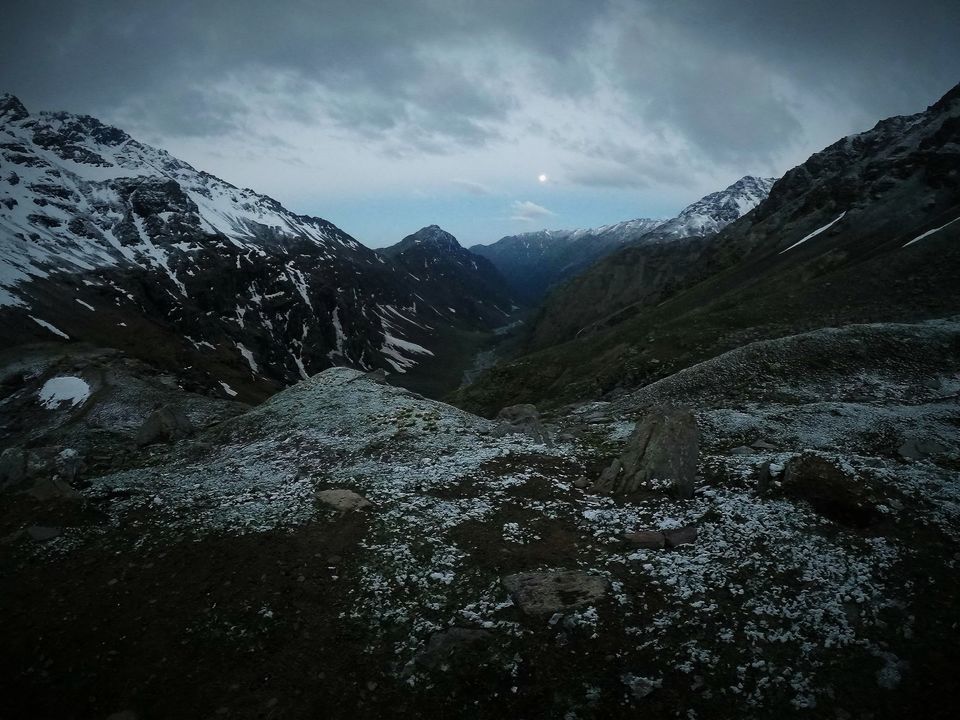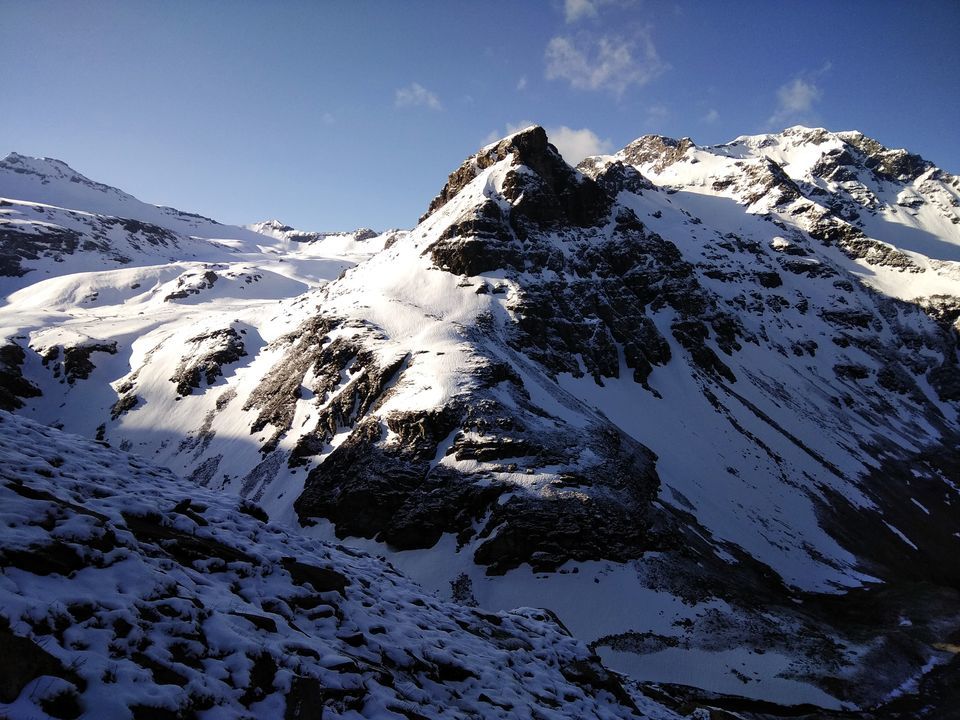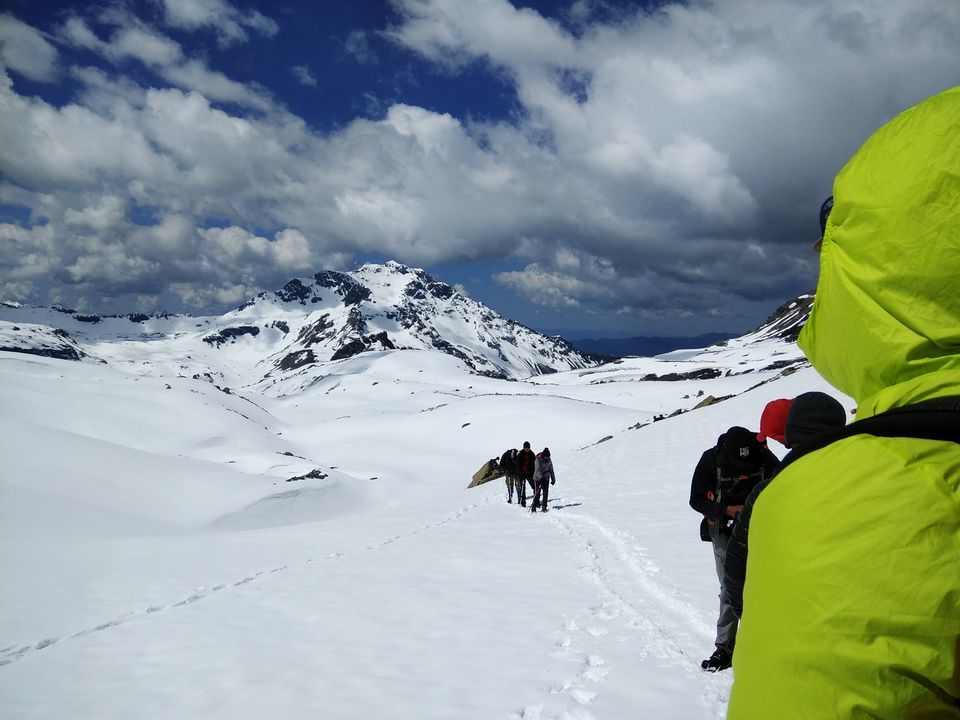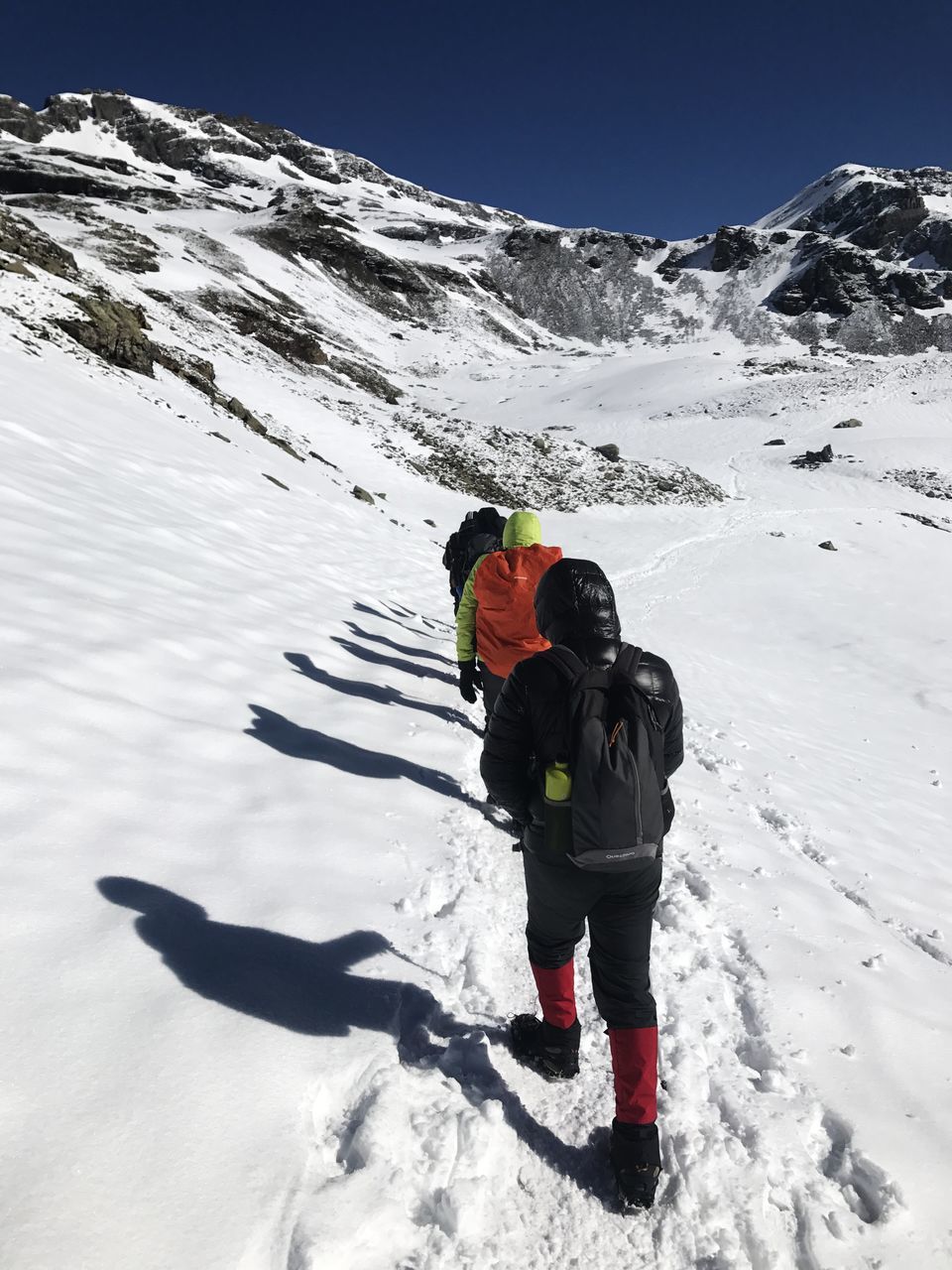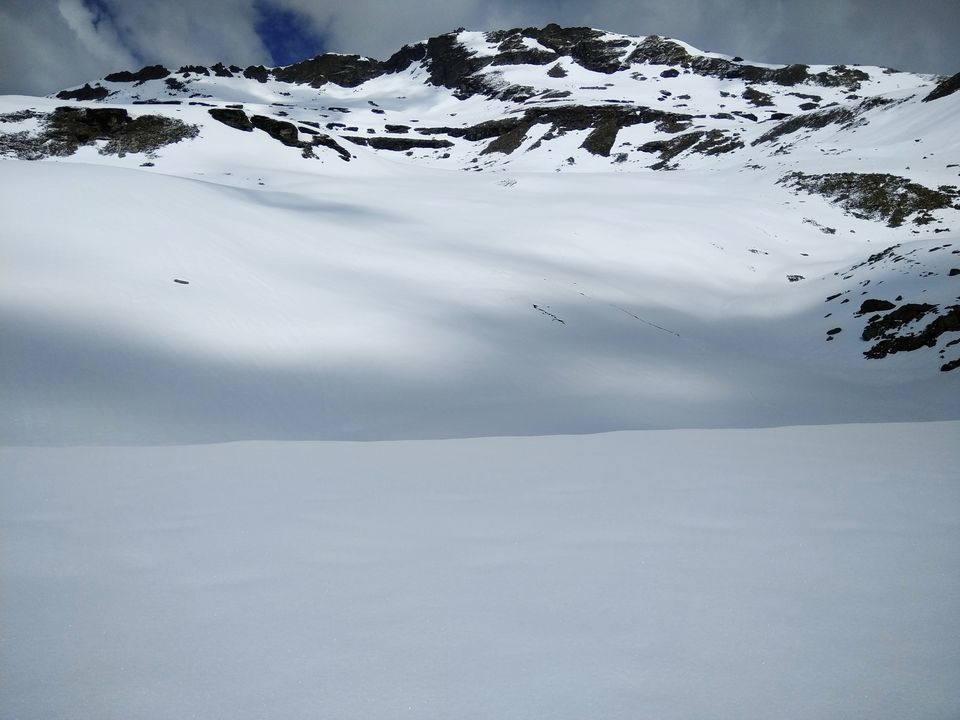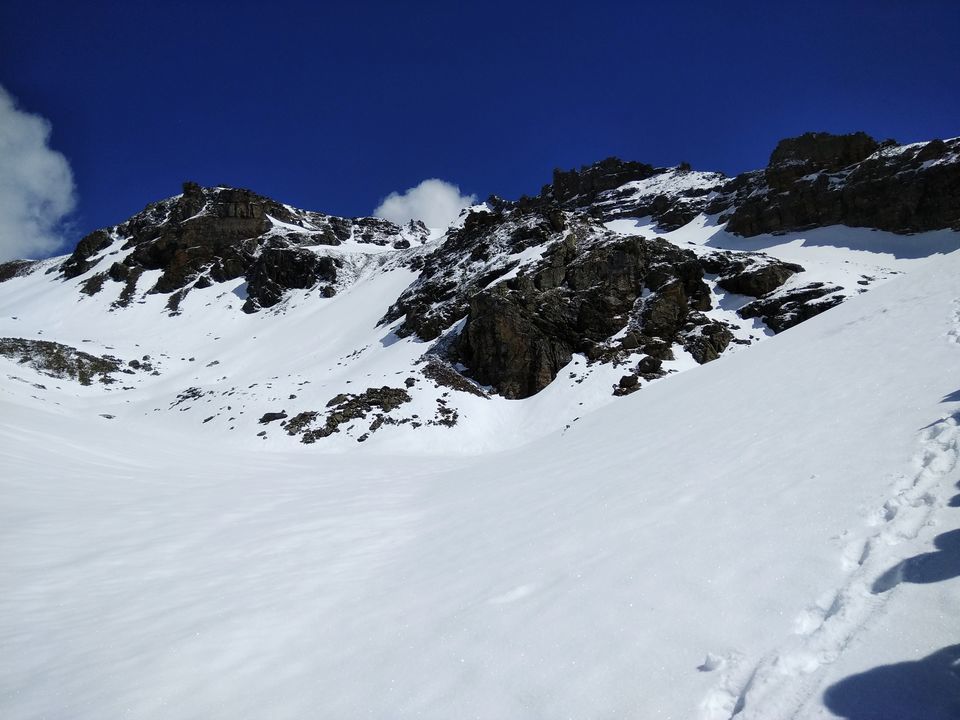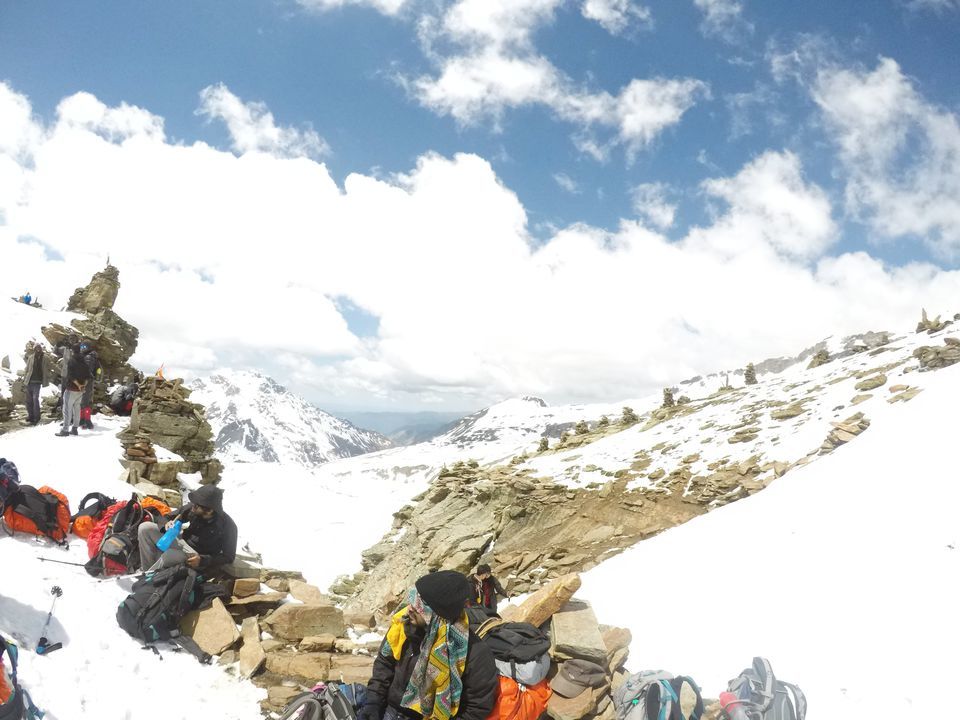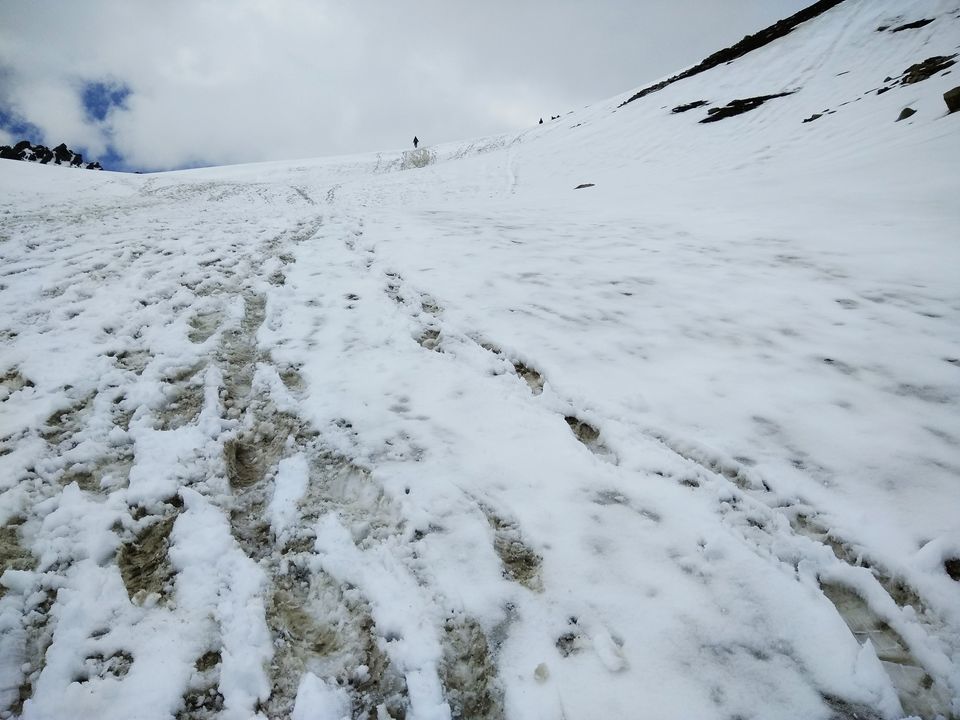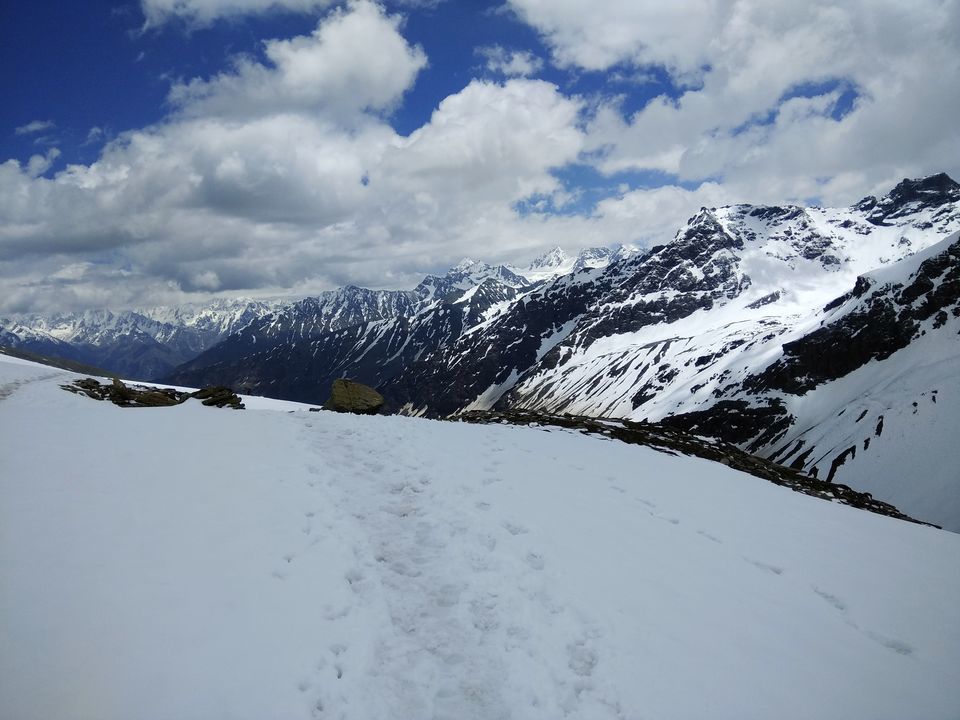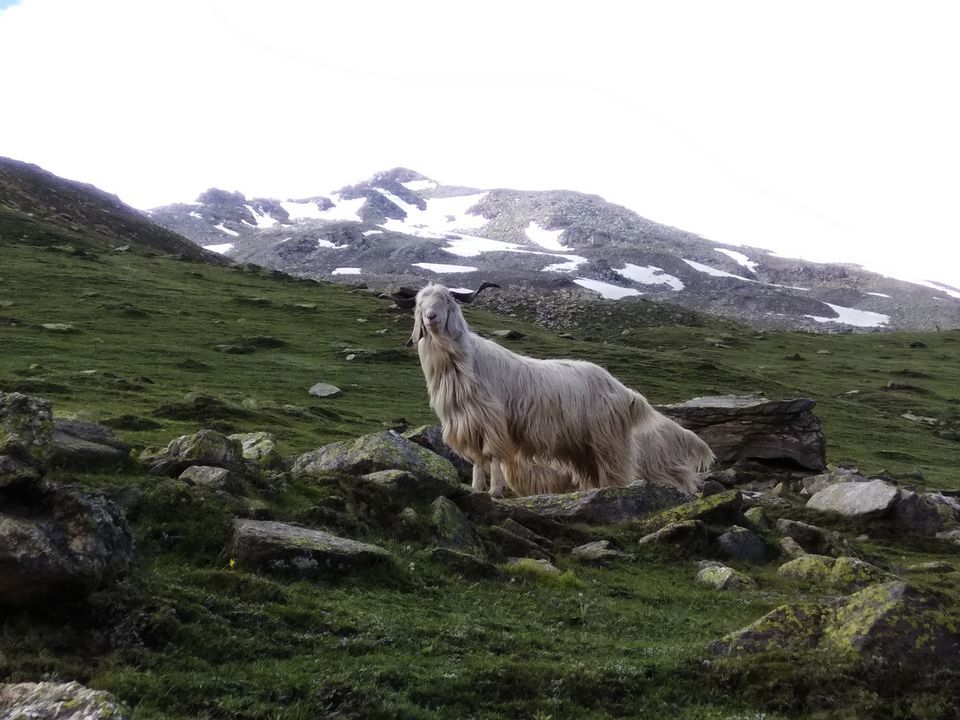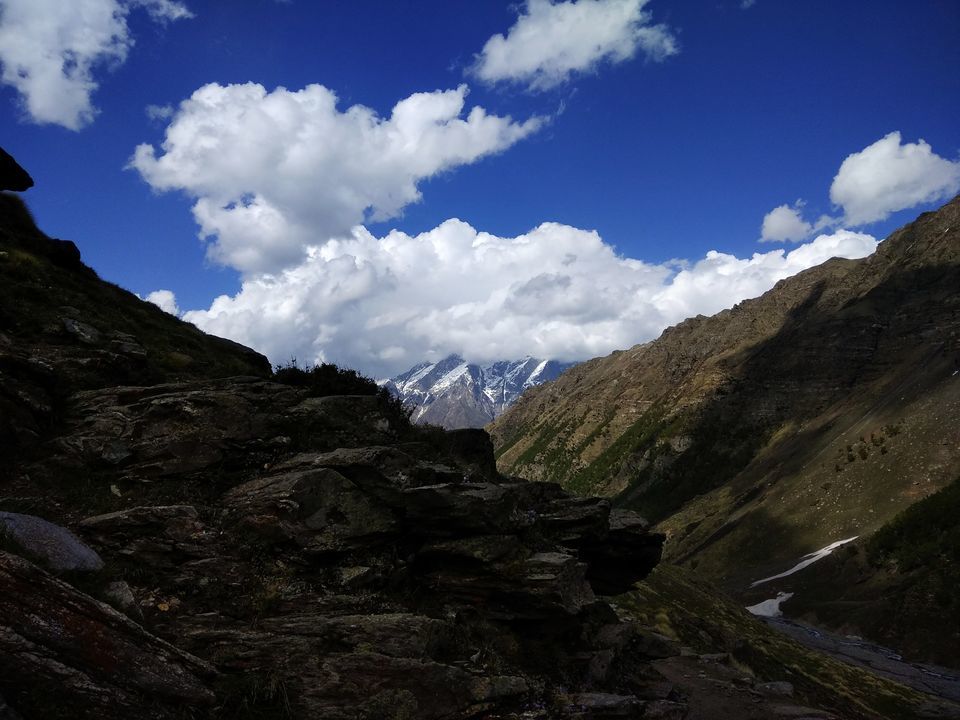 Day 8:-

RontiGad to Sangla 12 kms and 6hrs trek.
After a sound sleep from last night we got up at 8:00 a.m. and finished breakfast by 9:00 a.m. We were handed the certificates for completing the trek by our team leader and this whole day was descending to the lower altitude. The Kinnaur kailash peak is visible from this camp site and after 30 minutes to small ascend we had a view of large meadow of Sangla Kundi. Entire group was silent except few people while trekking today. After an hour of descend our mobiles started beeping messages and alerts which they had missed for last 5 days. By 1:30 p.m. we all were at Sangla, the place where you could see ferocious Baspa river flow. The entire village has a stony and colourful rooftops. We boarded our respective cabs and started our journey from Sangla to Shimla after a heavy lunch at a local restaurant in Sangla.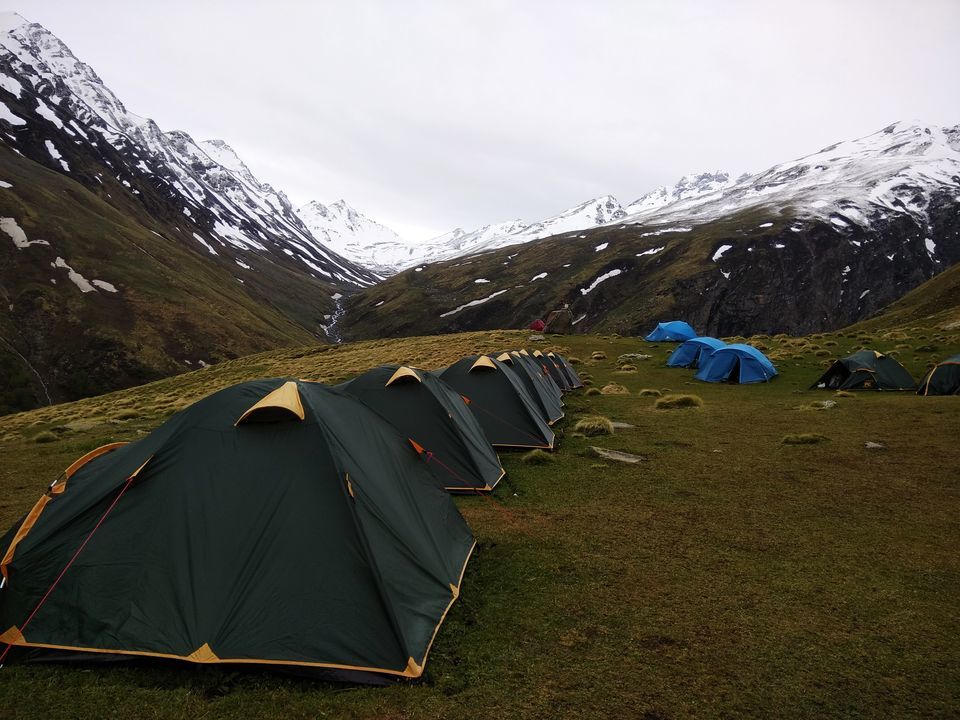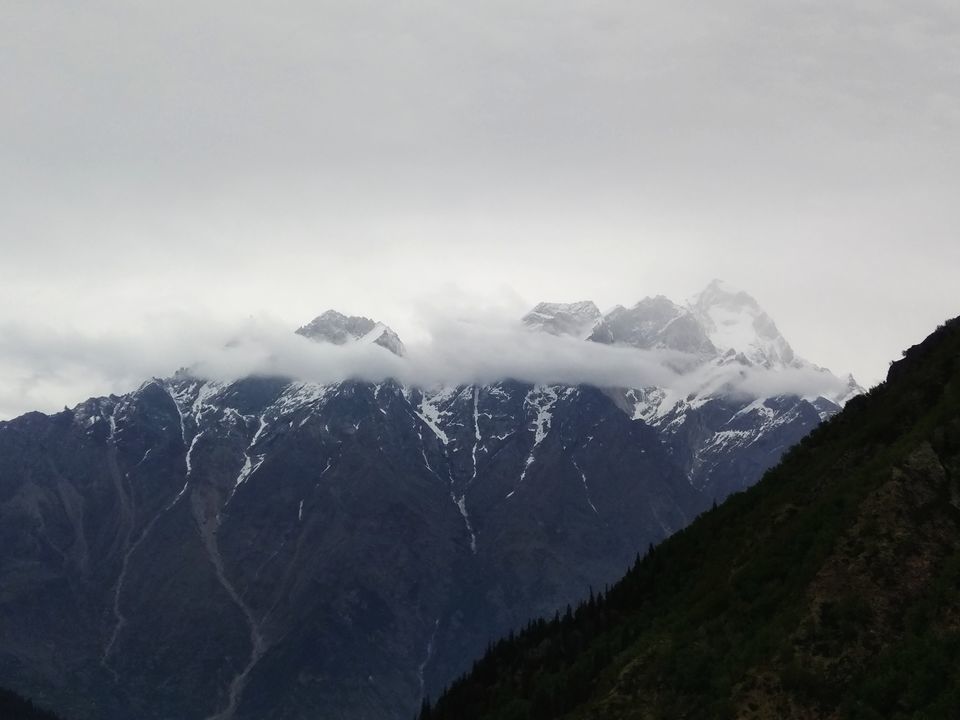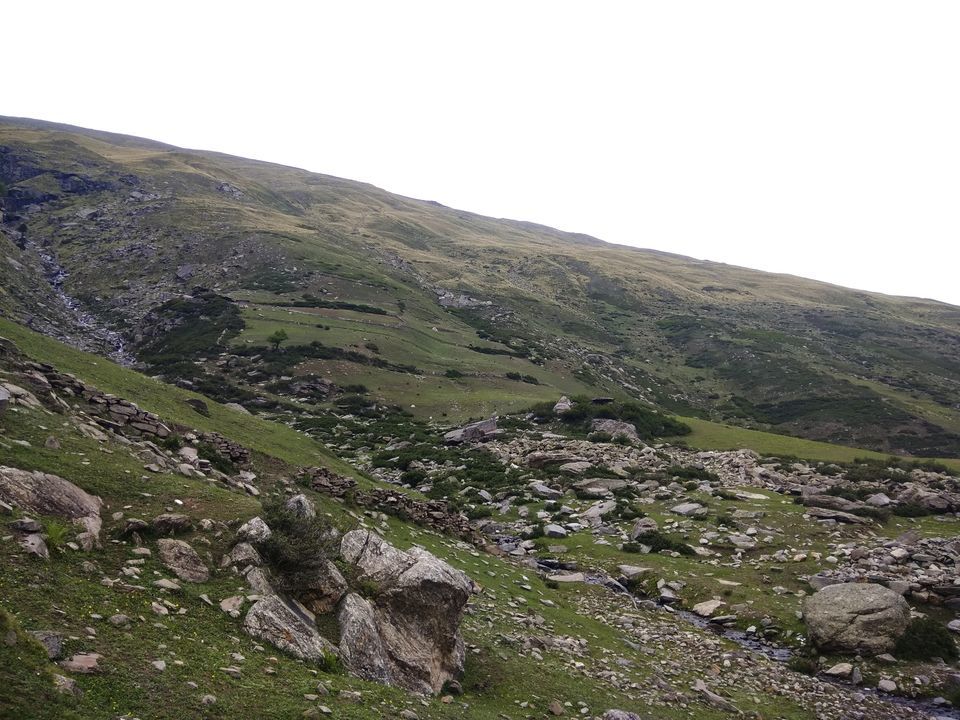 If you are planning to take this trek, see that you are fit and fine and don't over exert your body on the trek because you would only trek and will miss the Majesticity of the mountains around. There is no point in hiking 60 odd kms in 8 days on Himalayas if you can't enjoy the delightful moments you get on every corner you cross on this trek.
Happy Traveling!!!