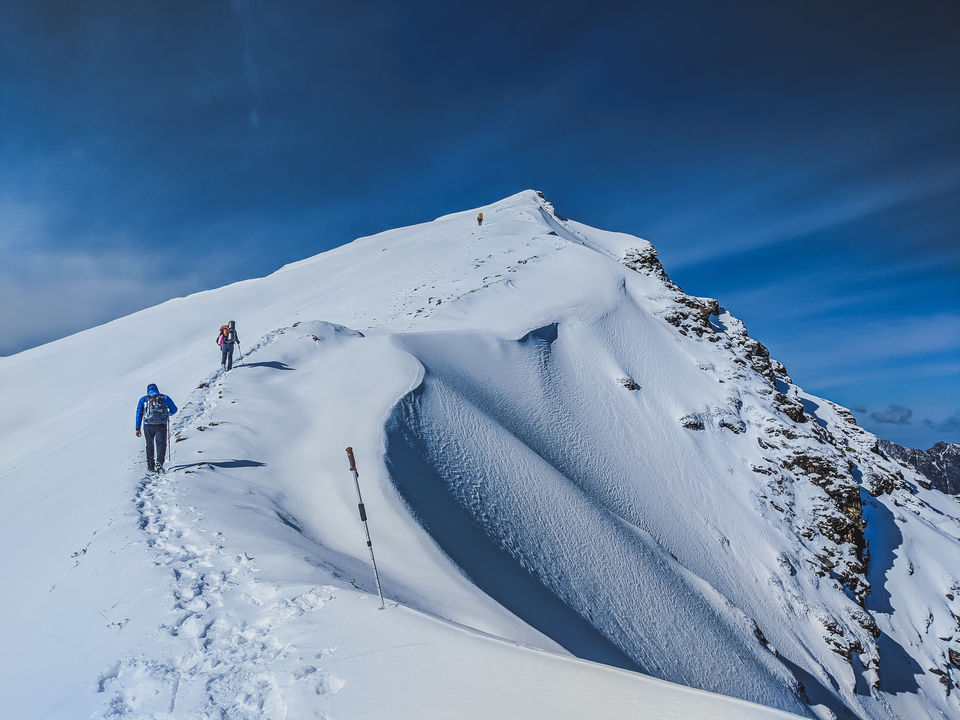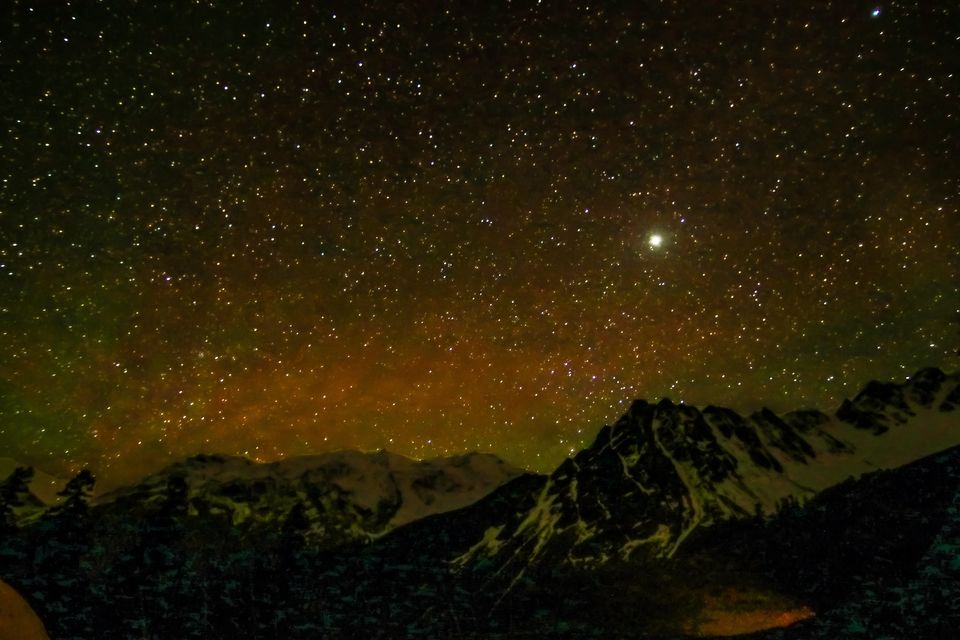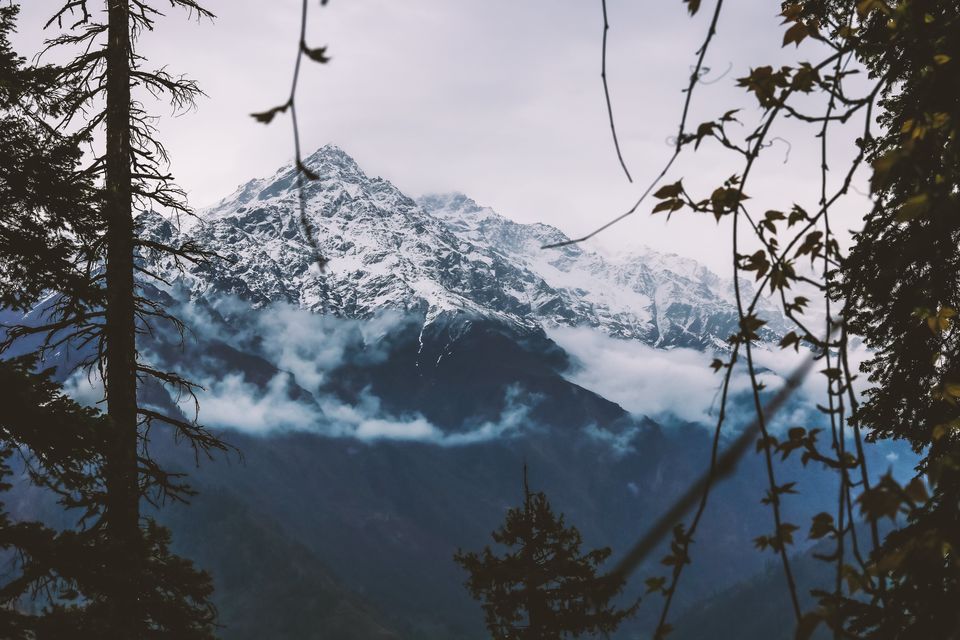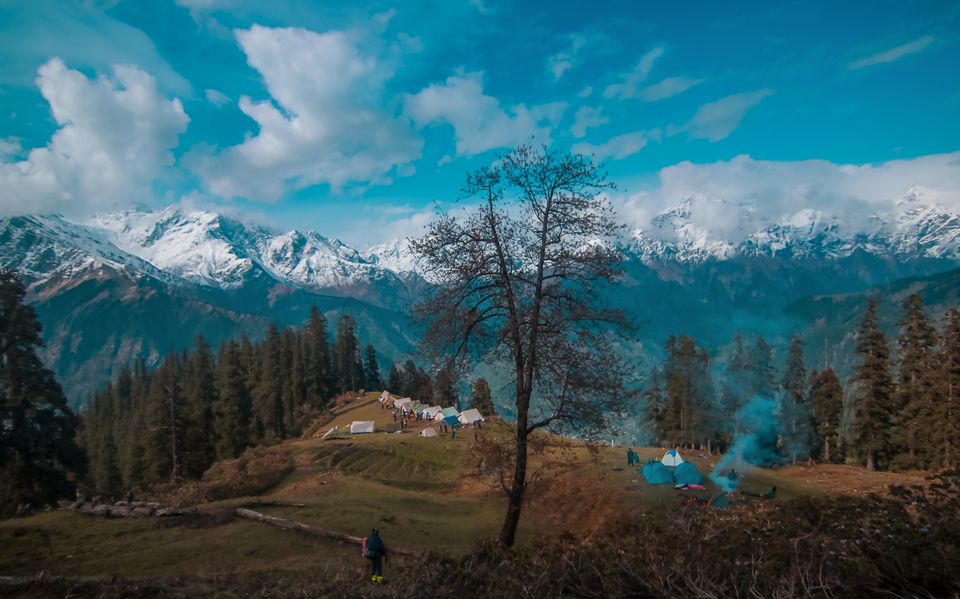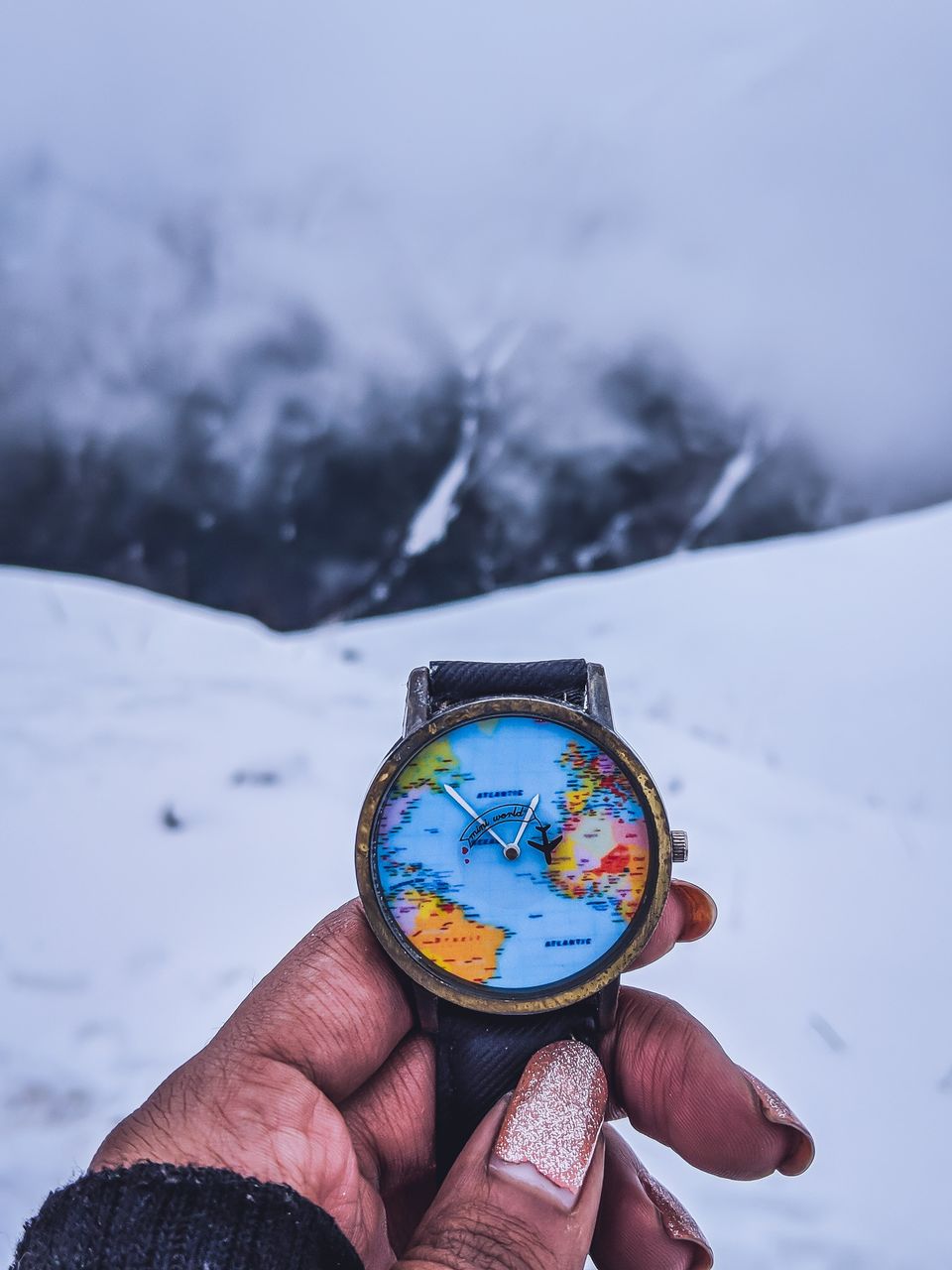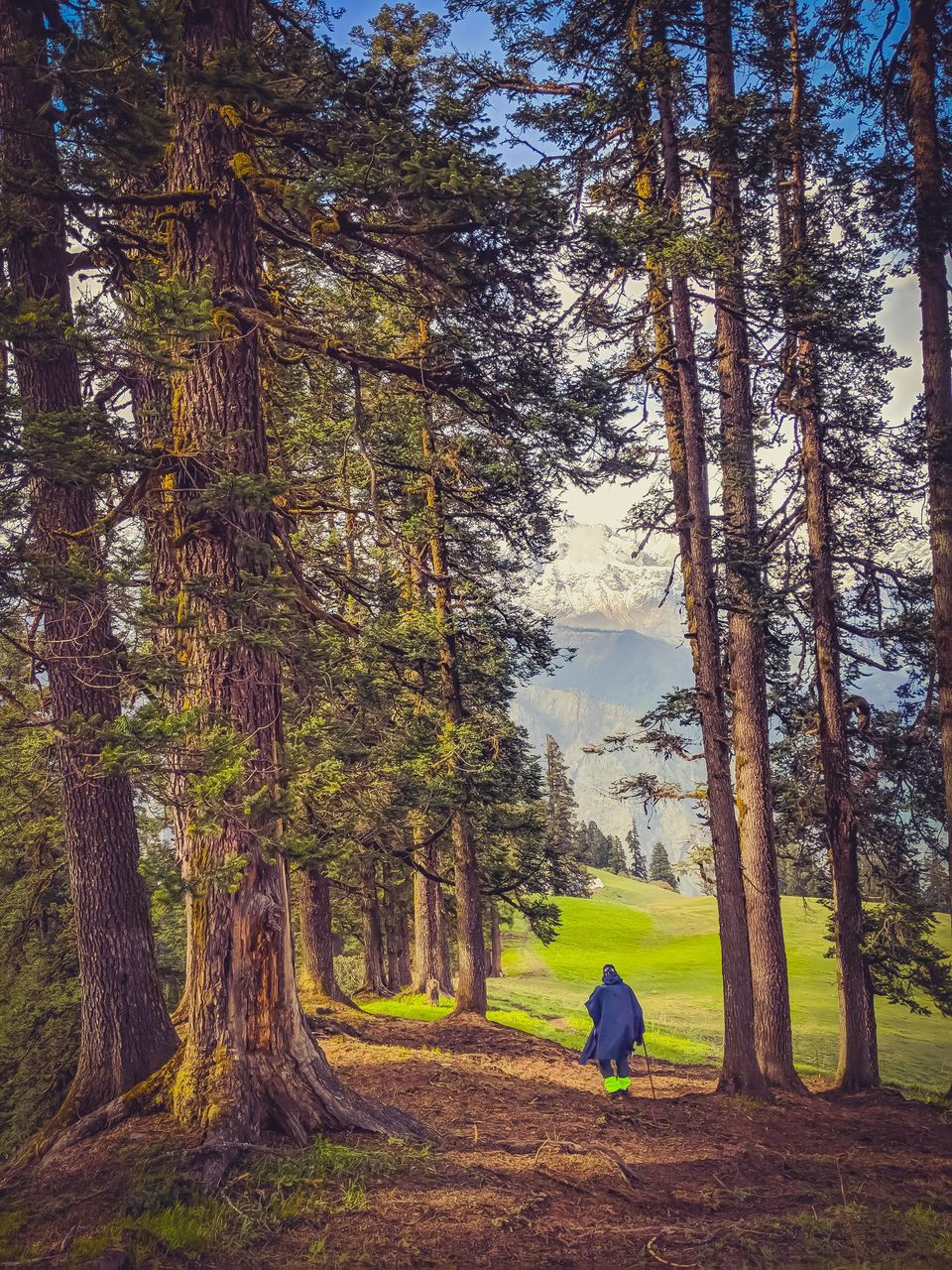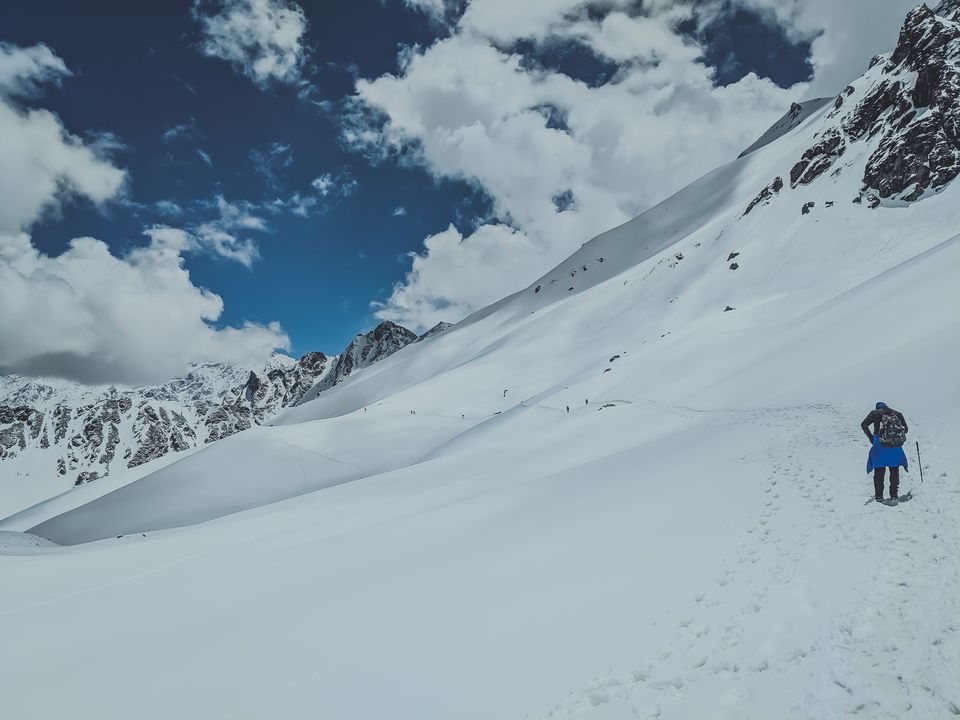 Sar Pass, called so because of the frozen lake at the pass, is a trek that has been done by adventurists for more than two decades. Sar Pass offers eternal beauty, tranquility and adventure. It is a complete package which begins with dense forest cover, the green pastures with grazing sheep, snow covered mountains, steep ridges, the frozen lake and 100 ft snow slides.
Sar Pass is considered a good trek for beginners as it usually spans over 8 days and gradually increases in height. The trek is generally done via Grahan village to Barsheini. When I went to Sar Pass, we took a totally different route which had little to no trekkers en-route, was more tougher, steeper and certainly increased the difficulty level. For those who have a ton of energy but lesser leaves, this 5 days route can help you scratch Sar Pass off your bucket list. Read below to know about the lesser known path, where to camp and more.
Route - Manikaran - Barsheini - Zirmi - Tila Lautni -Sar pass - Bishkari - Manikaran
Highlights:
Height - 14000 ft
Trek distance - ~40 kms
Difficulty - Moderate to difficult (this route)
Time - 5 days
Best time - Summer months
Day 1 - Report at base camp Manikaran, 5700 feet.
Sar Pass is a well known trek in the Pir Panjal range of Himachal Pradesh in India. You can fly to Bhuntar, the closest airport to the base camp. 36 kms away from Bhuntar is Manikaran. Plenty of buses run from Bhuntar at as low as 40 INR. The roaring Parvati river, the hot springs and the aura of the Gurudwara will welcome you at Manikaran. It is advised to get acclimatized at a lower altitude so stay here and relax.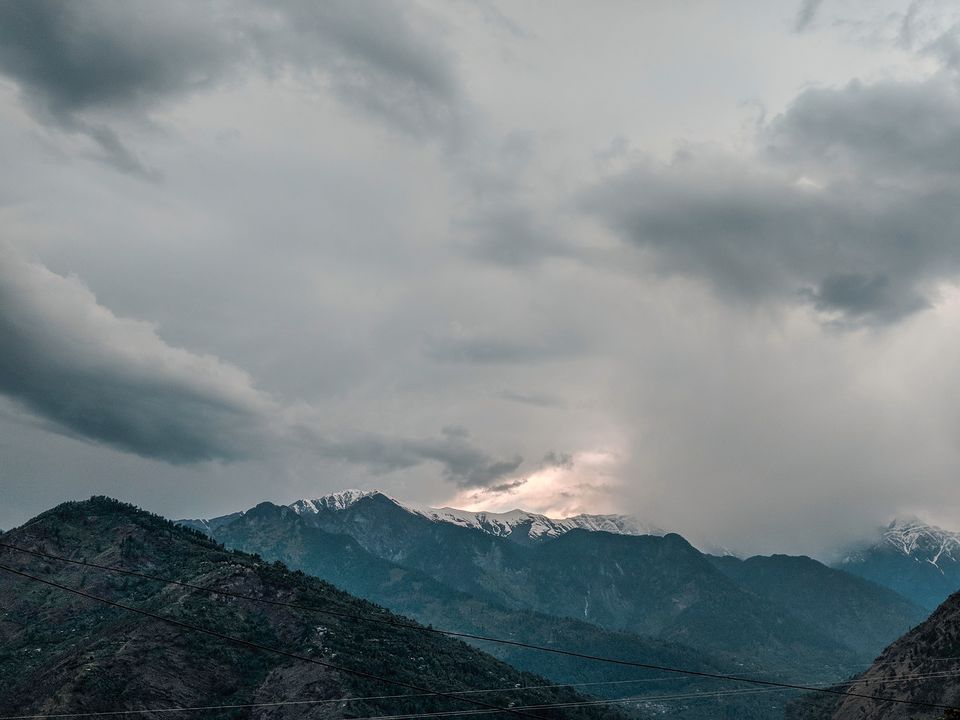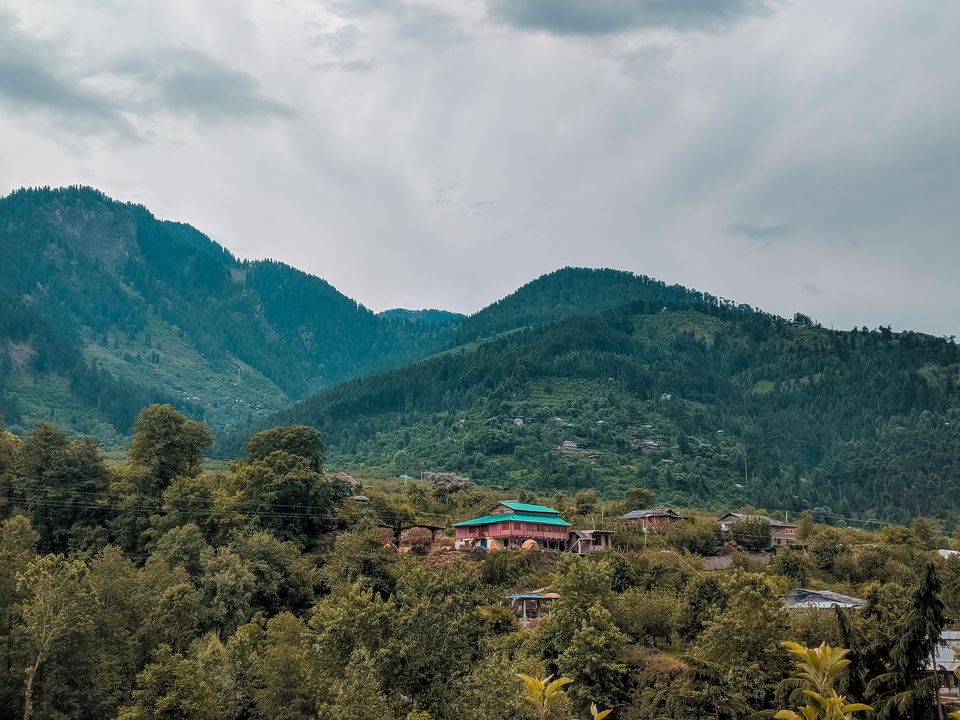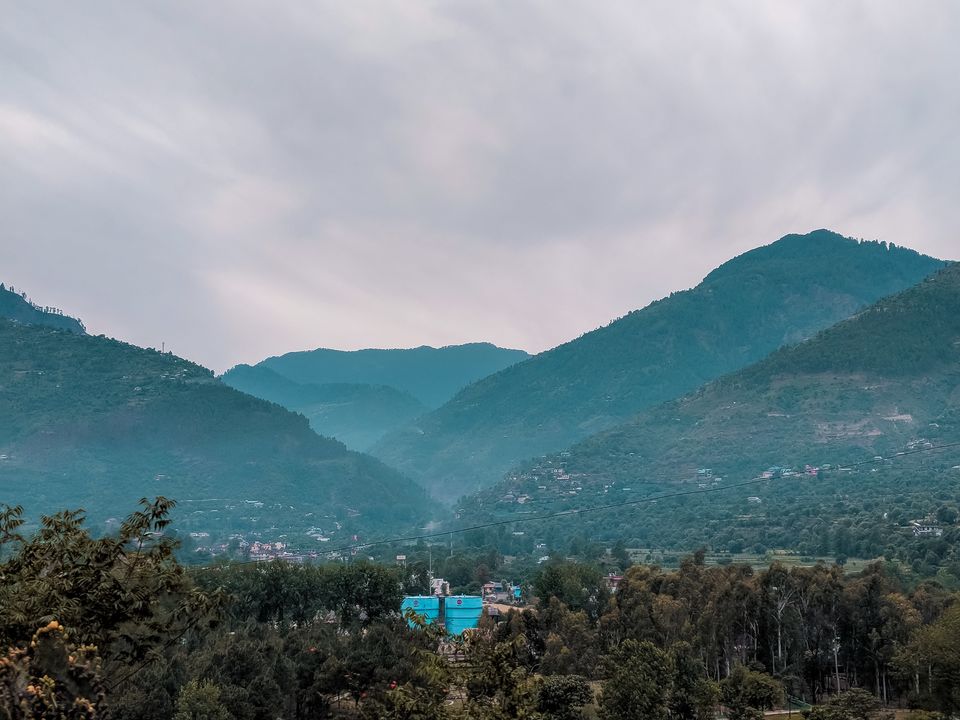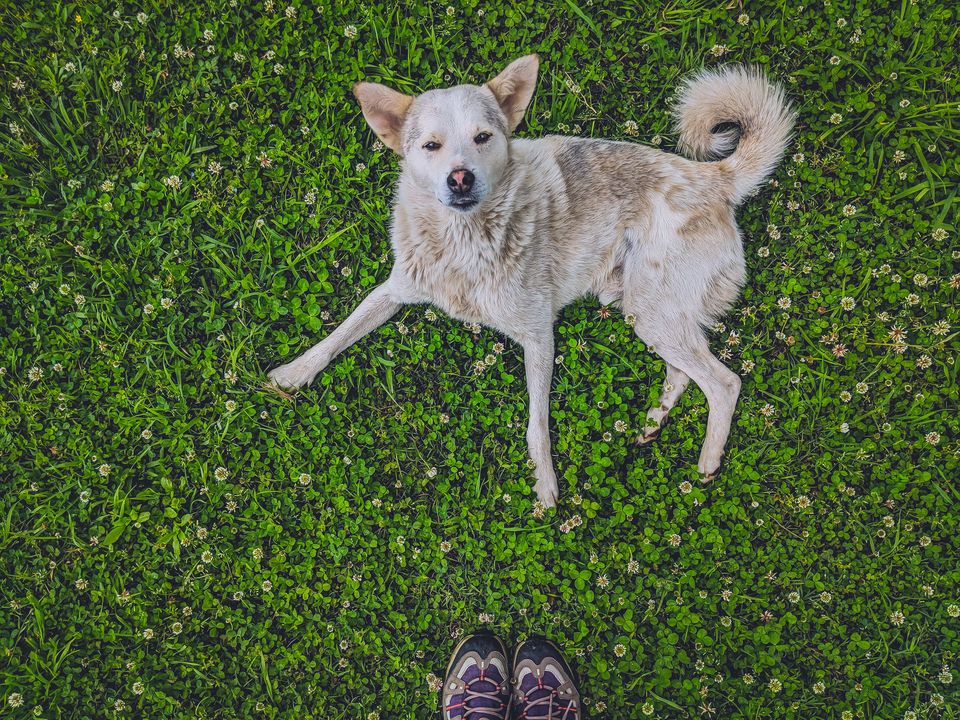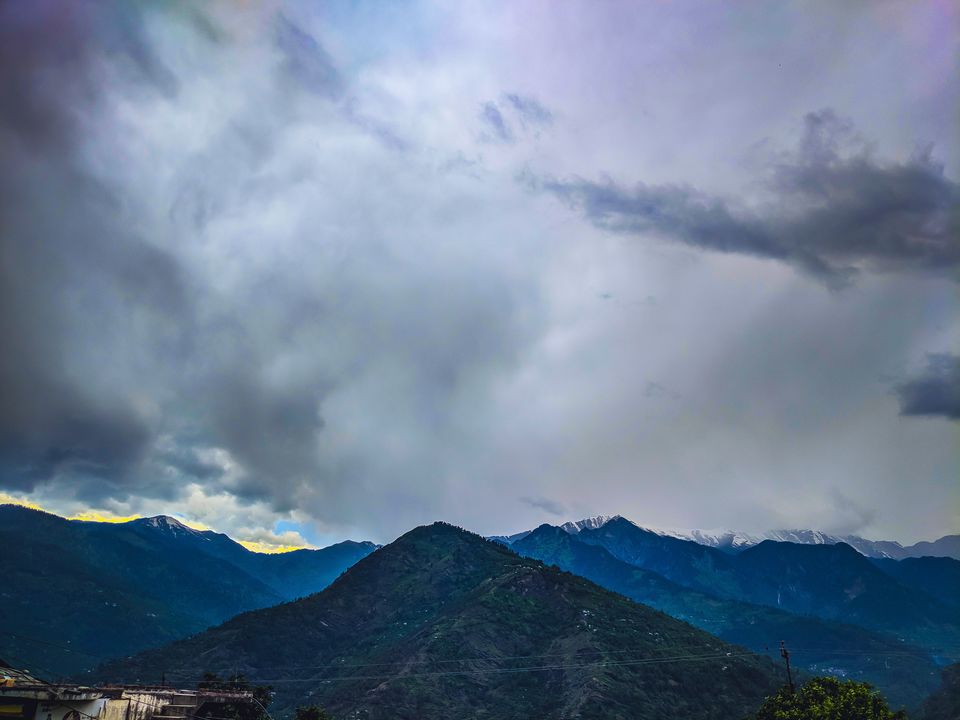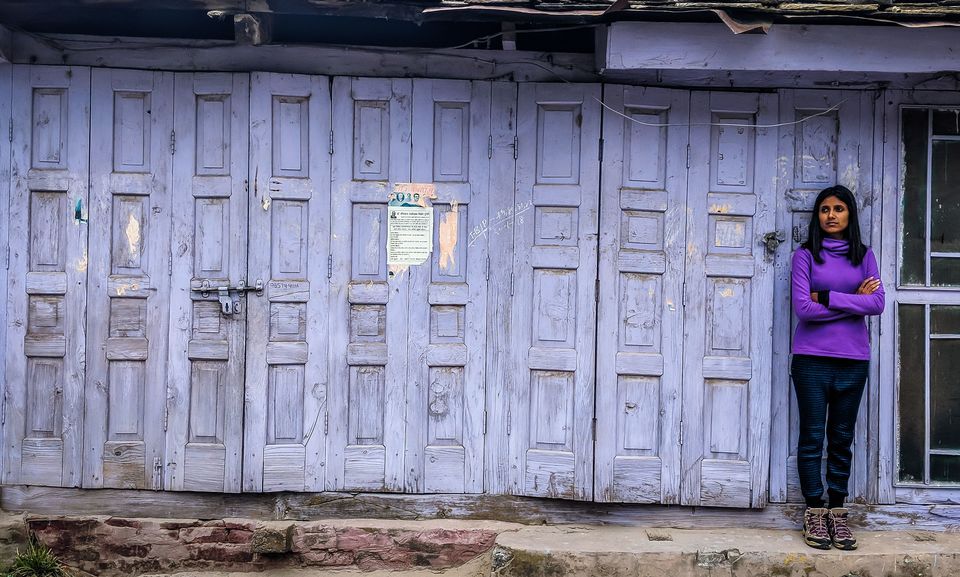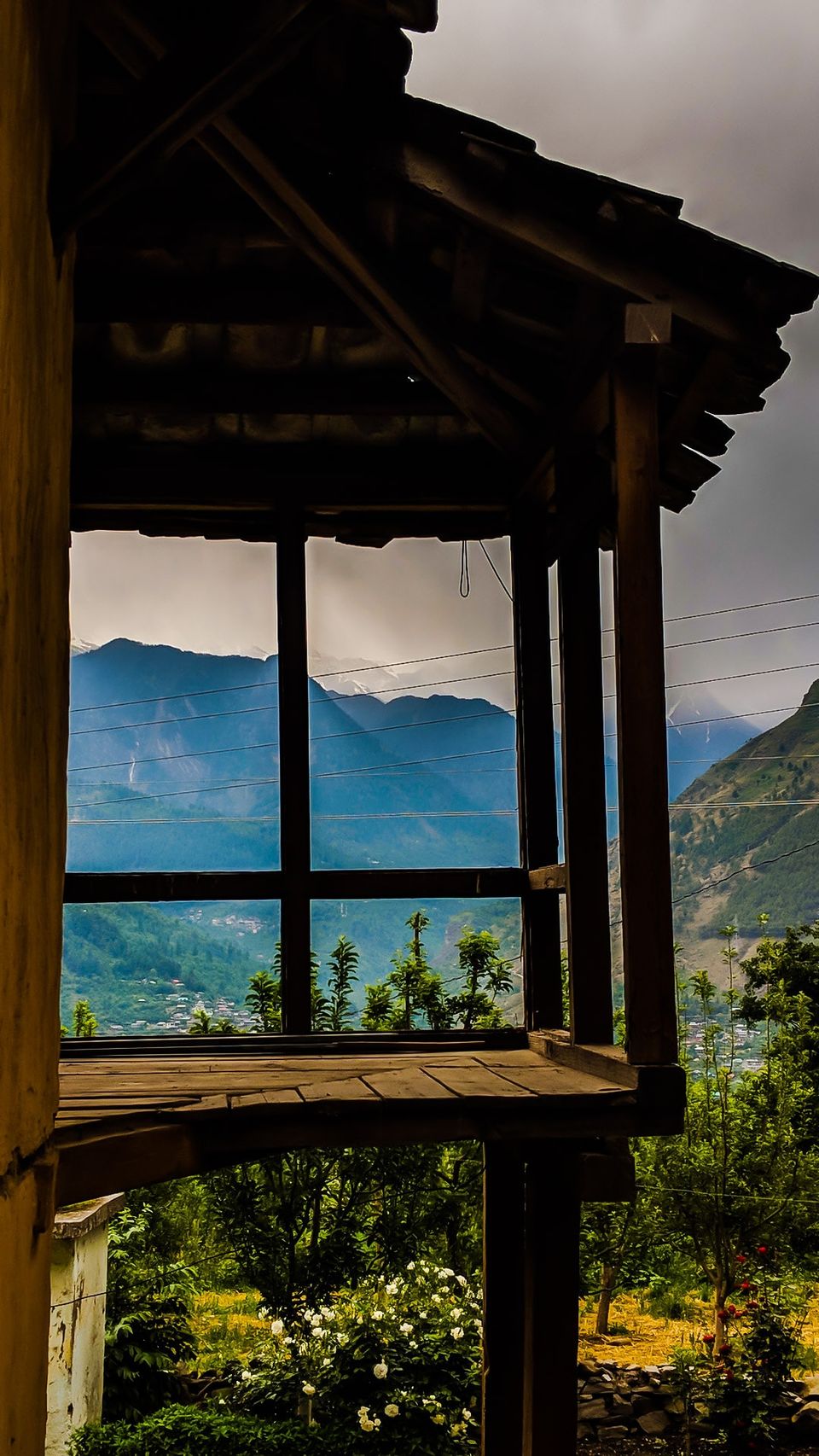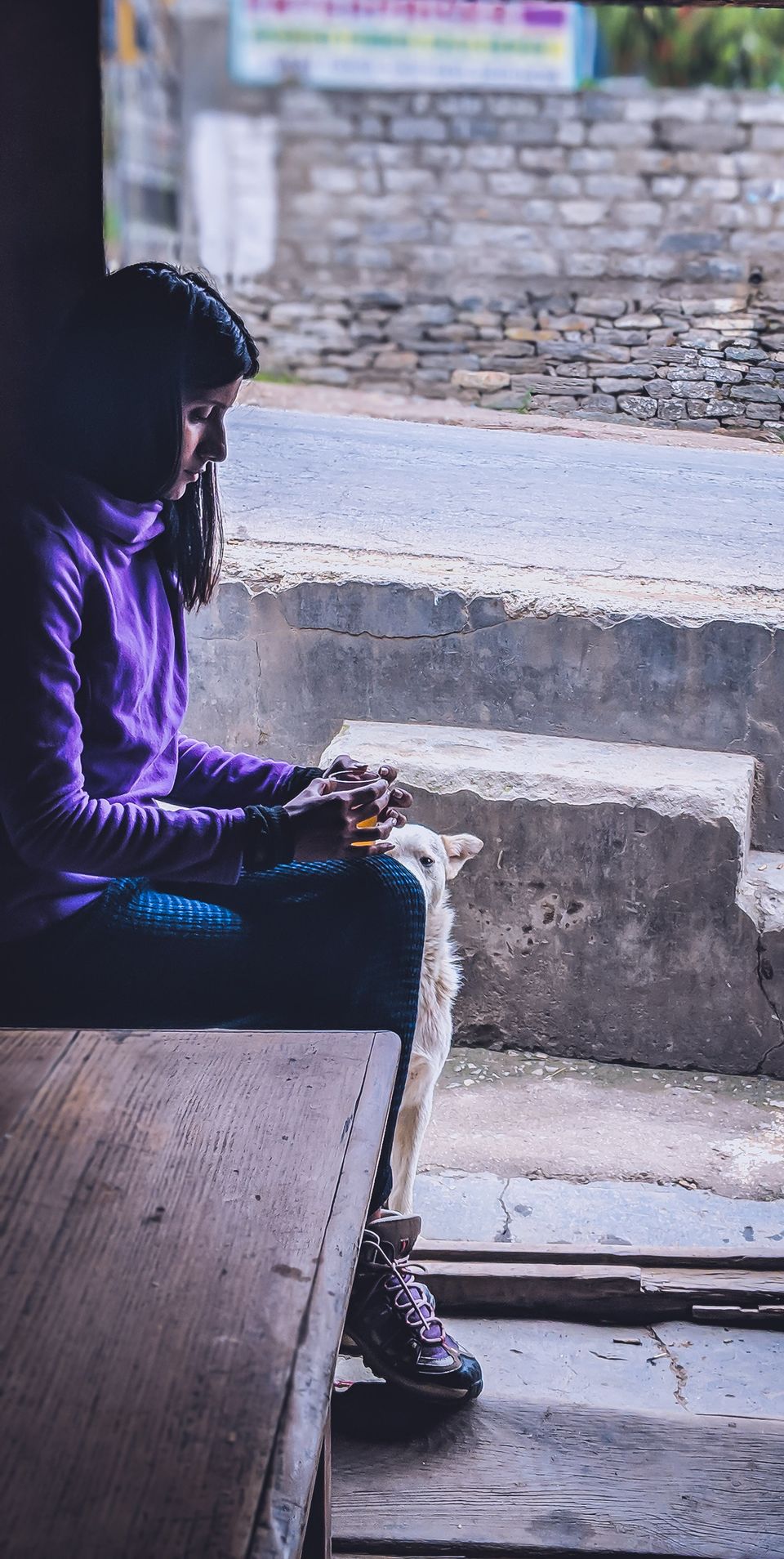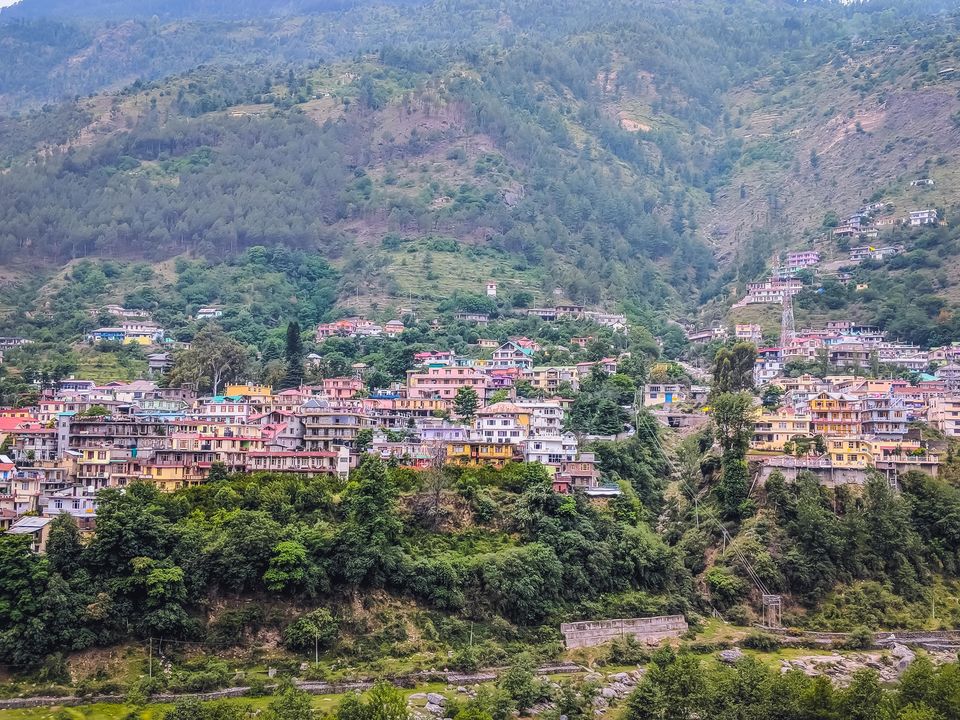 Day 2 - Manikaran to Barsheini to Zirmi, 8900 feet.
40 minutes from Manikaran is Barsheini; trek's starting point. The climb will take you from 2500 ft directly to 8900 ft. This 8 km walk will traverse through the pine and oak forest cover initially, as you climb up you will be amidst serene meadows, mules and grazing sheep. The entire bugyal is covered with flowers, painting a yellow hue(in Summer). The trek starts with a 50 degree inclination and gets tougher from there. You will notice many huge boulders and rock formations en-route, making you feel like you have returned to stone age. This route has enough streams to fill fresh water from. The first camp at Zirmi is surrounded by snow-white mountains. The gorgeous golden sunset from this camp is a sight to behold.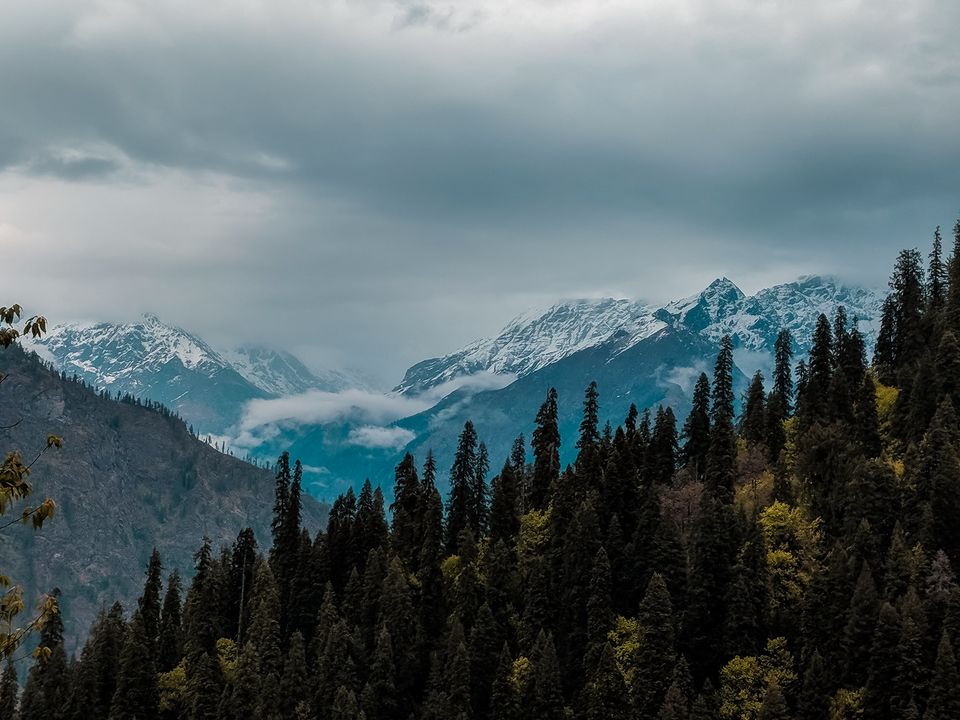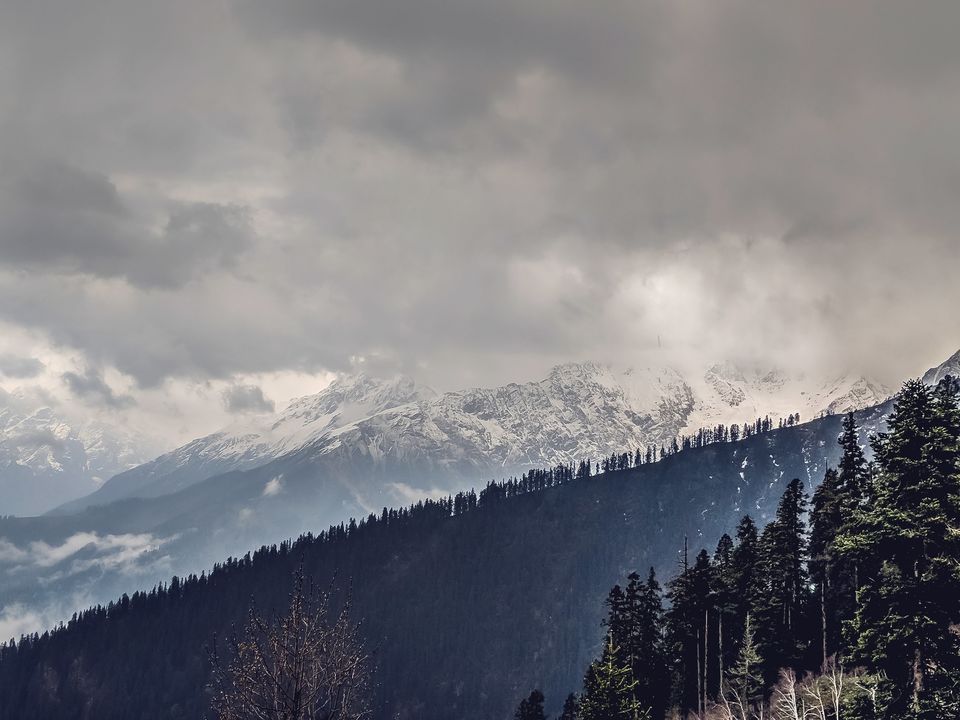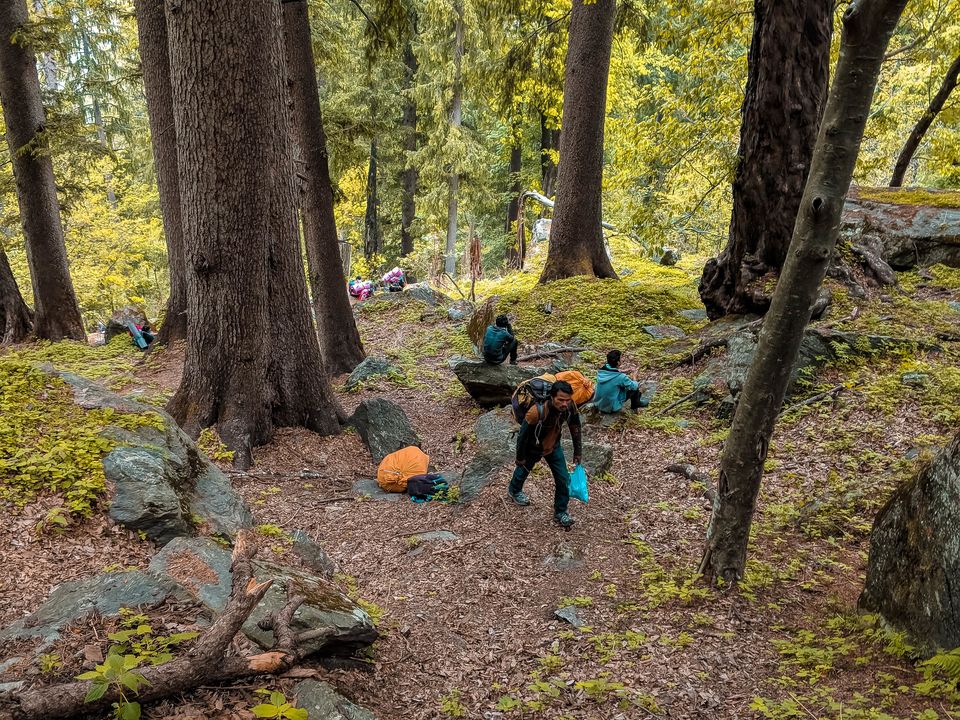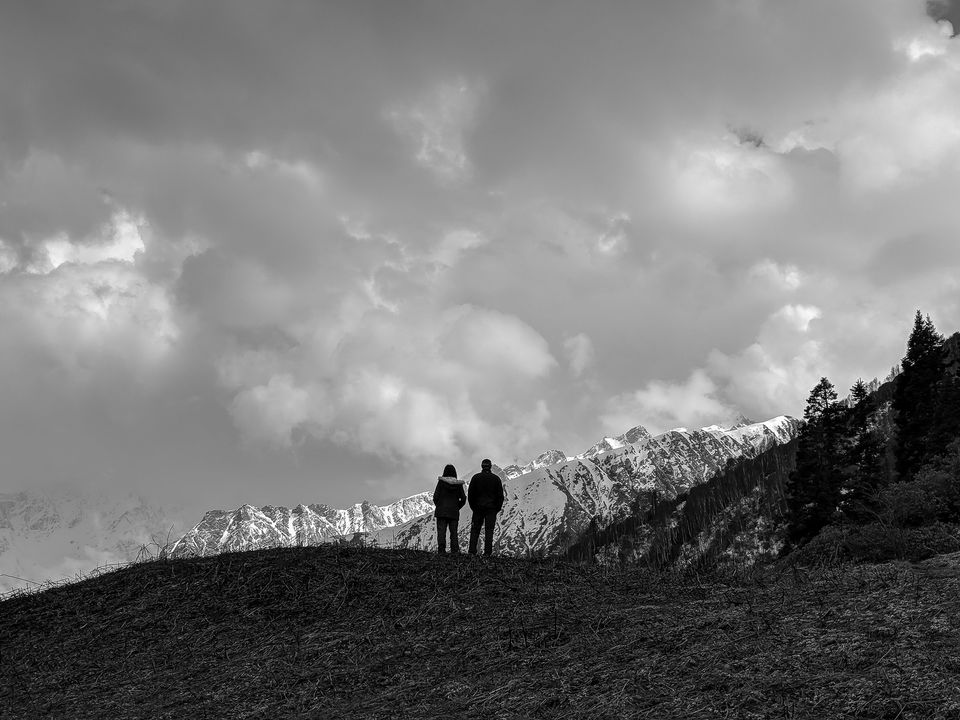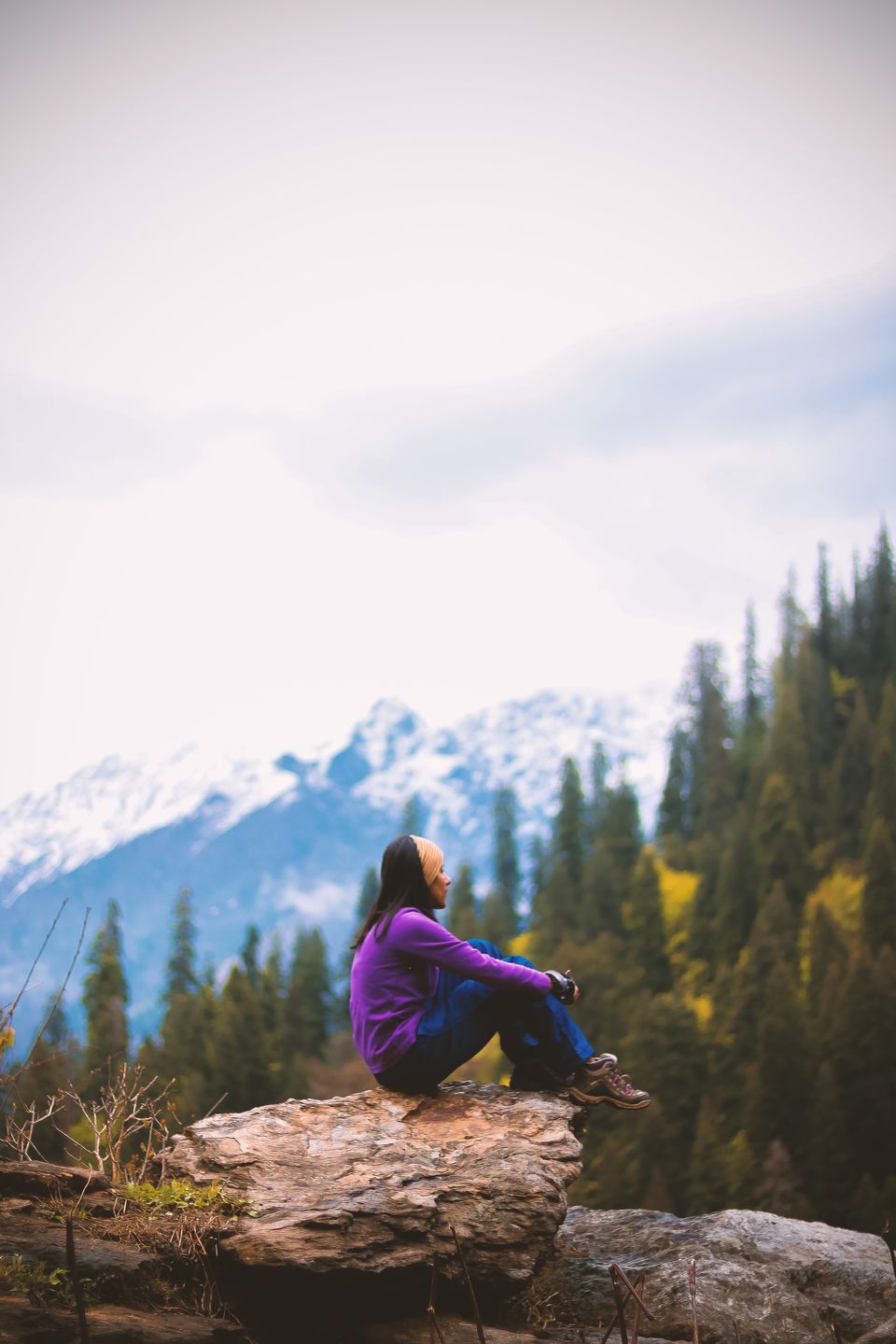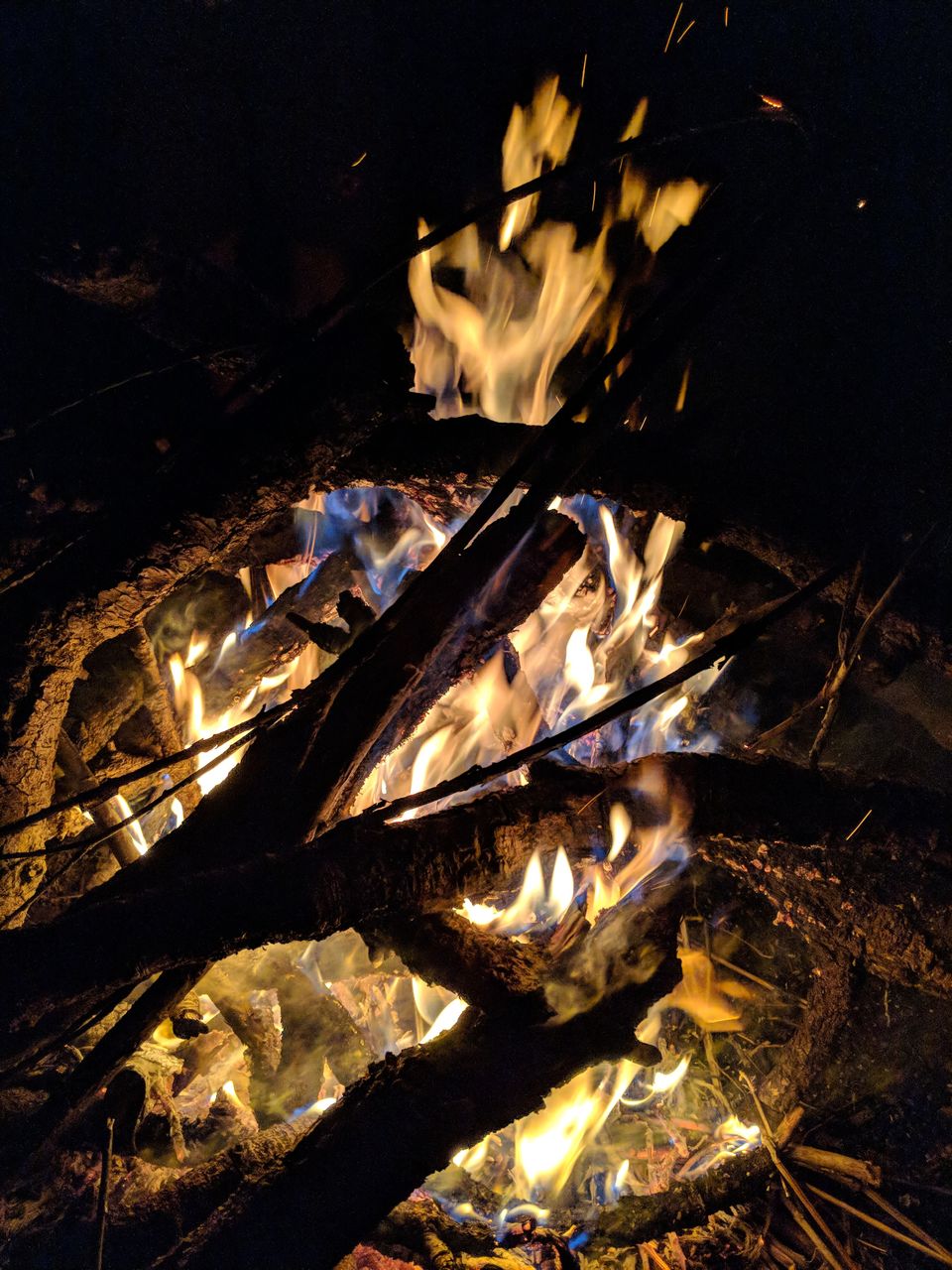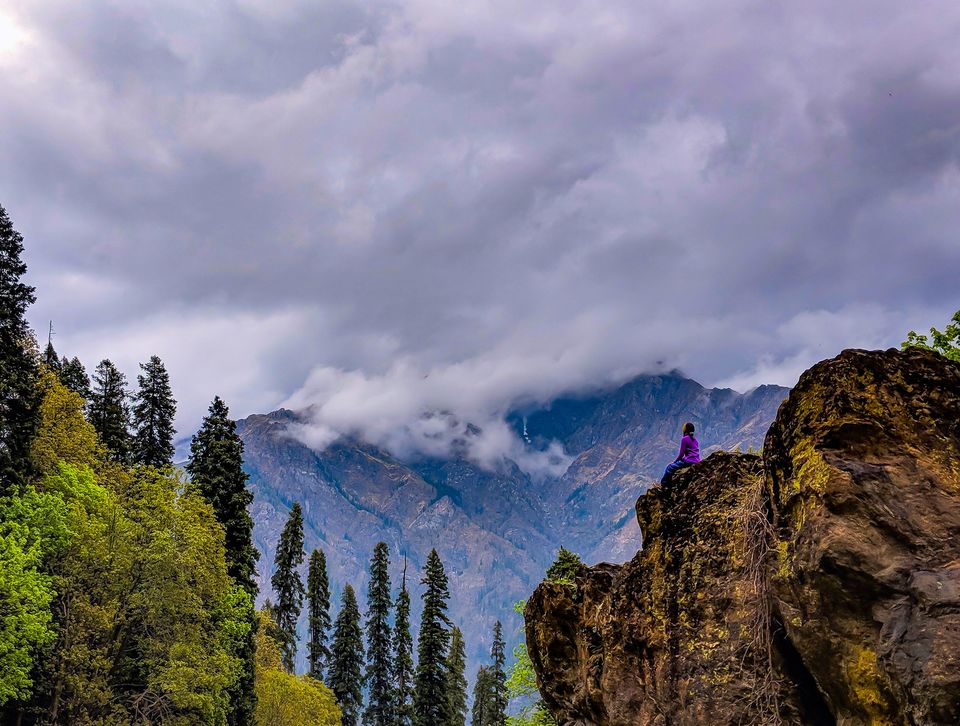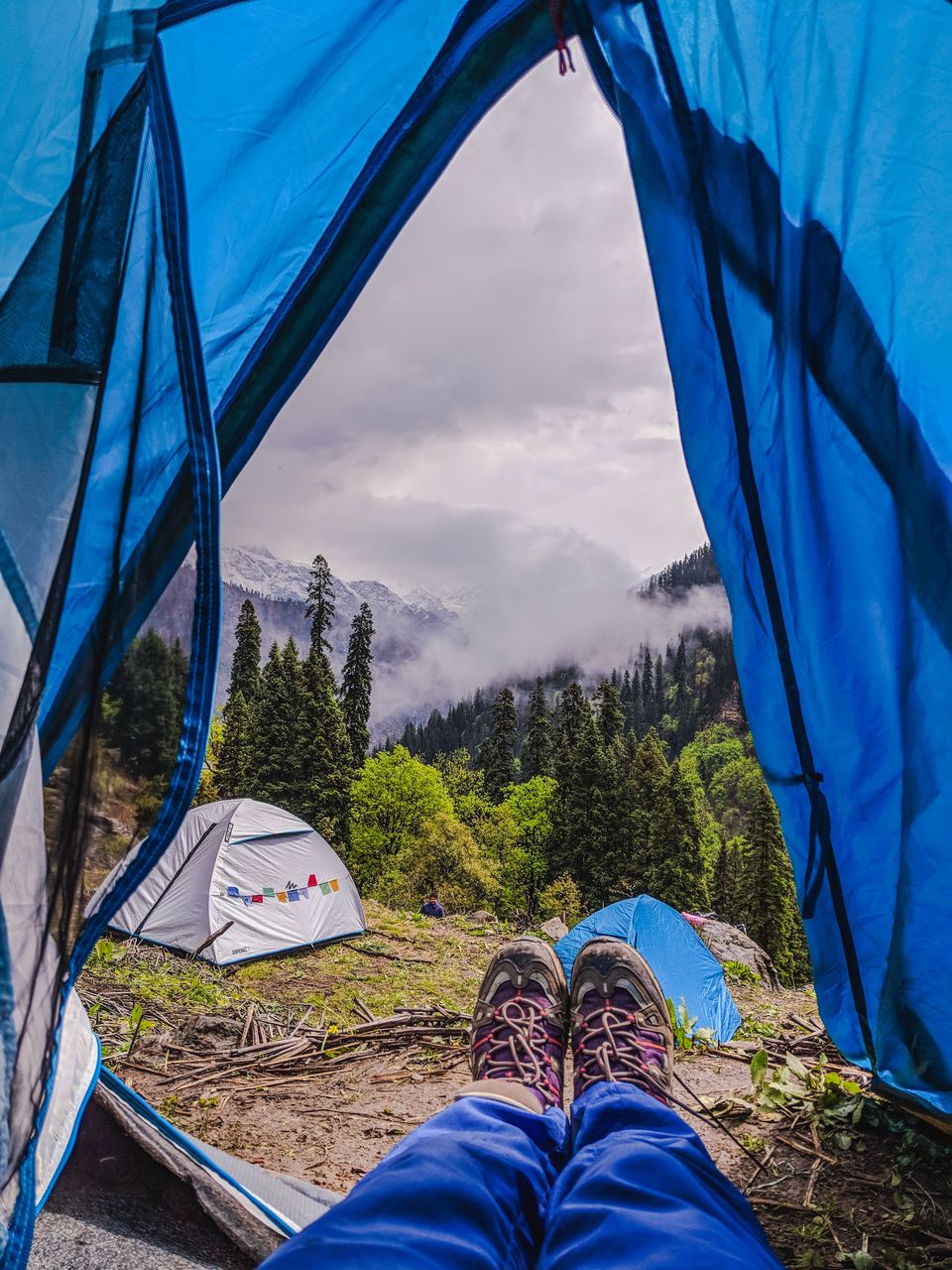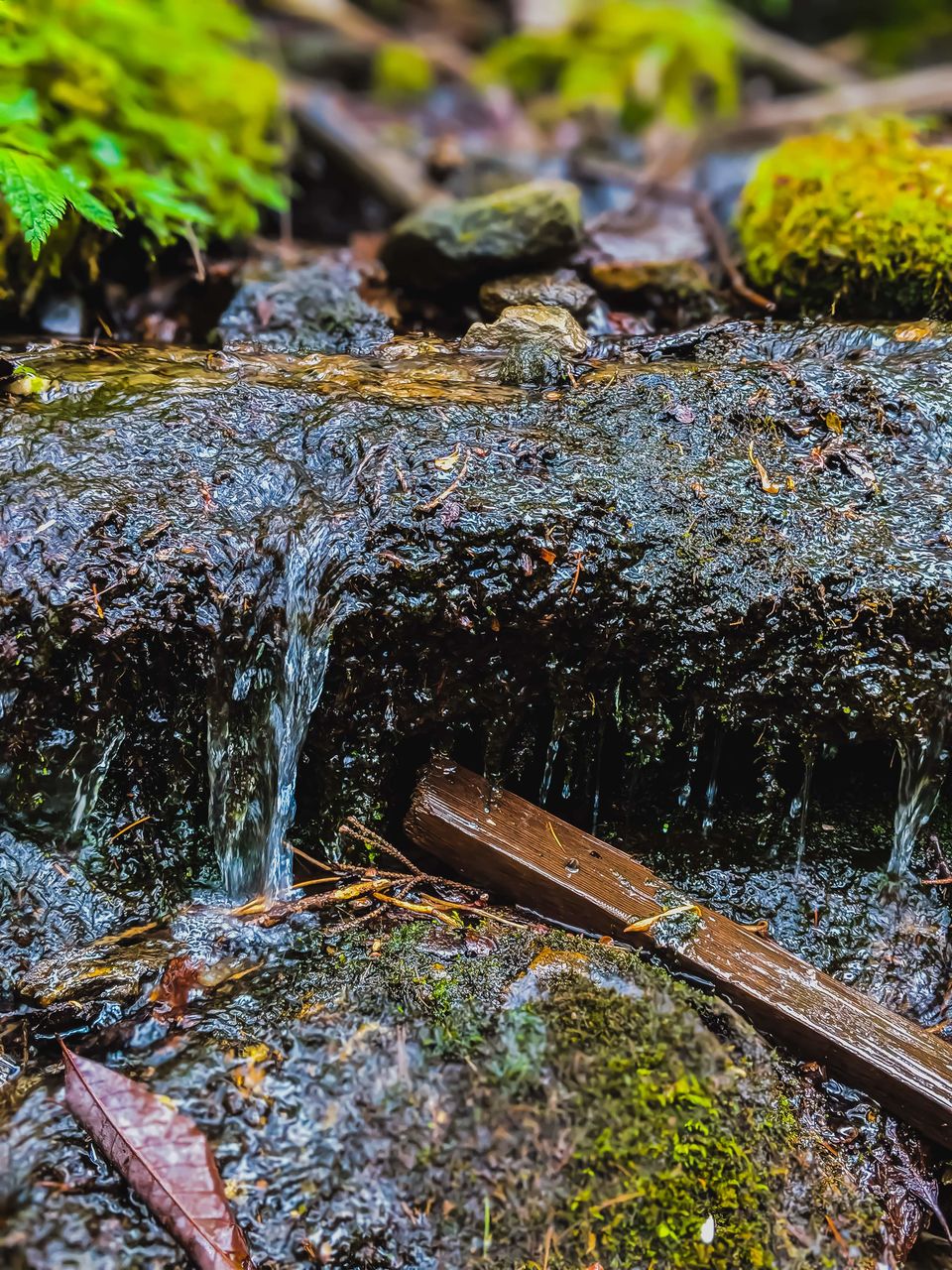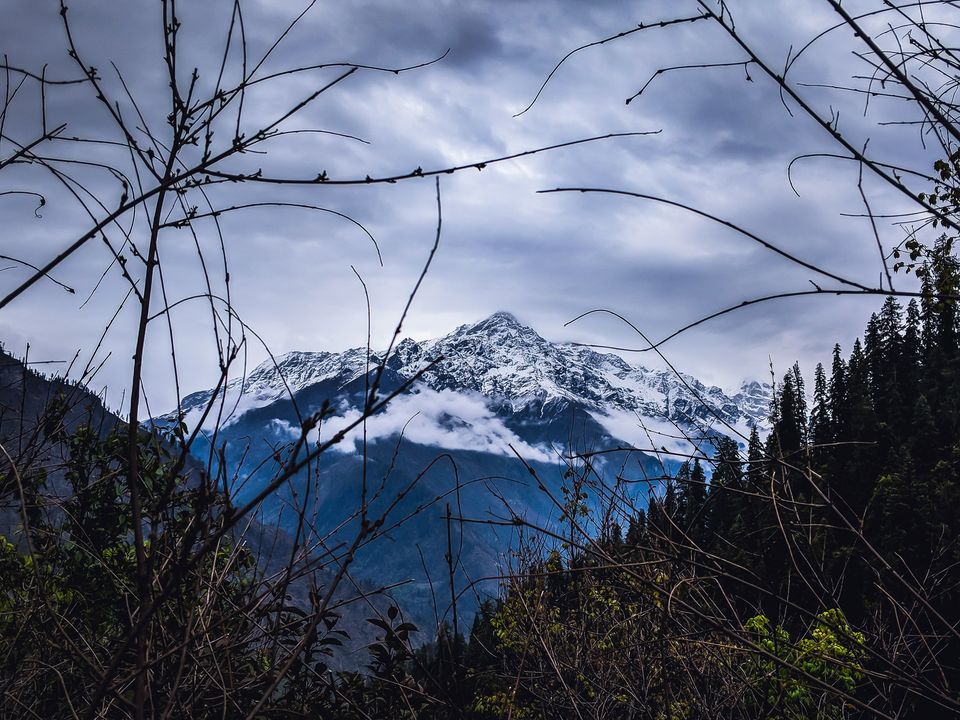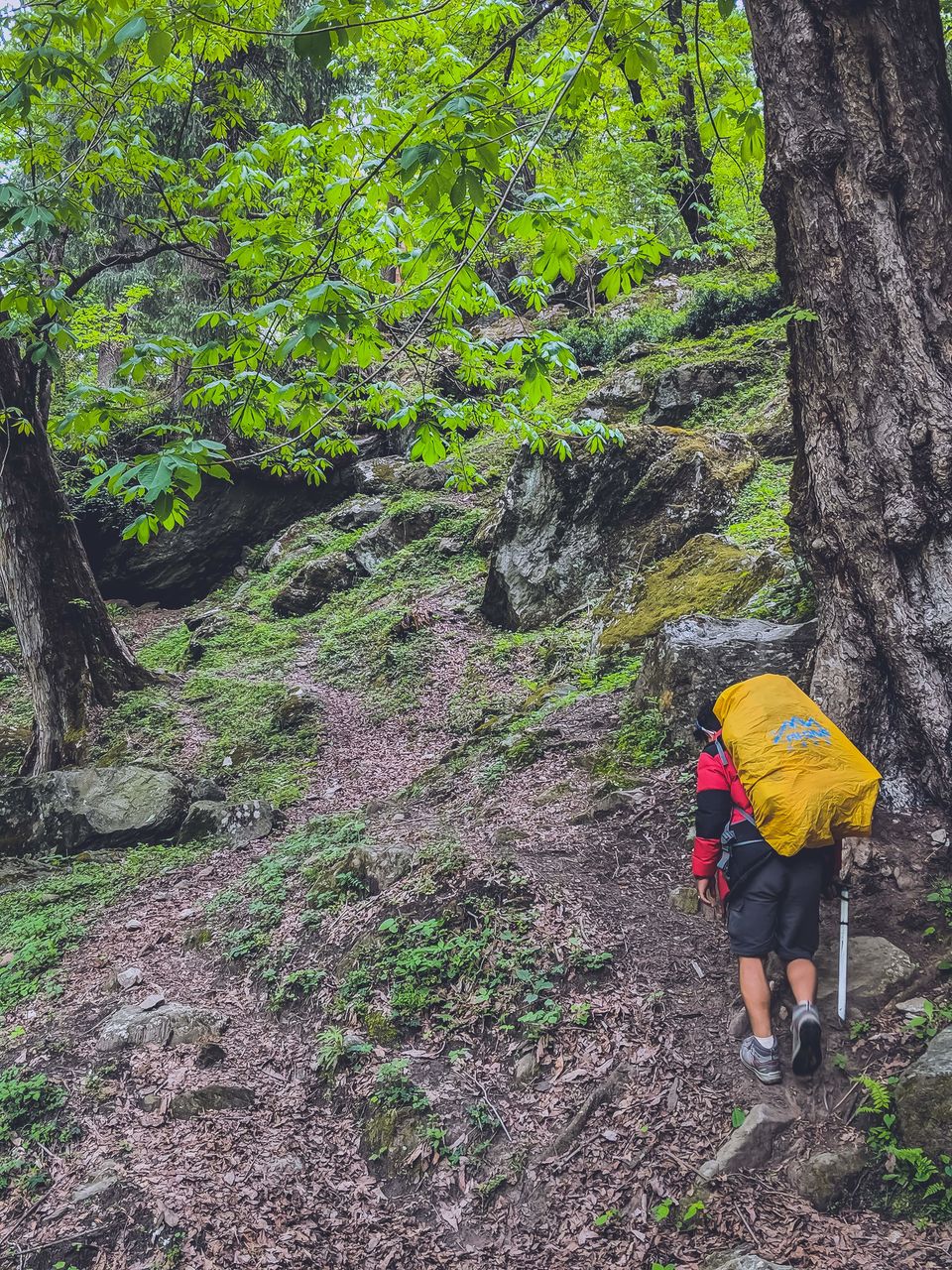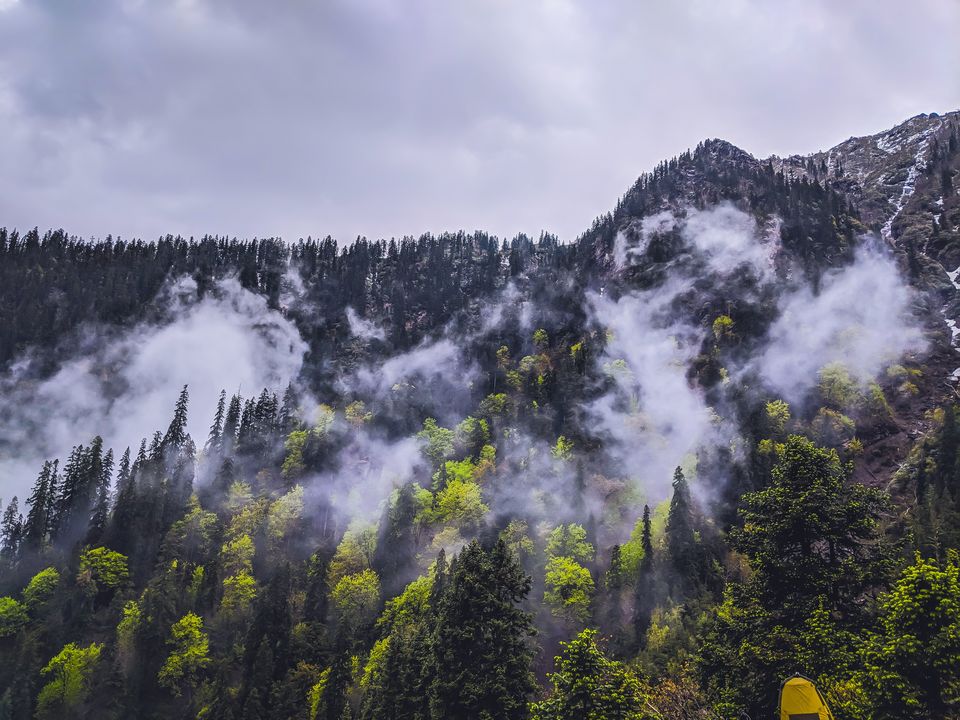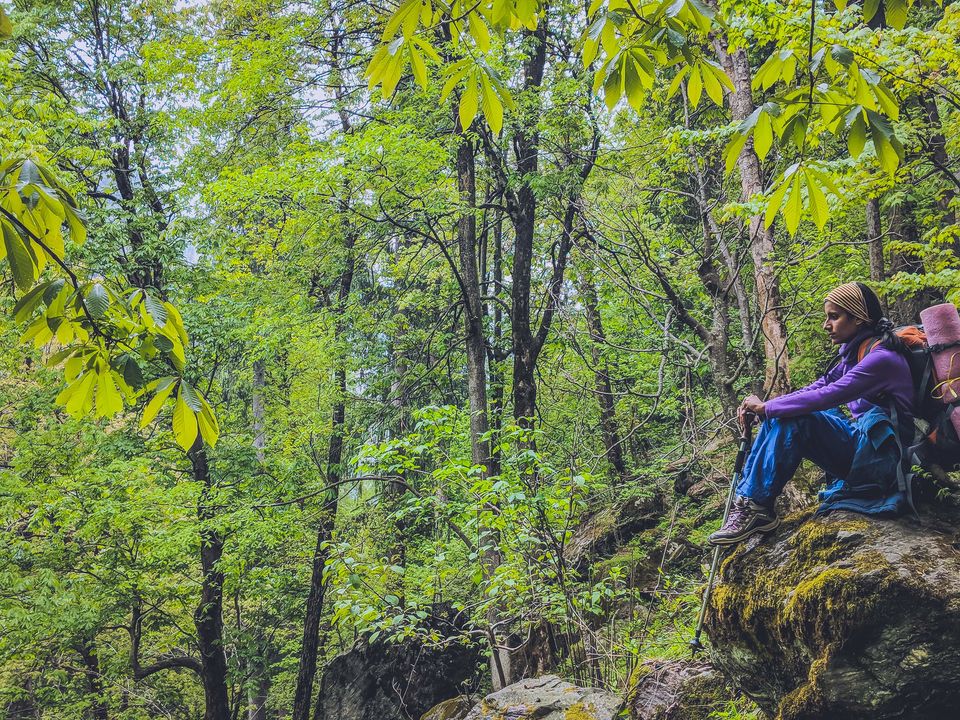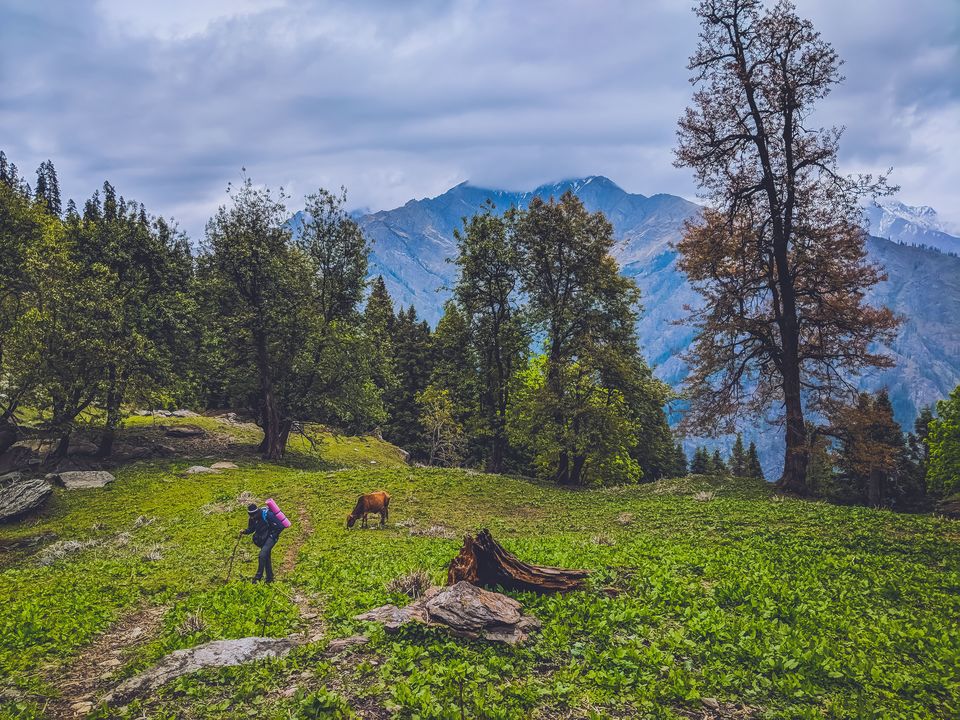 Day 3 - Zirmi to Tila Lautni, 10900 feet.
The gradual ascent will increase the height by 2000 ft today. Total walk to Tila Lautni is ~8 kms which is the base for Sar Pass . Less than an hour into the climb, you will reach the top of a mountain from where the 180 degree panoramic view of the snow covered hills is breathtaking. It is an inexplicable experience of floating above the clouds. A couple of hours later you will walk into the snow trail if lucky. This route keeps unveiling itself at every turn until you reach the base of Sar Pass. If you have a clear sky, you can spot the pass.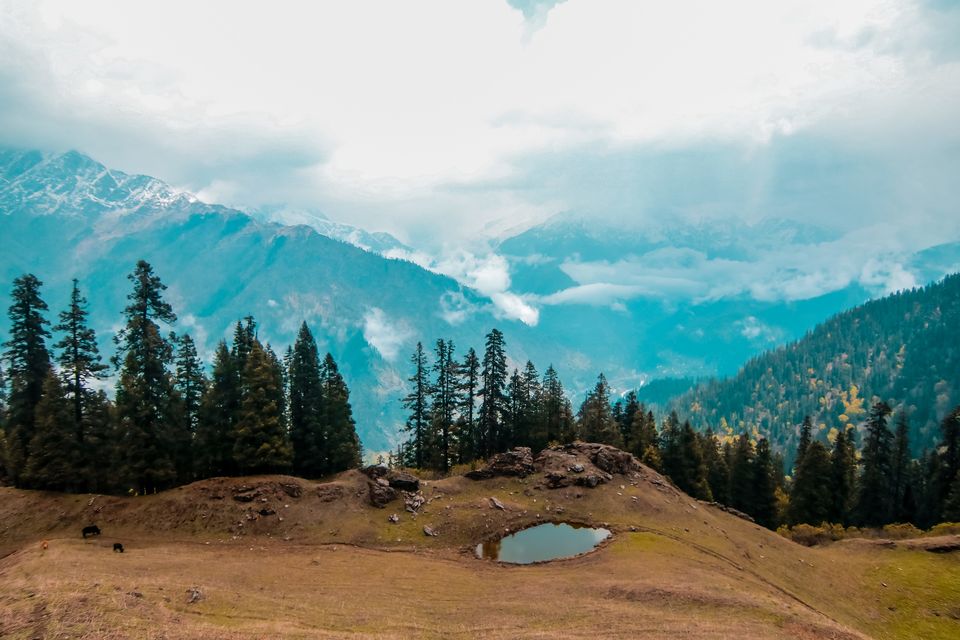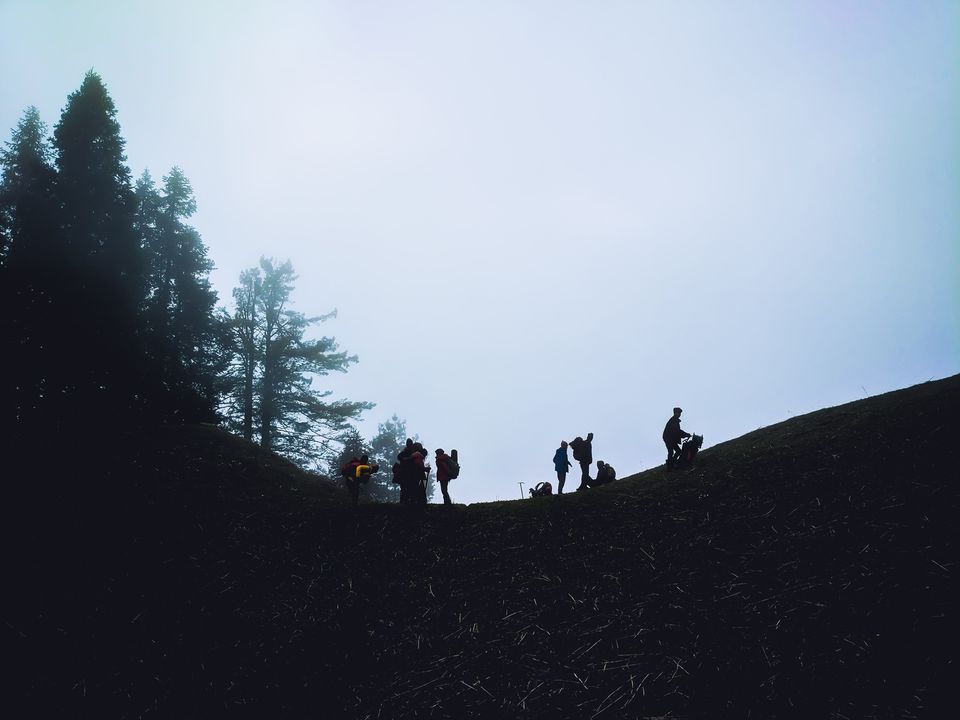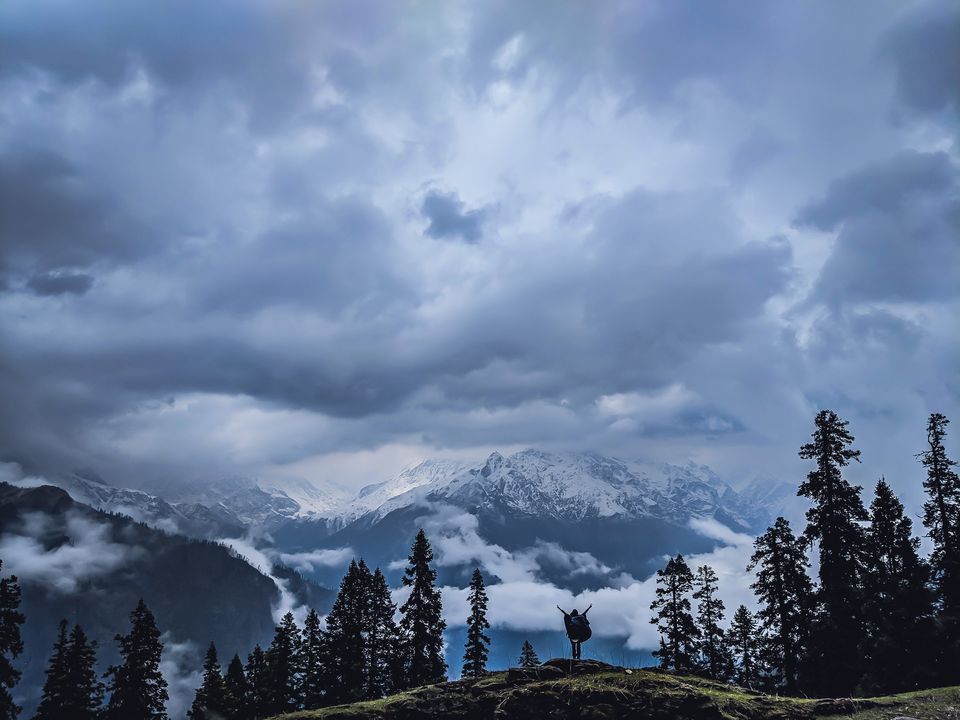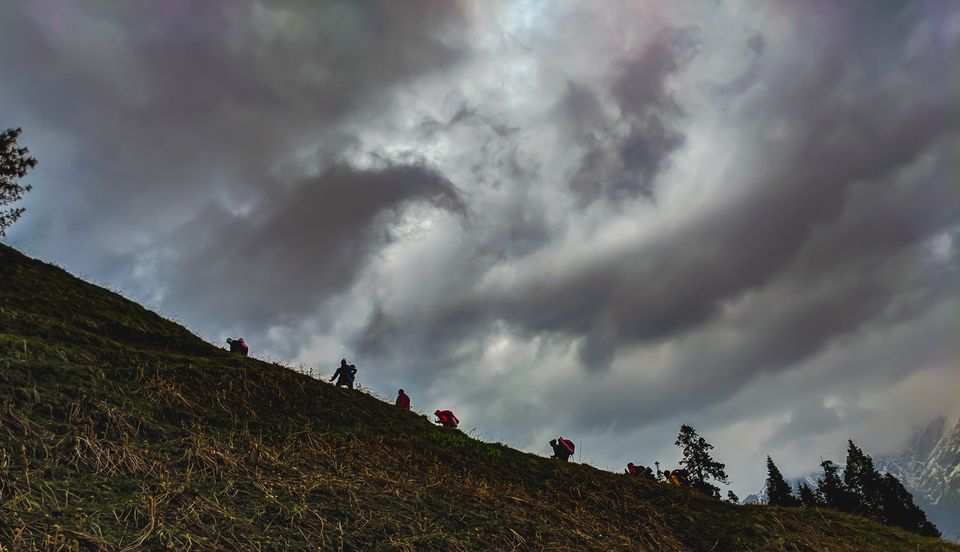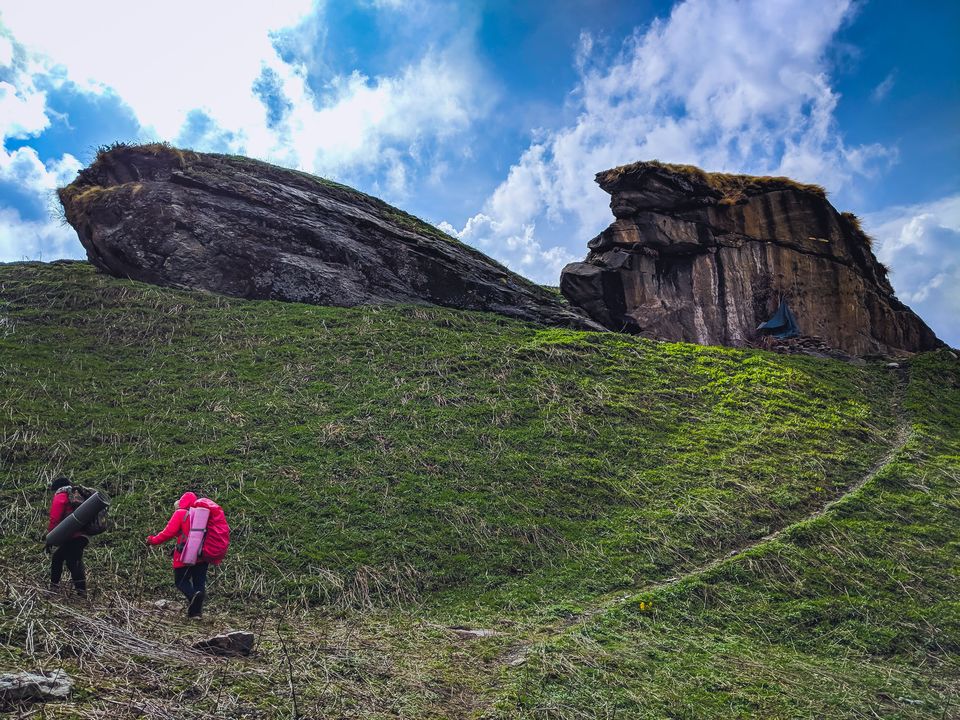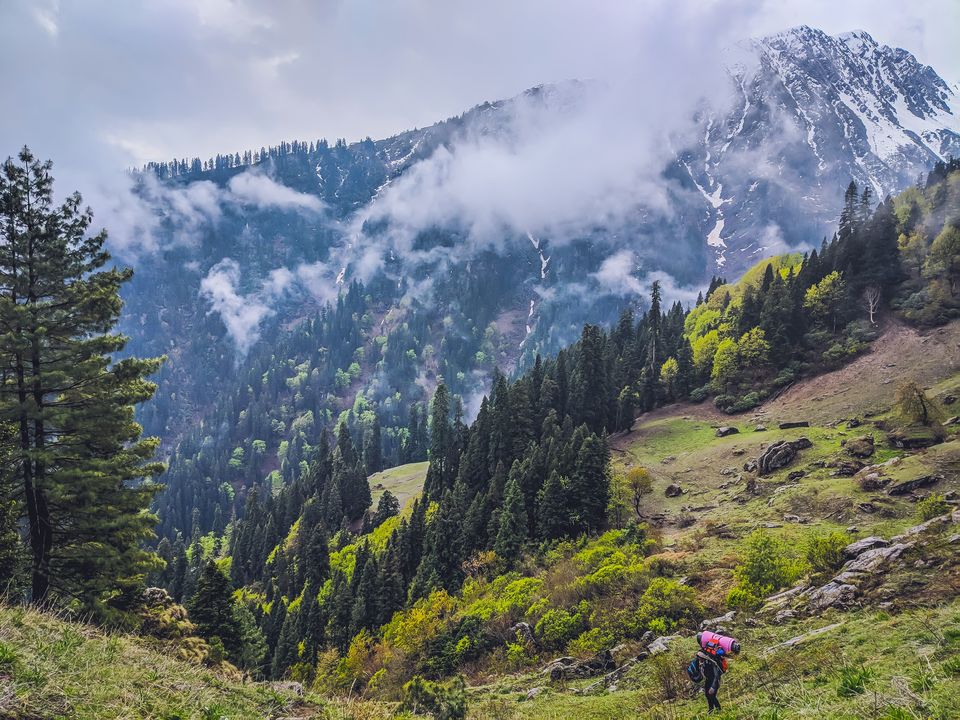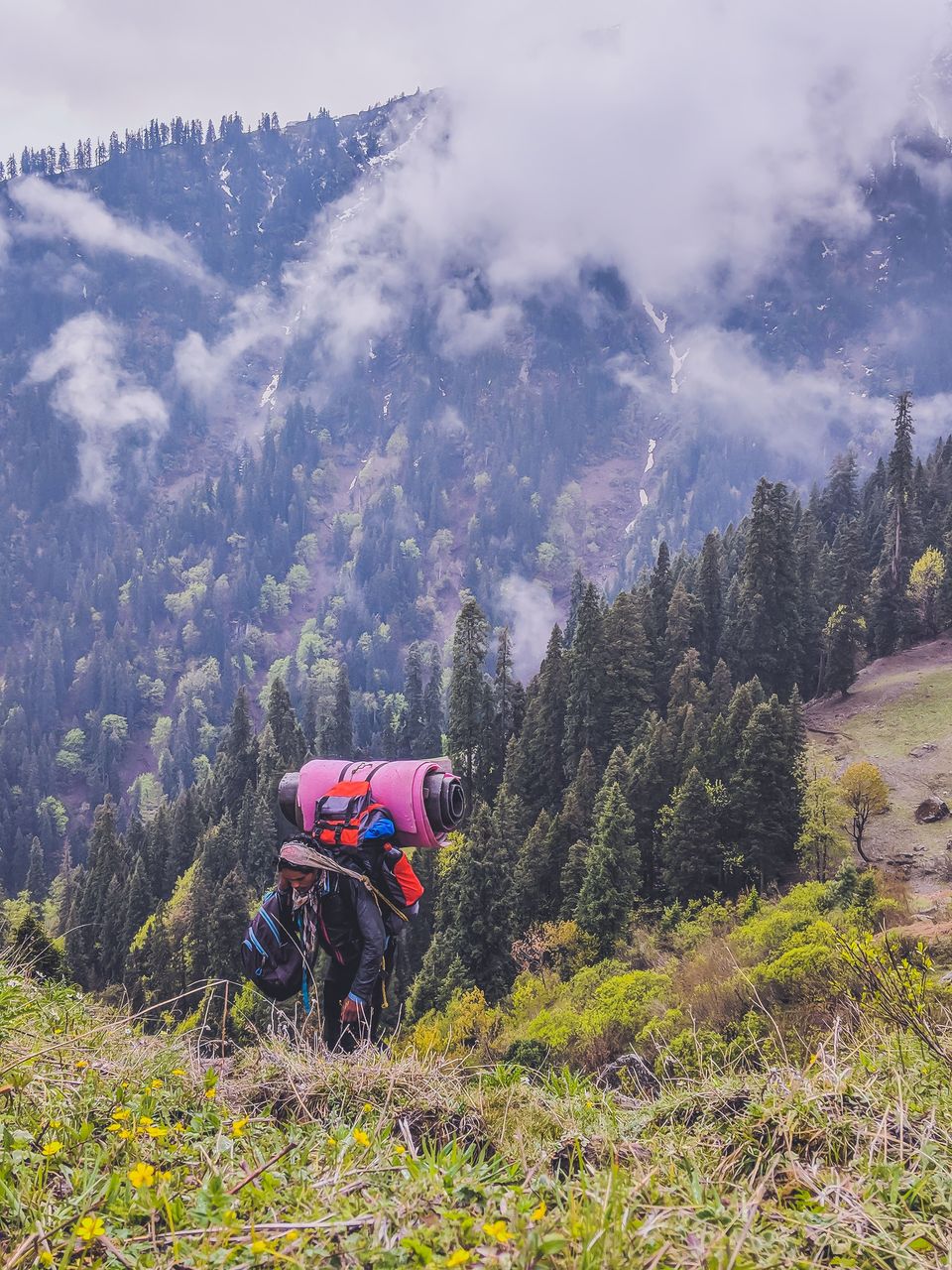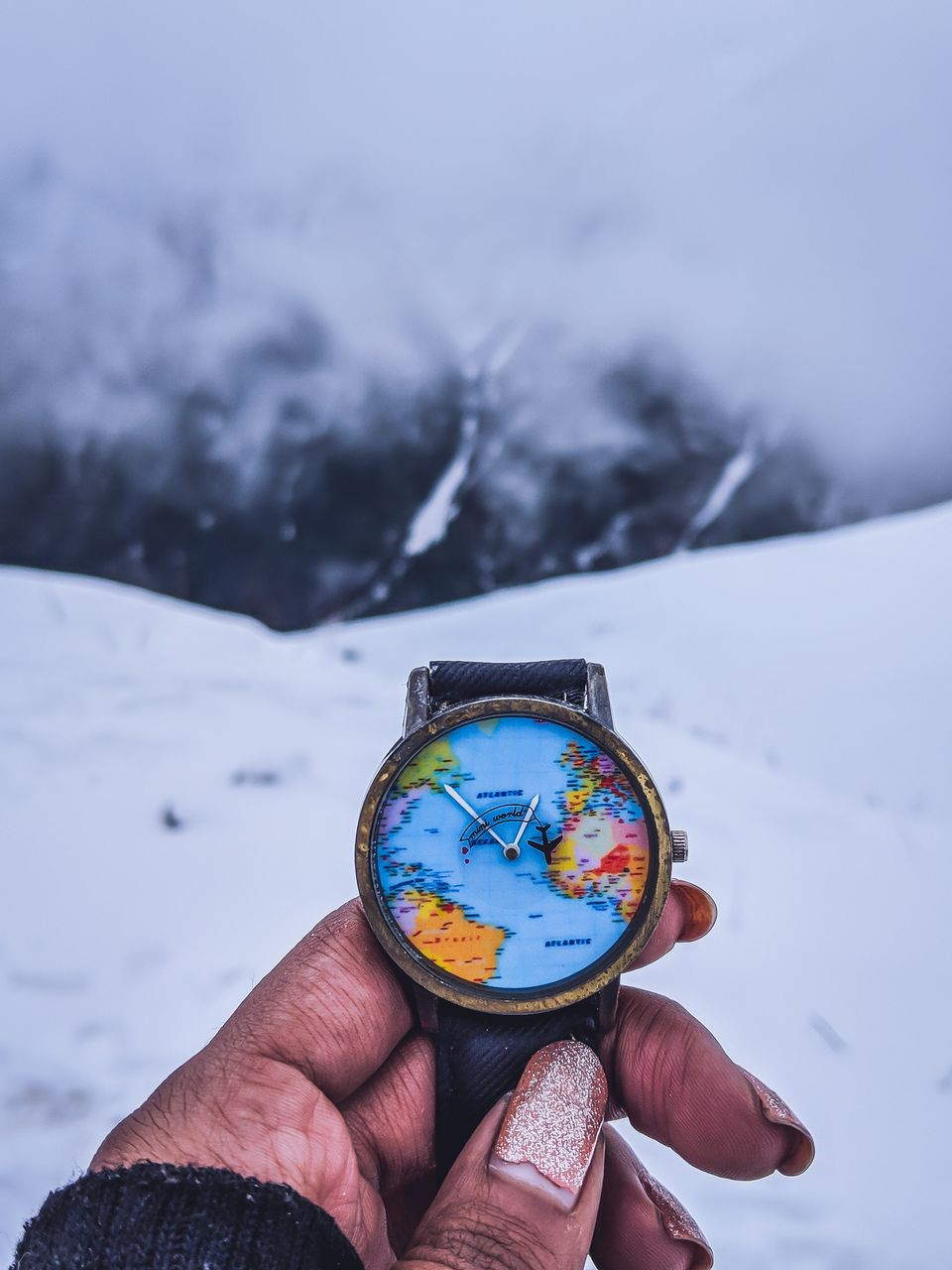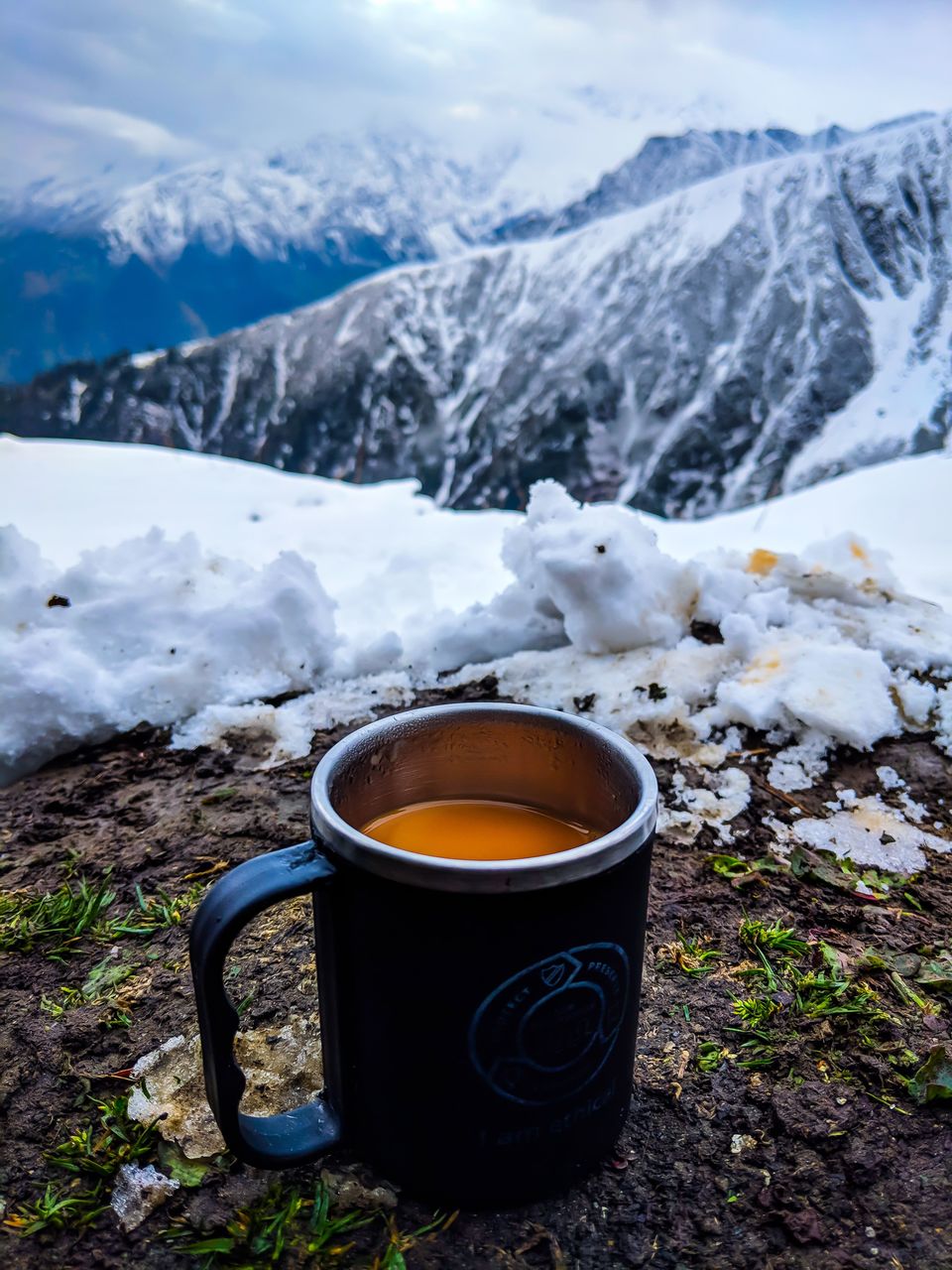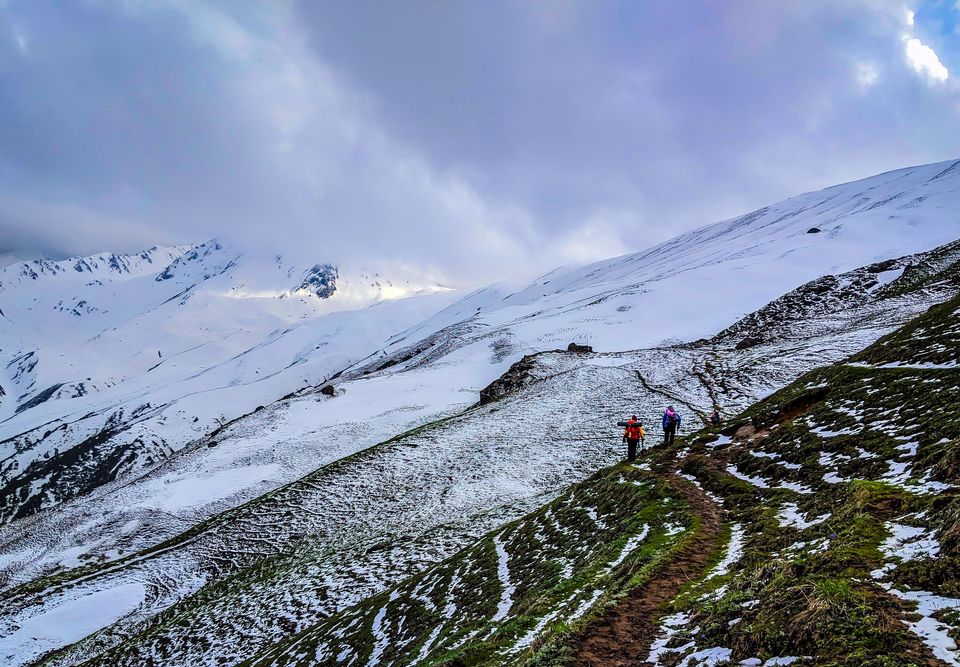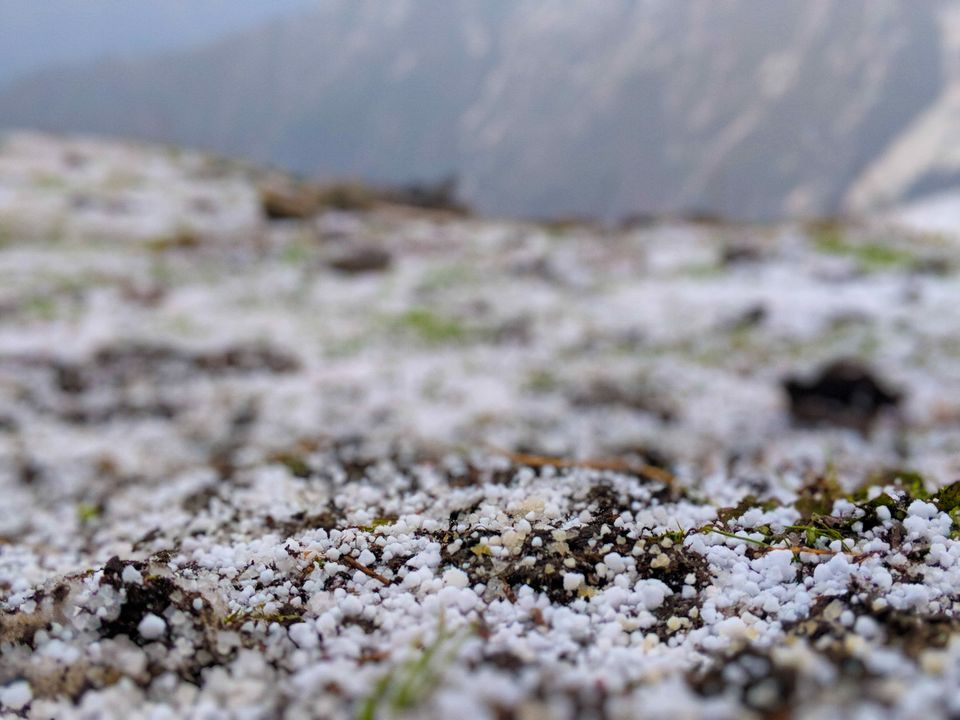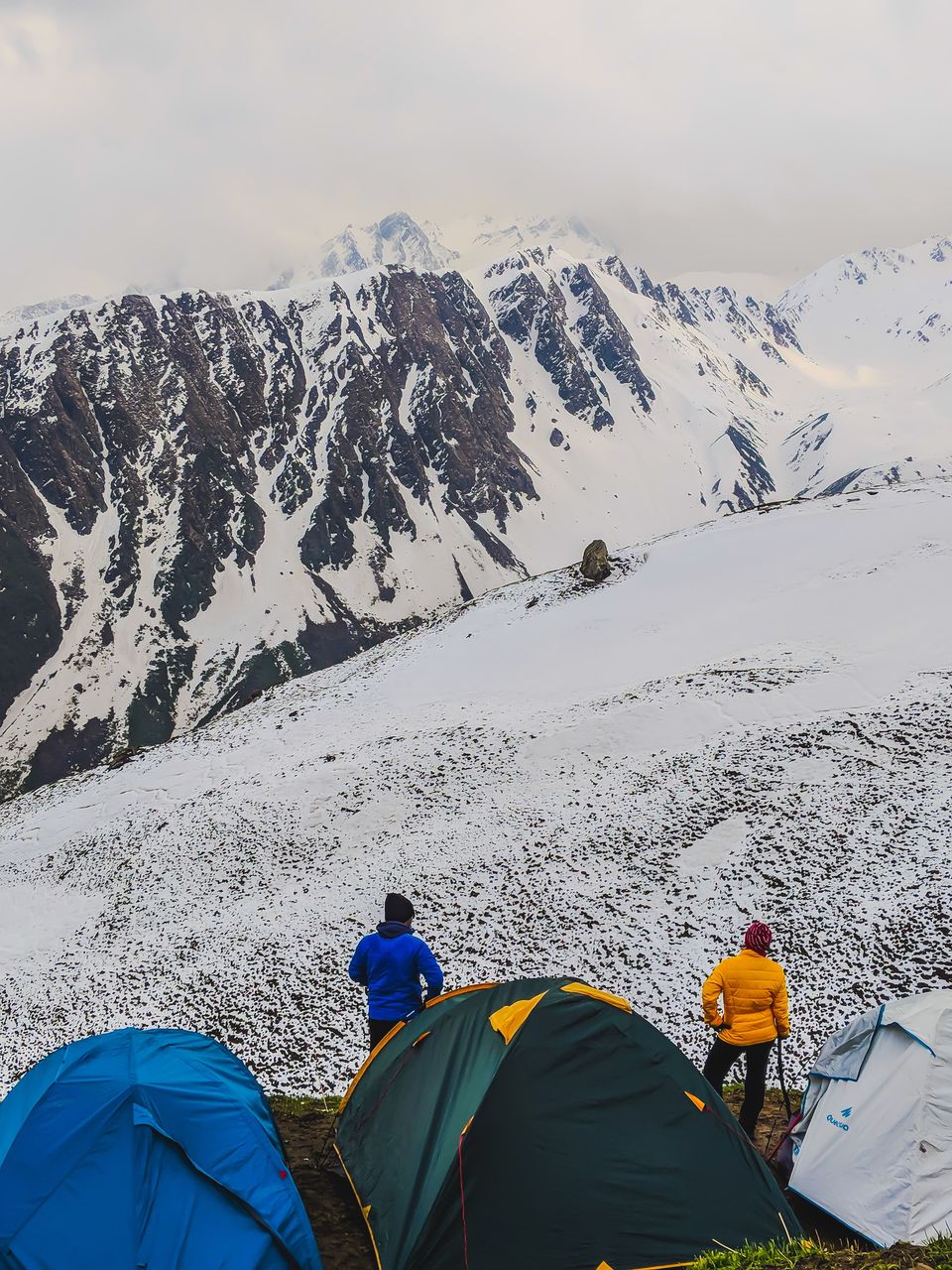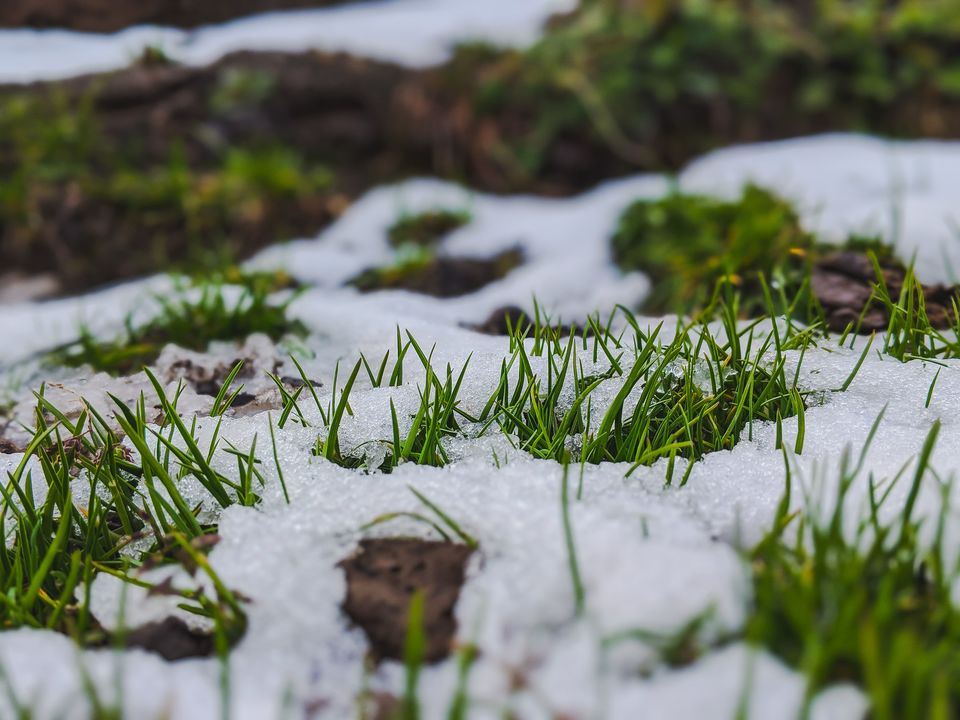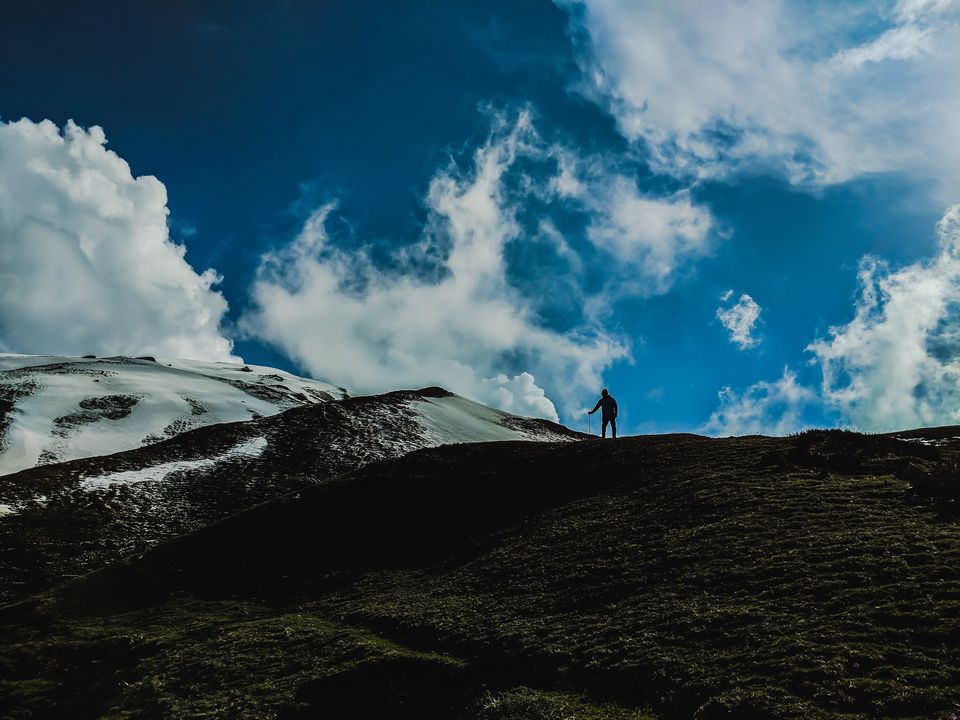 Day 4 - Tila Lautni to Sar Pass to Biskeri 14000 feet.
Today is the day we cross the pass. The entire route is approximately 12-13 kms. The trail begins with a steep climb straight to the top of the mountain. From the peak, the walk is horizontal until the last stretch of the pass. In May due to fresh snow fall the path is completely covered in snow. Hence be careful and watch your step, make a trail and follow it. The last 100 feet to the pass is the most toughest. If you have a clear weather, the view from here is 360 degree of snow clad gigantic mountains.
When you start descending, how about you slide instead. If lucky, you can slide up to 1oo feet down slope. The walk to the Biskeri is relatively easy as it is all downhill. The campsite is a gorgeous meadow overlooking colossal hills. This is one of the best place for star gazing as well.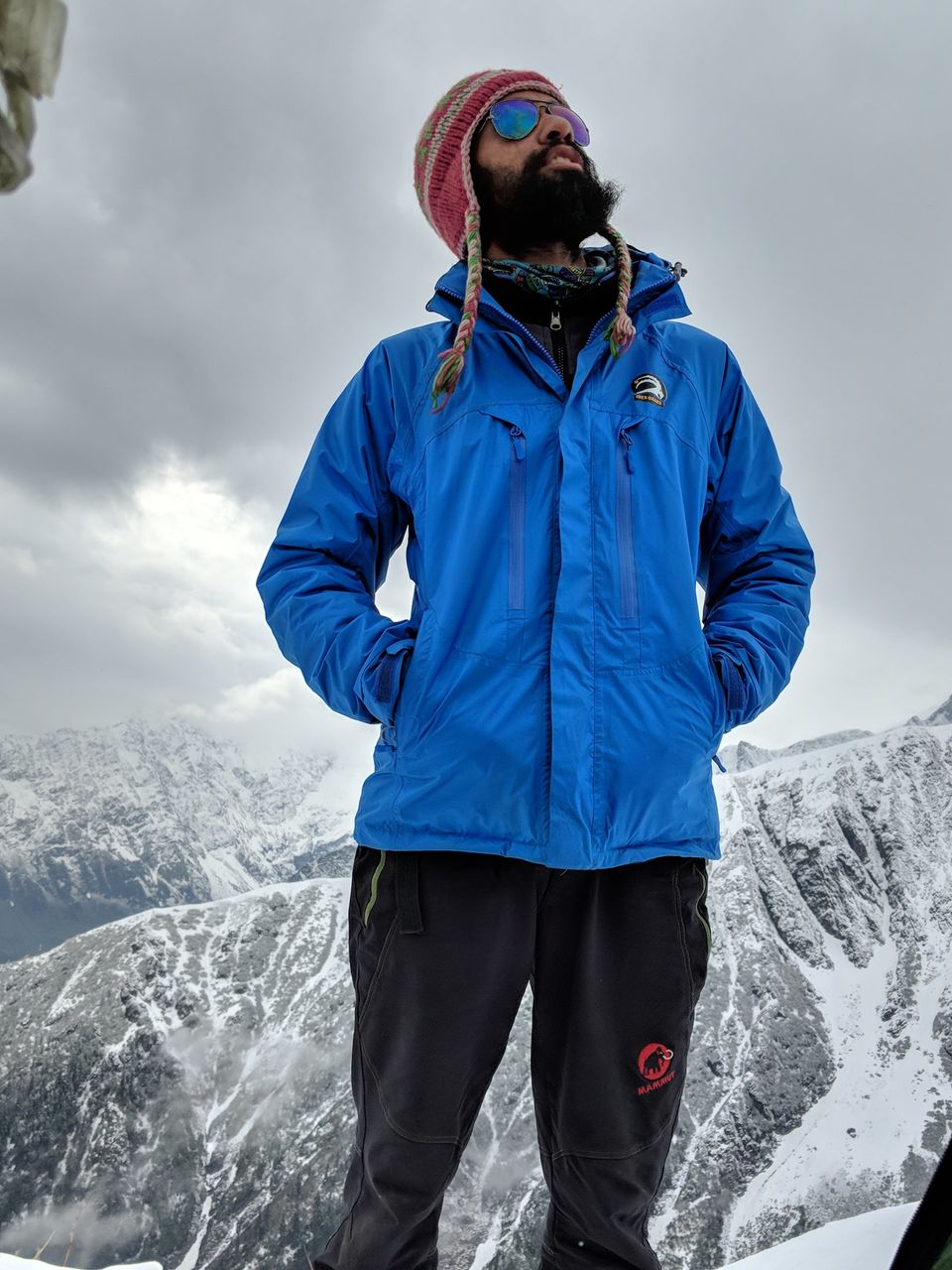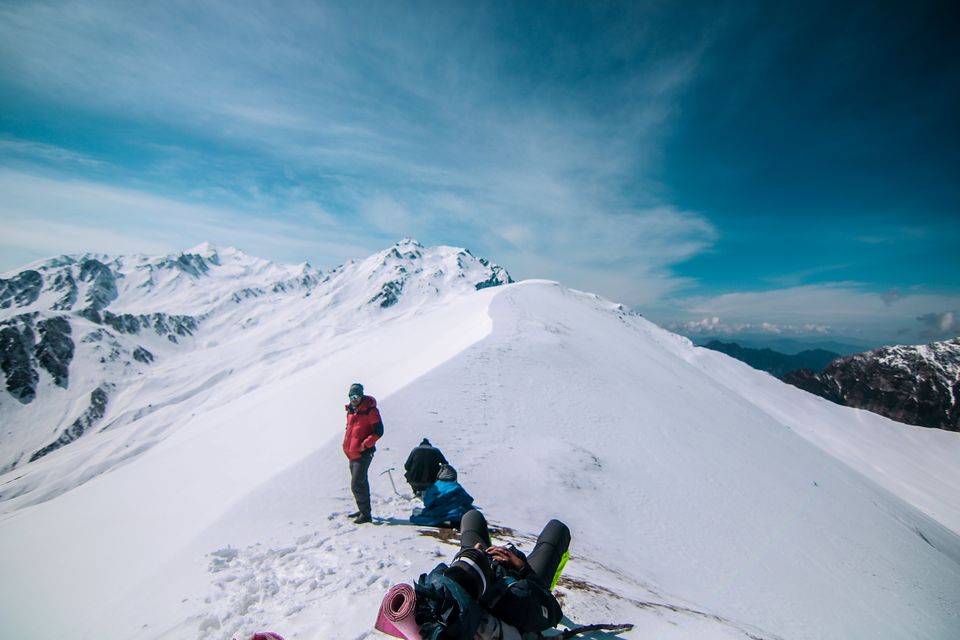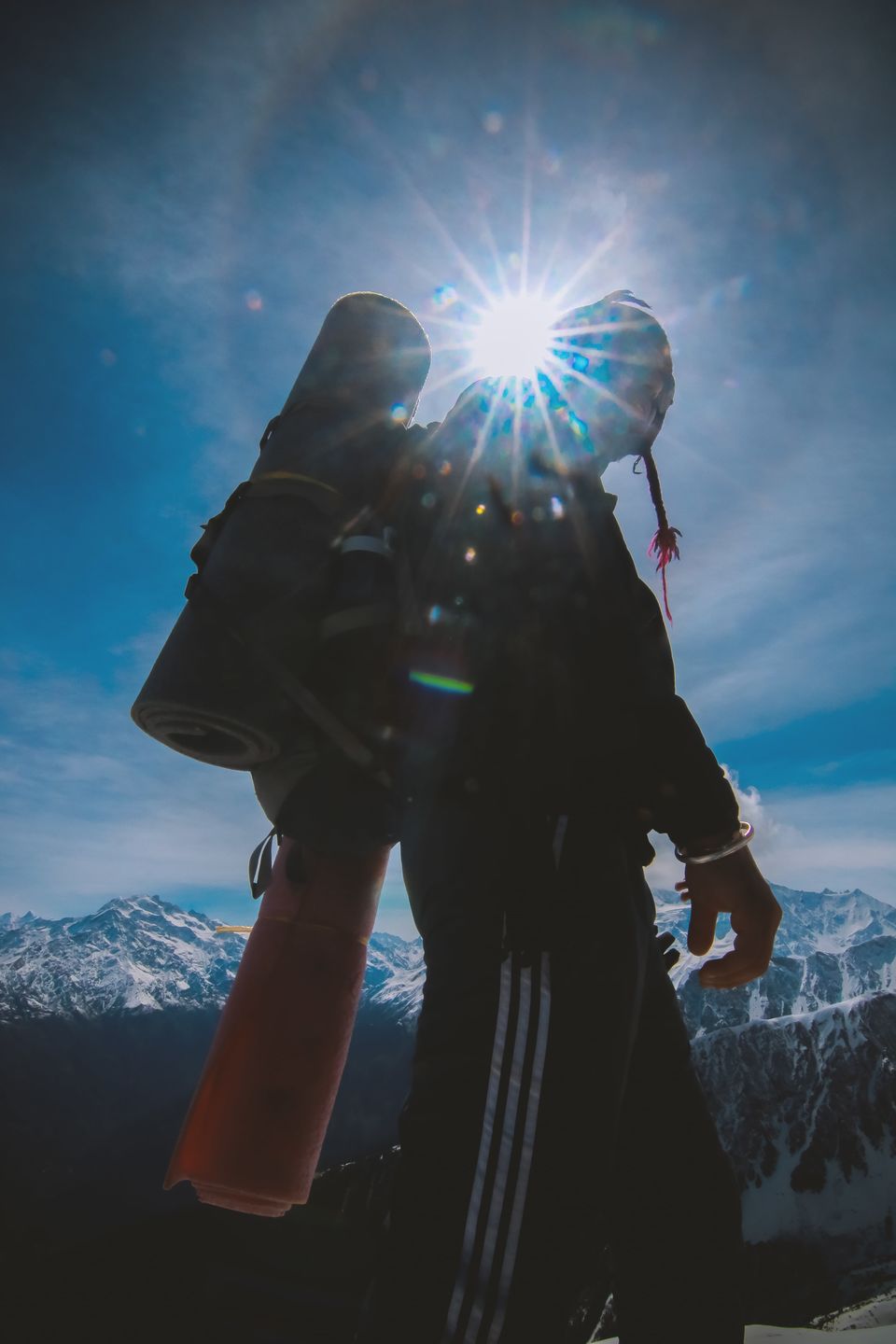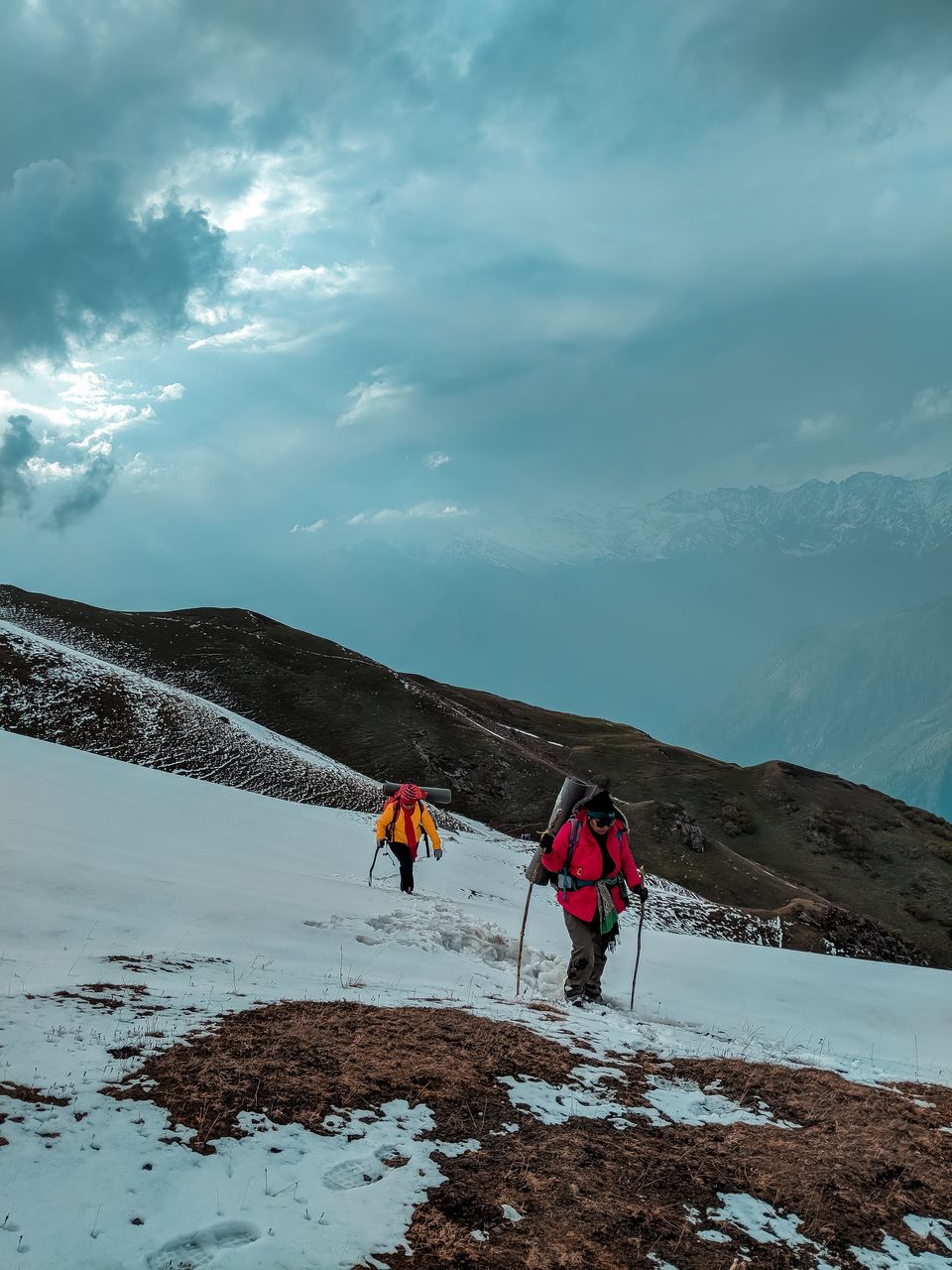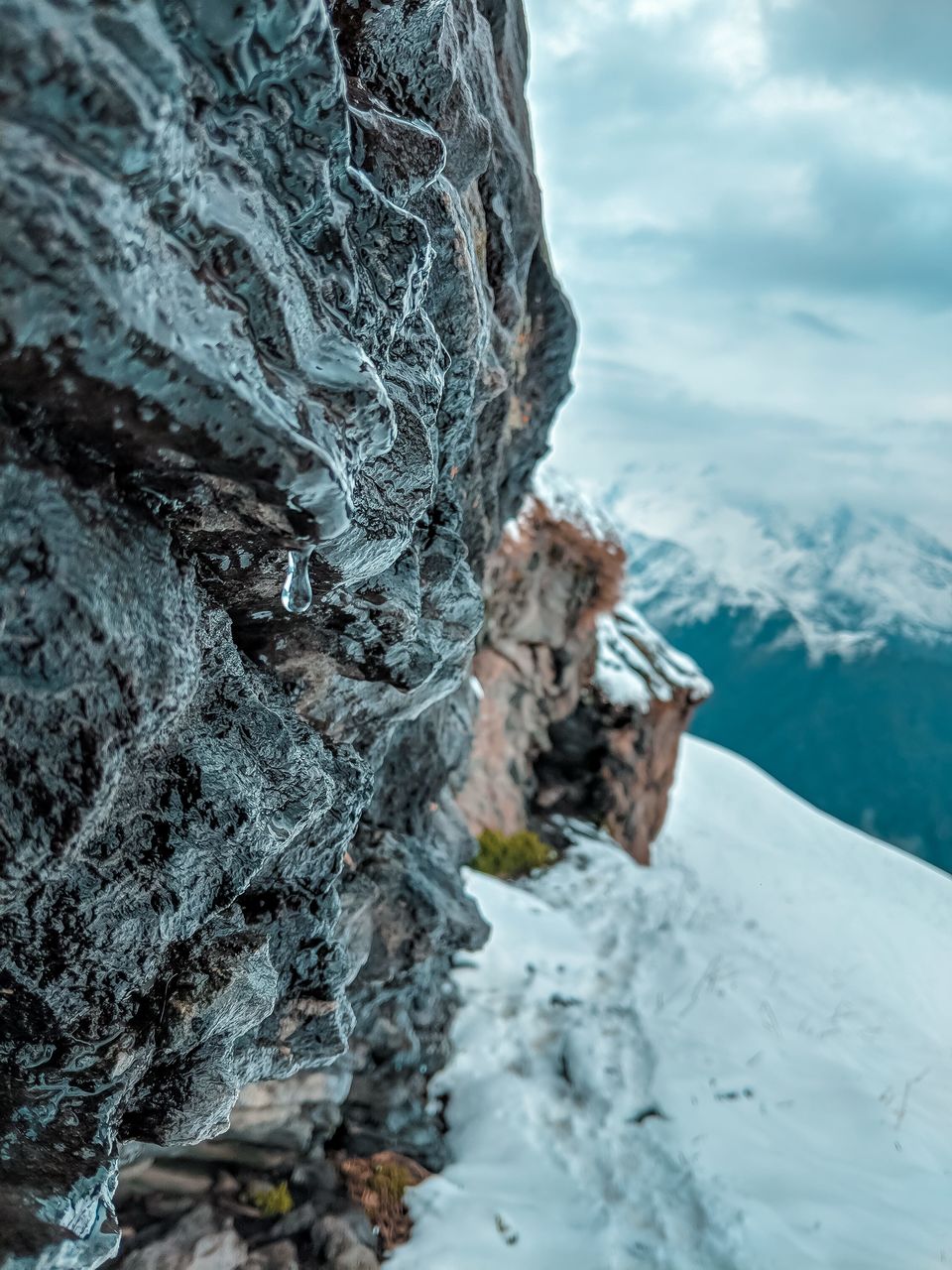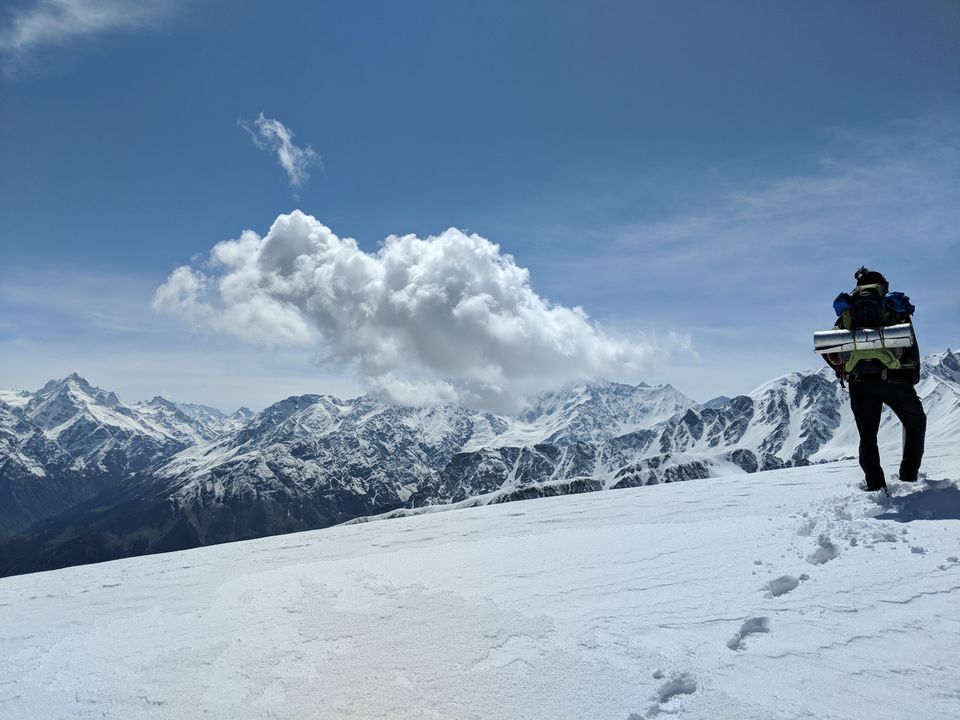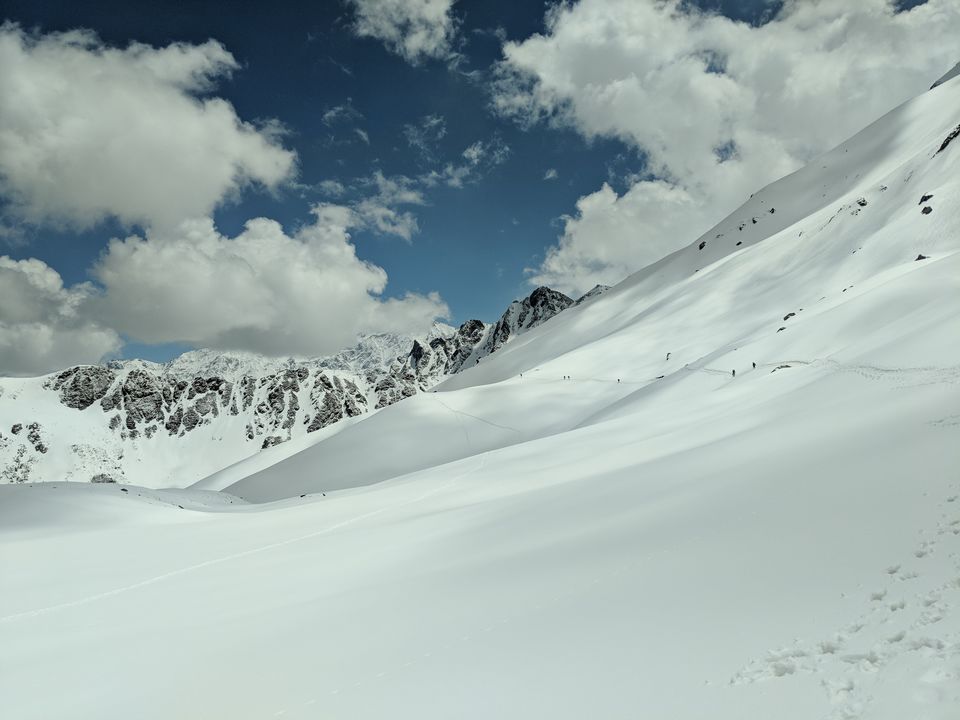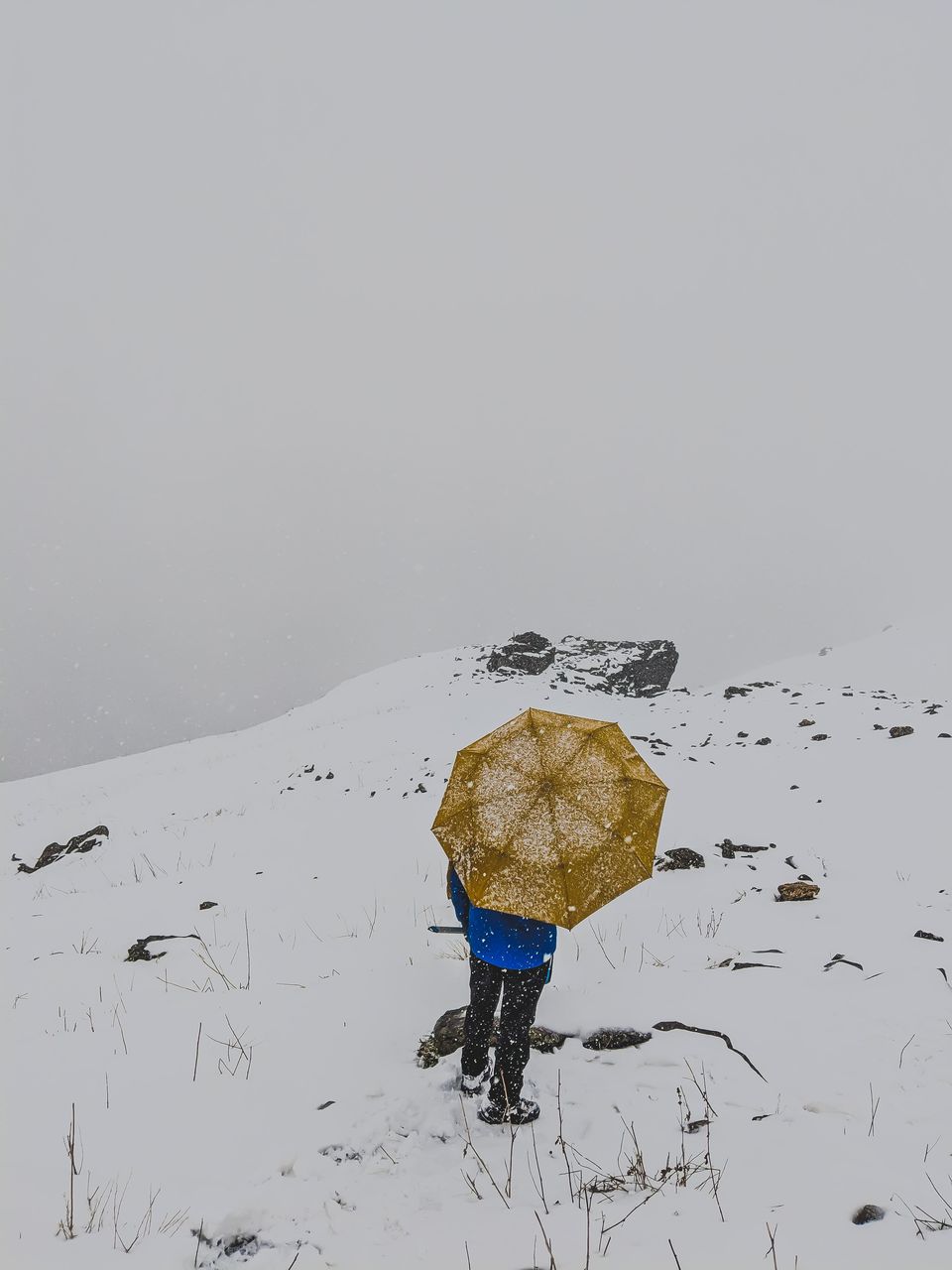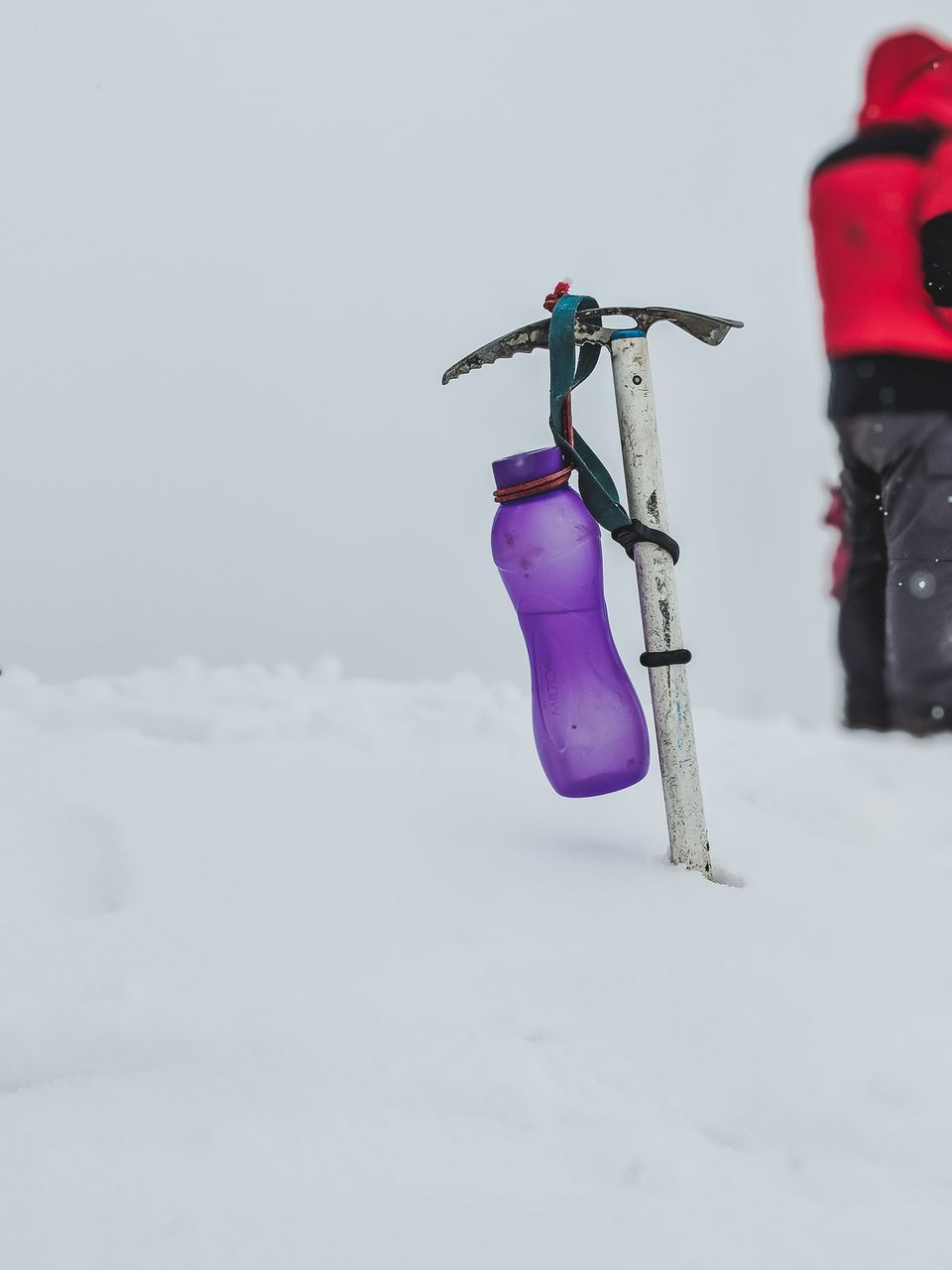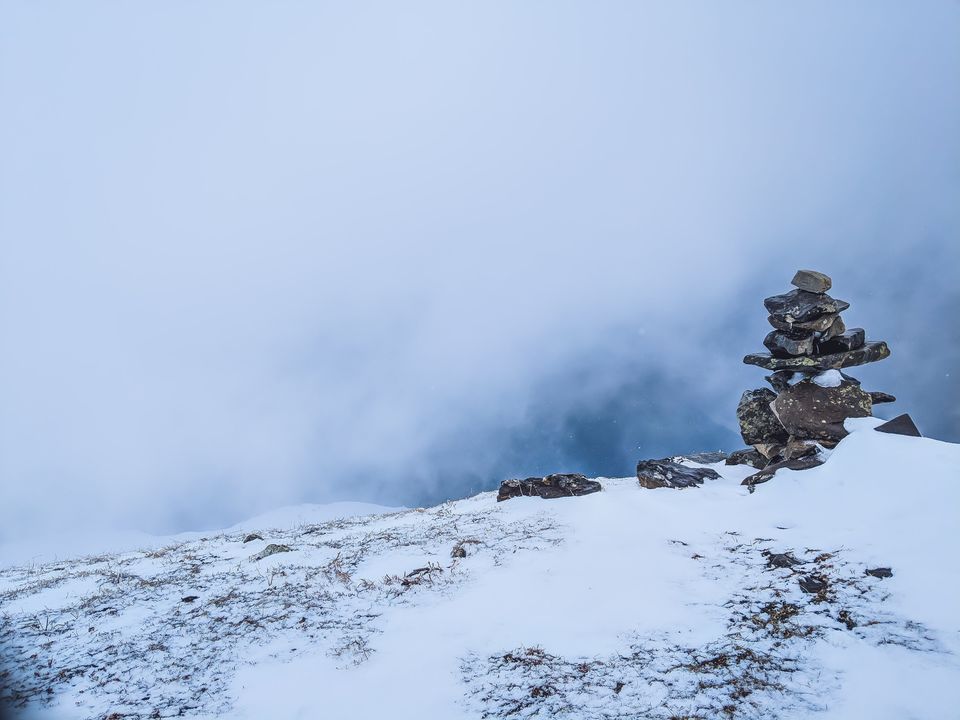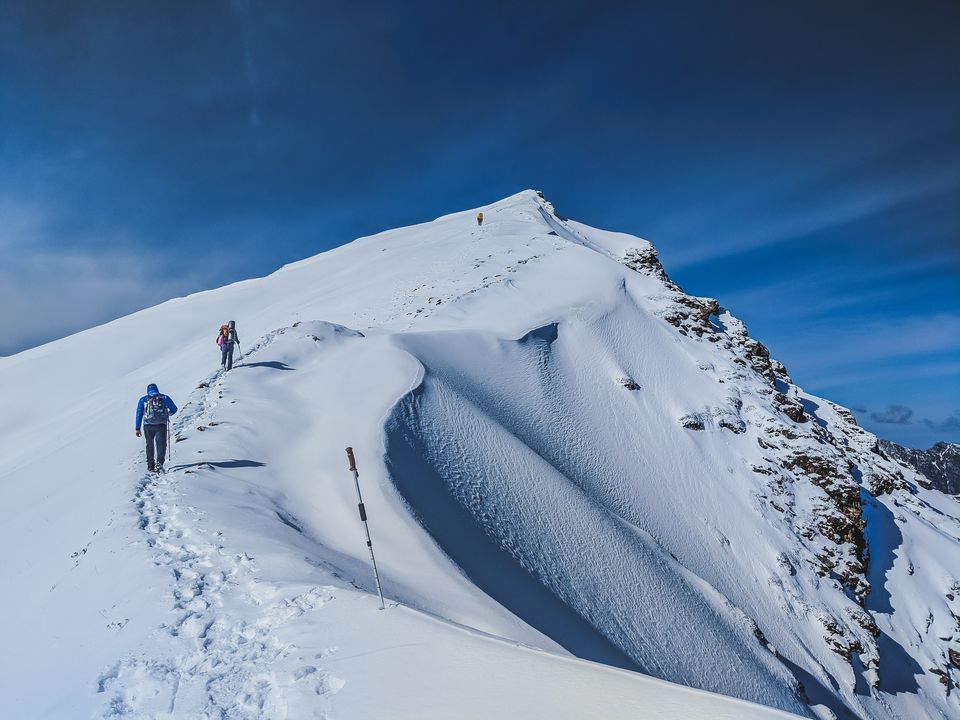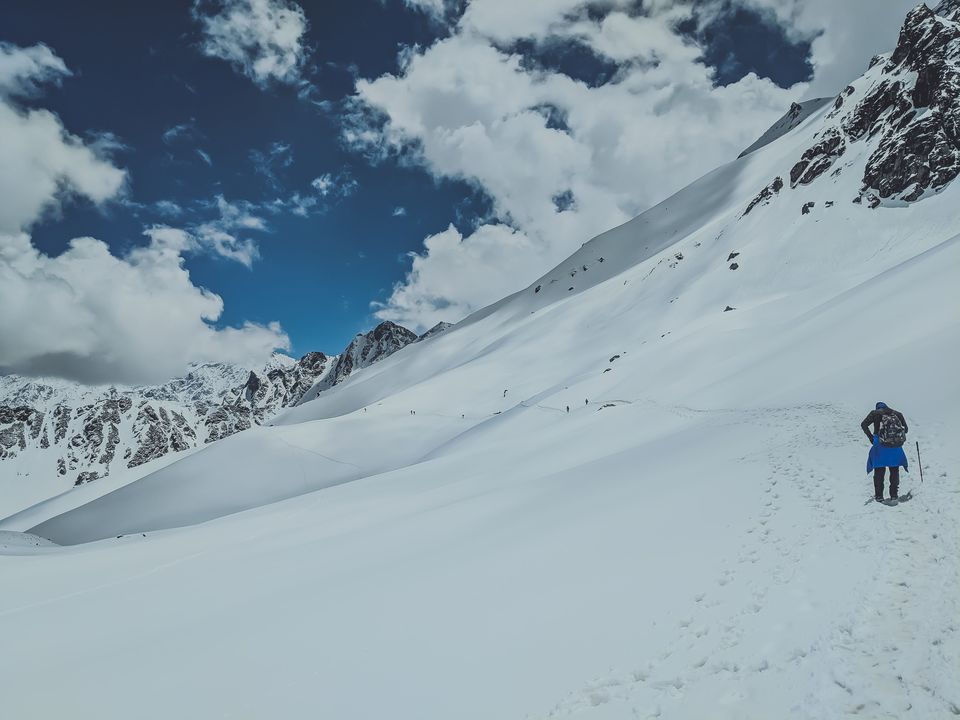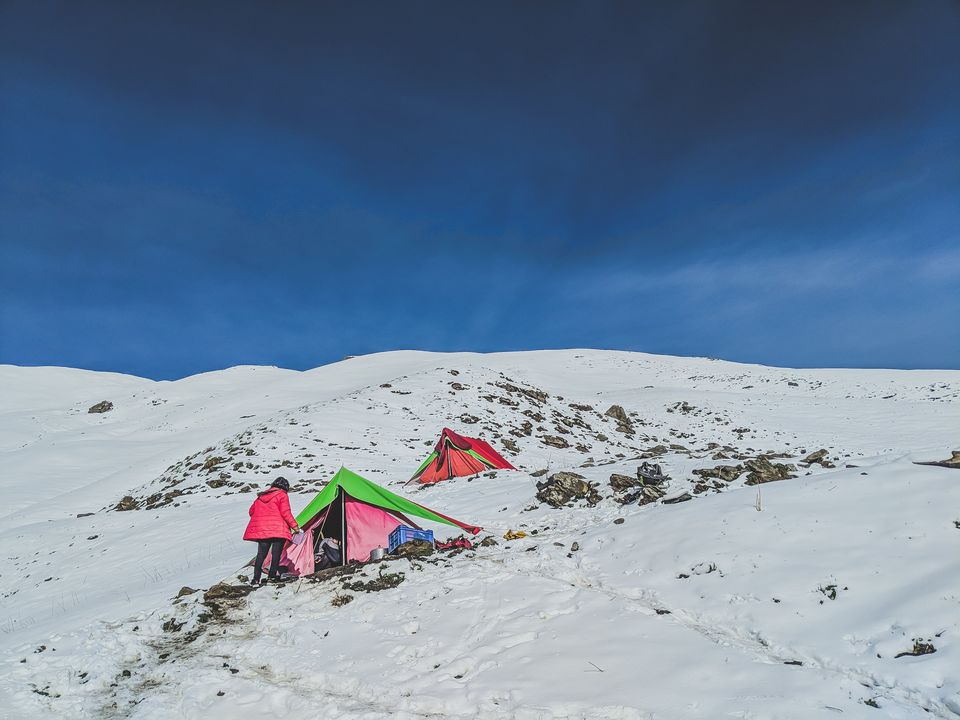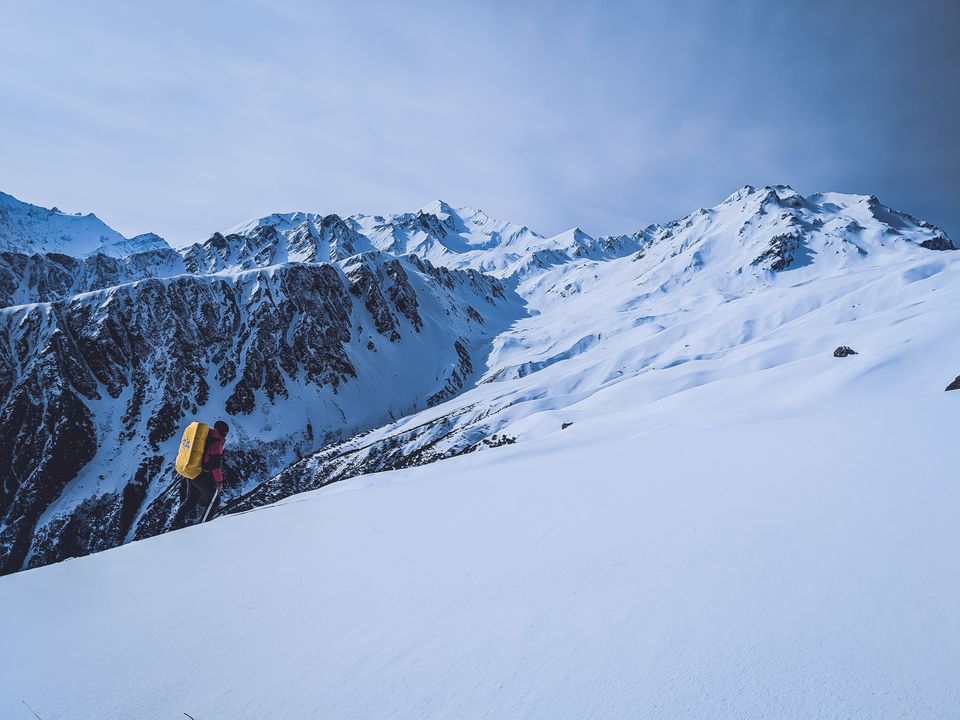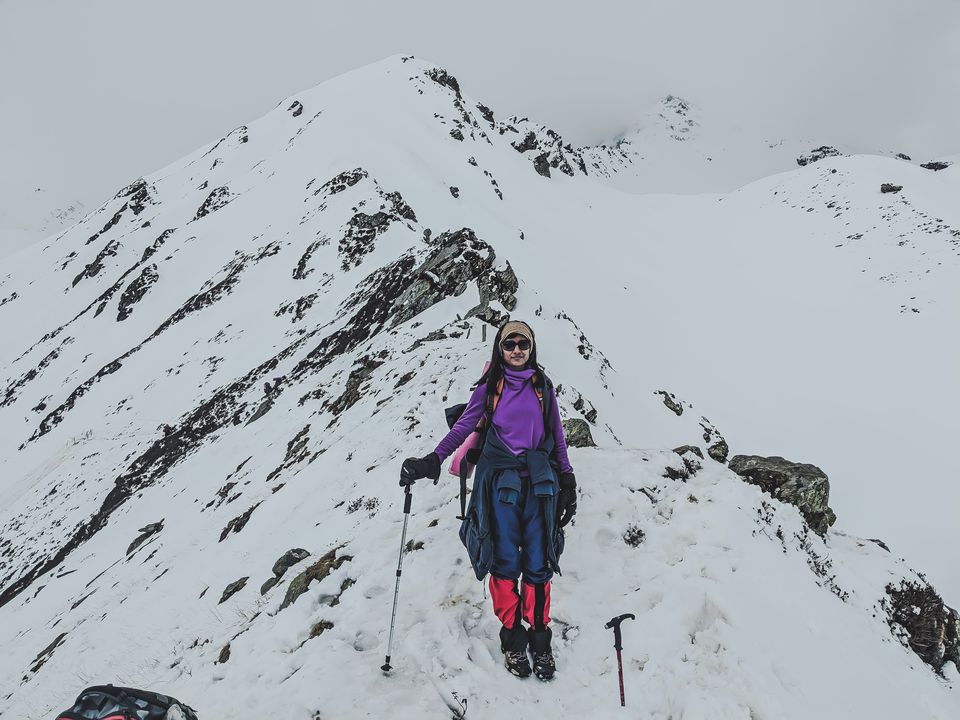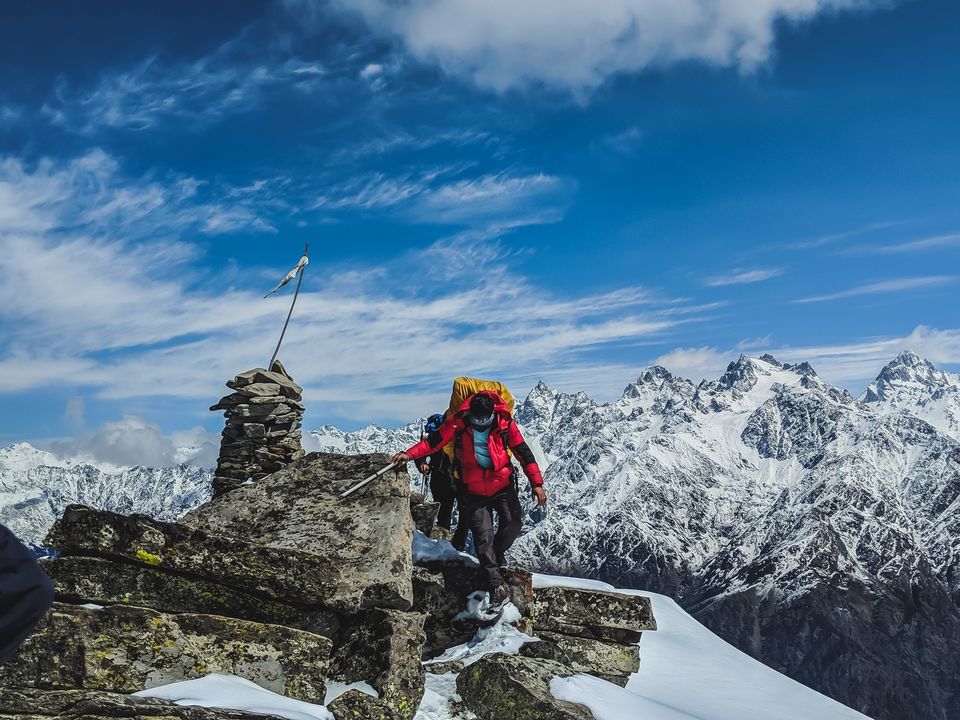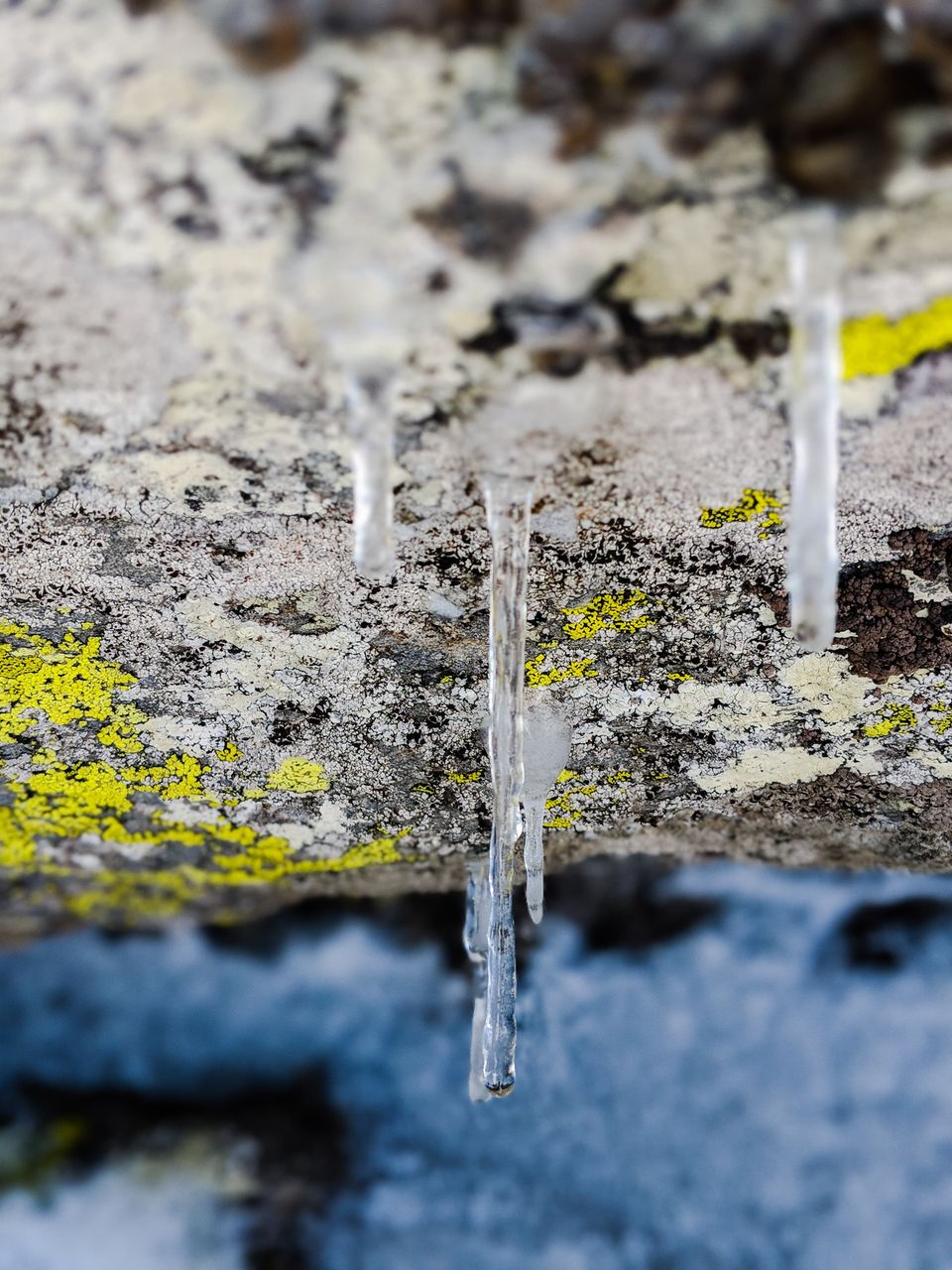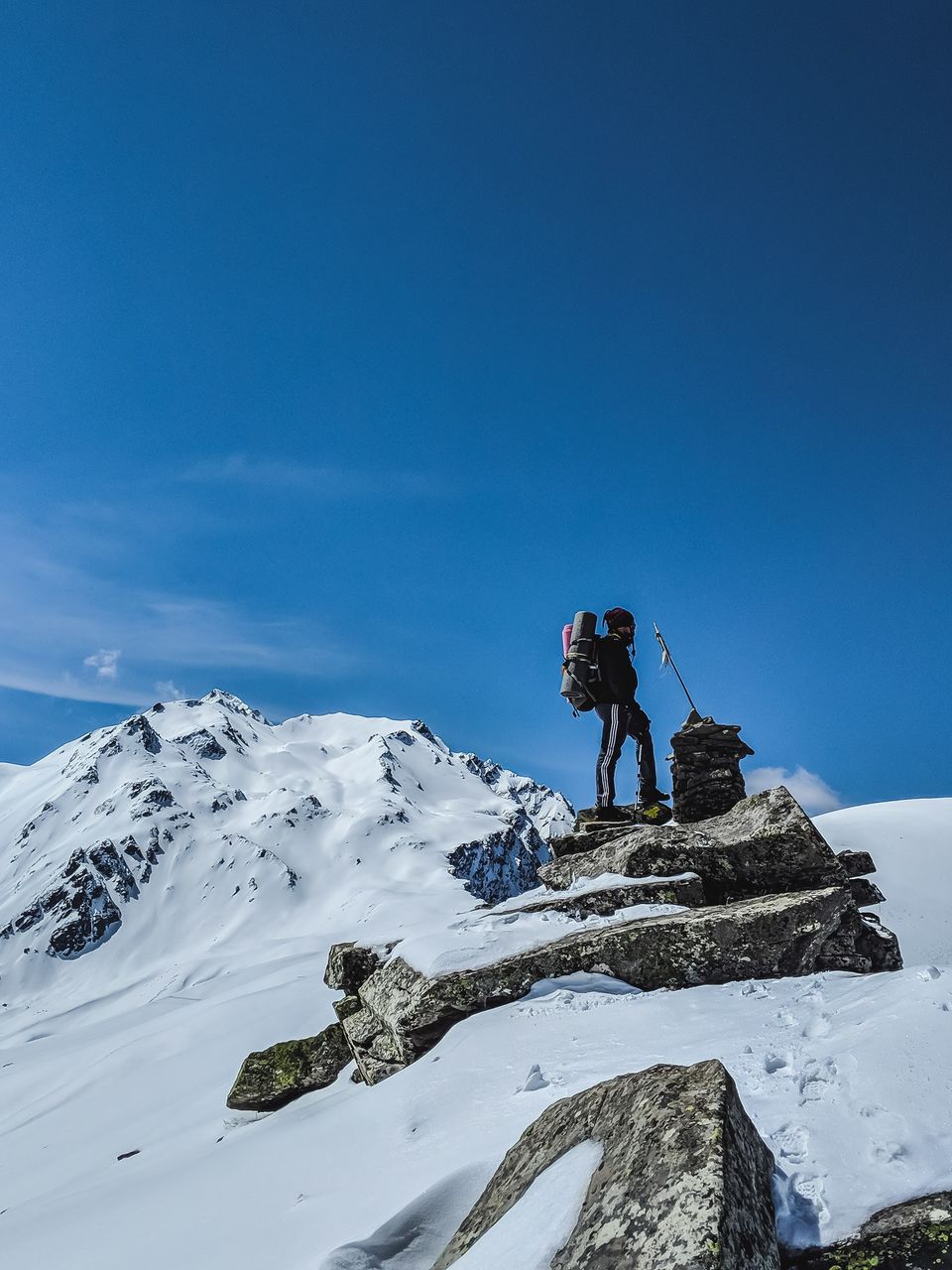 Day 5 - Bishkari to Manikaran, 8900ft.
The last day of the trek is only 6 kms walk till we hit the road. This route is surreal as it passes through, farms, tiny houses, streams and a canteen. An hour into the descent you can see Tosh village on the other side of the valley. The walk also takes you through Pulga, a village you have to hike up to, to reach. Once you hit the road, take a bus back to Manikaran or Kasol.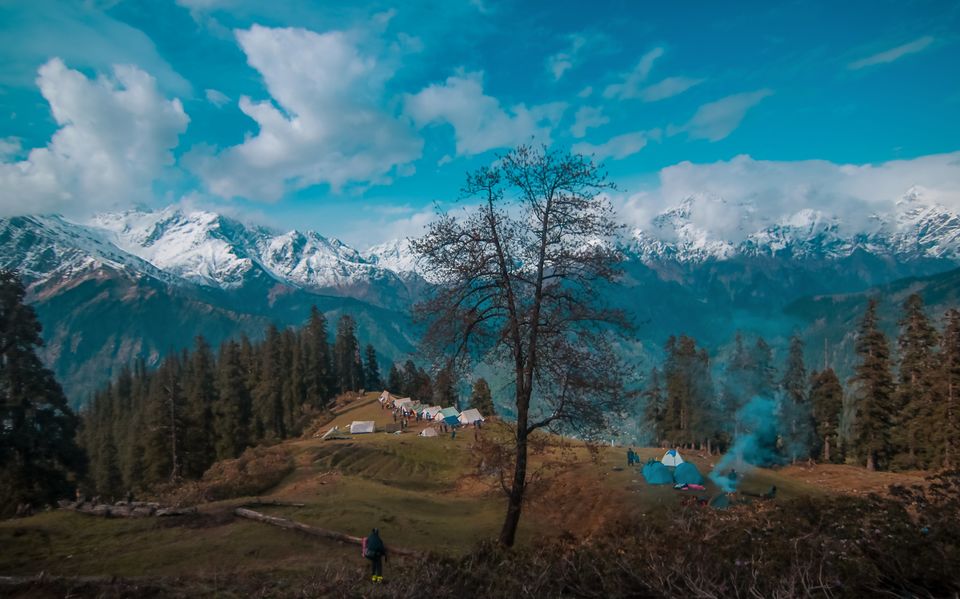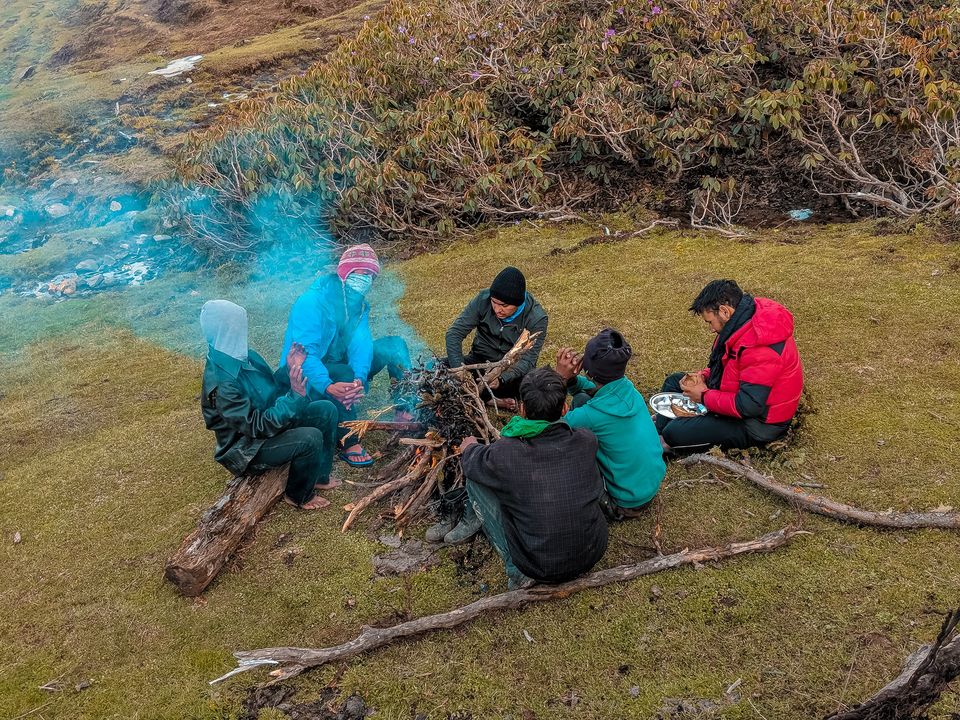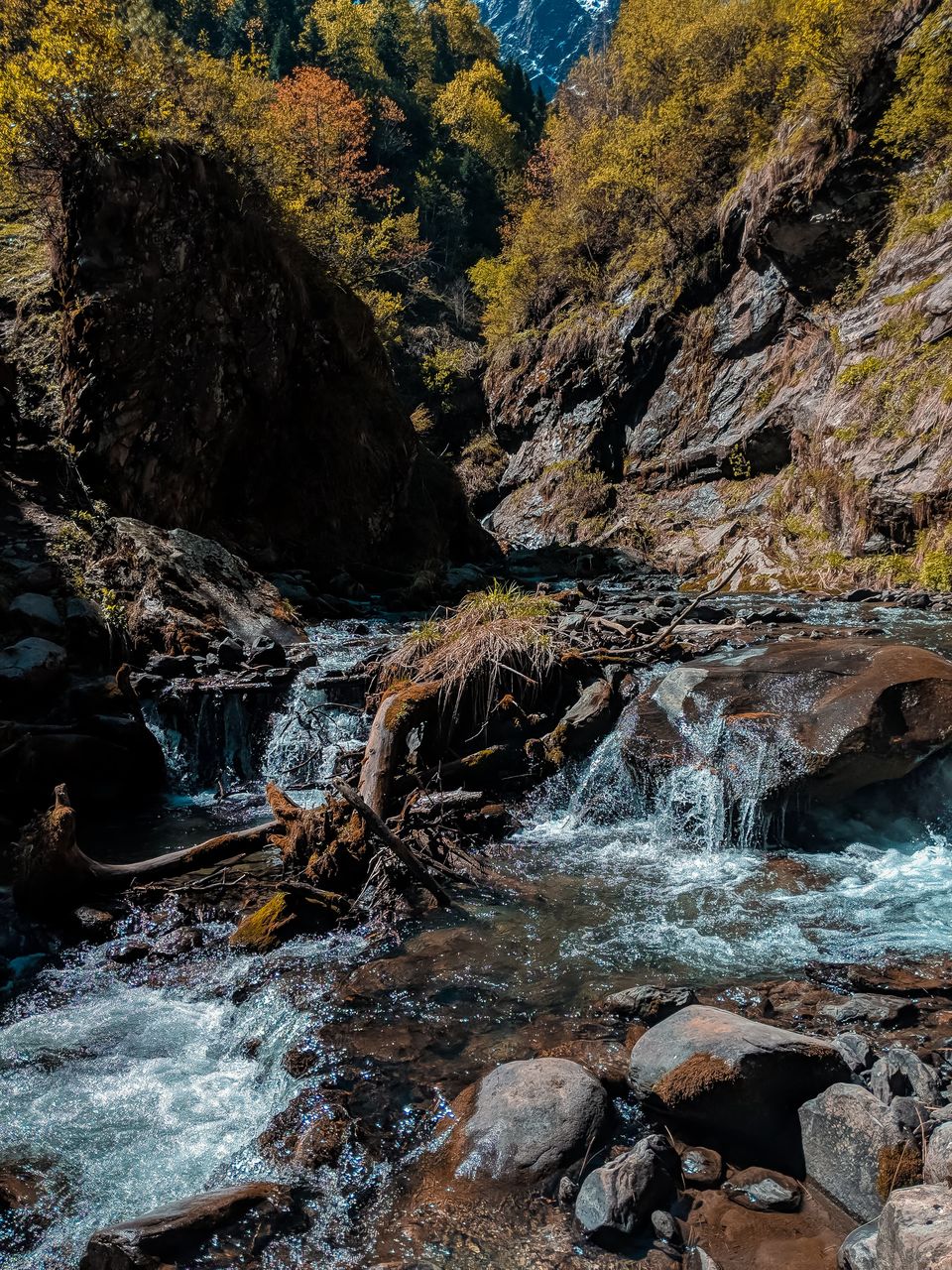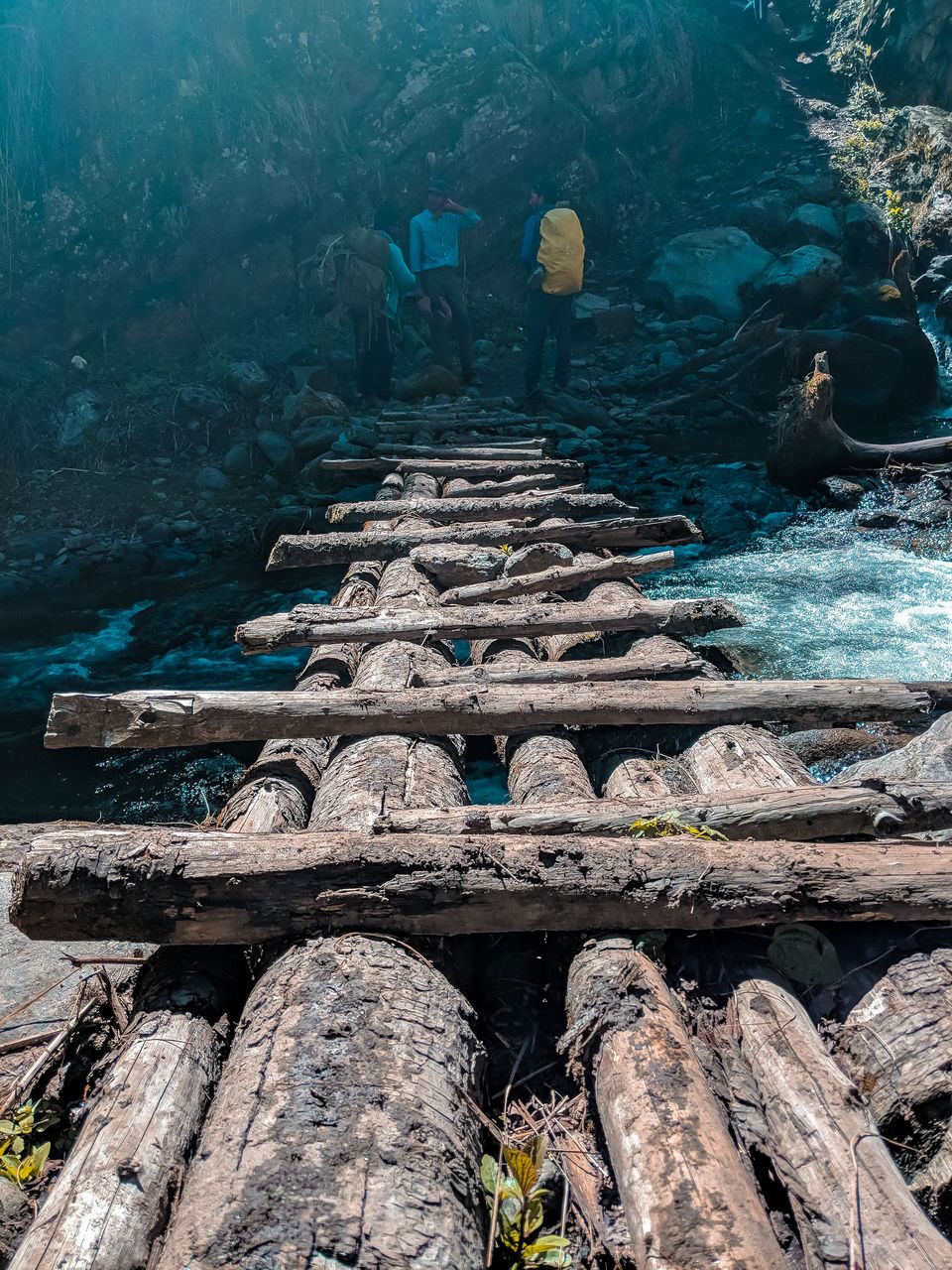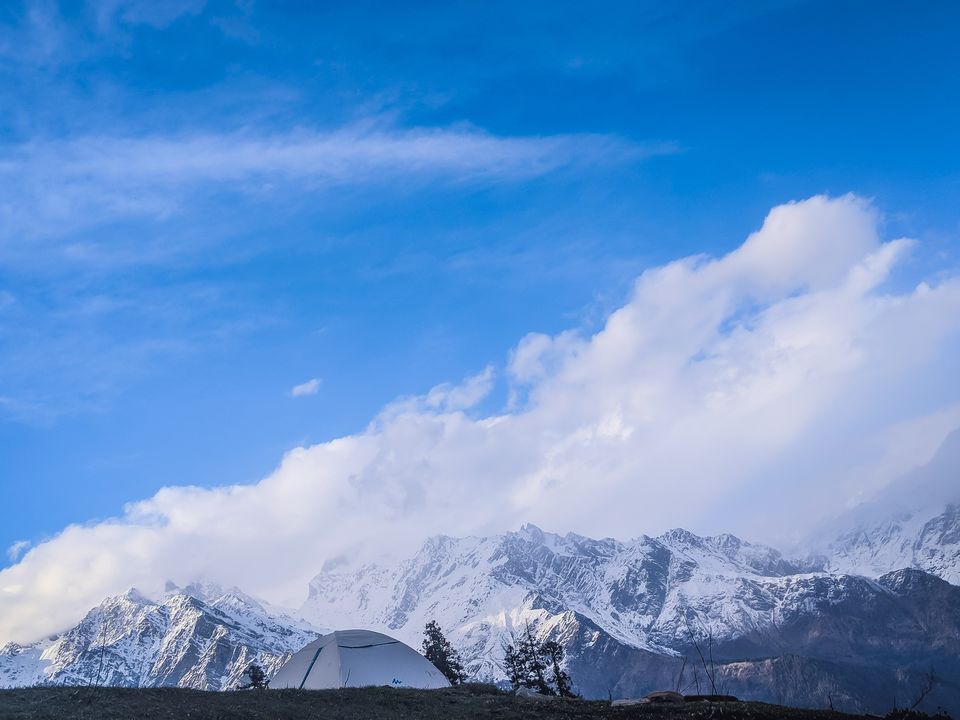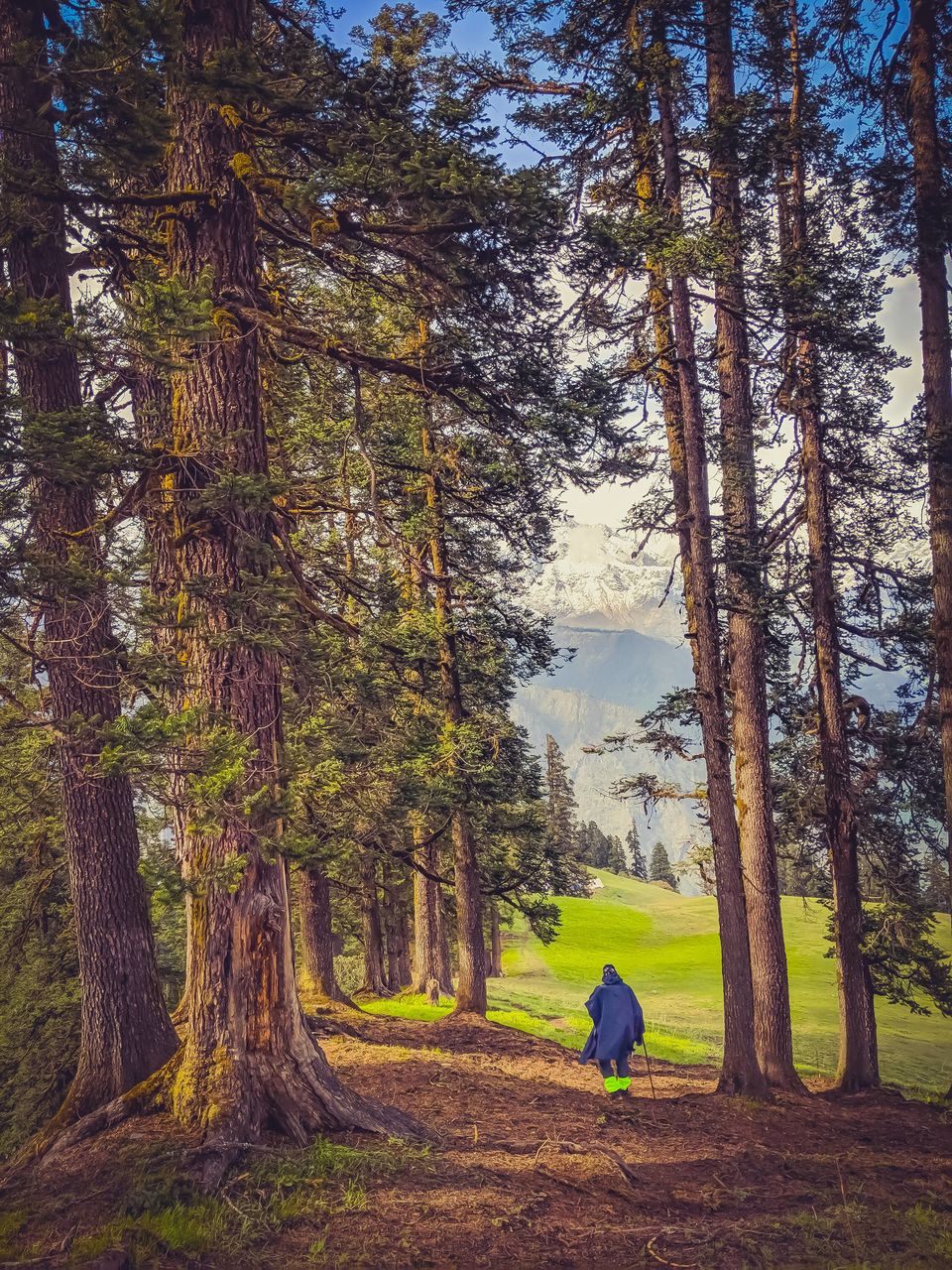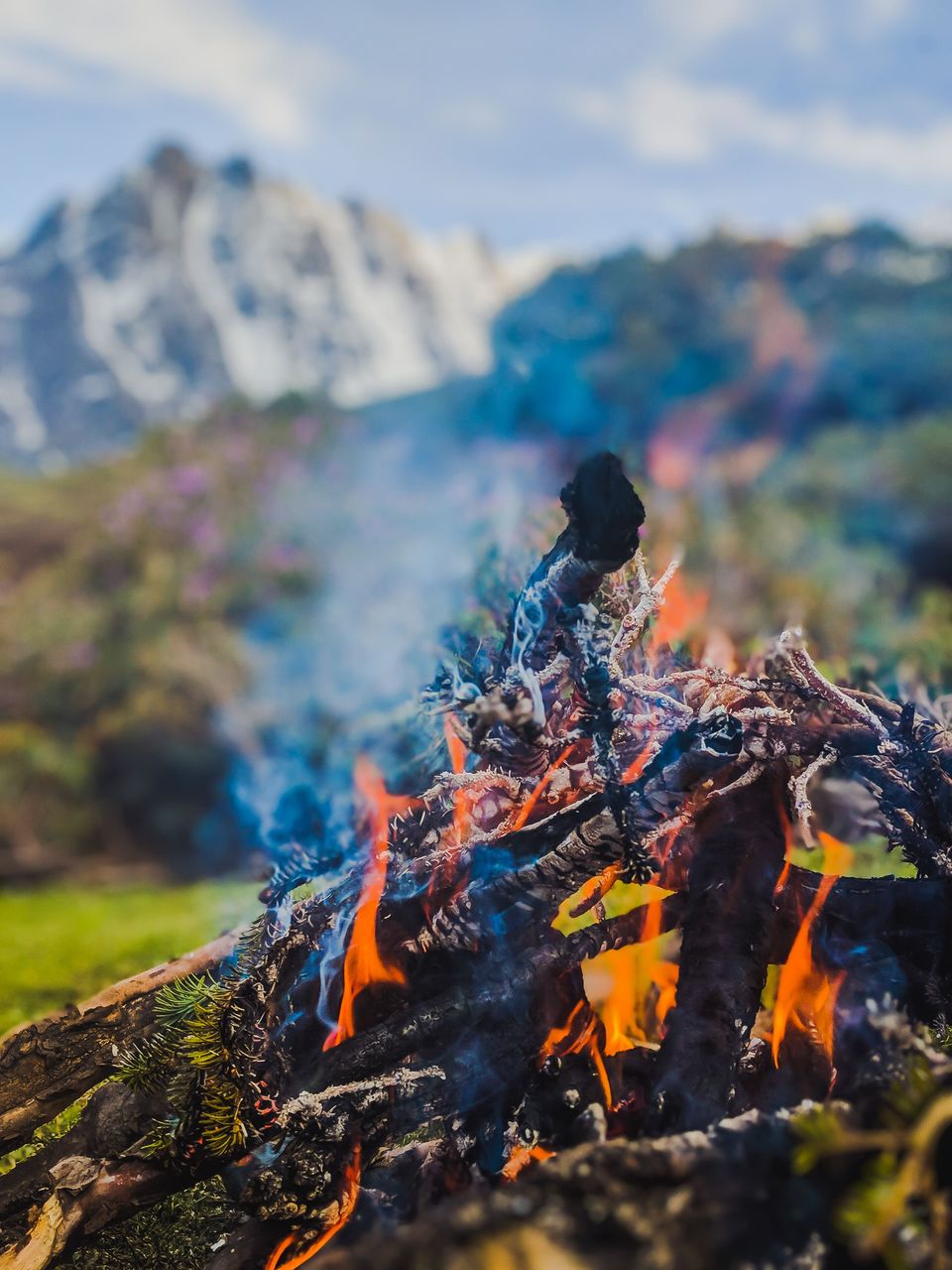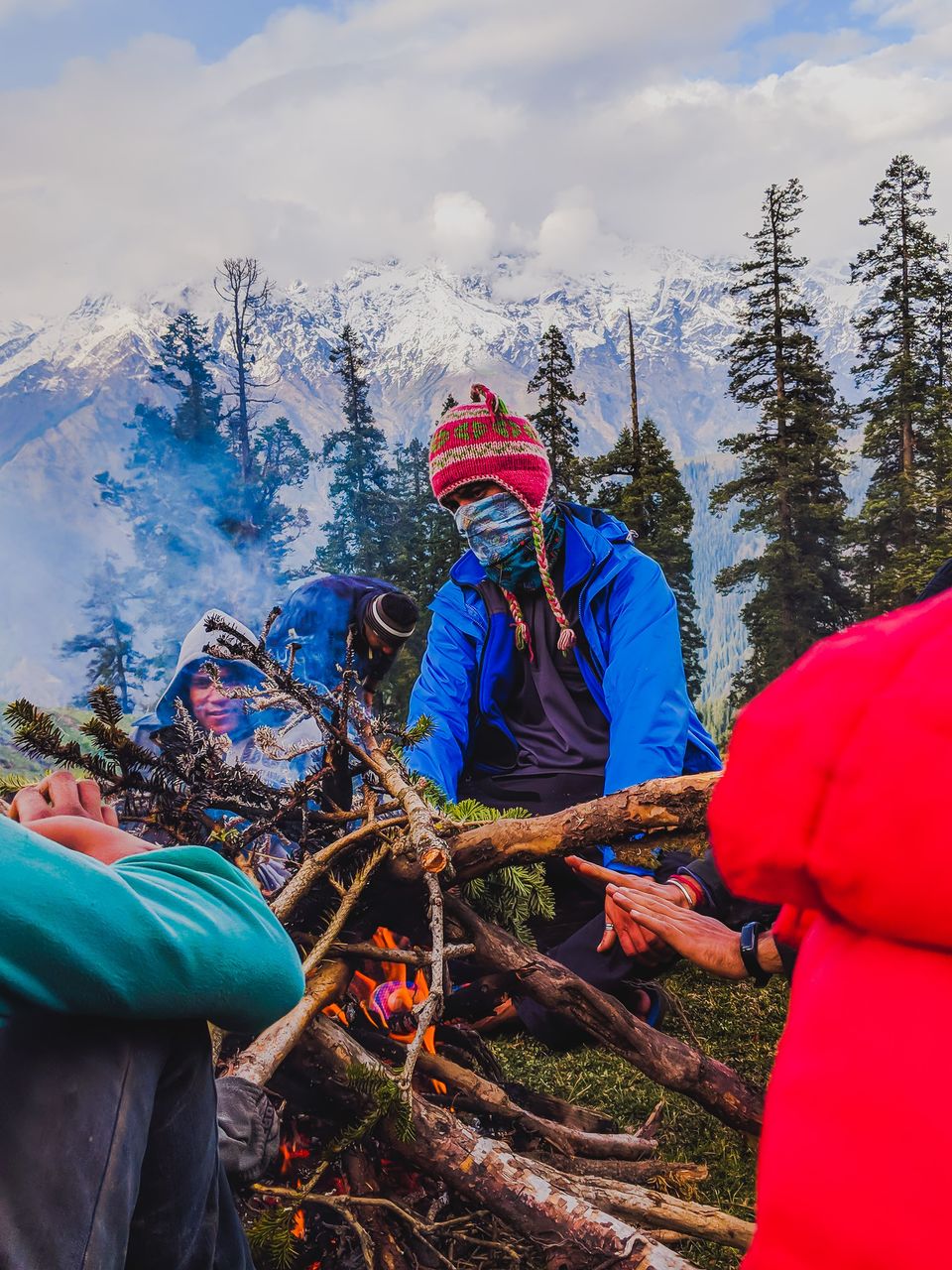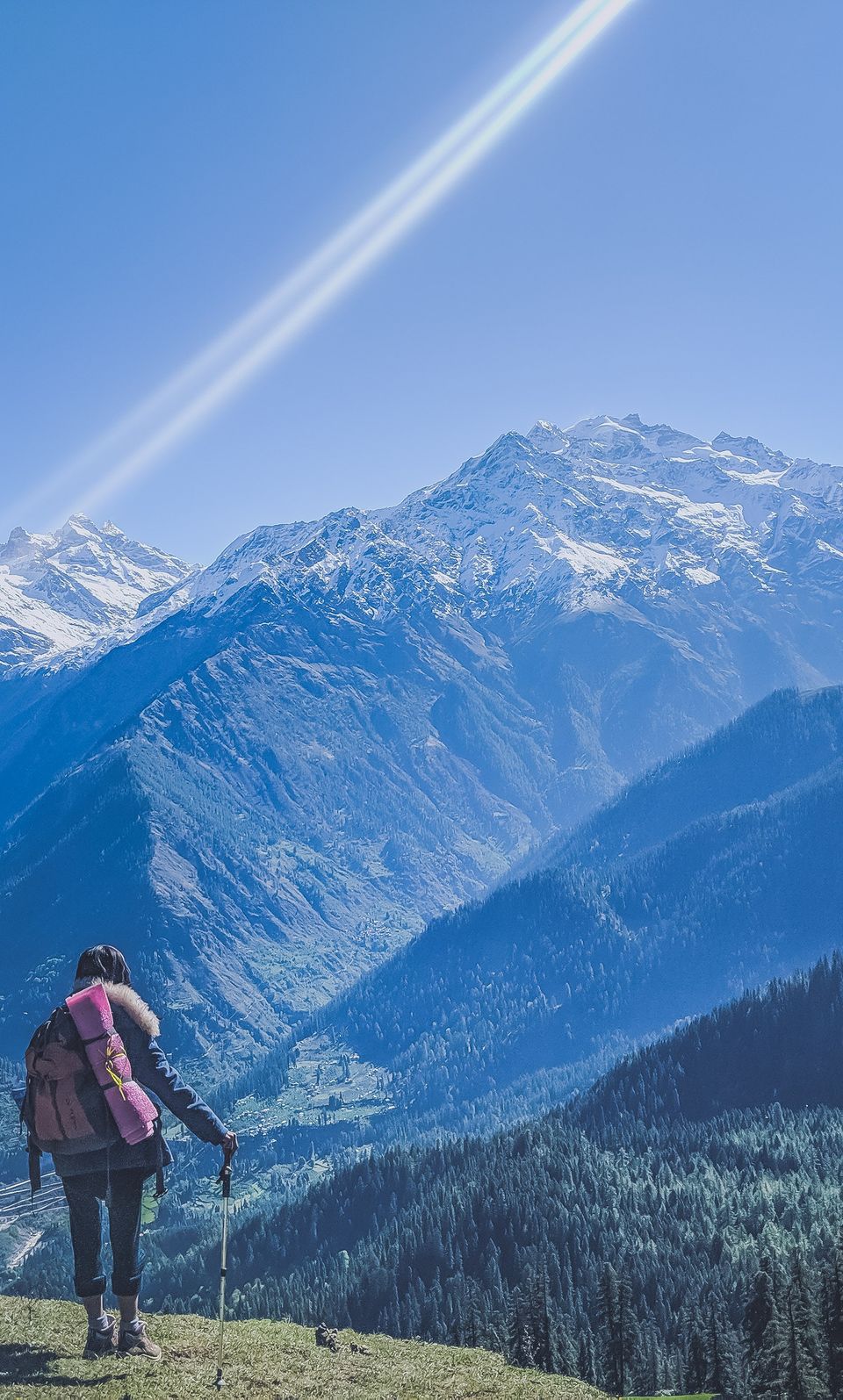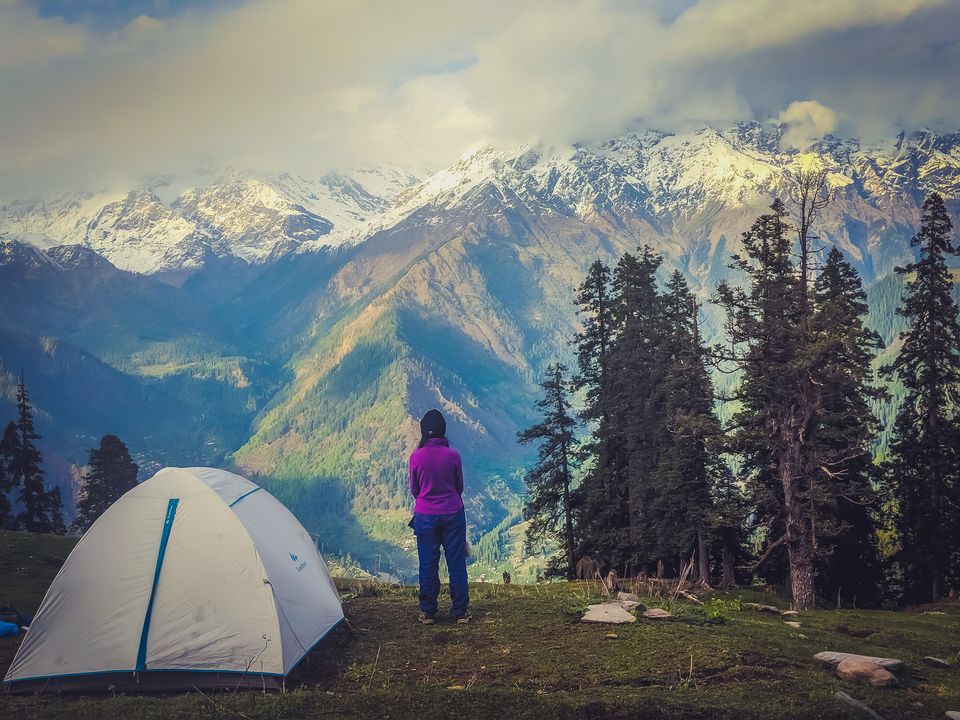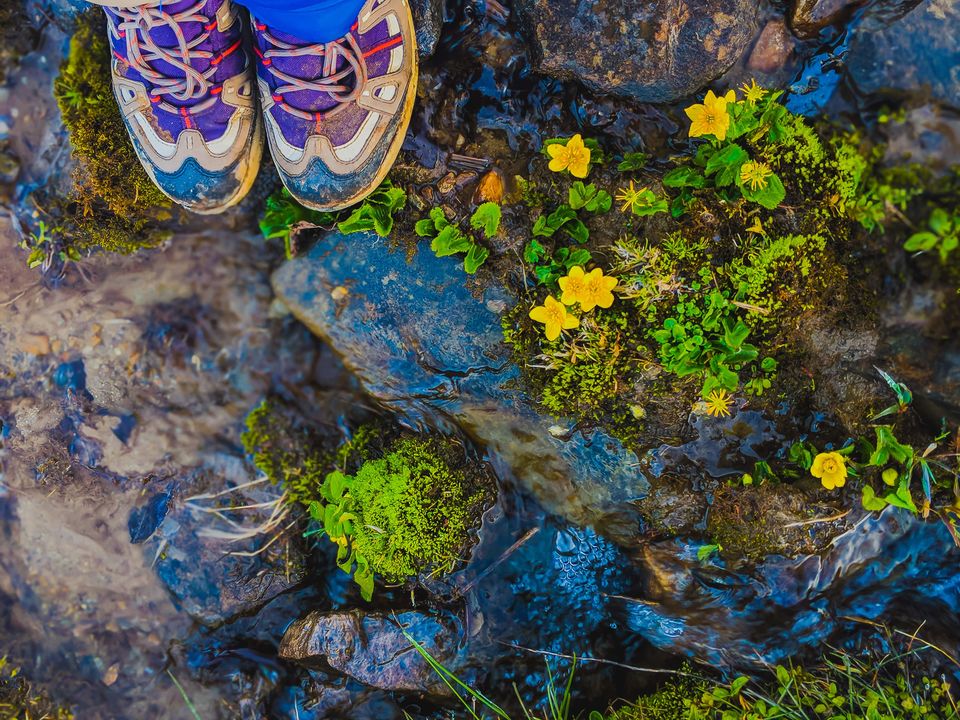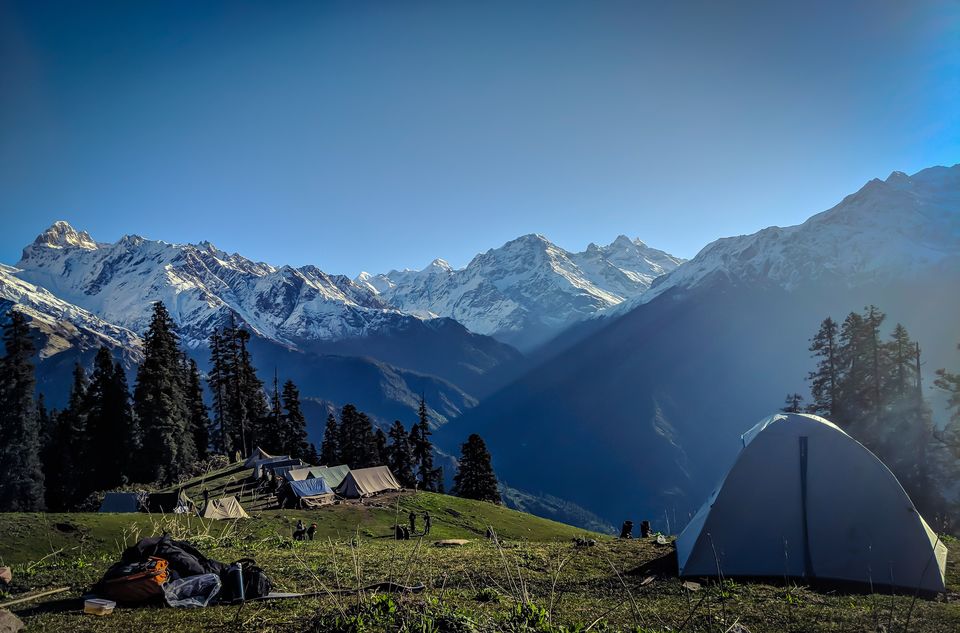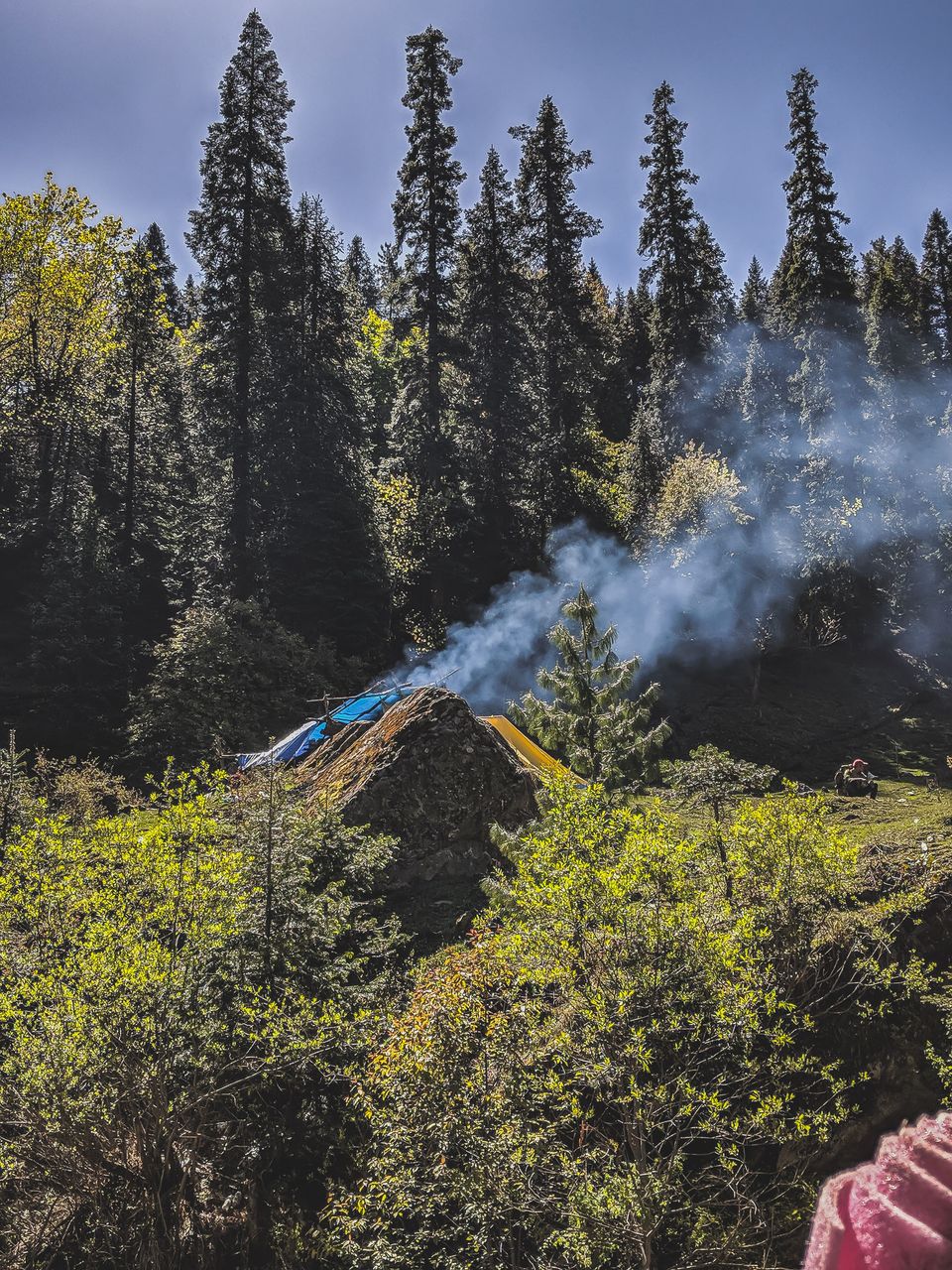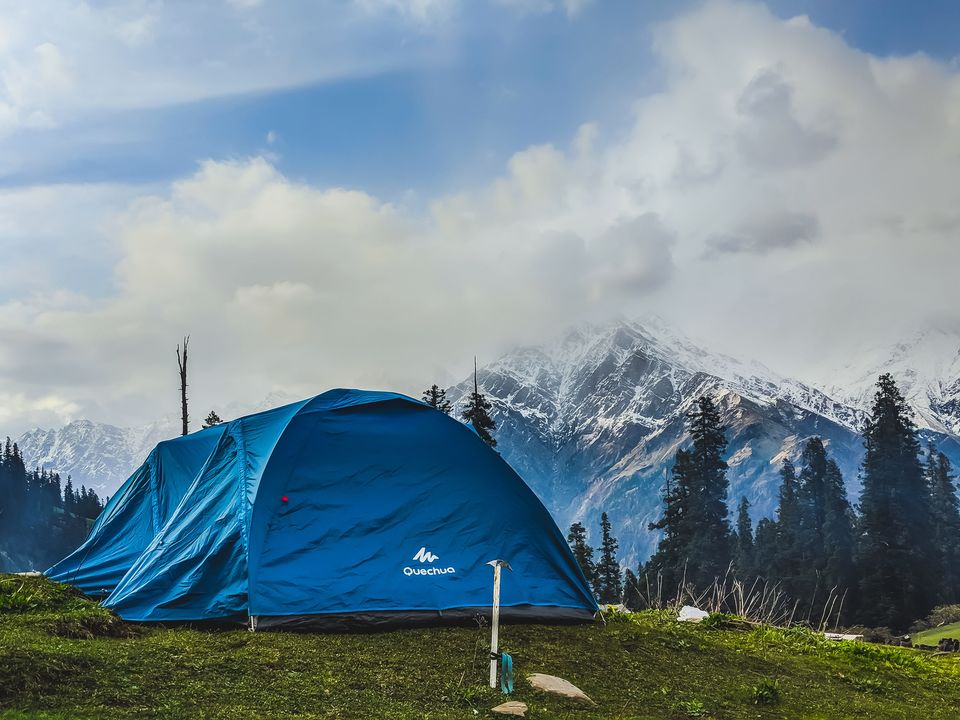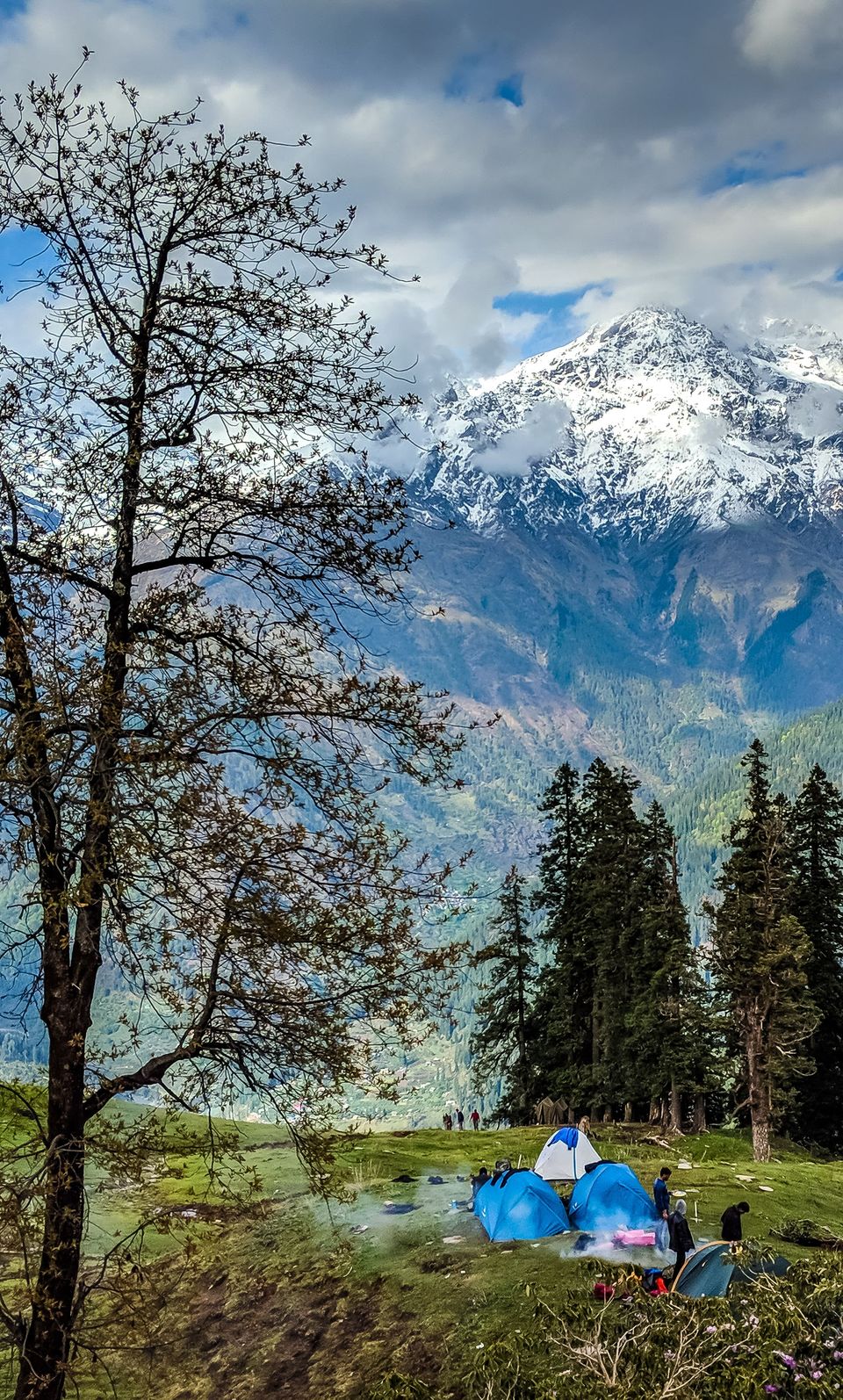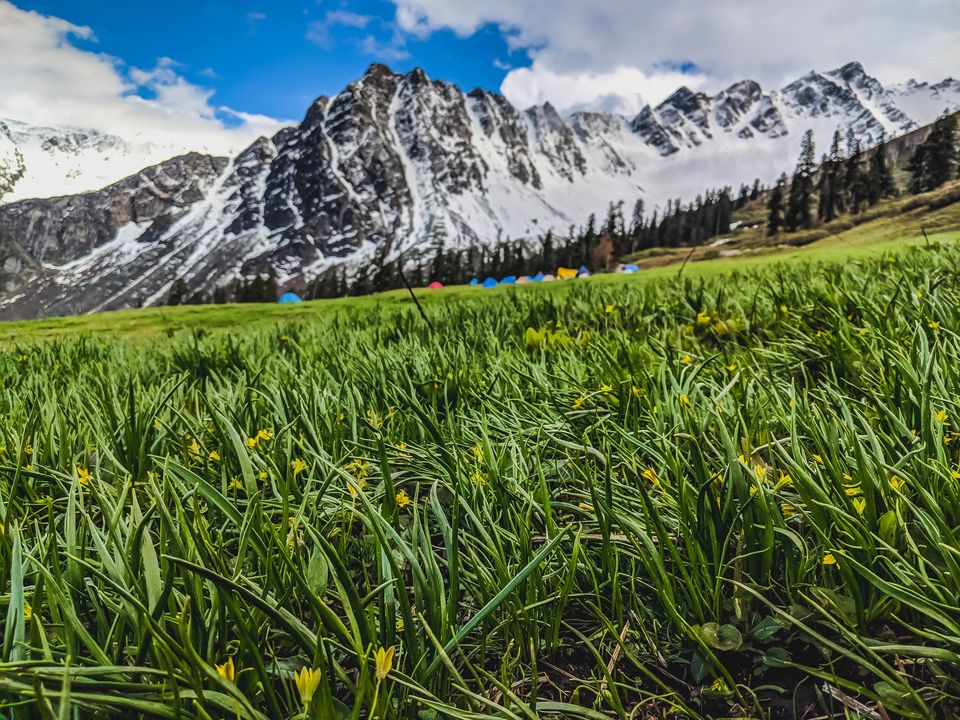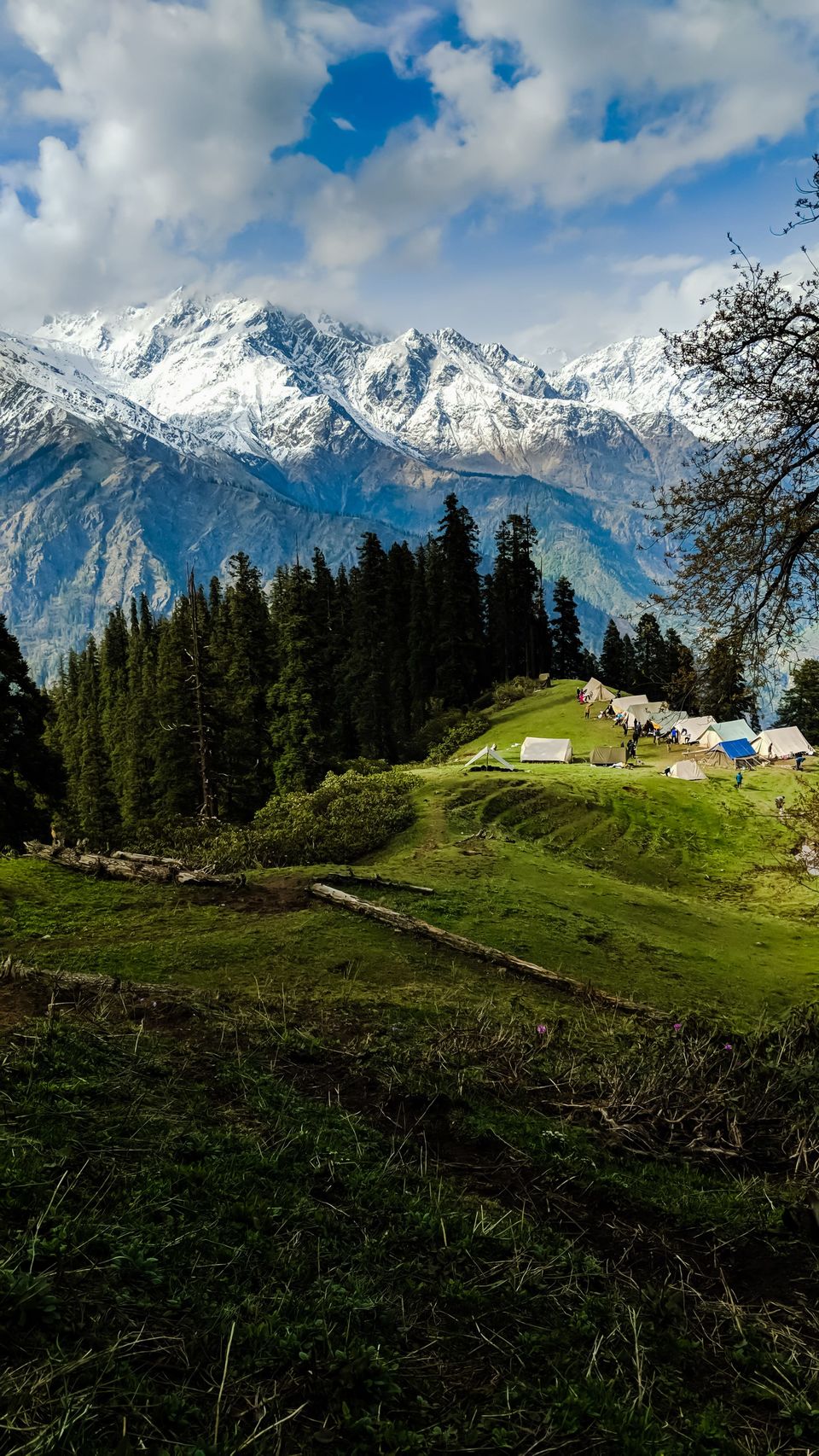 Sar Pass is generally considered a moderate trek but the route as mentioned above changed it from a moderate to a difficult one. The weather conditions can totally alter your plan and challenge your entire existence. We had to face 2 days of constant rain which transformed to snow storm the higher we went. Nevertheless, Sar Pass was a trek that was a complete package and it left me wanting more.
PS - the cost mentioned for the entire trek is an average depending on the trekking company you opt for (it does not include airfare and other expenses). I went with Himalaya Destination, an affordable and reliable trekking company.
"The best view comes after the hardest climb"
Bon Voyage - signing off rucksackdiaries