The Youth Hostel Association of India (YHAI) organises Sar Pass Trek annually in May and June. The organisation also arranges several other well-known treks in the Himalayas. The Sar Pass is very famous trek offered by YHAI. Our batch had people who were doing Sar Pass Trek for a fifth time due to its beauty.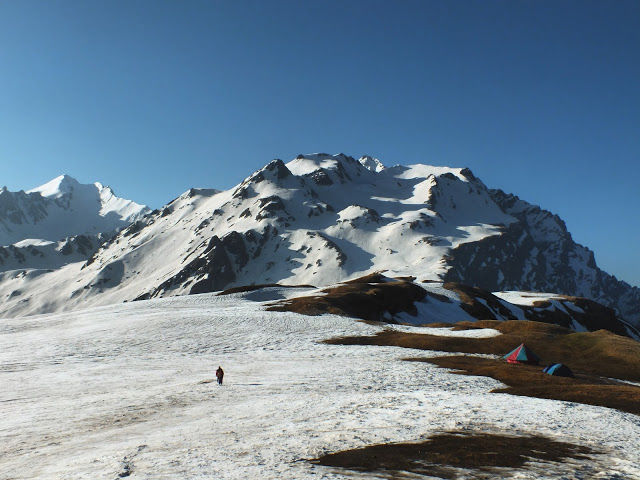 Tila Lotni Top- Sar Pass Trek
Booking Sar Pass
The Sar Pass bookings open in late November or early December. Due to high demand and popularity, the seats are full by the end of January. So keep an eye on the YHAI website for regular updates on the booking process. Even if reservations are full, you still have a chance to go for Sar Pass.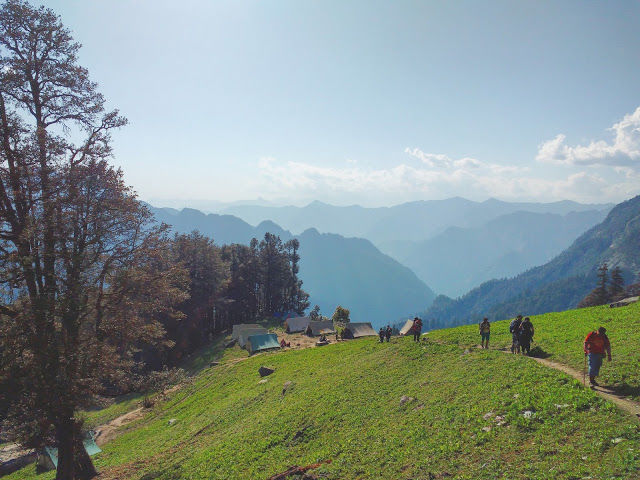 Those who can't make it to Sar Pass cancel their booking. So you if you continuously monitor the YHAI website during this period, you might be lucky enough to get a seat. The cancellations are maximum around the first week of April because after that YHAI doesn't give 50 percent returns on cancellations.
You can join WhatsApp/Facebook groups created by the enthusiasts to stay updated regarding cancellations. Keep your YHAI membership number ready. You can get the membership instantly by registering online.
Reaching to Kasol base camp
You can reach Bhutar, the nearest town, by taking buses from Chandigarh/Delhi. There are many private and public transport buses on this route, and you can book any bus heading to Manali and choose boarding point as Bhuntar. Kullu is also the nearest large bus station.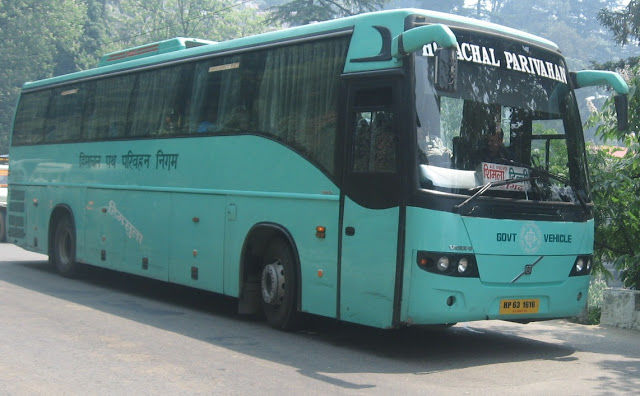 HRTC non-AC bus costs around Rs.600 and AC-Volvo bus takes you to Bhuntar from Delhi for Rs.1200. Semi-AC TATA bus towards Manali costs around Rs.900. You can easily book HRTC buses from their web portal. The overnight bus takes around 12-13 hours to reach to Bhuntar. The comfort level of the ride depends on the road conditions. YHAI also runs Manali-Delhi bus service, but many people complained that it is not punctual.
Once you reach Bhuntar, ask locals about buses to Manikaran/Kasol. These buses leave only when those are packed. The ride is almost 2 to 3 hours long so better find a seat and space for your luggage after you board. The bus fare till Kasol is Rs.45 (May 2016).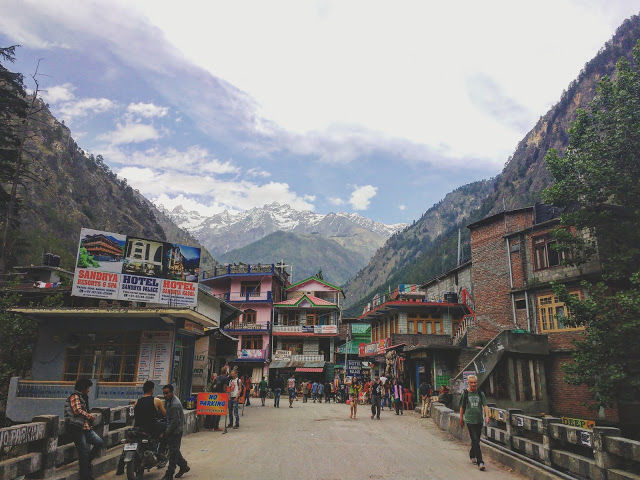 Things to carry:
There many websites which will tell you what to bring on Sar Pass Trek and what not. Hiteshkumar.com's list is pretty comprehensive. I am going to write what I kept with me in bag from base camp.
1. Shoes
Quechua Florclaz shoes(Rs.3999) are highly recommended by trekkers in India. But since I was low on budget, I decided to go for Action Trekking shoes (Rs.800). These shoes worked well for me. There were no incidents of slipping or pain at all. I tried these shoes in Sahyadris and Himalayas both.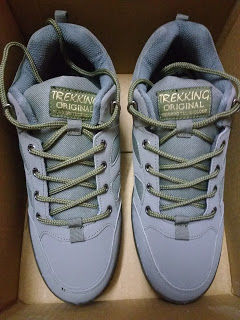 Bata Hunter shoes is another attractive option. You get these shoes at Kasol market for around Rs.500 to Rs.800 (Depends on how you bargain). Even locals use these shoes. You can coat your Action Trekking Shoes and Bata Hunter shoes with wax for Rs.100 near basecamp as those are not waterproof. Along with this, keep a pair of sandals and sleepers with you to move around the camps.
2. Clothes
To keep the weight of backpack minimum, carry only two sets of clothes. I took one cotton shirt and one t-shirt along with two track pants. Only use the second set if the first one is wet or dirty. Try to wear the better pair when you are going to leave from Nagaru as you are going to click many photos at Sar Pass and use one of these pictures as your DP.
Do not carry towel as it will add extra weight. Small napkins will reduce the weight of the backpack. You can wrap around the hygiene sheet given by YHAI to change clothes in the tent.
3. Undergarments
Carry at least three pairs of undergarments. In addition to that, you should also take body warmer (Top and bottom). You can check these out on Amazon/Flipkart.
This helps when the temperature drops during the night and early morning. Do not wear warmers while trekking. Three pairs of cotton socks are a must. Otherwise, you tent mates will suffer.
4. Warm clothes
You can get most of the warm clothes at Kasol. During extreme temperature drop, you should wear at least three layers of clothing. I wore warmer top, jacket and cotton shirt. It worked well for me. The woollen socks can be bought from Kasol market for the price range of Rs.150 to Rs.200. You also get the gloves for the same price at Kasol market.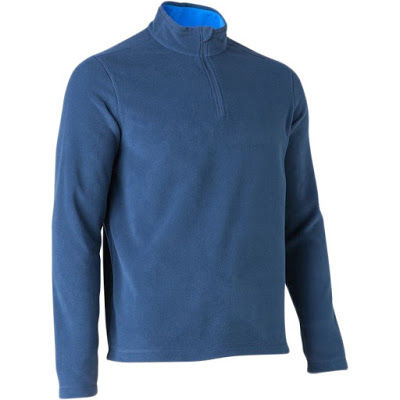 Quechua Forclaz 50 Fleece
Look for woollens with insulation. Monkey cap is essential to prevent the loss of body heat via the head. You can also carry muffler. Any good jacket will do for the protection from cold. I bought Quechua fleece from Amazon which worked well, but it didn't have pockets. You get jackets at Kasol too.
5. Trekking stick/pole
You can buy trekking sticks from online shopping websites. When you are heading towards Grahan, you can buy the wooden stick for Rs.20. It is sufficient for the Sar Pass Trek.
6. Tiffin and mug
No need to carry a plate separately when you have tiffin box, spoon and mug. YHAI provides packed lunch every day. Due to ice cold water, washing Tiffin is a herculean task.
You can solve this problem by carrying foil or plastic sheets. I have seen people consuming breakfast, lunch and dinner is a single mug too. So it's totally up to you. Carry washing gel if you want to enjoy washing Tiffin in icy water.
7. Water bottle
No need to carry two or three litres of water like treks in Sahyadri. You get many water streams in the Himalayas. If streams are not available, your guide will tell you so. You can use water purifying drops to clean the water.

I used Aquaguard's bottle with the inbuilt filter. You can order this one from Amazon. The only problem with this bottle is that you can't have water in large quantities. You have press hard to get the filtered water. So water purifying drops are perfect if you are okay with the slight change in water taste.
8. Rain coat/poncho
The Himalayan weather is very unpredictable. If you don't have the raincoat, your body temperature can suddenly go down and create problems. You can use windcheater or raincoat, but poncho is highly convenient in terms of weight and mobility. You can buy low-quality ponchos at Kasol for around Rs.150.
I got high-quality poncho for multiple uses for Rs.350. Of course the shop keeper will tell you it is around Rs.700 or so. We didn't receive much rains during our trek but it worked well when it did.
9. Sun cap and sun glasses
You can buy any good sun cap to protect yourself from harsh sunlight. You can buy YHAI sun cap at the base camp for Rs.100. The sun glasses should be polarised or dark in the shade. The UV protection layer will help during snow trekking. You will get cheap UV glasses at Amazon.
10. Sunscreen
Any sunscreen with SPF 30 and above is recommended. It will save you from rashes and other skin problems. Try to get the waterproof sunscreens.
11. Medicines and toiletries
At the base camp, they will tell you that all camps are equipped with medicines. But do not be dependent on these guys. Carry all medications you require on own. It won't make much difference weight wise.
Many people from our batch suffered from upset tummy and lose motions due to the sudden change in food and climate. I highly advise you to take strongest pills available for above conditions.
Along with this carry a good pain balm, pain killers, some band aids, anti-vomiting tablets and volini cream. (Avoid carrying spray as I was told that the bottle might burst out due to pressure differences). ORS, Glucose powder and tablets will help to tackle dehydration and weakness. You will get the specific list for medicine on any trekking website on the internet.
It is entirely normal to feel a little bit breathless along with a headache at upper camp due to low oxygen in the air. The camps are equipped with oxygen cylinders and inform your camp leader if you are having an extreme breathing problem. You can ask your doctors to prescribe a pill for Acute mountain sickness.
Paper soaps and tissue paper are essential to attend nature's call. You are also not going to take a bath for a week, so carry a good deodorant stick to avoid stinking. Face wash, wet tissues, toothbrush and toothpaste are other essentials. Vaseline cream can be used on dry hands, lips and hands.
12. Electronic items
A torch is most important among these. You are not going to get any electricity in camps after Kasol. The torch will be helpful in trekking towards Sar Pass from Nagaru as well. It is a must to attend natures calls at night. A good small torch should be carried along with some extra batteries.
Those who are going to depend on a smartphone for photography should take a good power bank with at least 10000mah capacity (may be two?). People with digital cameras should keep extra batteries. Due to low temperature, batteries get drained. Keep all batteries and power banks wrapped in woollen socks to avoid this.
The phone camera is best to click photos while you are trekking. Always be aware of your surroundings while you click photos. Use tools like selfie sticks cautiously in this terrain as even a small bump can cause a huge accident.
Kasol base camp has charging facilities and the team which is about to depart from the camp gets priority to charge the phone. So all photography enthusiasts should charge their batteries and phones one day before the departure.
13. Miscellaneous
You should carry thread and needle in case your clothes, rucksacks or anything other material tears off. You won't have the internet for almost a week now so taking a book, reading the material, UNO or cards will help to kill the boredom.
You can carry various chutneys, snacks items and sauces to add taste to the food. Take small packets of chocolates, nuts and dates.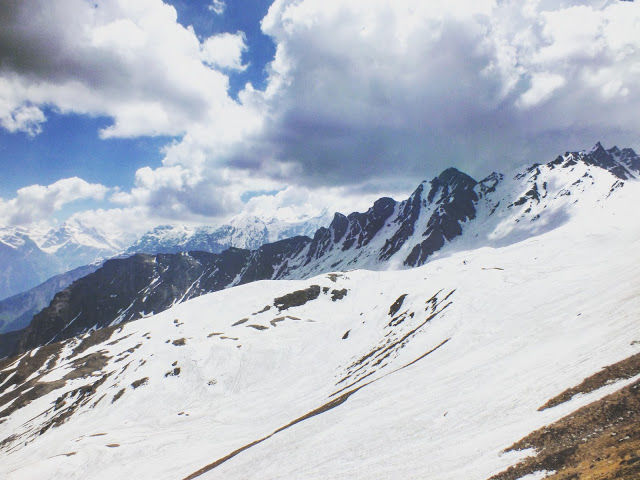 Check in at base camp
YHAI allows you to check in even on the second day. On the first day of reporting, you are not supposed to do anything. You can explore Kasol during this and buy necessary things for the trek from Kasol market. You will attend the campfire of the previous batches here at 8.30 pm. The lights go off at 10 pm.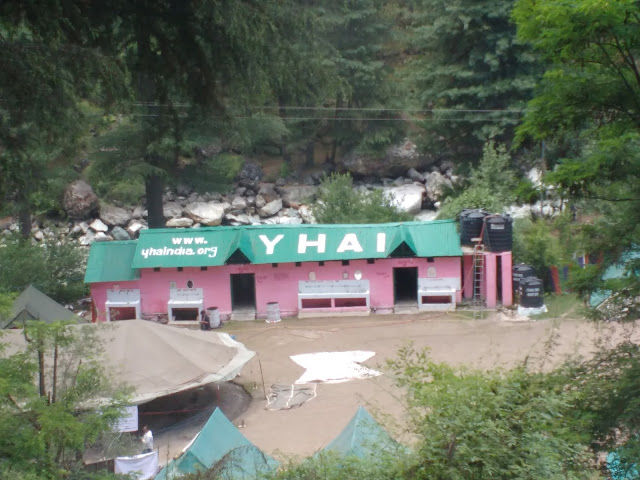 At Kasol market, you get all things required for the trek. Just be ready to bargain a lot. Kasol has only one ATM which is not working most of the time. My Master debit card didn't work there. You can debit cash through facilities available at tourist booking centres. They charge 5% commission of total debited amount. Keep a valid photo ID ready to use this service. You can buy woollen socks, monkey caps and ponchos here.
At the base camp, you will have to attend morning exercise, acclimatisation walk and rock climbing. Don't miss these activities as it will make trek easier for you.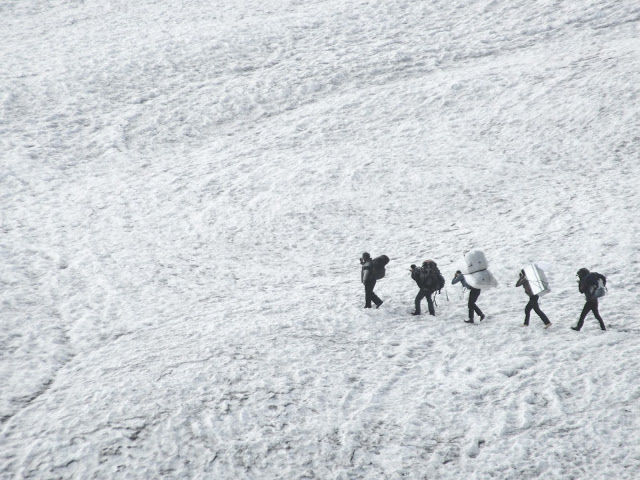 The actual trek begins on the fourth day. You will be issued YHAI backpacks and hygiene sheet (cloth bag to cover yourself inside sleeping bag). You must leave additional luggage at the base camp and take only necessary things for the trek.
The YHAI advises to trekkers to keep bag weight at 5kgs. You can measure the weight at basecamp. The weight of my bag was almost 8kg due to the camera and heavy padding on the bag. I completed the trek without any difficulties.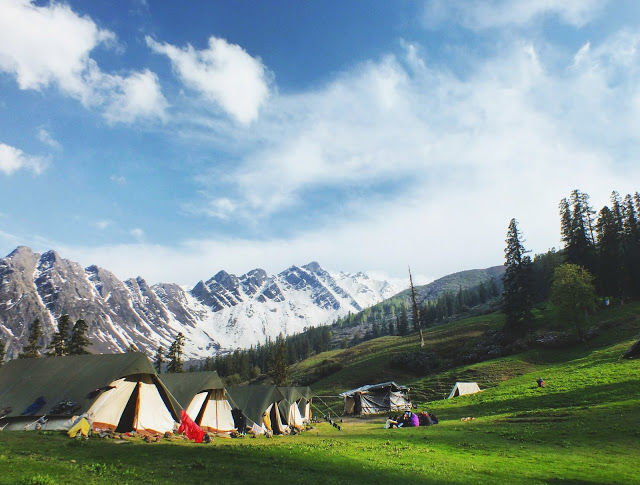 You can hire porter on the trail if you are not able to carry the weight. Porters take Rs.300 to Rs.600 to carry your luggage to the next camp. On the trail, you can also find food stalls where you get Maggie, chocolates, chai, cold drinks and omelettes. The local dish Siddu is also available. At some canteen near camps, they also offer to prepare chicken if ordered in advance.
Those who dislike the packed lunch given by YHAI or still hungry after finishing the Tiffin can go for this. The rates range from Rs.50 to Rs.150 for food items. For chicken, they charge around Rs.500. The prices increase as you climb upwards.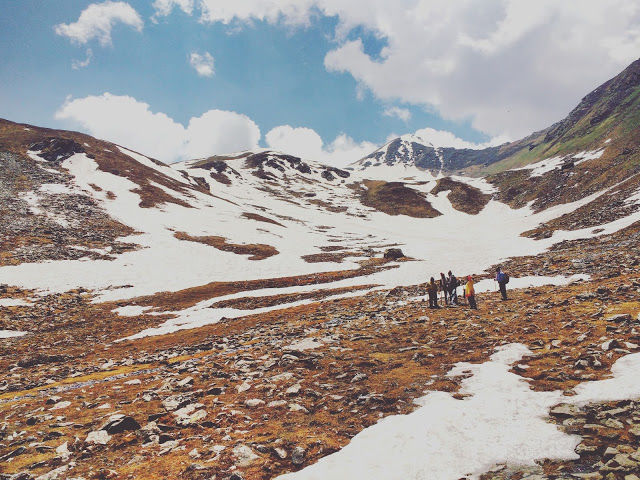 Sar Pass Trek:
The trail is breathtaking and not risky at all. It is difficult because its long and you should have stamina and patience to climb that much. The most difficult patch is Padri to Ming thatch where you have climb steep terrain continuously. If you have done 4 or 5 treks in Sahyadri, you won't find Sar Pass difficult.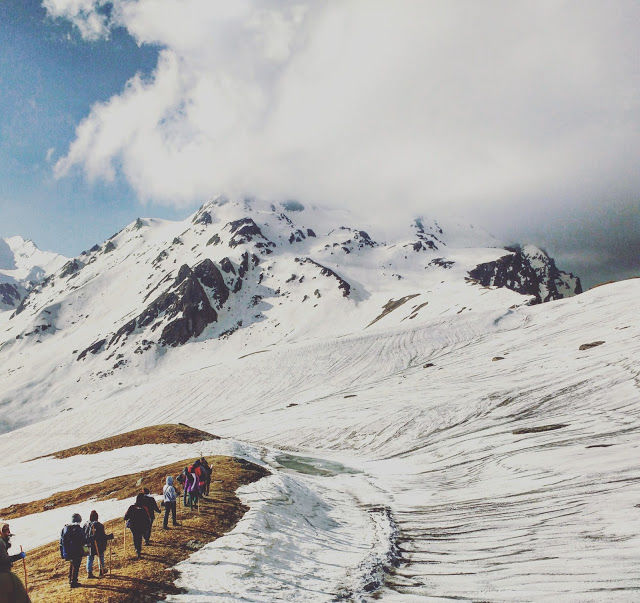 The trail has everything from mountain forests, coniferous forest, meadows, mountain desert, snow, waterfalls and barren landscape. I am not going to spoil those surprises for you by describing it here.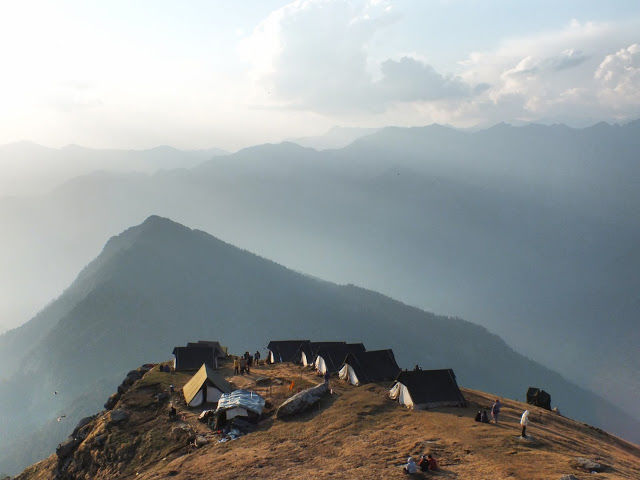 After trek:
You can visit nearby destinations such as Manikaran, Tosh, Kheerganga and Manali after the trek. You can check out from the base camp on last day immediately and continue the journey. Don't forget to collect the YHAI certificate for completing the trek.
Travel enthusiast Vikrant visited Sar Pass after reading my blog. Check it out here- Sar Pass experience .