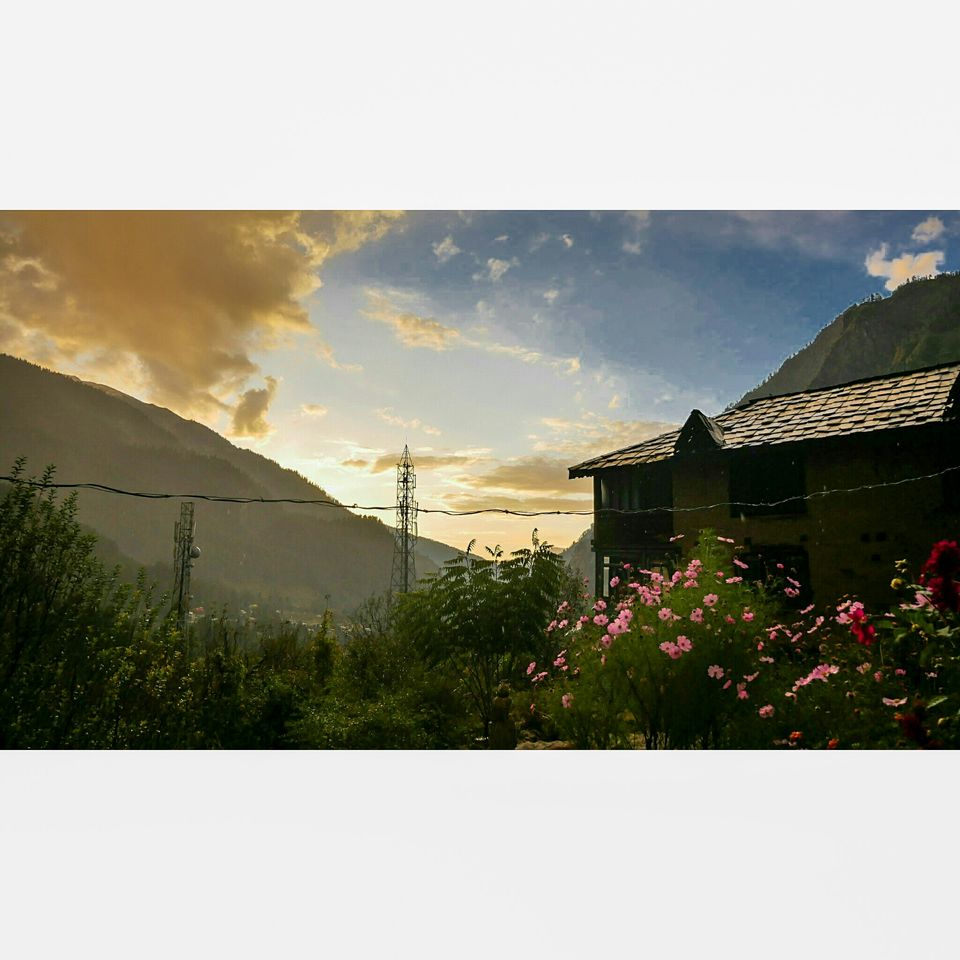 This is plainly an objective, fact and information based cheap itinerary to do the Kheerganga Trek and explore nearby. So if you are looking to 'feel the beauty of the valley' through a blog, I am sorry to dissapoint you. However if you are low on budget and looking for options, this is the place for you. Let's get started.
Kheerganga is situated in the Parvati valley of Himachal Pradesh. The Trek to Kheerganga starts from a village called Barsheini which is 47kms away from Bhuntar. Bhuntar is a low-altitude town which lies on the Delhi-Manali highway. It is at a distance of around 480kms from New Delhi and the bus usually takes about 12 hrs to reach Bhuntar from New Delhi. Bhuntar acts as the gateway to Parvati valley. You have to board another bus from here crossing Jari(way to Malana), Kasol, Manikaran and finally to reach Barsheini, the last motorable point in the valley which also acts as the base point of the trek.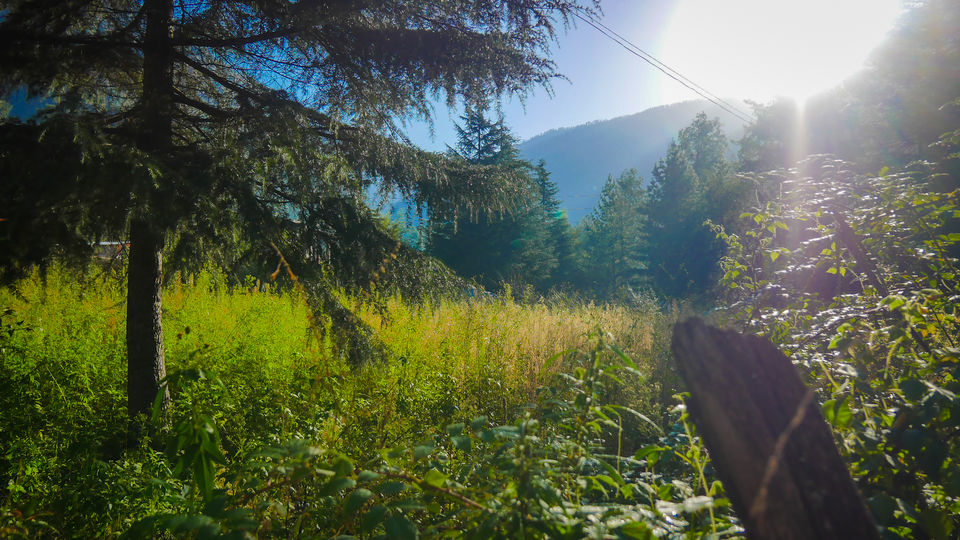 FIRST TREKKING ROUTE:
The first route from the dam is by taking left just before the dam if you are coming from the Barsheini bus-stand. This is more popular of the two routes. It is shorter than the other route(a difference of 1-2kms). It is a bit steeper and difficult than the other route. It passes through the Nakthan Village. It is clearly marked. It is along the left side of the river. This route has plenty of resting points and Cafes to buy basic supplies. There are staying options in between this route. This route is much more scenic than the other one. Sunlight constantly falls on this route. Nakthan village is 4kms or two hours away from Barsheini. You can spend the night here.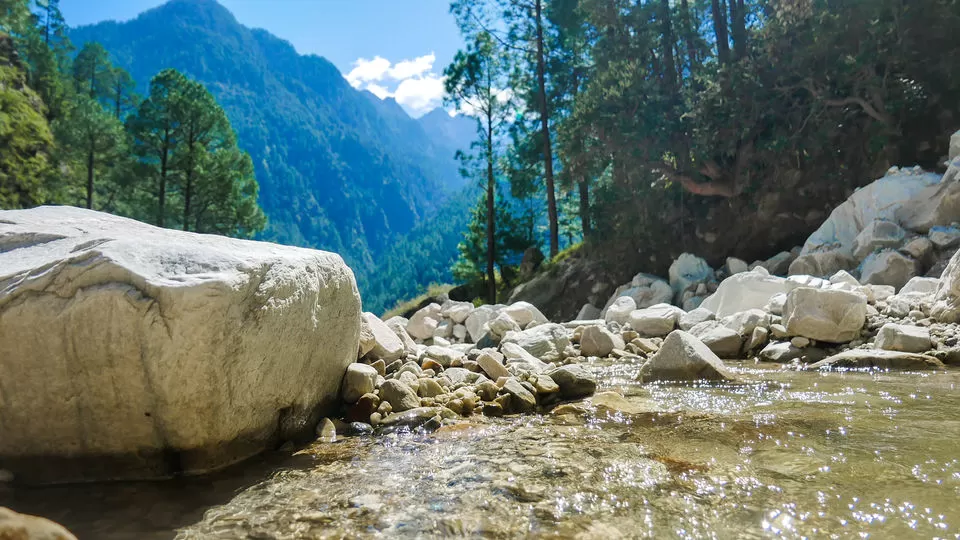 SECOND ROUTE:
This route is through the village Kalga which is a steep climb of around 600mts from the dam at barsheini on the right side after crossing dam. It's a very steep but short climb which will take you around 15mins to reach Kalga village. The village is famous for its apple orchards. You will find plenty of apples here. The accommodation here is cheaper(100-200 per person) as compared to Tosh. The villages Pulga and Tulga can be reached from here which are at a distance of 1kms from here but off the main trek route. The villages don't offer anything new as one would see in Kalga. So you can just visit Kalga and continue towards Kheerganga. This route is much less scenic as it is through the jungle, a bit lengthier but significantly easier then the Nakthan route, less popular but marked. You are suggested to take this route if you are in a group because there will be very few people you'll find on this route. This route is mostly safe except occasionall difficult passes formed due to bad rains. In case of rain or bad weather, don't opt for this route. This route also doesn't have any cafes or options for accommodation in between. You wouldn't see the sun through this route as this is through the forests. The big plus of this route being the easiness of this route with very few or minimal steep passes whereas the other route offers plenty.
Both the routes meet just ahead the mid-point(Rudranag).
Pro tip:-
1.Have the minimum luggage as possible. Drop your luggage at Barsheini while going up. The difference is significant. Advisable to carry two bags. One big and one smaller one. One of them can be left at Barsheini.
2. The food above is expensive (around 150 per person per meal) as the supplies have to be brought from barsheini hence the cost would obviously increase. For the trek duration, carry peanuts, fruits(load up at Kalga), glucose biscuit and water. A bottle is a must.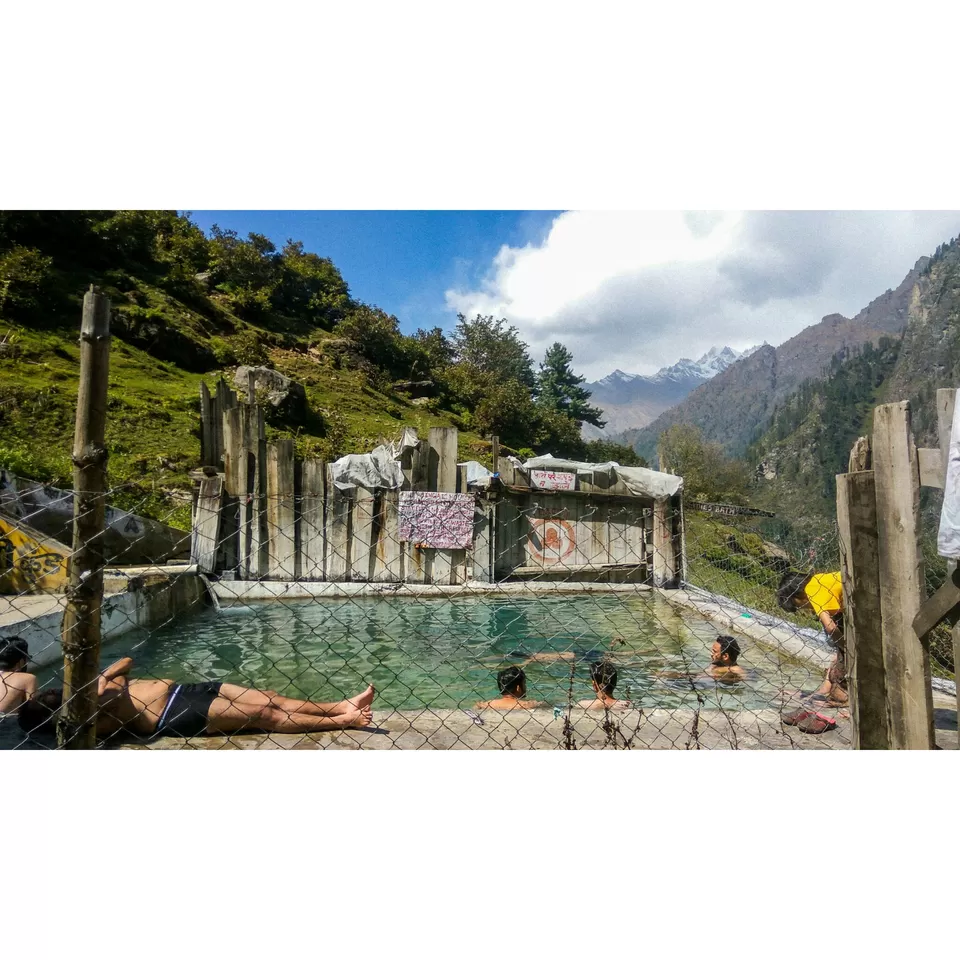 Just for your information, Kheerganga is the base point for a more professional trek, known by the name Pin-Parvati pass trek which is a week long trek. It takes you to Spiti valley. Amidst it lies the Mantalai lake which is the source of the Parvati river.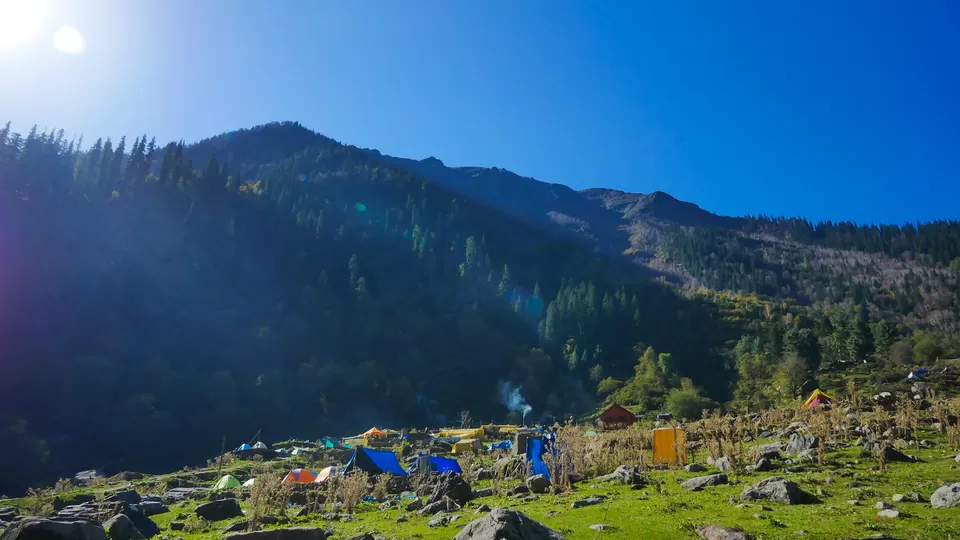 So this was basically it. Ideally one night would be enough at Kheerganga but if you want to spend more time, it's your call. Also while going down you can take the other of the two routes that you took if you are just curious and the weather permits. Explore the villages around maybe if you have time. Your call.
Pro tip:-
1. The buses anywhere in the valley don't ply after 5-6pm in the evening so make sure you plan accordingly and check the timings.
2. After Barsheini, while climbing upwards, you'll start facing network issues with your phone. At Kheerganga you'll hardly find any signal. So make any important calls at Barsheini.
BEST TIME TO VISIT:
Months from March-June and October-December are ideal to visit. The summers(March-June) will not be very cold during the days but nights will be cold. The water level in the river would be high but safe as the snow from the glaciers would be melting during this period. But trekking might feel a bit too hot. After the monsoon, the weather will be colder and nights would be freezing as december approaches. My personal pick to visit the valley is after the first week of october. You'll find apples ready to be harvested!
It is heavily advised to avoid going to the valley during the monsoons as unexpected rains might not just spoil your plans but put your life in danger too. No kidding!
After december, the valley is generally covered in snow and as a result many roads and routes might be blocked. You might want to check about that before leaving.
For any other queries, feedback, advices, I can be reached at sumitraina16@gmail.com or sumitraina16(insta).
Happy Travelling!✌
REACHING BHUNTAR FROM NEW DELHI:
BY BUS:
You can board a bus heading towards Manali either from Majnu ka tila, New delhi or from ISBT Kashmere Gate. After 5'0 clock in the evening, you'll get plenty of buses from both of these places. There are government (AC/Non-AC/Seater/Semi-Seater)as well as private(Mostly AC-Semi Sleeper) buses which you can find between a price range of around Rs600 to Rs1500 depending upon the type of bus. I would suggest you to go for the private ones which you can find at Majnu ka tila as they would offer you the comfort of a VOLVO(AC,Semi-Sleeper) yet being cheaper than the government ones. If you are lucky along with having some good bargain skills, you can find a private Volvo till Bhuntar(the entrance to Parvati valley) for Rs 600, which is the cheapest price for any bus from anywhere in Delhi if you want to reach Bhuntar.
It is better to catch a late night bus from Delhi probably after 5 pm so that you reach Bhuntar the next day after 7 am as you will not find a bus heading towards Barsheini before 7 in the morning.
BY TRAIN:-
The nearest railway station is Chandigarh which is 260kms away from Bhuntar. Reaching Chandigarh from Delhi through a sleeper train and taking a bus from there till Bhuntar would cost the same time and money if you take a direct bus till Bhuntar from New Delhi.
NOTE: The fastest way to reach Bhuntar is through air. Bhuntar has an airport but the tickets are too expensive.
Pro tip:-
1.Its advisable to have your dinner along with you or have it before leaving from Delhi as the Dhabas or the restraunts where your bus would stop for the night meal will serve you the basic thalis for high prices.
2. Carry enough money with you as the ATMs in the valley don't guarantee cash. The other option to withdraw money is at some local shops in the valley which will cut a 5% transaction fee.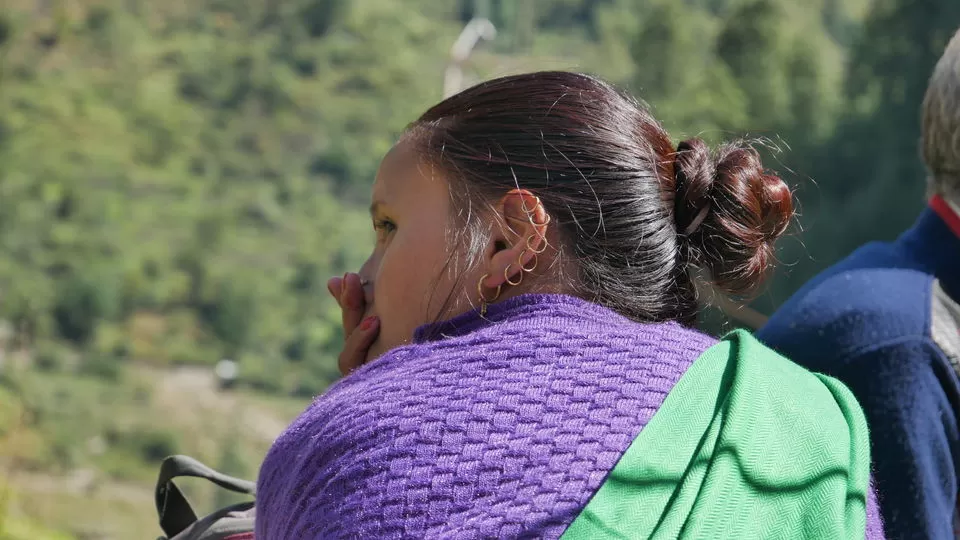 Once you reach Bhuntar the next morning, board the bus till Barsheini. Its a two and a half hours journey. The whole journey will be along the Parvati river. If you don't get a direct bus till barsheini, deboard at Manikaran and wait there for the next bus. At Manikaran, the Gurudwara offers free meal and decent accommodation for the night which is also free. Its better to have your brunch here. The food is basic but nutritious. There is a bus that goes from Manikaran to Barsheini around 12:00 pm. Through local buses, you wouldn't be spending more than 100 rupees to reach Barsheini from Bhuntar. The cheapest way is obviously Hitch-Hiking!
You'll reach Barsheini bus-stop at noon. There are options to drop some of your luggage here for a couple days for Rs 80 or less. There are restraunts here and toilets if you need to freshen up a bit. From the bus-stop, you have to walk for 700ms till the big hydro-power project. The dam is exactly the point from where the Trek starts.
The Trek till Kheerganga is 10-12kms in length. There are two routes to do it. I will explain the difference in a while. But first you need to make a choice. Do you want to start the trek on the same day itself or go to a nearby village, spend the night, relax, and start the trek on the next day. I would suggest you the latter.
The trek is not easy by either of the routes. It can be classified somewhere between easy and moderate. It takes 5-6 hours to reach there. If you are used to any of outdoor sport or walk or hike often, then it will be easier and wouldn't problem you much. But if you are not into physical activties much and this is your first trek, then I would suggest you to trek the next day.
The trek from either routes has a marked trail and doesn't need any porter or guide.
There are two routes to reach Kheerganga from the dam at Barsheini. But there is a third road that goes upwards from the dam towards Tosh. This route doesn't take you to Kheerganga. This is for the ones who want to go to Tosh.
REACHING TOSH:-
Tosh is a village with a lot of cafes and guest houses for food and staying options. It is 4kms from the dam at Barsheini. There is another 'local route' from the Barsheini bus-stand which is shorter, steeper and not marked properly. If you are with a local, then only take this route.
The main road to Tosh from the dam is motorable. You will get shared cabs from Barsheini charging around Rs150 per person. You can either go by the shared cab or take the 4km hike for an hour. The hike is along the road and not very difficult. If you are not very tired and want to save money you can take the walking route. Just ask yourself that if you want to walk on a plain concrete but uphill road for an hour.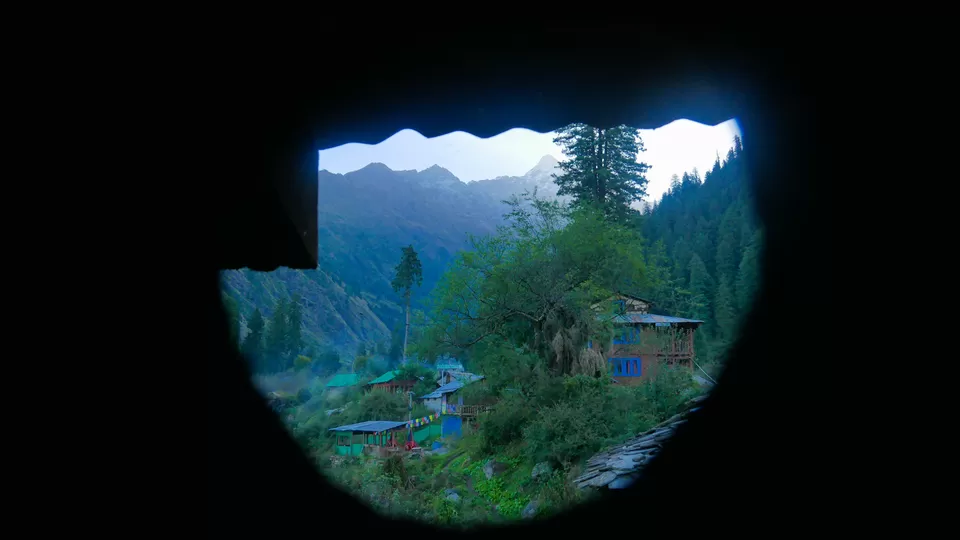 Assuming that you started early, you will reach Kheerganga at early noon or even before that. There would be plenty of staying options here majorly tents. The temperature will fall at night. The cheapest option here is the only concrete building which is a community cottage near the hot water spring. It offers the cheapest food and accommodation here. But if you want to spend a few 100 bucks more for a tent, it's upto you. After relaxing for a bit, getting your body temperature balanced and putting your luggage, head for the hot spring. The water is seriously hot. But the experience is a worthy one. Spend your time in the spring. Relax and give your muscles a good conditioning and a rest for all the work that you have done in the past few days. There are separate pools for men and women.
There is a small temple-like-cave 500mts above the spring which according to legends was the place where Shiva's son Kartikey meditated for many years. Check it out if you are interested.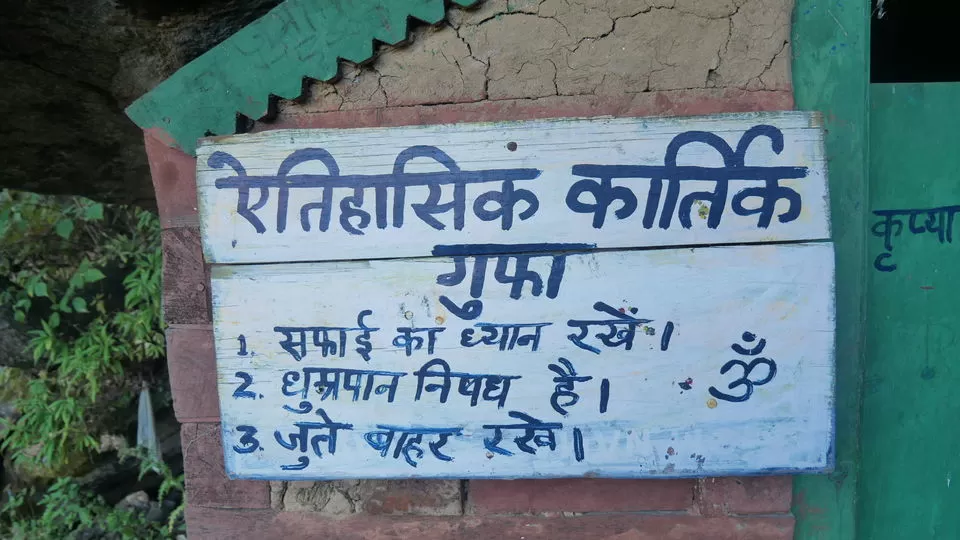 Over the years, Tosh has become much more crowded than it used to be. So if you are looking for peace, you might want to check out villages like Kalga which apart from being comparatively cheaper also have the benefit of lying on the trek route of Kheerganga which Tosh isn't. If you spend the night at Tosh, you'll have to come 4kms down back till the dam and then take either of the two routes till Kheerganga. Think and decide. There is also a much peaceful village further 1-2 hrs away from Tosh called Kutla. There are less but decent staying and food options. But it will take time and effort to go. I will suggest you to go to Kalga.