I had been listening about Manali so much that it was time I decided to plan a week-long spree. Hence the scheduling began, keeping in mind the weather, time and places to discover. Me and my partner decided to take the wheels to the lofty hills to enjoy the serenity and drive.
I will recommend the same, only if you prefer to drive so much as the roads are not very good for almost the entire stretch from Kullu and it will be very tiring for one person to steer all the way up to the final destination. And the weather was bracing cold, but after it started raining, there was a nip in the air.
The complete itinerary (day wise) and the roads we journeyed -is mentioned as below:
New Delhi - Karnal - Ambala City - Banaur - Kharar - Rupnagar - Bilaspur - Mandi - Aut - Kullu - Manali (548 KM)
Day 1: 11 th Nov'18
4:00 AM: - We left Delhi targeting some amazing pit stops for this fabulous road trip. The 1 st one being Murthal (a kind of mandate for all the Delhites), and famous for its amazing paranthas and chai for the kick to get-up-and-go. The highway is pretty awesome for a drive and in no time and effort you'll reach Ropar. We took a short break there and continued with the drive.
The next stop was at Bilaspur, at a rustic old fashioned eatery (Bahadur ka Dhaba), where the food is delicious as hell and will leave its charm on you. (It shows on the maps too). Continuing further we reached Manali in the evening due to extremely poor condition of the roads.
We checked in Old Manali, which is more pristine and hushed away from the mainstream crowded places. Immaculate and spellbound was the surrounding of our lodging and view from the window. Since it was late so we decided to spend the rest of the evening in the property only and planned to explore the place starting early in the morning.
It was November and we had discerned, it would be chilly during these days, but turned out to be more than estimated, so pack good warm clothes and jackets, especially if you're travelling between Nov-Mar. Do keep your umbrellas handy as well, it may be needed.
Day 2: 12 th Nov'18
There was a lot to explore in old Manali starting from small treks to the villages, spending time in Café's, some of them are by the river, giving a mesmerizing experience. You can spend an entire day exploring the abode by foot. We did exactly the same and espied the splendor in the autumn colors. Also we took an auto from one of the Café and went till Manoo Temple, followed by a small walk in the adjoining village.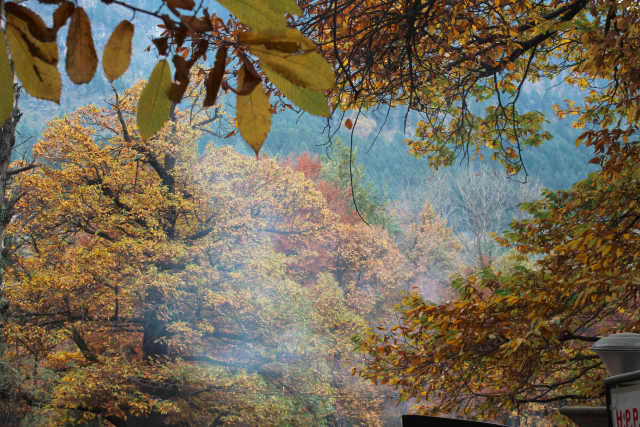 Old Manali Road
Although, it was an off season (supposedly), but all the Café's/joints were operational and the markets were lit up in full swing. The cafés also serve trout fish, caught right from the fresh waters of Beas River, cooked tenderly (you'll love it if you're a fish lover, I happen to be one).
However, the best food options are the small restaurants and eating joints, run by locals.We happened to enter one and had food and chai.
The owner (an old uncle) was nice and welcoming. He served us hot food, which was a thali with rajma-rice and a sabzi. Cooked with perfection and served with cordiality, made it as my best meal of the day. Do try to stop at such places, which is also a nice way to mingle with the locals, get to know the people and explore the place all the more.
After the meal, we concluded the day and returned to our hotel.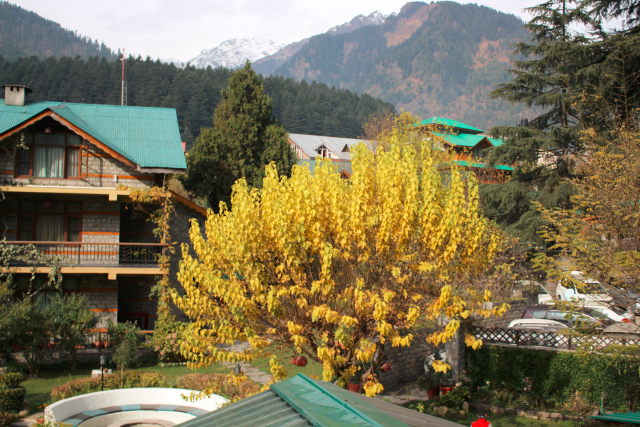 Our hotel in Manali
Day 3: 13 th Nov
We decided to transfer to another property, closer to Solang Valley. The drive to the same was through a village, the roads were bad and rough, so the car could not be driven faster on such ways.
After checking in the hotel, we quickly got ready to go out and by the time, we paced out, it started raining again and the temperature dropped further.
The drive till Solang was startling as it looked unspoiled by human interference. Every curve along the road had a different gorgeousness to it.
There's a dedicated parking spot till where you can take your car and park, then you'll see a few guides running towards you offering rides on the mountain bikes, which are the best and meant for the terrain. Hire one for a jaunt in the valley and they'll take you to see a couple of beautiful places in the expanse.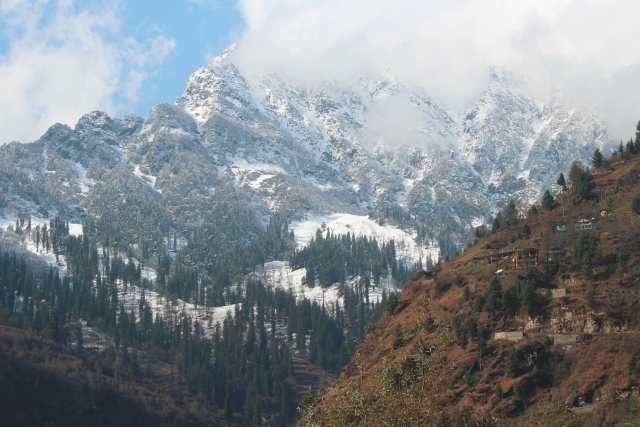 Solang Valley view
Again the place is full of activities like zip-line, mountain biking, trekking and you can spend an entire day in the lap of nature. I bet your experience will be exhilarating. And it was evening by the time we decided to get back and the rain turned into snow.
Day 4: 14 th Nov
Kasol it is. (Around 73 Kms from Manali)
Maneuvered the vehicle in a new direction, a place infamous for many reasons but a lot to explore given all the stunning as well as picturesque locations- KASOL via Naggar. It became cloudy in the morning only, when we were crossing through Naggar, I must tellyou, the roads via Naggar are much better and you'll get to see a lot of local villages and beautiful locations. I was awestruck at a point and halted to click few pictures.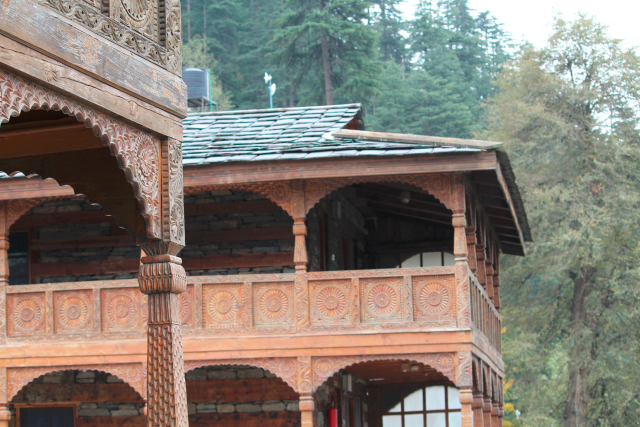 Naggar Castle
We were headed to Naggar Castle first, which was a slight detour from the highway (800Mts) and was a steep climb with narrow roads. The castle has a prevalent heritage appearance (maintained by the HP govt.) and there is an entry fee to the same but a very negligible amount of 30/- Rs.
You should go and see the palace as it also hosted, the Bollywood team for the song " Ye Ishq Haye" from the movie Jab we Met. I bet you'll start reminiscingabout the song and the dance steps.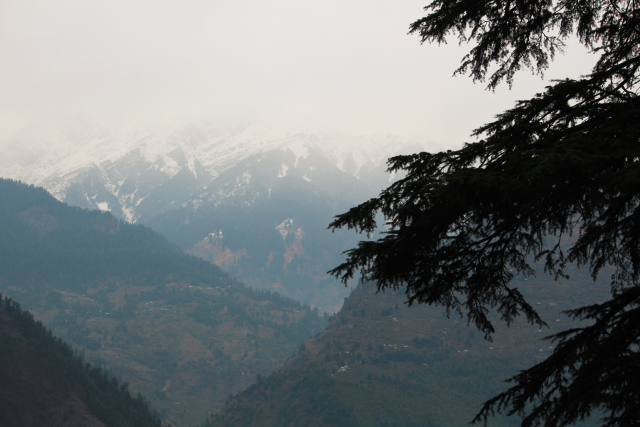 View from Naggar castle
We also had lunch there, delicious food and warm ambience, something much needed on that cold afternoon. By the time we were ready to leave, it started raining again, we left around 2:30 PM.
We continued to drive till Kasol and reached there in the evening around 5:30 PM, as it was raining throughout and the last 7-8 Kms, the roads were prominently damaged. Since we had gone without hotel booking, it was a scuffle to look for a property, but found one, which was on the main road itself. We checked in, decided to stay inside for some time to remain dry, as by this time it was a downpour.
The quest for supper was another ordeal. We peeped in Café Evergreen and decided to fill our empty stomachs there. Now there were a lot of Café's in the vicinity, as Kasol is not a very big place and some of them are really comfy and offer you amazing food and periphery.
Day 5: 15 th Nov
Manikaran and Tosh
It was a bright and sunny morning and the snowcapped peaks looked luminous and remarkable from our room window. Waking up to the view appeared as an accomplishment, a realisation of how unexpected joys arise from merely eyeing at nature's magnum opus.
After the 1 st meal of the day, we decided to take the wheel again and go visit Manikaran Sahib, as well as experience another adrenaline-charged day, as the plan also included crusading till Tosh.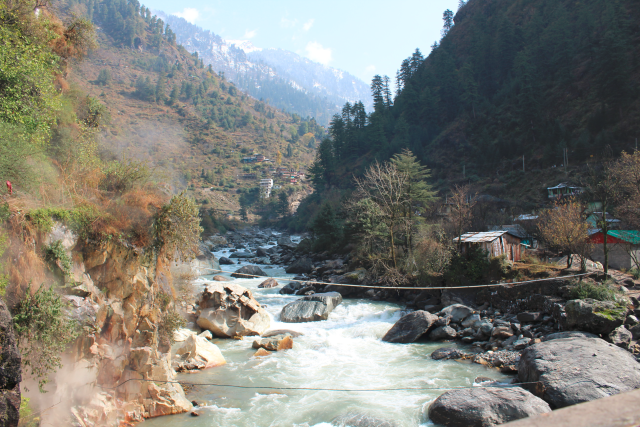 Manikaran
From Kasol it took us only 15-20 mins to reach Manikaran, I must say the drive was short but very striking and the entire time you can hear the roar of the Parvati River flowing adjacent to the road. There's enough parking in the designated zone and from there you have to walk till the holy temples and the Gurudwara. We traversed through a small bridge overseeing the river and clicked pictures of another stunning scene. The holytemples are also known for their hot Sulphur natural water springs, where people bathe in too and have used the hot water to cook food. There's a langar every day in the Gurudwara and we decided to relish the same, which was a distinct experience for me.
If you go there, you can spend whole day in the exotic locale, enjoy the valley and river panorama and have one more episode added to your travel log.
The next terminus was Tosh, a small village located on the same route heading further from Manikaran for about 2 hours. This distance was not much (around 17 kms) but againthe roads were wrecked up and not an effortless drive. But you're compensated with a tranquil gaze at every curve and turn, so you should sojourn in between for portraits worthy of a poetic description.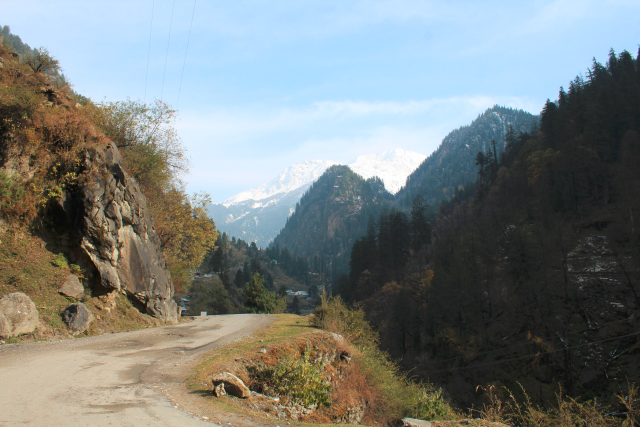 Road to Tosh village
There's a point until where you can take your car and park the same, from there it's a small trek to the village and I believe it to be the finest way to explore a place. This hamlet offers a lot of lodgings and Café's in the village and the inhabitants look very welcoming too, they smile at you, help and guide you on your way to your hotel. We booked a hotel, which was almost in the end of the village and I was mesmerised by the view from there. Try to reach before dark to enjoy the walk and place.
The accommodations are not so fancy and ornamental, but they are pretty snug and food is good too. But this time of the year was very cold too, it was -3 degrees and a bottle of Rum looked like a magical potion which saved peoples' lives. We met a guy, staying in the same hotel, who's an avid solo traveler and all of us spent time together tattling and prattling on the magnificent landscapes and the glorious mountains peaks. We had food together and continued with the exchange of travel dialogues. Somehow, I and my partner grew keen on knowing all his solo journey narratives.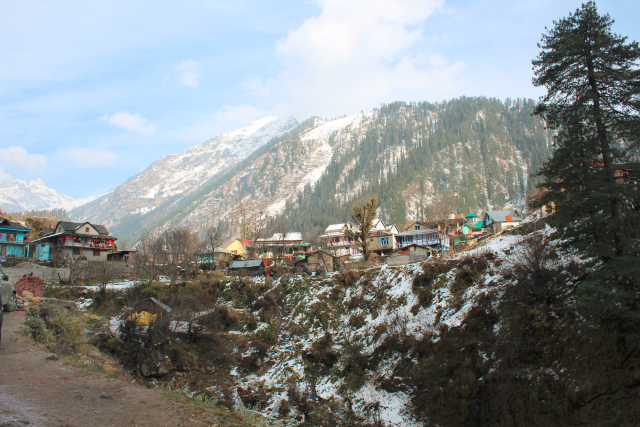 Tosh
Enjoy the scenery & location; you'll be loading your gadgets with pictures here. The place is an enchantment for shutterbugs and humans who wander in search of peace & calm.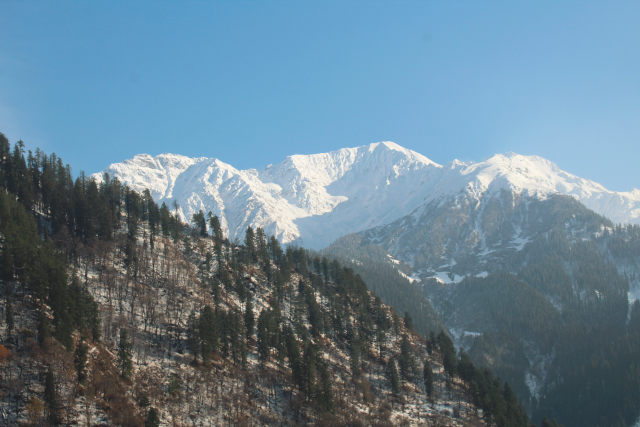 View from balcony in Tosh
I crashed after some time, with a determination to wake up to dawn sights from my balcony. The sunrise was at 6:47 AM and I never discerned anything more enthralling and beguiling than this ever before. I strongly recommend feeling the jaw dropping occurrence.
I was flabbergasted.
Tirthan Valley
Last day of our week long excursion, had to make it count. So we decided to go to Tirthan valley, which was 50 kms (approx.). from Bhuntar. By the time we reached it was evening as there was traffic congestion in a couple of places. I will highly advise reaching there during afternoon only, as there is a lot to explore in the area.
The name of the place has been taken from the River Tirthan flowing amidst the valley. This place is also famous for trout fishes, trekking (Great Himalayan National Park) and angling. This place is like a hideaway and a desired retreat.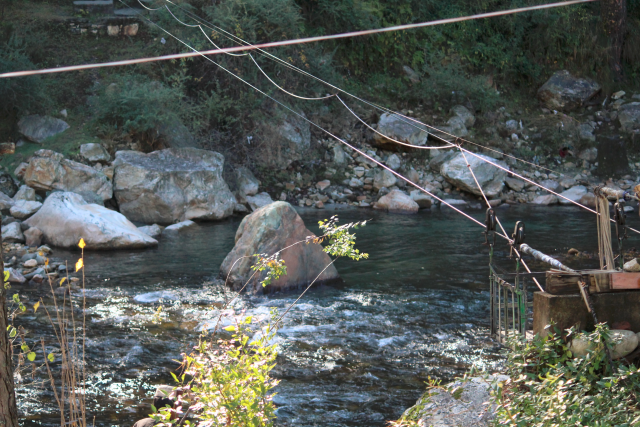 Tirthan river
For us, it was the 2 nd visit to the terrain, the 1 st one being in 2017, May. The place will cast a spell on you, believe me. And I will talk about it in length in my next journal.
Back to Delhi, via same route.