I'm now taking you to the most interesting day of my life and I have no doubts about that declaration.
The story starts at the heart of the Spiti Valley somewhere 15 kms from Kaza towards Sichling. If you have travelled to this magical Himalayan desert, you sure would have a clue about the adventure we were living. It was September 2015 and we were a group of 4 strangers who met at Kaza bus stand and decided to hitchhike together to reach Shimla, visiting Dhankar Gompa on the way.
Sankar, Milan, Yuki and I sat at the back of this truck you see below. Hoping to reach Sichling next, we had planned to hitch another ride from Sichling to Dhankar Monastery. But our fate had a more interesting story planned for us. We were dropped off a few kilometers ahead of Sichling and the driver confidently instructed us to follow an unusual trail that would take us straight to the Dhakar Gompa. The monastery appeared like a blurred white dot on the top of a hill from where we were standing.
It was clear that not many people take that route to the Gompa but there we were walking uphill towards the anthills.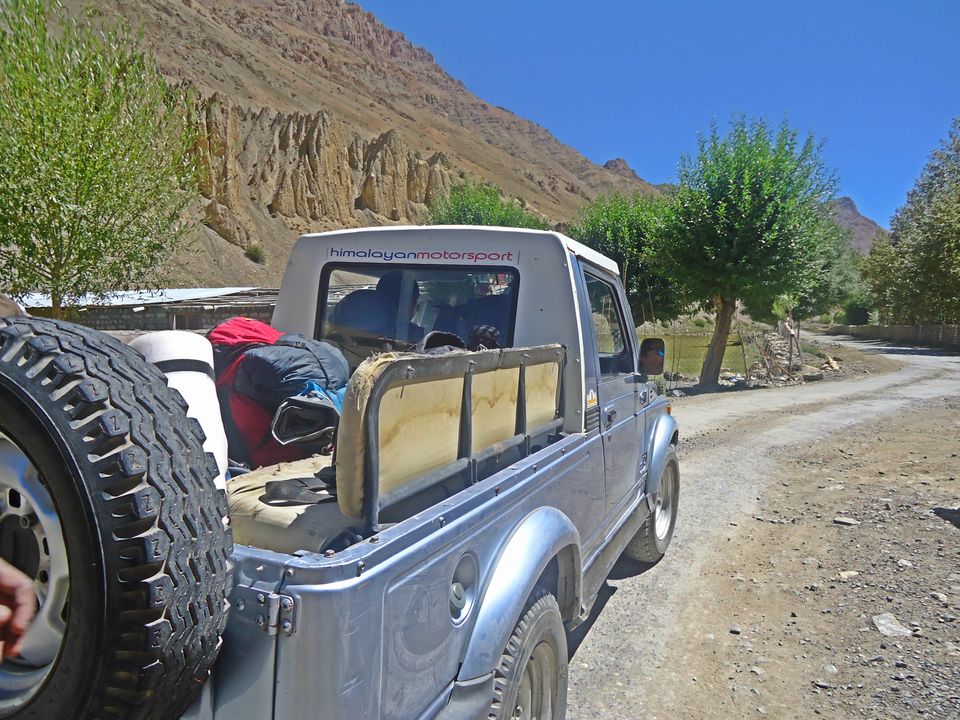 Lesson One: Your actual hiking time = Hiking time of a local plus 2 hours
The driver who dropped us at a secluded silent spot few kilometers away from Sichling, pointed toward a blurred white spot on the mountaintop. That distant point was Dhankar Gompa. He told us that it'll take us 3 hours to reach the spot. Following the uncharted trail midst the anthills like mountains in the Spiti Valley, it took us almost 5 hours to find our way to the monastery. All of us had trekked before but this hike was a reminder of the first lesson for every hiker. You can never (in your dreams) come even closer to a local's hiking time.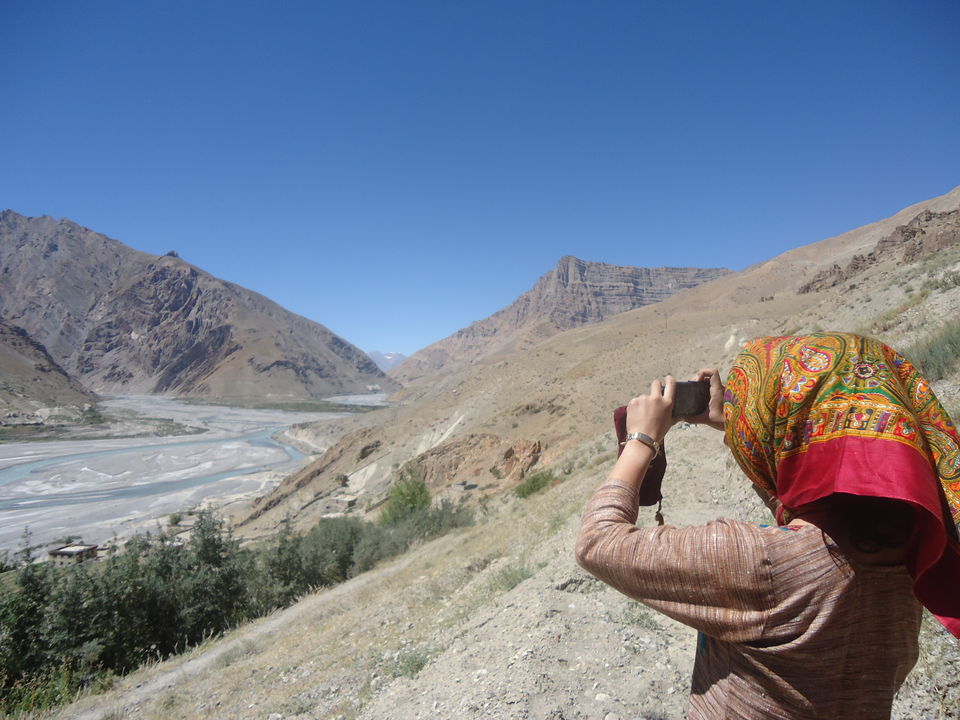 Lesson 2: When you're walking in a pack, stick together.
In all the hikes I have taken in the past, I was often traumatized by the unnecessary pressure the hiking leaders often put on their teams. This time we were a group of four who were complete strangers to one another except Sankar and Milan who had travelled together before. Yuki had a spine injury about which we got to know only at the end of the hike. As considerate individuals ready to take an unusual trail, we constantly waited for one another and walked together the entire time.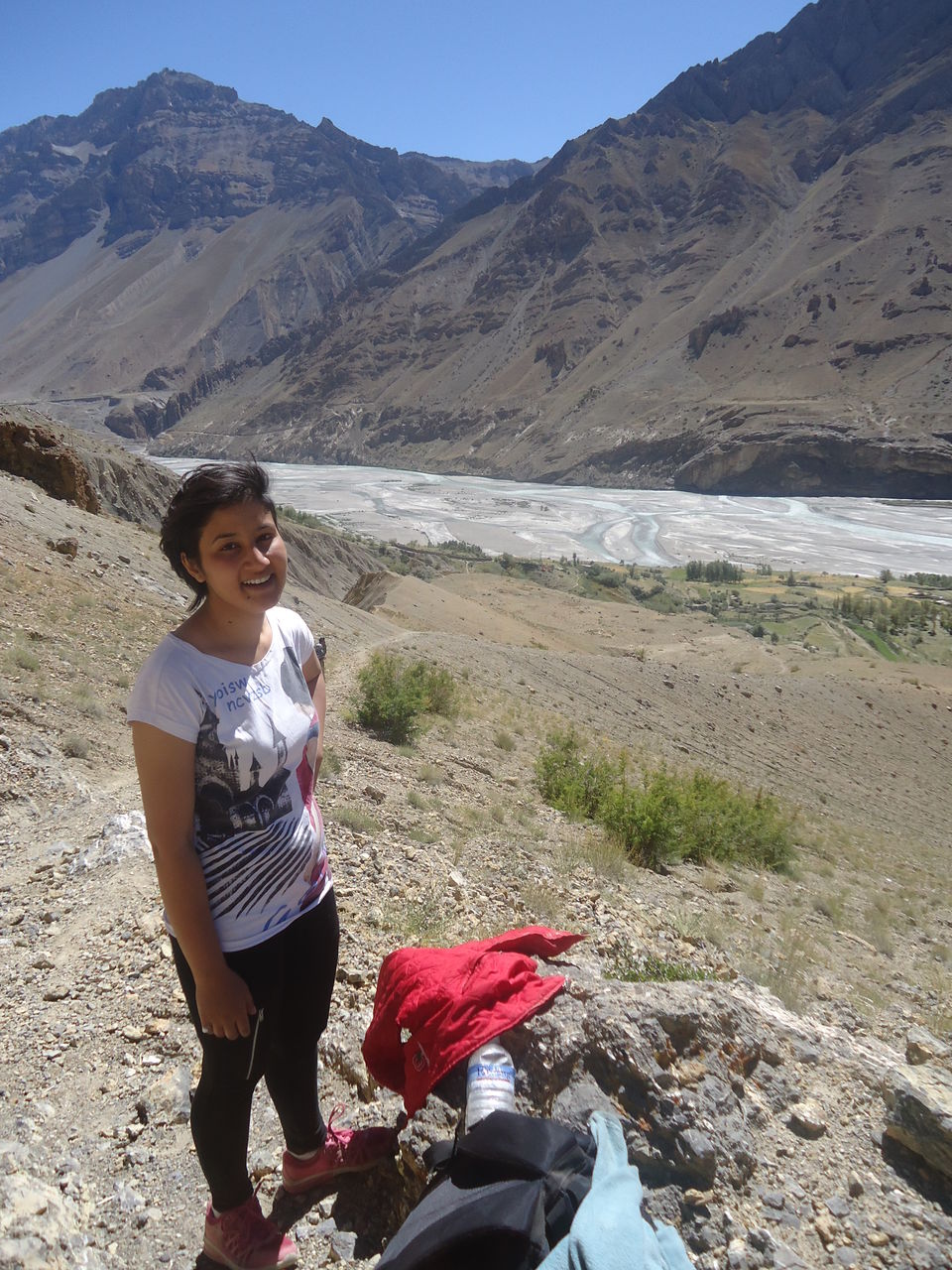 Lesson 3: Walk slow if you wish. There's no one waiting for you with a cup of tea when you arrive.
These were the exact words of Sankar who had been leading us in this hike. We had lost the way but we walked with a smile while we had all the reasons to panic and hurry up. I'm often reminded of these words when I'm going on with my usual routine in life where somehow situations convince us to often panic. But to work at your own pace and define your own comfortable work hours is something this hike taught me.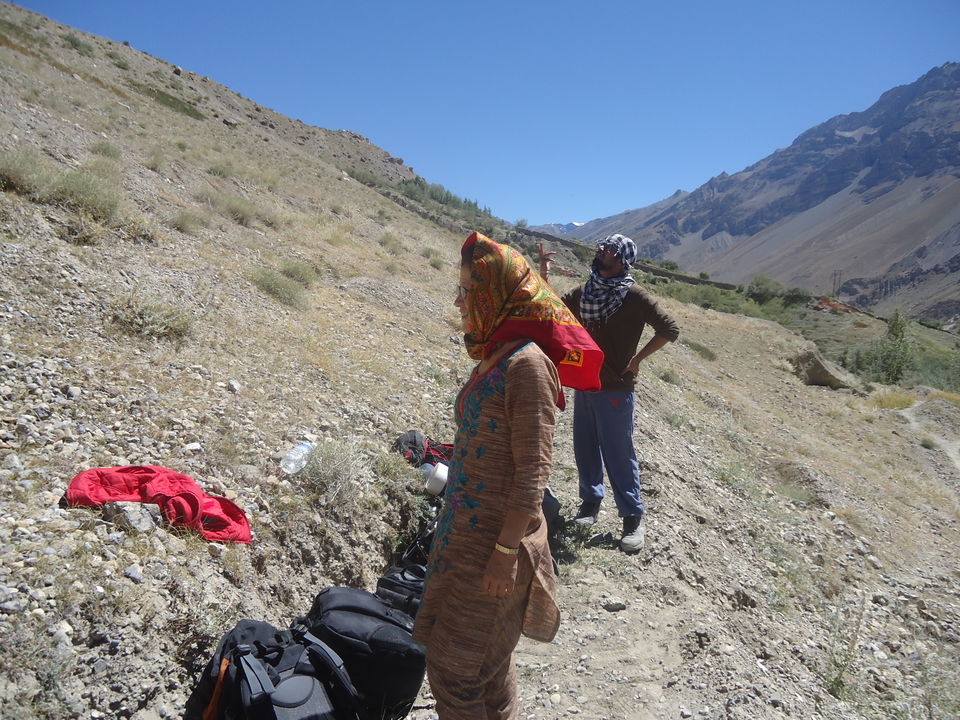 Lesson 4: Choose a leader or be one if you're ready for the tough job.
For hours we didn't see a single person walking on that unfortunate trail and we began to worry a little. But Sankar and Milan came to the rescue. While Sankar left his backpack behind and walked ahead to make sure we were walking in the correct route, Milan helped Yuki who's signs of an old injury were now showing. Sankar literally walked double the distance in this entire hike.
Lesson 5: Adventure neither tests you nor demands you to prove anything. It's only promises a nice time.
I have walked endlessly for hours earlier. But this hike was rather unusual. I was not caught up with the thought of catching up pace with the others. I constantly stopped for the ones who were behind me. While I did so I realized our foolish approach of often taking a trek as an uphill race which spoils everything about the experience.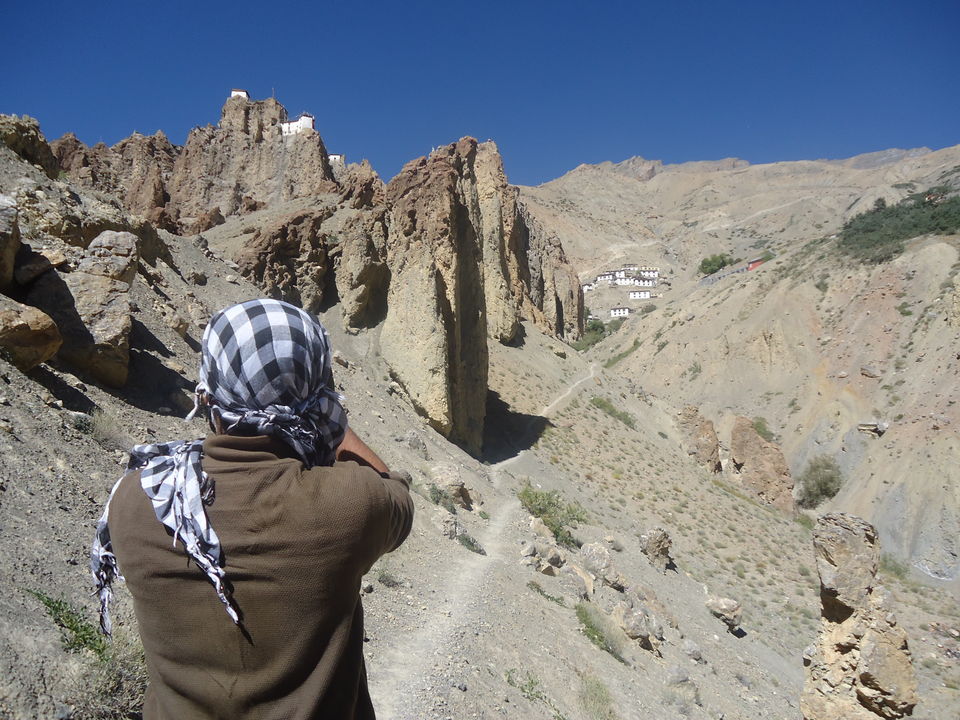 Lesson 6: Do not drink anywhere and everywhere.
Walking for hours in this cold desert, we couldn't wait even for a second when we saw the first fresh brooke. Sankar was skeptical and told us that this might not be clean drinking water. But we chose not to listen and filled all our bottles. Hours later when we reached Dhankar following the same stream we realized that it was infact a waste water stream. Fortunately, there were no signs of any mishap with anyone the next morning.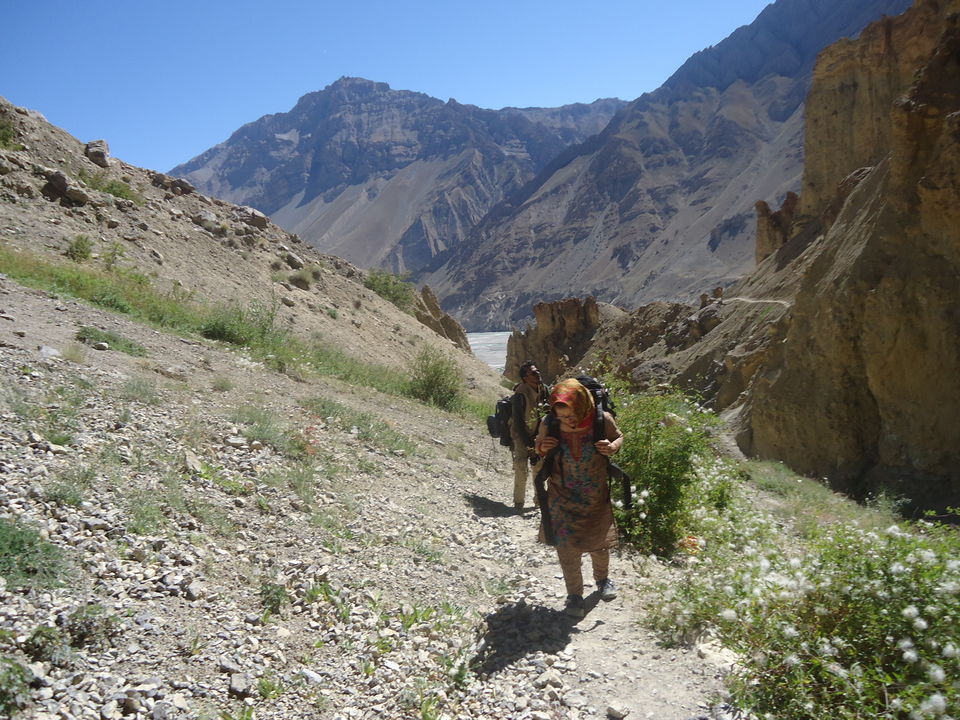 Lesson 7: People who have less to offer are more generous.
Reaching Dhankar village without any misadventure was indeed surprising. We saw the first house of the village where a man was enjoying the sunny day combing the sheep wool outside his house. While we only wanted to enquire about the place where we can spend the night, the man immediately asked his daughter to prepare tea for us. Incidents of unconditional generosity is quite common in the hills. I'm not tagging city people as 'miserly' but we do have some lessons to learn.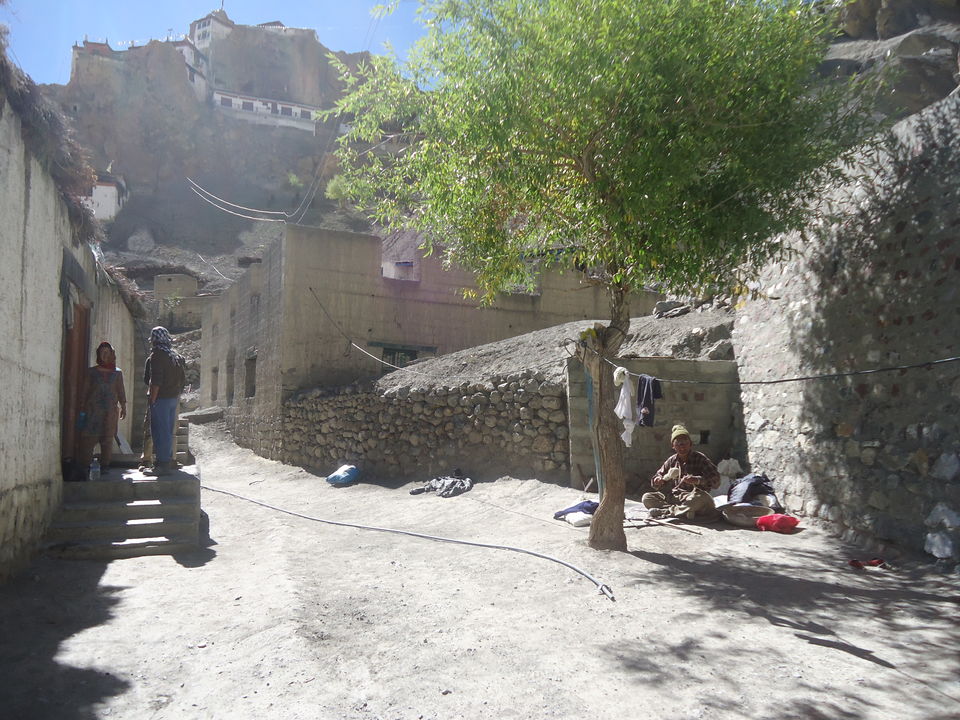 Lesson 8: Nature always has a gift for you at the mountaintop.
No adventure happens without a reason. If you're going completely existential while taking a trek and thinking why did you even start it in the first place, let me share with you a little bit experience here. Do you see the comfortable beds in the photograph below? This fantastic dormitory was waiting for us at 13,000ft. It is by far the best place to stargaze on my travel list and I wouldn't change it for anything.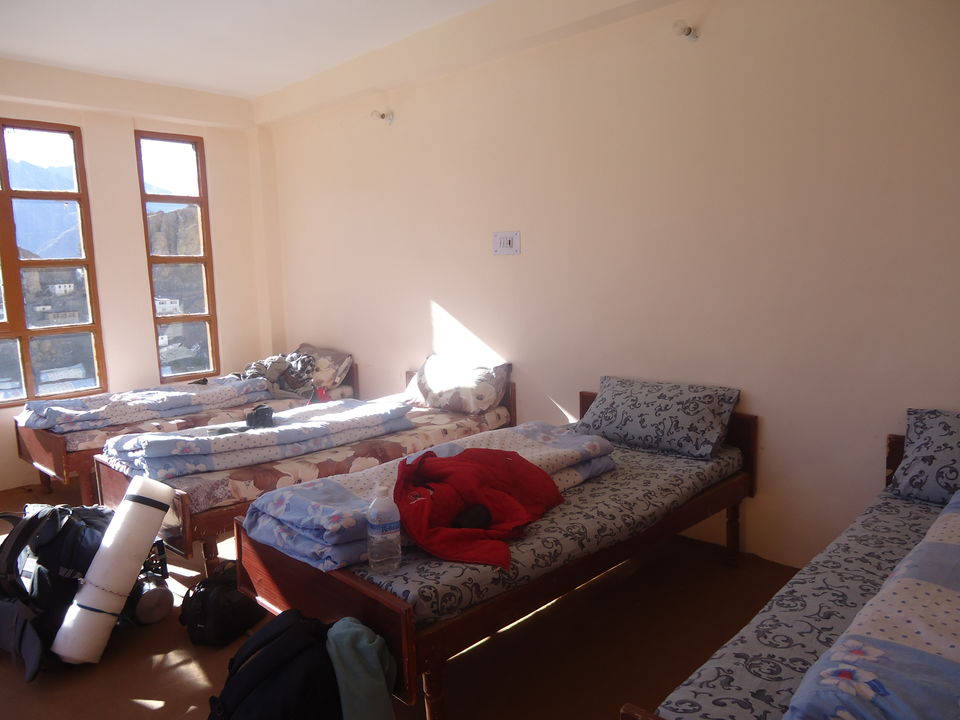 After the memorable visit to Dhankar Monastery, the four of us spent the night looking at the stars from the glass windows of this dormitory. With Sankar taking charge of playing the best music ever and Yuki sharing her stories from all across the world, we couldn't have asked for anything more.
If you have an interesting travel story, share it with us.
Frequent Searches Leading To This Page:-
trekking in spiti valley, best treks in spiti valley, trekking to spiti valley, trekking lahaul spiti valley, treks in spiti valley