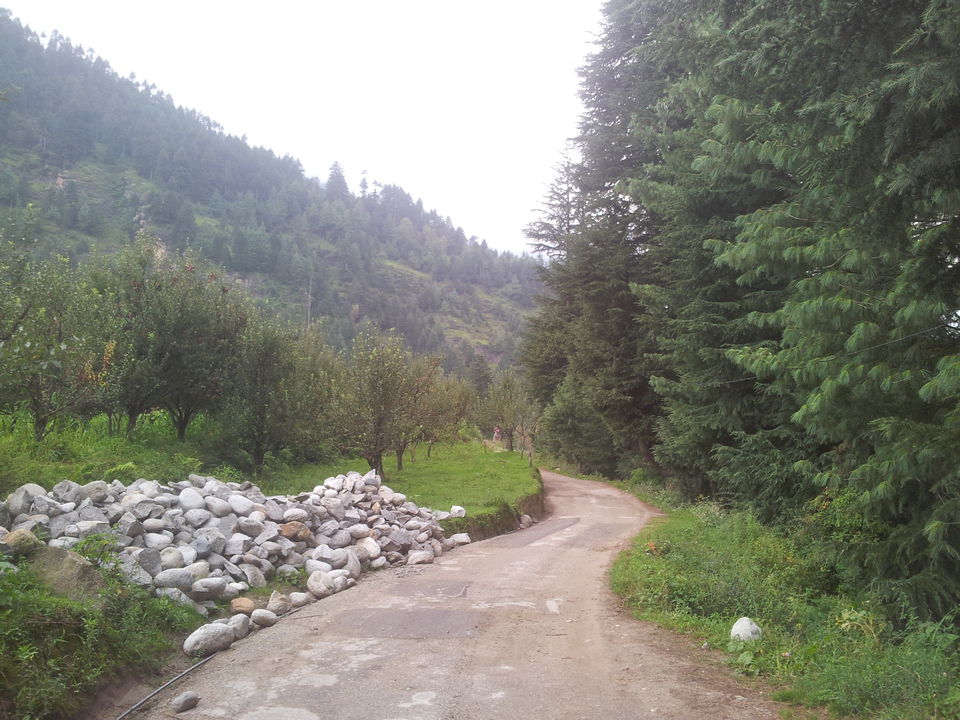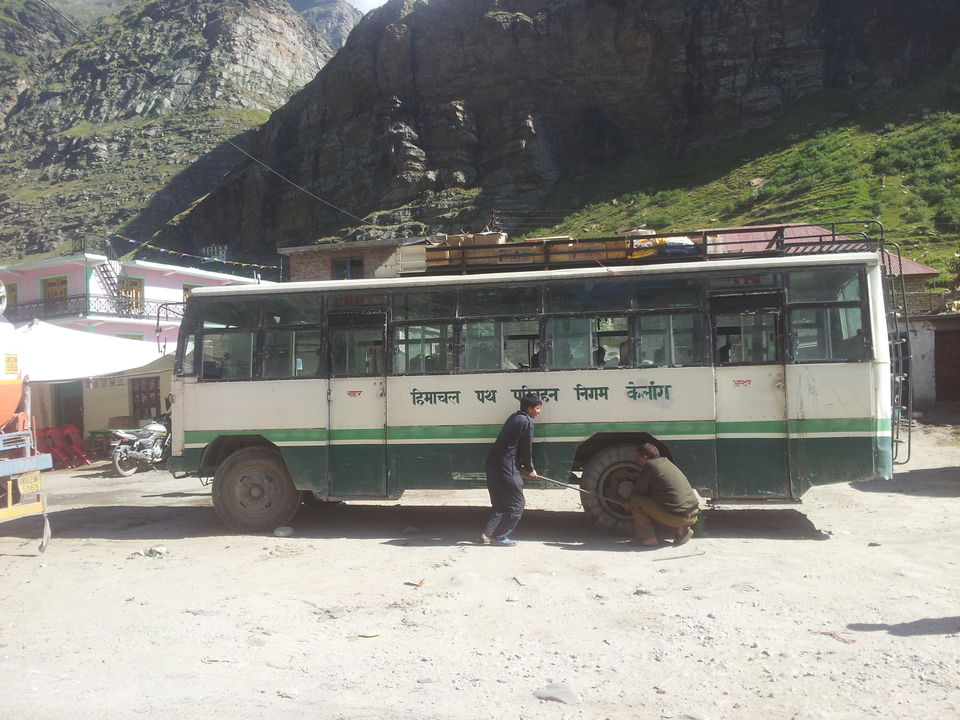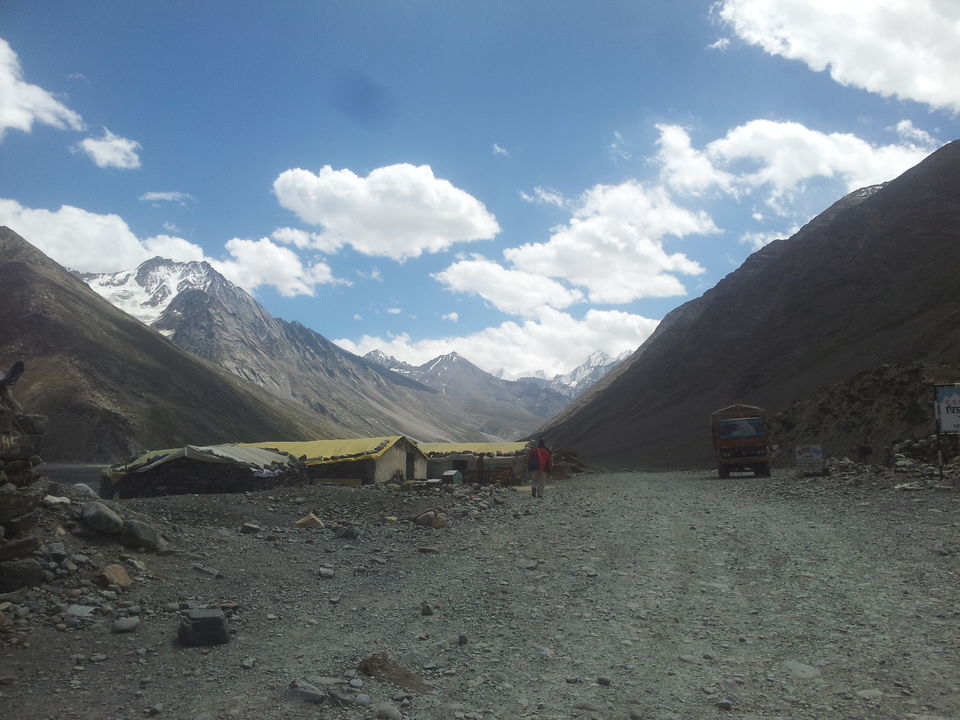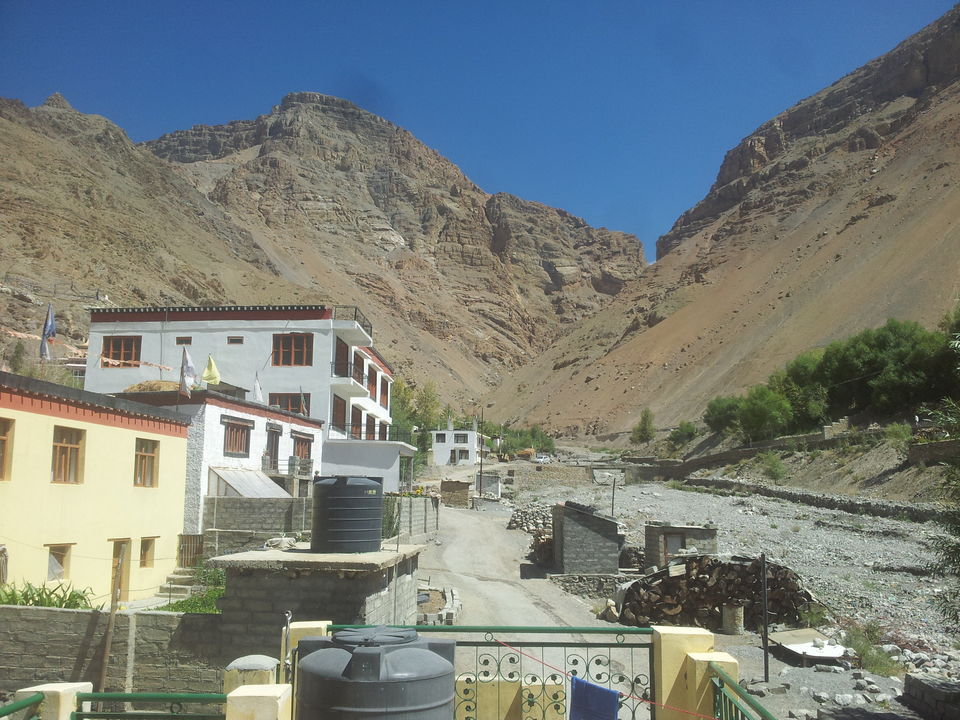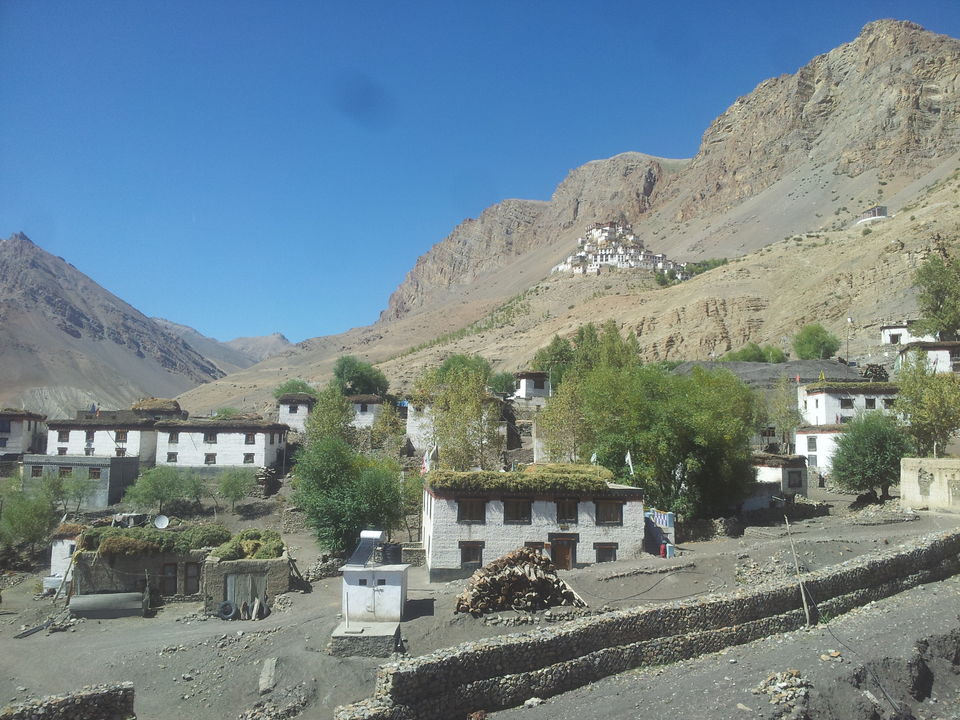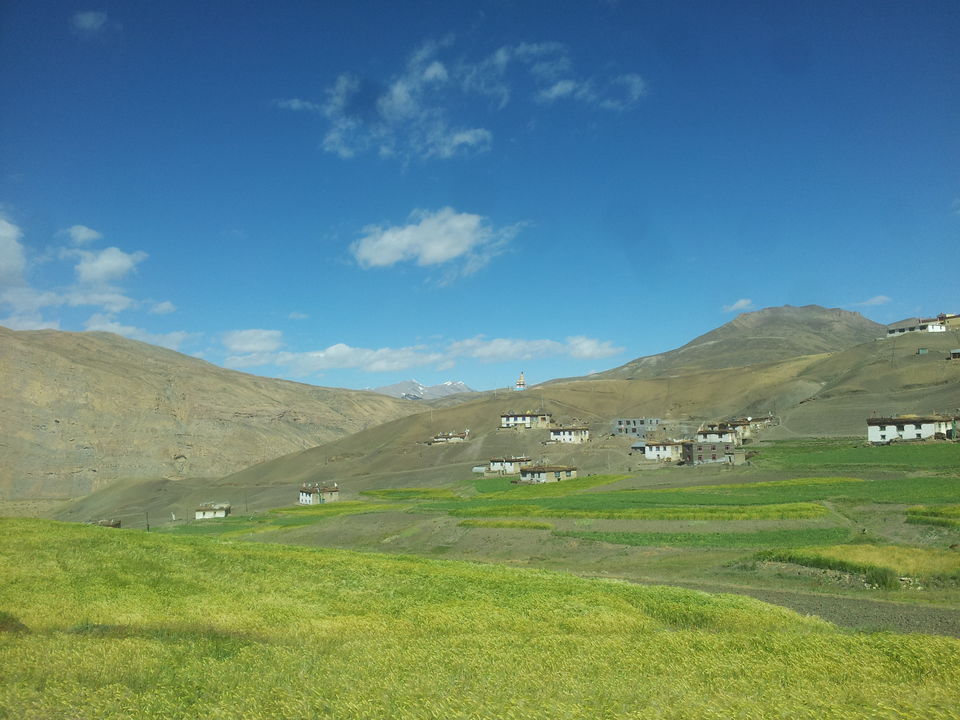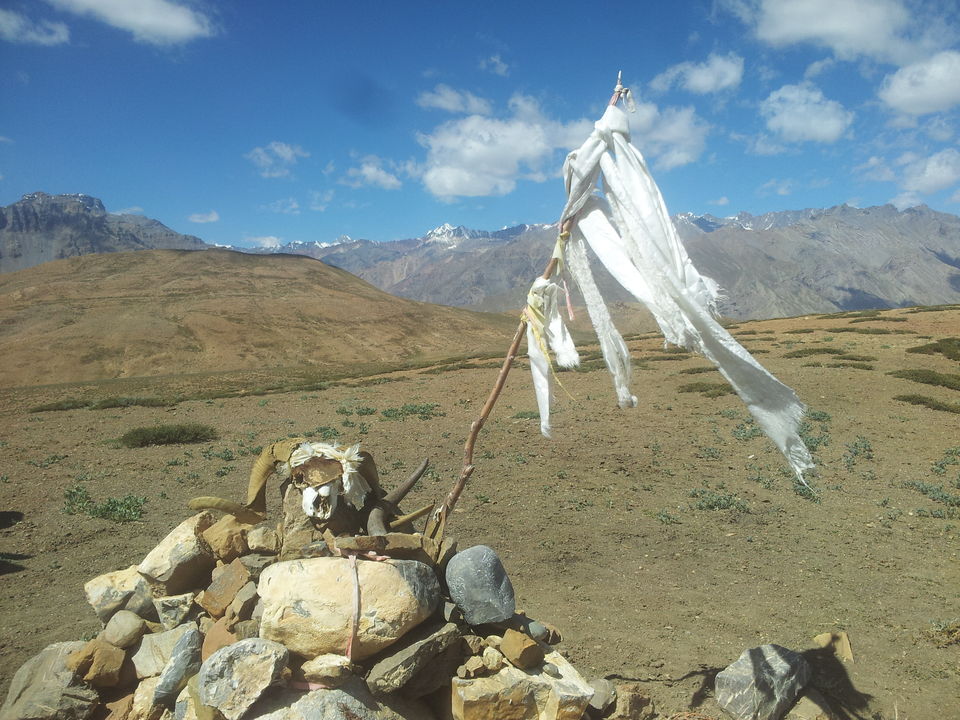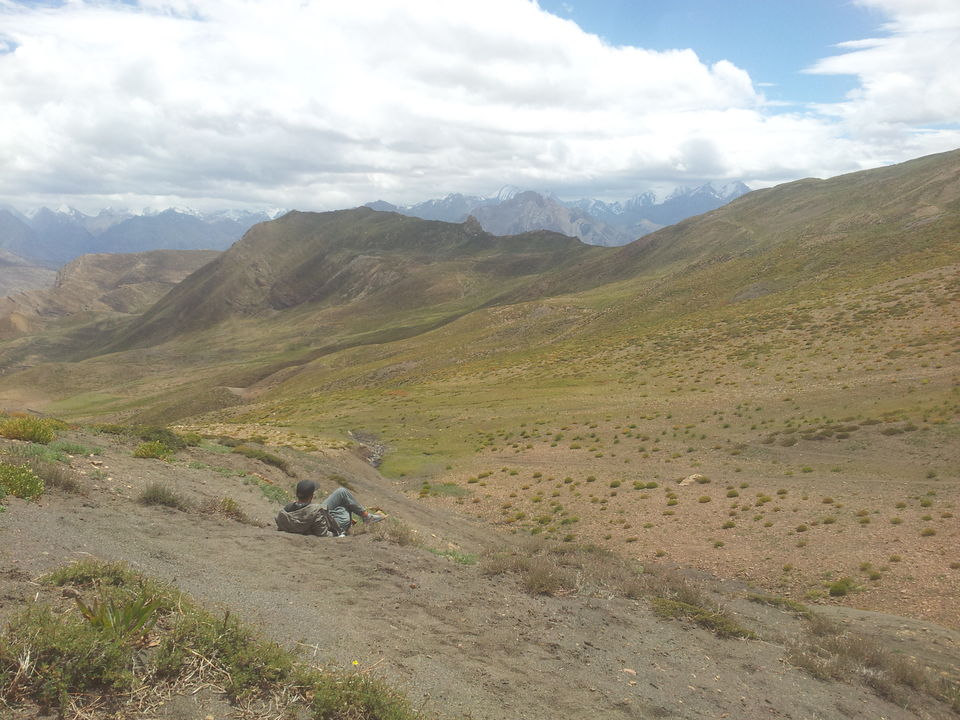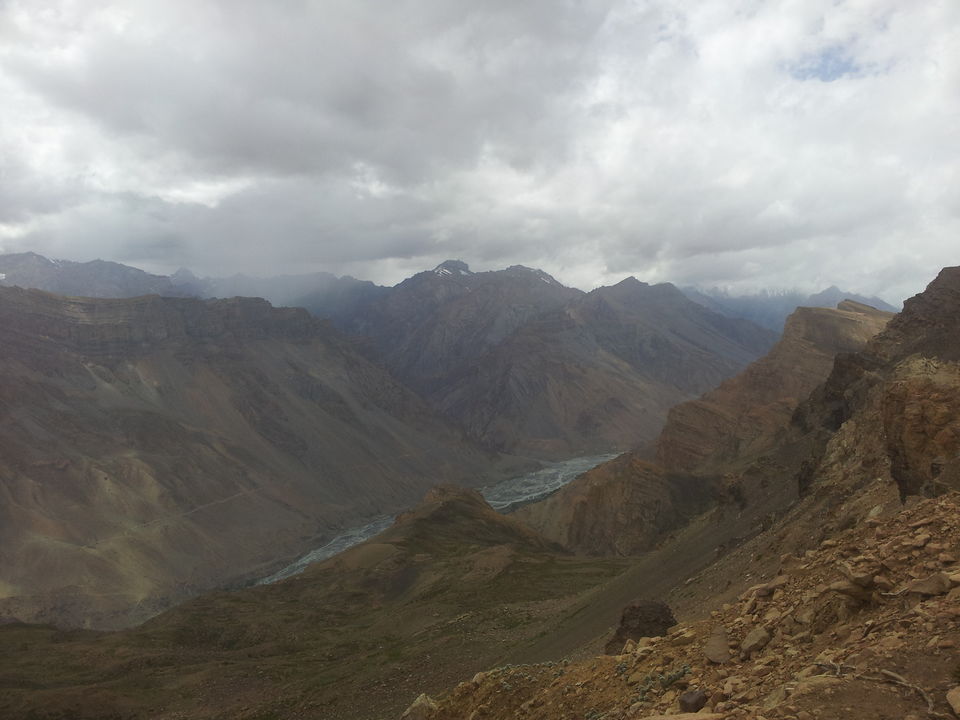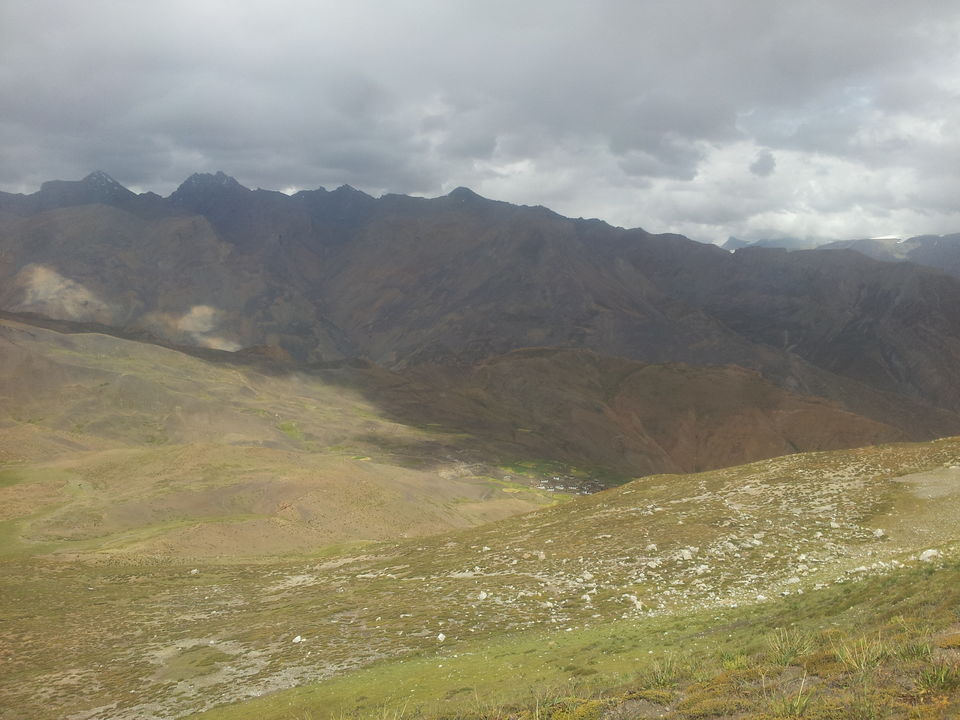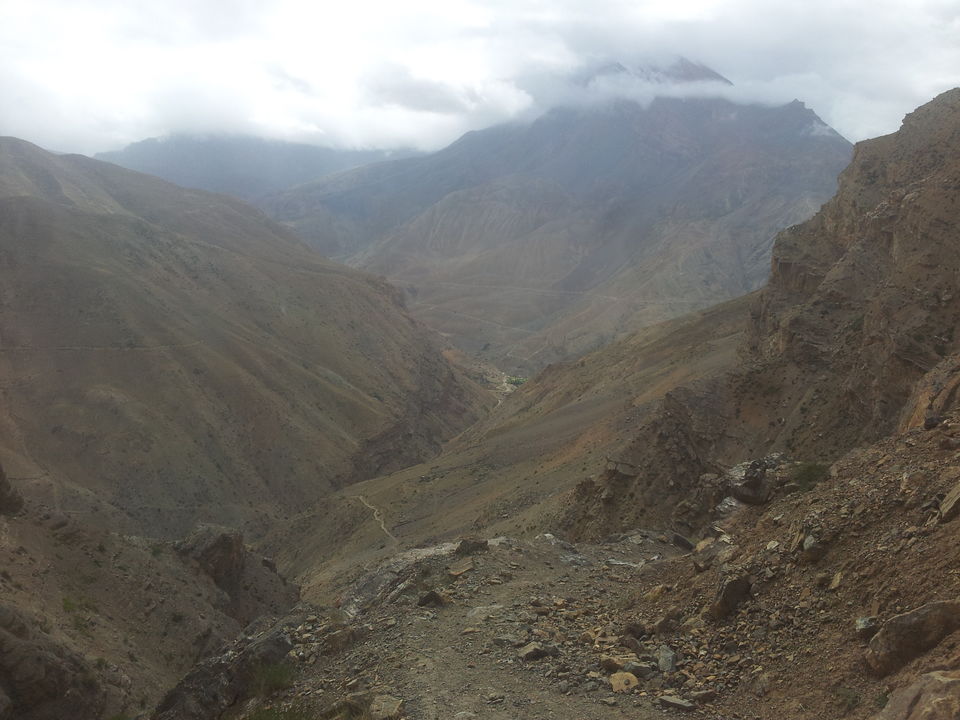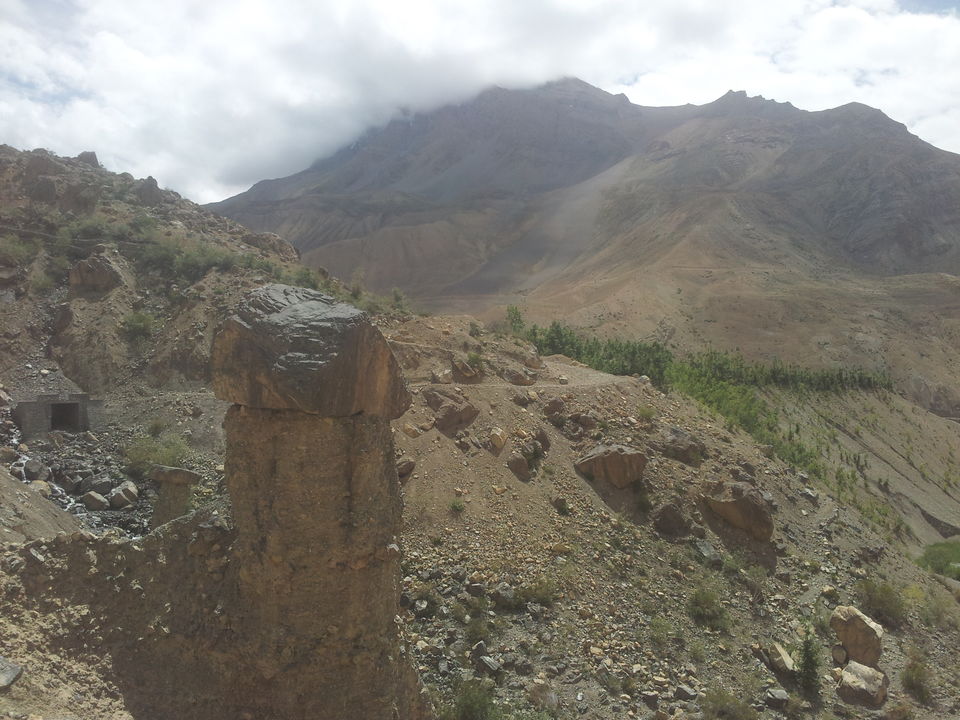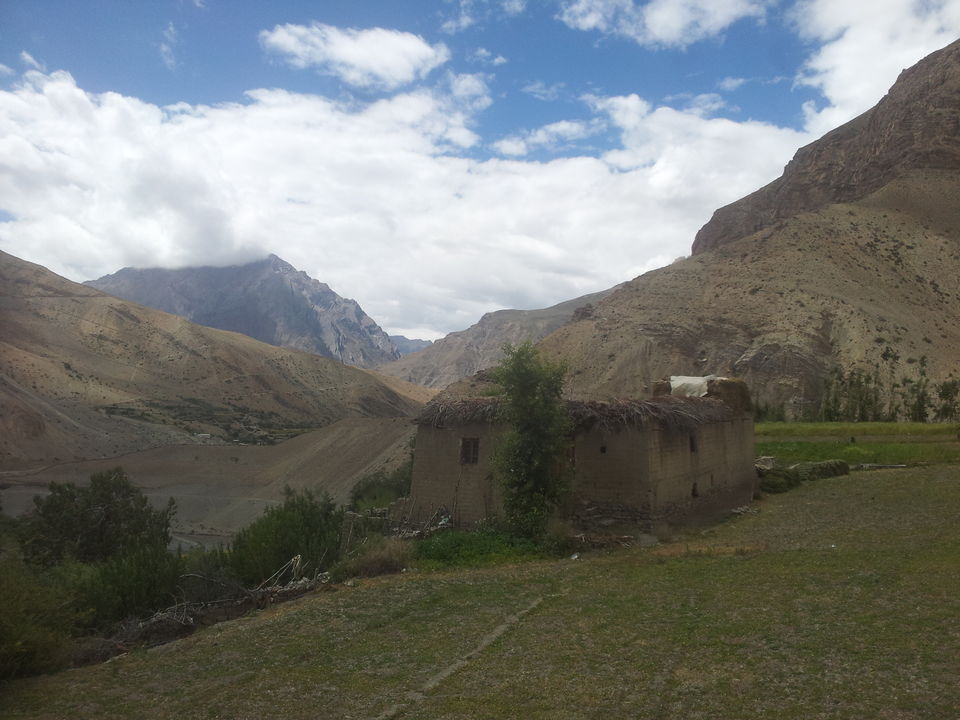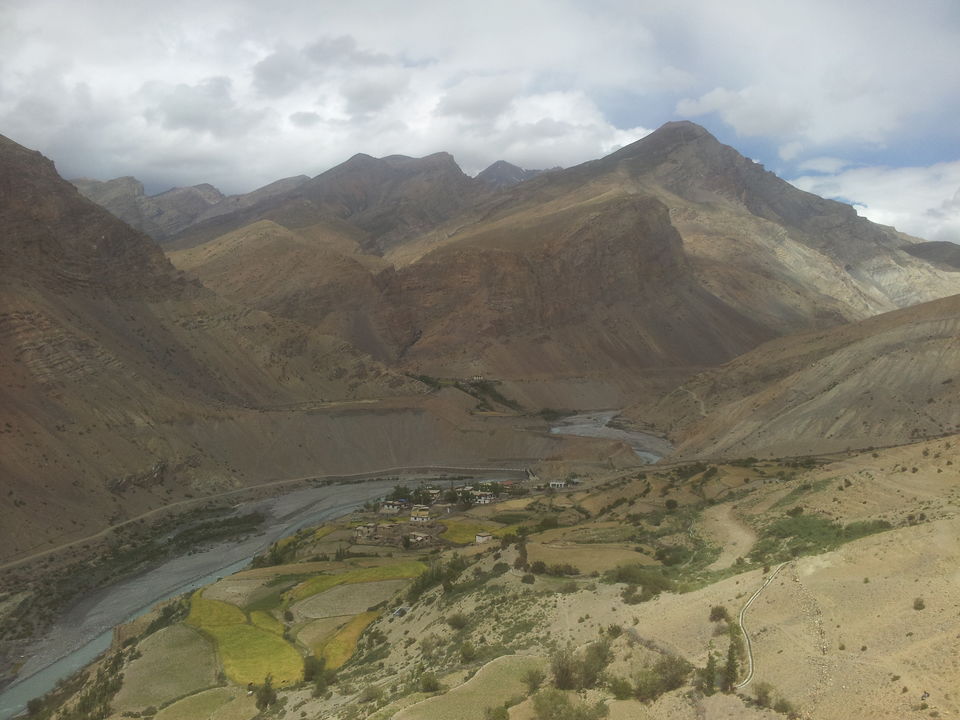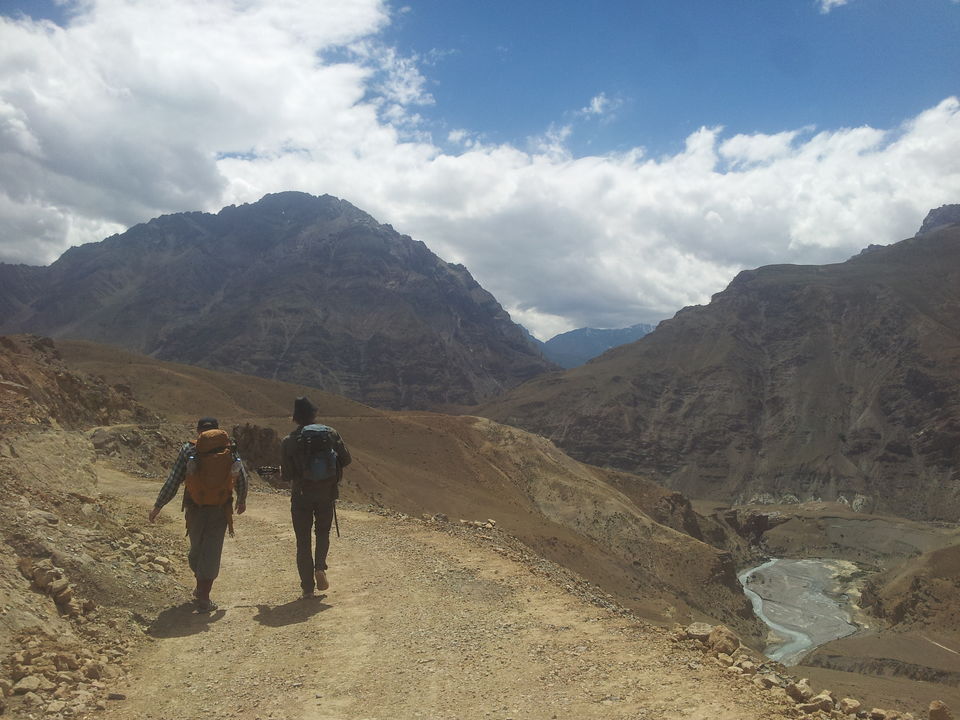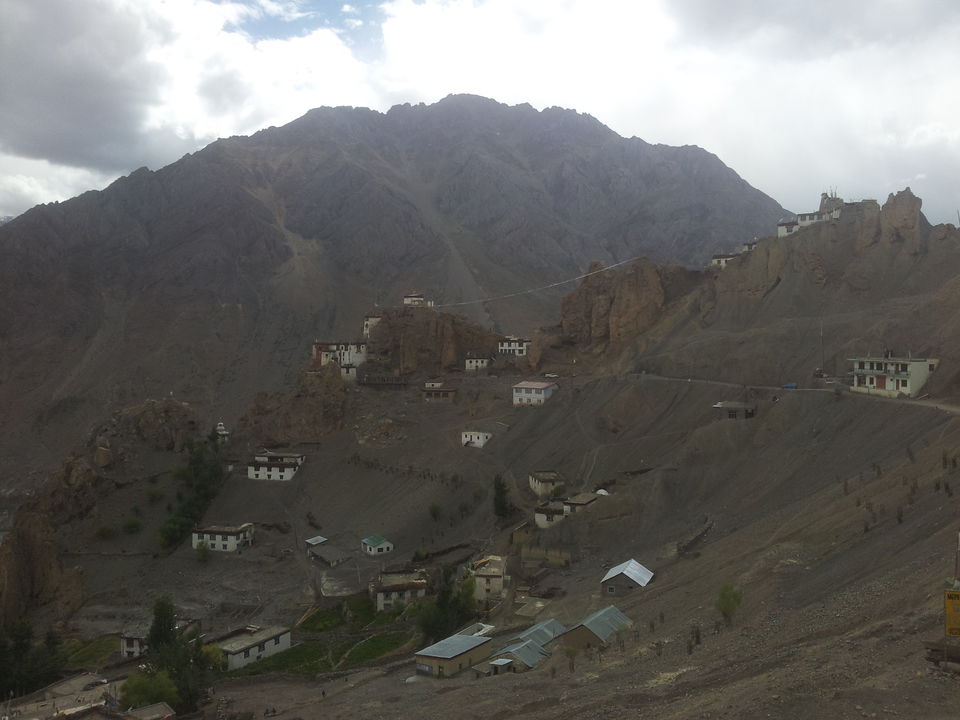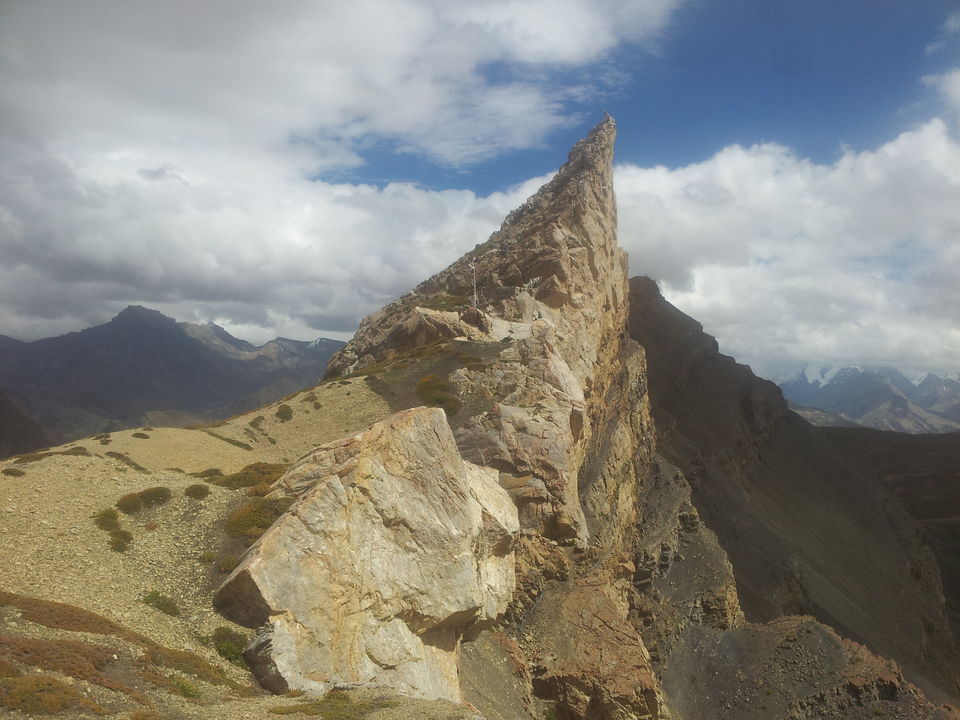 I spent 7 days in the Spiti Valley in August,2014. I started from Manali - took the early morning bus to Kaza. I stayed at Kaza overnight. The next day, I walked 15 kms (~4 hours) to reach Key Gompa and stayed there for the night. I wanted to trek to Kibber and Gette, small villages nearby but instead went back to Kaza the next day, and took a bus to another village Langza, around an hour bus-ride from Kaza. I stayed at a homestay. The next day, I trekked to Komik and to Demul, the day after. I trekked to Dhankar the next day, then took a bus back to Kaza. I spent the next day in Kaza, then took a bus to Kalpa.
ROUTE:
Manali > Kaza > Key > Kaza > Langza > Hikkim > Komik > Demul > Rama > Dhankar > Kaza > Manali
If you are in no hurry to get back home:
Manali > Kaza > Key > Kaza > Langza > Hikkim > Komik > Demul > Rama > Dhankar > Kaza > Reckong Peo (Kalpa) > Shimla > ?
JOURNAL
24-08-2014: Woke up at 4am, got ready, walked from Old Manali to bus station in main town, to catch bus to Kaza. Bus left at 6am. Driver discovererd flat Tyre at Rohtang pass, so we had to drive to Keylong to get it fixed. Delayed us by 2 hours. On the bus I met Ganesh, an elderly doctor, working in Manali, on his way to Kaza for Bhaba pass (4800m) trek. Enjoyed the mountain scenery for the next 8 hours. Bus arrived at Kaza around 6pm. Ride had been bumpy and dusty. Walked around main market near the bus stand to look for a guest house. Bumped into Ganesh who was searching too. Crossed a small bridge and we found a decent lodge on the other side. I bought some jam, bread and biscuits, and shared roti, sabzi and wildly spicy vada pav chutney that Ganesh brought with him. Jam saved my tongue. We shared a few stories. I was exhausted from the journey and slept.
25-08-2014: The next day, a few of us guests got together and had jam, bread, khakra and tea for breakfast at the verandah outside. Ganesh left for his expedition. I picked up my 15 kg rucksack and daypack, and left for Key Gompa 15kms away on foot. I thought I could hitchhike. Not one vehicle. But it was good practice for my upcoming trek. The only people I saw were some construction workers paving the road and 2 small boys, roller-skating down a newly paved road. Reached Key village from where it was an uphill 2 km walk to the Gompa. Tried to cut a steep shortcut, but it was too steep and I could not see the path ahead. Rubble, rocks, thorny buses. Jumped into a shallow and could not climb back, not with all the bags. Had to backtrack and get back on the road. The heat dried my sweat. I was covered in salt. Walked the snaking road to the gompa and ate maggi at the shack outside. Asked for a bed at the monastery. Took a cold shower. Met some other trekkers staying there. Had boiled flour dumpling and vegetable stew for dinner at the monastery kitchen. Met a guy from Israel, Konen. We decided to trek Langza-Komik-Demul-Dhankar and leave Kibber and Getter for another day.
26-08-2014: Woke up early. Had butter tea at the monastery temple. Got on the bus to Kaza and had sandwich and rolls at a bakery. Left my daypack at a tent-shop nearby to ease my journey. Tried seabuckthorn juice at Sol café. Tangy. The hour-long bus to Langza left at 2 pm. We got off and walked through the fields to look for a homestay. Met two people from Brazil, and found a homestay with the help of a local man. After leaving our bags, we went out and explored the village. Buddha statue, mountain-sheep skulls, snow-peaks in the distance, rolling hills, short shrubs, children playing. Had dal-roti for dinner later. We slept for an early start the next day.
27-08-2014: Woke up at 7. Brushed in ice-cold running water. Took a dump in the traditional Spitian toilet on the 1st storey. Everything falls below and makes a huge pile of fertilizer, used later to grow peas. There was a shovel and some sand. I got the message. Helps with decomposition. Had Tibetan bread and tea. The host packed us some more bread with jam and yak-butter. We left for Komik, the village with fossils. Met other travelers on the way. Two from New Zealand, Ash and Trent and an American, Eliot. Our small group was now 7. We walked for a few hours to cross Hikim. A farmer gave me freshly plucked pea-pods. Delicious. An hour or so later, we reached Komik. Got rooms for all of us at a homestay. I was feeling very dirty. Took a freezing cold shower and shivered for the next 30 minutes. We shared some laughs and stories, played cards and sang. Our hosts prepared momo, soup, yak-cheese and rice for dinner.
28-08-2014: After a light breakfast, we started early for the 6 hour trek to Demul. I used a map and compass to navigate. Saw domesticated yaks on the way. We walked between 2 high peaks, on a ridge. We arrived at a junction where the trail forked; one going down into a valley, the other going up. Trent and I took the one going up to scout ahead. Finally saw a village down another valley and figured it was Demul. Ate lunch at the high point. In the distance, we could see a ridge with a beautiful small shard. Eliot and I decided to go there and see what was on the other side. Konen joined. Eliot, from the high Colorado mountains. Konen, ex-Israeli army-man. Me, amateur. There was no trail to follow. Rocky, dusty, steep terrain. We passed a dead yak. Dirt and small rocks filled my shoes. Walked along almost vertical slopes at some points. A fall from there would not have been good. Eliot walked pretty fast. Finally, saw him from down below, walking up on the ridge. Once at the top, we could see Spiti river on the other side. We spent some time there and ate oreos. It was getting cold and dark. We had to go back to Demul. The descent was very steep. I mimicked Eliot's technique. Fast descent, sideways, knees bent. By the time we reached Demul, I had a blister on my toe. The others were waiting. We had to split into two guesthouses to divide ourselves amongst the homestays. Dinner. Sleep.
29-08-2014: The next morning it drizzled. Our host drew a map for me to get to a town called Rama, from where we could go to Demul. The first 2 hours was all downhill, slippery with the rain and terrifying. All of us slipped many times. An uncontrolled skid meant a fall down the valley to certain death or grave injury, the former more likely. Halfway down, I could see Eliot, Ash and Trent in the distance, above us. I waved to them. They were too focused on not falling into the valley. Another steep descent and we reached a tiny wooden bridge, across a small stream. We rested and continued once the others arrived. We followed the stream. Upstream. The trail was less than a foot wide in some places. After a while, the trail became wide, rocky an uneven. Freshly carved mountain path. We passed a giant stone penis on the way. Could not figure if it was natural or carved out. At a place called Saglung, 30 mins before Rama, Eliot went in another direction. The lone ranger. We bid adieu. The rest continued to Rama. An elderly man offered to make us tea. We had our fill. We dispersed at Rama. The Brazilians stayed back. Konen went ahead. Ash, Trent and I remained. There were 3 steep paths cutting upwards. Steep, steeper, steepest. The elderly man told us to take the middle one. Later, when we met the others in Kaza, they told us how they got stuck for taking the lowest one. After the steep ascent, we were on a ridge. The road now got wider. Motorable. 7 kms to Dhankar. Slight ascent. Reached at 3pm and were told to descend to the highway below instead of going to Sichling, to catch the last bus. A construction worker sent us down a no-man's land. Windy. Steep. No trail. The stones rolled beneath our shoes. We descended sitting down. At one point, we had to climb down a place where rain water would normally plunge down. We cursed that man once we reached the highway, just in time to get on the bus to Kaza.
NOTE:
Manali-Kaza bus leaves at 6 AM. Carry food and water. The ride is going to be very bumpy and dusty. Carry a mask of some sort.
Kaza-Reckong Peo (for Kalpa) bus leaves at 7 AM. This ride is going to be dusty as well.
Consider buying a map for Spiti at Manali
TRANSIT TIMES & APPROXIMATE FARES (INR):
Manali to Kaza: ~10 hours (Bus), 300
Kaza to Langza: ~1 hour (Bus), 50
Dhankar to Kaza: ~30 minutes (Bus), 30
Kaza to Reckong Peo: ~11 hours (Bus), 370
Kalpa to Shimla: ~10 hours (Bus), 400
AVERAGE EXPENDITURE (BUDGET TO MID-RANGE) ON FOOD AND STAY (INR PER DAY):
@Manali: Food - 300, Stay - 300
@Kaza: Food - 300, Stay - 300
@Langza: Food & Stay - 400
@Komik: Food & Stay - 400
@Demul: Food & Stay - 400
@Kalpa: Food - 300, Stay - 500
A tribute to Spiti from our Brazilian friends, Luca and Maria: