YUKIKO TAKAMORI.
She wrote in my diary with slow childlike precision.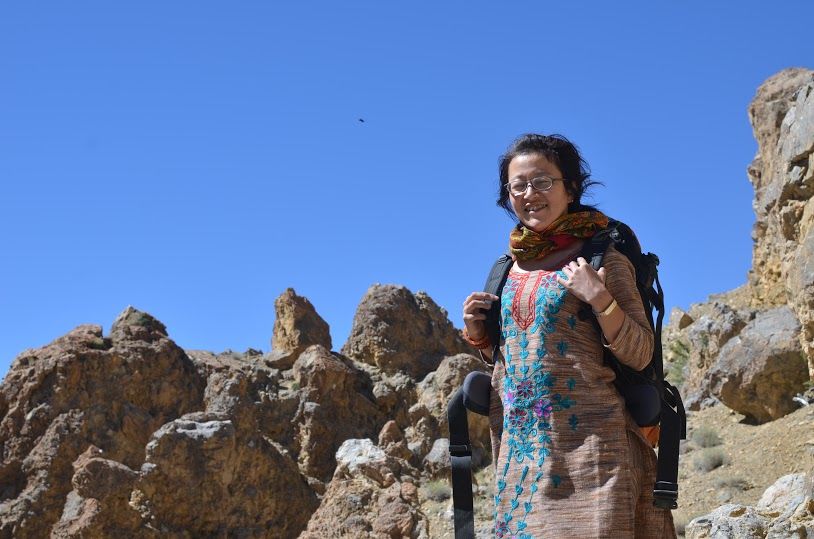 Image credits : Sankar Samanta
Meanwhile the truck waited for us on the road. Sankar and Milan were already stuffing the backpacks on the vehicle. When she finally finished writing her email id, I took the diary and jumped onto the truck. I wanted to give her a final hug so I called her close. I could only manage to kiss her on the forehead. The truck began to move. 
I registered the last sight of Yuki, standing at the gate of New Dhankar Gompa waving us goodbye. She was waiting there with a group of Lamas who'll probably accompany her to Dhankar lake. The previous night she told us that she really wanted to see the lake. Probably 'explore the Gompa and the village for one more day'.
Would you spend a whole day looking at a lake? Yuki would. That's how beautiful she is.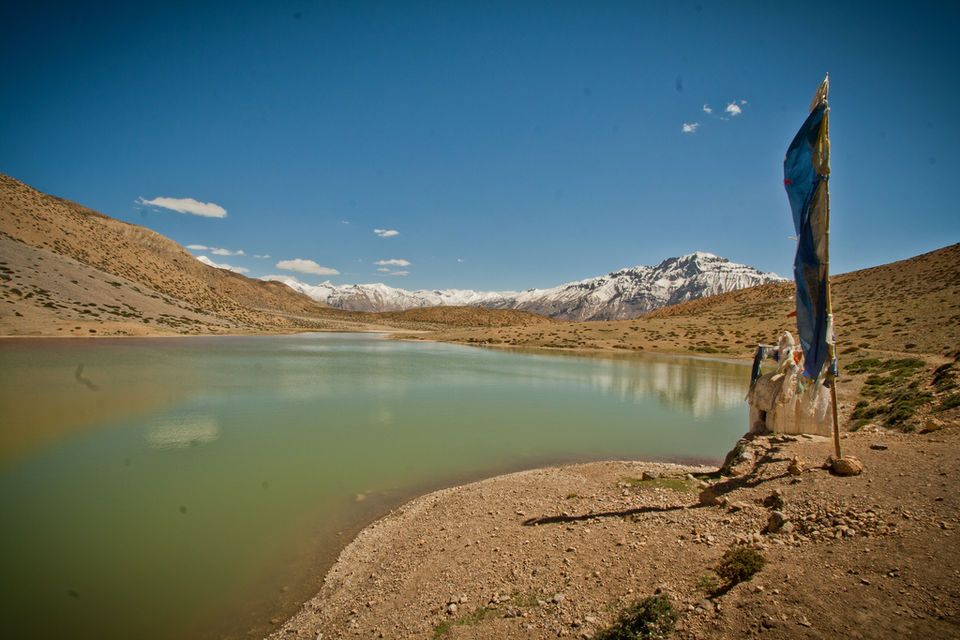 I first met Yuki two days ago at Kaza bus stop. That morning my friend bid me goodbye and travelled back to Delhi via Manali and I decided to travel ahead (solo). The bus from Kaza to the Dhankar Monastery was supposed to leave at 2 o'clock. I calculated. I had four hours to kill. And I'm a champ at that. I can look at people for hours with a resting face of an owl.
That's when I saw Sankar and Milan with their backpacks. We were constantly questioning the same people for the bus timings time and again so it was inevitable to avoid talking straight to each other. We got into a conversation and decided to hitchhike together instead. Just when we were huddling up for a discussion, they told me, "She's with us." 
That was Yuki.
She stood at a distance wearing a himachali salwar kameez and a colourful headscarf. Until that moment she'd perfectly managed to skip my sight. I mistook her for a local woman instead and yes, everyone else at the bus stop thought the same. She later introduced herself and the boys told me that she was from Japan.
This was the beginning of my hitchhiking trip around Lahaul-Spiti and Kinnaur. Click here to read our incredible hitch-hiking story.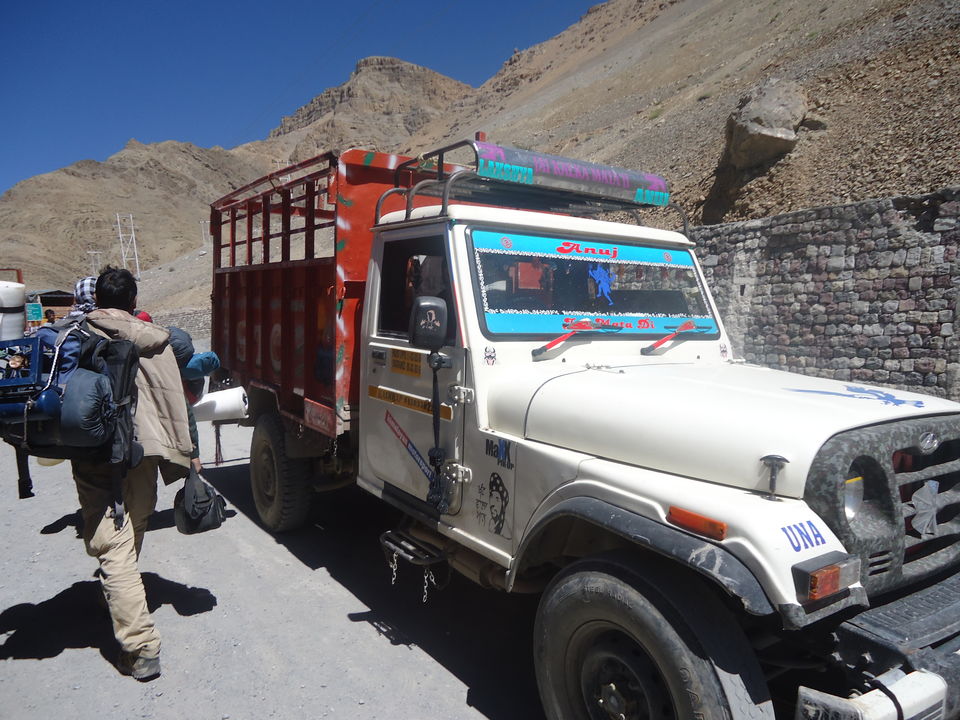 Sankar and Milan helped her climb the truck. She was indeed a tiny woman who looked quite mysterious travelling alone in this Himalayan desert. When the truck began to move, Yuki settled quietly at a corner while I stood there at the back of the truck trying to feel the cold wind on my face without blinking.
Bored of the momentary adventure, I too sat after sometime. I looked at Yuki who hesitatingly smiled and spoke nothing.
I had to talk to her. She was too mysterious to be ignored. I began my childlike interrogation.
"How long have you been in India?"
She was confused at the question and asked me, "This time?" I nodded. She said, "Four months mmm no four weeks."
I decided to ignore her confusion and just keep on talking. "And how many times have you been in India?"
"8 times" she said. This was the moment when Sankar and Milan turned their heads towards each other. This was something interesting for all of us.
"And where else have you travelled?" There was no stopping me now.
She was now following a map inside her head. She began, "Laos, Cambodia, Myanmar, Philippines, Bhutan. Nepal, China…" If you know your world map well she stopped somewhere at Syria in this endless list, only to catch a breath and finally stopped at France when she noticed me punching Milan in disbelief. The list was longer.
Further in this conversation at the back of a truck we discovered that Yuki had been travelling since last 6 years and knew more than 5 languages. Her hindi was impeccable, better than most of my friends, who grew up speaking hindi and now suffer an urban amnesia.
We had already forgotten the incredible view of the meandering Spiti river on our right.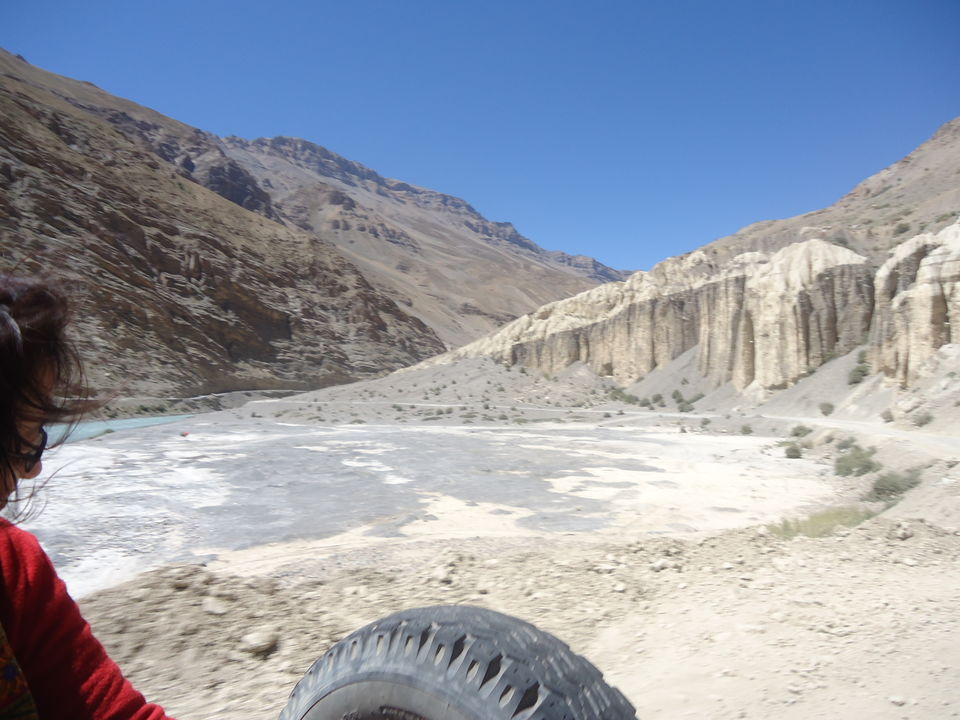 Shankar asked want all of us had been wanting to ask. "How do you manage to travel so much?"
Slow with words, though precisely, she narrated how she was a tour guide in Japan where she met with an accident and injured her spine. She then left her job and began to travel on her own. She told us about the trend to earn and spend in Japan and how she chose to save money instead. And saved just enough to travel, the thing she lived for.
Mesmerized, my mind skipped most of the things she said next, but I do remember that she told us about the small doors in Nepal and the expensive touristy things at Angkor Wat she was rather appalled by. We talked about the French and their culture and the British and their finances. She was sad when she told us about her own country. The little things bothered her back at home. She was uneasy about the fact that she didn't know her immediate neighbour. She carefully chose her words to tell us, "People are lonely there."
When the truck stopped, it dropped us at a deserted spot. We had to start a steep trek up for 3 hours. Sankar asked Yuki once, "Will you be able to do it?"
"I think, I can." She seemed convinced in her head.
Image Credits: Sankar Samanta
The tiny lady walked with us for hours not once reminding us of her spine injury. She had a peculiar Tibetan medicine box she carried everywhere and secretively after every few hours she'd pop in the medicines. We finally reached the Old Dhankar Gompa during the evening. It was a maze of caves within the Monastery and I could hear long sighs escaping Yuki's lips every time she entered a new chamber.
This was the curiosity that led her this far away from home and everyone she knew.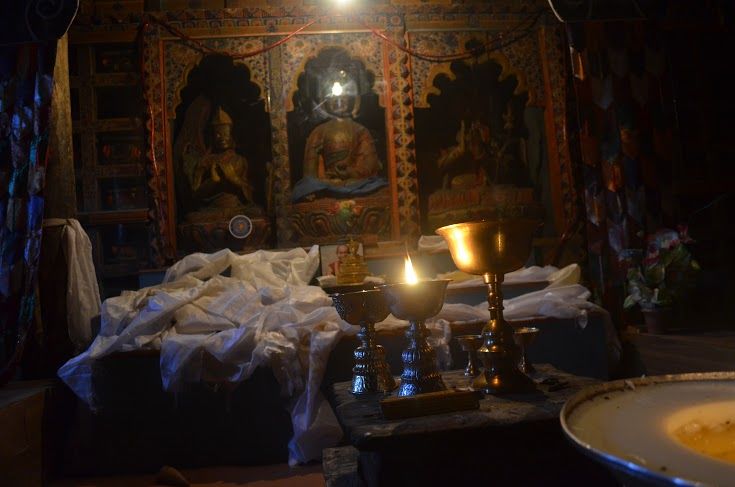 As we walked back to our dormitory, we rested under the giant rocks for a while. Star studded, the sky was one incredible sight. Yuki took out a small torch and aimed the spotlight on the rocks. She slowly began tracing the whole range of rocks. The moment was magic.
The next day we took our final photograph with Yuki.
Image Credits: Sankar Samanta
The three of us were convinced that we'd met someone incredible on this road trip. She didn't have a blog where she could tell the world about her journey. She had no need for it. But she'd still smile when strangers like us asked for a picture with her. 
She's a tiny woman who needs help to latch door locks in India. But she is curious, she is a brave heart, she is all we could wish we'd be. She dreams of seeing the world and has fallen insanely in love with this dream. If only we could set the uncertainties aside and follow our passion, we could be that smiling person in the frame
"Whatever you want to do, do it now. For life is time and time is all there is."