With friends, strangers and lovers in a perfect frame, I clicked this photograph at Chandratal to save the warmest moment of my life. But a new chapter awaited me the very next day. A trip that started from Manali to Kaza via Kee, Kibber and Chandratal, was now going to be a solo travel story from Kaza to Shimla.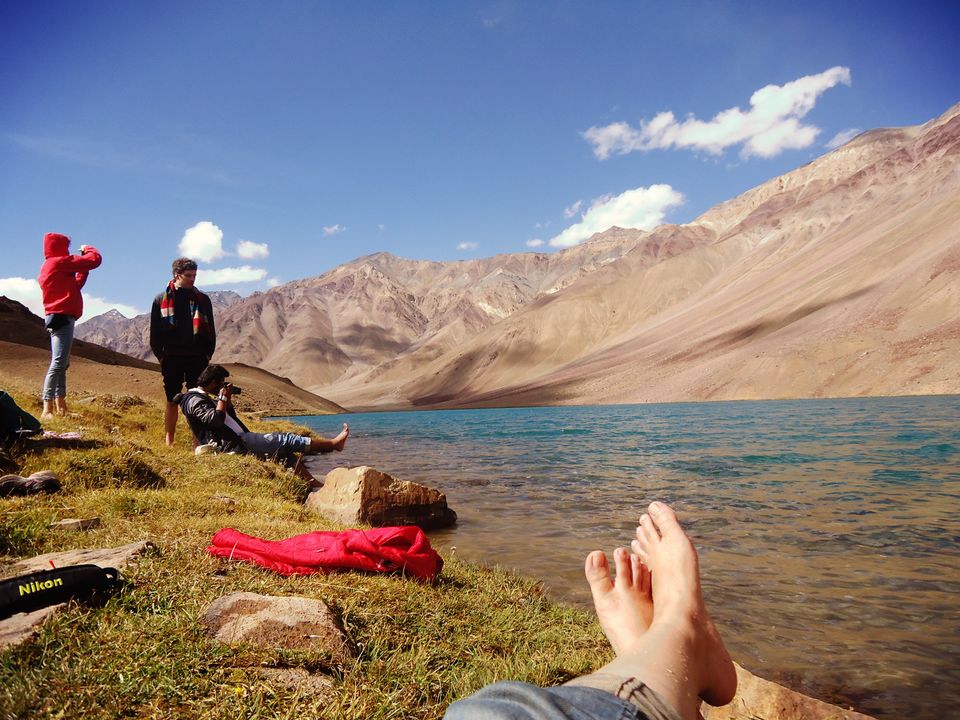 The truth is you're never really ready for a solo trip.
The decision to stay at the hotel while Sreshti (a friend) left for Delhi was indeed tough. As I sat there listening to the sound of the cab whizzing away I knew there was no going back. I clicked a picture of the map I had, just to save a copy incase I lose it. It was the just beginning of taking care of the little details for my travel ahead. I guess, that's an essential responsibility for travelling solo.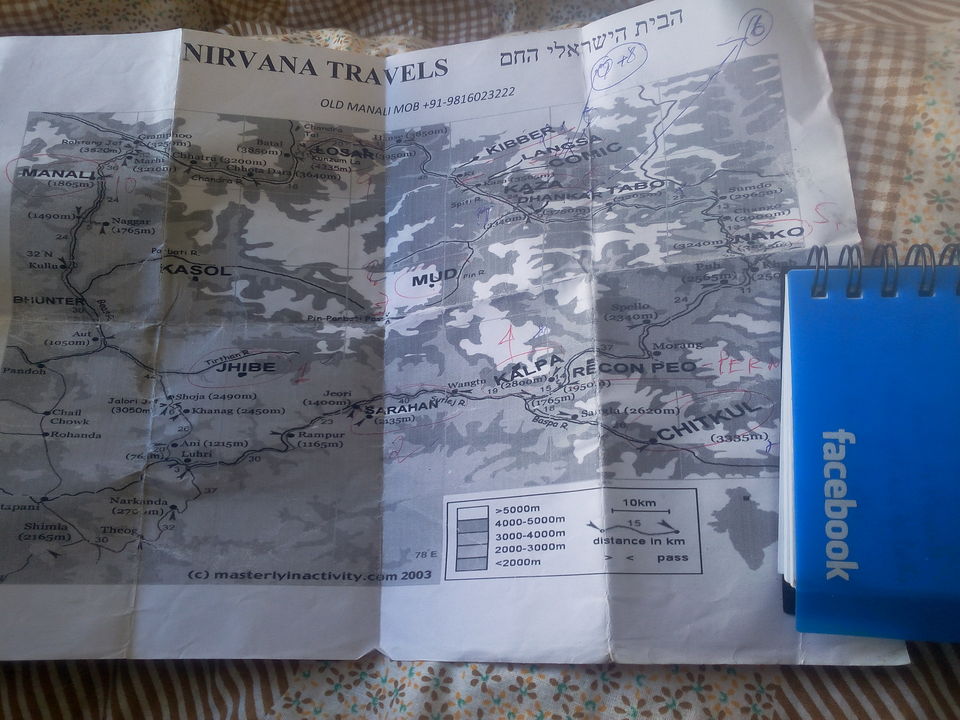 This photograph of the SBI ATM at Kaza is indeed a memoir. It was the beginning of a roadtrip that was going to be the most incredible experience of my life.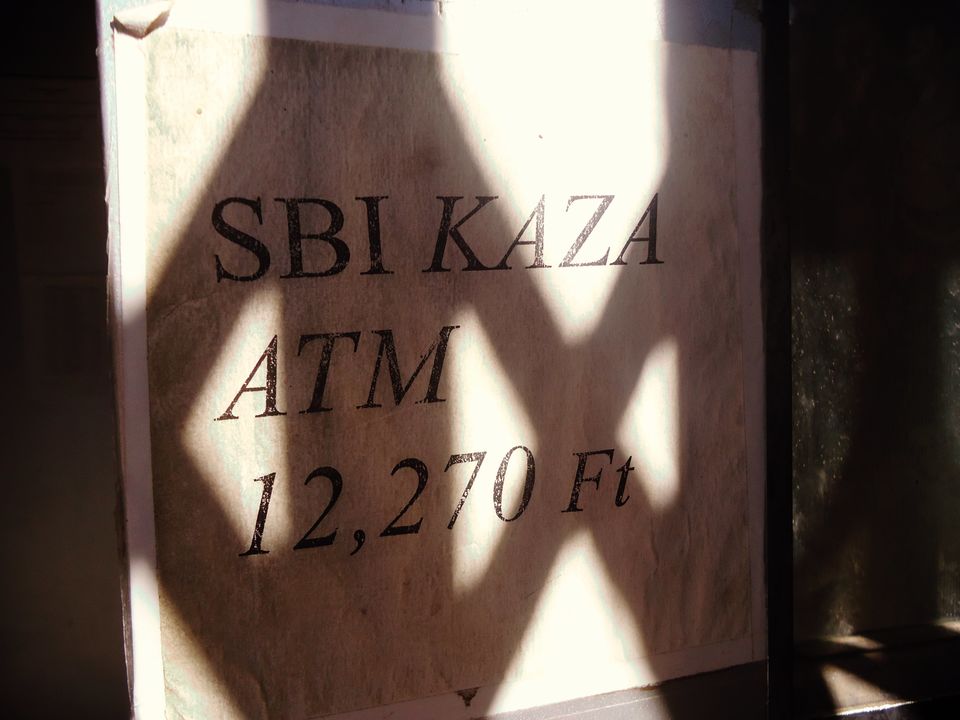 After a short walk around the town of Kaza, the first thing I figured out was that it was impossible to hire a taxi to Dhankar or Tabo or anywhere. As I sat there mentally preparing myself for a rickety bus ride, I first spotted Sankar and Milan. From the very first glance it became apparent that they were pros - with a massive camping gear, an attached stove and a bottle of kerosene.
Sankar and Milan, the two boys were my guardian angels for the next few days.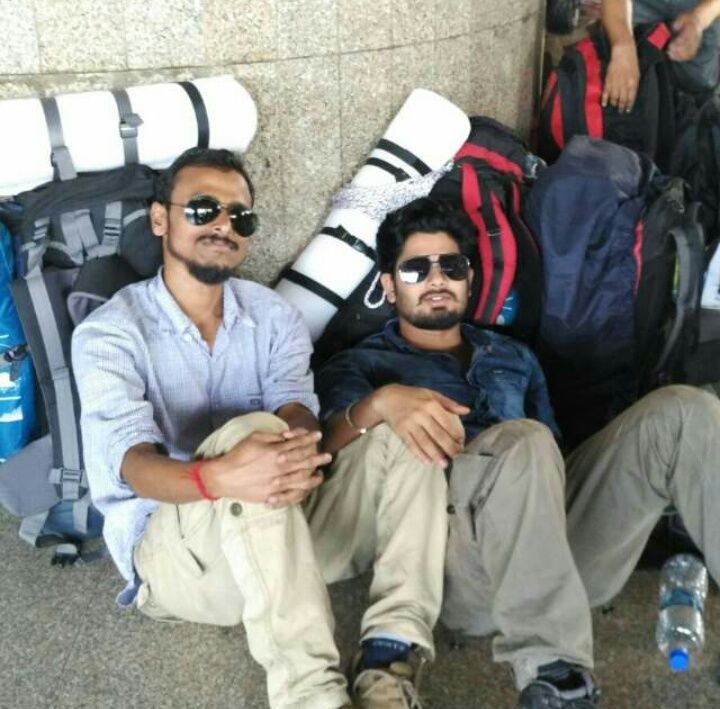 The first discussion with them was about our respective depleted budget. It was decision time.
1. We could hire a taxi, skip a few destinations on the way and travel henceforth with ease (yawn).
2. Or we could take our chances and hitchhike from Kaza to Dhankar Monastery and later travel to every town on the map.
And that's exactly what we did.
I waited with the luggage while Sankar and Milan inquired about the possible rides we could take. Thus began the most adventurous roadtrip of my life.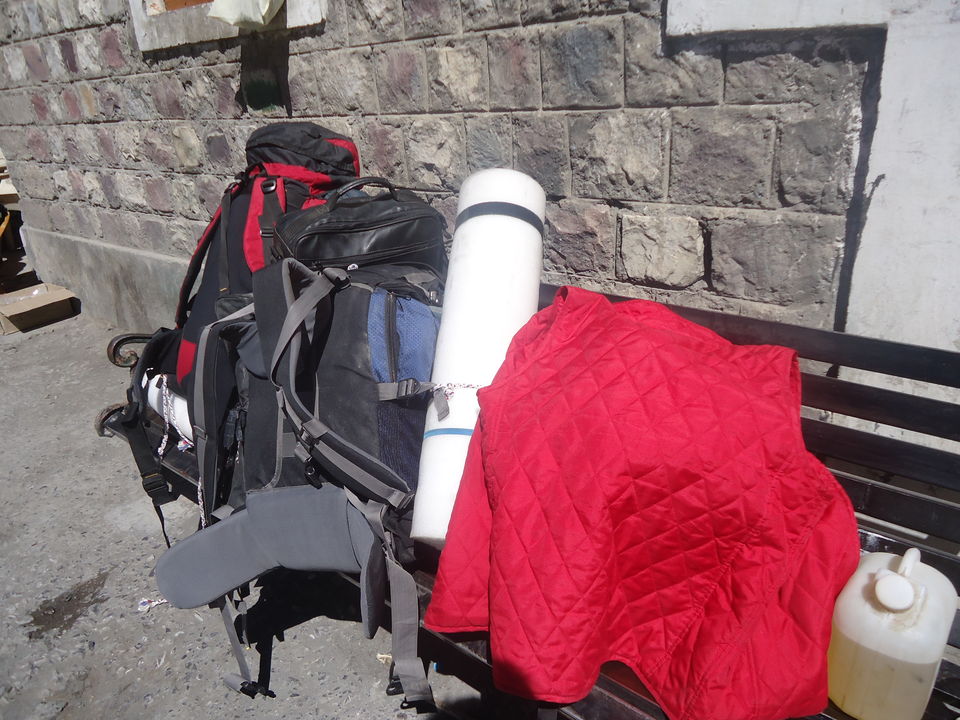 The First Free Ride
Just a few minutes' talk with the truck drivers and we managed to find a small truck that was on its way from Kaza carrying an empty water tank for refilling. This ride didn't take us directly to Dhankar but we were happy that we were moving ahead.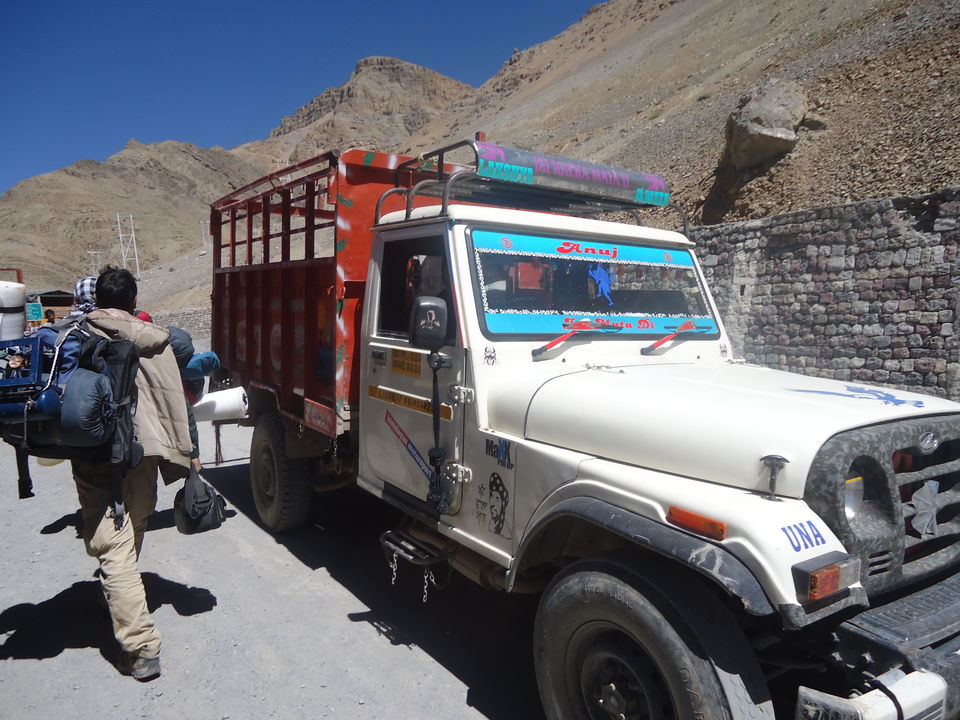 We were also joined by Yuki, a Japanese traveller who had been on the road for the last 6 years. It was her eighth visit to India and dressed in a Himachali salwar kameez, we all mistook her for a local woman a. Yuki was our forth travel mate in this feisty group.
Click here to read my conversation with Yuki on this journey.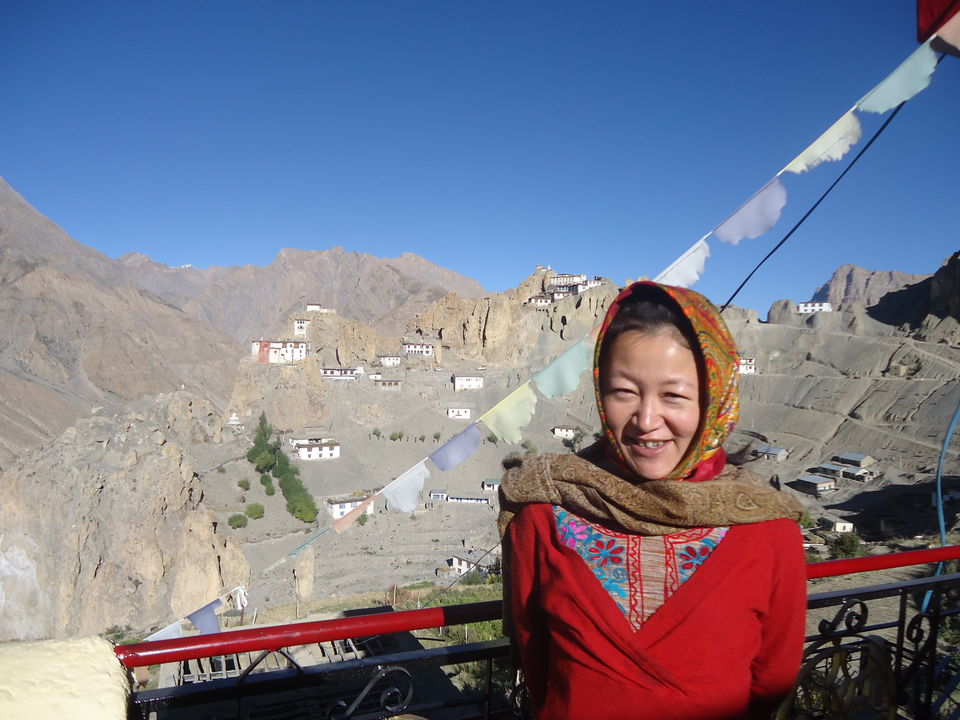 We knew the direction not the destination on this journey
...And that's how we hopped from one free ride to another throughout this road trip. Out in the open air, we stood at the back of the small truck with the view of the meandering Spiti river on our right. I knew this moment would be a story someday.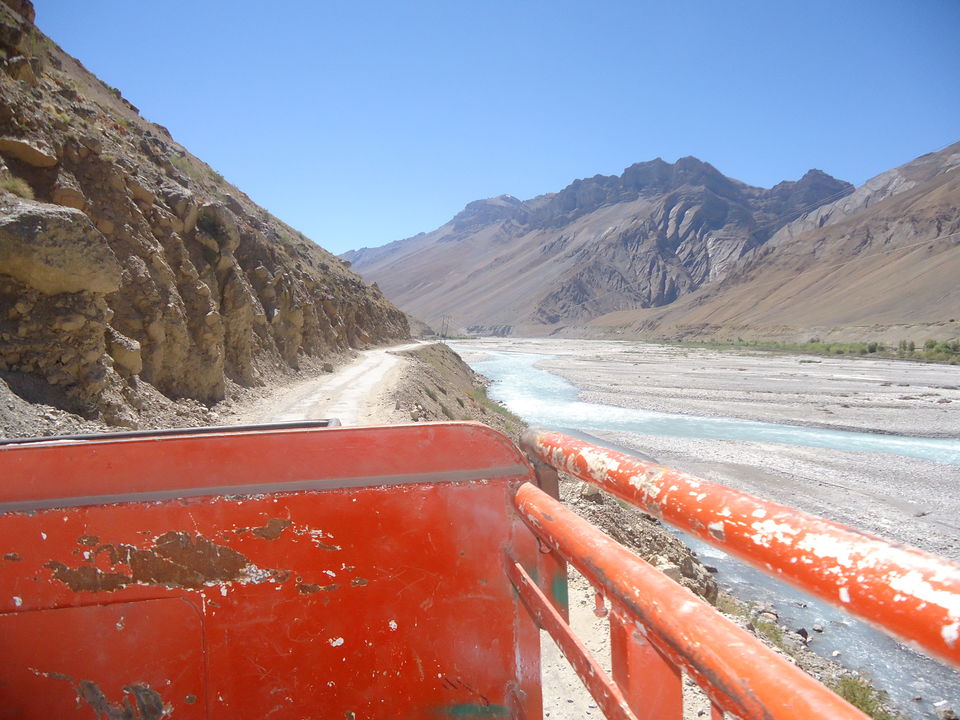 That's the idyllic spot were the truck dropped us. We didn't know the name of this little village. Probably no one does.But we stood there under the shade of the tree waiting to get lucky again.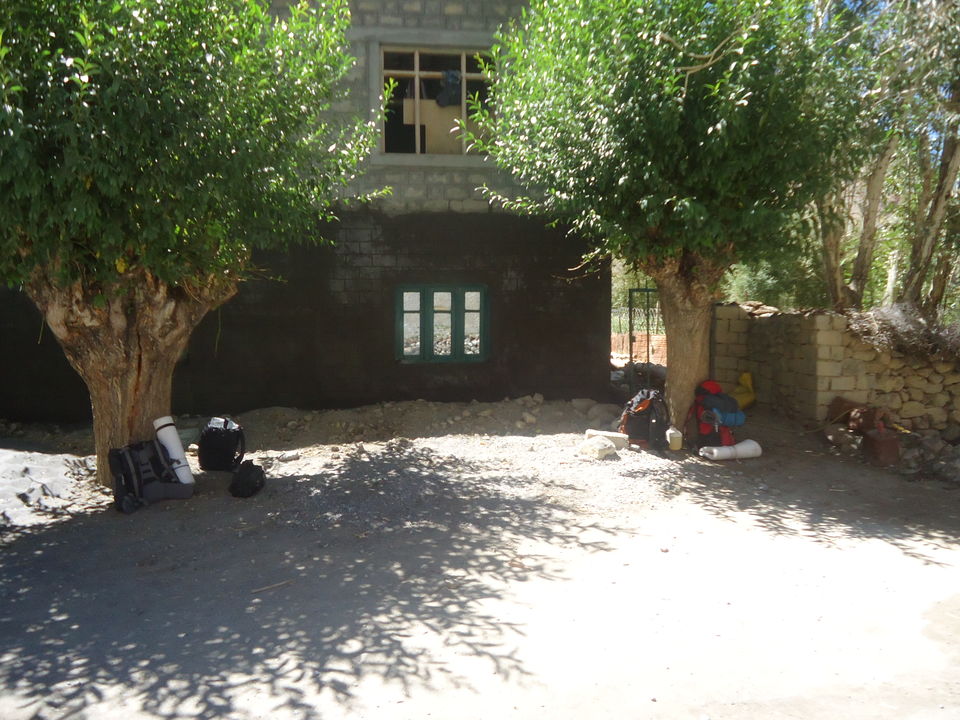 We knew our luck just couldn't ditch us now. And hell yeah it didn't! This was our second free ride.
A very interesting man driving to Mane was our next saviour. He was on his way to camp at Mane lake that afternoon. After discussing our plan with him, it was decided that we would get dropped off at Sichling from where we would either trek to Dhankar or hire a taxi.
With fair warning about his speed he drove us off farther into the mountains, as we sat munching the dried apricots he offered to us.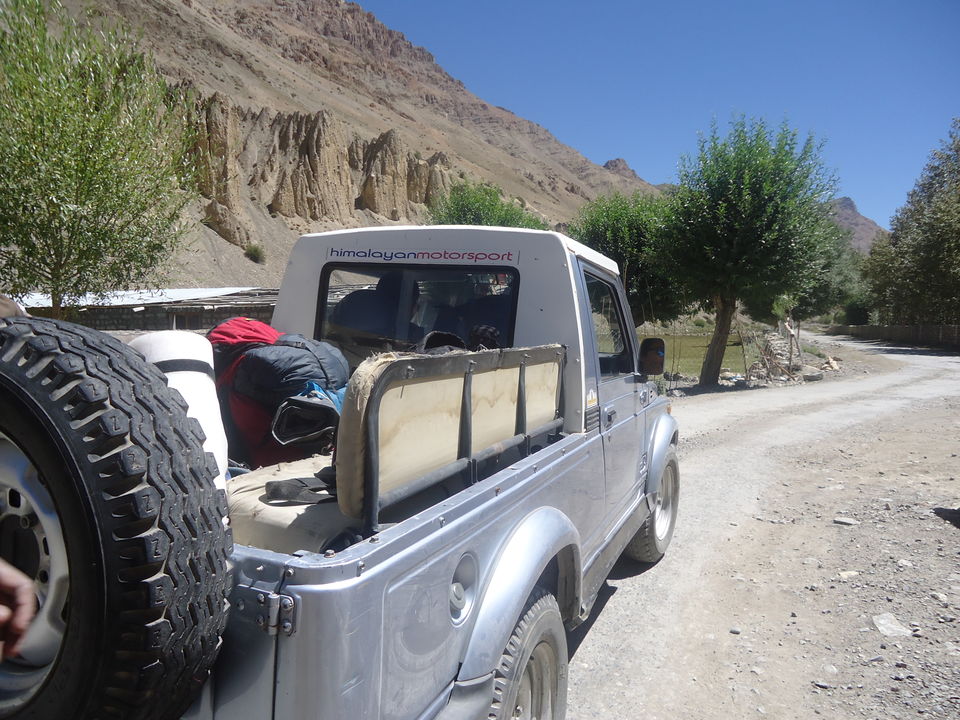 As promised we were dropped off a few kilometres away from Sichling. Like a fading white spot in the blue sky we could spot Dhankar Gompa at a distance. The journey ahead was now about choosing between two difficult options:
To walk along the road, which would possibly take around 4-5 hours
Or to venture on a steep trek straight to the Dhankar village.
Sankar and Milan asked if Yuki and I could manage the trek. I had vowed not to say 'no' on this trip and Yuki simply nodded smilingly.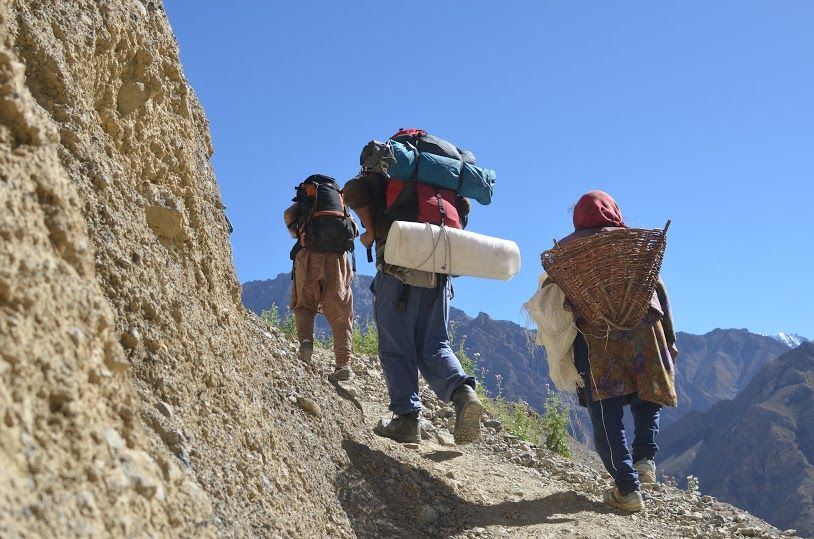 Image Credits: Sankar Samanta
After three hours of losing and finding our way and stopping to catch our breath on countless occasions we finally made it to Dhankar village. Ignoring our endless questions was an old man busy combing the sheep wool outside his house. He invited us inside and welcomed us with a refreshing cup of tea.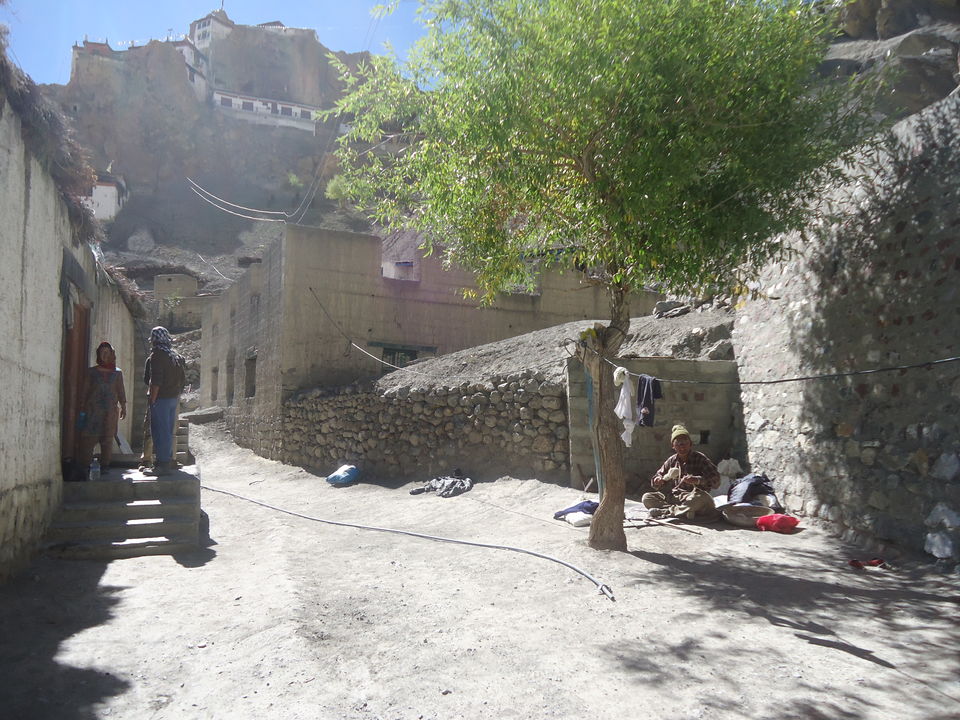 That's the things about the hills. They always offer more than you could imagine.
The dormitory at the New Monastery was a perfectly sunlit gift waiting for us at the hilltop. Overlooking the Dhankar village and the Old Monastery, it was a room with a view.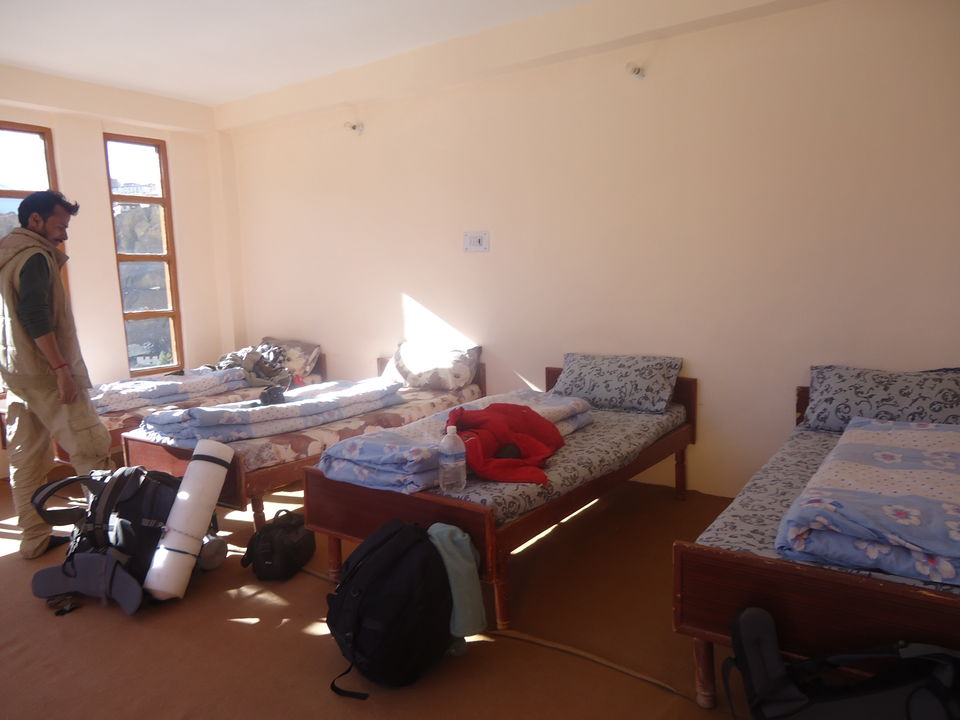 As we sat there watching the sun disappearing beyond the horizon, we knew we had just enough time to reach the Old Gompa.
At the Old Gompa, the silent meditation caves were probably the most tranquil corner of the universe. It was the end of the day and the lamas wanted us to hurry up. When we were done visiting almost every chamber, the lamas ensured we had steaming cups of tea waiting for us.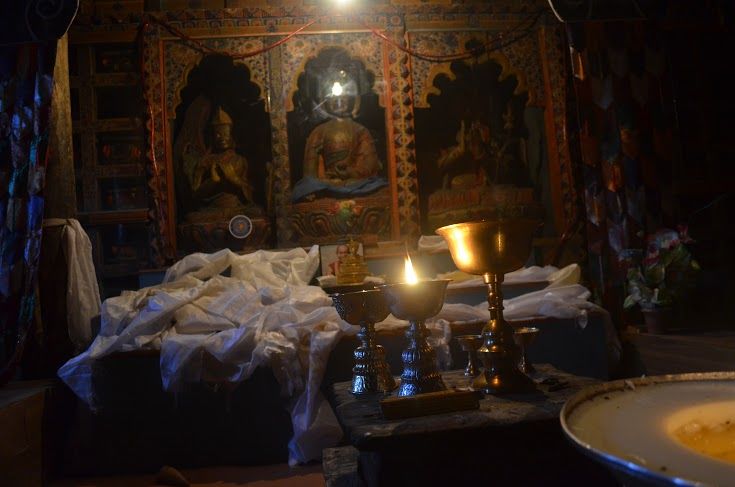 The picture of these anthill-like-rocks near the Gompa have become an unforgettable memory for me. At night we sat under these rocks like kings and queens and watched the stars. With countless stars in the nightsky, I felt as if someone had glued these stars onto my eyes.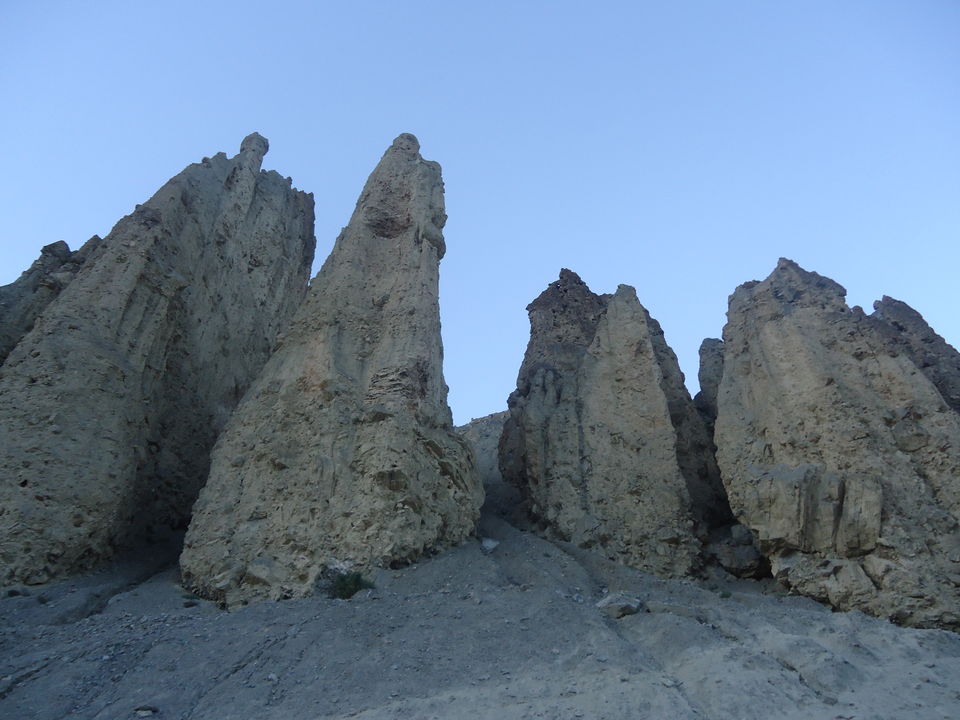 The third free ride was out and out an endurance test
The next morning we said goodbye to Yuki who stood their waiting for the Lamas to accompany her to the Dhankar Lake. We stuffed our bags at the back of truck carrying construction material to Dhankar. This bumpy ride till Sichling from Dhankar was the beginning of an adventurous second day.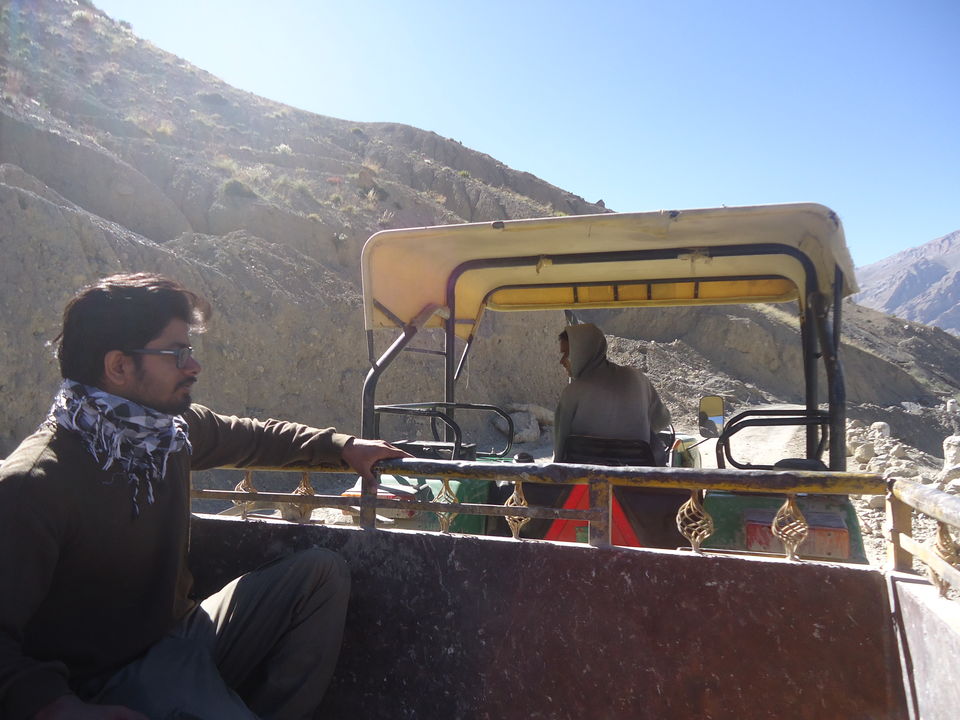 This photograph of the truck at Sichling was just for the record. I don't think I would endure anything tougher and more adventurous in the next 10 years.
If I do, I'd be proud of myself.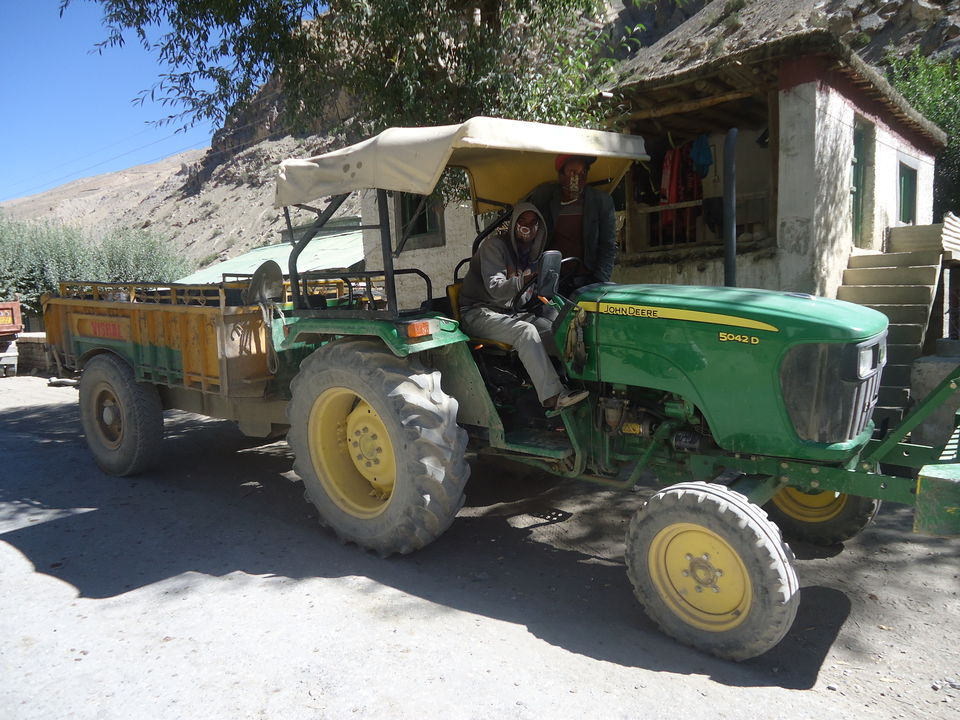 The forth free ride, and this time we made the driver an offer he couldn't refuse.
High on adventure, we were now on a roll. A driver, who had been a good observer, came upto us and disclosed the deal this time.
From Sichling to Hurling for a barter of two well-rolled sticks of happiness. Things people do for little joys of life are at times incredible. Sankar, Milan and I laughed our guts out when we saw the driver apologising to a lady who had paid him for a ride. The driver had chosen us over her.
God save this world!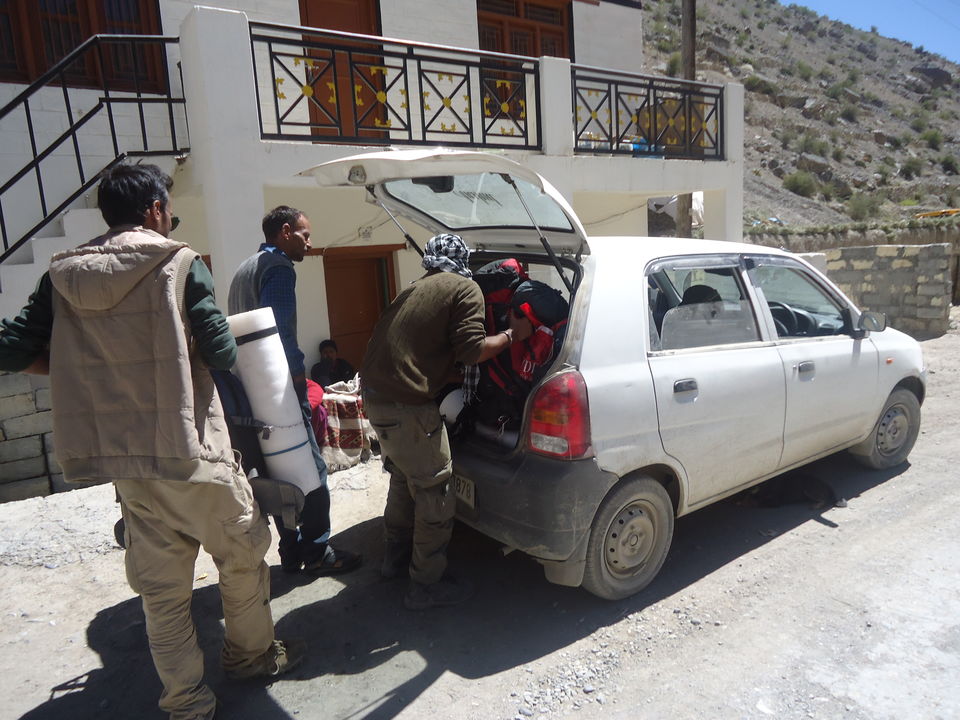 We were in the land of apples now. The road that led us to Kinnaur had magnificent apple orchards on both sides. We read each other's mind and when I shouted to stop the car, Sankar and Milan dived out. We ran towards the orchard and entered uninvited.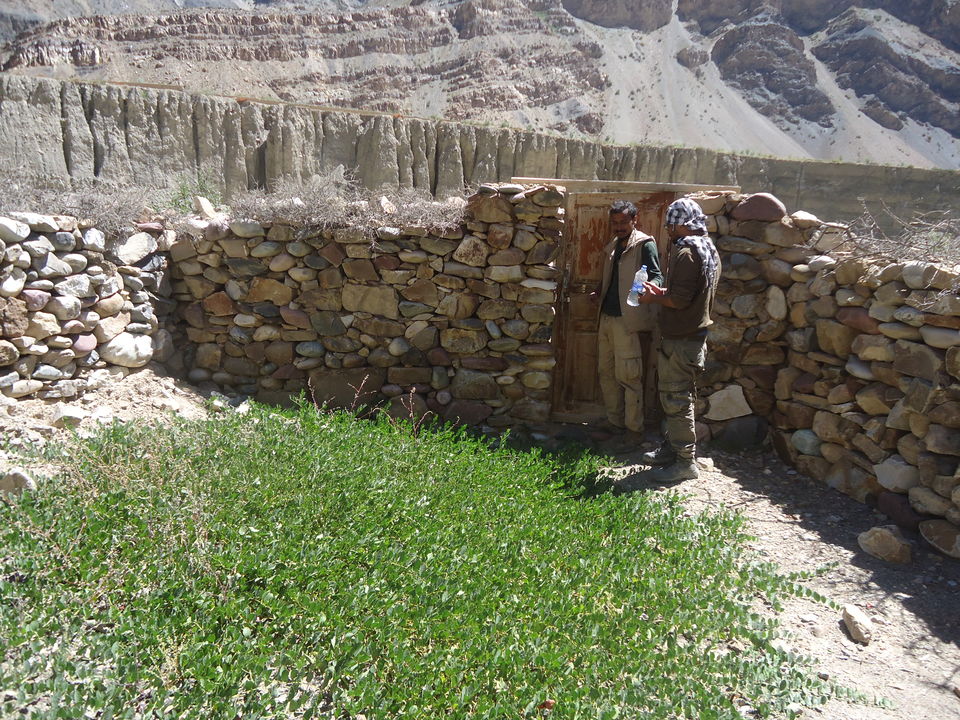 Guilty of my wrong doing, I can still challenge if you could have stopped yourself from stealing those fresh apples on the trees.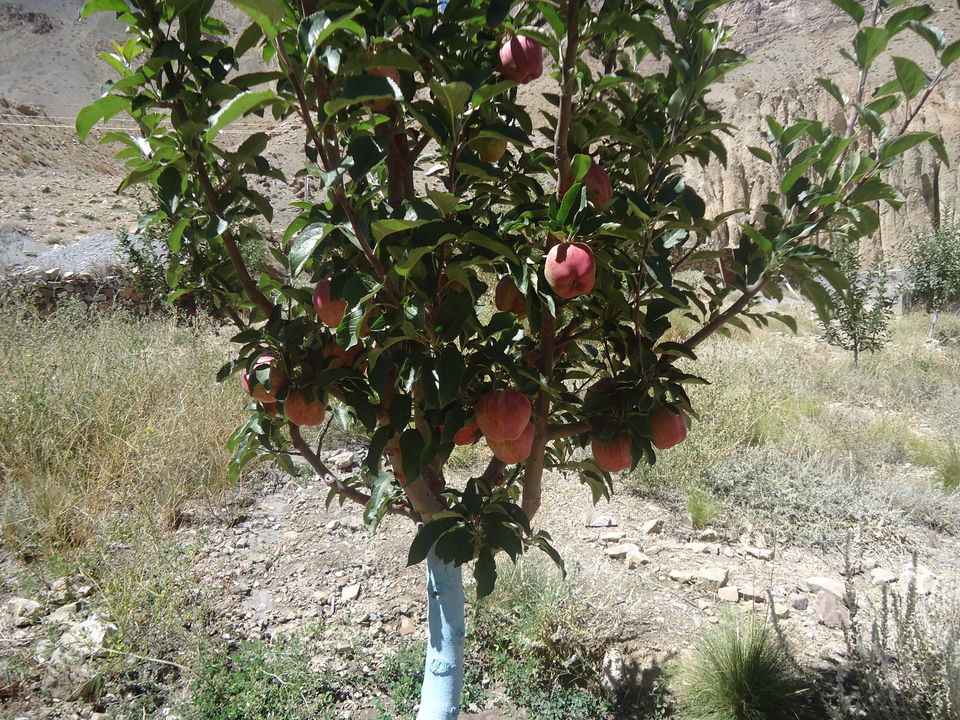 This was the exact moment of the guilty pleasure.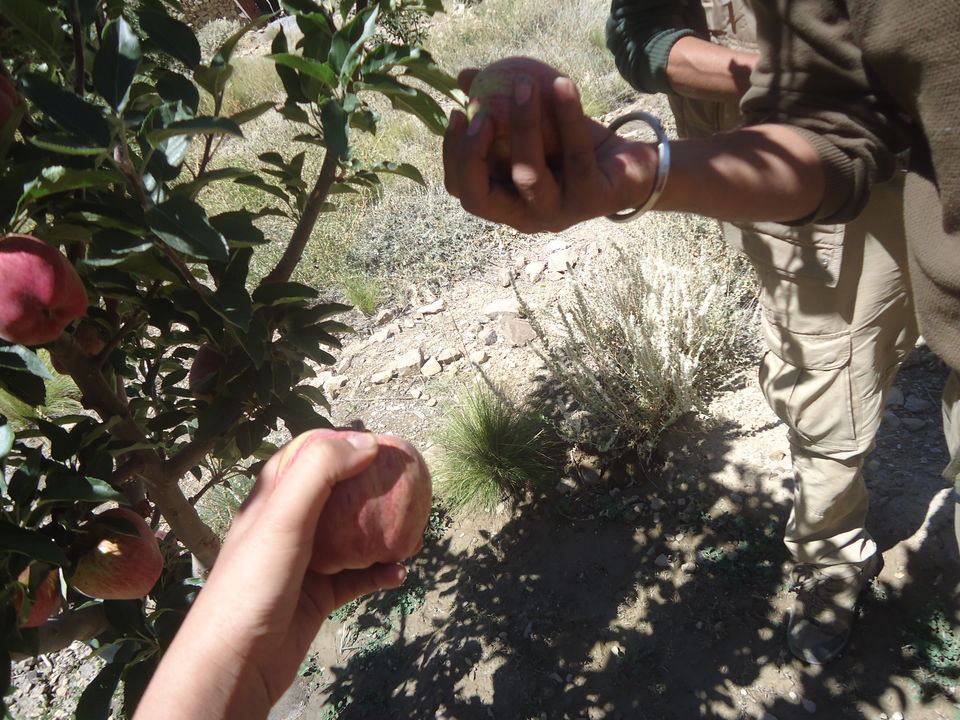 We passed Tabo on the way, the first major town in the Kinnaur district. The driver stopped the car when we were busy eating the stolen apples and said,
"Madam photo lelo. Ye Tabo ke don Ka ghar hai." I followed the command and clicked.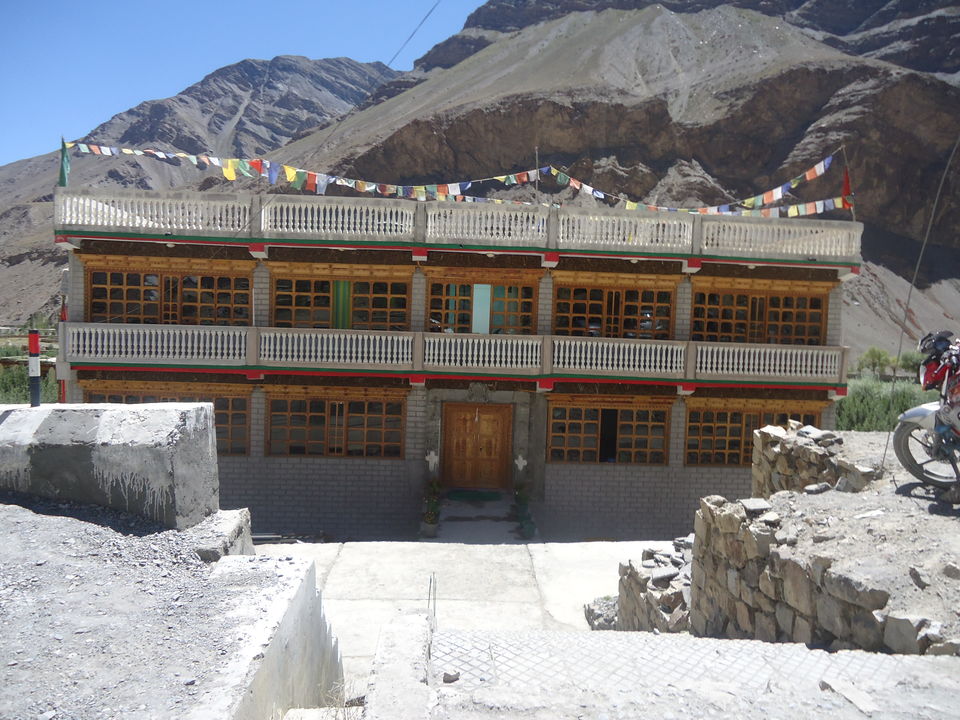 The barter ride had now come to an end. Here we were at Hurling where the generous driver even offered us tea. He had indeed taken his guests too seriously. I remember him saying,
"I am a government servant. And if the baap (government) pays us, it's our duty to serve our guests here."
Sankar, Milan and I only exchanged glances observing some serious intoxication there and later laughed.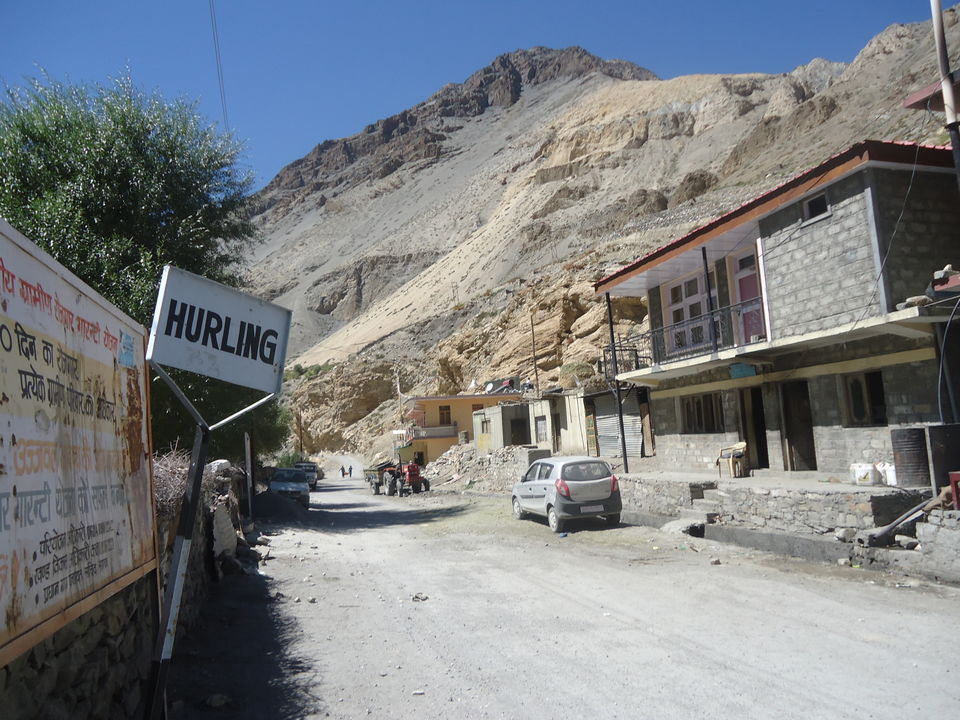 In this little village of Hurling, with a population of 87, almost half the village waited with us for some car or truck to pass through the deserted road.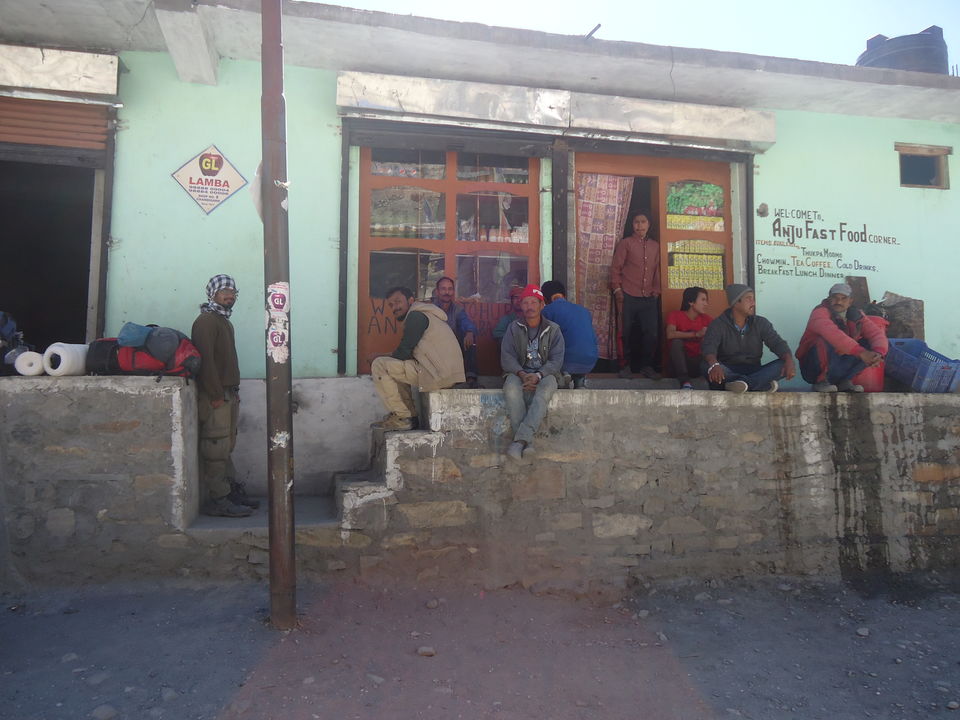 The fifth and final free ride joyride.
This godsent truck was on its way from Leh to Mandi supplying goods to the local shops on the way. The three of us huddled together to have a close look at the map. We decided to take this ride till Recong Peo which would be a good spot to catch a bus to Delhi.
Meanwhile, we had a quick chat with the driver who had been driving in this Himalayan desert since last four days and was more than excited to take us along.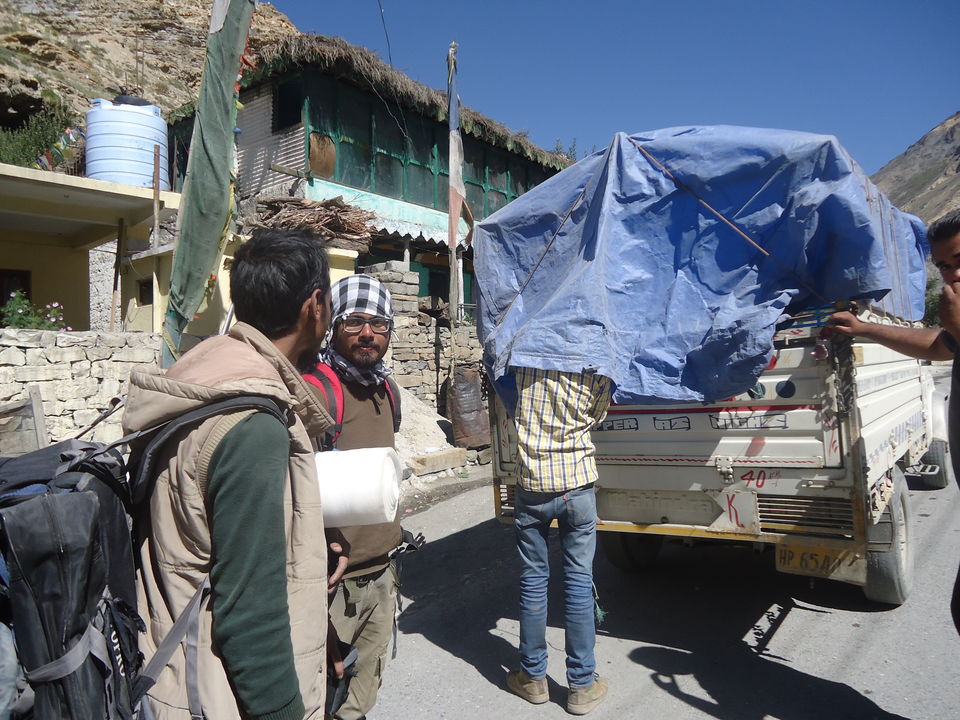 Our decisions often make our luck. And yes, luck was following us like a ghost in the adventurous decisions we took.
On the back of the truck was a carton full of happiness, with hundreds of fruit juice bottles and eatables at our disposal. We took the necessary permission and began the joy ride with a smile.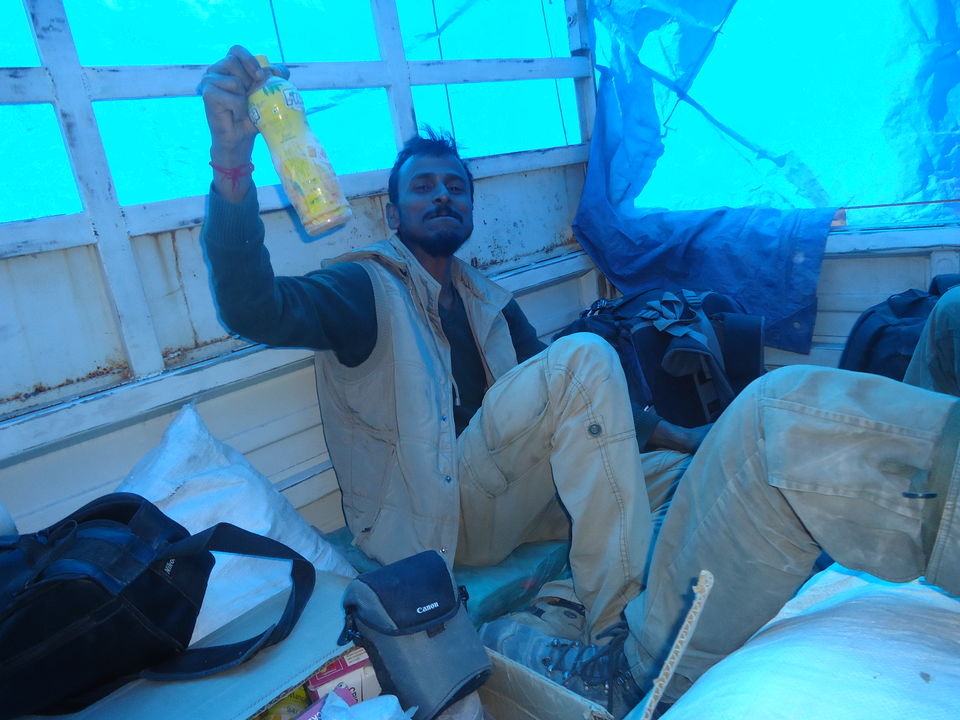 10 kilometers away from Chango, we were stuck due to a landslide. A Kinnauri family joined us as the three of us prepared ourselves to watch a live bombardment for the first time.
The ladies sitting by the roadside called Sankar and asked if I was a girl. The moment he said yes, a lady ran up to me, grabbed my hand and made me sit with the women at a corner. She placed the Kinnauri topi on my head and that's when Sankar clicked this photograph.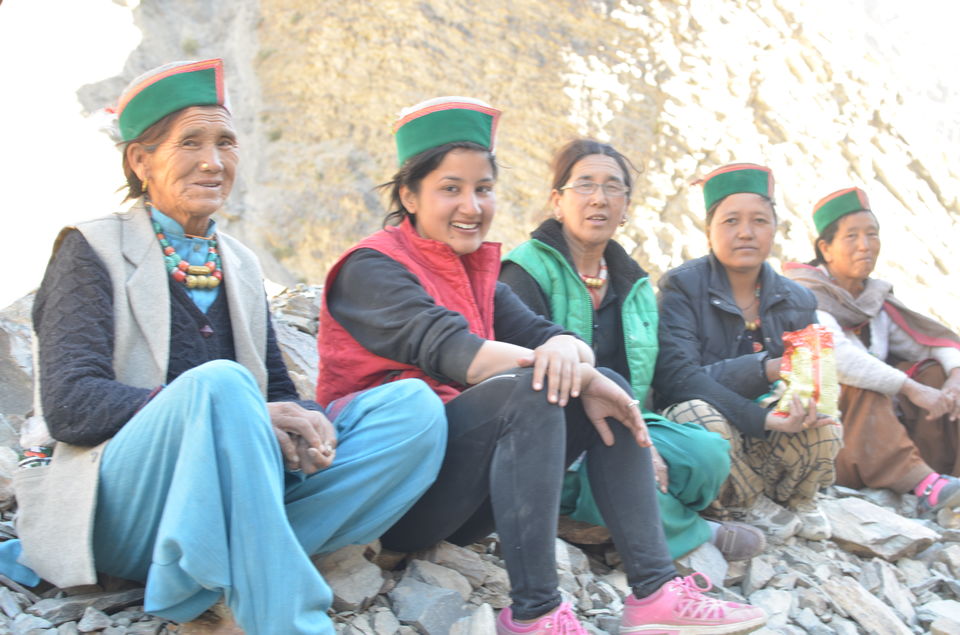 Image Credits: Sankar Samanta
The road got cleared in 4 to 5 hours and by the time we reached Nako it was already dark. The driver wanted my dear friends to share few pegs with him. We knew that we couldn't afford to displease him but we denied anyway.
The next morning at Nako we woke up to the sound of a guitar playing somewhere in this hill town.
There was still time for us to explore Nako, since we were pretty convinced that 1 whole litre of alcohol from last night must have given our driver a good sleep.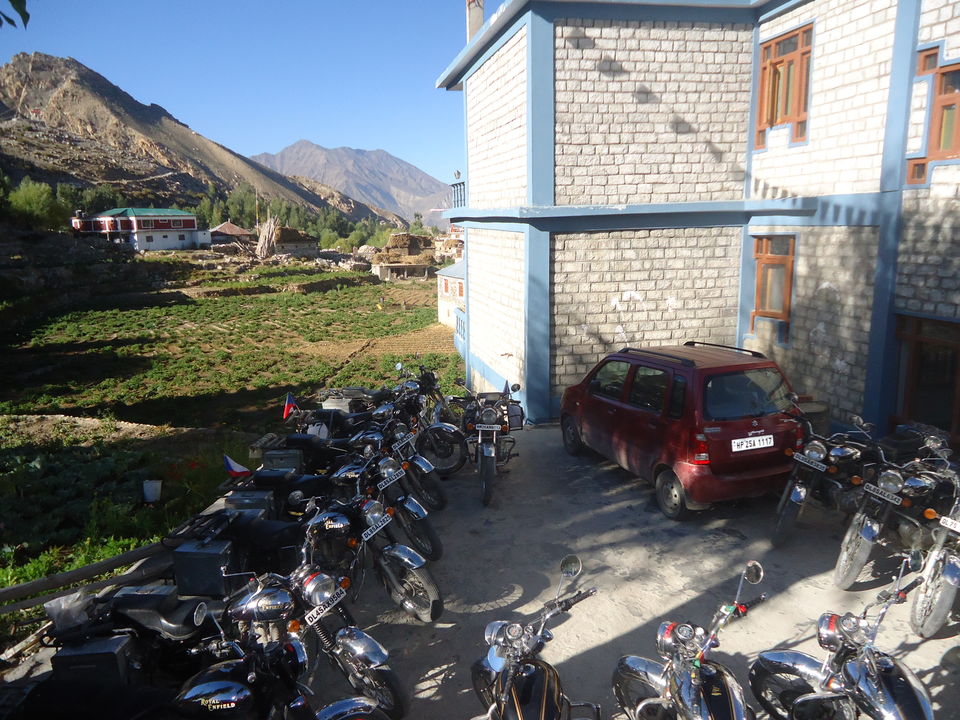 Sankar, Milan and I took a short walk to the Nako lake and stood there for a long time, thinking about this long journey. We knew that this would be our last day together in this amazing trip.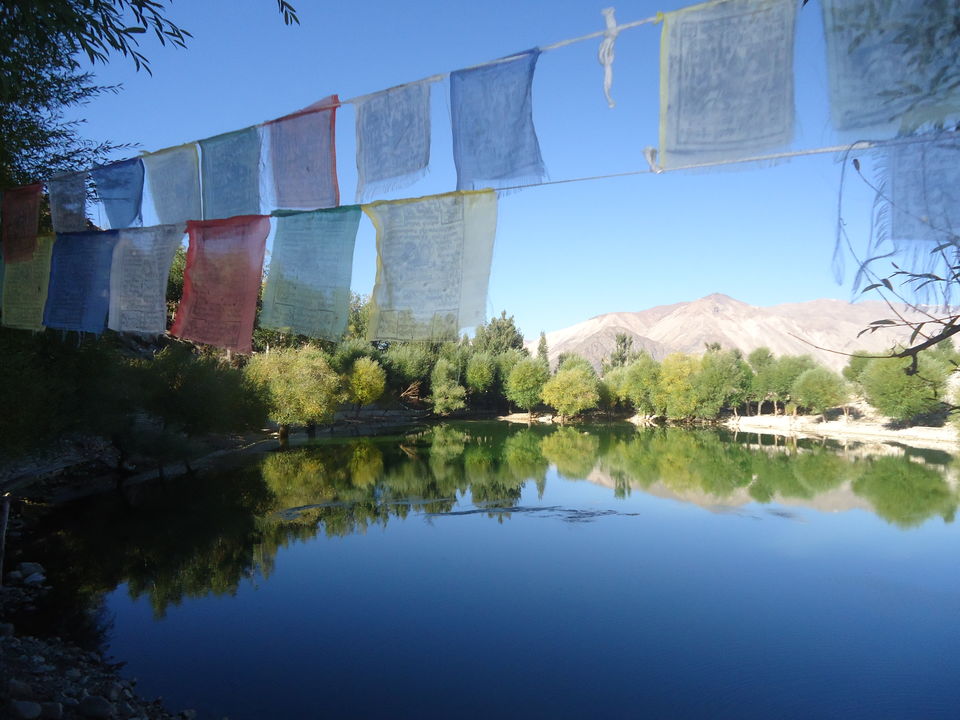 When we reached the hotel, we made it a point to call the driver to have breakfast with us. The three of us knew that these little things matter.
We were at the back of the truck for hours that day. It was only when we drove past Recong Peo for almost 25kms did we realize that we'd skipped the destination. The map came to our rescue again and we asked the driver to drop us at Rampur.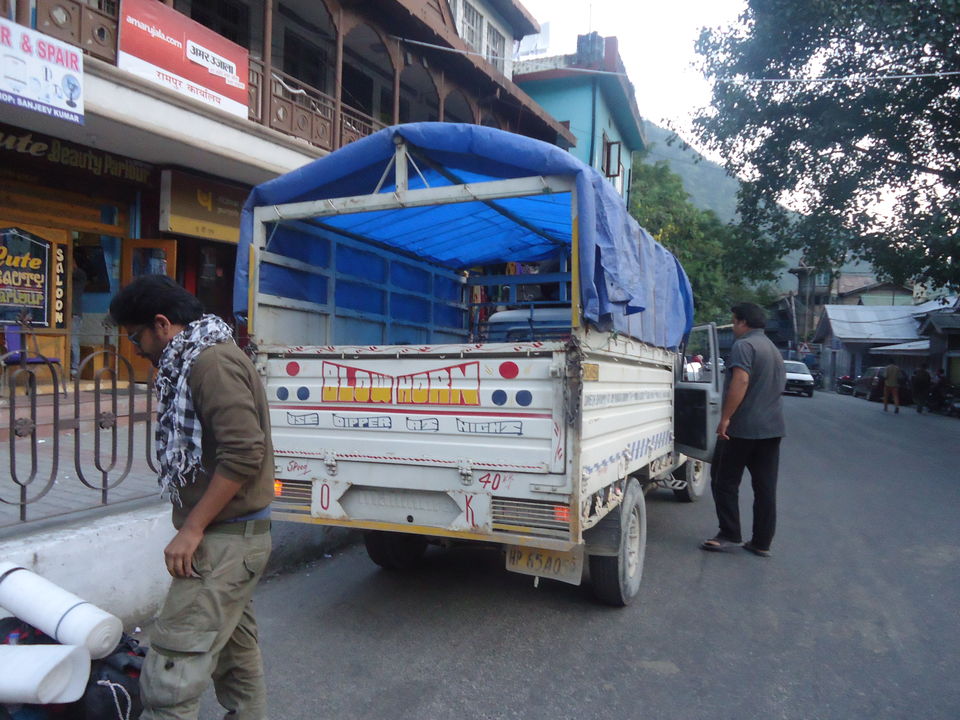 This was the end of our incredible Himalayan roadtrip.
To save the beautiful memories of this trip till the very end, I took the last few pictures. From Rampur to Delhi via Chandigarh, we were at the last seat of the bus and already exchanging numbers.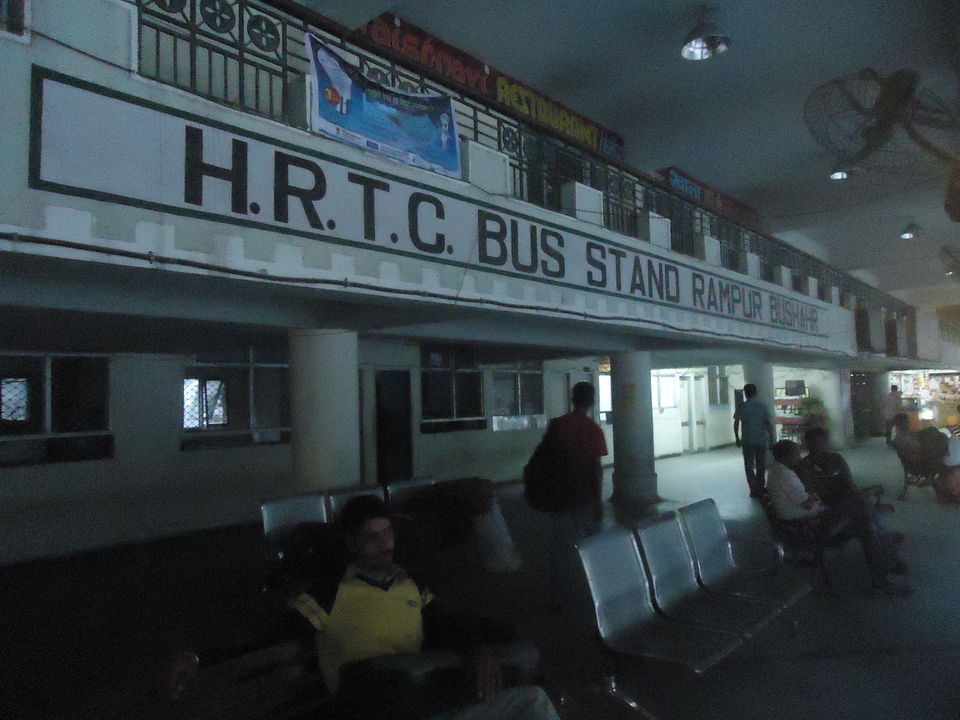 This is a very special last picture we took at Kashmere Gate.
And yes, I made friends. Milan and Sankar are probably the travel soulmates I met on the road. The next trip with them is still only a promise. But we know that life will only get better with every new adventure.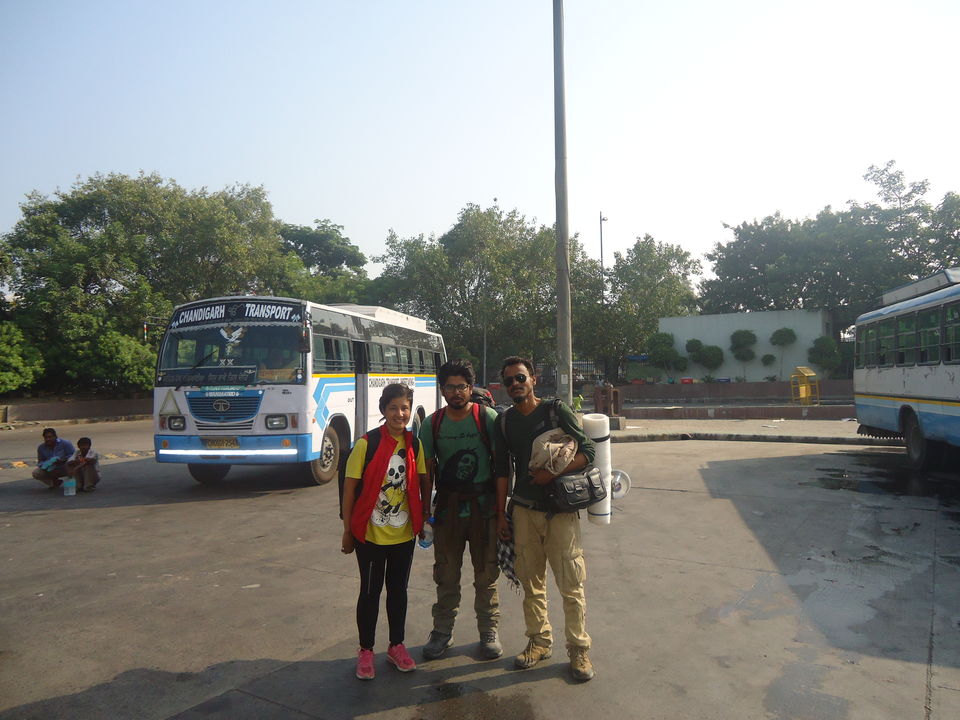 A journey turns into an adventure only when you leave yourself behind.
Like it? Share the story.
Frequent Searches Leading To This Page:-
kaza to shimla bus, kaza to shimla bus timing, shimla to kaza himachal pradesh, shimla to kaza tour packages