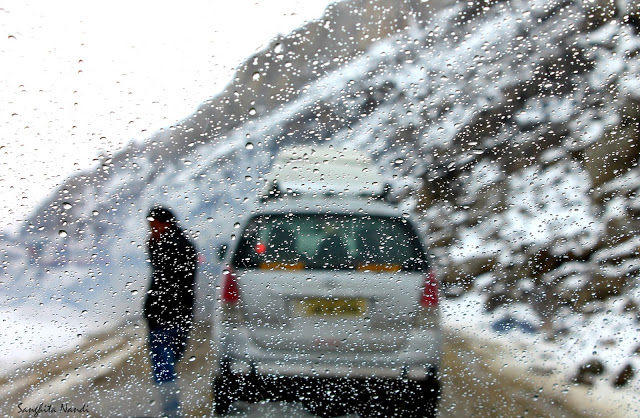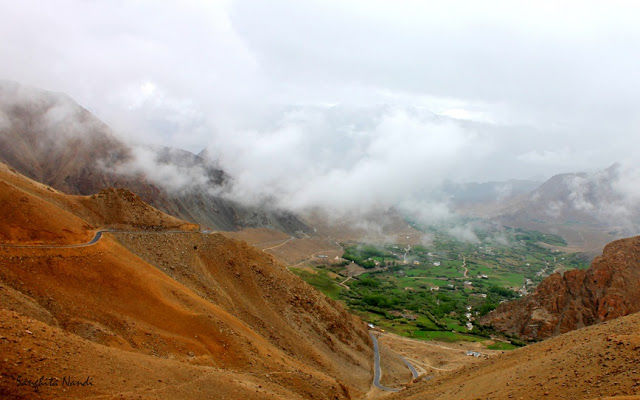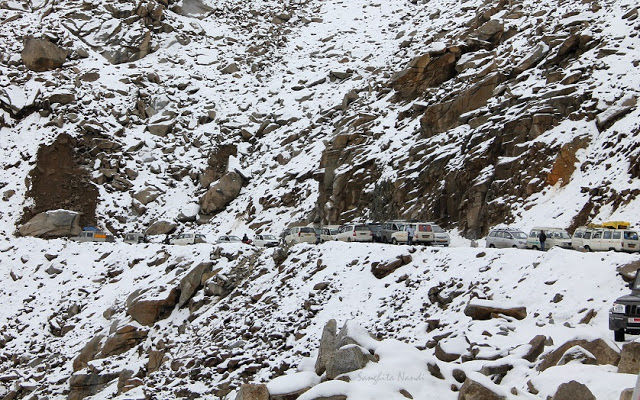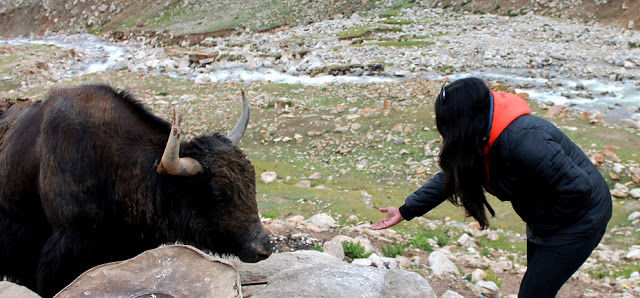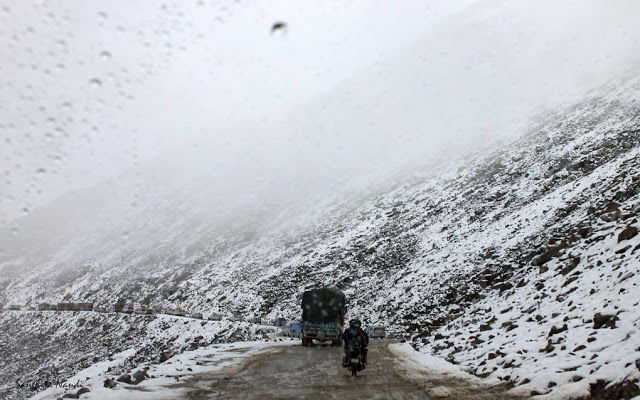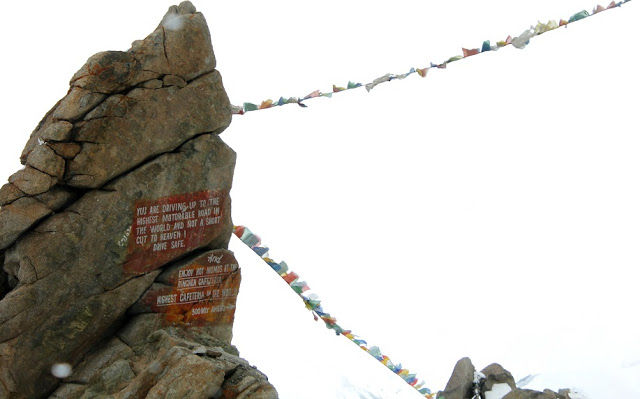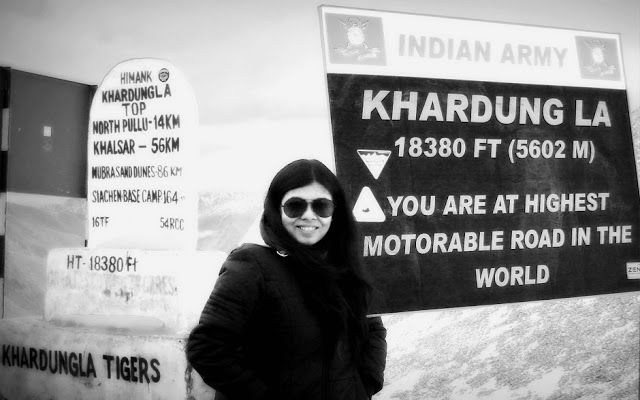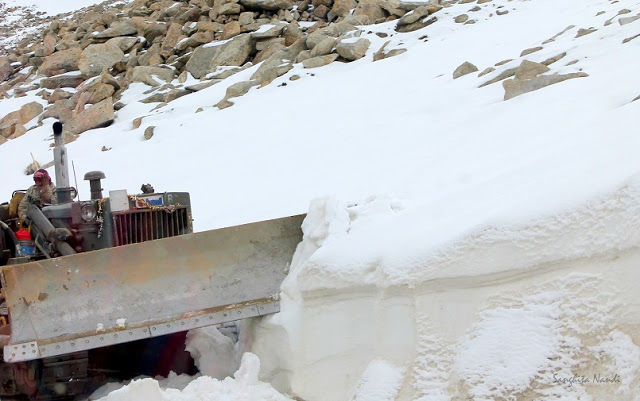 Dorjay wiped the windscreen for the third time. It was getting more and more difficult to see the road ahead. Even in the air-conditioned car, I could feel the chill in the air. He pointed to his right."That's the Sankar Gompa", he said. On another day, may be we could have stopped to explore the monastery. Not today. The weather was turning worse with every passing minute.
"If it's raining in Leh, it must be snowing in Khardungla", he quipped. I love snow, but today I just frowned. When it snows up there, it rains at the lower altitudes which may cause landslides. A long silence followed. There were 5 of us in the car - 4 Indians and our French friend Jeremy, but none of us spoke a word as the car sped towards South Pulu, the first checkpoint on the way to Nubra Valley.
We soon found ourselves ascending and getting more and more closer to the drifting clouds. Apart from the continuous drizzle, it really wasn't that bad. I had almost started to feel relieved when we joined the long line of cars at South Pulu. 'Routine check', Dorjay said.
More minutes passed. Things were getting a little stranger. When the cars ahead of us didn't budge an inch for almost half an hour, Dorjay decided to walk ahead to check what's happening. After that it didn't take much long for the news to reach us. The road to Khardung La was shut down due to a massive landslide few hairpin bends ahead. It was a major blow to our plan and exactly what we had feared for.
The disheartened look on the fellow travelers' faces all around added to the gloom. For most people a trip to Ladakh always comprises of a packed schedule. Everyone wants to see everything in the little time they have. What they don't understand is that the weather up here is so unpredictable that it can change any moment screwing up a part of that super packed itinerary.
As more minutes passed, one by one the cars turned around and headed back to Leh. In the end, it was just us and a handful of bikers - the kind of people who always cling to hope. To while away the snail-paced time, we had maggi at the wet canteen, spoke with the Siachen Brigade officers and made friends with the only wildlife we spotted around that check post - a furry dog and a furry yak.
And in this way 4 hours were spent, and then finally the Army signaled the road open. As we crossed the first hairpin turn, we realized we were about to head for an off-road ascend. There was no tarmac. It was a dirt track that looked slushy and extremely dangerous. After few minutes the army stopped us again and this time to let one of their trucks pass, which was carrying casualties back to Leh. That experience was like a blow right on the face. We had no idea how the 5 Indian army personnel had died but nevertheless we bowed in respect.
When we started back again, there was pin drop silence in the car broken occasionally by the freaked out banter of Dorjay who kept saying that it's not advisable to drive to Khardung La on such a day. But turning back was never an option. To lighten the mood, Jeremy said he'll sing the Indian National Anthem if we succeeded in crossing Khardung La - alive. As we spotted the first colorful prayer flags after miles of colorless snow, we knew we were getting close to the highest motorable road in the world. Had it been a little bit more slushy, I wouldn't have called it motorable.
At 18,380 feet, we were finally standing in knee deep snow at Khardung La, with fluttering prayer flags all around. What a feat to achieve, and more so on this perilous day!
The way down to North Pulu was as slushy as the ascend. But by now we realized that the reason we were still able to traverse on this stretch was due to the outstanding BRO workers. Even under such harsh conditions, they were working relentlessly so that the army and people like us could pass. These were the real great men, not appreciated enough, not documented anywhere.
We did reach Nubra Valley that day, passing through the famous Khardung La that was at its treacherous best. And in the joy of such an achievement, I forgot to teach our French friend the Indian national anthem, which would have been another feat in itself. The next day as we headed back to Leh through the very same Khardung Laa, we couldn't help but swear out loud. There was not a trace of snow and slush on this route that could have almost killed us the day before.
This trip was originally published on A Traveller's Diary.