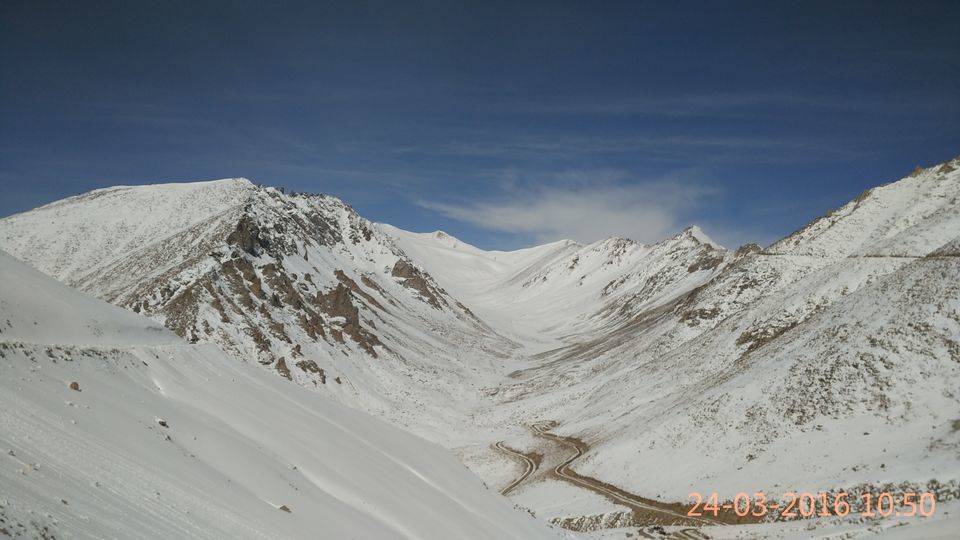 "Going to Ladakh in winter? are you crazy?? you probably should re-consider your travel plans during summer" that's the statement put forth by some of my friends when I had planned for a trip to Ladakh during last March. When I thought March will be the beginning of summer season in Ladakh just like any other place in India, it turned out that it is still winter in Ladakh with lakes and rivers frozen and a nerve chilling temperature of -2 deg during daytime (and drops further down during night). Most people visiting Ladakh during this season (Jan to mid March) are hardcore trekkers for Chadar frozen river trek. But it was too late for me to re-plan my trip as I had already booked the flight tickets and decided to go ahead with the plan. Three of my friends were also crazy enough to join me on this trip and it turned out to be the greatest adventure trip ever.
Since we had to squeeze our tour within five days, we already had ruled out the possibility of making it a road trip to Leh from Manali before even we knew that the roads were closed anyway as Rohtang pass between Manali and Leh is closed due to heavy snow. So taking a flight is the only option to get to Leh during this time. Unlike in a road trip where you gradually acclimate to the high altitude along the way, if you are travelling by plane, you got to spend a whole day in your hotel room without much of physical activity for acclimating to the high altitude and to avoid altitude sickness. So our first day went idle in our guesthouse just playing cards and watching TV. The next day morning since I woke up early, I took a quick stroll around the town center of Leh to get a glimpse of the city before leaving to Nubra valley.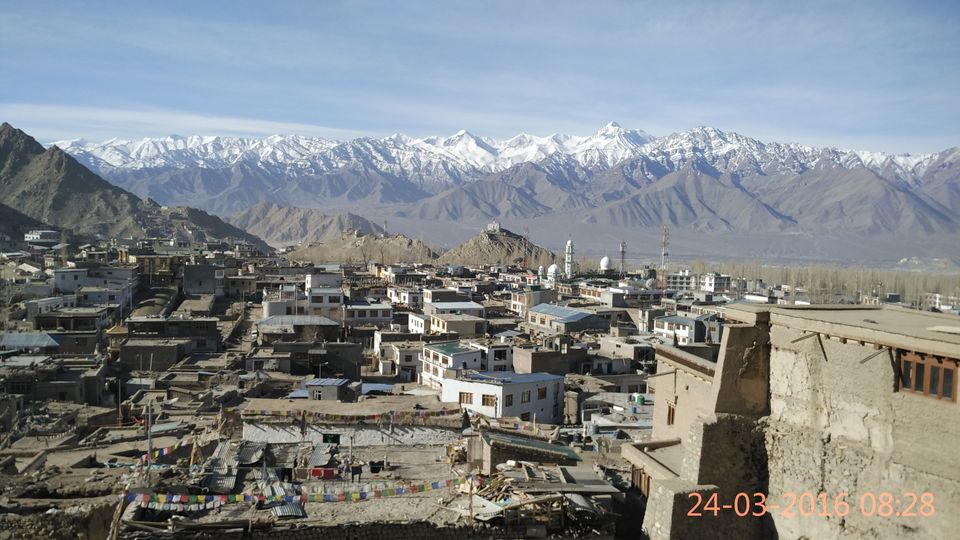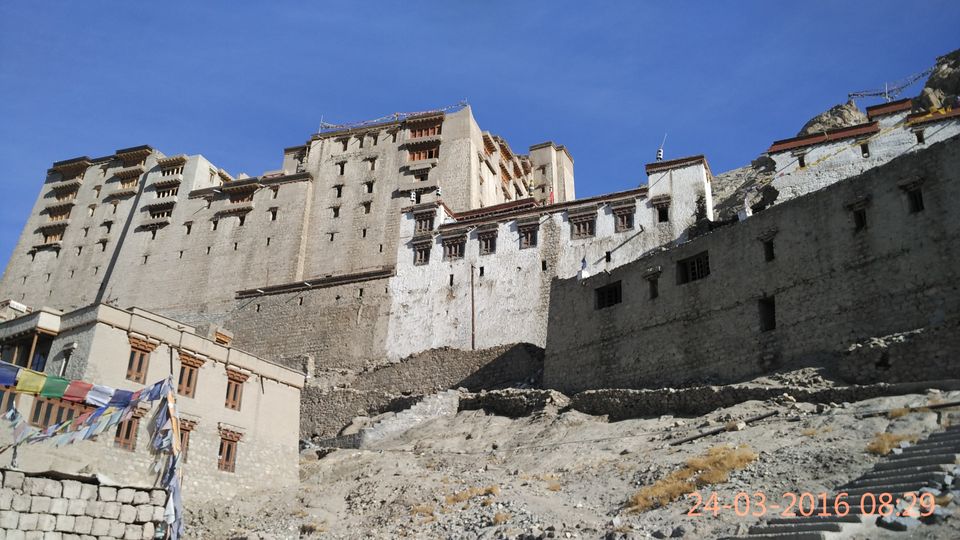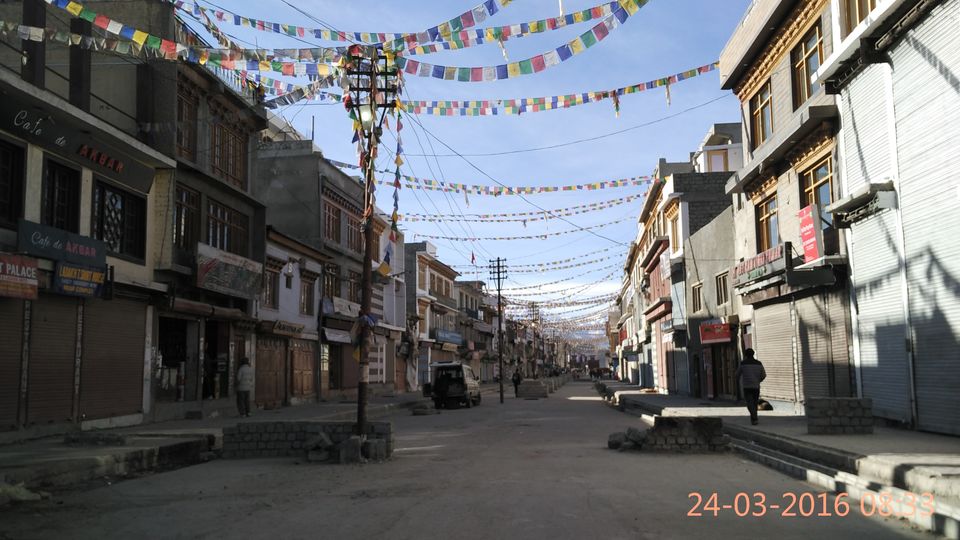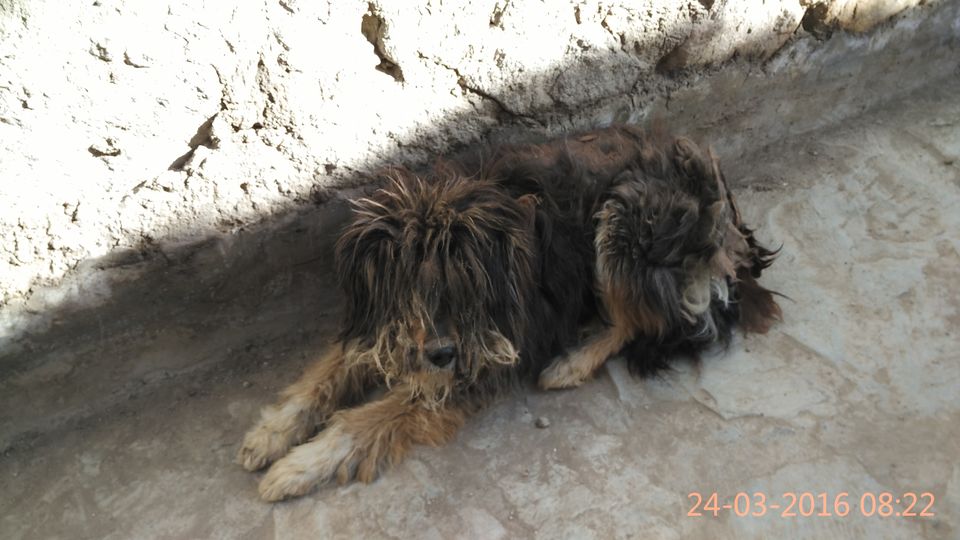 On the way to Nubra valley we had to cross Khardung la Pass which takes the credit for highest motorable way in the world. The landscape, what started as dry and deserted in Leh, was showing little patches of snow cover as we were gaining altitude and by the time we were reaching Khardung la top, either sides of the road were covered with about 4-5 feet of snow. The road itself was covered with a thick layer of ice which made the vehicle to skid often and there was nothing more than a heap of snow on the right side of road to keep us off from rolling down the mountains. I should appreciate the skill of our driver to have brought us safely down from there and I still cant forget the goosebumps I had got every time the vehicle skid. Once reached down from Khardung la top, we stopped our vehicle at a nearby army camp in north Pullu for a little layover and relax from the hardship we went through and then Nubra valley happened.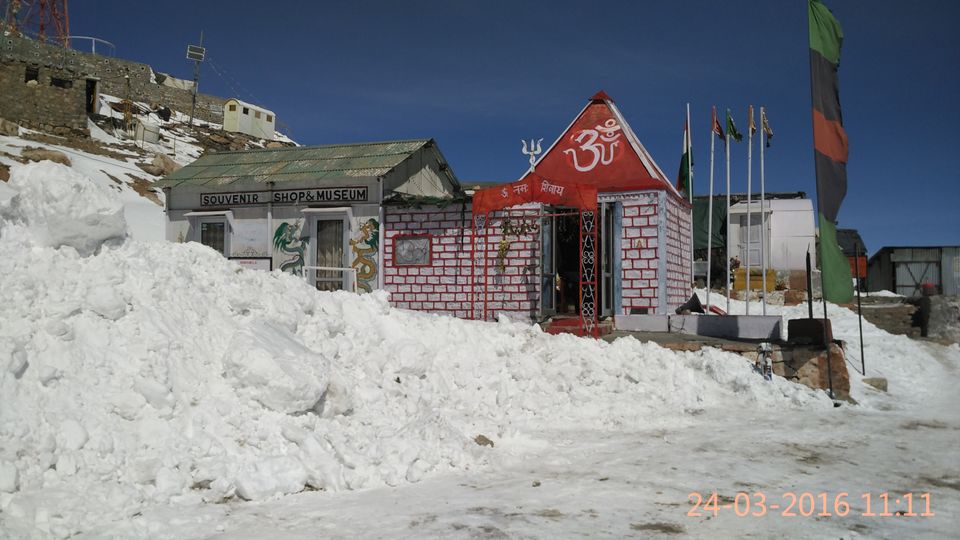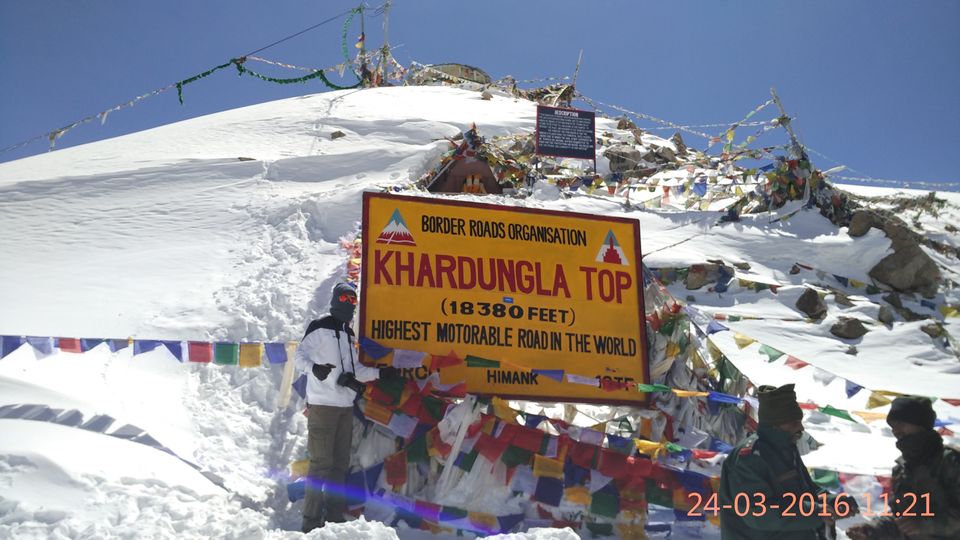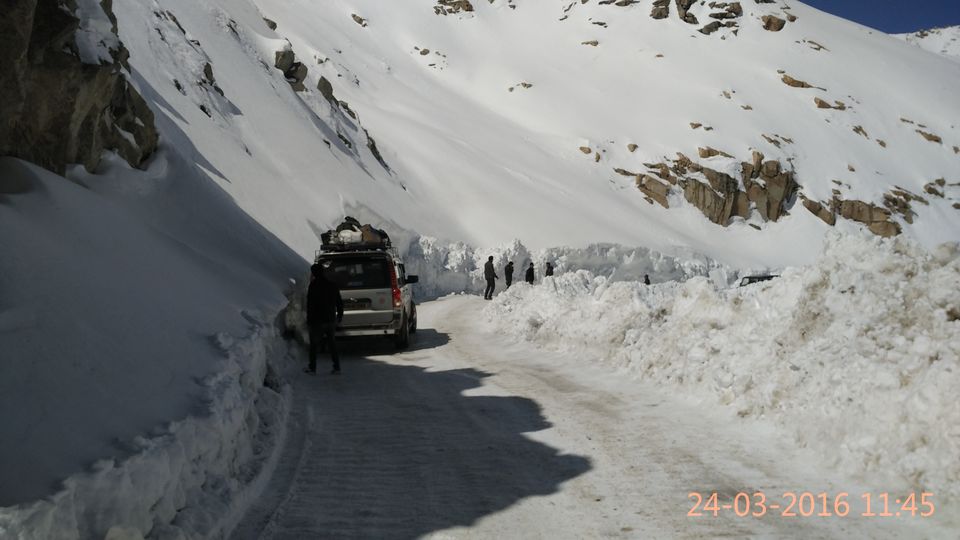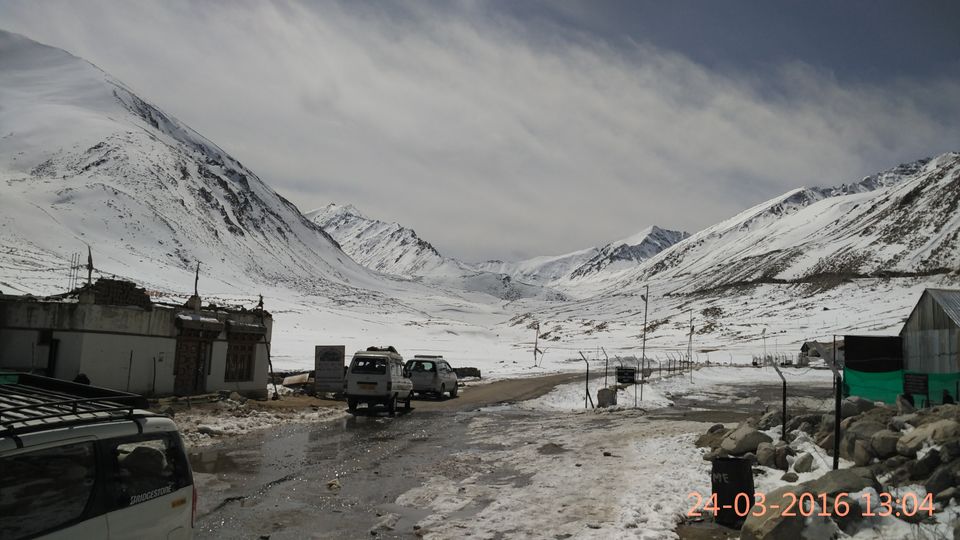 Nubra valley simply felt like magical, something we had never seen on earth before. The whole valley stretches infinitely along the Nubra river bed, with sand dunes here n there and surrounded by mystic mountains on either side. We couldn't resist to get out of our car on seeing the sand dunes just when entering the valley. After making some foot prints in the pristine sand there we made another quick stop in Diskit monastery before heading to Hunder village, where the double humped bacterian camels were waiting for us to take us on a joy ride through the sand dunes. Though not a big fan of animal safaris, I didn't want to miss this experience of riding on a double hump camel. Our night stay was arranged in one of the Guesthouses there in Hunder.
The next morning we left to Pangong lake through Shyok valley. The initial plan was to go back to Leh via Khardung la and visit Pangong lake the next day from Leh through Chang la pass. But a fellow traveler we met in Hunder suggested that there is an alternate route to Pangong lake via Shyok river valley that will bypass Kardung la pass, Leh and Chang la pass and will meet the Leh – Pangong route at Durbuk, some 30 miles before the lake. We felt this would be a good idea as it will save us ample time and also the avoid the risk of crossing Khardung la pass again. For nearly half of the journey the road runs along the Shyok river bed which makes it not possible to drive through in summer as it gets flooded sometimes. We reached Pangong lake a little past noon and it was quite a site, to see the entire lake frozen. Despite being in controversial border line between India and China, I felt glad it is still open for tourist. During summer, there are also options for staying there besides the lake in one of several tourist camps set there. After a couple of hours trying to ice skate (with our normal shoes :P) on the lake, we left to Leh via Chang la pass
Shyok River Valley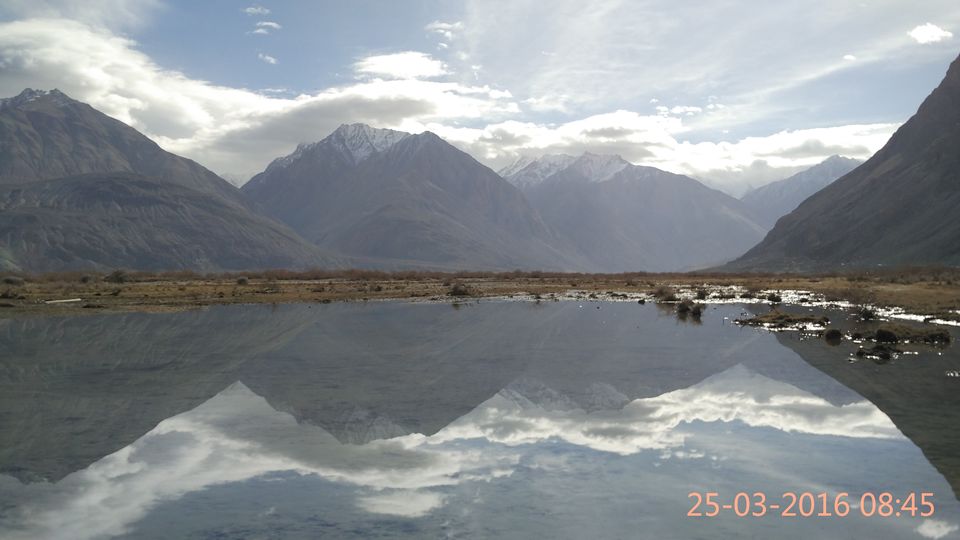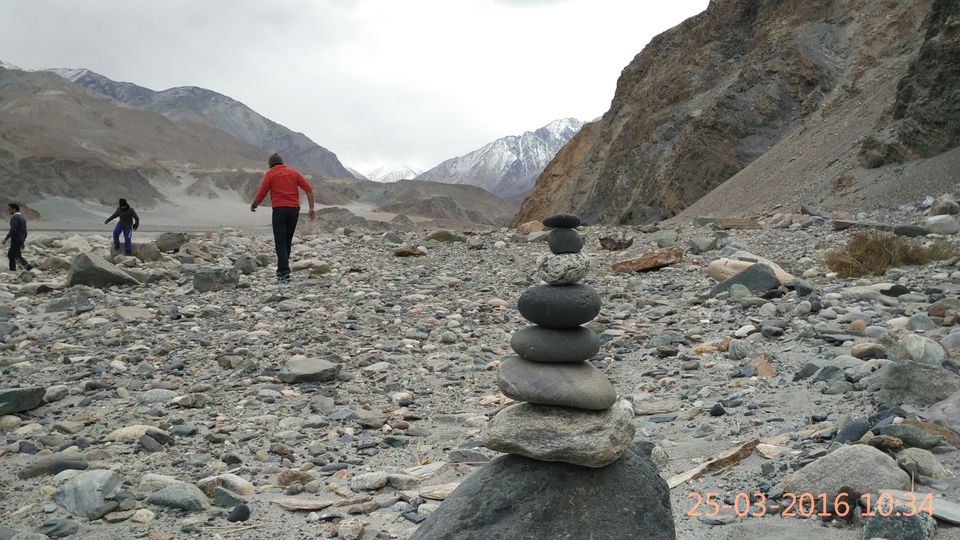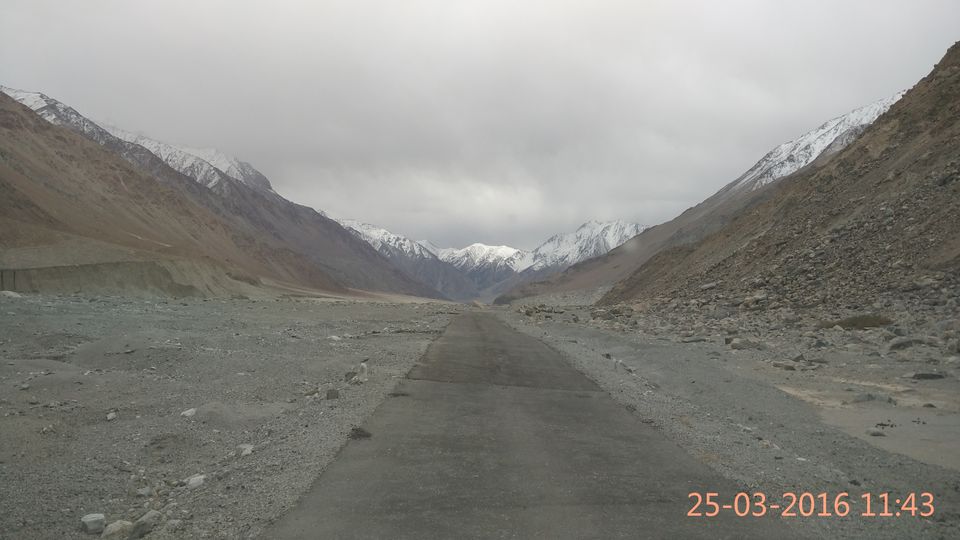 Changla pass which claims the second position for the highest motor-able road, was not as extreme as Kardung la, but has way more curves with hair-pin bends and mud roads on the way down which make it also a bit scarier to drive trough especially on a motor bike. Good that we were on a four wheeler with a expert driver. Before reaching Leh, we insisted our driver to make a quick stop at Hemis monastery, which is quite famous for it annual Hemis festival in early June. But the time we went, there was hardly any visitors except for us. We did stroll around the monastery for a while but the deserted atmosphere gave us a sign that we were not so welcome there at that time of the year. Maybe should try visit there again during Hemis festival. After a long and tiring day we headed back to our guesthouse in Leh for a good nights rest.
Chang La pass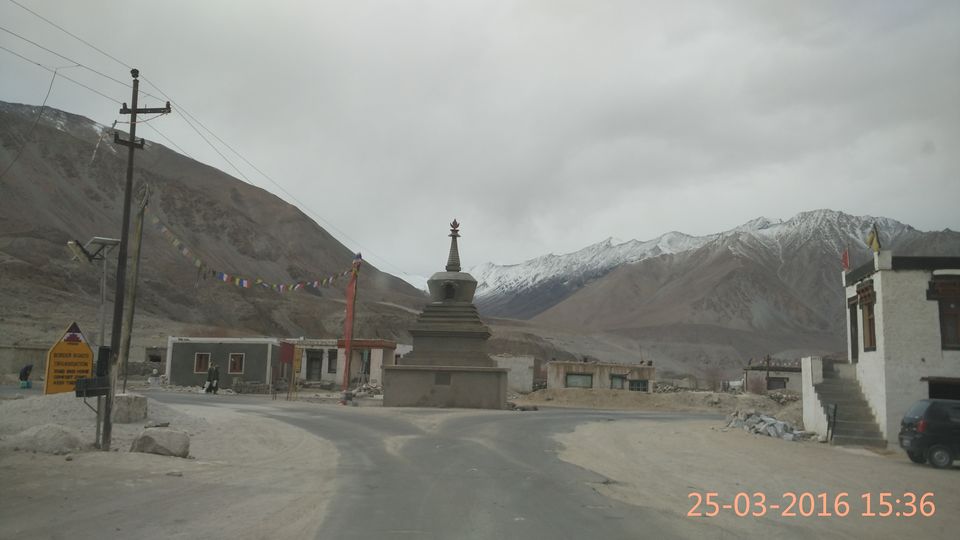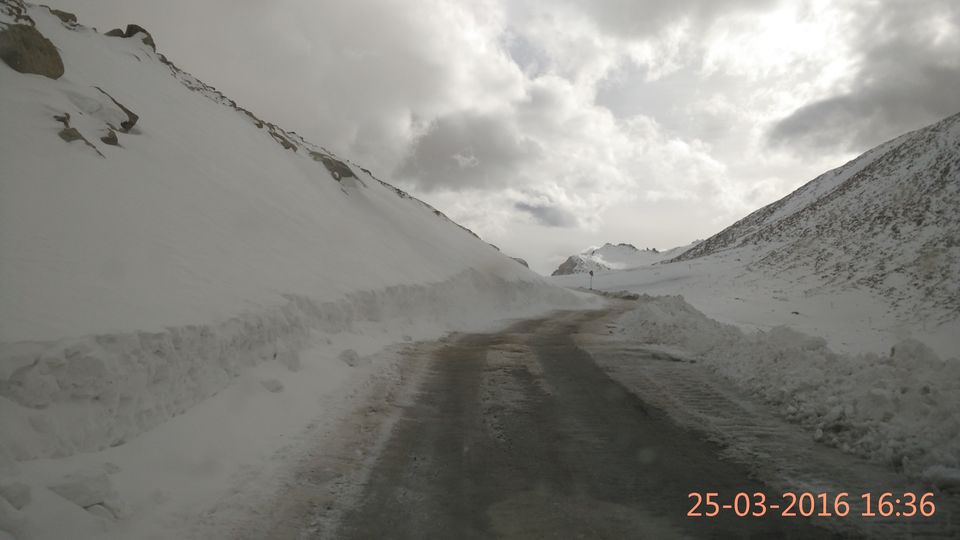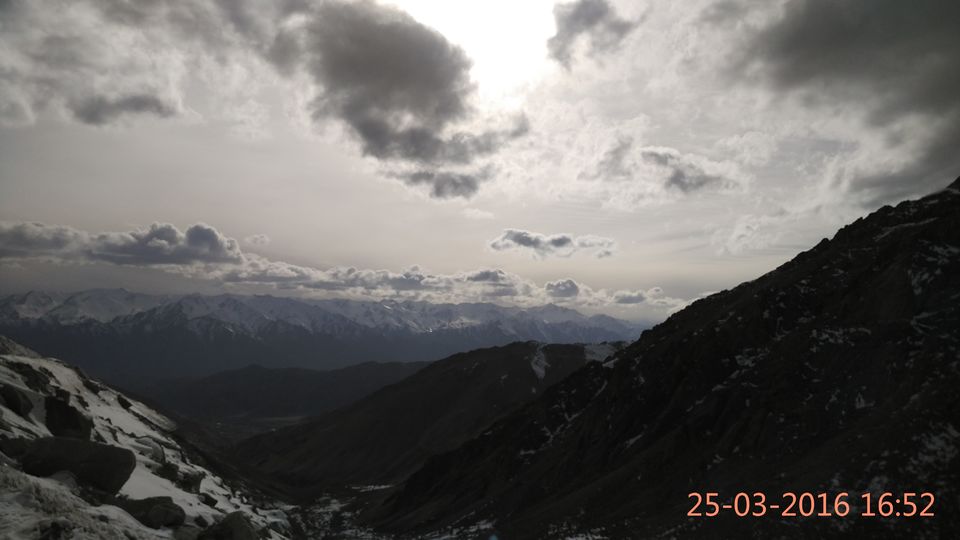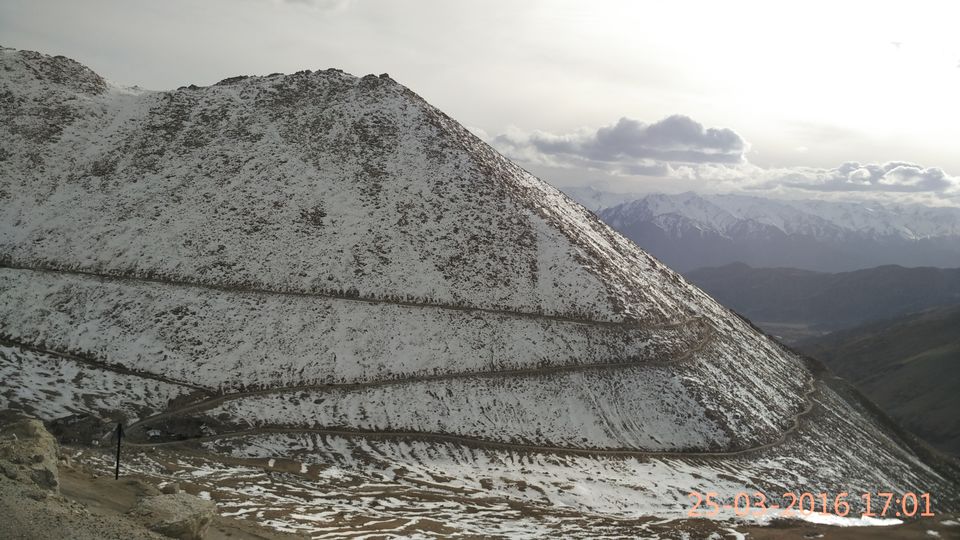 Last day in Leh and I wouldn't want to spend it in the guesthouse and moreover how can I call it a Leh-Ladak trip without some motorcyle adventure. We learnt that the NH1, Leh-Srinagar highway was open for motorist and we had already encountered a part of it during yesterdays trip to Sangam point. Even tough the climate was freezing clod for a two wheel drive it was still doable with some level of endurance. Since my friends were not willing to make the two wheel drive, I teamed up with the fellow traveler we met in Hunder and with his kid we set off to Lamayuru (literally translates as land of Lamas or Tibetan monks) that is located half a way between Leh and Kargil in NH1. Being my first encounter with the beast or commonly called The Royal Enfield, I was a bit nervous but I pulled it off and at the end of the day I did pat myself on shoulder on reaching back to Leh in late evening and we rode almost 150 miles in that freezing cold.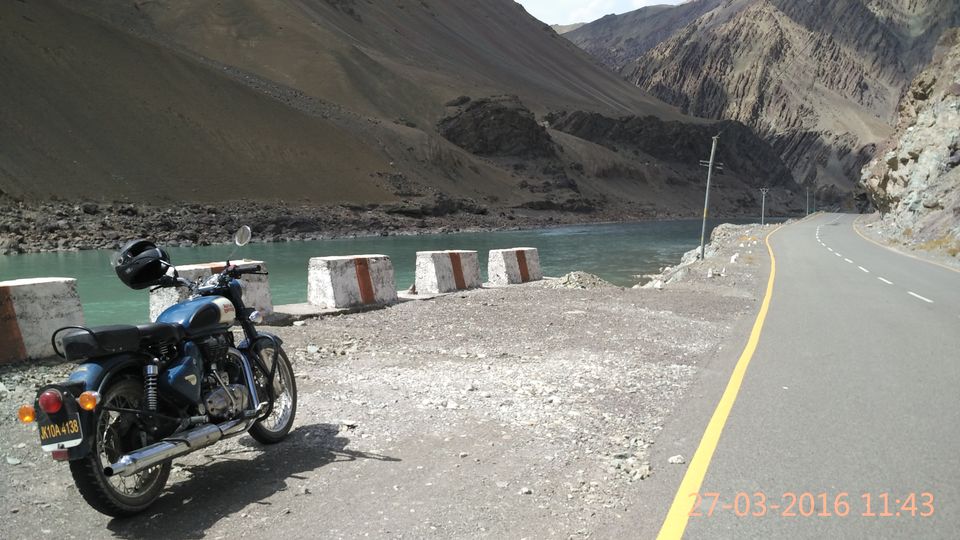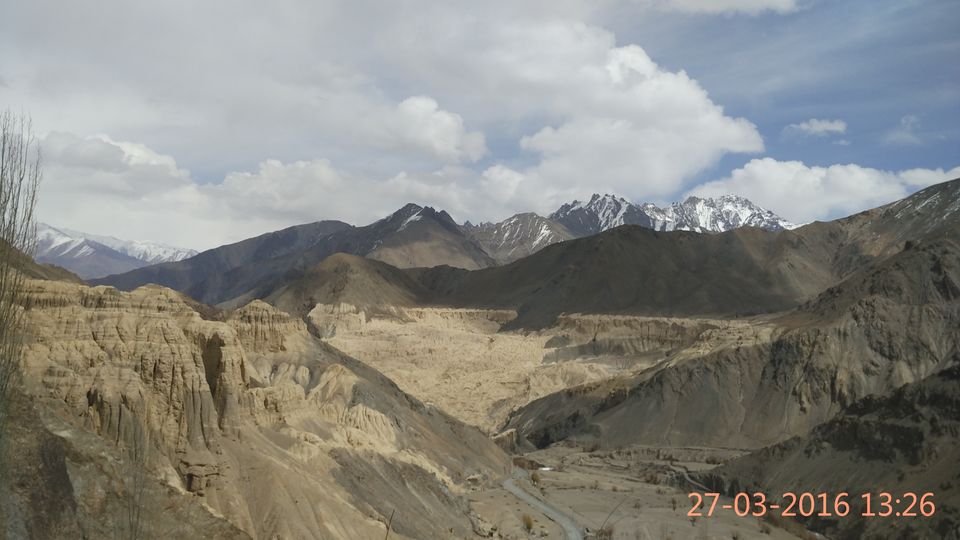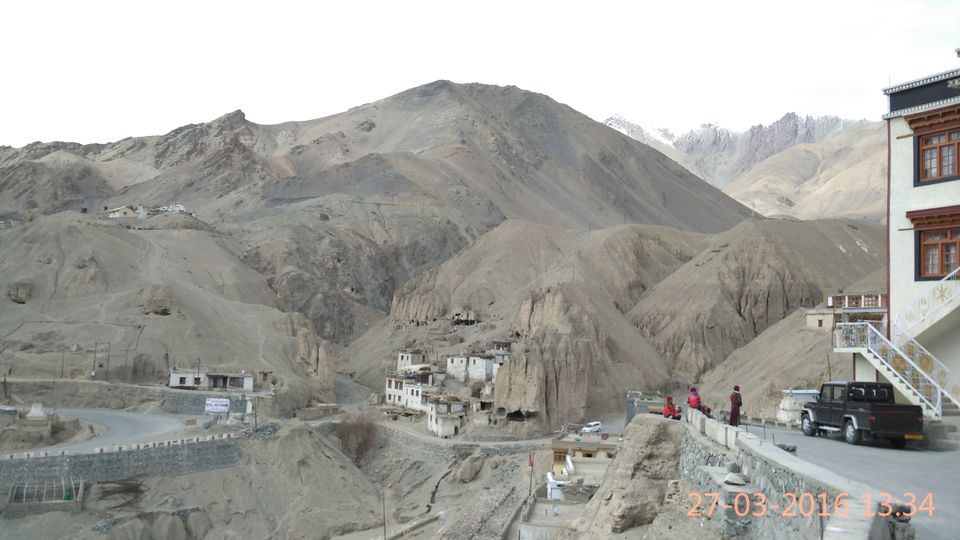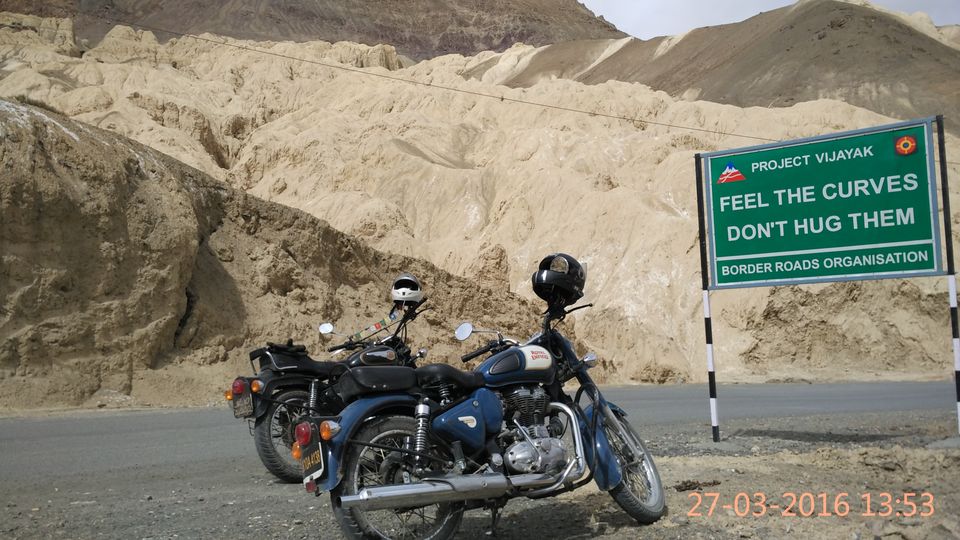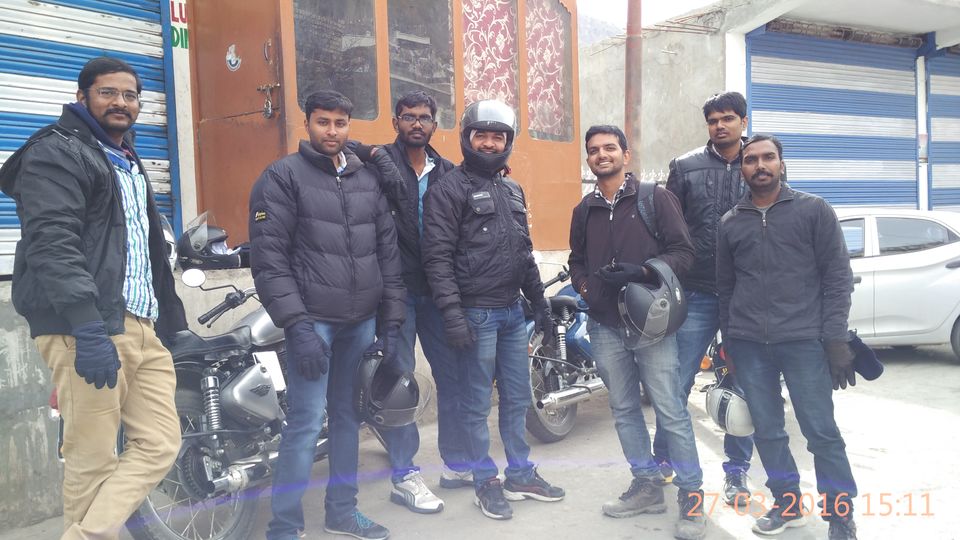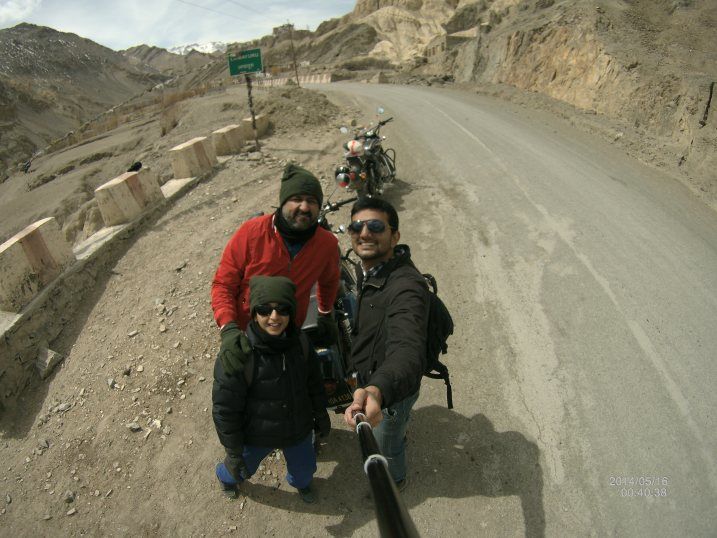 Another new day and another new road to uncover. On day four we headed straight to Sangam point which is the confluence of River Indus and Zanskar just beside NH1 highway located at 20 miles from Leh. On the way back from there we stopped by at magnetic hill (its a section of NH1 where the vehicle is believed to move uphill due to magnetic pull) and Gurudwara Pathar Sahib which is run and maintained by our Indian army. After a little of local sight seeing in Leh, our driver dropped us at the Leh market in late evening hours for some shopping and dinner with which our elaborate guided tour came to an end.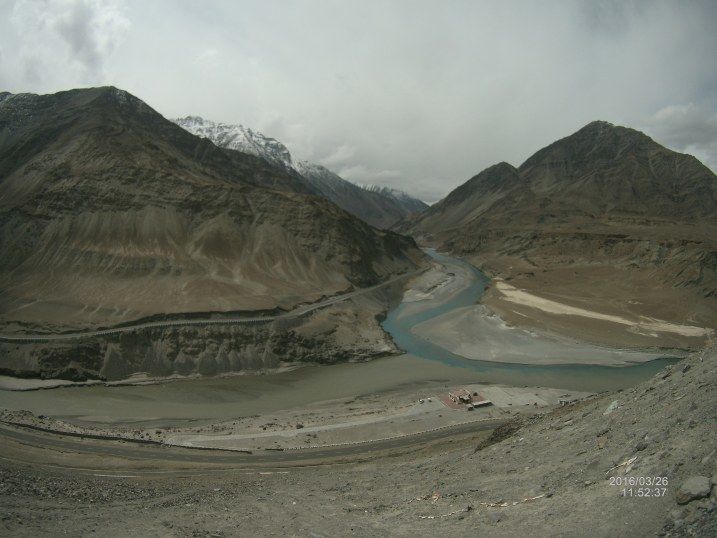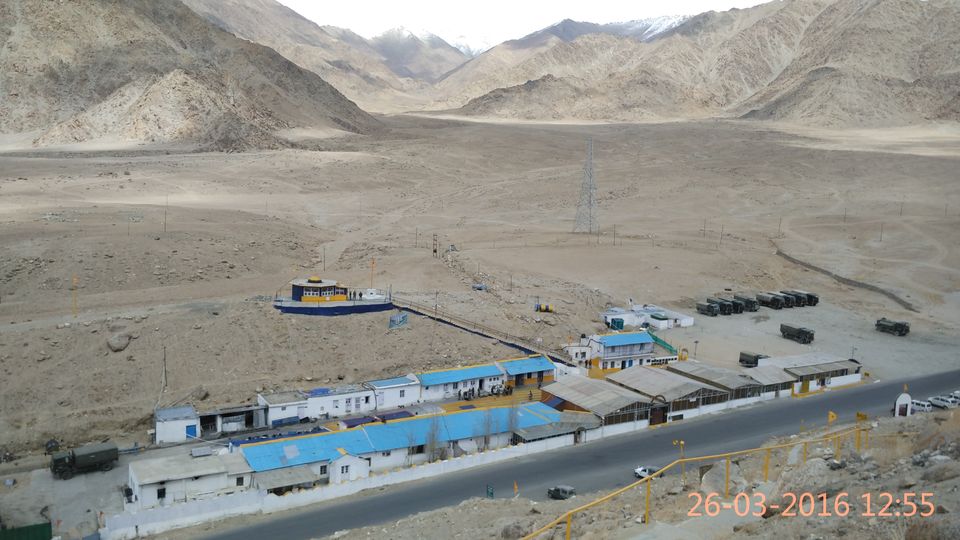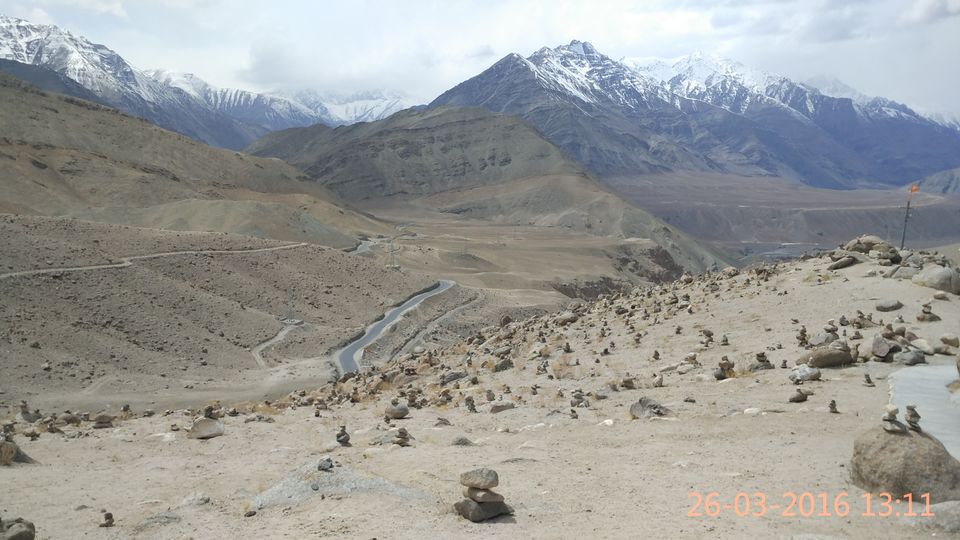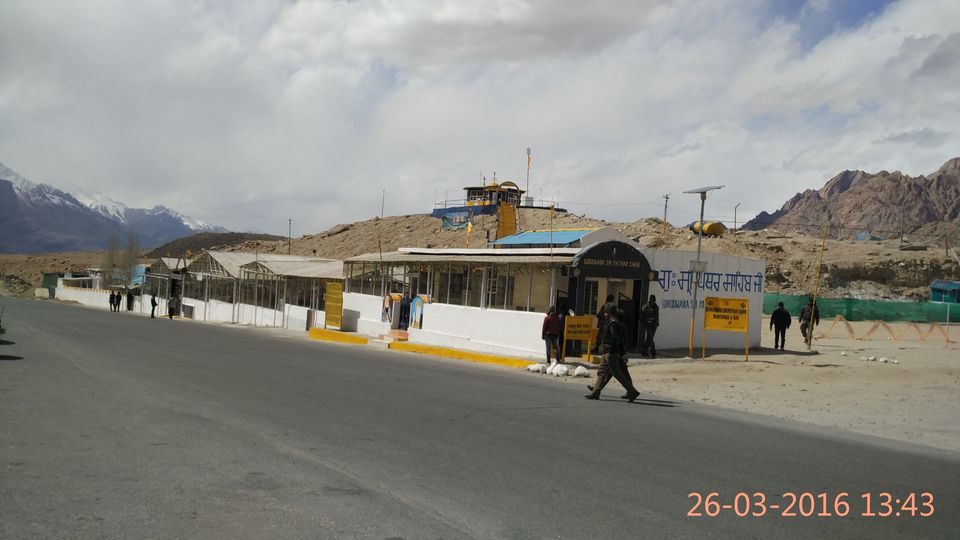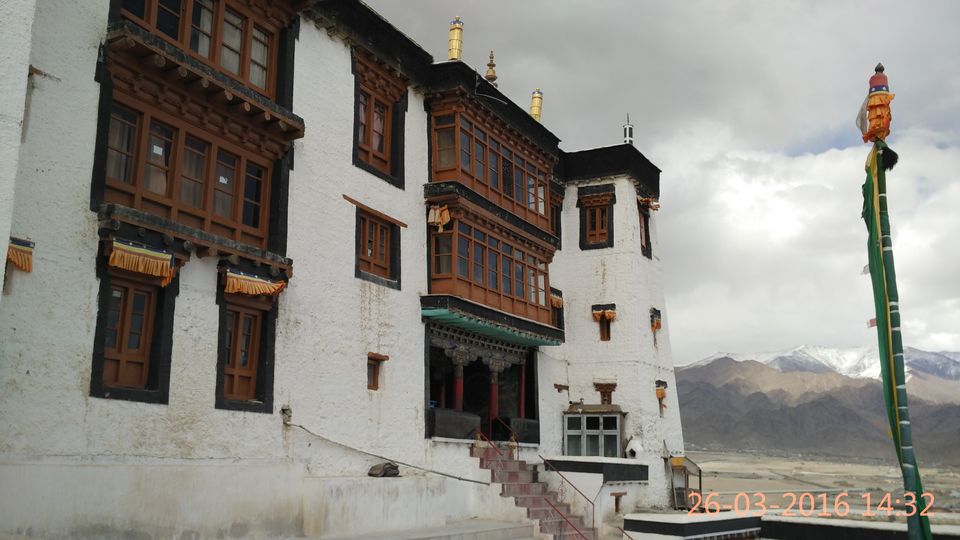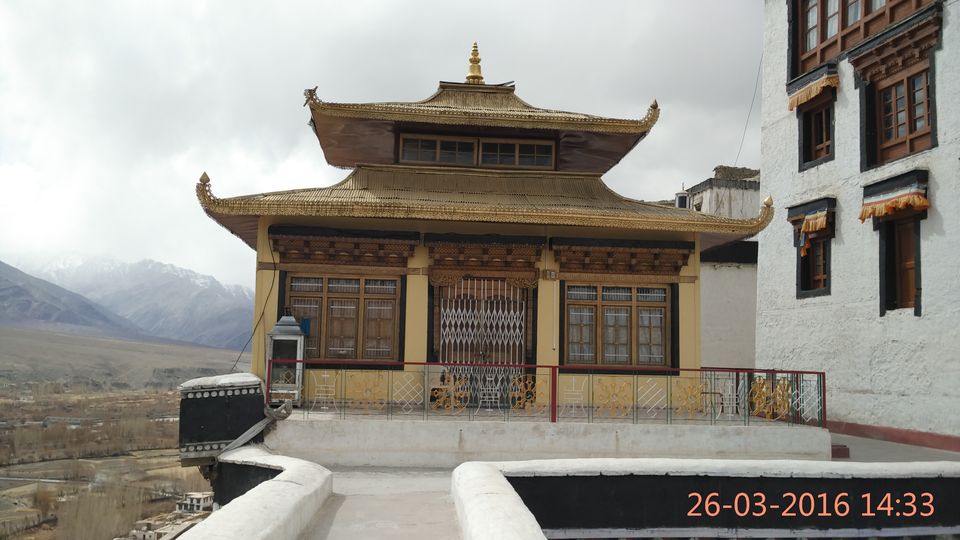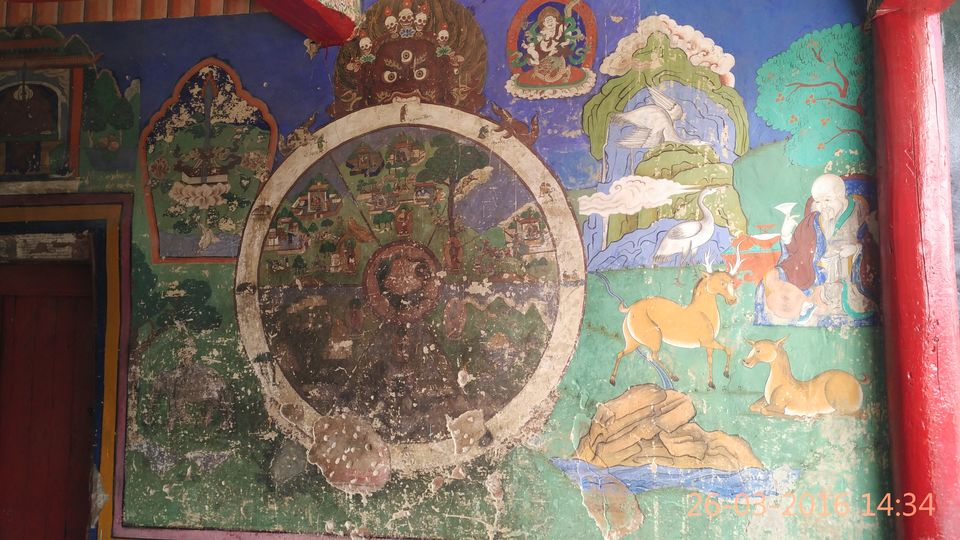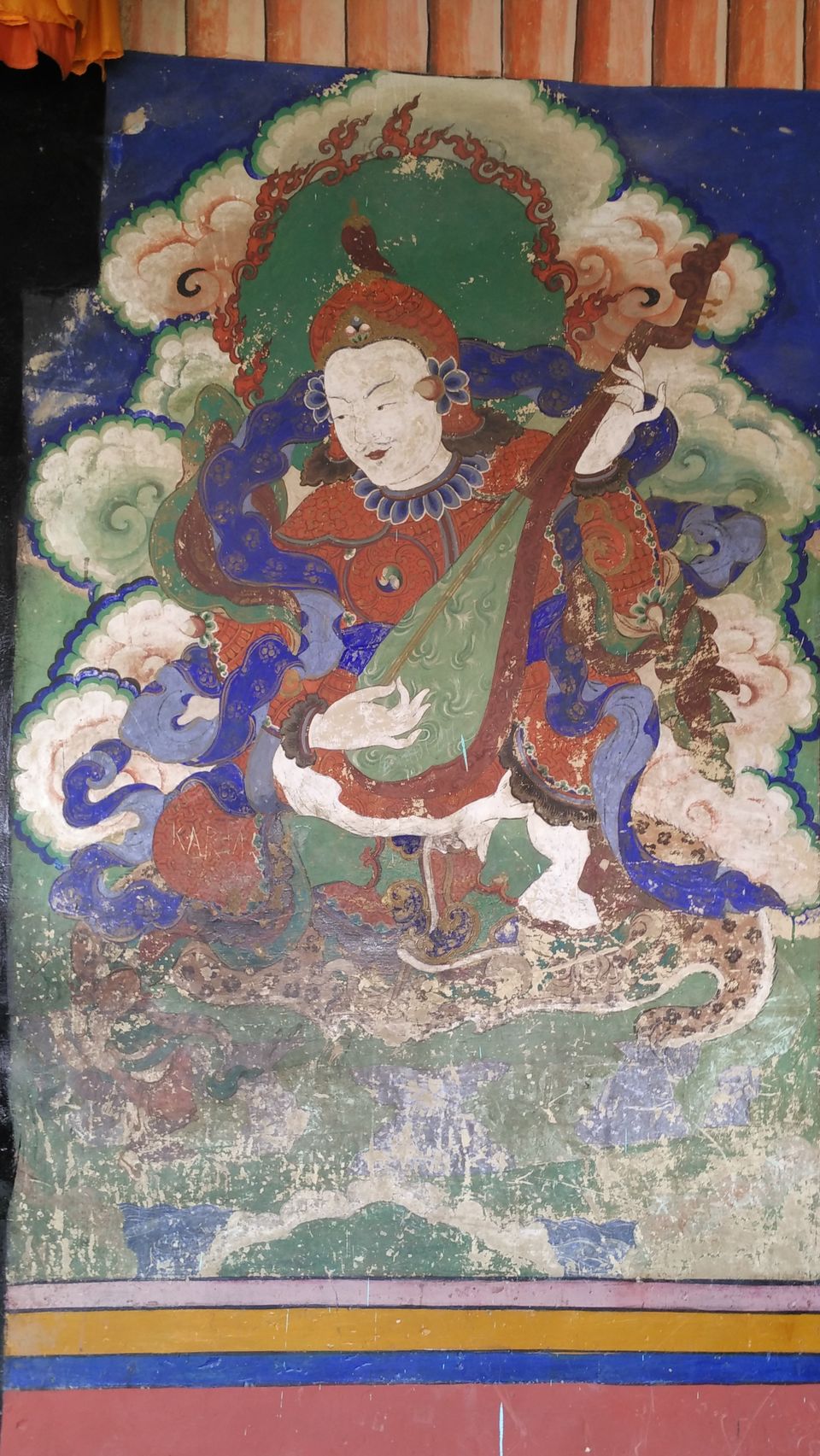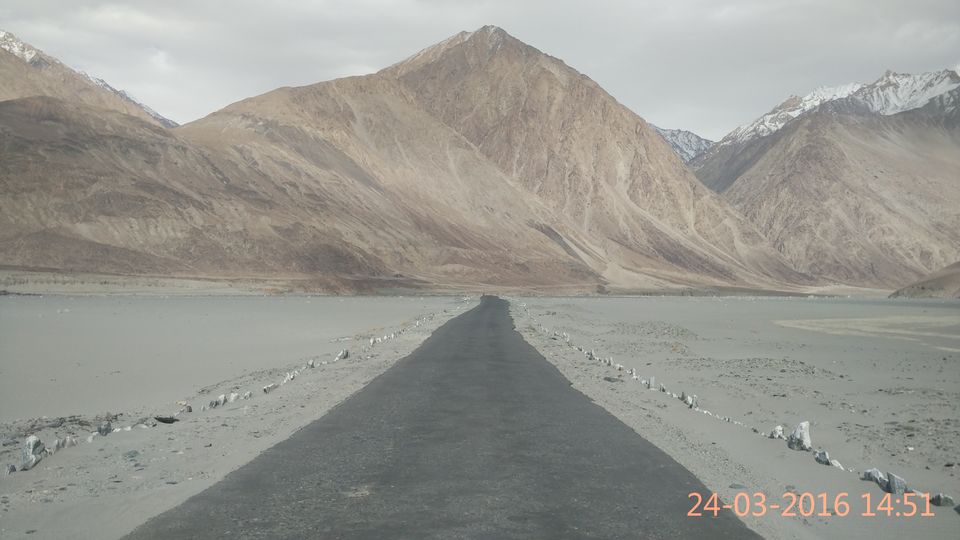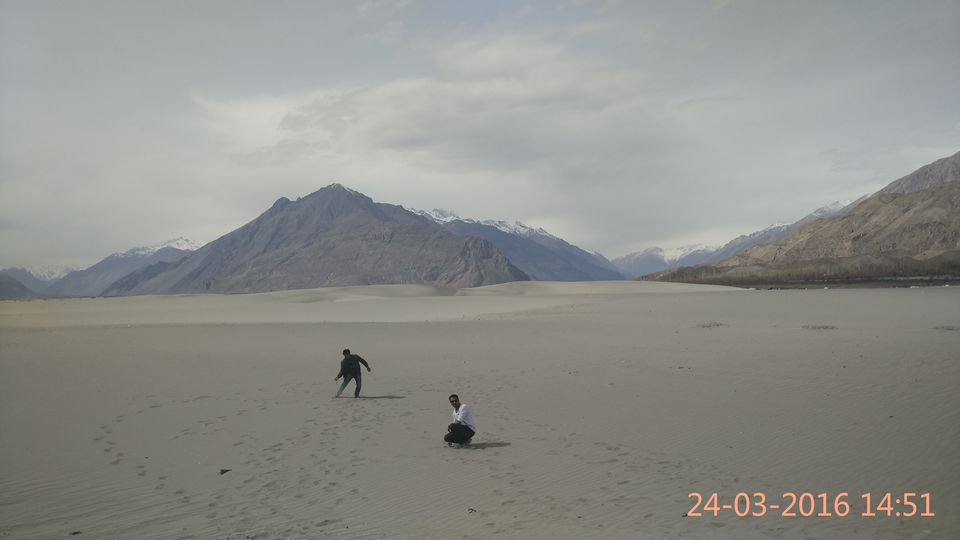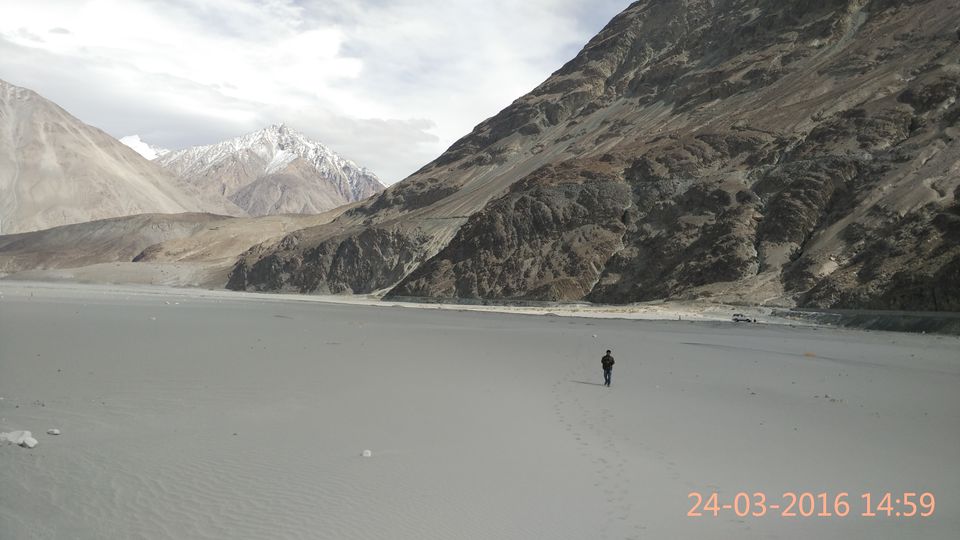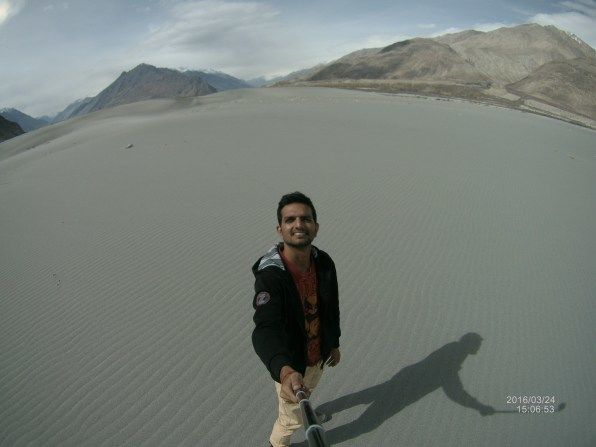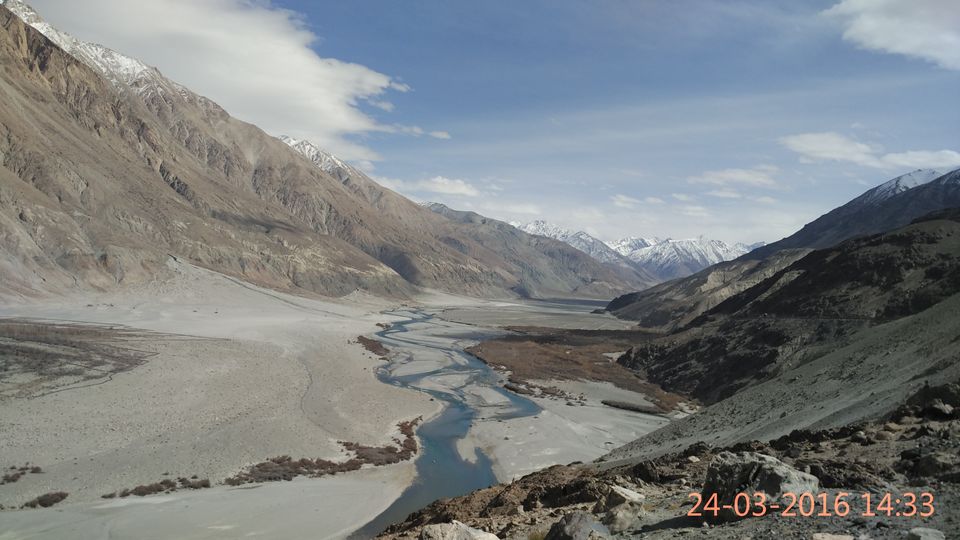 Diskit Gompa and Diskit village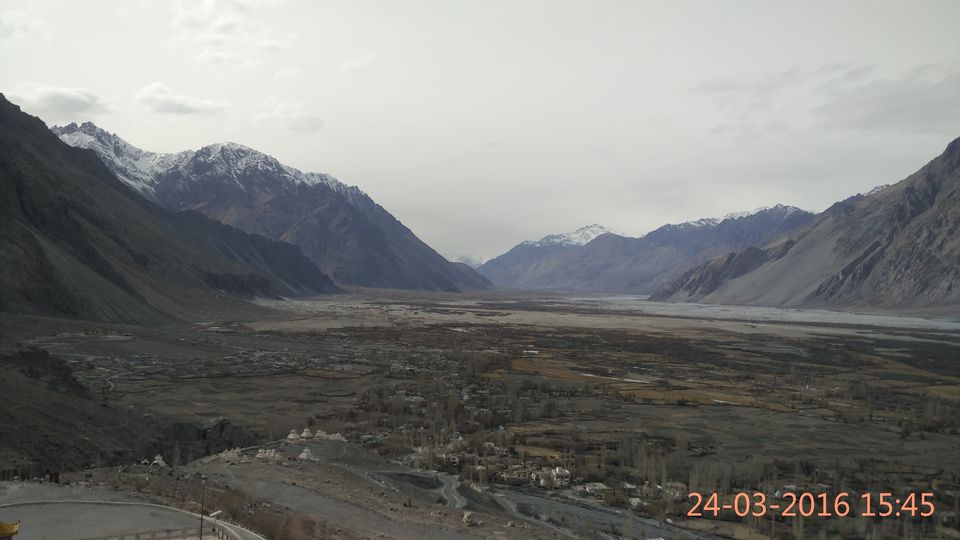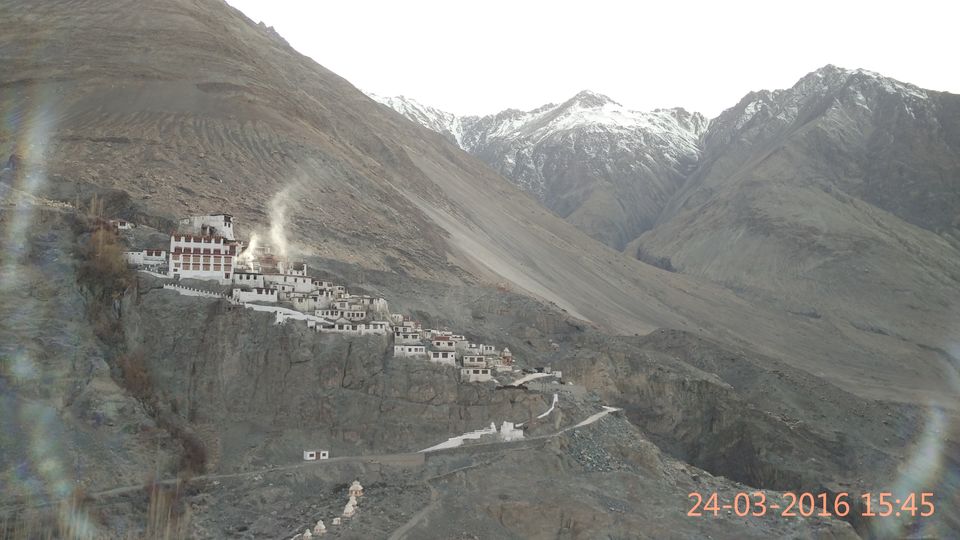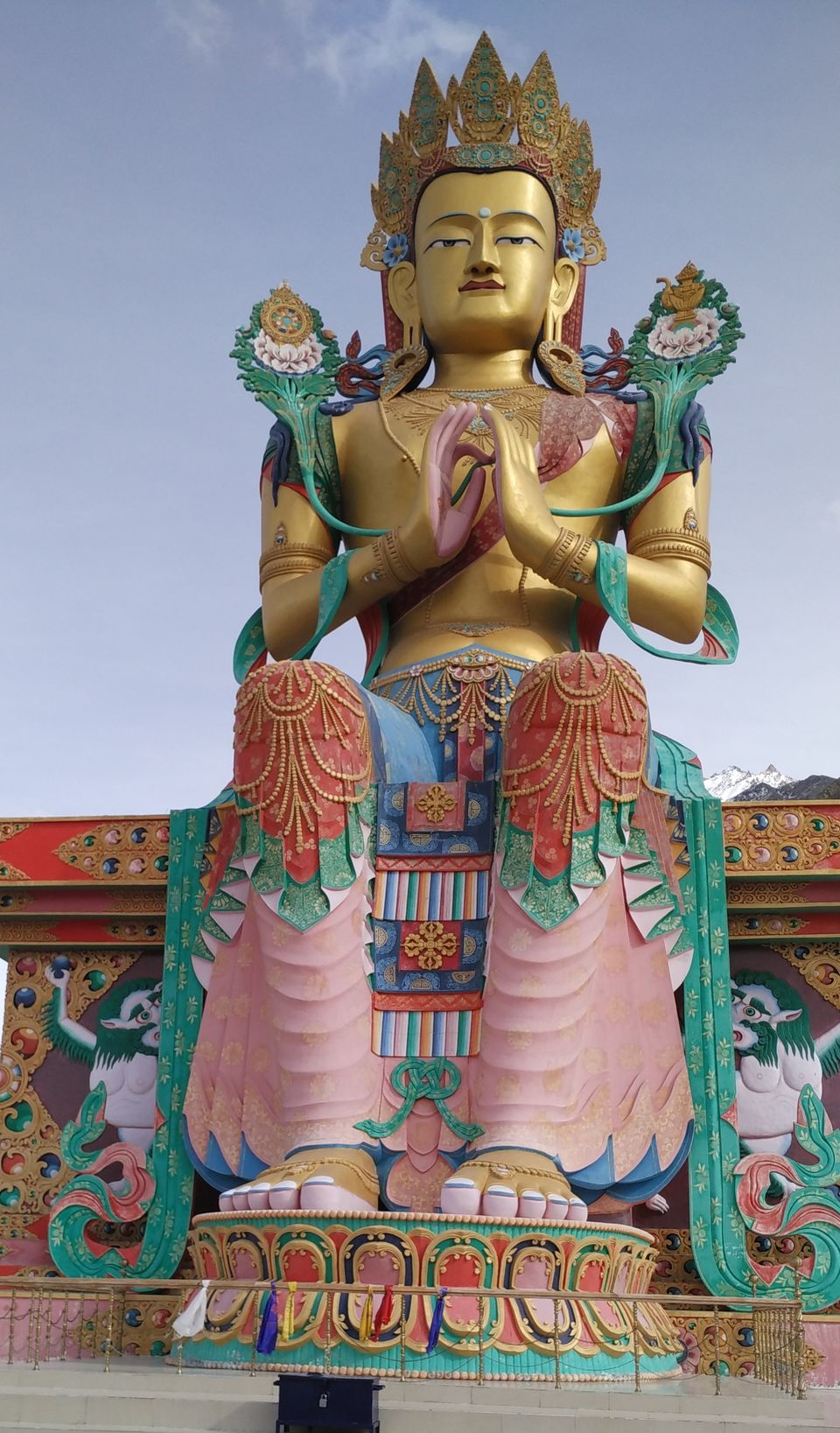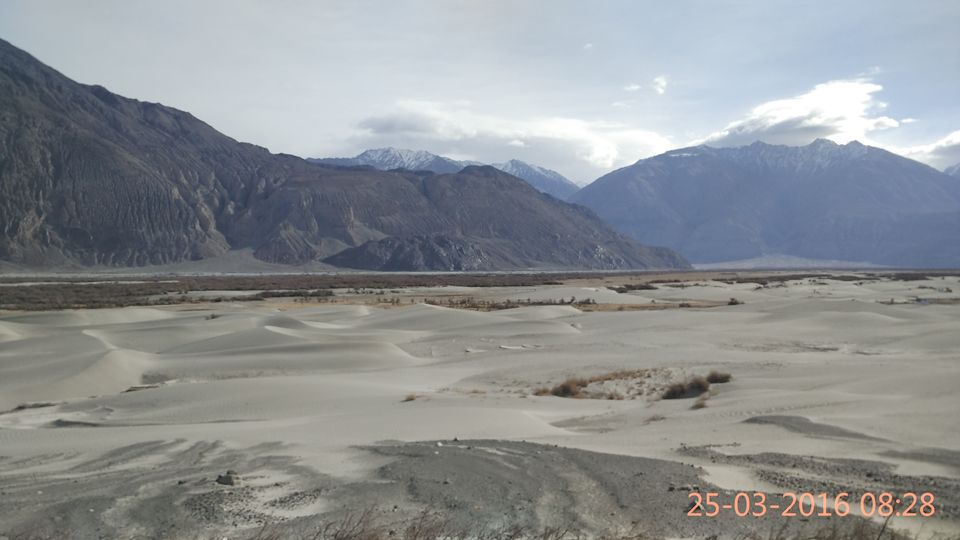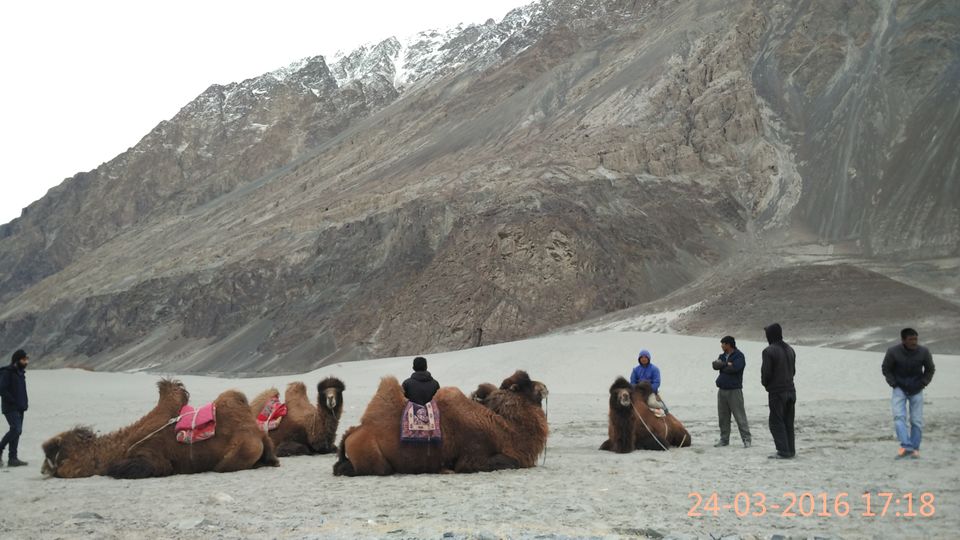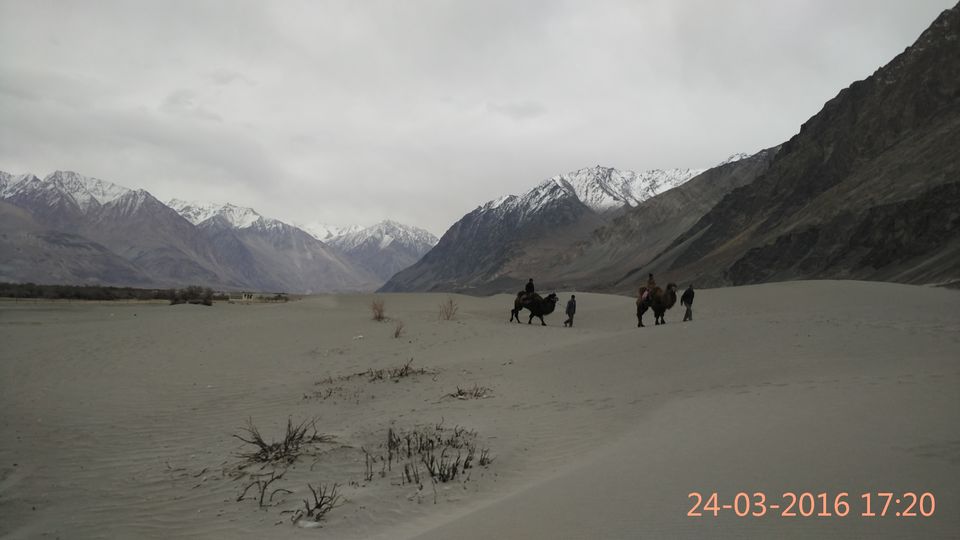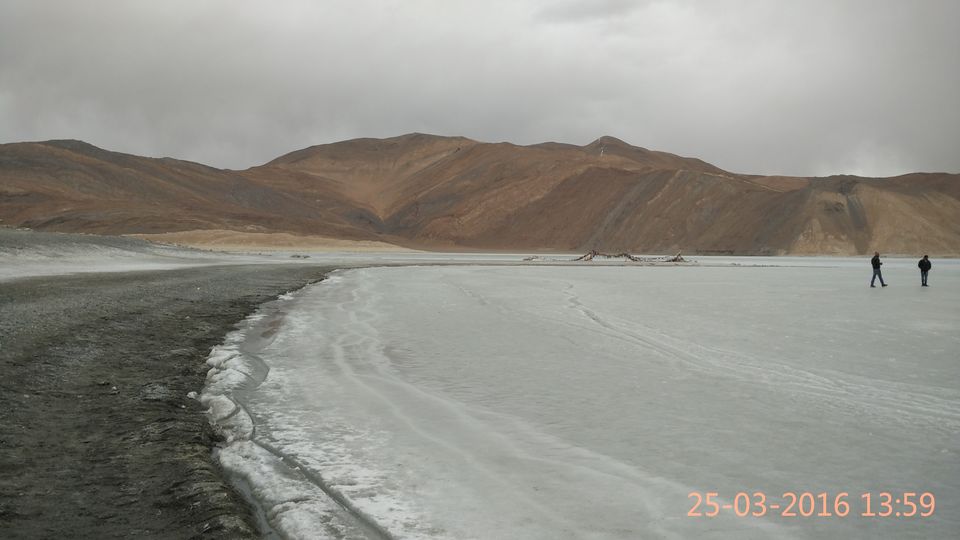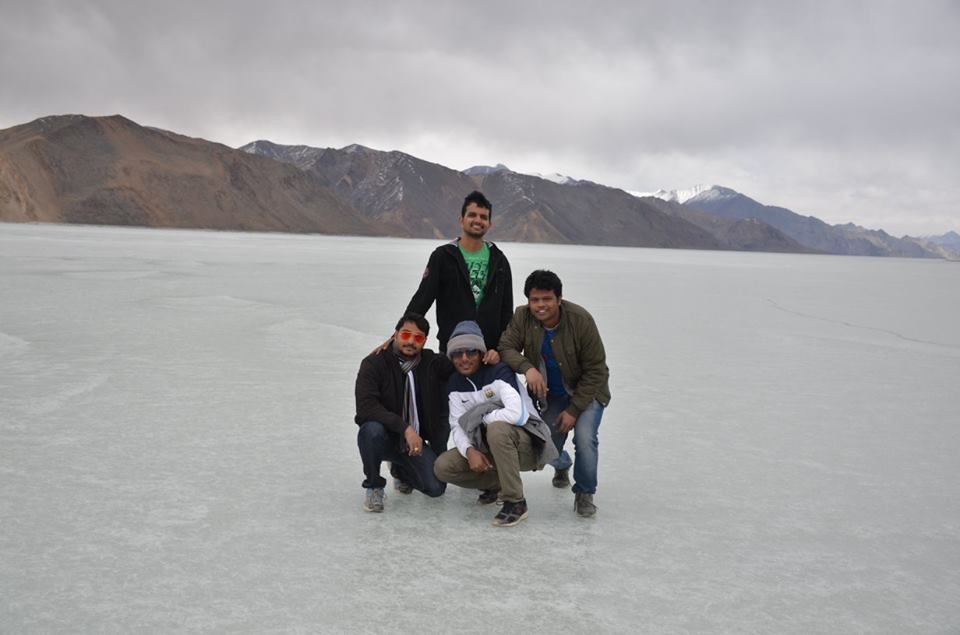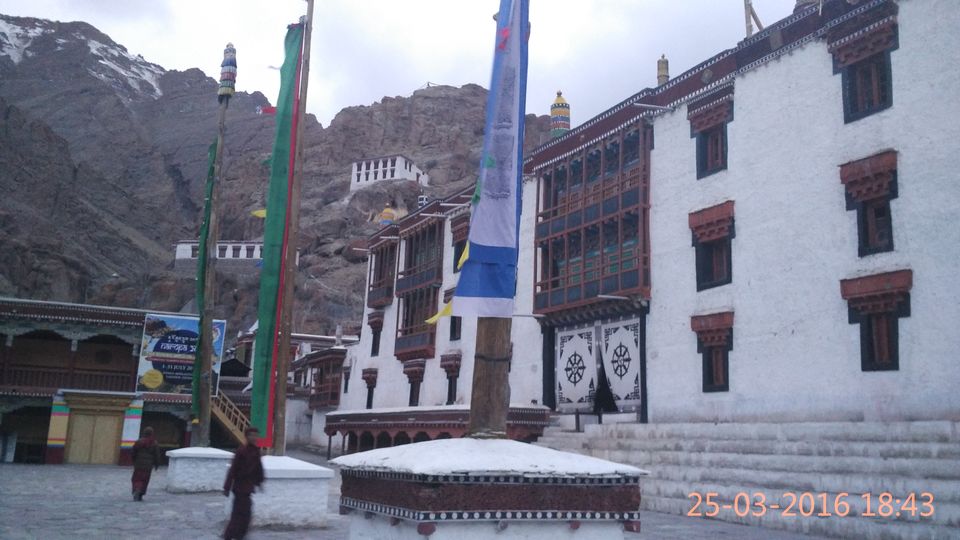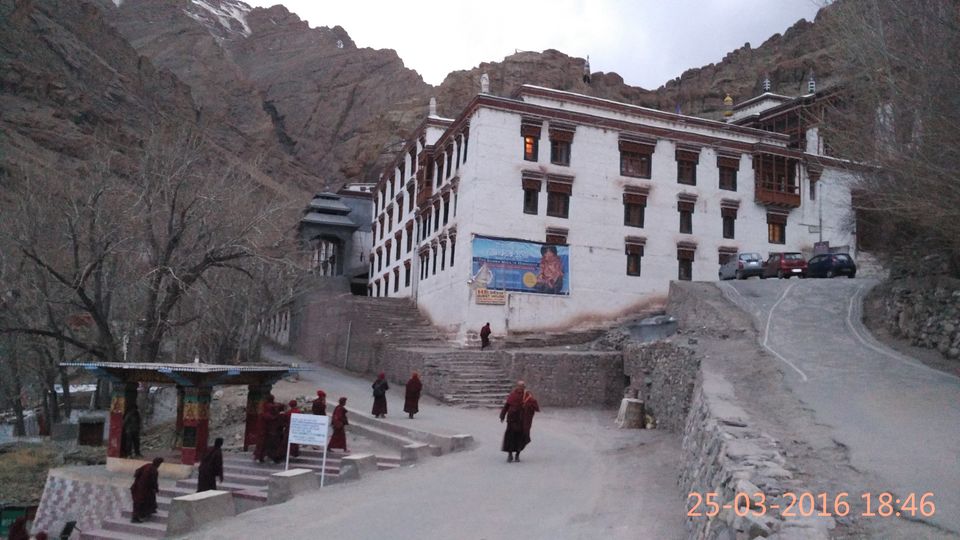 Shanti stupa and Leh Palace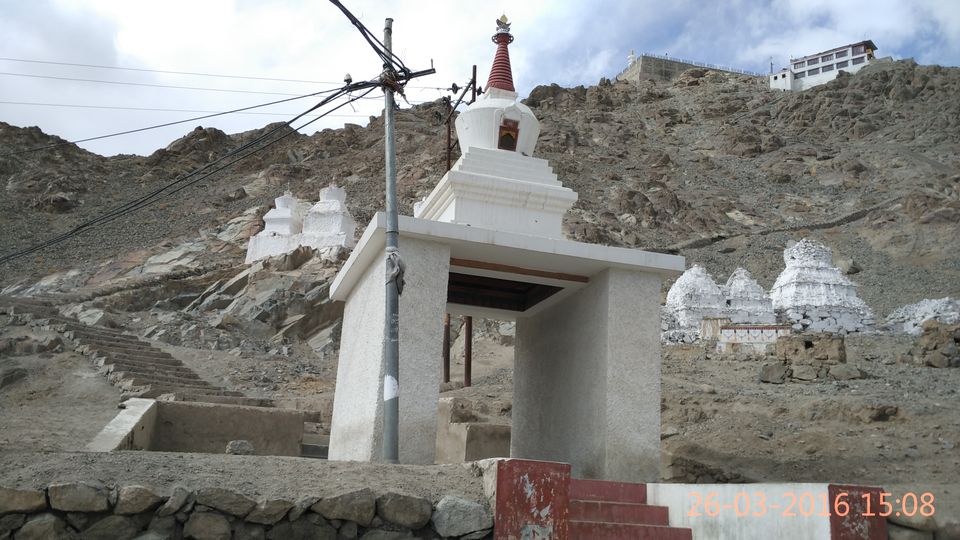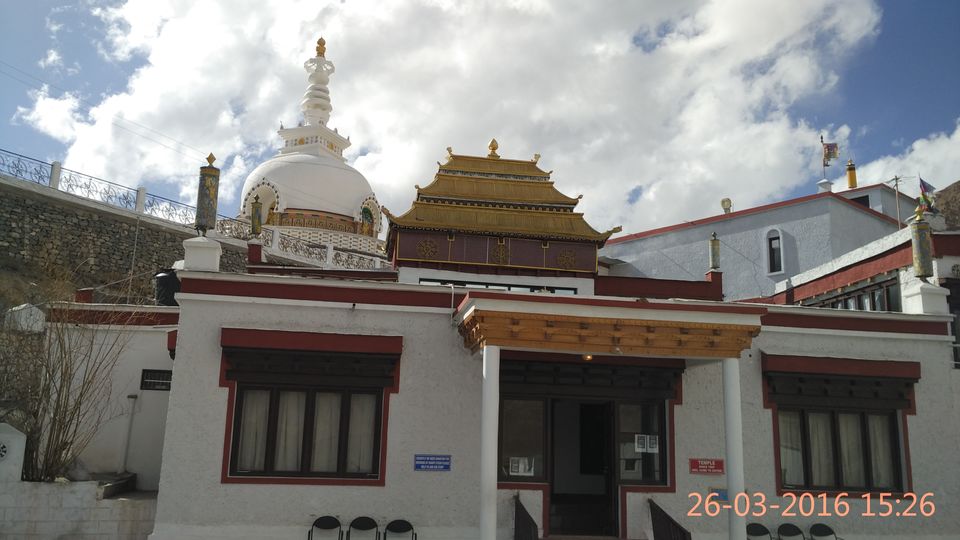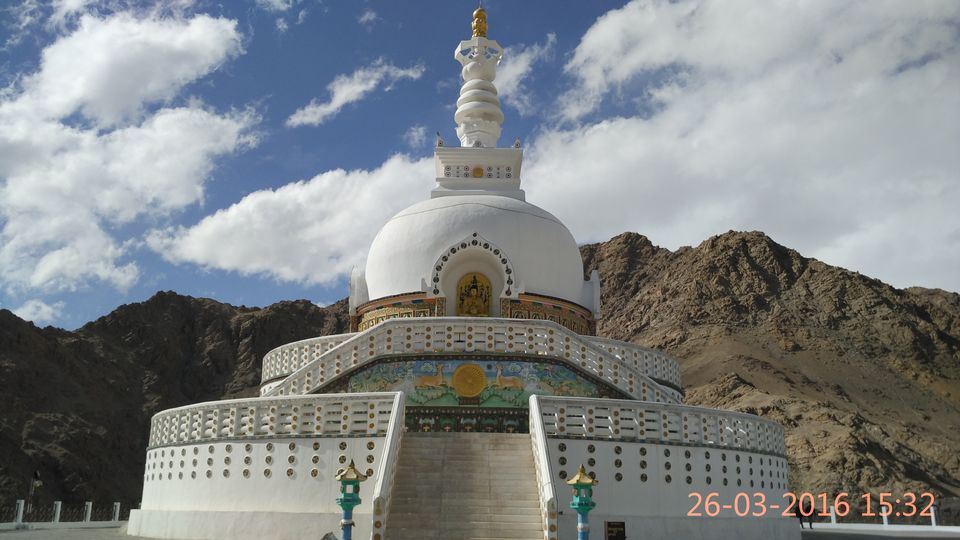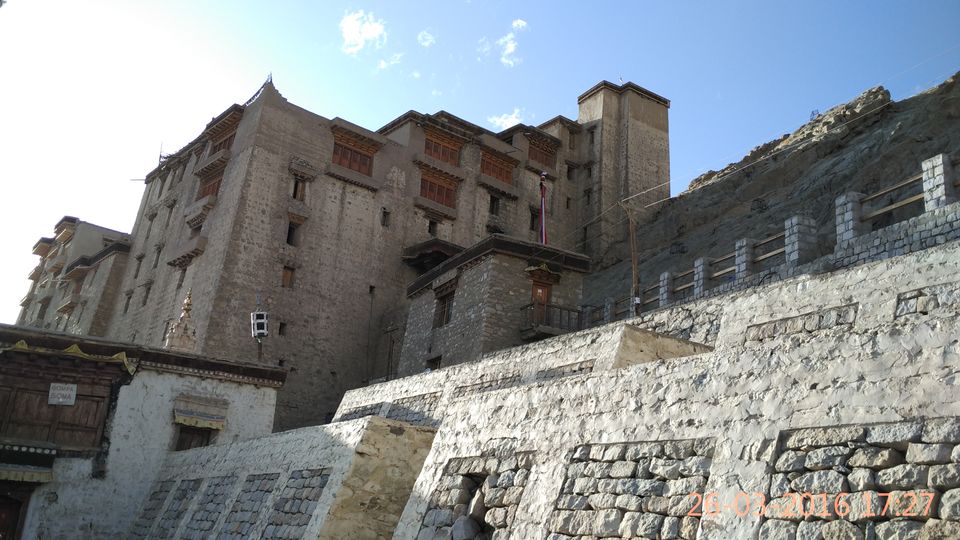 Leh city and Market place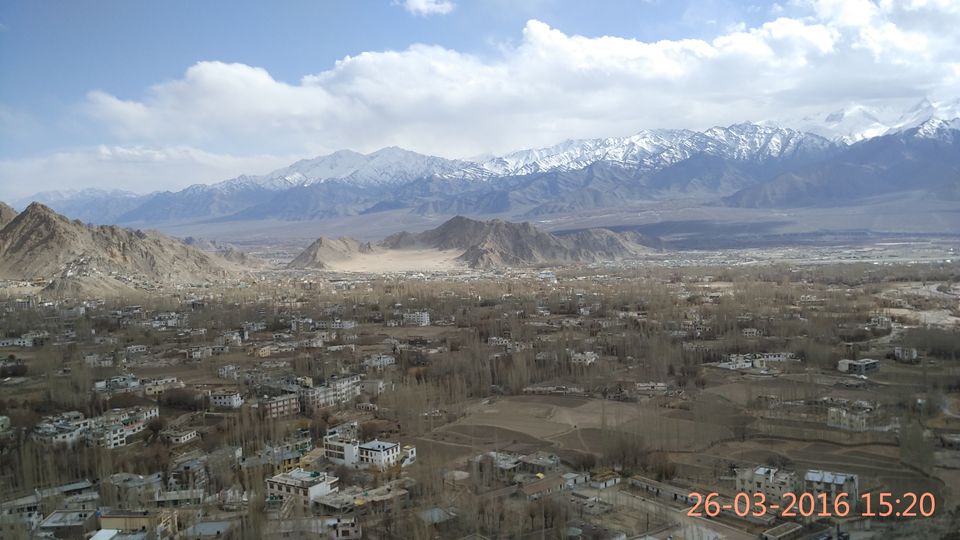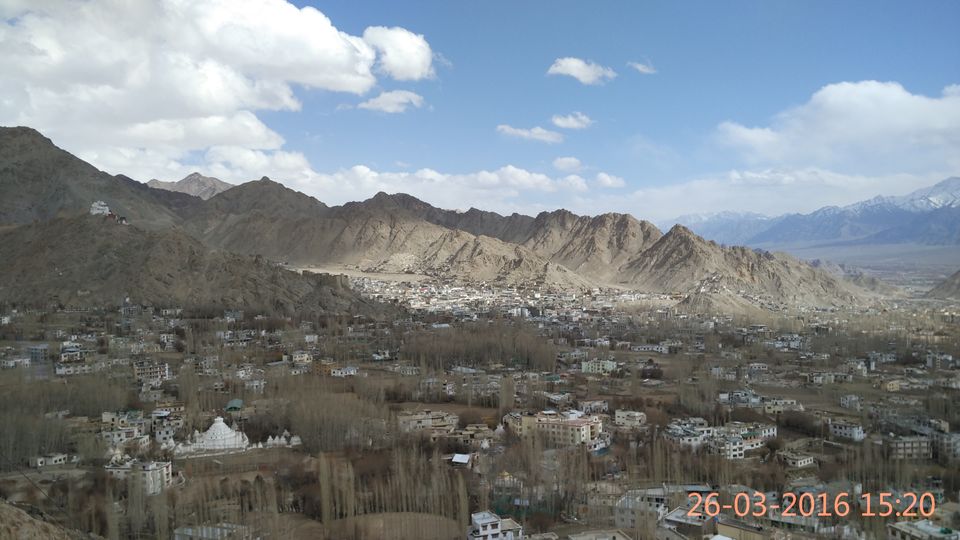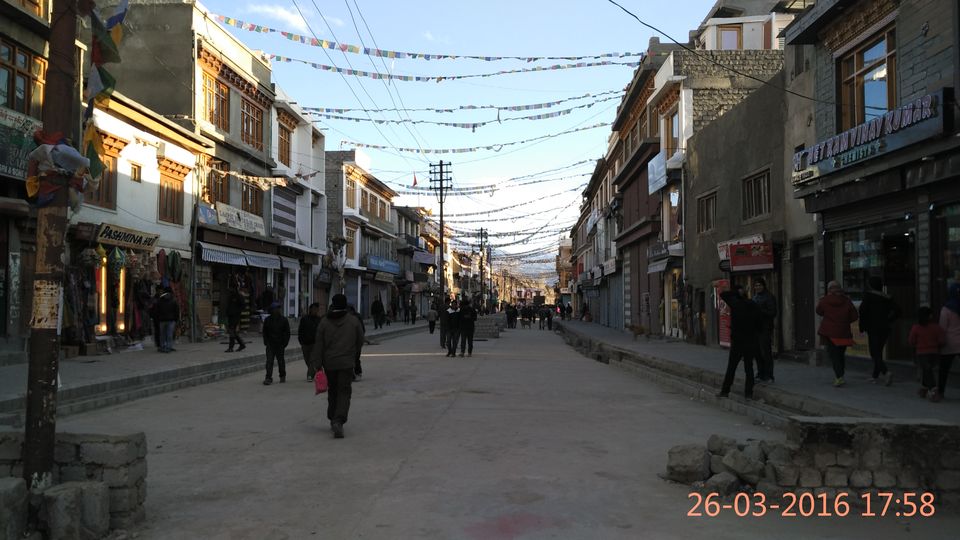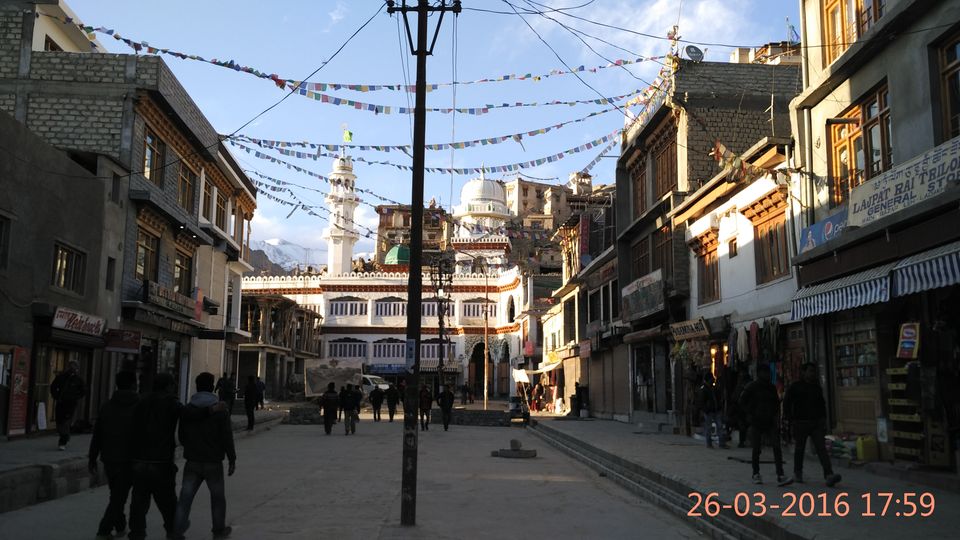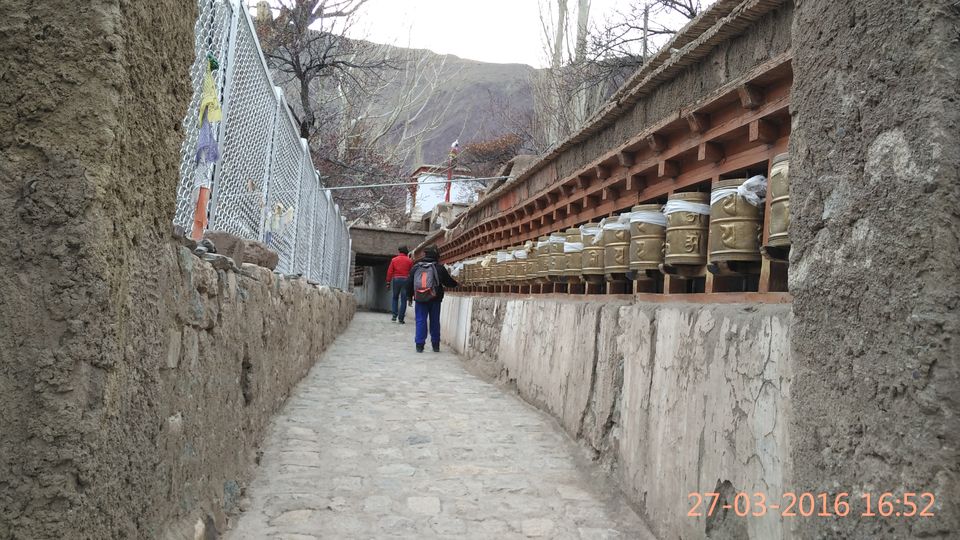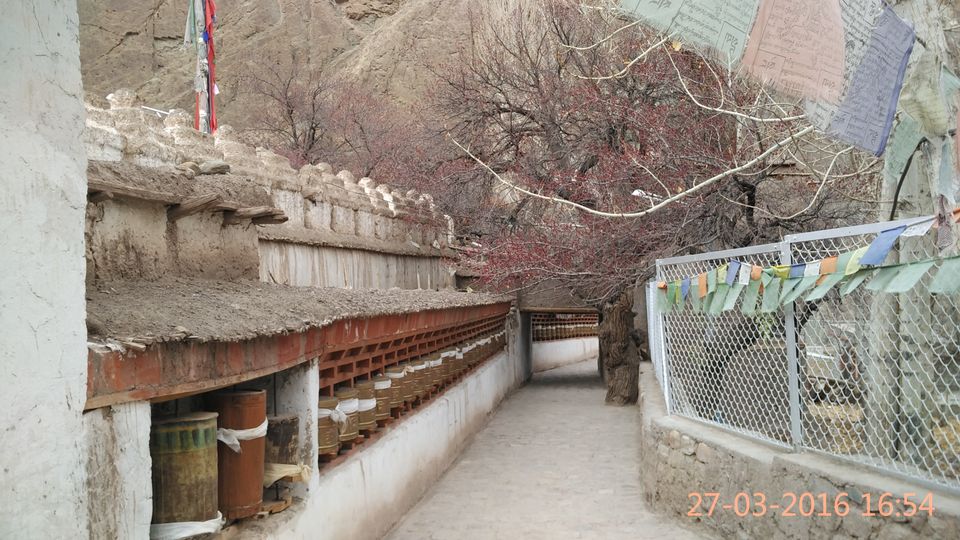 And there came the end of yet another travel adventure, the memories of which will definitely last for the lifetime. We bid goodbye to Ladakh the next morning with a hope visiting her again in summer which is supposed to be much more livelier.
Travel Tip: Since it is off-season you can make good bargain over the car rentals for sightseeing which is again one of the good reason to visit Ladakh during winter. Usually the car rentals are available as a bulk package for three or four days covering Nubra valley, Pangong lake, magnetic hill and sangam point combined with some local sight seeing in and around Leh. Same goes with the Hotel/ Guest house booking, just give a call in advance to the enquire the price and if the are open or closed, as few of them might be closed for the winter.
Cheers until next time :)
This blog was orignally published on 'mytravelhustle'