SHARE YOUR VIEWS IN COMMENTS.
05/06/2013
Ajay and angad were in chandigarh, at 8,9,10,11 gedi route. As it was planned to leave for leh on 7th june, but with a sudden thought coming up on gedi, let make it soon, changed plans and decided to start next day was the call. Calls to inder and sukhman were made as they were in amritsar, and davinder, simran and sandeep in gurdaspur. Gurbaj was in hoshiarpur. It was around 5 pm and we were on gedi route, left for home packed things and started for ajay's pind in gurdaspur for night stay, angad in his thar and ajay in force, picked up gurbaj on the way. Reached pind around 12. We slept to start off a new journey in morning.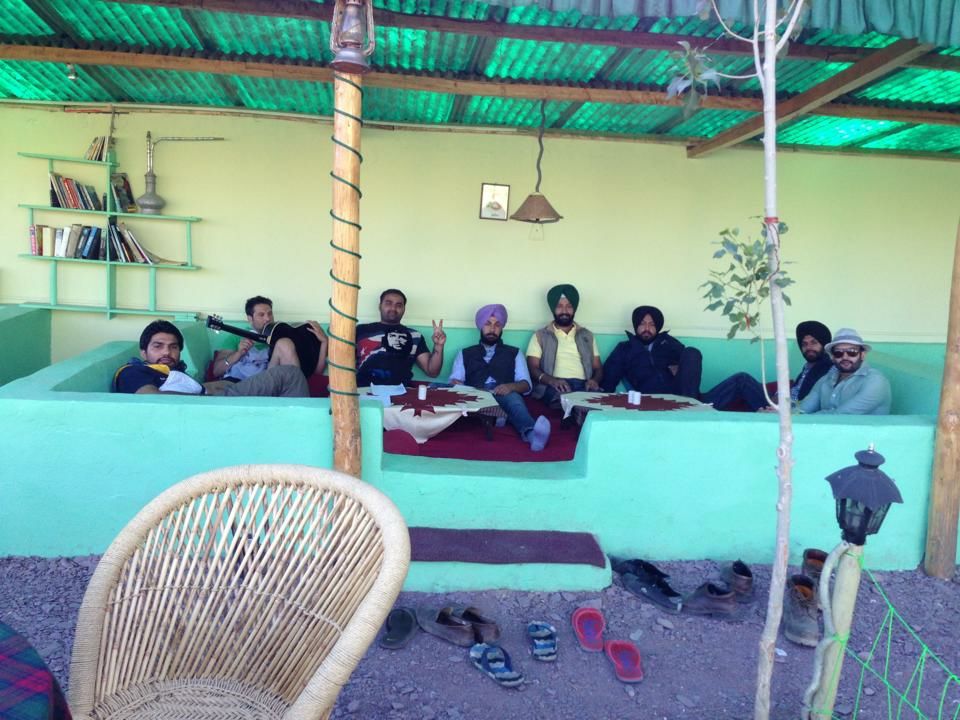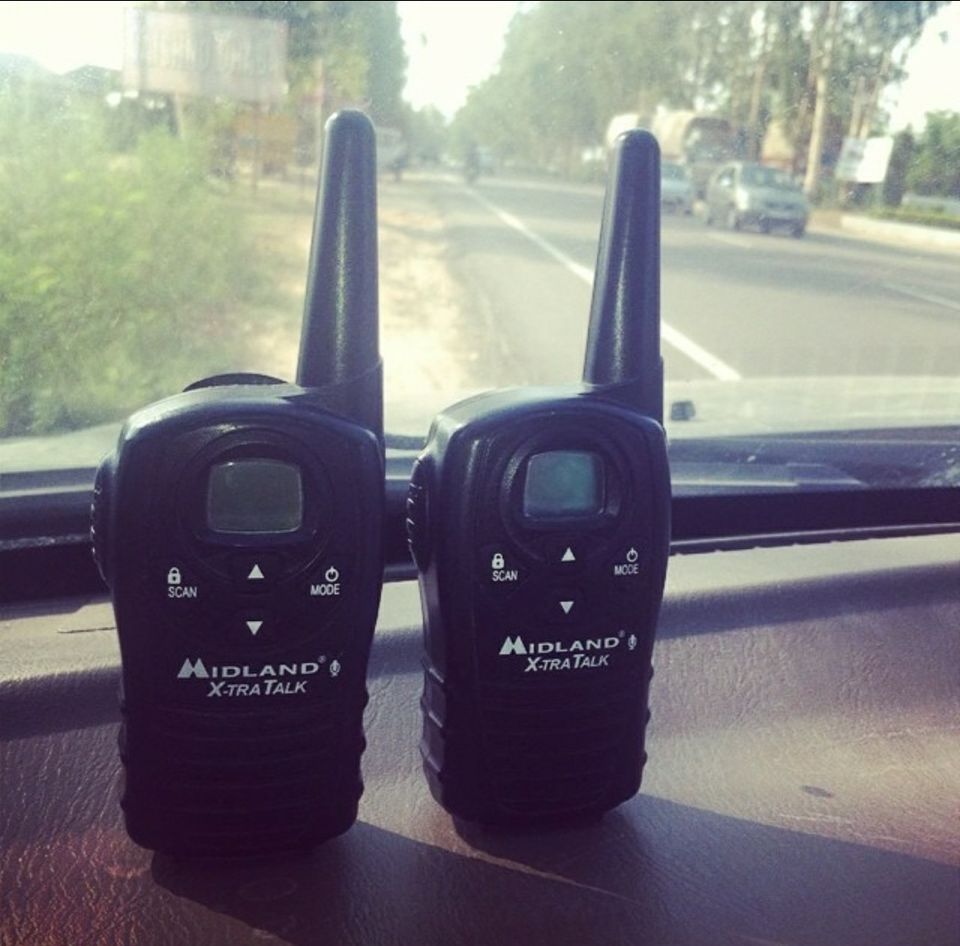 06/06/2013
In the Morning at 9am inder and sukhman reached ajay's village with full gloom to move towards leh. Having breakfast, all things packed up we started off journey. As planned we were to move in three cars. Inder and sukhman in one thar, angad and gurbaj in second thar and ajay,sandeep,davinder, simran in force. All cars tuned up, equiped with accessories tools to repair punctures and air pump. Picked up pick 4 friends from gurdaspur, and journey started towards srinagar, as we entered jammu angad and gurbaj were left behind, and further we got to know their phones were off as no prepaid numbers work beyond jammu. Soon they joined. Now the fun began with three walkie talkies , one in each car as that was the best way of communication possible. First stop was manesar lake moving from jammu to udhampur. Had some snacks, weather was not so pleasant and we soon left the place moving towards srinagar, next stop was for the famous desi ghee rajma chawal on jammu srinagar highway,at place named peerah, it started heavily raining so was the taste of rajma chawal running in us. It was noon till then, as we left peerah it kept on raining til srinagar, we were nearing srinagar and time was around 8:30, the next thought was where to stay, none among us was much familiar to places so as we entered srinagar we kept checking hotels on the way, we were three cars three teams two cars went one way and one with three friends went other way to see a better option. Met a broker and we booked a house boat with four rooms and ample space, very clean and decorated. All were tired had a quick dinner in a restro around, back to boat started all gossips, and yes all were happy as our destination was beautiful and we reached level one. It was decided to move ahead next day at 9am. Slept.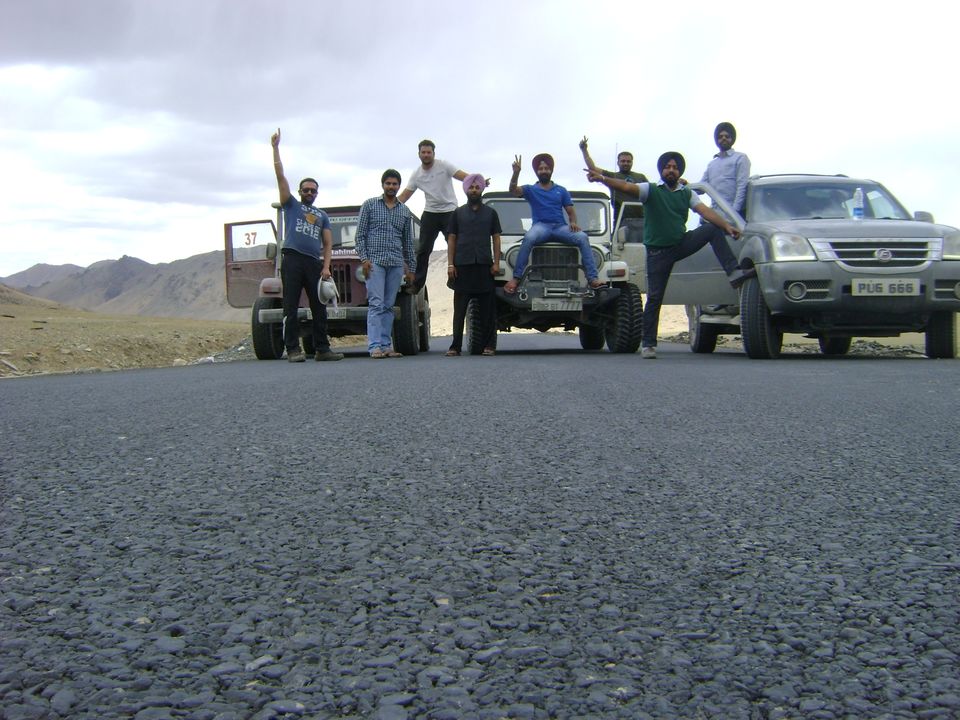 07/06/2013
It Was a beautiful morning in a well decorated boat. By 9am all were ready, paid and took off. We stopped around dal lake clicked some pictures and started, we didn't took any long break in srinagar,those were the peaceful days in valley. on a bright sunny day we started off on a road along dal lake, could see taj hotel around the corner of beautiful lake. Next stop was for lunch on the banks of river indus, enjoyed the food and view. As the road to kargil was getting shorter the curves were getting better, most of the tourists in srinagar prefer going to zero point near sonmarg for a day visit, we had to reach sonmarg yet, got stuck in a jammed road at zoji la for around half hour, with army trucks leading we soon started, and next was sonmarg with large open area and tents gutted in, this was also a base camp for amarnath yatra pilgrims, just beside we could see large company of army in movement, we kept moving to reach zero point, there was nothing much just some frozen snow and maggi, tea stalls, stopped for tea and moved on. As we crossed zero point we hardly found any civil cars, yes we were safe with company of army men. And we reached the place where all indians will salute with pride" TOLOLING" here we met the heroes of kargil war, Emotional yet peaceful place. There we could see first cars coming from leh, and they were like roads are not soo cool, we moved on to reach kargil, was little dark when we reached. Moving around in market for a hotel, saw two three places, and there we found a young man who approached us to show his place, the place was under renovation but there were three clean rooms, we opted for it as we got it economical. The young man was decent enough, with no network on mobiles in kargil he was generous to offer us his satellite connected phone, from where we made calls back home. Then Went to a restraunt for dinner, for all those who remember kargil for any negative reason should know that it is a developing city with hotels and decent market. We found many cars parked in hotels around of punjab , maharashtra , chandigarh, so we had a company the next day when we move towards leh. The day went well . Slept.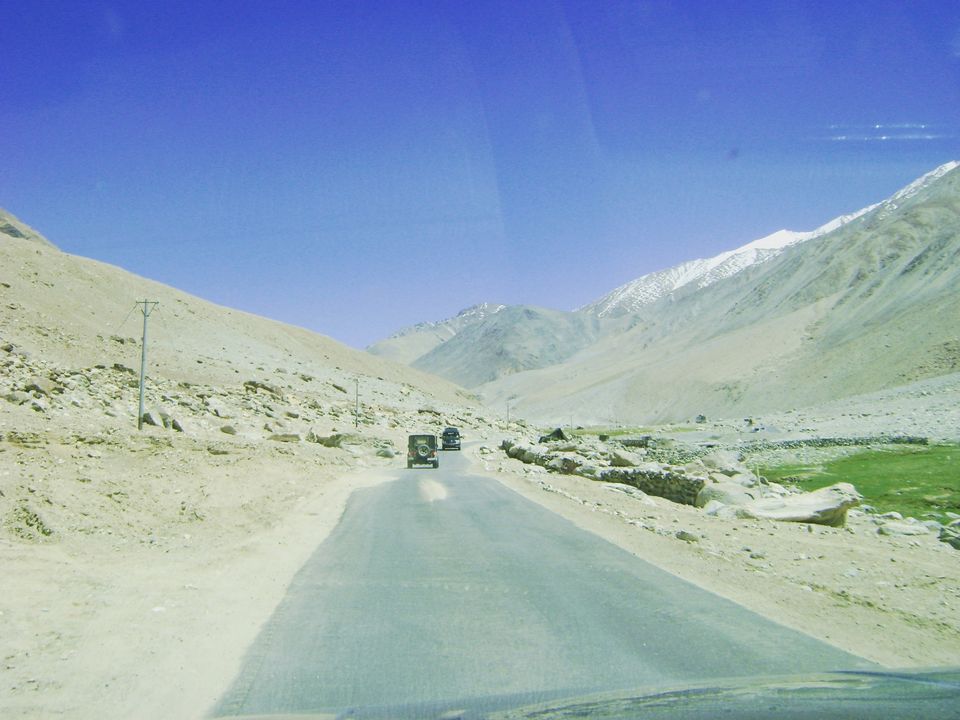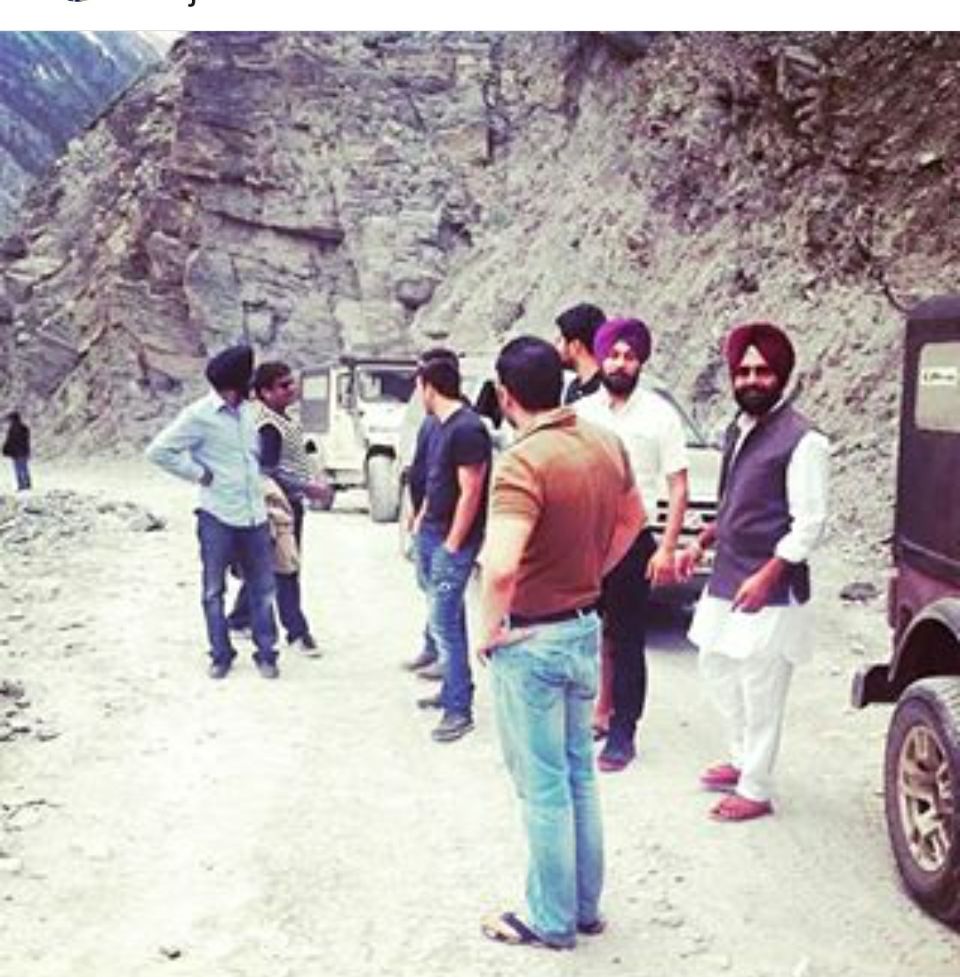 08/06/2013
We started by 9am towards leh. After few kilometers we stopped for breakfast, there was no dhaba, today it was bread with mango spread from angad's kitchen. As the leh get closer nature gets closer, you get to click lifetime pictures and yes you want to get clicked in every direction, moving up there were locations we parked cars parallel and got pictures clicked, it was fun. Next stop was magnetic hill, yes if you know leh you know magnetic hill, we also tried to check the claim by parking car in certain position, yes it was working yet not much clear, you visit the place you will know. Angad tried some power show and drifting with his thar, worked well we moved to next sacred place " gurudwara PATHAR SAHIB " seeked blessing of first guru "guru nanak dev ji" the gurudwara is fully looked by indian army. With waheguru's mehar we moved towards leh which was not so far now and roads were straight as of rajasthan, gives you feel of driving in desert, yes once you cross kargil driving around 100 kilimeters you get on a cool desert road, wide enough yet we have to maintain speed to bear the sudden bumps and stay safe. When we reached near leh airport, were stopped by policemen, who were polite in asking why we are not wearing seat belts, they just checked the car pollution papers and we were in leh. Checked some homestays on outskirts of leh , but one team was already in leh city, and we got a walkie talkie call to reach in city as they had found a well off hotel in city heart. As we reached , hotel was cool with ample parking space. For dinner we went to a roof top restraunt, could see half a leh . Reached back hotel and slept.
09/06/2013
It was a lovely morning in leh, and with all friends feeling fine in high altitude,it was good. we were to stay in leh for a day for a free booze around leh city.
As all got ready by 11 we went for a breakfast in a restro near by having paranthas, after breakfast back to hotel there was some chit chating about the program ahead, we had to discover two places, the khardung la pass and pangong tso lake, Yes we were to stay around leh for 4 days, so the plan was final to approach pangong the next day and khardungla the day after, next process was to get permit for the cars to move towards pangong, so ajay along with simran , davinder and gurbaj went to DC office leh, applied for the permits and got them after lunch. All cars got to the petrol pump to get tanks filled, with some rush and little wait all was done, also 20 litre extra tank was filled up for any emergency. all was set, went back to hotel. After some resting we all again went back to streets of leh for some shopping and then all started moving towards shanti stupa , the sacred place located on top of leh, there was a road to reach top but we all went by walking and climbing around 500 stairs, that was not easy, with multiple stops we reached top feeling freshness of the sacred shanti stupa and the beautiful green lush view of leh from the top.
We paid our respect and started back, as moving downwards on 500 stairs was not easy we opted for another route , the better one, chit chating and clicking pictures on the way we reached back leh market. As it was around 5 pm we started looking for some good restraunt for dinner, we found one and settled on the ground couches, sitting down in a round table, then came a guitar and the skills of all were on to try some better tune.
Then the dinner arrived and everyone busy in food and the ambience around, it was a evening spent well , returned to hotel, all went to their rooms and then back to one room for chit chat till late night, all had stories to tell. Tired and to bed.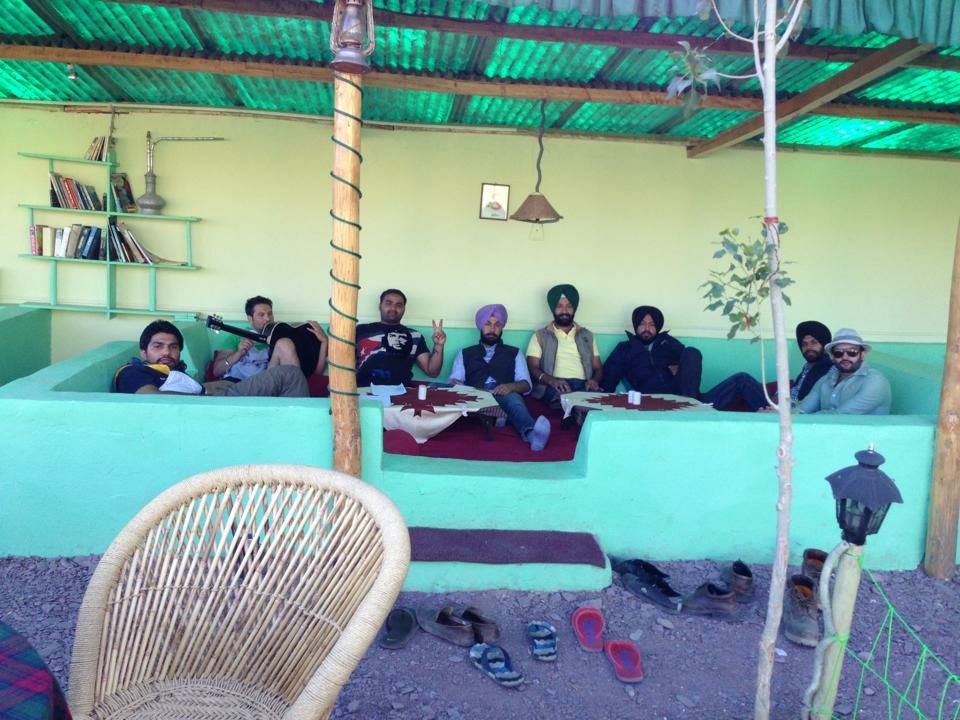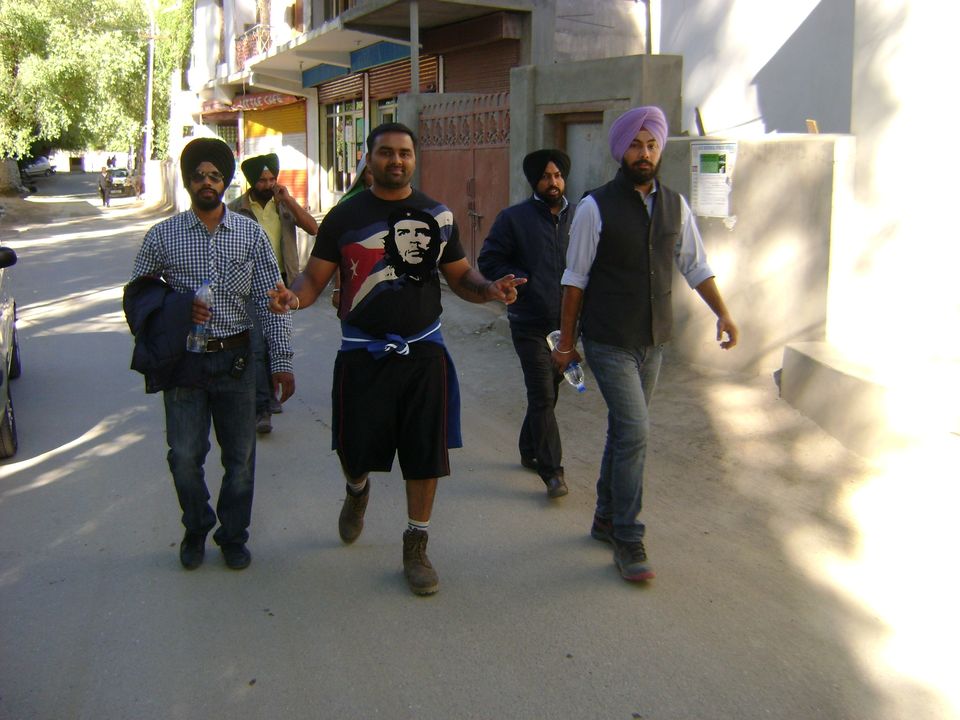 10/06/2013
We were all up by 7am. ordered tea and with little chit chat, started getting ready, all were ready by 9am, day was good as we were heading towards the mighty pangong lake, yes we were excited as our destination was beautiful. We checked out from the hotel as we were not sure about night stay at pangong lake, we started towards leh manali road and on way bifurcates the road to pangong. Soon you cross small and big streams, reaching CHANG LA , first stop on way and also known to be "THIRD HIGHEST PASS OF WORLD" here we had a kava offered by the army, it helps our body to climatise with high altitude. Next we reached pangong and with eyefull view of the pangong lake we took our cars just nearby the lake. Then started the suv's adventure, as angad and sukhman tried their hand on thar's ajay tried on force, force was most responsive though being a two wheel drive. Soon the adventure got deeper and angad stuck his thar in sand, with all options explored to get the thar out, last was the winch in sukhman's thar. Soon the winch pulled out angad's thar. next was simran's turn, he got stuck with force in some sandy area, again all had to push out the force. The adventure played well but it drenched us all of energy, soon we settled in a hut at center of the lake, took some rest, tried our hand to some songs and moved up towards dhaba's to eat something. It was around 5pm and most of tourists have left back as in evenings the water streams on way get mad. We were still confused whether to stay or return, ajay was of view to stay back, but was decided we leave back to leh. It was about to get dark when we left pangong, angad was on steering of one thar, gurbaj on force and ajay on second thar. Crossing some fast running streams we reached leh by 9pm. We checked into a new hotel , got three rooms, all settled and slept.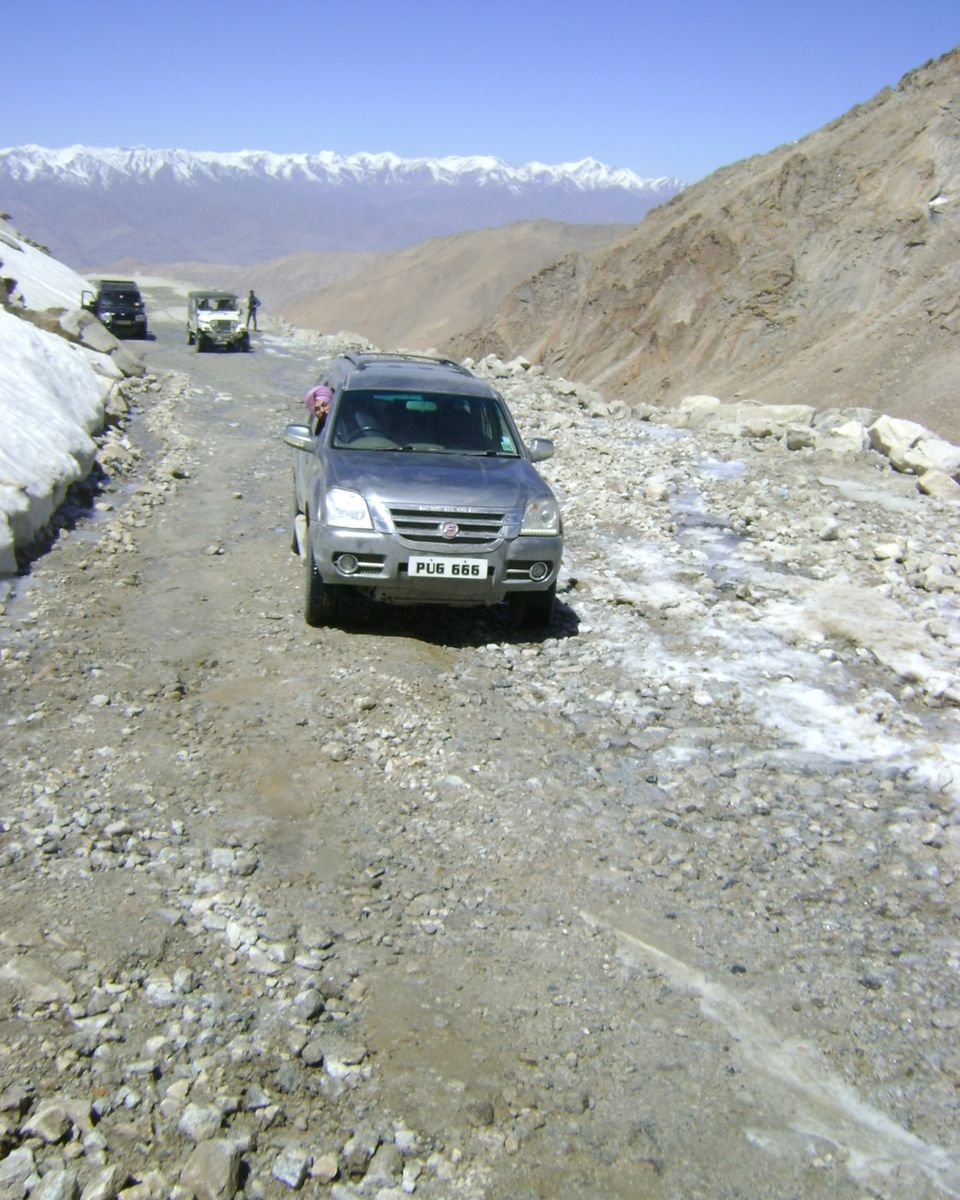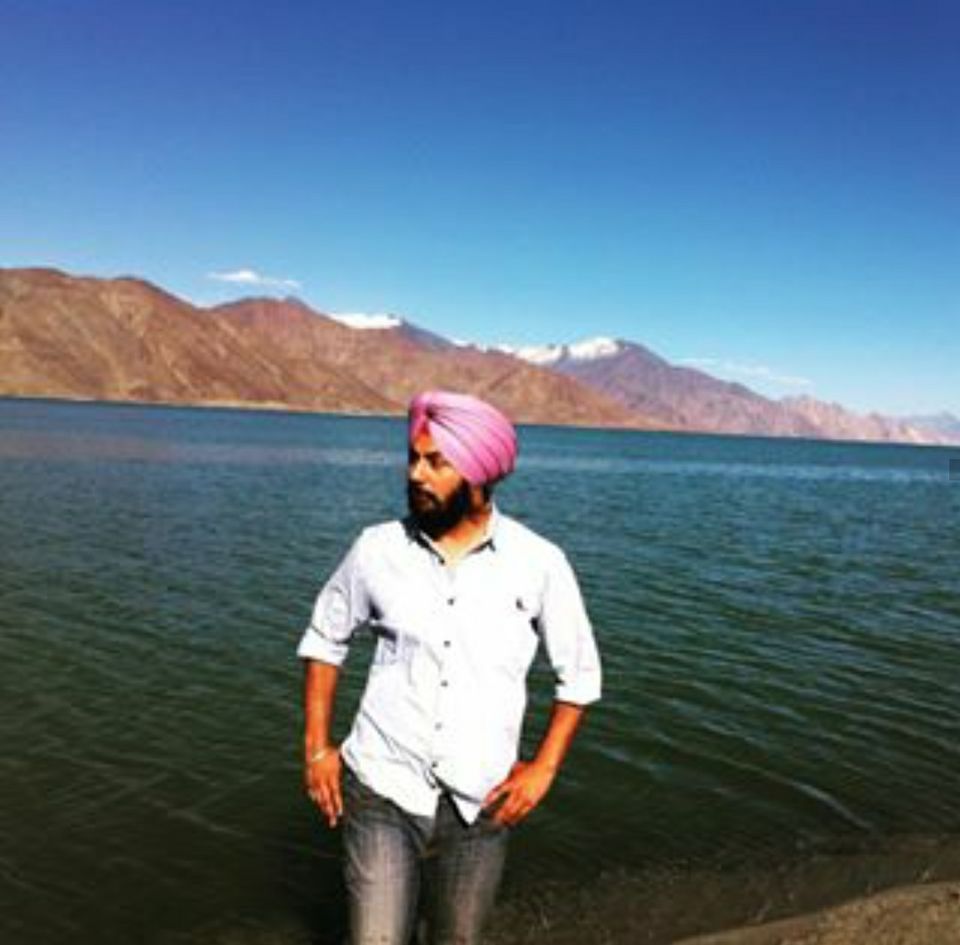 11/06/2013
All were up by 9am and busy getting ready, and those ready towards the cars to give them a start, the jeep did well and were on in a one or second try, the force was taking sometime, so till all got ready simran gave force the time to try again.
All came to the reception by 9:30, and moved towards their cars and yes the force was on by this time, so the journey started and we moved on a road moving upwards leh city, we passed by the dc office, where we came for the permits, moving ahead car keeps moving to heights giving clear view of green leh city, soon arrives the checkpost where the car permits were checked and we moved ahead, khardung la from leh is around 50 kms, while nearing khardungla we got to see some punjab cars and enjoing the mountain views. So arrives the khardungla , we parked our cars started checking out the place, there we see highest cafeteria in world and yes we tried some tea. There was rush of tourists from different parts of world, had a short conversation with some. The places ahead are nubra valley and siachen base camp, so some in us were interested to move ahead and some were thinking to leave nubra and return to leh, skipping nubra we returned to leh in same hotel and settled , in the evening took round of the city and back to hotel .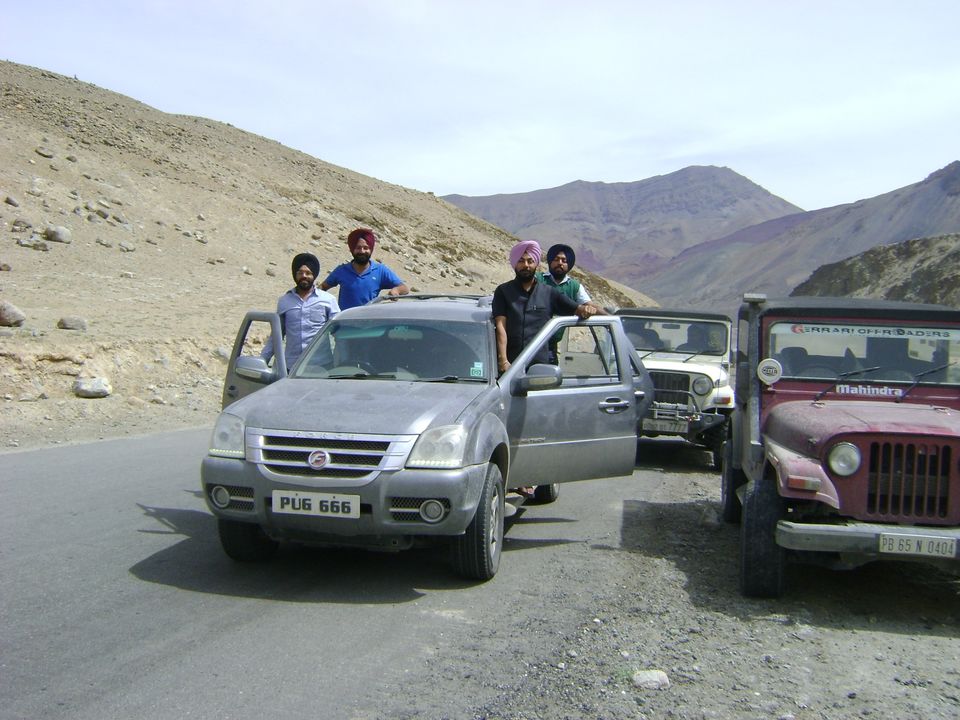 12/06/2013
All were ready by 8am. Today we were to head towards manali.
The places around leh were done so we started to manali , enjoying the scenic beauty and moving on well maintained roads, also the credit goes to GREF and the hard working labourers from jharkhand and other parts of country. First stop of the day was to change the punctured tyre of force, with puncture kit and air pump all was done soon, sukhman's thar stopped us again as the tyre hanging backside broke off so had to load it in back cabin of thar.
Soon came the next pass "TANGLANG LA" THE SECOND HIGHEST PASS OF WORLD. Crossing pass we stopped at one of remotest dhaba for the tea and maggi. Stopped for a while, clicked some pictures and moved on to reach sarchu. Sarchu is mid point between leh and manali and our destination for the day.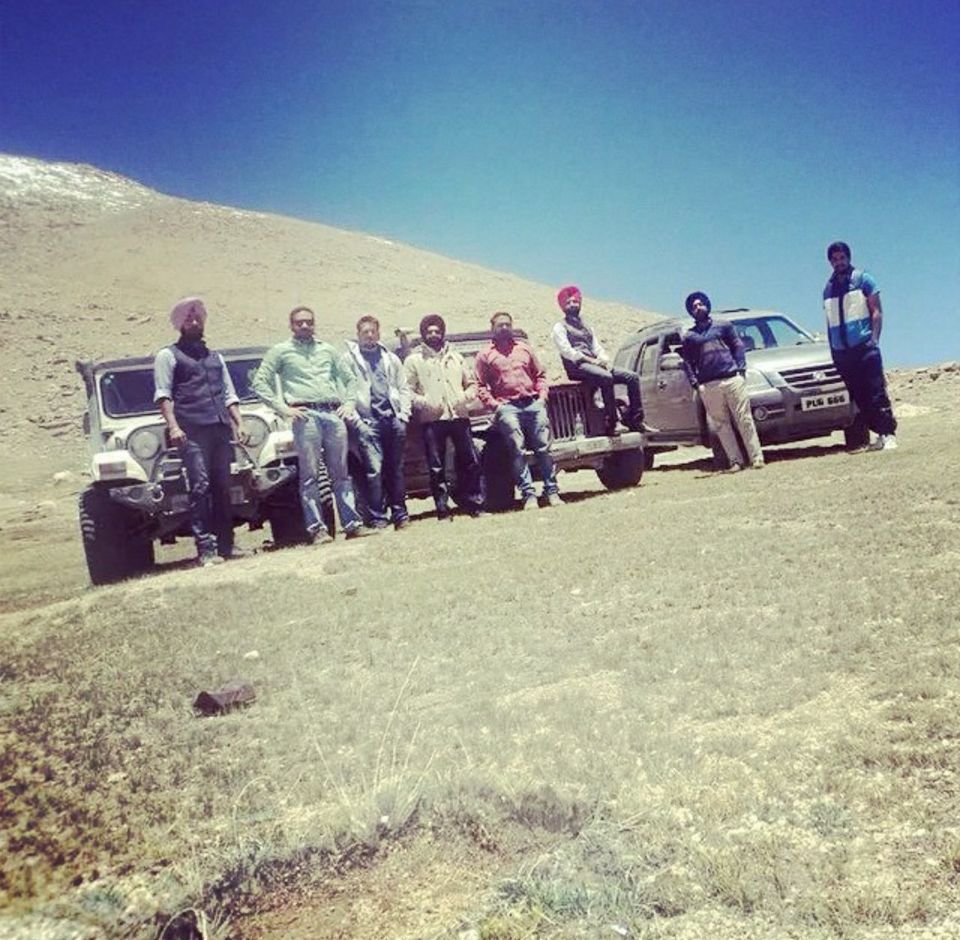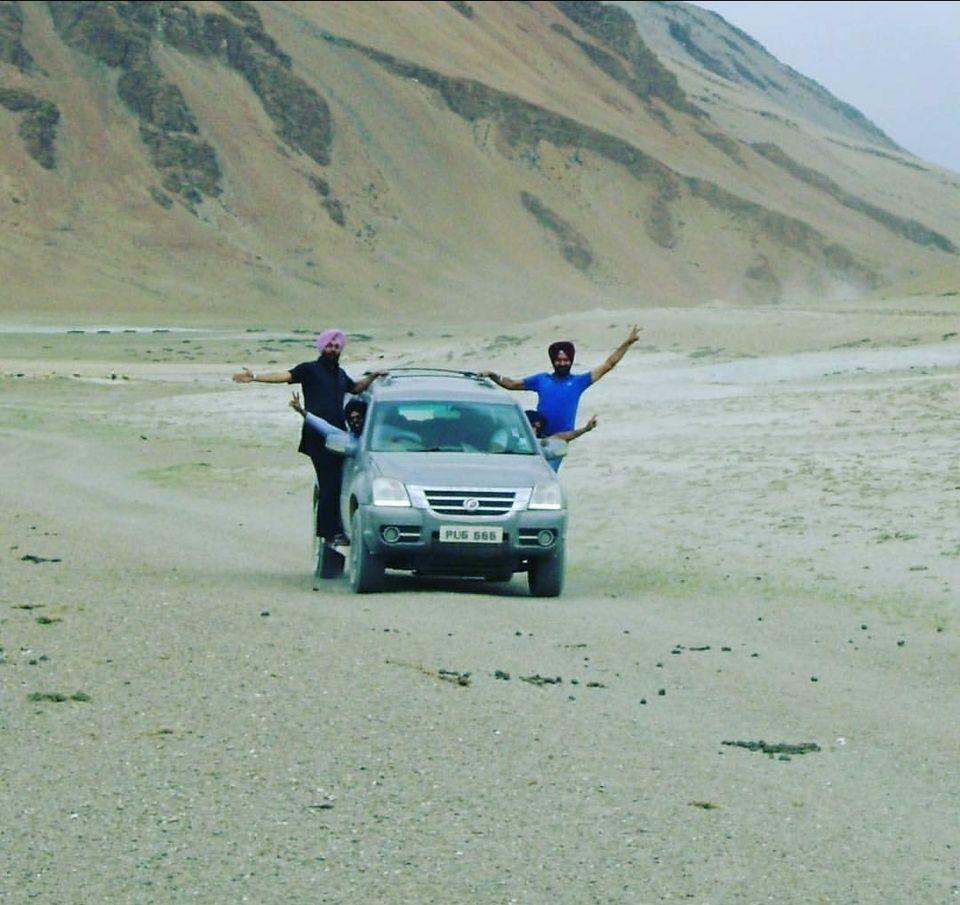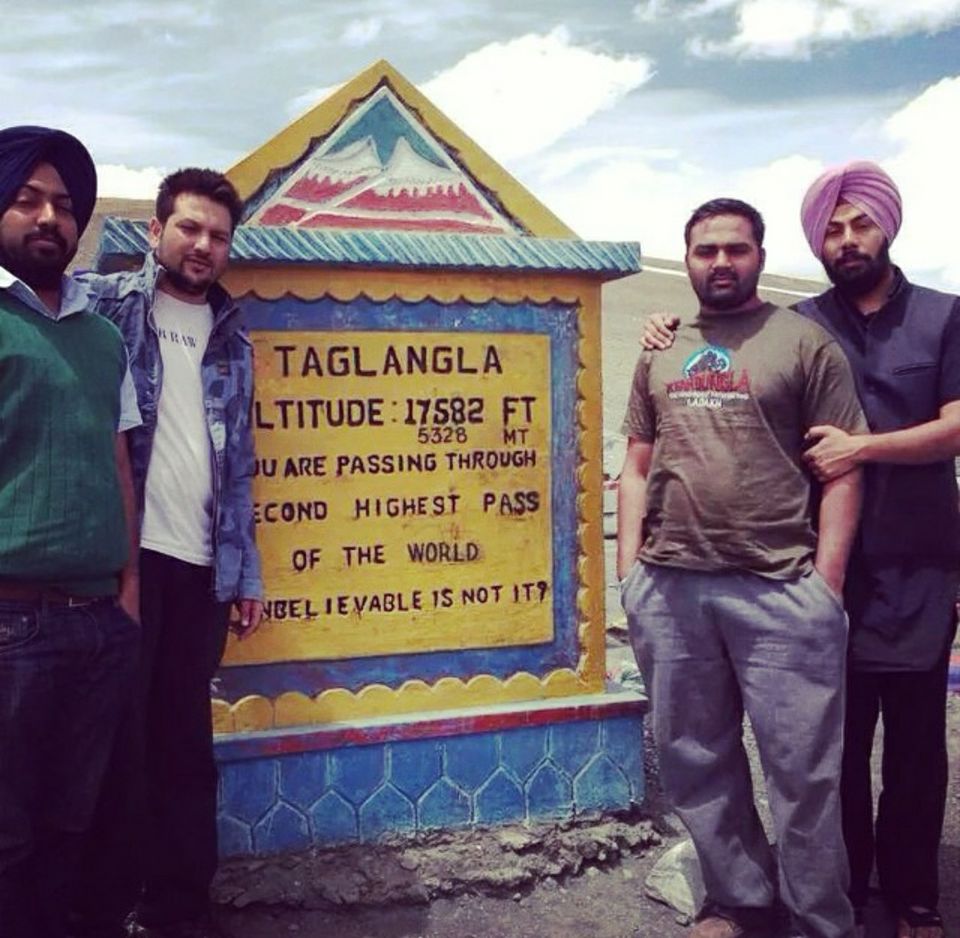 13/06/2013
In sarchu we settled in one hut for a night , being cosy in chilling weather. woke up early in morning and it was drizzling, soon as the drizzle stopped all were busy in their morning stuff as we had to look for places around to fresh. All ready by 10 we left for manali. Soon we reached the mighty baralacha pass. There were some cars waiting patiently for the way, a truck got stuck on way by sliding of snow. We also tried to help remove the snow, as we tried some way the truck could move out, the driver tried his skill but could not make it and refused to take risk. A driver of another truck approached and willing to take risk asked to drive the truck, as it was stuck on corner of a deep gorge. The driver showed his skills and yes he made it and the traffic started moving. So leaving -3 degree baralacha we started scaling down with car heaters on. Enjoing the picturisque views on way we reached rohtang, though rohtang from leh side is more tough than from manali side. As we were on top of rohtang pass , there was a huge jamm of hundereds of vehicles. Waited for sometime and no relief, soon ajay, gurbaj, inder and davinder started walking downwards to check the jamm, force was left to simran and sandeep, one thar with angad and other with sukhman. As the four walking down saw no respite from jamm soon , gave a walkie talkie call back to cars to chill and sit relax, this will take time. The four scaling downwards kept walking and reached marhi on foot. There looked out for some dhabas for tea n snacks but not much was found and the chill was gearing itself. As we looked upward there was little movement in cars. After around 4 hours cars reached marhi and we got in to reach manali. It was dark by now and next we got was a huge similar jamm towards manali. As we were around 5 kms behind manali we could see it but were stuck in jamm. So there came a plan, the four in force ajay, simran, sandeep and davinder, ajay asked davinder to lie on the back seat , started crossing the line of jammed cars, we were sharp enough to control our cars well, as the policemen stopped us to get to line ajay signalled policemen towards davinder not feeling well, he asked us to keep going, crossing kms of jamm we soon entered manali, ajay had stayed at a hotel toward old manali before so he left the car to simran and started walking with davinder to get hotel, as he reached the same hotel the guy took them to a different hotel with reasonable price for three rooms. all was done , only effort was to get cars parked somehow. we have been smart enough in handling situations, all was done soon . Later we could see people stuck in cars for around 3,4 hours till late night. All settled in hotel , we got out for a walk to mall road , it was like a mela. Huge crowds. Doing some tafri we settled back to hotel. As the day was full of power , so was the night.
This was all we did till manali.
Stayed there for two days and explored the cafe's of old manali. No driving cars, were on foot for next two days.
On 15/06/2013 Left manali early morning and reached home in evening.
All was funn.