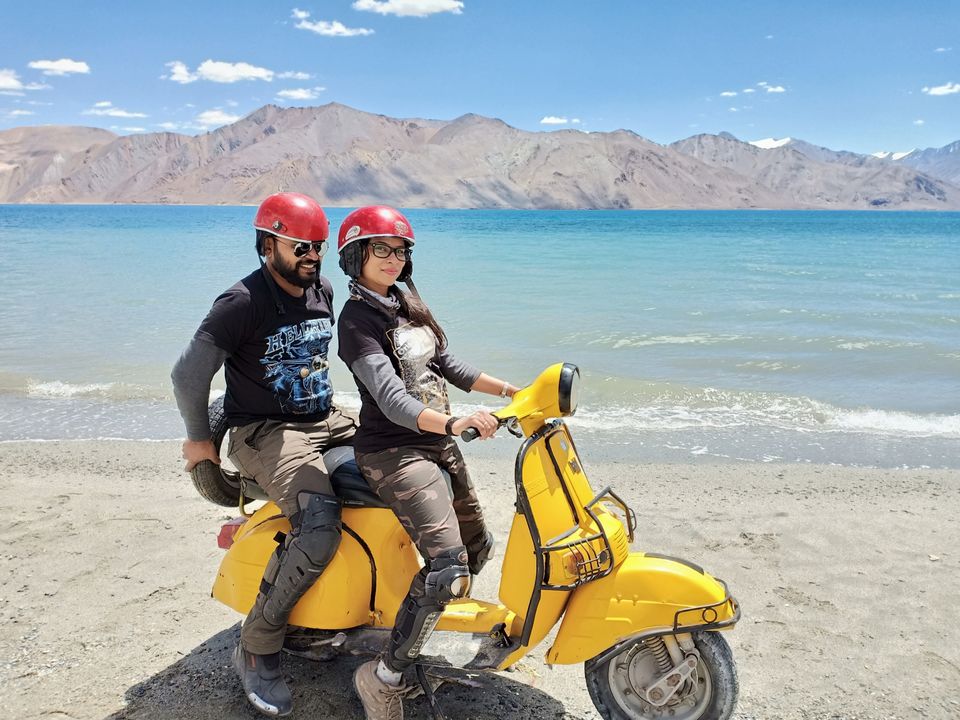 Have you ever experienced thrill, danger, amazement, beautiful nature? To summarize all these things in one phrase 'hell and heaven' in a single journey; we (me and my partner) had experienced. We witnessed deserts, snow as well as rain in this journey. Rode on death defying roads, had few falls from bike, but finished the journey with full of adventurous memories. You can witness all these things when you are on bike ride to Ladakh.

Part I: We (me and my partner, travel as well as of life) traveled to Jammu from Mumbai in train. Collected our Thunderbird at Jammu railway station parcel office, which reached there earlier. Next day we rode to Srinagar and further to Leh via Kargil. I shared these journey experiences in first part of three part series.
Part II:
Leh sightseeing:
Cold morning and clear blue sky of Leh welcomed us with open arms. Plan of the day was to take rest as much as possible to get acclimatize to high altitude atmosphere and if time permits go for local sightseeing. So after getting ready in the morning as we were feeling fresh we left our guest house to have breakfast and visit some places.
After consulting with our friend cum advisor Nawang and our guesthouse owner we left guesthouse.
First place on our list was Hall of Fame which is located just outside Leh city. This place has a museum hosted by army. Museum has various sections showing achievements of army, weapons and equipments used by army, also hosts a souvenier shop. We reached this place at 12:15 pm, quite late, and hence before exploring all sections of this place army personnel were evacuating the museum for afternoon break at 1:00 pm. There is a cafe just beside this place, so we feasted there on pizza and juices.
Thereafter we moved towards our guest house and on the way we stopped at Zorawar Fort. We did not found any tourist or attendants at that place, all rooms were also locked, may be it was closed for afternoon break. It is a much small fort with finishing work done at some damaged places. There was nothing to see from outside, may be something to see in the rooms, but we missed due to wrong time. So quickly we headed to guest house for getting rest. Last thing we wanted to see in Leh before leaving next day was Shanti Stupa (must visit attraction in Leh) which was just 1 km away from our guest house.
After waking up I was not feeling well. I was experiencing all the symptoms of high altitude sickness. We were so much tensed at that moment that we started thinking about dropping all the plans for the evening and the next day so as to take rest and get better. But one of the most important thing we forgot in the excitement for the entire day, drinking enough water; because of cold atmosphere we were not feeling thirsty. Water is the best medicine that heals you from all the adverse effects of high altitude sickness. So after having lot of water I was feeling much better within half hour and we were back on track with all our plans. So we headed to Shanti Stupa.
As the name signifies, Shanti Stupa has its own charm. It gave us divine feeling on reaching there. But along with divinity we were also experiencing tiredness after climbing only few steps (you have to climb few steps to see multiple highlights here). But now this time we were carrying water bottle as a precautionary measure. There is a cafe in the vicinity which serves snacks, which we decided to visit later after seeing the place. We first went to topmost level to see beautiful stupa which has buddhist carvings on it. Entire Leh town is visible from here. Later on when we were coming down we entered a big hall which has big Buddha metal statue, spent some time in that calm atmosphere. Then we headed to cafe to have some drinks. I tried their famous ginger-lemon-honey tea which was one of the best thing I had that day. Soon after sunset we returned to our guest house which was barely a kilometer away.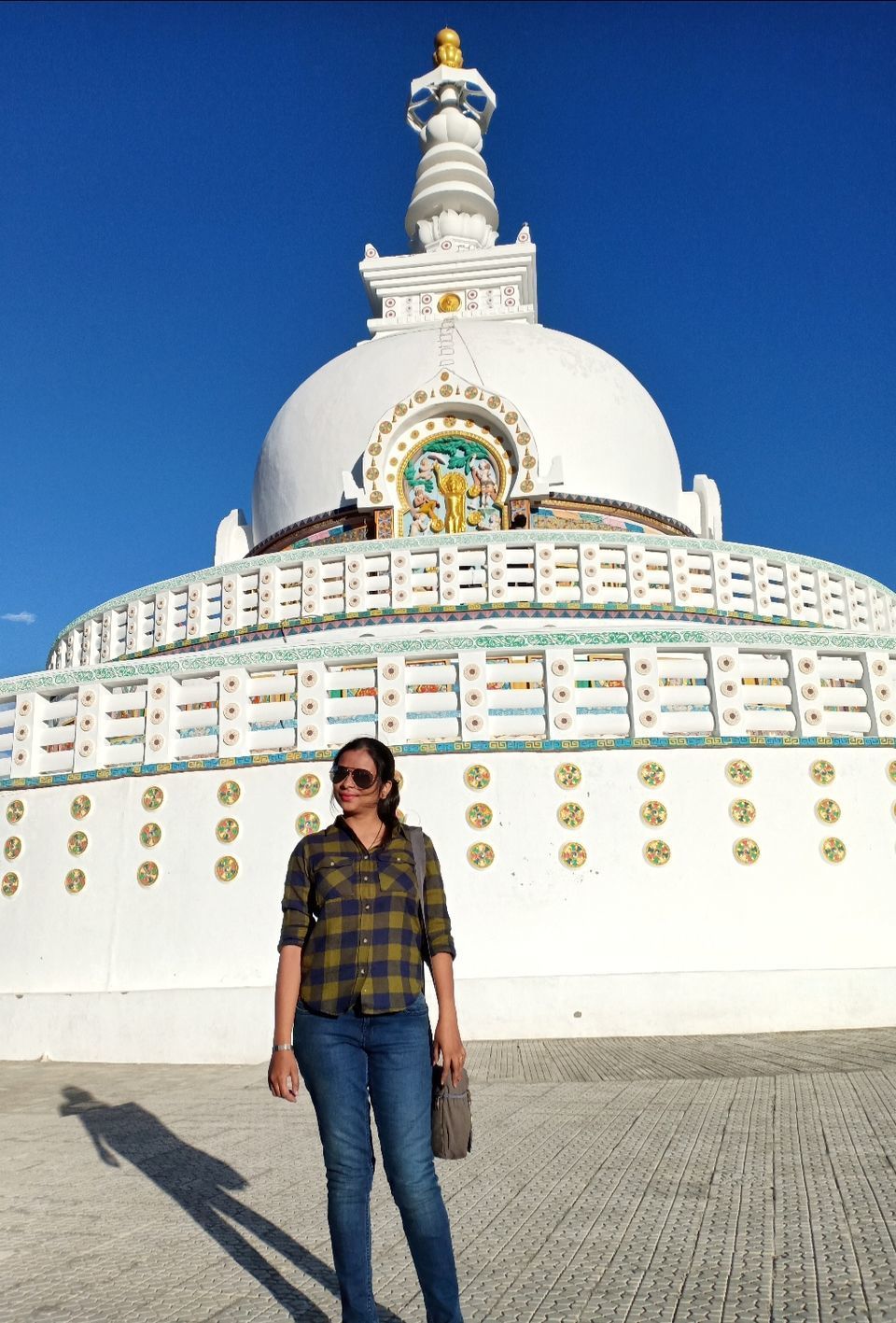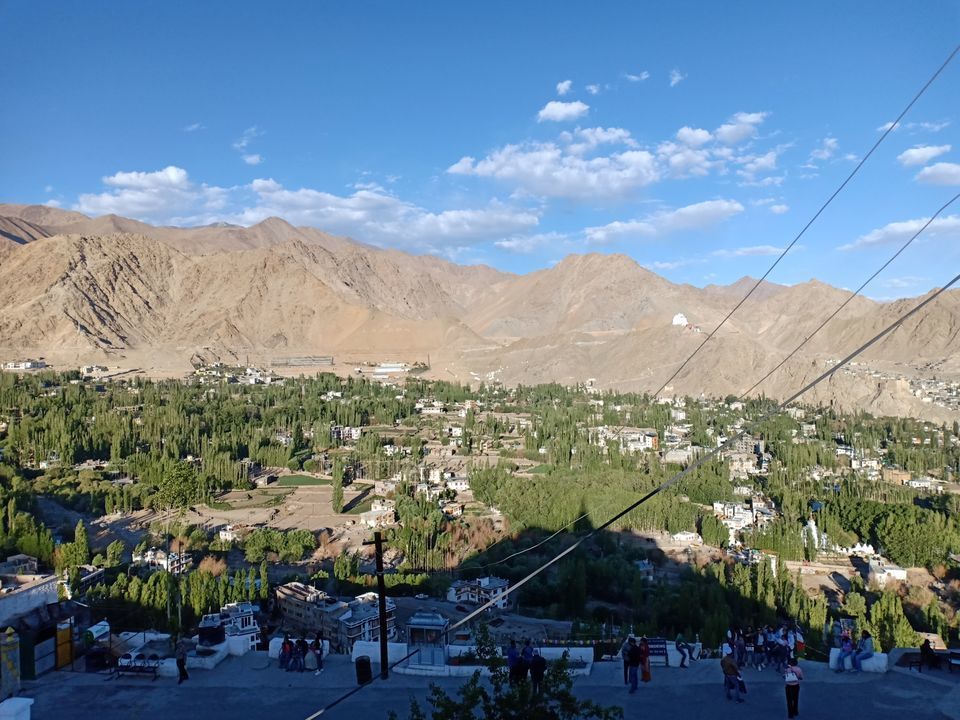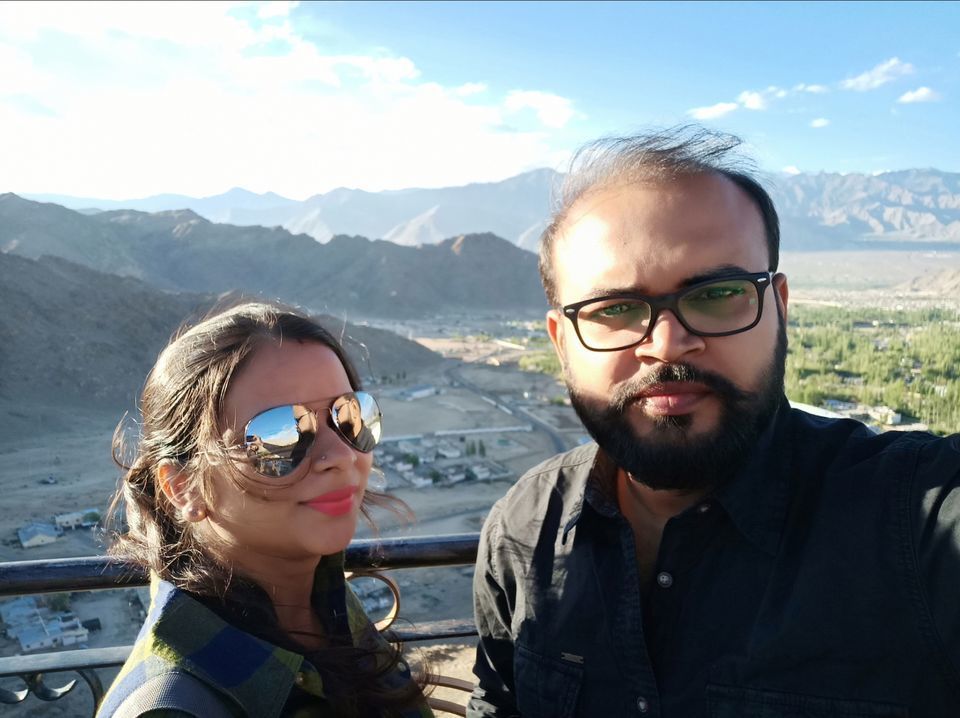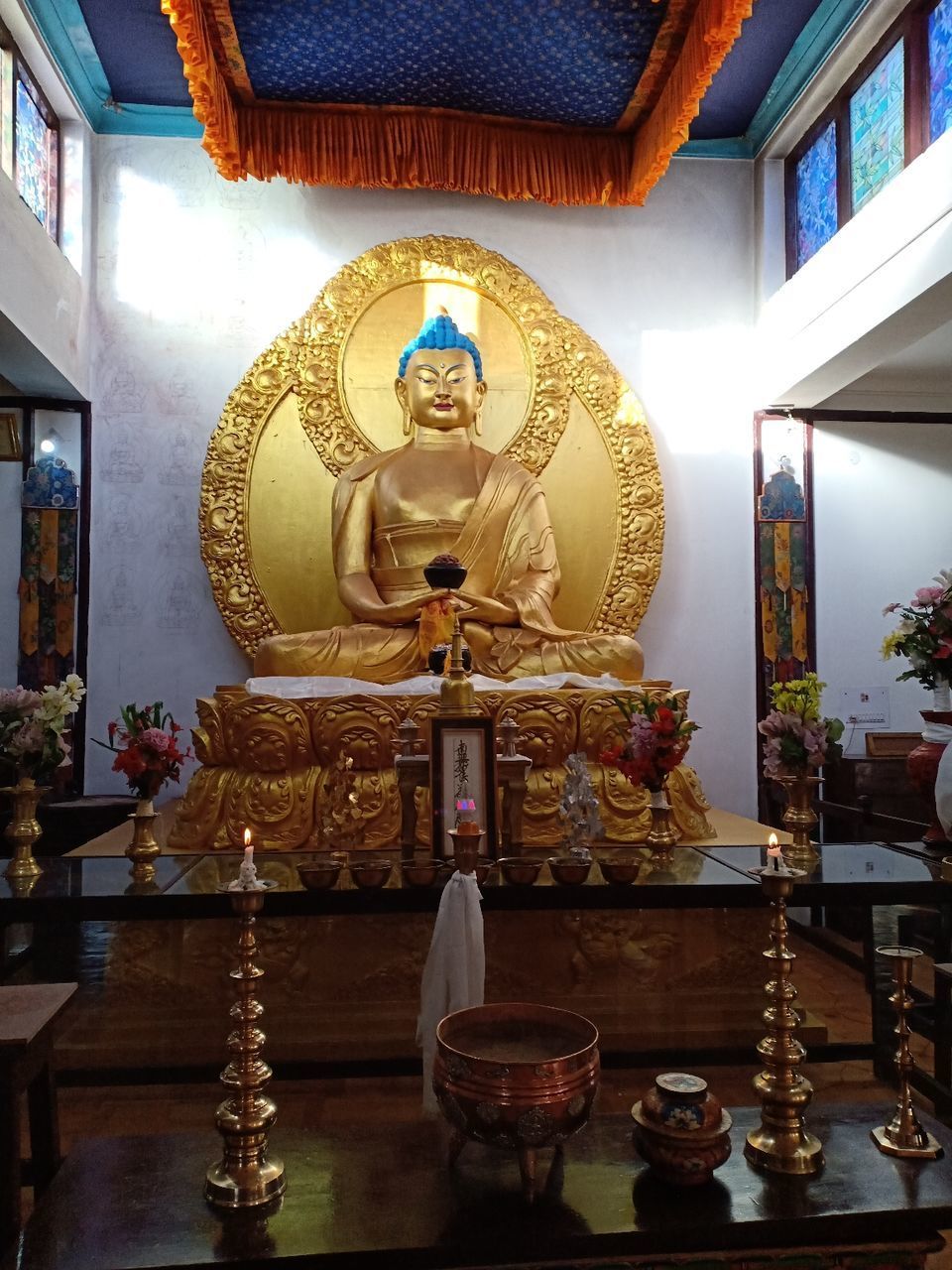 For dinner we went to Kashmiri Wazwan Restaurant, to my wife's disappointment they were not serving any non-veg food that day. But even veg biryani we had there was amazing. On returning to guest house we started packing our things so as to get ready and leave early to Nubra Valley in the next morning. Since we had a plan to return to guest house on the next day after vising Nubra valley, we decided to carry only essential things which are required for one day along with all bike accessories and spares and left remaining things in the guest house.
Leh - Khardung La- Hunder (Nubra valley)
Plan of the day was to reach Hunder in Nubra valley which was just 125 kms from our guest house in Leh and explore places there. So after loading our luggage (which was much lighter now) on bike we started our journey at around 7 am.
The first stop of the day was famous Khardung La top which was just 40 kms from our guest house. As per some claims Khardung La pass has the world's highest motorable road located at 17582 feet above sea level (some sign boards claim elevation of this place at 18379 feet). Before start to Khardung La road when we reached just outside Leh town we were asked to stop by government officials at a check post; they were asking about whether we were riding on our own vehicle or rented vehicle. They allowed us to travel further without checking any document when we told them its our own bike, and we started our journey further. Road ahead till South pullu (15 kms before Khardung La top) was fully in zig-zag mode but in good condition with mountains on one side and valley on other. Maintenance work was undertaken at some places to remove boulders which came on road due to landslides, but journey till South pullu was smooth. Weather was too cold, temperature was around 3-4 degree celcius and was making our ride difficult. The main difficulty we were facing in that cold weather was to find place for urination. We were drinking water continuously to avoid high altitude sickness, but due to that we were stopping after every 15 minutes for urination; and Ladakh is the most backward place in developing public toilets at their all tourist destinations.
We reached South pullu after all these difficulties within an hour. A check-post is located here where everyone has to show permit to proceed further. Nawang helped us to get all permits required to travel in restricted areas of Ladakh. After showing permit we started our journey further towards Khardung La top. Road ahead was not in good condition and it took us more than one hour to cover 15 kms. These 15 kms were really challenging, I had to ride bike very carefully avoiding big rocks on that rough road. But finally we reached Khardung La which was covered with snow due to snowfall on the previous day. (This was a kind of achievement to me because when I travelled here two years back our entire group was so tired till we reached here that we decided to go back to Leh and cancel our tour to Nubra. That day we experienced heavy snowfall when we reached South pullu and exertion in those conditions made us sick.)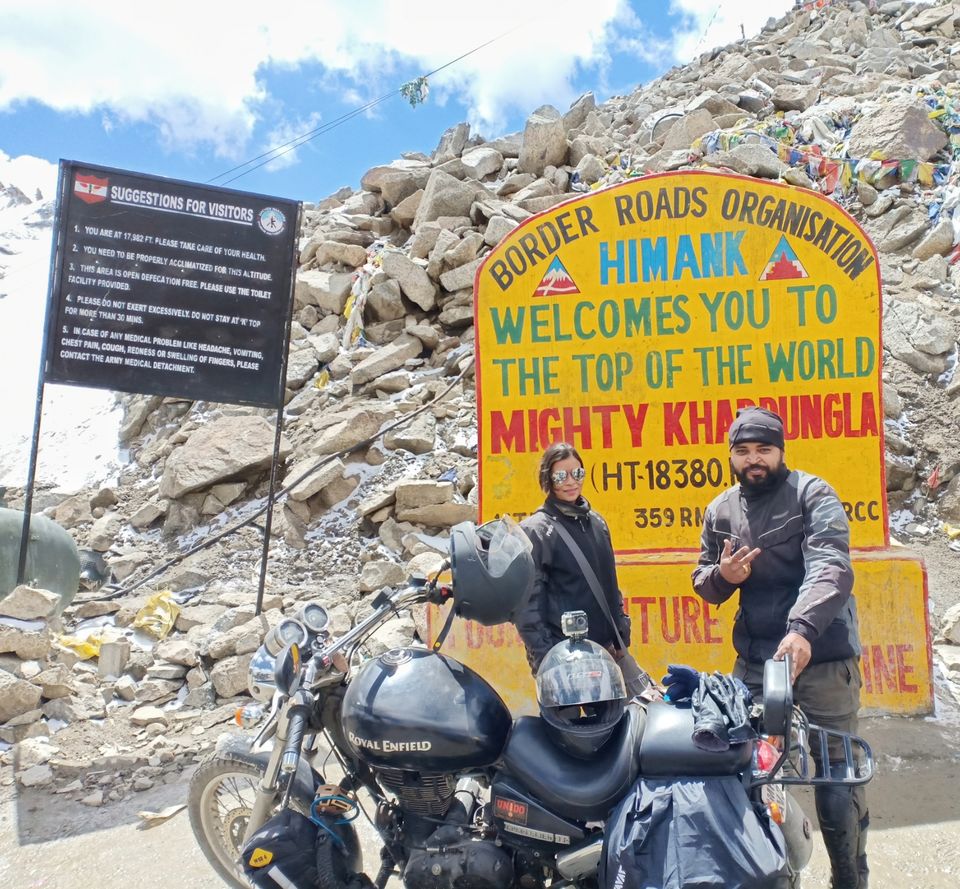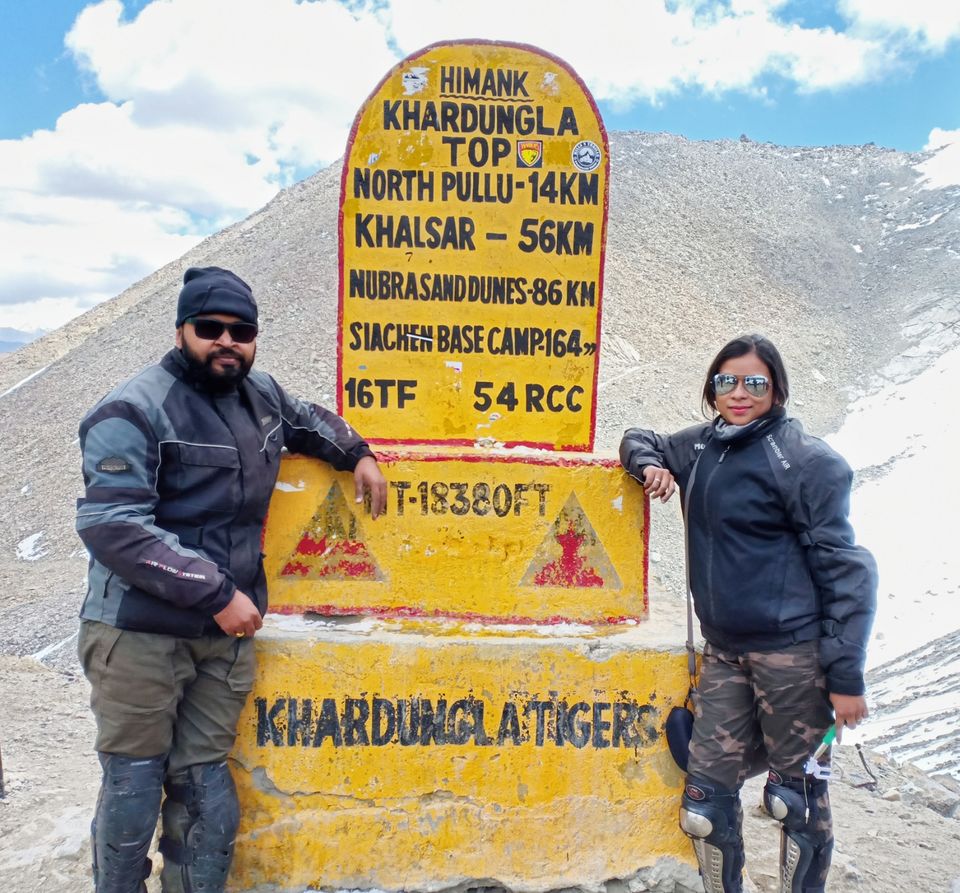 It is advisable to not spend much time at this place, otherwise you will feel sick soon because of low oxygen levels. We spent around 15 minutes here during which we visited eatery and had tea and coffee. We enjoyed clicking photographs with famous signboards of Khardung La and soon started our journey downwards to Nubra valley. But after crossing just few meters ahead we could not stop our self from getting down from bike and click some photos in snow, which we enjoyed a lot. Our journey ahead was very tough, road downward was very rough and at one point my bike seat came out, one of the seat screw which fix the seat with bike came out due to bumpy ride and hence seat was not remaining in one position; but there was no way we can fix that and hence we neglected till the end of ride.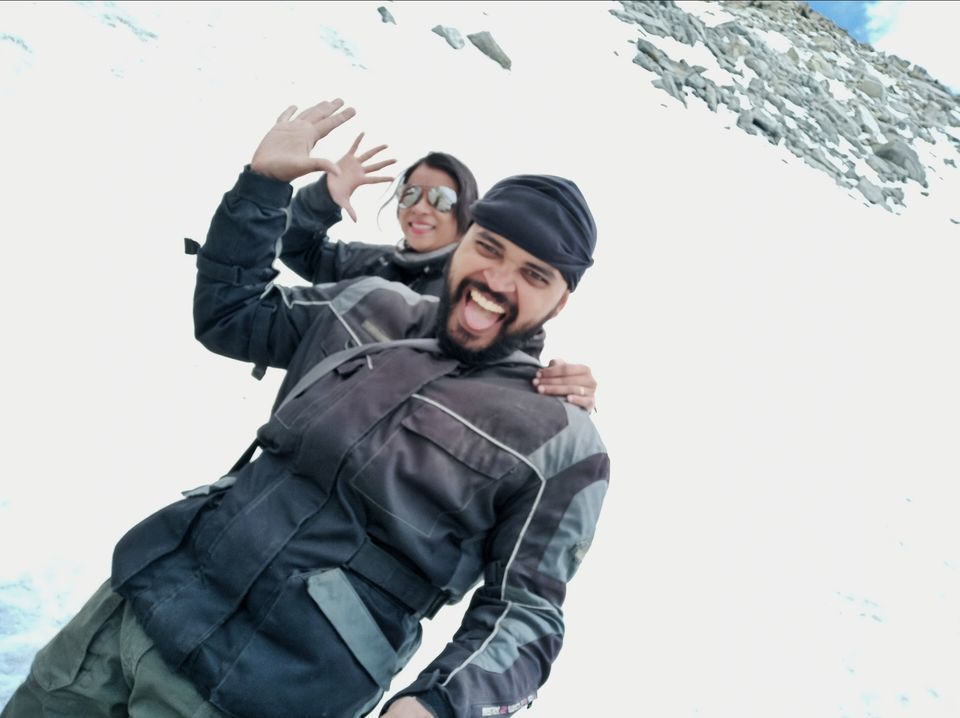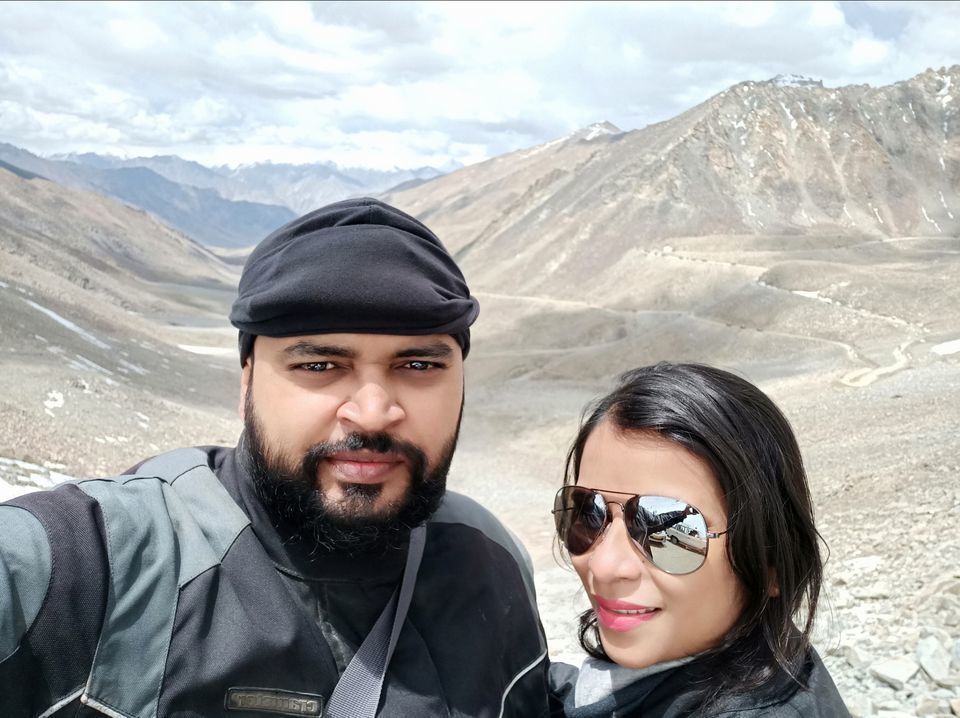 On reaching North pullu we stopped to have breakfast and enjoyed hot maggi and tea in that chilling weather. There are many small restaurants/dhabas at North pullu which mainly serves snacks. Before leaving North pullu we showed permit at check-post and made entry in their register. Road ahead till Hunder was very small with only one bus or truck able to pass at a time. To make these condition worst convoy of 40 to 50 military truck were awaiting us ahead; it took us more than half hour to cross them and ride our Thunderbird freely ahead. On that narrow road, one small incidence occurred with us scared the hell out of me. I was following a tempo-traveller, at one place driver of tempo-traveller started reversing his vehicle to give side to vehicle coming from opposite side. I was not in his sight and as his vehicle was coming backward, it touched front tire of my bike, hopefully he heard my bike horn and stopped; at that moment I was thinking how can I leave or transport my bike to home and what will happen to our ride? But both of us and our bike were safe after that incidence.
As we were reaching near to Diskit, valley around was becoming more and more beautiful with hills on left side and Shyok river on right. At around 4 pm we reached Diskit and within no time we reached Hunder which was just 10 kms away. In this amazing small drive beauty of sand dunes was accompanying us throughout. On reaching Hunder we started looking for hotel or resort on our own and we reached Apple Nubra Cottage. We liked the tents there so much that we decided to stay without looking for any more options; after bargaing with staff we got an amazing tent for 3000 rupees. After unloading bags we were ready for seeing the places around.
We still had 3 hours to see places before sunset. So on discussing with cottage staff we stepped out, Hunder sand dunes and Ladakh cultural dance show was on our program for the evening. Cottage staff told us about Ladakh cultural dance show happen in Diskit, so we reached Diskit. But locals there told us that show happen in Hunder, so we returned back and reached our destination. In that show they present 5-6 dances continuously and one can see those dances for any number of times in 100 rupees. Show was running till 8 pm, so we decided to head to Camel safari in sand dunes and see the dances after returning from safari.
Sand dunes were just kilometer away from there. On reaching there we first booked tickets which costed us only 200 rupees per person for 15-20 minutes of camel safari. There was long waiting before our turn came, so in the meantime we enjoyed roaming around in the sand dunes and clicking photos with baby camels. Double hump camels are only found in these regions and we enjoyed our fun filled camel ride. On return we saw Ladakhi cultural dance show and returned to cottage after eventful day. Having a wonderful tasty dinner in the cottage dining area was one more addition to amazing activities of the day. We were thrilled after knowing that these people get vegetables and other things from town as far as Srinagar. After that the good night sleep was awaiting to see us in our tent to finish the day.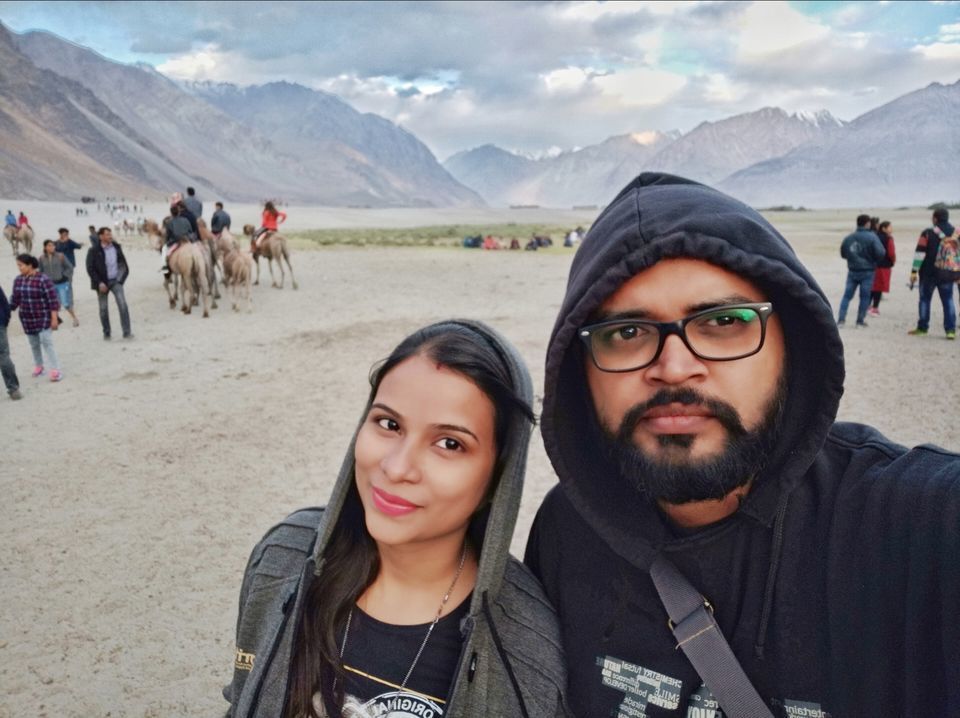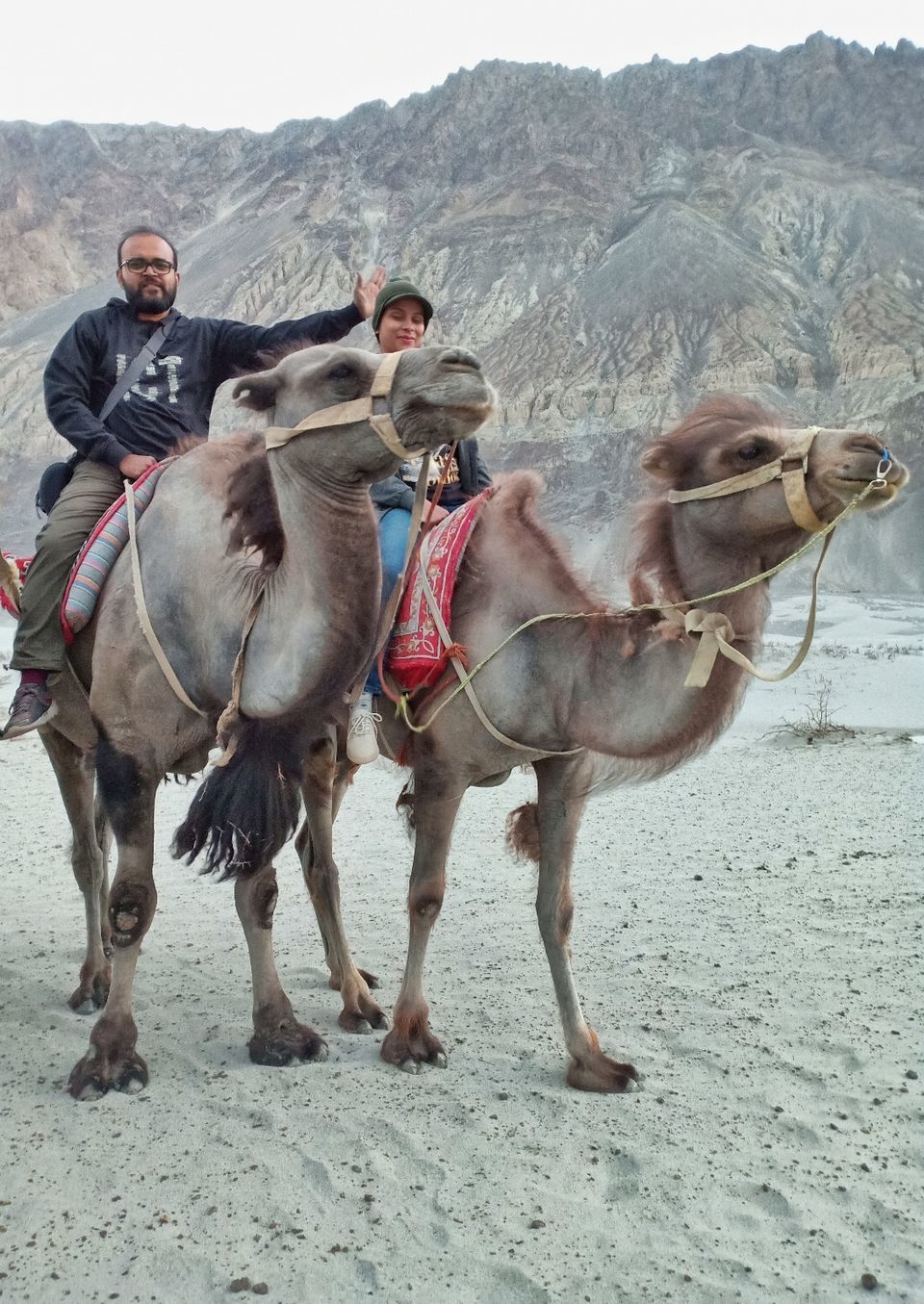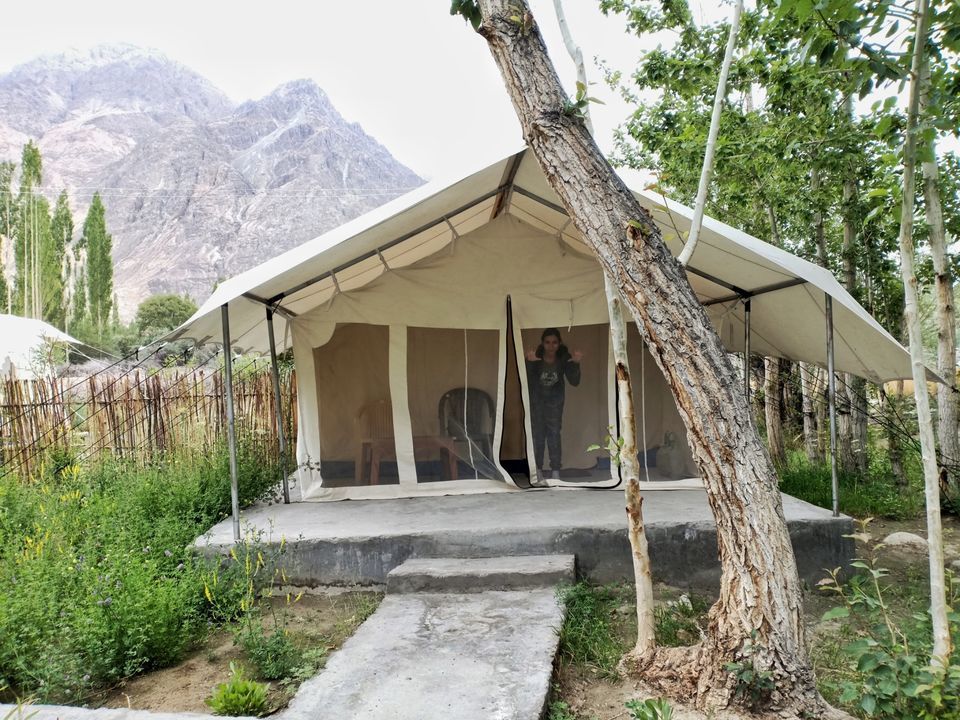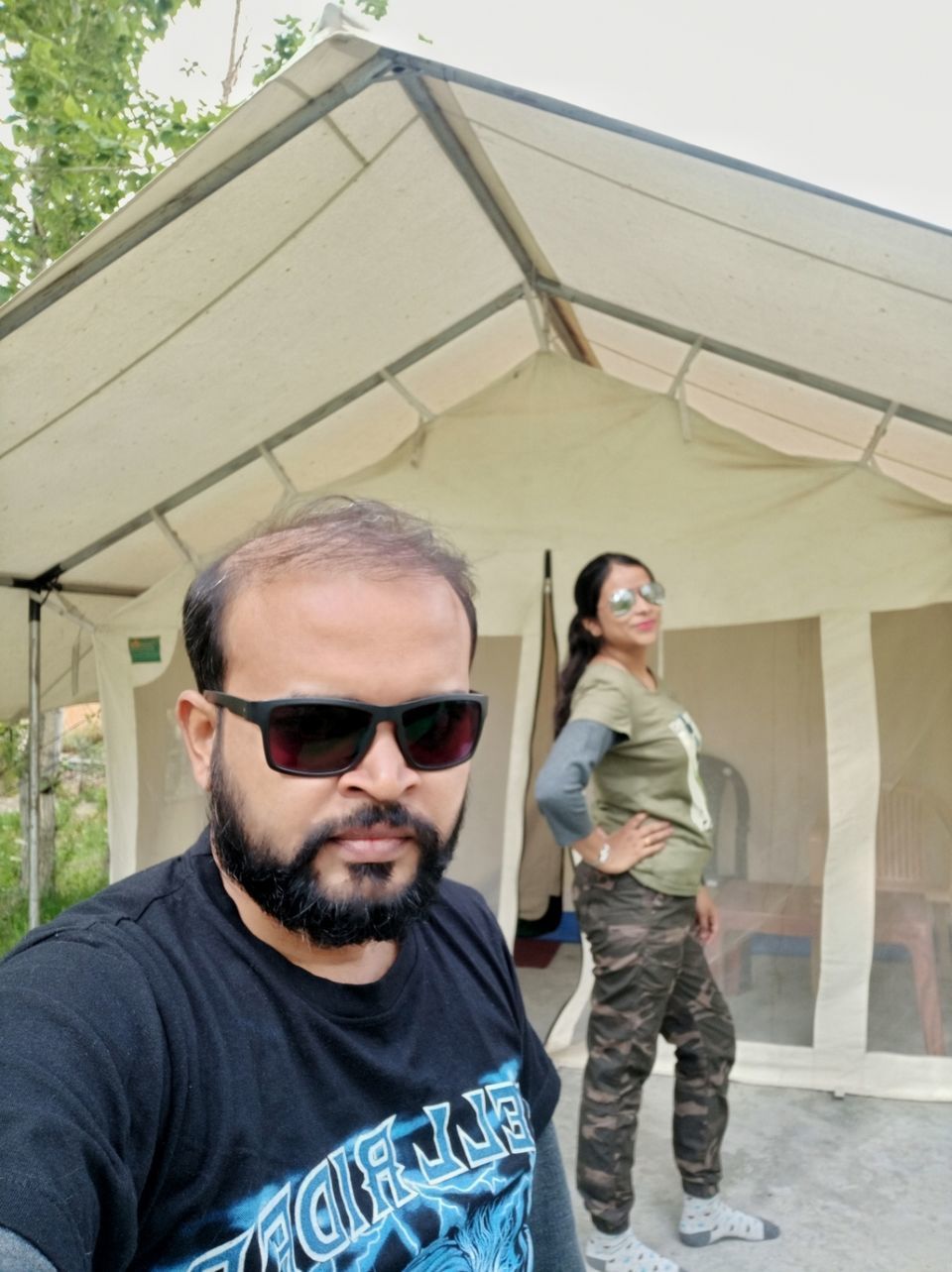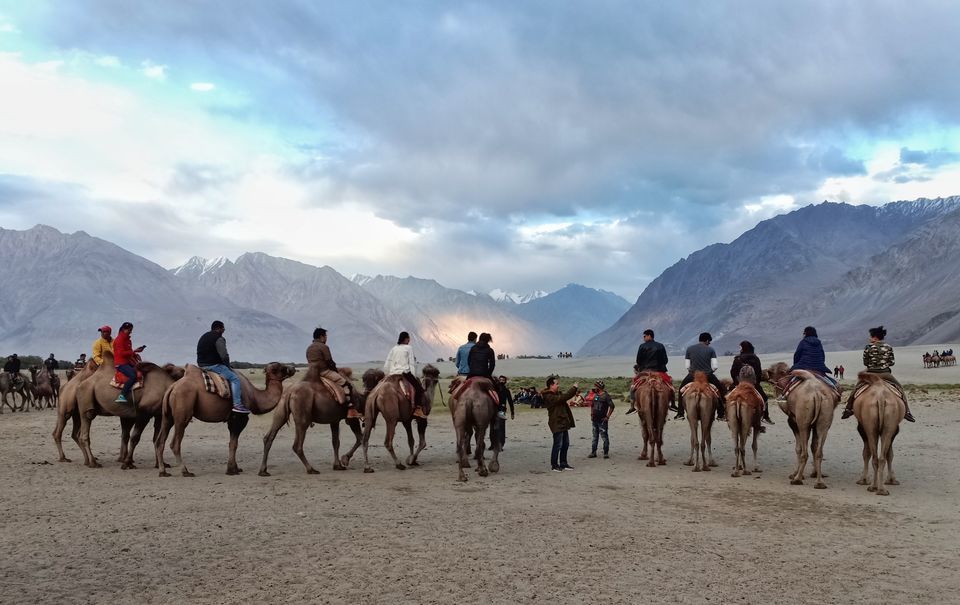 Hunder (Nubra valley) - Diskit - Pangong Tso
Plan of the day was to visit monastery in Diskit and then proceed for Pangong Tso which was not so far. So we started at around 9 am after having breakfast in cottage.
First stop on our itinerary of the day was Diskit monastery. There are two places inside this campus, Diskit monastery which is on right side after entering through main gate, and a very big statue on the left side. We first went towards Diskit monastery after buying entrance ticket. This is one of the oldest and biggest monastery in the region. Structure was multi storied. After climbing only few steps and looking at map of monastery which was drawn on wall we were feeling tired (it was showing floor plans with number of floors, and we were aware that we can not climb those many steps). But still we tried to reach as many levels as possible one after another, and on the way we were admiring beautiful architecture of monastery. Finally, we successfully reached main hall of monastery and were fortunate to receive blessings from a monk. Views from this place was amazing with a giant statue of Maitreya Buddha in a beautiful Nubra valley. After spending some time there we headed towards Maitreya Buddha statue.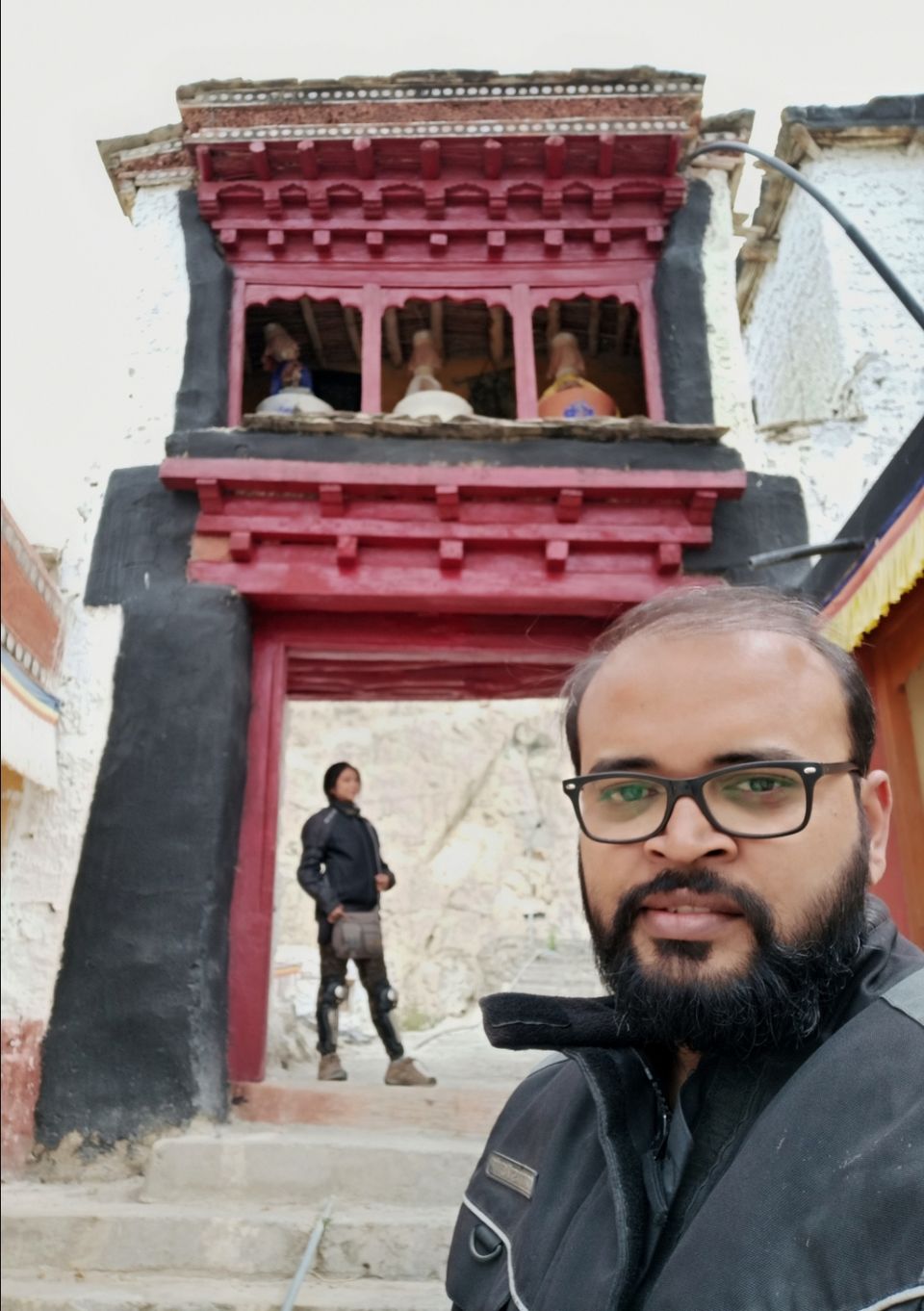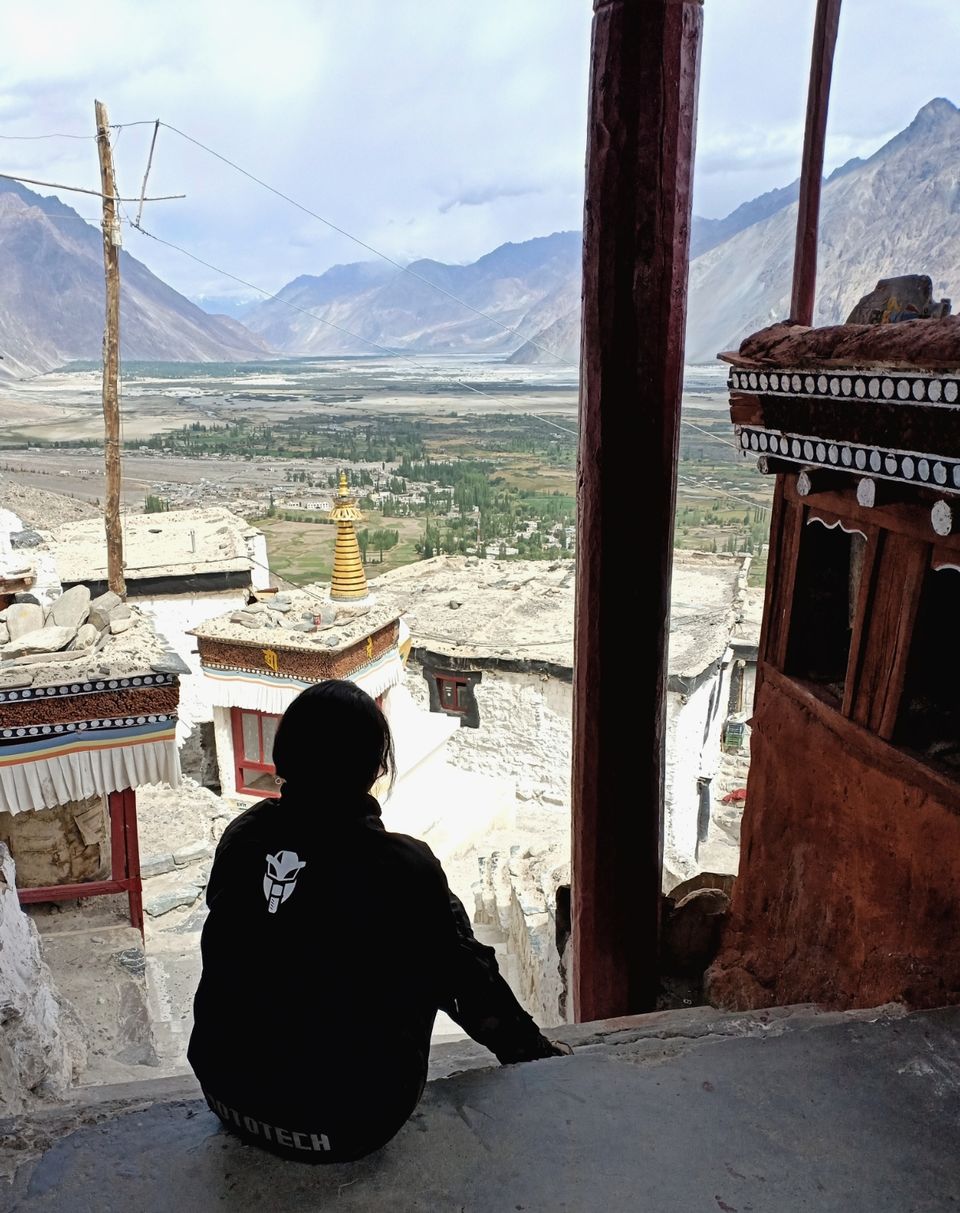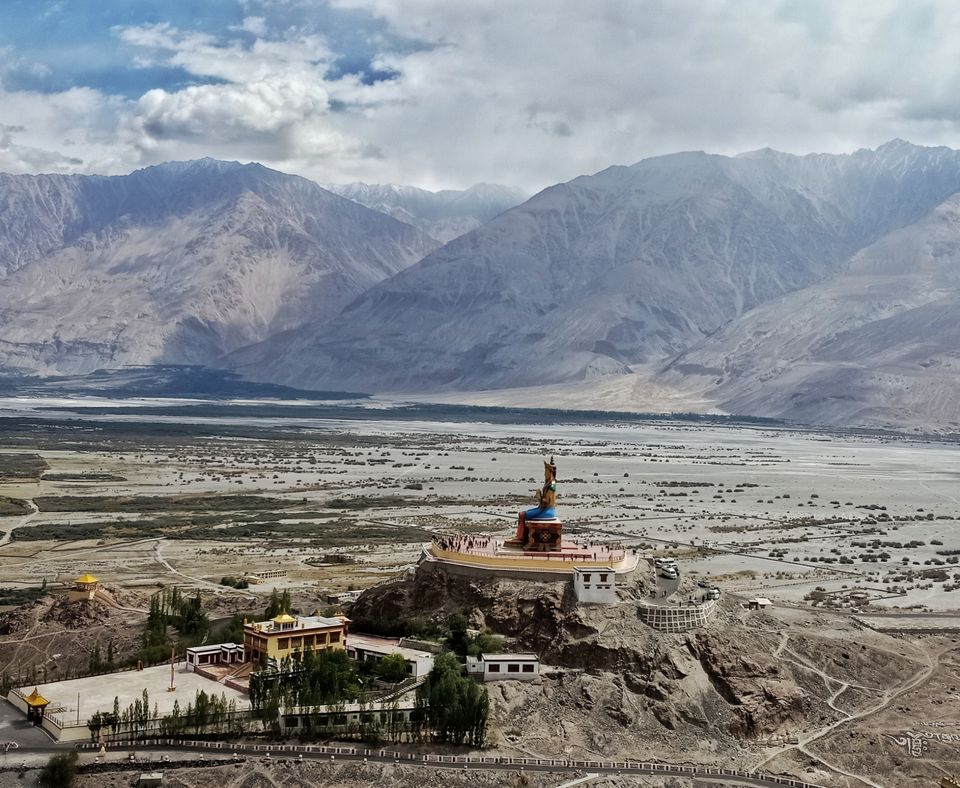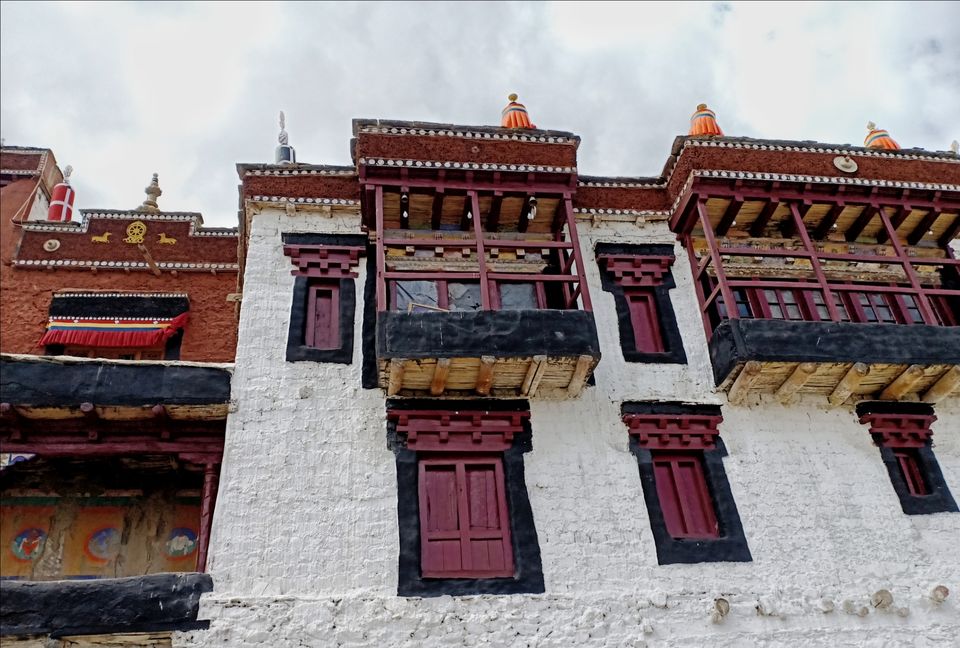 Maitreya Buddha statue is huge and very beautiful structure that one should not miss to visit after coming to Ladakh. We managed to click some good photos here despite presence of large crowd. And quickly we started our journey to Pangong Tso, because we were in split mind due to many reasons, mainly selection of route and road conditions.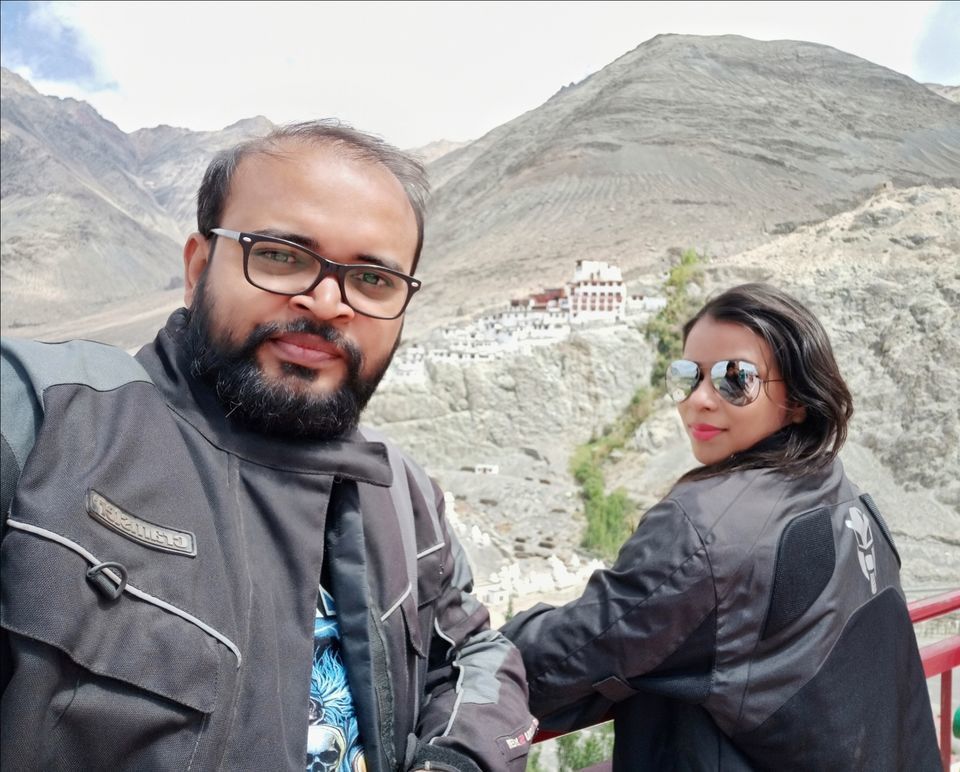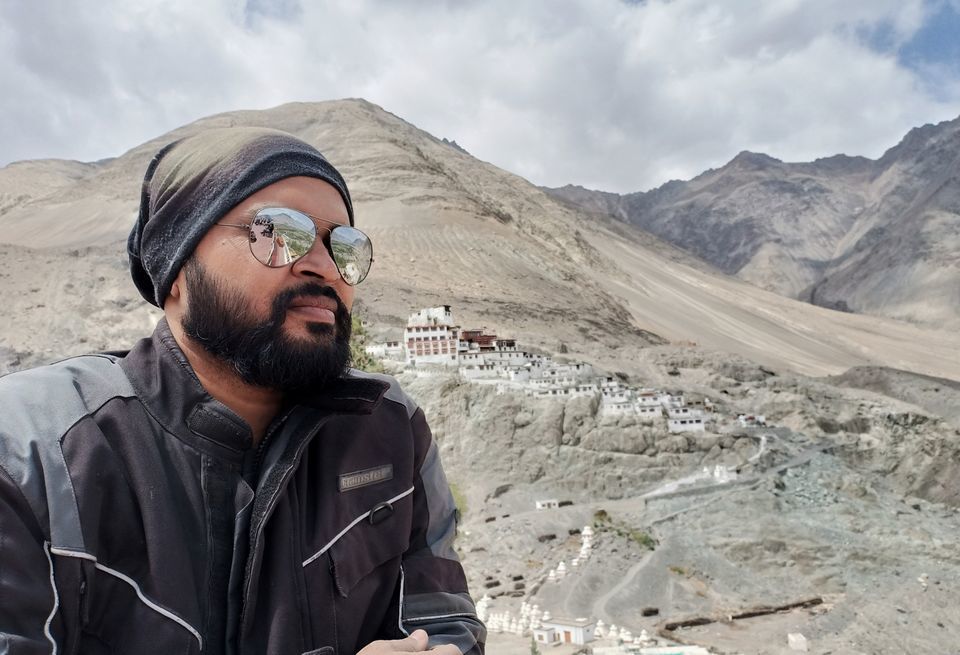 When we left Leh on the earlier morning, plan was to visit Nubra valley and return to Leh on the next day by same route via Khardung La, and then leave for Pangong Tso on the next morning via Chang La pass. We were aware that there is direct route from Nubra valley to Pangong Tso via Agham-Shyok, but we selected Leh-Chang La-Pangong route because many online reviews were not in favor of riding on Agham-Shyok route (road conditions very bad and river crossings at many places), and that too we were riding solo. But when we asked about this route to one of the taxi driver near camel safari, he told us that road is bad only at some patches otherwise it is better compared to Khardung La road. Also some riders were also going by same route. So finally after thinking for long time we decided to take this challenge and ride on Agham-Shyok road to go to Pangong Tso which was around 150 kms.
So from Diskit monastery we started our journey. We were aware of the road conditions till Khalsar which was just 25 kms from there, but journey thereafter was like throwing arrows in dark. At a diversion after crossing Khalsar right route goes towards Khardung La whereas left route goes towards Pangong Tso. Further journey of 4-5 kms was downhill and road condition was great, but the hill on right side of road was covered with small to very small rocks that may come on road even due to vibrations (online reviews suggests to avoid using horn while travelling on this route). When we reached end of that road at the bottom of hill we stopped for sometime and our thinking started again, whether to ride on this road or go back; because there was no road ahead, as far as we can see path ahead was covered with big smooth river rocks having sizes as big as 30 cms. But soon two cars and two bikers went ahead so we got some confidence and moved further. This patch was of around 100 to 150 meters and was going over the river, fortunately river was dry and we crossed this patch without much difficulty. Thereafter also road was partially covered with smooth river rocks at some places till some distance; we crossed around 25 kms and reached Agham. There was another diversion at this place which can take us to Leh if we were not sure to go ahead, but riding till this point gave us enough confidence to move further and we did not stop there. And you all who are reading this will be surprised that road ahead was one of the best road to drive in Ladakh. And as claimed in many online reviews that you will not find anyone on this route, but we were finding many bike riders as well as cars on this route. On this route we were riding beside Shyok river, crossed many river bridges, crossed some bad patches and witnessed a large herd of himalayan goats crossing the road and running away over the hill. At one patch we saw colorful flowers blooms on trees along the road, that was like seeing a lake in a desert. This beautiful journey we will cherish our entire life. We reached Durbuk (intersection of road coming from Leh via Chang La and Agham-Shyok route) very easily without much difficulty. There are many restaurants and dhabas at this place, but we did our breakfast earlier in one roadside eatery before reaching to this place. Road ahead till Pangong Tso was similar to what we witnessed till now and without much difficulty we were riding to our destination. And at around 4 pm we had first glimpse of our destination which was surrounded by hills.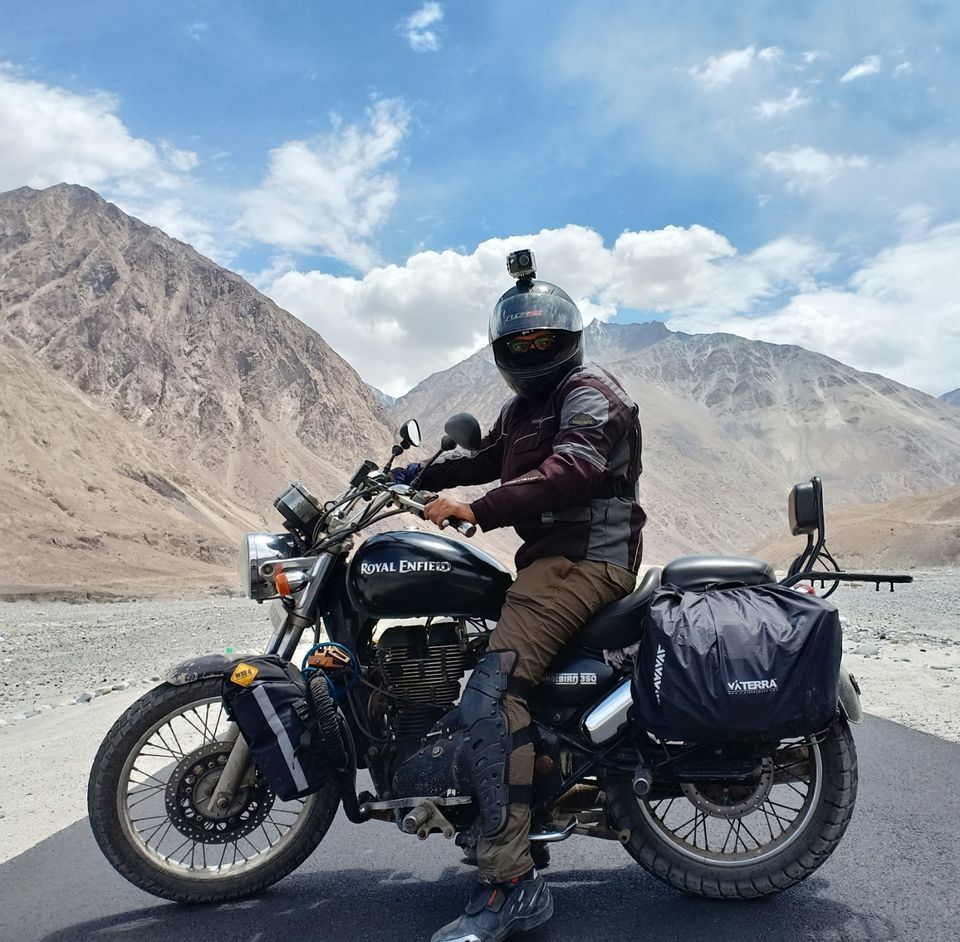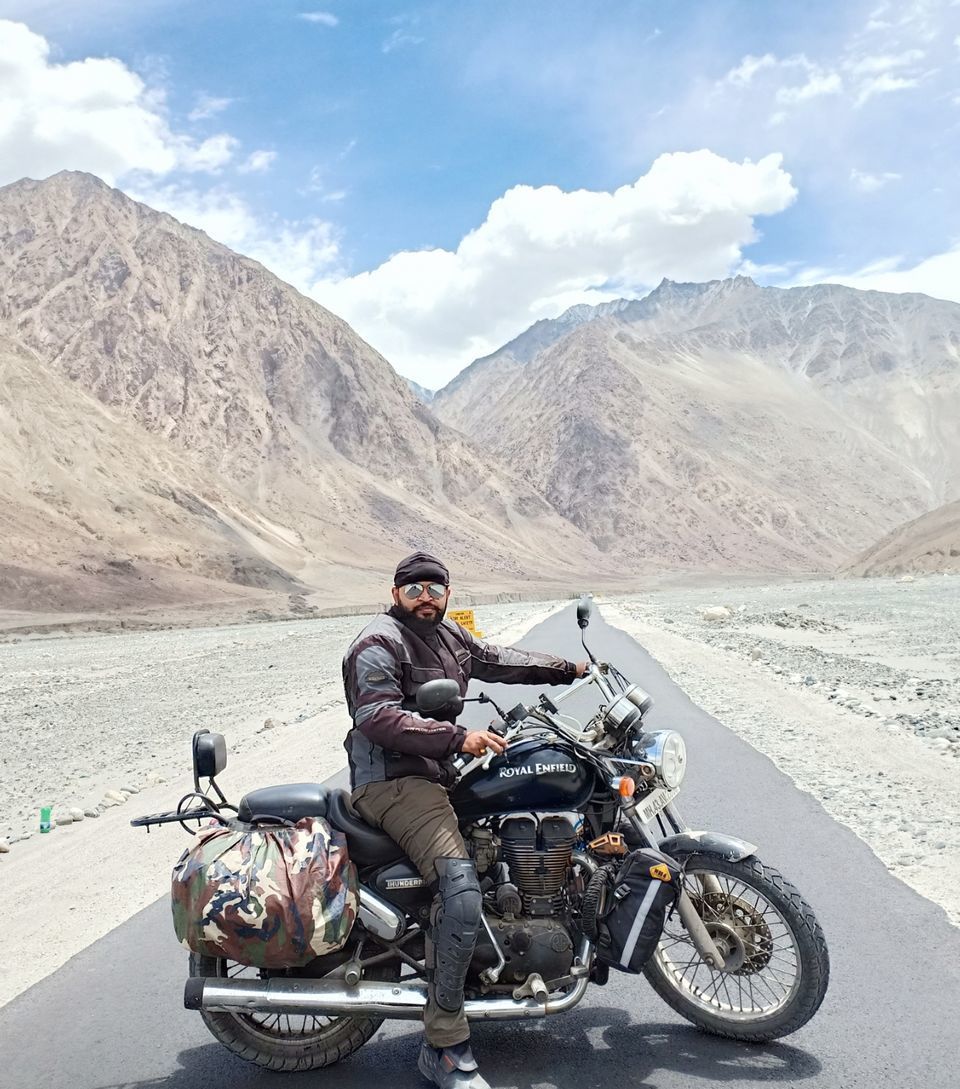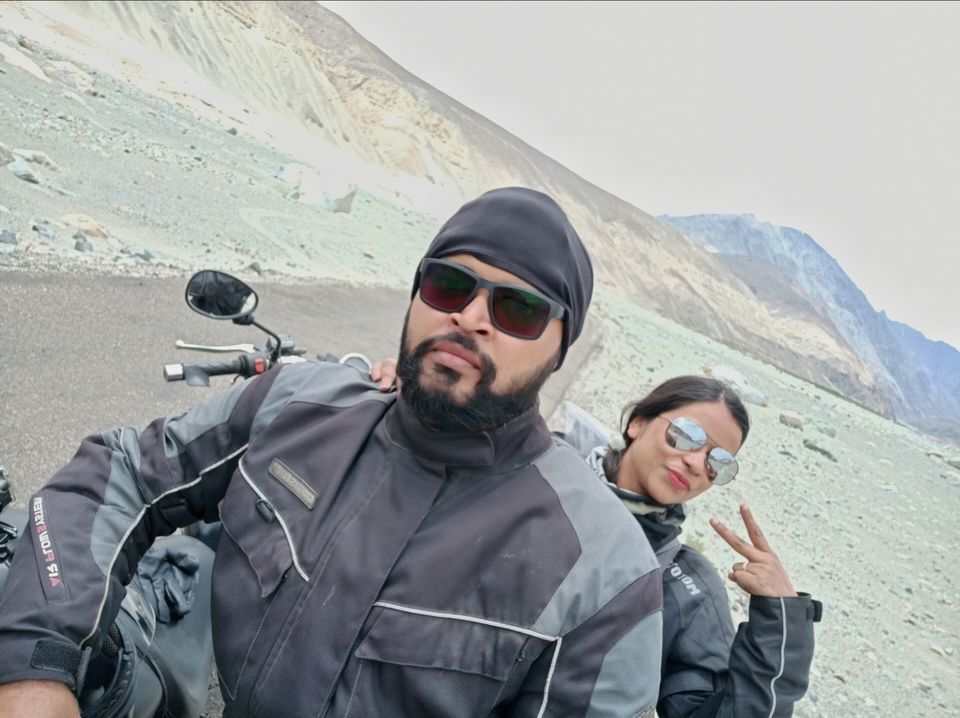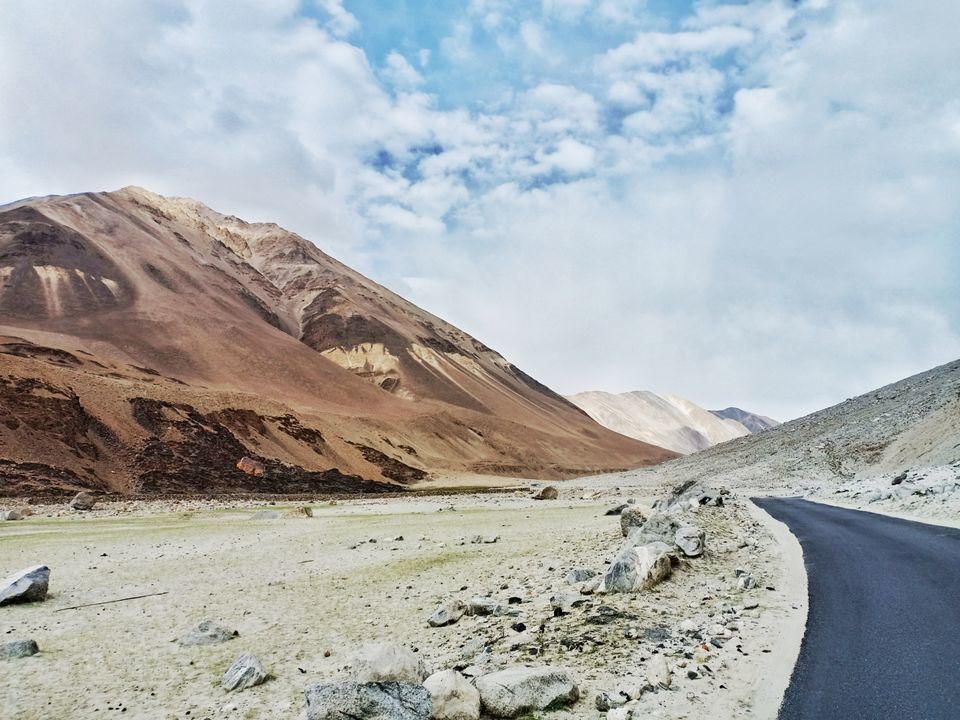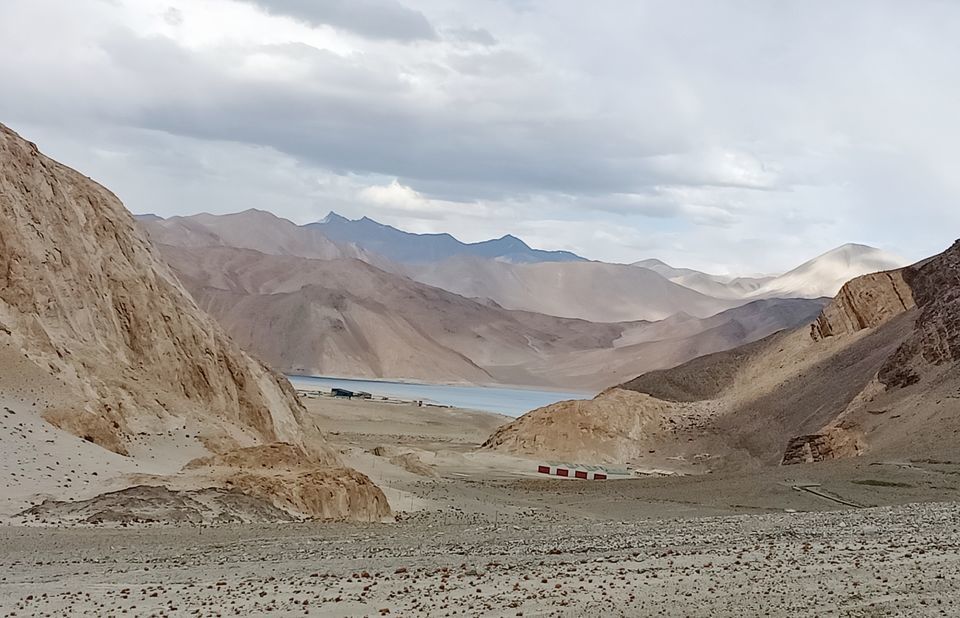 Finally we reached our destination but in order to find place to stay we rode further 5-6 kms until we saw tents near the lake. After bargaing with the first owner we finalized the tent for 2000 rupees and we were in our tent within few minutes.
After getting fresh in our tent which was located just beside the Pangong lake, we went on the bank of lake to enjoy its beauty. Lake water was crystal clear but we did not have courage to enter the water in that cold windy atmosphere. Surrounding hills and clouds above lake were pouring more beauty to this place. Sitting idle and just admiring this beauty is itself an interesting thing here. We captured this beauty in our cameras to tell to the world that you all must visit this place once in your lifetime. We had dinner in one of the tent, hot and tasty dinner was amazing thing to finish our day and rest in tent for the night.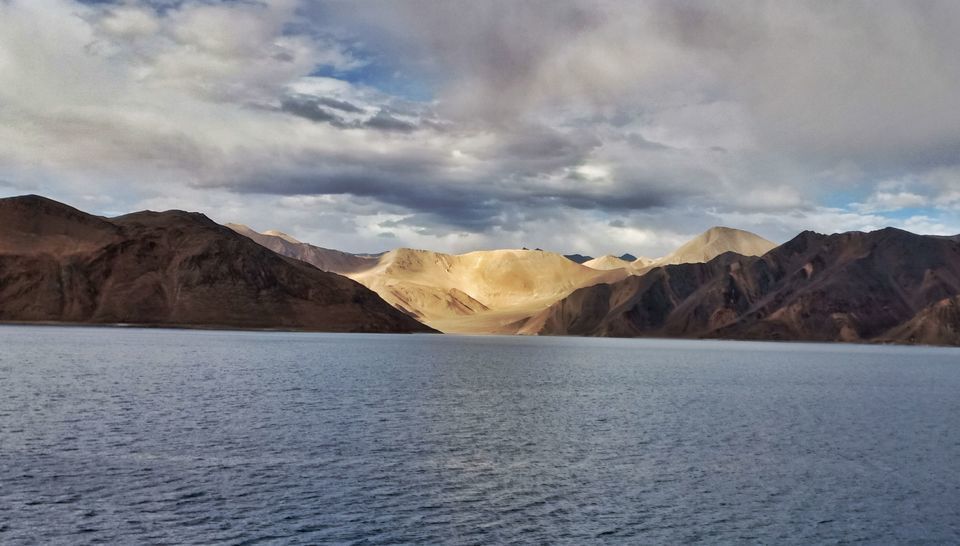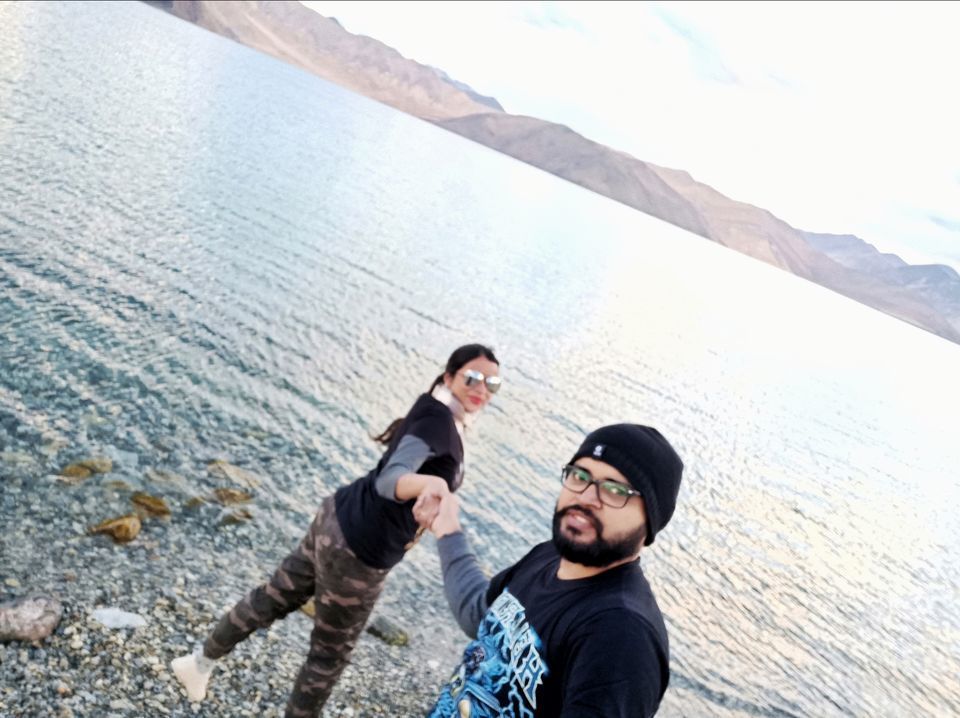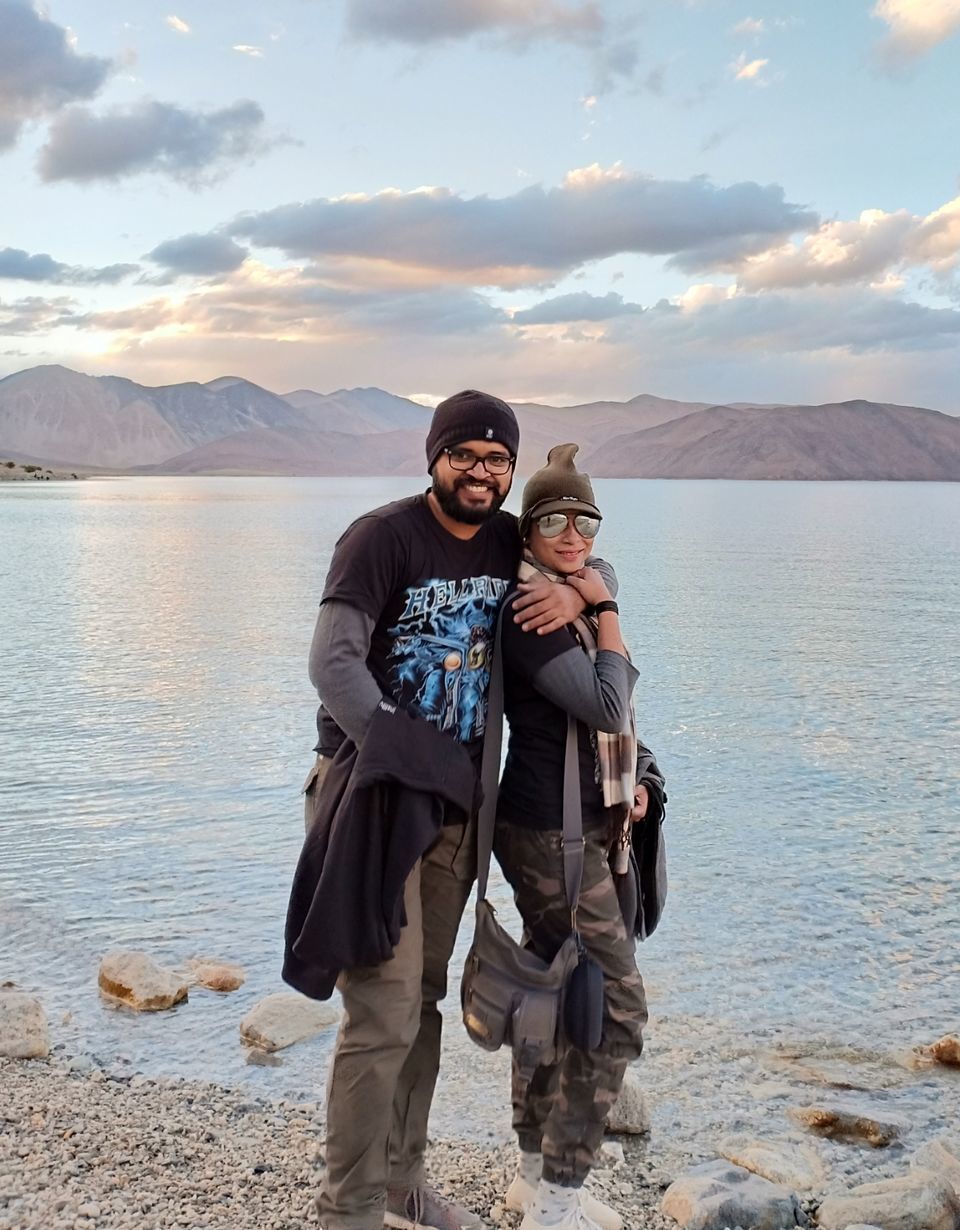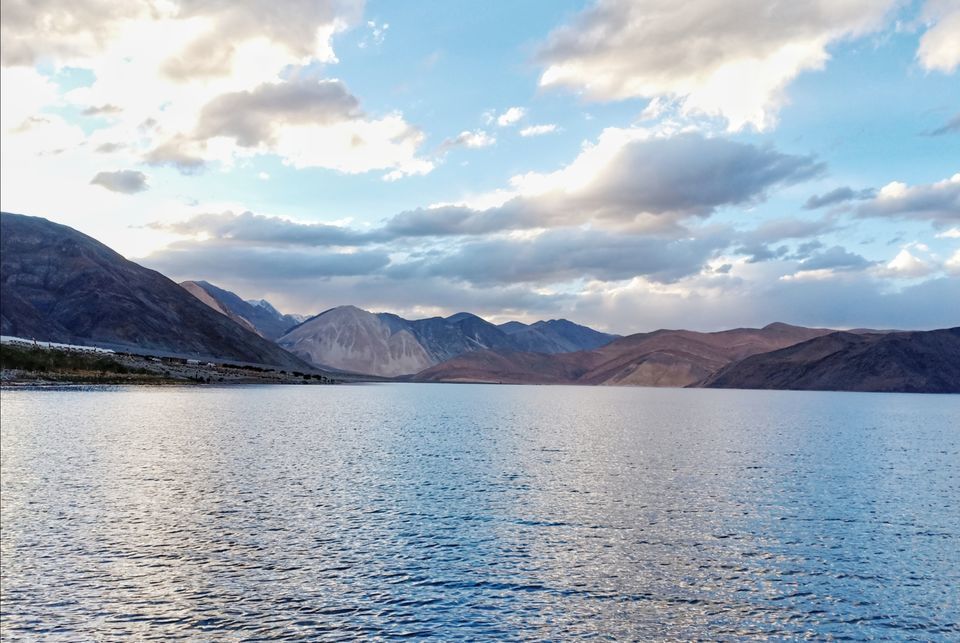 Pangong Tso - Chang La - Leh
What more you want from such trips when you wake up in front of such a beauty. We wake up late because we have only one thing to be done in the day, reach Leh which was 150 kms and to achieve this we must cross Chang La. I mention achievement, you will come to know about this in further discussion.
After getting ready we again went near lake for one more round of photography. This time lake was looking completely different from what we saw in the previous evening. In the evening because of some dark clouds lake was shady, but now lake was shining blue because of clear sky. And hence photos were looked different, as if we clicked them at different places. After returning from lake did breakfast in the tent.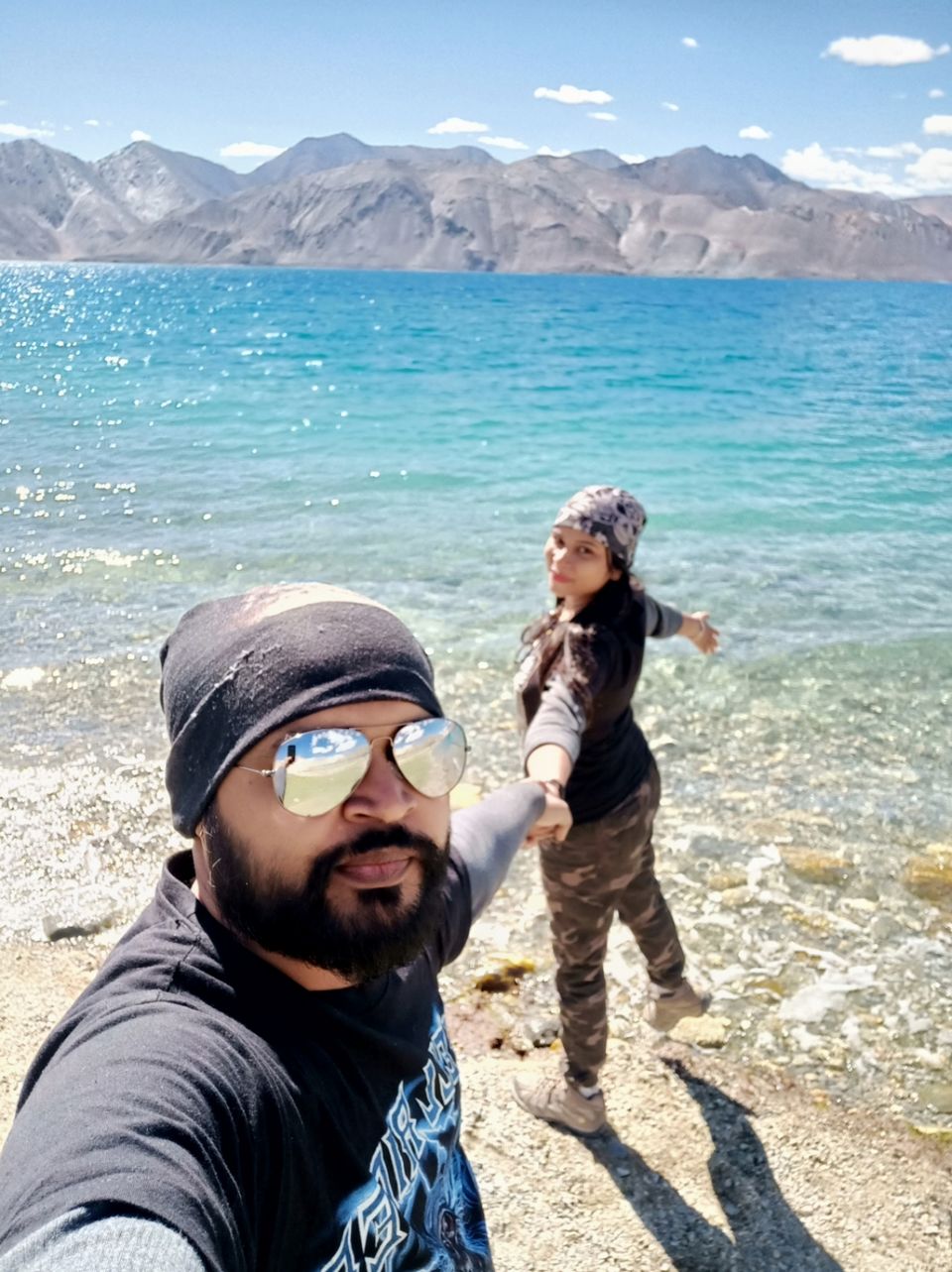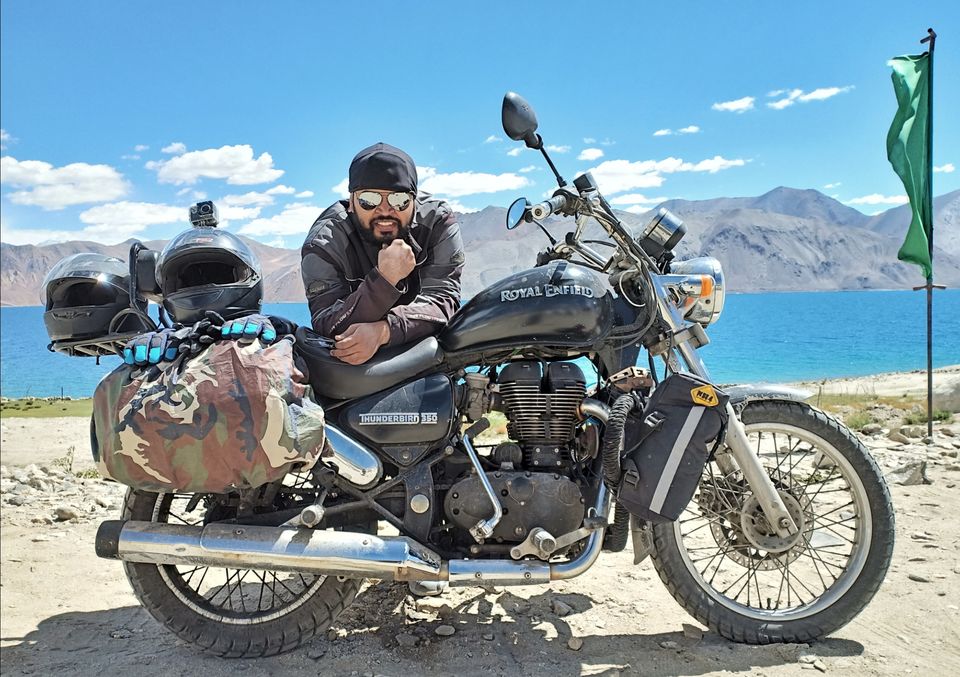 Riding along the lake on return journey was an amazing experience. Soon after riding for about 2-3 kms we saw crowd near the lake and we headed to that place. And it was famous 3 Idiots Point, movie shot here made this place world popular. Road leading to this place was going downward with full of big rocks, and YES we fell from bike at this place for first time. But after getting up and our bike we reached to 3 idiots point. This place had lot of things (scooters, yaks, horses) by locals, we can click photos with them by paying some money; we encashed this opportunity without failing.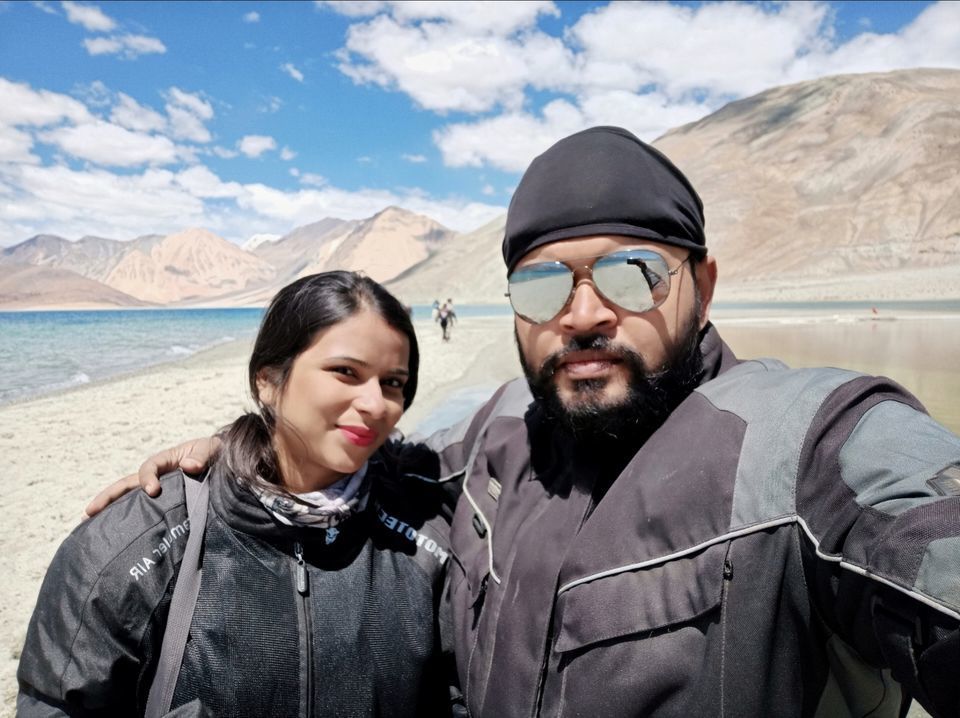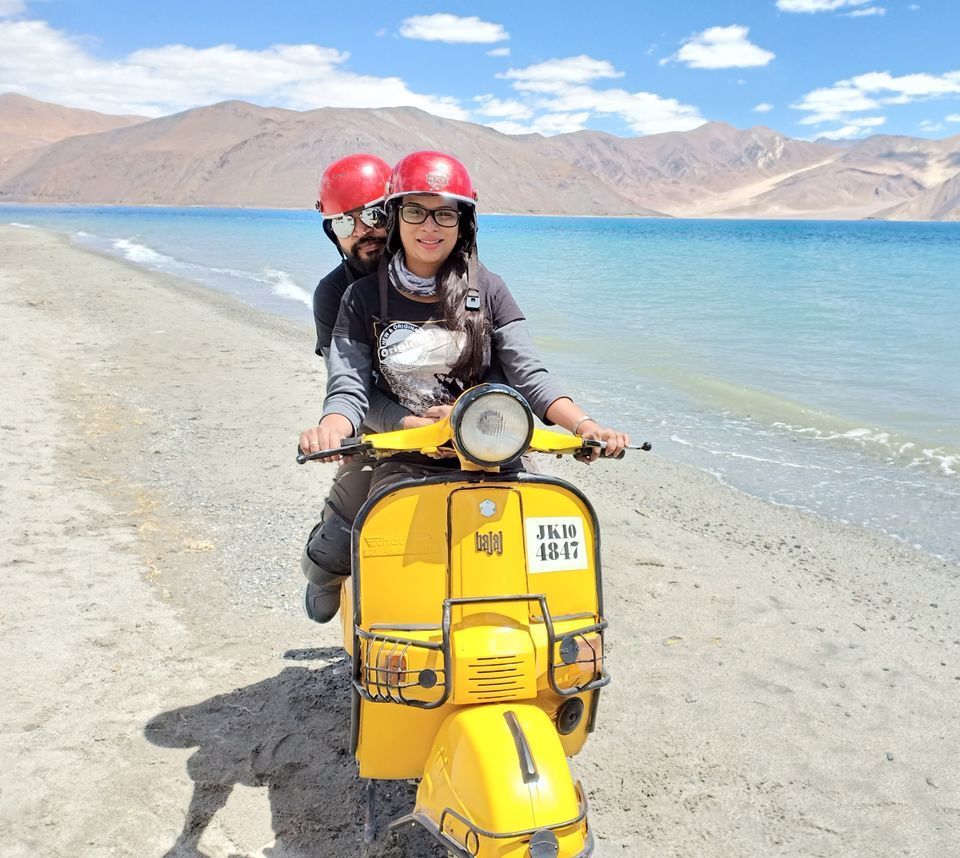 Return journey till Durbuk was good since we were aware of the road conditions, further journey till Chang La was a mystery. We started after lunch from Durbuk to solve this mystery. Road ahead was in good conditions and journey was amazing, riding on top of mountains at around 15000 feet. Problems were waiting for us ahead. At one point on climb our bike was not going forward, at that time my wife got off from bike and walked till the flat road ahead, and I somehow managed to cover that climb on first gear; that place was at only 15500 feet and we had to climb 17590 feet ahead to cross Chang La in order to reach Leh. Road ahead till few kms was in good condition but we had to maintain momentum of bike continuously in first and second gear to climb further in the region. Few kms ahead we stopped at a check post to take rest for some time. We met some riders from Mumbai at that place who were coming from opposite side, crossed Chang La and were taking rest. What they told us about conditions of road and of Chang La brought fear in our mind, chilling wind and extremely bad roads. But there was no other way we could choose so we started ahead, I can say road was not that bad what we experienced till that point but the main difficulty was vehicles and turns on that hilly road; these problems were making it difficult for our bike to gain momentum. Let me tell you one thing, during that 2-3 km of climb my wife was doing only one thing, praying loudly, just joking. But this was toughest part of our entire journey. Finally after covering hell of problem we reached Chang La. It was windy but not that much chilly what the riders mentioned to us, but overall it was nice experience. A break was must at that moment and we stopped at Chang La cafe, only spot to have something to eat and drink on that road. We tried their famous ginger lemon tea to fulfill our thirst and get fresh enough to start our remaining journey of the day.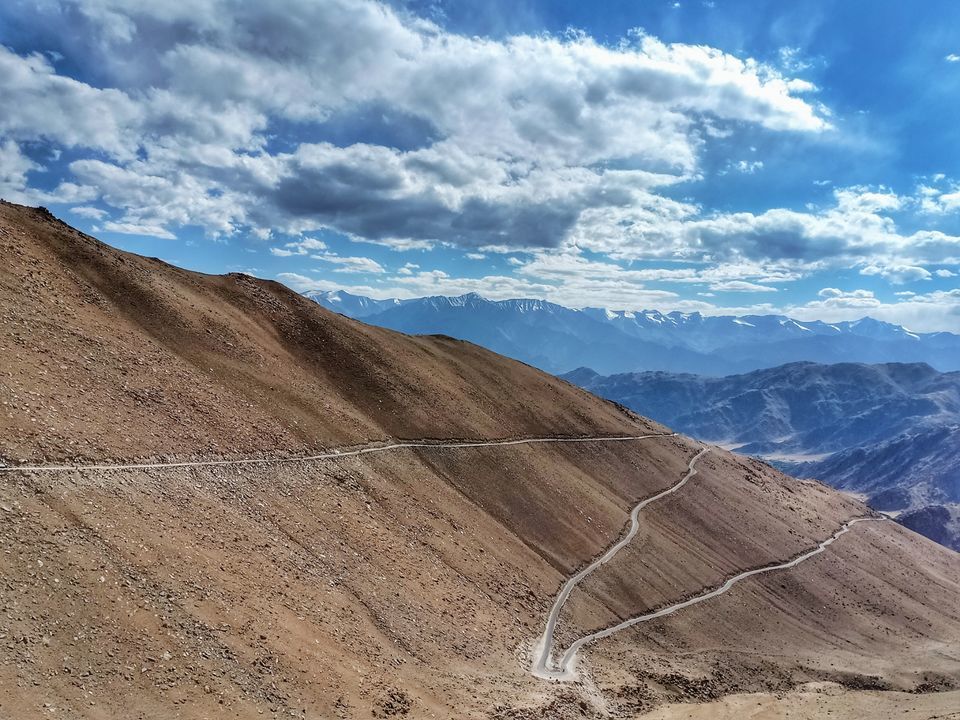 From my previous experience of riding on Chang La to Leh road I knew that road ahead was good, but I was completely disappointed. Due to road widening work on entire hill section of road, it was really tough to find space between boulders to ride our bike; finally we reach the base village and that moment finally gave us some satisfaction. But after that when we started again, it was like OMG, when will road become normal? Again due to road reconstruction activities journey till Karu was not good. And looking at those construction activities we were thinking 'Are they making EXPRESSWAY here on hills?'
By the time we were on good roads after Karu, I was so tired that nothing was exciting me and the only thing I wanted was reach our guest house as quickly as possible and take as much rest as possible. But when you are single rider you have to compromise on these things, after reaching guest house I had to again ride bike to get parcel for dinner. But after dinner it was only long long sleep for us.
Leh sightseeing & rest
After so much of exertions in the trip we were just in resting mood for the day. As our itinerary was not fixed we were flexible with our plans. So this day was completely dedicated to leisure, visit some monasteries and one of the most important thing without which my wife will not allow me to leave Leh, shopping.
On the first day of Leh visit we missed some important attractions in Leh, so decided to visit some in short time. Late in the morning we left to Shey Monastery and Palace. Palace is in ruined state. This palace and monastery was first built in 1655 and was used as summer capital. Spent some time in monastery and left for another destination, Thikse Monastery.
Thikse monastery is the biggest monastery in Ladakh region. Again climbing all stairs to reach main wall was difficult thing we thought when we were entering the monastery. By the time we reached to top floor which has 2-3 halls, all halls were closed due to afternoon break, but we decided to wait and not to miss supposedly the last thing we were seeing in Ladakh. Waiting paid well and inside architecture of all the halls were amazing. From there we headed to Leh market.
Before starting for these places in the morning we first went to a shop to print T-shirts. I was aware of the shop from my earlier experience, so directly headed to same shop. There are many such shops in Leh market who make customized maps on T-shirts as per customer requirements. Since these customization requires time we first went to this place so that by the end of day we will get our T-shirts. By the time we reached Leh market after visiting places our T-shirts were ready. We bought some souvenirs in Leh market and during shopping our eyes stayed on one restaurant, that was the only place where we saw samosa, pav bhaji, chole bhature, pani puri and similar kinds of items on their menu. So after shopping we tried these mouth watering snacks and headed to our guest house to start packing for our return journey.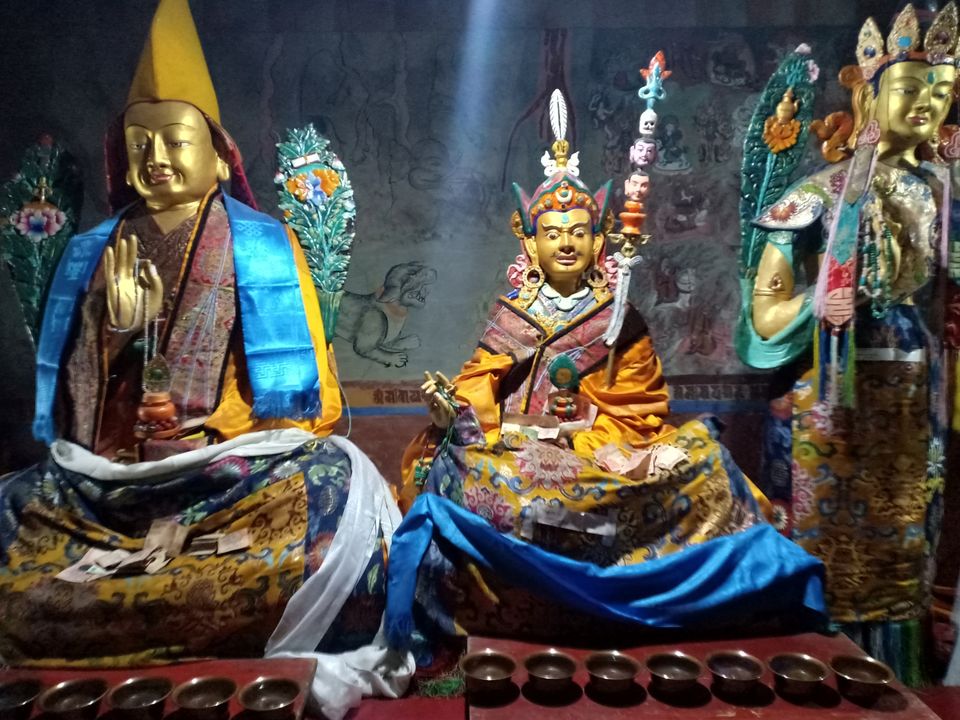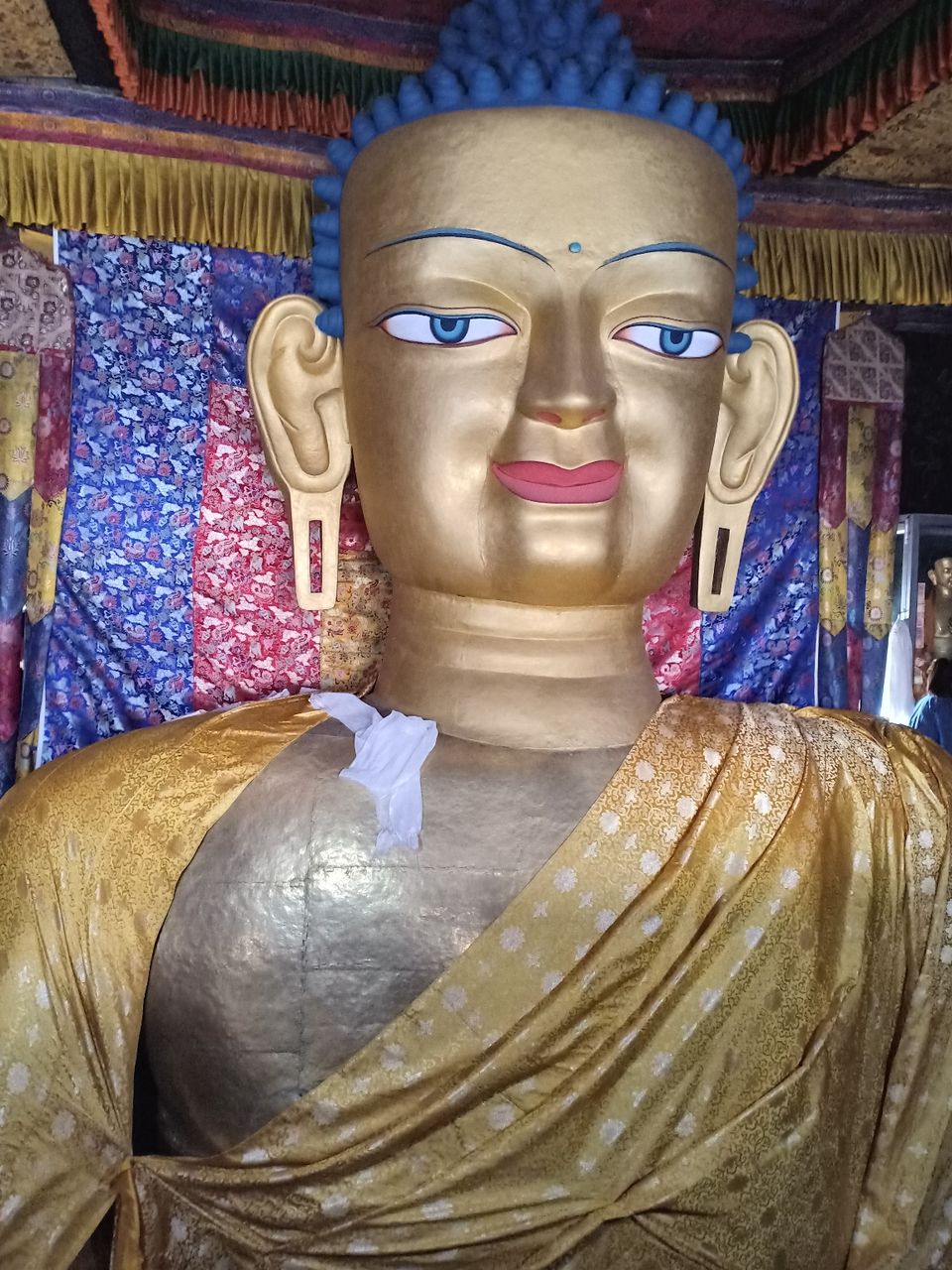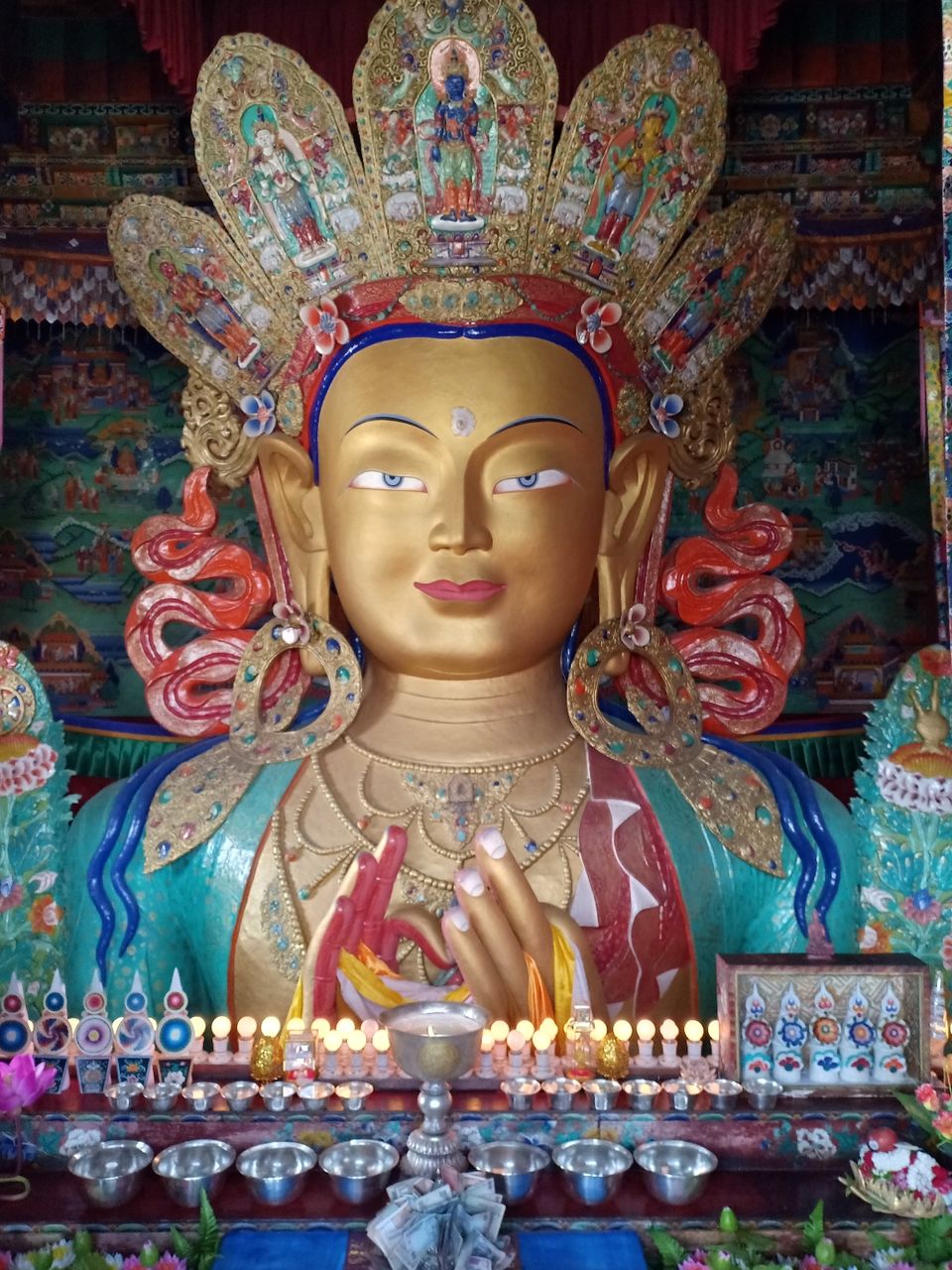 Nawang was waiting for us at guest house to say good bye to us. And finally we settled with satisfaction of finishing what we desired from this trip.
I am concluding second part of our journey here, but our journey did not end here, we experienced many more adventures during our return journey which I will cover in next concluding part.