After visiting Chitkul last year, I knew Spiti would be next. So I decided to visit Spiti in Sep, 2013. Convincing parents has always been a humongous task. After numerous requests, they finally agreed :D. Informed the management about my trip and got the leaves approved two months in advance. Now, the long wait started as I had to wait for another 50+ days before I could start my trip. I was so excited and it was very hard to be patient, each day seemed like a month. Yes, it really was that long.
Day1(Sep 13th)
Finally the D-Day(13th sep) came. Bid adieu to mom and dad, took their blessings and left home @ 5:00 am. Visited Gurudwara Majnu Ka Tilla which is on NH1. Prayed to the Almighty for a safe journey and then left for today's destination, Solan.
After meeting with massi, uncle and brother. It was time for a wrestle match with my best friend, BUDDY. There was a time when I used to pin him down to the ground and used to slap on his bum. Well that was an year ago, when he was 6 months old and I was 27. So, this time, he took his revenge by out wrestling me, by jumping on me with full force and literally threw me to the ground, TWICE.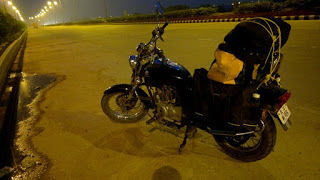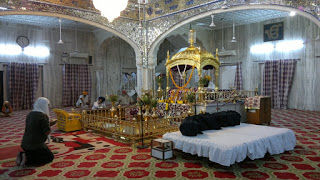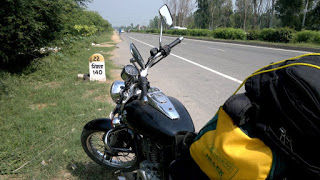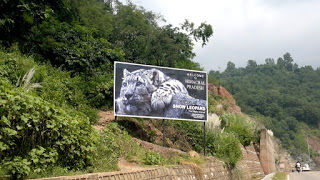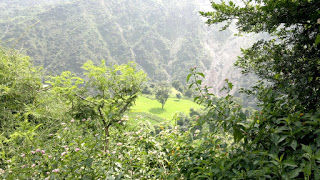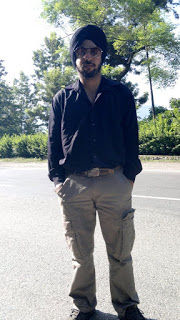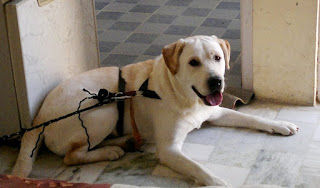 Day2(Sep 14th)
Bid adieu to massi and left Solan @ 10am. Decided to cover till Rampur today. Found this small puncture shop alongside a dhaba near Theog. Filled air in both tyres and had a cup of tea there.
Had a chit chat with the truck driver and the dhaba owner about the road status of Kinnaur, especially the stretch from Rekong Peo till Nako. Their answer was so discouraging and heart wrenching, I thought I wont be able to experience the beauty of Spiti. They told me about the Pangi Nallah, that vehicles are not allowed to cross it, its blocked as big rocks are falling from above. I almost decided to go back and take the Manali route but I thought what if they are wrong, what if these are just rumors. Its going to take me couple of days to get to that point, I was hopeful that even if its blocked, it will most probably be open when I get there. So, I continued with the same route.
Reached Narkanda by 1pm, decided to visit Hatu Peak. The width of 7km road that goes to Hatu Peak is equal to the length of my bike, thats how narrow it is. First 5 kms are easily doable as the road is good, but last 2 are very dangerous, its steep with barely any road, just sand, gravel and rocks. You cant use 2nd gear on that stretch, you cant apply breaks on that stretch, it just wont work. I had 2 scary incidents on that 2km stretch. First, on a blind curve, when an alto was coming from the top, we both didnt use horn. Since I was the one ascending I had no option but to apply brakes. No matter how much I tried to control the bike with my feet, I was dragged 4-5 meters down, I did not fell and somehow the bike came to a halt.
Second, I was on the last 500 meters before Hatu Peak, about 10 feet behind a toyota corolla, when all of a sudden he applied brakes and I was forced to apply brakes too. I was dragged 6-7 meters down, fell on the road and the bike fell on me. I was no more than a feet away from falling down the hill into the ditch. With all the luggage and me covered in warm clothes, the bike felt way too heavy to be able to be pulled. Thanks to the Corolla guy, he came to my rescue, pulled the bike and helped me get up. He was a trekker and a guide, who came to visit Hatu peak with his family. He told me that he has Classic 500 and even that cant be driven on 2nd gear on that stretch.
Finally reached Hatu peak. Visited Hatu temple, Thanked God for protecting me. Spent about an hour and left for Rampur. Reached Rampur around 6 pm and found a room in hotel Rajendra.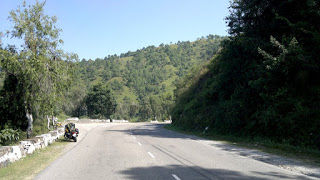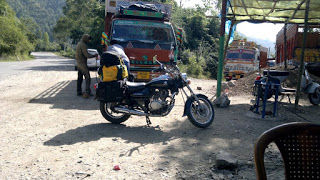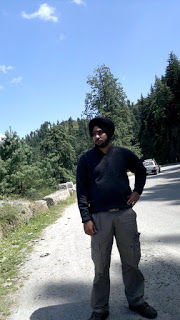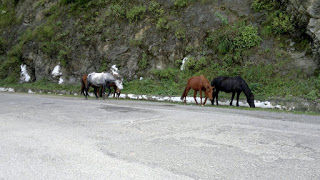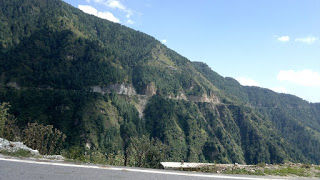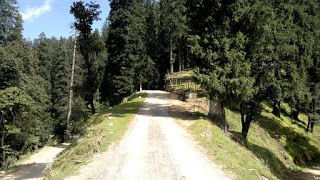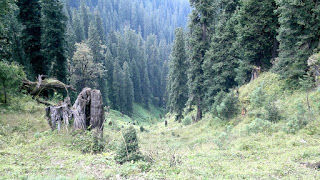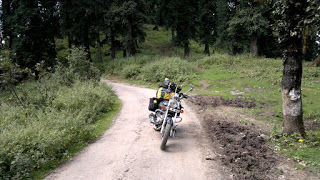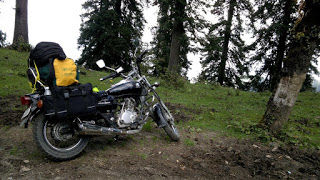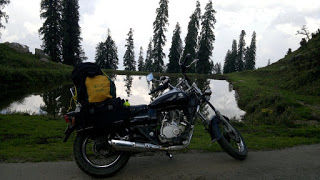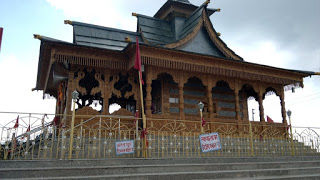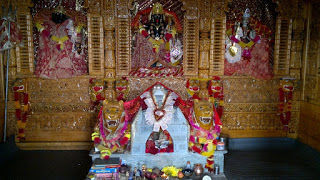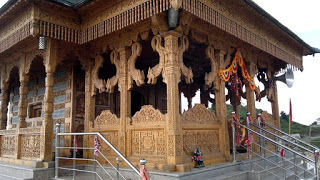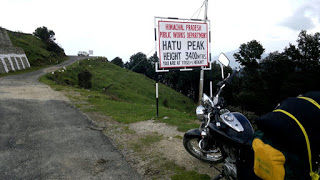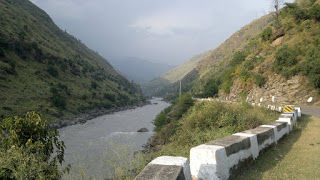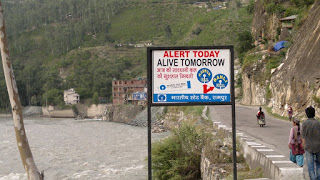 Day 3 (Sep 15):
Left Rampur @ 9am, today's destination was Chitkul. A place I can never get bored of visiting. One can sit on the rocks along side Baspa river for hours just watching the beauty around it. Mighty mountains covered in snow, lush green fields, meandering river Baspa splashing on the rocks, clouds so close you can almost touch them, construction of houses makes you feel you're still living in the 50's, you just cant get enough of it.
I was on the road after Karcham that takes you to Sangla. After a couple of kms, I got to this point and my reaction was "This road is DEAD". The road was completely destroyed by a recent landslide. That moment I realized that nature is so powerful, we can put all the technology together, use all available resources to build the best of the roads, buildings, bridges but really nothing can withstand nature's fury.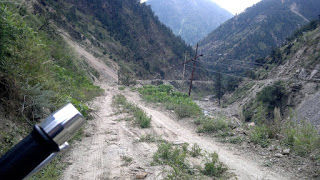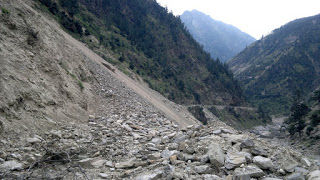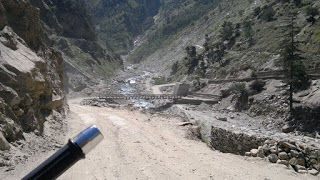 I was heartbroken with the thought of not to be able to visit Chitkul. With a heavy heart I returned. On my way back, I was stopped by this soldier who told me that a temporary bridge has been built by the army which connects to the other side of the road. You can go to Sangla via that bridge. His words got stuck in my head. He said 'em once but I must have heard 'em a 100 times. That moment of happiness, I couldn't hide it, I thanked him, hugged him and told him "Sir, you've made my day".
Reached Sangla around 1pm, had the yummiest Dal Makhni and roti @ Himalayan Dhaba. Spent about an hour there and headed for Chitkul. Distance between Sangla and Chitkul is 24kms. But those are some of the most scenic 24 kms. Its highly picturesque drive, You have beautiful mountains around you, Alpine forests, water streams, falls, apple orchards, green meadows, River Baspa flowing on your right side and Views of beautiful Sangla Valley. You just don't wish those 24 kms to end.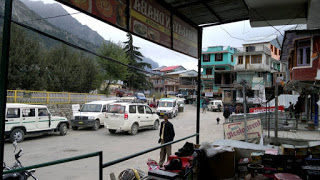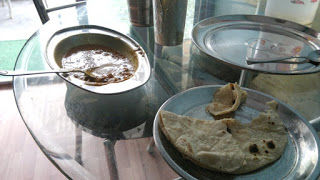 When I left Sangla, it started to drizzle, such an awesome feeling, When you're riding your bike @ 20kmph, surrounded by beauty of nature, rain welcomes you by splashing tiny droplets on your face and you wipe them every few minutes, its so much fun, you don't experience it very often.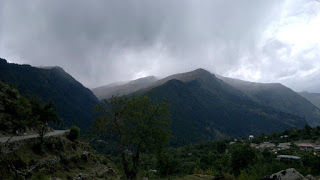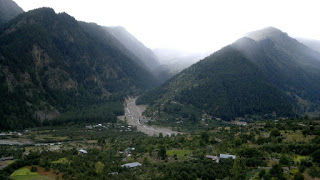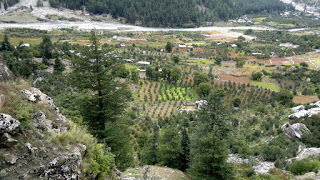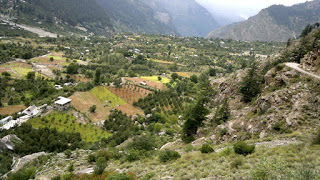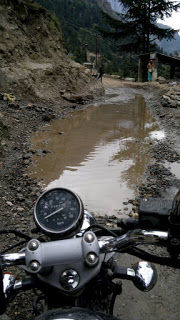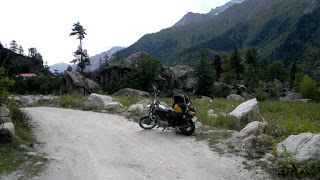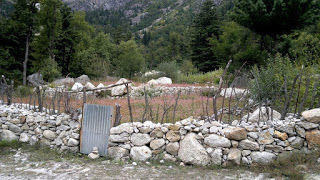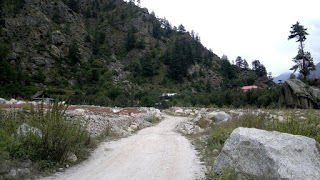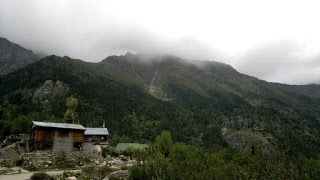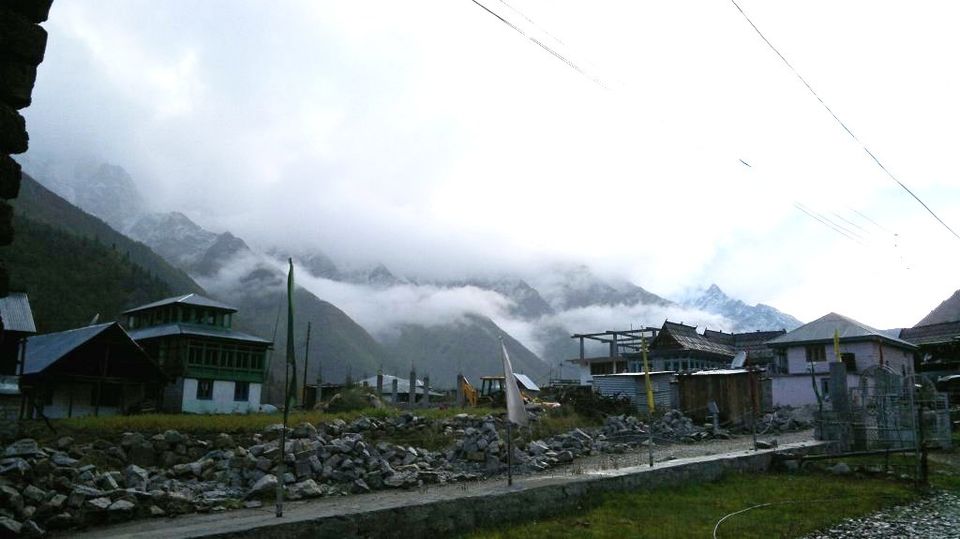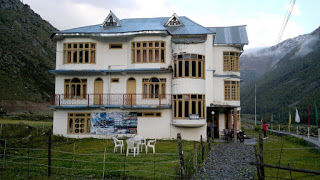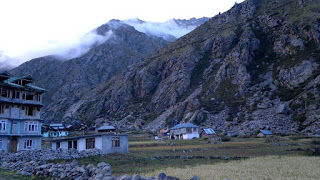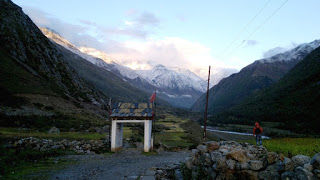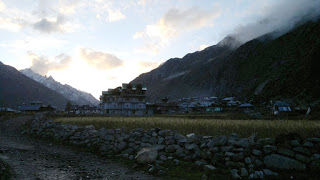 Reached Chitkul around 4pm, all wet and shivering, found a room in Hotel Shehenshah. Very nice hotel with clean rooms, I had doubts in my mind regarding the quality of food as I had a bad experience with Hotel Dev Bhoomi Regency(Sangla) in my last visit. But this one did not disappoint me. Food was good, I highly recommend this hotel as you can enjoy great views of Baspa valley from your room.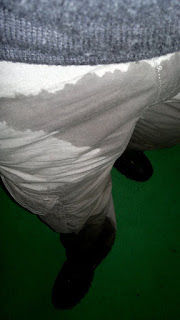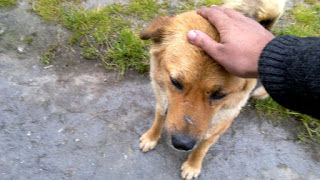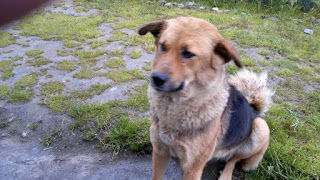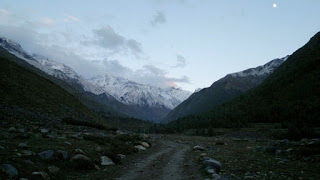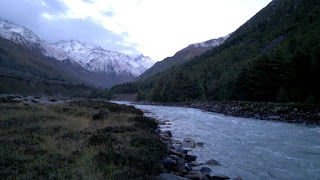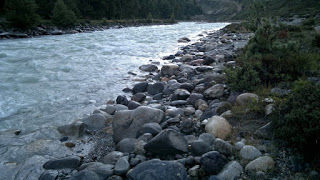 Spent sometime on the river's shore, time was around 6:15pm, it started to get dark, so decided to return to the hotel. On my way back, met 2 fellow BCMTians(Deepak Sharma and Anupam Kishore). They came from Delhi on their bikes, had a chit chat with them. They stayed in the same hotel. They were going to Spiti, their plan was to reach Nako, the next day.
When I was back in the hotel, I met a group of scientists from Shimla who just arrived. They were going to trek to a hill nearby for their research the other day. This hotel was managed by a group of three bengali men, An old fella, the other one in his twenties and a teenager. Asked them that I would require their mobile for a minute just to inform my parents that I have arrived safely to my destination for the day and found a room in a hotel. There was no network coverage except Airtel and Unfortunately the only Airtel phone getting the signal was the one which the Bengalis had. The phone was placed at a strange angle on the wall where it was able to receive the signals. You can only talk on speaker phone because you cant pick the phone, you cant even move the phone an inch to either side on the wall as it would loose signals. That was strange, anyway, I asked the dude in his twenties to dial my home number. He told me to wait as he was talking to his lady(wife/girlfriend??? not sure), who lives in Kolkata.
They were speaking in Bengali and he was staring at me like I was listening to their private conversation. I didn't understand a single word except "Ame Tuma Ke Bhalo Bachi". Now, how do I know that. Well I had a bengali friend in my last company, who used to crack Santa Banta jokes on my face and used to tell me "Ame Tuma Ke Bhalo Bachi", means, I love you. And I used to reply "Ame Tuma Ke Bhalo Bachi Naa", means, I hate you.
Finally, their long conversation ended. I asked him to dial a number. The moment he pressed the first two numbers, phone's battery died and it got switched off. He looked at me with a huge grin on his face and said - battery khatam ho gaya hai, charging pe lagana padega(phone's battery is dead and needs to be charged)... That was embarrassing, I was expecting an apology. Anyway, I told him that I'll be back in 30 mins and make sure the phone is fully charged.
So, I came back to my room and started adjusting the luggage. Then went downstairs to make the call and found a long queue of people waiting for their turn to call their beloved ones. Thank God, the battery lasted longer than expected, finally, felt relief after talking to mom and dad, I can sleep now.
Some other pics I clicked that day: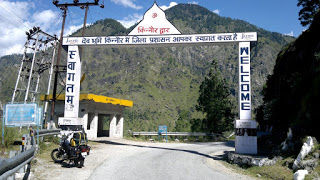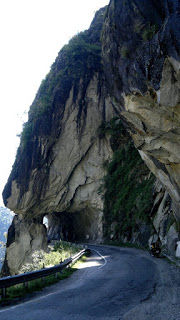 Day 4 (Sep 16): Fear and Hope...
Woke up @8am, weather was nice with clear clouds and sun shining with full glory, a perfect day to ride the bike. Packed the luggage, now comes the worst part, tying luggage to the bike, its quite a task. Went out to visit the temple and found it to be closed, just lke the last time. I guess, I'll have to plan another visit then. Today was going to be a relaxed day, as the destination - Kalpa was not far. So, kick started The Dark Knight(my sexy bike) and left for Kalpa.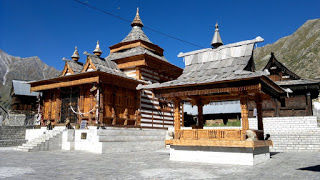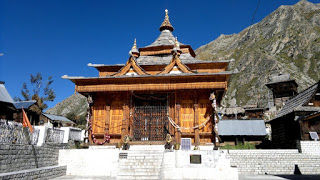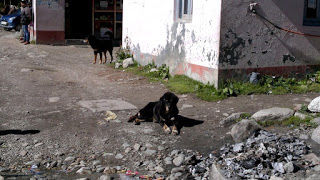 Had breakfast @ Himalayan Dhaba in Sangla, met a sikh couple in their sixties, they came all the way from Mohali via public transport. They asked me about my route ahead, they seemed interested in getting all the details, like places I'll be covering, total cost, stuff that I have carried with me, etc. They wished me all the best for my journey, even gave me their number and asked me to visit their home in Mohali.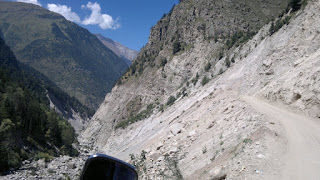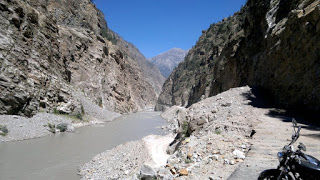 Reached Kalpa around 3pm, was surprised to see Deepak and Anupam there, they were supposed to be go to Nako today. They told me that the army sent them back from the Pangi Nallah as big rocks were falling from above. A tunnel was being constructed under the hill, that shook the entire hill which led to the falling of rocks, they have been falling for almost two months. The chances of that road getting open anytime soon were very slim. That news was very discouraging and saddening. I was cursing myself for taking this route after being warned by the truck driver and dhaba owner @ Theog. So, we decided to stay in the same Hotel, try again tomorrow or look for an alternate route. Found a room in this nice Hotel, Apple Pie in Kalpa, its run by a Delhiite - Aman, now a good friend of mine. After leaving our luggage in the rooms, we went for a bike stroll to Kalpa. Kalpa is a small beautiful town, there is nothing much to see except some temples, apple orchards, suicide point and awe-inspiring views of Kinner Kailash.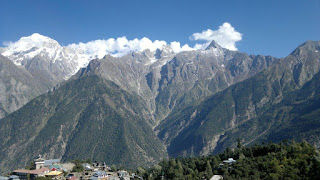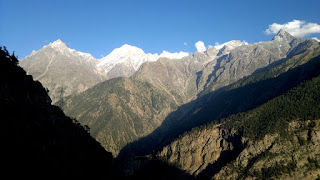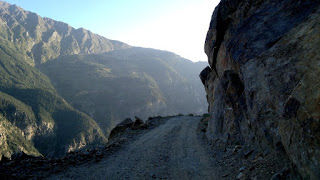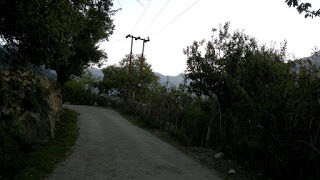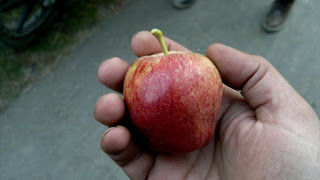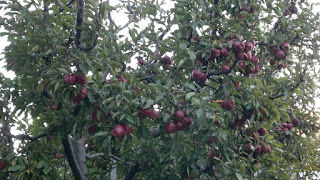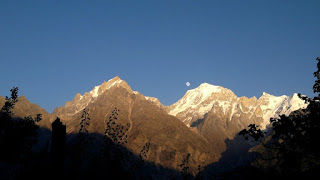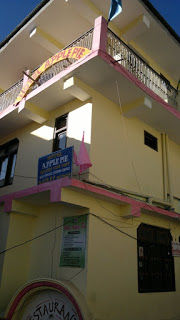 Returned to the hotel around 6pm, when it started to get dark and then called The One and Only - SAURABH SABIKHI... Dude has tons of knowledge about Spiti, some hidden places which are not known to many including the locals. Told him about the road status near Pangi Nallah and asked if there is any alternate route to Nako. He gave information about the old indo-tibetan trade route. Inquired some locals about this route and they suggested not to go there as it would be sucidal as nobody has taken that route for years/decades and they doubted if the road still exists and some said that the rocks are falling from just above that road. They suggested to leave early in the morning when traffic would be less and take the Pangi Nallah road as there are chances that the army may allow few vehicles to pass if the rocks stop falling for some time.
A cute french couple was staying in the same hotel from last few days. My room happened to be just above their's. They used to play flute in mornings and evenings. Their hymns and tunes were so refreshing, so soothing to the soul, I wish I could've recorded them. When they were done for the day, I went back to my room, hopped on the bed, covered myself from all the available blankets and started reviewing my activities of the day. I was disturbed by this loud noise and beats, so came out and saw a large group of men marching with torch. Went down to take pictures but was stopped by Aman, the hotel manager. He told me that its a local ritual where in one person's body gets occupied by their local deity, all men follow his orders and roam the entire village. They all seemed under the influence of heavy alcohol. If they see you taking pictures, they might get offended by it and can cause harm to you. That sounded scary, so I went back to my room and collapsed on the bed.
Day 5 (Sep 17): The Kinnauri Marriage
A new day brings a new hope, I had this strong feeling in my mind that no matter what, I am going to Spiti. I knew the odds were against me, but I decided to take a plunge. I even prepared my mind to take the Manali route if the Pangi Nallah road doesnt open. Our plan was to reach the Pangi Nallah by 9am, but we left the hotel around that time. We had to take care of a lot of things before leaving for Pangi, fill our tummies, our bikes tummies, inflate the tyres, get engine oil changed. Ate yummy paranthas at a dhaba in Rekong Peo. Carried 7 litres extra fuel as suggested by some people as the chances of getting fuel in Kaza were slim. When we reached Pangi nallah, a cop warned us to go back as the road will stay closed and its too dangerous out there but we went ahead. Then found this huge traffic jam of army trucks, buses, cars and what not. We squeezed through the traffic and reached quite far with just few vehicles ahead of us.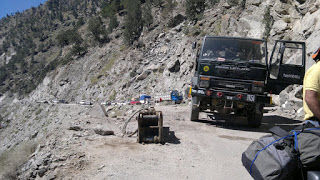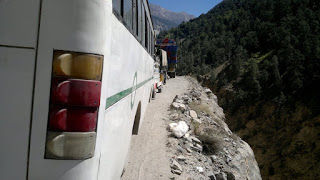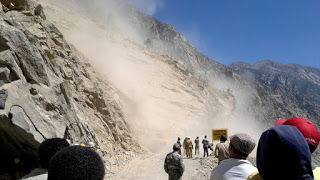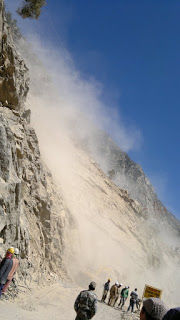 And then the wait started, I was checking the time every five to ten minutes, it was hard to be patient, those were some of the most tense moments of my life. I asked Deepak and Anupam, out of anxiousness, what would you do if the road doesn't open today. To which they replied, "as bad as we want to see Spiti, we will not have any option but to head back home since we only have a few days in hand". And then it happened, call it sheer luck or fate, after waiting for nearly two hours, the rocks stopped falling for few minutes and the army allowed the traffic to pass. At that moment I was overjoyed to see the movement of vehicles ahead of us, felt like I was the luckiest person in the world and now nobody can stop me from seeing the beautiful Spiti valley.
The moment I crossed the deadly Pangi nallah, I was already in Spiti(atleast in my head), riding to the highest motorable village in the world... visiting Dhankar, Tabo, Key Gompas... sitting on a chair outside some dhaba sipping tea while enjoying mesmerizing views of Pin valley... eating maggie on the shores of Chandrataal... an encounter with the snow leopard or the Himalayan wolf... chit-chatting with local people... not bathing for a good number of days and a lot more was going in my tiny head. I looked up in the sky and thanked god for always being there, for always helping me when in trouble, for giving me the courage, for always showing the right path, I thanked god for everything.
Soon after crossing the Pangi Nallah, we were welcomed by this water stream. First time drank water from a stream and felt like a thousand watt electric current flew through my body that woke up all the dying cells back to life. I filled my bottle with this energy drink, was fully charged and pumped up for the journey ahead.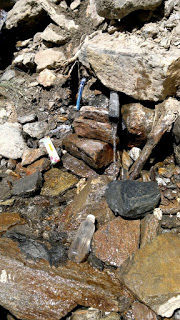 Time for some pics...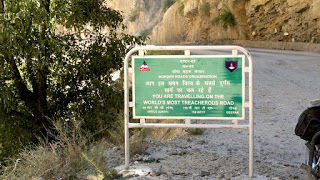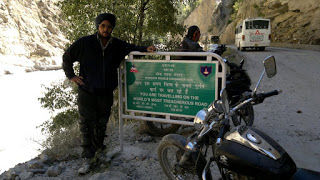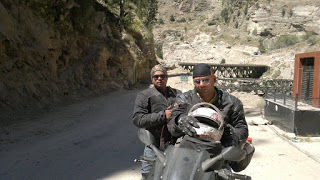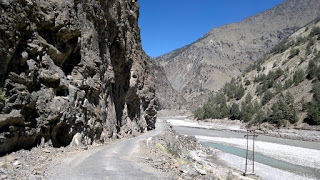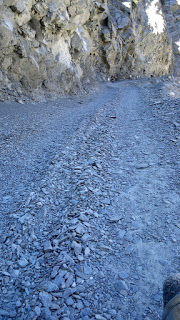 Somewhere near Spello, I was left behind as the Wheel lock got loose, it rammed into the spokes and scratched wheel hub. I decided to remove the wheel lock as fixing it would have wasted a lot of time.
So, Dr. Mandeep took out his tiny little tool and started operating on the wheel lock. The bolt was jammed, I could only use two fingers to rotate the tool. I used all my strength, this little thing took the life out of me, after many uuhhhhs.... aahhhhs.... and ouccchhhhs.... the bolt came out. Operation successful.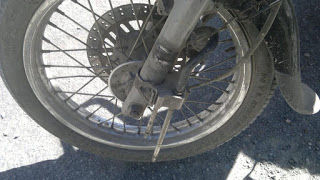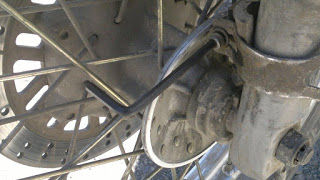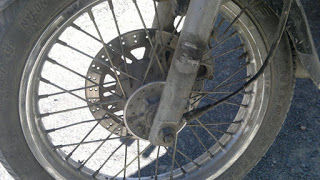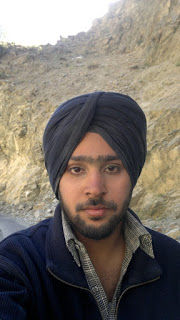 Met Deepak and Anupam near Puh, they waited for me, Thank you, good fellas :)
Reached Puh, had maggie there, then headed for Nako.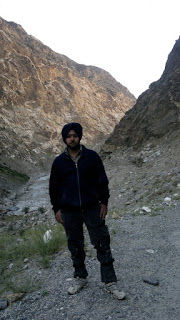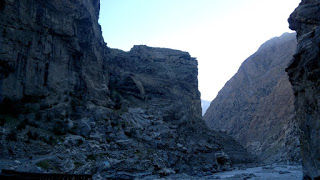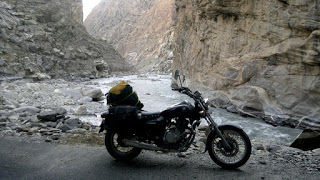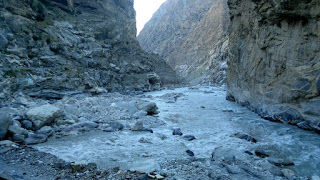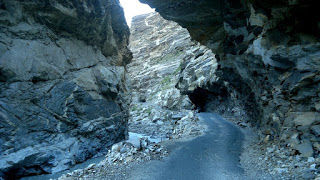 @ Khab...Khab sangam is the confluence of Spiti river and Sutlej river. The Spiti river flowing through the spiti valley here meets the Sutlej, which originates from Mansarovar Lake in Tibet.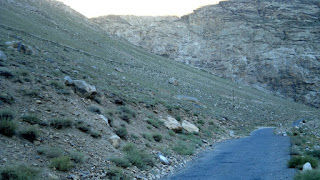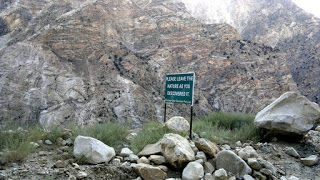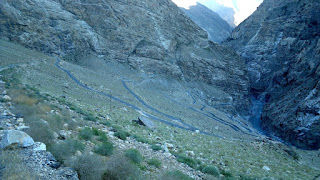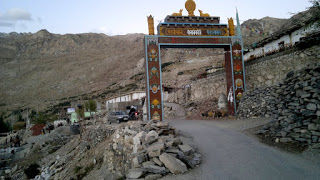 Finally, reached Nako around 6pm, found room in Lovon Hotel, a very good hotel with clean rooms and they serve delicious food. Its run by 3 people (2 ladies and their brother), very humble and polite people. They invited us to a Kinnauri Marriage, which took place on the same night.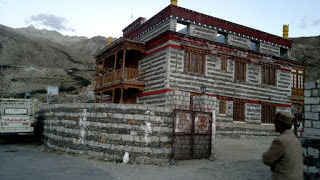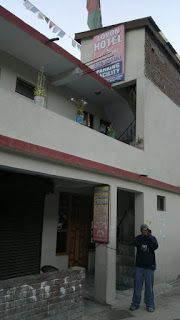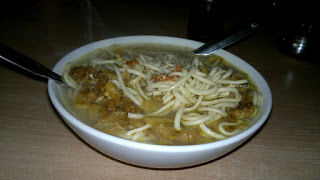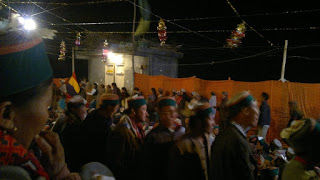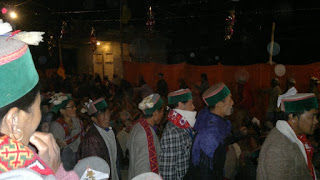 8pm, time to attend Kinnauri marriage. Some foreign guests were also invited. Kinnauri marriage - pehle kachi shadi(first temporary marriage), fir pakki shadi(then permanent marriage). As per the tradition, the boy/girl chooses his/her partner from another village, the boy makes her run with him to his village, thats Kachi shadi. Then, after 3-4 years, when the boy has enough money for marriage, pakki shadi happens. Pakki shadi involves two days function at boy's and two days function at girl's village. The function consisted of Kinnauri pop songs, ladies were sitting on the ground forming a circle while drunk kinnauri men danced around them, some foreigners also showcased their dancing skills. All-in-all, thoroughly enjoyed it.
Day 6 (Sep 18): My encounter with The Himalayan Ibex
Woke up around 6 in the morning, we decided to stroll the village, an early morning walk in the fresh air in a place about 12000 feet above sea level, surrounded by mighty mountains under the clear blue sky, is one of a kind experience. The lake was a stone's throw away from the hotel. There is a small trek that takes you to the lake. One can spend some time on the lake and enjoy the views around it but we just clicked few pics then roamed the streets of Nako. Nako is a very picturesque village, rocky muddy streets, houses constructed with rocks and tin or wooden roofs, use of solar energy, prayer wheels outside houses, rocks carved with ancient scriptures, small farms, rocky animal enclosures for horses, sheeps. All this takes you back in an era where life was simple, love was strong, people were humble. Where life was about farming, growing crops, grazing animals, where mode of transportaion was the horse and carriage. And then you see your bike, which all of a sudden starts to look like an Alien to you, such is the beauty of that place.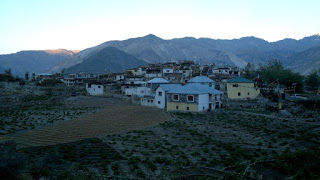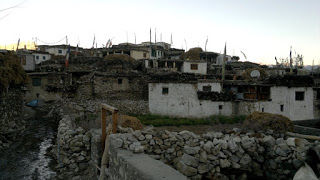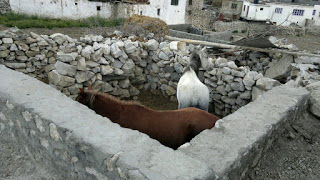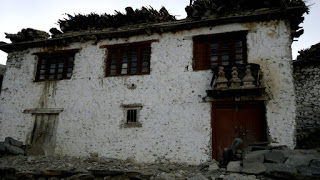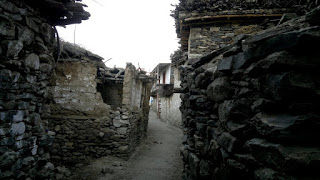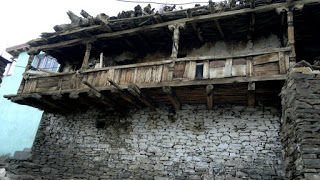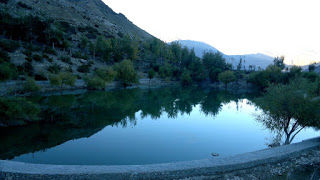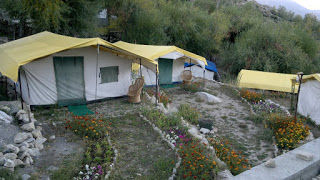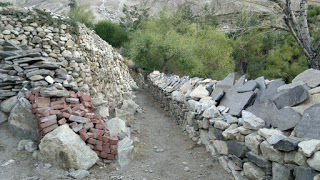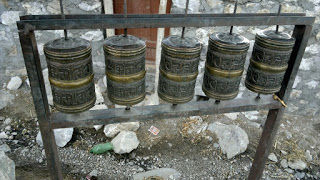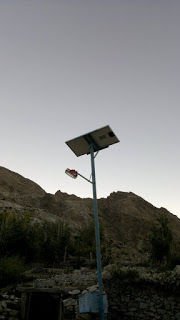 So, we came back from our memorable walk to the hotel, ate yummy paranthas with pickles and tea, then started packing our stuff. Today is when we would part ways. My destination was Dhankar and Deepak and Anupam were going to Kaza. They were quick at tying luggage, I started to realize that I have carried too much stuff, I was wasting well over an hour each day to adjust the luggage. Everytime I tightened the ropes they got loose after every 60-90 mins. It wasnt the ropes fault, it was all my fault. I placed one of the bags on top of another, then tied both with ropes to the backrest. It worked well on butter smooth roads till Rampur but after that it turned out to be a pain in the Tashreef(bum). By the time I reached Nako Gompa, Deepak and Anupam were coming back. So, decided to skip the gompa and head for today's desination. We rode together for like 10 kms and Dammit, the ropes got loose and luggage started to fall apart. Deepak and Anupam did not see that and I didnt horn them to wait as they had to make it to Kaza before dark. I wanted to say goodbye and that I enjoyed their company and wish them the best for their journey ahead but unfortunately that didn't happen.
I could see that there was no love lost between the two bags, so I had to separate them. I took the smaller bag and hanged it on the handlebars, it did hamper the handling of the bike, but was a big relief to the sore and swollen hands. So, hopped onto the bike and I was good to go.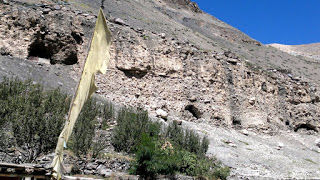 Mysterious caves near Sumdo, saw them at different places near Tabo, then again between Tabo and Kaza.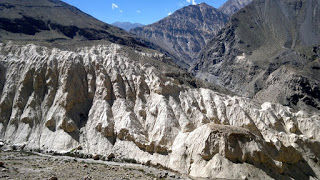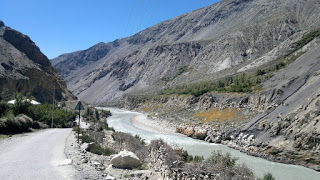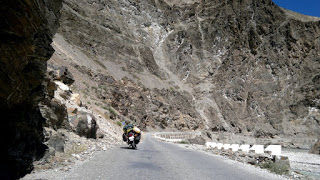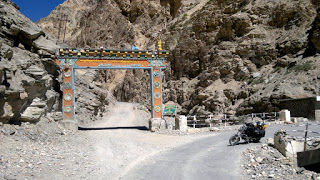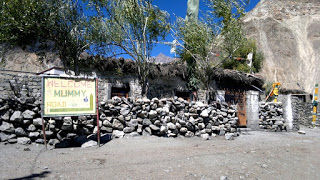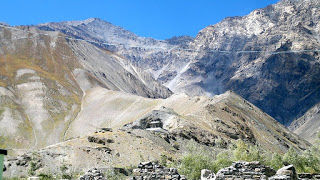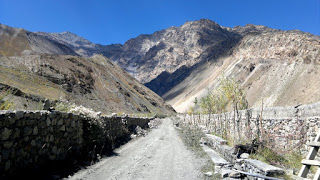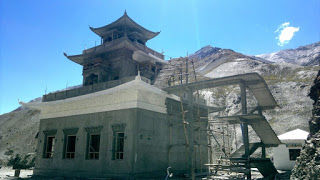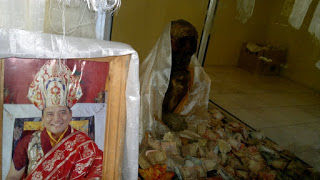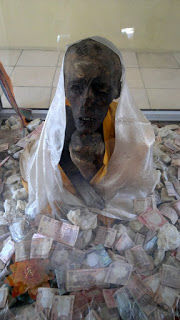 Giu Gompa, 500+ years old mummy of a lama ji discovered by Indian Army in the 70's.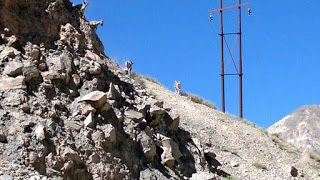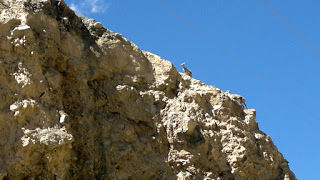 On my way back from Giu, encountered a herd of Ibex, they were about 30, in the middle of the road. They must have heard the bike coming, before I could take my camera out, they all climbed a steep hill in a matter of 10-15 seconds. I was lucky to have captured some pics of them.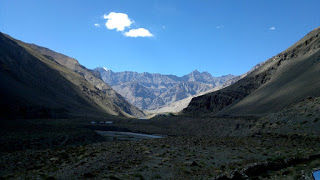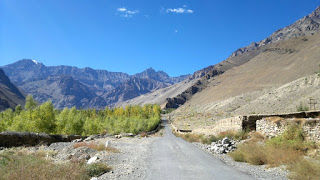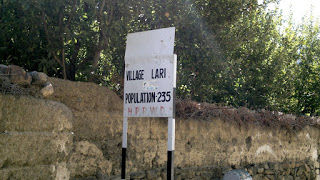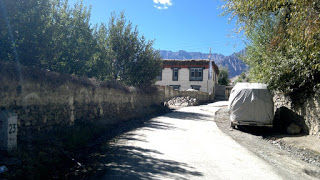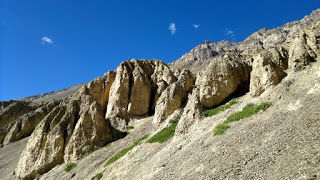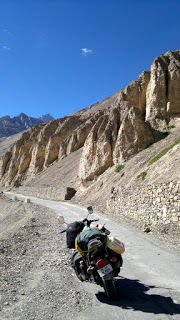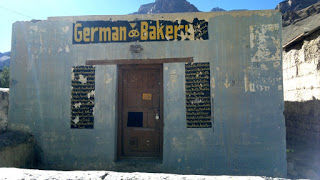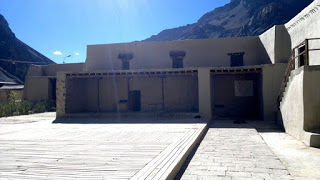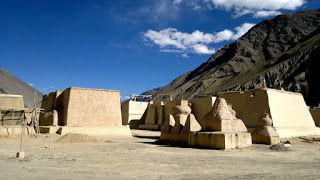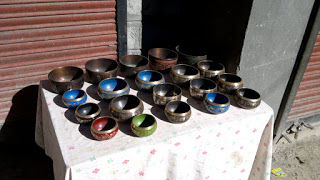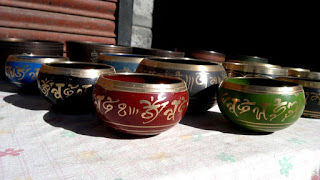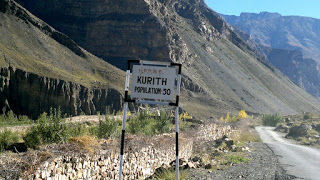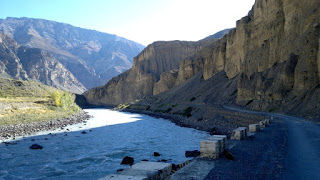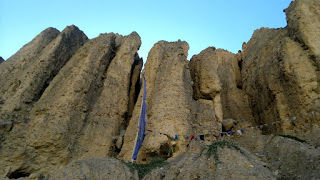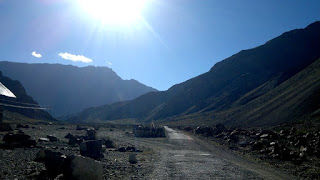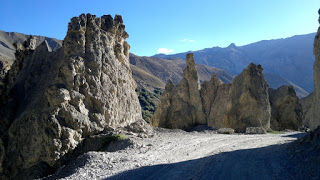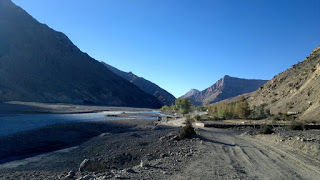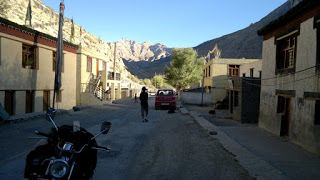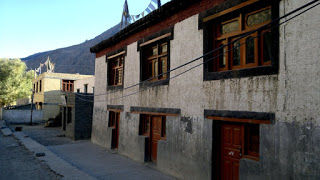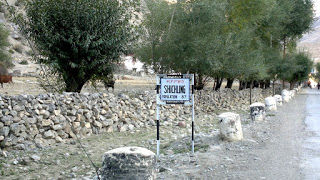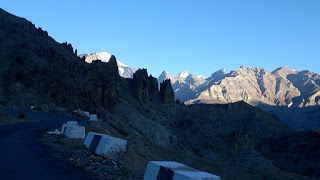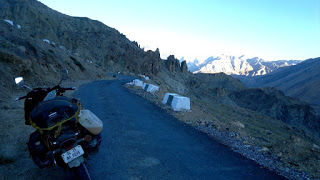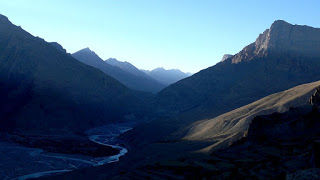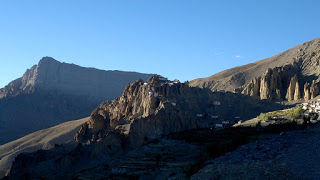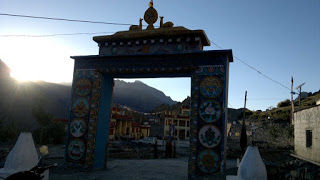 Reached Dhankar by evening, it started to get dark, so decided to visit gompa the other day.
The guest house was flooded with foreigners, 2 French men (one in 60's, the other in 40's), an Iranian(in his twenties), a British couple and a Mumbian(in thirties). There was no power, we all sat down together for dinner (except the British couple), it was a candle light dinner. I started thinking, you dont do a candle light dinner with men, that's weird, its supposed to be done with your date. There were several discussions on religions, western and Indian culture, About Spiti, Ladakh, etc... At a point the discussion on Indian culture was turning into a heated debate between the Mumbian and the younger French gentleman. The elder French uncle realized it...intervened and ended it. Later, we found out that the younger French man deliberately started the debate just to tease the Mumbian, so we all had a good laugh.Mark(the Iranian) wanted to accompany me on my bike to Pin Valley, but I respectfully denied as he had a huge bag and a guitar. There was no space for that much of luggage on the bike. Time was past 11pm, I was dead tired by then, so went to my room and slept.
Day 7 (Sep 19): The Surreal Pin Valley
Woke up early in the morning, and after doing morning chores, went straight to monastery. Stopped my bike at the monastery's entrance and when I was about to enter the monastery I saw this board "It is the monastery's protector deity chapel *** not allowed to go inside". My mind filled with anger, it was boiling inside, some thousand fireworks went off in it. I started thinking I came a long way to visit this place, paid Rs.500 for the hotel room and all I could see is this board. Frustrated to the core, I started heading back, then, all of a sudden heard some noise. Looked back and saw this gorgeous woman descending down the stairs beside that board. My happiness did not last long as her boyfriend was right behind her. I thought of asking them, "where are you guys coming from?", "did any one saw you up there or tried to catch you? as we are not supposed to go there". But before I could open my mouth they disappeared like a fart in the air. Then I looked at the board again and realized the height of my foolishness, that board was only meant for the door sitting above it. One can see the rest of the monastery without getting beat up. A lama ji was there who opened the prayer room and warned "No photography inside the room".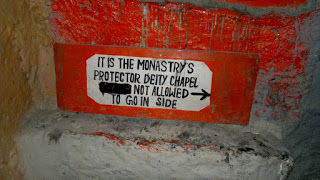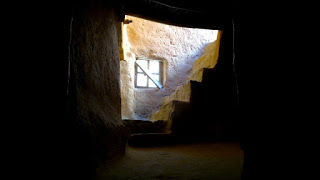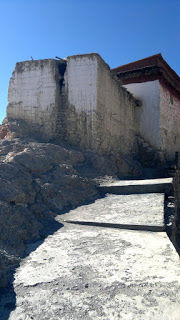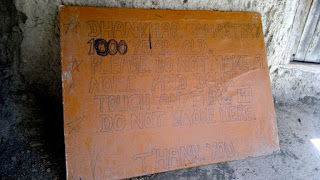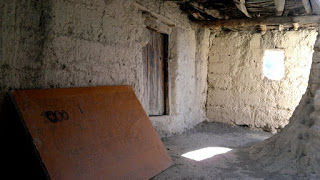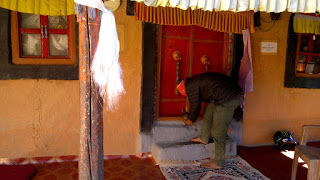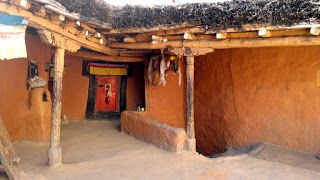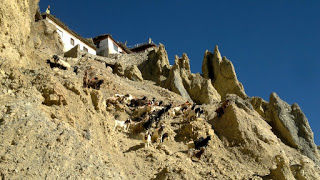 Trekked upwards to see Dhankar palace and found it to be closed but the view from the top was amazing. Spent some time there, then, headed back to the hotel. While I was descending, a huge herd of goats blocked my way and asked me in their language, "Meeaahhh, Meeahhhhhhh(Who are you and what are you doing here?)". I replied in their language "Meeaaaaaahhhhhhhhh....(If you don't clear my way now, I'm going to whoop your A**). They got my message loud and clear, got out of my way and darted off in opposite directions. Reached hotel, packed luggage, paid the rent and headed towards Pin valley.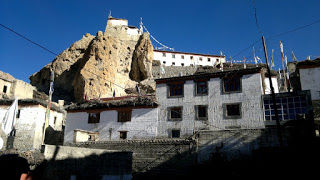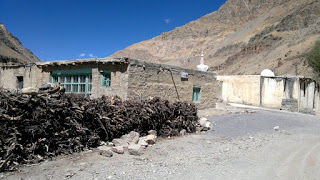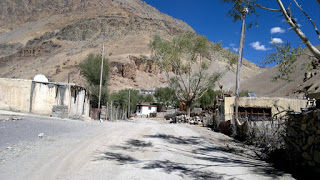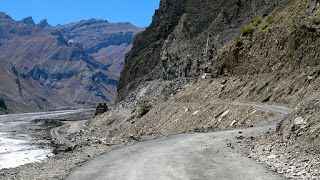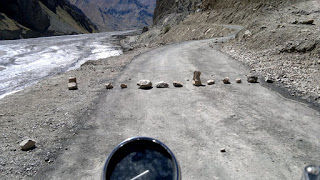 Just few kms into the beginning of Pin valley, found this road block, the main road was blasted as some repair work was going on.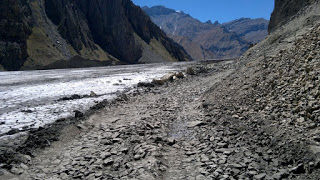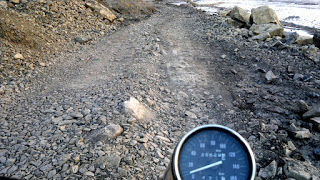 After chit-chatting with a local, found this alternate route, the first couple of kms were real bad after that it was the usual kacchi(unmetalled) road.
The first village that comes up is Gulling, I was literally starving as I didn't had breakfast. So, did brunch in a small dhaba in Gulling and then headed for Mud village. In my majestic ride to Pin valley, I witnessed the mountains changing colors and shape, from barren mountains to mountains with green spots to mountains covered with red and pinkish blankets, ALIEN shaped mountains and what not. One can spot beautiful tiny villages from miles away, surrounded by mighty mountains, river flowing on the left changing its patterns, clear blue sky above, all this left me spellbound. And I was in no hurry to reach mud as the vistas en-route were so breathtakingly beautiful. Its hard to describe, it cant be captured in pics, you just need to go there and experience it. After hours of blissful ride, finally reached mud.
I had tea in the dhaba "Spiti Tara Tours and Travels" and bought a pack of biscuits worth Rs.60(which I did not pay :( . I wasn't able to talk to mom dad yesterday due network issues at Dhankar, so I knew they must be worried about me. I told this to the dhaba owner and such a kind man he was, he took me to the only house in Mud which had a telephone. Talked to mom dad and informed them that I am more than OK. In all this hurry, I forgot to pay money to the dhaba owner and also left the pack of biscuits half eaten at the dhaba.
Strolled the village. Spent some time there and then left for Kaza. Reached Kaza by 5pm and found a room in Raasta guest house.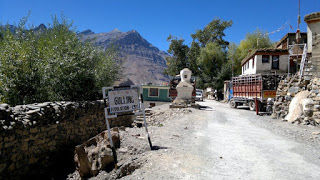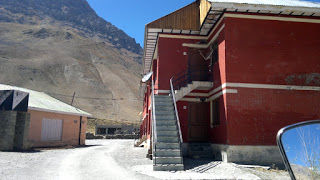 A very beautiful Sagnam village(This is probably the worst pic ever clicked of this village)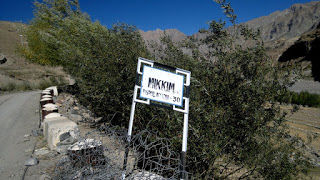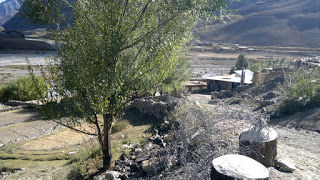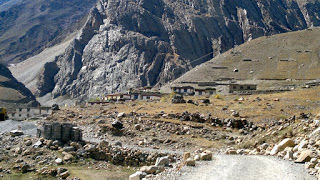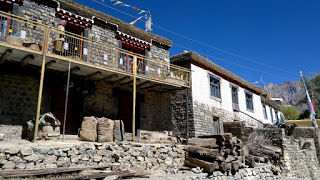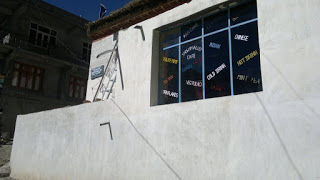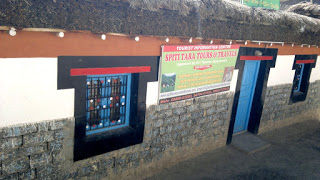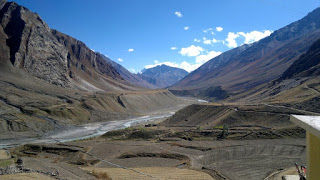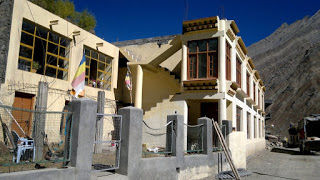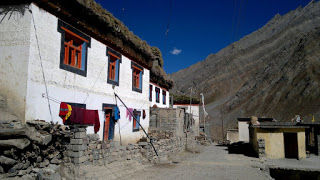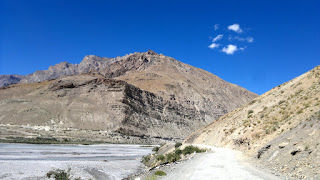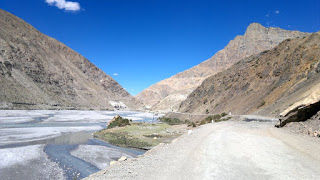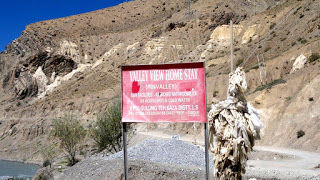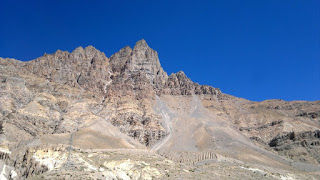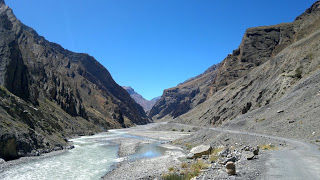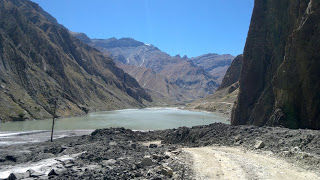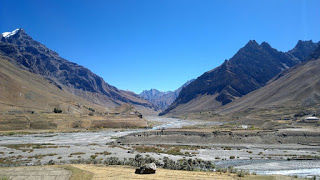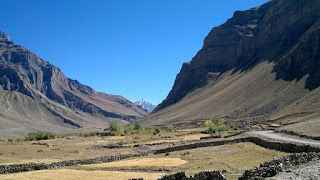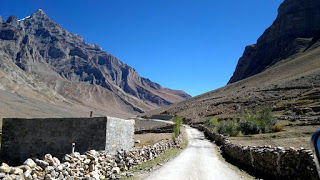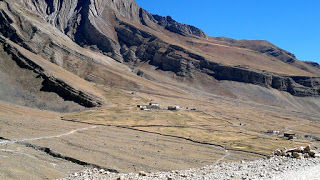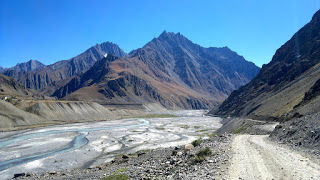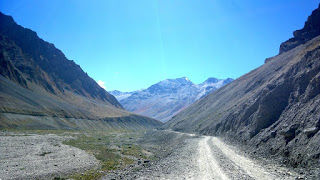 Day 8 (Sep 20): Annual Spiti Festival
Kaza, the sub divisional headquarters of spiti, is a beautiful village, it lies on the banks of Spiti river. It has a good market, almost everything is available. Lots of accommodation and food options. Apart from the Indian and Tibetan food some restaurants also serve Italian food. It has the only fuel station in the entire Spiti valley(opens @ 9:00am) and a Buddhist monastery nearby. There is also a bike mechanic shop(probably the only one in Spiti), so people having issues with their bikes can get them checked here. Its in close proximity to some of the famous places like Key, Kibber, Komik. All of these can be covered in a day's time.
Woke up early in the morning and was welcomed by the chirping sound of house sparrows and other beautiful birds. It was a great sight to see hundreds of sparrows chirping and flying around. It reminded me of my childhood days, when I used to live in my old house which had a big courtyard and had many sparrow nests inside it. The design of the old houses allowed sparrows to make nests inside them. Its really sad to know that the sparrows which used to thrive in Delhi are now disappearing at an alarming rate.
Today was going to be a relaxed day with little riding. The plan was to cover Key, Kibber and Komik. After doing the morning chores I headed for Key. Key is about 20 kms from Kaza, the biggest Monastery in Spiti and the most beautiful too. From the distance it looks like a king's fort, built on a hilltop over 1000 years ago, a masterful piece of architecture. The more you look at it the more you admire it.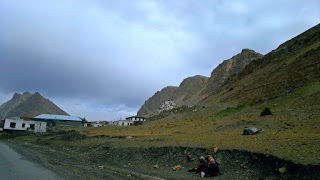 Few kms before Key, saw this group of women sitting alongside the road having lunch. Couldn't stop myself from taking this picture with the view of key at the back.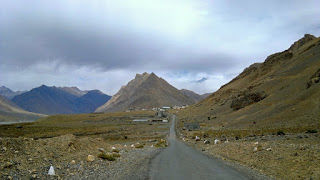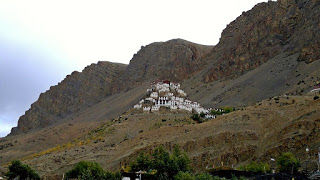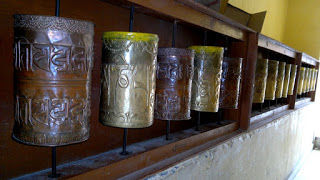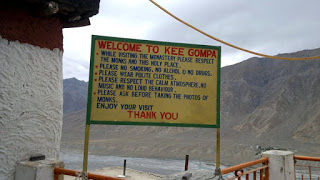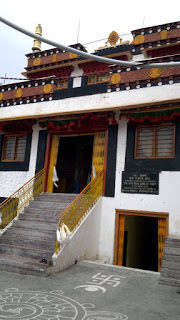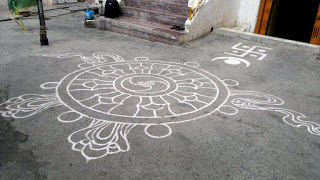 Reached Key, there were four more visitors. A lama ji welcomed us and gave us a short tour of the monastery. He showed us some prayer rooms(photography is prohibited), they consisted of wall paintings of lord Buddha and other deities. Some paintings depicting some part of the buddhist history which the humble lamaji tried explaining us but my eyes were so occupied on paintings, lighting, colors, statues, etc inside those beautiful prayer rooms that I couldn't hear anything as if I almost lost my sense to hear.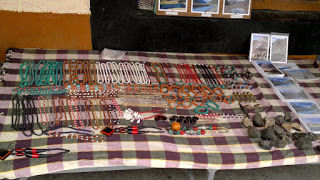 Some pearl necklaces, stones and postcards were kept on the table outside the main prayer room
Monastery tour was over, I was about to leave but lama ji stopped me and asked me to follow him to the kitchen, where he offered me a glass of herbal tea and biscuits. The tea was not only yummy but also warmed my body like a blanket, I couldn't resist myself from asking more. Being punjabi by nature, ek glass se mera kya hona tha(just one glass was not enough to satisfy my thirst ). Drank three glasses and was all pumped-up to visit rest of the places for the day.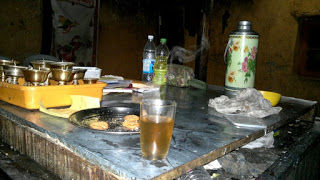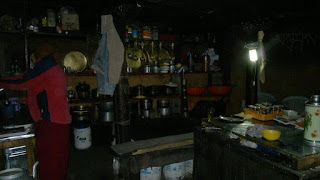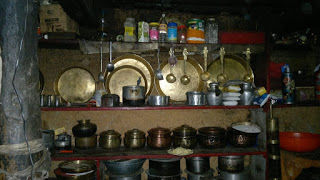 My visit to Key was a spiritually uplifting experience.
As I was nearing Kibber, I could see other mountains dwarfing around me and realized why its said to be one of the highest villages in the world. There was a sense of accomplishment after reaching Kibber, top of the world feeling, as almost if I could touch the sky. Roamed around the village, met few villagers and asked them "What's special about this place". To which they smiled and replied "yahan thand bahut padti hai(the weather here gets very cold)". Reached Chicham bridge, the bridge is under construction, there is a rope-way that takes you to the other side. I so wanted to experience the ride and visit chicham but couldnt as to do that I had to leave my bike behind. So decided to skip it and headed towards Komik. On my way back, saw this huge sand storm coming towards me. I was in no mood to take a sand bath. So, I waited and decided, If it gets any closer, I am going back to Kibber. Luckly it showed its mercy upon me and changed its direction. I could see it pass through from the other side. It seemed like the sand storm from the movie "The Mummy", a little less scary though. I stared at it and said "Go back to Egypt, you dont belong here". I heaved a sigh of relief then looked up, smiled and thanked God. Few kms down and it started drizzling, I could see dark clouds above, an indication that it could rain heavily any time which as per the locals is very unusual at this time of the year. Whether was playing its dirty tricks with me.
Decided not to try my luck any further, so skipped Komik and went back to Kaza. By the time I reached Kaza, there was a massive band of greyish-blue clouds filled with rain water. They could have poured heavy rain anytime but they did not. So I reached my guest house and the owner asked me to come attend the annual Spiti festival which happens every year at the end of September. It comprised of singing performances, traditional folk dance, men and women wearing traditional dresses, dance on some Bollywood numbers. All in all, it was cool and some source of entertainment for the people living in those remote areas. Was surprised to meet the Dhankar folks (The young Frenchman, the Iranian and our Mumbaian), they were all there to see the annual function. Just by looking at the locals faces, one could sense the importance of this function for them, they all looked so excited and happy. It was past 11pm, so headed back to my room and slept like a dog.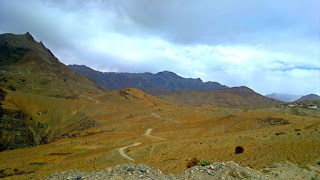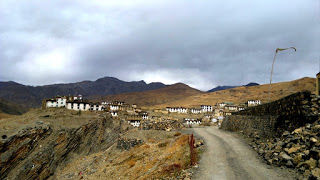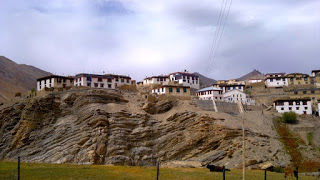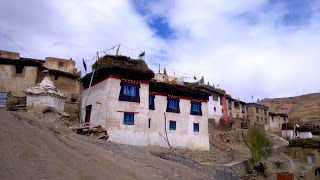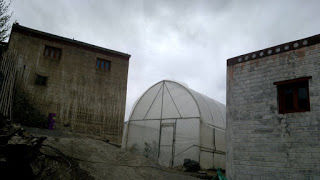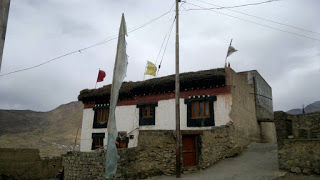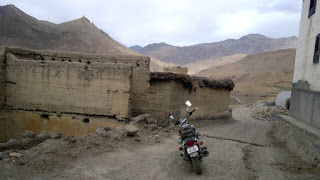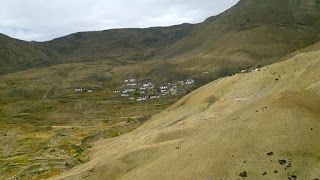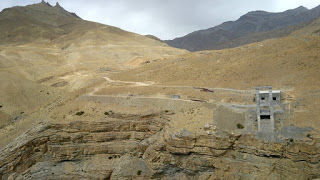 Kibber-Chicham bridge under construction, there's a rope-way here which takes you to Chicham.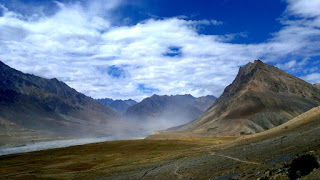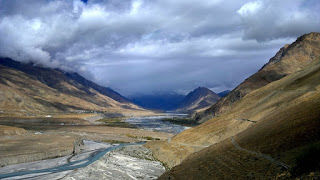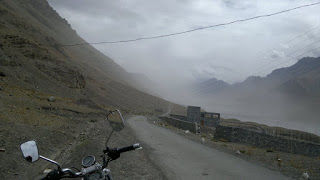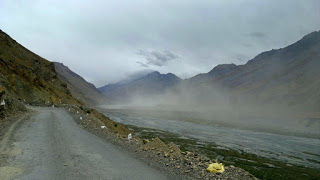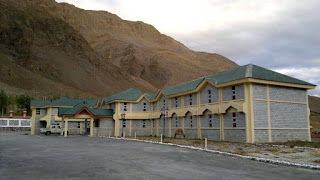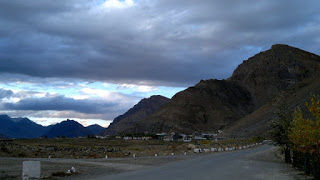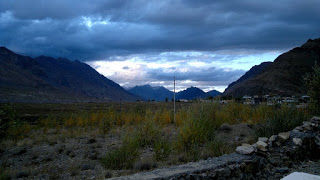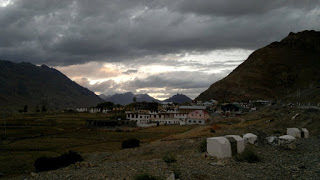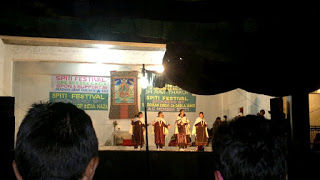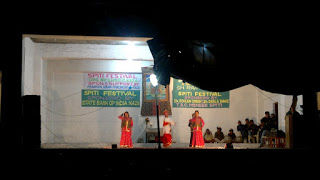 Day 9 (Sep 21): A lesson learned for life...
8am, I was ready, all the luggage was packed and loaded on the bike. Today's destination was Losar, but would first visit Komik and yes, Key again. I knew that I had to get fuel first as the jerry can was empty and the tank had very little fuel left in it. But the fuel station opens @9am. And this being the only fuel station in the entire Spiti valley I had no option but to wait. That one hour seemed like a millennium, it really was that long, may be a couple of years short. After a while, checked the time and it was 8:30, So I parked my bike near the fuel station and went a for a short walk. Came back @ 8:50 and found a long queue of cars, mini buses, bikes and what not, all waiting for the Fuel station guy. I was in complete disbelief, which looked like an abandoned fuel station just 20 mins back is now crowded with all kinds of vehicles. And finally, he came @ 9:15, the fuel station guy and we all felt a sigh of relief. As if the addicts getting their fix of heroin after having craved for it for days. Now how would you feel, when you're the first one to arrive at the fuel station and the last one to get the fuel, PISSED!!! Right? I was angry with myself and regretted going for that walk, should've stayed here. Finally, @ 9:40 got the tank and the jerry can filled and headed for Komik. It took about 90 mins to reach Komik even though the distance is just 25 kms or so. The route from kaza to Komik is so divine that it can turn atheists into true believers. On every curve, you experience a beautiful landscape. I had never been so close to the clouds, it almost felt like if I try a little wheelie here, I'd probably end up riding on them. You could see wild yaks grazing in the fields, the shape of some mountains resembling some giant humans who were mummified thousands of years ago. You're forced to take numerous stops en-route and every time you stop, you look 360 degrees around you, you look upside down and just admire the beauty you're surrounded by. You store those beautiful moments in your brain's hard-disk and whenever you're feeling down, just play them in you mind's home theater and you're pumped back to life.
It was 11:20am when I reached Komik, I was greeted with a warm tea and smiles by two lamaji. Some foreigners were also there. A team of doctors from Shimla also reached in their 4x4 Bolero. Apart from seeing the beautiful Spiti Valley, they were providing free medicines to some villages. Went to both monasteries and saw the famous stuffed snow leopard which is placed in the old monastery. Spent sometime there and then headed for Key. When leaving Komik, there was this huge road block of mighty wild Yaks, hundreds of them, scattered all over the place, they were just standing still. The Yaks we see in Manali are dwarfs when compared to these behemoths, that's how big they were. I had no intention to mess with them, so I just waited for them to get off the road, 5 mins passed, 10 mins passed, ENOUGH, I was out of patience. So, I started my motorcycle and headed towards them, the closer I went, the mightier they became, the more nervous I became. I had no idea how shy these animals could be, the moment they heard my bike's noise, they all ran like little mice as if a cat was chasing them. Once I got past them, I took a deep breath and laughed thinking that's how easy it was, should have done that 10 mins ago.
Few kms before Key heard loud thud-thud sound coming from the back of my bike, stopped the bike, looked back and found the jerry can which was earlier filled with fuel to the brim was touching the ground and was now half empty. Somehow the rope to which the can was tied got loose causing the can to rub with the road, that made couple of holes in it and DAMN I lost two and half liters of precious fuel. I had two bottles, one liter bottle for clean drinking water and a two liter bottle for washing purpose. I had to empty the two liter bottle so I can move the remaining fuel from the Jerry can to it. Still half liter left, poured that into my bike's tank.
Couple of turns before Key monastery, some kids were playing football. One of them stopped me and asked if I have the air pump. The football looked all battered with almost no air in it, as if it was hit by severe AMS and badly in need of oxygen. I was in a hurry, I wanted to spend some time in Key and had to reach Losar before dark, so I lied, "No, I Don't". When I reached Key, I had this feeling of guilt of not helping those kids back there. It was so strong, so hard for me to bear it that I didn't go inside the monastery, just sat outside on the monastery's stairs for 20-25 mins. I had all these weird thoughts knocking my head that I started to get anxious. I decided to go back and help those kids. On my way back, I stopped to meet them and apologized for lying to them. When the football was inflated, we all decided to play a game. Time to test my football skills... Five minutes in the game and I realized that even the tiniest of them could beat me without shedding a single sweat. Decided not to get myself embarrassed anymore, so I quit. One of the kids asked my today's destination and offered rather insisted me to stay at his house, a small village(don't remember the name) before Losar. Another kid intervened "No, No, he would stay at my house". I started pondering how humble and benevolent these kids are... I thanked them in my heart for teaching me a lesson to always be humble and always help someone in need. Bid adieu to them and headed towards Losar.
As planned, reached Losar before dark, found room in a hotel, don't remember the name, but its the first hotel on the left side of the road next to a dhaba, both owned by same person. I was hungry, had not eaten anything since morning, so ordered maggie and tea. While devouring maggie, this cute little girl turned up at my table and asked for candies or chocolate, she was hotel owner's youngest daughter. I bought some chocolates in Nako, luckily I still had one left with me, so gave it to her. As soon as I handed the chocolate to her, her elder sister came running and demanded another one for herself, which I obviously didn't have, started a brawl between the two. Before I could intervene, their mother came storming in and her loud roar was enough to silent them both. She snatched the chocolate from the elder daughter and then gave me this angry stare before leaving. Honestly speaking, that sent shivers down my spine, took a long deep breath in relief when she left. But hold on, the embarrassment was not over yet, now, the younger daughter came to me and yelled "AAP GANDA HO"(you're a bad man). Before it gets any worse, I quickly bottomed up the tea and went outside for a village stroll. While roaming the village met this tour guide and driver who was hired by a Bengali family for their Spiti tour. We had a little discussion about spiti, the places he covered, he asked questions about my journey so far. He informed me about the route that I would cover tomorrow from Losar to few kms before rohtang that its the toughest stretch in the entire Spiti valley. He told me that he has over 20 years of experience driving on these unforgiving roads and everytime he covers that stretch he feels as nervous and vulnerable as he felt for the very first time. He told me about the never ending water crossings with huge and sharp rocks hidden in them, that can easily rip the tyres to shreds. The pagal nallas(crazy water runnels) capable of throwing a ten ton truck off the hill. He thanked the mountain gods for protecting him all these years and told me if it wasn't for his living and feeding his family, he would never risk his life driving on those roads. He wished me good luck for my journey ahead and I thanked him for sharing his knowledge and experience with me and informing me of the challenge that lies ahead. It was 9pm, came back to my room and collapsed on the bed.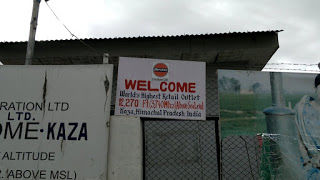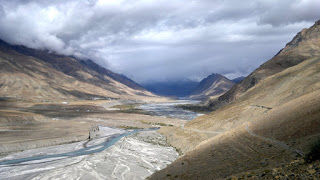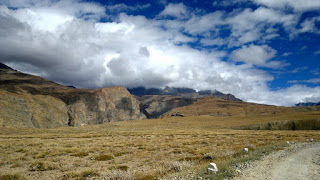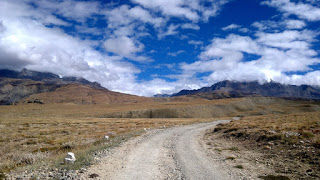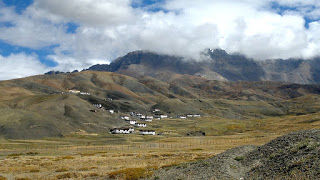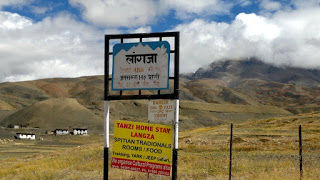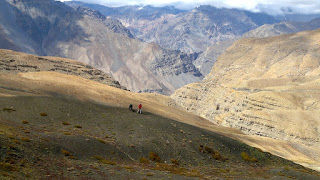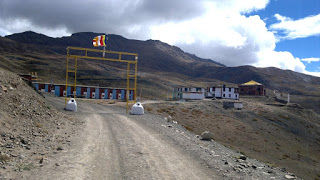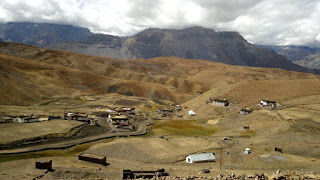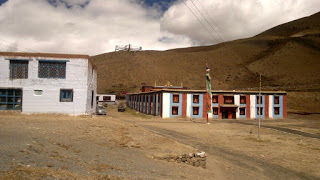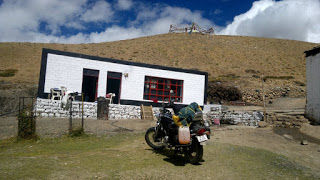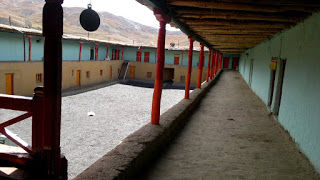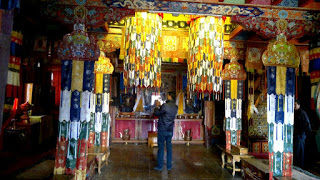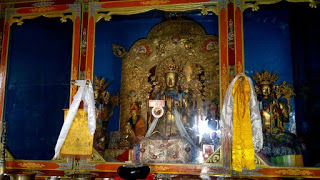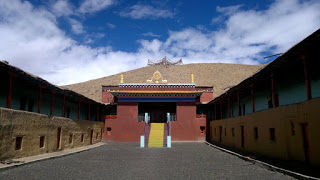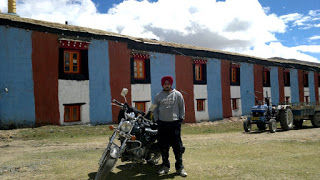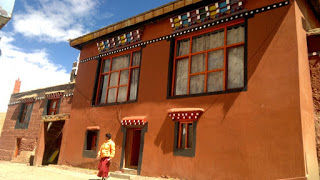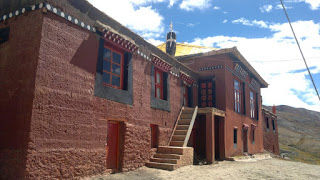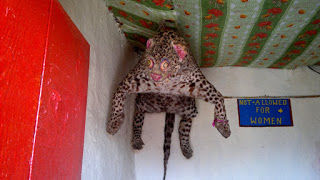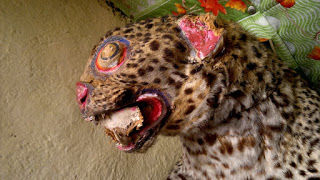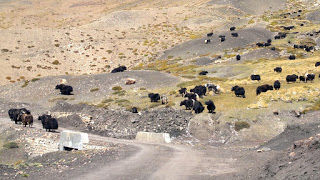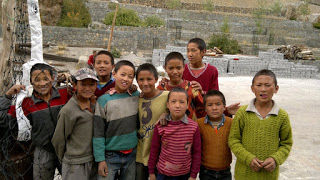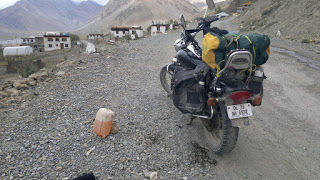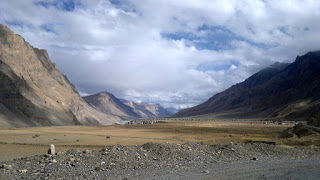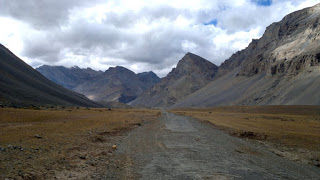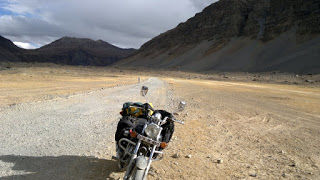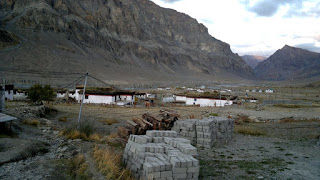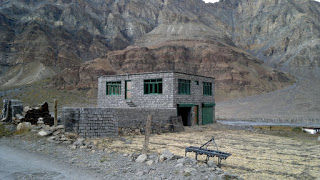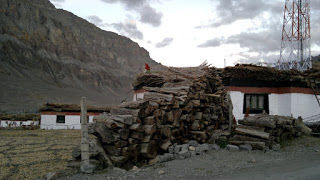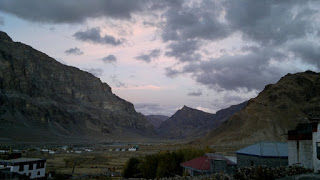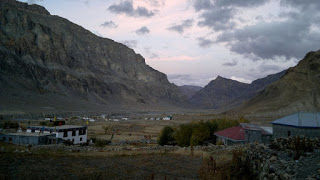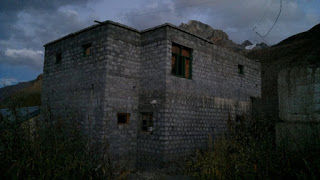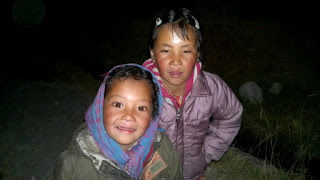 The cute and naughty sisters at Losar... That dhaba owner's daughters...
Day 10 (Sep 22): Heartbroken...
Woke up early, my phone's battery died last night, couldn't charge it as there was no power in Losar since last three days, so no pics for day 10. Today's plan was to cover Chandratal and then a night halt at Chatru. After a heavy breakfast headed for Chandratal. Just few kms down the road, I realized that today, its going to be one bumpy and uncomfortable ride. You actually have to ride on a rocky path, with dozens of scary water crossings, some as big as a swimming pool. Couple of times before getting into those big water crossings, I paused and thought for a moment that is it even doable? Then made up my mind, accepted the challenge and I knew once I'm in, there is no turning back. While crossing, I was really worried about my bike as half of my bike's exhaust was in the water. But the Dark Knight(my bike) did not let me down and it just roared through them. Some 20 odd kms from Losar, soon after crossing Kunzum la came a diversion, took that road, its a 13 km road that takes you to Chandratal. The road was very narrow, reminded me of the road to Hatu peak. While on that road it started drizzling, those cool, tiny droplets splashing on my face for the entire 13 kms really felt like a blessing. Finally the road ended, a bolero was parked there. Just beside that point, we have Jamaica's Camp. Parked my bike there and decided to meet Jamaica on my way back from Chandratal.
Chandratal Lake is couple of hundred meters down from the parking area. Seeing the lake live was really like entering a fantasy world, never saw such a beautiful lake before. The lake with its deep-blue water surrounded by massive barren mountains, their reflections in the lake, was truly a sight to behold. I wanted to capture that scene so bad that I tried switching on my dead phone numerous times just to get one picture but finally gave up and realized that this damn thing is beyond dead. Spent about an hour there, could have stayed longer but the drizzling started turning into heavy rain coupled with gusty winds, so I decided to take off. Reached the parking area, met Jamaica, very nice and cool person. He took me to his tent and gave me tea and biscuits. Spent some time there, the rain stopped and the winds too. My clothes were all wet, so decided to reach Chatru as soon as possible while the sun was still out there and weather was a little nice and warm. I promised Jamaica that I'll stay in his tent the next time I visit Chandratal. While leaving, I realized that I have lost my beloved grey muffler, I tucked it tightly into one of the pockets of saddle bag before heading to the lake but forgot to close the zip. It was heartbreaking to loose it as it was a birthday gift from mom when I started working years back. It was very very precious to me, both me and Jamaica searched for it but it was gone, the strong winds must have swept it away. It was hard to digest the fact that I lost it. Finally, bid goodbye to Jamaica and headed to Chatru.
On my way back, just few kms from Chandratal, there was a stretch of couple of hundred meters of unparalleled road, where the road was bending to the right. Instead of driving in the middle, I was trying keep on the left as much as possible. At one point, there was this huge rock, dangerously placed on the left side of the road, which I was somehow able to avoid at the very last moment by raising my left leg high up in the air. I got lucky there, it could have badly hurt my leg but it only took the Bike's left foot rest. I drove till Batal with my left leg hanging in the air. It was getting very uncomfortable, I knew that there was no mechanic before Manali, so I had to find some Jugaad. Met a group of bikers at Batal, they came from Manali, their destination for the day was Chandratal. So we all had a little chat, they enquired about the route and the road status. At Batal, I started looking for anything that could work as a foot rest. And It didn't took me long to find this tough piece of wood, just about the right size and shape, like it was waiting for me since the stone age to come and pick it up. I shoved it into the bike and headed for Chatru. Reached Chatru around 5pm, the only stay option apart from the PWD guest house was Prema dhaba. Owned by a family from Kullu, husband, wife and their two sons. Just beside the dhaba, they have a dormitory, which has about 10-15 single beds. They charged me mere hundred rupees for the night stay, the only down side of staying in Prem dhaba is that they don't have a loo. So the call of nature needs to be answered out in the nature. No more visitors in the dhaba apart from me, unloaded all luggage from the bike and changed wet clothes. Then went straight to the PWD guest house, It has a phone booth, so rang home, informed mom and dad that I'm OK. There is a small lawn outside the PWD guest house, sat there for awhile and started ruminating about today's crazy ride. It was bumpy, uncomfortable, scary and what not but it was total fun, something that I'll remember forever. And at that moment I gained utmost respect for people who drive on those treacherous roads every day just to earn a living.
Returned back to the dhaba, on the parallel road there is another dhaba and a tent, where one can buy stuff like gloves, muffler, socks, shoes, etc. Bought a warm muffler for just Rs.200. Though it seemed equally warm as my beloved grey muffler, but the former had mother's love attached to it and always protected me from the coldest of weather. So, I doubted this would provide me half the warmth. Time was past 9pm, I had my dinner already and it was time to attend nature's call but then I realized that there was NO LOO. What should I do now?? The dormitory/hall has a big shutter instead of a door. At night, they don't completely pull it down, there was enough space for me to sneak through it. So, I waited for the Prem dhaba family to sleep. 10pm and everybody was dead sleep, decided to go out and relieve myself. Went to the open field near the dhaba, it was pitch dark and scary and when I was about to go for it, heard some really weird noises down there...insect/snake/lizard/ghost/don't know, could have been anything, so didn't do it and came back. Decided to do it tomorrow once I reach Manali and was somehow able to sleep.
Day11 (Sep 23):
Woke up around 7:30am, was able to charge my mobile for 15 mins, good enough to bring it back to life and now I should be able to click some pics. No breakfast, no tea, I wanted to reach Manali asap before the nature's call comes knocking again. By 8:30am, I left Chatru, the Chatru-Rohtang stretch is much better than Losar-Chatru, less bumpy and just few water crossings. The distance from Chatru to Manali is about 80kms. Just few kms before Manali, It came back knocking again, and this time it had no intention to go back. It was getting very hard to hold it up and the urge to do it was getting more and more intense. Finally reached Manali and found this hotel "Hotel New Shivalik" and got a room for Rs.600. Sadly, that was not the end of my torture, the cruel hotel manager must have known my current state and to add to my misery, he gave me a room on the very top floor(3rd) and the hotel doesn't have lift facility, so I had to take the stairs. Imagine carrying 40 kilos of luggage in that condition and climbing all those stairs, that was indeed the toughest part of the trip. With every painful step, I somehow made it to the top, locked the door and after 16 hours of torture, I finally pooped and relieved myself.
Today was a rest day, so just relaxed in the room, then in the eveining, went out and roamed in the market, came back to room and slept.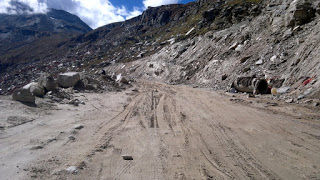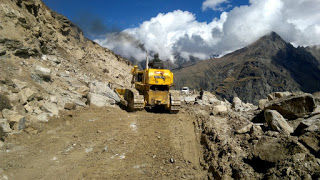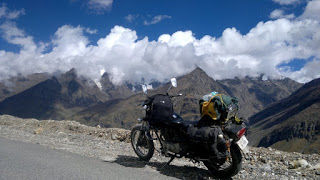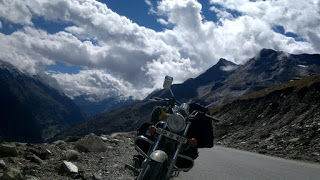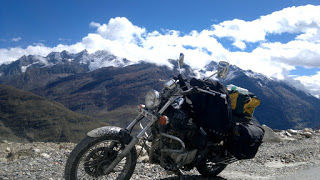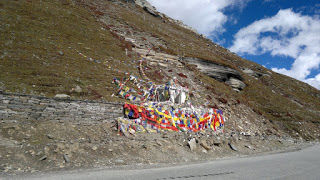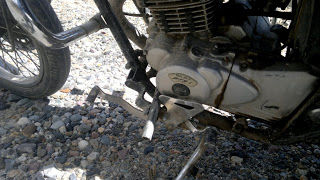 Day12 and Day13(Sep 24, 25):
The plan was to reach Solan, stay at massi's house and leave for Delhi the next day. However on my way back, I missed the road after Bilaspur that goes to Shimla and instead took the Rupnagar-Chandigarh one. Which I only realised when I got stuck in a huge jam caused by trucks from Rupnagar all the way to Kiratpur sahib. Couldn't go back, so had to continue with this one. When I was near Ropar, my bike's engine was heating up pretty bad and making weird noises, checked the engine oil level and it was way below the mark. There are many automobile shops in Ropar, so bought the oil from one of the shops and there is a mechanic near the two-wheeler parking area, so got the oil changed. He suggested me not to stay in Chandigarh as rooms there would be very expensive instead stay @ Gurudwara Bhatha Sahib in Ropar. Glad I followed his advice and paid just Rs.50 for the night stay, rooms there are very neat and clean with attached bathroom. Besides, I got the opportunity to have Guru ka langar there, which is always yummy. The next day, took blessings from Gurudwara and headed to Delhi, finally reached home in the afternoon.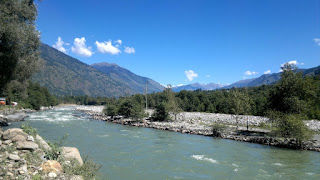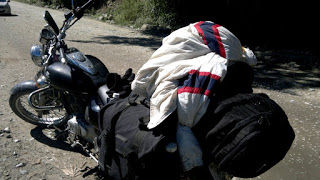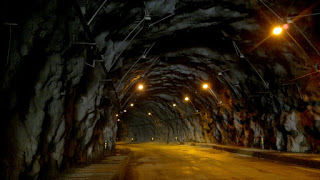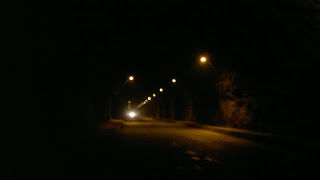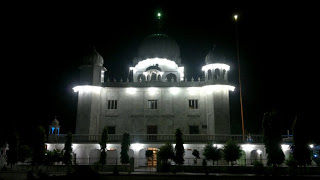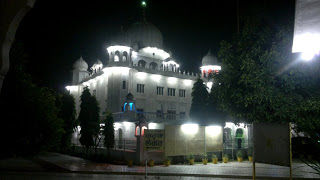 At the end, I can describe my Spiti experience as Divine and complete Nirvana.