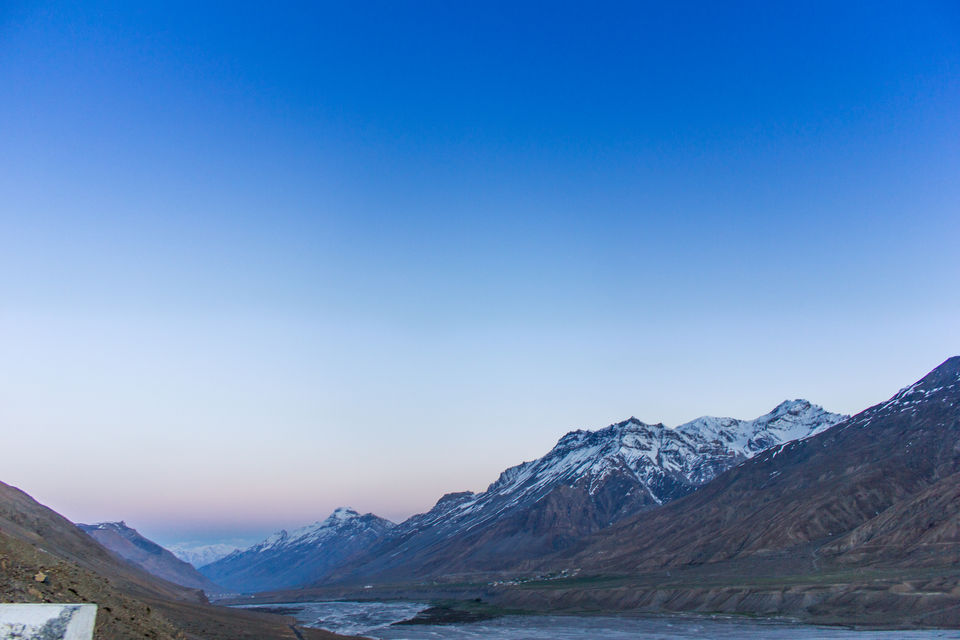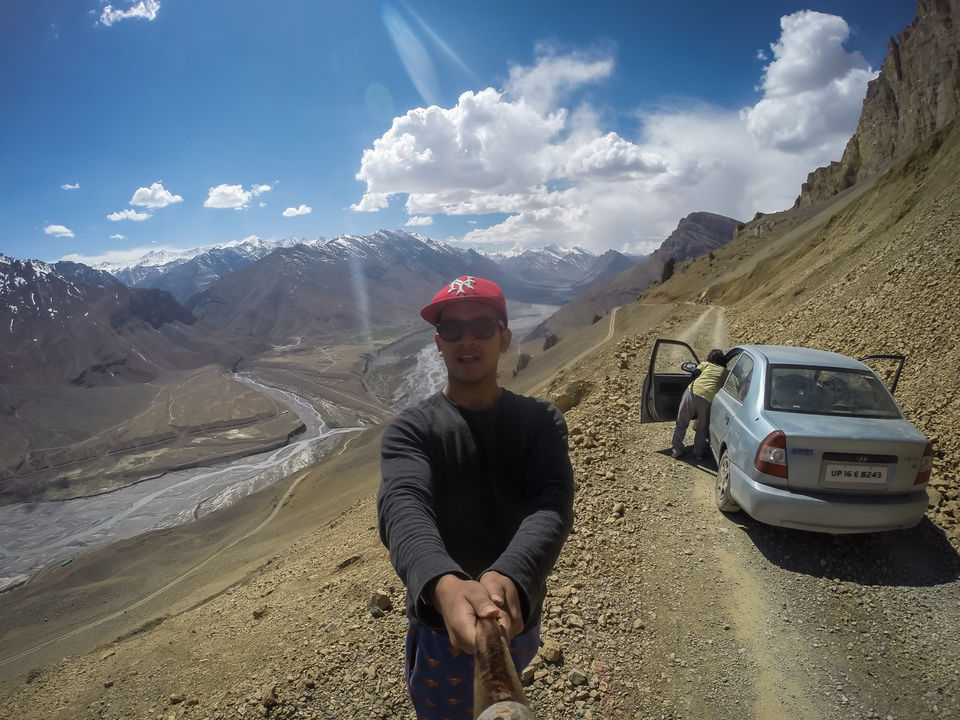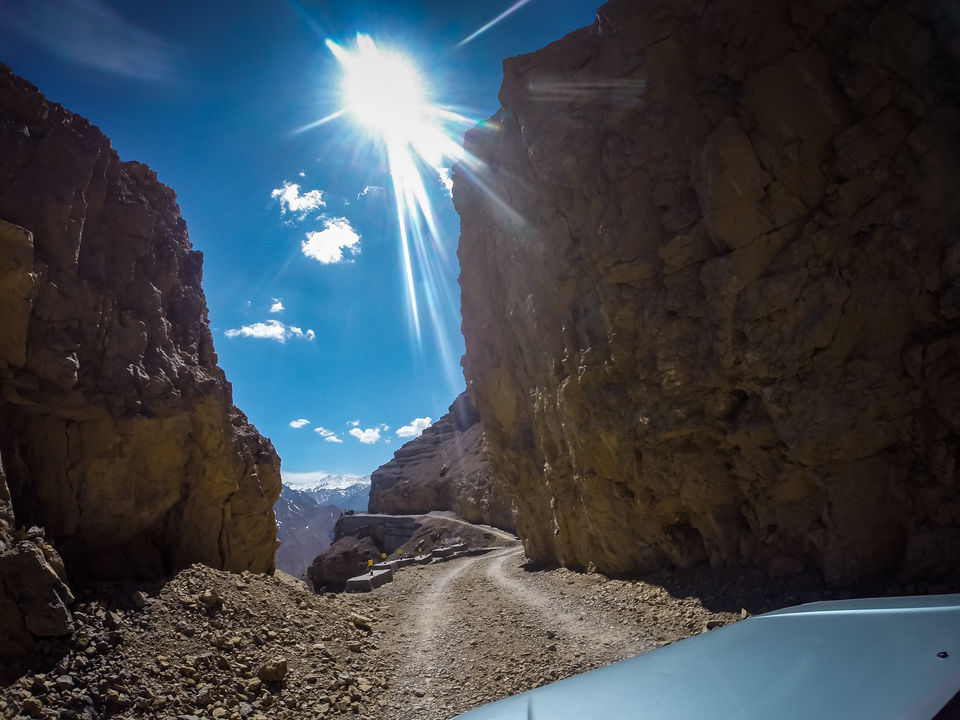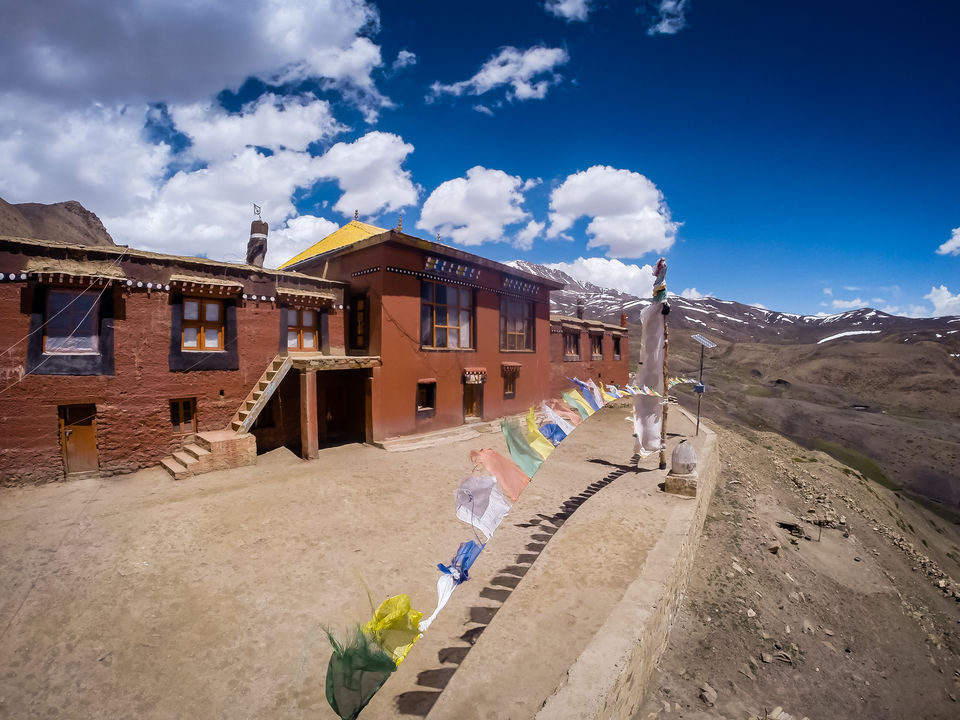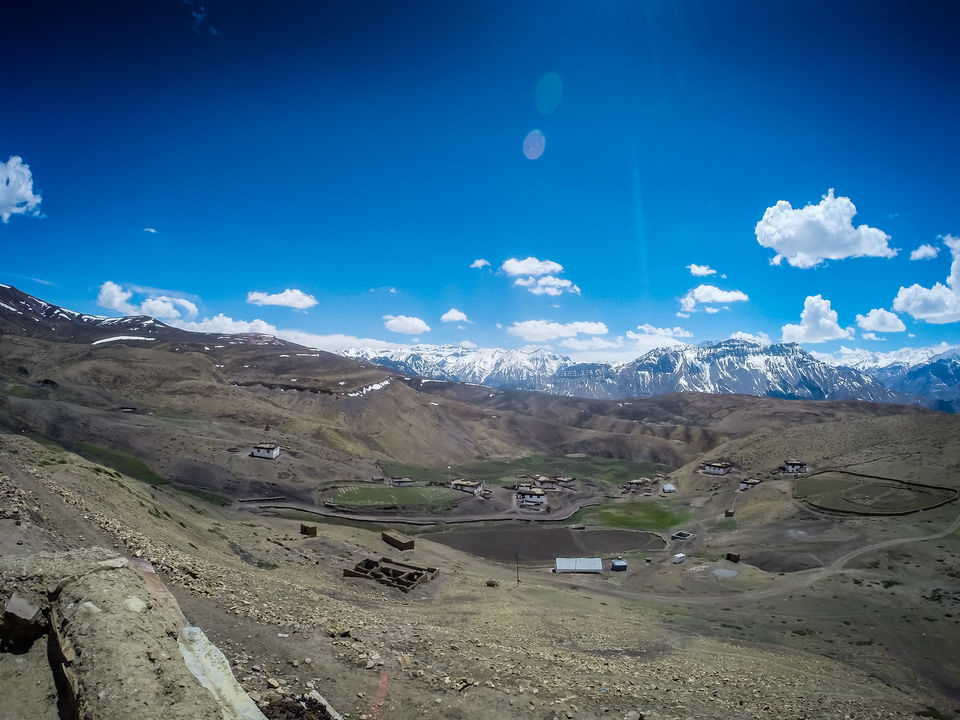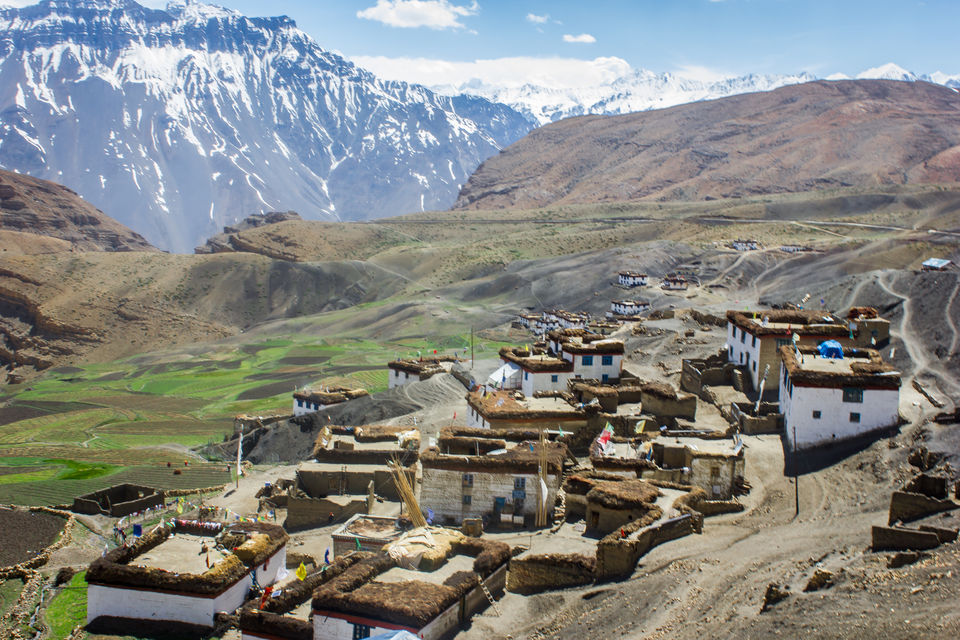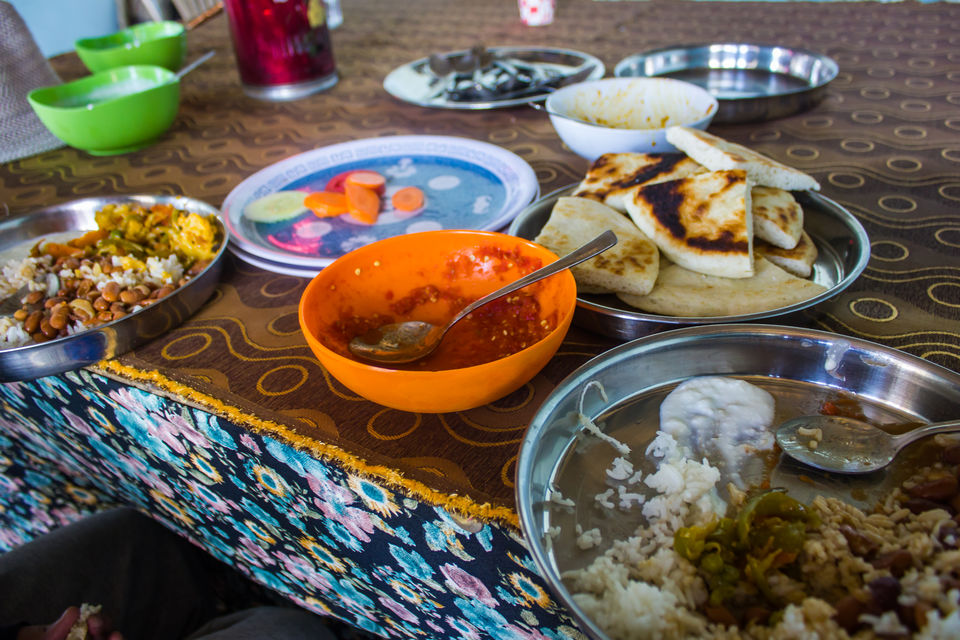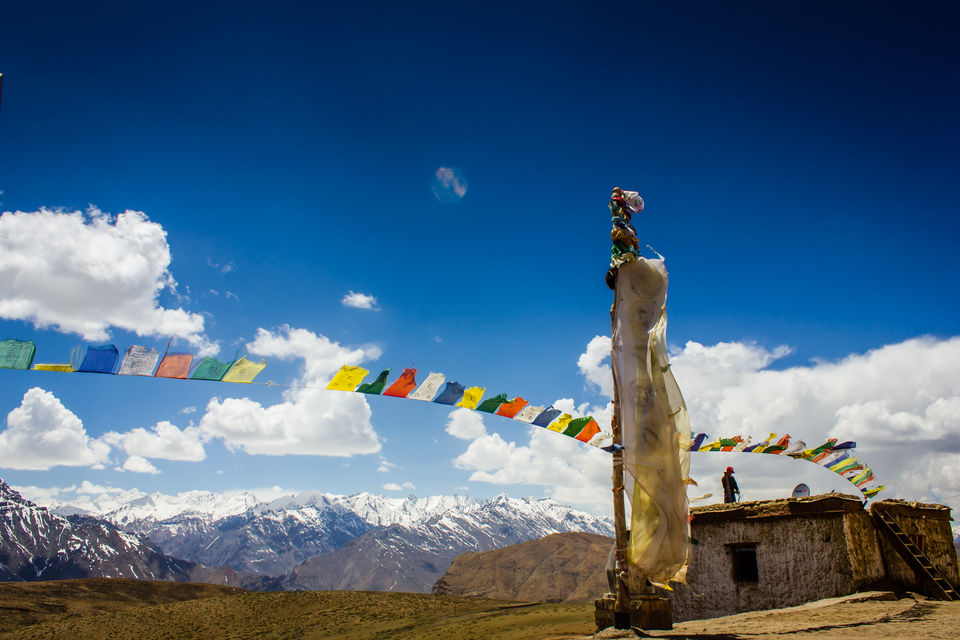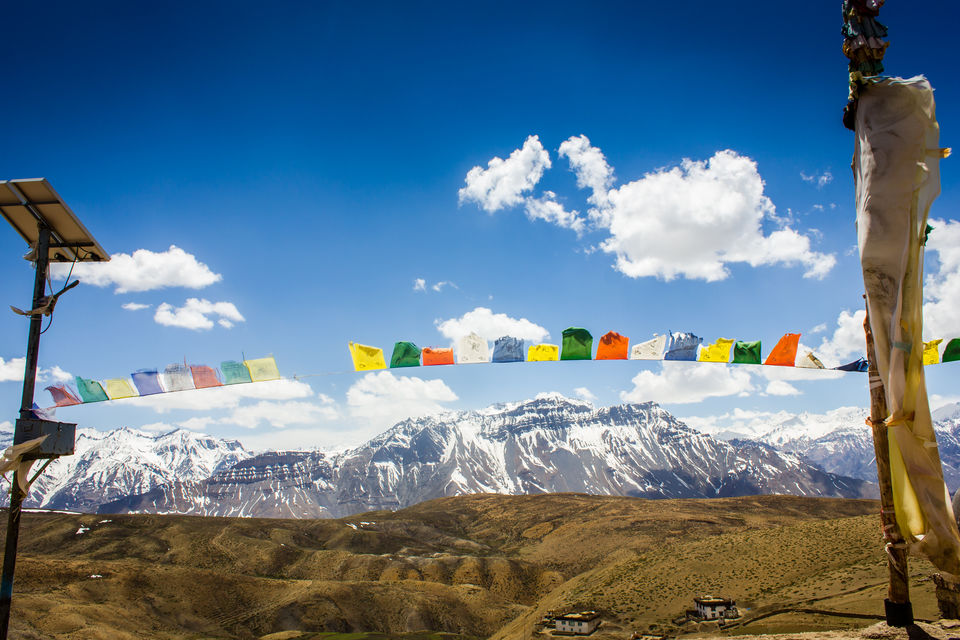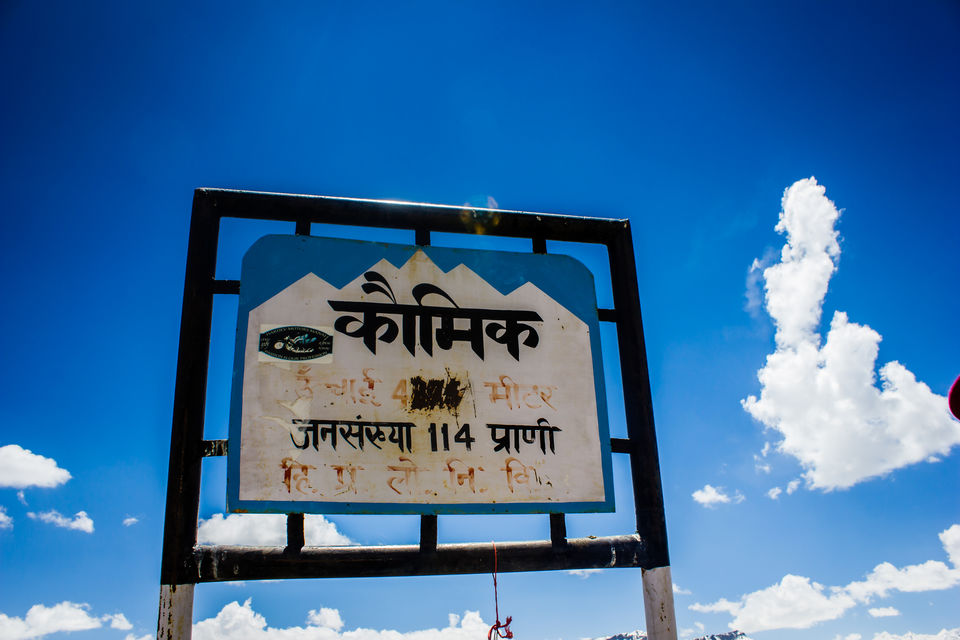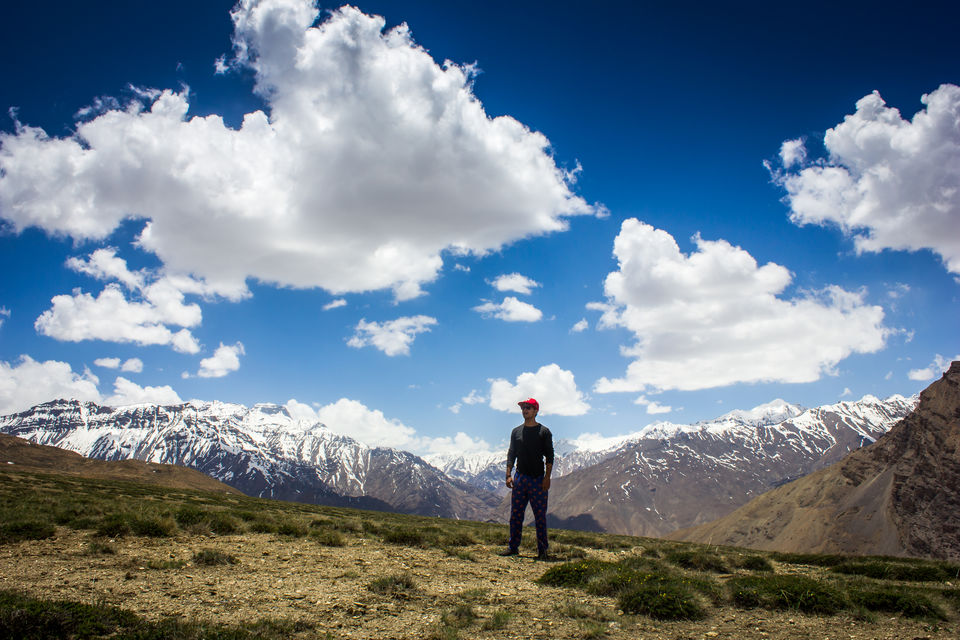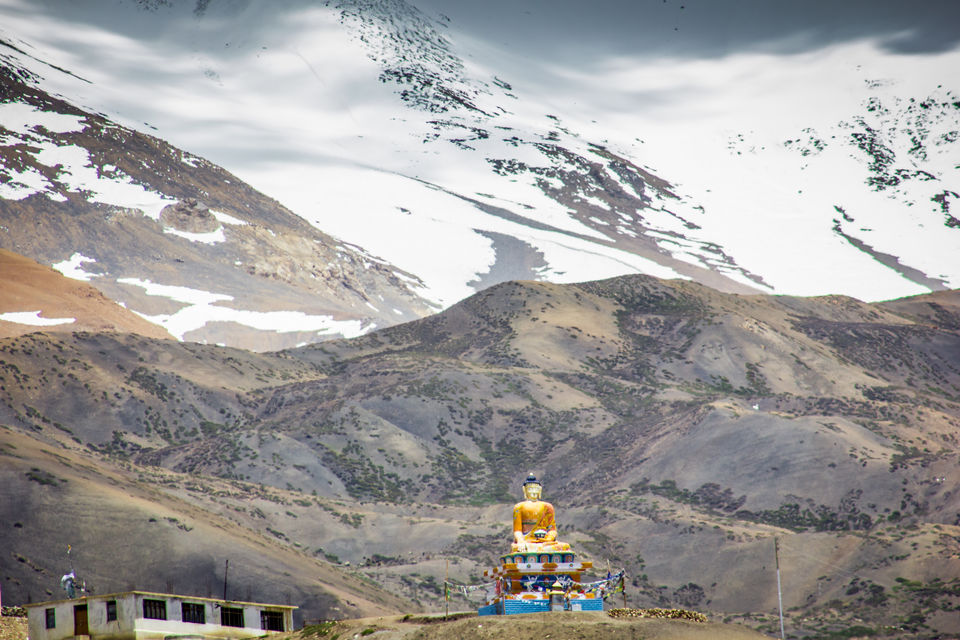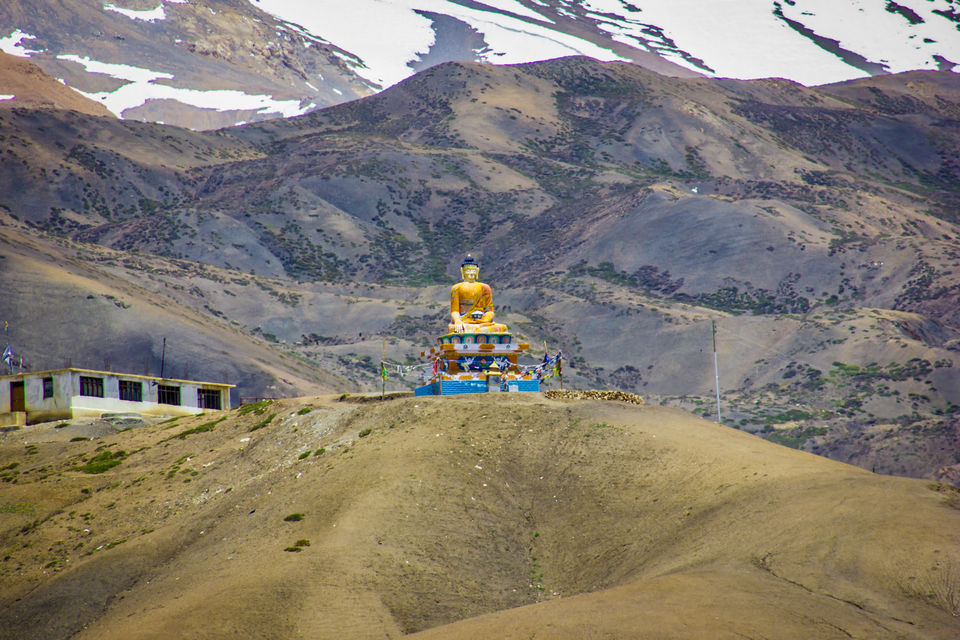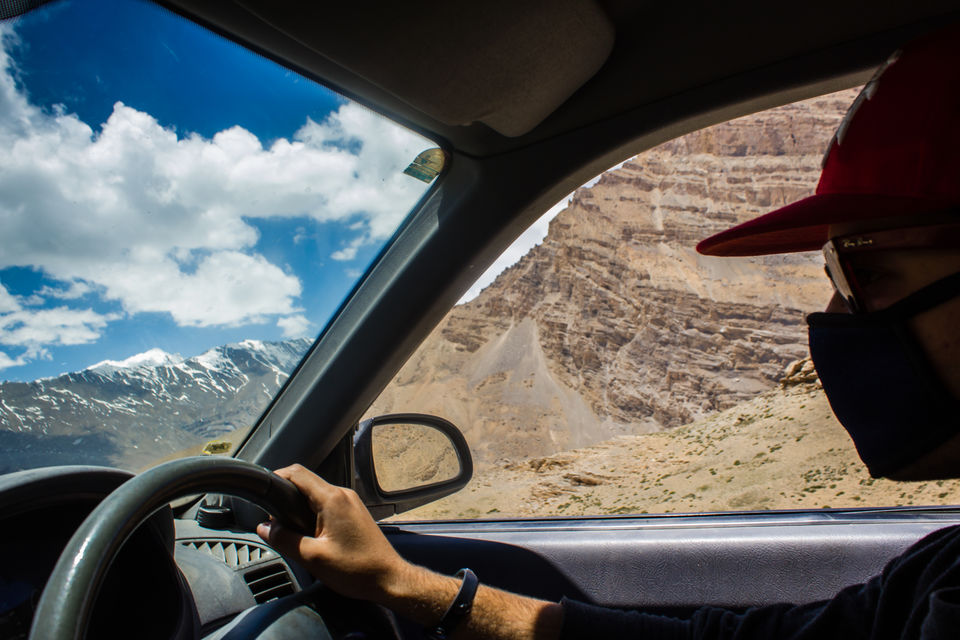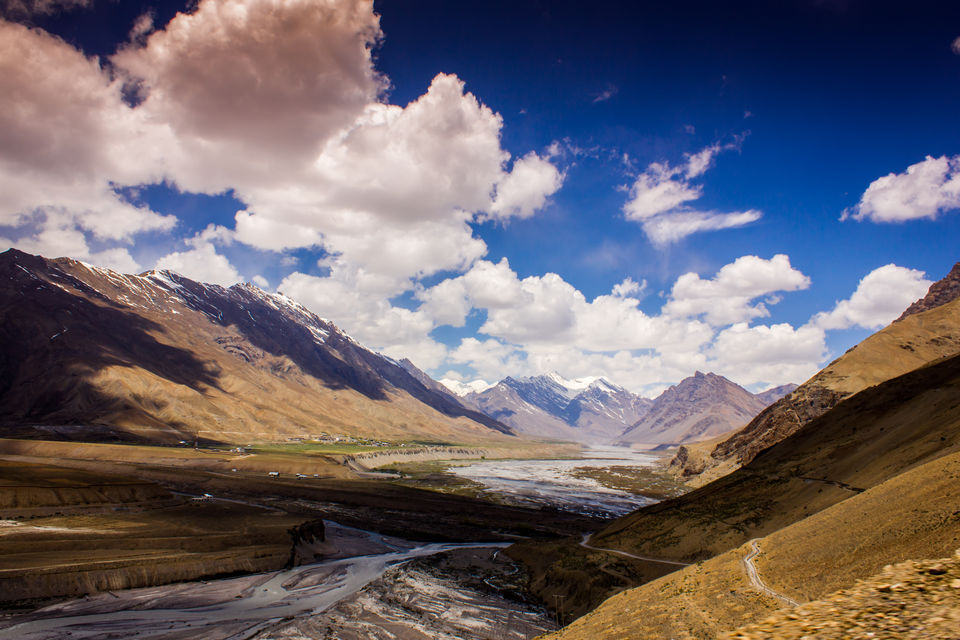 We left from Kaza at around 12 in the afternoon to visit the highest motorable village in all of Asia(and arguably, the world). I've been picturing the road to Komic in order to be able to write about it but I am at a loss. I would just say if you're looking to run away from your hustling life, away from the honking cars, office calls or well, anything at all.. this is your dreamland. Nothing at all seemed real as we passed the two villages in between, stopping at the viewpoints of both. The roads were picturesque with a silence so overwhelming that we had to turn up the music's volume. Having encountered flushed greenery at Langza, the roads took to hiding between great rocks of the Indian Grand canyon if you may. Cold desert and beautiful skies led to Komic monastery in about two hours.
On entering, we were greeted by the sweetest monk who invited us to eat lunch with him and the others. He kept saying, 'Come soon, they have started eating.' We took a while to catch our breaths and moved hurriedly toward the dining room. There were about 10 men who had just finished eating and were sitting in the sun, conversing. I sat on a chair occupied by a very warm fur coat. The monk served us two plates HEAPED with kidney beans and rice. On the table was a delicious plate of bread we had never eaten before, which we couldn't get enough of. The monk came in smiling and asked, 'How was it? I made it. I make all the food here!' And it sure was mouth-gasming. We struggled to finish the entire amount of food served to us, scared of offending them if we didn't and washed down the food with some heart warming tea. Then we went out, washed our own dishes and stomach full bid them good bye and started back. It felt like we had gone to visit a relative who had remembered us while we never had the time to care. We were well fed, smiled at, asked about our well being and sent back happily with a parting 'Come again!' No questions asked.On the way back we took another route(not the one we came from) which gave us a thrill we can never forget. The roads were impossible to drive on with no space between the edge and the tyres with crazy cuts visible on the ongoing track. It was steep, rocky, bumpy and just un-driveable. Anunay drove through as I took a life's last monologue at every steep turn. That's what happens on the passengers seat! It is NOT easier than the drivers, trust me. At least they have something to keep their mind hooked on instead of next second predictions. My soliloquys ended as we hopped back to the normal terrifying valley roads after the crazy terrifying ones. Well, no harm done. We now had another story to tell! We had regretted and enjoyed becoming gama in the land of the lama. Advisory: It is injurious to health. I hope this is enough to inspire you :DLooking back, I regret not having hunted for fossils in Langza(though I got one from a friend in Kaza) and star gazing with a telescope at Hikkim. Try to spot wildlife like the snow leopard and the tibetan wolf present in these areas. Definitely stay a night at each if in need of the solitude and the real experience. All the villages offer homestays(better booked in Kaza before coming) and there are other villages around which you can visit on foot.
14,435 feet above sea level, Langza is a small village on the road from Kaza to Komik. A population of just 137 inhabits the area, watched over by a statue of Buddha. The village belongs to the Sakyapa sect of Tibetan Buddhism and has a 1000 year old temple. Langza is best known in the valley for its richness in fossils dated back to when Spiti was submerged in the Tethys sea. Other attractions here are a trek to Kanamo peak Tsyonyeti lake Chumo Tso lake The trails aren't well defined so its better to enquire from locals before setting forth.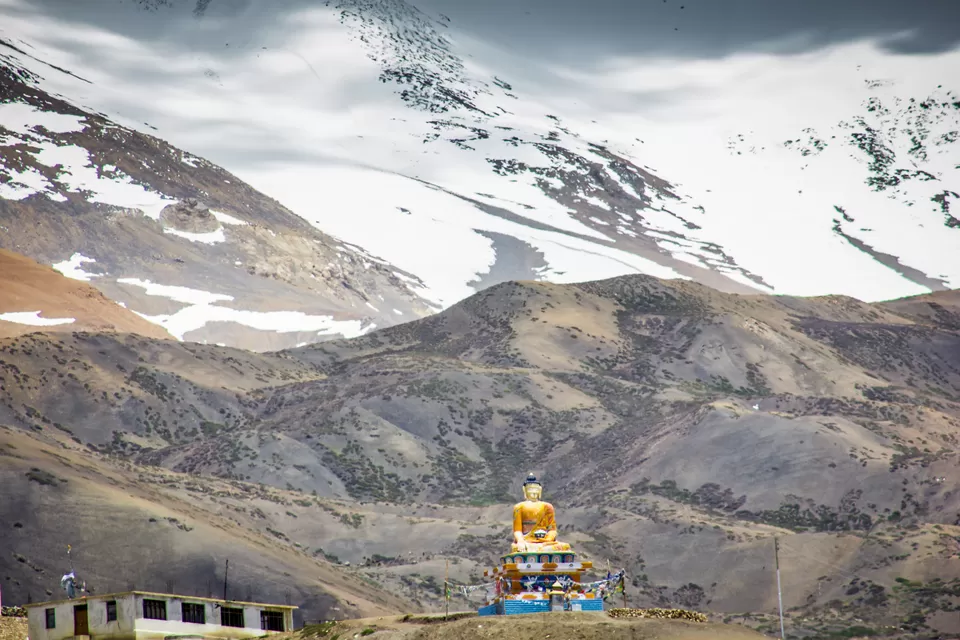 With the worlds highest polling station and post office, Hikkim village stands at a height of 14000 feet. The village's population is 167 and has a panaromic view of the mountains.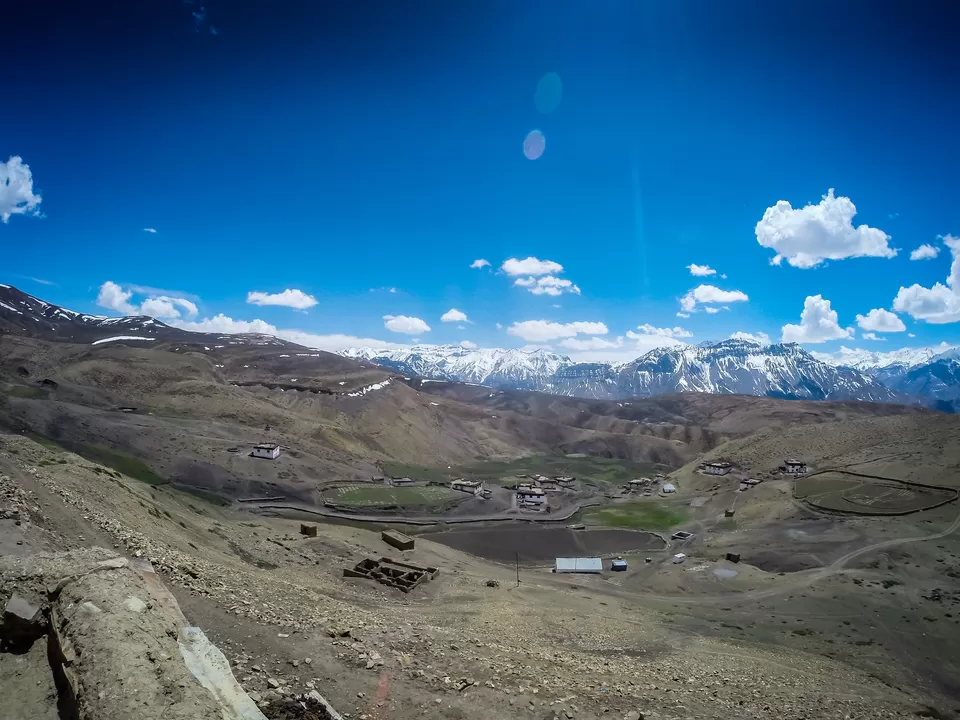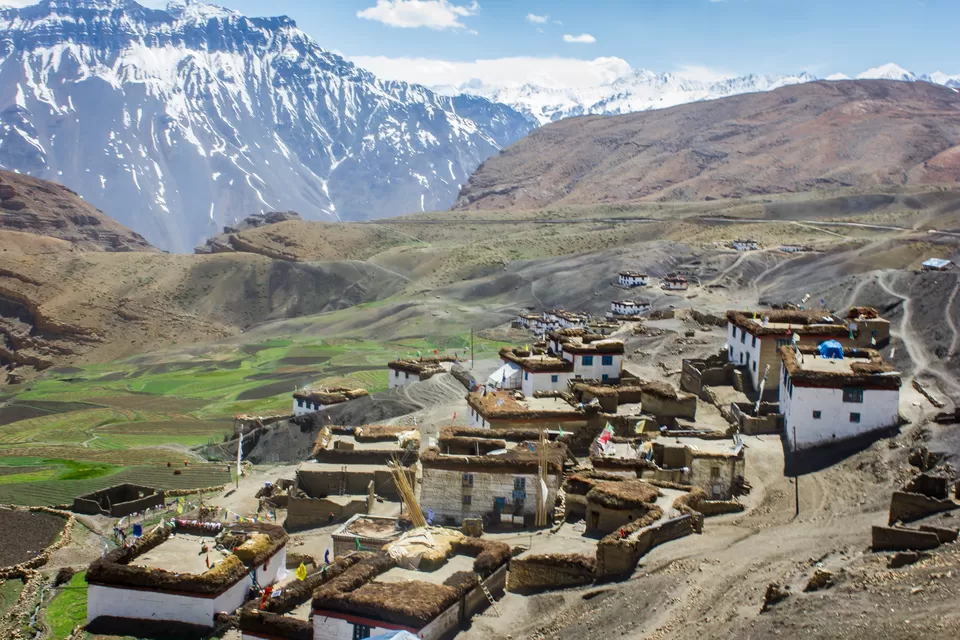 At a height of 15000 feet, Komic village is considered to be the highest motorable village in Asia. It has a population of 114 and is home to the Tangyud Gompa which is the highest motorable monastery in Asia. Ko-Snow cock-mic-Eye since the village gives a view of the valley in the shape of a snow cock's eye.