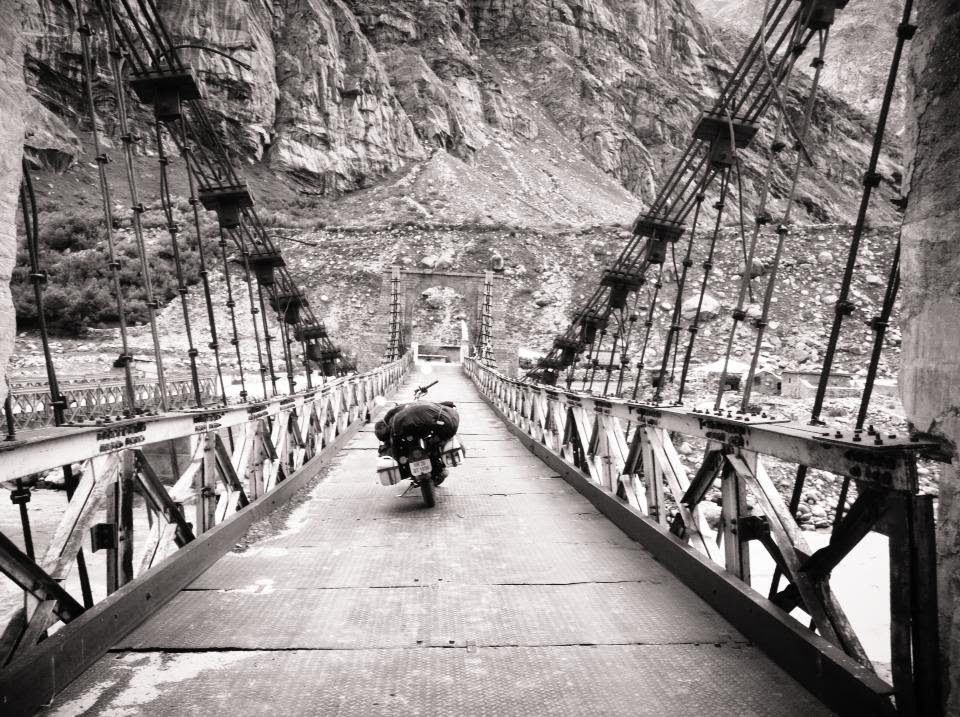 I went and never came back!!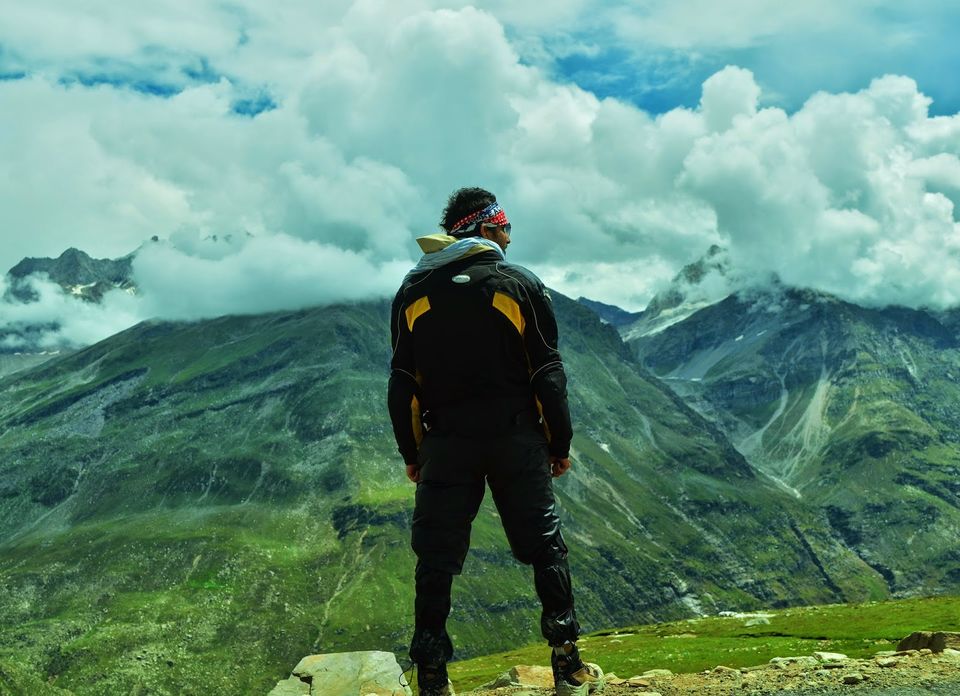 I was dreaming of bikes thumping through the valley, I could literally hear the sound. Ohh!! wait, the sound is from outside the hotel. It was 4 am and people had already started their way to cross rohtang la to avoid traffic jams and irritating tourist crowd. And we were still enjoying the comfortable slumber of our bed and blankets. I saw to my right, Bhaavik was snoring comfortably. On my left, Ankit was enjoying a sound sleep. So, I told to myself, Shut up and enjoy the sleep.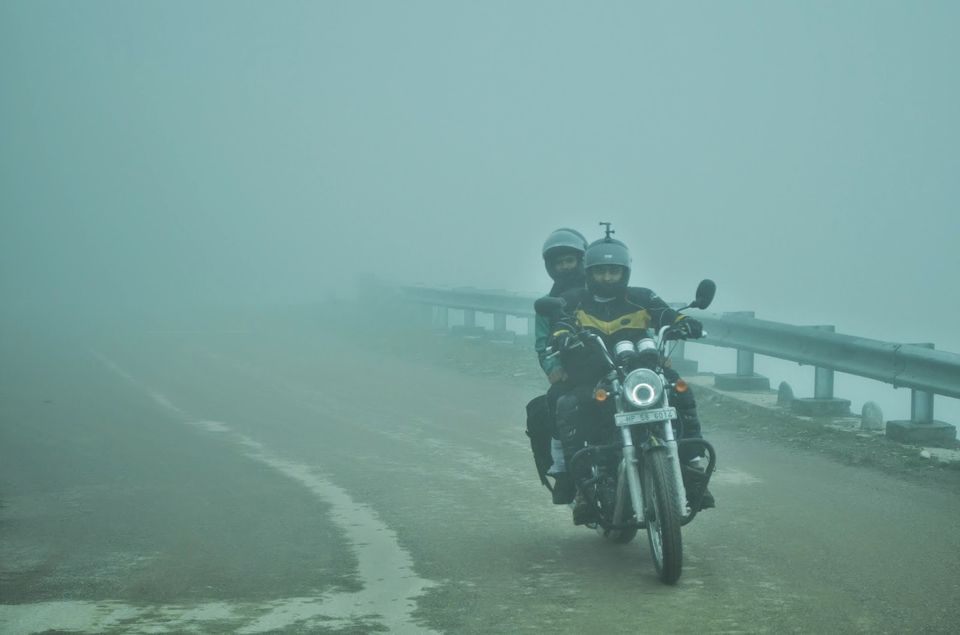 We woke up early morning, well early in my definition at least. At 9 am we were ready and done with breakfast. Bhaavik and Ankit were thinking of buying those jumper suits on rent to avoid mud and muck or rain. Well!! I was sure. I am not going to branded as a joker in this trip. Nah!! No way. So they also dropped the idea. And we moved. Wow!! Remembering my last trip through this beautiful lush green sagoo valley I was here again to experience this beautiful jaw dropping road trip. I suggest, people who cannot or do not want to head beyond Rohtang La, atleast do a bike trip to Rohtang from Manali. It will be one of the most beautiful trips ever done.
Cutting through fog and riding on the freshly washed black tarmac above the clouds, I was already on cloud nine. I actually didn't care for Bhaavik and Ankit and instead enjoyed my solitude with nature. I somehow enjoyed riding alone more than riding with group. The mountains, the myst, everything was purely magical. Though I was on this road the second time, yet every turn and every mountain was as fresh as the morning dew. As fresh as the smell of a cracker burst. As if something is happening for the first time in this eternity. Everything was just plain simple fresh. I cannot explain about what I felt more than this. Ahh!! While writing and remembering that road to Rohtang La, I went back in time. I would ride and take a lead, park my darling on the side and enjoy the beauty while waiting for my travel mates. I regularly warned Bhaavik of the mud and muck on the way to Rohtang in a way an experienced biker does. And came the first encounter with mud, I was the one to slip and fall down. A little embarrassing for me at that moment. But it was just a trailer. The main movie was yet to be seen. Knee deep mud and we had to cross it on our bikes. It was a task like a video game. Our princess waited for us eagerly on the other side of the mud. But wait, this is a never ending mud. We did some team work, and some recce on how to decide the best route to cross it. The engine was screaming and the tires splashing the mud on both sides. Bike skidding here and there, balancing the bike properly to avoid any unwanted damages, It was a bit exhausting fun. Our shoes and jeans had lost there colour now and were completely brown. Finally after managing the mud, the oncoming trucks, the vehicles in hurry and every bits and pieces of this mud story, we made it to the other side. Wow!! what a hell ride it was. Had a quick Maggie after this and rode to the Rohtang Pass. It was not quite what I saw last year. Obviously you can't find snow in the month of August. It was green and windy. Damn windy. Windy enough to make me conscious about my balance. Enjoyed the view of Spiti from there. A young boy came and asked me if he can get a photo clicked on my bike. I gave him my rider jacket and gloves as well. His father was joyfully enjoying the episode until i asked the boy, So, when are you riding to Leh?.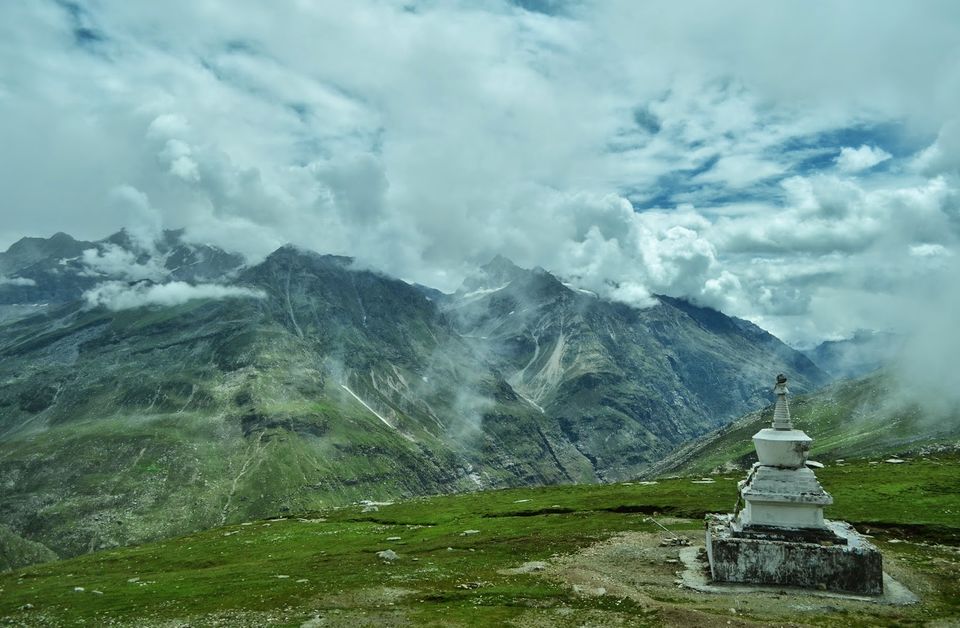 Time to move and head to the unknown land. Descent was not a problem and we easily and timely reached Gramphu. The road splits here for Leh and Spiti in different directions. Had a quick lunch at Gramphu and kick started our hearts with full enthusiasm.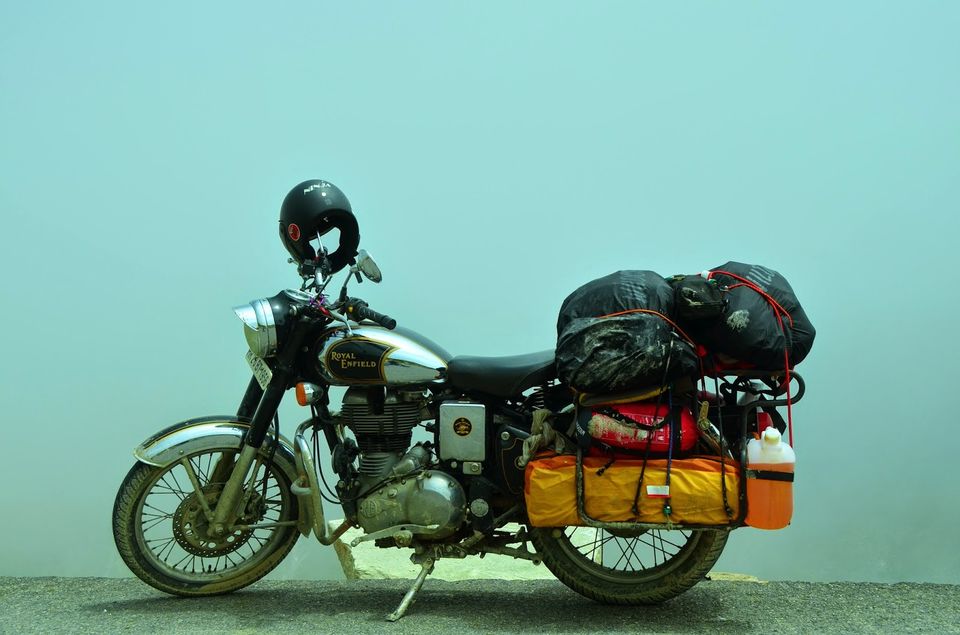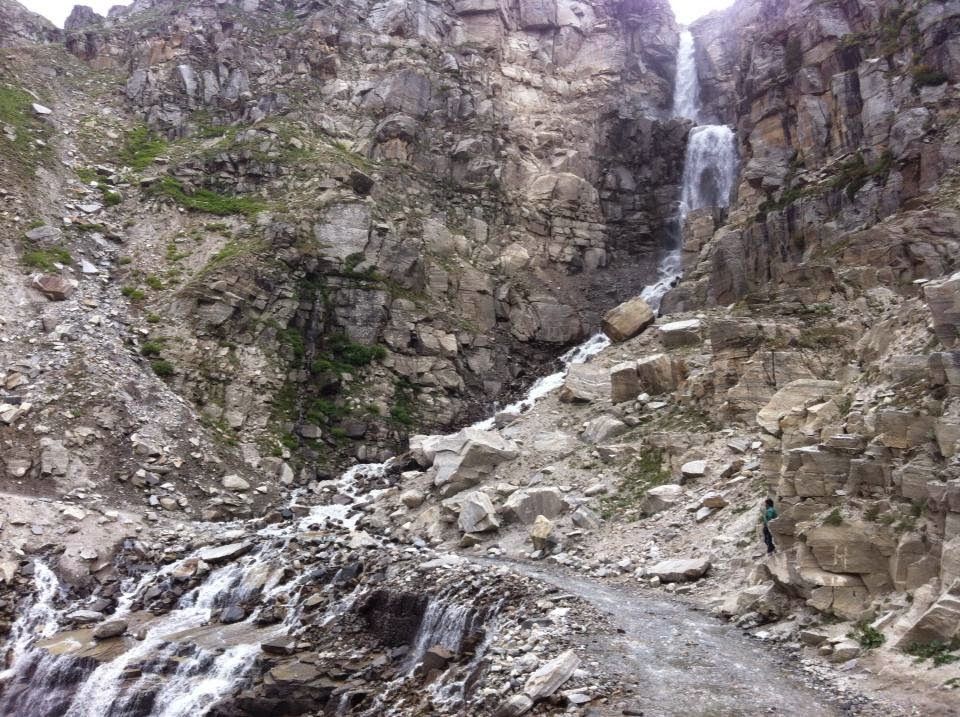 Man!! what is this? How are we going to cross it? Is there a road even to ride through it? Was my expression, and probably the other two as well though the same, when we encountered our first nallah. Nallah or water stream, I would rather say a water fall on the road. I got down from my bike, exploited my Quechua shoes in the water and did some god recce on how to cross it. I took the nallah first and then guided Bhaavik on how to cross it. Wow!! Riding through that icy cold cutting water stream and through those big round rocks, crossing the water stream was just the start for us. We celebrated our victory over the water fall unaware of the coming surprises. A truck driver spoke to us from inside his truck. We came to know he broke the truck's steering column while crossing this stream and also told us to be aware of the pagal nallah. What is pagal nallah. If we crossed this we can cross any nallah. And we rode again after quickly drying our socks and shoes. The road was in the worst shape I had ever seen in my life. I barely could see a piece of tarmac even. It was just rocks and stones. On the way we met 2 riders, a foreigner and an Indian on pulsars. They looked as if they just came from hell. They were scared of where they just came form. Man, they are just two idiot riders not knowing the fun of crossing streams. And soon I came to a place where I couldn't literally guess the way was. There was a huge water stream flowing in full force just in front of me. I confess, I got scared. It was spine chilling thought of crossing it. In a meanwhile Bhaavik and Ankit joined me to share my fear or  I can say add some more to it. Dude, How are we even going to cross it. Is it even possible? But then me and Bhaavik again did some recce and decided to cross it. We found a way with less depth and little rocks. I somehow managed to cross it and my Enfield performed superbly, so did Bhaavik's.
Then Came few tibetan riders and we guided them across. We were just riding in a relief that we had finally crossed the infamous Pagal Nallah, I came to a turn that I cannot forget. I never had heard about this nallah, the Chota dhara. A blind left turn with chandrabhaga river flowing on your right down the steep slope, water gushing on road with full force from right above where you have to go. Ohh God, again. The tibet guys had just managed to cross this nallah so they guided me through the best possible way. I somehow managed to cross it and park my bike on the other side. And then cam Bhaavik riding from behind. His looks told me very seriously that he was going to lose hope. I motivated him a bit and asked him to ride. I told him I cannot balance his bike, I had no riding experience on it. He agreed to ride through it. I went in the icy cold water, stood by him and pushed his bike to get him through this nallah. He had some serious guts to actually come on this route and cross all the nallahs on his own on a bike he never rode. Wow!! what a relief it was.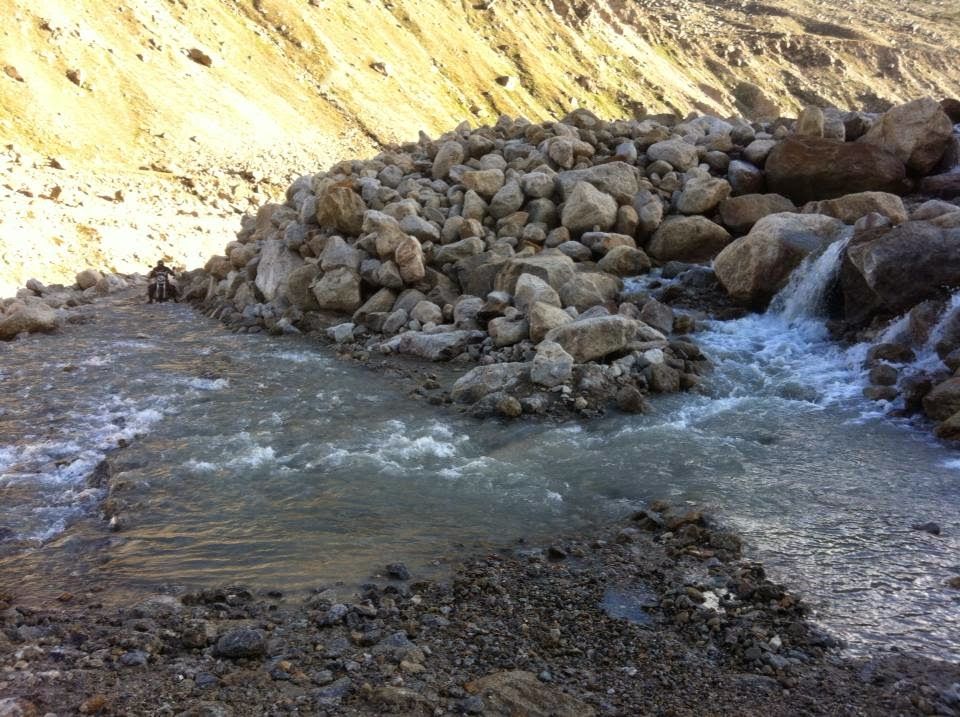 It was now dark and I relied on Bhaavik's headlight. We could barely makeout the exact way and were a bit conscious about the river flowing besides us. Thanks to the clear sky that allowed some moon light. We had no idea where we are and where we are heading. We were just riding to some direction. Suddenly we saw some break lights far away and it was the biggest relief of that moment. We could guess that place was Batal. A small roadside dhaba and guest house just before you start to climb for Kunzum pass. We could get accommodation in the guest house with some manageable quilts and our sleeping bags. Had some good food, enjoyed some words with uncle and aunty there. Yes, the dhaba was run by an old uncle and aunty. It was the only dhaba after you enter into spiti and before Losar, which was at the other side of Kunzum pass. So basically, it was the only safe place nearby. The uncle and aunty were awarded for saving close to 150 lives during a snowstorm. They served them for about a week until the rescue people came. And this is the only place where you can find a satellite phone to contact your family or friends.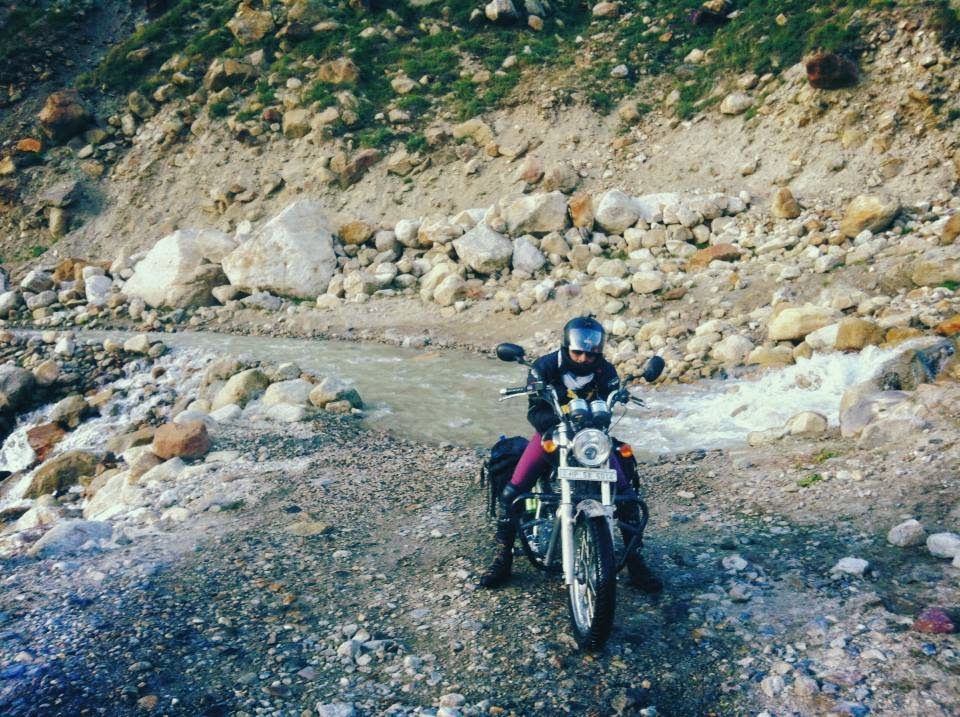 The night was clear as crystal. After a long time I had seen such a beautiful sky. I was actually seeing the milky way that night. The whole clutter of stars was brilliantly scattered in the moonlit sky. I tried to take a photo of that view, but I surrendered in front of the wind. I decided to go back in my sleeping bag and brace for tomorrow. Today was someday to remember.

Hey, you took the pillow. Ok take it back and go to sleep. Keep quiet. Snoring started.