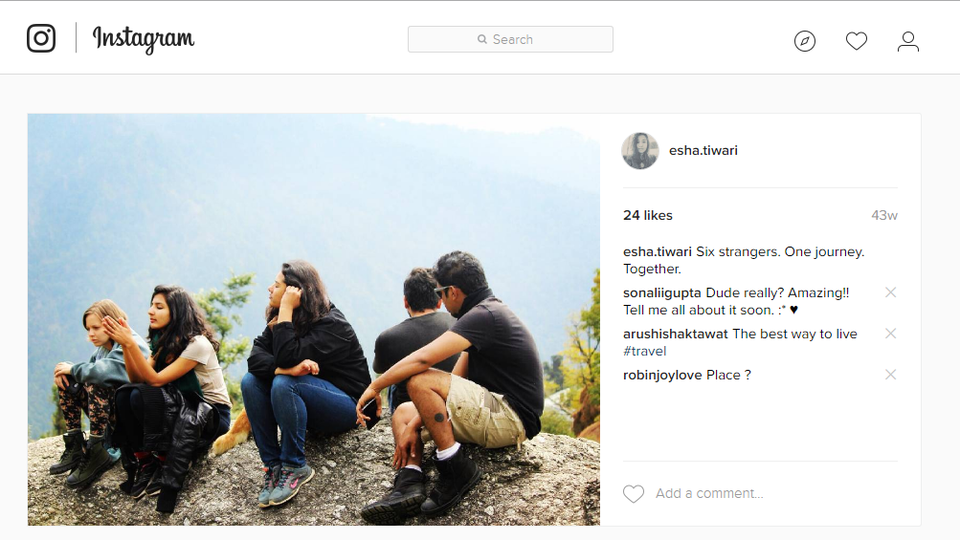 "Stick to the hill" "Stick to the hill" "Dangeeeerrrr!! Stick to the hill". We saw our leader, Ryan Dalton (26), and the one who also organised this tour shouting this at a distant while we were trekking our way up to the famous Kareri Lake in Himachal Pradesh. At that moment Ryan's sight could be advertised for a rear view mirror as we were appearing to him nearer than we were.
"What? We can't hear you", we all said, almost in unison, as were trying to make sense of his wordless humming and rhythm-less waving.
" I saidddddd... Stick to the hill"
What Ryan saw, we were not able to see. He saw a pack of unbridled horses coming down in full speed like children come out their classrooms at the last bell of the day. The road was narrow, so much so that a man wouldn't have been able to pee standing there until he shifted sideways. And the curves of the road were enough to put a bobby pin to shame.
We were a pack of six people. Six people who knew nothing about each other, who just met the night the bus for Kareri, Himachal was supposed to leave. Ryan's horse signal waving reminded me of the first time I saw him waving at me. We were on two opposite sides of the road as of the phone call we were on. I could recognize him from his whats app's display picture, but I guess he couldn't. (Damn you, filters!). We met and were soon joined by Vikram (26) and Revati (24). I (22), who was making a trip with strangers for the first time thought they were the most heartwarming people. Ryan asked me to take Tracy (22) to the bus. Tracy, who was in India for a time as long as a yawn, decided to explore the hidden beauties of the country, while all us decided to put our mundane lives to a locker and throw the key. As we boarded the bus, we could see Ryan convincing the bus driver to wait for just 10 minutes more as one more member of our pack was left. The driver was getting as a restless as a butterfly caught between fingers and so were the rest of the passengers in the bus. After not so much delay, our 6th member arrived. She was timid, a little uncomfortable and a lot shy. She was Chetna (16), who was seen off by her whole family at the stand.
So began our journey. We didn't think we were a taking a trip that would ring in our head like a song on loop. We were meeting for the first time but we were ones that chattered till the break of the dawn while hearing occasional "Ssshhhss" from the rest of the people in the bus. Rum and stories were enough to keep us awake, and for Chetna, we had juice.
What followed was nothing less than a panorama of wakeful dreams. From bumpy jeep rides to the freshly charcoal cooked Rajma Chawal at a village local's house, to the shivering nights were we thought we could wear the concrete off the walls to survive, to our favorite local cook who would make the maggi a little extra spicy if you smiled a little extra warmer, every incident gave us a feel like surfers get on a high tide. Surrounded by beauty that could make rocks blush, we stamped Kareri onto our hearts for a lifetime.
On our way back, everybody was different. While all of us a little younger and wiser, Chetna a little older and 'rummier'.
A small beautiful village in Himachal Pradesh. The lake of the village is like that one artistic kid in the family that believes in staying aloof from the rest. So the lake is a little far up which makes for a beautiful trek. Popularly known as the Kareri Lake, it is guarded by a billion stars at night. The breeze is silent letting your wolf pack howl till your throat aches. But it's strange no one does that. The beauty is enough to make a wild beast kneel down to pray.