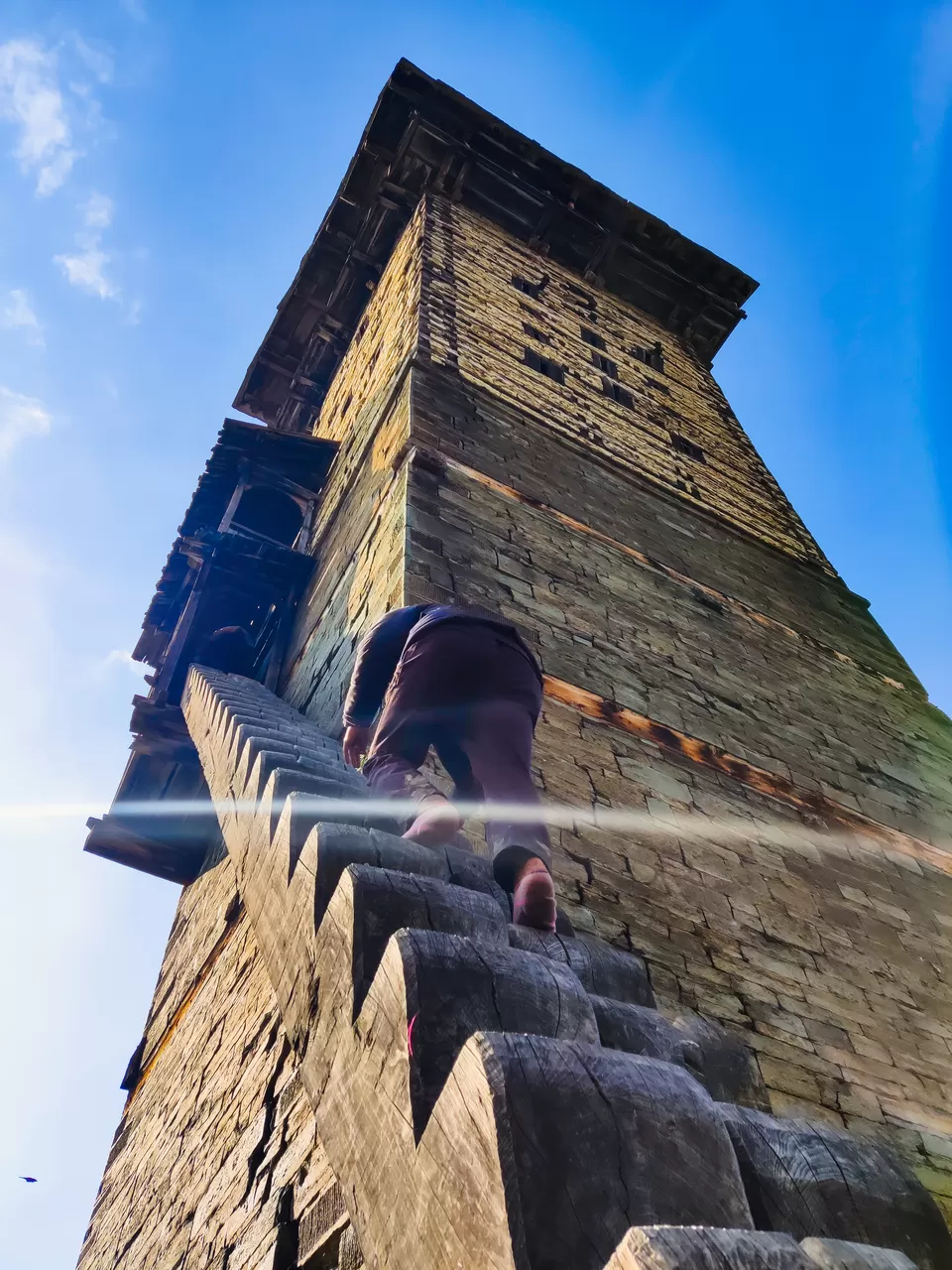 I recently went on a trip to Jibhi, Himachal Pradesh. We decided to go to Chehni Kothi on our second day, located in a village called Chehni; near Banjar. There are two ways to get there. One, you could go by a 4x4 vehicle up to the village, the other is a 45 minutes to 1 hour hike from the Shringa Rishi temple gate.
Initially we planned to go by car, since we had a 4x4 vehicle. However, because it had snowed a few days back in the same area and the steep roads were wet 'n' slushy, causing a lot of vehicles to get stuck along the way. Adding to this, the tight narrow hairpin turns, became very challenging due to deep muddy treads. The increased vehicular traffic was due to a local 'Mask festival' at the temple near Chehni Kothi. So we decided to park alongside the road and hike up from there.
Let me tell you the hike up the mountain was a sight to behold. Everytime I looked back, I was blown away by the breath‑taking views of the valley. As we slowly ascended, I saw my first glimpse of the tower. Even from so far away, I could make out its magnificent architecture. I can shamelessly say that I am a slow hiker, as I have a serious lower‑back issue. Due to this I take it slow to enjoy the beauty around me and avoid any unecessary injuries. You can take your time too, just make sure to have an early start. I always carry my walking stick along with me, as it helps me to balance and walk through narrow 'n' steep hiking trails like this one. I slipped a few times but my walking stick had my back!
Upon reaching the village, the massive structure of Chehni Kothi blew my mind. Situated at an altitude of 7037 ft, it is said that this tower is the tallest standing structure of its kind in the entire Western Himalayas. It is made up of stone, wood, Cob (mixture of soil and cow dung) and limestone. The height of the tower is between 30m - 45m. Some claim this watch tower to be 1500 years old, but according to some locals it is not older than 250 years. The tower was apparently designed as a defensive structure with no permanent staircase at its entrance. There is a wooden staircase alongside the structure at an inclination of 40 - 45 degrees to access it. A word of caution to all of you while climbing, the staircase is steep and can be very dangerous as there are no railings for support. A sign board alongside the structure also lets you know to climb at your own risk. It was a very windy day and I decided to climb back down midway as I was having a hard time balancing.
An interesting fact about Chehni Kothi is that it survived the Kangra earthquake of 1905 that took the lives of over 10,000 people in Himachal Pradesh. This incident caused the top two floors to collapse, however the structure is still intact to this day.
It was an endearing experience, something I would encourage all of you to experience. From the thrilling off-roading experience to the beautiful hike, it tested me both physically and mentally; making me stronger and brought me back home with a whole new perspective.