I have been travelling to Himachal Pradesh for a long time now. Having been to a multitude of places - crowded and aloof, common and peculiar, banal and breathtaking alike - I can confidently say that Jibhi, the cloistered little town in the heart of Banjar valley, is indeed one of the finest places I have seen! As soon as you step foot in the quaint town, you are introduced to the symphony of notes produced by the constantly gurgling Banjar river in the valley, mountain birds chirping in the distance, and the chanting wind bringing whiffs of the verdant mountain air!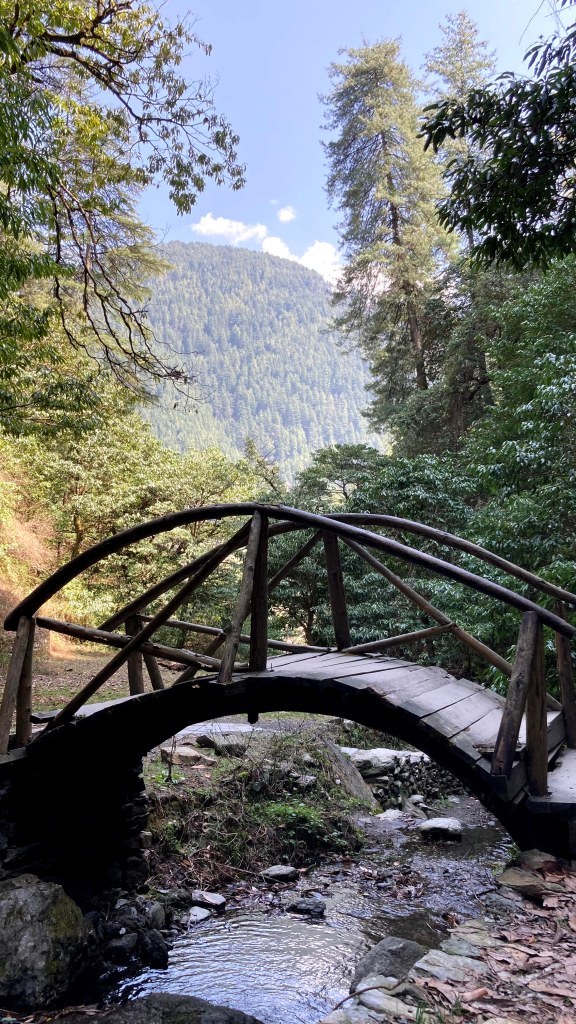 Why Jibhi?
Jibhi is home to a fine cultural heritage, a number of refreshing desolate mountain trails, innumerable surreptitious photogenic spots and lastly, the people - villagers who are content, proud, accepting and ever so appreciative of what the Gods have blessed them with! I explored Jibhi and its surrounding burgs over a period of three long weeks, went on treks which were hardly known to few (of which, Jibhi has many!), had meaningful conversations with villagers as they proudly showed me their suburb, and met some exceptional travellers on the way who knew what magic nature can have on you! Jibhi is not even close to a quantessential mountain paradise; it is alluring, and its innate beauty prevails that of any tourist destination in Himachal! Jalori pass, Serolskar lake, Chehni Kothi are just few of the destinations to be seen here. But the real beauty of this town lies in exploring the little known exotic places - places which remind you of the grandeur of the Himalayas and Dhauladhars, which will take you back in time, which will make you one with the quietude of nature! Welcome to Jibhi, folks - indeed, the road less travelled!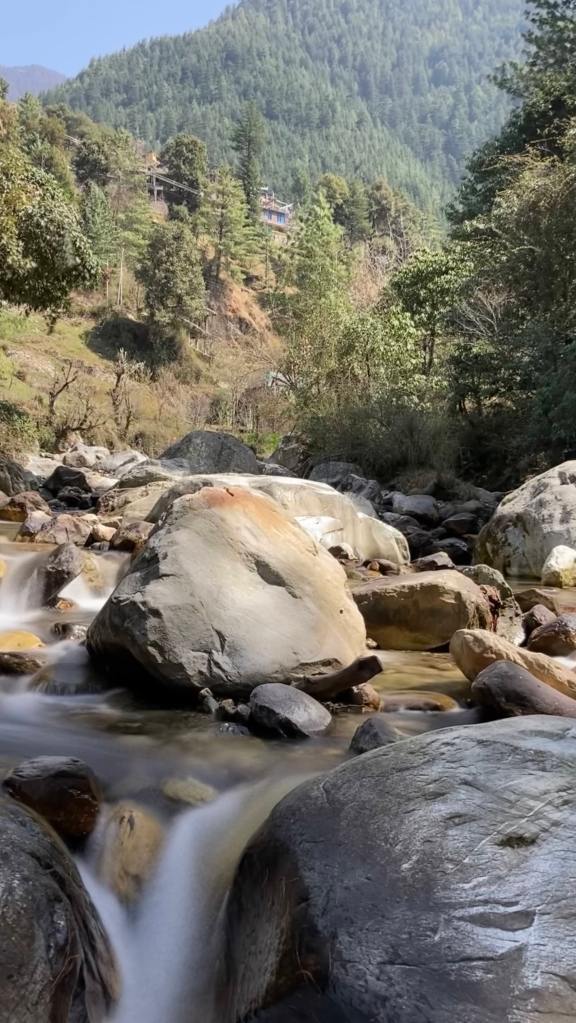 The Banjar valley is well known for unique flora and fauna; particularly, for its Himalayan trout fish. People come here, sit for long hours on the old wooden bridges atop the serene mountain streams and try for a good catch. A couple of surrounding valleys like Sainj, Tirthan and Parvati valleys are also known for this activity. When it comes to accessing some of the greatest Himalayan forests known to man, Jibhi is also a base to explore the 'The Great Himalayan National Park', a world heritage site. In terms of extreme treks, Jibhi provides a good starting point to summit the mighty peaks of Lambri and Sakirn (also known as 'Skirn'), both being ten thousand plus feet snow-capped crests! Typically, people visiting Jibhi often visit Shoja, Banjar, Gushaini, which form good destinations for a day-trip.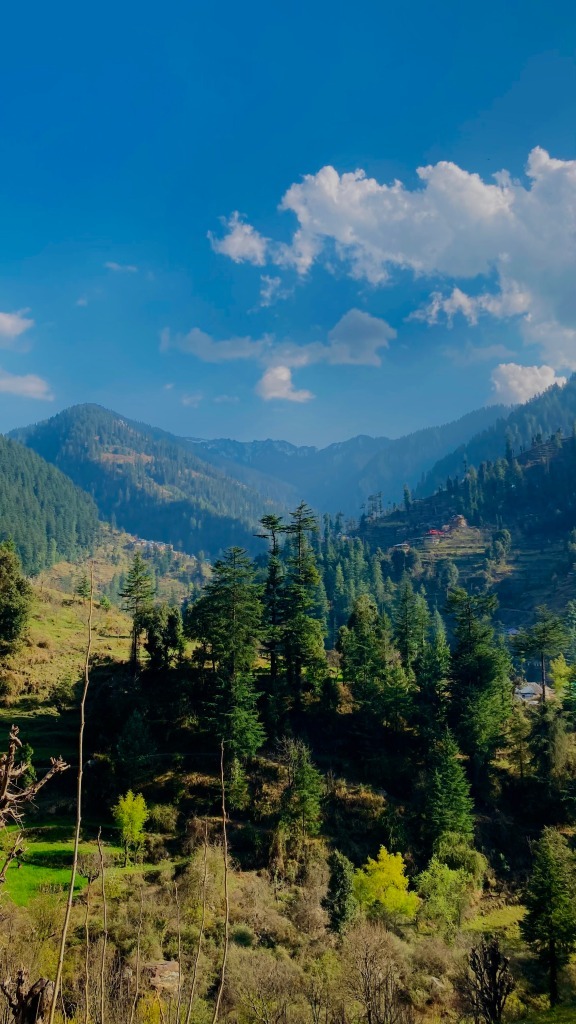 Along with copious natural beauty, Jibhi is also known for its historical and cultural heritage. The Raghupur fort not only provides a panorama of the serene Dhauladhars, but is also the resting place of the highest altitude fort in India. The fort is pretty much in ruins now, but still offers a beautiful amalgamation of history and unadulterated natural magnificance! Chehni Kothi, on the other hand, is a well preserved piece of spectacular wooden and stone construction, that has stood the test of time! It depicts the cultural richness of Himachal Pradesh.
However, what surpised me the most was that despite of the extraordinary remoteness, the Tirthan and Banjar valley has exceptional coverage of mobile network - thanks to Reliance Jio. Trust me when say it, I have seen corporate remote-workers attending their day-to-day meetings whilst sitting in the fresh snow of Jalori Pass! All in all, for the historians, nature-lovers, globetrotters and remote-workers, you don't need an excuse to visit Jibhi - for there are already innumerable reasons why this place should be in your bucketlist!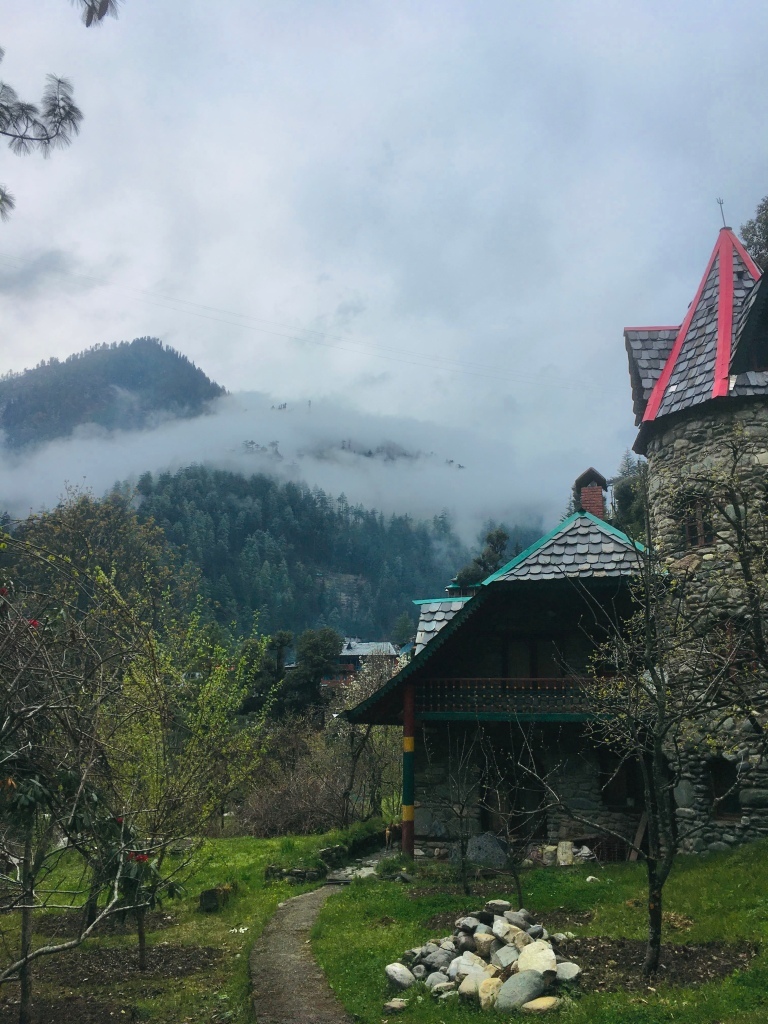 Places to See
Jalori Pass
Jalori pass is a mountain pass about 12km from Jibhi. It is located at a height of 3,120 meters (10,236 ft) above sea level, and provides surreal panoramic views of the Banjar valley up-front. The road to the top of the pass is challenging, but without a doubt, absolutely scenic! This road is a 'challenge well accepted' by bikers and drivers all over the world - the road is typically broken and narrow (thanks to the harsh snowy conditions in winter and scads of rain during rainy season) and has unbelievably steep and sharp turns. The adventure is not only limited to just driving across the pass; the areas atop are also well-known destinations for trekking and camping.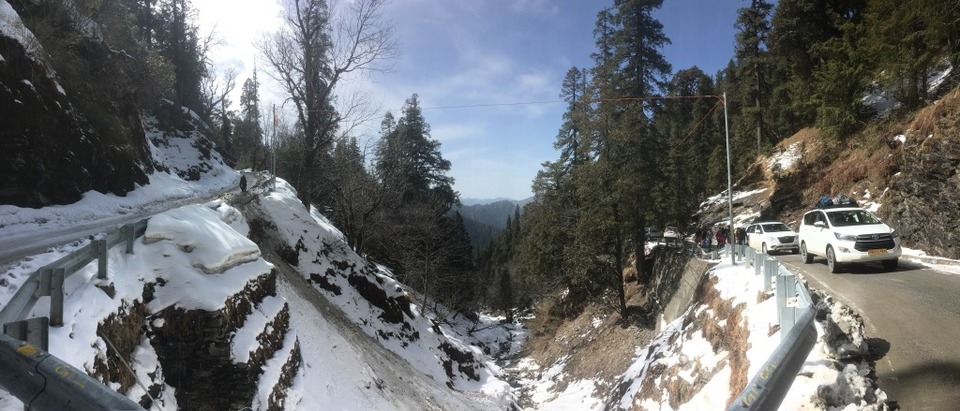 The scenic beauty of the ridge, however, is the prime reason behind why every traveller must visit this place. The pass remains covered with abundant snow till March, and you can still see patches of pristine snow all the way till mid-April. Starting November till January, the pass is typically is closed for tourists due to extremely harsh weather. The Jalori pass route is of significant historical importance too - in order to gain access to the Kullu valley, it was built by the British as early as 1880s. It remains operational day and night now-a-days, and provides connection from Narkanda to Kullu.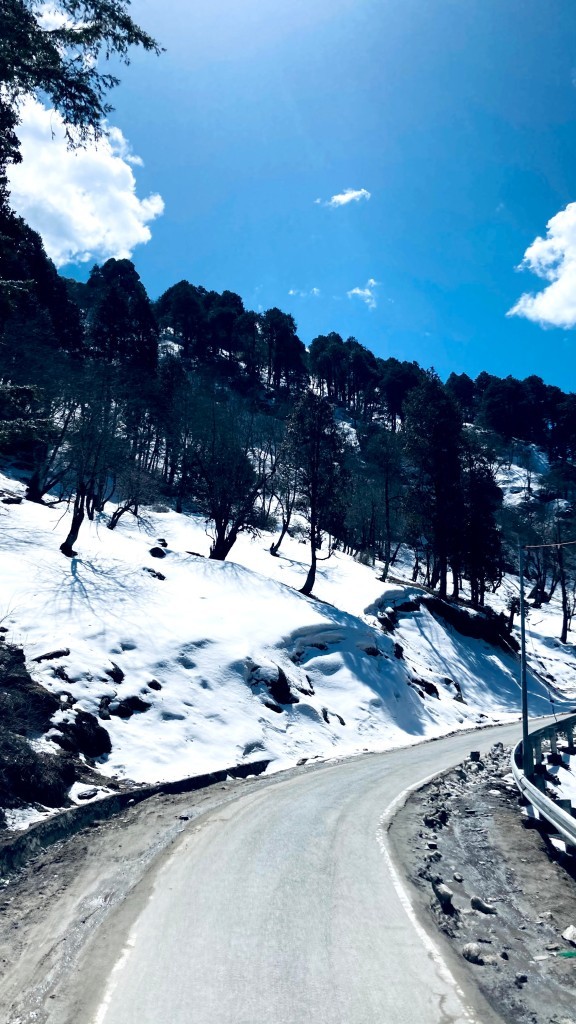 From Jalori Pass, there are two trails - one which heads towards the noteworthy Serolskar lake and another one in the opposite direction heading towards the Raghupur fort.
Serolskar Lake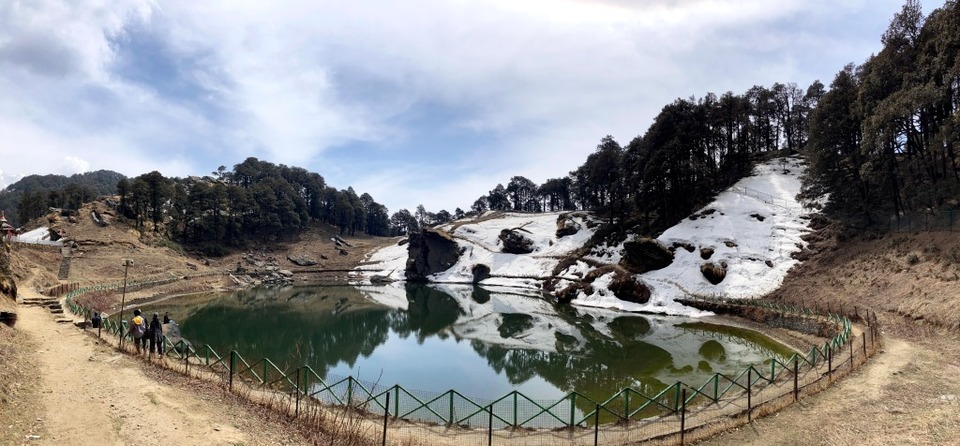 Remember when I said Jibhi has an astounding historical importance too? The legends around Serolskar lake cover most of it! The Budhi Nag temple resides beside this Lake, which is a temple of homage to Goddess Budhi Nagin (Mother of snakes). It is believed that the lake itself is the residence of Budhi Naagin - the mother of all deities of Himachal like Sheshnag, Kamrunag, Ghundanag, Mahunag, to name a few, and she lives in her golden palace at the bottom of the lake. It is said that two birds of Budhi Nagin protect the lake, keep it clean and safe. Being a place of religious significance, it is recommended not to take a dip in the waters or walk on it, when the lake is frozen in winters. Stories about Budhi Nagin can be found in books like 'Naga Cults' and a multitude of legends of the Western Himalayas.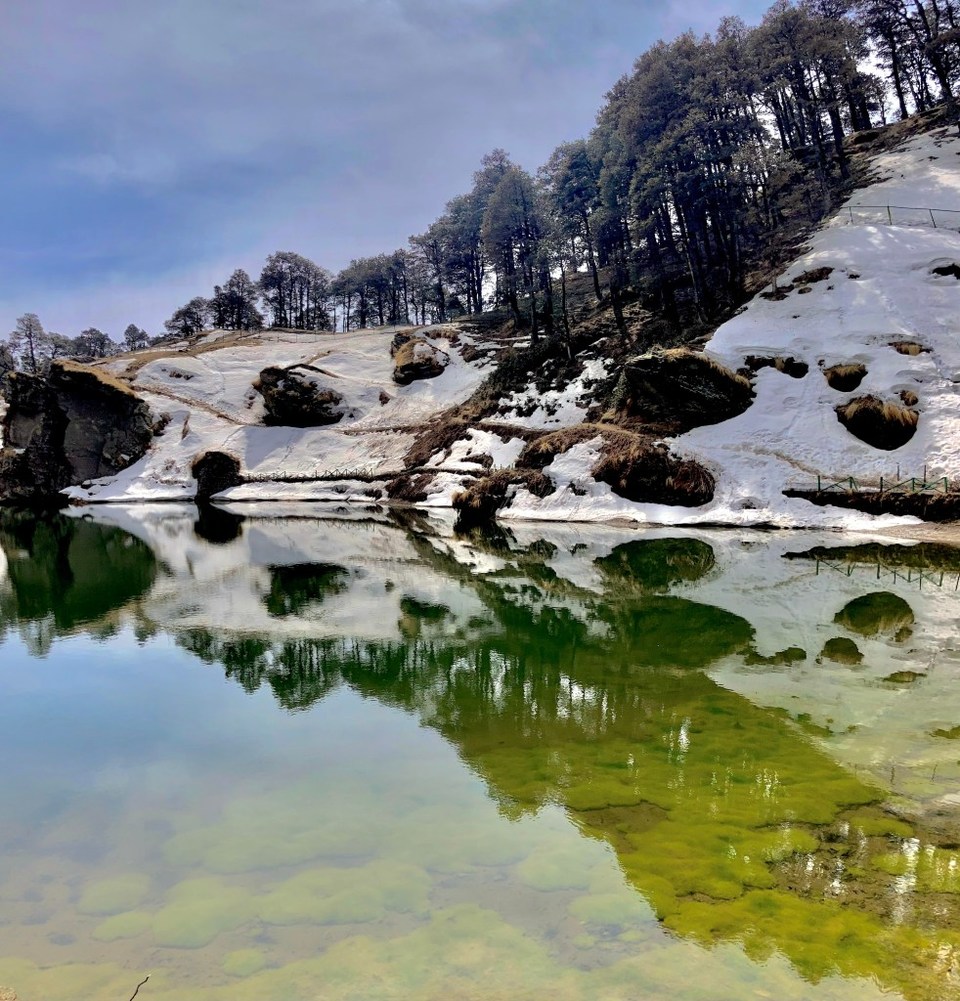 Located at almost a similar altitude as that of the Jalori pass, Serolskar lake is beautiful little lake formed by the melting of ice. The trek from Jalori pass to the lake is around 5km, takes almost an hour or slightly more and is a reasonably easy trail. Because of the recent efforts by the government, the trail is clean and is a delight for hikers! As one decends down in the last section of the hike, the view of the scintillating lake is bound to take your breath away. The beautiful lake sits amidth hillocks covered with cedar and deodar forests on three sides, and the temple of Budhi Nagin on the other. I visited this place in March, and I believe the weather couldn't have been perfect - the hillocks were covered with snow, the Sun was shining bright and temperatures were comfortable enough for most travellers. The picturesque, quiet and clean - everything that one could wish for! Mark this place as a must-visit on your travel to Jibhi!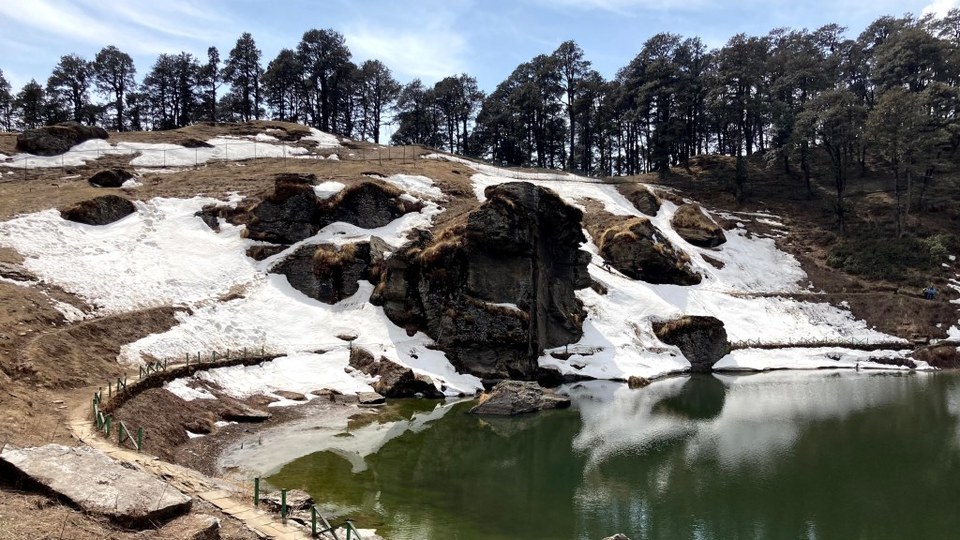 Raghupur Fort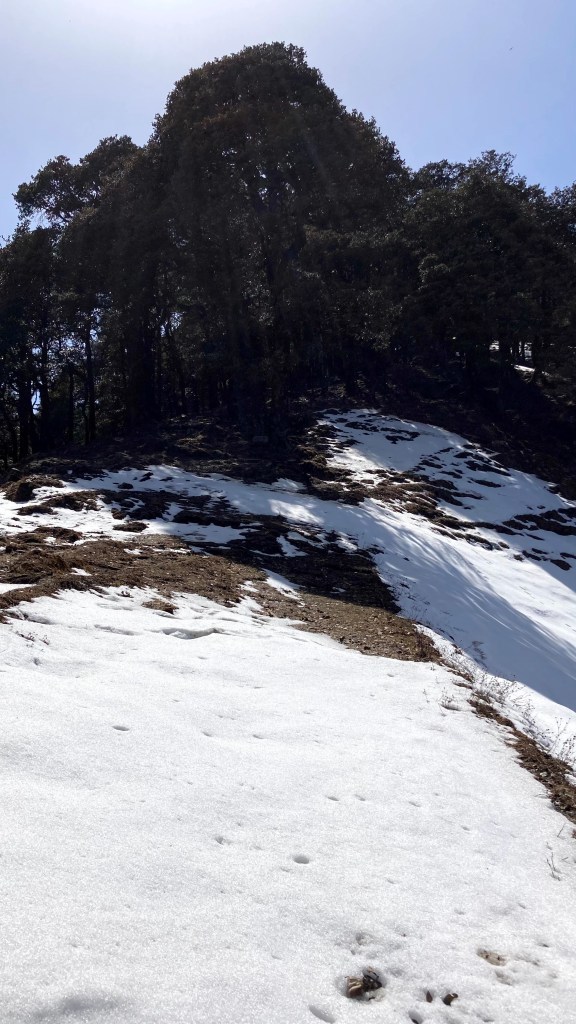 Raghupur fort is a place of historical importance, believed to be built by the rulers of Mandi. The hike to the fort from Jalori pass is not as easy as the Serolskar lake trail - a 3km climb through absolutely stunning rhododendron and oak forests. The trail is covered with lush green gargantuan trees with the mighty Himalayas in backdrop. It took us almost two hours from Jalori pass to reach the Raghupur fort. The last one or so kilometre is a steep hike through dense jungle and should be avoided during late evenings. This is part of core forest and wildlife does make its present felt during dark. There are ample stories of leopards, Himalayan brown bears and other animals being spotted in the forest around this area. While the trek is completely safe to be hiked alone, make sure you do so during daytime with ample supplies and caution.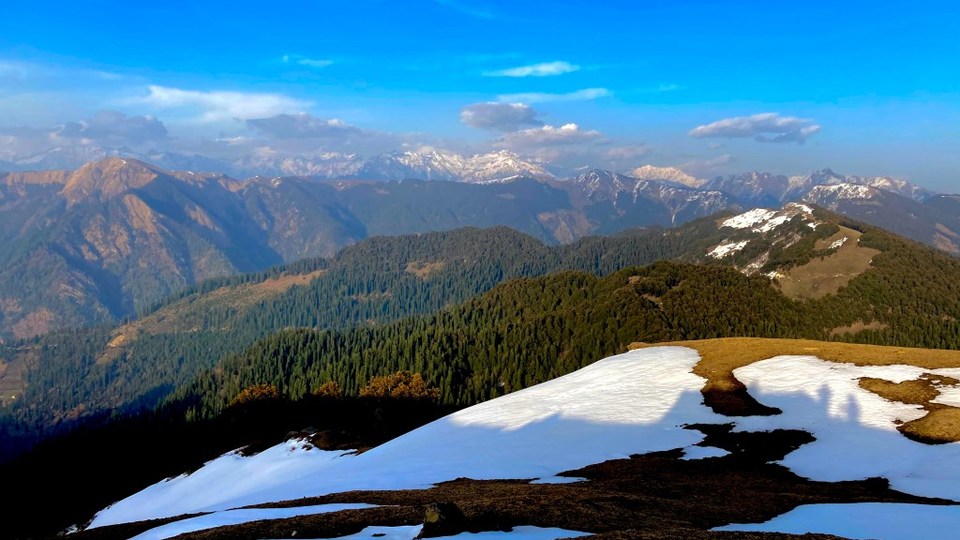 Atop the mountain, only ruins remains to this day. This fort is long gone, but the awe-inspiring views of the surrounding valleys and snow-capped peaks is worth the hike! The landscape is absolutely phenomenal, the place is calm, the mountain ridge is covered with patches of knee deep snow (till about mid-April) and dense vegetation around. Being here will make you forget the worldly worries, it will transcend you into a universe where you will lose track of time. Raghupur fort is well known amongst travellers, however, a not-so-easy access ensures that the place is not visited much by tourists and hence, remains secluded whilst still being well in reach!

There are options to stay in tents atop the fort, something which I highly recommend. Typically, it will cost a reasonable INR 2000 for a tent of two, but might differ depending on number of tents you rent and the season.
Chehni Kothi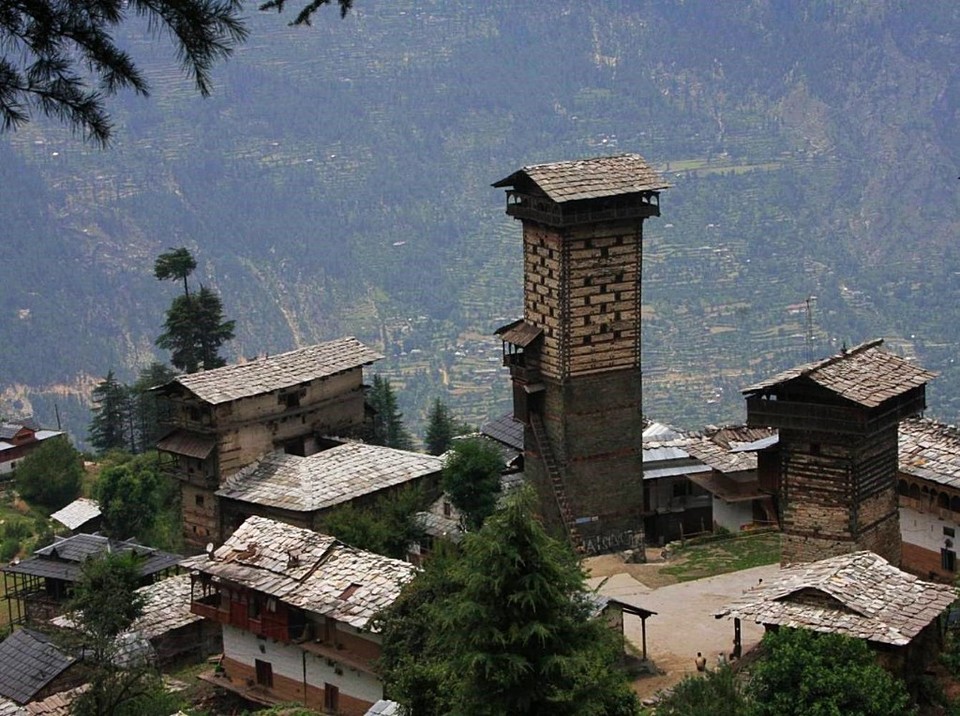 After spending a surreal time at Jalori pass, Serolskar lake and Raghupur fort, I would suggest you now decend down towards the historical village of Chehni. This village is home to a tall wodden tower-like structure, named 'Chehni Kothi'. The kothi was built by King Dhadhu in the 17th century, and stood the test of time over 300 years! Being seven storeys tall before the 1905 earthquake (more than 100ft, as mentioned in legends), what remains of it now is just about 5 storeys, but in a rather good condition. It is the tallest temple tower of its kind in the whole of Himachal Pradesh! Its architecture is as impressive as the historical backdrop - built completely with deodar wood and stone. The tower was built to achieve a higher vantage point over the surrounding valley in case of an invasion. A hanging wooden staircase was built to reach the top instead of a permanent one - the idea being, once people are atop the tower, the staircase would be pulled up, thereby, protecting the people and soldiers from the incoming enemy. One can still see a part of the staircase, however, climbing the artefact is strictly forbidden now. The tower hosts a local diety and villagers do go inside the tower for offering prayers.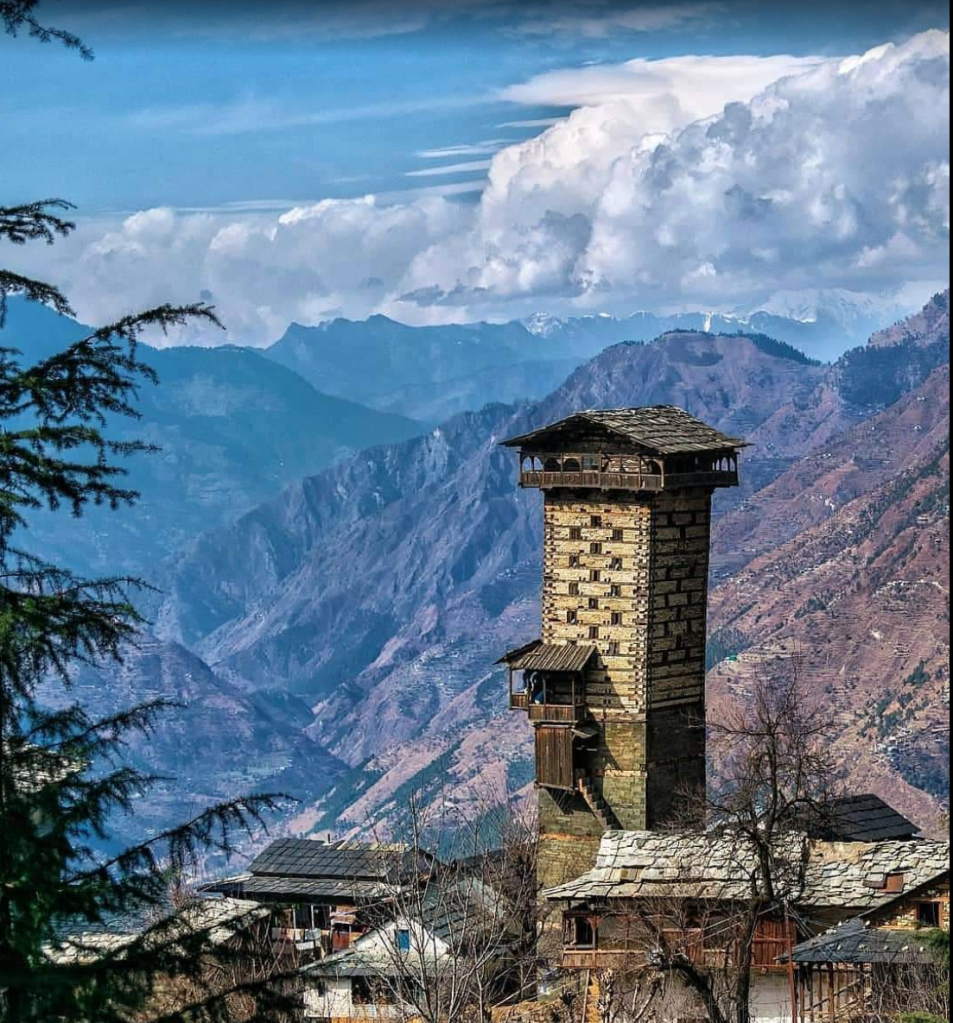 Apart from Chehni Kothi, this village is also home to a rather popular temple - the Shringa Rishi temple, dedicated to the presiding deity of the Banjar valley. A visit to this beautiful temple is also highly recommended; however, I would encourage you to avoid afternoon and evening times as the place might be crowded. The Shringa Rishi temple and Chehni Kothi can be easily covered in half a day from Jibhi.
Balo Nag Temple

This is where we now start exploring a rather secluded side of Banjar valley. Bahu is a small village located at about 9km from Jibhi, and it is not very well known amongst travelers. Bahu does have a few houses and homestays, where you can stay safely (and rather economically, too!). A cherry on the top is that it is also blessedly quiet. The mountains surrounding the village are lush with cedar and pine forests and provide a stunning view of the the Great Himalayan National Park.
Being at a higher altitude than Jibhi, this might be the ultimate winter destination for snow lovers - the place is typically covered with snow all winter long, but is a pristine location throughout the year. Bahu is the perfect place if shopping, exploring cafes and indulging in tourist activities is NOT in your list. It is for those who like to explore offbeat destinations, those who cherish spending time in surreally quiet places, and who prefer to stay away from the crowd! It is the lack of commercialisation that makes this village a beautiful retreat.
The trail for Balo Nag temple starts from this village. The hike is stunning - every hill that surrounds the mountain trail seems to welcome you in the most vibrant way possible. The tall pine trees, the scenic view of the Dhauladhars and a rather clean and maintained trail provides a perfect conconction of adrenaline, bliss and advanture! The hike is about 4km, but is an easy one and shouldn't be a problem for an everyday traveller. The Balo Nag temple is situated amidst a beautiful meadow surrounded by the forest. One can see the local villagers sitting around in groups and watching over as their cattle graze far and wide. It is place you would dream of visiting - the temple is a small one, an old and picturesque wooden structure located in the middle of scintillating green backdrop, with visuals of the gargantuan peaks around!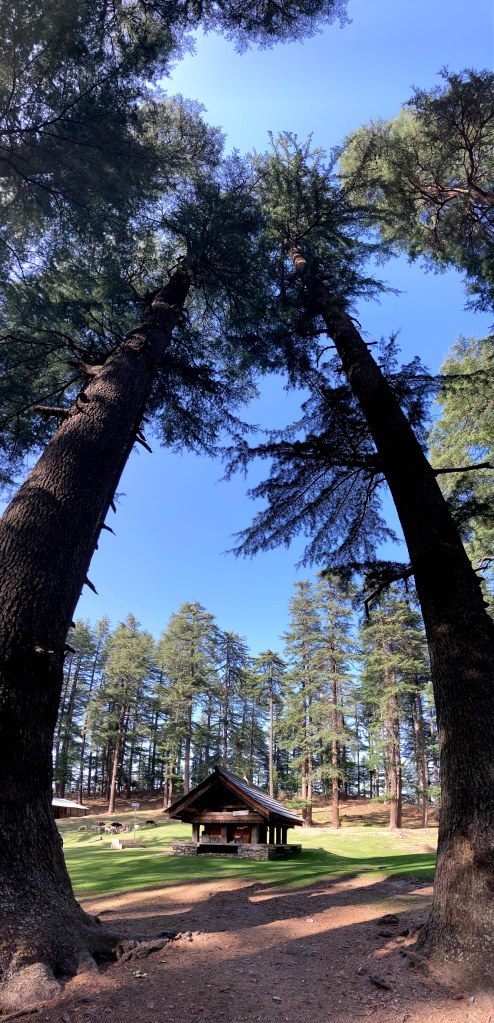 There are two categories of places to be visited in Jibhi for travellers and tourists (yes, there is a difference!). First one are well-known destinations, and then are the secluded ones - places which you'd only find if you try! Thankfully enough, Jibhi would welcome such travellers with open arms. As with most mountain villages, the number of isolated, serene areas where you can sit for hours long are only limited by your imagination. Mini Thailand is one such gorgeous place. Just a couple tens of feet below the main road of Jibhi, alongside the Banjar river, lies a stunning rock formation with a crystal clear pool of water amidst a solitary zephyr! Words do injustice to describe the beauty of this place. And how far, do you ask, is this from the town of jibhi? Less than 10 minutes if you walk!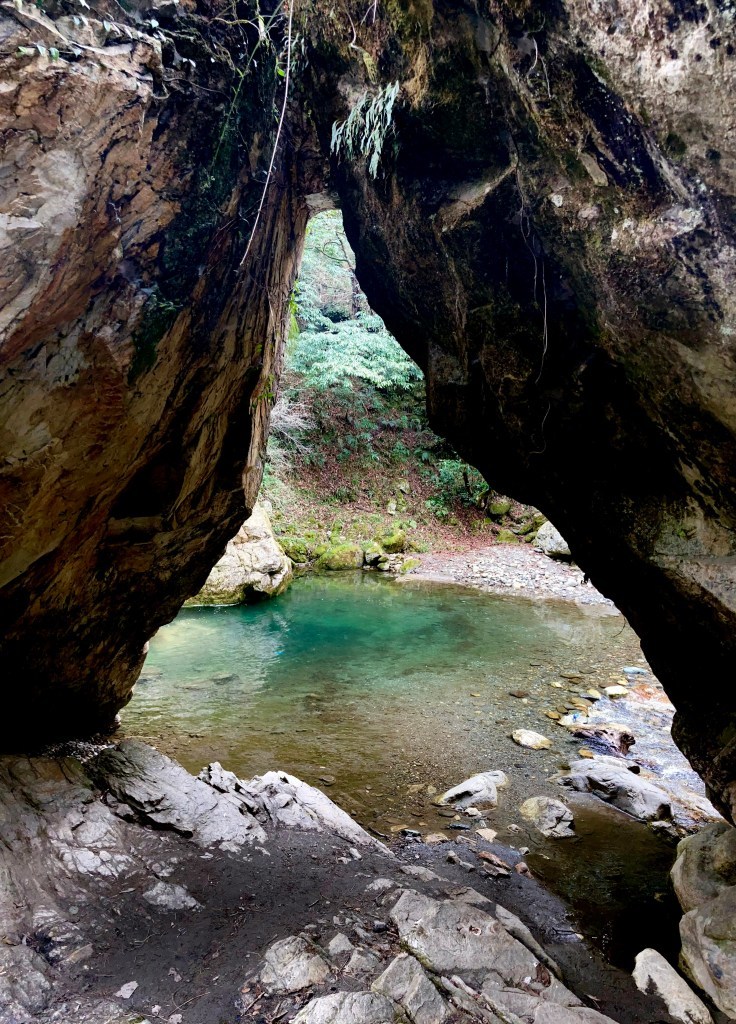 Alongside the Banjar river, you would find many secluded locations. It is a common sight to spot backpackers here - playing their ukulele and reading books.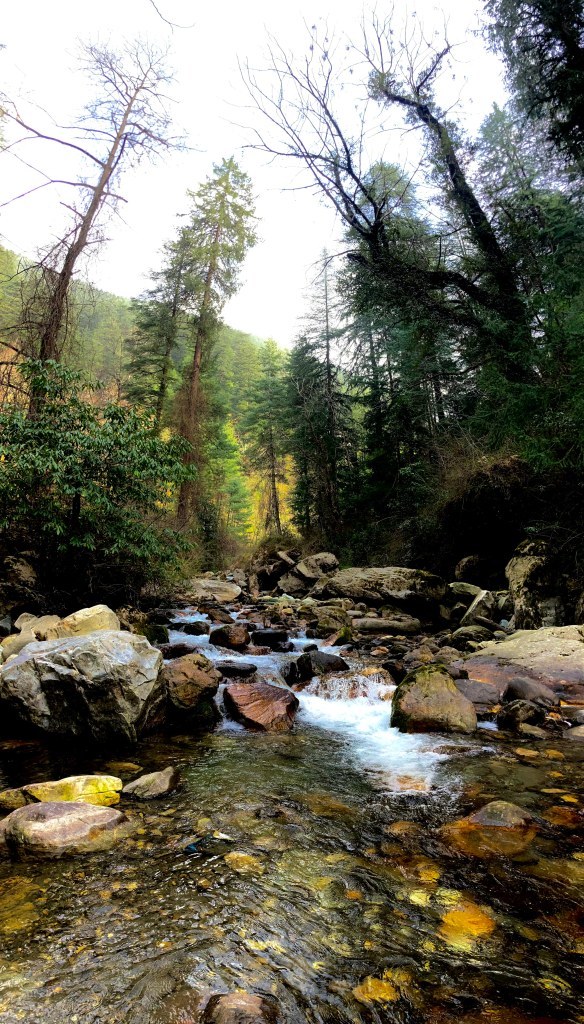 If you would want to be a little more adventurous, may I invite you to visit an authentic Himachali village just about an hour and a half from Jibhi? 'Sulahan' is a village accessible only by foot from Jibhi. It is located well about a thousand feet above, and hiking amidst a dense forest is the only access to this borough. This is one of many places in and around the Banjar valley where villagers still survive solely on cattle breeding, agriculture and seldom have any contact with the busy Himachali tourism packed towns!

Even though the villagers here make it look like a piece of cake, I would not classify the trail to reach Sulahan from Jibhi as an easy one. It is steep, and should take around 90 minutes for a moderately experienced hiker. The trail is well paved for most parts and is marked with arrows for easy navigation. Sulahan is a village with hardly over 200 residents. There is one school, one post office and countless farms of fruit trees and crops. The homes here are built using wood and stone, and concrete is a rare sight. As I was hiking through the village, a young villager in his twenties greeted me and offered to show his suburb; of course I wouldn't say no! He showed me a secluded waterfall about half an hour from the village, narrated the legends and folklores of his people and took me to his place for tea and snacks! This guy didn't even know me, he knew we wouldn't meet again and still, he was humble enough to spend a good two hours with me just so that a guest visiting their village would be satiated. So is the humbleness of the Himachali people - they do put others' needs ahead of theirs!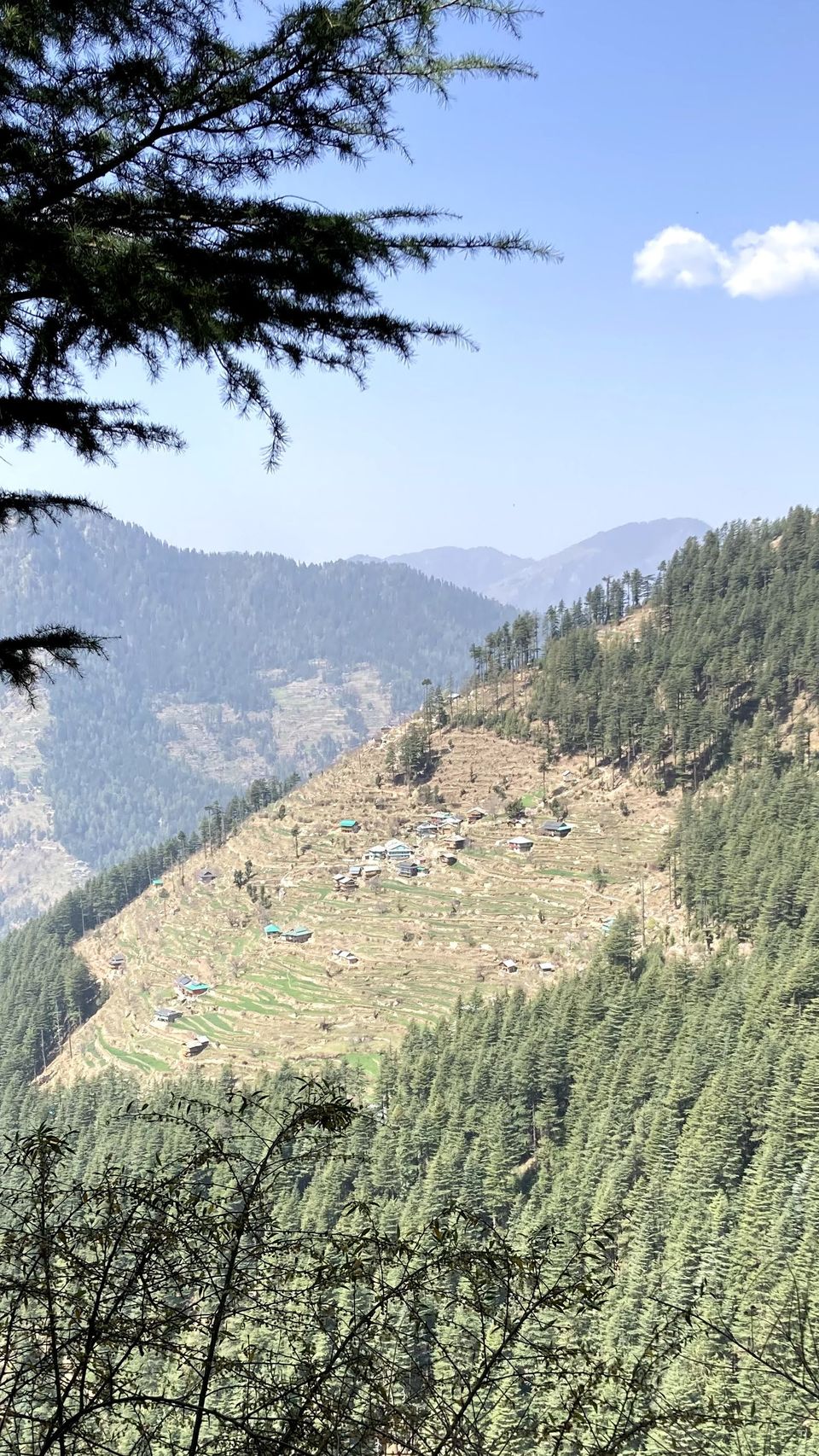 While one cannot find Sulahan on Google Maps and there is no way any traveller would readily know about it, if you are reading this, make sure you ask the local shopkeepers in Jibhi about this village. They will guide you, and trust me, you would be left in awe when you reach this lovely little borough! Sulahan is a perfect delineation of what Himchal stands for - a paradise amidst gigantic peaks and forests, filled with people who, with their modesty, courtesy and amiability, will make you feel welcome when you'd be miles away from your home!
Another desolate trek which you can try is the hike to Panduropa. It is roughly half an hour from Raghupur fort, and is a trek through a part of the core forest. Beware of the wildlife though, it is not uncommon to find hunting remains of cattle and other animals. So, make sure your trek here during daylight, preferably with a group of prople. This is a heaven for photographers and wildlife spotters. The small lake is in middle of nowhere, and is just the perfect depiction of many such secluded picturesque spots near Jibhi!
The Banjar valley has many other places that you can visit. Jibhi waterfall is a good location for photos and a casual 10 minute walk from the village. The villages of Ghiyagi and Shoja provide some surreal views of the Lambri and Sakirn peaks. The local food joints will blow your mind with unbelivably cheap and yet delectable food. 'Pratap Dhaba' in Ghiyagi is one such place which deserves a visit!
There are ample places around Banjar and in the Tirthan valley which can be seen while you are in Jibhi. The village of Gushaini, treks into the Great Himalayan National Park, visit to Chhoie waterfalls and Sai Ropa falls is something I missed out on. But afterall, not everything can be covered in one trip, right?
Stay and Travel
For me, the travel to Jibhi was made ever so comfortable, thanks to my stay in the Hostalgic backpacking hostel. There are many hostels in Shoja, Jibhi and Banjar, along with several hotels and tree-houses. Staying and travelling here is a rather economical affair. One can easily find buses to Banjar from Manali and Aut village. There are regular buses of HRTC (Himachal Road Transport Corporation) from Delhi, Chandigadh and Manali to Aut. It would take around an hour from Aut to Banjar, and then another 30 minutes by bus or taxi to Jibhi.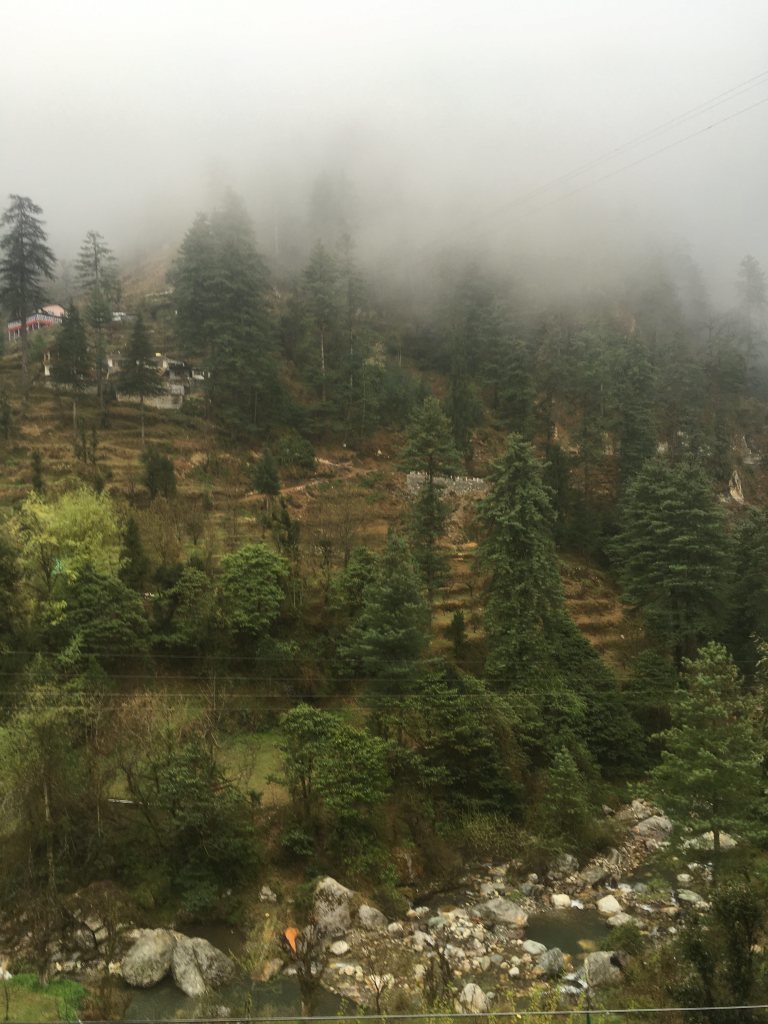 All in all, I must say Jibhi deserves every traveller's attention. It is a place which is less commercialised, less travelled to, and hence, more blissful and sublime! The verdant mountains, serene waters and scintillating peaks are just few of the attractions here. The quietude, the tranquility and the abeyance prevailing in the village is what will make you love this 'Road Less Travelled'!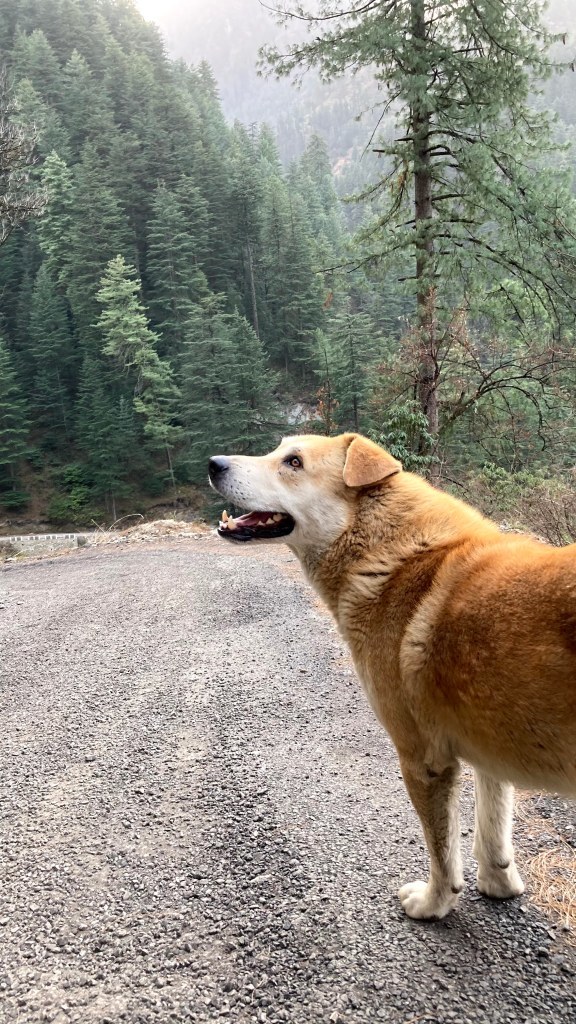 Read the original article at cobblestonechronicles.com