Jibhi is an unexplored paradise located in the Himalayan foothills of the remote Banjar Valley. Surrounded by lush green hills stocked with pine, cedar, and deodar trees, this scenic hamlet promises natural ambience and picturesque settings. It is located on the Manali to Shimla route, 8 km away from the main Banjar valley.
Nestled on the banks of the Tirthan River, this unblemished village proves to be a perfect mountain getaway from the relentless grind of the big city life. At any time during the day in Jibhi, all you hear are harmonic symphonies of the gurgling Tirthan River, rustling leaves, and chirping birds. You can walk away on any of the trails that wind through the lush pine and cedar forests and lead you to quaint nearby villages offering breathtaking views.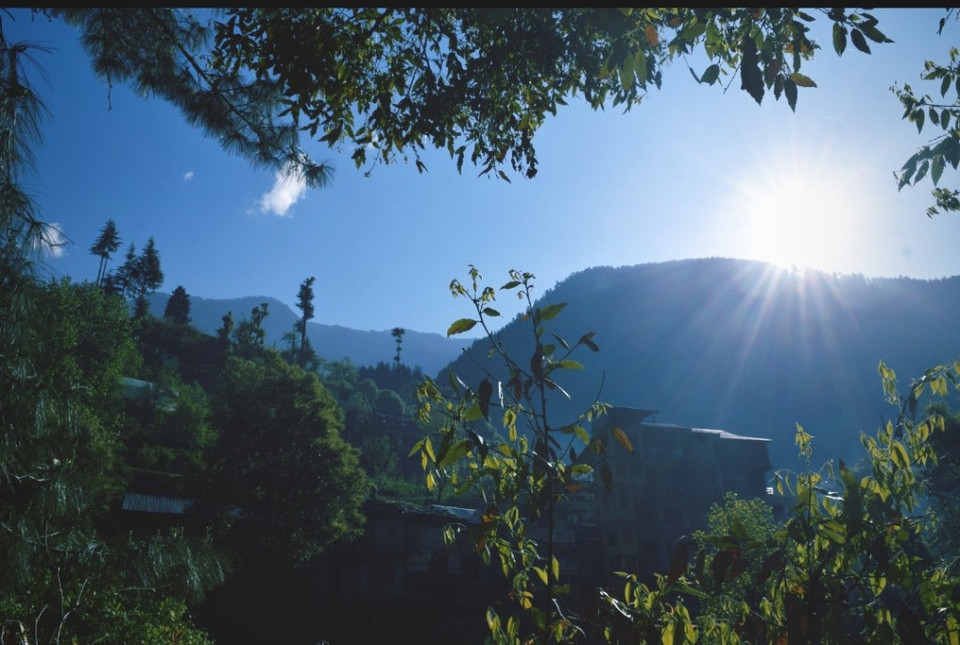 Mornings at Jibhi, an unexplored paradise located in Banjar Valley.
The village is still not too commercialized and only accommodation options you would find are homestays run by locals. It doesn't have any market place or popular cafes. Instead, its simplicity urges you to spend the time doing nothing but appreciating the impeccable tranquility of nature.
Day 1: Jibhi Waterfall and Nearby Corners
On our first day at Jibhi, we stayed at a beautiful, two-storey pinewood cottage. The host was a wonderful local lady who helped us plan our day and served scrumptious local food, including the famous Himalayan dish, "Siddoo."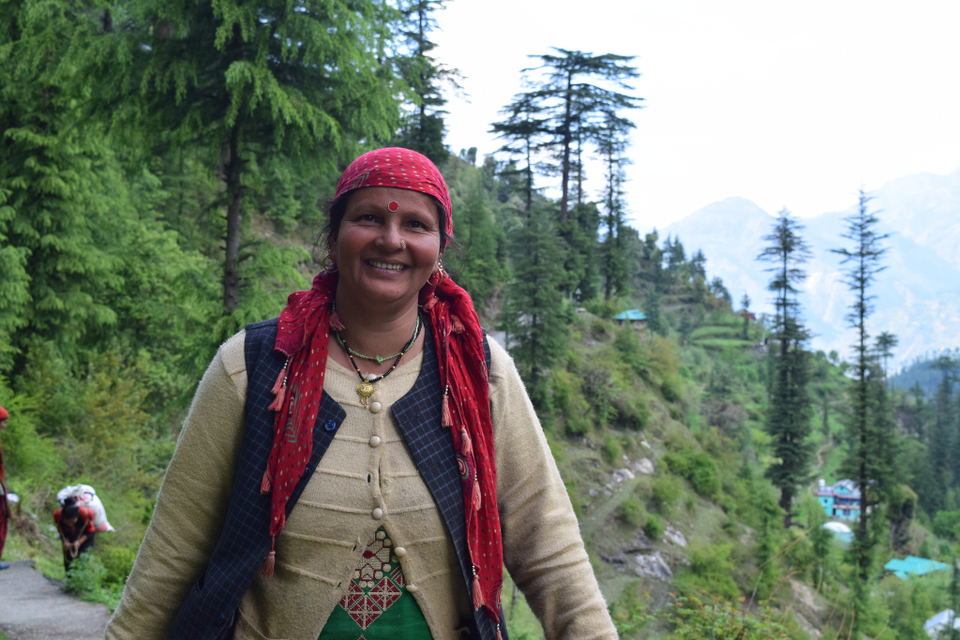 Our lovely host from the cottage.
We began our first day by visiting the Jibhi waterfall, located at a short distance from our cottage. The walk to the waterfall was nothing short of a magical experience. The sight of endearing little wooden bridges around lush, green meadows made the place seem like an artistic interpretation of a fairy tale. With hardly anyone around, this place gave us ample time to sit by the gushing waters, close our eyes, and feel the ethereal ambience of the surroundings.
Instead of returning to our cottage, we decided to take a random trail behind it. Little did we know that it will prove to be the best two hours of our trip. The trail led us to a sprawling alpine meadow covered with wild flowers, surrounded by a sheath of deodar trees, and dominated by cloud-kissed mountains. We strolled in this verdant landscape for hours, capturing the world of languid green. The clouds roared and signaled us to rush back to our cozy, little homestay. We ended our day by sitting by a bonfire under the starlit sky, excited for what the next day had in store for us.
Day 2: Trek to the Serolsar Lake
On the wee hours of our second day, we checked into our next homestay - a treehouse by the river! As dreamy as it looked from the outside, the treehouse had a cute, cozy interior that led to a balcony offering a spectacular view of the river.
Shortly after that, we rushed to take a taxi to Jalori Pass, which is located at a distance of 12 kilometers from Jibhi. Jalori is the nearest mountain pass from Jibhi, located in the Kullu Valley. To reach there, one can also take a local bus, that runs every few hours, the first one starting at around 8:30 am. Our eyes were glued at the spectacular views as we winded through the treacherous turns to finally reach the Jalori pass. The journey took about 45 minutes. The pass offers two trails going in the opposite directions - a 6-km one leading to the Serolsar lake and another 3-km one leading to the ruins of the ancient Raghupur fort.
We decided to, first, take the one leading to the Serolsar lake. The uphill journey began to unveil gradually as we carved our way through the realms of ice and rock, surrounded by dense forests. Overall, the trek was an easy one. However, the last kilometer was relatively tougher due to melted snow and occasional hailstorms. In about two and a half hours, we reached the Serolsar Lake, whose shimmering waters reflected the blue of the sky and green of the pine forest. The lake is said to be holy and is visited by numerous pilgrims from nearby villages.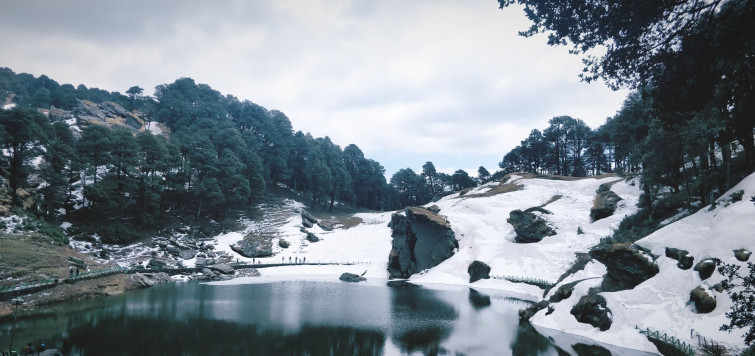 The clear waters of the Serolsar lake reflecting the colors of trees and mountains
After spending a lazy hour around the lake, we trekked back to the Jalori pass. Due to lack of time, we decided to take a rain check on the Raghupur fort trek. There is a problem in getting transportation back to Jibhi, so it is recommended to descend back on time. However, there are a couple of campsites on the way if you would like to stay longer.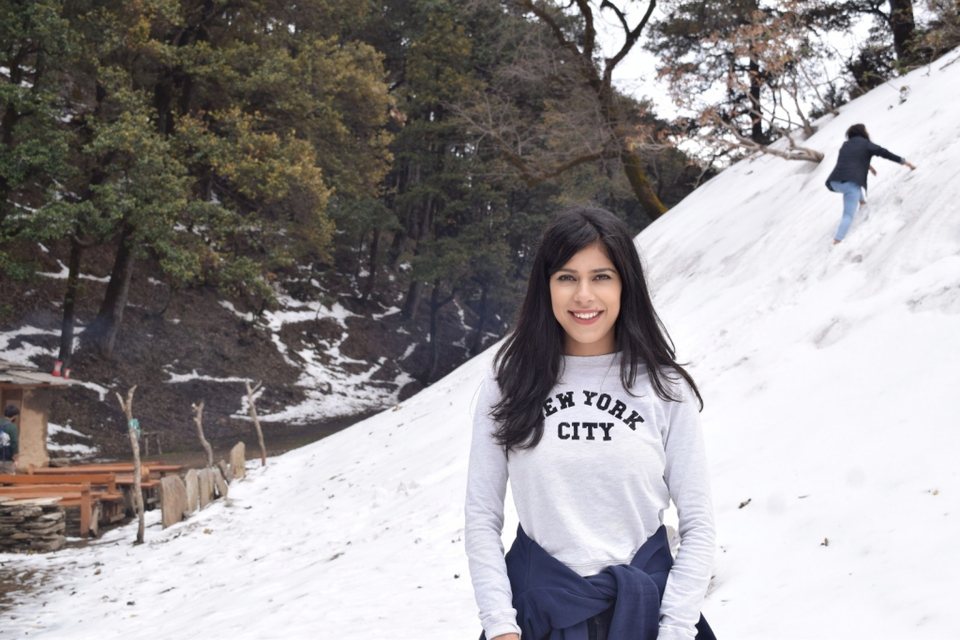 All smiles after reaching the blissful destination
Upon returning, it rained again, enhancing the endless bliss the place had to offer. After spending some more time enjoying the scenic landscape, we went to sleep.
Day 3: Trek to the Chehni Village
On our last day, I woke up, fortunately, at 4 am. Listening to the sounds of gushing river water and chirping sparrows playing right by our window, I went outside to experience one of the most beautiful sunrises of my life.
After having breakfast, we took out few hours to explore some more trails by the river. We met some adorable kids who showed off their toys and asked us to play with them.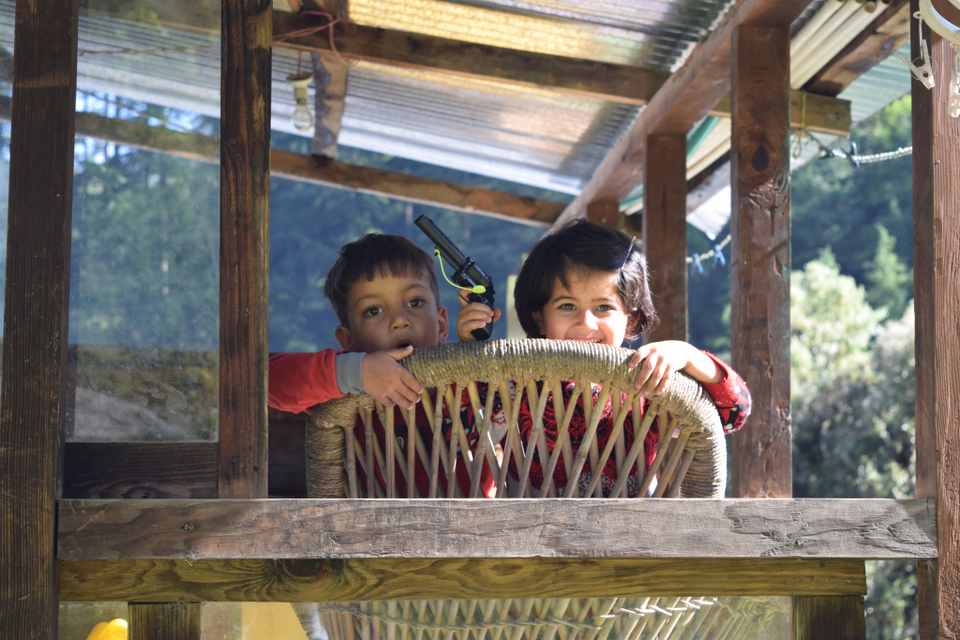 These little kids would pretend to shoot us and laugh out loud as we played dead.
After spending some time strolling across random trails, we decided to leave for the Chehni Village, located at a distance of 7 km from Jibhi. It took us a 30-minute-drive from Jibhi and another 1.5-hour-climb from the Shringha Rishi Temple through the dense deodar forest covers and apple orchards to reach the Chehni village. Chehni Village is known for its ancient structures inspired from Chinese art and archaeology. It is an amalgamation of rich nature, history, and culture.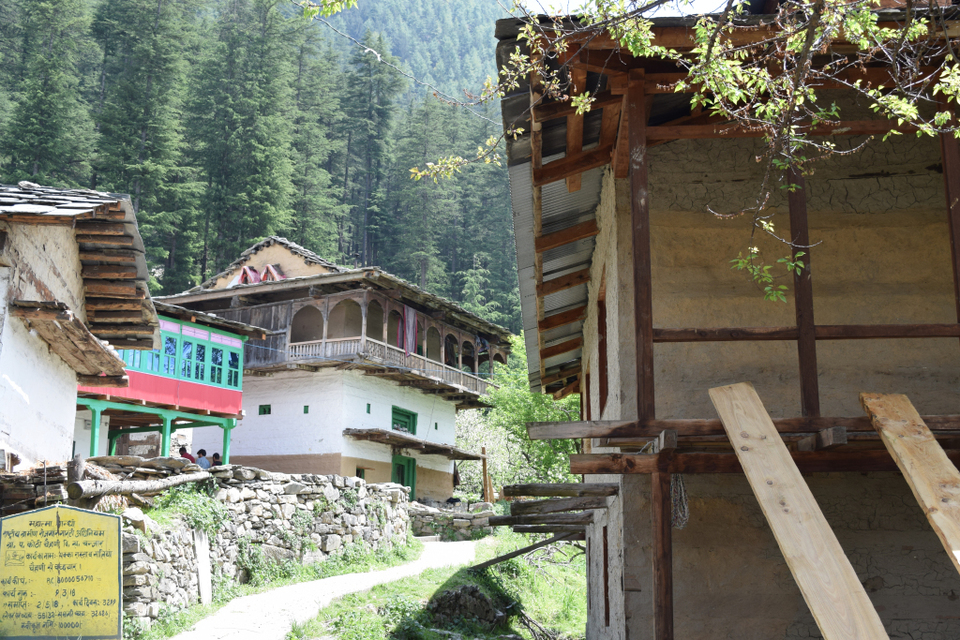 The houses of the Chehni Village, known for its ancient structures
The most popular attraction of this village is the 40-metre-high "Chehni Kothi," which leans slightly to its right. The tallest free-standing structure in the entire Western Himalayan Region, it is an architectural marvel from a bygone era. Now a Yogini shrine, this 1500-year-old structure is known to have survived the 1905 Kangra Earthquake. Right across the tower, the remains of the Chehni Fort have been converted to a Krishna temple. We could not enter the Chehni Kothi as the entry was allowed only if one wore a saree/dhoti.
After taking a quick stroll in the village and eating at the "Shringhi café," we went on to talk to some locals and capture the beautiful scenery before beginning with the descent.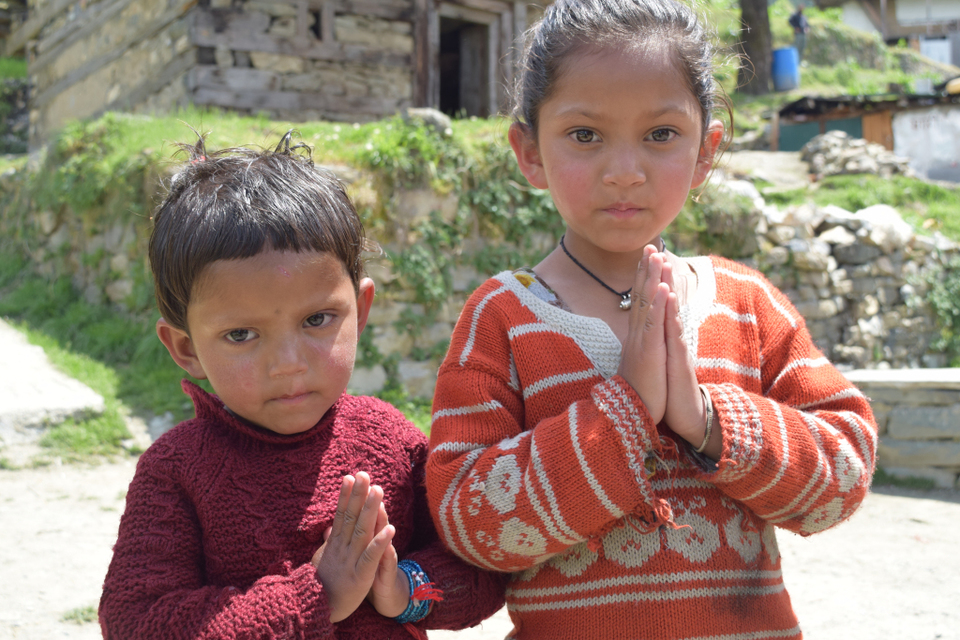 The local children from the Chehni Village
I spent the last hour of my trip lying down on the mountain grass near the temple, enjoying the panorama of this mesmerizing place and capturing the precious, blissful moment. It felt like a beautiful dream I didn't want to wake up from.
Jibhi is like that little secret you want to keep to yourself. If you want to escape the metropolis madness and experience a slow, serene, and laidback life, without all the frills of a commercialized hill station, this little mountain town will not disappoint you.
How to Reach Jibhi:
By Road: The simplest way to travel to Jibhi is to catch a bus from Delhi/Chandigarh to Manali and disembark at AUT. From AUT, you can either take another bus that first takes you to Banjar, followed by one to Jibhi, or arrange a taxi that takes you directly to Jibhi. The taxi takes around 1100-1500 Rs.
By Rail: The nearest railway station to Jibhi is Shimla railway station (150 km from Jibhi). Since there are no direct trains from Delhi to Shimla, You will have to change trains at Kalka railway station. You can take a taxi from Shimla to Jibhi for around 6000 Rs.
By Air: The closest airport to Jibhi is in Bhuntar (Kullu) (60 km from Jibhi). You can take a taxi from Bhuntar to Jibhi for around 2200-2500 Rs.
Best Time to Visit Jibhi
The best time to visit Jibhi is during the spring season (March-May), when the weather is really pleasant. If you want to experience snowfall, you can go during winters (December-February). You should avoid going there during Monsoons (June-September) as there are risks of landslides.
Other Things to Remember While Visiting Jibhi:
Book your homestay: It is recommended to book your homestays in advance (using airbnb, booking.com or other apps) as they may get completely booked out during peak seasons.
Stay for at least two nights: You need three days thoroughly enjoy and cherish the wonders offered by this little village.
Keep it clean: Locals of Jibhi are trying their best to conserve the beauty and culture of the village. Please support them by keeping the environment clean.
Carry power back-ups: Power cutoffs are common in a remote village like Jibhi. Come prepared with power backups for your gadgets.
Carry warm clothes: Even during Summers, temperatures may drop below 10 degrees at night. Remember to carry warm clothes for your stay.
Have no agenda: It is completely okay to step into this beautiful town and figure things out later or decide to do nothing at all!
For any doubts, feel free to leave a comment or message me on instagram (IG handle: @lovleenkaur).