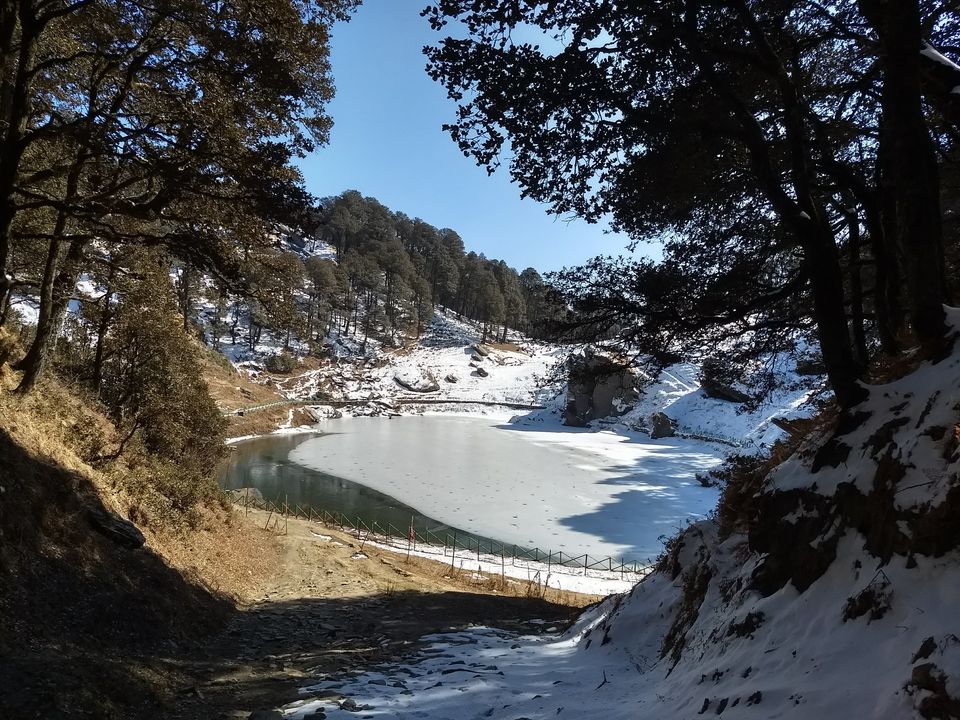 All I hear on weekends where to go , mostly I hear about Manali. Manali is an amazing place but this time I decided to go somewhere else and explore Himachal a little more. I was always attracted to Jalori Pass, for no reason. I always felt that attraction or zeal to be there, may be due to lush green trees to be seen in Spring or dry snow to be seen in Winters! So, there I go.
The plan was one day in Tirthan Valley, another day Jalori Pass and then Chehni Village. I had a rough itineary in my mind. All I knew, I wanted to go. While planning long weekends, you really need to plan, so me and a friend(who appeared at the last moment to join me) booked our busses and stay. We booked bus to Aut.
How to reach : From Delhi, we can take an overnight bus to Aut. Mostly the buses which go to Manali has a stop in Aut. It's again a beautiful to stroll around. We can get an easy bus from Aut to Banjar. We stayed in "Sidhwan" which is a KM away from Banjar.
Where to Stay : Although, we had pre booked our stay and stay was pretty good in the "Hotel MaanSarovar", I realised, we could have booked a homestay somewhere in Jibhi or even up towards Jalori Pass. There are many homesteads which are not available online and since this is not the season, they are easily available with an expense of 700-800 rs per night or even less. It was cold somewhere -10 to 3 deg but since there was good Sunlight, we didn't feel much cold.
Where to go :
Day 1: We reached Aut at 7:30 AM, from there we took a road transport bus to Banjar. It took around an hour to reach Banjar. Then we checked in our hotel. Got Ready by 10:30 and started towards "Gosain". In the morning, there are many buses that go to "Gosain", after that the frequency is less. The best time is around 9. We missed the bus , hence took a taxi for 100 Rs to reach. We were informed there's a small waterfall with a good hike. We decided to go. It was pretty beautiful and as they say "It's not about the destination but the jouney".
The waterfall was peaceful, we were the only people there. We enjoyed it. We spent some good time at the Waterfall, clicking good pictures, looking around. It took us around 3 hours to go and comeback. It was a small one. When we came back, we thought of going to "Himalayan National Park". We went to its office and figured out, we need a guide, a permit to go there and it's a long one so it's better to go there for more than 2 days trek. So we dropped the plan and just strolled around. Went to Banjar and it's market. Had food at dhabas. That's it.
Day 2 : Jalori Pass! Yes I was waiting for this day. We tried to find out ways to reach Jalori Pass as there are no buses that go there. In the end, we decided to take taxi which is expensive 2000/-. The journey to "Jalori Pass" cannot be explained in words, sometimes we saw beautiful green trees, sometime snow covered trees. The alternative to go to Jalori Pass, could be with the bus till the highest point and then hitchhike or take a scooty(this can be risky as the roads are not that great). Jalori Pass is a pass that connects Shimla to Kullu.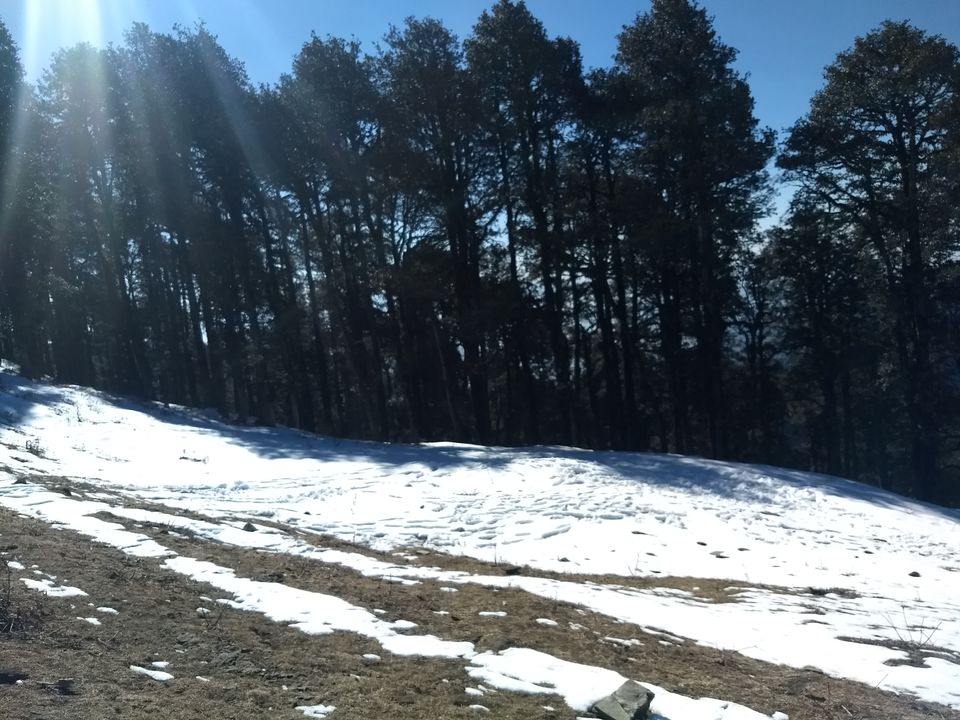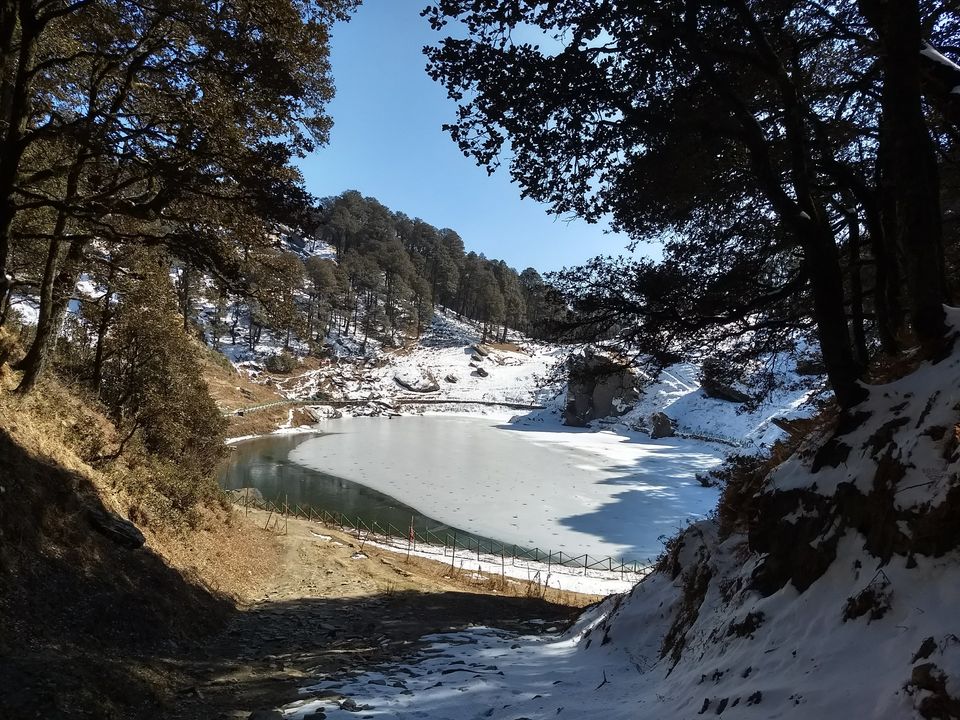 We got down at Jalori Pass and started trek to Serolsar Lake. I would suggest the early we start the better it is. It's a to and fro around 11kms of trek. As we moved on, we saw snow, we walked on snow. There's a different sound that comes when we walk on snow. Just try to listen to that sound, it's just different. It would be different, when you walk on road, it would be different when you walk sand. It's just different. It was not a very hard trek, it was easy intact. If I can do it, anybody can. I am not a great trekker but an enthusiast. Somebody can take protein shakes, or protein bars on the way. It will give you energy. There were not many people, may be 25 not more than that. In the end, we became impatient when we will reach the lake but when we saw the first glance, it was mesmerising. Out of that sense of achievement, I started jumping and hugged my friend. It was a very happy feeling.
The lake was so beautiful, so natural. It was frozen, semi frozen and watery as well. It's beauty cannot be compared. It could only be captured in eyes.We spent good amount of time there. Playing with the snow, Sliding, making eskimos and started our way back around 1. One, can have Maggi or parantha there but we decided to come back and have food in Sojha or Jibhi.
Day 3: It was time for Chehni Kothi. Took bus at around 10:00 AM to Jibhi. We actually have to get down at ShringaRishi. We already had spent a lot, so we decided to hitchhike. Luckily, we got a ride to ShringaRishi temple. We started our way to Shringa Rishi. It might have around 1000 stairs. We reached there, and practiced meditation for sometime and then started our way to Chehni. It was quite steep trek, I would say but indeed worth. On the way, we found women carrying babies on their shoulders. They were my real inspiration. Chehni is a very small village , away from the hush-hush of the cities or tourist places. There's a big tower called CHehni Kothi, not many people know its significance. Now, it has a Krishna Mandir but due to structural condition , only pujaris Go and its not open for public.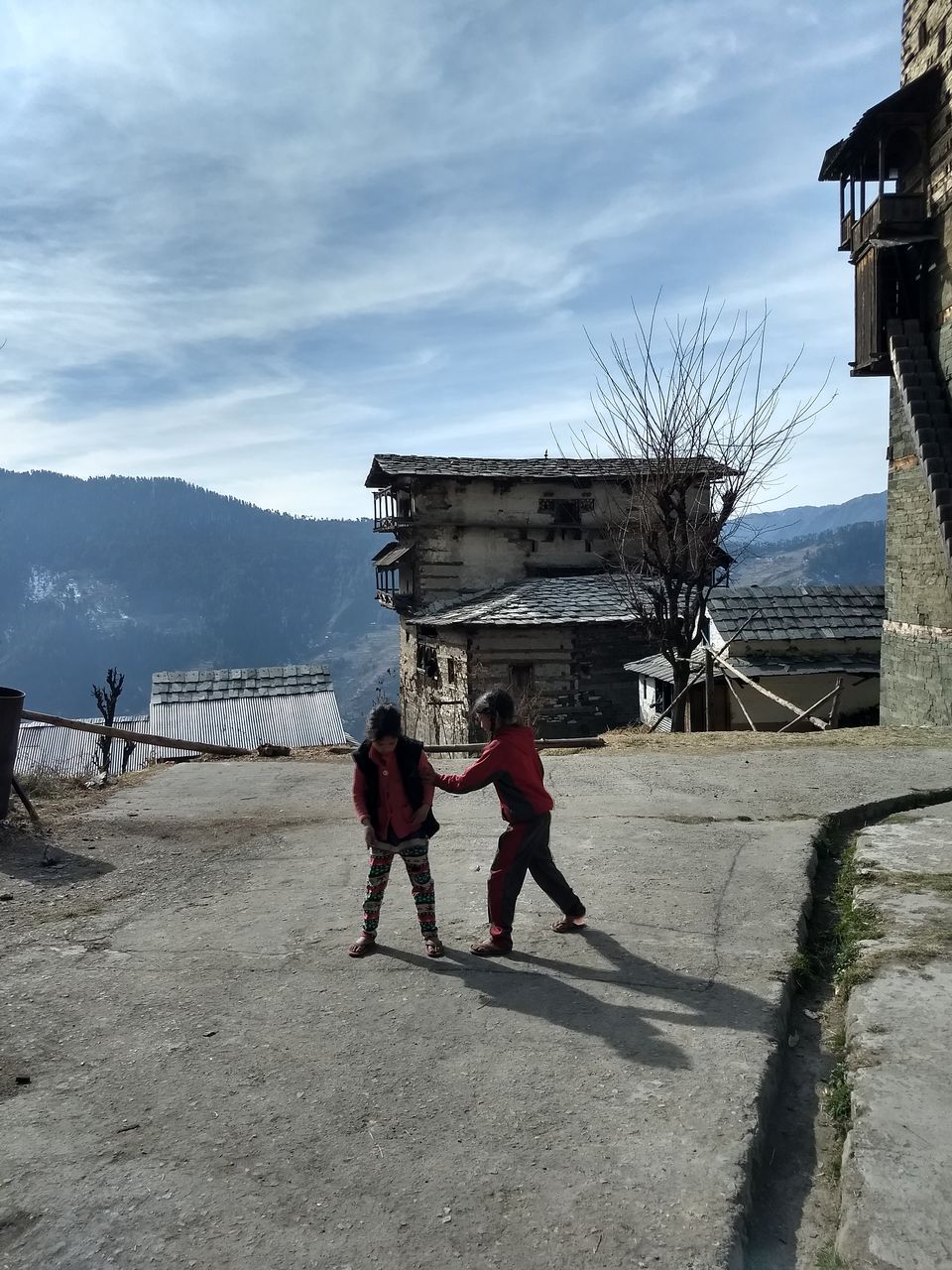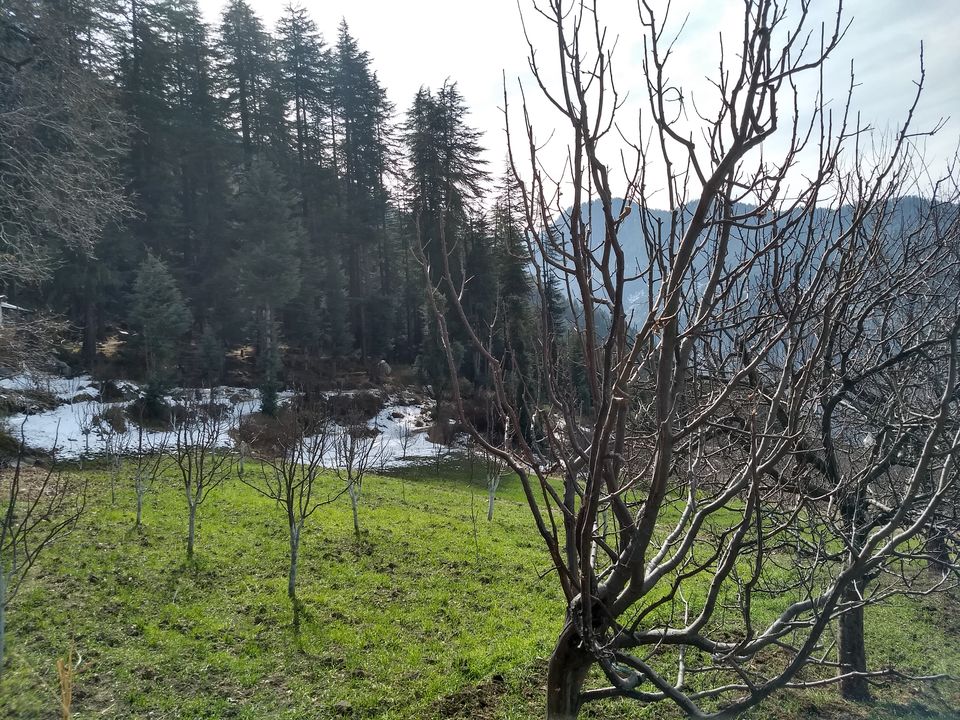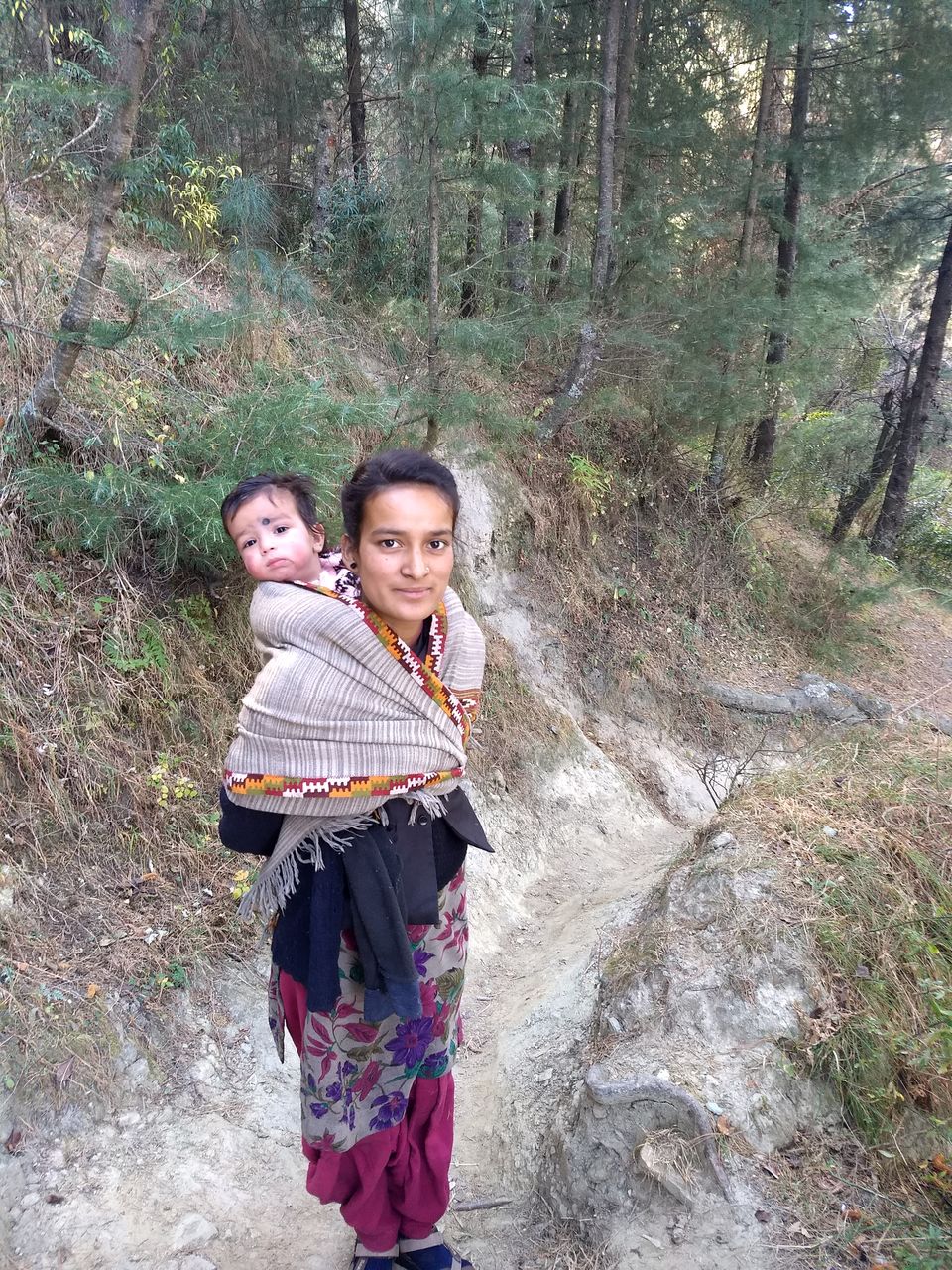 There 's a chowk there where small kids play, ladies washing clothes, all wooden houses. Women wearing the pahadi dresses and accessories. There's a cafe there, where you can have tea. We requested them to make us some "Dal- Chawal". I don't remember if I ever had that tasty "Dal-Chawal" with ghee over it. Slrrrp!