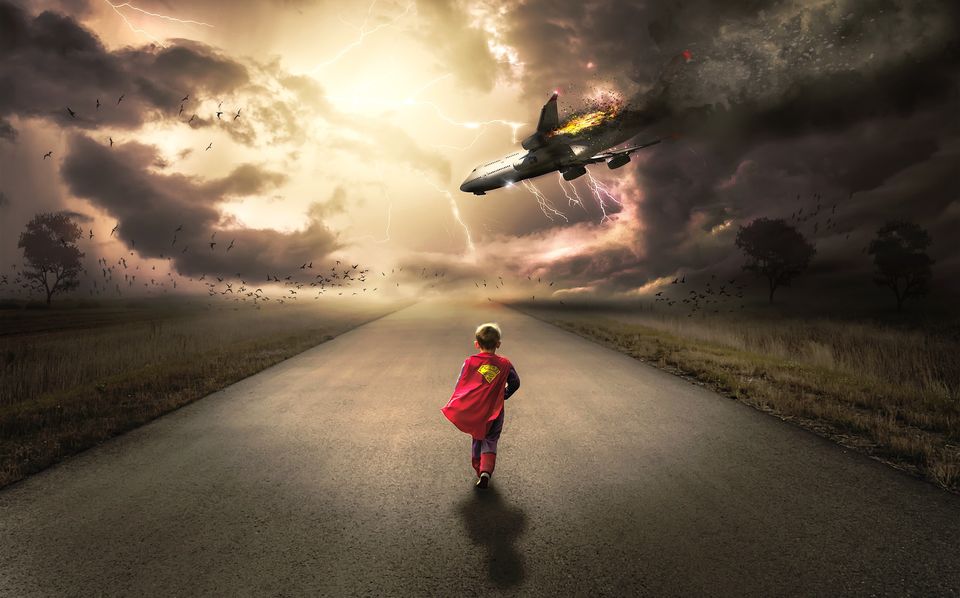 What's the most nightmarish experience you've ever had while travelling? Lost wallet, or passport? Missed the flight? Or the place you visited wasn't as beautiful as it looked in the pictures on social media? Well, these things can ruin a vacation, no doubt. However, there are people who have been through experiences which they never thought would turn into life threatening situations! After all, how much time you think it takes for an adventure to turn into a disaster? Well, no one signs up for stuff that in the end leaves them feeling 'I shouldn't be alive!'
So whether or not you have had such experiences, we recommend you to read these true near-death travel accounts of Tripoto writers in their own words.
1. Bass, land karwa do
"I am not really an adventure freak. But back in May 2014, I decided to go paragliding in Bir Billing. As I stood at the cliff edge in Billing, all the apprehensions started to overwhelm me; the chute could fail to open, the strings could choke me to death or the chute could get out of the instructor's control. Had I signed up for a risk I wasn't ready for?
And the next moment, my instructor and I jumped off the cliff. Feeling nothing beneath my feet, I burst into singing all the bhajans I knew. I had no idea I was such a coward. To make matters worse, the wind started to get more intense from the outset so much so that I and my instructor were now already struggling to battle through the winds. Instead of getting closer to land, we kept getting pushed higher. My instructor was trying hard to control the strings to get us down, but we continued to sway violently mid-air and getting thrown from one side to the other, completely out of control.
The flight that was only supposed to last for 10-some minutes lasted for about quarter of an hour. My first adventure had turned into a complete misadventure and I was already thinking about this being my last day on earth. But thankfully, we managed to land safely and I lived to tell the tale." - Saumia Bhatnagar
2. Saved only by the bus crew
"Most part of the narrow road from Manikaran to Barshaini in Parvati Valley had been washed away by the heavy rainfall back in June. I was in an HRTC bus which was full to its capacity. The ride was already bumpy, but then suddenly it took a sharp turn and stopped and I woke up to frenzied faces in the bus. The Himachali women suddenly started shrieking, and I could not understand what was happening.
The bus conductor shouted that one of the tyres of the bus was well out of the edge of the road, hanging in the air, with a 300-feet gorge beneath. The bus swayed as the passengers panicked. But the conductor ensured that the people maintained the weight on the other side of the bus, and managed to get everyone out of the bus. The driver was still in the bus, but with the locals' help, he was able to steer the bus back to safer side of the road. A major accident was averted. It wouldn't be an overstatement to say that it could have been my last day if not for the driver's skills and the conductor's quick wit." - Kanj Saurav
3. A bumpy ride in time
"Visiting remote villages was once my passion. In April, I and my brother had driven to a remote village in Uttarakhand called 'Nalni'. There were no concrete roads, only a rocky pass strewn with rocks and mud. On our way back, our tire got punctured, so we changed it with the spare.
About a kilometer later, even the spare got punctured. No one in the village knew how to fix it. So we drove very slowly on a flat tire under a scorching Sun for about 5 km till we reached a workshop and got the punctures fixed. Luckily, we managed to escape a fatal accident, driving like that on such a bad road. I'm done with remote places for good now!" - Namita Mittal

4. Rains, landslides, and a lifeline
"In August, two of my friends and I had planned to travel to Thachi valley in Himachal. A few of my other friends who had opted out of the trip had warned me about the possibility of getting stuck in the hills if it rained, but I had already taken leaves and didn't want to cancel the plan. So, on the eve of Independence Day, we boarded the bus to Aut, Mandi.
We reached the next morning and almost everything went as per the plan until the last day when we were supposed to start our journey back to Delhi. Having already cancelled our afternoon visit to a waterfall in Sainj due to the relentless rain since last night, things were already looking ominous. And all my fears came true once we got in the cab as the rain turned into a very heavy downpour. The roads had now given way to raging streams. The jeep was slipping and the driver was having a hard time negotiating the curves and slopes.
Lost in all kinds of negative thoughts, we heard a thunderous bang and we all turned back to see an enormous part of the hill sliding down, just about 15-20 metres behind us. Had we been 10 seconds late, we would have been crushed to a painful death by the tremendous landslide that ended into a 300-feet deep gorge. The driver didn't waste any second and accelerated as the rest of us held onto our dear lives and kept praying to God till we reached Aut after an hour-long ordeal of journeying through the most treacherous roads and unforgiving weather conditions." -Bhawna Sati
5. The perilous slip on a mountain
"I love trekking. That feeling of adrenaline rushing gushing my veins whenever I set out for a such an adventure is something I relish most. However, in February, I had gone for Chandrashilla trek. I knew trekking to Chandrashilla in this season was going to be an asking task, but I was well prepared for it. I along with a group of solo travellers completed the trek and were now descending.
With an expansive stretch of snowy slope in the sight, I couldn't resist the temptation to sit and let myself slide down what looked like a manageable gradient. I thought it'd be fun. So I crouched and before I could get ready for the slide, I slipped. The slide had begun, albeit inadvertently. After the first few quick moments of shock, I recovered and began enjoying the 'faster descent'. I soon realised I was going pretty fast towards the edge of the hill from my current position. I was heading straight in that direction.
Calmly, I started to make efforts with my hands to brake. But the ice was quite hard there. With less than 200 metres from the edge, still unable to brake, thrill turned into fear. I was now trying to grip the surface frantically. Just when I thought that I was going to fall off the cliff to a horrifying death, my hand reached out to the ice-axe in the side pocket of a small backpack and hammered it into the now slightly permeable ice. It all happened really fast , but looking back, I realise that I was literally seconds from death!" - Rohit Kumar
6. Kayaking adventure gone wrong
"I love to travel, but I also ensure that I avoid risks as much as I can. However, it was different in a couple of years ago when I used to be a little more adventurous. So, my friends and I decided to visit the Beas Dam, also known as Pong Dam, in Himachal Pradesh to enjoy water sports.
After the first couple of days, I got a bit comfortable with single-seat kayaks. So, I got in the kayak and started pedalling. Moments later, when I was barely 20 feet away from shore, a water scooter passed by sending strong ripples that shook my kayak so violently that it overturned with me still seated in it.
Panicked, I started flailing my limbs to get out of the boat and the water, but all my efforts were in vain. I was fast losing the battle and could have gone 1400 feet under water, had my instructor's arm not pulled me out of the kayak and dragged me to the surface in that very moment. I have avoided water sports ever since." - Neeti Chopra
7. Metres from death
"I had already been to a lot of places in Himachal, but I wanted to explore the regions of Kinnaur on bike. I had a fair idea of the tricky roads in that region, but I thought I could handle it all.
So back in September 2018, when I finally got a chance to travel to Kalpa, I rented a Royal Enfield from Shimla. After spending the day at Kalpa, I was on my way to Pangi, enjoying the views and singing songs when suddenly two huge boulders came crashing down, just metres ahead of me, eventually falling into a deep gorge on the side! I braked just in time and was able to roll back a couple of metres, quickly enough.
The singing had stopped and the joy had been replaced by fear. Though I did complete the trip and came back safely, I still get overwhelmed when I recall that moment when I was metres away from death." - Prakhar Singh
8. Surviving a bus accident
"My family and I were heading back to our hometown in Himachal from Dimapur in Nagaland. We boarded an early morning bus and were due to reach Guwahati in the evening when it started raining heavily. It was a few hours into the journey when I was woken up by a sudden jolt. The bus swayed violently and most of us were thrown out of our seats towards our left. I fell over my sister who was already holding the handle bar.
I could hear screams and shrieks and everyone around me appeared to be in shock. Everything had come to a standstill. I could hear the conductor asking everyone to get out of the bus. I, too, ran towards the exit door when the sight in the front stunned me. I could see a raging river at the base of a deep valley. The next thing I remember was climbing up the hill with my family as quickly as possible in ankle-deep wet soil.
When we reached the top after climbing around 30-40 feet, I saw that the bus had slid and rolled over towards the edge of the road. Had the tyres not gotten stuck in the wet soil, the bus would have gone straight into that river several hundred feet below." - Anshul Sharma
So, what's the worst travel experience you have ever had? Share in the comments below.
You can also write your travel experiences on Tripoto to share your journey with travellers from all around the world. Start writing now!
Need travel inspiration for the new year? Click here to go around the world in 2020!