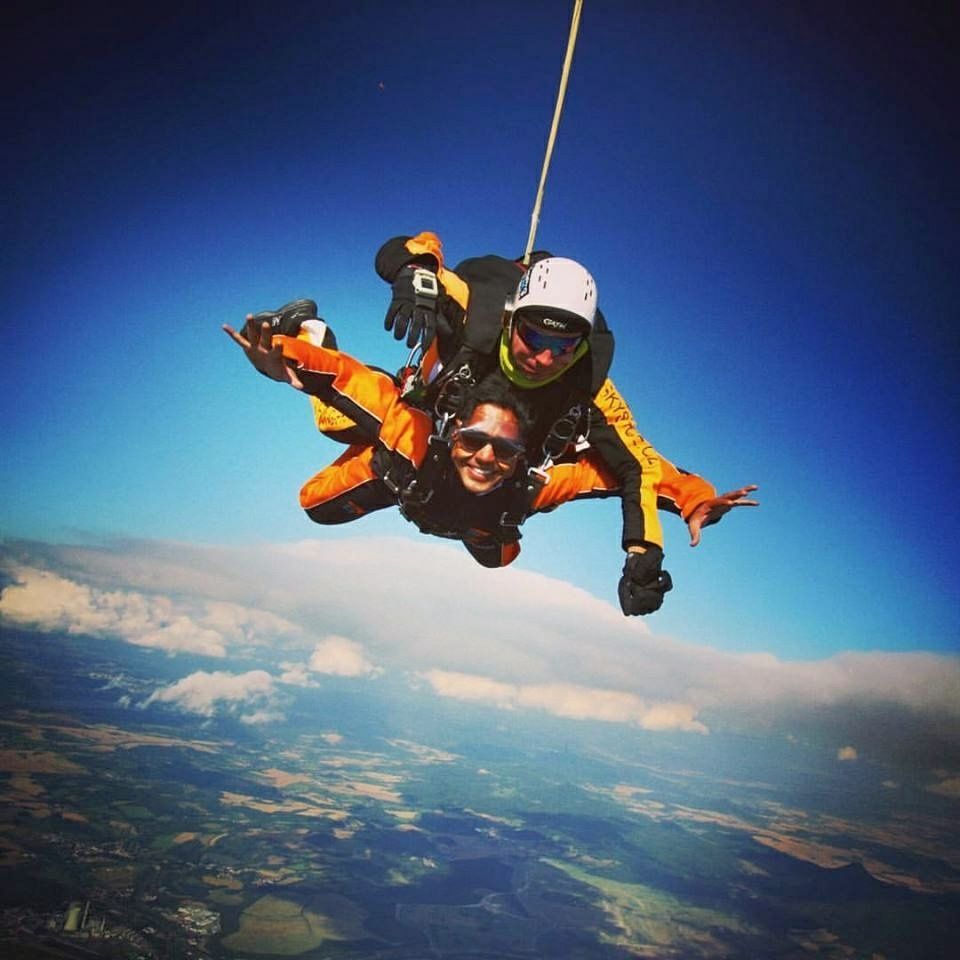 The moment I knew that I am going to Prague, I booked myself to one of the most awaited bucket list item - Skydive! Being an adventurous person, it was quite natural for me to progress to this as I have already experienced the thrill associated with Rafting, Cliff Jumping, Bungee Jumping, Parasailing and Paragliding which happened recently during my trip to Bir Billing.
We landed in Berlin and then moved on to Prague and within no time, the time came to do the most awaited activity of the trip - The Skydive. The excitement to jump off a moving airplane @ 4000 Mtrs up in the sky and experience the free fall was just oozing out of my each cell.
I was accompanied by three more colleagues who were too adventurous like me and had signed for this super activity. I even decided to skip my lunch in all the excitement and we reached to the city office of the Sky Service, based just off the iconic Old Town Square in Prague. We signed the mandatory waiver form, and ten minutes later we were on a mini-van full of adventure junkies like me heading towards outskirts of Prague to the air-strip. There was an American couple, a Brit girl and a solo Indian bagpacker apart from four of us during the journey as co-travellers in that mini-van.
Upon arrival at Most, a small sleepy town which has the air-strip for our PAC750 XL to take off, our group was instructed to use the rest rooms. We were then directed to the changing room where we put on our astronaut-like suits, offered in both sky blue and orange colors. After the wardrobe guy helped us strap into our harnesses, He gave us a brief lesson on how to position ourselves while jumping off the plane and landing. A few more minutes of waiting and clicking our pictures, we were directed outside toward the aircraft. The plane was a small, orange aircraft that seated about twelve of us. There were two benches positioned next to each other, where we each had to straddle the seat in front of our professional divers who then attached our harnesses to them. The camera crew was dispersed among us, filming and documenting our every moment. Finally, it was time for lift off.
The longest and most excruciating part of the whole thing was probably the plane ride. It felt like forever as the plane kept ascending higher and higher. My ears began to plug up and I felt queasy with anticipation. At this point, all I wanted was to get myself into the air. After what felt like hours, I could hear the rev of the engine begin to slow and knew that it was THE time.
And then, all of a sudden, everything changed. What was once a calm, soothing flight up into the sky turned into madness. I felt like I was in an action movie. We were all geared up and ready to go. The doors were opened and I immediately felt the gusts of wind. I was in the very back and knew I would have to watch each and every one of my fellow divers jump out of an airplane. It all happened so fast... seconds later the first tandem diver launched themselves off the plane. One moment they were hanging off the plane, and the next they fell into a spiral through the clouds. It was like watching someone get sucked into a black hole. After seeing this about three more times, it was my turn.
Prior to this moment I had kept myself calm and collected. All I was thinking was how fun it would be to soar through the sky. Nonetheless, as I grasped onto the edge of the plane, my head and feet positioned in the correct form that I was taught, all I could feel was the fun that I would have in this tandem jump. Before jumping off, I waived at my cameraman, who was on the wings of the plane to nicely capture my moment of adventure, and there I was up in the air @ 14000 Ft getting sucked by the gravity at the speed of 200kms/hour towards the cold & hard ground.
It's hard to describe the physical feeling of free falling. Prior to the jump, I imagined that I would feel that similar sensation of a rollercoaster drop. However, my stomach felt completely fine. The only challenging part of it all was merely the pressure of the atmosphere against my face. I could feel my face turn to jelly, and it was impossible to close my mouth or even move my body. I kept making funny faces on the camera, screamed my lungs out in excitement and was totally awed by the beauty of nature around me throughout my free fall time, which lasted for about 55 seconds. Felt almost like an Eagle flying high above the clouds and witnessing the great experience.
The cameraperson was doing an awesome job and after this experience I was almost jealous of him as what we experience once in a lifetime, they get to experience almost 5-6 times daily. He was in front of me while diving, so close that I could actually give high-five to him. Suddenly he moved around me almost taking a full circle and all of a sudden again re-appeared in front of me, capturing each of my expressions and these special moments of my life.
While my tandem pilot Paul opened the Parachute after he gave me a signal, I could see the cameraman going zoop past like a bullet down towards the earth. He was getting ready to film my landing which I only came to know later. When the chute flew open, after almost a minute of falling, the howling of the wind around me was replaced by complete silence. I realised Paul had a hold of my head to prevent it from jerking back violently with the sudden change in pace. We had suddenly slowed to a pace so sedate, it felt as though the world had hit a pause button. I was frozen in the sky. Paul was kind enough to make me experience how it feels to swirl in the air 360 degree with the chute taking all your weight. We took the full circle before we landed to see amazing views of the Czech countryside. For the last five minutes, we slowly glided through the air, taking slight turns that made my stomach queasy.
The landing was smooth and easy. I lifted my legs up and my tandem pilot got us on the ground in a few steps. In a mere seven minutes upon disembarking the plane, I felt the ground beneath my feet once again, and that was it. There was cheering, high-fiving, and fevered hugging. Ten minutes later, I was sipping a drink, excited though feeling a bit exhausted as the adrenaline had left my system just as quickly as it had flooded it.
I was strongly urged to see a video of my jump. Initially, it struck me as a way for the operators to make an extra hundred Euros, but I couldn't have been more wrong. It was a worthwhile investment to have my first ever skydive recorded for posterity, to relive the madness over and over again. The entire experience was incredible. The adrenaline rush remained with me for the rest of the day as I changed back into my clothes and was handed my USB with photos & videos that my cameraman expertly took. As I got back onto the van and headed back to Prague, all I could think of was swimming in the clouds.