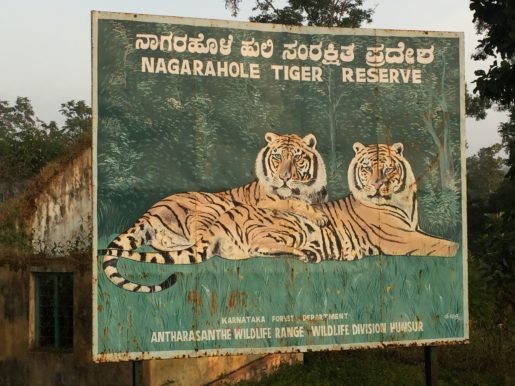 I love animals, especially wild animals and always try to incorporate something associated with them into any trip. Andy on the other hand isn't fussed, but on this occassion he'd agreed to come on a tiger safari with me in Nagarahole National Park in Karnataka state in South India.
A tiger safari was something I'd had my heart set on from the minute we decided we were going to India. So much so I'd done all the research and booked the accomodation and safari long before we left the UK. I like to think this wasn't me getting over zealous with the planning.There are 49 tiger reserves India, however the majority of them close during monsoon, re-opening at the beginning of October. This was really bad timing for us as we're heading to Bangladesh on 1st October, so some organisation was required to ensure I got my safari fix.
After many an hour on google I finally discovered there were only a few tiger reserves that would be open at the right time and in the right part of India for our safari. Nagarahole and Bandipur National Parks were two of those. After asking lots of questions and reading many reviews I decided to opt for Nagarahole which seemed to have the edge on tiger spotting at the end of monsoon season.
The next thing to decide on was how to get to Nagarahole National Park and then onto our next destination of Kerala afterwards. There were several options of train, bus, and car or a combination; given our short timescales we decided to get a driver. Not the cheapest option for sure, but it saved us wasting too much of our precious travel time getting from A to B. I booked everything, transport, accomodation at Kabini River Lodge and safari through Skywater Tours. They were extremely patient given the numerous questions I sent via email and did a great job of organising everything for us.
Safari day arrived and we woke up early in our hotel in Mysore ready for our driver to collect us. I was as to be expected, ridiculously excited. Two or so hours later we arrived at Kabini River Lodge, located on the southern edge of Nagarahole National Park on the banks of it's namesake the Kabini River. An eco-safari resort, it's a colonial estate sprawling over 54 acres and was once the hunting lodge of the Maharaja of Mysore. Colonel John Felix Wakefield founded the eco-resort in the late 70's with his passion for conservation and wildlife and nearly six years after his death, the legend of 'Papa John' lives on.
Standing in reception was a huge stuffed tiger...I instantly thought 'hey that's a bit inappropriate' given it was meant to be an eco-safari lodge and the tigers are protected. On closer inspection though it was revealed that this tiger wasn't actually hunted. It was found by one of the naturalists that work at Kabini in a ditch one day, the casualty of a fight to the death with a rival tiger from the neighbouring Bandipur National Park. A sad story but I was relieved the tiger hadn't been killed for sport.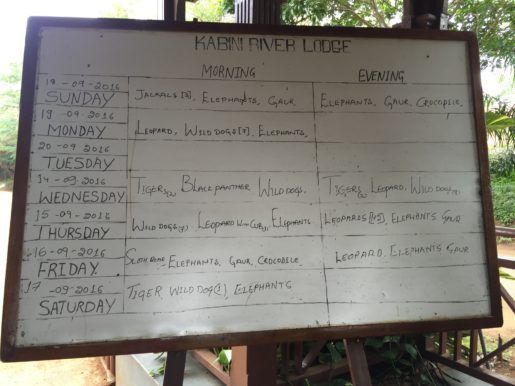 There was also a big whiteboard detailing the animal sightings from all the previous weeks safari's. We could see there'd been three tiger sightings in the last week but none since Saturday, it was now Thursday! Whether that was a good or bad sign we'd get lucky today we had no idea.
We were given a quick briefing of our itinerary for the next 24 hours, along with an overview of the layout of the grounds, by one of the park rangers. He then showed us to our tented cottage, nestled amongst the trees on a slope leading down to the river. Our tented cottage, despite being the cheapest accomodation option at the lodge was pretty impressive, with electric and a fully functioning modern bathroom. Other accomodation options are cottages and rooms and I can only imagine they were even more impressive.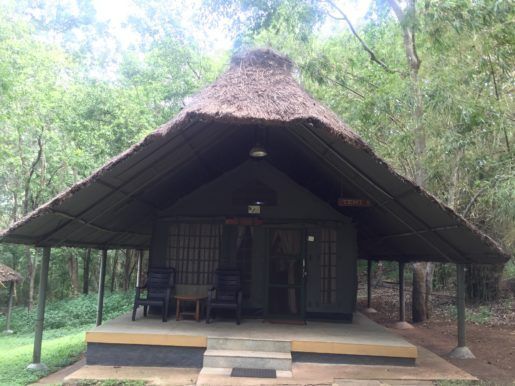 There was also a spa on site where you could have ayurvedic treatments.
At this point it was early still. Lunch wasn't for another couple of hours and the safari wasn't until late afternoon so we decided to chill out for a bit in the peaceful surroundings. An hour or so later feeling more refeshed we set out to explore, finding ourselves on one of the naturewalks around the grounds.
I was just thinking there's not much to see here bar a few huge termite mounds and lots of pretty butterflies when there was an almighty great big roar (or so I thought). I instantly though the worst, that we were about to be attacked by a tiger (with my track record with animals, this wouldn't be such a surprise). Andy started laughing and pointed out some wild boar through the trees...it seems we'd woken them from their nap and they were none to pleased. Wild boars can be quite viscious if they feel threatened so I grabbed Andy's arm and we hot-footed it out of there pronto.
On the way back for lunch we stepped into a clearing and realised we were being watched; lots of monkeys were watching our every move. Higher up in the trees were many flying fox bats hanging upside down asleep, waiting for nightfall so they could go in seek of food. I was in my element.
A hot buffet lunch was served in a round house near the lake called the Golghar. The food was excellent, a huge selection of vegetable and meat indian dishes. Most of the ingredients are locally sourced and the lodge has also developed an excellent waste management system, everything is recycled or composted.
After lunch the moment I'd been waiting for had arrived...it was safari time. There were nineteen guests staying at the lodge and we all jumped into four open sided jeeps. Another group of about twenty who had just turned up on the off chance piled into a big khaki coloured govenment bus. Unsurprisingly they saw very little during their safari, as the bus was load, noisy and smelly. Luckily there are very strict rules for the safari's and each of the jeeps headed off into Nagarahole National Park down different tracks. This limited the noise and disturbance for the animals and maximised the chance of spotting widlife.
No sooner had we entered the park did we come across a large number of spotted deer, a mixture of antlered males and females. We continued to see these throughout the safari in varying sized groups along with numerous chattering langur monkeys. These kept us entertained as we waited in silent anticipation for some larger mammals to appear.
About an hour into the 2.5 hour safari our guide stopped the driver. He climbed onto the side of the jeep and whispered he'd heard the alarm call of a spotted deer, which meant there was very likely some kind of large predator nearby. He scanned the horizon with his binoculars, indicating to us to remain silent. He pointed to a spot about 200 metres in front of the jeep. We strained our eyes, at first seeing nothing, then suddenly we saw it - something was walking stealthily up the track towards us.
I grabbed my little binoculars to get a better look and realised it was a magnificent leopard. Very soon no binoculars were needed, the beast continued to approach us until it was so close we could smell it. It then stalked across the track in front of us and disappeared back into the forest. This was the safari highlight by a long shot.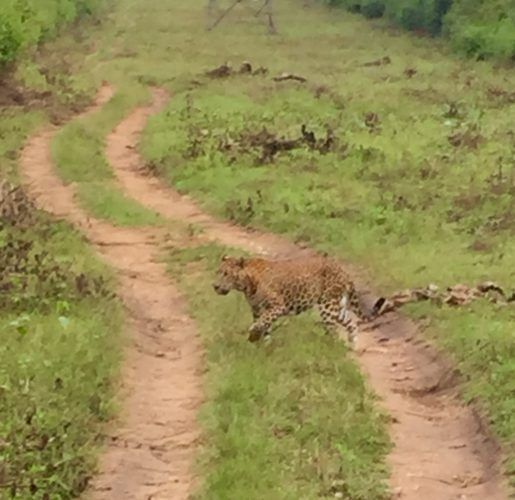 The tiger remained elusive but as I've heard said 'you don't see tiger, tiger sees you'. Of course we were gutted to have not seen a tiger but it's nature and as always nature is unpredictable. The closest we got was spotting the pug marks of a female tiger with two cubs and some tiger poo (scat).
Back at the lodge that evening we partook in a couple of beers and watched a wildlife film all about the tigers, in the Viceroy's building. It was then back to the Golghar again for dinner, yet another huge delicious buffet feast
Early the following morning we were booked go on a river safari by speedboat, and a quick trip in a coracle (a traditional round shaped boat made of local materials). However due to our lack of success in spotting a tiger the day before we opted for another jeep safari.
Unfortunately yet again this was unfruitful, however we did have a very close encounter with a family of Indian elephants - twice. It was an amazing experience to see these in the wild instead of a zoo. Elephants are Andy's favourite animals so he was especially chuffed at this one.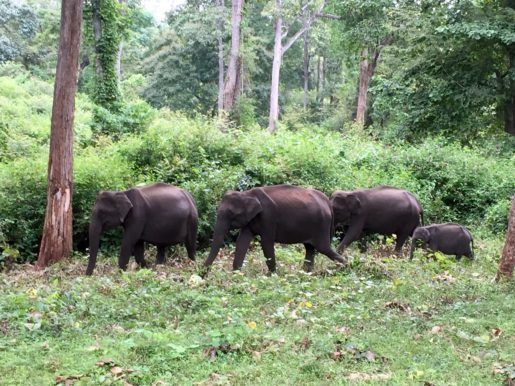 Over the course of our two safaris we also saw wealth of other animals, including high numbers of spotted deer and monkeys, two gaur (huge Indian bison), a wild boar, a wild dog and a crocodile. There were also so many species of birds including eagles, owls, and kingfishers.
All in all this was a great adventure and we couldn't have asked for more from either the Kabini River Lodge or the safari itself...except for maybe a tiger of course. We'd highly recommend it and would love to do it again sometime, maybe in dry season when tiger sightings are more frequent.
Did you enjoy this post? We'd love to hear your comments and feedback.
This post was originally published on Can Travel Will Travel.