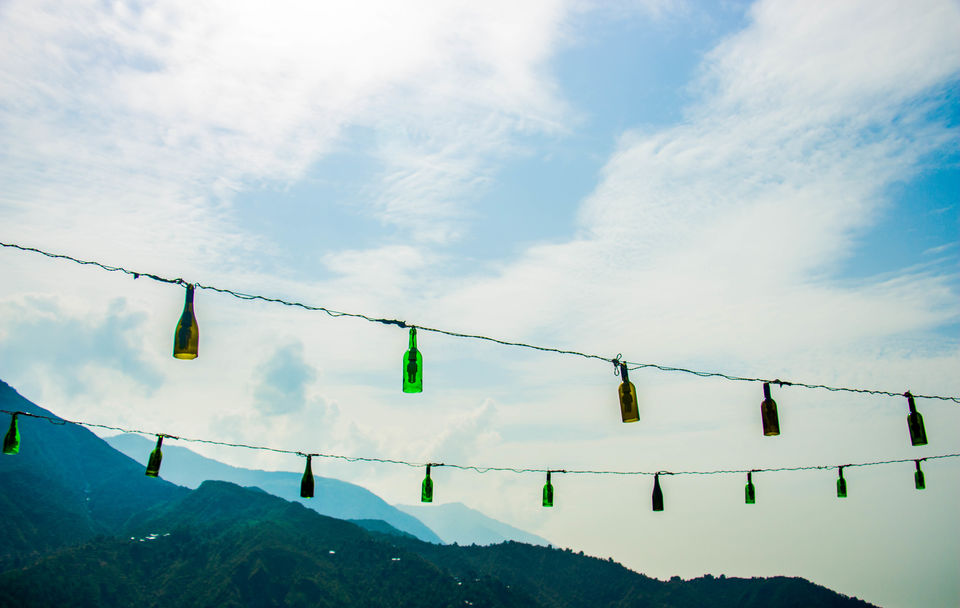 The Himalayan Mountains are said to have the answer to a wandering soul, or so they say. Thus, I stuffed a backpack, gathered all the courage I could and took my first step towards the ranges. Triund however, came as a challenge.
Ever since I was a little girl, the mountains were a mystery to me and I knew that someday I will know and understand them better. I would tell myself stories of how in the years to come I would have climbed many mountains, dipped my feet in the sea and explored the wilderness, travelling to lands far from where I first began. Triund would now become the farthest I had come from home.
I took a train from Mumbai and headed to Delhi from where I'd take the bus to Dharamshala and later Mcleodganj. I imagined the Dhauladhar Mountains, staring at me straight in the eyes, would they be welcoming, I wondered? The website promised Triund to be a moderately difficult trek, a humble beginning to discovering the mountains, I thought.
Arriving at Mcleodganj, after a twirling and turning bus ride from Dharamshala, I sat on the porch of the hotel, stunned. The mountains were right in front of me, a leap of faith and it seemed like I would be lost inside its dense forests. The tip of the Dhauladhar or what they call the "White mountain" peeked from behind the lush green ranges. I would start for Triund early next morning.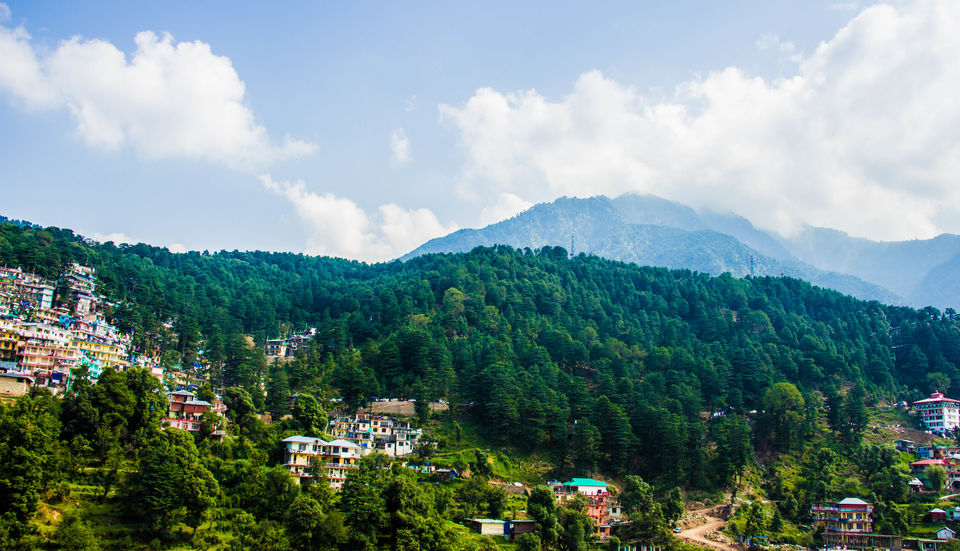 An early riser, I could hardly contain my excitement and popped out of bed before time. After a wholesome breakfast with pancakes and milkshakes, we started trekking towards Galu temple, the starting point to the Triund trek.
The trek is a total of 9km and its 3km till Galu temple. At the check post from where the road to Triund begins, we have to fill in our details and estimated days of travel. With all these formalities cleared up, I take a deep breath in and we start our trekking upwards.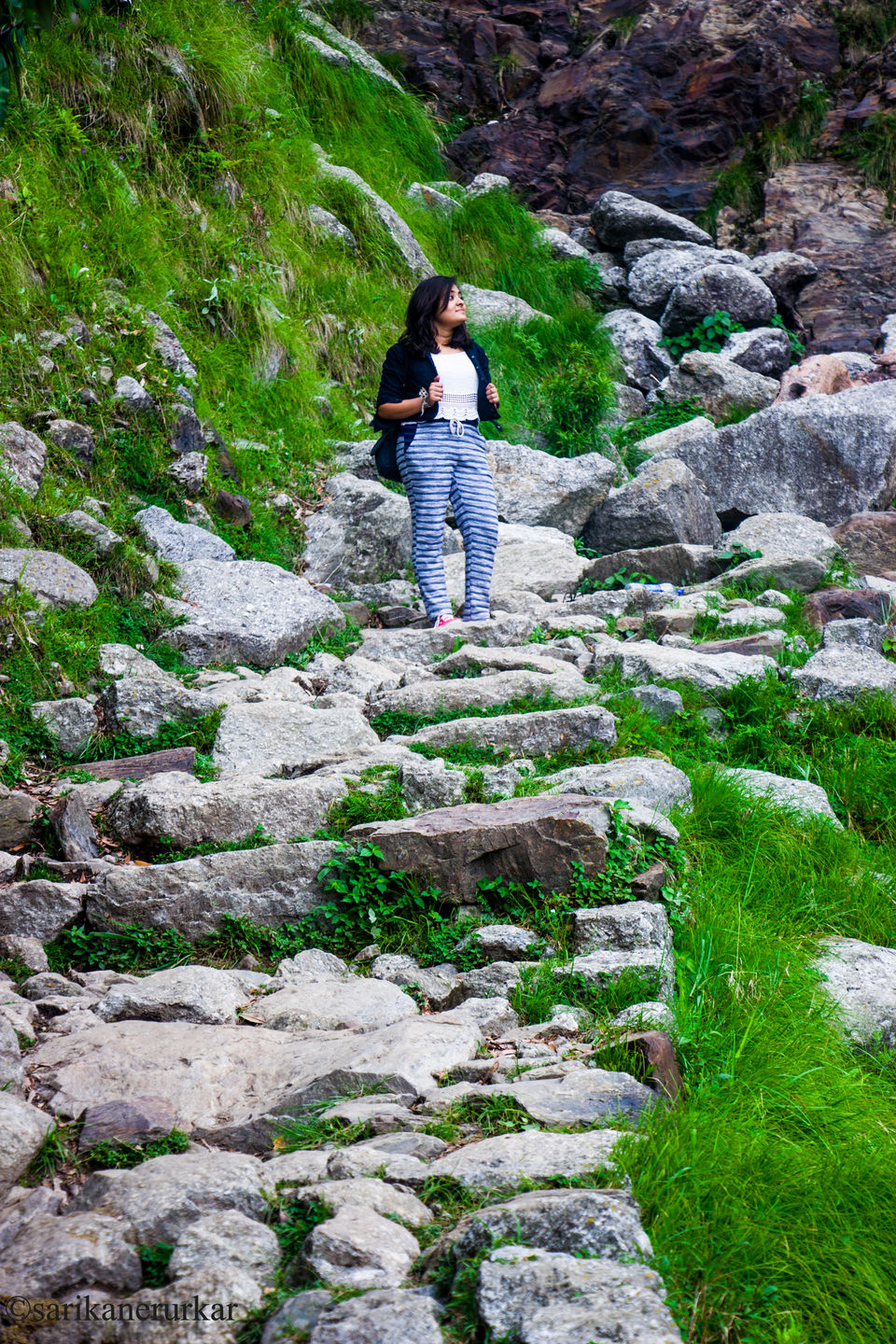 I wouldn't lie at all, it seemed to get tedious after the first kilometre and up till here the roads were well paved and made flat to walk on. It struck me then; I wasn't prepared for this, not like I should have been. I huffed and puffed, took breaks every half an hour and pushed myself for more and more steps. I wondered how I would then make it as a traveller.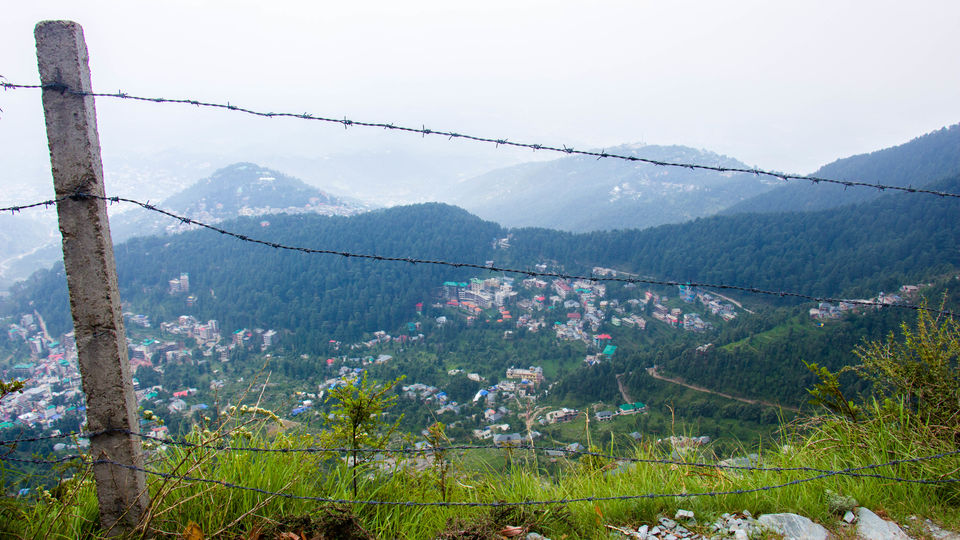 Triund had challenged me, and I still wasn't sure if I was up for it. I asked myself: do you think you can make it? My brain under the influence of my insecurities told me I couldn't and asked me to reconsider when we reached midpoint at Magic View Café, the oldest Chai shop there, since 1984. To be fair, I did consider. I was exhausted and the mountains just seemed to grow taller by the minute. We were a long way from Camp, precisely 3km, estimated to take us another two hours because the road from here got tougher and steeper, more rocks than roads.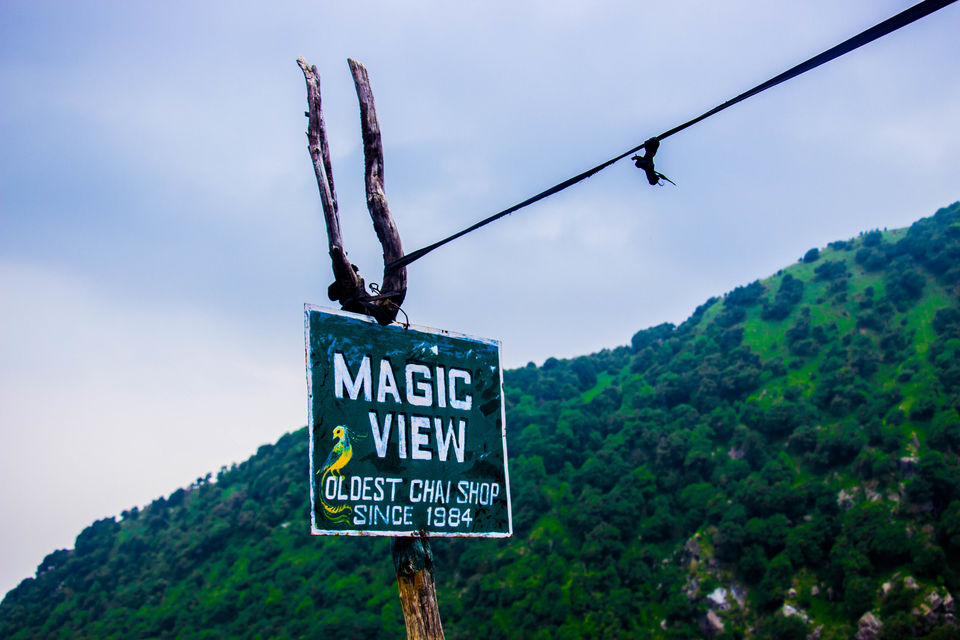 Before we hopped off the Café, I asked myself, am I ready for this? A voice called out from the inside, I knew I couldn't give up now, how then did I plan to see the world? I told myself, this is my first journey upward, in every sense, and if I backed down now, it would take a long while to get back up.
So I started, and as I climbed over the rocks, I spoke to myself, recited my bucket list in my head, over and over again. The climb was tougher, but I realised I was getting there too.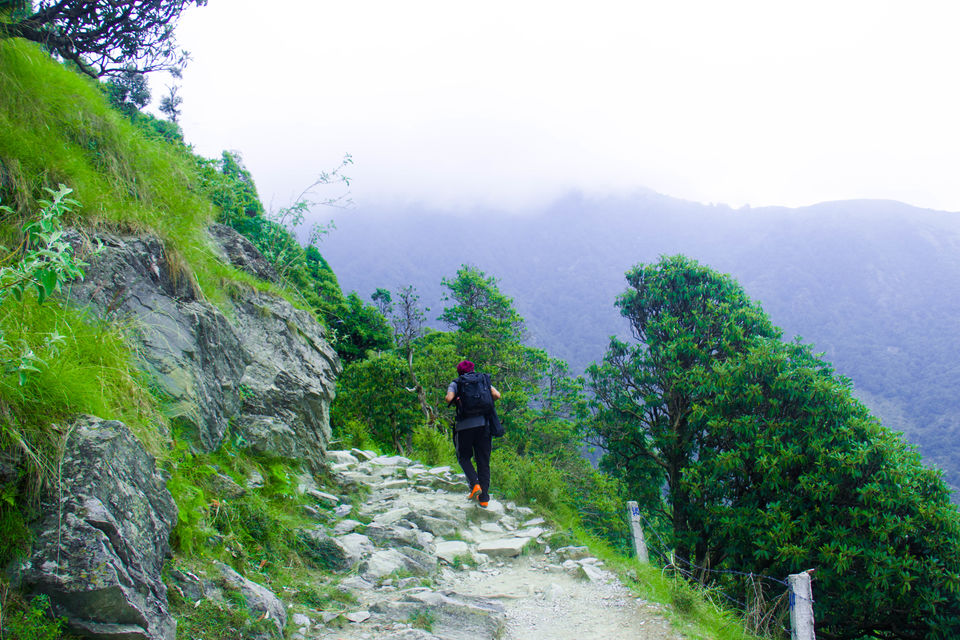 The trek ends with 21 curves, long ones without any exaggeration, and this was the ultimate test. I took it on myself to be more worthy than the girl who started the trek, a little stronger than she was. It took us an hour and a half to cross the 21 curves; the road was steep and rocky.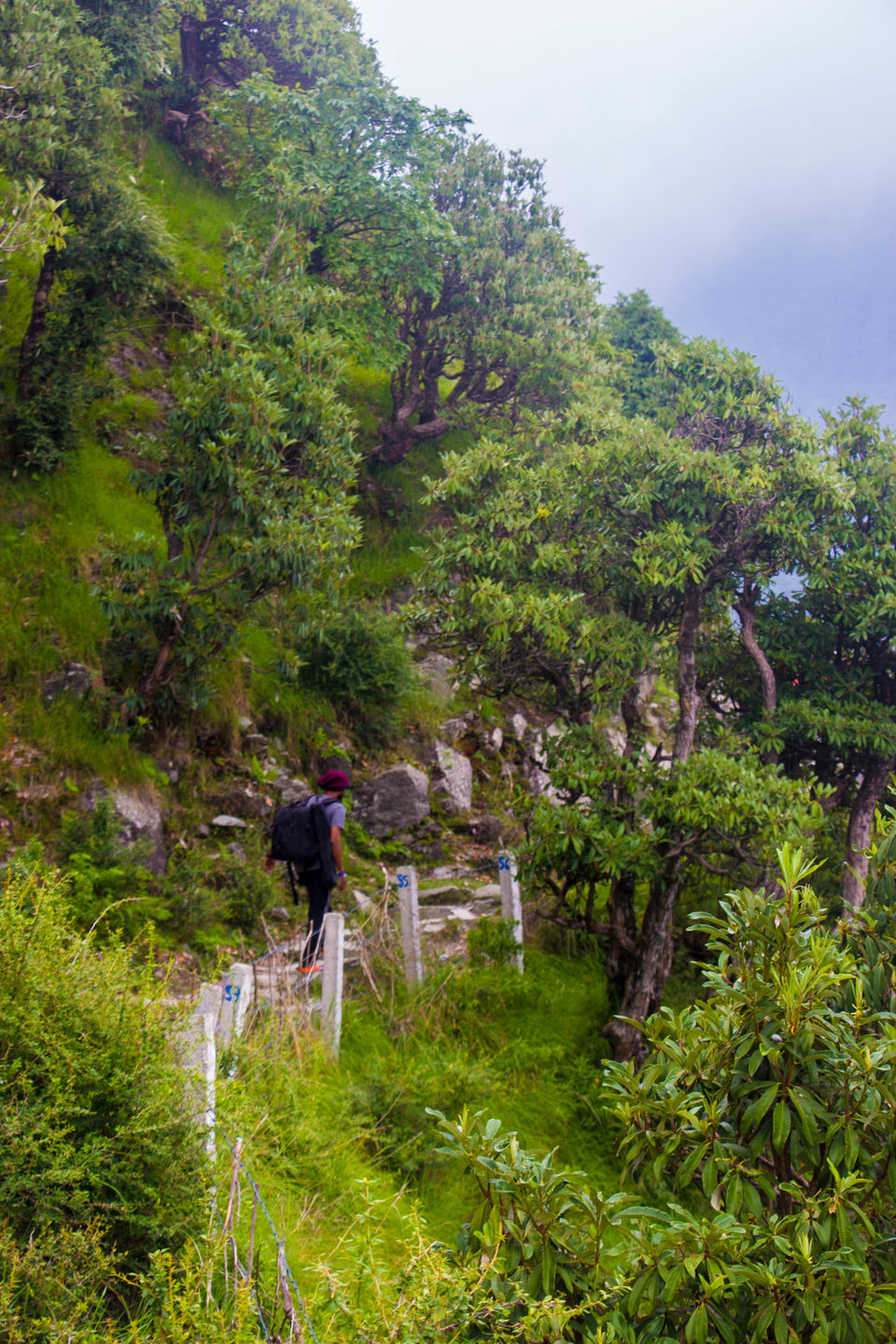 When I finally overcame the last few rocks of the last curve, I stood there, trying to catch my breath, my head staring at my toes. With a steady heart beat, I looked up, and I haven't got a word to describe that feeling yet. Was it beautiful? Yes but not only beautiful. Was I stunned? So much that I still can't describe it.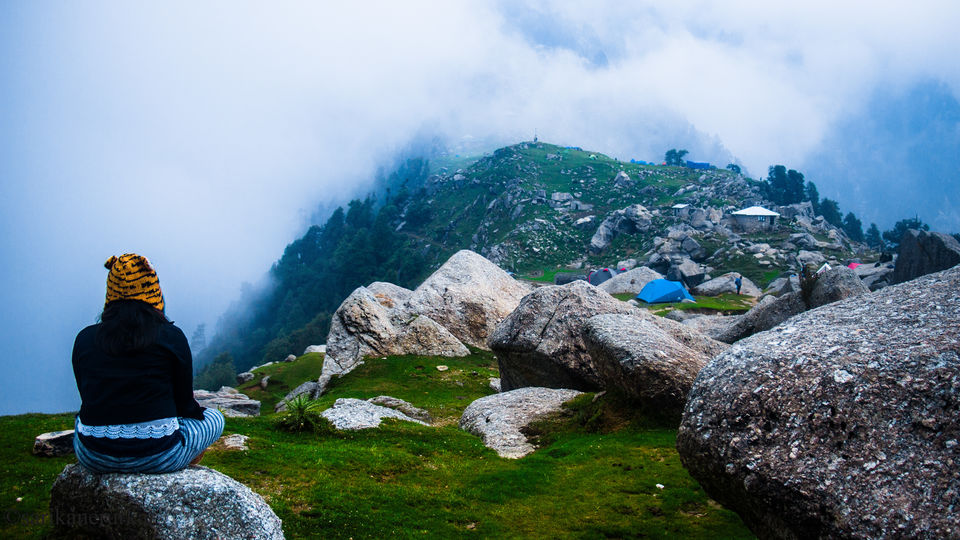 The Dhauladhars smiled back at me as I stood dumfounded. I could see the White Mountain, without anything blocking it. It felt no more than an arms distance away. The clouds made a halo over its peak, spreading across the other mountains. I felt accomplished and proud, that I could now fulfil every other item on my list. Oh Triund, I am still stuck in awe.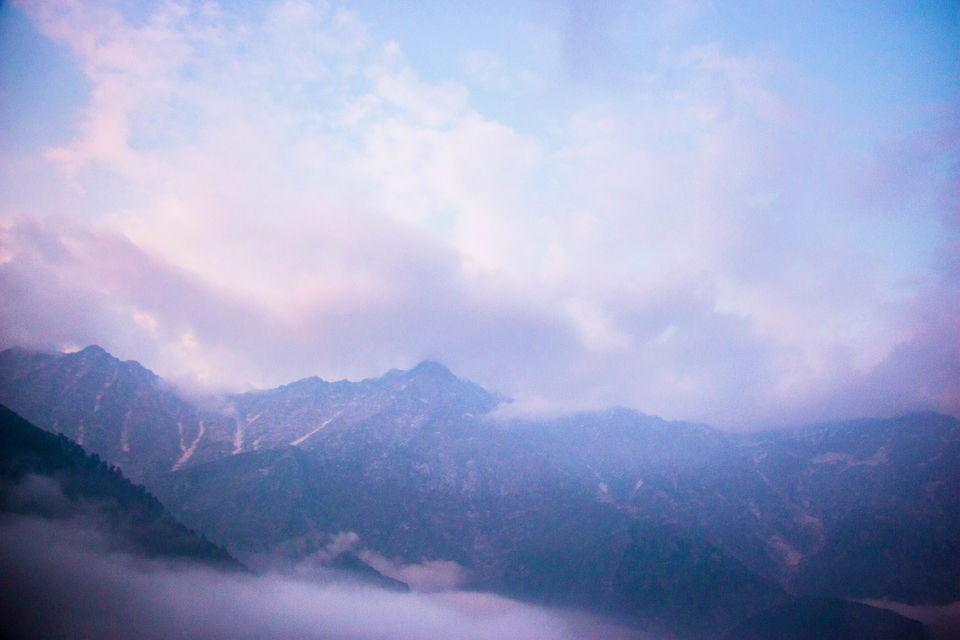 After resting a while, we set up the tent and sleeping bags inside it. The view from our humble aboard: The snow peaked mountain, of course!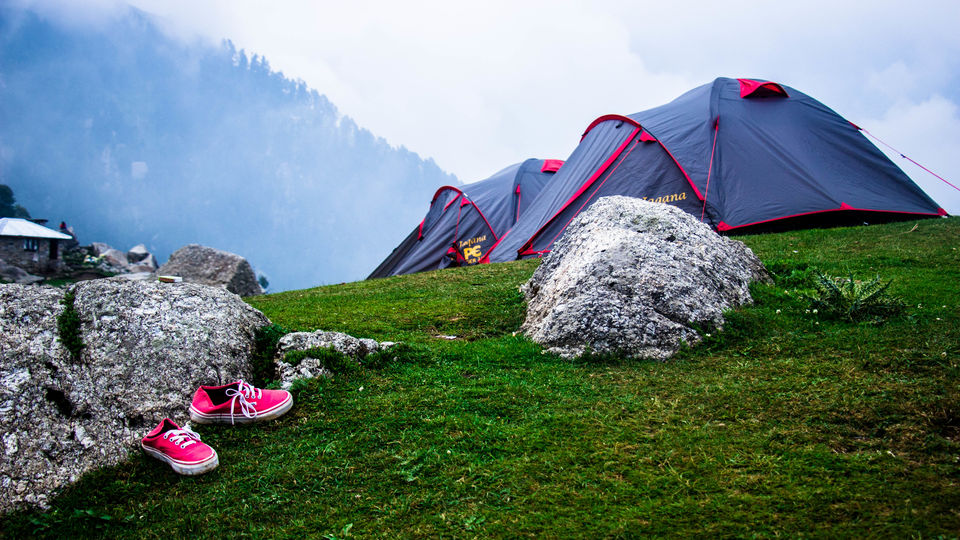 We had a lot of time until dinner and so we walked around Triund, sat atop rocks and admired the view. The monsoons had lowered the clouds and we were almost feeding on them.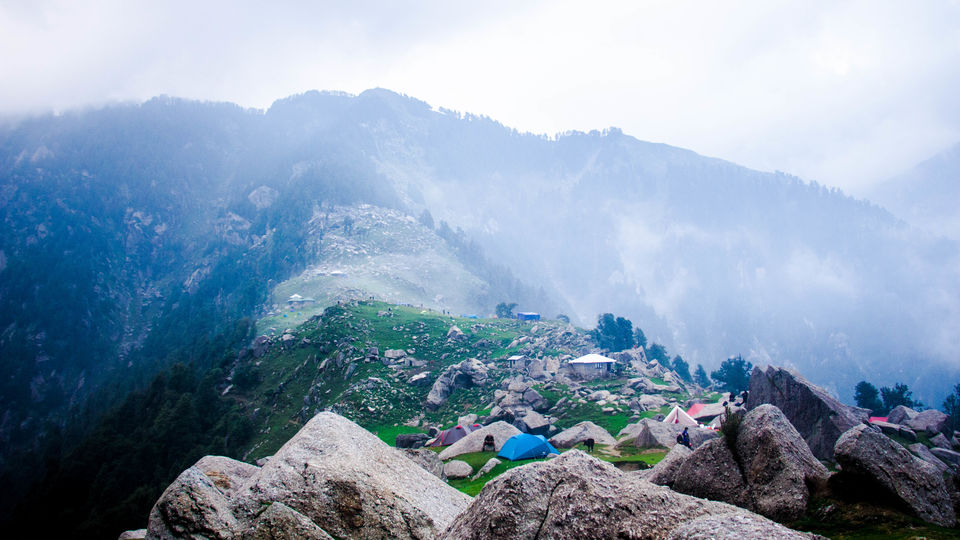 A home-cooked meal of vegetables and rotis are served to us and we sit peacefully inside our tent under the dim torch light mounted on the top. After a sumptuous dinner, we take a stroll around the base and then cosily settle over rocks to each find our own peace.
We sleep under the blanket of clouds in the night. The snow mountain was still glowing like a pearl far above. I woke up next morning and let my feet get tingled by the dew damped grass. I sat with folded legs; this is all I had dreamed of. The mountains right ahead, the green grass, the air naturally cool and fresh.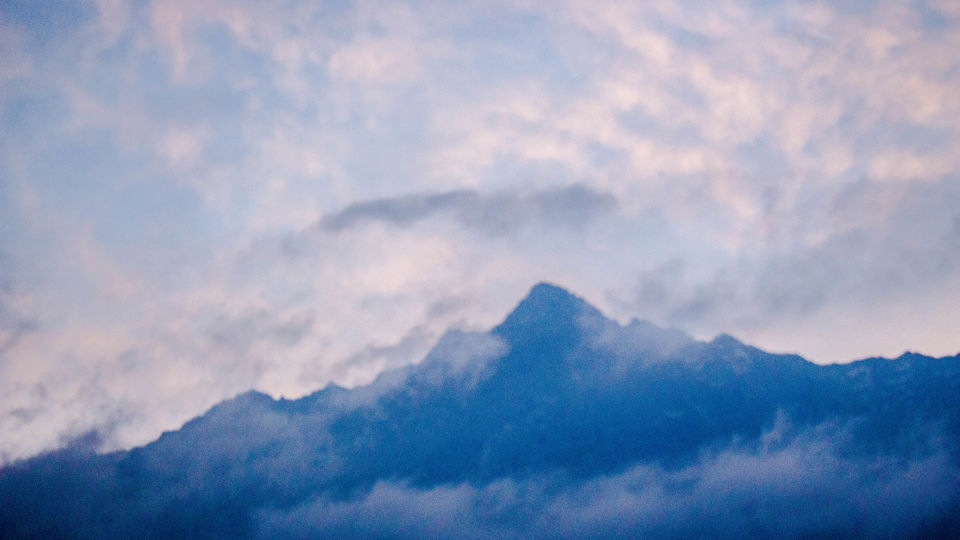 As we start the trek back to Mcleodganj, I can't get myself to say goodbye. I make a promise I will be back but this time I won't halt at Triund, I'll go further up to Indhara Pass.
It takes us half the time to climb down, naturally its more simpler. The trek now starts wearing our body out. As we reach Mcleodganj, we halt at Café Carpe Diem and eat a lump sum meal.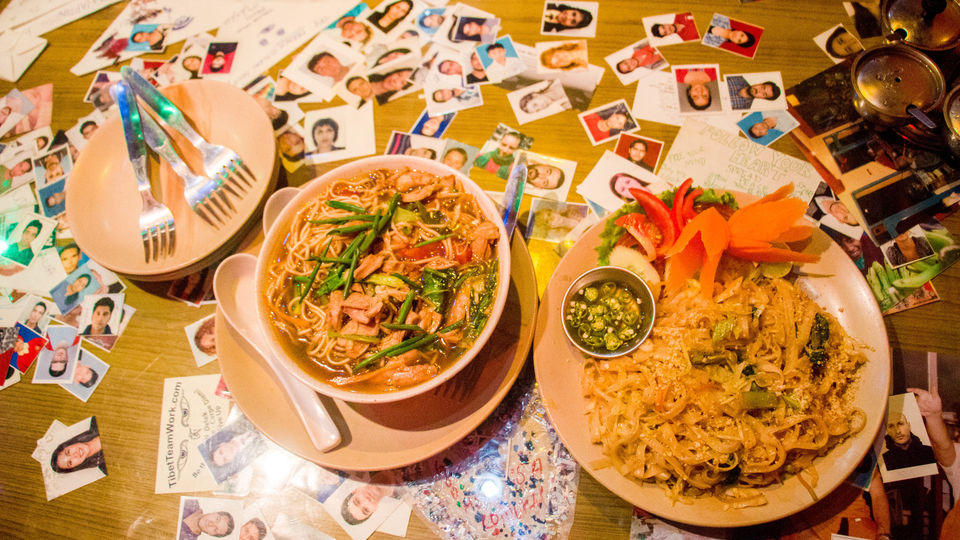 Even after I got back to Mumbai, that night at Triund has stayed with me. Even now when I shut my eyes, I can faintly taste the clouds and feel the light cool breeze on my cheeks. Triund marked a start and I hope this journey doesn't end soon.