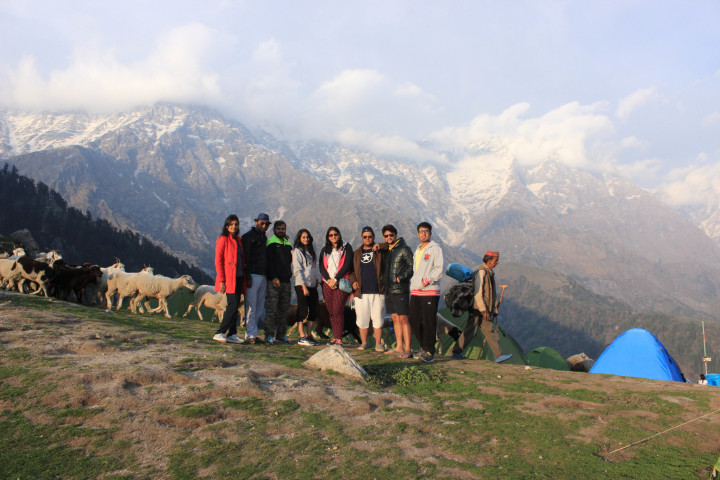 Situated in lap of Dhauladhar Range, Triund is a beautiful trek specially for the one's who are planning to experience the trekking for the very first time.
It was month of May in Delhi and sun was giving sunburns when this random plan to visit Triund strikes to us in middle of our office work. In starting, no one was serious about this plan but somehow everyone gets interested with time and voila, we booked a personal tempo traveler as we were 8 people in the group.
So, on Friday evening, we left from Gurgaon in our traveler with essentials packed.
It was an overnight journey to Dharamshala from Gurgaon. Our first halt was "Sukhdev dhaba" in Murthal, Haryana. There we had tea/lassi and then we moved again towards our destination.
In the night we halted somewhere on highway to had our dinner and some rest.
Next morning we reached Dharamshala and then Mcleodganj town. There we got 2/3 rooms in a small guest house for 3/4 hours and we took some rest and then we got freshen up. After that we eat something light in a local cafe as breakfast. It was a Tibatian Cafe.
After having breakfast we all got packed with essentials which we had planned to carry to top of the Triund i.e. Water, some packs for biscuit and namkeens, warm clothes which includes sweat shirt, trek pants, socks, gloves, cap etc and left all other luggage to our hotel. We had hired 2 local taxis which dropped us to the Galu Temple.
STARTING POINT OF TRIUND The starting point of triund trek is galu , however there are many options to reach galu. Either you can hire a taxi from Mcleod Ganj till galu or you can start the trek right from Mcleod Ganj . Trek can also be started from Bhagsu Nag . From galu there is an unambiguous byway which goes through a beautiful forest of oak, deodar and rhododendron.
After getting dropped at Galu temple, we had to start our trek. This is basically a check point and trekkers have to go through security check. After clearing the check post, our beautiful journey begins.
It was a narrow trek with lots of stones on way but it was not very steep trek so one can easily trek it. We saw beautiful views from there. The Mcleodganj town was looking so beautiful and serene from that height. As we keep on trekking, we started getting tired. Some points were now looking really difficult to trek but the trekkers who were coming back from Triund were boosting us saying "It's not too far now and you seriously will forget this pain once you will reach the top".
We were trekking for hundred meters and then we were taking small halts. There are many small shops on the trek where you can get cold drinks, Maggi, biscuit, chocolates and few small refreshments.
On the way i saw a lady who was holding her few months old baby with baby carrier and trekking. This was inspiring. This really show the passion of hers for trekking.
It was over 3 hours i was trekking with one of my bestie in office (rest all were far beyond us) and there was this point when i was like how much more is left? And suddenly a trekker who was trekking downwards read my mind and told me, just 5mins more girl and u will see the most beautiful evening of your life. I was full of enthusiasm by hearing that guy and i started trekking at a faster pace.
Withing 5 minutes, we both actually reached the top of Triund and i was AMAZED, MESMERIZED and what not?
No, i seriously cant describe my feelings in words here. My eyes were wide open and i was speechless and the best part is that my whole tiredness, ache in legs and thighs, they just vanished somewhere in the thin air. I was feeling full of energy, happiness, peace, love, positivity, enthusiasm.
This indeed was the most beautiful evening of my life, the most beautiful view of my life was there, right in front of my eyes and i was denying to blink. I didn't want to miss viewing that beauty even for a fraction of a second.
After few minutes i was there lying down on the ground feeling my ZEN moment. I was at peace.
I took out my camera and i started capturing those views those memories for ever.
There we had booked 2 rooms in the government guest house, which is situated right there on top, few days back. So, we kept our bags there and then we started exploring nature.
I clicked a lot of pics. We watched the sunset there, we watched the snow capped dhauladhar range mountain. We saw lots of camps under construction.
I was so lost in watching the views from there that i really forgot i was not wearing warmers and i realized i was freezing. I went back to guest house and wore my jacket and lower and other warm clothes.
Soon, it was dark but the light of moon and stars was making the things and path visible to people. The moon was looking really gorgeous and clear since triund is a place which has almost nil pollution so sky was clear. We had got one camp for girls as boys were interested in staying in guest house. It was at a beautiful place on a slight slope. The camp was charged at rs 1000 and he provided us the sleeping bags too.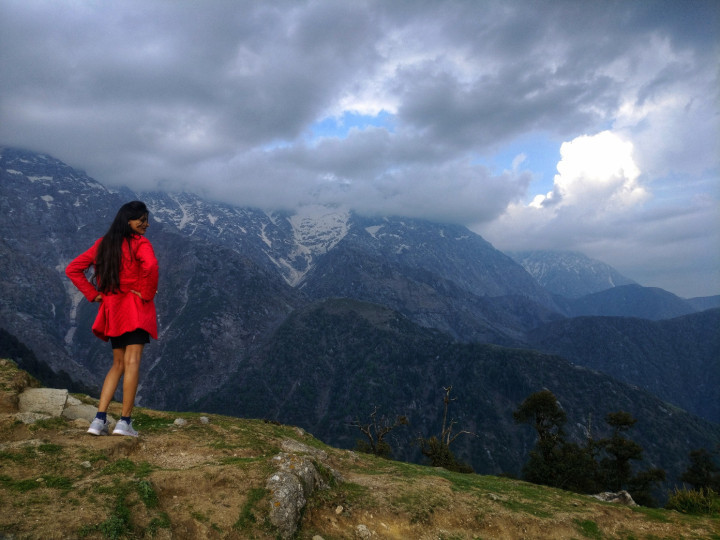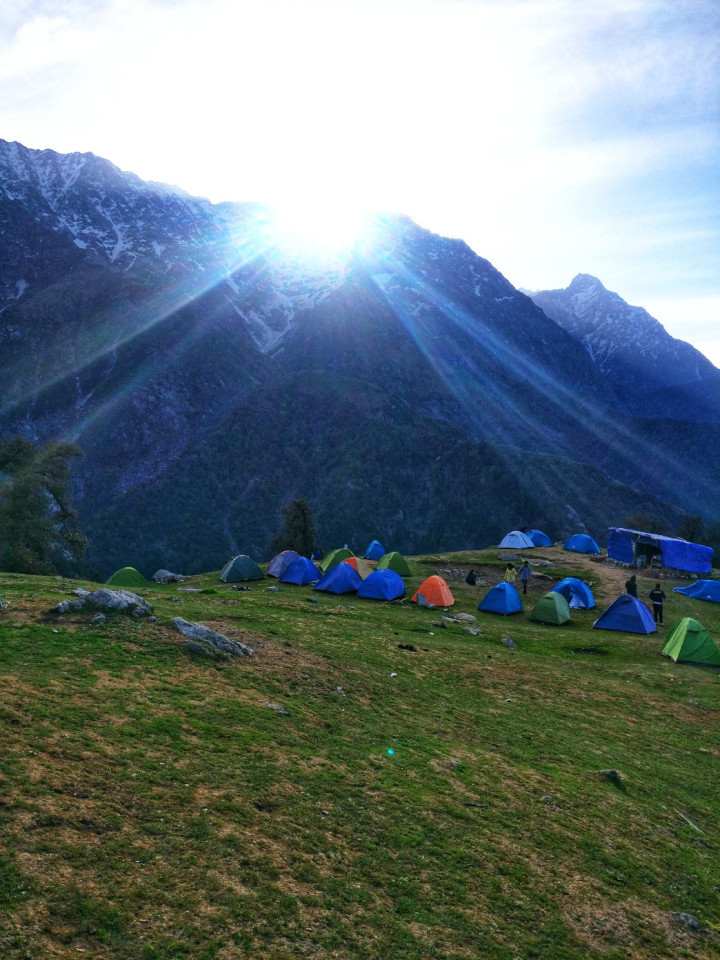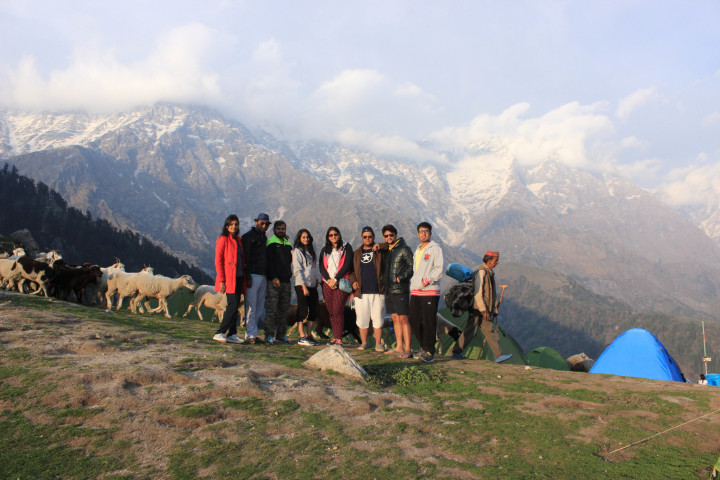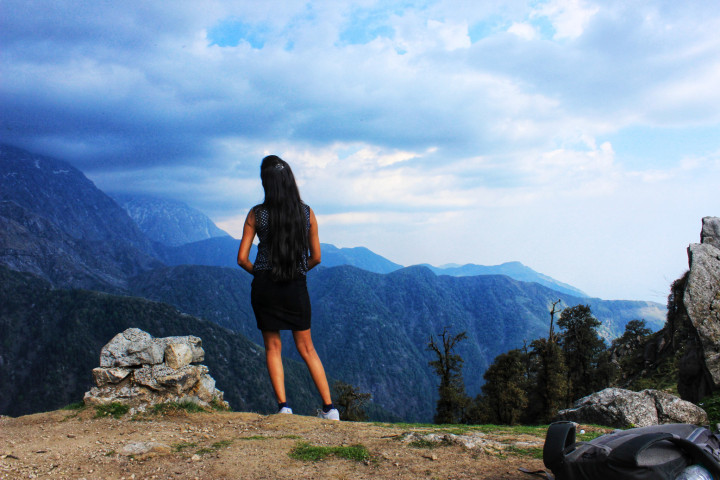 While settling down at guest house in evening, we had talked to the cook and he was ready to give us utensils to cook maggi (we had took few packs of maggi with us on top) and water. So we collected some dry wood pieces from here and there and we made our dinner by ourselves under the night starry sky in the back side of guest house. We cooked it in traditional way by lighting up the wood and putting the utensil over a hearth. It was real fun. We ate the maggi and we went exploring the place. There were few groups which were playing loud music. I request every trekker to not do this as this can spoil the ecosystem of a peaceful place. Also, pls carry the trash along with you back and don't throw it here and there on the trek. Keep our beautiful mountains clean.
After exploring wr girls came to our camp and slept. I did watch the stars and moon and sky for sometime then i slept too.
Next day, i woke up so early. Although i was not able to get sound sleep as it was cold but still it was good sleep which makes the tiredness fade away. I got my camera ready and i watched the sunrise. The sun raised beyond the mountain and it was mesmerizing. Most beautiful sunrise of my life.
There is a smll SHIV mandir on Triund top, it looks mesmerizing with morning light.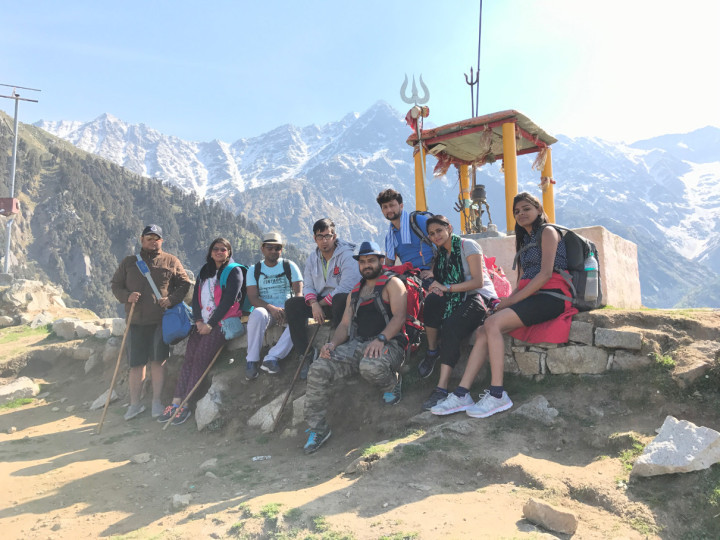 We ate something from local shop and then we headed back. I seriously wanted to stay there, maybe forever. But!!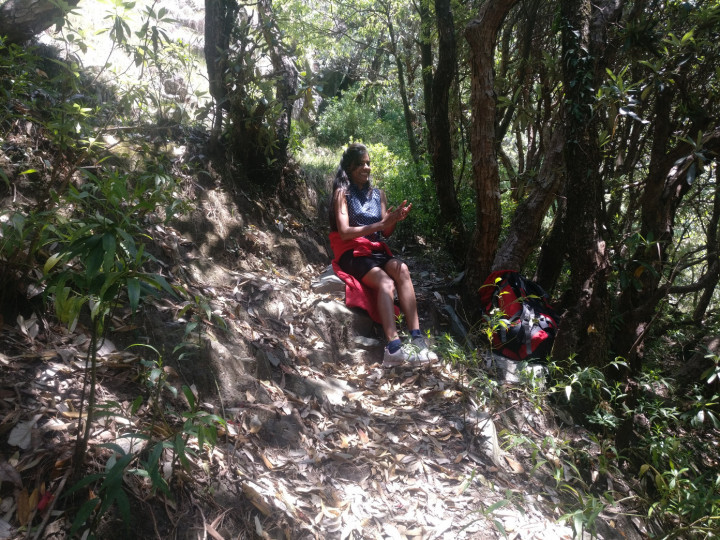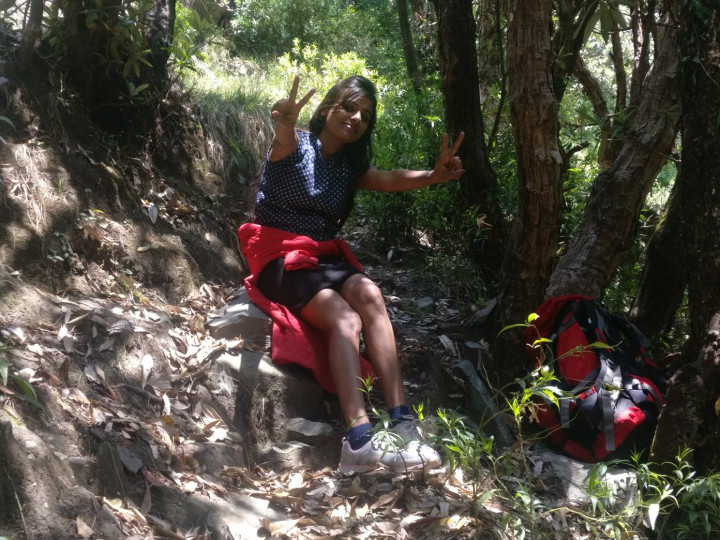 Then we had our lunch in town. It was a small dhaba at bus stand. We freshen up in our hotel room and then we went to Dharamshala cricket stadium. It is i guess the most beautiful cricket stadium in India. One can see whole dhauladhar mountain range from its ground. Its a great tourist attraction and worth watching.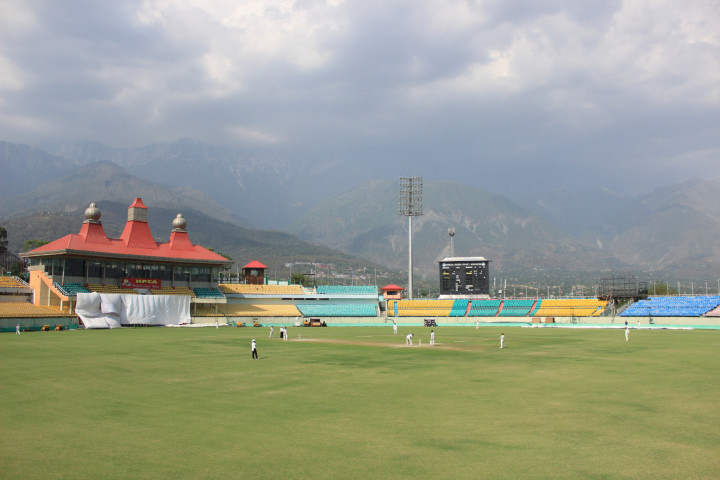 There are few other places too to watch in Mcleodganj but we couldn't visit there due to lack of time. May be next time.
Overall it was a beautiful trekking experience.
The overall expenses for this trip was appx 5k per person.
That was all about my experiences of Triund. For more snaps or any info, pls msg me on my Instagram account.
Till then, good bye from Jaipur, India
28th Oct 2018
9.00 p.m.
We started from Gurgaon in evening 4pm with our essentials packed
Our first halt was Amrik Sukhdev dhaba at Murthal, Sonipat for tea and refreshments.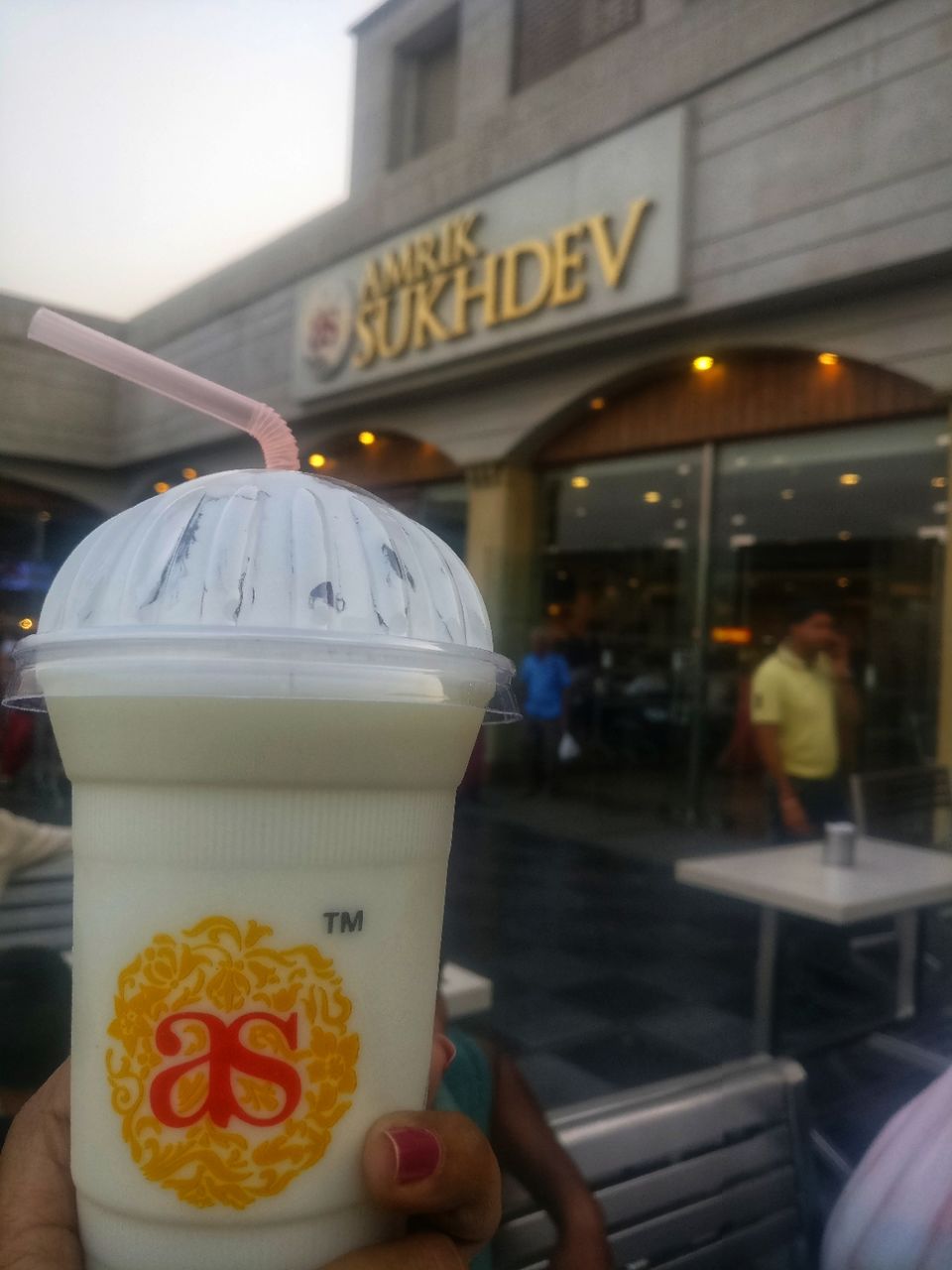 We reached Mcleodganj and took a small guest house to freshen up. Had breakfast and reached Gallu Devi temple to start trekking Triund.
It took appx 3.5 hours to reach on top.
We had a night stay there. We rented camps there only.
Travel tips
1. Pack only essentials
2. Always keep cap, 2 pairs of gloves, 2/3 pairs of warm socks, good quality trek shoes, 2 trek pants, sweatshirt and idlf required an umbrella or rain coat whenever trek.
3. Carry minimum amount of luggage with you on your trek.
4. Carry few eatables like biscuits, chocolates etc.
5. Carry at keast 2 lt of water and drink ample amount of water on youe trek.
6. Wear sun shades as sunlight on mountains is very sharp and can harm eyes.
7. Carry a bag in which you collect the trash and get it back with you. Dont spoil eco system of mountains with trashing or noise pollution.
In morning, we enjoyed the sunrise and mountains views and headed back to town.
Then we visited Dharamshala cricket stadium.
In evening we left for Delhi