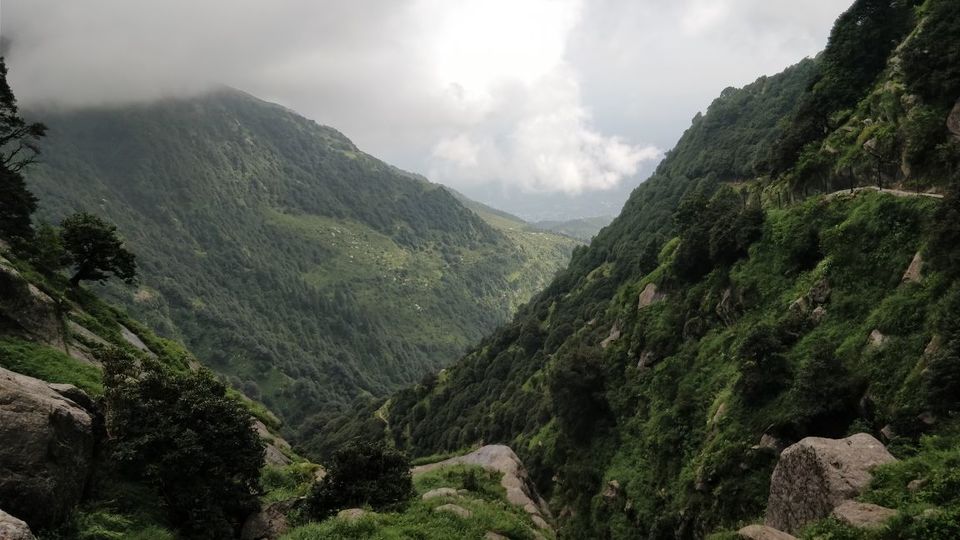 The mountains were calling, and I had to go.
Maybe it was all the biking chronicles that had inspired me, if travelling from Delhi to any hill station it must be on two wheels. It was the 12th of August when we started our trip for the first ever trek of our lives. Being working professionals, we always bore in mind to save up time here and there. Hence, we decided to board a volvo from Delhi to Chandigarh in the morning hours (0530 IST), and thereafter rent a bike in Chandigarh for the further journey.
The route from Delhi to Chandigarh was not new to us (Me and my best man ;)), as we had traveled a couple of times earlier on the same roads. The bus took us nearly 6 hours to reach Chandigarh, as we got stuck on the roads during the wee hours. It was 1130 IST we reached Chandigarh.
TIP: If going by this itinerary, make sure to board a bus from Delhi late night to avoid the wee hours traffic.
We had already made our bookings with Awerides, a bike rental service located in Chandigarh Sector 42. Royal Enfield, Classic 350 it was! One of the most comfortable bikes to ride on the mountains (That's what he says ;))
Without delaying any further, we picked up our bike from Sector 42. The bike was new and shining, which finally got us into the zone of travelling to the mountains. He collected biking gears too,as we had to cover a long journey ahead.
TIP: The pillion needs biking gears too. The pillion bears more chances of getting injured during an accident.
Here starts our journey.
We took the Kurali-Chandigarh highway route, well we had no other option, as this was what our GPS had suggested! Driving through the roads brought us closer to Punjab. Those vast stretches of agricultural lands, Gurudwaras after every half a km, people riding "bult" (that's what they call bullet bikes :p) and tractors took us to the heart of the state.
The real treat to our eyes was the crystal blue water of the Nangal dam that was flowing in stretches almost everywhere we could see.
As it was just lands, and lands, one cannot find any dhaba (quite ironic but true!) or any food joint on the roads. We decided not to pass any more time, as the sun was setting when we reached Nangal. We continued with our ride, enjoying the cool breeze and the wide roads inspiring us. A 45 min drive from Nangal got us to Una.
As it was already 1900 IST, we decided not to drive any further for the day, as RIDING IN THE DARK IS A STRICT NO NO! We called few of our Himachali friends to know which was the best hotel in Una to stay over. Hotel Suvidha Palace they said. Without any second thoughts, we booked the hotel through yatra.com and checked in the hotel after having evening snacks.
The hotel was well maintained, with clean and big rooms. It was much more than just a budget hotel. But, thanks to online bookings, we got the room at a much cheaper rate!
After a good night's sleep, it was time to complete the rest of our journey!
We started at around 0900 IST for Mcleodganj. An addition to the trip - it started raining cats and dogs! But thanks to our research on the weather in Himachal, we had ponchos (raincoats) with us. We put those on, and did not let it become a hurdle. Infact, we enjoyed it more...with the raindrops kissing our cheeks!
We rode through properly carved roads, rocky terrains and forests to reach Kangra.
We could see the golden Kangra fort that simmered with sunlight. To our excitement, we saw Dominoes on our way. We stopped over and had our lunch in Dominoes. After refreshing ourselves, we started well again! Dharamshala 15 kms - the sign boards showed. It was a proper hilly terrain now. With pine forests holding the mountains on the left, and clouds covering the top of the hills, we rode!
After 20-30 minutes, it seemed like mini Tibet. That was when we realised we entered Dharamshala. But that was not the end, as we had to cover 10 more kms to reach Mcleodganj. The road from Dharamshala to Mcleodganj was steep, and incessant showers made the roads slippery. We became extra cautious while riding through the mountains. Visibility reduced due to the clouds coming over. But what fun would it be without any challenges!
After covering some more distance, we could see cars and bike parked on the sides of a narrow road. When asked, we got to know the road ahead was blocked ahead due to landslides. Imagine, how terrible we would have felt on not being able to reach Mcleodganj which was just 1 km away! But we made our way out. We took a road, on guidance from locals, which was narrower than the previous one but accessible by bike.
After 20 mins more, we reached Main Square of Mcleodganj.
From Mcleodganj, we had to reach Shiv Shakti guesthouse in Dharamkot. Two roads diverge from the main square, one towards Dharamkot, and the other towards Bhagsu Nag.
A km steep ride from Main Square took us to Shiv Shakti in Dharamkot. It was 1700 IST when we reached the gueshouse. We were dead tired after the ride, so hot shower was a must! After the shower, we were guided towards the dining area where we were served tea and snacks. Rains were in no mood to stop, it was pouring still. All we could do was pray for a sunny morning next day!
Gods had heard us! It was a sunny morning next day. After breakfast, we buckled up for the first trek of our lives. The guest house had arranged the trek, hence we were a team of 10 leaving for one of most beautiful journeys.
We were assigned a guide who took us through the trails. We started from the guest house at 1000 IST. The guide, Ajay, took us through a shortcut which was rocky. Due to the recent rains, the rocks were slippery and we had to remain extra cautious.
The first stopover was the Galu temple, where we reached in nearly 20 mins from the guest house. We sat there for a while, gulped a cup of tea and bought two bottles of gatorade. At Galu, we met Akhil, a fellow trekker who had come with his friends, but came trekking alone as his friends could not climb the rocks! We started our walk through the forests, enjoying every single step.
There are many tea stalls on the way to sit back and relax for couple of minutes. And to our utter surprise, they offered even Red Bull :P
Tip: While trekking, do not take long breaks, as that would cause you to lose momentum.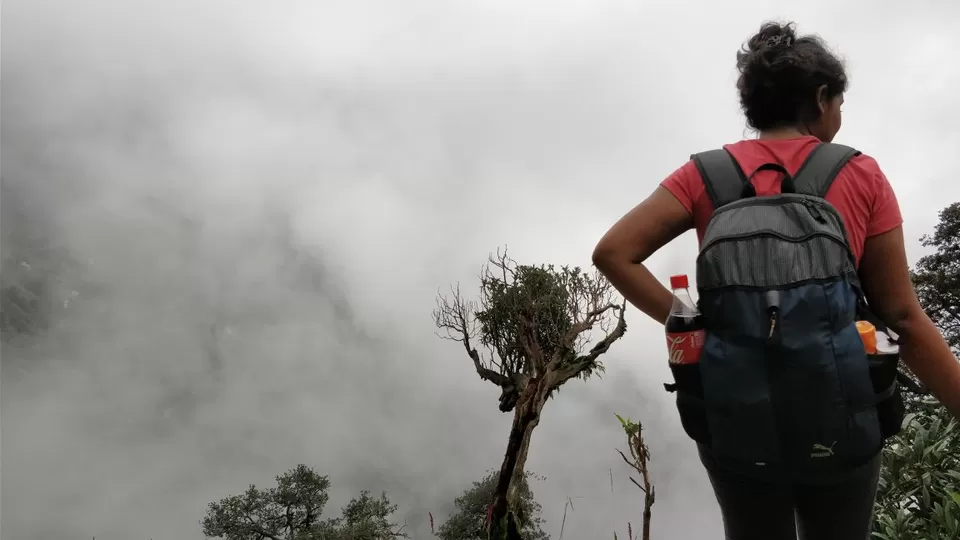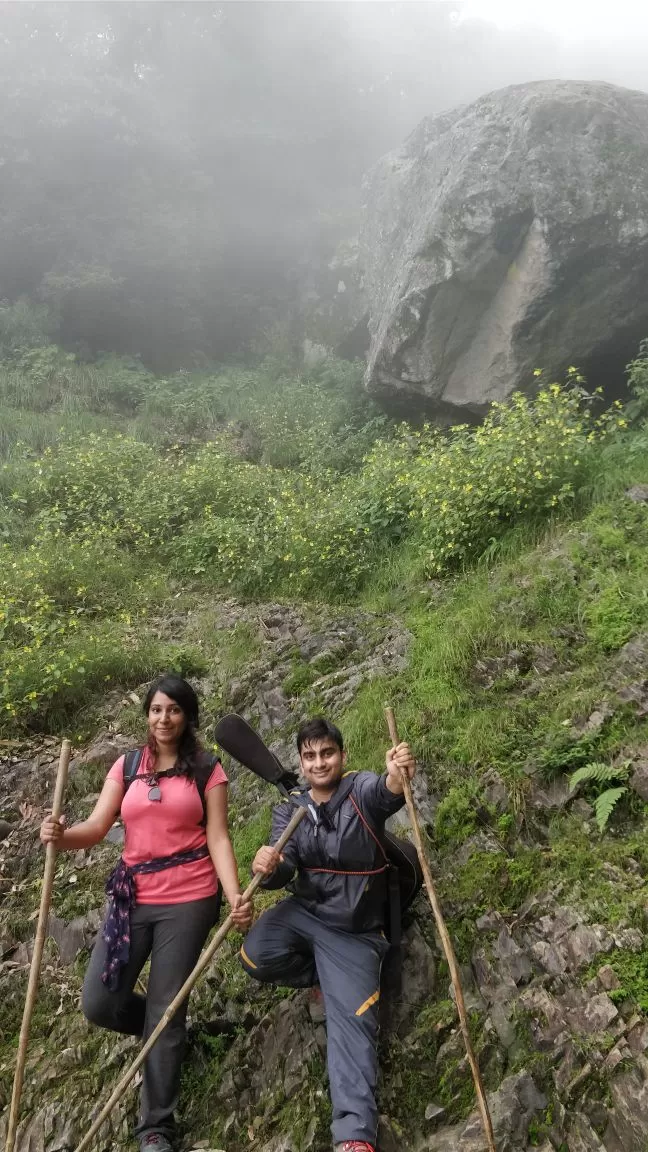 We crossed small waterfalls, rocks, muddy trails and was left with not more than 2 kms to Triund. Till now, the trail had few ascents and flat paths. The last 1 km is a steep ascent, where one has to climb rocks. When I started to lose breath, I saw a wide green terrain with a lot of mountain goats. He kept motivating me saying, "Look we reached. We climbed a little more and there it was!
The sunkissed Dhauladhar range <3
I stood there mesmerized, on top of the world! We did it...we did get to see her, the Dhauladhar! It was then I felt the worth of a 6 hour long trek. I placed myself on a rock and wondered about vastness of the mountains in front of my eyes.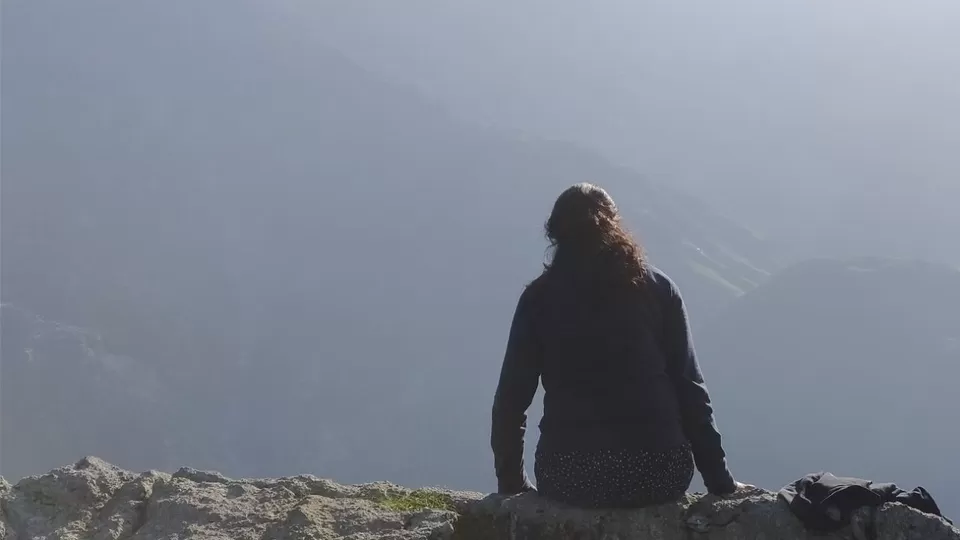 After a while, we were taken to our tents arranged by the guest house peeps. We freshened up and went to sit on a rock nearby, coz we couldn't get enough of the chilly breeze and the Dhauladhar. As the sun set, the sky painted itself with a dozen stars. Oh Boy! The best thing I had ever seen.
I knew nothing at that point with certainty, but the sight of the stars and the guitar chords made me dream! We sat late night, talked under the star lit sky, wondered about the beauty of the cosmos. I could feel the sky talking to me, saying "you are here with me".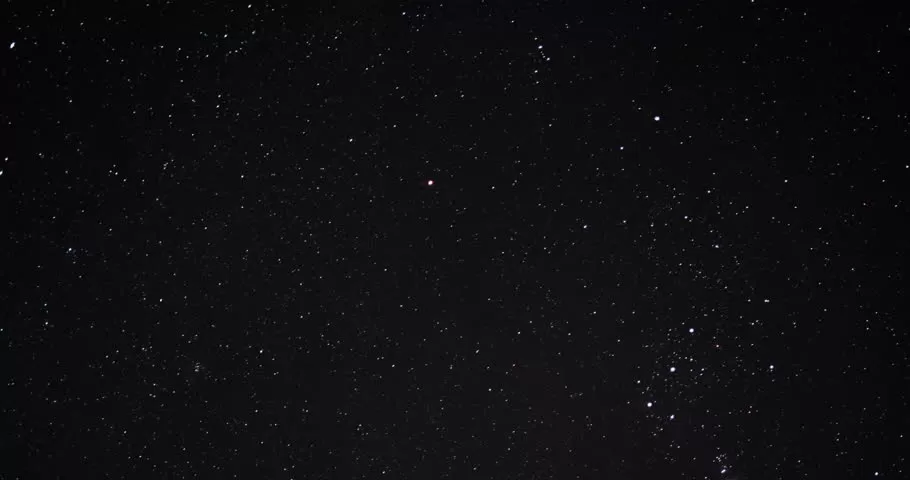 Early morning, he chose the top most rock to embrace the beauty of the mountains and I sat looking outside my tent and bid goodbye to them. My heart skipped a beat, and in no time I was in tears. I could feel the pain of separation, I could feel the mountain holding me back. But I had to go, just to come back again :)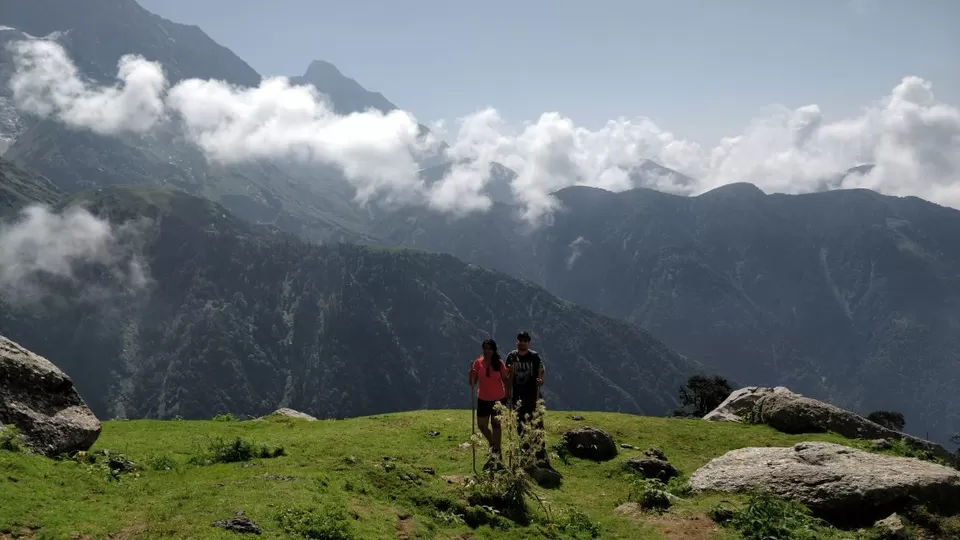 The downhill trek took us more than usual time, as we sat almost after every 1 km, chatted with locals and played the guitar. Meanwhile, it started raining! But it was when we reached Dharamkot.
That night, we stayed in Mcleodganj. Hotel Oak Valley it was, with the perfect view of the pine forests and Bhagsu Nag waterfall. Next morning, after breakfast, we started our return journey to Delhi.
Overall, it was a trip that will always be my benchmark for the 1oo more trips to come! ;)