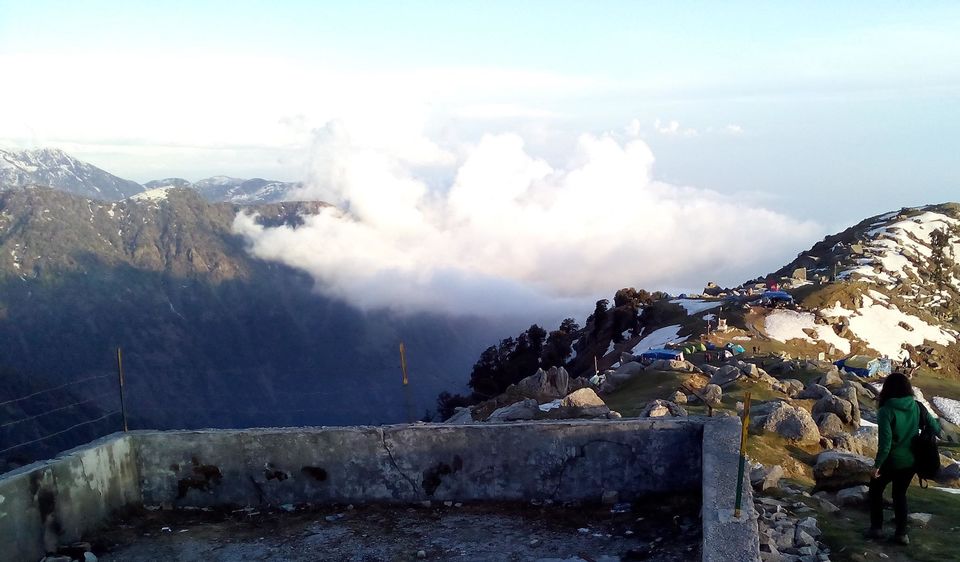 It was a great trip. 2-3 hours of trek to triund was something i can never forget.
Actually if i begun it was a trip orgainised by a club of my college and there were 45 people. Our plan was to go to Mcleod Ganj and as we entered the mountaineous areas in the morning, i could hear my heart beating, i cud see the beautiful sunrise and the river flowing beside our bus, that beautiful morning and then my mamma calls to whom i havent call since the last night. She was really concerned about my location but i was and some of my friends were concerned that if we could reach the top of triund and stay there, as with the budget of trip and number of girls and guys with us, it was impossible for us. We found a place to eat at dhaba at the bus stand and then we started our trek at 2:00 pm after getting rooms and getting freshened up there.
Then it was there-"MOUNTAINS". We cud see Dharamshala stadium from up there. and snow covered mountains. Some of us guys were like that yes we haveto reach up there. ohh..god!!! that feeling. Having Parle-G in the break time when we stopped in between or Glucon-D. Still cud remember that shady tree, that diversion where we had to chose our way, that cloudy sky, that cold...As we reached few dhabas or Maggi Points in between, the number of companions with us decreased. Then that was the last stop where i met rest of the people, had 70 Rs maggi, which is banned now :p. Then it was 5 of us.. whereas others decided to go back. Dont know what was there in my mind, that if was my last trip of my life or last day of my life, last chance to live. Something energetic happened and we started with force. We met people in our way who were returning back and we were just asking how much time it would take to reach up there, Everone was like 1/2 hr, we travelled a lot and then again it was half an hr. But not loosing hope, we moved moving on some patches of snow, slippery rocks. I was the first girl to reach at the tp after a guy friend. And that VIEW.. now words.. clear sky..with clouds, mountains, snow, trees and what not.
We just sat there and looked at that creation of God. Then it was like one of my friend wanted to go back, but it was us, our last chance to live and we dint want to miss that and we chose to live under the protection of nature that day. My friend confirmed about the camps. I was so much excited that i even helped camp vale bhaia to set up tent. The we travelled on the mountains, saw a dear, returned back to our tent when it was dark. Had food cooked by the camp vale bhaia and then the cold nyt..and the sky and the story continues...