I did this trip with my buddies around 4 years back but I am posting it now. A smile comes across my face whenever I remember this trip.
I call it The Buddy Trip.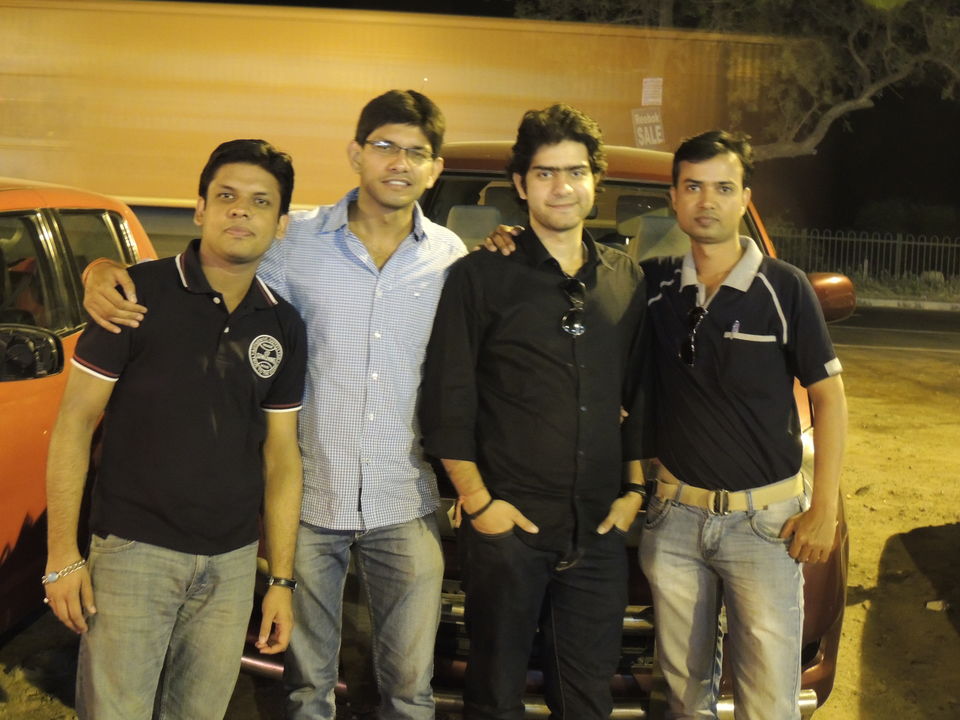 Our little Band of Brothers made a plan to go to Mcleodganj which sits in the lap of the Himalayas to chill out, So off we went by hiring a cab from Noida to our destination in the evening after office.
On the GT Karnal, we stopped at the famous Murthal Dhaba for dinner and had some lip smacking food. Little did I know that the heavy as hell dinner will wreak havoc on me when the mountains will begin and so did it happen.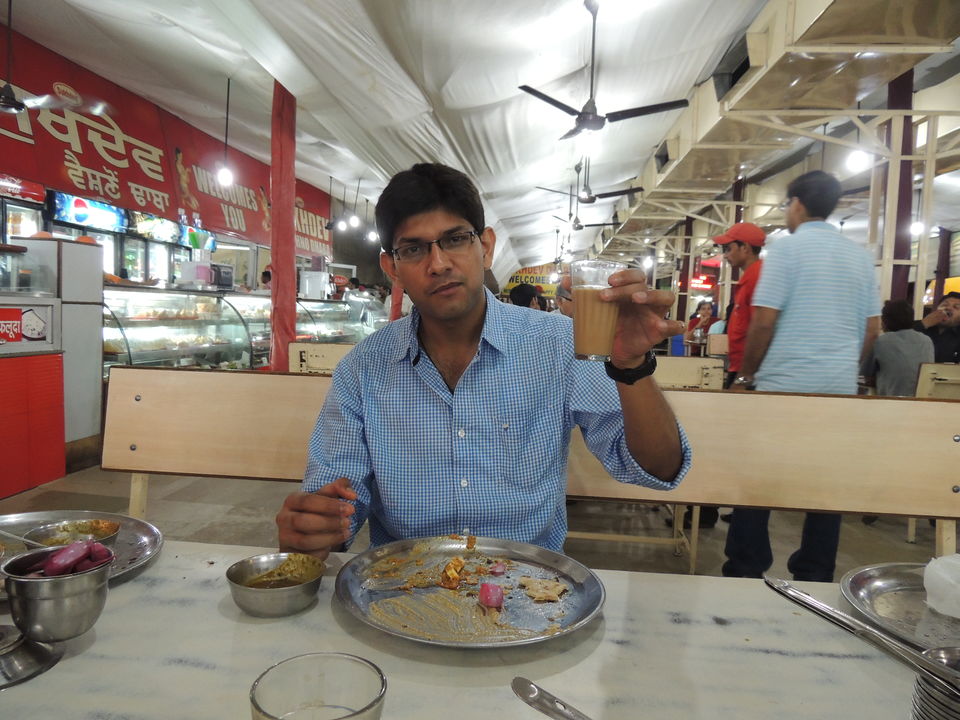 I suffer from motion sickness and started vomiting like crazy. You know there is a similarity between vomiting and smile, both are contagious. So after sometime one of my buddy also started vomiting. Both of us puked the whole night of our travel until there was not even air left inside of us.
Well this was the only worst part of this otherwise fantabulous trip.
In the morning we reached Dharmashala and then climbed the steep mountain leading to Mcleodganj. The distance was small but beautiful with tall fir trees.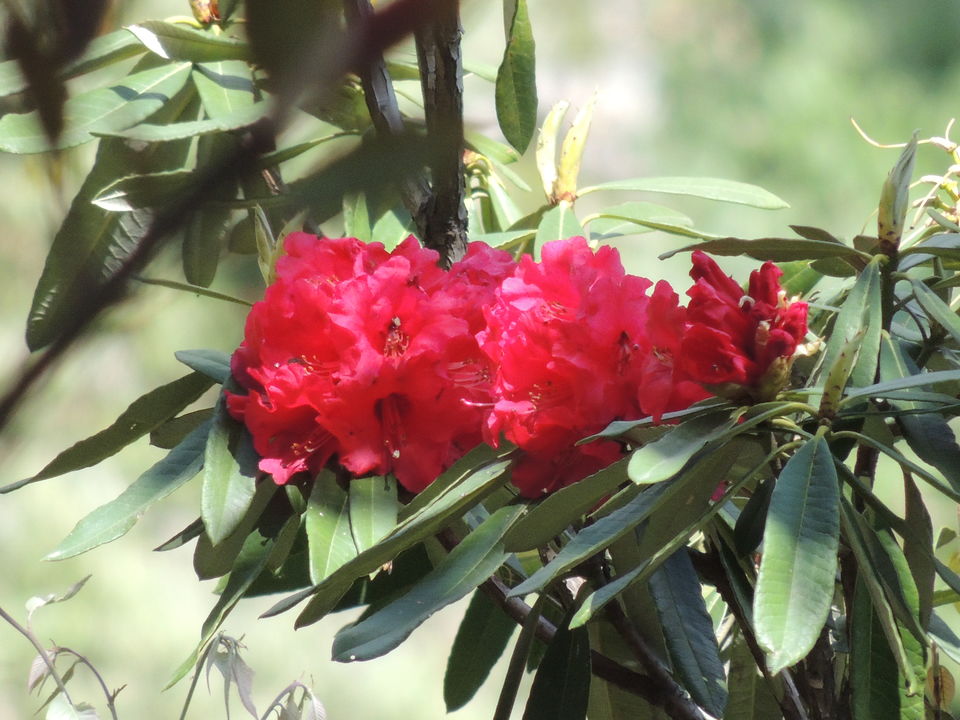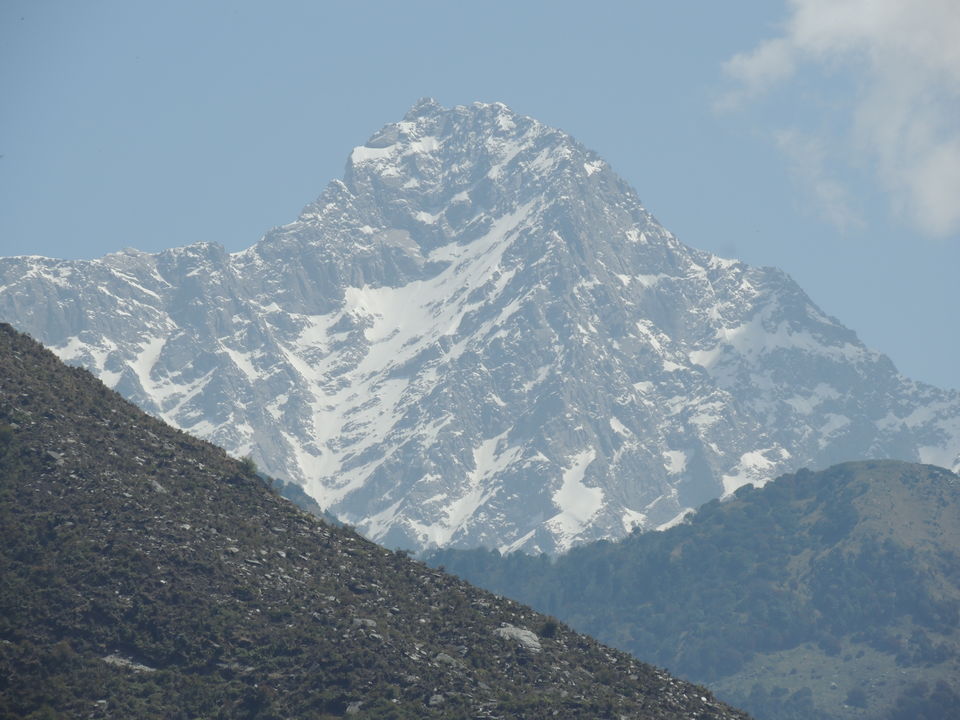 Mcleodganj is a mini Tibet with many Tibetans and Buddhist Monks dominating the scene.
We booked a hotel for Rs. 1000 per night and rested for a while before leaving for the Bhagsunag Temple which is nearby.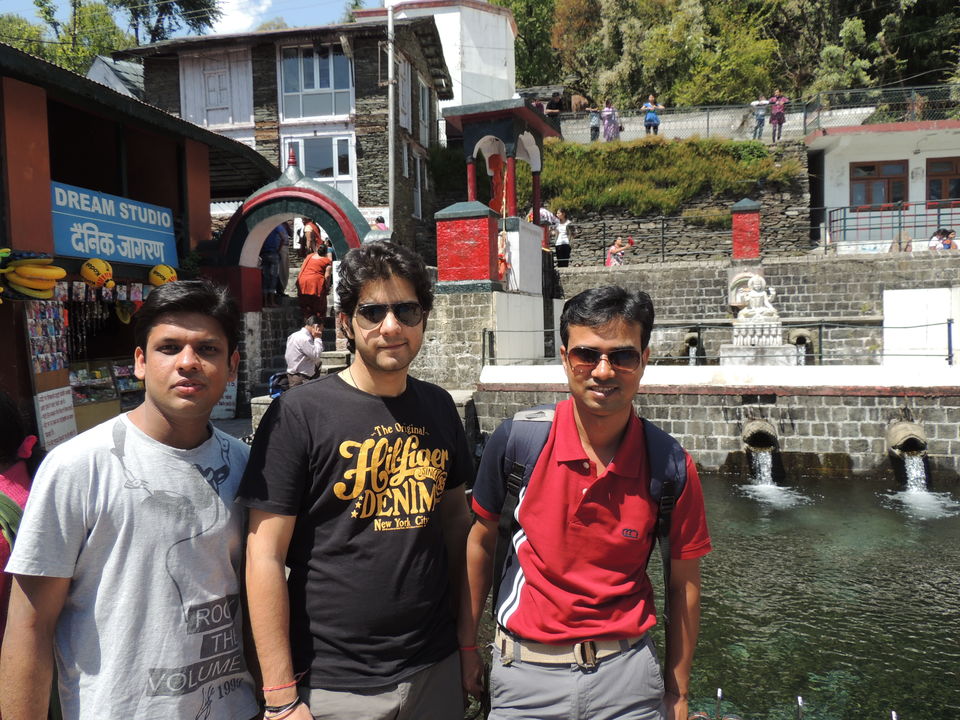 The Bhagsunag Temple is a Shiva Temple which at a very short trek from Mcleodganj and has a natural stream and pond.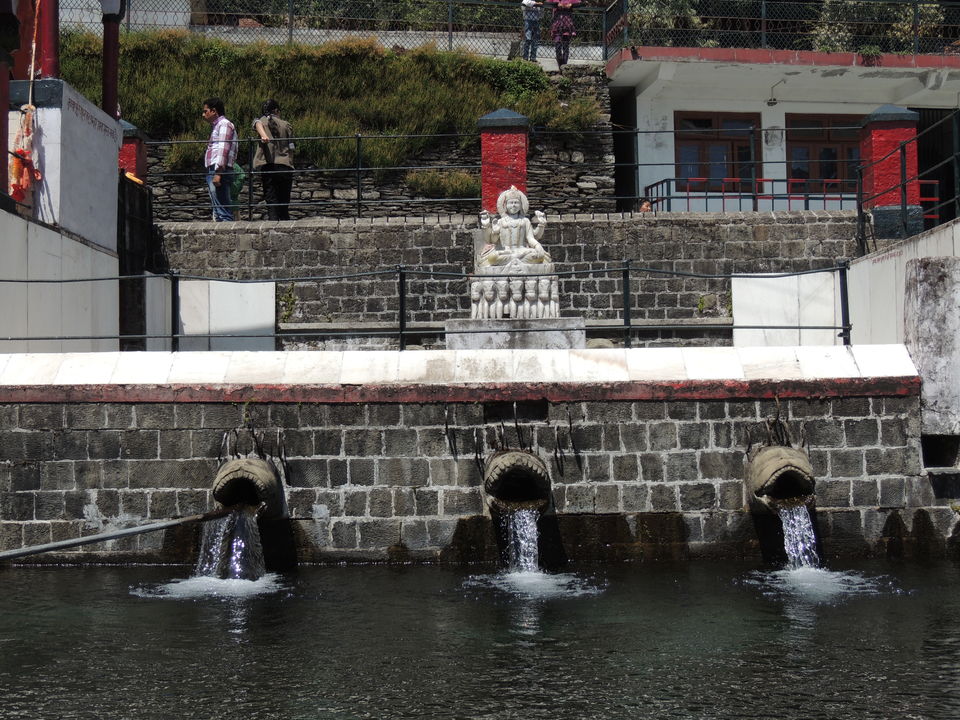 After doing Darshan we proceeded towards the hippy Shiva Café which is a small eating and hanging out place in mountains. The food was good and the place has the vibes of being visited with friends.
And how could we miss the splash in the Bhagsunag falls.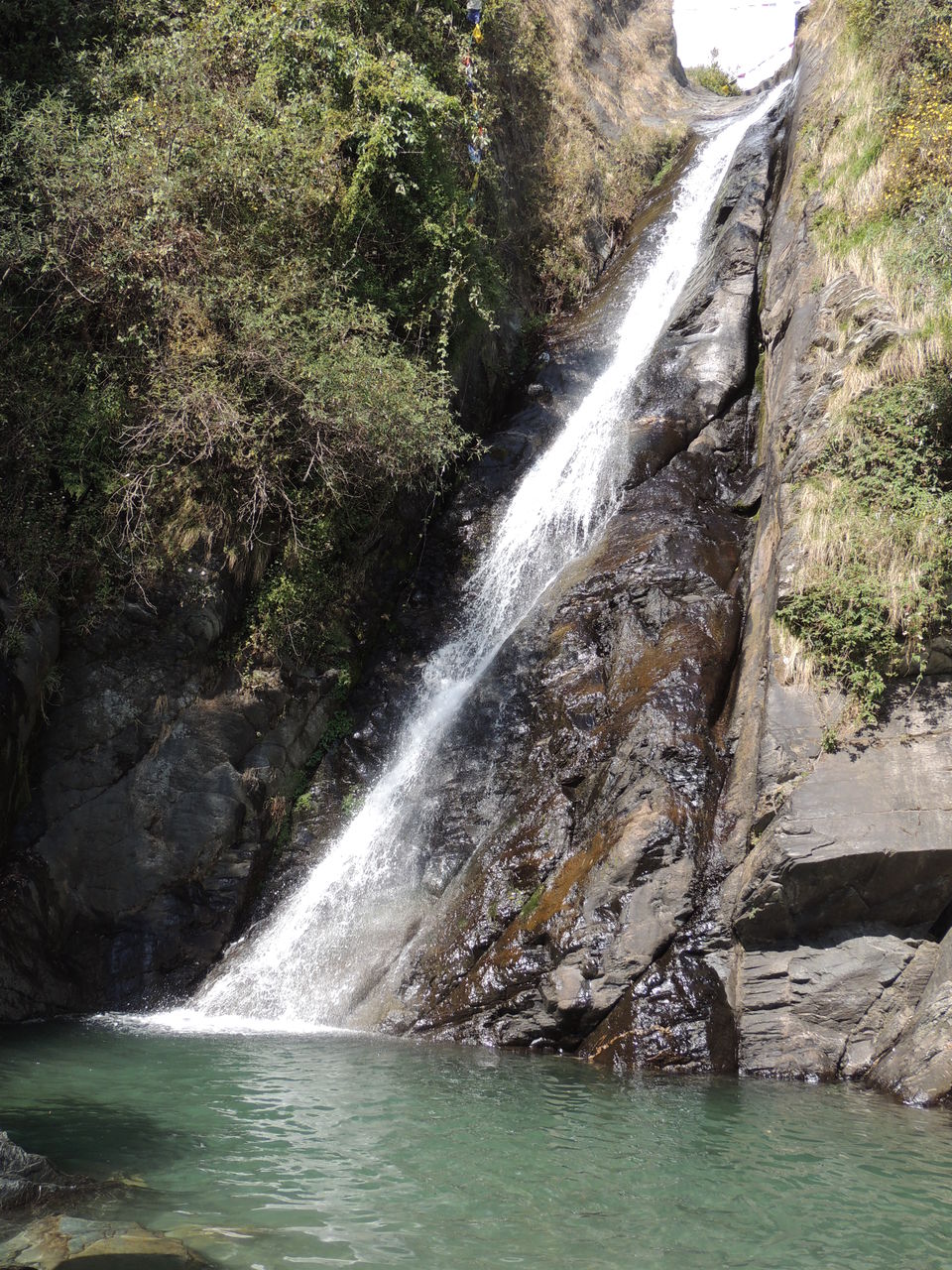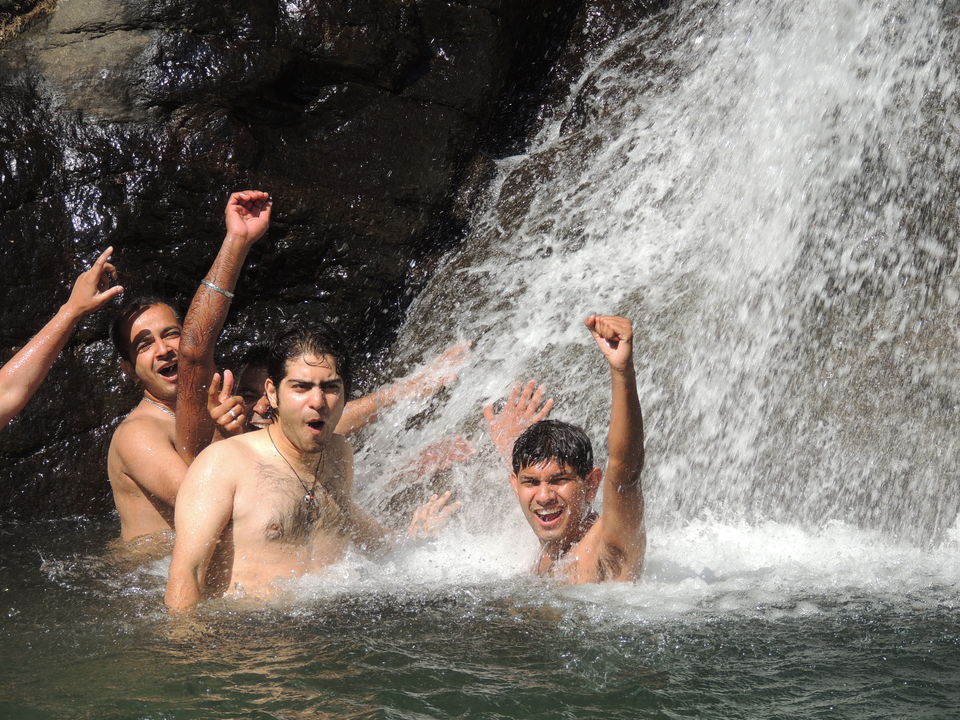 In the evening we just roamed in the area and I must say it's very lively. I had a brownie in one of the bakeries and after a little chit chat with the owner he was generous enough to make it "less pricey".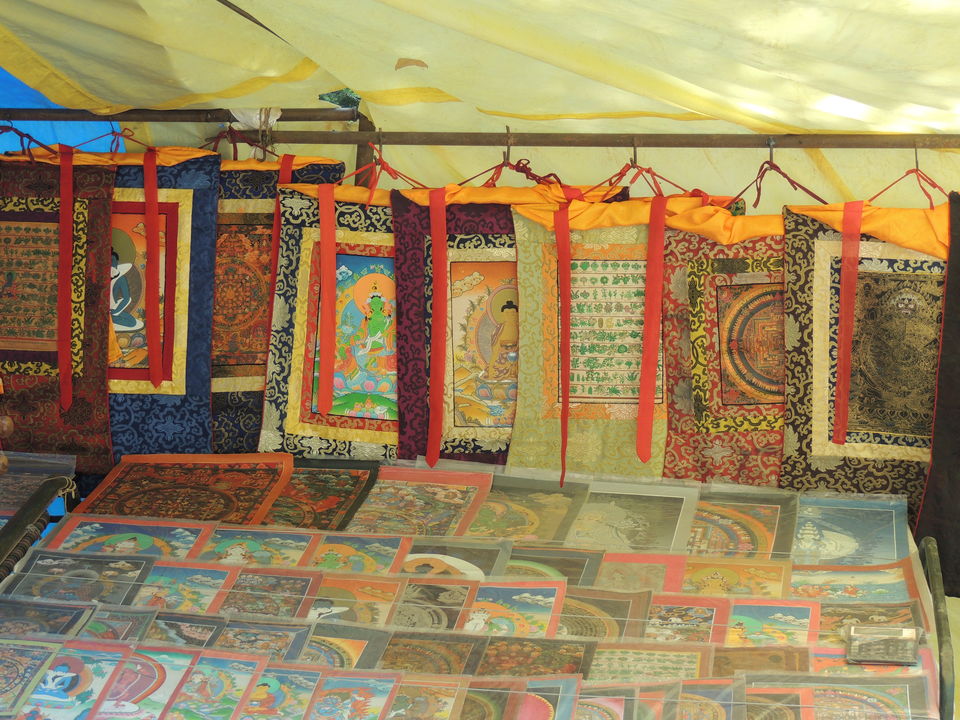 As I told it is a Tibetan haven so obviously the Buddha was everywhere.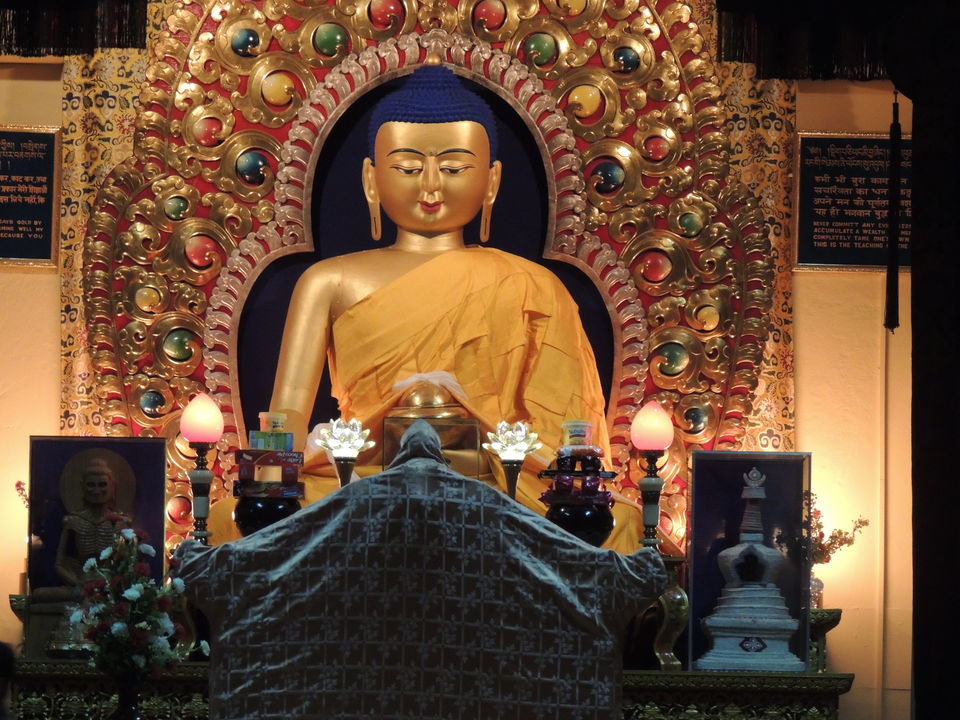 One must visit the Namgyal Monastery there which is very beautiful.
Next day we decided to do the Triund Hill trek which was, I think, my first trekking experience and a wonderful one at that. We booked a guide who led us there and honestly, since I have done a few treks you really do not need a guide for this trek.
You can go to the point where the trek starts either by foot or by car too.
We went there by a cab and then we commenced the trek which was not a hard one but a great one.
We started climbing with trees shading the trek path and bright Rhododendrons everywhere. They were extremely beautiful to look at. Slowly the noise from the hill station faded away and there was silence.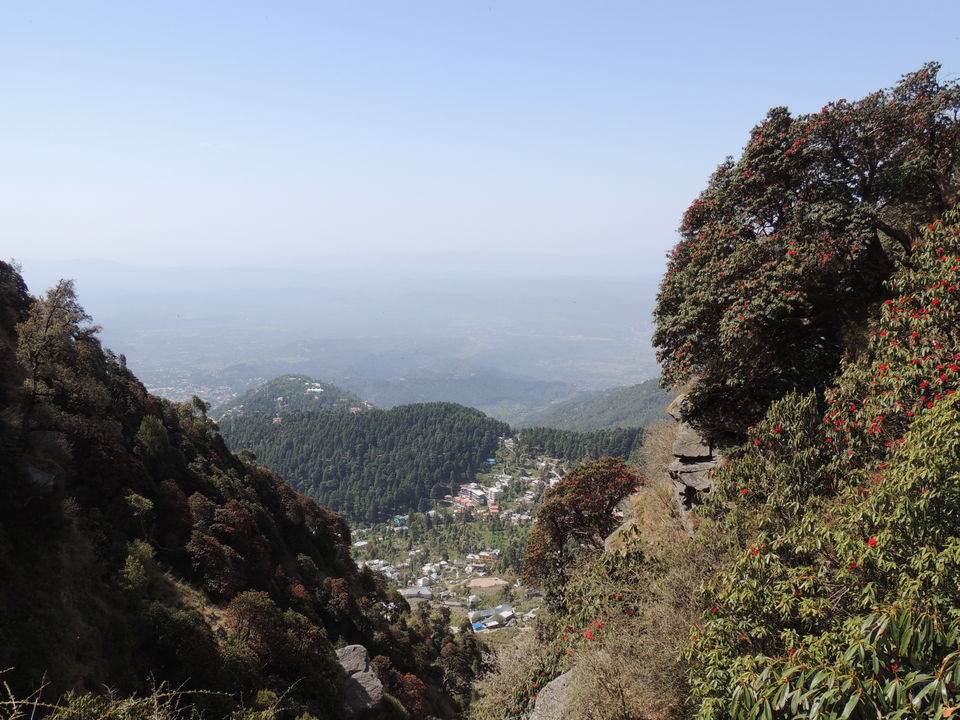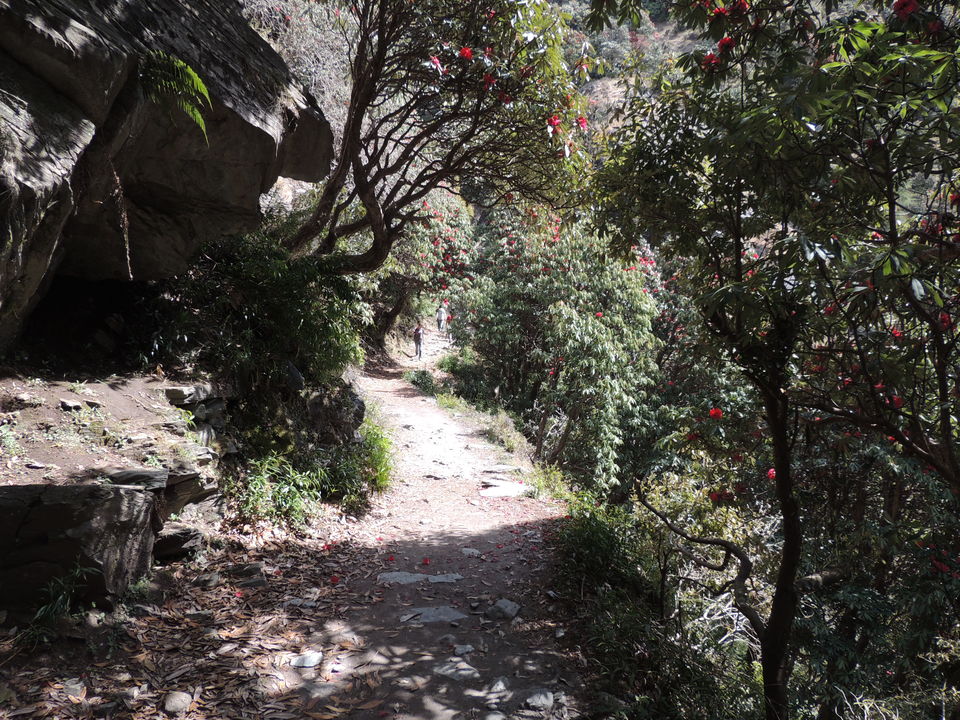 The fresh air, greenery, beauty of Mother Nature and the company of buddies was making the experience even better. We stopped at the small Chai shops on the way and had huge glasses of Masala Chai and proceeded further.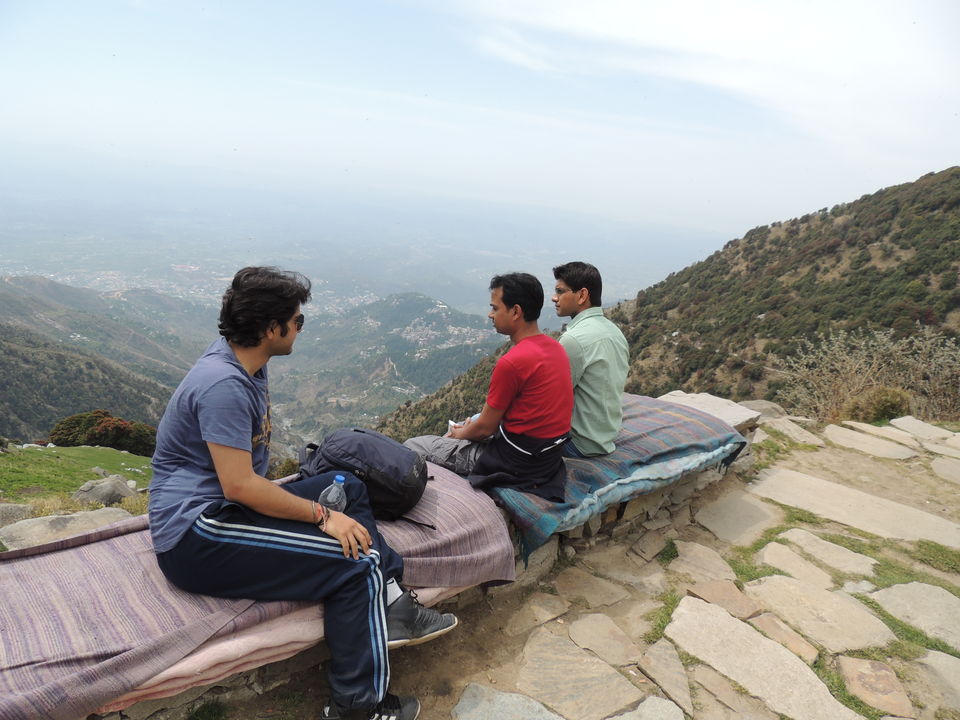 After sometime I saw white patches on the mountains and I thought they were just rocks shining in the sunlight but when I observed closely I saw that the snow had begun. This was the month of April by the way.
We climbed up and up with the Rhododendrons companying us. The flowers were making the trees look so heavy but beautiful.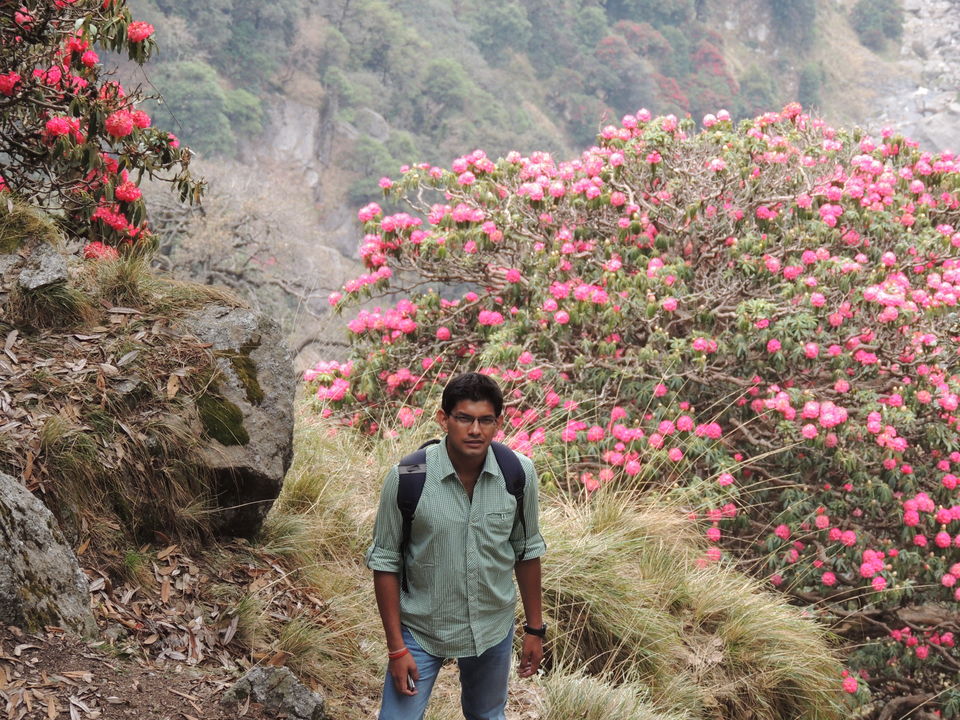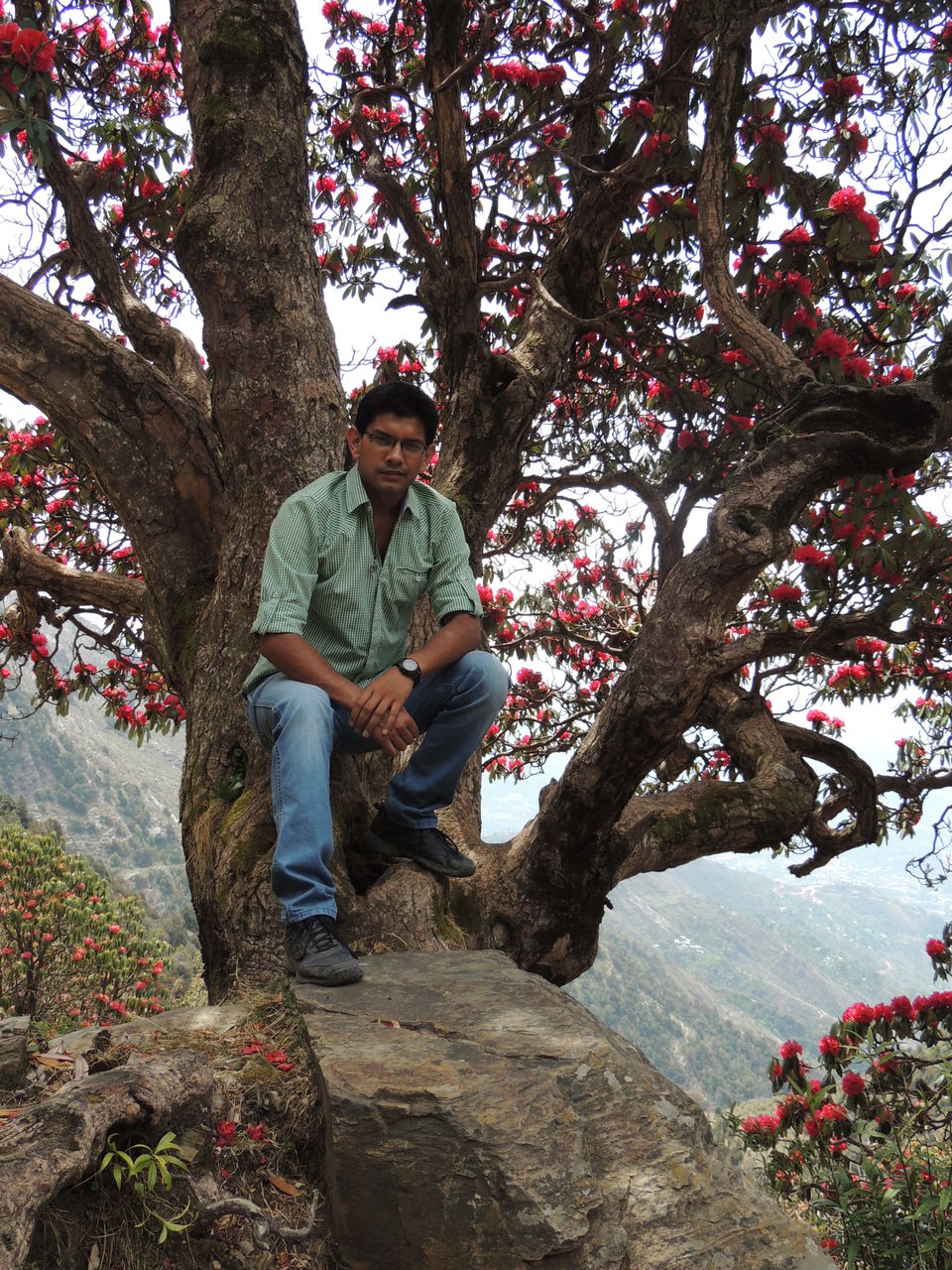 And then we saw the summit of Triund hill but did not know what surprises awaited us. The moment we reached the top the mighty Dhauladhar was in front of us. I was simply mesmerized by the snowcapped peaks.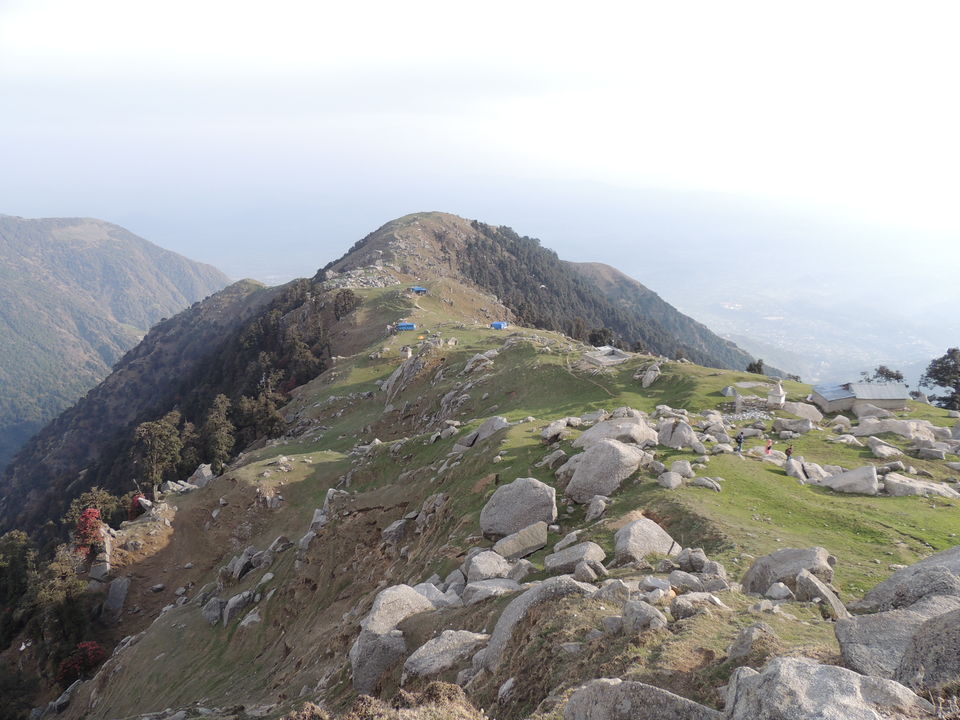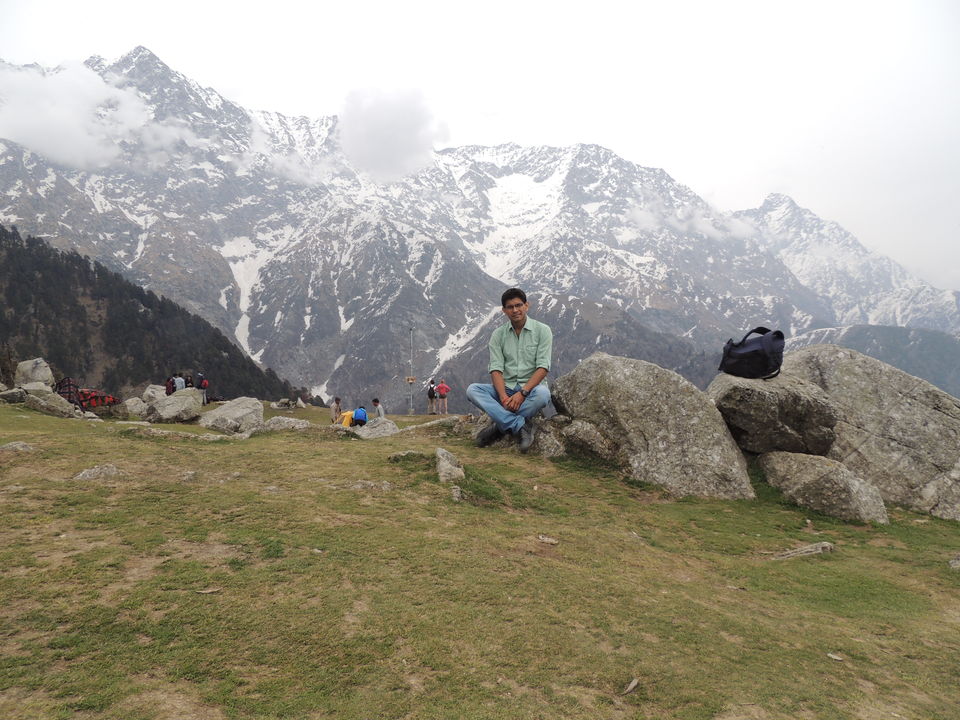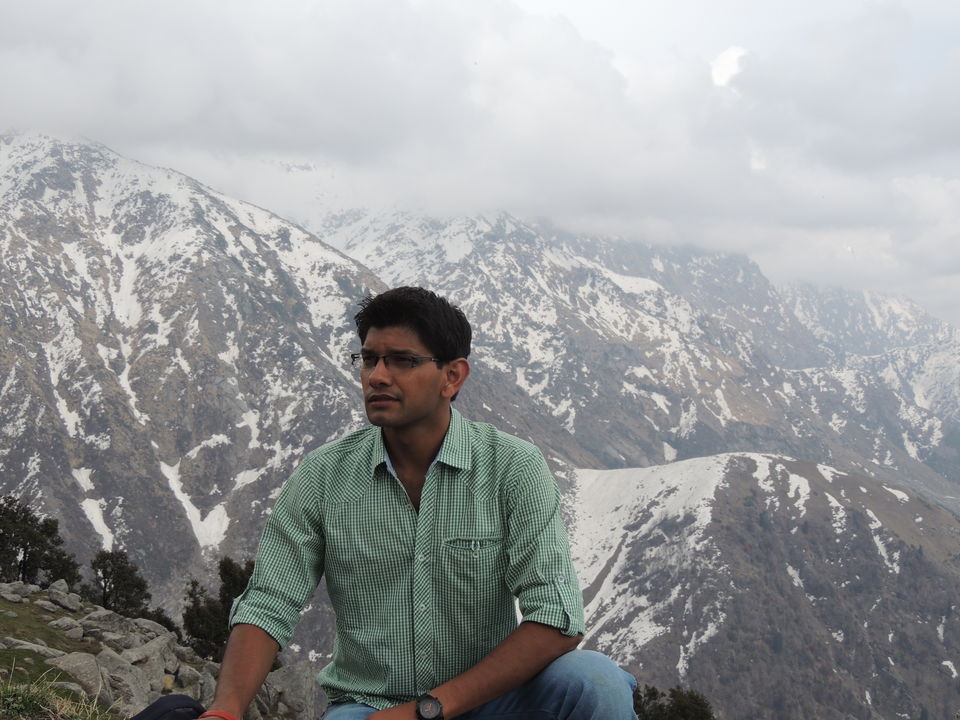 The view was too huge too be taken at once by my eyes and I just paused and looked at it for a while. My love for the Himalayas has exponentially increased after that.
We had Daal Chawal and Maggi at Triund Hill. There were tourists who were playing musical instruments and camping there. An overnight stay should be done at such a Hippy kind of a place.
Unfortunately there was also litter at some places so I request you not to throw your junk there. Keep the heavenly place clean and respect mother nature.
After that we made the best decision of this trip to go till the Snowline. Two of our friends wanted to return from the Triund and the two of us wanted to go till the snowline which is not very far from Triund.
So after settling the dispute we started moving towards the snowline with occasional snow on the way and then then finally an entire sheet of snow emerged. We must be easily between 11000 feet to 12000 feet high at that time. The whole mountain was covered with thick snow and was playing hide and seek with the clouds. What majestic beauty!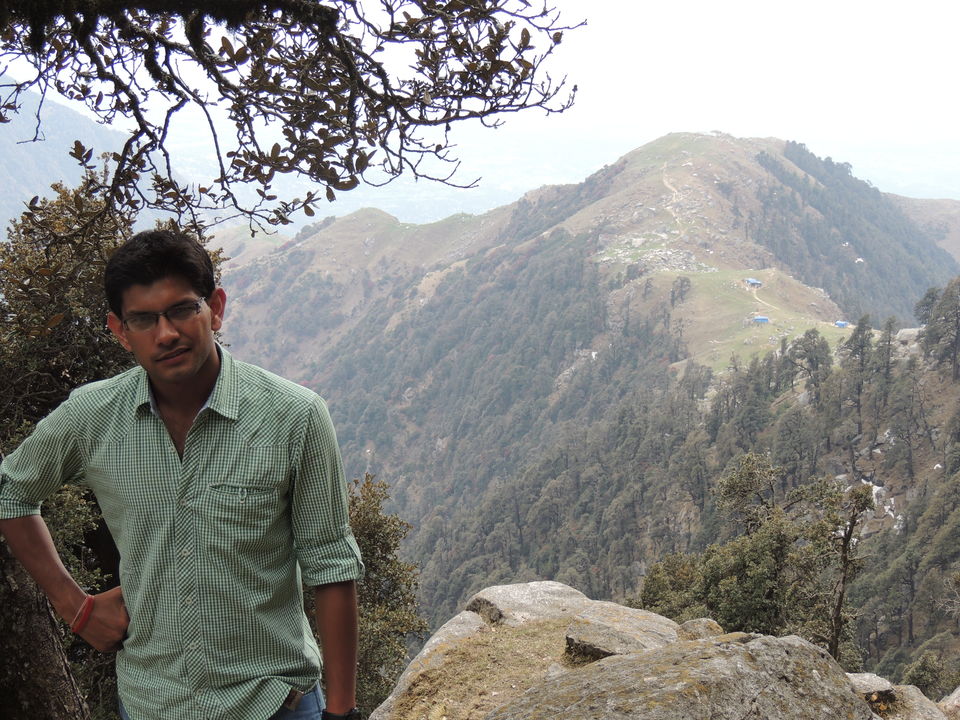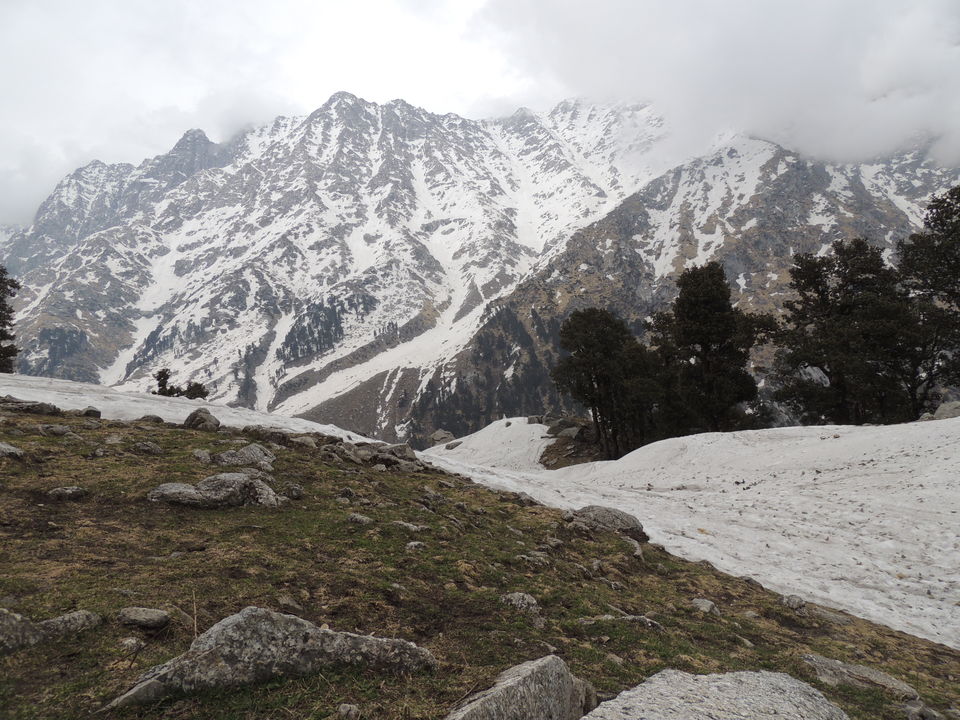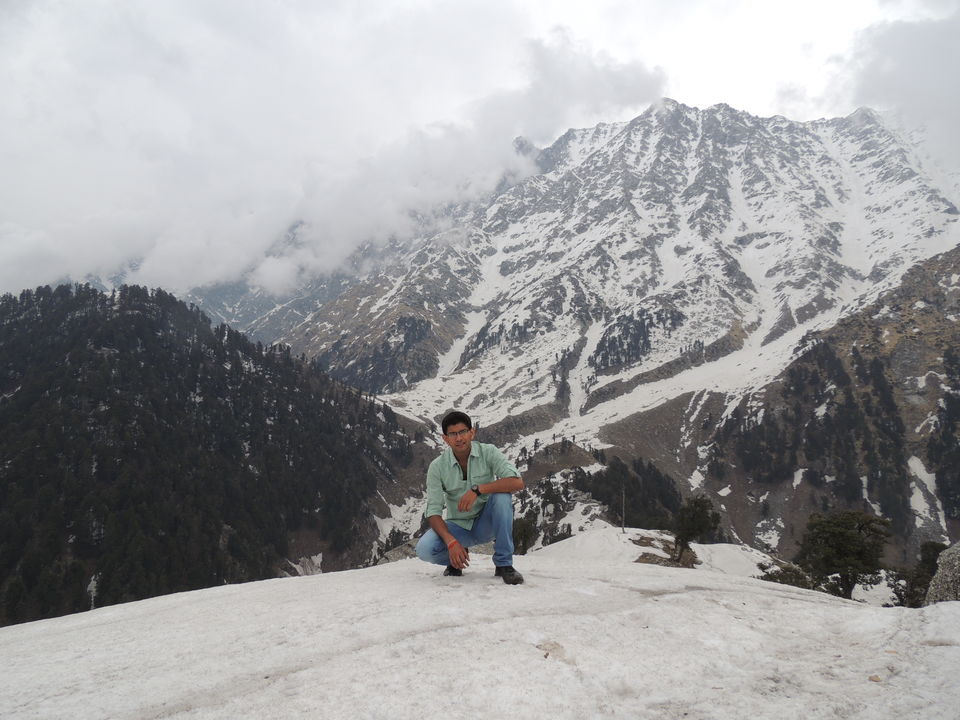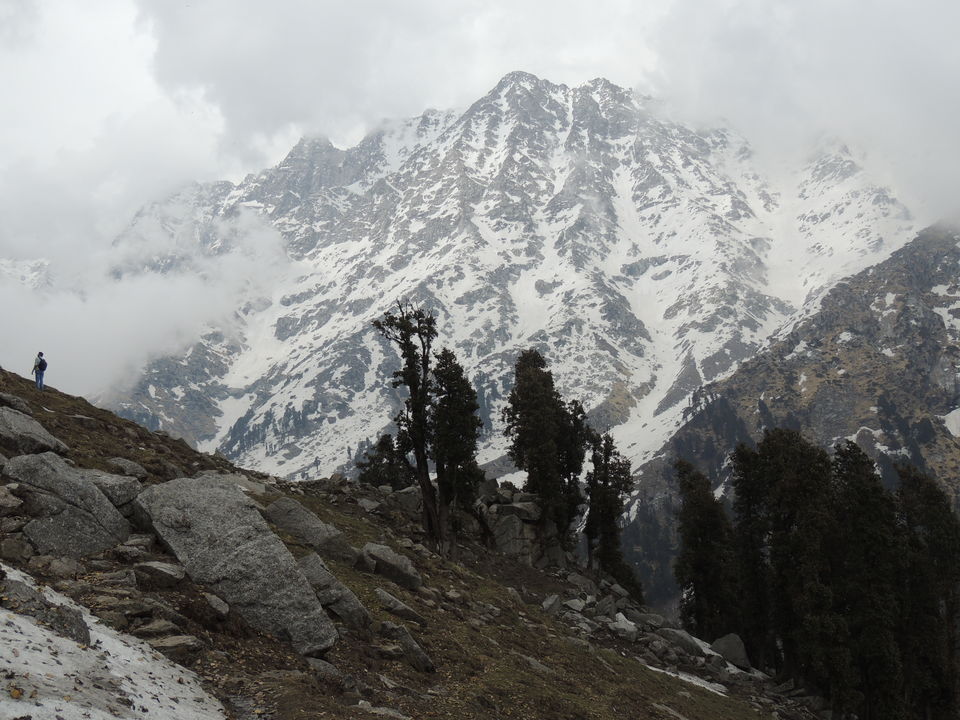 We sat there and had some chat and of course photographs. Our guide told us that we can go all the way to a peak called Moon Peak without any mountaineering equipments and then he pointed towards that peak. It must have been 18000 feet high.
So wonderfully the clouds grazed the mountains engulfing them and revealing them that it can leave anyone spellbound. You can just gaze at them and listen to the silence or hear the water of the stream flowing down.
Therefore a visit till the snowline is a must if you visit Triund.
While we were returning back from snowline Lord Shiva made us meet French lady who came to travel India solo. We had talks with each other and then headed down Triund together as it was getting dark.
She was very lively and chirpy.
And while we were returning things turned very dark and our wonderful guide forgot to keep his torch. It was so dark we could not see our hand if placed in front of our eyes. Those eye popping forests which were so pretty in the day were equally scary in the night. Fortunately we had enough battery left in our mobiles for turning on the flash as torch.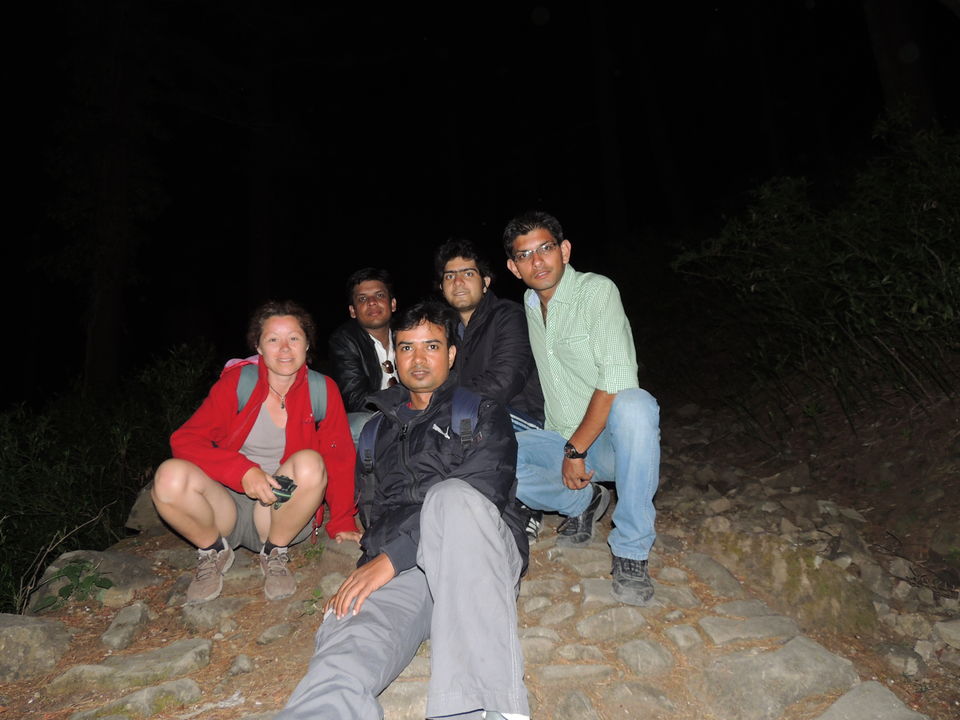 Moral of the story? Always keep a torch while going for hiking or to a secluded area.
He told us that in the night it is not at all safe as animals come out and even told stories of some thieves.
But finally we reached Mcleodganj along with our friend safe and sound.
The next day along with our friend we decided to go to Bir Billing which is world famous and is amongst the best site for para gliding on the planet. It is around 60-70 kms. away from Mcleodganj so is easily reachable.
I would say Bir Billing did not disappoint us.
We had a chat with a person who conducts para gliding and then from there the Para gliding guides took us on the top of a mountain, near a cliff. Then they told us something very adventurous that for flying we had to run as fast as we could and go over the cliff with the parachute attached behind us.
I was like, Bring it on!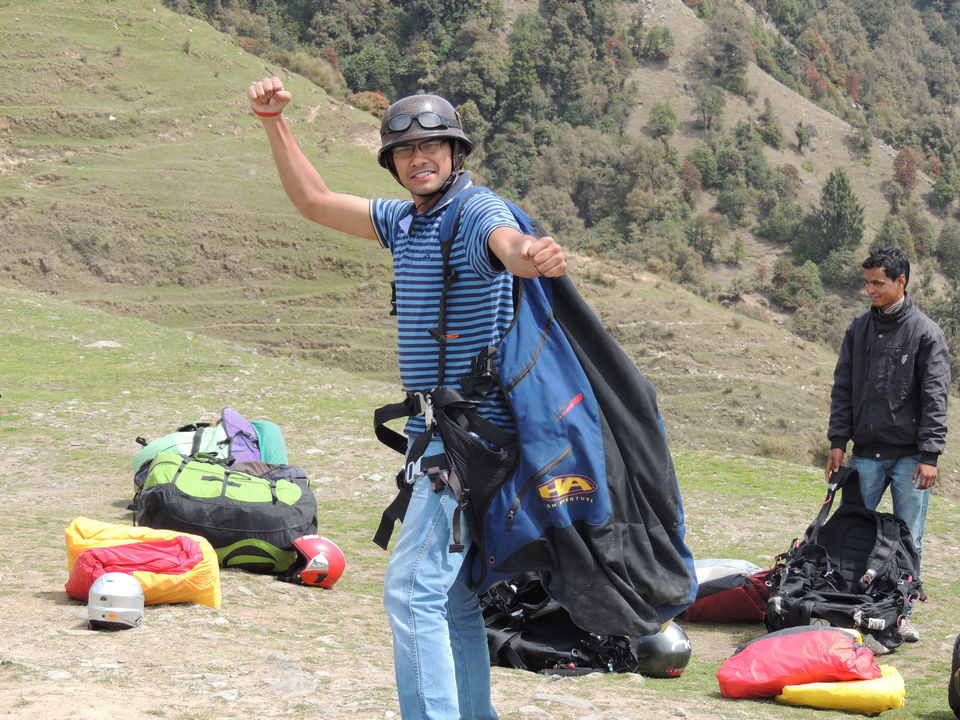 And then we ran for our lives across the cliff and up in the sky we were.
We went high and high sailing on the winds to a point from there we could see the entire Dhauladhar range and the mighty Himalayas. I am not scared of heights so I was enjoying my feet hanging thousands of feet above the ground. Damn that was good!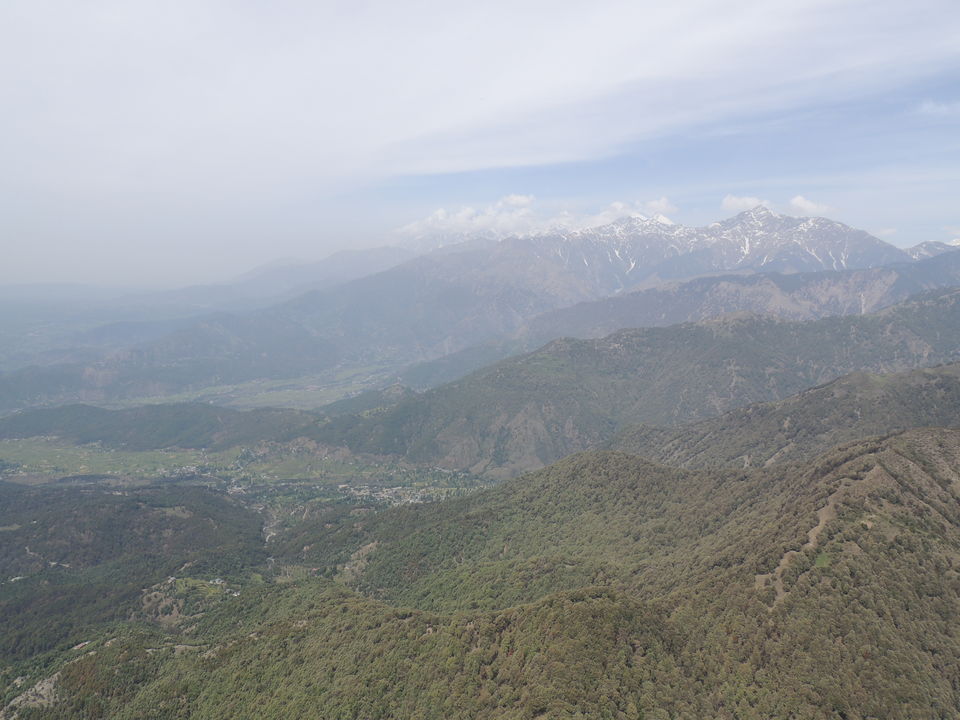 The Paraglider pilot did some somersaults but as I suffer from motion sickness therefore slowly nausea was setting in and fortunately I was able to control it.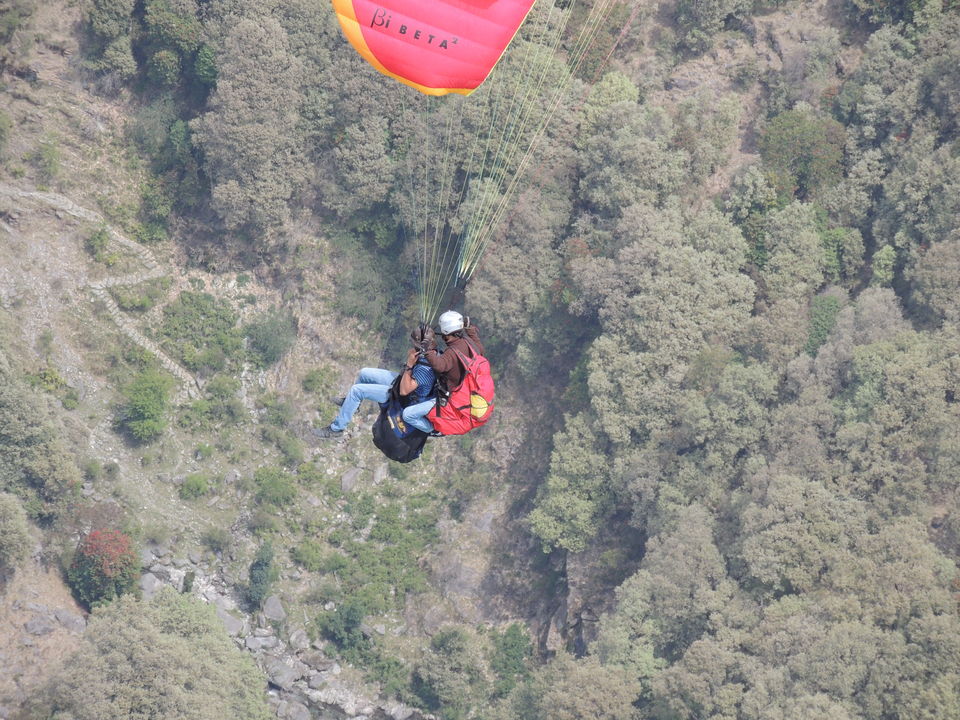 But the real inspiration was our French friend as she was enjoying her flight thoroughly. Like I said she was quite lively.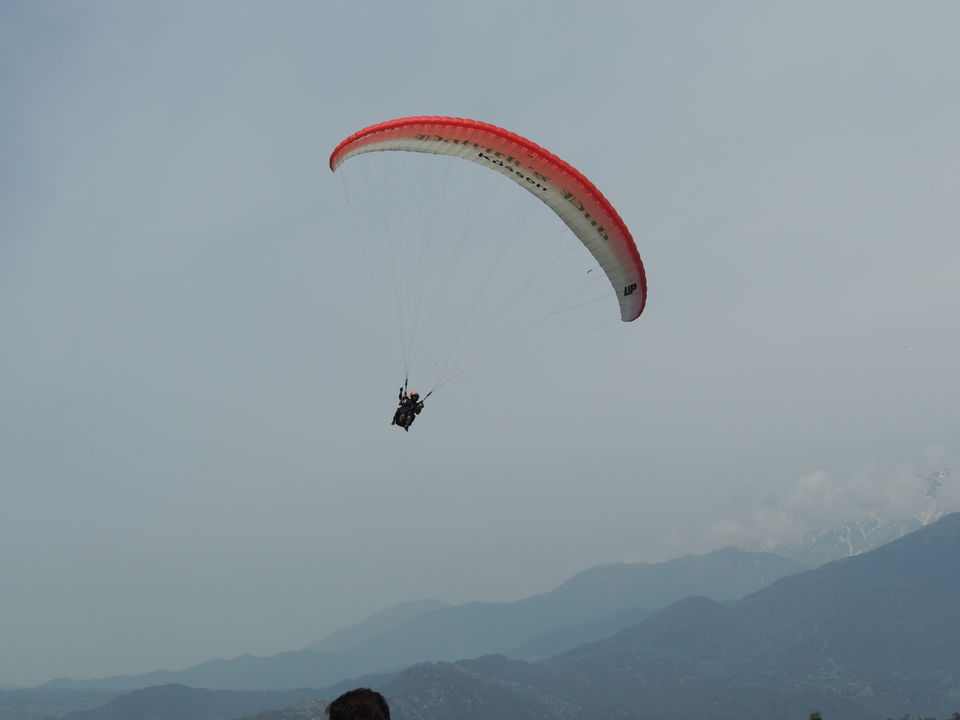 We were approximately 45 minutes in the sky before we decided to land on the ground after the thrilling flight. After this adventure we dropped our friend on a bus stop as she had to go back to Mcleodganj.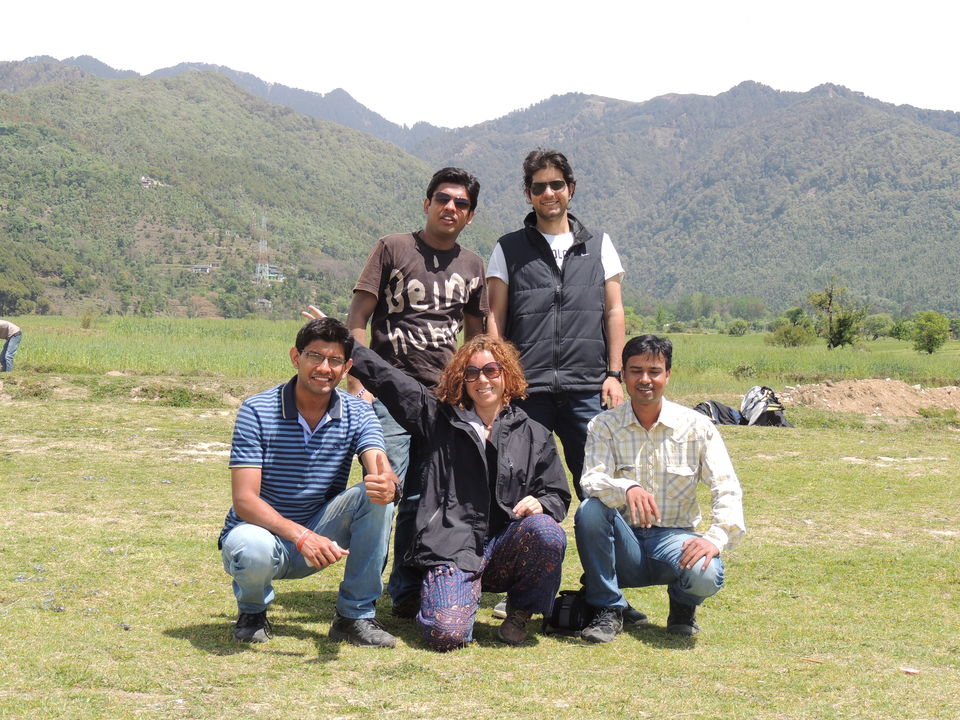 So finally tired and also a bit sad, as it was time to leave this wonderful place, we started our descend from the Himalayas back to our home.
And as for our distant friend from France she is still in touch with us and continues to explore the world. She is one hell of a person.
That is why I call this trip "The Buddy Trip".
To make a good journey great, all your need is your buddies.