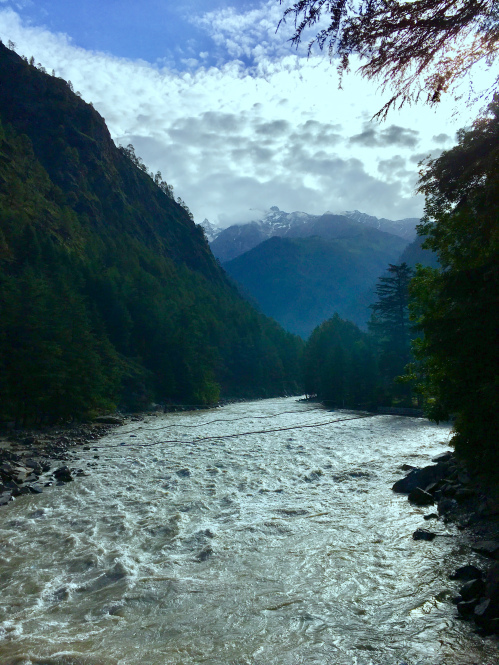 For the past 5 years, Parvati Valley has been one of the places I have wanted to explore and for whatever reason, I never made it there for all these years. Finally, when things worked out this year and I decided to book my tickets, I was hesitant. You see, I've been hearing such amazing things about the place all this while, that I was almost certain that it won't live up to the hype and my expectation.
However, I had to go... There was no way I was going to miss out on this!
How to reach Kasol from New Delhi - A lot of online articles and blogs will advise you to board a bus from New Delhi's Himachal Bhawan to Bhuntar village and then hire a local bus or a cab for a nice bumpy 1 Hour ride to Kasol with magnificent views of the valley of course!
The other and in my opinion, a more convenient option is to board a direct bus to Kasol. You can book one through an online travel website, like RedBus or MakeMyTrip. This is a private bus service and hence it will cost you a tad bit more.
I usually plan my travel well in advance, so I always have a list of places that I need to see, the cafes I must visit and the local food that shouldn't be missed. I do keep room for changes, so it doesn't sound like a checklist!
I decided to explore the tiny village of Kasol for the first day, so I set out to see the Parvati river. The first glimpse of it, almost makes your jaw drop. Well it depends exactly what time of the day you see the river and also on the weather. If it is raining and there's a thunderstorm, the river gushes through the valley and looks like a scene straight from a horror movie. Since where I was staying was not that far away, I walked to the river two to three times everyday just to see it in a different mood each time. As you can see, I was not disappointed at all.
I soon realized that Kasol is a place that is stolen away from the locals. It is more commercialized and does not give a sense of belonging. To really understand the culture of a place, it is always good to visit places that are still untouched or lesser known. A 30 minutes stroll that starts from the Parvati river bridge in Kasol will take you to the small, underrated village of Chalal. Imagine listening to chirping of birds while walking in a forest of pine trees, along side a beautiful gurgling river - that's Chalal..!
You may also trek to Grahan which will take approximately 4-5 hours to reach. With limited time in hand, I had to make a choice between this and Malana. I chose Malana for the next day trek.
The sleepy village of Malana is popularly known for the cultivation of marijuana, commonly known as the Malana Cream, a black and sticky high purity hash, considered the best in the world.
You can hire a cab or a bike from Kasol to Malana which is about an hour away. To enter the village however, one has to trek for another hour or two. You will come across a few villagers that will offer the cream, however, since you're trekking all the way into the village, I'd recommend you to wait until you get there. The trek offers some breathtaking views of the valley.
The residents of the village speak Kanashi, a language that is only known to them! Their facial features are very sharp and most of them have colored eyes and blonde hair. You will come across several Kathkuni style built ancient temples in the village with a sign that clearly says that you will be fined if you touch or enter the temple.
The village is in all honesty is quite dirty, it was dirtier that day because it had rained the previous night which resulted in a lot of mud to wash down. Children are seen playing in the mud and with the mud both! I was surprised to see so many kids playing around on a week day when they should really be in the school and from what I gathered later, there is no school in the village! A few children asked for candy in return for pictures to be taken of them - a ritual that looked very common.

While some villagers were friendly and wanted to know where I am from and if I wanted a place to stay, others couldn't care at all and would just stare blankly. The place gives an eerie feeling and makes you wonder if you should head back. It is advisable to trek back before it gets dark, unless of course you are staying the night over!
The next day, I set out to Barshaini which is about 14kms from Kasol. After a time, you really get used to seeing the Parvati river just about everywhere but you don't get tired of it. I took pictures after every few minutes, to be honest, none of these could match what my naked eyes were witnessing.
On the way, I met an Israeli couple who was also heading to Barshaini. They had been in India for a little over 2 months and had already traveled to Rajasthan, Agra and Rishikesh and now were here in Himachal Pradesh for a therapeutic experience after a few years of military service in Israel. We chatted and exchanged experiences while driving to Barshaini and then started our trek to the nearby villages of Tulga and Pulga
The Sun had hidden behind the clouds and even though the forecast said that it will pour all day, there was nothing stopping us from exploring the place.
The traditional houses of the villages are visible amidst the lush green mountains as one starts trekking uphill. It is a 30 minute trek to Tulga, the first village on the way up. Keep an eye out for a few small streams and waterfalls along the way and watch out for some fallen trees that you may have to cross to reach the other side - you have to be careful here - one wrong step and you will find your way tumbling downhill in no time.
There are very few home stays in the area and therefore you will not see a lot of travelers in Tulga. Another 15 minutes hike will welcome you to the beautiful village of Pulga.
Pulga is known for its 'fairy forest' - a dense jungle of tall deodar trees. A trek into the forest and across the mountain is highly recommended for some quality time with the chirping of birds, rustling of leaves and company of friendly fur buddies.
Pulga is clearly my favorite village in the area, it is a scarcely populated region, the villagers are friendly and wear a huge bright smile that does the magic, a lot of Israelis have made this village their home and run home-stays and small cafes that serve mouth-watering Israeli food. If you too like the vibe of this picturesque hamlet, you should spend the night here.
Where to eat :
Jim Morrison Cafe - Hidden away near the Manikaran Gurudwara is the Jim Morrison Cafe. A short walk uphill through the woods, lies this aloof little cafe. It is exactly what you need after a tiring day. Alcohol and non vegetarian food is not served here but the place offers flavored hookah. The food is pretty decent, the pancakes and hot chocolate are to die for.
Yes, they also screen movies in the cafe!
Moon Dance Cafe and the German Bakery at Kasol - If you love crepes and pasta, Cafe moon dance is a great option. Do try the Lemon cake at the German bakery!
Panjtara is a restaurant that is open until late at Kasol so if you are up for late night dinner and drinks, this is just the place. The Masala trout and sides of grilled veggies is a must have!
Cafe Evergreen - This is a cafe to be visited for dinner and is a must visit for Israeli food lovers!
Oh Magic View - You can stop at this tiny cafe on the way to Chalaal for some delicious Israeli food and of course a magical view!
Where to Stay :

The Himalayan Village - This is for the people who want a day or two to just reboot and relax. The property in itself is so beautiful that you don't mind staying in all day..!
Parvati Kuteer - Another offbeat place for some peaceful time.
There are a lot of options for backpackers, these are my favorite -
You may also try the river side camps which are dirt cheap!
Have you been to the Parvati Valley? If yes, please let me know of villages that I should trek to the next time I am there, or cafes that I should go to.
Thanks for stopping by ????