H A M P I,
A city of ruins, Grand temples at every turn, Large lively rocks, Excellent greenery and Beautiful Thungabhadra river"....: History Alive..
Hello, to my lovely blog viewers, hope everyone is doing great. Today I am going to articulate about the most historical place named "HAMPI", has a great history from RAMAYANA to SRI KRISHNA DEVERAYA.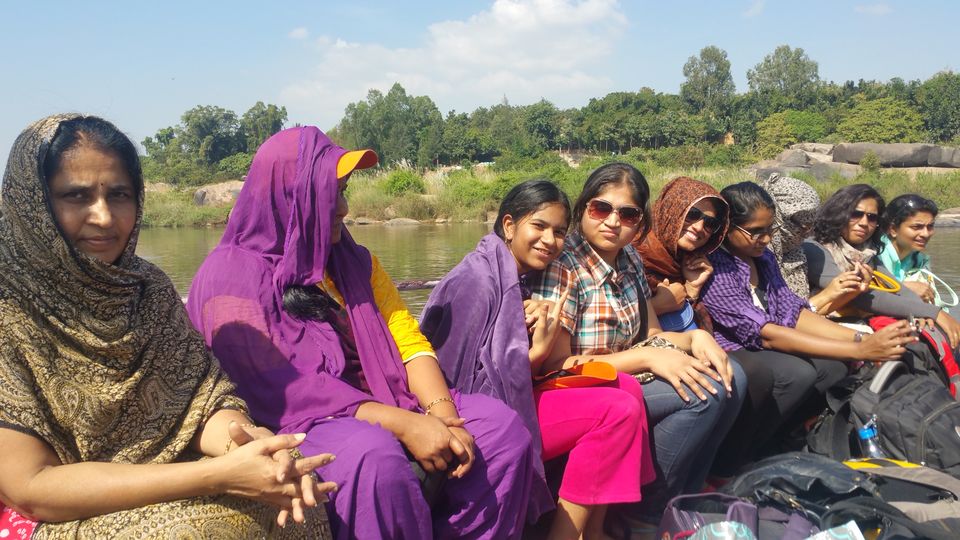 Hampi is traditionally known as; Pampa-kshetra, Kishkindha-kshetra
I recall you a little about Hampi, why it is called with these names
Pampa- kshetra:
Is a lake, located in a valley, filled with lotuses, there is a goddesses Lakshmi temple as well as Lord SIVA temple facing to the pond. It is considered that sacred by Hindus and is one of the five sacred Sarovars or lakes in India. In Hindu mythology Pampa Sarovar is regarded as the place where Pampa, a form of Shiva's consort Parvathi, performed penance to show her devotion to SIVA, is also one of the Sarovar's that finds a mention in the Hindu epic, RAMAYANA as the place where SHABARI, a devotee of RAMA waited for the arrival of Ram.
Kishkindha-kshetra:
By the name it self, most of the Indians know what it is, anyway I would like to share some information on this, since I am very fond of history :) : Kishkinda mean Vanara means monkey, yes its a kingdom of Vanara, King Sugriva, the younger brother of Vali, in the Indian theology of Ramayana times. This was the kingdom where he ruled with the assistance of his friend Hanuma.
During the time of Ramayana, i.e, Tretha Yuga, the whole region was within the dense forest called Dandaka forest (dankaranyam).
During Dwapara Yuga, the Pandava Sahadeva was said to visit this kingdom, as per the epic Mahabharata. during his southern military campaign to collect tribute for Yudhishthira's Rajasuya sacrifice.
As from the History It looks very interesting, so we group of friends made a trip to this historical place to see the remains and to gain more information on the things said above; and of course to have fun and gather some memories for future.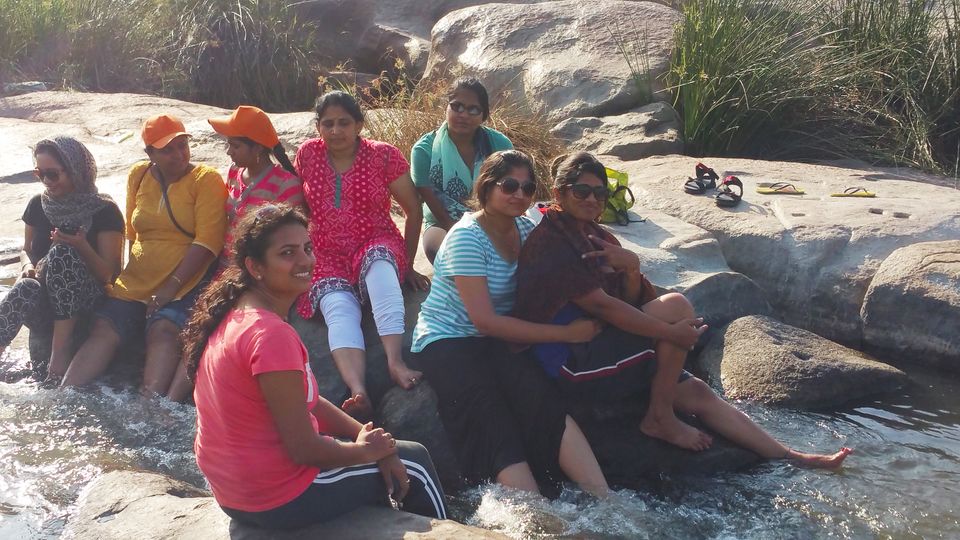 Our journey starts here:
Its a girls trip entirely, with lot of fun and joy, no limits, explored with an ultimate freedom of love and passion. The place where we stayed was awesome, a typical village atmosphere, huts surrounded by rice fields; All of them made us really fascinating and fresh; felt like that moment of time gone to the 80's. No noise, no pollution and surrounded by nature living in a valley, wow no words to explain, you have to experience it to feel the real treasure of the place.
We have started from Secundrabad railway station, reached early in the morning to hospet, we hired autos to reach Hampi its just 30 min, 12 KM from Hospet , OLAAA we were at Hampi. After reaching there we had a small boat journey to cross the river, there are many Boat mans and they charge you just 10 rupees per head to cross it. as soon as we get down there is person waiting to take us to the resort, that was also an awesome ride too, narrow village roads, street shopping, lot of hats and cloths, carvings and ornaments, food courts, wow felt like the village with all facilities.
We reached resorts by 10 AM, we were hungry, had a nice breakfast, the food in the Gowri resorts was really delicious and must try ginger lemon tea.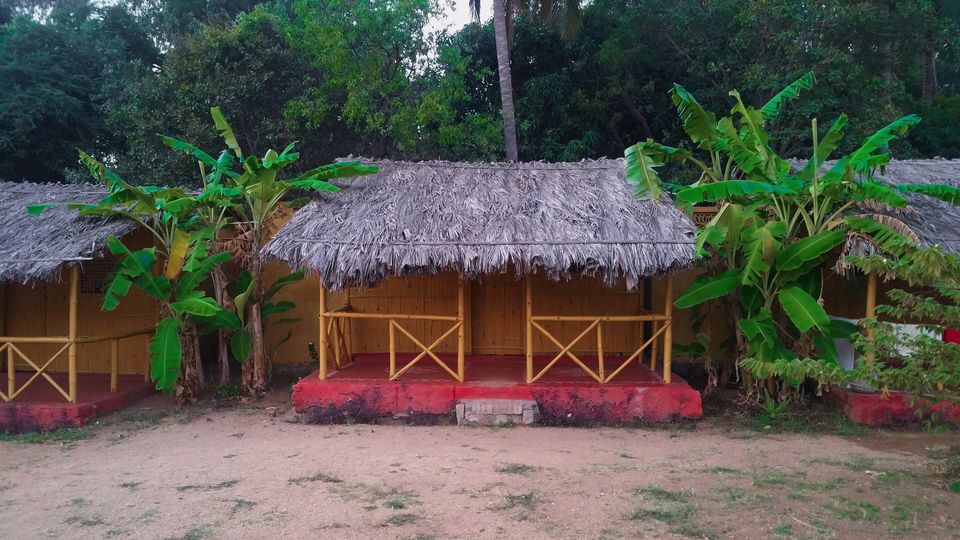 Got fresh up and ready for site seeing, they arranged an auto for travel, don't expect cars over there and of course its a really nice experience to travel in an auto with friends chatting and observing the place you see on the way to main sites of attraction.
Gowri resorts: http://www.hampigowri.com/
The beautiful place where we stayed, fell in love with it. delectable atmosphere around: experienced beautiful sunrise over there. Witnessing sunrise in the morning with orange rays striking out of those mountains, being reflected in the water of patty fields is really thrilling, which gives a different color to the nature around, I really enjoyed the morning view of the sun at the river, wow amazing place.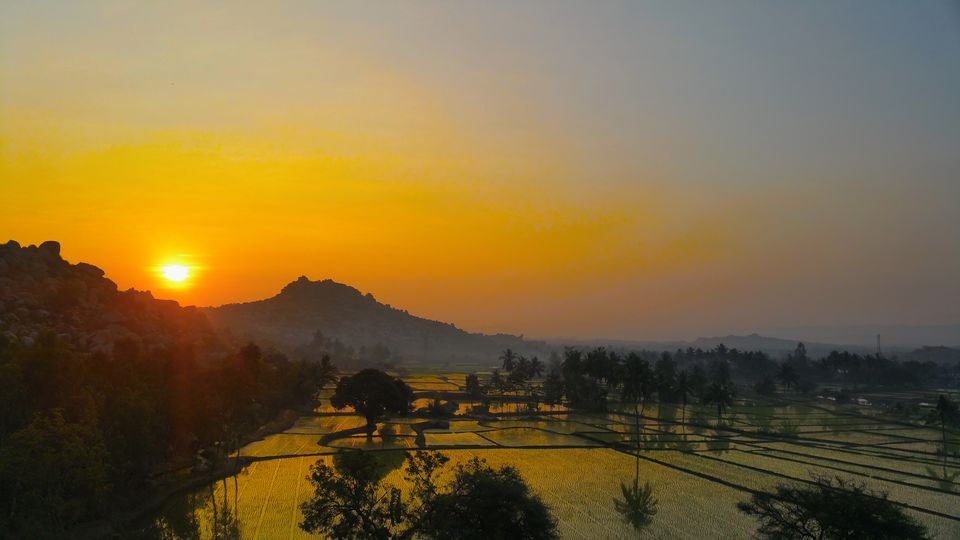 The beautiful sunrise from our place of stay
Places to explore:
1. Lakshmi Narasimha Temple
Located on the Gandhamadana hill, the temple has no idol. Although on the walls of the temple, one can see carvings of Lord Vishnu, Hanuman and Goddess Lakshmi. The temple is considered to be Jain temple due to its architectural style.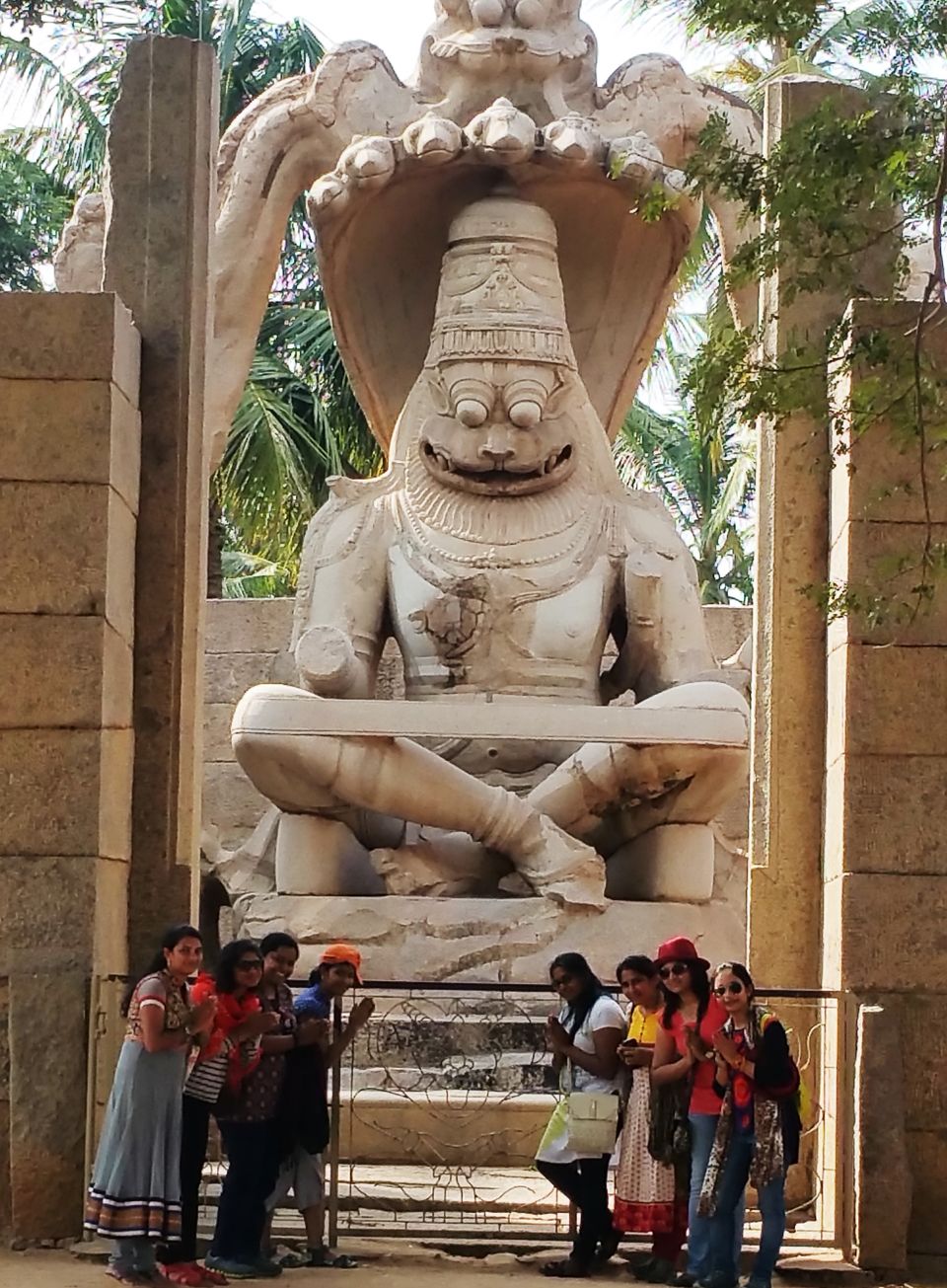 2. Lotus Palace:
Built in Indo-Islamic architecture style, the palace is a two-storys structure and has archways set in geometric regularity. It was used by the royal ladies. where Thirumala Devi wife of Srikrishna Devaraya lived.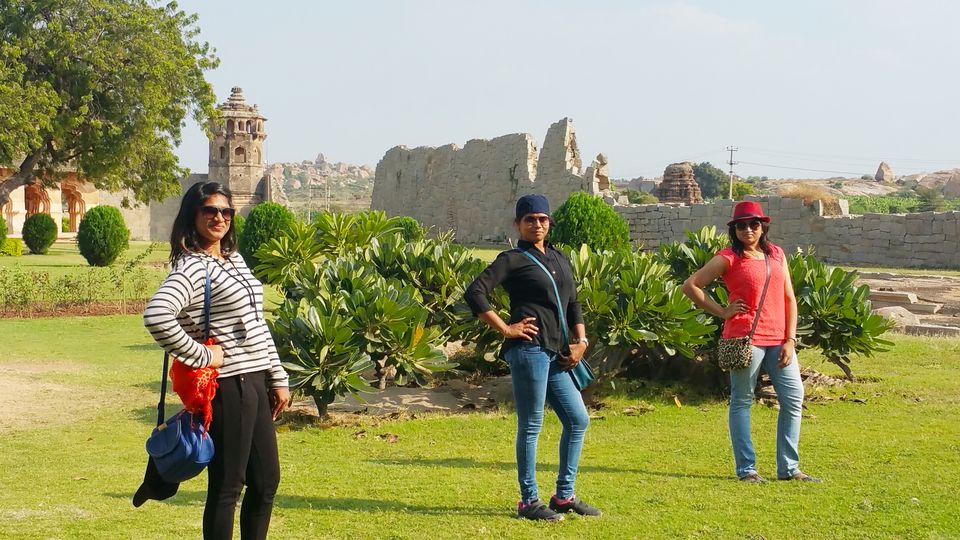 Lotus Palace Garden.
3. Virupaksha Temple:
Virupaksha Temple in Hampi is a must visit for history buffs and religious people. It is a part of the group of Monuments at Hampi. The temple's history is uninterrupted from about the 7th century. Existed well before the Vijayanagara capital was located here. Inscriptions referring to Shiva date back to the 9th and 10th centuries.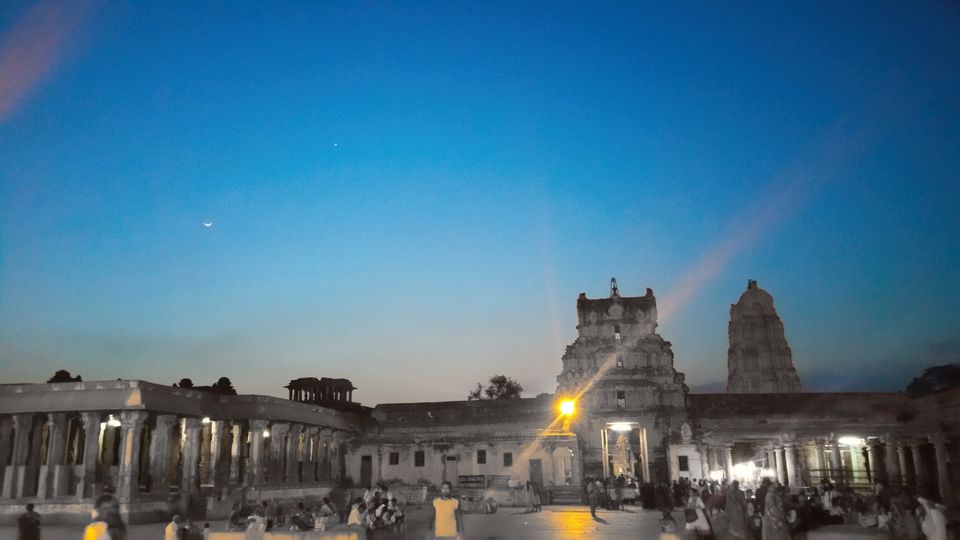 Virupaksha Temple at night
4. Vijaya Vittala Temple
It well provokes as an archaeological wonder. It is considered as one of the main tourist attractions in Hampi. The Temple is situated northeast of Hampi, dedicated to Vittala, a form of Lord Vishnu, who was worshiped as prime deity at that time (Vijayanagara Empire). The front of the temple features a stone chariot. The Vittala Temple or Vitthala Temple in Hampi is an ancient monument that is well-known for its exceptional architecture and unmatched craftsmanship. The architecture symbolize the Dravidian temple architecture and It is considered to be one of the largest and the most famous structure in Hampi.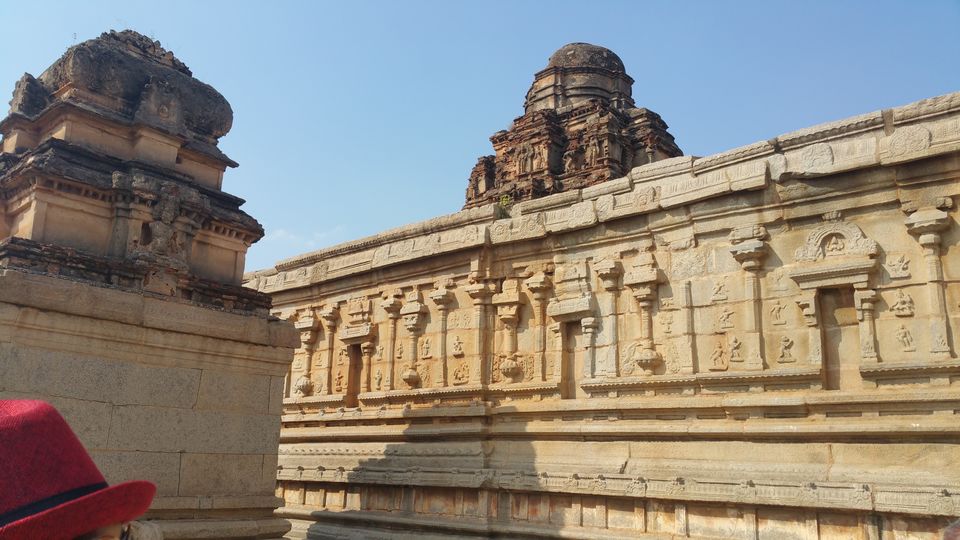 The iconic temple has amazing stone structures such as the incomparable stone chariot and the fascinating musical pillars. This predominant monument of Hampi is a major attraction of the ruined town and is a must-see for visitors and tourists. Yeah, really the view and temple architecture with the front chariot gave us an amazing experience over there. So, guys don't miss it. ;) .
5.Hazara Rama Temple:
Located in the centre of Hampi, the temple is one of the smallest temples. The walls of the temple have episodes from Ramayana. it was once a private temple of the kings and the royal family of Vijayanagara.
6.Elephant stables:
Elephant Stables in Hampi is a must see place for history buffs. There are 11 chambers, with the one in the center grander than all the others.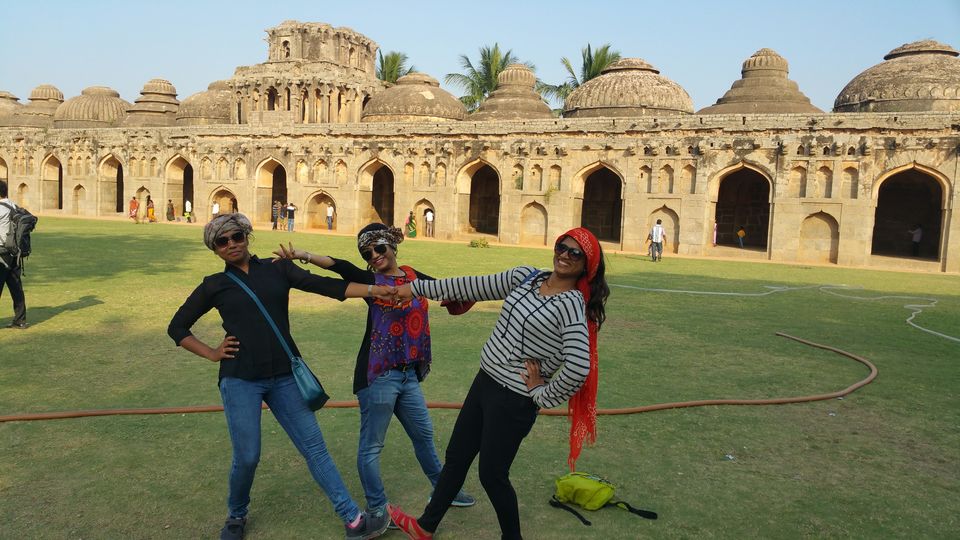 7. Archaeological museum:
The museum houses a collection of sculptures and arti crafts. It beautifully captures the history of Hampi.
8. Achuyatharaya Temple:
Achyutaraya Temple located between Gandhamadana and Matanga Hills. The temple was established in 1534 AD by Achyuta Deva Raya and was originally named Tiruvengalanatha, but gradually it became popular by the King's name. It is dedicated to Lord Venkateshwara.
9. Daroji bear sanctuary:
Located about 15 km from Hampi; the bear sanctuary is home to Indian sloth bears. It was declared as a sanctuary in 1994, apart from bear other wildlife that seen are leopards, hyna, jackals and can also be seen 90 species of birds.
10. Badami Fort:
The fort is located on top of a hill. It has two Shiva complexes, built by Pulakesi II and dates back to 5th century. There is a cannon dating back to 16th century.
Few memories in pictures at Hampi... ;): The sunrise, the Shadows, the night view and the Group picture etc.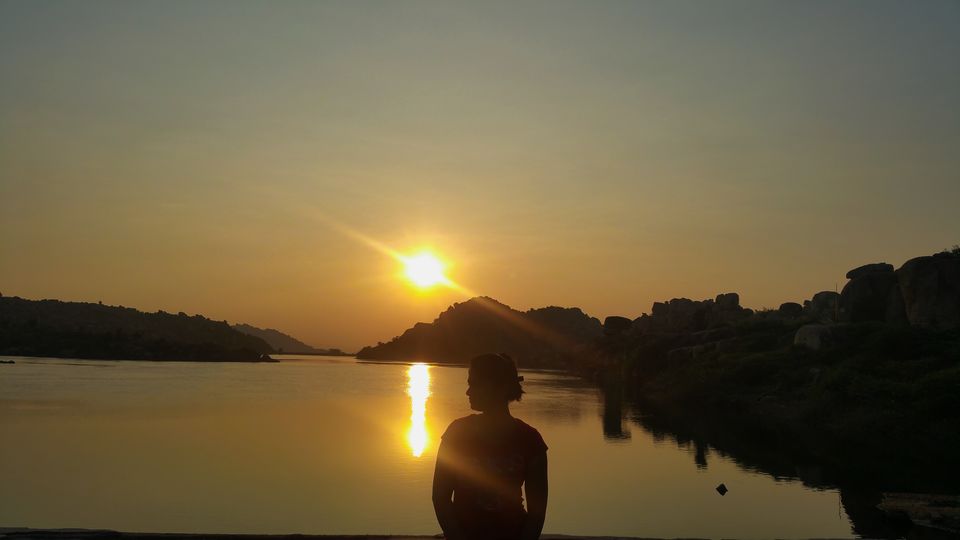 The beautiful sunrise at Thungabhadra river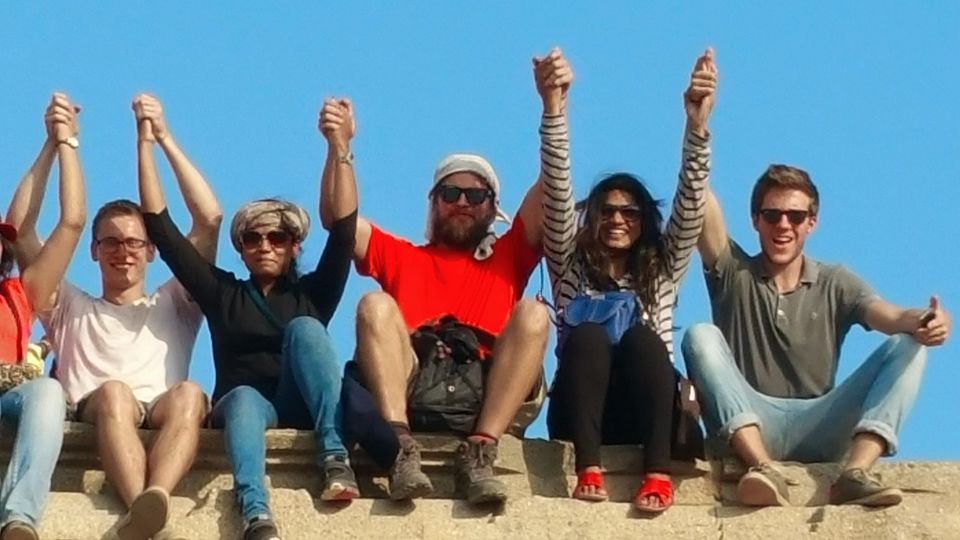 Tourists from Germany @ Hampi
Memorable times with friends: Memories Never Fade
This is the place where lord RAMA has killed Vali with a single stroke through the tress
This is the cave where RAMA stayed in search of sita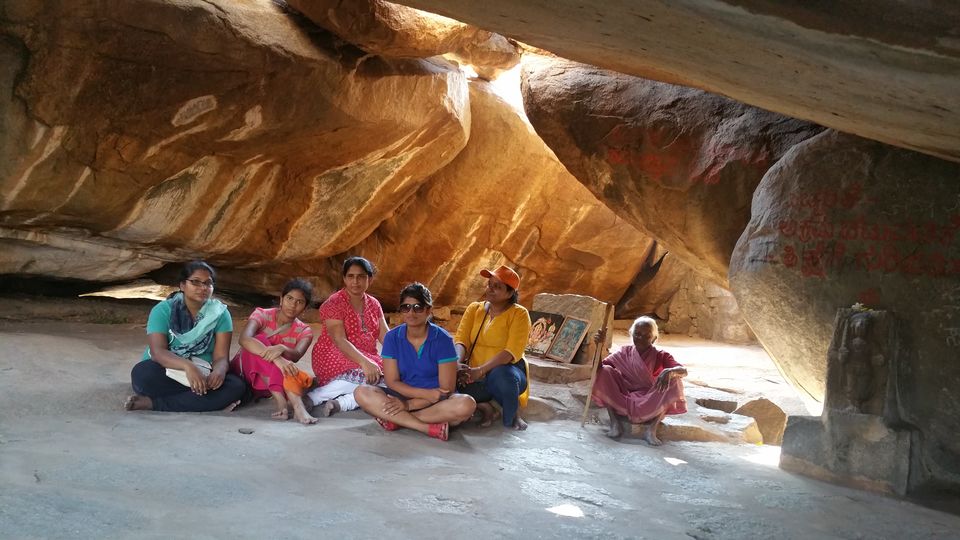 Is the place where Sabari offered fruits to Lord RAMA
Explore the unknown and unseen world of places: They remind you the dreams of those people, their culture and living days. The history now for us a great book to explore; to see, to learn and appreciate how great their work was with out any technology like nowadays. I always feel so amaze to get into these places to see how they were built and now be seen exactly same as those days along the ruins over there.
Ciao Tutti.. Ci Vediamo.... A dopo... ;)..... Have a Nice time Till then...