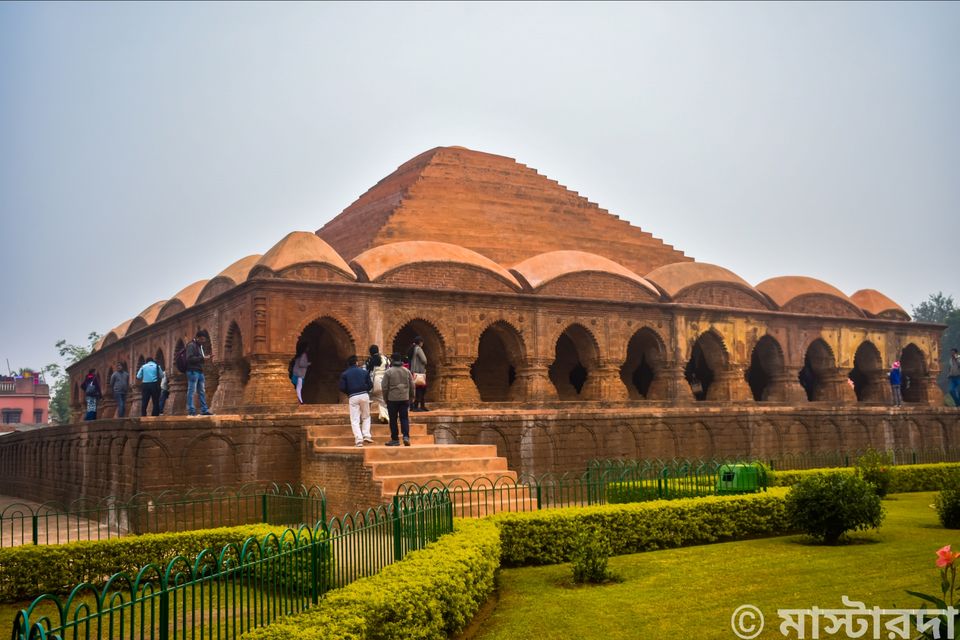 Overview:
Bishnupur is a city and a municipality of Bankura district in the state of West Bengal, India. It is the headquarters of the Bishnupur subdivision and is a seat of crafts and culture. It is famous for its terracotta temples and the Baluchari sarees.
Bishnupur was ruled under the Gupta period by local Hindu kings who paid tribute to Samudra Gupta. Following a long period of obscurity, where the land oscillated between being a minor independent principality and a vassal state. The land is also called Mallabhum after the Malla rulers of this place. The Malla rulers were Vaishnavites and built the famous terracotta temples during the 17th and 18th century at this place. For almost a thousand years it was the capital of the Malla kings of Mallabhum, of which Bankura was a part, till their power waned during the times when Mughal Empire weakened under the last monarchs of the dynasty. The patronage of Malla king Veer Hambir and his successors Raja Raghunath Singha Dev and Bir Singha Dev made Bishnupur one of the principal centres of culture in Bengal. Most of the exquisite terracotta temples for which town is justly famous were built during this period. Mrinmoyee temple of kings is treated as a valuable historic place. Apart from the unique architecture of the period, Bishnupur is also famous for its terracotta craft and its own Baluchari sarees made of tussar silk. Royal patronage also gave rise to Bishnupur Gharana (school) of Hindustani classical music in late 18th-century and the Bishnupur school of painting. Since 1997, the temples of Bishnupur is on UNESCO World Heritage Site's Tentative list. These temples which stand testimony to the exquite craftsmanship of the artisans of the region were crafted from the local laterite and brick. The temples are covered with terracota tiles depicting scenes from the epic Mahabharata.
Get In:
By bus - Calcutta State Transport Corporation (CSTC) and South Bengal State Transport Corporation (SBSTC) buses ply regularly between Dharmatala/ Esplanade bus stand of Kolkata and Bishnupur. It takes about 4-5 hours to reach Bishnupur.The road distance is shorter than the rail distance, it is about 150 km.
By train - It takes about 3:30 to 4:15 hours from Kolkata, distance 201 km. Convenient connections - Rupashi Bangla Express departs from Santragachi at 6.25 am, Purulia Express departing Howrah at 4.50 pm and Siromoni Fast Passenger departs from howrah at 5.45pm and Santragachi-Porbandar Kaviguru Express Departs From Santragachi at 21.25hrs only sunday. and arrive at Bishnupur at 00.02hrs and Rajjyarani Tri weekly Express Departsfrom Shalimar at 6.40hrs and Aranyak Express departing Shalimar at 7.45 am. To come by Aranyak Express from Howrah to Bishnupur,1st one has to come at Santragachi by local train & then by Aranyak Express. All these trains are via Kharagpur, Midnapur. You can also opt for Howrah-Chakradharpur passenger which leaves Howrah at 23:05 hrs. This train has sleeper class provision.
Other option, come at Kharagpur/Midnapur/Burdwan/Durgapur by train form Howrah. Then by bus.
One can also take a bus to Midnapur or Arambag and then change over to another local bus to Bishnupur which are more or less frequently available every 30 - 45 minutes. Arambag is about 3 hours and Midnapore about 3 1/2 hours by bus from Bishnupur.
The nearest commercial airport is at Kolkata.
Famous Attractions:
Ras Mancha: Ras Mancha with its unique architectural manifestations was built by Bir Hambir in 1600 AD. The temple stands on a raised square laterite plinth with a pyramidal superstructure. Three successive circumbulatory galleries, the arches of which are decorated with terracotta lotus motifs, enclose the sanctum of the shrine. During the Malla regime, all the images from the neighbouring temples were brought at the time of Ras festival and displayed in the galleries for the public. Its parallel has not been found elsewhere in India.
Temple of Madan Mohan: This temple, built by the Malla king Durjan Singh in AD 1694, is the best example in brick of this type with a single sikhara on a curved Bengal chala roof. Its terracotta panels are also noteworthy.
Large Gateway/Pathar Darwaja: This fine arched gateway is built with dressed laterite blocks. This gateway was the northern entrance to the ancient fort of Bishnupur and Malla king Bir Singha built it in the 2nd half of the 17th century. It had double storied galleries flanking the central passage for accommodating troops and there were also arrow-slits for the archer and the gunman.
Lalji Temple: Built by Bir Singha II of Malla dynasty in AD 1658, it is one of the impressive laterite built Ekratna temples at Bishnupur and is enclosed by boundary walls. Inscriptional evidence on the southern facade states that this temple was built for Radha and Krishna. Square on plan and placed upon a raised plinth, this temple is surmounted by a single sikhara. Traces of the ornamental stucco decorations on low relief carvings can still be seen on the front wall.
RadhaShyam Temple: A dedicatory inscription on the frontal facade states that Malla ruler Chaitanya Singha built this temple of Radha- Shyam in AD 1758. Square on plan, this Ekratna south facing laterite temple stands within a large courtyard enclosed by high boundary wall. The sikhara of the ratna of this temple is dome shaped and is slightly different fromother Ekratna temples at Bishnupur. The outer walls are fashioned with carvings in low relief, which are decorated with fine stucco work. these decorative motifs include both geometric and floral patterns, epic and puranic scenes. It is a living temple and images from different dilapidated temples pf the locality are housed in the sanctum of this temple.
Jor Bangla Temple: Jor Bangla also known as Kesta Rai Temple was erected by the Malla king Raghunath Singha in AD 1655 as evidenced from the inscription affixed on the front facade of the temple. The temple, facing south is raised on a square platform in the form of a pair of hut shaped structures with sloping roofs joined together and surmounted by a charchala sikhara on the top. Both the exterior and interior walls and ceiling of the temple depict exquisite and elaborate terracotta ornamentation. These terracotta panels narrate scenes from the epics, krishnalila, hunting scenes, various other depictions of contemporary social life etc. the excellent quality of art on this temple endows it as one of the finest among the terracotta temples of West Bengal.
Shyam Rai Temple: Standing on a low square plinth this Pancharatna brick this temple was built by the Malla king Raghunath Singha in AD 1643 and noted for elaborate terracotta ornamentation. The square sanctum is surrounded by an ambulatory pathway with a porch opened by three multicusped arches on four sides.Of the five sikharas, the central one is octagon (Originally collapsed) while the others are square resting upon the four corners of a sloping roof in "PIDA" order.The decorative panels are interesting to narrate the contemporary socio-religious themes, political and economic life of the people.It also includes scenes from the Ramayana, Mahabharata and other puranic stories, plants, animals and other grotesque figures. Of the various decorative panels, mention may be made of the famous "Rasmandala" for its super aesthetic appeal.
Dalmadal Canon: This canon of wrought iron popularly known as "Dalmadal", was probably the largest canon built by the Malla kings. It is 3.8 m long with a muzzle of 29.2 cm in diameter. as per legend during the regime of king Gopal Singha lord Madan Mohan, the tutelary deity of the Malla kings was said to have used this canon against Bhaskar Rao, the commander of the Maratha invaders.