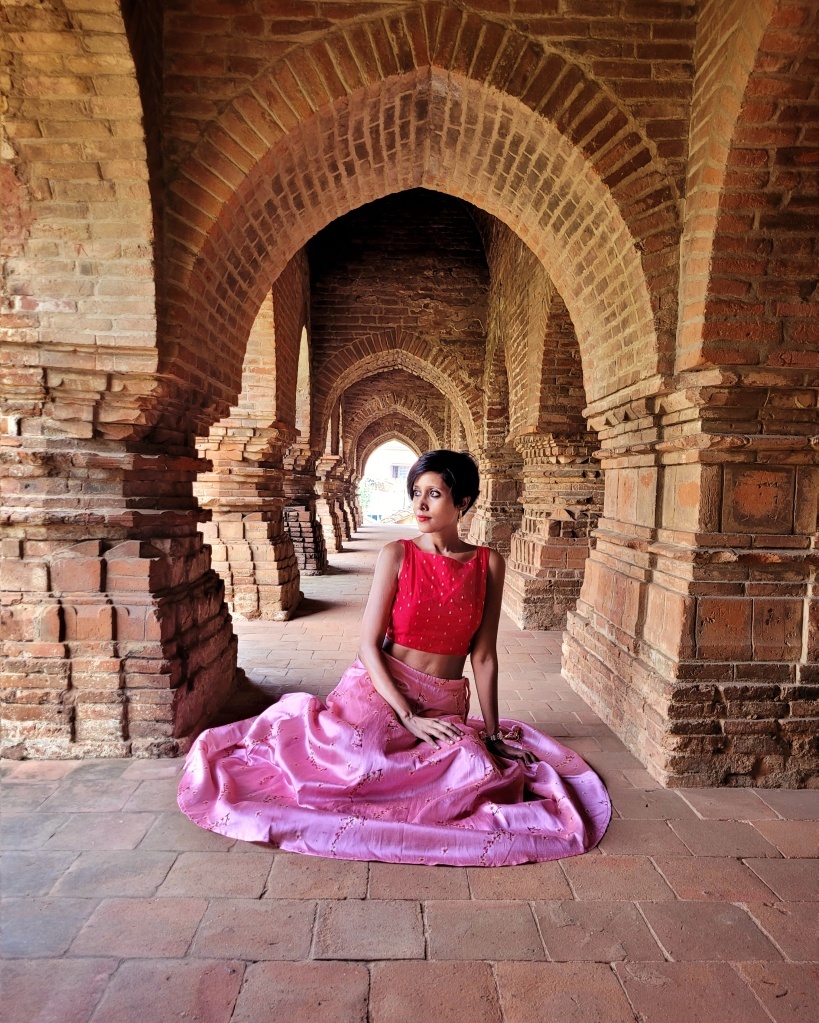 Bishnupur (or Vishnupur) in Bankura district of West Bengal is famous for is terracotta temples. Located approximately 250 kms to the south of Kolkata, this little known place is a hidden gem, with ancient temples and history steeped in its every nook and corner. The town is also famous for its rich weaving culture. The famous Baluchari sarees of West Bengal is woven in this town. These are unique sarees which are hand-woven in richly dyed silk. They depict stories from Indian epics like Ramayana and Mahabharata.
One can reach Bishnupur by train from Howrah. Buses run from Kolkata frequently and one can always come by road. The roads are in excellent condition and it takes approximately 5 hours to reach Bishnupur from Kolkata.
Bishnupur being a temple town, the focus is on temples, several of them built of terracotta during the reign of the Malla kings (Mallabhum Kingdom), who ruled over the area prior to the arrival of the British. Malla is a Sanskrit word meaning wrestler but it could as well refer to the Mal tribes of the area. They ruled this area for a millenia from around the 7th Century till the arrival of the British.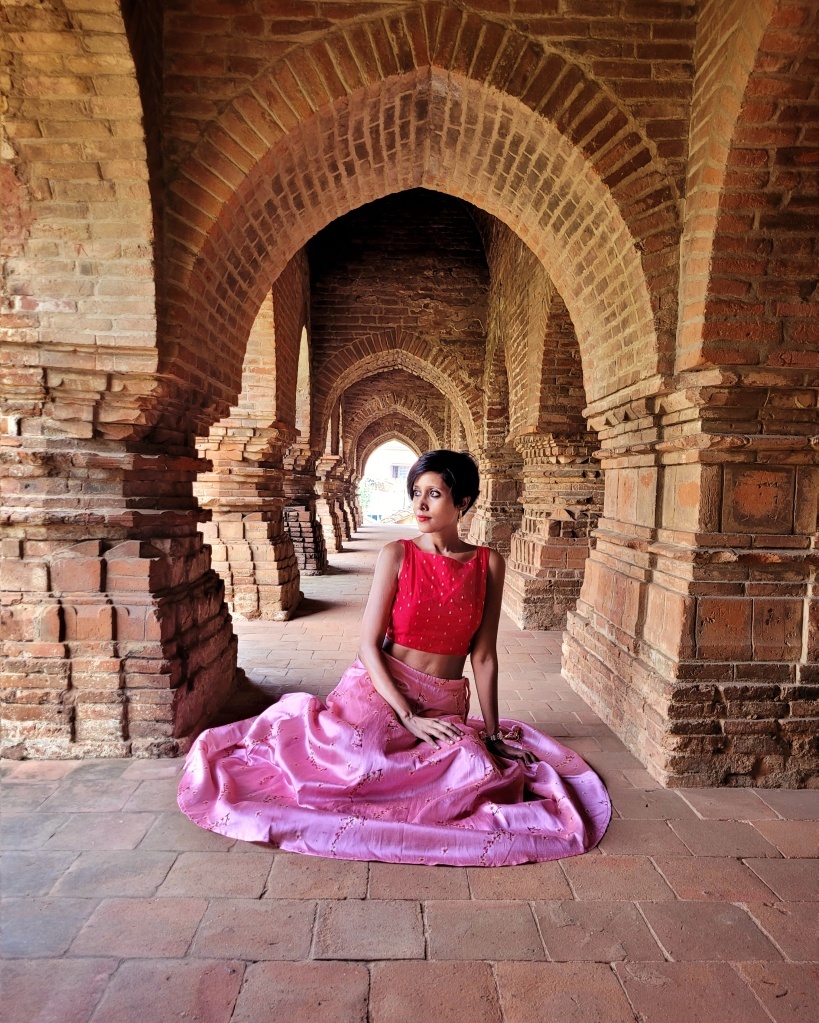 Yours Truly!!!
Following are the top sights of Bishnupur:
Raas Mancha- It is probably the top most known and visited sight in Bishnupur. Built in 1600 by Bir Hambir it is the oldest standing structure in Bishnupur. The pyramidal structure stands on a high platform approached by a long flight of stairs. It consists of arched entrances separated by pillars and is crowned with a stepped pyramidal structure surrounded by smaller typical Bengal styled sloped roofed structures. It is architecturally unique and one of its kind in the whole of Bengal. Since it is not a temple, it does not have any deities inside.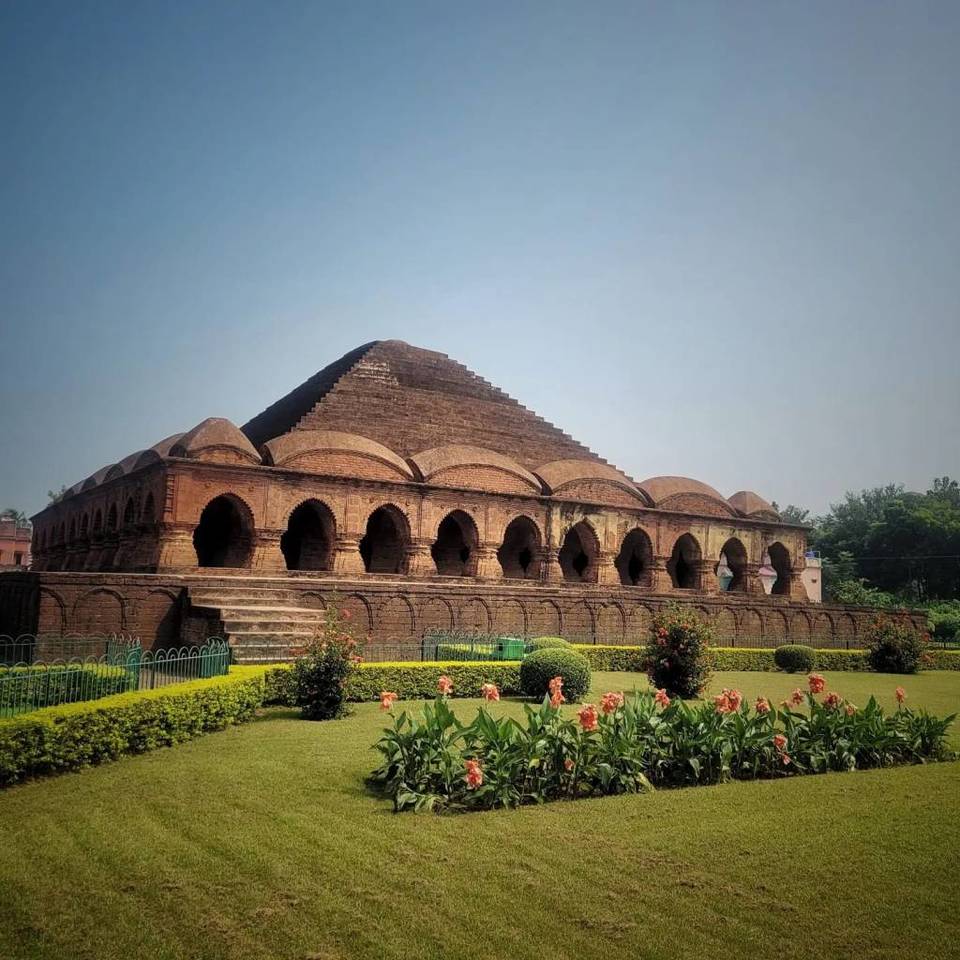 Raas ManchaKestorai Temple (Jorbangla Temple)- Built by King Raghunath Singha Dev II in 1655 it is considered as one of the finest example of terracotta art in Bengal. All four sides of the temple are covered with the most intricate terracotta panels covering a wide range of topics, the most famous being one straight out of Mahabharata of Bhishma Pitamaha on a bed of arrows. It is architecturally interesting being built on the "jora" style. Temples of identical style and size are sometimes grouped together and are known as "jora" temples. And hence, it is also referred to as Jorbangla temple.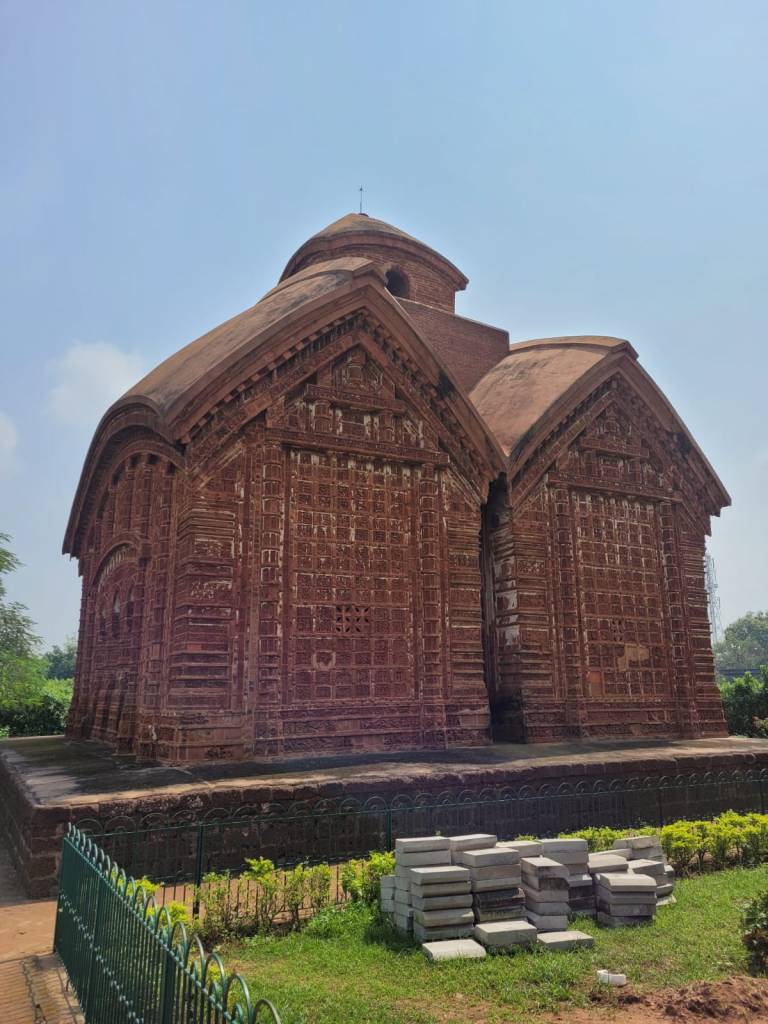 Jor Bangla Temple.Radheshyam Temple- The temple was constructed by the Malla King Chaitanya Singha in 1758. It stands just next to Kestorai Temple. It has a single pinnacle and is built of laterite stone and contains lime stone stucco decoration. The temple is enclosed with high walls and the entrance consists of a triple domed Islamic style gateway.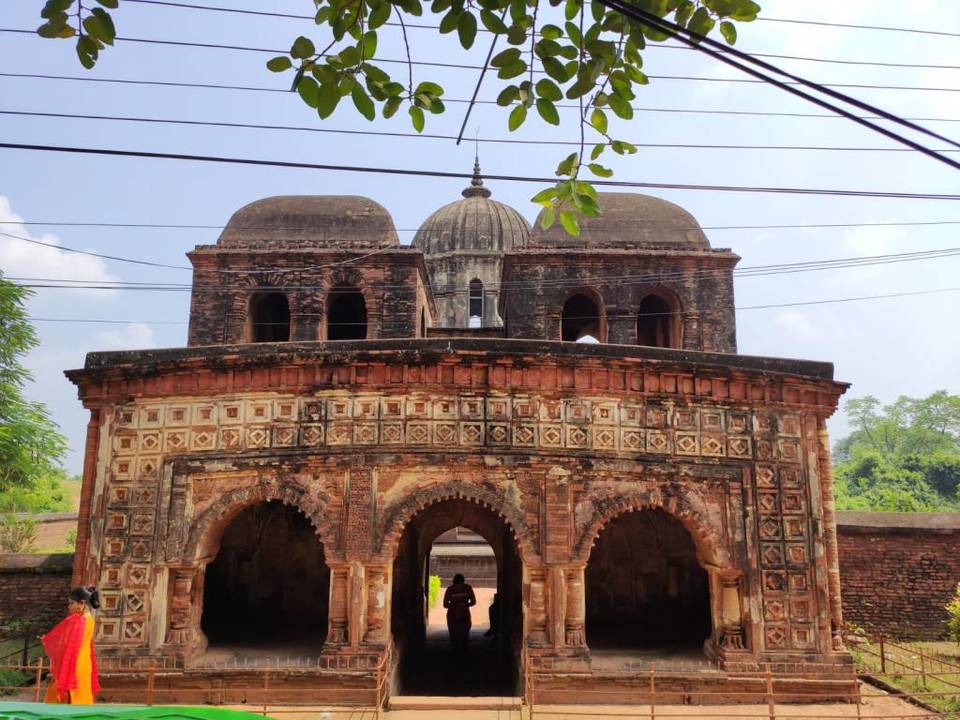 Entrance to Radhe Shyam Temple.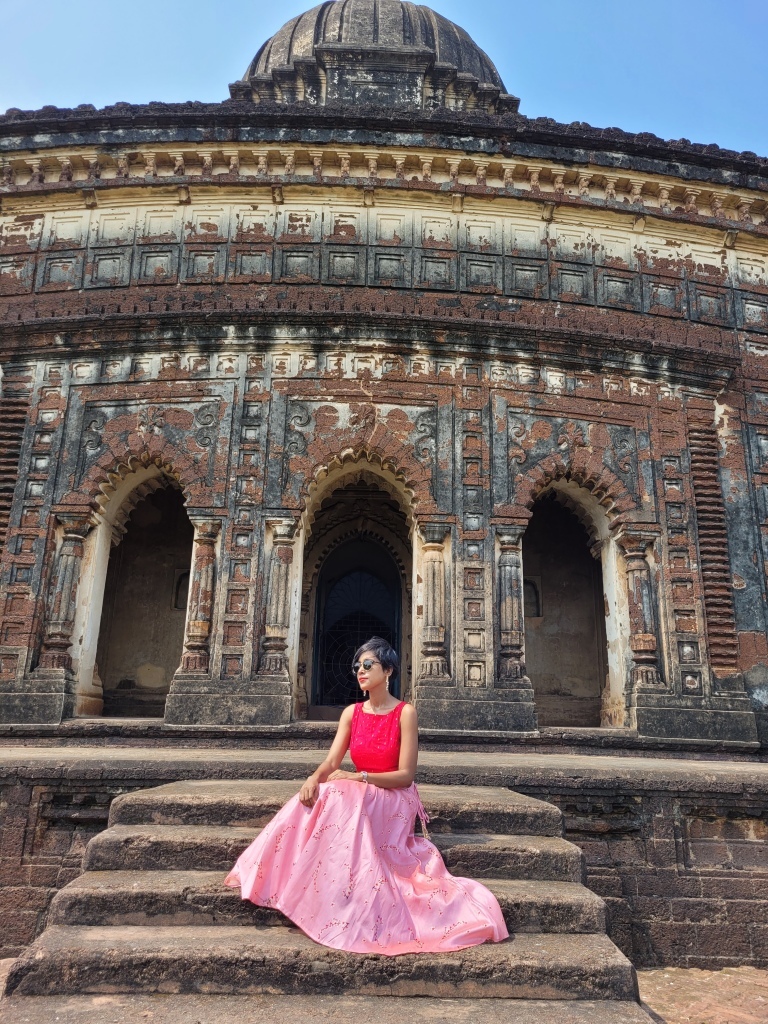 Yours Truly at Radheshyashyam Temple. Lalji Temple- A little further away is the Lalji Temple, built 100 years earlier than the Radhashyam Temple and follows a similar single pinnacle structure. Built by the Malla King Bir Singha in 1658 it is considered as the finest specimen of laterite stone temple in Bishnupur. Mrinmoyee Temple- Just opposite the Radhashyam Temple is the Mrinmoyee Temple, the oldest temple of Bishnupur. Sadly the old structure no longer exists and the ancient idol of Mrinmoyee is housed in a newly constructed structure.Goddess Mrinmoyee is an incarnation of Goddess Durga and Durga puja is performed at the temple every year.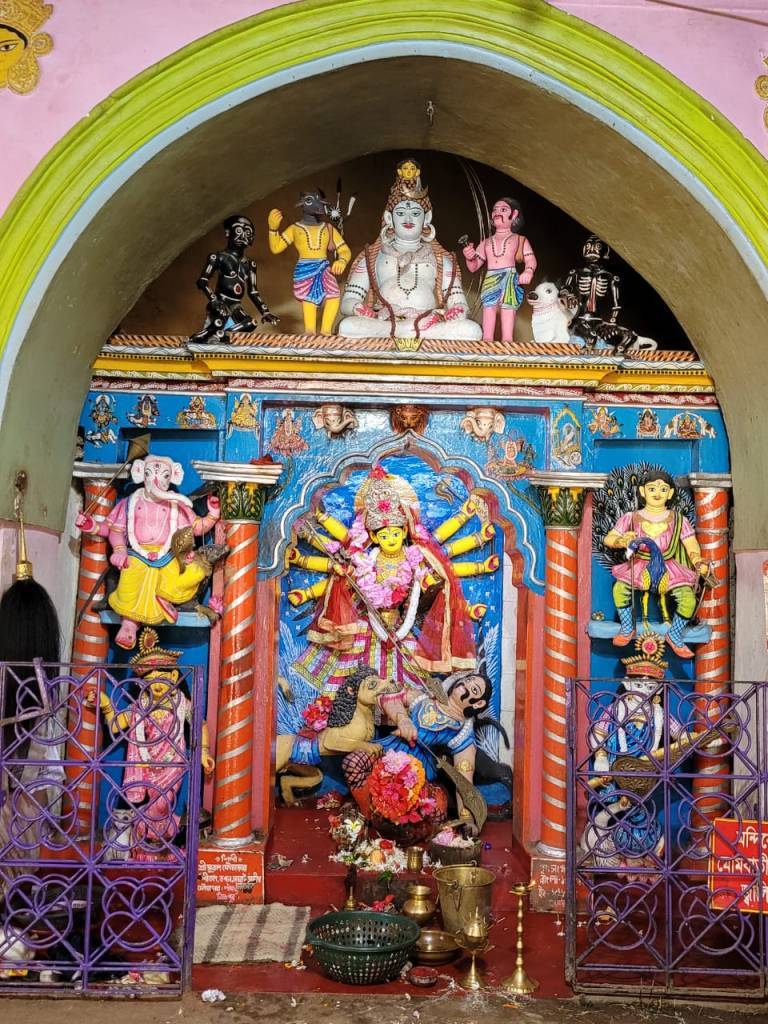 Goddess Mrinmoyee.Dalmadal Cannon- The cannon was built in 1742 and weighs 112 quintal and measures 3.8 meter with a diameter of 30 cm, including a muzzle of 29.2 cm. According to one legend, when the Marathas attacked Bishnupur in 1742 Lord Madan Mohan himself fired the gun to drive them away.
Nandalal Temple- It is a south facing temple with a triple-arched entrance. It has a square plan and stands on a raised platform. It has very little ornamentation. Originally the temple was plastered with lime but only traces of it remains to this day.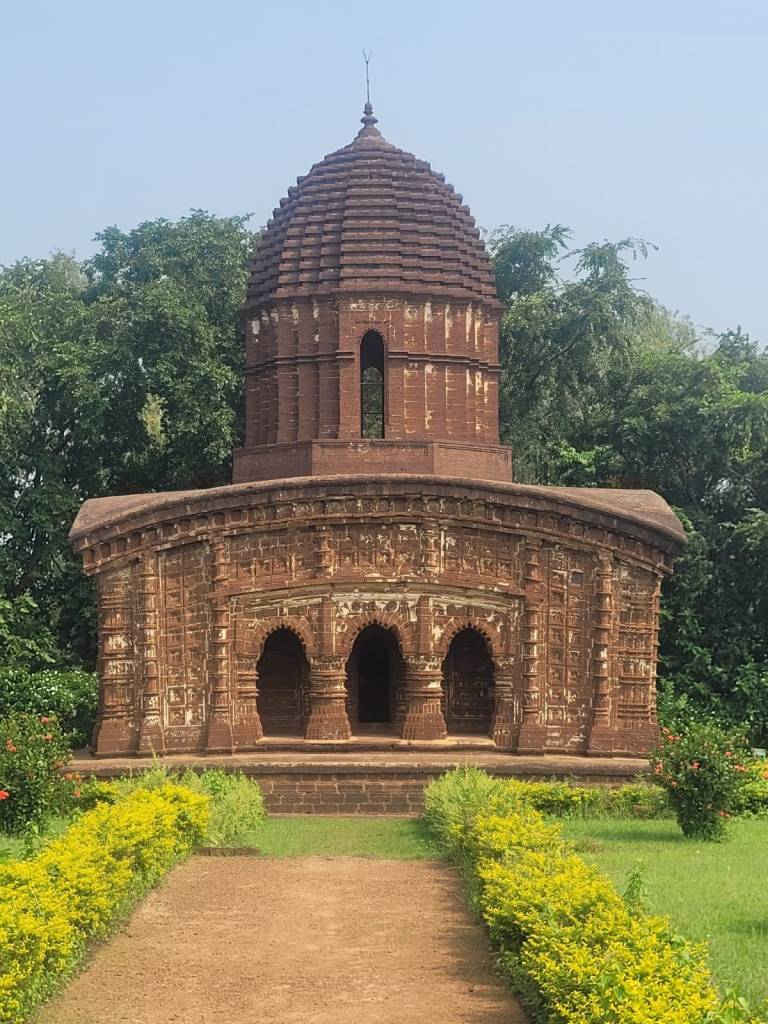 NandaLal Temple.Jor Mandir- All the three temples follow the square plan and are constructed on a raised platform. Among the three some beautiful stucco work can still be seen in the central one. These temples were built by Malla King Gopal Singh in 1726.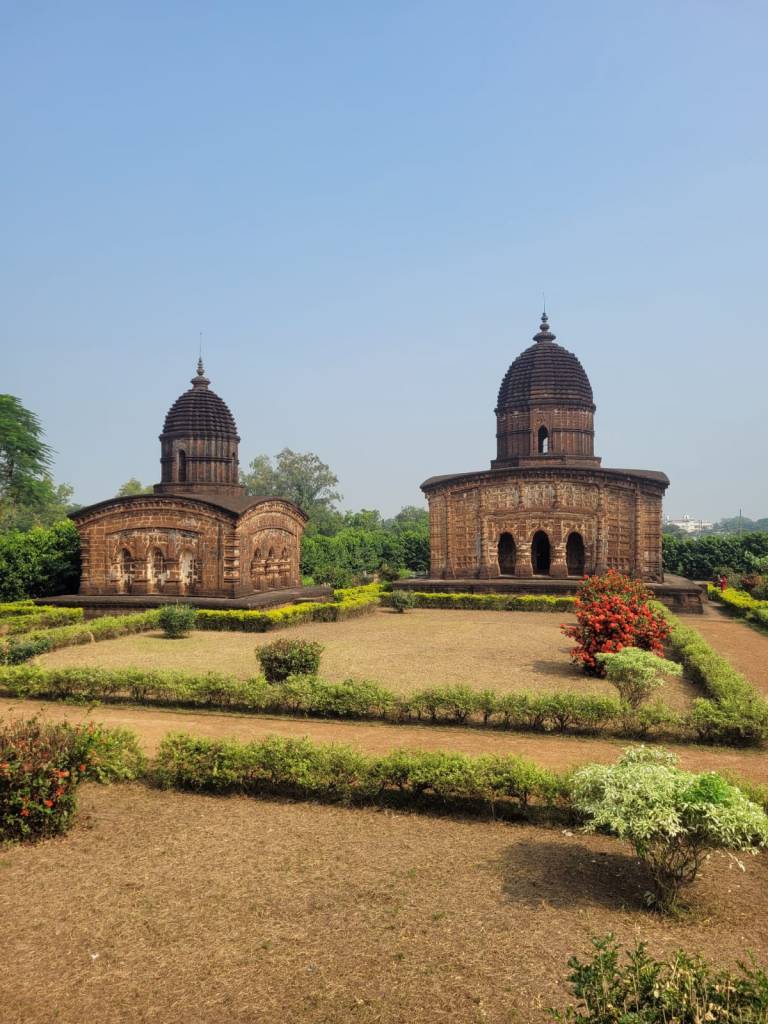 Jor MandirRadhamadhab Temple- Built in 1737, this temple is accompanied by a double sloped roofed structure. The temple was built by Churamoni Devi, wife of Krishna Singh. The temple still contains some interesting stucco work featuring animals.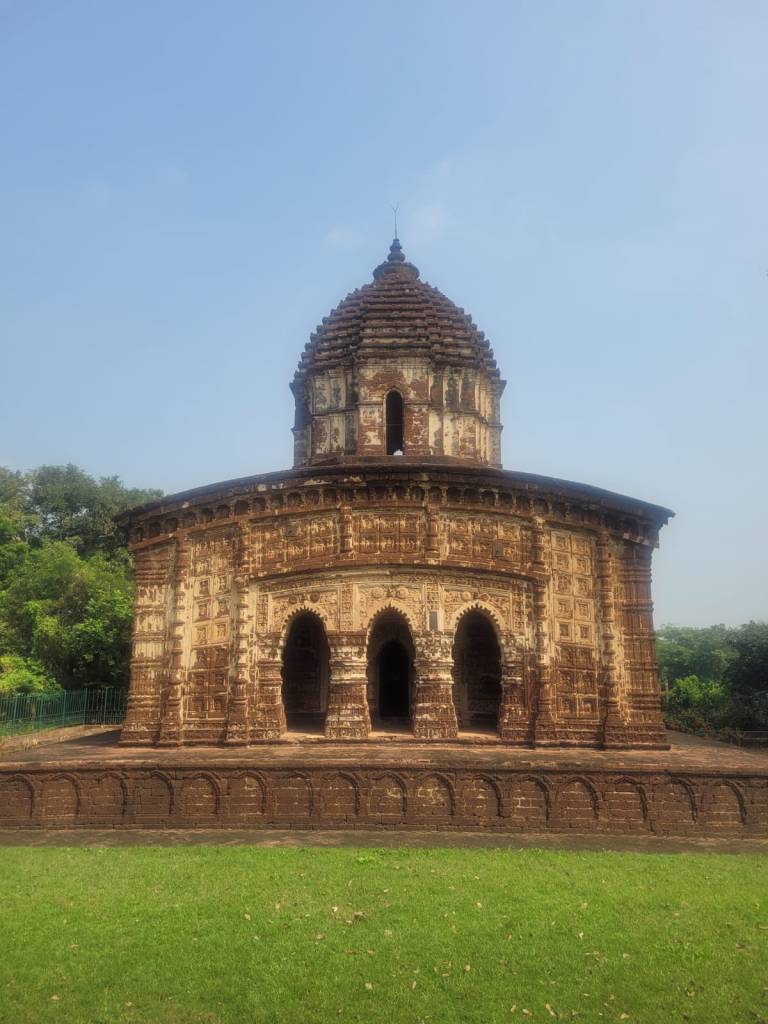 Radha Madhab Temple.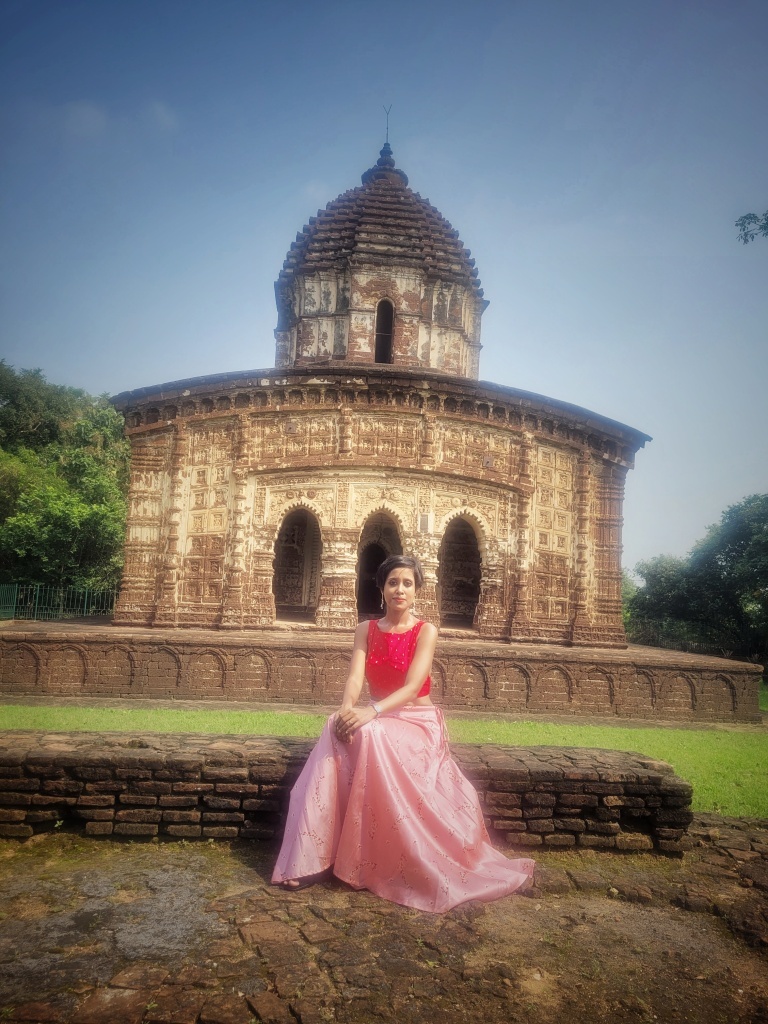 Yours Truly at Radhamadhab Temple.Kalachand Temple- Further down the road is the Kalachand Temple with its towering pinnacle. Built in 1656 by the Malla King Raghunath Singh, the temple was once covered with stucco decoration, only traces of which remains to this day. Shyamrai (Pancha Ratna Temple)- Built in 1643 by King Raghunath Singha. It is one of the largest temples of Bishnupur. The temple is accessible by triple arched entrance on all the four sides All the walls are richly decorated with terracotta carvings featuring aspects of Lord Krishna's life. The temple has five pinnacle, hence the name "Panch Ratna".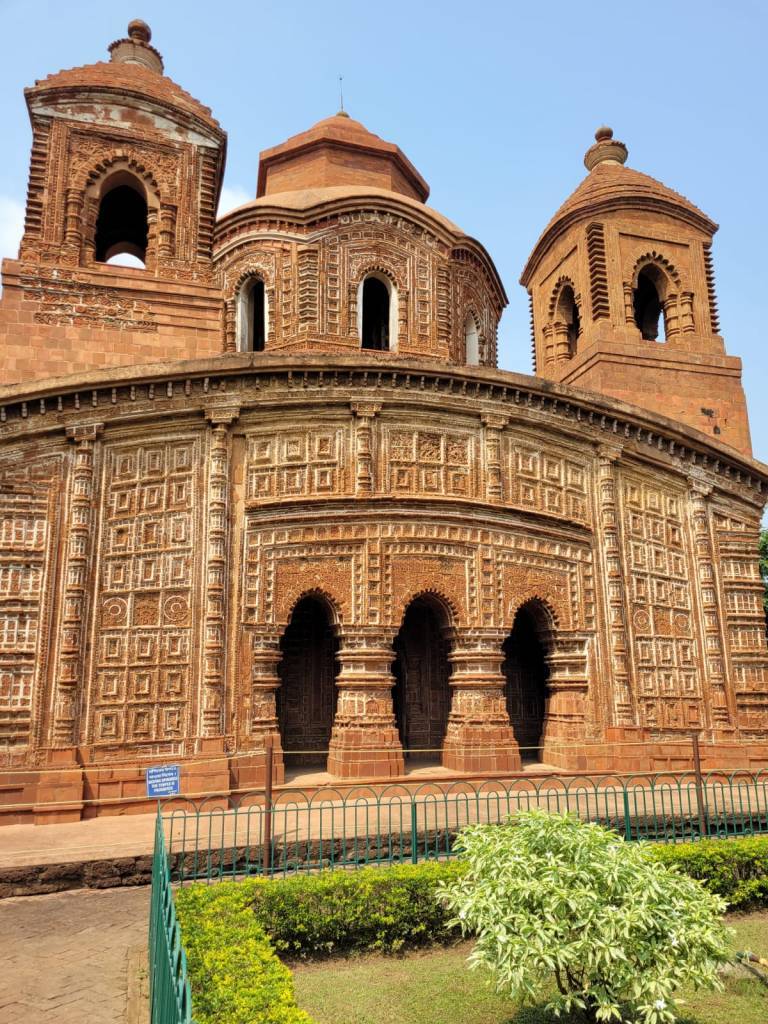 Shyamrai Temple.
Though the day was hot and the sun was scorching, we still made it to most of the temples. It was such an eye opening experience, The level of history all around was staggering. If you were interested to know more, you can always hire a guide from in front of Raas Mancha. On another note, you may purchase tickets in advance from the ASI website @Rs 10 per person(Indian) for visiting all the places. Photography is allowed but videography is not allowed inside any of the temple premises.
Do carry an umbrella and a big bottle of water as you will need it soon enough. Reach there very early in the morning to avoid the crowds and also to get some good photographs!