Are you aware of the fact that when lakes are set against the backdrop of mountains, they tend to change color according to the color of the sky? This is truly magic which everyone should witness sometime in life. Well, India is blessed with thousands of water bodies and few of them are breathtakingly scenic. From turquoise lakes to emerald ones, from ones that remain frozen for most of the year to the ones that gush with freshwater, lakes surrounded by Mountains are serene.
I'm sure you must have heard of emerald lakes like Tso Pangong in Ladakh and Gurudongmar Lake in Sikkim but there are many more hidden lakes in the Himalayas. Here's an amazing list of India's most stunning high-altitude mythical lakes in the Himalayan Region.
1. Tarsar-Marsar Lake, Kashmir (~3810 mts)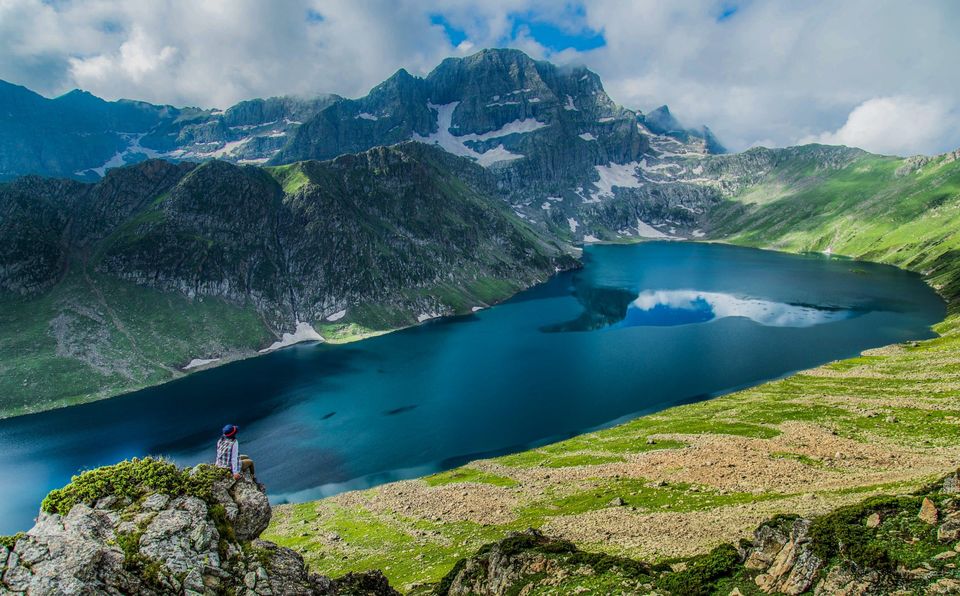 The Tarsar and Marsar lakes are the two most significant lakes of Pulwama District in Kashmir and arguably the prettiest lakes in India. The Tarsar and Marsar lakes are situated 3km and 5km away, respectively, from the village of Nagberan in the Aru Valley which is surrounded by lavish grasslands. The trail to reach these lakes goes across the serene bluish alpine lakes and gives multiple sites of Tarsar Lake. On the other hand, is Marsar which remains hidden under a sheet of clouds and can be seen from an overhang, sitting 600 – 700 ft below.
Best Time to Visit: June to September as these lakes gives the best views and colours compared to any other season.
How to Reach: Fly to Srinagar, drive to Aru and then start the Trek to Lidderwat to head towards Tarsar-Marsar Lakes.
2. Tso Lhamo Lake, Sikkim (~5,400 mts)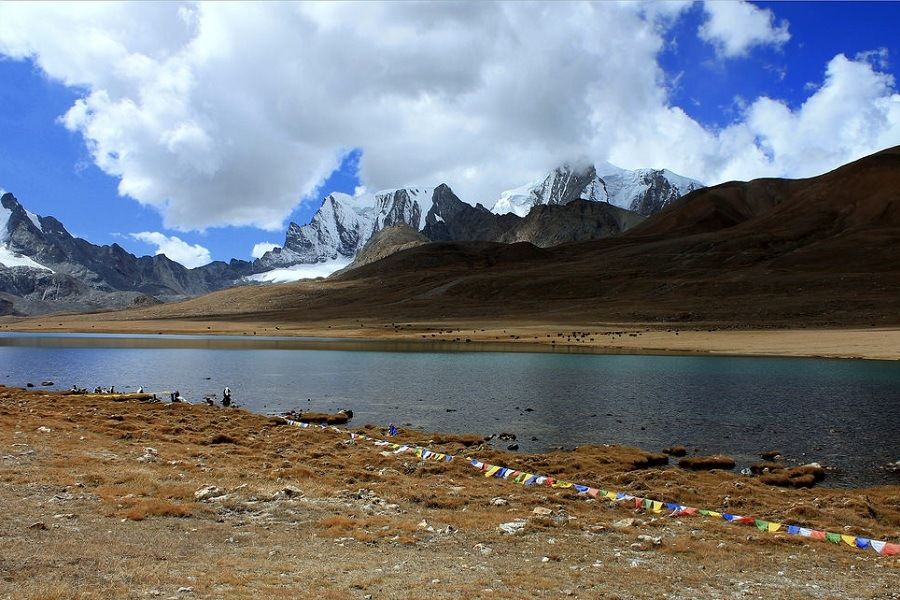 The Tso Lhamo is the highest lake in India and the 14th high altitude lake in the world and is located in North Sikkim, approximately 9 kilometers away from the Gurudongmar Lake and about 4 km southwest of the international border with China. Fed by the snow-covered mountains that surround it, Tso Lhamo Lake is said to be one of the sources of River Teesta. Known by several names such as Cho Lhamo, Cholamu Lake, or Cholamoo Lake, it is one of the most astoundingly beautiful lakes in Sikkim.
Best Time to Visit: September-November and March-April.
How to Reach: Fly to Bagdogra and reach Gangtok. From there, hire a cab and head towards Gurudongmar Lake. Tso Lhamo lake visit requires a special Protected Area Permit.
3. Suraj Taal, Himachal Pradesh (4,883 mts)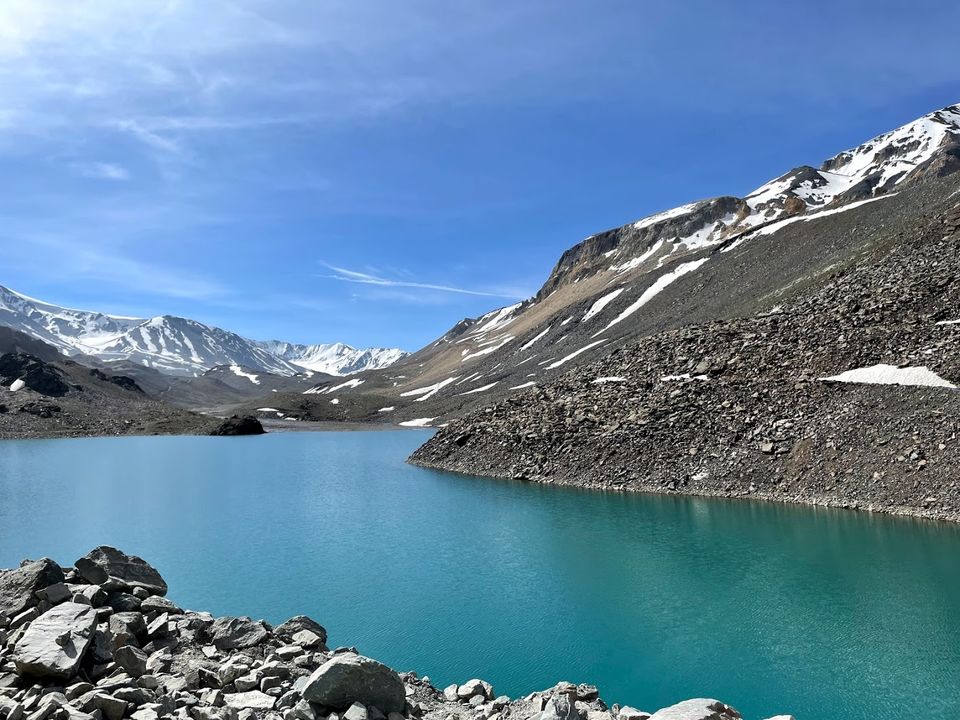 For the 'road wheelers to Leh from Manali' this lake is a stoppage in paradise. Suraj Tal is often considered as one of the sacred lakes in the Indian Himalayan region and its name signifies the 'Lake of the Sun God'. It's an 800 m long lake and lies just below 4,890 mts high Bara-lacha-la pass in Lahaul & Spiti Valley. Also, this is 3rd highest lake in India. During winters the beauty of this lake completely enhances as the mountains surrounding it gets covered by layers of snow, and it seems not less than a heavenly abode.
Best Time to Visit: Mid-May to mid-October
How to Reach: Fly down to Bhuntar or alternatively fly to Delhi and take a bus till Manali. From there head for a road trip to BaralachaLa Pass.
4. Tso Moriri, Ladakh (~4,000 mts)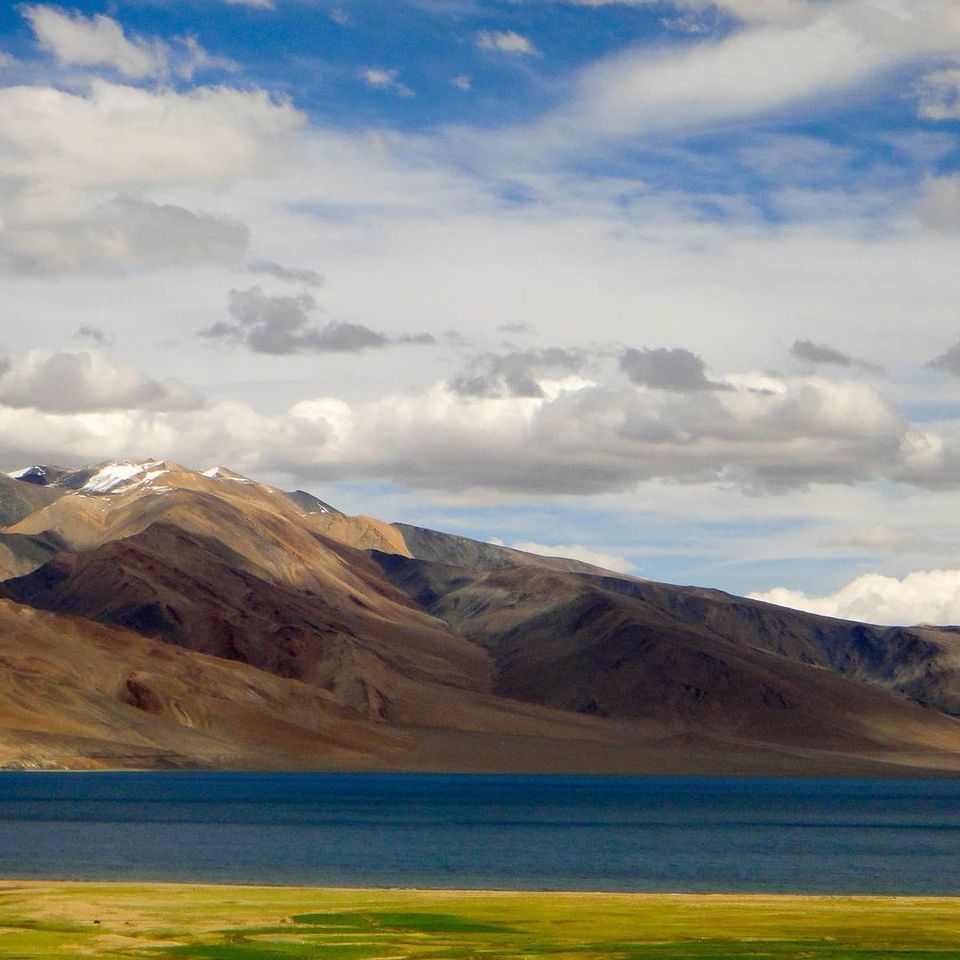 Tso Moriri lake in Changthang region of Ladakh is one of the most beautiful, calm and sacred (for ladakhis) high altitude lakes in India. This beautiful blue pallet lake is about 7 KM wide at its broadest point and about 19 KM long. The beautiful multi shades of blue colour offered by this lake along with a picturesque landscape around gives this place an extremely breath-taking feel. The lack of oxygen makes survival difficult if your body is not properly acclimatized to its high altitude and hence, one need to plan his/her journey carefully.
Since, it is very near to the Line of Actual Control, one need to get Inner Line Permit to visit Tso Moriri.
Best Time to Visit: May, June, July, and August. Rest of the times its frozen.
How to Reach: Fly to Leh, from there its a 6-7 Hrs drive.
5. Roopkund lake, Uttarakhand (5,029 mts)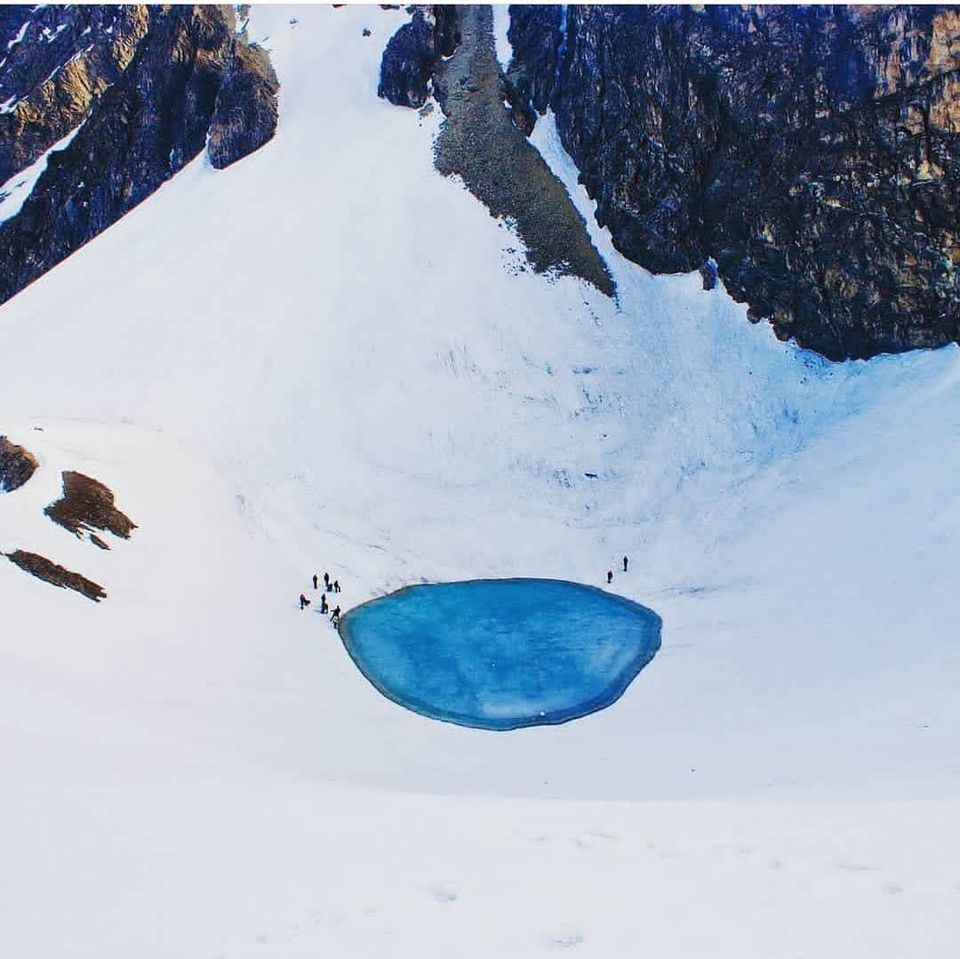 Since you are craving for high-altitude lakes, what better way can it be than trekking up? Roopkund, perhaps the most popular trek in India, is almost picture-perfect. The trail climbs out of splendid dark forests suddenly bursting into Ali and Bedni Bugyal. Often dubbed the Skeleton Lake and locally known as the Mystery Lake is the third highest lake in India. Roopkund has attracted attention through its collection of human skeletal remains, which are easily visible at the bottom of the lake when the snow melts.
Best Time to Visit: May and June, September and October
How to reach: Take a train from Delhi to Kathgodam. Stay overnight and drive till Lohajung. From there, you shall trek to reach this lake!
6. ChandraTaal Lake, Himachal Pradesh (4,300 mts)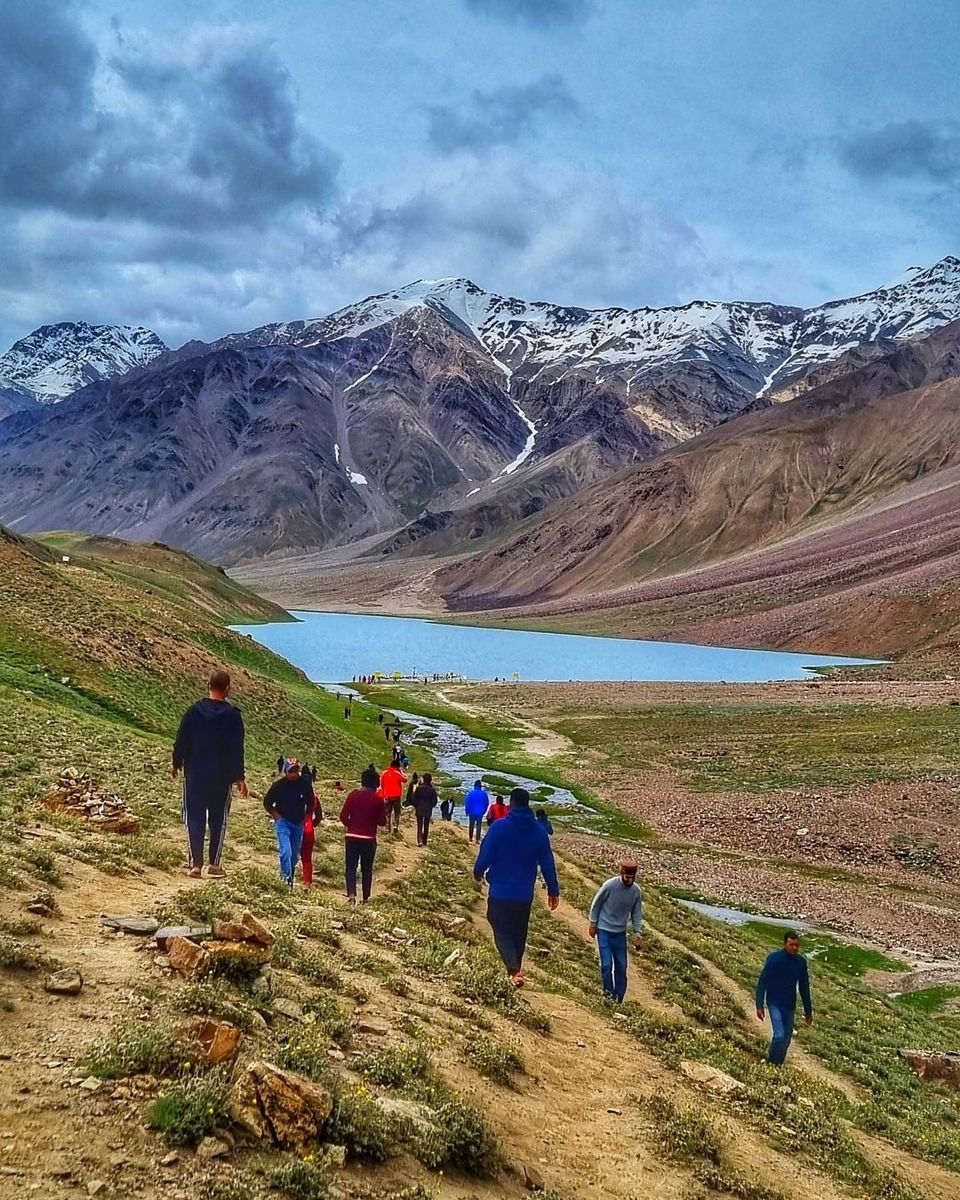 Chandratal Lake is reckoned as the most charismatic lake situated in the laps of the Himalayas and offers the most splendid views of the Spiti region. The lake is crescent-shaped, and that is how it got its name. Its turquoise blue water, majestic mountains, and serene surroundings make it an apt place for camping.
Best Time to Visit: June to October
How to Reach: There are two viable routes to Chandratal Lake by road via Manali and Shimla.
7. Gadsar lake, Sonmarg, Kashmir (4,200 mts)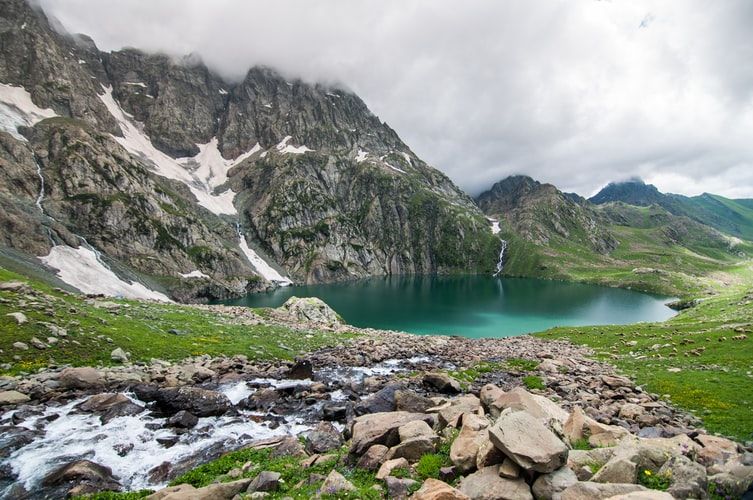 Known as the valley of flowers, Gadsar lake or Yemsar Lake is a picturesque, alpine high altitude oligotrophic lake located in the north of Srinagar in Jammu and Kashmir. The bluish-green waters of the lakes are so crystal clear that the clouds, mountains & surroundings are perfectly reflected in them. Gadsar Lake is also a part of the famous Great Lakes Trek, which is arrived at after crossing the Gadsar Pass. It is an extremely beautiful alpine high altitude lake inhabited by numerous species of fish, including brown trout.
Best Time to Visit: June to October. Its frozen from November-April.
How to Reach: Fly to Srinagar. It is located about 98 km from Srinagar and is well connected by roads.
8. Sela Lake, Arunachal Pradesh (4,160 mts)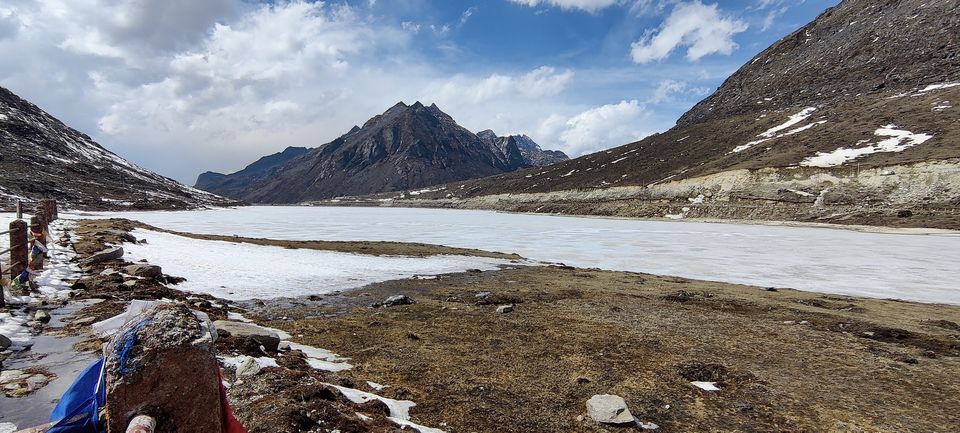 Sela lake is a large lake located on the north side of the Sela Pass. This lake often freezes during the winter and is drained Nuranang River, a tributary of the Tawang River. Limited vegetation grows around the lake which is used as a grazing site for yaks during the summer. There are close to 101 lakes in Sela, One of these 101 lakes is the decently large Sela Lake that is located right on the top of Sela Pass.
This lake is so stunning that it's also called Paradise lake.
Best Time to Visit: October, November, March, April and May as there are less chances of the route being snowed-in due to the snowfall.
How to Reach: Nearest airport is at Guwahati which is 480 km from Tawang, from airport take a cab and visit Sela Pass and this lake.
9. Deo Taal (The Lake Of Gods), Uttarakhand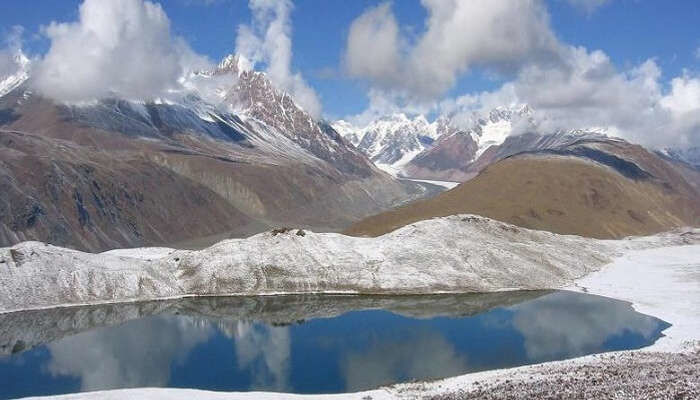 Deo Tal is a sacred lake atop Mana Pass, it is considered very holy since this lake is believed to be the origin of the Mythical Saraswati River. You can also see Rajas Tal and Nag Tal before Deo Tal on either side of the road. Deo Tal is just 3 km before Mana Pass Zero Point. In previous times Mana Pass was a trade route between Uttarakhand &Tibet.
Best Time to Visit: August & September
How to Reach: To reach Deo Tal Mana Pass, one has to start the journey from Badrinath Dham. The roads are not in perfect condition therefore driving motorcycles and vehicles having superior ground clearance is advisable.
10. Tso Kar / Tsho Kar, Ladakh (4,530 mts)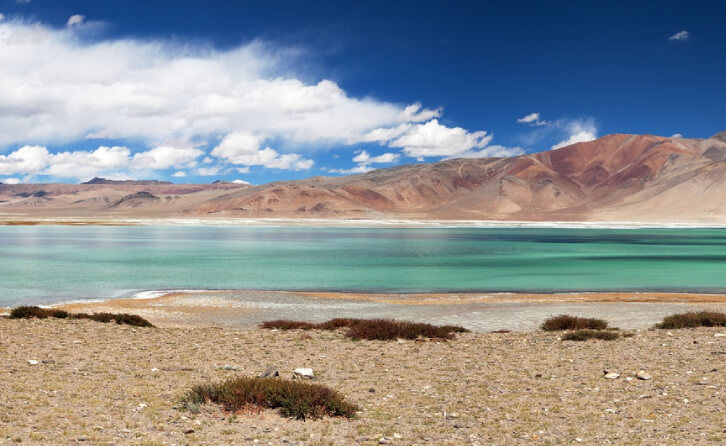 Connected by a small stream, Tso Kar is termed as a twin lake as the western part of the lake is salty and the eastern part contains freshwater. The Tso Kar is also known as the "White Lake" because its shores are marked with white salt of the water deposits. The lake, located near Leh-Manali Highway, offers great views, lovely opportunities for photography, and a great place to just sit & revel in the surroundings.
Tso Moriri is located about 50 kilometers from this lake.
Which Lake is on your bucket list now?
Explore Tripoto's exclusive, 'Mera Shandar Bharat, Safar Anokhey India Ka' where we are celebrating a never-before-seen India!
Follow Tripoto on Telegram to get early access to top travel stories every day.
Share your stories on Tripoto's Clubhouse channel!