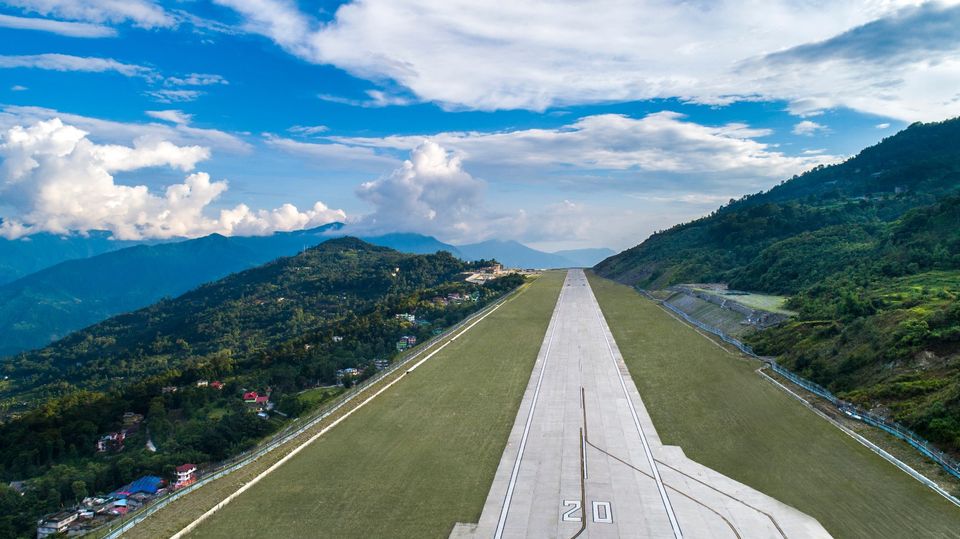 Airports are just the entry points to our destinations. We all want to get out of airports and head to our destinations soon as we land; thanks to those delays that nearly bore passengers to death. But as it happens, India's newest airport in Sikkim, Pakyong Airport, seems to be an exception that it deserves to be. Built after flattening a mountainside, this airport is an engineering wonder that offers absolutely entrancing views of nature. In fact, we won't be surprised if you find camping near the runway more tempting than a cosy stay in some luxury hotel.
So, let's take a look at 10 most interesting facts about Pakyong Airport that might just add to the compelling reasons why you should fly to Sikkim soon.
1.) 100th operational airport in the country
Pakyong Airport in Sikkim officially became the state's first and India's 100th operational airport when a SpiceJet flight with 74 passengers on board touched down at the tarmac on October 4, 2018. The flight was welcomed with customary water cannon salutes while it came to halt.
2.) India's 1st greenfield airport
You might have come across the phrase 'start from scratch', but engineers and officers in charge of the Pakyong Airport project had to do it, quite literally. Being a greenfield project, the construction work started on a completely unused piece of land with no preexisting structure that needed demolition or re-modelling while keeping optimal ecological balance at priority.
3.) One of the five highest airports in India
If you love heights, this airport is one place where you won't mind spending an extra bit of time. Located at an elevation of around 4,500 feet above sea level, Pakyong Airport in Sikkim is one of the five highest airports in India offering fascinating views of the gorgeous Himalayan landscape. So, even if your flight lands, you never leave the clouds.
4.) A breathtaking engineering marvel
It was not always like you see it now. This runway of Pakyong Airport was once a tricky mountainside with sheer drops. The engineers in charge of this project had to carve it out of a mountainside and use modern soil reinforcement and slope stabilisation techniques so that the land could withstand the movement of aircraft and other heavy machinery. All this at an altitude of 1,400 metres, keeping in mind the challenges posed by the weather and terrain; it's no mean feat!
5.) One of the most beautiful in the world
Perched on a mountainside in a small village of Sikkim, offering breathtaking views of the Himalayan landscape, the newly-constructed Pakyong Airport is one of the most beautiful airports in India. The pictures say it all, don't they?
6.) Strategic location
With India's 'chicken's neck' in close proximity to China in the region, the Pakyong Airport is a much-needed base that India needed in an event of military emergency. The airport is just 60km from Indo-China border and that is expected to boost India's defence mechanism as it was long desired.
Besides, the airport is just 33km from Gangtok which is bound to help tourism flourish in the otherwise obscured tourist destinations of Sikkim.
7.) Airport dimensions and capacity
Spread over 900 acres of land, Pakyong Airport has a runway which is about 1.7km long and 30 metres in width. The airport terminal is 2,380 square metres and can accommodate up to 100 passengers at a time and 80 vehicles in the parking area, which is an impressive number considering the terrain. The 80 metre high reinforcement wall—one of the highest in the world—is just another reminder of the hard work and intelligence that went into its construction.
8.) Flight operations
One of India's largest low-cost carriers, SpiceJet, started the initial phase of flight operations to and from Pakyong Airport when its Bombardier Q400 twin-engine aircraft landed at the airport in Sikkim on October 4, 2018.
Daily flights by SpiceJet connect Kolkata and Guwahati directly with Sikkim. For more detailed information, you can check out the official website of SpiecJet.
9.) Air connectivity before trains
A functional airport even before a rail connection seems quite unlikely in India, but the new airport in Sikkim has changed the records and has set new precedents. However, the nearest airport, Pakyong Airport, is merely 30km from Gangtok.
10.) The biggest beneficiaries
Sikkim is a gem of a tourist destination that just couldn't host as many tourists as it should have because of transport issues. Before the flight operations began at Pakyong Airport, those travelling to Sikkim by air had to arrive at West Bengal's Bagdogra Airport from where they had to travel by road for approximately 4.5 hours to reach Gangtok.
But daily flights from the new airport in Sikkim to Guwahati and Kolkata have now reduced the travel time to just over one hour! And the biggest beneficiaries are consumers and suppliers of tourism sector in Sikkim. The relatively easy access to this beautiful northeastern state of India will open new doors of opportunities, employment, and much more in the region.
All in all, it won't be an overstatement if we say that this stunning new airport in Sikkim has already become an attraction in itself.
Let us know in the comments if you have some unique and exciting facts related to Pakyong Airport that you think we missed. If you have a whole new story to tell, write your heart out here. Find best travel videos at Tripoto YouTube channel and don't forget to hit the subscribe button.