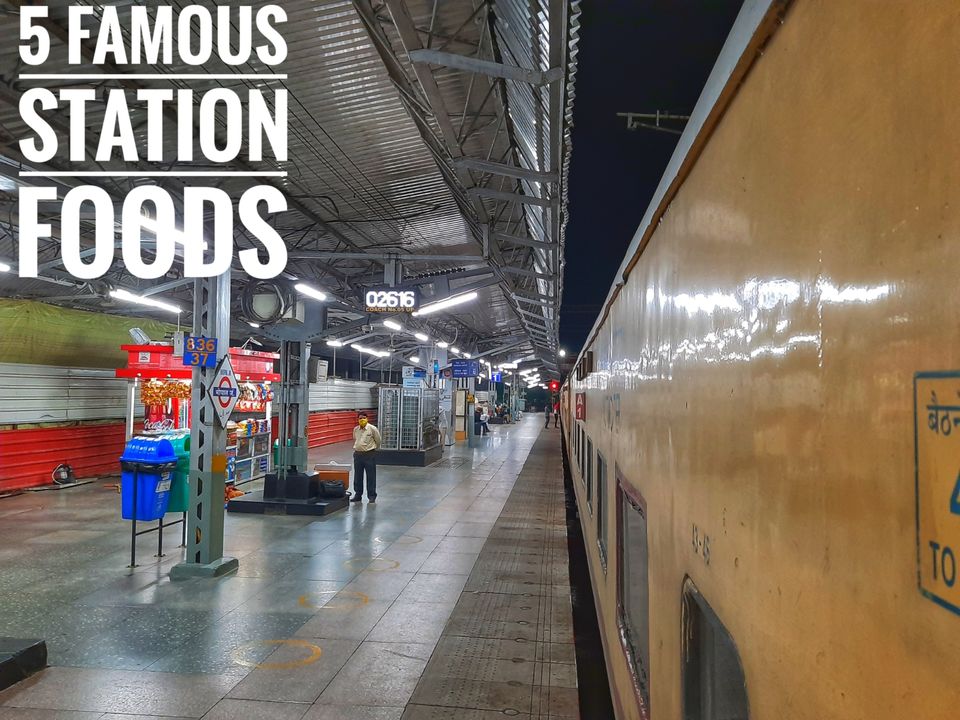 There are people who Eat to live and there are people who live to Eat. Yeah I am talking about those people who don't just Eat for the sake of it but to savour the full taste of a particular dish. 'Foodies' are those people who try out every single food item they come across wherever they go and enjoy it to the fullest. If you are one of them, then you have come to the right place. In this blog, I would be revealing some beautiful places within the Mighty Indian Railways that offer you some of the best delicacies that you must definitely try if you pass through.
Here I am listing 5 Famous Foods available in 5 Railway Stations that I have tried personally and suggest you to try atleast once in your lifetime..
◇:*ORAI (U.P.)- GULAB JAMUN:*
The Gulab Jamuns of Orai Railway Station are a popular treat among all the passengers and loco pilots passing regularly in the route. As soon as a regular commuter in that route hears the name 'ORAI' the first thing that strikes him are the Gulab Jamuns. You would wonder that what's special in the Gulab Jamuns available here since they can be found any where in India. So let me tell you, the gulab jamuns here are so soft that they immediately dissolve in your mouth and the added rose flavour in the sugar syrup with Kesar topping is an absolute delight. They taste best when you are served in a clay pot(kulhad). You can also try Khasta,served with juicy masala potato curry if you want to eat something different. Orai Station lies in the Kanpur-Jahnsi route. So by chance if you happen to be travelling in this route, don't forget to taste the gulab jamuns.
◇*ITARSI JN. (M.P.)- CHHOLA SAMOSA*
Itarsi Railway Station is one the main Railway Stations in India and if you are on a long journey and your train is scheduled to reach Itarsi in the Morning Hours, then you must try CHHOLE SAMOSE as your breakfast. As a breakfast because I am not sure about it's availability in the rest of the hours. The snack will give you a beautiful taste of the spices and the tanginess of Chhole and the cruchiness of the Samosa. It would cost you Rupess 20/- and is worthy as Breakfast.
◇*NAGPUR JN. - HALDIRAM'S READY TO EAT FOOD*:
Well Everyone in the country knows that Nagpur is famous for 'HALDIRAM'S', (a Restaurant Company) variety of Snacks and food items. Whenever you reach Nagpur Railway Station, try almost every Snack of HALDIRAM'S like (LASSI,BUUTERMILK,ORANGE BARFI,BIRYANI,POHA,KADI-CHAAVAL ETC.). The taste of Lassi and Buttermilk is almost uncomparable to any other of its kind. With perfect sweetness and essence of rose, Haldiram's Lassi is a must try drink and the buttermilk is also not less with perfect taste of ginger and coriander with balanced salt. The perfect thirst qunchers especially during Summers. Coming to the food items, Orange Barfi,Poha,Biryani and Kadi-Chaaval are some of those food items you can blindly try and I assure you that you will not be disappointed with the Taste and Quality. What more you need when you pass through Nagpur, you need not worry about your food as you will find a good variety of food items all the time in the Station. In additonal, do not forget to try the ORANGE JUICE during the summers. Nagpur Jn. is the best station for foodies like me who want to try something new and different..
◇*BALHARSHAH JN. - SAMBAR VADA*
Some of the curious minds will be thinking that how come Sambar Vada be famous in Central India. To your curiosity the Sambar Vada available here is the best I have ever had. To your knowledge let me tell you that I have lived in South for 10 years and I very well have the experience of eating South Indian Food, so for me the best Sambar Vada available has to be in Balharshah. The Crunchy fried Vada with Sweet and Tangy Sambar with onions is a delight for South Indian Food lovers. Now you don't often get Sambar Vada in the Station but don't forget to look for it if you are passing by Balharshah.
◇*VIJAYAWADA JN. - DAL VADA*:
Welcome to the most important city of Andhra Pradesh. You can find all types of South food ranging from fluffy soft idlies to crisp doses. But I would suggest you to try Dal Vada with Sour tasty Tomato Chutney and Coconut Chutney. Idlies,Dosa,Vada you can find anywhere in the south but the Dal Vada here are almost a curiosity for food lovers. If you wish to try some rice item,you can go for Lemon Rice but your priority as a foodie should be DAL VADA.
*******
So these were the 5 Famous Station Foods I discovered and enjoyed having during my Journeys and I hope that you would also try them in the future. This was Part-1 of this series and you will witness many more in the coming future. Till then Please like the blog and follow me and don't forget to share this with your fellow Foodies and Travellers!!. Do follow me on Instagram with the link in the Profile..
PS: I lost some photos which I had taken..Do excuse!!
Happy Travelling!!😊