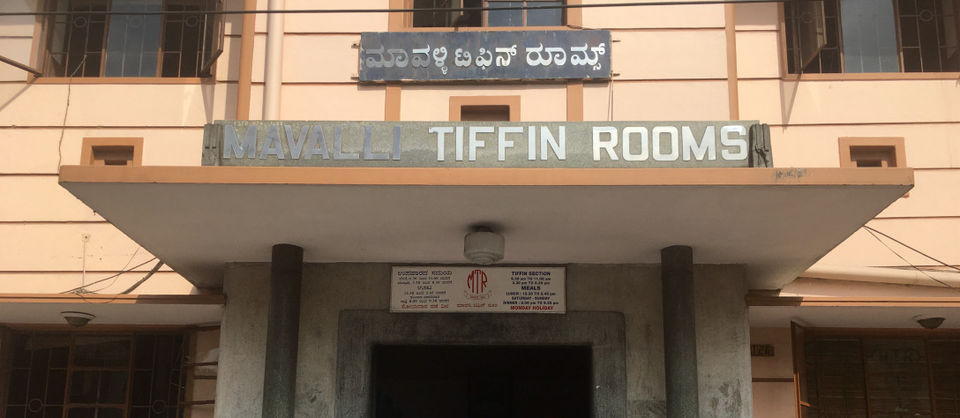 A little about MTR
MTR stands for Mavalli Tiffin Room, but nobody calls it that. MTR is a household name in Bangalore for traditional south Indian food like idli, vada, pongal, dosa and delicacies of the state of Karnataka like chow chow bath and bisi bele bath. The restaurant is one of Bangalore's oldest – it dates back to the 1920s when it was started by the Maiyya family on the Lalbagh Road.
Today, MTR has many branches in Bangalore as well as in Udupi, Singapore, Dubai and Muscat. MTR also sells packaged foods like instant curries and idli batter mix in supermarkets. But I wouldn't measure the quality of food that is served at the restaurant by those. In fact, even the other branches in the city don't compare to the flagship.
The MTR at Lalbagh Road is unlike any of its branches. It retains its yesteryear look with simple furniture, dim lighting and walls wearing nothing but lackluster paint and a few old black and white photographs. A row of wooden benches serve as the waiting room, where you sit till the "maître d'" calls your name when a seat is vacant at a table that you share with strangers because the restaurant is so packed. Uniform-less waiters run the show, the menu is recited to you, there is no time to peruse or ponder and men in lungis clear the dishes and clean the tables in rhythmic intervals.
The restaurant looks deceptively small but it unravels as you keep walking through it. There's also an air-conditioned room tucked away in a corner of the restaurant.
MTR apparently invented the rava idli. I also learnt that the restaurant was once in the city's league of fine dining joints and that food was only served on silver plates. But those were stolen. Oops.
However, coffee is still served in silver tumblers. But only in the sit down areas of the restaurant, not in the 'Coffee Room' on the ground floor – a small hall where people stop by for a quick cup of filter coffee, consumed hot, while standing and in ceramic cups. Maybe this is because the Coffee Room is right near the entrance and it's easier for people to sneak out with a silver tumbler. Or someone to walk in and lift one.
A breakfast order for two looks something like this:

One pongal, one plain dosa, one masala dosa, two Gulab Jamuns and two filter coffees. All for the low, low price of INR 343. The rava idli wasn't available that morning but you should add that to your list when you visit.

The pongal is served with a raita. It's a little soupy in comparison to the traditional pongal you'll find elsewhere. Dosas are served with ghee to drizzle over the dosa and coconut and coriander chutney to dip into. The dosas are crisp on the outside, soft in the center and buttery all over. Is your mouth watering yet?
The masala dosa comes with a spicy potato and onion filling. If you order the plain idli, it comes with a side of sambar. The rava idli comes with the same little cup of ghee, coconut and coriander chutney, and a more viscous version of the spicy potato and onion filling.
The Gulab Jamuns are so, so soft! They're doused in sugar syrup and simply melt in the mouth. If you've got a sweet tooth, you don't want to miss this when you're in Bangalore.
And finally the filter coffee. Is there any better way to end a south Indian meal?
Even if you aren't a coffee person, filter coffee is something you should drink copious amounts of when in south India. Silver tumbler and all, the filter coffee at MTR packs a punch!
My mother says that when she was growing up in Bangalore, eating at MTR was a big deal, it gave you bragging rights. Special occasions like birthdays called for a meal at MTR. The place was always teeming with bigwigs and politicians. It probably still draws in its fair share of VIP guests.
I don't know about bragging rights anymore but as a part of Bangalore's history, MTR will always be special to the city and its people. I would definitely recommend a meal at MTR if you're new in town, visiting Bangalore for the first time or have just never been there . Do it for the Gulab Jamuns, or Padma Lakshmi.