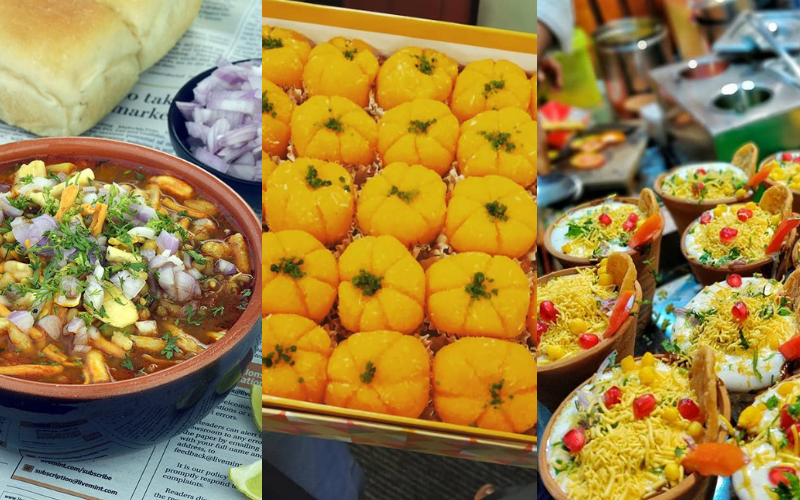 If you're looking to up your eating game and indulge in some scrumptious street food, you must seriously consider travelling to Nagpur.
While Nagpur doesn't usually feature anywhere for its gastronomic excellence, it gets a huge shout-out from food lovers like me for its delicious dishes.
Nagpur is definitely under-rated as a food paradise and it is one of the cities you must-visit, with a hungry tummy and the list below to tick off.
1. Matka roti with mutton curry
Also known as Randani or lambi roti, Matka Roti is made of locally grown Lokwan wheat. The super thin dough is stretched on a sizzling earthen pot and looking at the preparation is as fascinating and satisfying as the taste of the crispy and buttery roti with the mutton curry! Taj Matka Roti is the most famous eatery in the city to try this yummy dish.
Where: Taj Matka Roti, Bajaj Nagar and Bhagat Niwas, Rameshwari Square.
Cost: Rs 220 for chicken curry, Rs 250 for mutton curry, Rs 25 per piece for the matka roti.
2. Kulhad chaat
With its tantalizing explosion of flavours, desi chaat can get you salivating within minutes! This outlet in Nagpur has invented its own version of mouth-watering chaat where all the ingredients are added in an earthen cup or Kulhad, mixed with some piping hot ragda (gravy), oodles of chutney with dahi (curd) and plenty of seasoning and crispy toppings.
Where: Sai chat center, Law College Square.
Cost: Rs 50
3. Tarri poha
You may have tried poha, the staple Indian breakfast dish, but they say the yummiest poha is served by the pohawalas in Nagpur. A must-try is their spicy home-made version called tarri-poha, a mix of hotusal (Maharastrian dish made of beans such as Matki, Moong or Hyacinth bean) and tangypoha. There are a lot of pohawala carts and stalls sprinkled all around the major hot-spots of the city, each of which has their own distinct taste and flavour.
Where: Kasturchand Park ka Poha or KP Ground Poha, Jai Seva Pohewala at Ramdaspeth and the stall in Shankar Nagar.
Cost: Rs 15 approx.
4. Dahi kurkure
Extremely light on the pocket, masala kurkure is a quick, crispy snack to satiate those sudden hunger pangs that's topped with sweet curd and some spices. The cold creamy baadam milk is also recommended at Mahesh Patangwala, an eatery popular for this dish.
Where: Mahesh Patangwala
Cost: Rs 10
5. Rabdi jalebi
If you have a sweet-tooth, crispy hot jalebis with creamy rabdi and melt-in-the-mouth gulab jamuns, malpuas must surely feature in your version of foodie heaven. So, head to Rasbhari Jalebi, which as its name suggests, is the go-to in town for all things sweet and scrumptious. Especially now that winter is here, you must try this divine food-combo.
Where: Rasbhari Jalebi, Pratap Nagar
Cost: Rs 70- 100
6. Patodi and kadhi
An authentic Maharashtrian dish, patodi and kadhi (gram flour curry) in Nagpur. It is served with a spicy gravy and is accompanied by roti, bhakri or square kachoris/samosa, as well as chopped onions and tomatoes. The aroma of the dish being prepared is sure to entice you even from a distance and beckon you to the stalls.
Where: Patodiwala at Badkas Chouk and Some stalls at KP Ground.
Cost: Rs 25 - 35
7. Santra barfi
Nagpur is the biggest producer of oranges in the country which gives it the title of orange city, so naturally one of their most incredible and famous offerings is the santra barfi. Though not essentially a type of street-food, this heavenly sweet just cannot be skipped from a list of must-try food in Nagpur. Santra barfi/orange barfi as well as orange rolls are made from fresh orange pulp and even shaped like little oranges.
Where: Shree Heera Sweets in Sitabuldi
Cost: Rs 480 per kg
Craving already? If you're planning a trip to Nagpur, don't forget to try these dishes. Find all you need to know to plan a trip to the city here.
Think we missed out on something? Tell us about it in the comments below. Or write about it here on Tripoto and earn Tripoto Credits!

Watch travel stories come to life with Tripoto on Youtube!