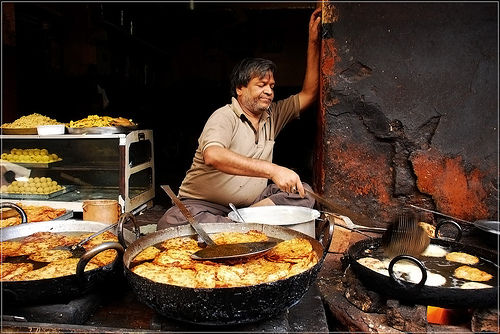 India undoubtedly has a lot to boast about. From rich festivals, beautiful seascapes, mighty mountains to big, endless deserts. You name it, we've got it. But there's one more thing that sets this country apart than most others- that is the wide range of street foods it has to offer. From spicy to salty to sugary sweet, India's food culture is truly as diverse as its people.
1. Delhi
Let's start off with perhaps the most famous city for street food in India. Owing to Delhi's central north location, its food is influenced from nearby states ranging from chhole bhature to momos. But the one thing that is truly unique to this street food capital of India is the by-lanes of Old Delhi, a heaven for street food lovers.
There is something different to eat at each turn of the road here, but the two things you must visit Old Delhi for is its Parathe Wali Gali in Chandni Chowk selling deep fried stuffed parathas with an array of curries and chutneys, and for its kebabs and tikkas near Jama Masjid. Chicken, mutton, vegetable kebabs, (and even beef)- you name it, they've got it. Don't forget to end your food hunt with some rabri kulfi in Chandni Chowk!
2. Mumbai
This is truly a no-brainer. The city that practically lives on vada pav and chai is home to some of the most innovative and lip smacking foods. The one dish that everyone should try when in Mumbai is the different renditions of puri here like the sev puri and dahi batata puri.
Of course, there is the special Bombay Bhel that one can find at every crossroad- a mixture of rice puffs, sev, onions, tomatoes and green chilies, this snack served in newspaper cones should be on every foodie's list. And for the sweet tooth, fresh fruit kulfi and shakes in Crawford Market is the place to satisfy your cravings.
3. Bhopal
Who'd a thunk it, yeah? Not only is Madhya Pradesh a very underrated traveller's paradise, but also the food scene here is out of the world. Despite popular belief, Bhopal is home to the biggest mosque of India called Taj-ul-Masajid and the street food near the mosque is hands down the best.
If you ever find yourself in this city, head over to Chatori Gali near the Masajid in Old Bhopal and binge on the different types of kebabs ranging from nihari to gilouti to tundey. For the vegetarians, Bhopali poha and jalebi is the way to go!
4. Kolkata
If you're not from Kolkata, and have visited a Durga Puja pandal in your city, then you must already know the richness of the culture of Bengalis, and especially of their food! Their greatest invention so far is perhaps the Kathi Roll, which is now a popular street food across the country. Another must try dish here is the Moglai porota, a deep fried paratha stuffed with mutton or chicken, served with a special chutney.
For vegetarians, jhal muri is the Bengali rendition of the famous bhel puri available at every nook and cranny, and not to forget to phuchkas which are a lot like pani puri, but are so much more. Don't forget to down a plate of rosogollas or mishti doi to end your cravings on a sweet note!
5. Lucknow
If there's one thing that a street food lover should not miss in India, it is this- the best chaat in the whole wide world! Ranging from gol gappey to dahi bhalley and from aloo tikki to dahi papdi, whatever chaat Lucknow feeds you, you must have it!
And of course, Lucknow is not Lucknow without its Hazratganj kebabs. This Nawabi city boasts of its massive spread of tunday kebab and this kebab and that kebab. And to end it with, the famous UP style paan is a must have!
6. Amritsar
Amritsar is every foodie's pilgrimage and the wide range of dishes found here are to die for. If you've been wondering why chhole bhature haven't surfaced under either Delhi or Lucknow in this list, it is because these cities don't stand a chance in front of the original Amritsari lip smacking piping hot desi chhole bhature. Another must have food experience is the Guru ka langar at Golden Temple. There's perhaps nothing better than community feasting food made with pure, unadulterated love.
Other dishes like sarson da saag with makke di roti, and the authentic Punjabi butter chicken, needless to say, are equally drool worthy. The best way to end your hearty feast is by downing a glass of lassi followed by a big noisy burp to end your hunger pangs whilst wiping off your milk moustache!
7. Ahmedabad
The fact that Gujarati food is predominantly vegetarian doesn't stop it from being on this list because well, let's be honest. Who can resist their sweet and sour and savoury blend of food?
Although dhoklas and khakras are the winners of Gujarati street food, there are some seriously underrated foods that need every foodie's love too. Dishes like dabeli, dal vada are some of the very tasty, lesser known street foods found in Ahmedabad, but panki chatni can be a game changer for the food scene in in this city, once brought into the mainstream. These paper thin savoury pancakes are steamed in banana leaves and served with some mind blowing chutney. Once you have this, there is no turning back!
Started making your own street food to do list yet? Make sure you let us know about your foodsperiences here!