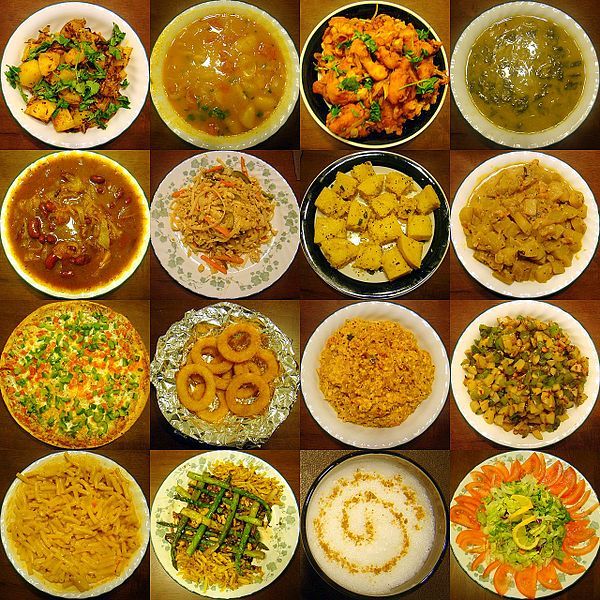 In the winding streets of Delhi, one can find unlimited food options to try out. Be it vegetarian or non-vegetarian, Delhi has something in store for everyone. The capital city has evolved to become the food capital of the country. It has become the melting point of amazing dishes. Not just that, few dishes taste surprisingly better than they do in their native states. Let's see what are these and where to find them.
The legendary momo
Momo is a comparatively healthier option when it comes to picking street food. The soft, transparent steamed dumpling traditionally comes along with a bowl of corn soup and a spicy dip. People in Delhi are fond of momos, having said that, the city has given a twist to this soulful snack by making its fried and tandoori versions and adding a mayonnaise dip.
Momos are said to have originated from the North-Eastern parts of India, however with time and extended migration, Delhi is now home to hundreds of momo counters to drool over.
Where to find:
Taste Drive - Rajouri Garden, QD's - Hudson Lane and Dolma Aunty's Momo - Lajpat Nagar.
Chhole Bhature
Anytime is the best time for digging into a plate of Chhole Bhature. It makes a perfect meal for breakfast, lunch and dinner. Every Delhite's favourite dish, this spicy-tangy mix will leave you craving for more.
Historically, Chhole Bhature is a combination of two dishes, and according to research, the recipe came from eastern parts of Uttar Pradesh. Today, Chhole Bhature is the most popular Punjabi dish, spotted in every corner of Delhi.
Where to find:
Sitaram Diwan Chand - Paharganj, Chache Di Hatti - Kamla Nagar and Baba Nagpal Corner - Lajpat Nagar.
Tandoori Chicken
Tandoori Chicken is the most popular non-vegetarian dishes of all times. There is no better way to start a meal than with a plate full of bright red tandoori chicken. The delectable dish is notably popular in Northern India and especially Delhi. The zesty flavours and the rustic aroma of this dish will not let you leave the plate half-empty.
Tandoori Chicken is a tandoor dish (a clay pot oven). The word is that this dish originated in Punjab when people there tried to prepare their precious chicken in a tandoor. Tandoori chicken is a spicy twist to the traditional tandoori style of cooking.
Where to find:
Karim's- Laxmi Nagar, Al Jawaharlal- Chandni Chowk and Pindi- Pandara Road.
Kathi Rolls
Kathi Rolls are the best solution to midday hunger pangs. The delightful wraps come in a variety of stuffings; vegetarian and non-vegetarian. These Indian versions of wraps are commonly found in Delhi. Be it premium shops solely dedicated to rolls or street-side stall, Delhi has it all.
Founded in Bengal, Kathi rolls have gained an equal amount of popularity in Delhi. With rows of stalls offering these sumptuous wraps, in no way you can ignore them. A popular version of this roll is Soya Chaap roll, which is only found in Delhi and not anywhere else.
Where to find:
Khan Chacha - Connaught Place, Art Of Spices- Karol Bagh and Nizam's Kathi Kabab.
Dal Makhni
A traditional Punjabi dish, Dal Makhni is a dal dish and popularly eaten with stuffed naan (an oven-baked flatbread). Meaning 'buttery lentil', this dish is India's favourite type of dal. Be it homemade or from roadside dhaba, this sinful mix of butter, cream and lentil, is all that you want on a chilly winter night for dinner.
There are so many roadside dhabas, restaurants and stalls in Delhi that offer this bowl of deliciousness.
Where to find:
Bukhara - Chanakyapuri, Kake Di Hatti- Chandni Chowk and Minar, Connaught Place.
Amritsari Kulcha
As the name suggests, kulchas, mildly leavened flatbread, were first made in Amritsar. Amritsari Kulchas also come with various stuffing, but the most popular one is the mashed potato mixed with spices.
Delhi loves its kulchas and also the excellent combination of Chole Kulche. Both of these dishes will make you fall in love with Punjabi cuisine. Along with this, there are kulcha rolls. This kulcha wrap of chhole makes a spicy- tangy street food item.
Where to find:
Lotan Chole Kulche Wala- Manohar Market, Kulcha Junction- Connaught Place and Kulcha King- Sarojini Nagar.
Lassi
Lassi is a drink that generally marks the beginning of a Punjabi household. However, with time, this traditional drink has entered the menus of various cafes, restaurants and dhabas.
The sweet and salty drink is healthy and has powers to make you feel refreshed at any time of the day. It goes great with all meals. The old Delhi lanes have some of the best lassi spots.
Where to find:
Meghraj and Sons- Chandni Chowk, Bille Di Hatti- Kamla Nagar and Amritsari Lassi Wala - Chandni Chowk.
Paan
Finishing off a meal with paan (beetle leaves) is the traditional Indian way of ending meals. Served in folded triangles with cardamom and areca nut, paan is both refreshing and helps digestion.
The history of Paan goes beyond Indian culture. There are other regions in Asia where beetle leaves are consumed. Though the word is that paans are from Benaras and Bengal, Delhi has changed the whole way of consuming paans. Now paan comes in all kinds of flavours like chocolate, ice and fire.
Where to find:
Shaan – E Paan- Amar Colony, Pandey's Paan- Connaught Place and Rohit Kumar Paan Wala
Kebab
Kebabs (roasted meat) are the old-fashioned way of consuming meat. It is said that people used to cook the meat of the freshly hunted animal on open fires and the dish evolved to be called kebabs.
Kebab has its roots in the Middle Eastern cuisine and said to have originated from Turkey. However, the Mughal rule in Delhi impacted its food culture. You can find some of the best kebabs in Chandni Chowk and Nizamuddin area.
Where to find:
Al-Jawahar- Jama Masjid, Qureshi Kebab Corner, Jama Masjid and Ghalib Kebab Corner- Nizamuddin
Kulfi
This Indian ice cream is a treat for every soul. Kulfi is a milk-based dessert and has been a part of Indian cuisine since the Mughal Era. Today, there are dedicated shops for this frozen dessert.
Delhi's kulfi love has taken this dessert to another level. Now it is not just available in Kesar Pista and malai. Now it is available in all kinds of flavour you can think of; chocolate, rose, mango and what not.
Where to find:
Roshan Di Kulfi- Karol Bagh, Kuremal Kulfiwale- Chawri Bazaar and Giani's Di Hatti- Chandni Chowk.
Get travel inspiration from us daily! Save our number and send a Whatsapp message on 9599147110 to begin!
Think we missed out on something? Tell us about it in the comments below. Or write about it here on Tripoto and earn Tripoto Credits!