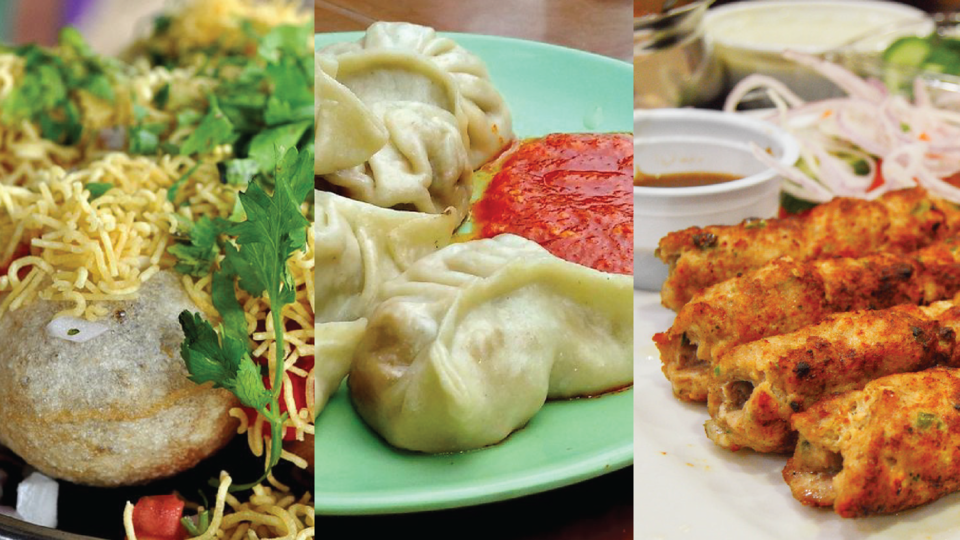 Mumbai's vada pav, Delhi's chole bhature, Hyderabad's biryanis and Lucknow's kebabs—it's so interesting how some food items become so iconic to a place that they end up being synonymous to the place itself. In a secular country like India however, the constant intermingling of cultures results in a unique food scene that is unlike any other you'll ever come across. For instance, did you know that one can find lassis in Jaipur that would give Amritsar's lassis a run for their money? Or the fact that a small in town in Uttar Pradesh has a biryani that will make you forget the famous Hyderabadi biryani!
For each of India's iconic, region-specific food, is another place that does a kickass local rendition, making for a unique gastronomical experience. Here are India's 12 most famous food items and the best alternate places where you can try them:
1. Chole bhature
Iconic delicacy from: Delhi
Alternate place: Ludhiana, Punjab
Whether it be breakfast on a winter morning or a wholesome lunch, a plate of chole bhature is undeniably every dilliwallah's go-to option. Though Delhi's fascination with chole bhature is widely written about, not many know that one can also find some great preparations of this comfort food in Ludhiana, Punjab. Compared to the ones you get in Delhi's, Ludhiana's version is actually a lot more tangier and makes for a dish you should definitely try when in town.
Best places to try chole bhature in Ludhiana: Rawal Pindi Chole Bhature, Prabhu Kripa Vaishno Dhaba, Chache di Hatti
2. Lassi
Iconic delicacy from: Amritsar, Punjab
Alternate place: Jaipur, Rajasthan
If you're someone who believes that great lassi is synonymous with only Punjab, this one might open up a whole new world for you. The desert state of Rajasthan, surprisingly has a unique fascination with lassis. While cities like Jodphur and Pushkar are (in)famous for their bhaang lassis, Jaipur does it the traditional way giving Punjab a run for its money. The city's popular MI Road is lined with these hidden gems that open up early in the morning, serving piping hot aloo pooris with sweet lassi that is bound to restore your faith in love!
Best lassis in Jaipur: Lassiwala, Sreenath lassiwala, Shyam lassiwala, Sharma lassiwala
3. Chaat
Iconic delicacy from: Mumbai, Maharashtra
Alternate place: Indore, Madhya Pradesh
The colours, the zest and most importantly, the explosion of flavours—chaat is something that is synonymous with the essence of India itself. While the streets of Mumbai are lined with legends dishing out the best chaats you will ever come across, Indore is another major city that is really big on chaat. Sarafa bazaar, a jewellery market is the city's biggest hotspots for lip-smacking street food. So the next time you visit Indore, make sure you go on a gastronomical journey with the city's best chaat joints.
Best chaat corners in Indore: Vijay Chaat House, Sharma Chaat Chaupaty, Sangam Chaat House
4. Dosas
Iconic delicacy from: Chennai
Alternate place: Mumbai, Maharashtra
While most of us continue to live under the impression that one can find the best dosas only down south, the city of Mumbai is a lesser known haven for dosa lovers! Owing to a strong Tamilian population, there have always been several legendary dosa places in the city. However, over the years, Mumbaikars have slowly adapted this dish in a big way—so much so that it is now one of Mumbai's most popular street foods! Whether it is a hearty breakfast or an evening snack, Mumbaikars swear by dosas and we aren't complaining!
Best places to eat dosa in Mumbai: Narayan Dosa, Cafe Madras, Anand dosa stall, Cafe Mysore
5. Vada pav
Iconic delicacy from: Mumbai, Maharashtra
Alternate place: Ahmedabad, Gujarat
If you're someone who's lived in Mumbai or even been to the city, you'd know that vada pav is not just a food item—it's something that binds the entire city together. A classic snack that you just can't go wrong with, vada pav is undoubtedly the food of all seasons. In addition to Maharashtra, vada pav is equally big in the neighbouring state of Gujarat and one can actually find some pretty great options in Ahmedabad. Though Gujarat's vada pavs are a little lower on the spice level, the taste is impeccable, giving Mumbai's iconic dish a tough competition.
Best places to try vada pav in Ahmedabad: HL Vada Pav, Jay Bhavani Vada Pav, Kutchi King
6. Momos
Iconic delicacy from: Gangtok, Sikkim
Alternate place: Kolkata, West Bengal
Before becoming a sensation on the streets of India, dumplings or momos were limited to south Asian countries such as China, Bhutan and Nepal amongst others. Momos then found their way to Sikkim, Assam and Ladakh regions and eventually ended up being the country's favourite snack item. Though one can find these steamed delicacy pretty much everywhere in India, Kolkata is one of the most underrated places to indulge in a hot plate. With an entire region of the city inhabited by Chinese immigrants, Kolkata has an unmissable momo connection that should be explored by every food enthusiast.
Best places to eat momos in Kolkata: Kim Ling, Momo Plaza, The Blue Poppy, Tibetan Delight
7. Rasam
Iconic delicacy from: Karnataka and Tamil Nadu
Alternate place: Visakhapatnam, Andhra Pradesh
A spicy soup best known for its digestive properties, rasam is usually identified with places like Bengaluru and Chennai. Not many know that rasam goes much beyond Karnataka and Tamil Nadu and is also found throughout the state of Andhra Pradesh, particularly in Visakhapatnam. Andhra's variation of rasam is a lot flavourful, tangier and spicier, thus promising an explosion of flavours. So if you're done and dusted with the traditional ones, make sure you dig into a bowl of Andhra rasam the next time you are in Visakhapatnam and take your taste buds for a roller coaster ride.
Best places to try rasam in Visakhapatnam: Dakshin, Dharani Veg Restaurant, Sri Sairam Parlour
8. Kebabs
Iconic delicacy from: Lucknow, Uttar Pradesh
Alternate place: Delhi
Hometown to legends such as Tunday Kebabi, Lucknow is hands down the kebab capital of India. However, owing to a strong Mughal heritage, the capital city of Delhi also houses some hidden gems that can give Lucknow a tough competition. Right from galoutis to kakori to even the rare sutli seekh kebabs, Delhi's streets are lined with seasoned players dishing out succulent, melt in your mouth kebabs.
Best kebab joints in Delhi: Ghalib kebab corner, Alkakori Alkauser, Qureshi kebab corner
9. Biryani
Iconic delicacy from: Hyderabad, Telangana
Alternate place: Moradabad, Uttar Pradesh
If you call yourself a foodie, it is most likely that you automatically relate Hyderabad to its famed biryanis. Hyderabad's biryanis have been written and spoken about so much that it has now become of the biggest attractions of the city itself. However, far away from Hyderabad, right in the hinterland of Uttar Pradesh, is a town named Moradabad whose biryani is no less a legend. The chaotic town of Moradabad has several local vendors selling their version, called the Moradabadi Biryani. With a plethora of tastes and fragrances, Moradabad's biryani is indeed India's hidden gem.
Best places to eat biryani in Moradabad: Alam Biryani, Gulshan-e-Karim, Sharma Restaurant
10. Butter Chicken
Iconic delicacy from: Punjab
Alternate place: Bhopal, Madhya Pradesh
If you think that food in Bhopal is all about poha, jalebis and salted tea, this one will change all your perceptions. The capital city of Madhya Pradesh has had solid Mughal presence which continues to reflect in its food till date. Bhopal has several eateries known for their authentic non-vegetarian preparations, including butter chicken. Unlike other variations of butter chicken available outside of Punjab, Bhopal's rendition actually makes for must have!
Best places to try butter chicken in Bhopal: Hakeems, Filfora, Jameel Hotel
11. Rasgullas
Iconic delicacy from: Kolkata, West Bengal
Alternate place: Puri, Odisha
Just like how vada pavs are synonymous with Mumbai, rasgullas remind most of us of nowhere but Kolkata. However, you'd be surprised to know that rasgullas are said to have been invented not in West Bengal but in Odisha! While Kolkata has emerged as the hotspot for everything sweet, particularly rasgullas, the holy city of Puri continues to house one of the best rasgulla makers not many know of.
Best places to try rasgulla in Puri: Ganguram Sweets, Senapati Sweets, Nrusingha Sweets
12. Jalebis
Iconic delicacy from: Delhi
Alternate place: Kanpur, Uttar Pradesh
A sweet dish of Persian origin, jalebi has over the years, come to be associated with Delhi. The fried savoury is usually paired with hot samosas and is every Delhiites favourite monsoon snack. Due to geographical proximity, jalebis are also a rage in Uttar Pradesh with Kanpur taking the crown of being the best alternate place to have mouth watering jalebis.
Best places to indulge in jalebis in Kanpur: Famous jalebi shop, Baba jalebi, Budhsen Sweet House
Ever travelled for the love of food? Write in here and share your crazy adventures with the ever growing Tripoto Community of travellers. Don't forget to check out Tripoto's amazing YouTube channel for handpicked travel videos from around the world.