New Jalpaiguri (NJP) has gained fame as the gateway to North Bengal, and from Kolkata the best train is thought to be Darjeeling Mail. Thus on the evening of 2nd Nov, we boarded said train, looking to reach NJP by 8 am.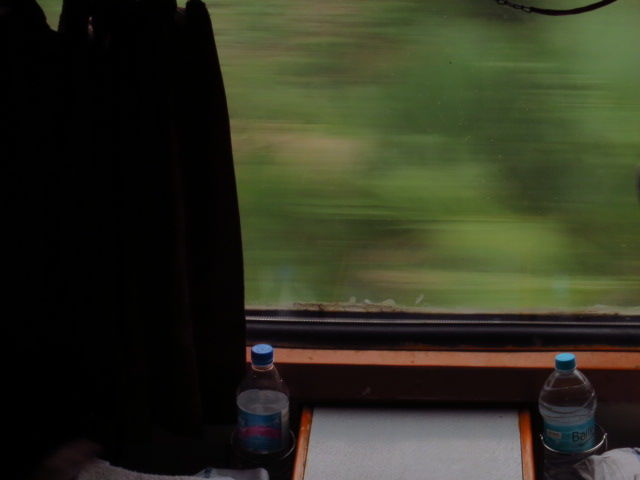 The train lived up to its reputation, and we rolled into the station right on time. The weather was cloudy though, and a light drizzle drummed on the windows as we boarded the car that had been waiting for us. The booking for the car had been done previously by contacting our homestay (Cinchonest, contact Padam Gurung).
The car sped through the road through Sukna, and then slowly started ascending the mountains. We crossed the Coronation Bridge at Sevoke, then took to the road that leads to Kalijhora. Then a left turn towards a steep, desolate road, and we were on our way to Latpanchar.
The journey took about three and a half hours in all, mostly owing to the poor condition of the road past Sevoke. Latpanchar is a quiet, secluded village that boasts fantastic views of the mountains all around, lush greenery and pure air. Surprisingly, this little hamlet has four schools, of them two are English medium!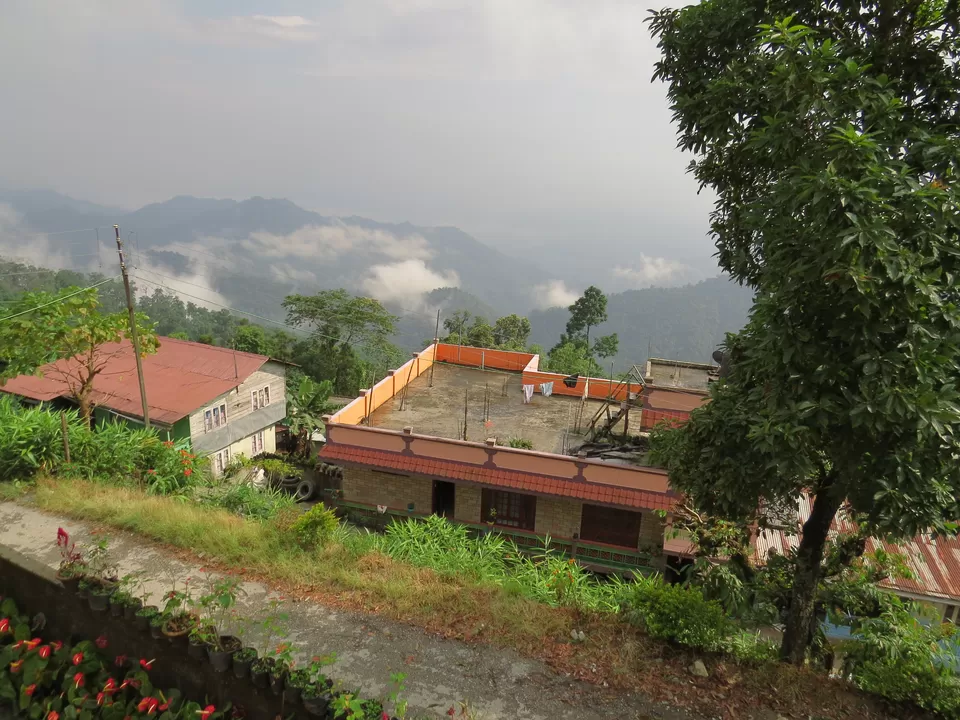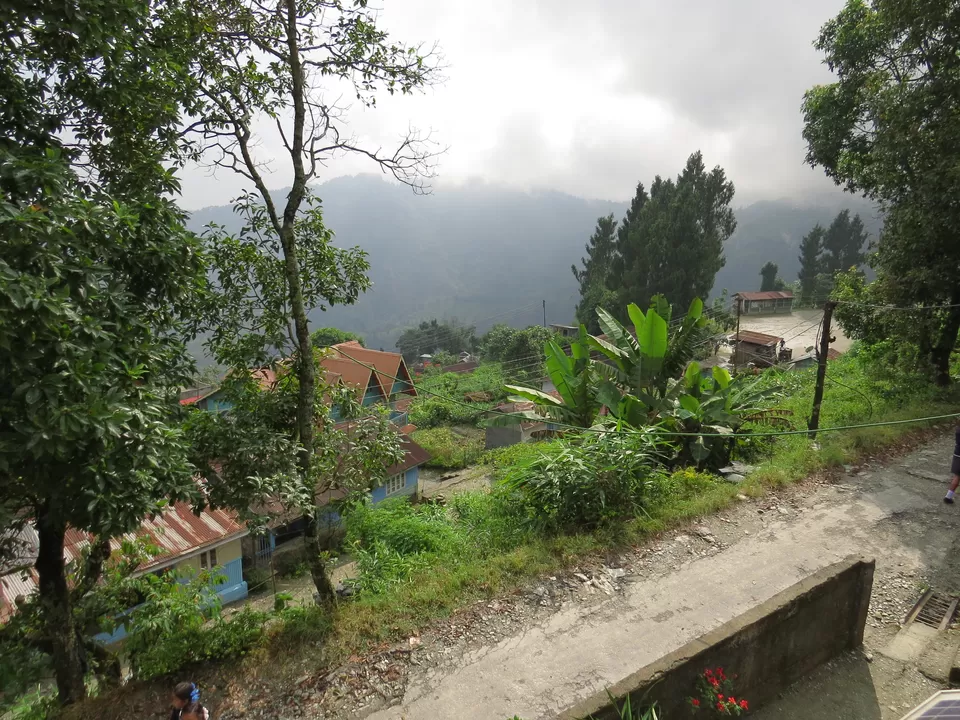 We were received warmly and assigned the four bedded room on the first floor. A simple room with just beds and a table, but the common balcony at the front had a full view of the mountains and the river bed in the distance. Gajoldoba, we came to know.
After a simple but delicious lunch we headed to 'tower'. This refers to the mobile tower at the top of the hillock. The narrow path leading to it was overgrown with moss, and it was an exhilarating experience with smell of moist soil, bamboo groves and scattered little huts with beautiful gardens. On this way and back, we saw Green Backed Tit, Greenish Warbler, a Large Hawk Cuckoo, a couple of Grey Headed Canary Flycatchers and on our way back, a small flock of Olive Backed Pipits. Blue Whistling Thrushes were common.
We still had time, so we decided to visit lower Mahananda WLS which is below the village. This turned out to be a disappointment though, as the road was being repaired. Horribly muddy and with deep depressions where the tractors had left marks, it was almost too bad to walk on. The forest however, was pristine. There seemed to be a carpet of wild marigolds and the air was heavy with their sharp scent. A noisy flock of Grey Treepies kept us company till a thick mist started rolling in and we decided to head back.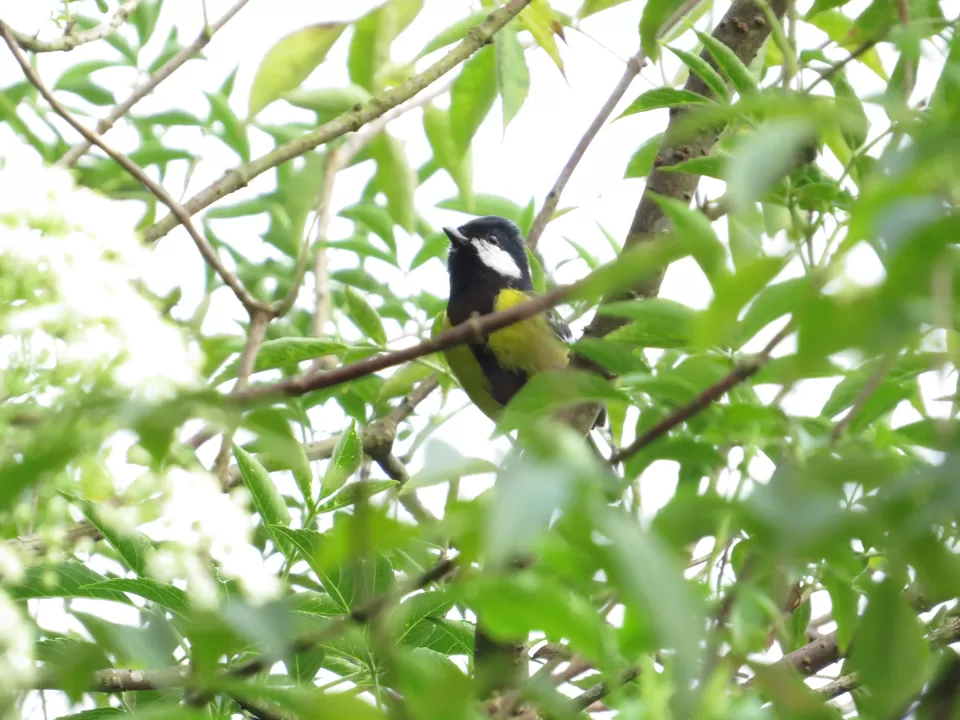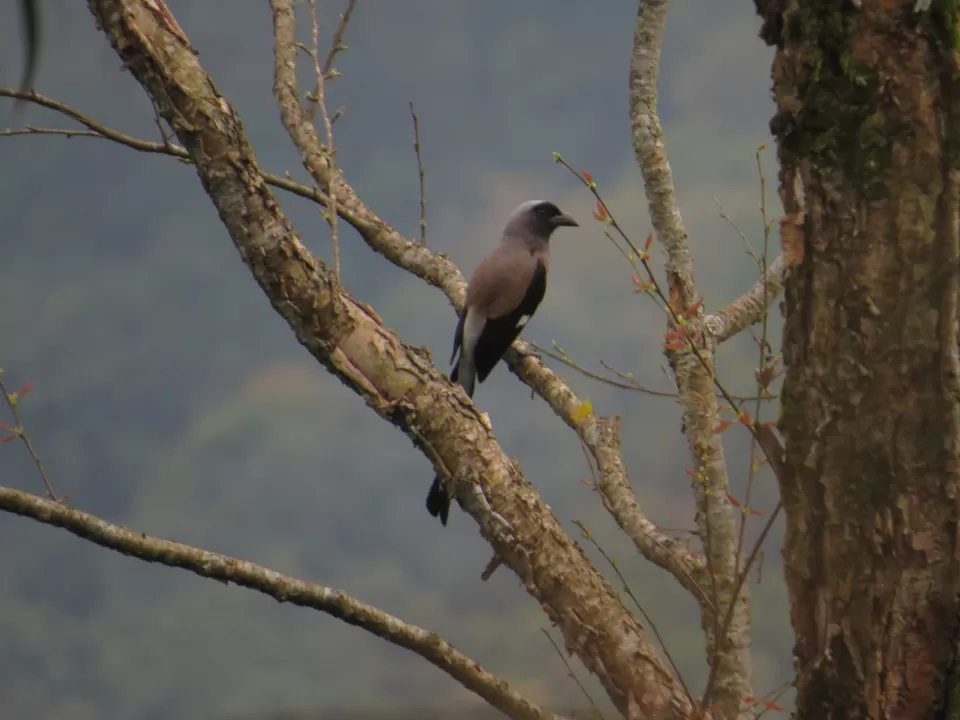 The next morning dawned brighter, and a pale sunlight coloured the slopes in a warm hue. A lazy morning walk in the village was followed by a disappointing and even maddening incident when I missed seeing the Rufous Necked Hornbill by a hair. By the time I came to know and went running to the spot, the power couple was already gone.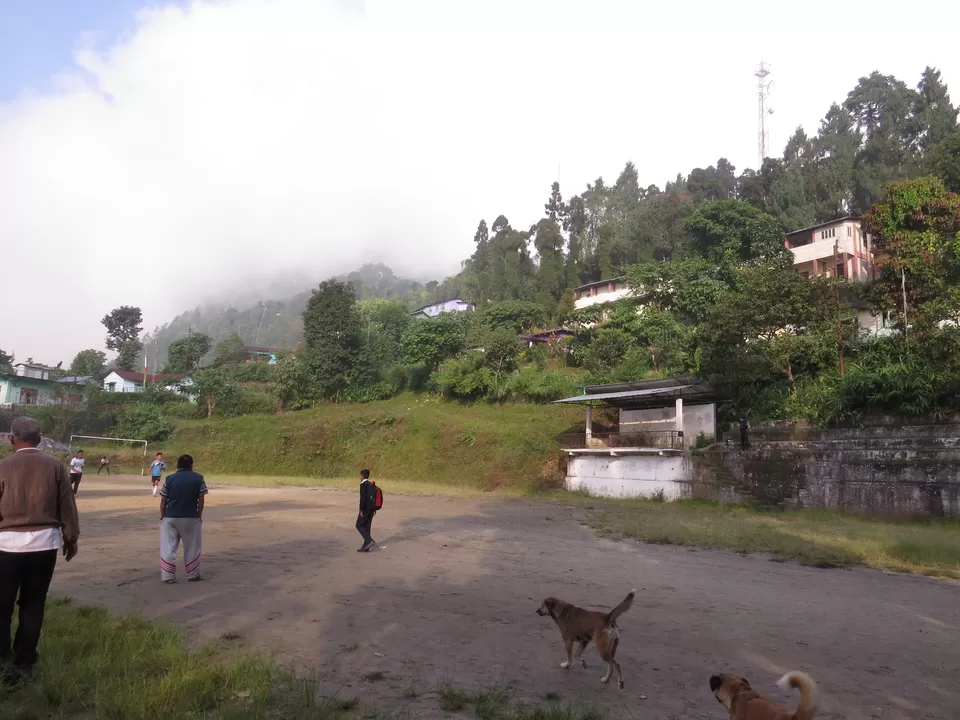 After a hearty breakfast of luchi and aloo, we left for a sightseeing tour. The car was arranged easily just by informing Padam daju. Our first stop was at Ahaldara. The car stopped at the main road and we had to trek along the narrow dart road leading to the cottages and the view point. Oh, better call it the suicide point!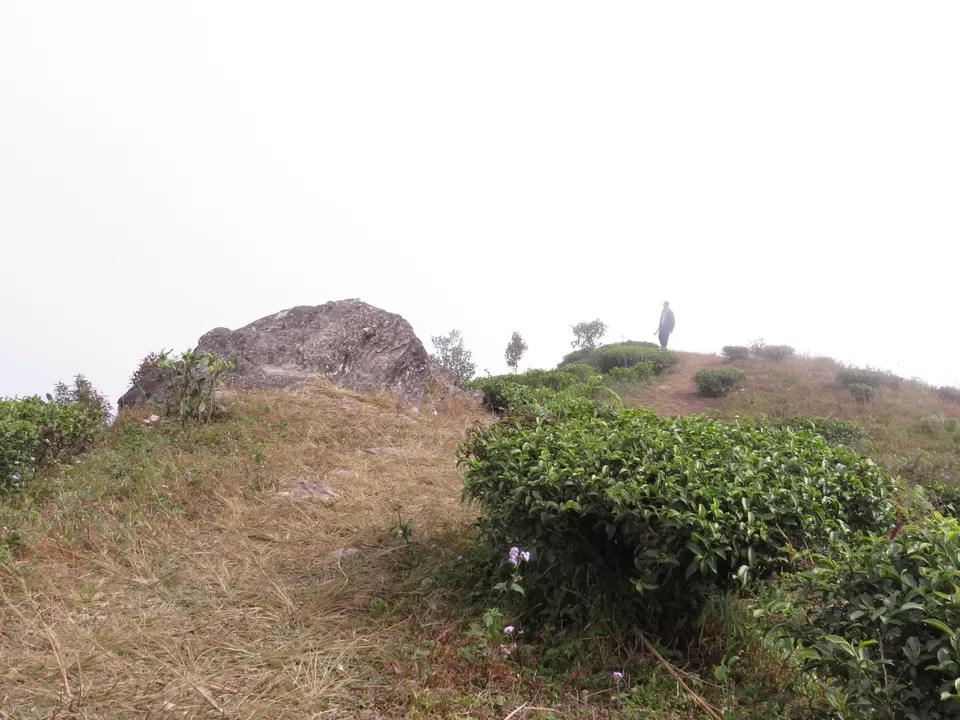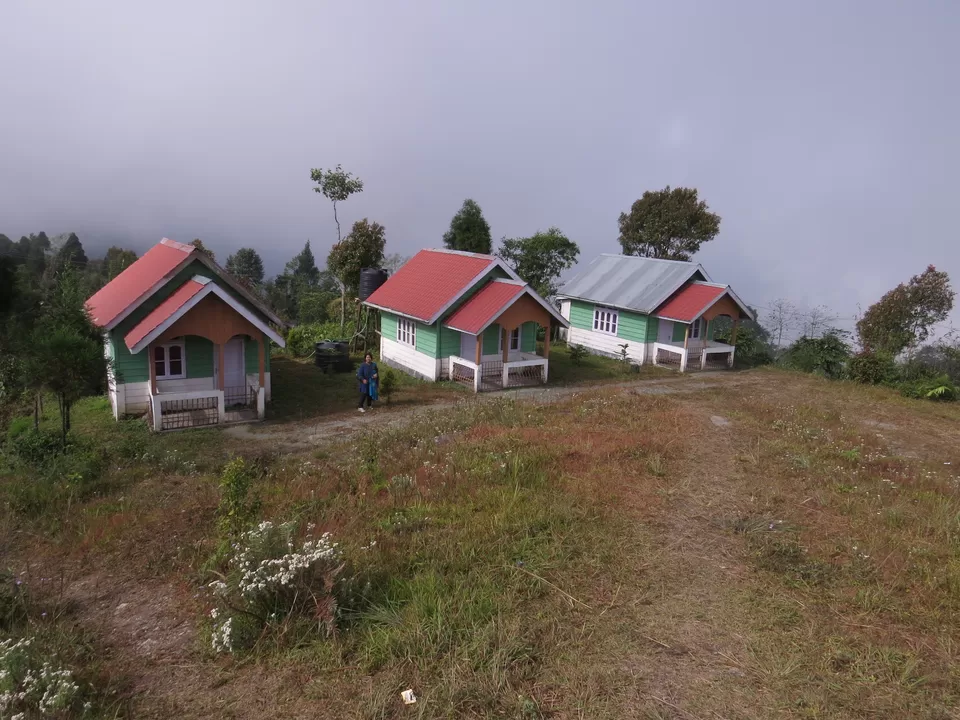 Our next stop was a small village called Sittong, famous for orange groves. A Long Tailed Shrike(tricolor sp.) paid us a visit on the way. The oranges at Sittong were still raw, resembling lemons more. We came to know here that the hornbills had visited this place too, a couple of days back.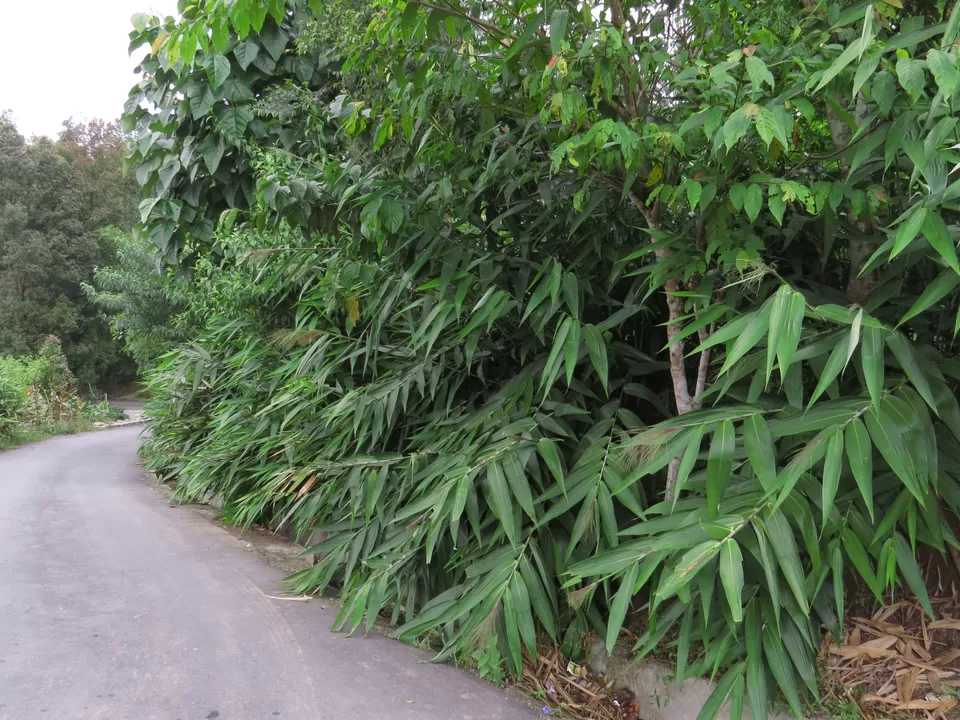 Sittong rewarded us with just a Grey Headed Canary Flycatcher and another Blue Whistling Thrush. When we reached Namthing Pokhri, the third place on our list, we were spellbound. A huge lake that didn't have a trace of water at that moment, surrounded by dense forest and a mist rolling in.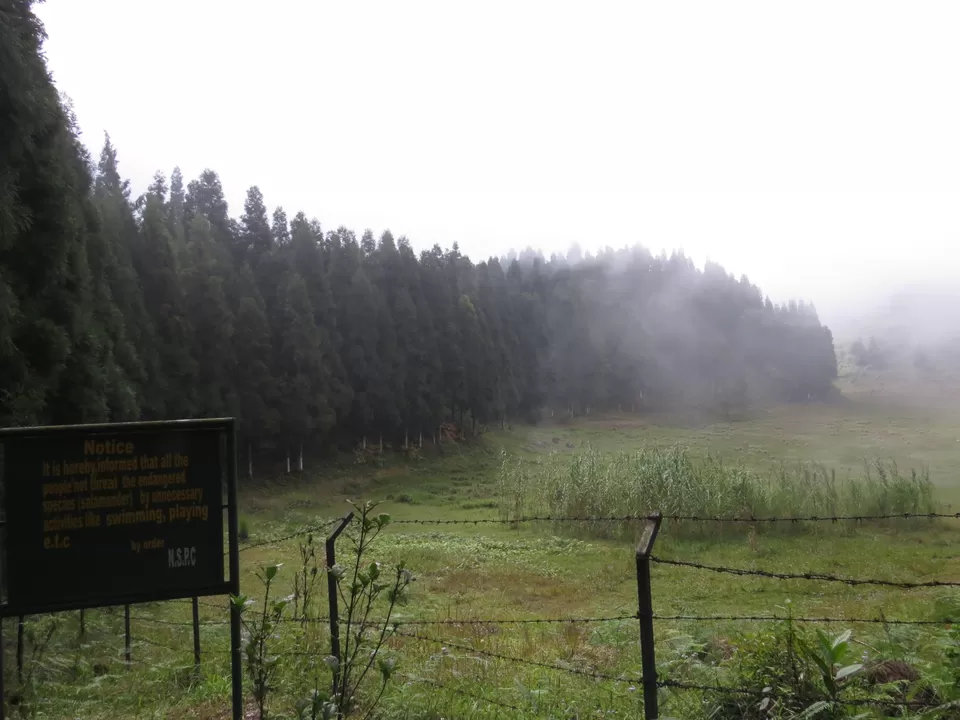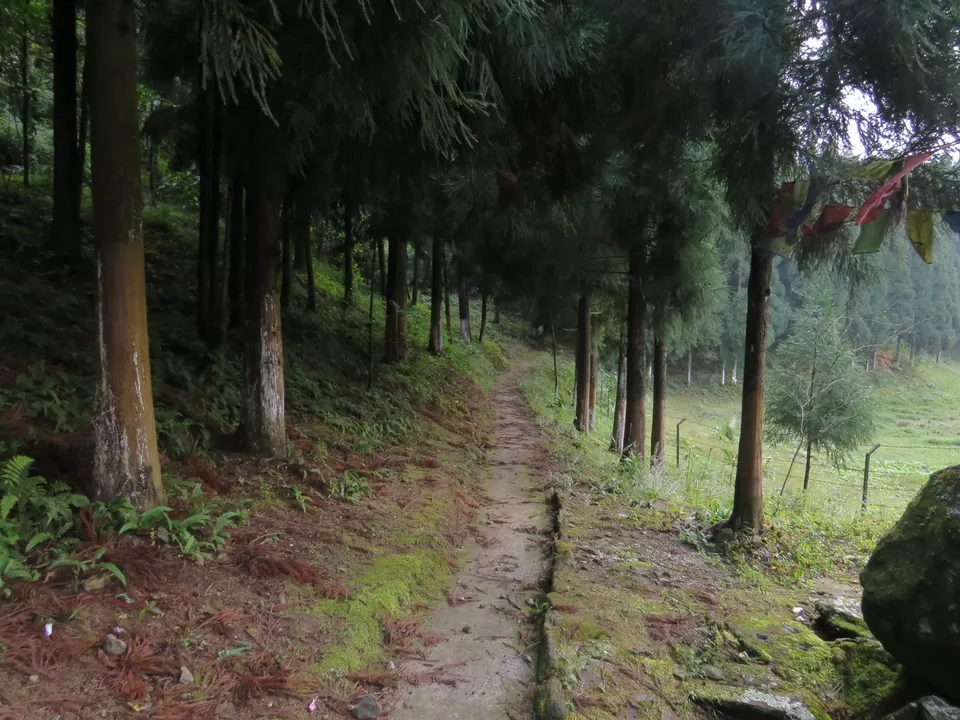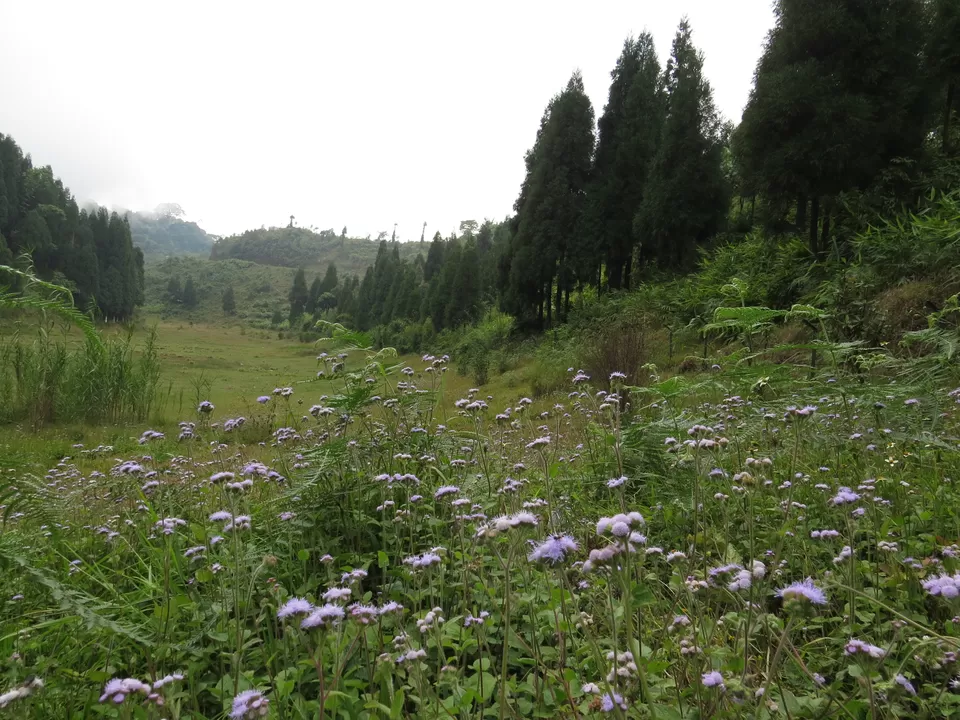 However the forests seemed to be astonishingly lifeless. No chirps, no buzzing insects. Just the wind whispering through the trees. An hour long search for the Salamander turned out to be fruitless, and we finally relented. On our way back to the homestay, we paid a shirt visit to a century old nameless Gumpha near the Mana Hills.
We were welcomed at Cinchonest with piping hot lunch, comprising rice, dal, vegetables, egg curry and a salad with local produce. After a short rest, Manjil daju accompanied us for a afternoon of birding in the Nursery Trail, as they call it. After trekking through many courtyards and half broken paths, we finally reached the trail. We were welcomed almost at once by a Dark Sided Flycatcher.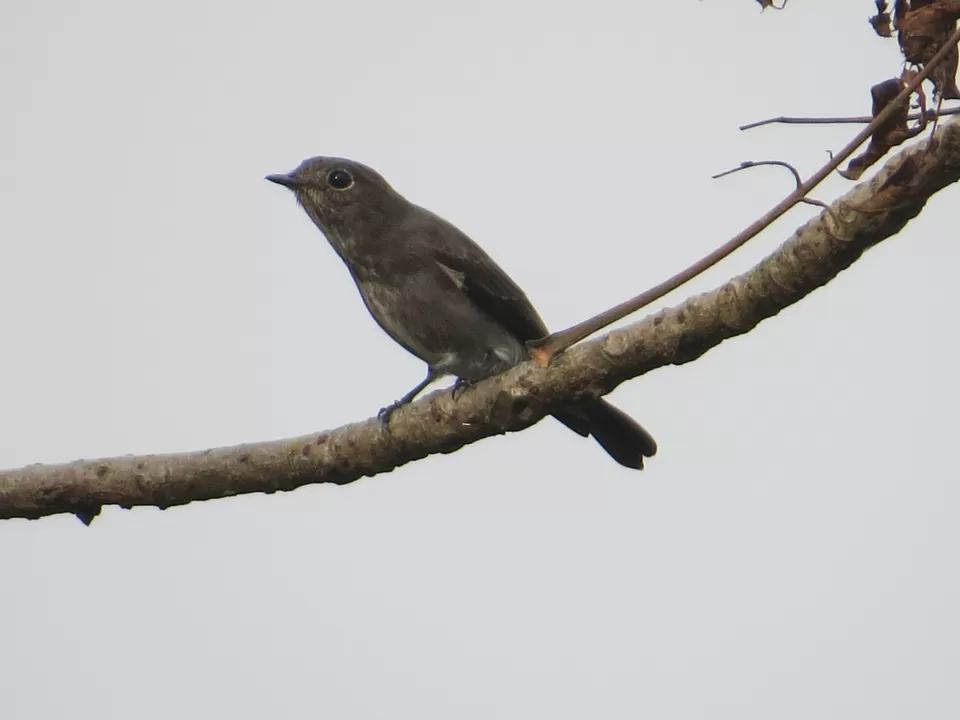 A few black drongos had a competition of mimicry going on, and we stumbled upon a flock of Grey Chinned Minivets just a while later. A Greater Racket Tailed Drongo paid a surprise visit while I was clicking photos of the minivets, and a pair of Scarlet Minivets danced by.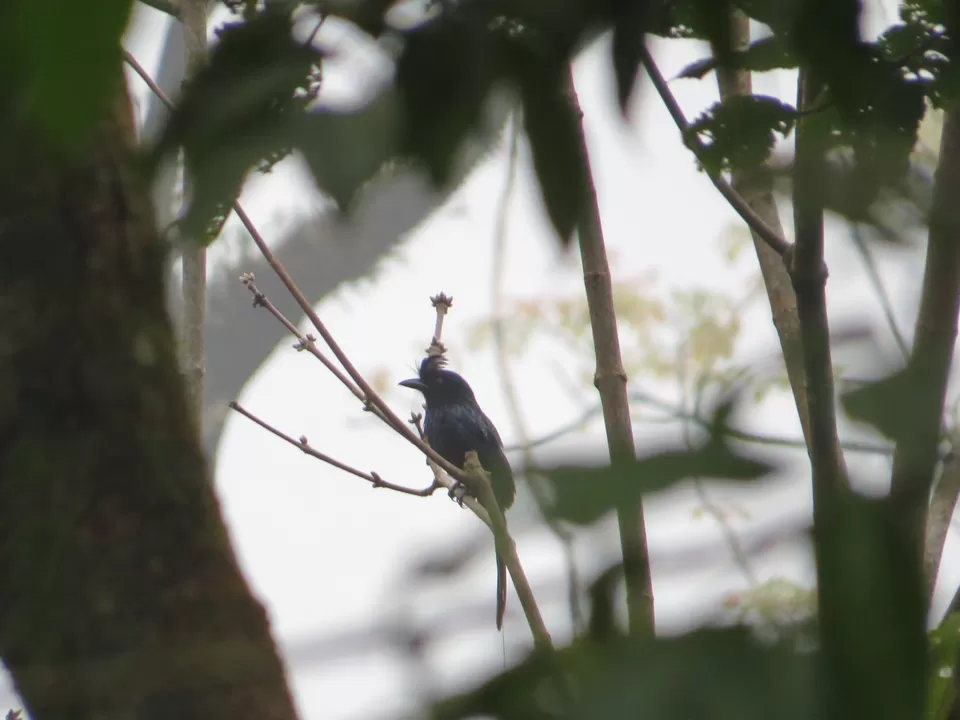 The half dry waterfall gave us wonderful sightings of a Rusty Cheeked Scimitar Babbler, and a Grey Wagtail.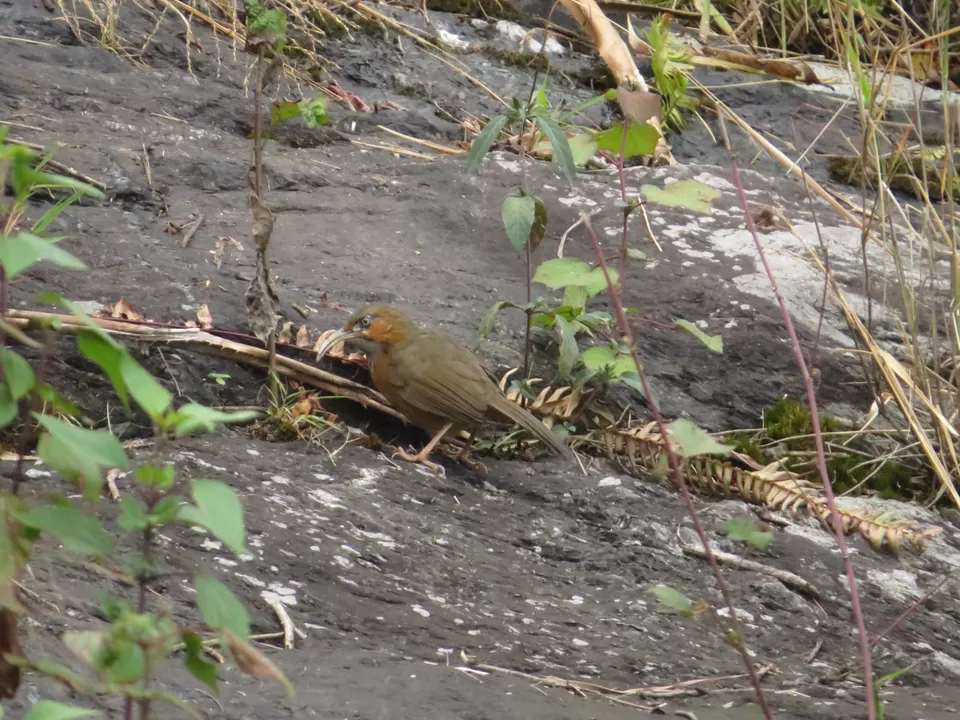 Himalayan Bulbuls were a commoner, and a Red Whiskered was also seen. Red Vented Bulbuls were everywhere. Calls of the Sultan Tit was heard, but the bird itself was not seen.
The next waterfall had a White Capped Water Redstart dancing on the rocks, which seemed completely aloof to our presence. From here we began to walk back to the village. A Little Pied Flycatcher and an Asian Brown Flycatcher were seen on the way back, along with Grey Headed Canary and the usual Blue Whistling Thrush.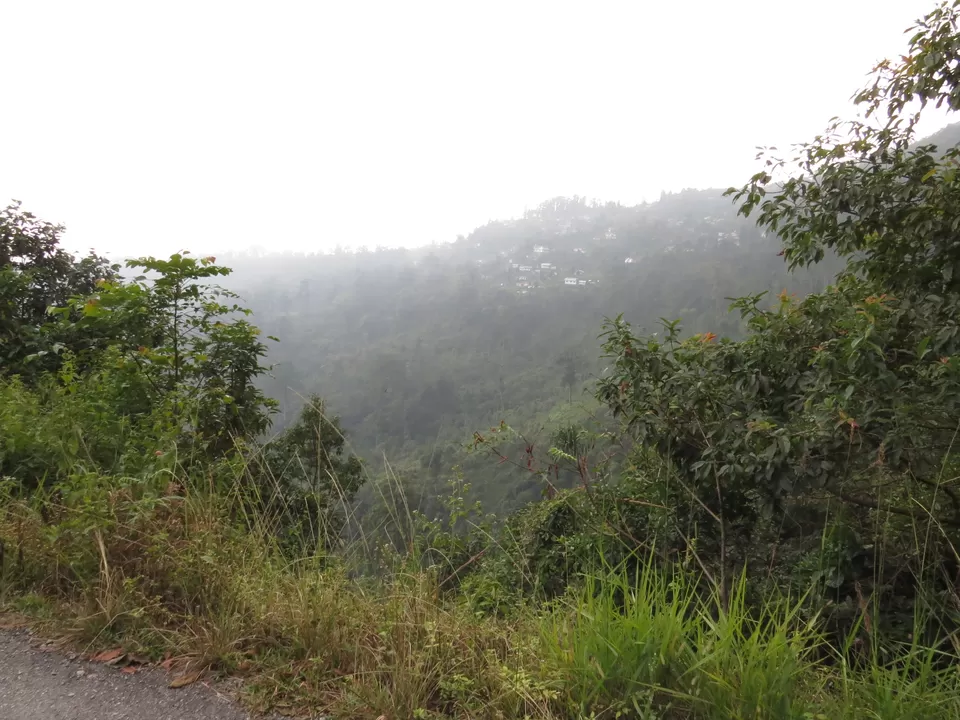 A couple of Spotted Owlets kept us company through the chilly night, flying around even in the light drizzle.
The next morning dawned bright, warm earthy scent wafting subtly through the still chilled air. I left for some early morning birding with our nice co-tourists, who warmly welcomed me to their group. What followed is still one of my best birdwatching experiences. We went back on the same trail we had gone by last evening. A curious Blue Whistling Thrush came by just as we reached the beginning point, as if to welcome us. The Black Drongos were keeping the forest alive as usual, and a Streaked Spiderhunter gave us a fleeting glance.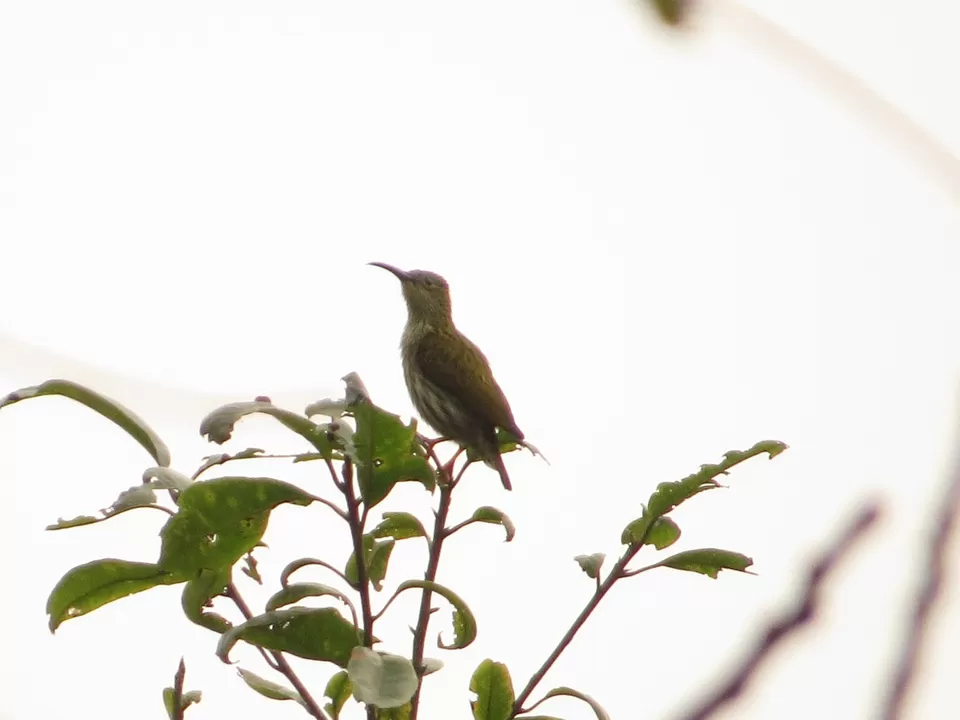 We found the same flock of Grey Chinned Minivets, foraging busily and hardly paying any heed to this group of humans.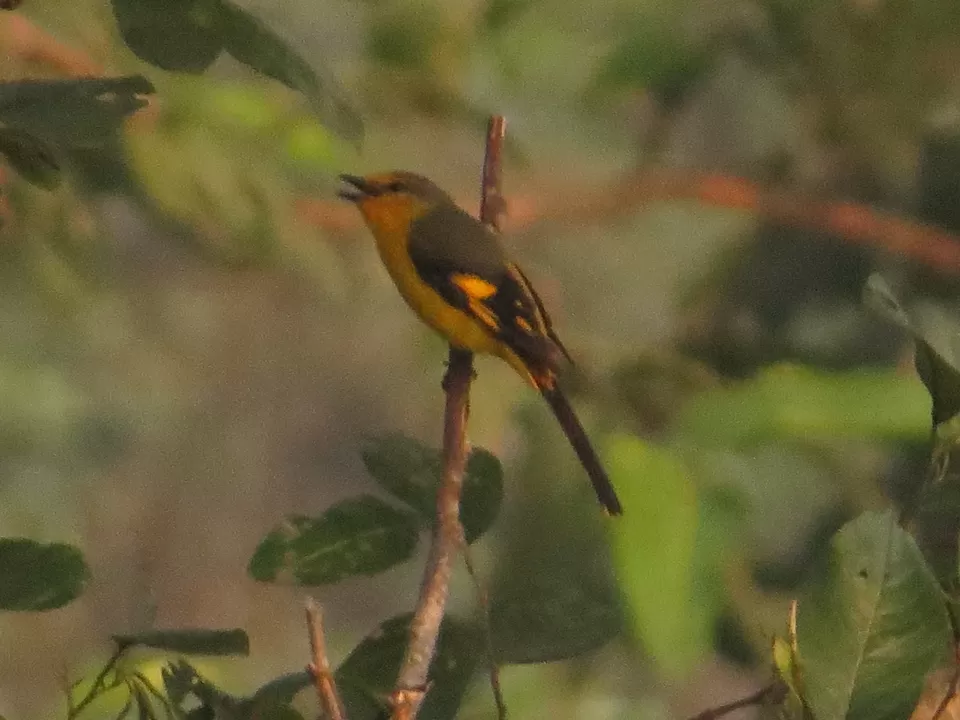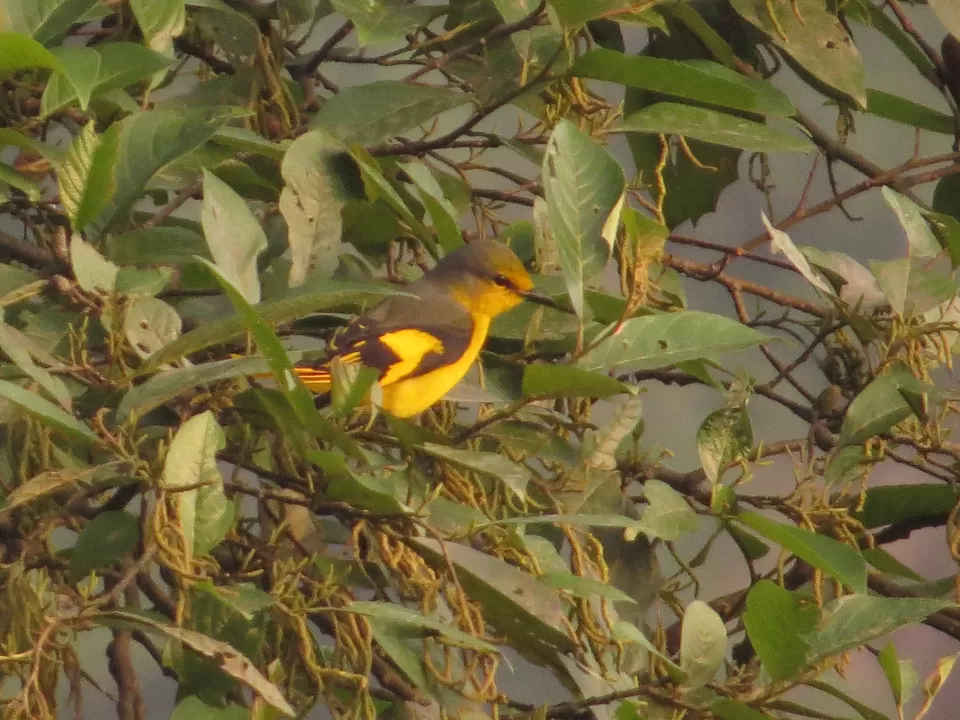 Dark sided flycatchers kept us company all along. The waterfall gave us sightings of the Grey Wagtail once more. The scimitar babbler was calling loudly but never once did it come out of hiding. Great Barbet was common unlike last afternoon. We stumbled upon a busy mixed flock of Black Chinned Yuhina, Blue Winged Minla and a Red Billed Leiothrix. The skittish birds gave us only a couple of record shots before we lost them in the undergrowth. A couple of Black Crested Bulbuls, some Himalayan Bulbuls and a lone Lesser Yellownape were also seen. We stopped at the little settlement en route for some tea and refreshments. Here also we saw the usual Dark Sided flycatcher, along with a White Browed Fanatil and some raptor soaring high in the sky.
The walk forward rewarded us with sightings of a Pied Flycatcher, a female Large Niltava and a Verditer Flycatcher perched so high nearly everyone shirked it off as the Dark Sided.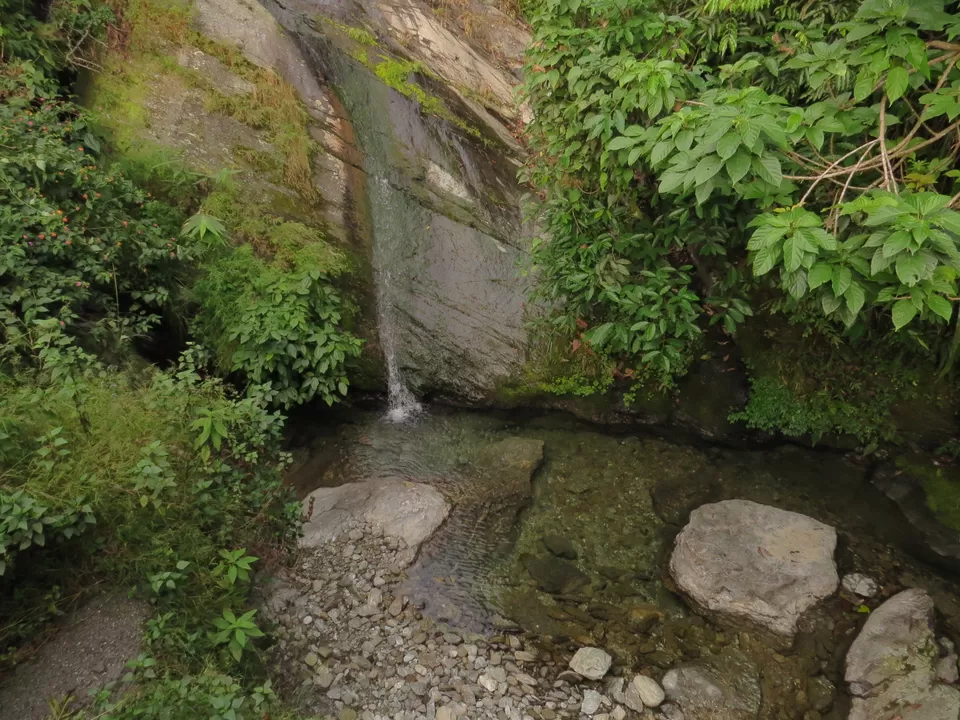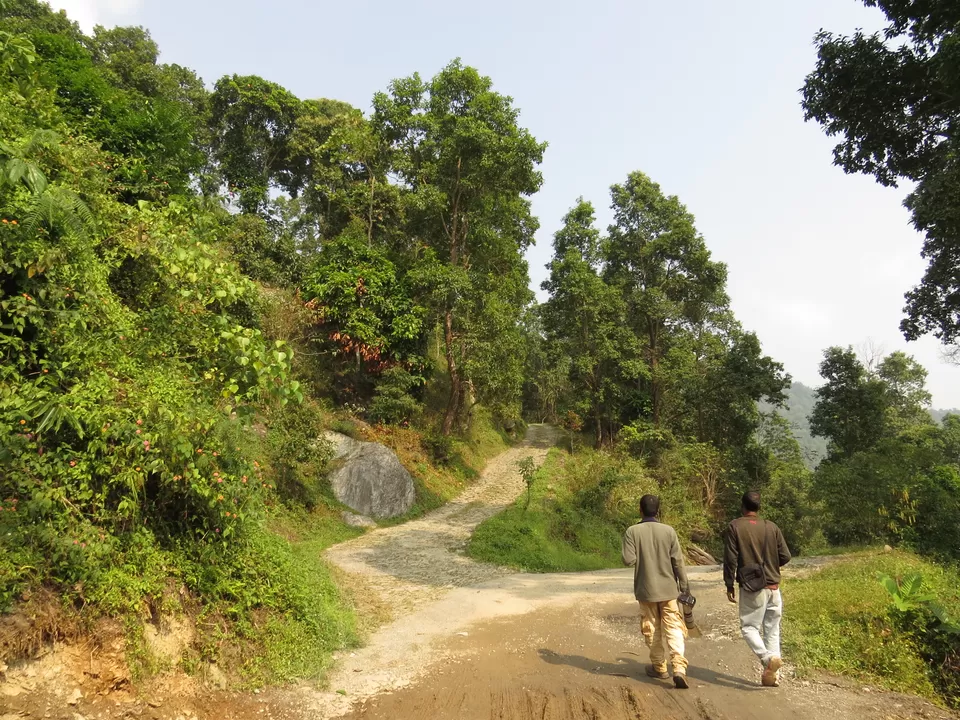 This was followed by a surprise visit by possibly the same flock of yuhinas, and I finally got some shots...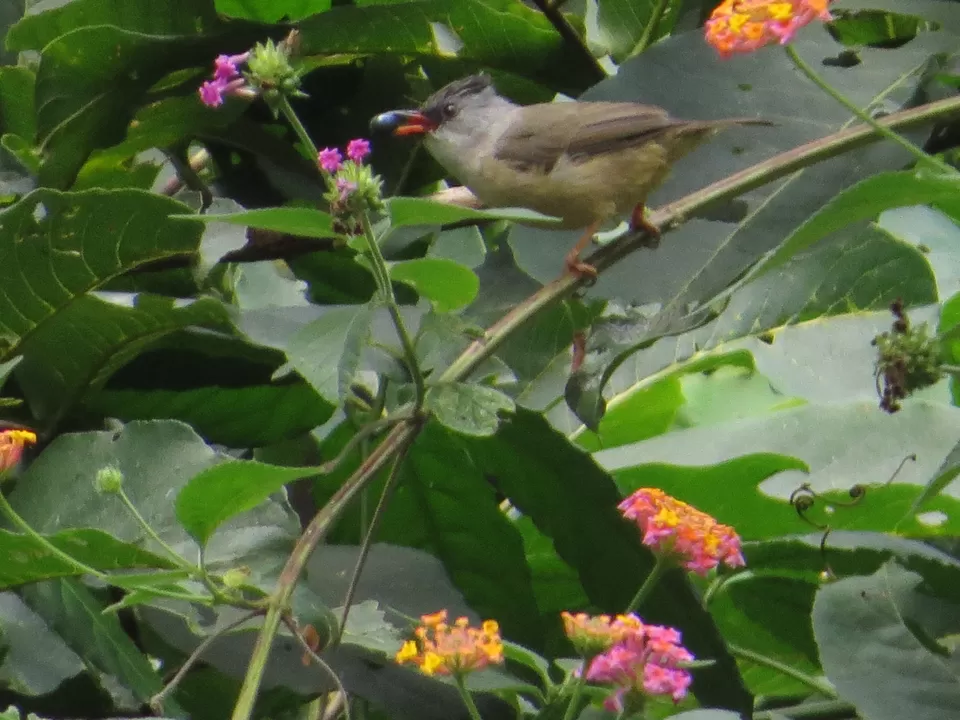 However, the best moment of the day was possibly the Great Barbet sitting on an open perch still as a statue. Even when we boarded the car for our return journey nearly fifteen minutes later, it was still there, in this position, not having moved a feather!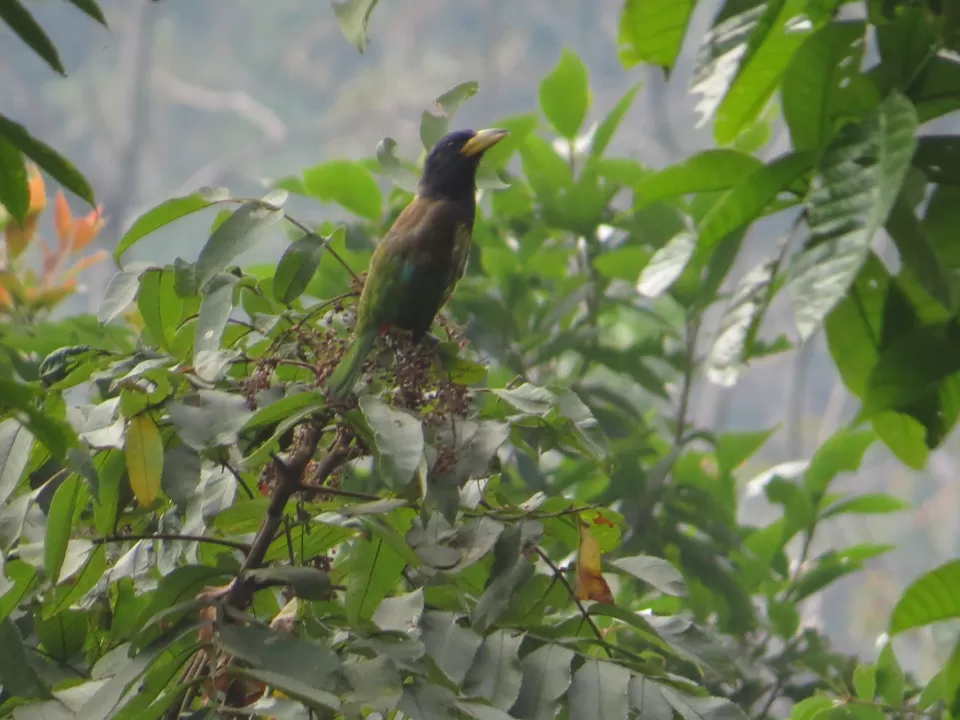 A quick afternoon drive to Mana Hills was an enthralling experience, with the fog rolling in and the wild scent filling our senses to the brim. Birds were scarce, however we got one very grumpy looking Asian Barred Owlet, a Plumbeous Water Redstart and a flock of Olive Backed Pipits. Some reported of seeing a glimpse of an Wild Boar.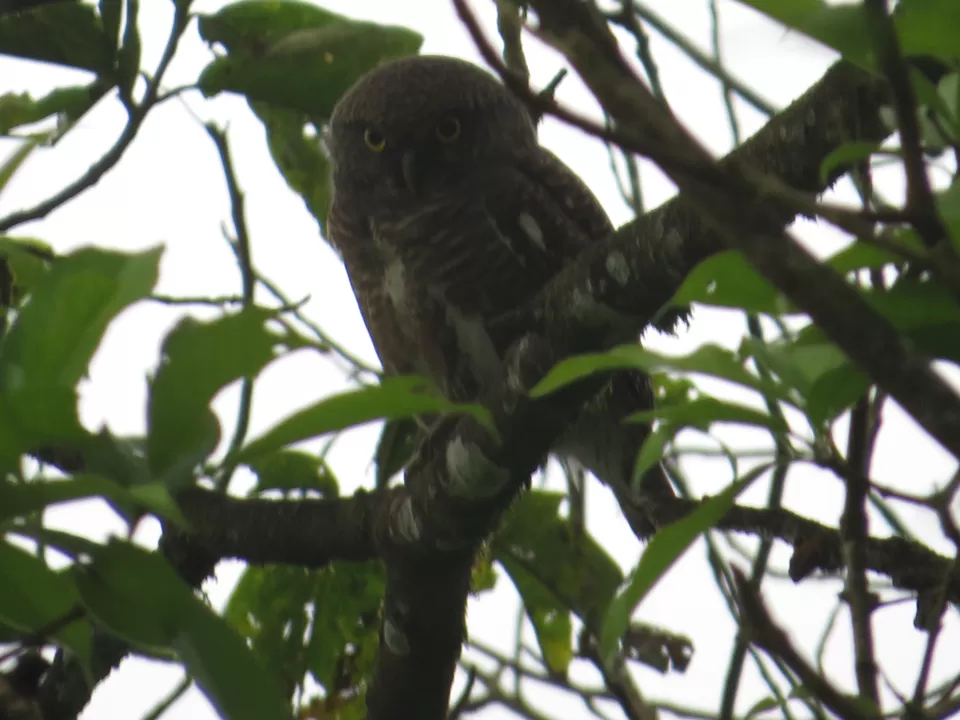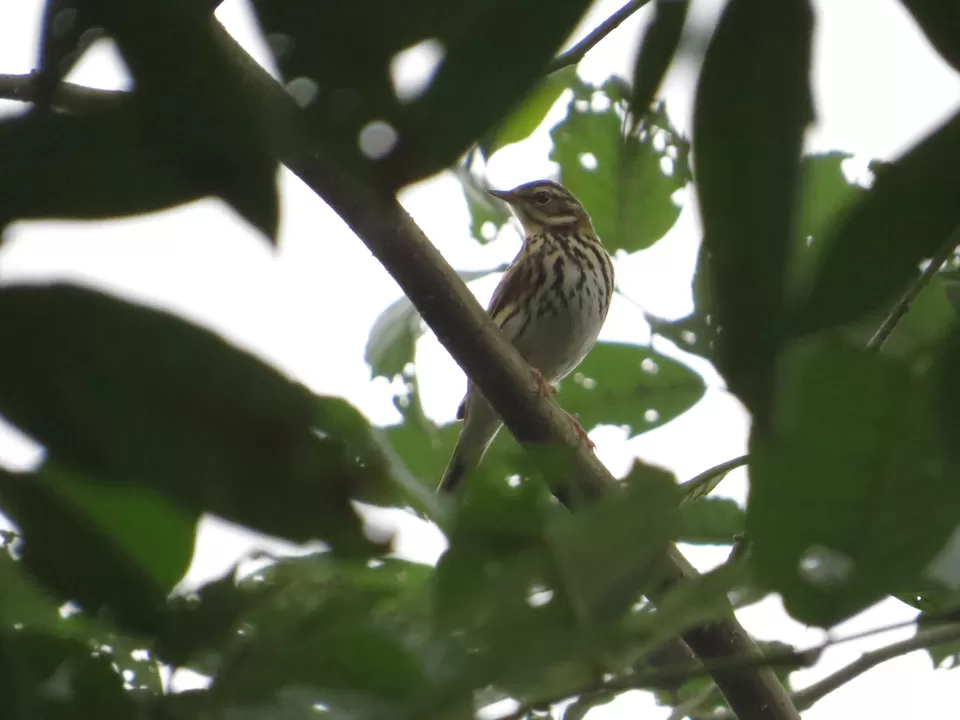 Thereafter we returned back to pavilion for some much needed rest and guess what? Planning to try see the Rufous Necked Hornbill! Since that deserves a separate story altogether, stay tuned for more!
Hope you enjoyed, do pay a visit to Latpanchar in with its lush forests and peaceful nights and warm smiles!
Frequent Searches Leading To This Page:-
weather latpanchar west bengal, homestay service latpanchar west bengal, gurung homestay latpanchar west bengal, latpanchar west bengal, latpanchar tourist place