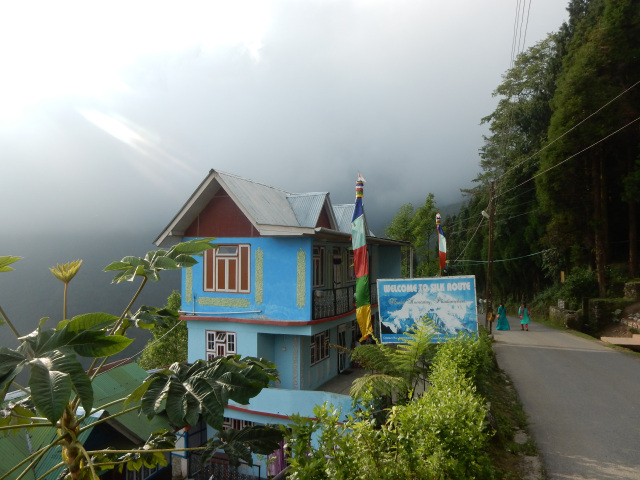 "Aa....Er....Shall they provide us with hot water?....There is no geyser you see...." My better half made a trepid inquiry. I was feeling relaxed, watching the panoramic view in front, while sipping excellent tea and smoking a cigarette. I replied "We need to ask Didi...I think they will have some provision."
We were at the Hornbill Nest Homestay at Latpanchar. After a grueling 19 hr overnight bus journey ,a singularly unpalatable lunch at a roadside dhaba near Tenzing Norgay Bus Terminus (Siliguri) and a jittery-jattery jeep ride, we had reached Latpanchar, with dusk approaching. A small hill hamlet inside the Mahananda Wildlife Sanctuary, Latpanchar is an offbeat destination, mostly visited by wildlife and birding enthusiasts. While Latpanchar has its share of reviews, blogs spread across the worldwide web, it is still blessedly devoid of the chaos associated with commercial tourism. There are no hotels, only homestays. There are no fancy eateries, or pubs. Also, there are not many fantastic view points with stunning vistas. But, if you are one of those, who do not crave for the forever-notifying mobile apps and love to hear the crickets sing under a moonlit sky over a dark mountain valley, then Latpanchar is paradise. You get to connect with yourself and your loved ones.....there is no looming shadow of a call from workplace (there is no network)!!!!......there is no television to divert one's attention from the present reality. The meals are a family affair, served straight from the oven, as per demand. The domesticated dogs lay at the feet, expectant. A mild pat invokes a fidgety flickering of the bushy tail !!!!! A couple of beautiful and frivolous barn swallows fly in and out of the common area tirelessly through the day, oddly staring at us !!!! The space on the wall by the dining table has framed photos of the legendary Rufous necked Hornbill (the star attraction at Latpanchar)....thus, the expectation builds even as you gulp a piece of aloo parantha !!! Mr. Gurung tells stories of elephants charging tourists....of encounters with leopards...of unruly guests they have had.....and of birds!!!! There is greenery all around, and the hill slopes at a distance, covered by evergreen trees, exude an aura of wildness...of mysteries....of unseen animals. When the lights are out at night, and a cold gust of wind ransacks your hairdo......the lightning in the sky reveals the gargantuan form of the hills......and you believe that this could be the ideal setting for the sprouting of a figment of imagination.....a ghost story !!!!!
(To make things right....Didi did provide us with an immersion heater and we did have a bath, though it was quite cold!!)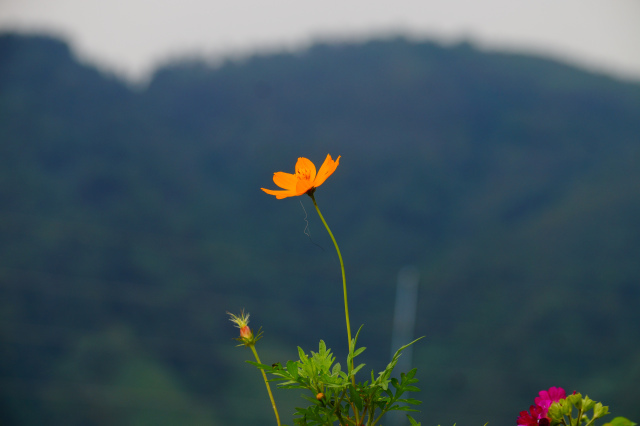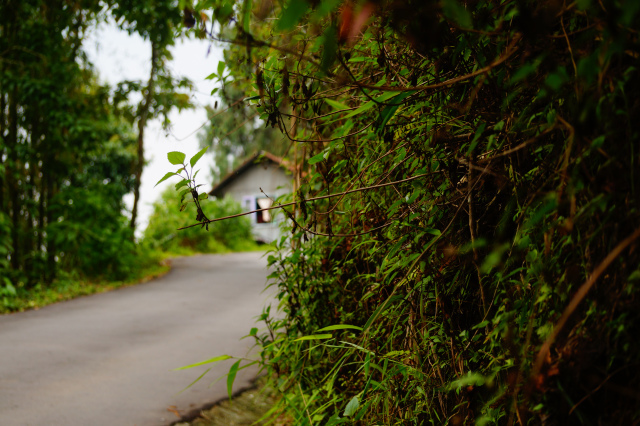 Early morning before sunrise, we ventured out with our birding guide, Parag. Soon we had left the road and were hiking through somewhat muddy trails in the green hills. There was dense vegetation, and light was low........we followed Parag through shrub and bushes, until he stopped at a point and pointed towards a hole in the trunk of a tree, some 15-20 metres away. It was the nest of a Rufous necked Hornbill. This being monsoon season, it was breeding time for birds. It meant that birds would be found in ones or twos, and not in flocks....they would either be in the search of a mate, or in the process of breeding (having found a mate), they would be making brilliant courtship display, frolicking around, looking for nesting sites, building nests, feeding the mother and the babies. Even as we were settling in at our spot, anticipating a long wait....there was this sound...swoosh...swoosh....as if something big was cutting through the air. And a huge Rufous necked Hornbill (male) flew in and perched itself near the hole in the tree. What a sight to behold !!! Brilliant brown neck...smoothly combed.....angry blue eyes....a magnificent beak. It kept feeding red berries to the female hornbill inside the nest, we could only see her beak. Then it again flew away, in search of more food...to return after a good 40 minutes....and treated us to this wonderful display of beauty and fatherly affection.
That day we spotted many other birds, the most notable ones being the Blue throated barbet and the Long Tailed Broad Bill. We were told that summer-monsoon is not ideal time for birding, since the birds tend to be wary, reclusive at this time.(Remember, it's their breeding season.)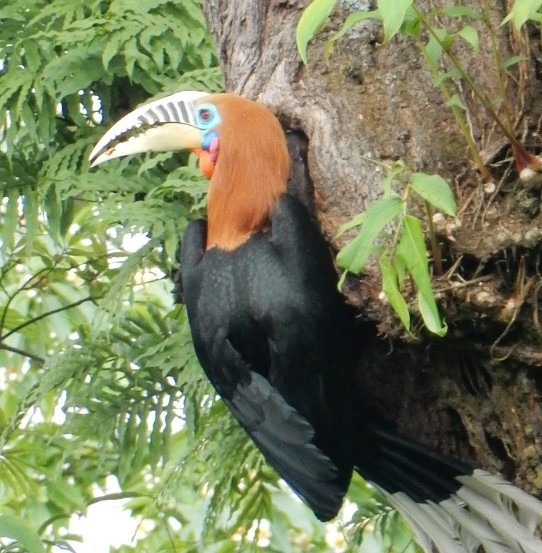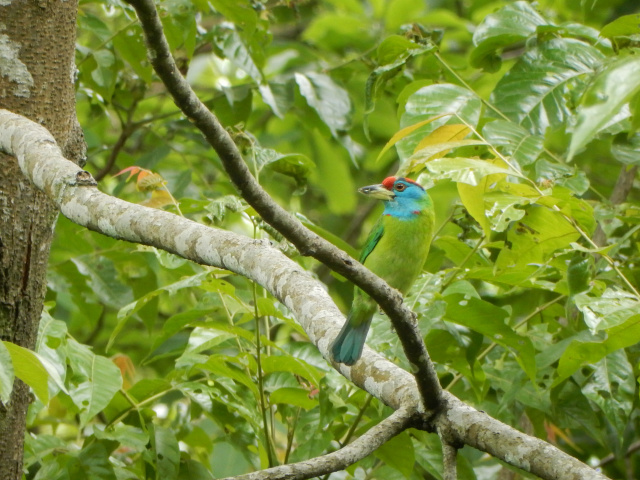 After a hearty lunch at our Homestay, we again ventured out towards Latkothi, where there is a British era forest bungalow, and an entry point into the Mahananda WLS. The trail in itself was creepy, with dense vegetation on all sides. The overcast sky also worked its magic. The jungle seemed eerily silent. We also had to watch out for veritable bloodsuckers - leeches!! Parag had also narrated an incident, which further heightened the suspense. Few months back, a young Range Officer was posted at this Beat Office on his first assignment. On day, late in the evening while he was strolling around, not far from the entry point to the trail, he came upon a group of elephants. As they got agitated and charged, he ran and then jumped into the dense bushes on the slope. Though the elephants took no further offense with him, he got a fractured leg. He eventually resigned from service and has recently taken up service in the Indian Railways!!! And ,we were walking on the same trial that elephants took, when visiting these mohallas. Soon, Parag too grew a bit skeptical and we decided to retrace our footsteps.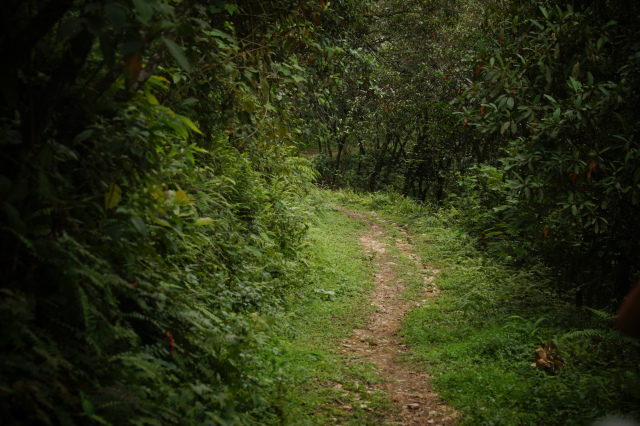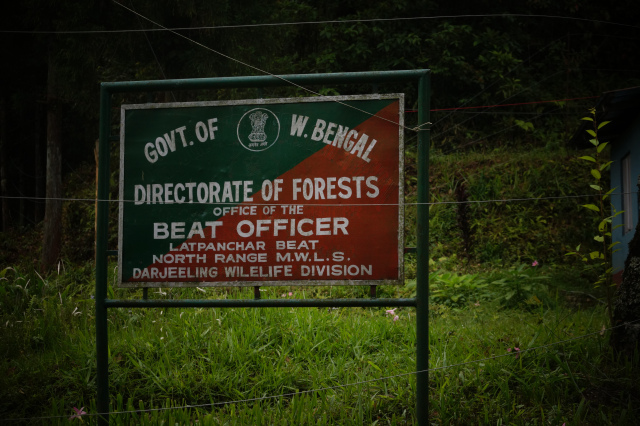 With no pre-planned itinerary, I could not make up where to go further. The surge of tourists in Dooars and Sikkim also added to my confusion...stays and rides were overpriced and scarcely available. We thought of heading to Shillong via Guwahati, leaving my dream of sighting a Blood Pheasant unfulfilled. I shared my confusion with Parag, and he provided me a contact at Zuluk. That proved a game changer!! Our birding tour in Pangalokha WLS was now confirmed!!!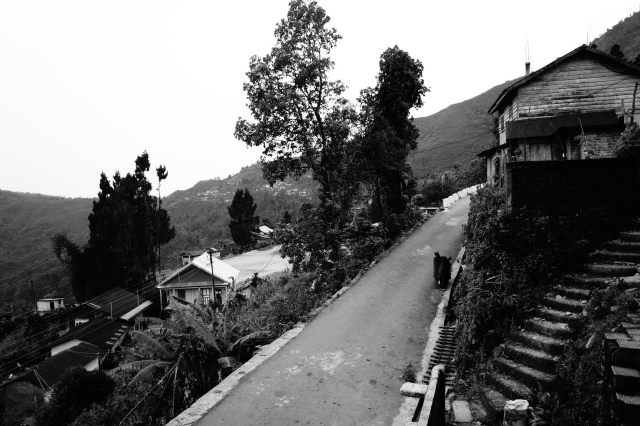 From Latpanchar, we headed to Padamchen at 7000 ft in East Sikkim. We got our Permits from Rongli. Not to forget the delicious momos at a roadside kiosk.......Dumplings served at roadside kiosks in Sikkim are the best...the smoke arising from the soft white skin....the reddish chutney...Ah !!! Enroute to Padamchen, we spotted quite a no. of bird species . To name a few - Ashy Drongo, White crested Laughing Thrush, Blue Whistling Thrush, Green backed Tit. At Padamchen, we were greeted by Dipen Rai, our guide and we were put up in Golden Dream Home stay. An energetic young person, Dipen, took us on our first try out right away, even as the clouds rolled in, making Padamchen seem like a mystic Shangri La. Not much luck and not much light...we returned to our home stay soon. This homestay had an all-female management. They cooked food, they sold goods and they chatted away hours on end sitting outside their humble little shack. But there was no dearth of warm hospitality or courtesy. As darkness settled, it started raining. After years perhaps, I donned a raincoat and negotiated the little distance in the darkness to reach the shack, for our dinner. Sitting in a dimly lit space starved kiosk, being served hot and simple food by a couple of naïve ladies, life felt easy. We thanked them for the dinner and with not much to do,went to sleep. I kept dreaming of the Blood Pheasant!!!!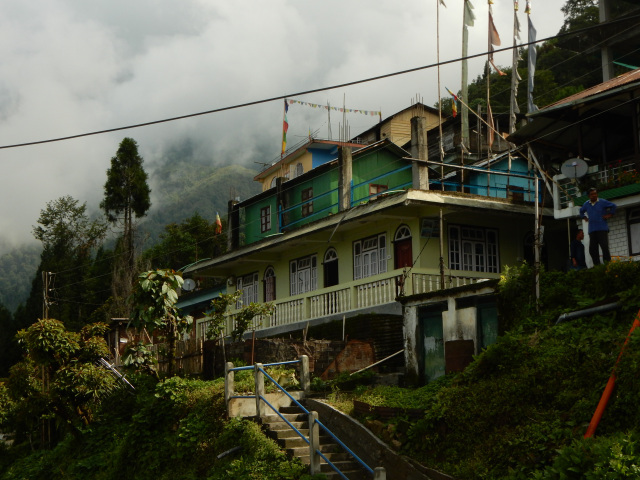 The next day we had an early start to say Good Morning to the avian friends. Hot tea had been made and stored in a flask for the day. We would drive through Zuluk, the famed zig zags of ancient Silk Route till Kupup Lake at 14000 ft. We had not gone even a few miles, when we spotted a lone Khalij Pheasant. I could not capture the moment as light was far too low. We climbed up till Zuluk and stopped. Eastern Sikkim's Silk Route and its famous zig zags were now in front of us. It was cold, and we were out in the open scanning the hillsides for monals. That day, we did spot a monal from afar, and I do not have a good pic for lack of a good telephoto lense. But the moment was still unforgettable. It stood on the edge of a rock, extremely perceptive to little sounds from our car. As we dismounted and tried to get a foot or two close, it dived into the chasms below. We gave out hapless sighs as the brilliant blue flash vanished in the dry shrubs far below. Dipen was very keen though, and he helped us spot a few rare birds like the Fire tailed Myzornis - a tiny leaf green beauty, with ornamental black dots on the head and a red tail end.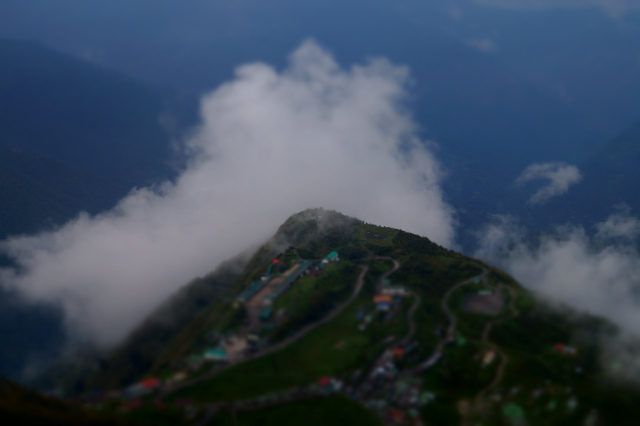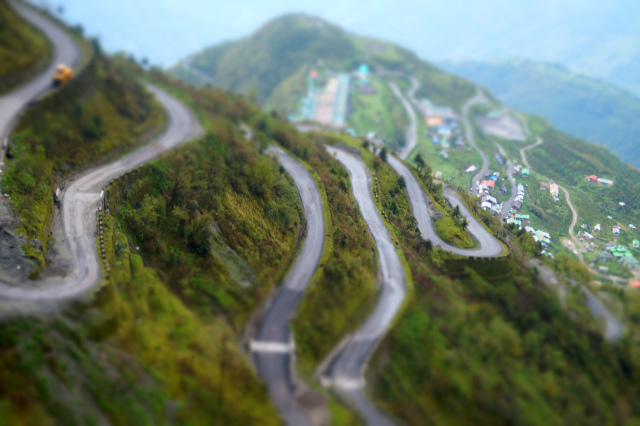 We moved up towards Kupup Lake, stopping every now and then. We got some good clicks of the beautiful Fire tailed Sunbird, Rosy Pipit, Olive backed Pipit, Yellow billed Blue Magpie, Rufous winged Fulvetta, Long tailed Shrike, Black face Laughing Thrush, White capped Water Redstart, Blue fronted redstart, etc. Once at Kupup, the chill got to us. It was freezing cold, and dark clouds had drooped to engulf us. The lake seemed surreal from the distance. We now set forth on our return journey, all tired and sleepy. But our senses jerked alive every time someone noticed a movement in the trees. We had not seen the Blood Pheasant, the Satyr Tragopan, the Red Billed Chough or the Alpine Accentor - but novice birders, as we were, we were still satisfied and happy at having seen, clicked and known many birds of the Zuluk Birding Area. I promised myself that I shall be back again, better prepared next time, for spotting the Blood Pheasant and the Satyr Tragopan. Once, we were back to the comfort of our homestay, we declared it a day. The rest of the time we spent chatting, finalizing our bird sighting list, referring to Kazmierczak's Birds of the Indian Subcontinent....and of course sipping some good whisky.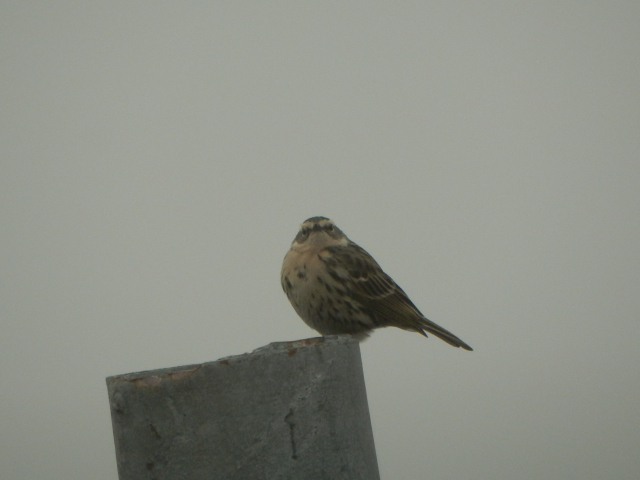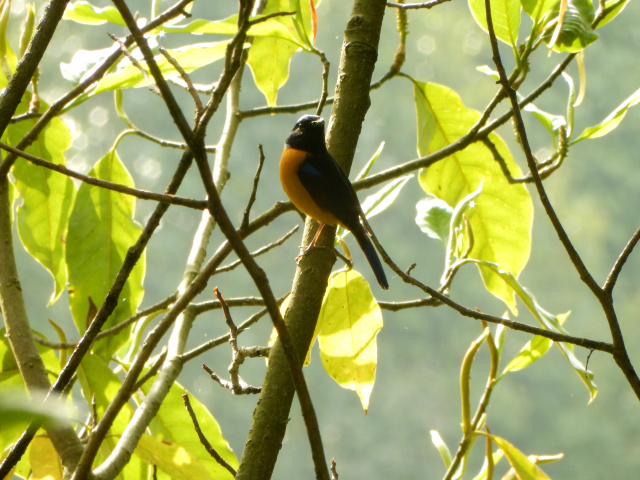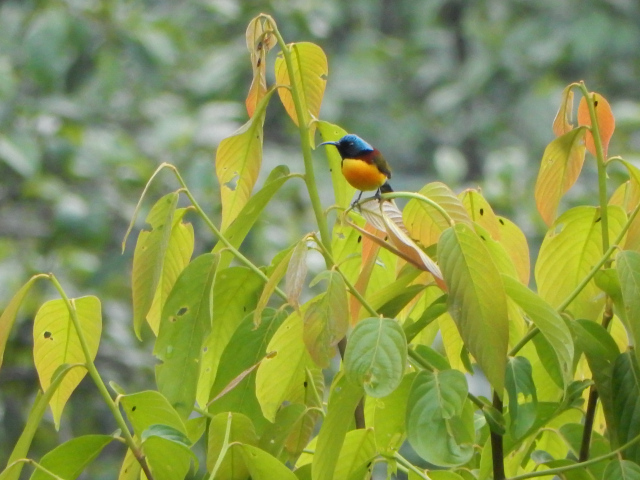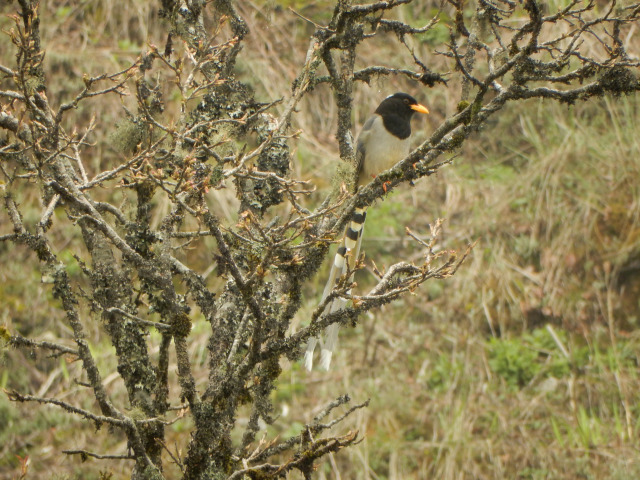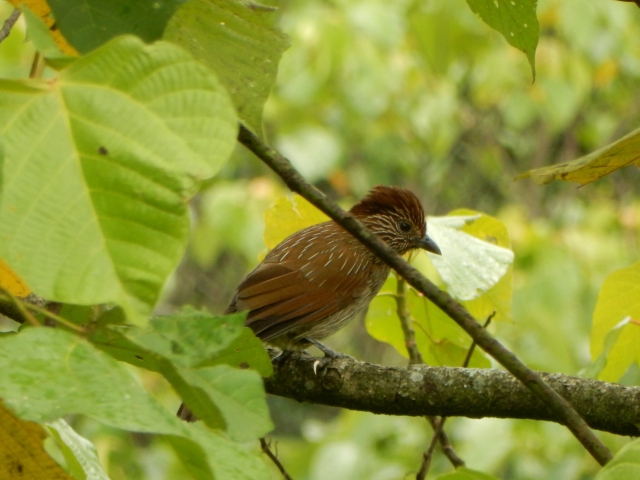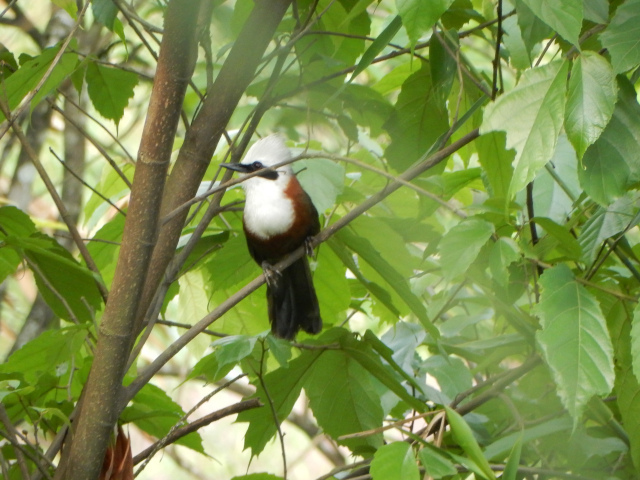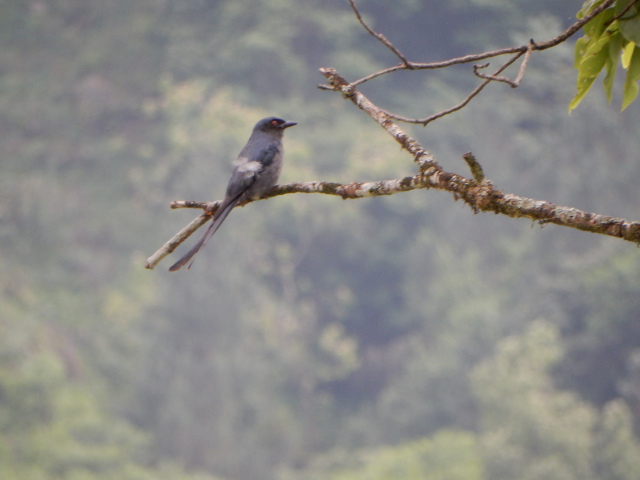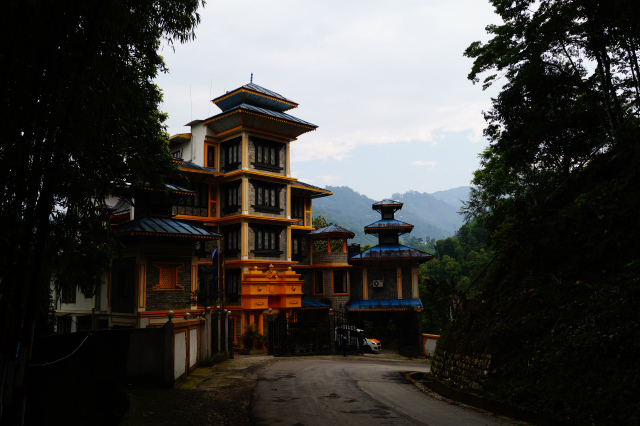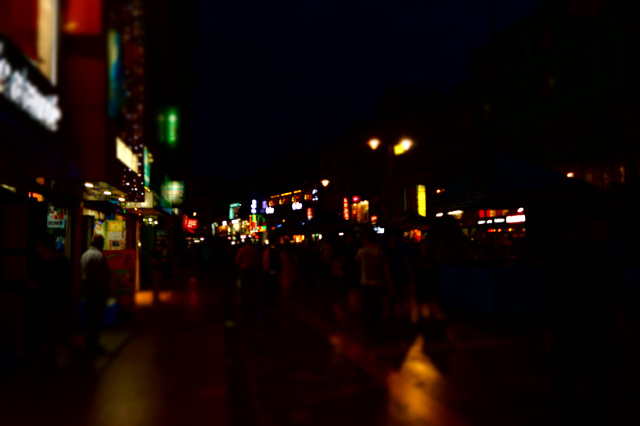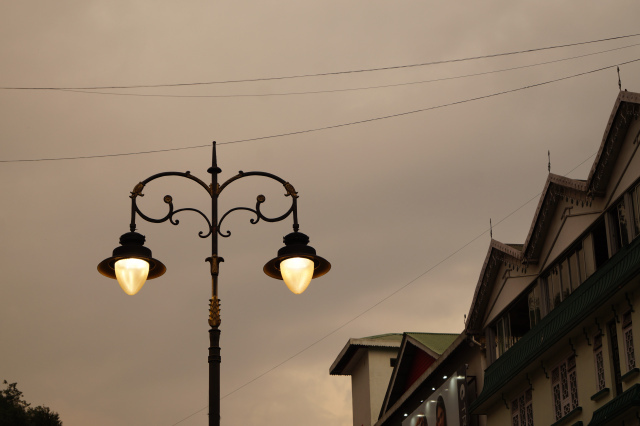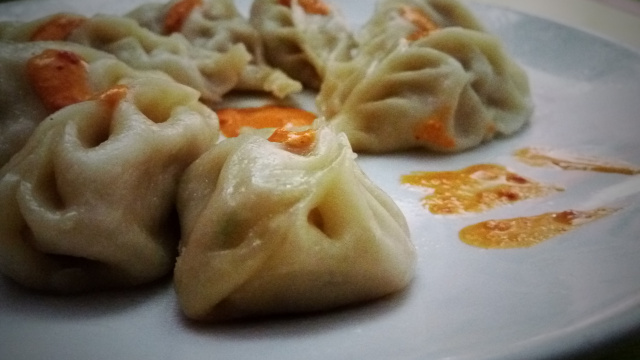 Next morning, we moved out on our own to check out a few trails nearby that Dipen had shown yesterday. At one such place, I had a moment of utter frenzy, when a couple of chestnut crowned Laughing Thrushes, a couple of Rufous Sibias and a beautiful Rufous bellied Niltava, all were spotted at the same time. I managed a few good clicks though!!! The garrulous Grey Treepie also showed itself on multiple occasions. Not to forget, the Great Barbets kept calling every now and then, sitting on vantage points of tree tops overlooking the forest and the valley.
We now decided to head towards Gangtok, after having spent few days living a monastic life, wanting to pamper our senses. On our way, we booked accommodation at Saramsa Resort, Ranipool, around 12-14 kms from Gangtok. It turned out to be a nice place, away from the main road, and surrounded by the jungle. The next day at Saramsa was spent idling around, having some good food and playing carom in their entertainment area. A beautiful green backed Tit kept flying into our balcony looking for a place to nest. In the evening we visited the mall road at Gangtok, and got a few good clicks of the place under lights. But, Gangtok was stifling under the pressure of tourists from the Bengal plains, such so that getting a ride back to Ranipool turned out rather tricky.
It was now time to return, having spent a nice vitwaaien in the wilderness of East Sikkim. It has been 10 years since I visited Sikkim for the first time. That was back in college days. I have been to Sikkim 4 times in between; the taste of the momo they serve and the hospitality of the native people remain the same. What to say of the clouds, the hills, the mist and the sunshine, the waving prayer flags, the smiling mongoloid faces, the amicable dogs,....and the myriad birds ....and the brilliant tea they make !!!!
Few useful contacts:
Hornbill Homestay, Latpanchar - Mr. Padam Gurung 9475557225, 9475959974
Mr. Dipen Rai, Padamchen - 8016591438
Tip : Please note that visiting North Sikkim and East Sikkim requires permits. It is best (and most easy) to book a vehicle for the trip and ask the vehicle operator to arrange for the permits as per your requirement. While permits for East Sikkim can be procured at Rongli, I think permits for both East & North Sikkim can be procured at Gangtok.