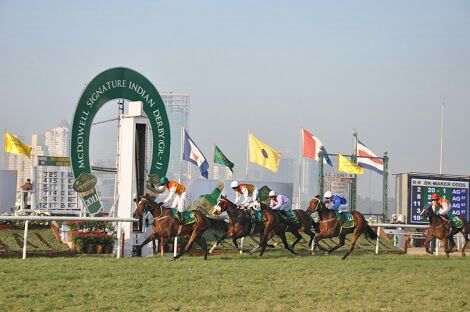 First Sunday of February is the day when Royal Western Indian Turf Club (RWITC) hosts one of India's most eagerly looked forward to event- The Indian Derby.
This annual weekend racing carnival is all set to glisten on the emerald green turf of Mahalaxmi Race Course on 4th & 5th of Feb this year.
Call it 'King of Sport' or 'Sport of Kings', horse racing is certainly the fastest sport to scoop such a lavish sum in just over 2 minutes of exhilarating speed. With joining of two big liquor giants the stakes are reaching new high every year. Last year Desert God won the most coveted title at the Indian Derby in front of a record crowd of elite Mumbaikars. Desert God bagged a prize money of Rs. 2.17 crores.
To get the real feel of the sport and not just stand as a mere spectator one should bet and try their luck. Thanks to the Apex court, betting on horse racing is still legal in India. The minimum amount you can bet of is Rs. 10/- Regardless of your winning or losing, the biggest winner, however, is the magnificent sport of thoroughbred racing.
In addition to the most cracking on track action, the RWITC promotes the event with live performances by well known artistes on both the days, flea market, food courts and bars at Mahalaxmi landscape which adjoins the shore of Arabian Sea. A luxury car up for grab in a contest. Gaming zones where you can win free betting vouchers, and finally a drive to the track in a horse drawn carriage for the trophy presentation, with a jazz band leading ahead, will give the day a royal touch.
So put on your linen jackets and designer shoes and ask your lady luck to don her flowery hats and skirts and witness the grandest racing sport.
You can enter the public enclosure by paying a fee of Rs. 50, while the member's enclosure will cost Rs. 500. Mobile phones will not be allowed inside unless you are willing to shell out extra 500 bucks to buy a mobile badge.
There is a mobile phone keeping booth where you can keep it safe for free of cost. If you're found carrying a mobile without the badge you may be fined RS. 20,000.
It is recommended that you purchase the race book if you want to be the part of the game. You can choose from three popular race books, Cole, BOL and Lucky Spinner available at Rs. 20 each.