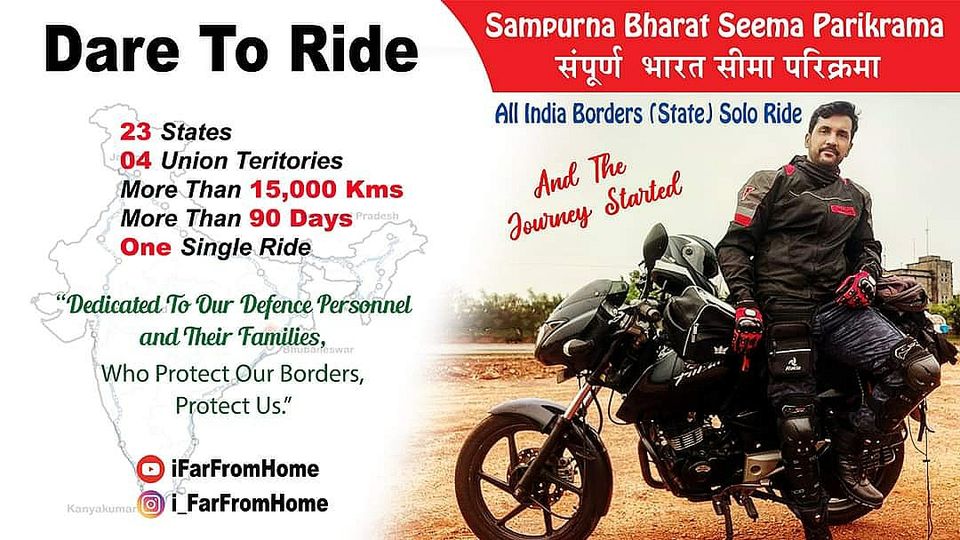 #sampurnabharatseemaparikrama #ifarfromhome #travelonbike #keepongopro
This is when I started my "All India Border(States) Solo Ride. Just packed my stuff, load my bike, and broom broooom.
The planning though started some days back. I really wanted to do this trip a new bike either Himalayan or Dominar 250 and also Hero Xpulse was in the list. But because of some reason or other at last I decided to complete this trip with my 10-year-old Bajaj 150 pulsar. I know it's a bit odd but nothing very new. I heard one traveler completed the Ladkha trip 3 times on his scooter - Scooter Baba I believe. Compared to this was an easy choice.
I have done a blueprint of my whole tour.
States to Cover: 23 States and 4 UTs
Distance to Cover: 15000 km
Days to Complete: 90 days
Rider: 1
As per my blueprint, my 1day is from Bhubaneswar, Odisha to Vizag, Andhra Pradesh. Almost 440 km to cover. And I started.
Of course, the trip was a bit hectic for me, as I never ever tried any bike trip this long ( as I have done within the state once for my new YouTube channel). But what I realized, one can face any challenge if you are prepared mentally. Of course, other preparations are of the same importance.
In my bike, as per Google map, it was showing some around 7-8 hrs to reach Vizag, but I added some 2-3 hours more as a buffer. That's because I am going on a 150cc bike and also I want to keep some time with me for photos and videos for my Youtube channel. And as per my guess around 5pm, I reached my destination, Vani Lodge, Vizag which I booked on my way from booking . com .
Well as far as the feedback on the lodge is concerned, it was not good. I am on budget travel, so I always try to keep my stay expense as low as, but not compromising the safety and quality of the stay. For that, I book online and always give importance to the ratings of the place from other users. But this first stay was not at all good. I booked it for Rs.450 per night. And in fact, if u directly book it will cast around Rs. 390/-. On the ride I booked, and I couldn't research properly, and now a bid unsatisfactory stay, especially in terms of hygiene and cleanness. If money is the only deciding factor then you can opt for this place or else there are always better options available.
I checked in, settled and in the evening I went for tea which is a very important part of my daily routine. And there I met Narasimha, a tea seller. On the first day of my trip and I met a stranger who after listens to my trip offered me the tea for free. It's not about that Rs. 10 (the price of the tea), but the love and connection I received for that gentleman.
The day ends with small happiness of achievement of my first ride, the excitement of future discoveries and surprises, and many doubts and questions of unseen hurdles.
You can see Vlog of my 1st-day ride on YouTube : https://youtu.be/P6Rfdu2WZ6A