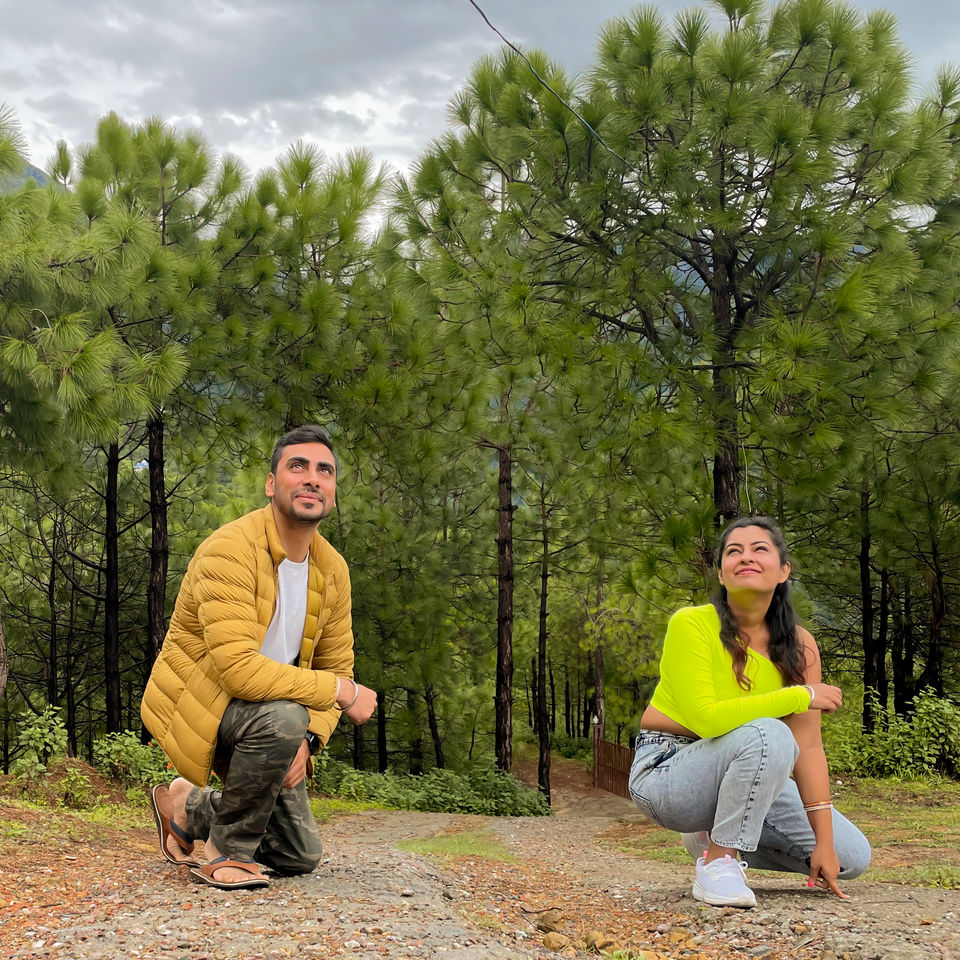 We are always on the hunt for offbeat places and seldom like to visit the commercialized touristy locations; be it hill stations or beaches! We had been longing to visit the hills of Palampur for as long as half a decade now! This tranquil location is far away from the boisterous crowds, yet comparatively easy to get to and hence it had always been on our bucket list.
Towards the end of September this year, we were lucky enough to get a week long break from work but were skeptical to go on this road trip because of the incessant rains and consistent landslide warnings.
Best Time to Visit
The best time to take a trip to Palampur is between March and June - the onset of the Summer season. Winters are freezing in Palampur, but if you're looking for an adventure then this time is ideal for a visit. But we were not sure about the next time we would get such a long break and hence we decided to try our luck and drove off to the hills of Palampur. And it was one of the best decisions we have ever made and we'll tell you why? Although we witnessed frequent showers of rain , nature was clothed in her best shades of green, and the mountain air was cool and heavy with fog.
Here is an easy guide on how to reach Palampur, where to stay and things to do there:
Day 1: The Road trip Begins from Delhi to Chandigarh/Parwanoo (Our 1st pit-stop)
Palampur is well connected to many towns in Himachal Pradesh/Punjab with frequent inter-state buses that run from Delhi/Chandigarh. Total distance from Delhi to Palampur is ~490 kms and it takes close to 11-12 hours to reach. It is part of the rich Kangra district of Himachal and lies on the same route as that of Dharamshala/Mcleodganj, just 1 hour before them.
We took our own car and as we didn't want cover the entire distance in one stretch, we decided to break the trip into two parts : Delhi to Chandigarh (5 hours) and then onwards to Palampur/Bir for the next 4-5 days.
We didn't stay exactly in Chandigarh but to be precise, in a beautiful resort called Timber Trail Heights in Parwanoo which was about 30 kms away from Chandigarh city on the Kalka-Shimla highway. Staying at Chandigarh would have been too cliched for us as we wanted to utilize each and every day of the trip in the best possible way having access to the best possible views. Reaching the resort is also a unique experience in itself. You land up at their parking area/mini reception first from where you board on to their private cable car/gondola ride and after being subjected to about 8 minutes of breathtaking landscapes, you finally reach their main reception area. If you are not staying with them and have just come to dine-in, the gondola ride will cost you Rs. 1200/person.
The resort is equipped with all the modern facilities and has open air restaurants and bars which are directly overlooking the Shivalik ranges. The rooms are spacious and provide you splendid view of the clouds passing by.
Budget/Cost for 1 night: Rs. 9,000-12,000
Day 2: Chandigarh to Bir/Palampur
We got up early in the morning, took a walk in the property, had a sumptuous breakfast and then headed over to Palampur. It was quite a smooth journey and as soon as we entered Himachal, we could find small cafes on the way serving piping hot maggi, tea and rajma-chawal.
We left Chandigarh at around 9 am and reached Bir at 3 pm. Bir is located at a distance of 30 km from Palampur and is referred to as the paragliding capital of India.
We had planned to stay at Bir for only a night and explore the cafes the next day before heading over to Palampur. Also paragliding was non operational at that time and was supposed to start post the monsoons, even then we were strictly advise to spend at least 3-4 days in Bir as there is so much to explore there, but we had only 1 day at our disposal.
We were putting up at Zostel, Bir for the night which is one of the most beautiful properties you'll ever come across. Zostel Bir is a good option for travelers looking for hostel accommodation with dorms available as cheap as Rs 800 for a night and individual rooms and suites priced at Rs 3000- Rs 4000 per night for families and couples who want a little more privacy. This beautiful property located amidst natural hidden waterfalls and a rich jungle is inaccessible by car and hence you need to keep in mind that you need to park your cars at their base parking location from where the staff will carry your luggage to the rooms.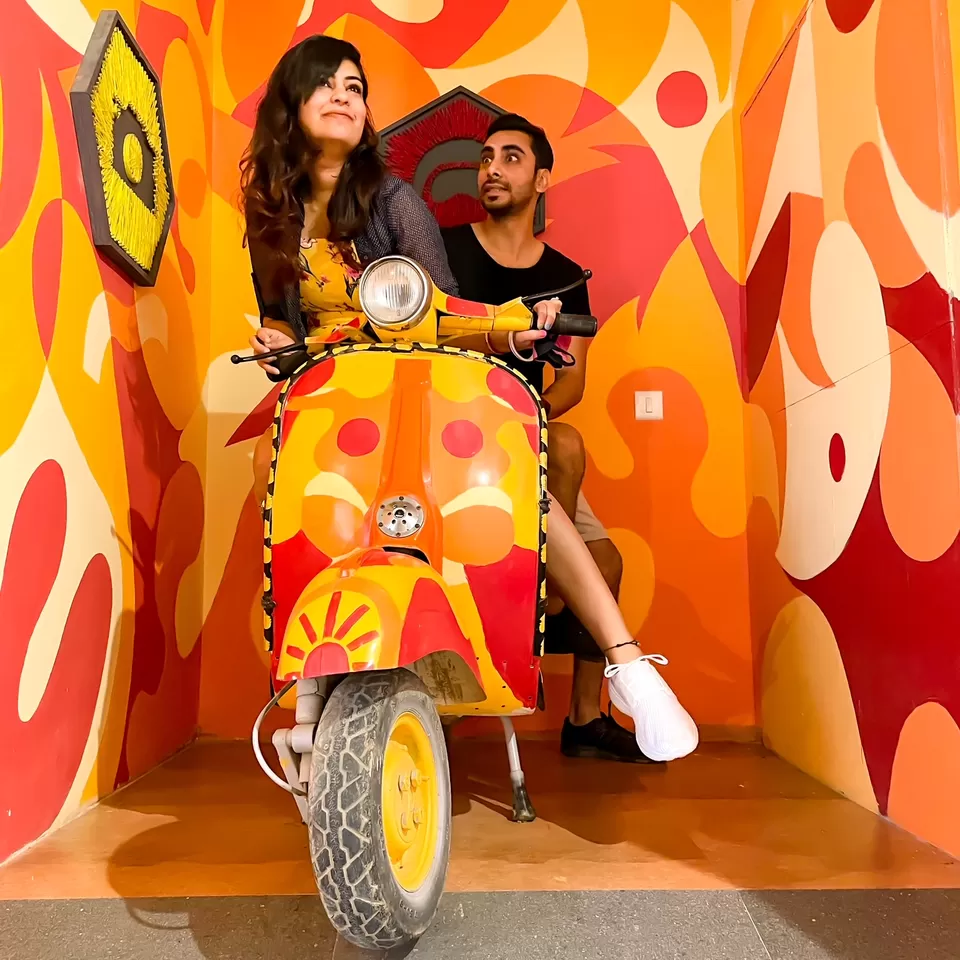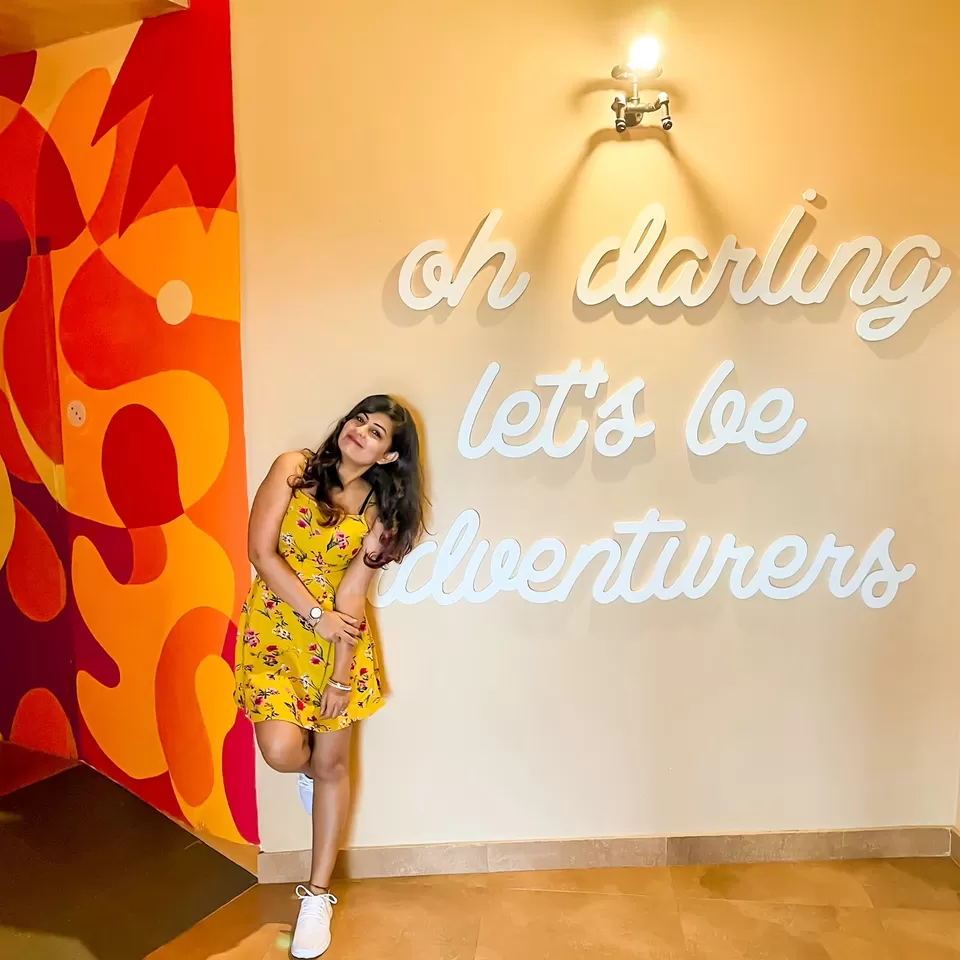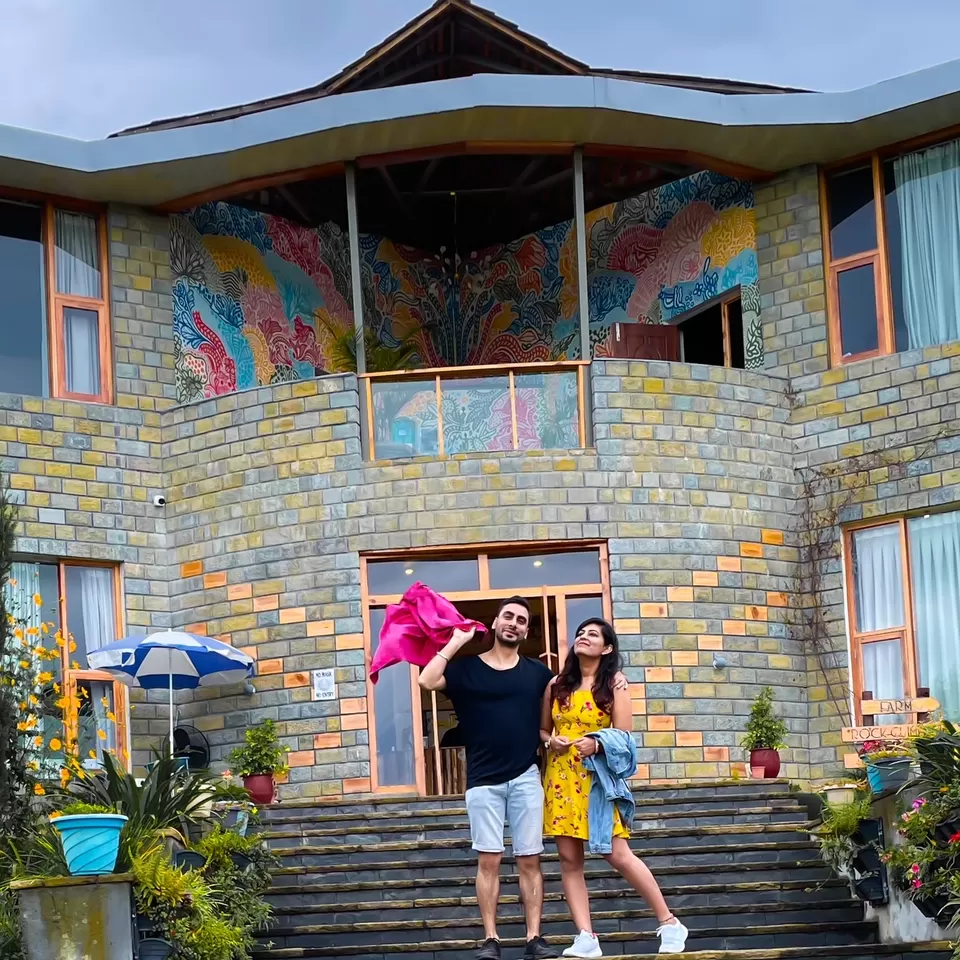 We spent the night exploring the beautiful property and hogging on local delicacies like Kale chane ke khatte at their open air café "Olive Kitchen". We then sipped on wine and enjoyed music in their common area which was being played by the fellow travelers who were staying there and also engaged in meaty conversations and were able to make so many new friends which is the best part about staying in a property like Zostel. You get meet so many people from different backgrounds who have mutual love for travel, food, wine and music :)
Day 3: Bir to Palampur
The next morning was spent exploring the cafes of Bir which we will be covering in detail in a separate blog.
The 3 cafes in Bir which are a must visit are: Northern café, Silver linings Café and Avvas Café.
So, Stay tuned for our next blog!!
We bid our final goodbyes to Zostel and proceeded towards Palampur. The entire road is surrounded by tea gardens, pine forests and is set in the foothills of the majestic mountains of Dhauladhar range. It took us 45 mins to reach our property in Palampur- " The Lodge at Wah". There are no luxury hotels, fancy restaurants or upper end markets in Palampur but there are plenty of picturesque air-bnbs and homestays.
The lodge at Wah is not listed on Airbnb or any other travel sites. You will have to contact the property owners directly using the contact details mentioned on their website. We had been eyeing this property since it was featured by Rocky and Mayur on their culinary TV show. Its very difficult to get a room here as the property is not open to the idea of making it a commercialized hotel but believes in giving its guests a personalized experience.
Set amidst the Wah tea estate, this eco friendly homestay has only 6 individual rooms spread across 3 cottages. They not only provide their guests a detailed tea tour and tea tasting session but also organize curated experiences on request, like the Kangra Dham (thali), nature trails and outdoor picnics.
Budget/Cost for 1 night: Rs. 12,000-14,000
After we checked in, we had a quick lunch and then headed over for their tea tasting tour. We also bought a few packets of the famous Kangra tea from their exceptional bouquet of teas which are available for sale. We came back to the property to be pleasantly surprised by the high tea which had been set up for us. The hot tea and tea leaf pakodas were out of the world. In the evening, Deepak ji - the property owner, invited us over a couple of drinks which was followed by their special Kangra Dham serving for dinner. The meal consisted of a variety of lentils and seasonal vegetables, all slow cooked over woodfire. This is something you should definitely indulge in whenever you visit Palampur or the Kangra valley.
Day 4-5: Palampur
The next day we had booked an Airbnb experience which included a short trek to a hidden waterfall in Gunehar village followed by Kangra pahadi food with a local family in the village.
We left the lodge at 9 am and reached the meeting point at around 10 am. We started our trek from there and witnessed one of the most gorgeous waterfalls with crystal clear water cascading down the green hillock. We initially had our reservations on whether we should go ahead with the trek as it was raining heavily but we decided to keep our doubts in the backseat and trust the organizers, a young couple running these experiences under the name of "Uncharted Bir". This trek turned out to be one of the most thrilling and enriching experiences of our life. But the highlight of the trip was the lunch which we had with a local family in the village and it was an absolute delight. The hosts were very warm and had cooked the tastiest food consisting of fresh produce from their garden.
We would definitely recommend you to go for this experience, the next time you are in Bir or Palampur.
We were dead tired at the end of the trek but we had our booking at another property which was an entirely different experience than the Lodge at Wah. This homestay - Musafir cottages is located at the other end of Palampur, away from the hustle & bustle of the city. This heritage property has no surrounding houses/hotels and hence boasts of scenic and breathtaking views of the Dhauladhar ranges. This was an absolute paradise - clean fresh air and an inviting weather, one could spend time doing absolutely nothing here. The wooden cottages are big, airy and have the most aesthetic architecture. Each room has a staircase leading up to a workstation and a pathway to the connected yoga rooms.
In the evening, in order to help us to get rid of our exertion and tiredness, the owner arranged piping hot tea and bhang ke pakode which were definitely LIT!
The owner of Musafir is relatively young and made it a fun experience for us. He organized a local dinner cum karaoke session for us where he and his family also joined us. We spent the night eating, drinking, chit-chatting and singing local pahadi songs over bonfire :).
Day 5-6 :Palampur to Chandigarh to Delhi
With a heavy heart, we drove back from Palampur to Chandigarh the next day and this time we stayed in the city because we wanted to try some of the local Chandigarh delicacies and street food before heading over to Delhi.
The next morning, we had our breakfast and drove back to our home sweet home!
The Benjabi recommendation:
1. Kangra/Himachali Dham (Local thali)
2. Café hopping in Bir
3. Tea tasting tours of the Kangra Tea gardens
Do share, like and subscribe to our Instagram page and youtube channel:
Youtube:https://www.youtube.com/channel/UC0kc8LRLKTCA23oQHXqWGuw
Instagram: https://www.instagram.com/the.benjabi.affair/
-By The Benjabi Affair
A Bengali girl and a Punjabi boy who figured out their mutual love lies in travel and tea :)